It's time to start scouring your house from top to bottom. While you may be tempted to spray down your entire home with bleach, it is incredibly toxic, along with the other commercial cleaning products that you can buy at the store.
Fortunately, there are many alternative ways to keep your house fresh and clean. With DIY cleaners you can get your entire home sparkling clean without resorting to using products that contain harsh chemicals that are harmful to your health.
The Environmental Protection Agency has ranked indoor air pollution among the top environmental dangers, and a majority of the pollution comes from the conventional cleaning products that we purchase at the store. Luckily, these chemical-laden commercial cleaning products aren't the only way you can keep your house sparkly clean.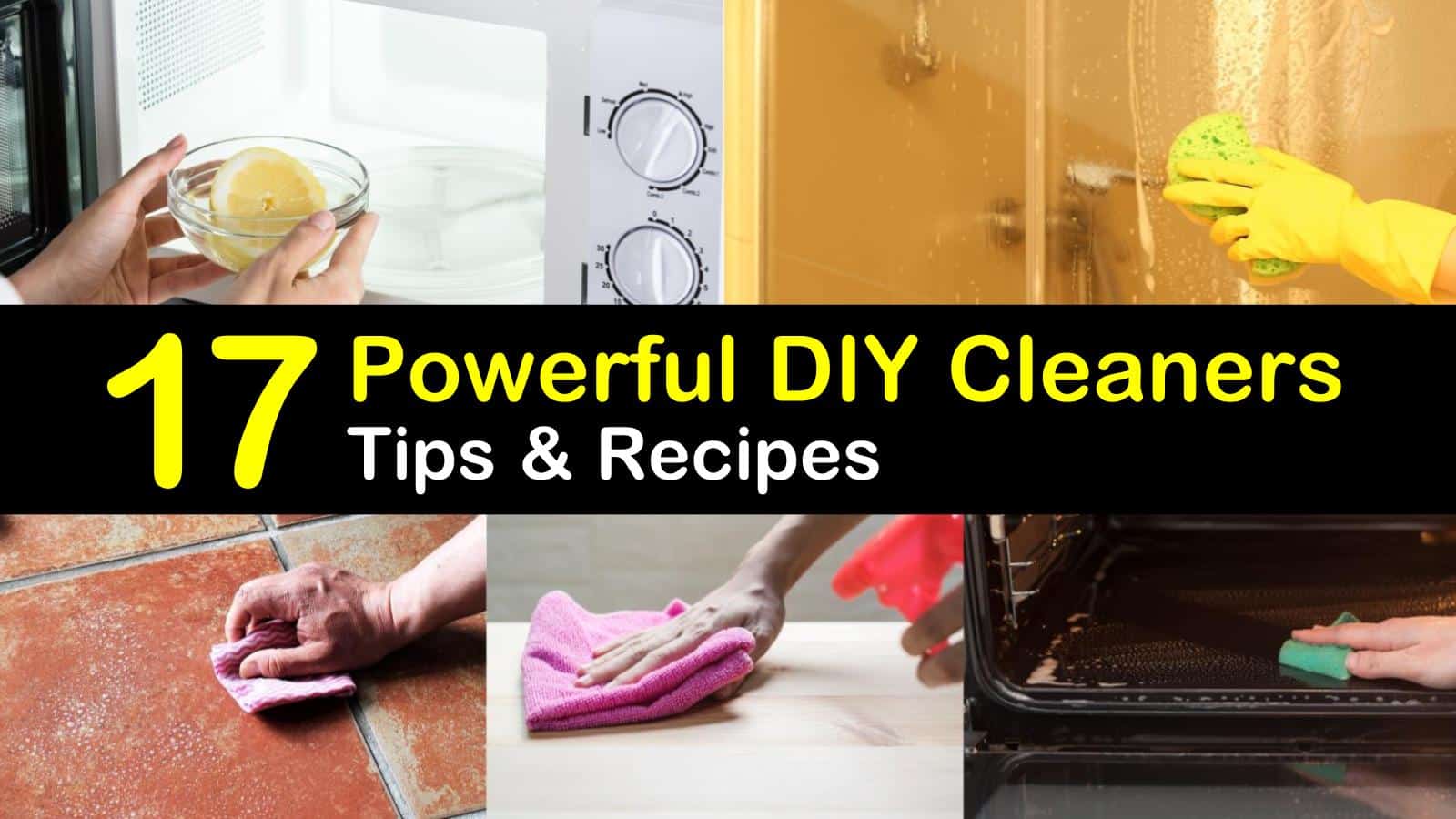 Powerful Homemade Cleaners for Every Surface
The non-toxic homemade cleaning products that you can make with a few simple, all-natural ingredients are not only better for you, but they can also help you save money and protect the environment. Although you can make a homemade bleach cleaning solution, there are other options.
When you make natural cleaners at home, you can cut down on the packaging waste, while reducing the release of household chemicals that contribute to the pollution of our water and air. The best news is that a majority of the ingredients in these DIY cleaners use ingredients that you probably already have in your kitchen.
Heavy-Duty Toilet Bowl Scrub
This toilet bowl cleaner will tackle even the dirtiest toilet stains, plus it works to deodorize this less than clean area.
To clean the toilet bowl with natural ingredients, pour ½ cup baking soda, and ten drops tea tree oil into the toilet. Then add ¼ cup white vinegar to the toilet bowl and scrub the area while the solution fizzes.
Tub and Shower Homemade Cleaning Solution
Bathtubs and showers are notorious for producing some of the toughest grime, but you can quickly tackle it with the tremendous cleaning power of vinegar. To eliminate mildew from your bathroom and for cleaning mildew in the shower, spray pure white vinegar on the area and let it sit for 30 minutes.
Rinse with warm water. For even more cleaning power, add some tea tree oil to the vinegar. You can also use vinegar as an excellent jetted tub cleaner. Spray not only the tub but the jets and the surrounding area to eliminate mold, mildew, and soap scum.
Homemade Soap Scum Remover
If your shower and tub are covered in soap scum, it can be challenging to remove. While you can purchase soap scum removers at your local store, they can be relatively expensive and often contain harsh chemicals that can be harmful to your health, as well as the environment.
This homemade soap scum remover uses all-natural ingredients that you probably already have in your home that are non-toxic and safe for your family and the environment. With just three simple ingredients, you can remove soap scum from all your bathroom surfaces.
Add the vinegar to a safe microwave bowl or large measuring cup. Add the cornstarch and stir to combine the ingredients. Place the glass bowl in the microwave and heat for two minutes.
Add the liquid dish soap to the spray bottle. Remove the cornstarch and vinegar mixture from the microwave and stir. Allow it to cool slightly.
Pour the gel solution into the spray bottle and gently shake. Spray the solution on any areas that have a buildup of soap scum. Allow to stand for no more than 30 minutes, then wipe clean with a washcloth.
Homemade Natural Disinfectant
You don't have to resort to using harmful disinfecting wipes to keep your house free of germs. There are plenty of natural products that you can use to disinfect and sanitize your entire home naturally.
Vinegar and rubbing alcohol make effective disinfectants, but the strong scent can be overpowering, which means you'll have to live with the smell until it evaporates, and when you're trying to make your house smell fresh, this can be a real turn off.
The other alternative for DIY cleaners is vodka, which is a fantastic natural sanitizer and disinfectant.
Fill a Mason jar with the lemon peels and then cover them with the vodka. Replace the lid and tightly shut. Allow the solution to sit for one to two weeks. Remove the lemon peels, pour half the vodka into a glass spray bottle, and add the water.
Replace the cap and spray on any surface that you need to disinfect. You can use this homemade disinfectant as you would Lysol to clean and sanitize surfaces around your home naturally.
All-Purpose Natural Bathroom Cleaner
This all-purpose cleaner is super simple to make, and it can save you money. The best part is it works better than the cleaners you can purchase at the store, but doesn't contain any harsh chemicals, which means you can get your entire bathroom clean without having to worry about coming into contact with harmful chemicals.
To make a DIY household cleaner suitable for the kitchen, bathroom, or another home area, add the Borax, washing soda, and soap to the spray bottle. Add two cups of warm distilled water to the container. Pour in your favorite essential oils. Cover the container with the cap and shake well to combine the ingredients. Use as needed.
Homemade Air Freshener
Along with cleaning the surfaces in your bathroom, you can also clean the air and get rid of the less visible "uncleanliness" of the bathroom with a non-toxic, homemade air freshener. Not only will this air freshener neutralize bad odors, but you get to pick your favorite scent. You need a Mason jar, a piece of cardboard, baking soda, and your favorite essential oil.
Trace a circle with the inner portion of the mason jar lid onto the piece of cardboard. Then, use a thumbtack to poke a bunch of holes in the cardboard circle.
Fill the jar ¼ of the way with baking soda and add between five and ten drops of essential oil. Place the cardboard circle on top of the lid and screw on the metal ring. Place the jar in an area that needs refreshing.
DIY All-Purpose Counter Cleaner
Get all your countertops clean with a simple DIY cleaning solution that uses just two ingredients. To thoroughly clean your countertops, mix equal parts water and vinegar in a spray bottle. Spray your counters and wipe clean.
If you have marble, stone, or granite countertops, you'll want to avoid using this recipe with vinegar, because it's an acidic ingredient that will damage the surface of your countertops. Instead, substitute a cup of rubbing alcohol in place of the vinegar.
Cleaning Your Cutting Boards
You don't have to spray your cutting boards with toxic chemicals to get them clean and sanitized. Follow our easy ways to clean a cutting board with home ingredients. Lemon, like vinegar, is a tremendous cleaning agent.
The acidic nature of lemon juice makes them a great natural cleaning product that works both as an antiseptic and antibacterial while acting as a natural bleach. To clean and sanitize your cutting boards, both wood and plastic, cut a lemon in half and run it over the surface of the cutting board.
Let the lemon juice sit for ten minutes, then rinse with hot water. If your cutting boards are particularly dirty and you need some serious scrubbing powder, sprinkle a bit of coarse salt over the board first, then rub it down with a half a lemon.
Homemade Oven Cleaner
Keeping your oven clean is extremely important, because the baked-on, burnt food can release carcinogens into the air as it continues to burn. The oven cleaners that you can purchase at the store typically contain a lot of toxins that can eat through your skin if it comes in contact.
Natural cleaning recipes and green oven cleaning products can help, but you may need a little vinegar and baking soda to get your oven clean.
In a glass bowl, combine all the ingredients until the DIY lemon cleaner forms a thick paste. Use a pastry brush to apply the paste to the oven surface until it is coated completely.
Allow the paste to sit overnight, or at least eight hours. Put on some rubber gloves and wipe the oven clean with a sponge and clean water.
DIY Microwave Cleaner
When you're household cleaning, it can be easy to overlook the microwave, but it can get gross in there. How to get rid of burnt smell in your microwave or to combat the gunk, here's a fast and inexpensive way to clean the microwave.
This homemade cleaning solution will allow you to clean your microwave quickly and easily with the power of lemon juice and steam.
In a microwave-safe bowl, combine the lemon juice and the water to make this simple DIY microwave cleaner. Place the solution in the microwave and heat on high for two minutes. Let the heated solution stand for at least two minutes with the door closed.
This allows the steam to create condensation on the walls of the microwave. After several minutes, remove the solution from the microwave and use a clean, soft cloth to wipe down the inside of the microwave.
To finish cleaning the microwave, use a do-it-yourself glass cleaning solution to clean the glass in the door and wipe down the handle.
Homemade Garbage Disposal Cleaner
If your garbage disposal is starting to emit a foul odor, it might be time for you to clean it. While garbage disposals do an excellent job of cleaning themselves, over time, a stinky slime can start to build-up on the areas that don't get cleaned by the grinding action of the garbage disposal.
You can keep the disposal clean and free of smells with weekly cleaning. To clean the garbage disposal and the top of the drain pipe, add a ½ cup of baking soda into the disposal, then slowly add ½ cup vinegar.
Place the sink stopper in the drain opening and wait for several minutes. Remove the stopper and flush hot water down the drain, while running the garbage disposal.
Tile Floor Cleaner
You've come to the right place if you're looking for a competent DIY tile floor cleaner. Not only will this tile floor cleaner recipe replace the other household cleaners you've been using to clean your floors, but it will also keep harmful fumes out of your home.
This DIY tile floor cleaner uses Borax, but if you're unsure about the safety of using Borax in your home, you can use liquid dish soap as an alternative. You can also use this homemade cleaner for bamboo floors if you are careful not to saturate the floor when cleaning.
Fill the bucket with the hot water, then add the Borax and vinegar. Mix the ingredients well to combine, then mop as usual. Use a dry mop to wipe the floor when clean for added shine and to polish laminate flooring or tile.
Wood Floor Cleaner
If you have laminate wood flooring, you might be interested in this DIY cleaning solution. This homemade floor cleaner pulls double duty because it will polish your floor, as well as clean it, leaving the floor naturally shiny.
Add the hot water to a 5-gallon bucket, and then pour in the olive oil and lemon juice. Dip a mop into the bucket and thoroughly wring it out. Use the mop to apply the cleaning solution to the floor.
Allow the floors to dry. The hot water and lemon juice will work to clean and disinfect your floors, while the olive oil polishes them.
DIY Glass Cleaner
This DIY glass cleaner is all-natural and is super easy to make. For just pennies on the dollar, you can make this DIY cleaner for windows that works better than the store-bought glass cleaners.
Unlike some other glass cleaning solutions, this is effective at removing fingerprints, water spots, dirt, and grime and won't leave spots or streaks.
To clean windows without streaks, as well as mirrors, add the vinegar, rubbing alcohol, and cornstarch to the spray bottle. Add the essential oils to the mixture. Replace the top and shake well to combine the ingredients.
Make sure you shake the cleaner before each use to ensure the ingredients are thoroughly mixed. Spray the glass cleaner on your windows, mirrors, and any other glass surface that you need to have cleaned.
Use a lint-free cloth like microfiber to wipe the surface until it turns clear and shiny. Keep the bottle under the sink so it's ready to use whenever you need it for one of the best ways to clean glass without streaks.
Homemade Carpet Cleaning Solution
The carpets in your home can get pretty dirty, especially in high traffic areas. Fortunately, you can make a DIY carpet cleaner that uses natural products and will cost you significantly less than the ones you find at the store. The following recipe uses hydrogen peroxide as well as hot water as it's base.
The hydrogen peroxide will provide you with extra lifting power for a powerful stain remover, along with a diluted whitening power. You shouldn't use this recipe on dark carpets because it will lift the color from the fibers and leave you with white spots in your carpet.
Before using this cleaner on your carpet, be sure to do a spot test on an inconspicuous area. You may also have some success with this recipe when you want to get slime out of clothes, at least the lighter colored ones.
Combine the hydrogen peroxide, laundry detergent, and essential oils in a small bowl. Stir the ingredients to ensure they are thoroughly mixed.
Pour the solution into your carpet cleaning machine's water reservoir with the six cups water. Use the carpet cleaner on your carpets, being sure to follow the manufacturer's instructions.
Silver Cleaner
You can clean your silver utensils and jewelry without using toxic chemicals. This jewelry cleaning recipe is easy to make and will get all your silver jewelry and utensils looking like new again. Just line a sink or bucket with aluminum foil, ensuring the shiny side faces up.
Place the silver pieces you want to clean on top of the aluminum foil in the sink or bucket. Pour one cup boiling water over the items, along with ½ cup white vinegar, one tablespoon salt, and one tablespoon baking soda. Let the solution sit for five to ten minutes, then rinse with water and allow the pieces to air dry.
All-Purpose Furniture Polish
If your wood furniture is looking a bit dirty and dull, instead of reaching for sticky commercial furniture polish, make your own with ingredients you probably already have. This effective polish not only cleans your wood furniture by also nourishes the items without leaving a waxy residue that can result in the unwanted buildup that commercial products often leave behind.
Add the olive oil and vinegar to the bowl. The vinegar will clean and refresh your wood furniture, while the olive oil will nourish it. Add the lemon juice to the solution to help remove stains from the wood, as well as add some extra moisturizing power.
Replace the cap to the container and shake the mixture well before you use it. Apply a small amount of the polish to a soft cloth and polish the wood. Let the pieces air-dry, or you can wipe and buff them with a clean cloth.
If you're ready to start your spring cleaning, these DIY cleaning recipes can help you get your entire house sparkling clean. They use simple, everyday ingredients that are free from chemicals and that won't cost you an arm and a leg.
These homemade cleaners are just as efficient at getting your home clean and fresh as those at the store, but they don't use harsh chemicals that can be harmful to your health.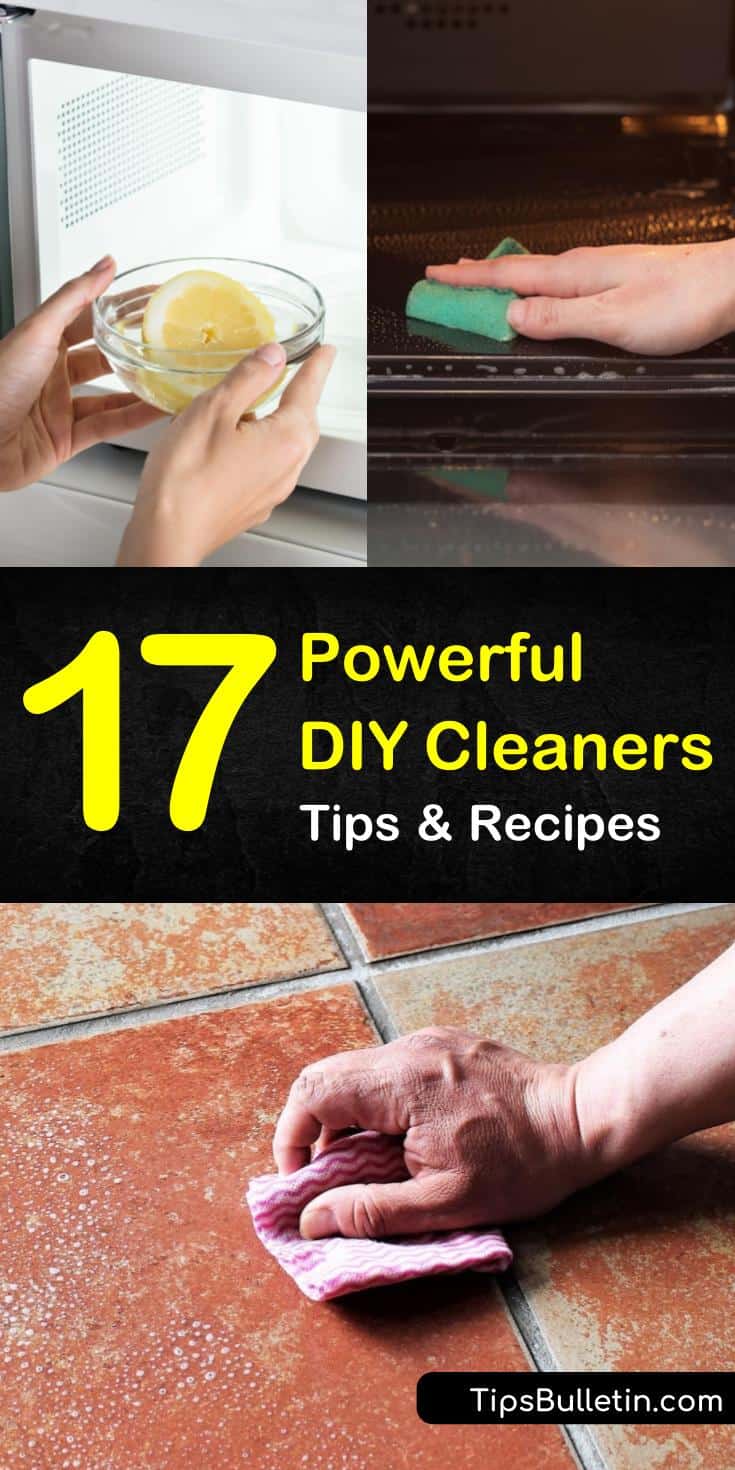 We hope you enjoyed learning about the many DIY cleaners that you can make at home. If you found these recipes useful, please feel free to share them with your family and friends.