Almost all homeowners and renters have been in the position of warming up a big plate of leftover spaghetti in the microwave. As we wait for our food to get warm, the sauce pops and splatters on the interior walls, leaving a big mess that's difficult to clean. Making DIY microwave cleaner is one of the most dependable ways to remove cooked-on food from months of microwaved meals.
Some cleaning products are available for a dirty microwave but using a natural microwave cleaner is safer and equally as strong as those products.
A dirty microwave sometimes feels like the most daunting chore because most of the foods we microwave end up covering every surface and become so hardened that it takes a lot of muscle to remove. If you're desperate for a homemade microwave cleaner that works, check out these cleaners that are free from harsh chemicals.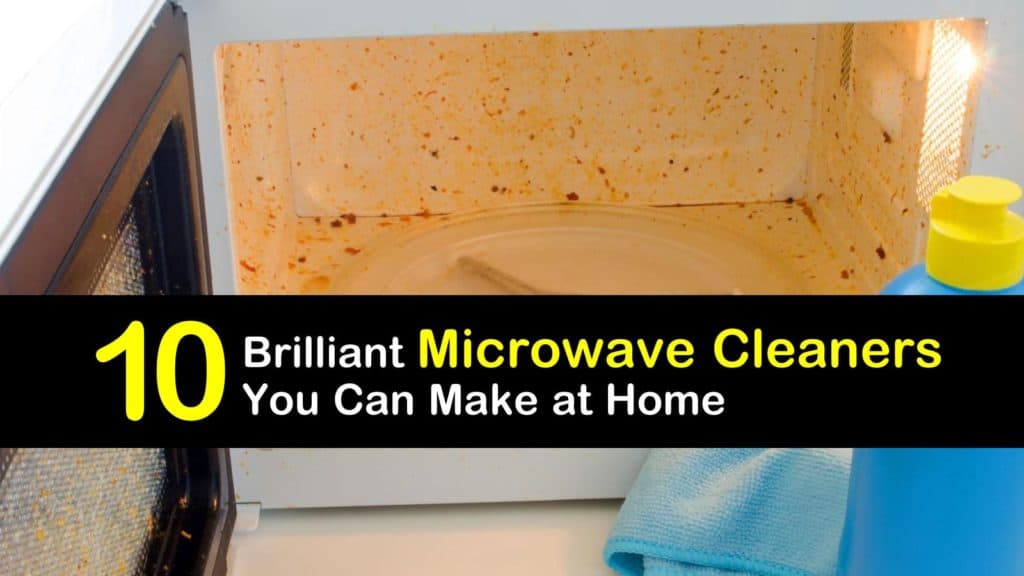 Why use a Homemade Microwave Cleaner?
By providing us heated meals in a fraction of the time that ovens do, microwaves have become staples in houses worldwide. These small appliances made their appearance in 1967 and have become so popular that it's hard to find a home without one today.
The one downside to microwaves is that the inside of the microwave heats food with high power and causes it to splatter over the walls, turntable, and microwave door.
When we don't immediately wipe the inside, the gunk and grime harden and are even more challenging to remove.
Cleaning this hardened food isn't always the most simple task, but it doesn't require you to go out to the store and buy products filled with dangerous chemicals, especially when we don't want those chemicals getting anywhere near your food.
Using a natural microwave cleaner is better for our health and makes cleaning the inside of your microwave fast and easy.
How to Make a Natural Microwave Cleaner
Before you start making homemade microwave cleaner, make sure you unplug the power cord. Inspect the cable for any dirt and remove it so that it doesn't become a fire hazard.
Ensure that the ingredients you're using are safe as a DIY microwave cleaner and that will get rid of unpleasant microwave smells. Some microwaves are made from stainless steel.
Using things like bleach or brushes with stiff bristles damage the metal. Lastly, take out the removable pieces like the turntable, and wash them while they are outside the microwave to make the cleaning process more thorough.
Simplest Way to Clean a Microwave Oven
The wonderful thing about this cleaning method is that it only uses water and paper towels. This strategy is especially beneficial for those who can't seem to find some of the upcoming listed ingredients around the house.
Grab a large handful of paper towels and run them under tap water so that they're soaking wet. Put the wet paper towel inside the microwave and run the microwave for about five minutes on the highest power.
The paper towels heat up and steam inside the microwave, and the steam loosens the caked-on food. Allow the towels to cool somewhat so that they are safe to touch, and use them to wipe down the entire interior.
DIY Microwave Cleaner
Some of the best household cleaners use baking soda. Baking soda is the perfect element for making a cleaning solution because it is abrasive.
Combine the abrasion with some elbow grease, and you've got a hardy tool to lift hardened food from multiple surfaces around your home.
In a small bowl, mix two parts baking soda with one part water. Stir the ingredients until you have a slightly runny paste.
Spread the paste over the hardened mess inside the microwave and let it sit for five to ten minutes. Wipe the paste and food remnants away with a damp sponge or clean rag.
Using Vinegar to Clean Microwaves
The high-acid content of vinegar makes it a powerhouse against hardened gunk. There are several ways to use vinegar as a cleaning solution and homemade degreaser for kitchen cabinets, but one of our favorites is to steam it with water because it gives it an extra boost of washing power.
Fill a large, microwave-safe bowl with warm water and add a tablespoon of white vinegar. Throw in a few drops of your favorite essential oil to help mask the smell of the vinegar.
Microwave the bowl on high so the walls to steam up. Remove the bowl with oven mitts so you don't burn your hands. Grab a damp cloth or sponge to wipe down the inside of the microwave until the walls are spotless and no longer smell like vinegar.
You can also use vinegar to clean a stainless steel microwave on the outside. Wipe with a cloth for a clean shine.
The Strongest Solution for a Clean Microwave
You can use either vinegar and baking soda separately, but when you mix vinegar and baking soda, you get one of the strongest and cheapest homemade cleaners. Use this microwave cleaning hack when your microwave is extra dirty from going months without a good wash.
Grab any ordinary bowl and use a measuring cup to add four cups of water and four tablespoons of baking soda to it. Stir the solution vigorously so that the baking soda dissolves completely.
Dip a clean cloth into the baking soda solution and wipe it over the entire inside of the microwave. Add one cup of water and two tablespoons of vinegar to a microwave-safe bowl.
Place the bowl of water in the microwave and run it on high power for about three minutes. Keep the microwave door closed and let it sit for another ten minutes.
Open the door and carefully remove the hot water bowl. Remove the turntable and carousel that it sits on and soak them in hot water in the sink.
While those soak, use a clean cloth and dip it in the hot vinegar water. Use the wet cloth to wipe down the walls. Wash the soaking pieces as you would do with dishes and return them to the microwave once dry.
Clean Microwaves with Lemon Juice
Lemons are another high-acid ingredient that works well as a DIY microwave cleaner. To clean your oven with lemon steam or your microwave, put a large fresh lemon in half and put it cut side down on a microwaveable plate. Add a tablespoon or two of tap water to the plate and microwave it for one minute. For the oven, a pot is a good idea.
Allow the lemons to cool so they are safe to touch, and rub the cut side over the microwave walls. Grab a clean wet rag and rinse the walls.
Discard the lemons in the trash or cut them into smaller pieces and run them through the garbage disposal with running water to get another cleaning use out of them.
Add lemon juice to a glass cup or bowl and let it steam inside the appliance for getting a bad smell out of the microwave. One to two minutes is all you need.
The Power of Dish Soap
Don't overlook dish soap to clean your microwave, especially the ones with grease-fighting abilities.
Fill a bowl with water, add a few drops of dish soap, and microwave the bowl for one minute. Dip a clean sponge in the soapy water. Wipe down the inside of your microwave until all remnants are removed.
Homemade Microwave Spray
One way to make cleaning the microwave easier is to create a solution in a spray bottle. Combining hardy ingredients ensures that the spray breaks down cooked-on food within a matter of minutes.
Fill a spray bottle with the distilled water, vinegar, and lemon juice. Shake the bottle so all the ingredients are thoroughly mixed.
Spray the cleaning solution over the entire microwave, both inside and out. Allow the product to sit for five minutes. Dampen a rag in hot water and wipe the microwave until it is spotless.
Fantastic Products for Cleaning Microwaves
One of our favorite things to clean microwaves with is a Mr. Clean Magic Eraser. These sponges are known for removing even the toughest stains and only require water for full effectiveness.
Dampen the Magic Eraser under hot water and scrub the entire microwave until all food particles, dust, and grime are gone.
How to Dilute Window Cleaner
Window cleaner is safe to use when cleaning microwaves and gives our appliances a little extra shine. On top of that, most of us already have some stashed in our homes.
To dilute the window cleaner, mix two parts of the product with one-part water. Soak a sponge in the cleaner and wipe down the microwave.
Don't forget to clean the vents on the side of the machine. Once all the dirt is gone, use a clean cloth dipped in fresh water to wipe away all the window cleaner particles. This cleaning method leaves your microwave and other kitchen appliances glistening.
What to do with Commercial Cleaners
If you've already used commercial cleaners, you may have been made aware of the smelly fumes they emit when you use your microwave again.
If using commercial cleaners is your only option, always make sure to rinse down the microwave with lots of clean water. The more you rinse, the better. You don't want any chemicals or fumes altering the taste of your food or seeping into it.
Once your microwave is free from grime, plug it back in so it is ready to perform once again. There may be dozens of cleaners out there for you to buy, but spending money on dangerous chemicals is far from necessary.
There are countless ways to make a DIY microwave cleaner, all of which are cheaper, safer, and more effective than commercial products. Try out a few of our homemade cleaners, and let us know which works best for you.
Recipe for Homemade Microwave Cleaner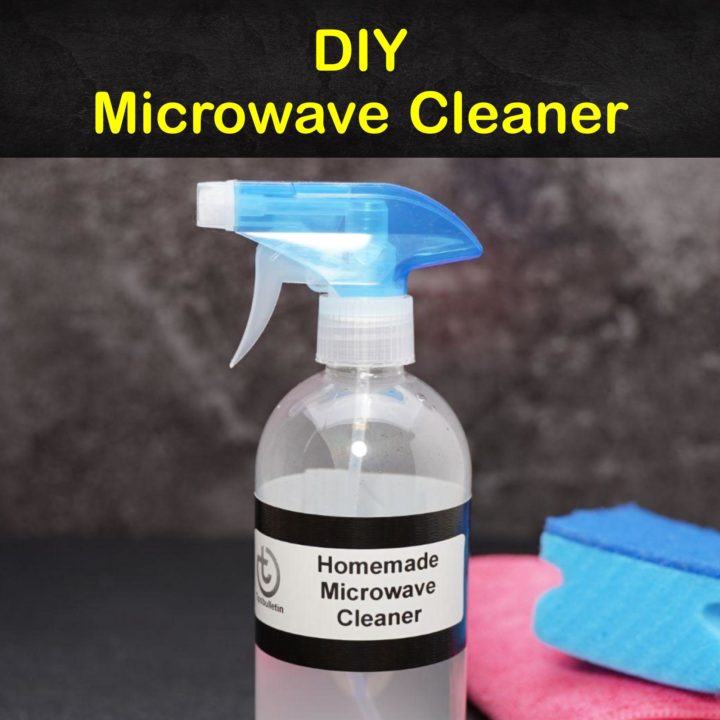 DIY Microwave Cleaner
A DIY cleaning solution that leaves your microwave spotless!
Materials
4 ounces vinegar
4 ounces of lemon juice
4 ounces distilled water
Tools
Clean cloth
16-ounce spray bottle
Instructions
Add the ingredients to the sprayer.
Shake the solution well to mix.
Spritz one area of the microwave at a time and let it sit for several minutes.
Wipe dry with a damp cloth.
Notes
Use distilled water rather than tap water, which will not leave streaks.
This cleaner works well inside and outside of the appliance.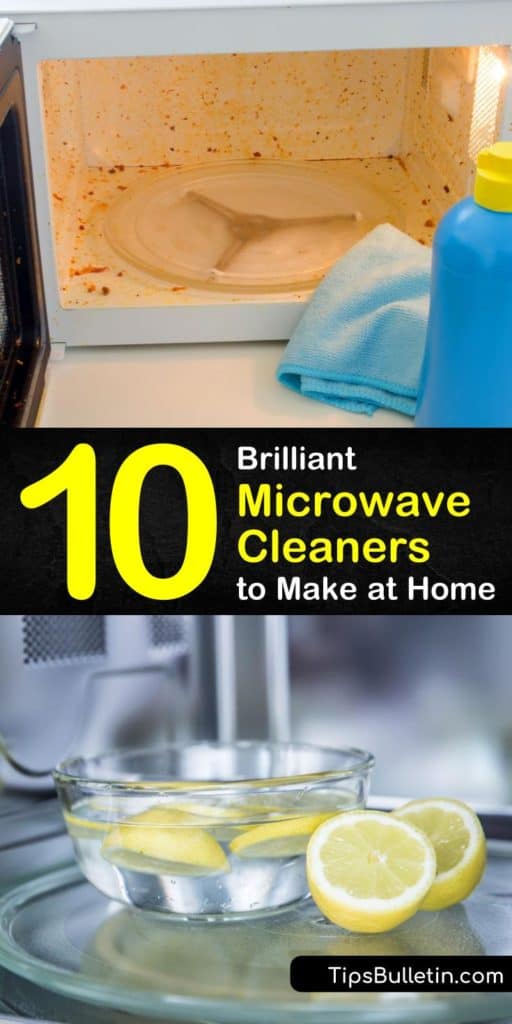 If you found that making a DIY microwave cleaner worked better than other products, share these all-natural cleaners for microwaves on Facebook and Pinterest.