Foul odors are the result of many issues and found almost anywhere, from the bathroom to the basement. Unpleasant smells that linger in the air are an unwelcome presence and downright nasty. Learn how to make a DIY odor eliminator to get rid of stinky smells in just about any situation.
There are many causes of foul odors in the home. Musty odors in the basement, rotting food in the garbage, a stinky litter box, sewer smells in the sink drain, wet dog smell in the carpet, and the list goes on. Unfortunately, knowing the cause of the scent doesn't always eradicate it.
Bad odors range from mildly unpleasant to unbearable, so understanding the cause and location of the odor is the first step to neutralizing it. Once you establish this, eliminating bad smells with a homemade deodorizer is easy.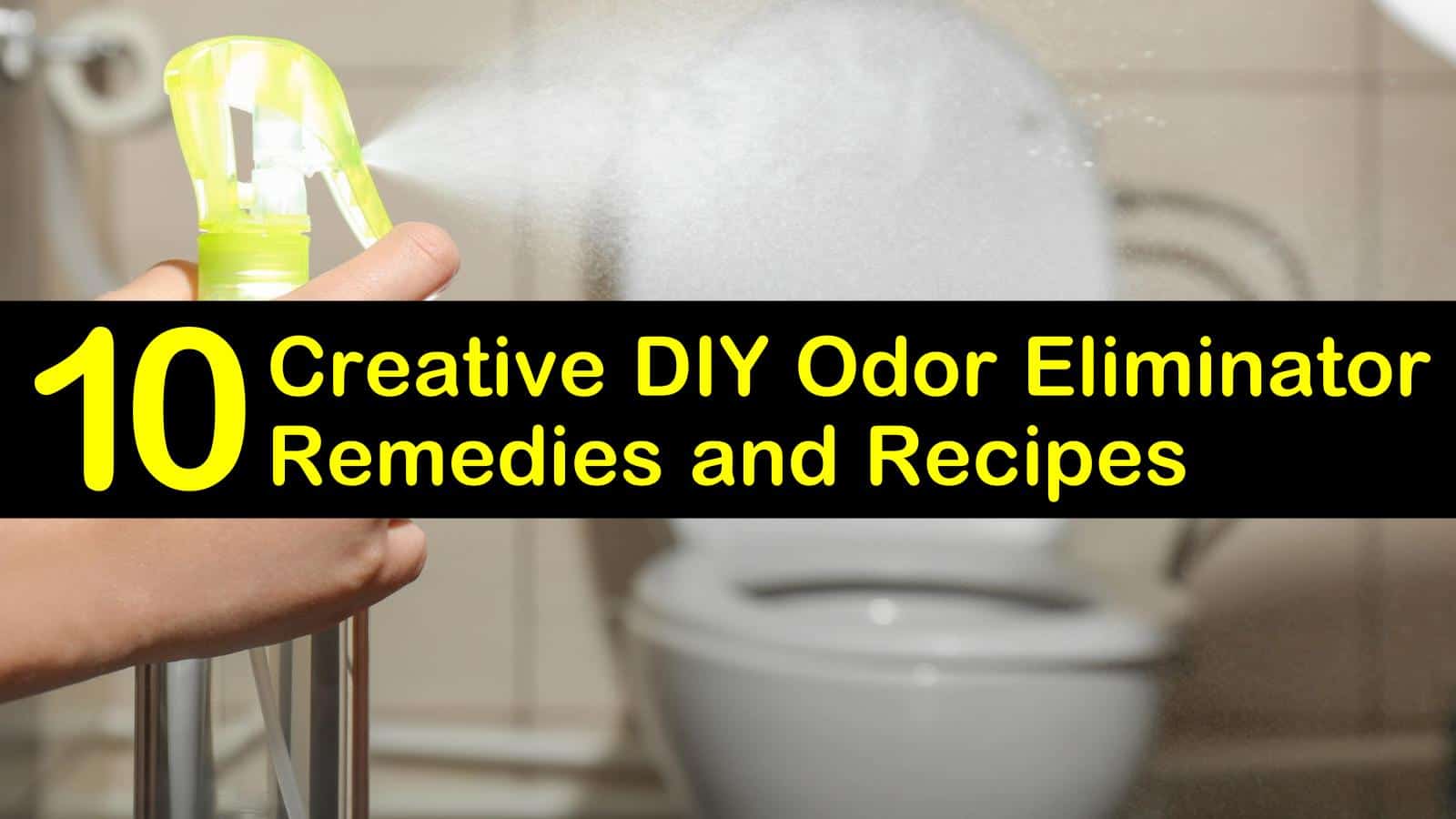 Powerful Do-It-Yourself Odor Eliminators
While there are many situations when you can get rid of bad odors by eliminating the cause, there are times when the only thing left to do is perform a regular odor neutralizing routine. Luckily, there are a variety of easy solutions that you can make yourself for a clean smelling home.
Homemade Odor Eliminator Spray
This homemade odor eliminator contains fabric softener to freshen the air and baking soda to absorb odors. Deodorizing carpets with baking soda is easy with this recipe as it is similar to Febreze. Freshen furniture, carpeting, clothing, and any room in the home where odors linger with this simple homemade odor eliminator spray.
Pour the water in a pan and bring it to a boil before removing it from the heat. Add the fabric softener and baking soda to the hot water and stir to dissolve the ingredients.
Allow the freshener to cool for about one hour before pouring it into a spray bottle. Label the container and shake it well before each use. Spray the air freshener anywhere in your home or car as you would a store-brand freshener.
Basement Odor Eliminator and Cleaner
The basement is a breeding ground for musty smells because it is a damp environment. To eliminate these smells and prevent them from making their way to the upper part of your home, use a basement odor eliminator made with vinegar and water.
When you are ready to remove musty smell from basement areas, mix up this solution. Pour the water and vinegar into a bottle sprayer and shake well to mix.
Spray the solution onto the walls, floors, beams, and any other porous surface in the basement that contains musty smells. Use a scrub brush to scour the surface in sections and dry thoroughly with clean rags. If you don't care for the vinegar aroma, add several drops of your favorite essential oil to the mixture.
Removing Bathroom Odors
Many times, bad smells in the bathroom are a result of mold and gunk build-up in the sink and shower drain. The mixture of white vinegar and baking soda make a natural odor eliminator that not only removes a nasty sewer odor in the bathroom but cleans drains, as well. This solution is also ideal for use in the dishwasher drain.
Pour the baking soda down both the bathroom sink drain and shower drain. Let the powder sit for 15 minutes as it absorbs foul odors.
Pour the vinegar down each drain and let it sit for another 15 minutes as the two ingredients react to each other to loosen stinky gunk and slime. Flush hot water down both drains to rinse the smelly residue away.
DIY Odor Eliminator Spray and Air Freshener for Furniture
Odors often linger in homes from cooking, smoking, and other everyday occurrences. Here is a room odor eliminator that uses the odor-absorbing power of baking soda in combination with the fresh, clean scent of lemons.
Combine the water, essential oil, and baking soda in a glass spray bottle. Label the container for regular use and shake well to mix. Spray the air freshener daily throughout your home and over the surfaces of the furniture to combat bad odors.
Make a Deodorizing Spray without Fabric Softener
This smell eliminator spray uses the fragrant scent of essential oils to freshen the room rather than fabric softener. It also contains rubbing alcohol to eliminate odors.
Fill a glass spray bottle with equal parts of water and rubbing alcohol. Add 20 drops of your favorite essential oils and shake well. Use one scented oil or mix a combination of scents to create a personalized air freshener.
Shake the bottle and label it for everyday use. Spray the freshener around your home to remove unpleasant odors. Open the lid on your toilet and spritz the interior of the bowl with this mixture for a homemade toilet bowl deodorizer between cleanings.
Eliminating Odors in a Litter Box
There's not much you can do about having a litter box in your home unless you teach your cat to use the bathroom toilet. Fortunately, baking soda eliminates those kitty box smells. It's also a great way to get cat smell out of carpet.
Litter Box Odor Remover
After scooping out your cat's litter box remains, sprinkle a decent amount of baking soda onto the litter surface. Use the poop scoop to mix the soda powder into the litter. Doing this once a day eliminates unwanted cat box smells.
How to Get Rid of Shoe Odor
If you have teenagers in the home, then you are probably well aware of how bad their sneakers smell at the end of the day. This homemade shoe deodorizer not only removes terrible odors but kills the bacteria that cause the smell in the first place.
To make this shoe sanitizer spray, fill a bottle sprayer with hydrogen peroxide and spray the inside of the shoe enough to make it damp but not saturate it.
Use a soft sponge to clean the inside to remove dirt and odors. Repeat the same process with the other shoe and allow them to dry completely before wearing them. If you can let the shoes air dry in the sun, that helps even more.
This is also a great way to deodorize Ugg slippers and other types. Get rid of shoe odors, whether you are getting diesel smell out of suede shoes or are dealing with foot odor, the natural way.
Getting Rid of Upholstery Odors in Your Car
As much time as you probably spend in your car, musty smells are inevitable. Make a homemade natural car freshener out of baking soda to absorb bad odors. Sodium bicarbonate is also an excellent choice for removing musty odor from fabric upholstery.
Pour baking soda into a small Mason jar and add about 15 drops of your favorite essential oil. Set the lid in place and shake the jar to mix the oils throughout the powder. Remove the lid and trace it out onto a piece of cardboard.
Cut the circle shape out of the cardboard and use a nail or thumbtack to poke several holes through the surface. Place the cardboard lid onto the top of the jar and secure it into place with the lid's outer band. Place the air freshener jar into the cup holder in your car.
Eliminating Odors in the Trash Can
Trash cans have a nasty odor all their own, especially if they contain dirty diapers. These gross odors sit and ripen within the confines of the garbage can, which may create a permanent scent that is hard to remove.
Combine the water, baking soda, and 12 drops of essential oil in a bowl to form a paste. Line the cupcake pan with silicone cups and spoon the scented paste evenly into each cup. Place the baking pan into the oven preheated to 350°F and bake for 20 minutes.
Allow the disks to cool completely before removing them from the pan. Every couple of weeks, place a disk into the bottom of your trash can to neutralize odors.
Preventing Bad Odors in Your Home
Each room in your home plays a part when it comes to bad odors. Here are several preventative steps to take to keep a pleasant home smell.
Home Odor Prevention
If you have a cat, make sure that the litter box gets cleaned and refreshed with new litter regularly to prevent cat urine smells from invading your home. Vacuuming and washing your pet's bedding also inhibits pet odor.
Wash dirty bedding and clothing with laundry detergent and fabric softener as it accumulates. Adding a cup of vinegar to the rinse cycle can remove oil smell from clothes and softens fabric if you don't have any fabric softener. Dirty clothes that sit for too long tend to get a musty odor to them that spreads throughout the home.
Clean out the refrigerator regularly. It is easy to push leftovers to the back of the fridge while rummaging for snacks. This habit leads to moldy and rotten food that fills the kitchen with a bad smell. Add an open box of baking soda to one of the shelves as a simple homemade refrigerator odor remover that costs less than a dollar.
Take out the garbage as necessary, including trash in the kitchen, bathroom, laundry room, and any other room in the house. Doing this not only prevents terrible smells, but germs, bugs, and other pests, as well.
For a stinky microwave, add a cup or so of lemon juice or vinegar to a microwave-safe container and heat it on high for about five minutes. For this way to get a smell out of the microwave, let the bowl sit in the appliance after heating for ten minutes.
Take out the container and wipe down the interior of the microwave. All unpleasant odors and grime should disappear.
You don't have to live with lingering foul odors in your home when you make a homemade and natural odor eliminator. Using the right cleaning solutions with homemade cleaners while neutralizing the odor-causing problems creates a fresh atmosphere in your home for you to enjoy.
Recipe for DIY Odor Eliminator Spray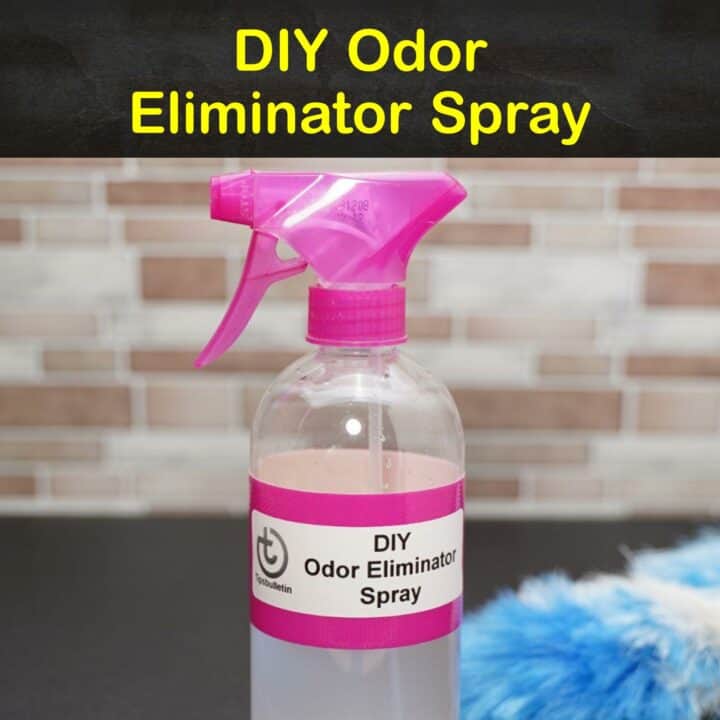 DIY Odor Eliminator Spray
Prep Time:
2 hours
2 seconds
Total Time:
2 hours
2 seconds
Get rid of unpleasant smells anywhere in the house.
Materials
16 ounces water
8 ounces liquid fabric softener
3 ounces baking soda
Tools
Pot
Spoon
32-ounce spray bottle
Instructions
Boil the water in the pot and take off the burner.
Mix in the baking soda and fabric softener.
Allow to cool for at least 60 minutes.
Pour the liquid into a sprayer.
Shake well before using.
Notes
Use in any room and on virtually any surface to get rid of lingering odors.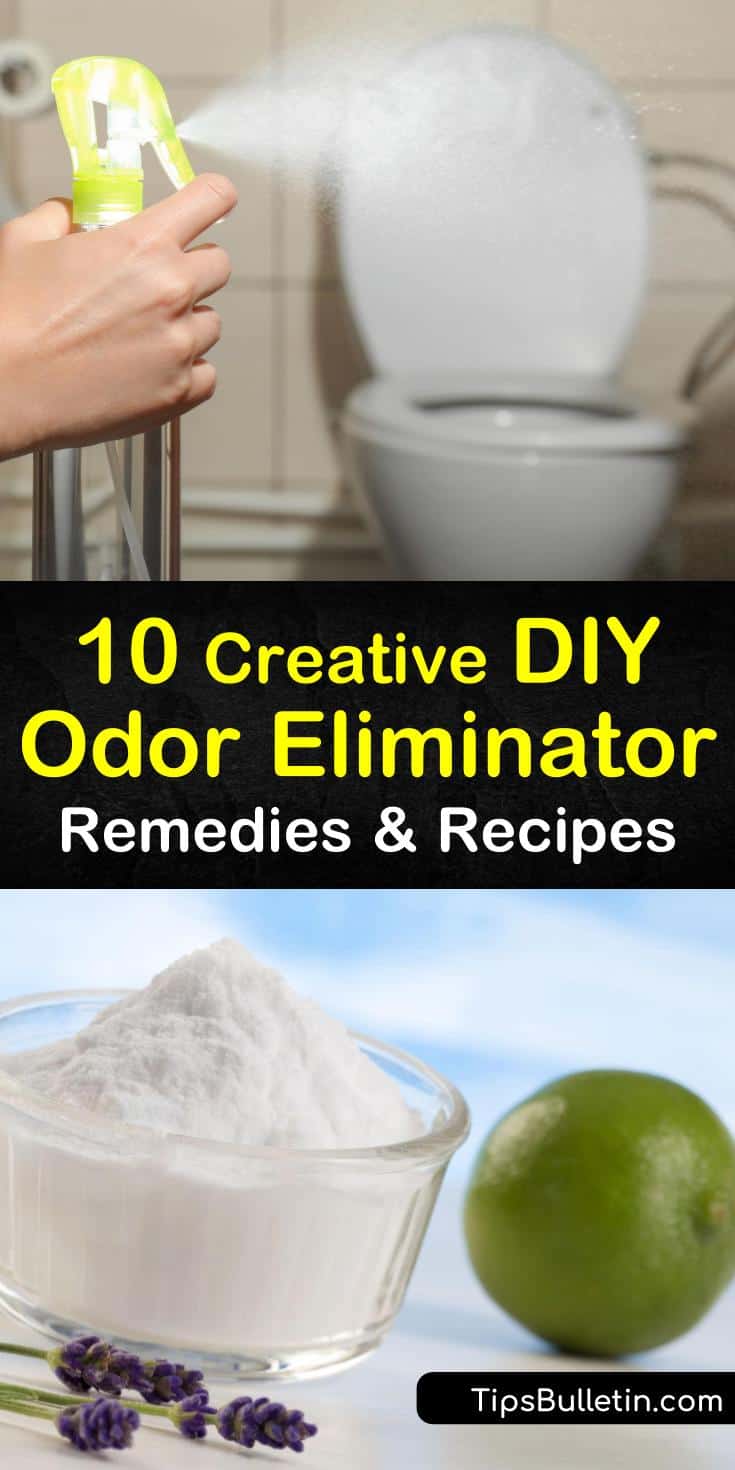 A DIY odor eliminator removes odors from your home and saves you money, so why not share our odor eliminator remedies and cleaning tips with your family and friends on Facebook and Pinterest?