A leisurely shower is not so relaxing if you begin to notice random streams of water shooting into the corner of the room or the shower curtain. This is a good indication that your shower head is clogged with grime. Over time, mineral deposits and gunk build up in the nozzle, and it's time to give it a good cleaning with a DIY shower head cleaner.
While cleaning the showerhead seems redundant, since running water flows through it regularly, the inside accumulates hard water deposits. This mineral buildup causes the spray nozzle holes to clog and decreases the water pressure.
Not only that, but the shower door, faucet, and showerhead get covered with water stains and soap scum. There is nothing more uninviting than taking a shower to get fresh and clean beneath a grimy, slimy shower head. No one enjoys bathroom cleaning, but there are easy ways to clean the shower without using harsh chemicals.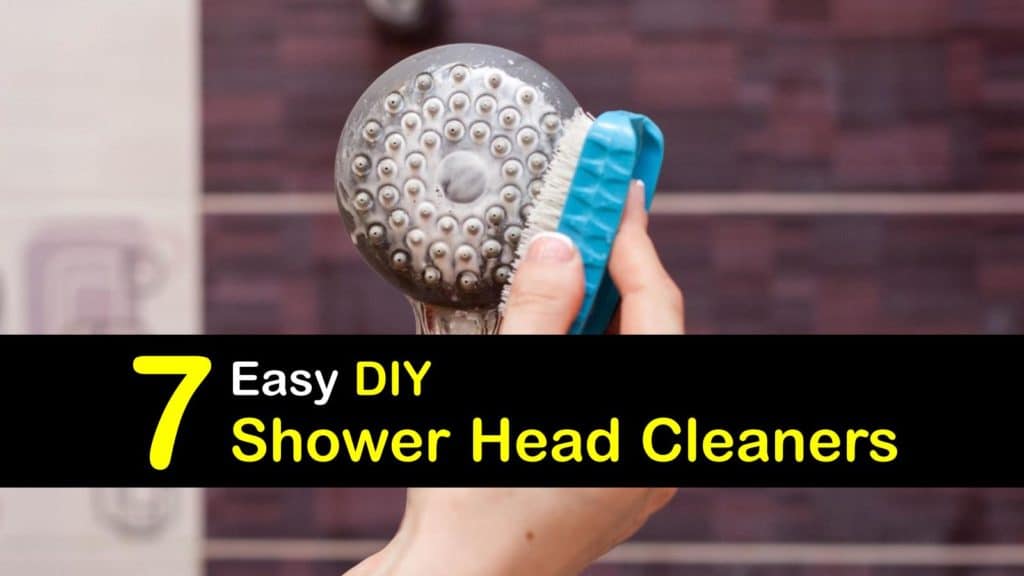 Ways to Clean a Shower Head Inside and Out
Sinks, showers, and bathtubs are often challenging to clean, especially if you have hard water. We show you how to clean your showerhead to keep its shine and performance with routine and deep cleaning.
Homemade Shower Head Cleaner with Baking Soda
If your shower head is effortless to remove, the best way to perform a deep cleaning is to take the head off and soak it in a cleaning solution. This homemade shower head cleaner removes hard water stains and gunk without having to use much elbow grease.
Follow the instructions for your shower if you have them. Most showerhead types are convenient to remove by twisting them off the base with a counterclockwise motion, but some require a pair of pliers.
Pour enough white vinegar into a plastic tub or sink to submerge the showerhead and sprinkle in some baking soda, using a third-cup of soda for each cup of vinegar.
Place the showerhead into the liquid and let it soak for at least an hour. If the unit is filthy, consider soaking it overnight.
Hold the shower head beneath a warm running faucet for about a minute to flush out debris, ensuring the water goes through the pipe and out the nozzle. Reattach the head back in the shower stall and turn on the water to ensure it sits properly.
Natural Shower Head Cleaner in a Bag
If you prefer not to remove the showerhead or it is too difficult to get off, try using a natural shower head cleaner soak bag. This method is a great way to clean a deposit buildup in the head while it is in place.
Pour white vinegar into a bag and add the baking soda. Hold it open beneath the showerhead and bring it upward until the nozzle is submerged in the cleaning liquid.
Secure the top of the bag in place with a twist tie or rubber band and let it hang for about an hour or more for a deep clean. Remove the tie, carefully slide the bag off the showerhead, and run the water for a few minutes to flush away the grime and vinegar smell.
Add this mixture to a spray bottle for an excellent homemade shower cleaner spray. As a bonus, pour the solution down the drain for an easy but effective shower drain cleaning remedy. It eliminates odor quite well.
DIY Shower Head Cleaner with Vinegar
If the outside of your shower head has water stains left over from hard water, try using white vinegar to clean the surface. It's a great way to remove calcium buildup on faucet and shower head surfaces. This acidic liquid breaks up the mineral deposits for quick cleaning.
One of the best homemade bathroom cleaning products is vinegar. Fill a squirt or spray bottle with white vinegar and spray the liquid directly on the nozzle of the showerhead. Use an old toothbrush to gently scrub gunk from around the spray holes.
Spray the cleaner on the shower head's top and neck portion and use a sponge to wipe away water spots and soap scum.
Run the shower after you finish cleaning to flush out dirt, use a wet sponge to wipe away vinegar residue from the surface, and finish up by drying it with a clean towel.
If you need to remove mineral deposits from glass shower doors, spray vinegar directly on the glass and use a sponge or scrubbie to eliminate hard water stains. Rinse well.
This home remedy is also quite effective to deep clean shower grout and tiles. Add a little baking soda to make a paste, if necessary.
Cleaning Mildew off a Shower Head
Water deposits aren't the only problem when it comes to your shower head. This area is also a magnet for mildew and mold, and a homemade shower head cleaner with bleach is often the best way to kill these germs.
Combine bleach and water in a bottle and shake it well. Spray the cleaner on the shower head's nozzle side and use a toothbrush to clean away mold and dirt.
Finish up by spraying the liquid on the top, neck, and base, and use a scrubber or sponge to wipe down the surface. Rinse the area clean with water and run the shower to rinse away residue.
How to Clean a Shower Head Filter Screen
Showerheads contain a filter that often gets clogged with buildup. This simple and natural shower head cleaner uses everyday soap and a toothbrush to clean the screen with ease.
Follow the shower instructions to remove the showerhead from the wall to access the filter screen located behind the head. This requires twisting it off with your hands or using a pair of pliers.
The filter is small and circular and sits in the showerhead area that connects to the wall pipe. Remove the filter and hold it under running water.
If the screen is filthy, use a bit of dish soap and an old toothbrush to scrub away the debris. Replace the filter screen and shower head, reversing the steps you took to remove them.
Using Scale Remover to Clean a Shower Head
If your water has high calcium carbonate levels and other minerals, there is a good chance your shower head has scale residue. To remove this crusty material, consider using a commercial limescale remover.
There are several limescale brand names on the market, such as Simple Green and CLR, and all of them are relatively similar, but it's essential to follow the directions for your brand before proceeding.
Make sure the room is adequately ventilated before cleaning. Some types recommend mixing equal parts limescale remover and water before applying it to the stain with an old toothbrush or rag.
Rinse the showerhead with clean water after it sits for the recommended amount of time.
Removing Rust Stains from a Shower Head
Calcium, soap scum, and dirt are not the only culprits to leave stains in your shower. Rust stains are common if you have too much iron in your water, and regular cleaning is required to keep them from ruining your shower head.
Always check a new product in an inconspicuous area to ensure it is safe, and slip on rubber gloves to protect your hands. Spray water on the shower head's rusty areas and sprinkle Bar Keeper's Friend on the stain.
Let it sit for about a minute while the oxalic acid does its job of breaking up the stain, and use a wet rag or sponge to clean the rust away. After the stain is gone, rinse the shower thoroughly with clean water and dry it with a towel.
There is nothing more relaxing than standing beneath an even spray of water coming out of a clean shower head.
However, hard water causes low water pressure and uneven streams, and soap scum builds up on the showerhead surface. Fortunately, there are easy ways to remedy the problem using a simple cleaning solution.
Recipe for an Easy Natural Shower Head Cleaner in a Bag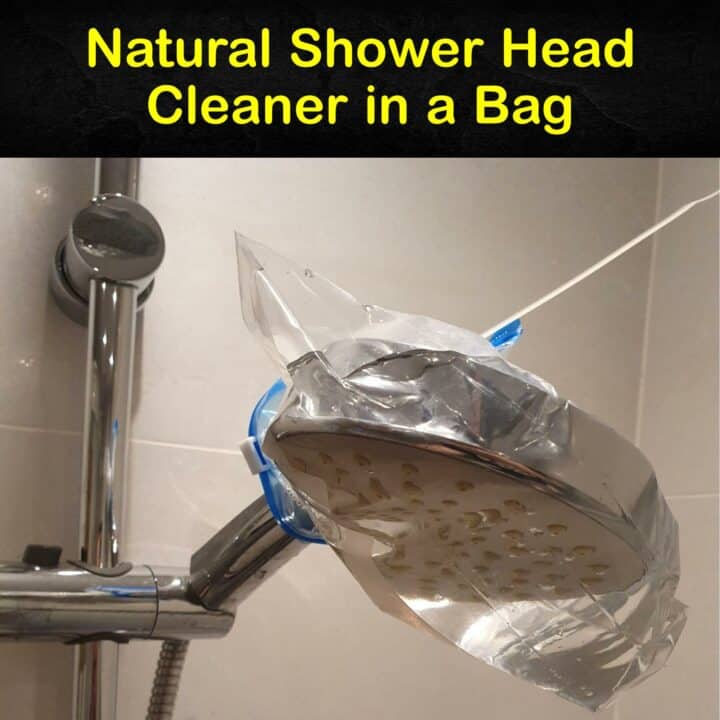 Natural Shower Head Cleaner in a Bag
Prep Time:
1 hour
15 minutes
Total Time:
1 hour
15 minutes
Eliminate mold and calcium buildup at the same time!
Materials
8 ounces baking soda
24 ounces vinegar
Tools
Heavy-duty plastic bag
Plastic-wrapped tie strap
Measuring cup
Instructions
Add the baking soda and vinegar to the bag. Swish to mix.
Submerge the shower head in the bag.
Carefully tie the bag to the shower head.
Let it sit for at least one hour.
Hold the bag while removing the tie.
Discard the baking soda and vinegar solution.
Turn the shower to hot and let it run for several minutes.
Notes
Pour the mixture into a sprayer and use as a multi-purpose bathroom cleaner.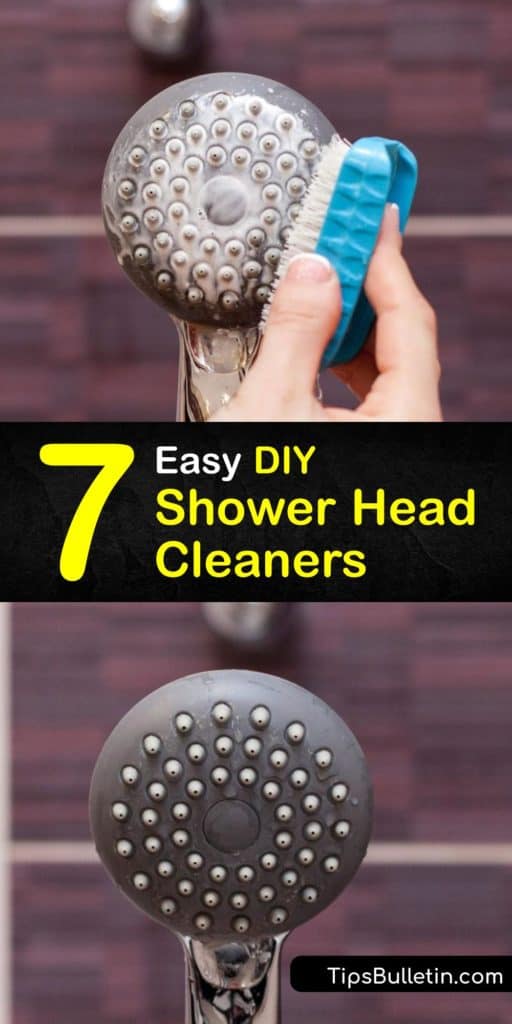 Not only is it easy to remove calcium deposits using a DIY shower head cleaner, but it's safer than harsh chemicals, so why not share our shower head cleaning tips with your friends on Facebook and Pinterest?