Almond milk can indeed go bad, but storing it properly can significantly extend its shelf life.
Check the expiration date on the carton.
Store unopened shelf-stable almond milk in a cool, dark pantry.
Refrigerate opened almond milk and consume it within ten days.
Freeze almond milk to extend its life for up to two months.
Use your sense of smell and taste to determine freshness.
To ensure your almond milk stays fresh, first, examine the expiration date. If the almond milk is unopened and shelf-stable, keep it in the pantry away from heat and light until ready to use. Once you open the carton, refrigerate it immediately. Try to consume it within ten days for the best taste and safety.
Freezing almond milk is a smart way to keep it longer if you can't finish it quickly; though the texture may change, it's perfect for cooking or smoothies after thawing. Lastly, trust your senses: if it smells sour or tastes off, it's time to discard the milk. This approach is straightforward and budget-friendly, ensuring you make the most of your almond milk without waste.
You grab a carton of almond milk out of the fridge and then stop short of pouring it into a glass because you cannot remember when you actually purchased it from the grocery store. Does almond milk go bad, and what's the optimal way to store it?
You check the best before date and give it a sniff, but you're still unsure if it's safe to drink. Unlike dairy milk, almond milk results from grinding almonds with filtered water and a great choice for those who are lactose intolerant.
It is also a popular milk substitute among vegans and those who do not like cow's milk. While it is not a good source of calcium, nut milk is low in calories and carbohydrates and is naturally gluten-free.
While we are all aware of how quickly milk and other dairy products spoil, almond milk also has an expiration date, and this depends on how it is stored and whether it is unopened.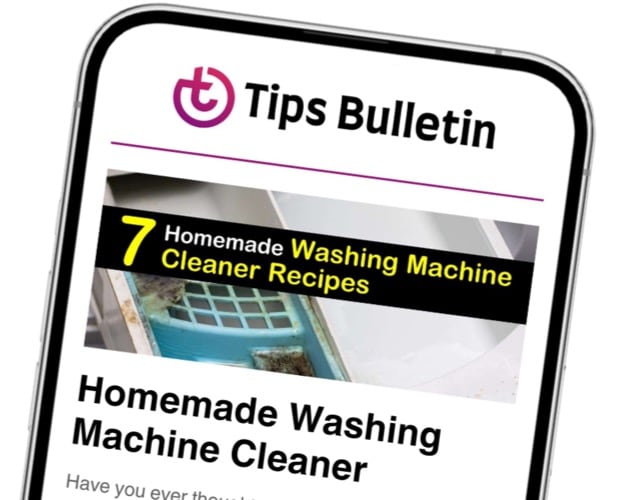 Finally, an email that Transforms Your Home.
Get the latest home and garden tips from our experts, delivered straight to your inbox.
Many commercial brands add preservatives to lengthen the shelf life of this milk alternative. However, some, such as Blue Diamond Almond Breeze, does not.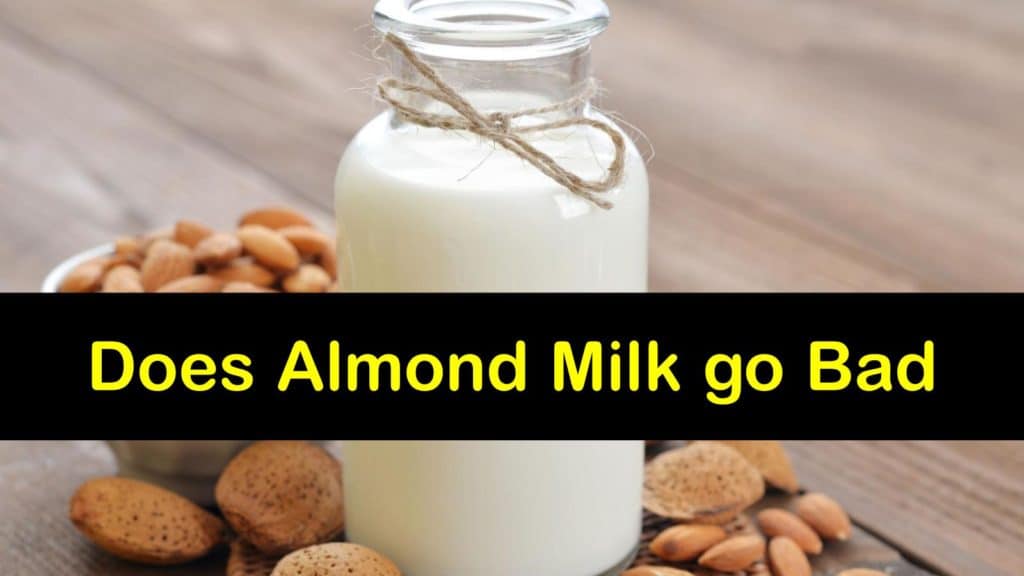 Determine if Almond Milk goes Bad
Have you ever wondered, "How long does cow's milk last outside the fridge?" What about other types of milk? Shelf-stable almond milk lasts a little longer than homemade almond milk since many manufacturers use a pasteurization process to extend its shelf life.
But, when does almond milk go bad, and is that refrigerated carton still good, or is it time to dump it down the kitchen drain? There are a couple of answers to this question. Is the dairy-free milk opened? Is it stored in the refrigerator, or is it frozen?
Where is the Right Place to Store it?
We discuss how long almond milk lasts, the best way to store almond milk, and explain an easy way to tell when almond milk is gone bad.
When Does Almond Milk go Bad?
The ideal way to store almond milk is in the refrigerator. This is true for both self-stable and homemade milk. But, when does almond milk go bad, and how long does it last in the fridge? How long will coconut milk last in fridge? What about soy milk?
Refrigerating Almond Milk
After opening an almond milk carton from the grocery store, it's important to keep it in the fridge. How long does opened almond milk last? This milk is safe to consume within ten days of opening, and sometimes even longer.
Homemade milk has a shorter shelf life and only lasts about four to five days. Keep unopened milk in the pantry at room temperature until the best by date, and do not open the carton until you are ready to consume it.
To store your opened milk in the fridge, keep the lid in place to prevent the milk from absorbing other odors, or pour DIY milk in an airtight container.
Set it at the back of the fridge where it's coldest and avoid placing it in the door where there are temperature fluctuations. Always shake the milk before drinking it for the freshest flavor.
Does Almond Milk go Bad in the Freezer?
If you cannot use up all of your almond milk before it goes bad, consider freezing it for a later date. Can you freeze whole milk? Soy? How long does almond milk last in the freezer?
While refrigeration is optimal, it's easy to freeze both store-bought and homemade milk, and doing this lengthens the shelf life up to two months. However, the texture and color do change after going through the freezing process.
There are two ways to freeze milk, and the first is to use ice cube trays. Pour the almond milk into the compartments of an ice cube tray and set it on the freezer shelf until frozen solid.
Pop the frozen milk cubes out of the tray, place them in a large freezer bag, and seal it before returning them to the freezer.
The second way to freeze milk is to pour the liquid into a freezer-safe container, secure the lid tightly in place, and set it upright on the freezer shelf.
To thaw your frozen almond milk, place it in the fridge overnight. If you need the milk sooner, try setting the bag or container in a pot of lukewarm water.
After the milk thaws, pour it into a blender and blend it for about 20 seconds to restore the texture. Use frozen cubes without thawing them by adding them directly to a hot dish while cooking or tossing them into your favorite smoothie.
Way to Tell When Almond Milk is Gone Bad
Oftentimes, we forget exactly how long that milk has been sitting in the fridge or freezer and are left wondering if it's still drinkable. The simplest way to tell when almond milk is gone bad is to use your senses of smell and taste.
What about evaporated milk? Does evaporated milk go bad? All milk spoils eventually.
Spoiled Almond Milk
Almond milk naturally divides after it sits, so the texture appears separated. However, this is not an indication that it is spoiled. It also appears bad after freezing since the liquid separates.
If the milk has not reached its expiration date and the liquid seems off, try shaking the milk carton before using it or pour the milk into a blender for 20 seconds.
If you are unsure if it's past its date, check the texture for thickness and clumping. These are true signs of spoilage.
If the texture looks fine, but you're still not sure, smell and taste it. Spoiled almond milk has a sour flavor and an off odor, and it's time to dump it down the kitchen drain.
Coconut milk, almond milk, soy milk, and other non-dairy milk are not only popular drinks but a necessary beverage for those who are allergic to dairy products.
Fortunately, there are a couple of ways to store cashew, almond, and other nut milk to prevent food poisoning, whether you make your own almond milk or buy it from the grocery store.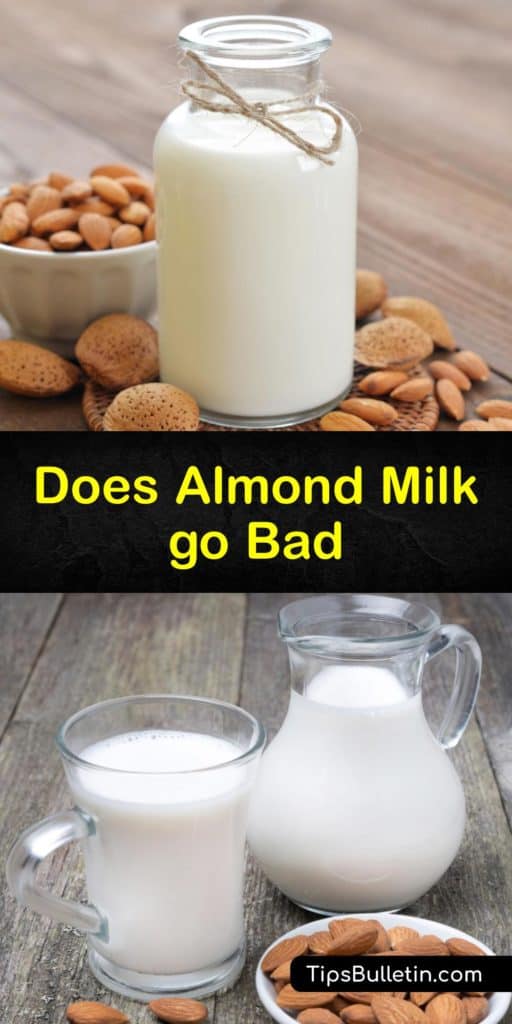 Does almond milk go bad is a commonly asked question among those who do not tolerate dairy, so why not share the answer and our almond milk storage guide with your almond-loving friends and family on Facebook and Pinterest?