Blue cheese—bleu cheese if you want to be fancy—is one of those "love it or hate it" foods. Either you love spreading the stuff on crackers, or you prefer to stick to plainer cheeses like mozzarella and cheddar. Given the fact that the cheese already contains mold, you might find yourself wondering, "Does blue cheese go bad?"
Yes, it is possible for blue cheese to spoil, just like any dairy product. The Penicillium mold that gives cheeses like Roquefort, Stilton, and Gorgonzola their characteristic blue veins is safe to consume. However, colorful yeast patches and toxic molds may develop, indicating that it's time to toss the cheese. Fresh blue cheese should have a creamy or white body with blue or blue-green veins or spots.
The cheese may naturally display some pink around the rind. Confirm on the label or the manufacturer's website that this coloring is normal. Blue cheese has a strong smell that only gets stronger as it ages. The cheese also has a sharp, salty flavor that becomes more prominent as it matures. Blue cheese with an overly strong odor and taste may be past its prime.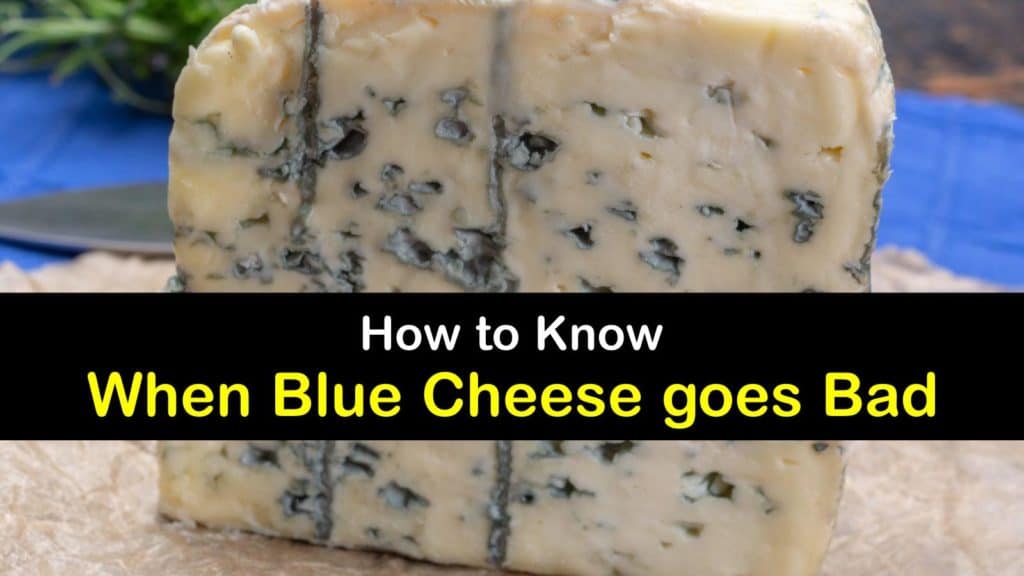 Can Blue Cheese go Bad?
Yes, although the signs of spoilage may be less obvious than on cheeses with plainer coloring. Have you been wondering how to tell when blue cheese is gone bad? Watch out for pink, green, or brown patches, as well as texture changes, just like how to tell if cream cheese is bad.
Is Blue Cheese Safe to Eat?
Blue cheese is normally perfectly safe to consume. It's made by adding Penicillium—an edible mold used to make camembert—during the cheesemaking process. The cheesemaker adds the mold after draining the cheese curds and rolling them into wheels.
The Penicillium mold is edible and does not produce any toxins. Of course, remember the answer to the question, "Can blue cheese go bad?" This cheese can spoil, so follow standard food safety precautions.
Note that it's recommended that pregnant women and immunocompromised individuals avoid blue cheese, especially blue cheese made from unpasteurized milk.
Does Blue Cheese go Bad?
Blue cheese sometimes develops molds that produce mycotoxins, which weaken your immune system and may cause an upset stomach or even cancer. You do not want to eat moldy blue cheese—at least not cheese that's moldy with the wrong kind of mold.
In terms of how to tell when blue cheese is gone bad, remember the saying, "When in doubt, throw it out." Do not simply cut off the moldy section and eat the rest of the cheese. There's a good chance the mold spores have spread to other parts of the cheese.
Can blue cheese go bad? Yes. In addition to mycotoxins, the cheese may acquire yeast patches or bacteria like salmonella and listeria. Note that blue cheese with a higher moisture content tends to go bad faster than drier cheeses.
Eating spoiled blue cheese could cause food poisoning symptoms like nausea, vomiting, diarrhea, and stomach cramps. If you feel sick after eating blue cheese, visit a doctor.
How to Tell When Blue Cheese is Gone Bad
There are several possible signs that blue cheese has spoiled. Pay attention to the cheese's color, texture, smell, and flavor. Smell and examine the cheese when you first bring it home to have a standard of comparison.
Watch out for fuzzy gray, black, blue, pink, or green mold and shiny pink or yellow yeast patches. It's also a bad sign if the creamy part of the cheese turns pink, green, or brown or if brown liquid starts coming out of the cheese.
How to tell when blue cheese is gone bad or to tell if cottage cheese is gone bad also involves smell and flavor. The cheese may start to smell stale or rancid or like ammonia. Spoiled blue cheese may turn slimy, crumbly, or tough and dry.
Blue cheese develops a saltier and more pungent flavor as it ages, so throw it out if it becomes too strong for your liking. The good news is that trying a small piece of spoiled blue cheese is unlikely to make you sick.
Does Blue Cheese go Bad? Shelf Life of Blue Cheese
When refrigerated, blue cheese tends to last for one to two weeks after its expiry date. The cheese stays fresh for three to four weeks after you open the package.
Eat blue cheese within one to two weeks to catch it before the flavor gets too intense. Buy small packages to make it easier to finish the cheese in time.
Does blue cheese go bad in the freezer? Blue cheese keeps indefinitely at 0℉. However, like when you freeze crumbled feta cheese, finish it within six months to enjoy the best taste and texture.
Crumbled blue cheese typically lasts up to six months in the fridge. Finish the crumbles within one week of opening them for the best quality.
Commercial blue cheese dressing typically has a shelf life of nine to 12 months. Check the label to be sure. Opening the bottle does not affect the shelf life much, although fresher dressing is tastier.
If you make your own blue cheese dressing, check the recipe to confirm how long it stays fresh in the fridge. Don't expect homemade dressing to last more than a week.
How to Store Blue Cheese in the Fridge
Can blue cheese go bad at room temperature? Semi-soft and soft cheeses, like blue cheese and cream cheese, should sit out at room temperature for a maximum of two hours. When you do refrigerate the cheese, ensure that the fridge temperature is 40℉ or less.
The fridge's bottom shelf is ideal for storing blue cheese since it tends to be colder—particularly the bottom drawer. That drawer is opened less often, with a stable temperature and less exposure to air.
Storing blue cheese is similar to storing Brie. Wrap the cheese first in wax or parchment paper, then in plastic wrap or aluminum foil to prevent the cheese from drying out. Avoid wrapping blue cheese too tightly since the organisms on its surface require air.
If you like, put the wrapped cheese in an airtight container to prevent the cheese from taking on the smells of other foods in the fridge or transferring its mold spores. Using a container also extends blue cheese's shelf life.
How to Freeze Blue Cheese
Freezing blue cheese significantly extends its shelf life. Stick the cheese in the freezer before the date when you should finish it. For example, freeze an open package of blue cheese before the three to four weeks are up.
Before freezing blue cheese, prepare it how you intend to use it after thawing it. Leave the piece of cheese whole if you're okay with crumbly cheese, or slice it for serving on bread. Freeze blue cheese in portions that weigh a maximum of half a pound.
Like refrigerating blue cheese, wrap the cheese first in parchment or wax paper, then in plastic wrap or aluminum foil. Avoid wrapping too tightly.
Place the wrapped cheese inside airtight containers or freezer bags, labeling with the date. Remove the air from freezer bags before sealing them. Make sure to use heavy-duty bags if you'll be freezing the cheese long-term.
How to Thaw Blue Cheese
Freezing blue cheese alters its taste and texture. Thawed blue cheese loses some of its sharpness and creaminess and crumbles more easily, which means you should only use defrosted blue cheese in cooked dishes—don't serve it on a cheese tray.
The way to thaw frozen cheese is to defrost blue cheese in the fridge for the best quality. Expect the process to take several hours for slices or up to one day for a wedge. Alternatively, thaw the cheese while cooking by adding it to a dish from frozen.
Can blue cheese go bad after it has thawed? Blue cheese that you've defrosted in the fridge lasts for three to four days if refrigerated. If you thaw in cold water or the microwave, use the cheese immediately.
Storing Blue Cheese Crumbles and Dressing
Refrigerate blue cheese crumbles, sealing the container tightly before putting it in the fridge. There may be some moisture inside the container, and that's okay.
Eat the crumbles quickly once you open the container. If you notice any signs of spoilage, such as an off flavor, smell, or color, throw out the whole package.
Freeze blue cheese crumbles in portions of up to a half pound, labeling with the date and quantity. It's fine if you've already opened the package. Freeze the crumbles in their original packaging, an airtight container, or a freezer bag.
Commercial blue cheese dressing has a similar shelf life, whether the bottle is open or sealed. The dressing does taste better if you use it quickly, and make sure to use homemade sauce within one week. Like with blue cheese crumbles, watch out for mold, discoloration, or a funny smell or flavor.
Given blue cheese's characteristic blue mold, you might wonder whether the cheese even goes bad. The answer is yes.
Although the Penicillium mold that causes the famous speckled appearance is safe to consume, the cheese may develop toxic molds, bacteria, or yeast patches.
In terms of how to tell when blue cheese is gone bad, watch out for fuzzy mold, shiny yeast patches, and changes in texture, smell, or flavor.
Since the answer to "Does blue cheese go bad?" is yes, follow food safety precautions like wrapping the cheese carefully before you put it in the fridge or freezer.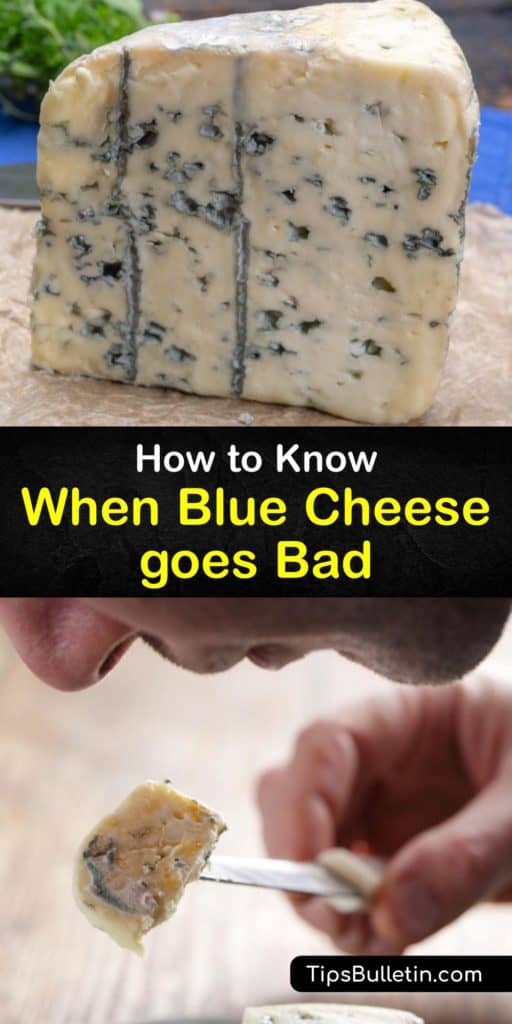 If you found this blue cheese information helpful, please share these food storage tips with your friends on Facebook and Pinterest.