We all know the rumors about cockroaches being indestructible. It's almost a cosmic joke; you get rid of one, and 20 more seem to spring up. Is there a solution, and does boric acid kill roaches for real? Discover ways to use boric acid safely and effectively to solve any roach problem.
Cockroaches haven't changed much in 320 million years; they're still primitive winged insects and repulsive. There are about 4,600 species of cockroaches worldwide, and each one is equally offensive and unwanted. Cockroaches prefer warm, moist spaces and thrive in mild climates. They smell terrible and eat your paper, clothing, and even other dead bugs; horrifying.
This is where boric acid steps in to save the day. Boric acid is a chemical compound naturally occurring in water, plants, and soil. Boric acid has been approved for use in commercial cleaning products and pesticides since 1948, and it's used in over five hundred products today. Boric acid is a natural way to get rid of roaches quickly. It's available in liquid, granules, bait, and tablets, and we'll tell you a bit about the best ones.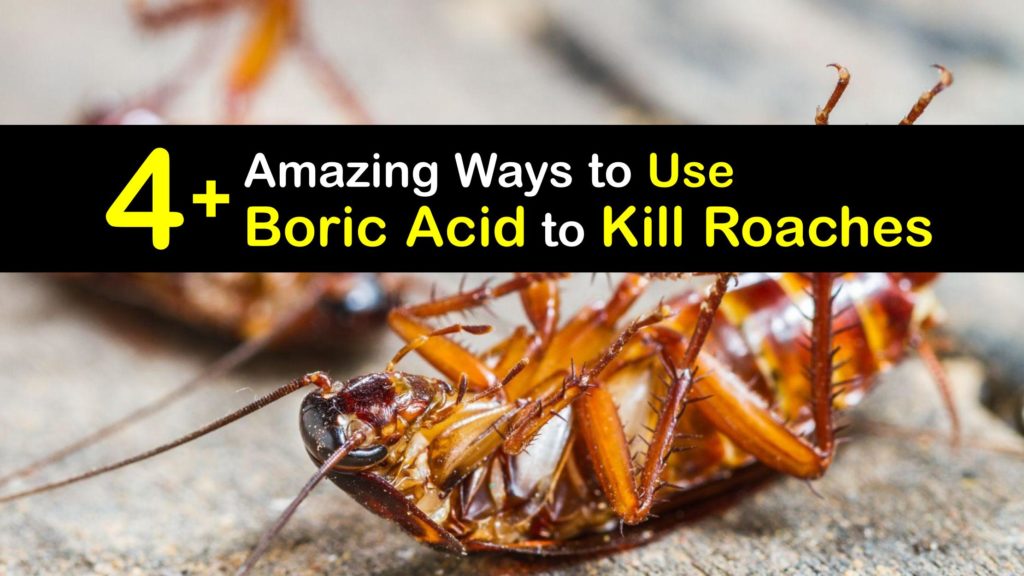 Discover the Best Way to Use Boric Acid to Kill Roaches
Does boric acid work, and how long does it take boric acid to kill cockroaches? Get the answers to your important questions and more with these step-by-step guides to effective DIY extermination when an apartment is infested with roaches or other pests.
Does Boric Acid Kill Roaches?
Don't let the name intimidate you; boric acid is also commonly called Borax, as in the popular laundry product. Many people add Borax to a laundry booster because it's alkaline and terrific at dissolving tough stains.
However, the active ingredient in Borax makes it toxic to cockroaches. It will kill roaches in your home without help and put an end to that stubborn roach infestation when used as part of a bait station poisoning system. A box of Borax powder is less than five dollars, which makes this a fantastic, cost-effective way to use boric acid to kill roaches.
Boric Acid and Sugar to Kill Cockroaches
People always say you catch more flies with honey; however, we're hunting roaches, so we're using sugar. Roach activity demands a response; sometimes it's as simple as a few ingredients from the kitchen. This homemade insecticide makes it easy to use boric acid to kill roaches.
Put on the gloves, mix the boric acid powder with a bit of sugar to lure in the bugs, then add the flour to make everything stick together. Voilà, you've got a DIY roach killer. Spread this powder under the stove, in an access crevice, or at entry points.
If you don't have any boric acid at home, you can also use baking soda and sugar to kill roaches. Baking soda is also a pet safe alternative as it does not contain any of the same harmful chemicals.
Roach Baits with Boric Acid
Control your roach problem with a few easily-crafted roach bait stations that are too tempting for cockroaches to resist. Both the German cockroach and the American cockroach come running for anything sweet.
We recommend a cup of cocoa powder and a tablespoon of boric acid, or try a smear of peanut butter poisoned with Borax. Place the bait stations in areas you suspect ants, water bugs, or roach activity. Remember that boric acid is toxic when ingested, and these appetizing baits work best in homes without pets or children.
Make Your Own Roach Motel
Does boric acid kill roaches? It sure does when you use it to make your own roach motel for pest control. This simple trap made from a humble glass bottle will solve that roach infestation for good. You won't be wondering, "How long does it take boric acid to kill cockroaches?" because you'll be off living your life with this "set it and forget it" method.
This one is so easy; don your gloves, mix the tomato sauce and boric acid in the bottom of the jar, and put it somewhere the roaches hang out. Use an empty jar that curves in at the top, keeping the roaches from escaping.
Try an old spaghetti jar, or an apple sauce jar, as long as it's large enough to accommodate a bunch of dead cockroaches. Check the trap every day, and you'll soon see that there are no pests in your home because they're all in the jar.
DIY Roach Spray with Boric Acid
Does boric acid kill roaches if made into a spray? Absolutely – learn how to make a DIY roach spray with only three ingredients. While a soluble boric acid insecticide won't kill on contact, it absorbs into the insect and achieves the desired effect: a dead roach.
Always wear your protective gloves when handling boric acid dust, and mix this recipe away from pets and children. Once the boric acid and sugar dissolve fully, you have an effective direct-contact spray; just spray it right on them. Multiply this roach killer recipe to make as much as you need.
How Long Does It Take Boric Acid to Kill Roaches?
Two common varieties make up the average cockroach infestation. There's the American cockroach, which grows to be two inches long and lives almost two years. An adult female may lay up to 800 cockroach eggs in a lifetime, and they're tough to get rid of for good.
The German cockroach is only about a half-inch long, and it has spread all over the world through human transport because of its tiny size. German roaches live about two hundred days and produce several hundred young. They are distinguishable by two light-colored bands across the back.
How long does it take boric acid to kill cockroaches? Fortunately, the boric acid powder is reliably lethal in the cockroach control department. Boric acid works by ingestion and disturbs the nervous system, which guarantees a dead cockroach in about 72 hours. Boric acid also works against ants, water bugs, and bed bugs.
We hope you enjoyed learning about many things roaches hate and drives them away effectively. Does boric acid kill roaches? Absolutely, but the Environmental Protection Agency places boric acid at toxicity level 3; it should always be handled with proper safety gear, like protective gloves.
Take these cockroach facts and put them to use in your extermination routine; be safe, be healthy, and kick those roaches to the curb. Does boric acid kill roaches? You bet it does.
If you enjoyed learning how boric acid works to kill cockroaches, please share this article on Pinterest or Facebook and help a friend rid their life of roaches.