Coconut milk is a tasty non-dairy substitute for dairy milk. The white part of the inside of a coconut, called the coconut meat, is transformed into a white liquid called coconut milk. Does coconut milk go bad shortly after opening the product?
Like almond milk, milk from a coconut is thought of as a great healthy alternative to cow's milk. Also, similar to other dairy products, it is vital to know coconut milk's shelf life. Before learning what makes coconut go bad, knowing that it comes in two different forms is essential. There are cans of coconut milk as well as cartons. A carton of coconut milk is better for drinking and adding to food like cereal or smoothies.
Cans contain thicker coconut milk and are most often used for cooking. Whatever form of coconut milk you purchase, we show you how to store the products correctly to ensure your coconut milk lasts as long as possible.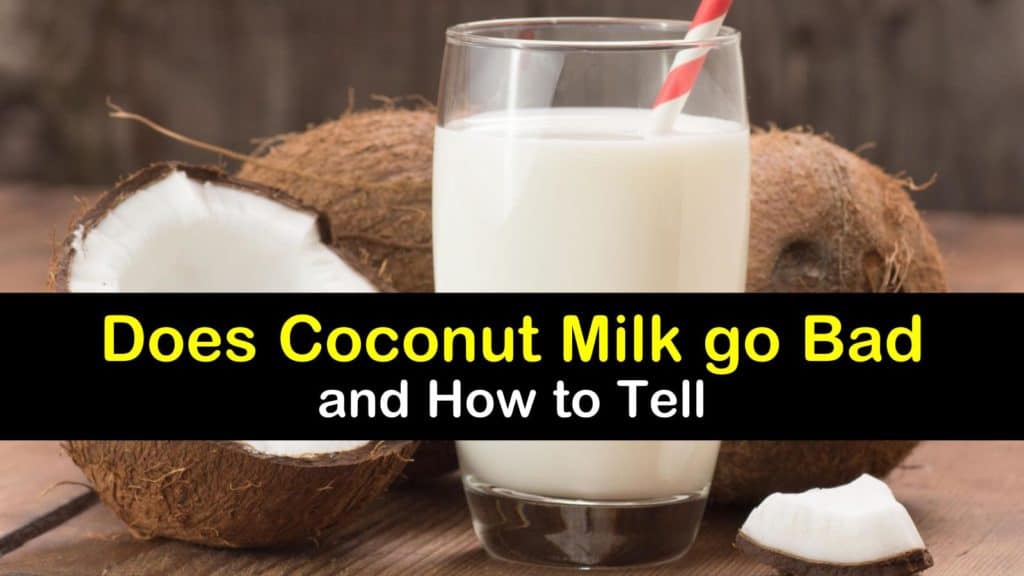 Coconut Milk is Healthy Alternative to Regular Milk
The milk from coconut is one of the healthiest milk alternatives. Coconut milk has a great source of healthy fats that help lower bad cholesterol while raising good cholesterol levels.
Additionally, coconut milk helps strengthen your immune system and also contains several anti-inflammatory properties.
To help prevent premature spoilage of this excellent milk, we provide several tips and tricks to keep your coconut milk shelf-stable for as long as possible.
How Long is Coconut Milk Good for in a Refrigerator?
Keeping your coconut milk out of room temperature is key to preventing spoilage. If your coconut milk is left out of the fridge for too long, harmful bacteria and microorganisms grow at a rapid pace.
The temperature of a refrigerator is perfect for keeping your milk fresh, whether you are storing soy milk, cow's milk, or coconut milk. Store an opened coconut milk can or carton in an airtight container to lock out outside bacteria from harming the product.
How long is coconut milk good for when stored in the fridge? How long is coconut milk good for after opening? The sealed container stored in the fridge lasts for about ten days.
If you do not have access to an airtight container, wash out an old milk jug or soda bottle to store your coconut milk. Ensure you screw the lid on the bottle as tightly as possible to extend the expiration date as far as you can.
Does Coconut Milk Go Bad in the Freezer?
Storing coconut milk in the freezer slows down the rate at which bacteria travels. Because the bacteria do not move as fast, coconut milk lasts longer when stored in the freezer.
Can soy milk be frozen, too? Yes! One great way to preserve small amounts of soy or coconut for smoothies is with ice cube trays. Store-coconut-milk in an ice cube tray to use for smoothies or to drink after the cubes thaw.
Pour your coconut milk into the ice cube trays and place the tray in the freezer. Does coconut milk go bad quickly when stored in the freezer?
One benefit of keeping coconut milk in small frozen portions is the extended expiration date. Frozen coconut milk lasts for about three months.
Storing Large Amounts of Coconut Milk in the Freezer
If you are looking to store a large amount of coconut milk, the freezer is a great option. Frozen coconut milk still tastes delicious after it thaws. Additionally, it is a great way to prolong the product's shelf life with minimal effort.
Airtight containers, a freezer bag, or an old soda bottle are all excellent storage tools. If you have unopened coconut milk cartons, pour the contents straight into the container of your choosing. Next, place the coconut milk in the freezer.
Note that if you use a freezer bag, it is easier to spill the coconut milk than a sealed container. When does coconut milk go bad when it is stored in large quantities? The milk is good for up to three months when stored in the freezer.
When does Coconut Milk go Bad?
How to tell when coconut milk is gone bad is very simple, just like the way to tell when almond milk is gone bad. Common signs of spoilage include a rancid smell, darker color, mold, and a chunky appearance. If the coconut milk you have stored is in a can, a sign of spoilage is a tinny taste.
Now that the question "When does coconut go bad?" has been answered, it is vital to know how to store unopened coconut milk. An unopened can of coconut milk is best kept fresh when stored in a cool, dark place free from excessive humidity.
If you buy a carton of coconut milk on the shelf, store it in the same location as you would a can. Store a carton in the fridge after opening, as the preservatives are better kept fresh.
Storing Cartons and Cans of Coconut Milk
Coconut milk sold in a can is often used for cooking, as in the famous Asian dish coconut curry. Cans of coconut milk are composed of pure coconut. An opened can of coconut milk only lasts about a week.
However, an unopened can lasts for up to five years when you store coconut milk in a cool, dark place. Keeping a can near an area with humidity negatively affects the taste and quality of the coconut milk.
How long is coconut milk good for when sold in a carton? An opened carton of coconut milk lasts up to ten days and should be refrigerated after opening.
An unopened carton lasts up to four weeks. Cartons of coconut milk do not last as long as cans because they contain other ingredients and preservatives.
Of course, the shelf life of powdered soy milk, regular milk, and others is a lot longer if stored in airtight containers.
When does coconut milk go bad? The answer depends on a few factors. Unopened cans or cartons of coconut milk last for years or a few months when stored in a dark place free of humidity.
Another way to extend coconut milk's shelf life is to freeze it in small or large amounts. If you have an opened carton of coconut milk, it is best kept fresh in the refrigerator's central part, not in the door.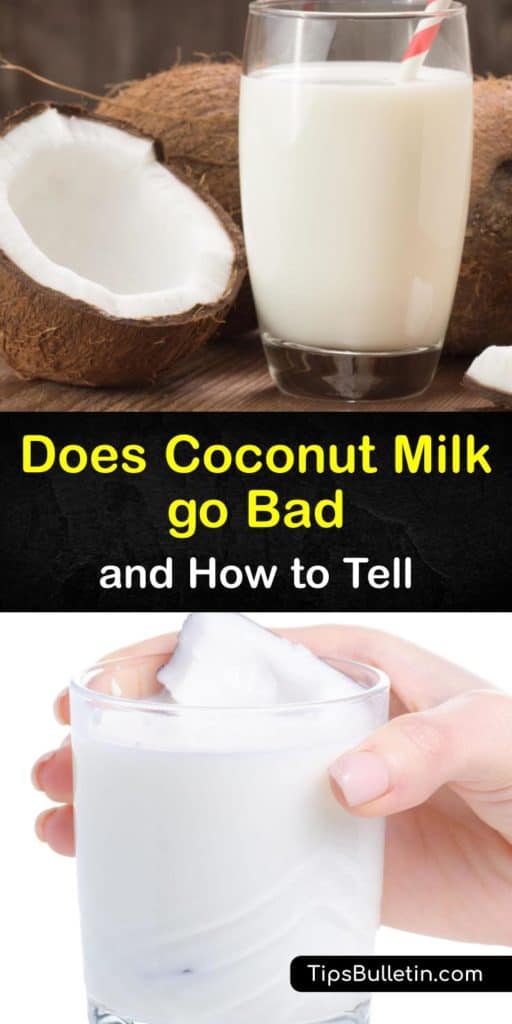 If we answered the question, "Does coconut milk go bad?" share this article about different ways to store coconut milk on Pinterest and Facebook with your family.