No lunch meat beats the salty, savory taste of salami. Though many cold cuts have a pretty good shelf life, that doesn't mean that these meats don't go bad over time. Does salami go bad? If so, when does salami go bad?
While salami belongs to a category of cured meats, these types of labels still don't mean that they never expire. Finding an ideal way to tell when salami is gone bad is crucial for many of your luncheon meat options. This delicious deli meat is the perfect addition to a charcuterie board between Genoa salami, dry salami, and hard salami. Unfortunately, there is also a lot of misinformation floating around about cured meats.
Many people assume that salami deli meat, bologna, chorizo, and pepperoni can be stored at room temperature for long periods or that the expiration date is more of a suggestion than a rule. The United States Department of Agriculture (USDA) has some strict guidelines for proper food storage to avoid food poisoning.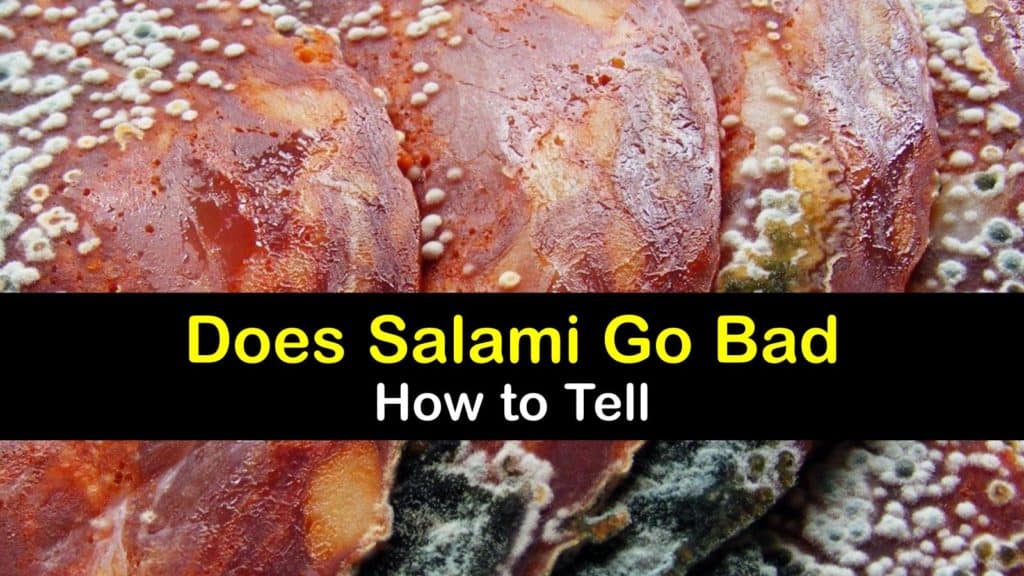 When does Salami Go Bad?
If salami doesn't have as long a shelf life as you thought, just how long does salami last? Keep reading to understand how to tell when salami is gone bad and the first signs of spoilage on these meats.
Does Salami Go Bad?
Finding the best way to tell when salami is gone bad starts with understanding the types of salami. The most popular kind of salami is dry salami, which is an Italian sausage mixed with spices and salt before being stuffed into a casing. After it becomes encased, the salami is left to air-dry and ferment.
These are shelf-stable meats that do not require refrigeration. However, they continue to dry out as time passes. Another name for dry salami is hard salami. The process to make these meats include dehydrating the meat to rid it of bacteria that cause spoilage. Most of these meats have extended expiration dates.
The best way to store and keep salami fresh is not to open it. Dry salami in its unopened and original packaging typically lasts for six weeks before any decay happens.
Still, some might last for years in the fridge. To be safe, always follow the best-by dates listed on the packaging for the best quality.
Regardless of the dates, the moment you cut into the salami, it is exposed to bacteria and only lasts for a few weeks in the fridge.
The other types of salami are cooked meats. The meat often gets stuffed into a casing before it is cooked, boiled, or smoked. Some are cured after being cooked. Bologna is an example of cooked salami.
How long does salami stay good for if it is cooked? The USDA's food storage guidelines say that cooked salamis typically last two weeks in the fridge when unopened and only seven days after being opened.
The only way to truly extend the shelf life is to put them in an airtight container or new freezer bag and store them in the freezer.
The Best Way to Tell When Salami is Gone Bad
Pay close attention to salami and other meats labeled "uncured" meats. These meat products do not get preserved with sodium nitrate. The nitrites keep the food fresh, so following the use-by date is crucial to avoid getting sick.
The moment you open the packaging or cut into that bright red color, you immediately invite the bacteria that start to break down your food. Salami is safe to sit at room temperature for only two hours before these bacteria could make somebody sick.
After using it, wrap the meat in heavy-duty aluminum foil or plastic wrap and place it back in the fridge where bacteria can no longer grow.
Signs of Spoiled Salami
Food poisoning is no joke. Does cheese go bad when left out? What about salami? These foods do spoil without proper storage.
While not all signs of spoilage are easy to spot, there are many things that you need to look out for. Eating spoiled salami is not fun and could cause you or a loved one to become ill.
The first sign of spoiled meat is a color change. Salami can range in color, but it is usually red or pink with tiny flecks of white mold and fat throughout. These are good bacteria and nothing you need to worry about.
They help to preserve the meat longer. What you do need to look out for is grey meat or black fuzz on the salami. Dangerous molds are usually black, brown, green, or grey and have a fuzzy-looking texture.
Fresh salami smells appetizing, acidic, and almost cheesy. The smell is another identifier to check if you're unsure of the freshness of food.
A change in smell, like rotten eggs, is a good indicator that the meat is no longer edible and needs to get thrown away. Even if you aren't sure, it is better to be safe than dive into a sandwich full of rotten meat.
One of the last ways to tell if salami is bad is the texture. Any overly tough, dry, or slimy meats may mean that it is time to put the food in the garbage instead of your mouth.
Tips for Storing Salami
There aren't an endless number of ways to store salami, and that's because we've already found the best ways. In general, salami should be stored in its original packaging or butcher paper in the fridge.
Once you open the meat, wrap it in plastic wrap or aluminum foil and keep it in the refrigerator. The freezer is another good storage option to keep it fresh longer. If you freeze the meat, make sure to double wrap it to prevent freezer burn.
Cooking with Salami
We love to pile up layers of salami on fresh bread and cold condiments. Few sandwiches are better. However, there are many other recipes that you probably haven't considered trying before, where salami becomes the star of the dish. This recipe is perfect if you've got some leftover salami and are sick of eating sandwiches.
Bring a pan of salted water to a boil and cook the pasta according to the package directions. While the pasta cooks, heat the one tablespoon of oil in a frying pan. Add the salami once the oil is hot and cook for three or four minutes until they start to crisp.
Add the fresh tomatoes to the pan and cook for another two minutes. Drain your pasta and add it to the salami mixture. Stir in the cheese and fresh parsley and toss everything so it is evenly distributed. Serve immediately.
When does salami go bad? Salami is a staple in the world of cold cuts. Even with many different types of salami, our favorite can still be stored in safe ways that won't make anyone sick. Understanding proper food storage is vital for a safe diet, and some of these tips will ensure you are only eating the freshest foods possible.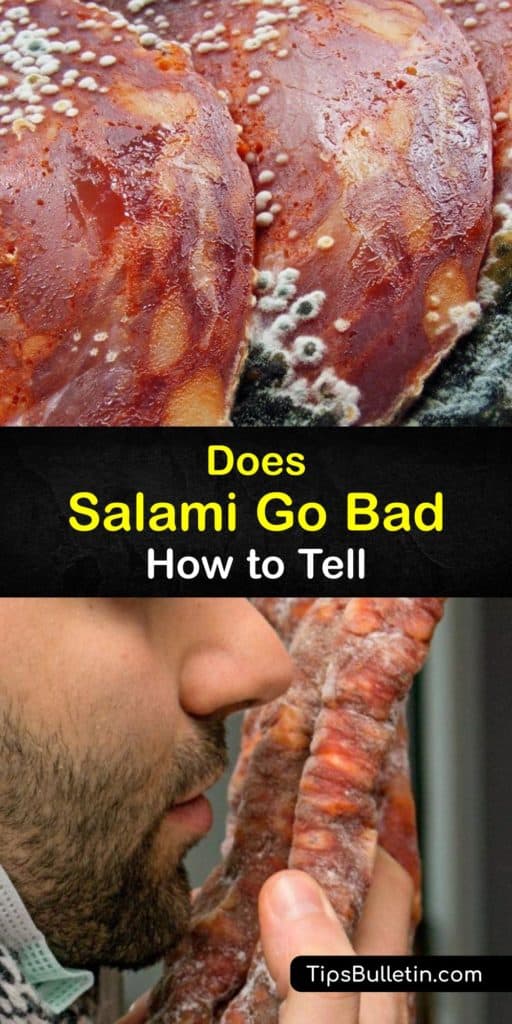 If asking does salami go bad has led you to this food storage article, share this top way to tell when salami is gone bad on Facebook and Pinterest.