Do you love roses, but think you can't grow them in your area? Growing roses is easier than you think, even if you live in a dry climate or are a bit forgetful when it comes to watering your garden plants. Landscape with drought tolerant roses and create a stunning garden setting with summer-long color.
Living in an area where the dust blows on dry winds is challenging when growing a garden. Many gardeners admit that producing a thriving garden in a harsh environment is a reward within itself, especially when it comes to rose bushes.
Thinking that roses are delicate and finicky is an easy mistake to make. They have exquisite, velvety petals that give them the appearance of fragility.
However, these tolerant plants are so durable and hardy that they withstand many conditions, including periods of rainless weather. Dry soil and warm temperatures are not reserved for succulents and cacti alone.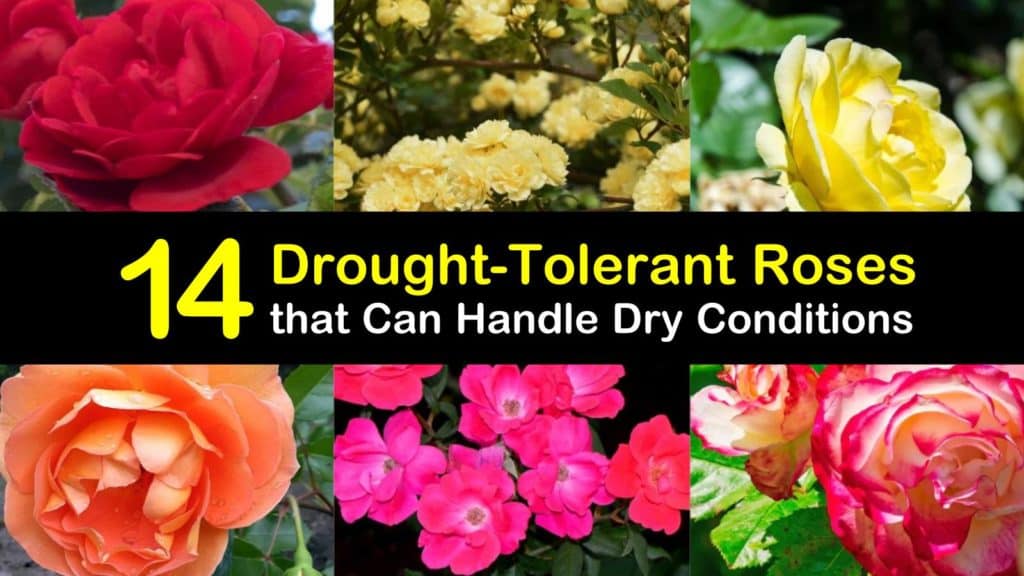 Roses that Tolerate Drought for a Stunning Landscape
Before you jump in your car and take a pleasant trip to the garden center, it's crucial to consider several factors. Do you desire a large shrub, climbers, or low-growing roses? Which part of your yard has the perfect amount of sunshine for your new plants?
While "drought tolerant" means some plants that don't need much water can survive for a while in dry conditions it doesn't indicate that it is good for the plant. All plants need water, just in varying amounts at different stages in their growing cycle.
Are there Different Types of Roses?
There are over 150 species of roses and thousands of hybrids, including ground cover, climbing roses, and shrub roses. Some are petite with few flower petals like rugosas, while others blossom with an abundance.
Old garden roses, modern garden roses, and wild roses are three main categories of these plants. The old garden and modern garden types are separated into sub-categories, according to lineage and hybrid.
Which Roses Grow Well with Less Water?
While all plants like a good drink of water every day, some of them are better at drought tolerance than others. It's vital to make wise choices when browsing your local nursery. Read the plant care tag and pick roses that are hardy and drought tolerant.
The hybrid tea is a popular modern rose with long stems that are a favorite for cut flowers. Unfortunately, many of them are high maintenance and not as hardy as others. On the other hand, floribundas are durable, disease resistant roses that are easy to grow.
Where Should I Plant my Drought Tolerant Roses?
Roses are very fussy about lighting. They provide the most flowers when receiving six or more hours of direct sunlight each day. Check your landscape for areas that receive a lot of sunshine, and plant your roses according to height.
If you plan on creating an entire garden of roses, grow large shrubs or climbing plants at the rear of the space and ground cover roses at the front.
Are Roses Hard to Grow?
As much as we'd love to tell you to plant your roses and forget about them, we can't – they do require some care. The first step in growing healthy roses is to plant them in a sunny location.
If you are a beginner gardener, consider growing container roses, as they are the easiest to maintain. For bare-root roses, plant them in the spring right after the last frost.
Plant them deep and wide enough to accommodate their root system and encourage deep growth. Spread a mulch layer around the plant base, fertilize monthly with a slow-release formula, and water regularly with drip irrigation or a watering can.
Keep an eye out for rose aphids, which can decimate a plant if you have an infestation. Neem oil and diatomaceous earth application can help.
'Lady Banks' Rose (Rosa banksiae)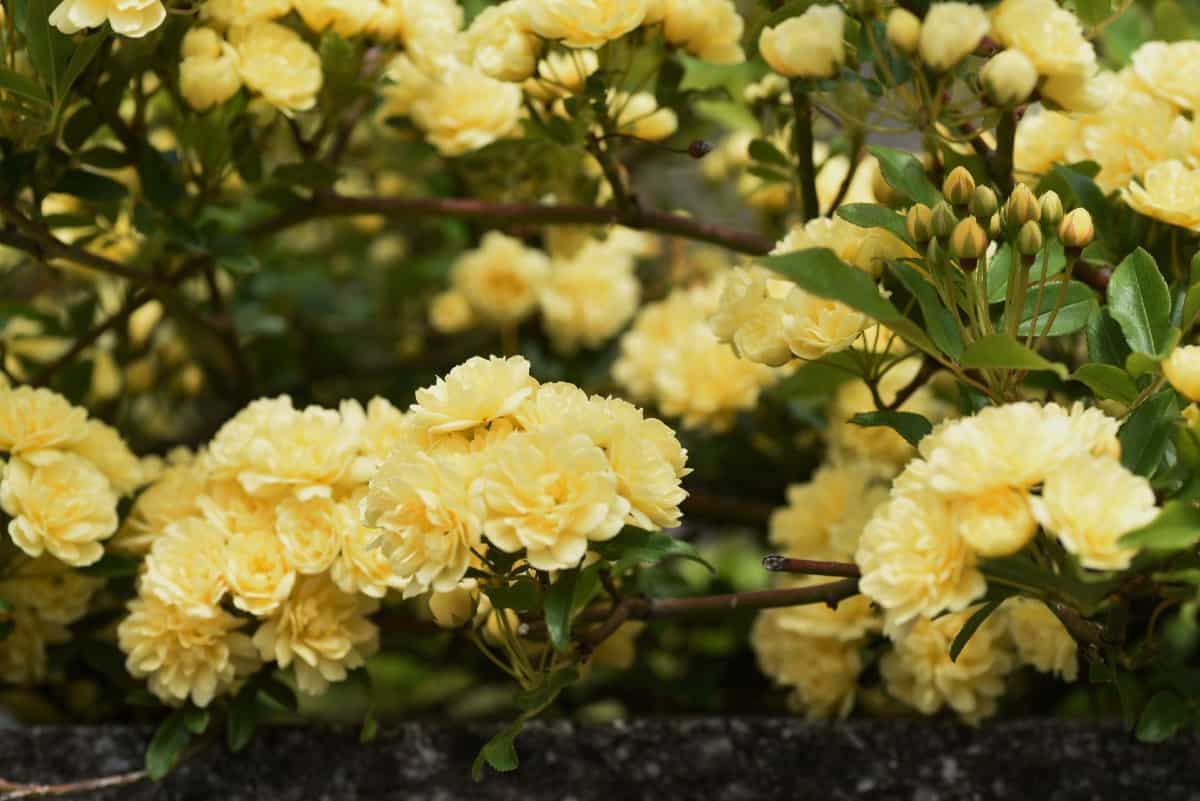 The single double white or yellow flowers of the 'Lady Banks' rose appear in the spring. It is a vigorous climbing rose with thornless vines that climb 20 feet in length or more, and look stunning growing over a trellis, pergola, or fence.
This disease-resistant and drought-tolerant species is deciduous in hardiness zones 6 through 8 and evergreen in 9 through 11. The flowers grow on old wood, so do not over prune older branches.
Pat Austin Rose (Rosa 'Pat Austin') – Drought Tolerant Roses with a Tea Fragrance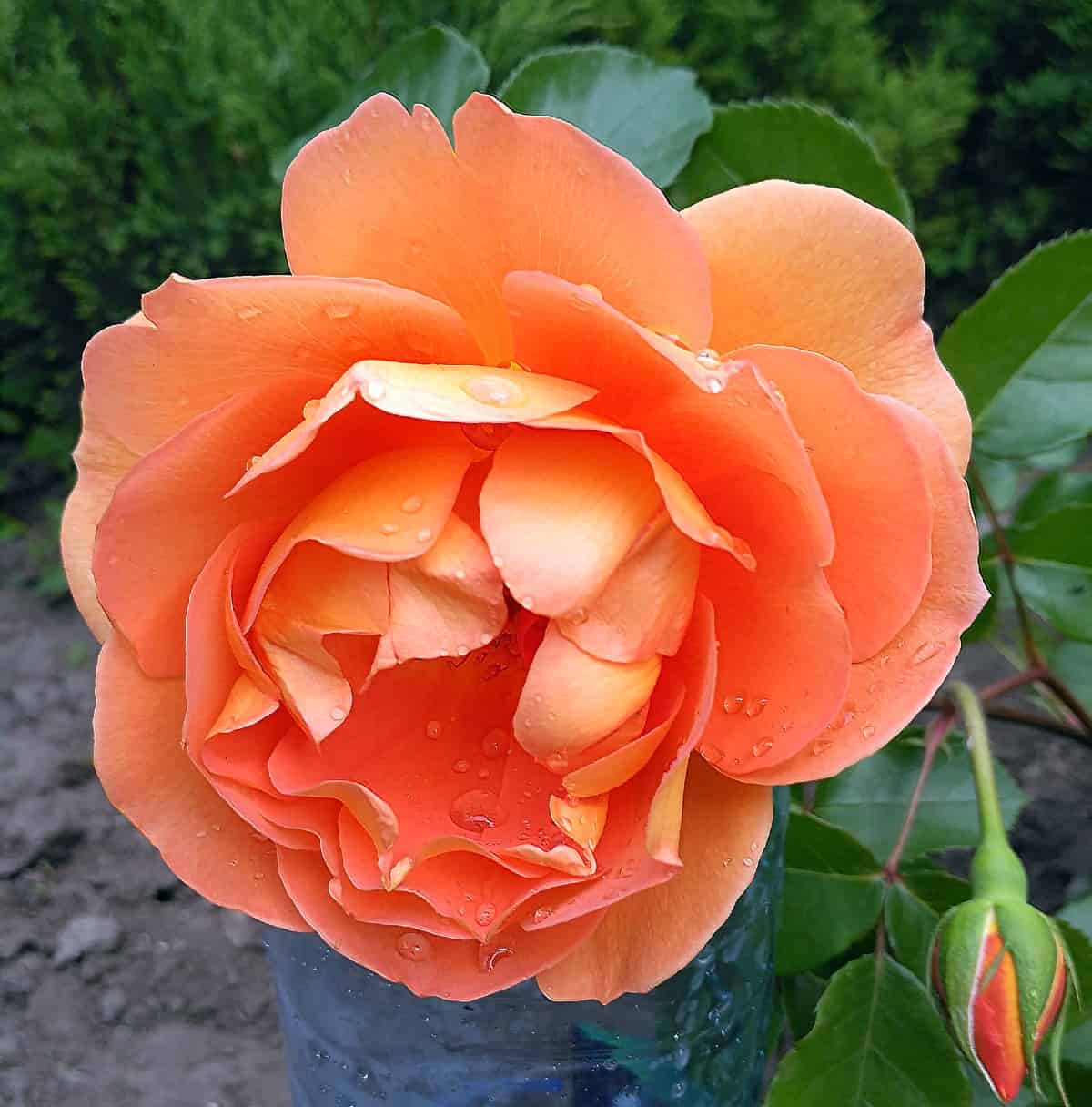 The Pat Austin rose flowers repeatedly in a vibrant, copper color of deeply cupped petals, and its arching growth habit gives it an elegant presence. Its mature height of 5 feet makes it perfect as a backdrop or border.
This English shrub rose has 4 1/2 inch flowers with a 50-petal count and a tea/clove fragrance. They are plants that like full sun on an east, west, or south-facing side of the house in zones 5 through 11.
Harison's Yellow Rose (Rosa 'Harison's Yellow')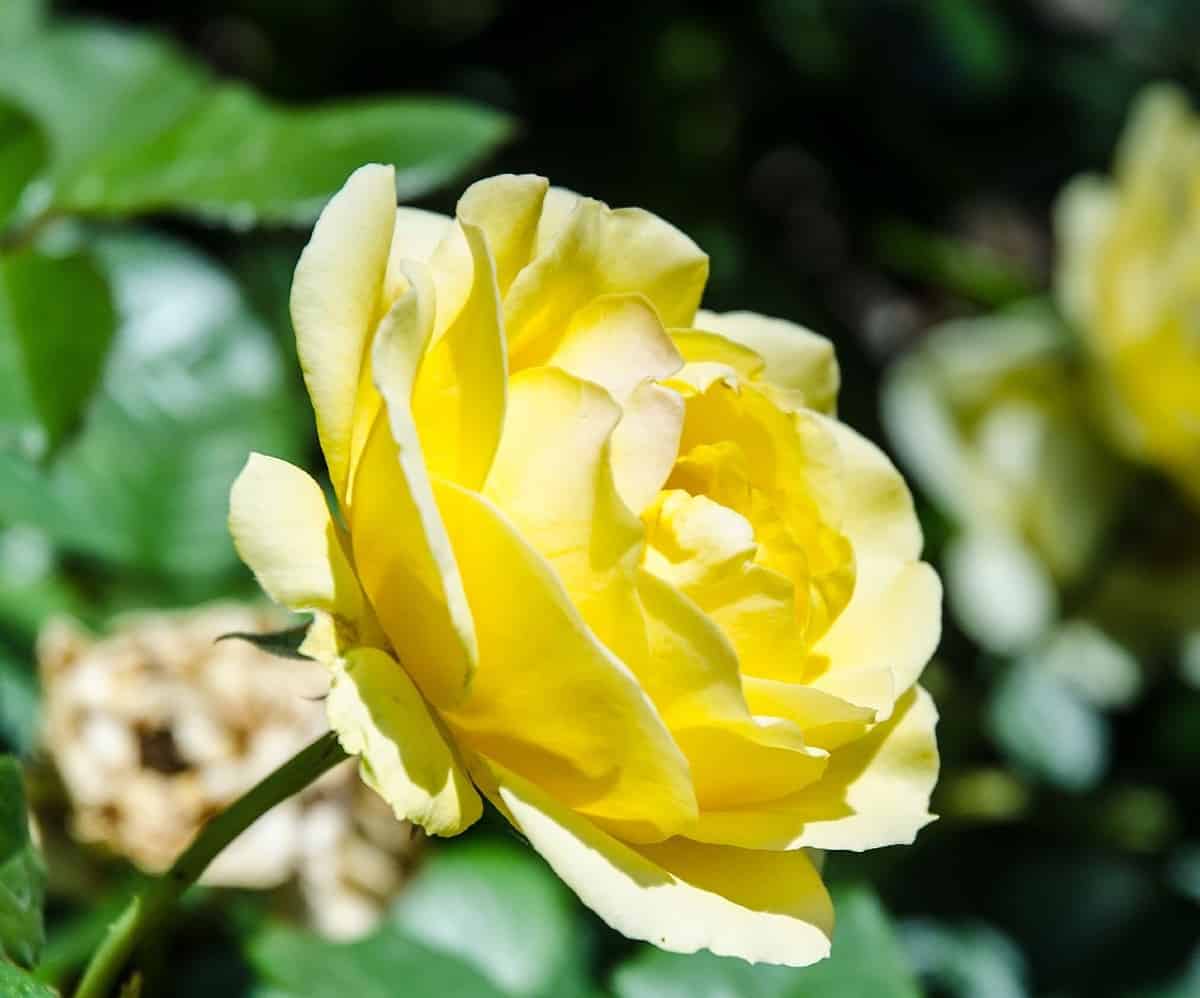 Commonly called the Yellow Rose of Texas, this bright and cheerful shrub has arching canes of fern-like foliage and deep yellow flowers. It grows in an upright habit of 5 to 6 feet tall, and the fragrant, semi-double flowers grow on old wood in late spring through early summer.
Harison's yellow rose requires very little care and water to survive and are ideal perennials for dry gardens. It is shade tolerant and grows well in zones 3 and up. Grow this plant as a shrub or train it to climb.
Sunny Knock Out Rose (Rosa 'Radsunny') – Dry-Tolerant and Fragrant Knock Out Rose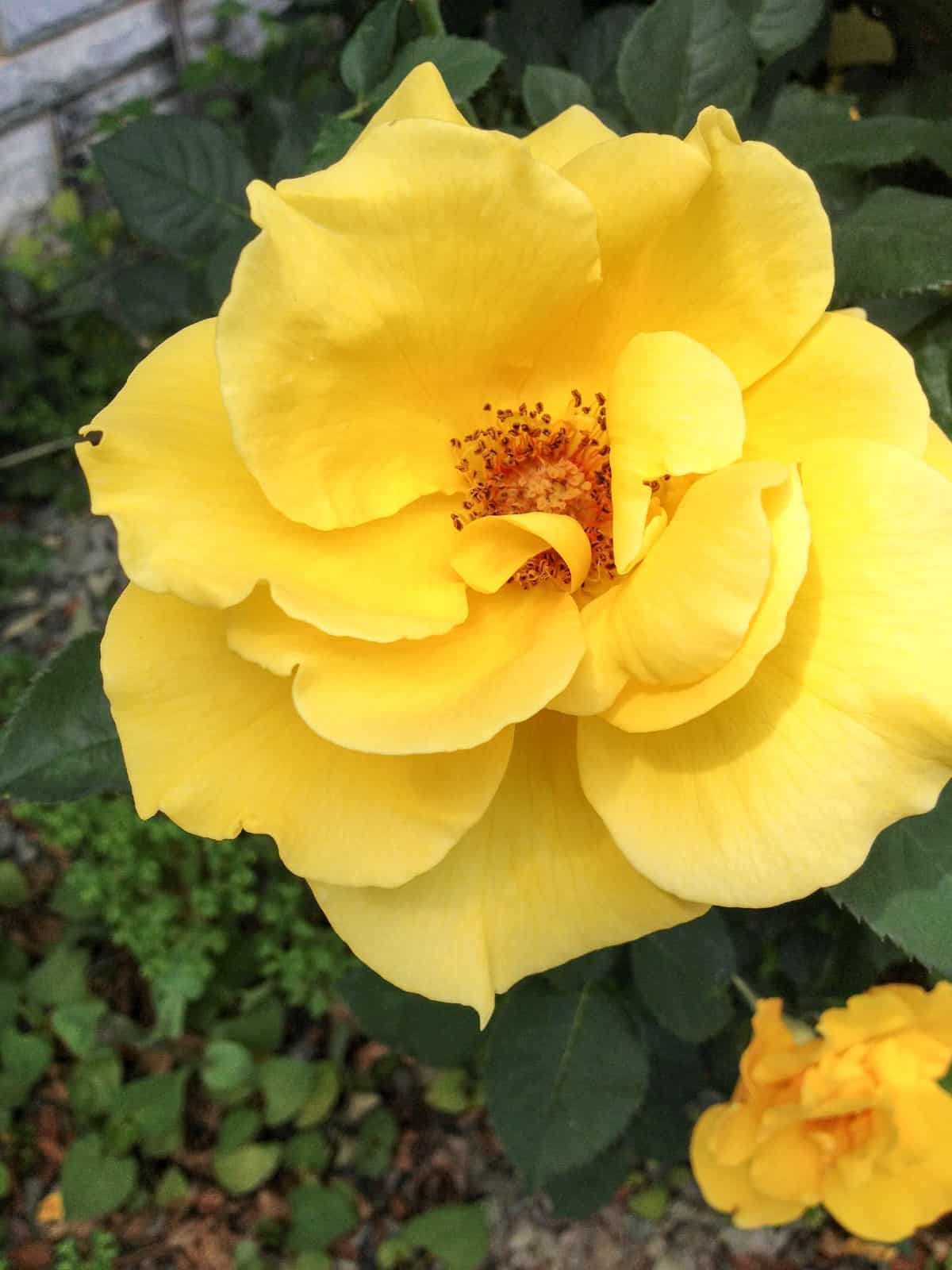 The Sunny Knock Out rose has a slightly compact and upright habit. Its bright yellow flowers fade to pastel cream as they mature, and they look striking against the semi-glossy, dark green leaves.
It has a 5-petal count and grows 3 to 4 feet high and wide. This rose is bushy with a sweetbriar scent. Sunny Knock Out roses enjoy full sunshine in hardiness zones 4 through 11 and are highly resistant to rust, black spot disease, and powdery mildew.
It's a Breeze Ground Cover Rose (Rosa Hybrid 'Meigremlis')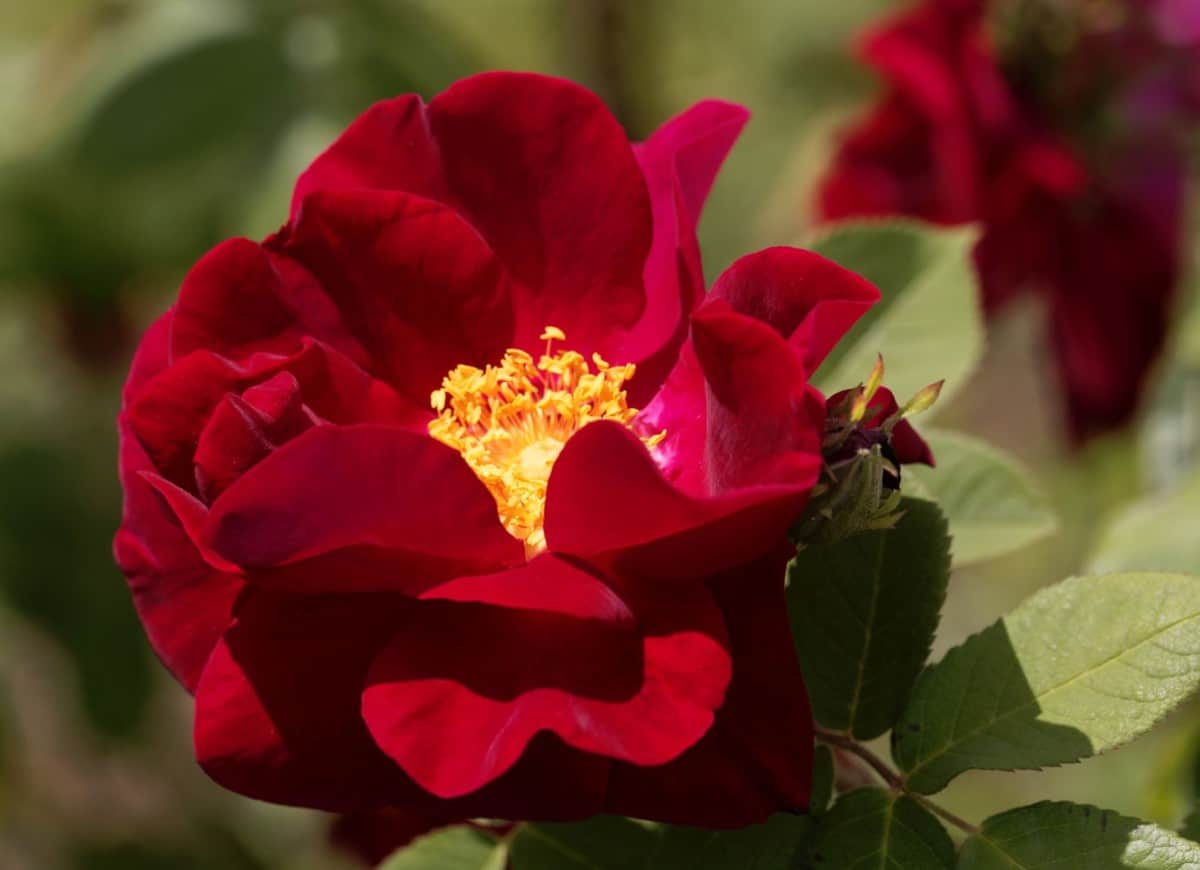 This ground cover rose is mildly fragrant with clustered, dark red flowers that continue well into autumn. It has low, mounding growth with a mature size of 2 to 3 feet tall and 3 to 5 feet wide, and lush green foliage.
It's a Breeze roses are vigorous growers that are highly resistant to disease and are heat tolerant. They thrive in hardiness zones 4 through 11, crave sunny locations, and are popular among pollinators and cut-flower fans.
Ring of Fire Hybrid Tea Rose (Rosa 'Ring of Fire') – Highly Tolerant Bouquet Rose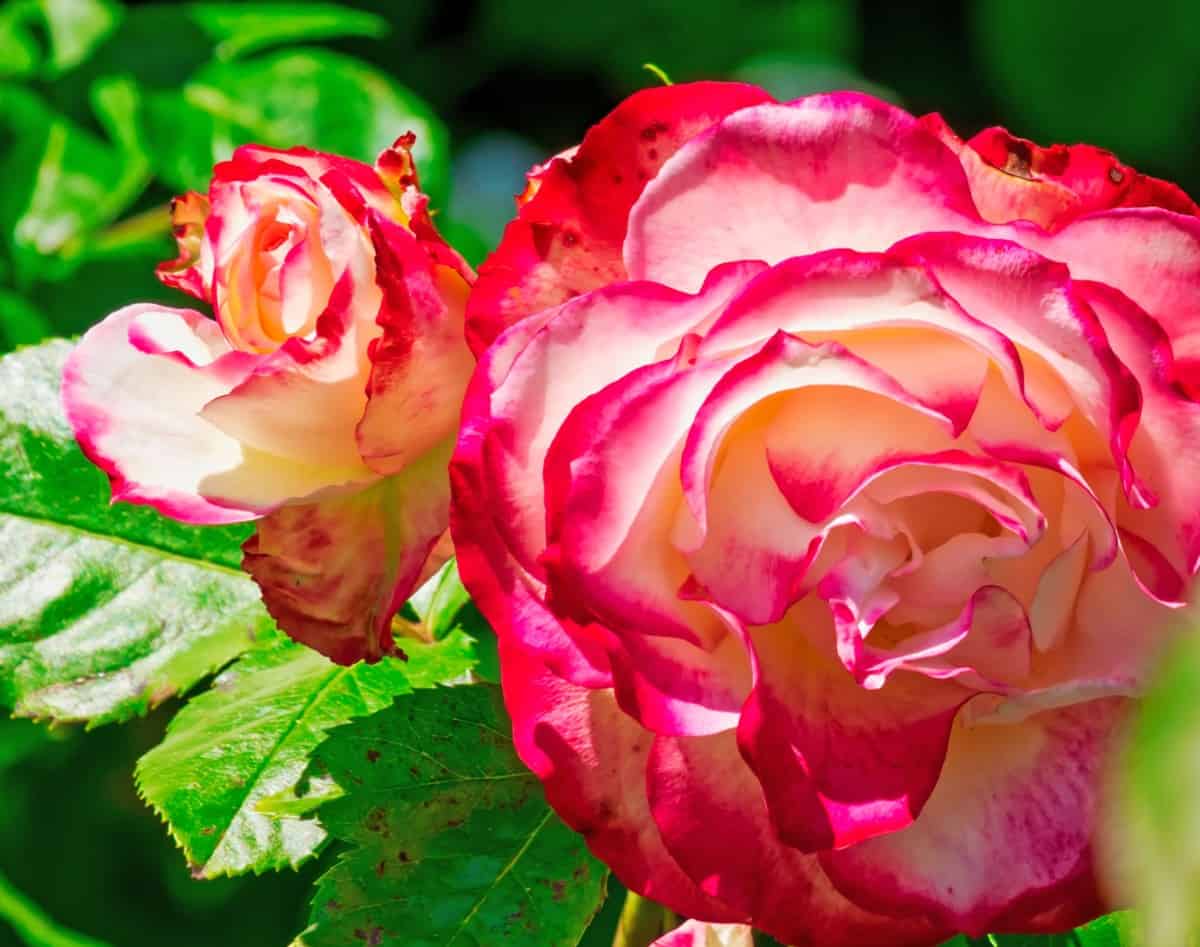 This fragrant hybrid tea has deep orange and red flowers with a petal count of up to 40. The long-stemmed blossoms of the Ring of Fire tea have a long vase life and are perfect for bouquets.
These roses are disease resistant and thrive in zones 6 through 9. Their mature 6-foot height and 3-foot spread look at home as hedge or border plants. They require at least six hours of sunshine a day and flower from late spring to early fall.
Pink Double Knock Out Rose (Rosa 'Radtkopink')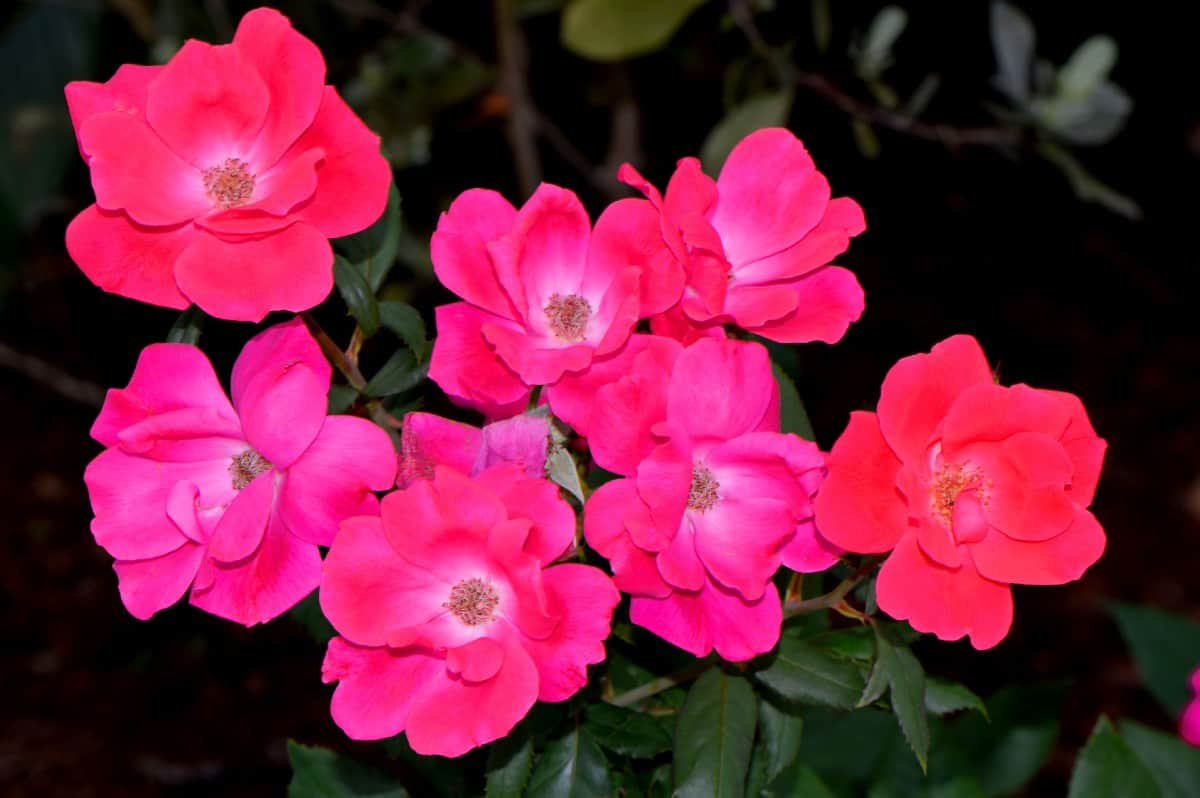 Pink double knock out roses are self-cleaning and continually grow bright pink double flowers with a spicy fragrance. It is a well-behaved bush with a rounded form, suitable for accent planting or a low hedge.
This maintenance-free rose is resistant to downy mildew leaf and black spot disease. Pink double knock out roses are deciduous and prefer full sun in zones 5 through 9. They are unfazed by heat and tolerate dry soil.
New Dawn Climbing Rose (Rosa 'New Dawn') – Classic Climbing Rose with Fragrant Flowers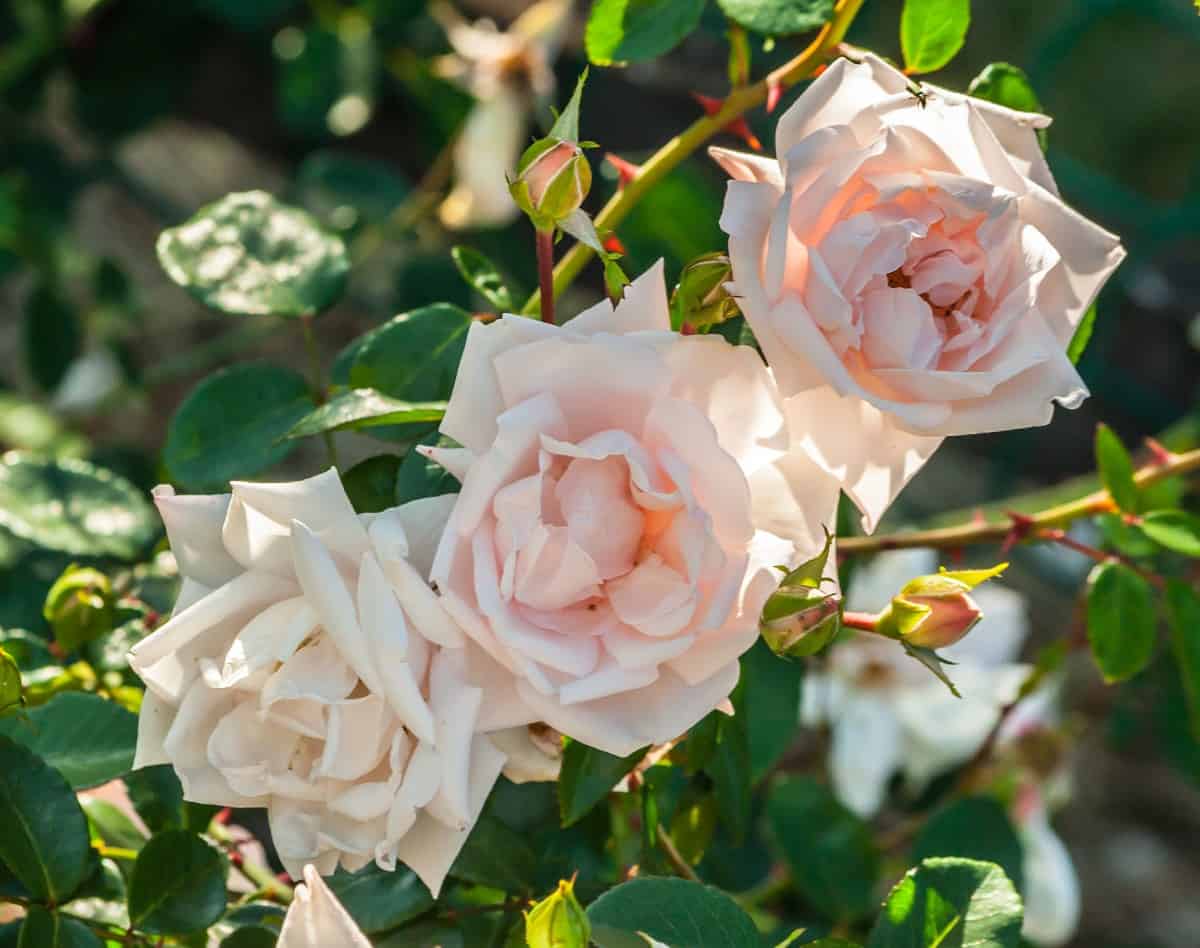 New Dawn roses are repeat bloomers with an abundance of 3 to 4-inch double flowers in light tones of pink. The light and sweet-scented petals have a ruffle appearance amid the dark green foliage.
This classic rose is a climber that reaches 18 to 20 feet in length and spreads up to 10 feet. New Dawn roses are drought tolerant and disease resistant and hardy in zones 5 through 9.
Orange Freedom Rose (Rosa 'Orange Freedom')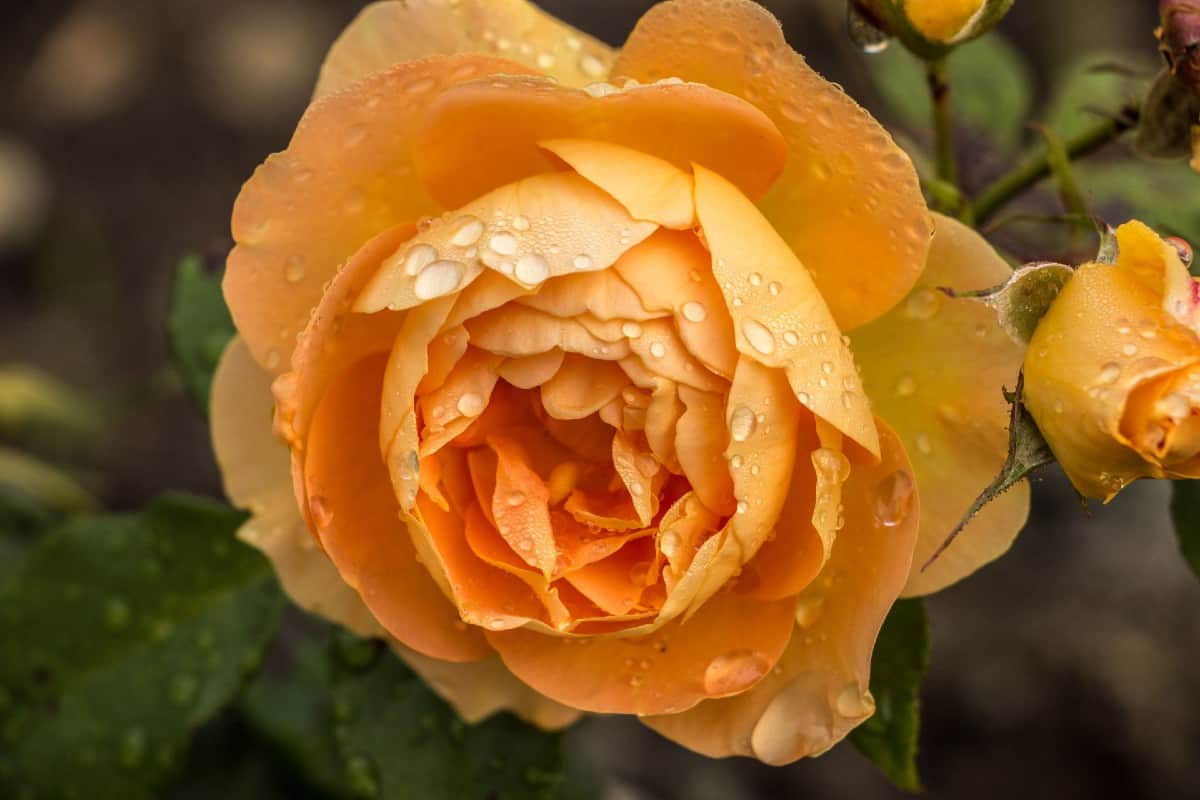 This new shrub rose has excellent form, clean foliage, and orange-colored double flowers from late spring through autumn. It is highly attractive to butterflies and has a mature height of 4 to 6 feet tall. The size and shape of this rose grow perfectly as a hedge or in a cutting garden.
The Orange Freedom rose is disease resistant, hardy in zones 4 through 10, and tolerates full sun. This fast-growing rose produces 3 1/2 inch flowers with an old-fashioned look.
Iceberg Climbing Rose (Rosa 'Iceberg') – Highly Resilient Climbing Rose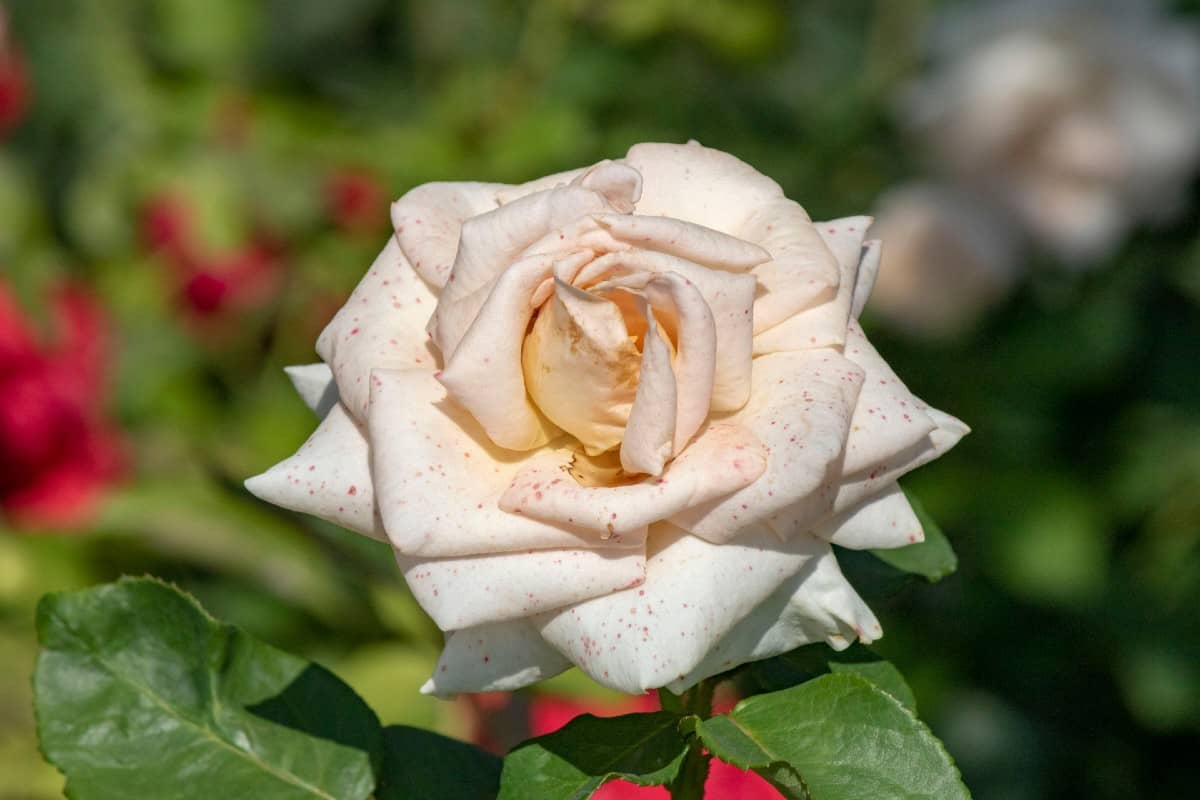 This long-lived climber blossoms the first year and is adored by butterflies. Its 12 to 14-foot long vines produce light green, glossy leaves and white to light pink flowers from early to late summer. The flowers are 2-inches in size and have a light, honey scent.
Iceberg climbing roses prefer growing in part shade or full sun in zones 5 through 9. Are roses easy to grow? This species is. They are heat and humidity tolerant, deer resistant, cold hardy, and resist powdery mildew.
Petite Knock Out Rose (Rosa 'Meibenbino')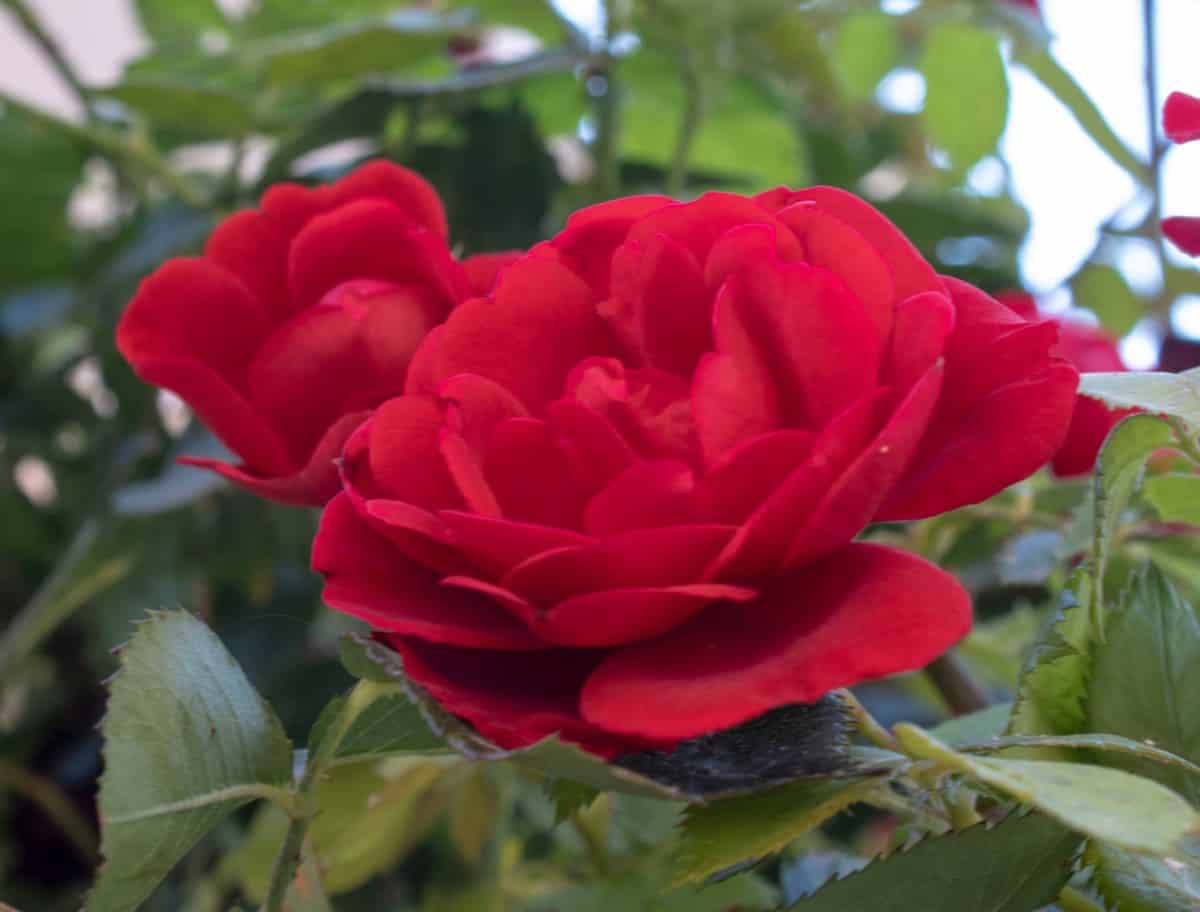 This rose is full of flower power, and the first knock out rose in miniature size. It produces an adorable pop of color with an abundance of small fire-red flowers and grows in a compact, bushy shape. Its small size of 18 inches tall makes it suitable for patio growing.
Petite Knock Out roses have dark green and very glossy leaves and continuously provide non-fading flowers all summer. This low maintenance rose is hardy in zones 5 through 10 and black spot resistant.
Lady Hillingdon Climbing Rose (Rosa 'Lady Hillingdon') – Tall Climbing Rose with Elegant Blooms
This David Austin rose has large, loosely formed, yellow flowers with a strong, tea fragrance. The elegant blossoms hang gracefully from climbing branches filled with contrasting, dark green foliage.
This tall climber grows up to 20 feet and looks striking on a south, west, or east-facing structure, fence, or wall. The lady Hillingdon rose is hardy in zones 5 through 9 and is disease resistant. Expect beautiful flowers from July through October.
Coral Drift Rose (Rosa 'Coral') – Ground Cover Rose with Dainty Flowers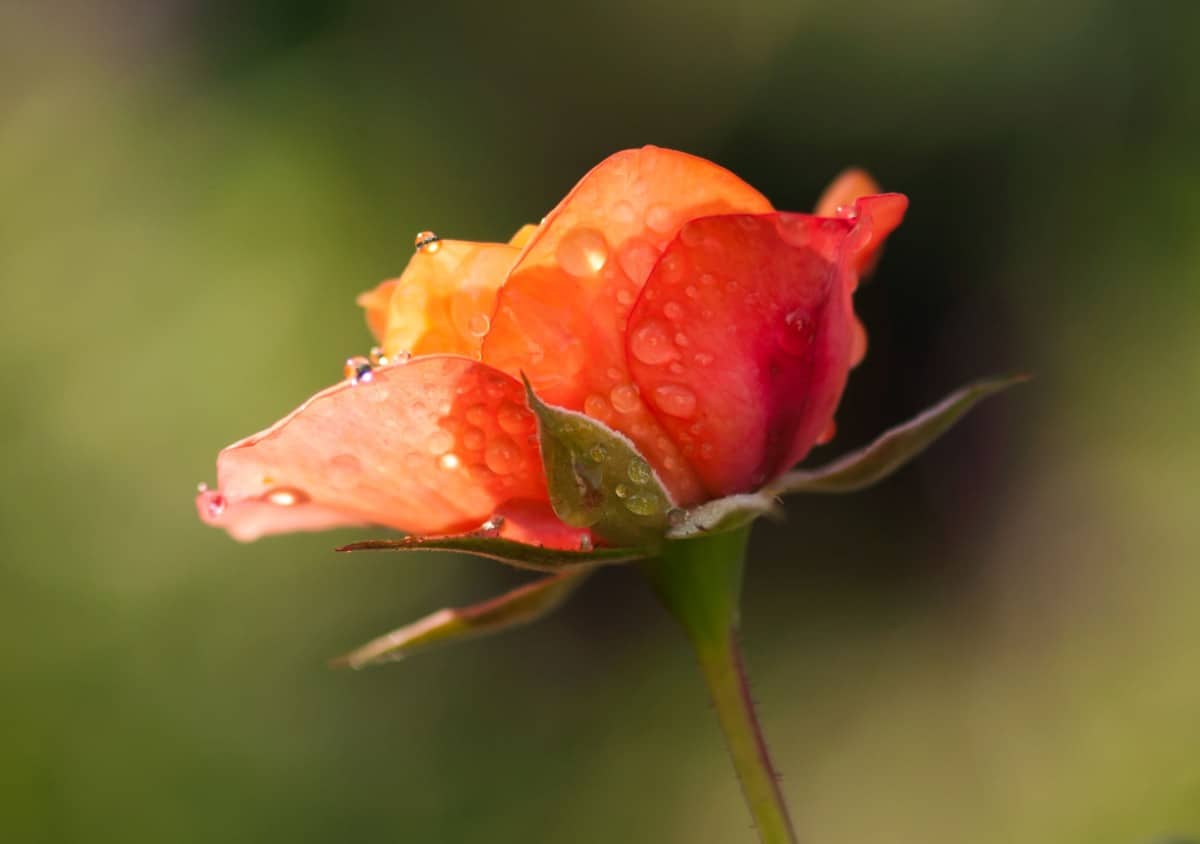 Coral Drift roses grow glossy green foliage in the spring, followed by coral-colored, dainty roses that attract butterflies. They are low growing shrubs that only reach 1 1/2 feet tall and 2 1/2 feet wide, making them an excellent choice for ground cover or low borders.
This ground cover rose is low maintenance and only needs light pruning in winter. Coral Drift roses are cold hardy in zone 4 and heat tolerant up to zone 11, resist diseases, and need full sun to flourish.
Zephirine Drouhin Climbing Rose (Rosa 'Zephyrine Drouhin')
The buds of this rose unfurl into dusty pink blooms of semi-double petals that give off a rich, heady scent. These are thornless rose bushes with legendary 4 inch wide flowers set against dark green leaves.
This profuse flowering vine is a vigorous grower that reaches a mature size of 15 to 20 feet in height and 4 to 5 feet in width, growing easily up a trellis or along a fence. It is disease and powdery mildew resistant and fairs well in both shade and sun.
We all enjoy getting our hands dirty while nurturing a new garden, but areas with low rainfall have their challenges. Proper mulching and regular watering are vital when growing any plant in a dry climate.
However, some roses are hardier than others, and their drought tolerance makes them ideal for growing in these areas.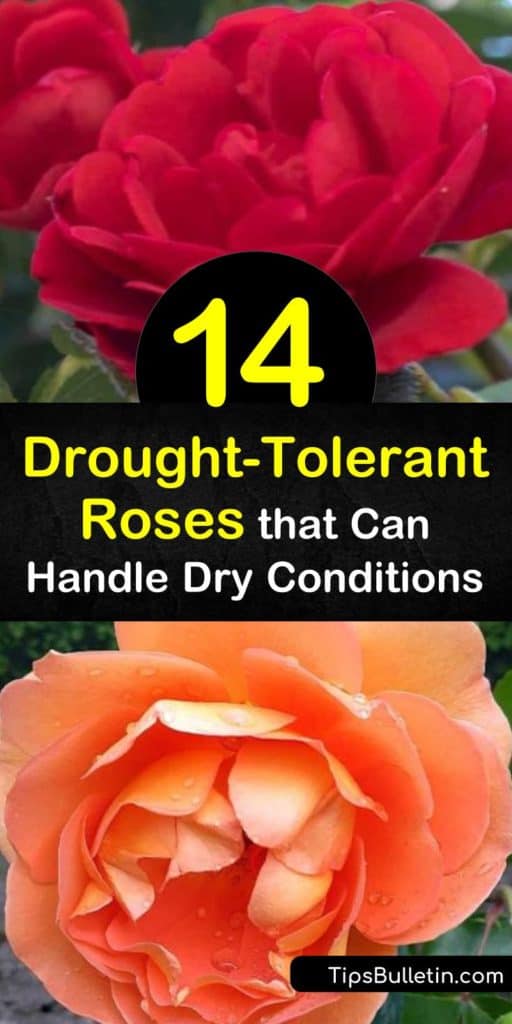 We hope you grow an abundance of drought tolerant roses throughout your yard for summer-long enjoyment, and we would appreciate you sharing our hardy and dry-tolerant rose guide with your friends and family on Pinterest and Facebook.