As summer arrives and brings new forms of life, some plants struggle to combat the unbearably high temperatures. The summer season is often unpredictable, and planning on planting trees takes a lot of consideration. Choosing drought tolerant trees is one of the smartest choices for your yard.
Trees that can handle dry spells help lower your water costs while providing lots of shade for you, your friends, and family to spend time outside.
When researching and shopping for drought tolerant trees, choose plants with all the traits you're looking for. There are plenty of varieties with fall color, different sizes, flowering, and fruit displays, and hardiness all wrapped into one hardy package.
What Makes a Tree Drought Tolerant?
You may be wondering what characteristics make some trees, like desert palm trees, able to handle dry spells and what makes others require constant moisture.
Some of these beneficial traits include protective wax on the tree's foliage, leaves that use water more efficiently, and extensive root systems that extract even the hardest to find moisture from the soil. This applies to many other plants, as well, including drought resistant climbing roses and some shrubs.
A vast majority of trees get stressed from long periods of hot and dry weather. With a rising number of droughts and water shortages in the world, the best solution to keeping your yard alive is with plants that require lower maintenance and less water.
Using trees, like pine trees that grow fast, that are native to your area helps the plants better adapt to the soil moisture, climate, and pests around your home. Small leaves usually mean the tree cools off more quickly than those with larger leaves.
Trees with upright crowns are also more effective in using water than trees with flat crowns. These are all characteristics and factors to think about when choosing the right drought resistant trees for your home or property.
Go-to Drought Tolerant Trees: Eastern Redbud (Cercis canadensis)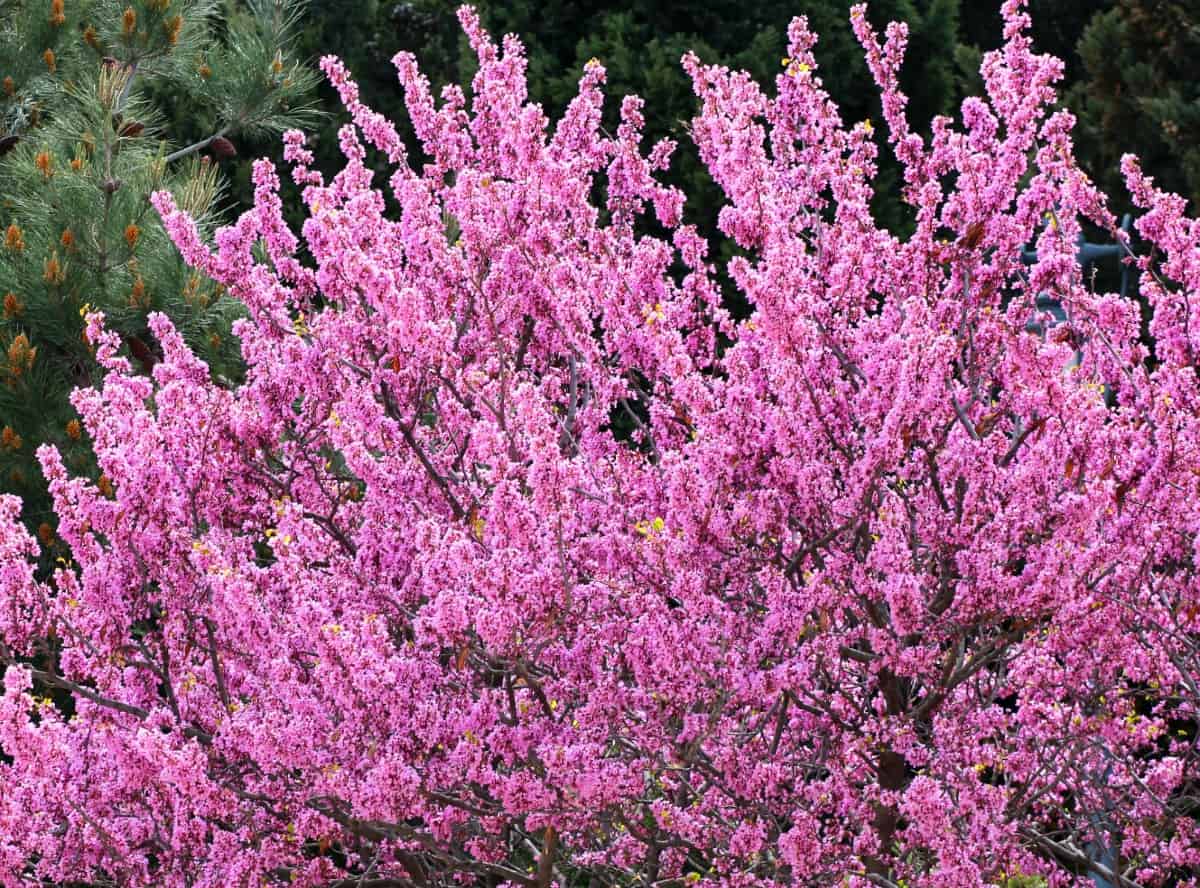 If you've seen a redbud tree, you wouldn't forget it. These are breathtaking trees with an unforgettable flower show. The pink and mauve flowers bloom for two to three weeks every spring and are followed by heart-shaped leaves.
Redbuds are members of the bean family and native to the eastern United States. Eastern Redbuds are hardy in USDA hardiness zones four through eight.
Plant these trees in the early spring in well-draining soil. They prefer having a partly shaded location. While they tolerate moderate dry spells, trees planted in full sun require more watering.
White Oak (Quercus alba)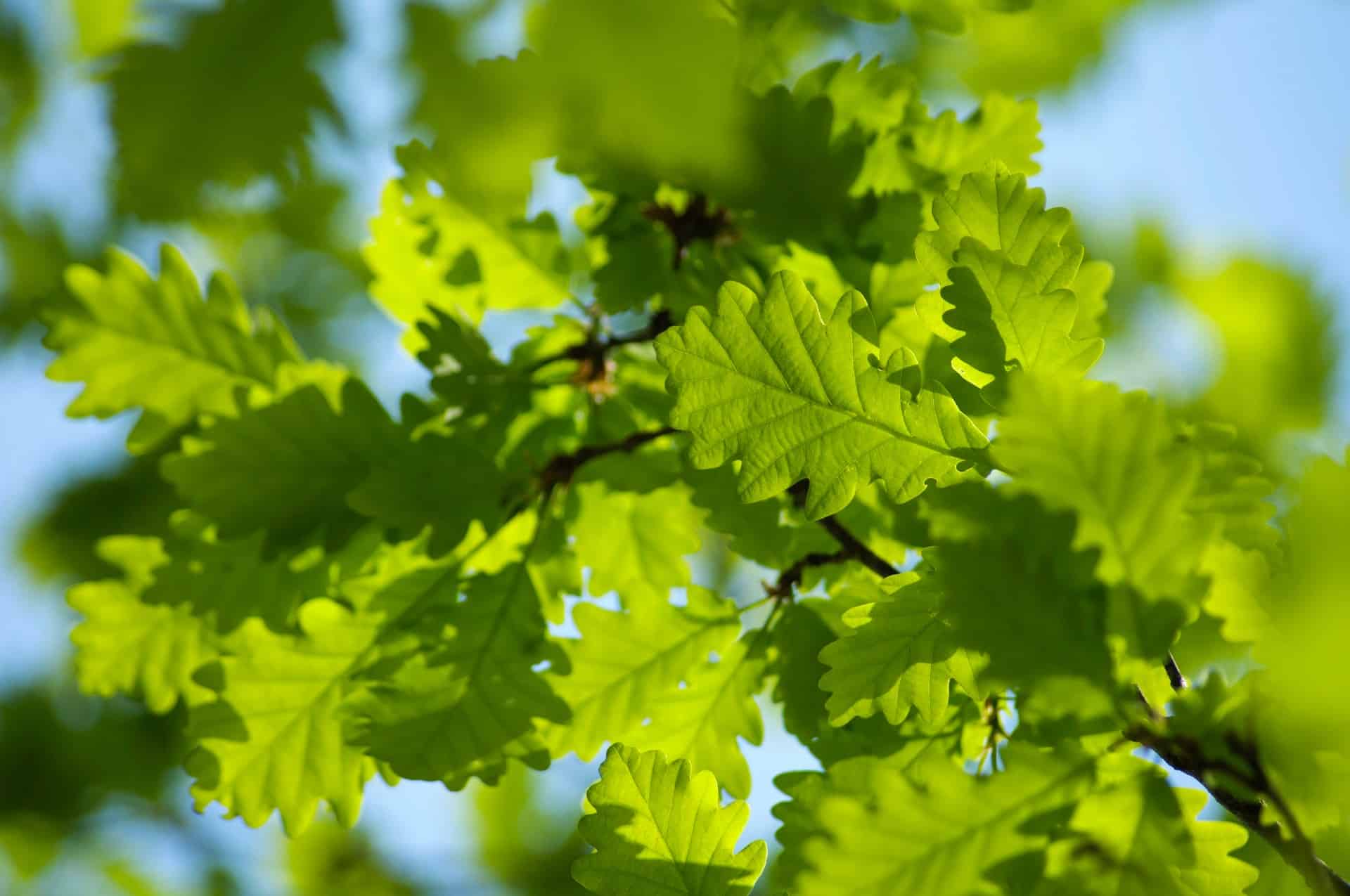 While almost everyone has heard of white oaks, they often don't know that these are exceptional, drought tolerant trees. These trees are stocky plants with massive limbs.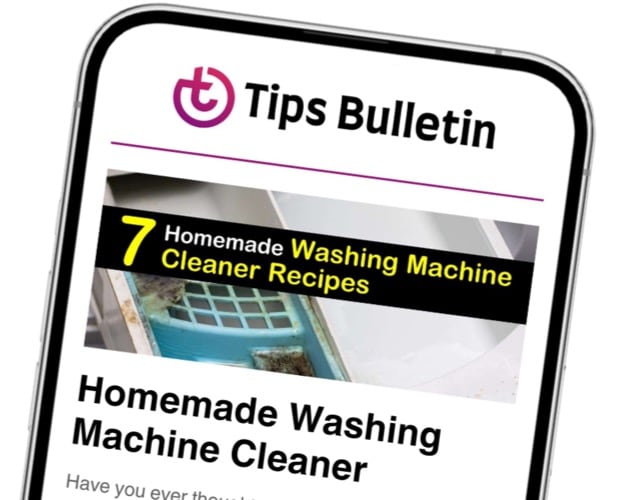 Finally, an email that Transforms Your Home.
Get the latest home and garden tips from our experts, delivered straight to your inbox.
The white oak tree's bark is scaly and grey, and the leaves provide fall color when transitioning from dark green in the summer to orange, brown, and red in the autumn. After about 20 years, they may produce acorns.
White oak trees prefer full sun but survive in partial shade as well. They do best in moist, well-draining soil but can adapt to many soil types and pH levels. Once aged and established, white oaks tolerate dry conditions.
Sumac (Rhus typhina)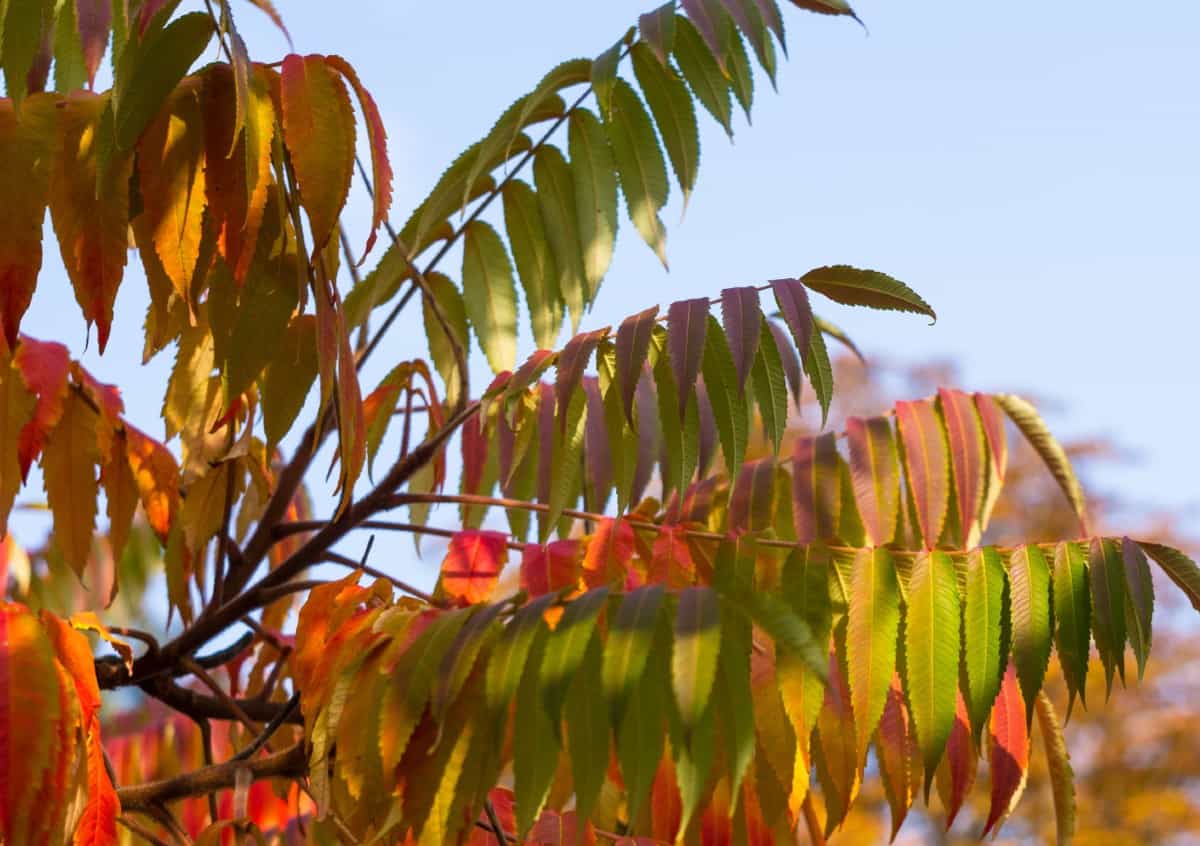 Sumac trees are ornamental trees with large, spreading branches and fern-like leaves that turn bright red, orange, and yellow. In midsummer, cone-shaped panels of flowers bloom and bring fruit that attracts wildlife.
Sumac trees grow up to 15 feet tall and 20 feet wide. They are lovers of full sun or partial shade. As long as it has good drainage, sumacs are drought resistant and like dry to medium moisture soil.
Sumac trees have no significant pests or diseases but may be susceptible to leaf spots and powdery mildew.
Kentucky Coffeetree (Gymnocladus dioicus) – Plants that Handle Dry Spells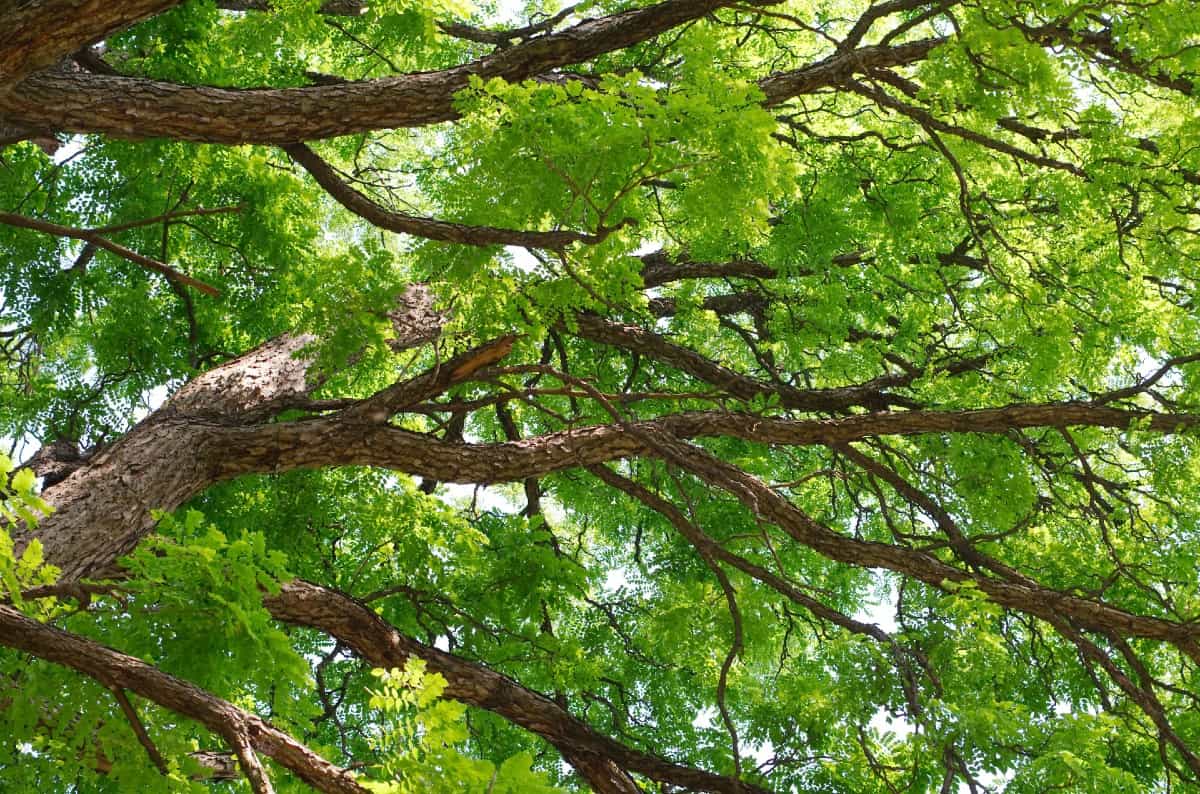 Kentucky coffeetrees have built-in drought tolerance while still making a statement in the yard. As new foliage emerges in the early spring, the leaves appear bronzy-pink.
As they mature, they turn bluish-green in the summer and golden yellow in the fall. They grow best in USDA zones three through eight. Kentucky coffeetrees are tall and reach up to 75 feet tall and 50 feet wide.
Making sure you have ample room for this plant to grow is necessary before planting. These trees adapt to dry, compact, and alkaline soil but do best in fertile and moist ground with plenty of drainage.
Maidenhair (Ginkgo biloba)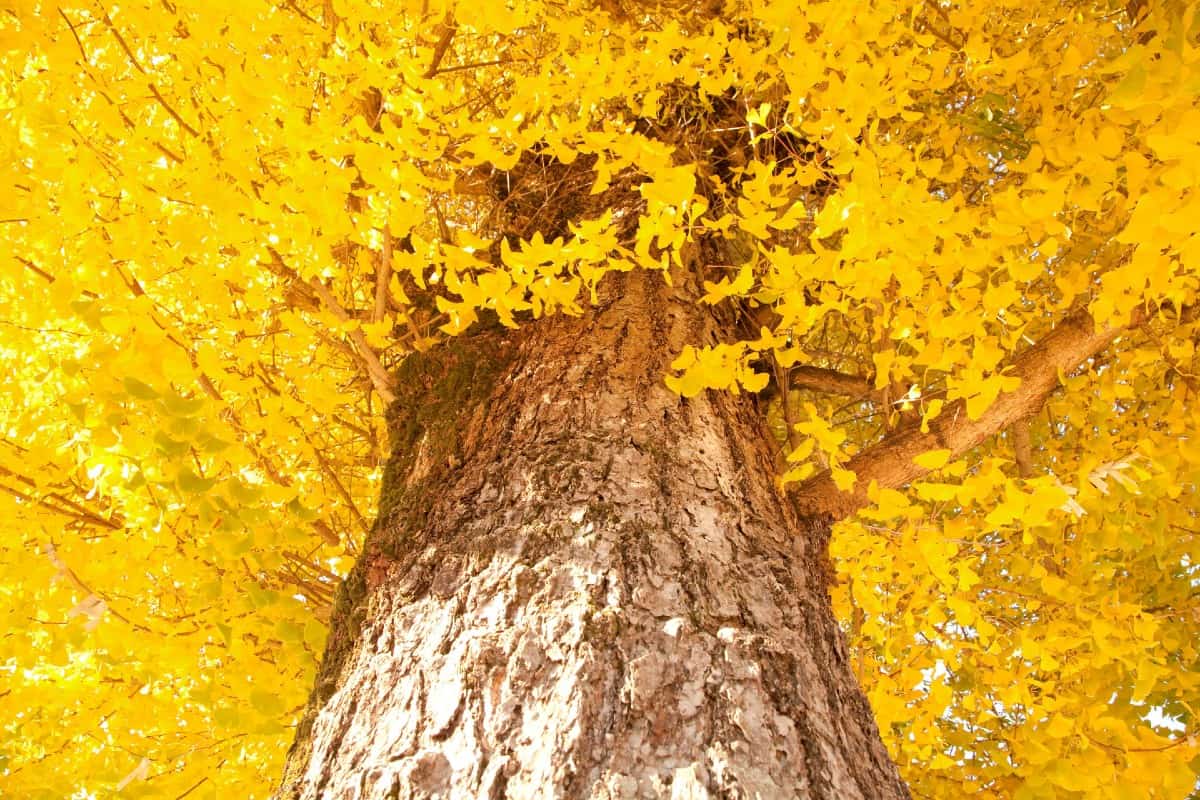 Maidenhair trees are a deciduous shade tree with traces of ancestor plants in China over 100 million years ago. It is estimated to be the oldest living tree species in the world.
Maidenhair trees are considered sacred and found around temples in China and Japan. They are pest and drought resistant trees, grow 80 feet tall, and are hardy in zones four through nine.
Stake maidenhair trees when they are sapling size, but they no longer require it once they are slightly larger. These trees are incredibly adaptable but thrive in full or partial sun and well-draining soil.
Honey Locust (Gleditsia triacanthos)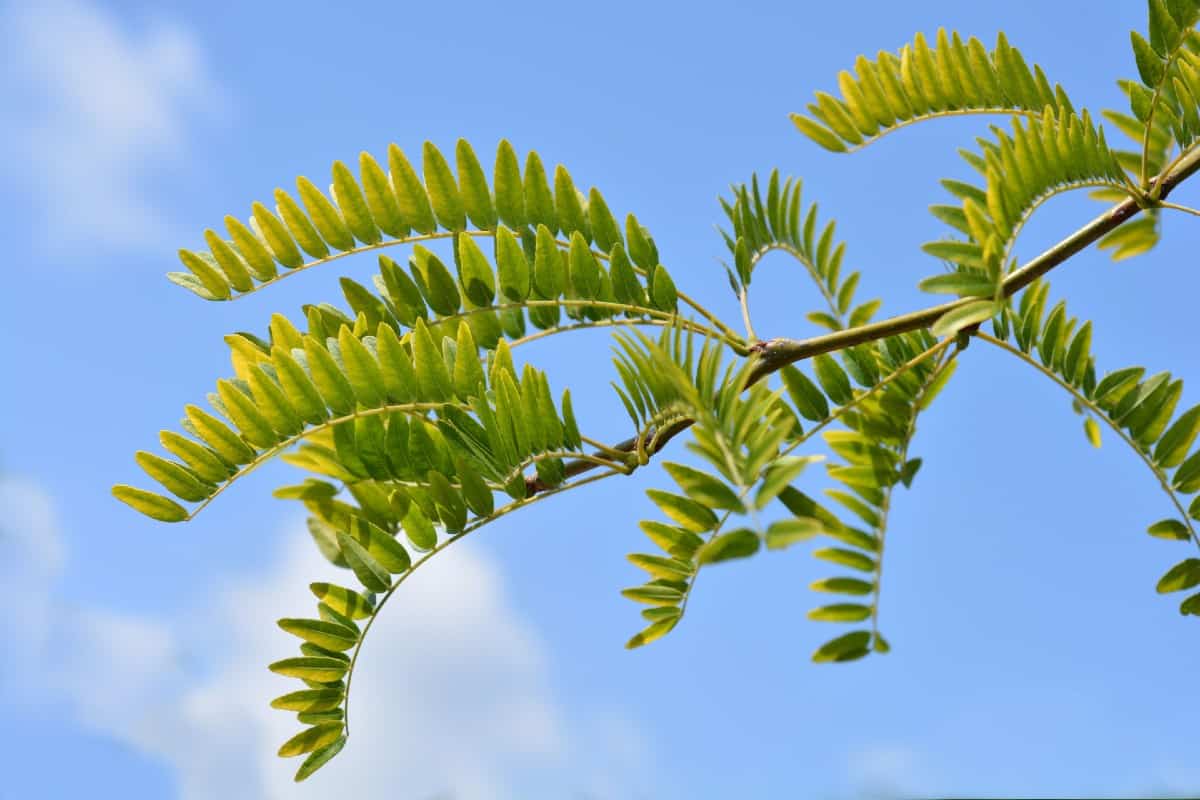 Honey locusts are popular in city landscapes because of the shade they produce, small leaves, and vibrant yellow foliage in the fall. These locust trees are native to the United States and grow over 100 feet tall in the wild, or 30 feet in landscaping.
They produce twisted, dark brown seed pods every fall that must be picked up if you don't like a mess. However, some varieties don't produce the pods.
Plant honeylocust trees in areas with lots of sun where you might want some added shade. The trees survive as long as they have rich and moist soil. Keep your eye out for pests like powdery mildew and webworm.
Flowering Trees that Handle Heat – Magnolia (Magnolia grandiflora)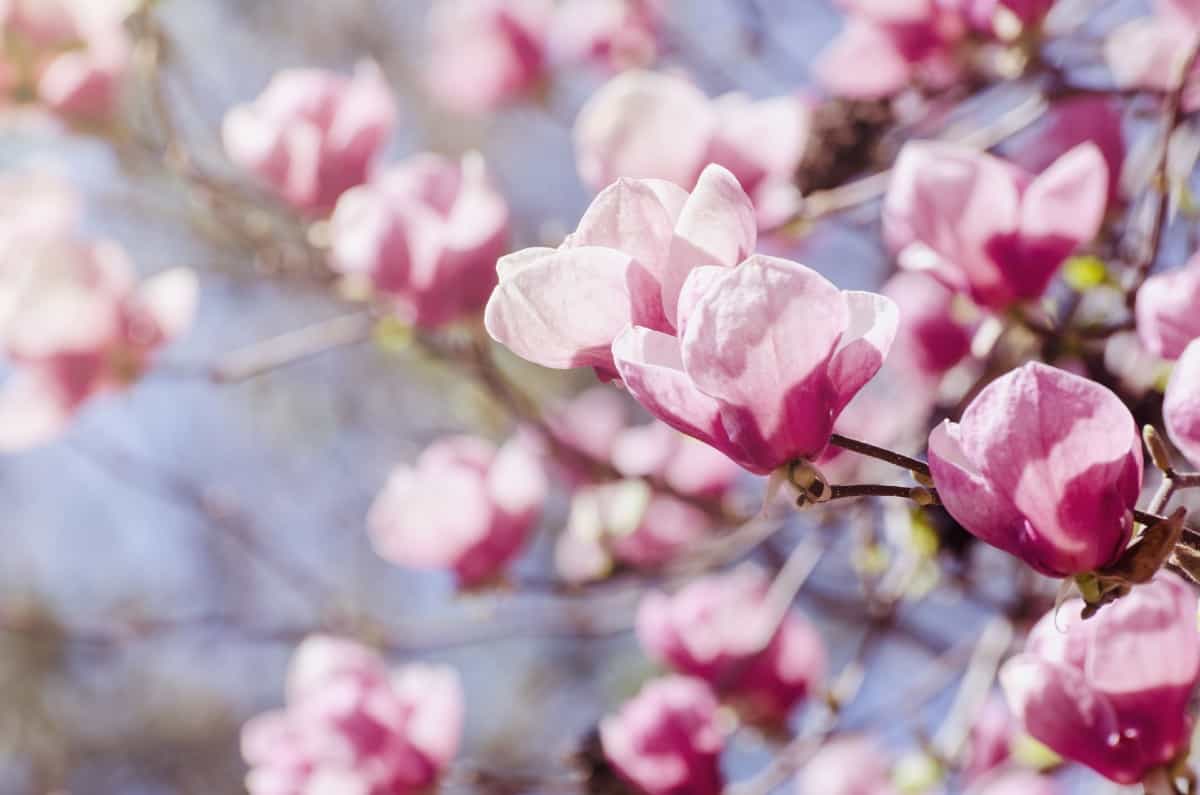 Magnolias are picturesque flowering trees with large pink and white flowers. They grow to be rather large, reaching 80 feet tall and spreading 40 feet wide. They also grow as much as 24 inches every year.
Although they are mostly deciduous trees, this specific variety of Magnolia is an evergreen tree, which means the dark green leaves last through the winter. They are best for hardiness zones six through ten.
Finding the perfect location for magnolias is essential to their health. They are heat tolerant shrubs that like sandy or loamy soils with an acidic pH level. They thrive in full sun but tolerate shade if they have at least four hours of direct light.
Red Maple (Acer rubrum)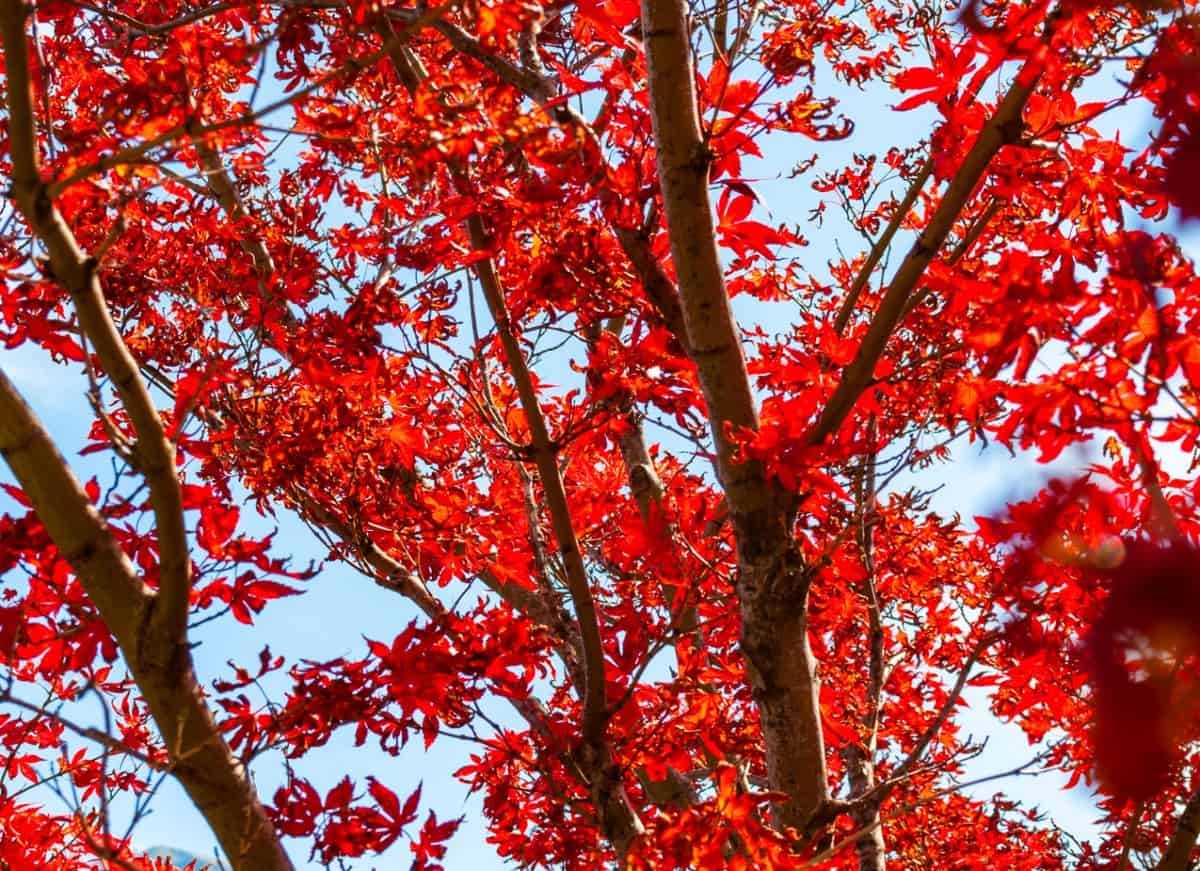 Red maples are beautiful, drought tolerant trees with bright red foliage that appears in the fall. These trees vary in size from 40 to 70 feet tall and 30 to 50 feet wide. They grow best in USDA hardiness zones three through nine.
Scope out the right location for a red maple tree. The roots are bulky and grow near the soil's surface, so they are capable of raising cement. Because the roots are sometimes exposed, they may be damaged if run over with a lawnmower.
Plant red maples in autumn. Choose a yard location with full sun or partial shade and moist soil. Once the tree is well-established, it tolerates short periods of drought.
Leyland Cypress (Cupressus x leylandii)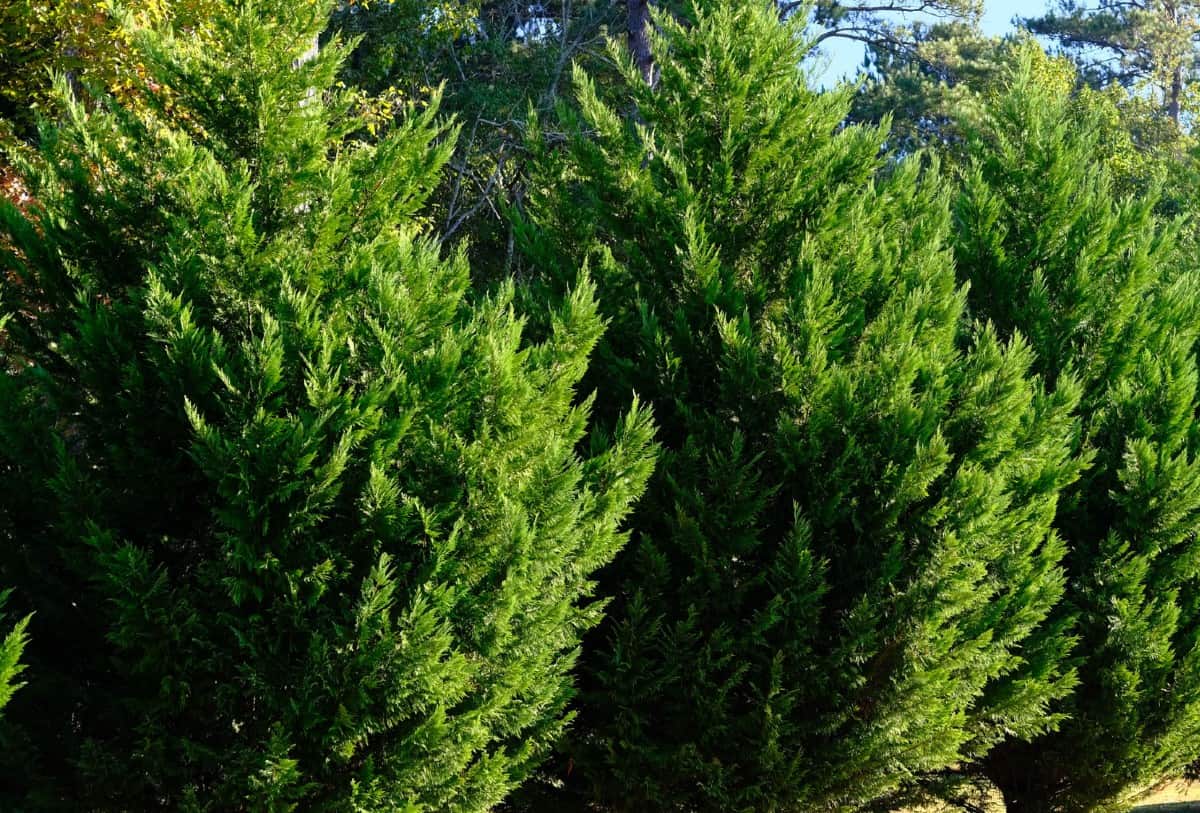 The Leyland cypress is an evergreen tree with feathery green foliage. Each tree grows over three feet per year, which makes it perfect for privacy hedges.
Leyland Cypress trees reach heights of 70 feet tall and spread up to 15 feet wide. They survive for up to 20 years and are great for large spaces.
Grow Leyland cypress trees in full sun or partial shade. Give them fertile soil and place them in a location with protection from wind. Don't overwater the trees to help prevent root rot and watch for bagworms.
Red Cedar (Juniperus virginiana): Long-Lived Drought Tolerant Trees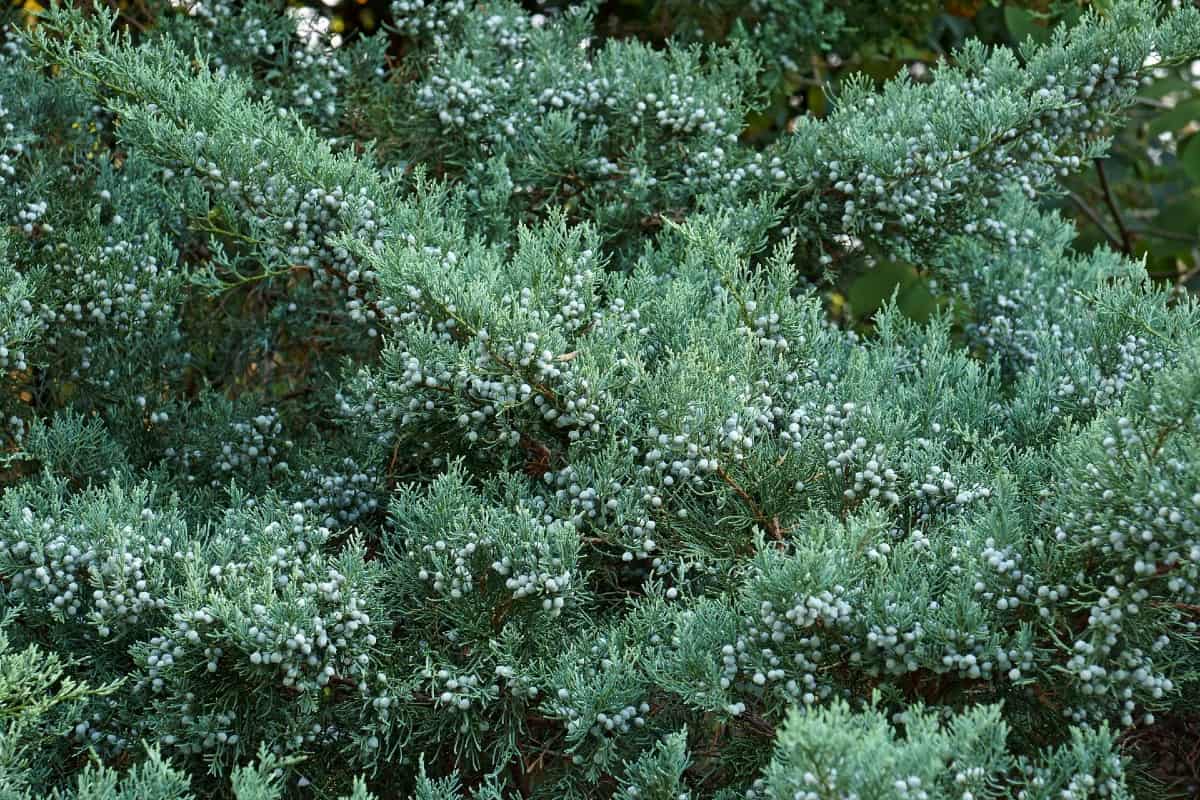 Red cedars are long-lived, drought tolerant trees. They grow 50 feet high and provide food and shelter for songbirds. These plants have scale-like foliage with colors like light green, dark green, gray-green, and blue-green leaves.
The foliage turns brownish-purple during the winter months and develops pale blue berries. Red cedars are hardy against drought, heat, and cold temperatures.
These cedar trees also tolerate a wide range of soil types, wind, dust, and salt. Plant them in full sun to partial shade and well-draining soil.
Hackberry (Celtis occidentalis)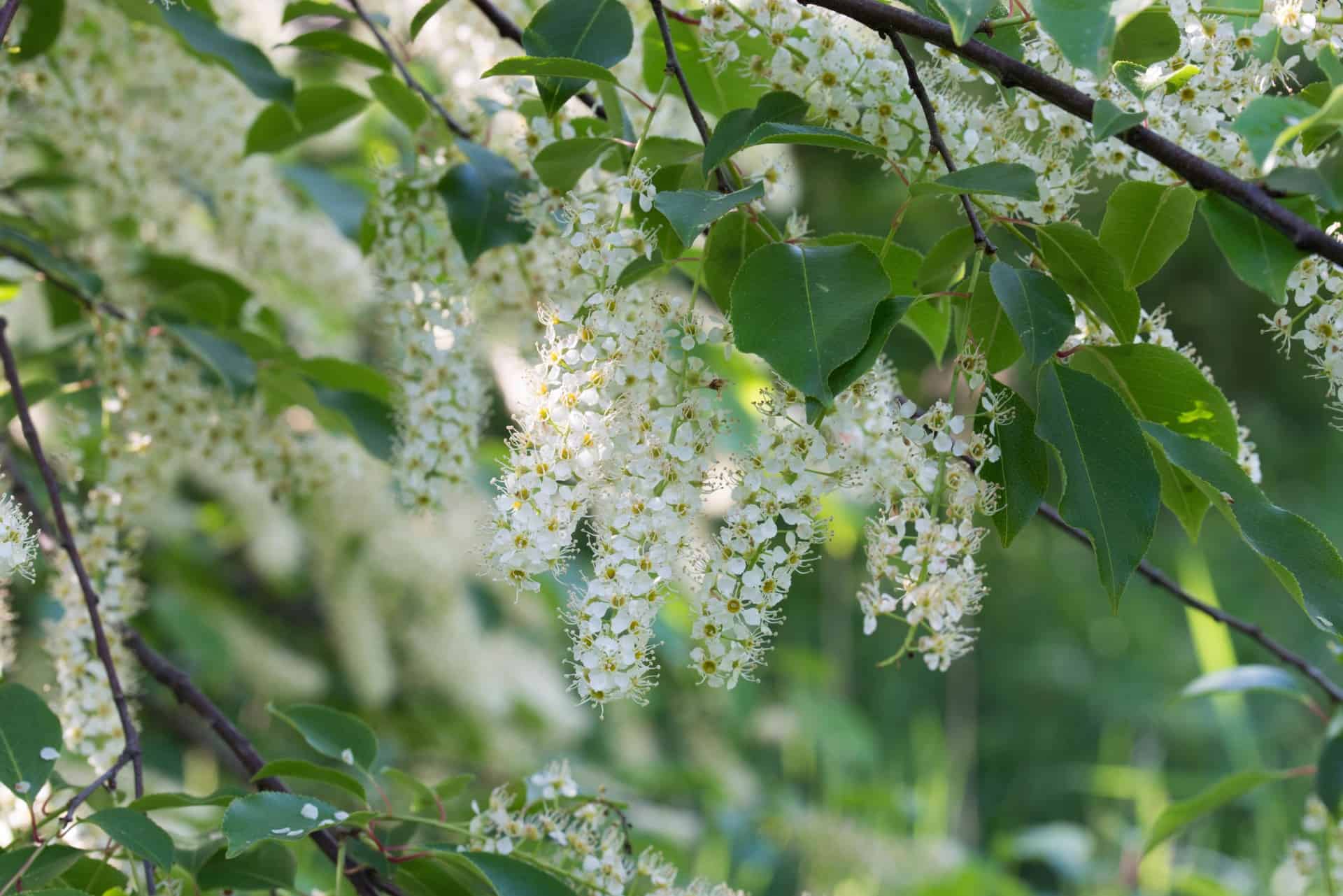 Hackberry trees are native to North Dakota but survive throughout nearly all of the United States. They are medium-sized trees and a member of the Elm family.
It stands out from other trees with its warty bark and dark purple fruits that are food sources for birds like cardinals, robins, and flickers. They grow to heights of 60 feet and spread up to 45 feet.
Hackberry trees are excellent windbreaks in fields, along highways, or in other ornamental landscape designs. They are hardy in USDA zones two through nine.
Hackberry trees do tolerate drought but grow best in moist, well-draining soil. Give hackberry trees full sun to partial shade and watch this tree bring life and beauty to your property.
Northern Catalpa (Catalpa speciosa)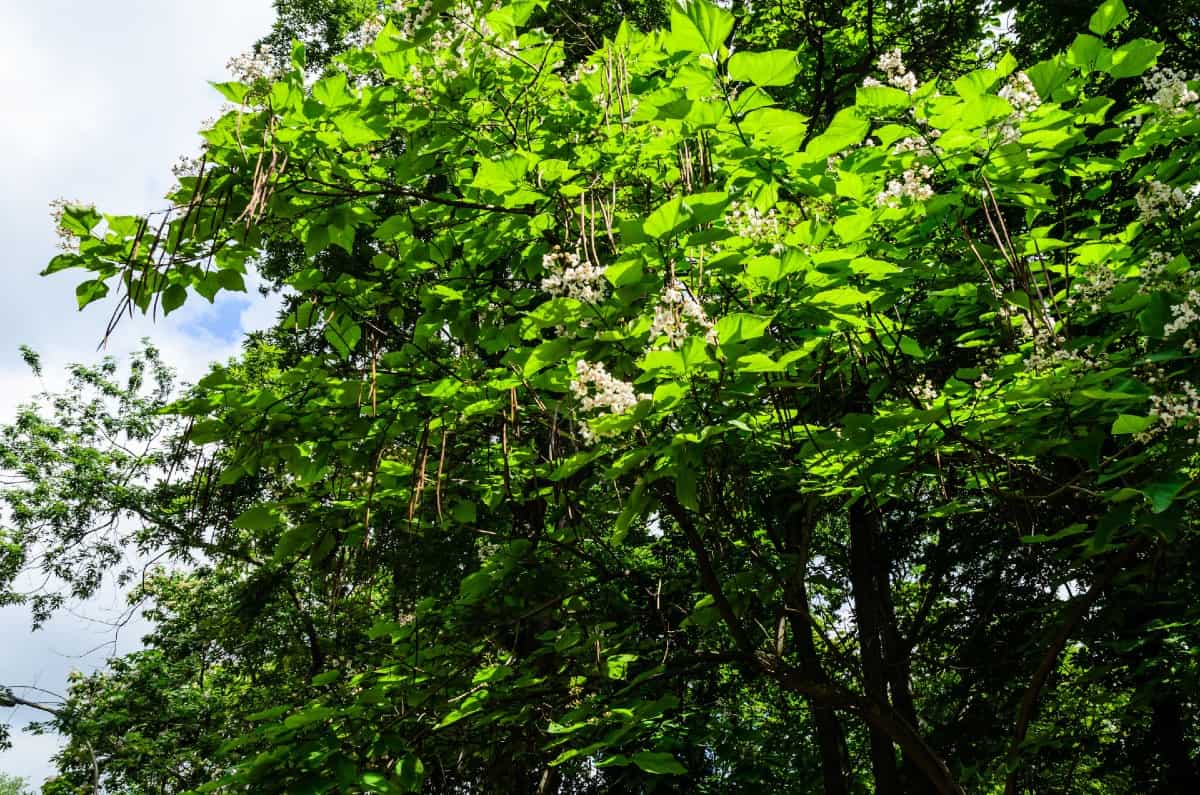 Catalpa trees are massive beauties, reaching up to 70 feet tall with a lifespan of 60 years. They have bright green, arrow-shaped leaves with large panicles of white flowers in the late spring.
Every fall, they grow long seed pods that bring texture to the appearance of the tree. They reach up to 20 inches long. Catalpa trees are hardy in USDA zones four through eight.
They can handle either moist or dry soils and partial shade or full sun. Prune young trees every spring to encourage growth and watch out for harmful insects.
Trees for Dry Urban Sites: London Planetree (Platanus x acerifolia)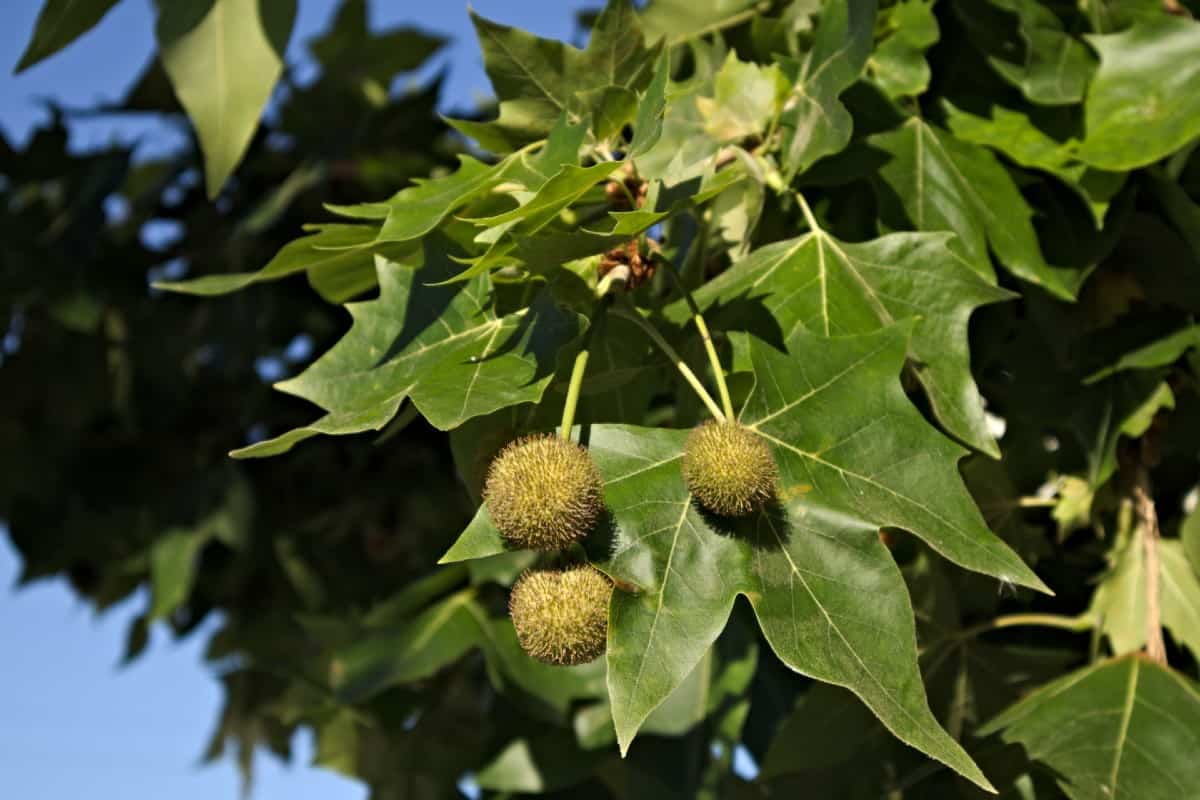 London planetrees are used mostly in urban sites. They are large, deciduous trees that developed when someone crossed an American sycamore tree with an oriental plane tree.
These trees have peeling bark that flashes white and green inner bark underneath. Small flower clusters appear every spring and ripen into fruit. London plane trees are strong in zones five to nine and grow up to 100 feet tall and 75 feet wide.
They like loamy, sandy, or clay soil and full sun to part shade. Give the tree fertilizer in the early spring and fall and prune them regularly if you don't want them to get too large.
Bur Oak (Quercus macrocarpa)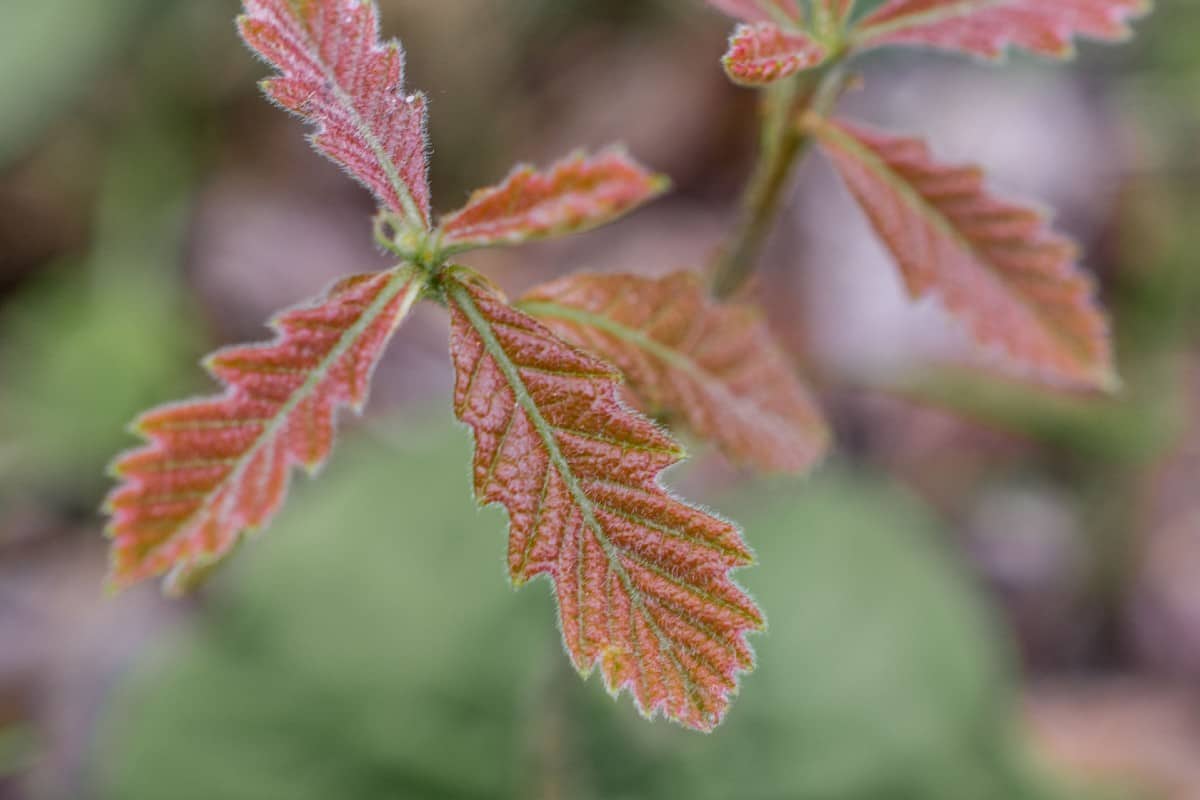 Bur oak trees are native to North America and are known for their massive trunks and rough bark. They reach an astonishing height of 150 feet tall, so make sure you choose the right site with ample room to grow.
They have small yellow flowers that bloom in the spring and acorns that attract birds and mammals. Bur oaks are suitable for those with large backyards. Under the right conditions, they live up to 300 years old.
Plant the tree in loamy soil with plenty of drainage. They like to have at least six hours of direct sunlight. Water the tree regularly the first year until they become more drought tolerant.
This list of drought tolerant trees includes some of the most popular trees that can withstand hot and dry weather conditions.
Although there are many things we enjoy in the summer, one of its biggest downfalls is the ability to harm our plants that you work so hard to maintain.
Trees with built-in hardiness give your home tons of beauty and are one less thing you have to worry about on your summer to-do list.
If you found the perfect drought tolerant trees to plant around your yard, share these trees that thrive in dry conditions on Facebook and Pinterest.