Evergreens provide stunning color year-round, along with a cozy little habitat for woodland creatures in the winter. While these trees and shrubs are ideal for landscapes, many homeowners hate the idea of struggling to plant regular-sized trees with large branches and root balls. One alternative is to select dwarf evergreen shrubs for full sun, which also provide amazing color and coverage without all the hassle of cumbersome trees.
In addition to their modest size, these evergreen shrubs provide everything from curb appeal to privacy screens. Some display impressive green foliage unique in shape and design, while others offer lovely displays of flowers at different times of the year.
In areas where shade is not always accessible, or in regions that receive plenty of sunlight, these small trees for landscaping suit the overexposure without causing them critical damage. For some of the best evergreen shrubs for sun, try any of the eye-catching examples listed in the article.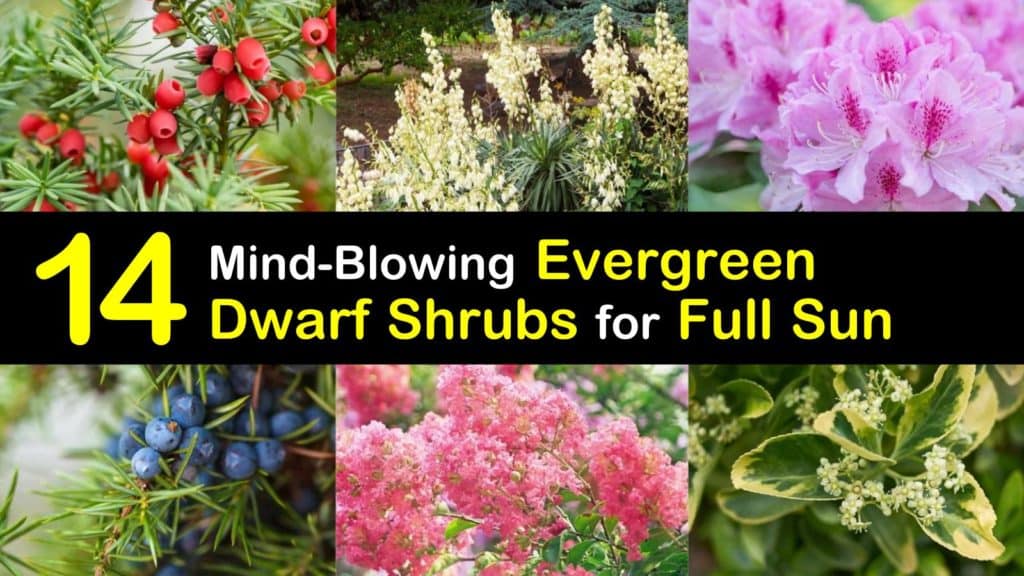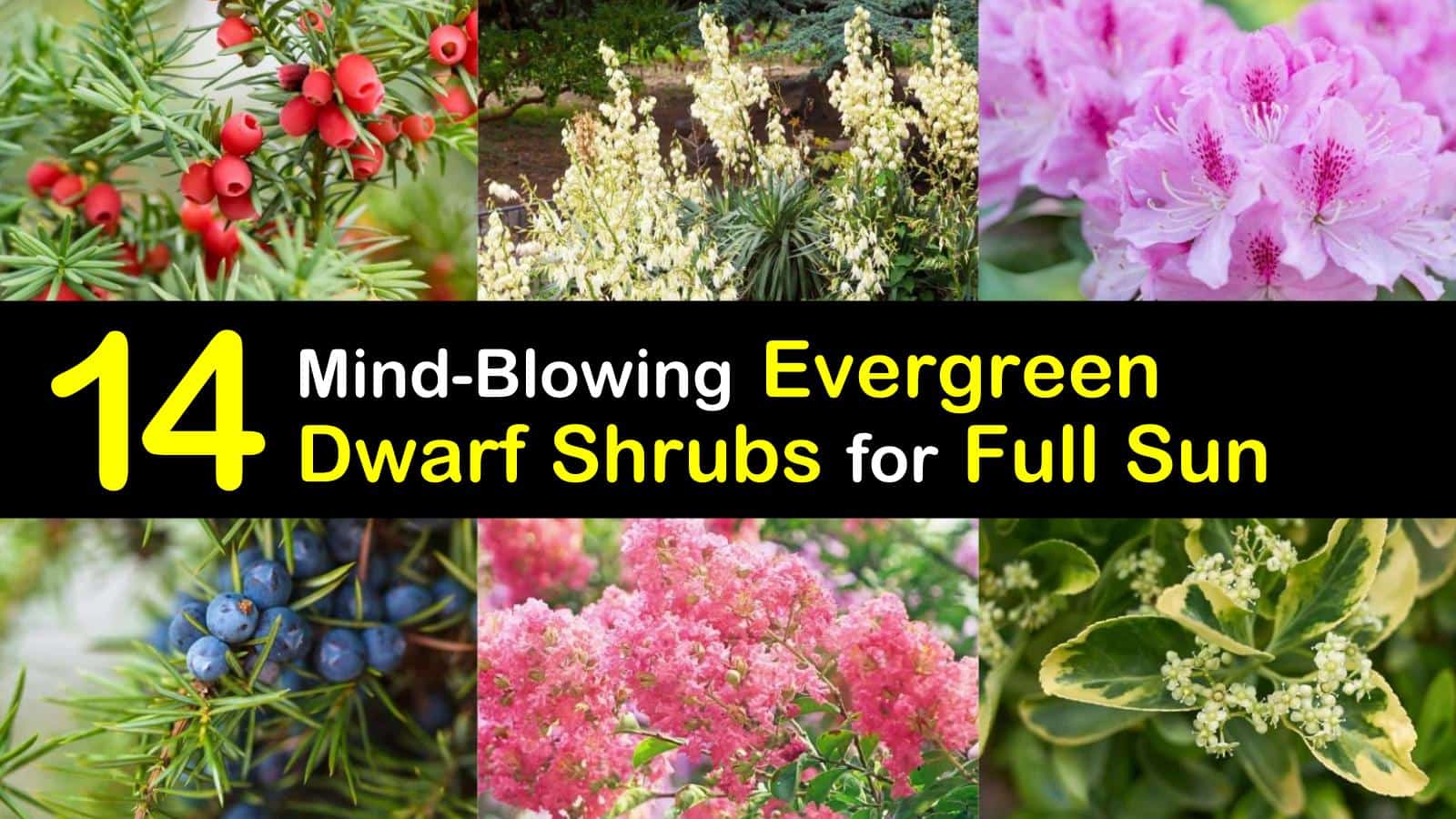 Stunning Evergreen Shrubs for Sun – Perfect for Any Landscape
Even though all the shrubs listed here do well in full sun, it's essential to note location first. Depending on the climate in your hometown, some plants may do better in part sun than in full, direct light due to warmer, intense conditions. Keep this in mind when you plant flowering evergreen bushes that need full sun and partial shade to keep them looking their best.
What is the difference between full sun and partial shade?
While this may seem like an obvious question, it's crucial to note what designates an area as having full sun conditions and partial shade or full shade. Full sun refers to any location that receives at least six full hours of sunlight a day.
Those plants that require partial shade need anywhere between 3 to 6 hours sunlight, while full shade plants require less than three hours. Knowing that your plant thrives best in full sun is only half the battle, since regional differences and how delicate the plant also plays a hand in its success.
High temperatures and the severity of the sun end up scorching more delicate varieties, doing more harm than good. As a result, planting them in cooler regions or providing them with 6 hours of morning sun over the afternoon is one way to avoid damage.
Dwarf Evergreen Shrubs for Full Sun
Now that you have the basics down, it's time to find the perfect evergreen shrub for your garden. The best place to start is with what's already in your yard and finding the ideal combination to complement existing plants.
Mugo Pine (Pinus mugo)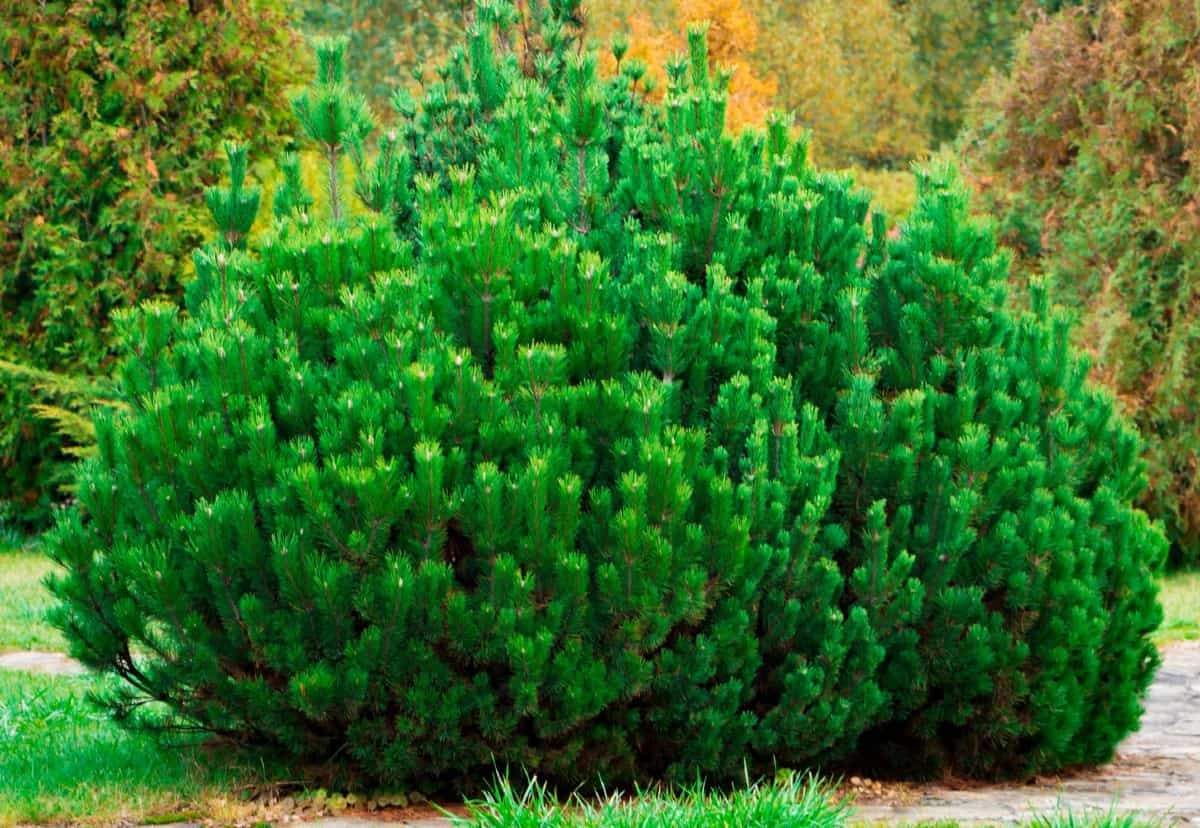 An excellent dwarf evergreen is Mugo Pine, also known as Mountain Pine. This conifer possesses dark green needles and a dome-like shape, making it perfect for zen and rock gardens. It stretches about 3-5 feet in height and approximately 6-10 feet wide.
The easy to care for hedge is deer-resistant and, once established, is also drought tolerant. Use Mugo Pine as border shrubs to deter deer from getting to your more sensitive plants. It prefers well-drained soil of all types. Water frequently to keep soil from drying out.
Arborvitae (Thuja)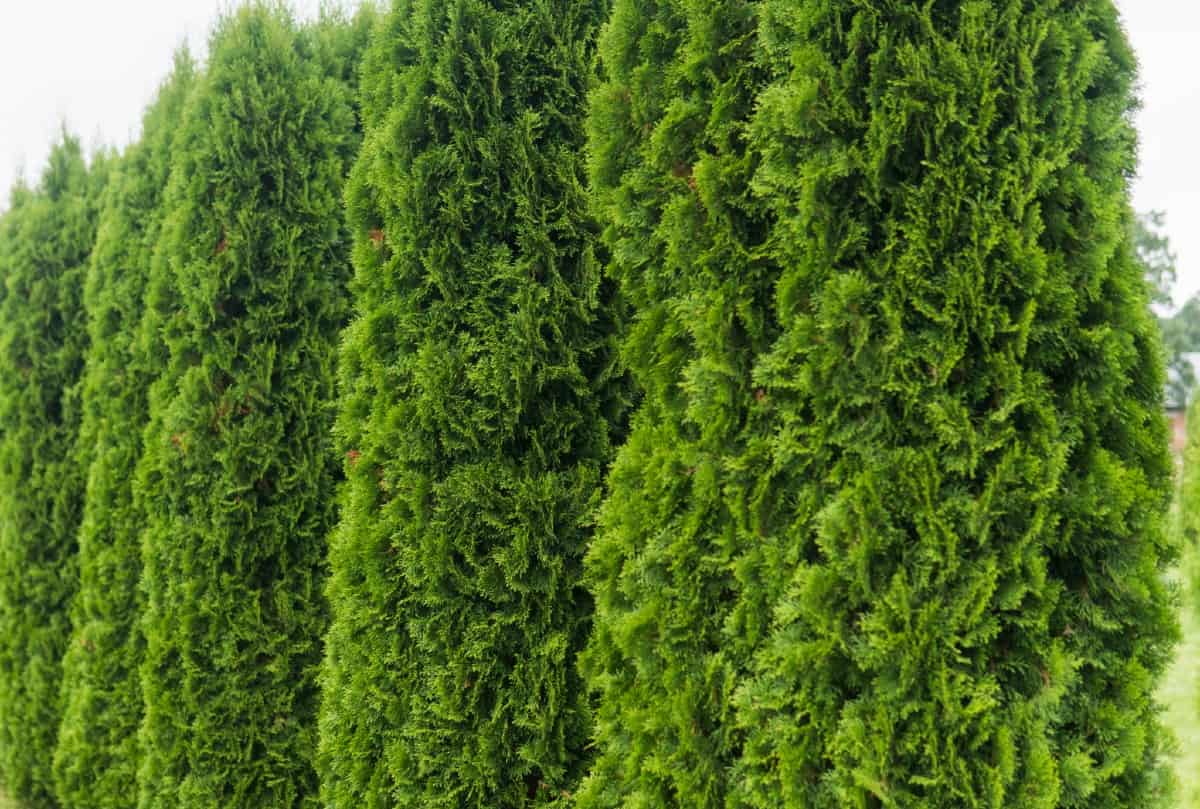 Another group of evergreen shrubs is the fast-growing Arborvitae plants. Typically used as a privacy screen, this set of bushes requires approximately 6 hours of direct sun and moist soil that is not too saturated.
Underwatering Arborvitae leads to drooping and yellowing, where overwatering leads to needle discoloration and root rot. While there are generally no problems with pests, common drawbacks include deer and soft branches.
Deer love the soft green needles, so implement other methods to keep them away. Too much snow or ice on branches during the winter causes them to break, so brush them off periodically to keep the plant healthy.
While pruning is a great way to keep these bushes on the smaller side, when left to grow, Arborvitae make excellent high growing shrubs for full sun areas where you may need some privacy.
Boxwood (Buxus): Easy Low-Maintenance Shrubs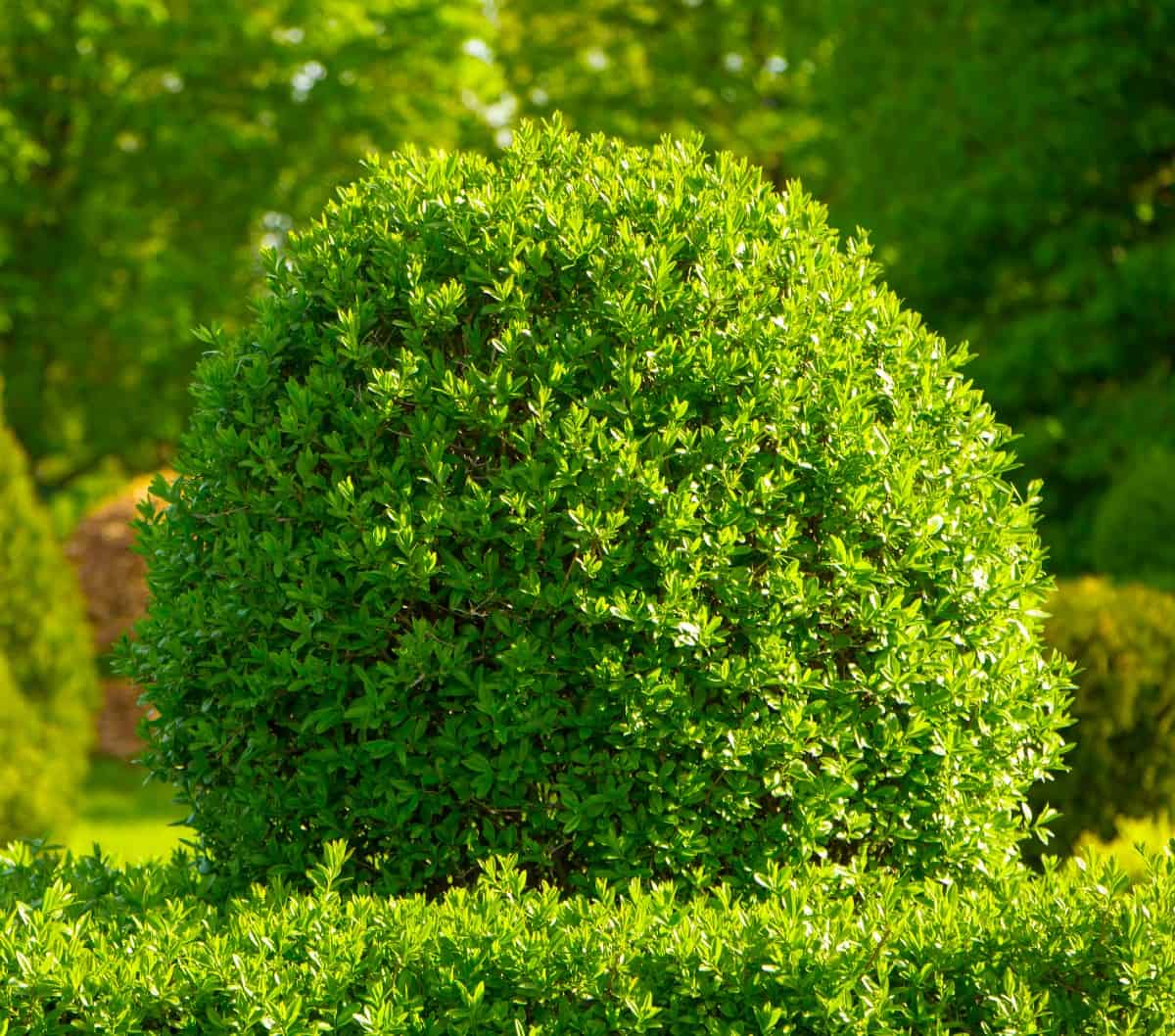 There are around 90 different species of Boxwood plants, all of which vary in size, shape, and growth rates. They require a minimum of four hours of direct unfiltered sunlight but also vary in their specifications depending on the plant type.
Most prefer full sun, where some do well in light shade. These low maintenance bushes are not picky when it comes to soil, either.
It is well-suited to all soil types, as well as pH levels. If you prefer to add more nutrients to encourage plant development, try an all-purpose fertilizer in early spring for fuller leaves and in fall for deeper root growth.
Inkberry Holly (Ilex glabra)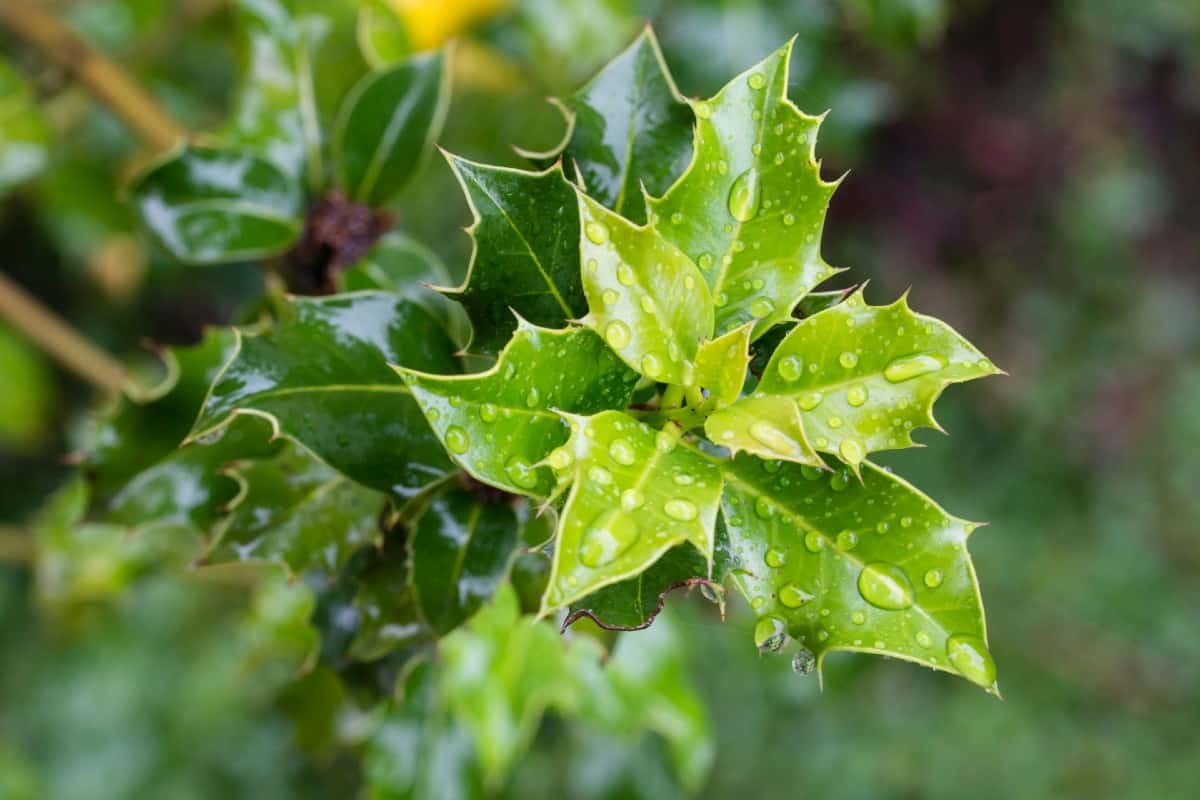 Shrubs like Inkberry Holly are ideal for small spaces and garden planters. Often considered a smaller alternative for Boxwood, holly only grows about 2-3 feet tall and wide compared to the 10-20 feet Boxwood grows.
The plant displays deep green, oval leaves, and greenish, white flowers that bloom from May to June. In the fall, the shrub also produces red berries.
While these are not flower bushes with thorns, the points on the leaves are sharp so it's best to use gloves when handling them. They require four hours of direct sunlight and quite a bit of water at least once a week. The key is to maintain consistently moist soil that is nutrient-rich and slightly acidic.
Spindle Tree (Euonymus japonicus): Lovely Trees for Year-Round Interest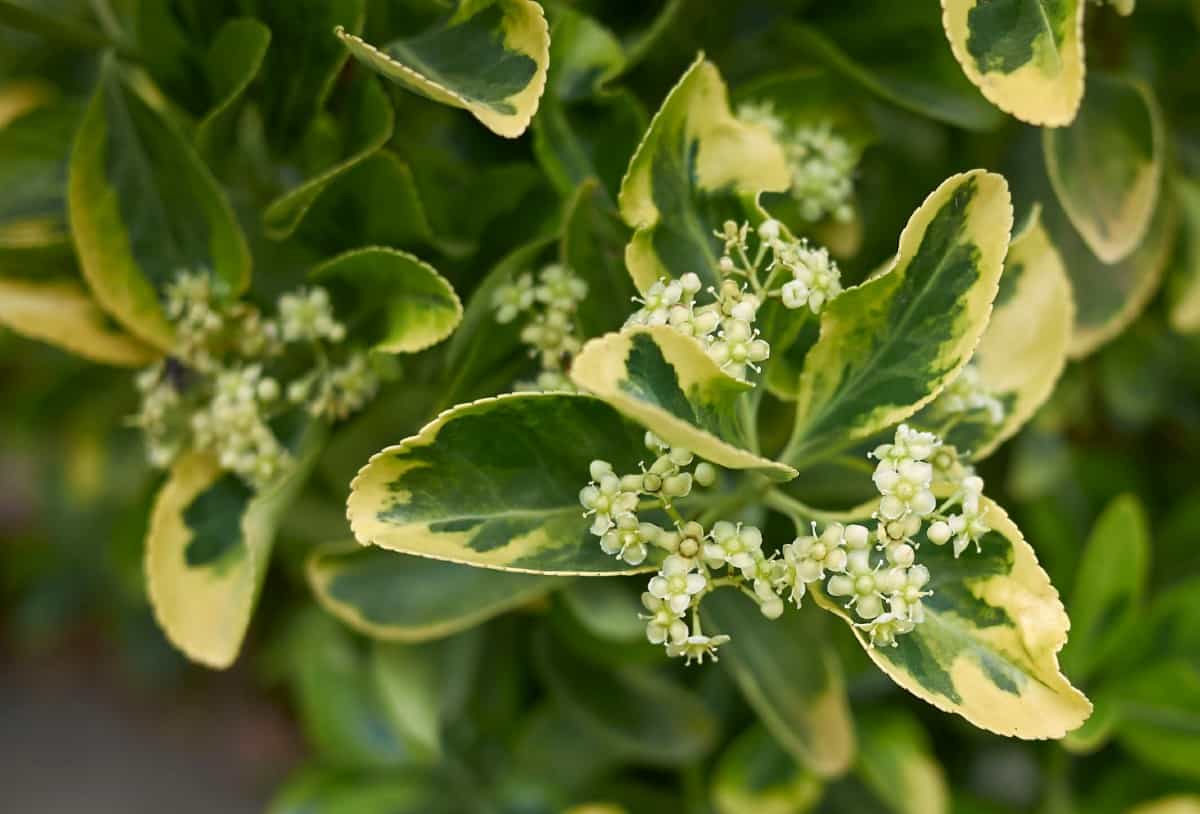 Also known as the Japanese Euonymus, the Spindle Tree makes a wonderful addition to any garden. Traditionally, the oil was used to make soap, with other parts contributing to the production of yellow dyes and charcoal for drawing.
While most of the plant is usable, it is poisonous to eat, including the berries. The Spindle Tree needs more than three hours of sun to thrive but less than six.
It does best in the morning sun and even the shade. However, whenever grown in full shade, it loses its beautiful fall color. Some species display lovely variegated leaf patterns.
Common Juniper (Juniperus communis)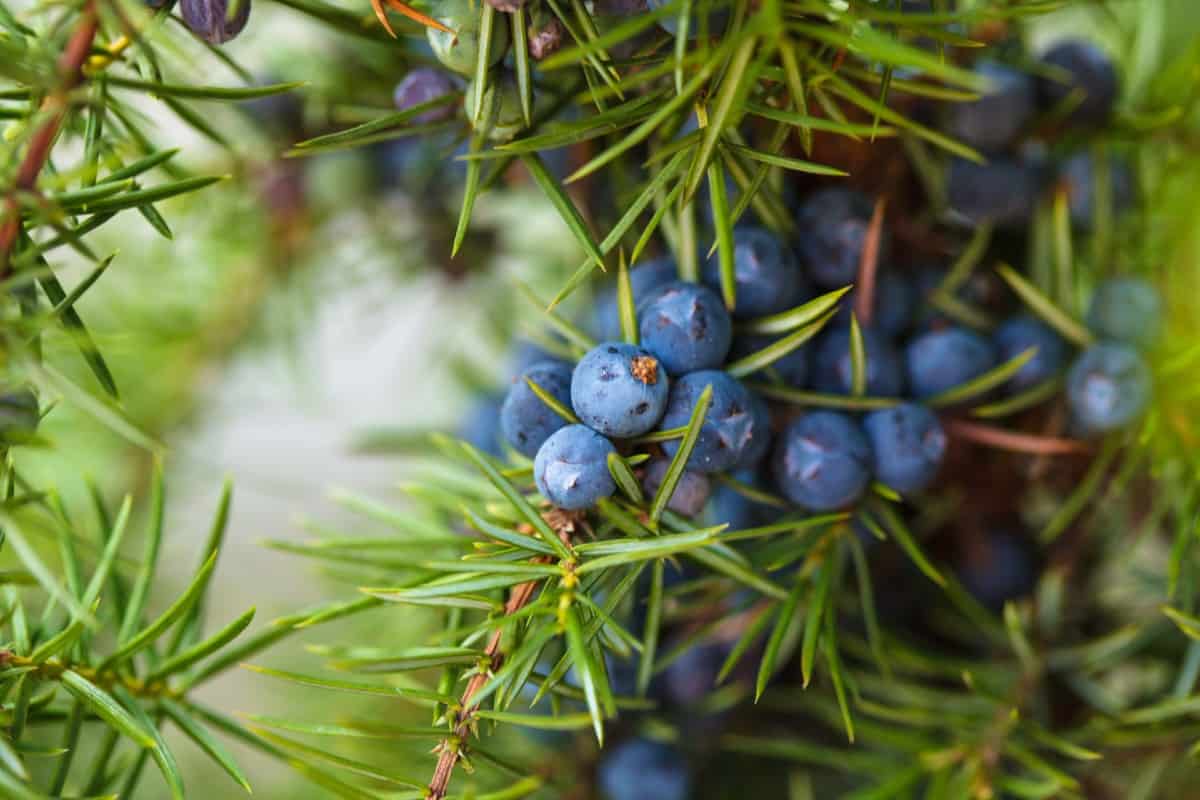 Another easy to care for plant is Common Juniper. Narrow and columnar, the shrubs generally act as privacy screens or as low-lying shrubs in layered beds. Their branches withstand heavy snow and ice without breaking easily, and they are hardy in zones 3-6 of the USDA guidelines.
The plant requires six hours of full sunlight to thrive. Too much shade causes them to lose denseness. It is also essential to maintain proper soil drainage for these plants to keep them healthy.
Azalea (Rhododendron)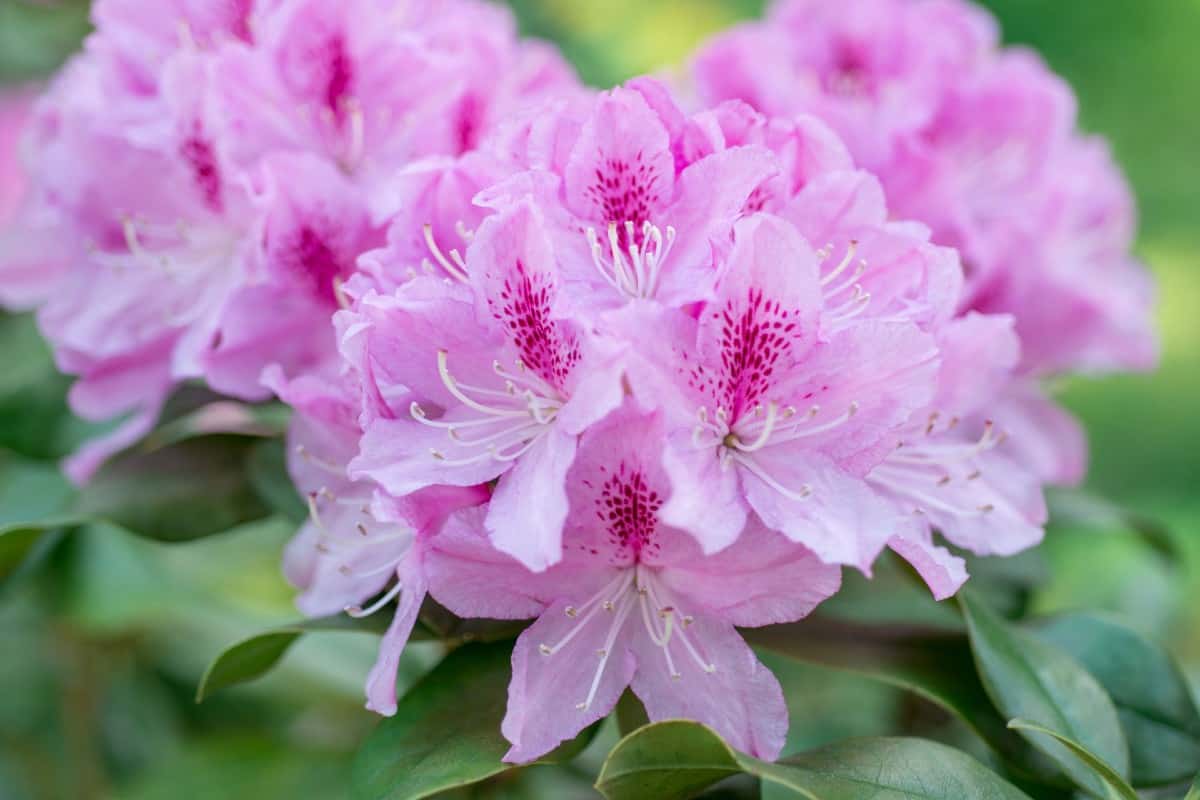 For flowering shrubs that are perfect for foundation plantings, there is no better plant than an azalea bush. Azaleas usually do best when planted alone, in larger areas, or wooded locations.
Keep soil acidic and rich in nutrients like nitrogen. These miniature bushes for landscaping like at least 4 hours of sun a day.
Too much sun scorches the leaves, however, especially in hotter climates, so morning sun is preferable with a little shade later in the afternoon. On the other hand, too much shade deprives the bushes of oxygen and stunts their development.
Winter Heath (Erica carnea): Dwarf Evergreen Shrubs for Full Sun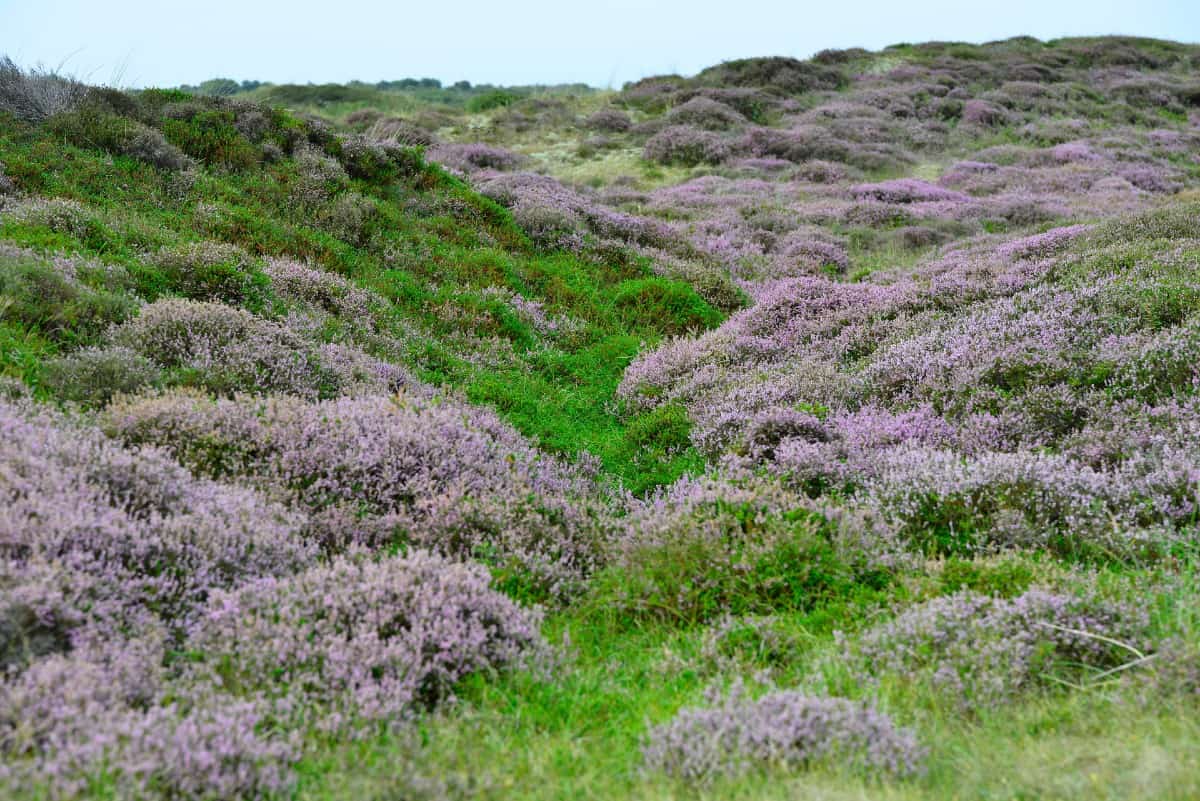 Winter Heath is a beautiful winter interest shrub. Unlike other plants, the bloom time for these delicate pink flowers starts in December and continues through February.
Standing about 1 foot tall to about 1-2 feet in width, it makes an excellent groundcover and is deer resistant. The plant requires plenty of sunlight to grow strong and healthy.
The blooms are less striking when kept in partial shade or when they receive less than a minimum of 6 hours of sunlight. Winter Heath generally doesn't have any issues with pests or disease, though they do prefer sandy, slightly acidic soil.
Adam's Needle (Yucca filamentosa)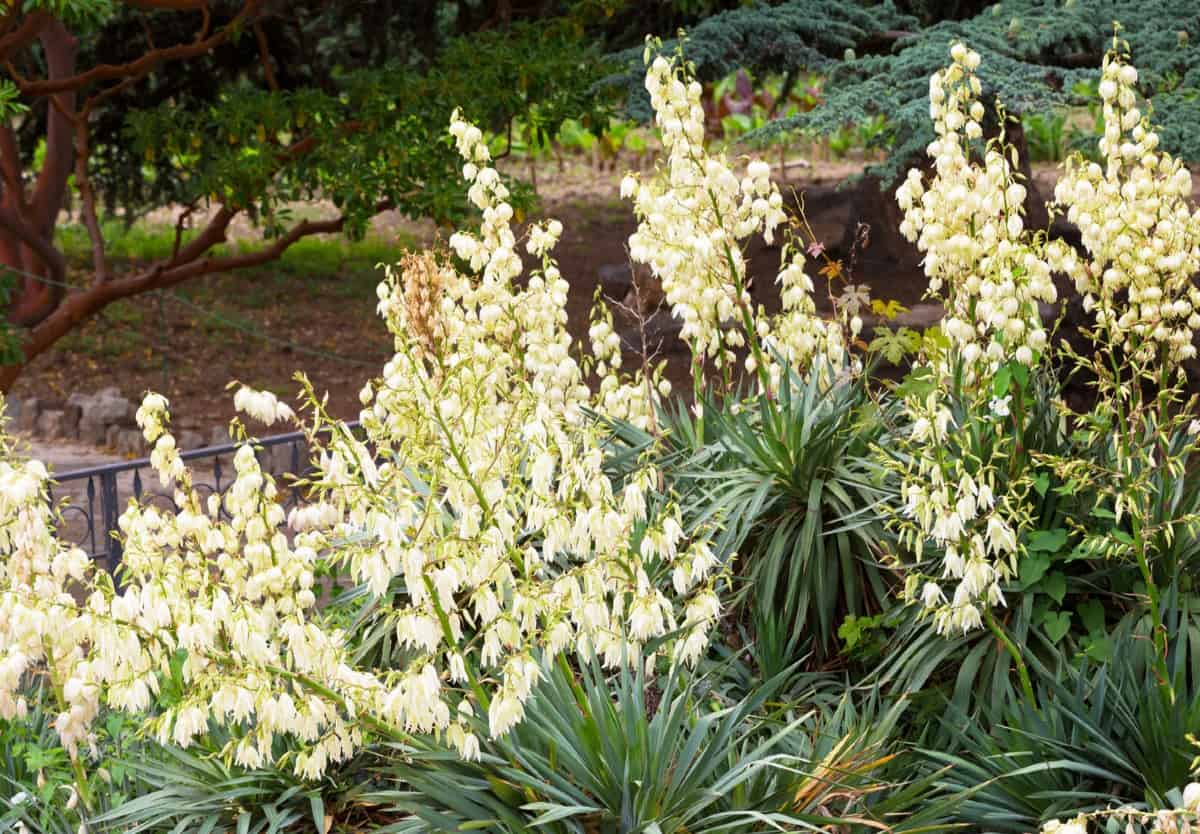 Another low-maintenance shrub is Adam's Needle, a fast-growing succulent. The plant has long green leaves and white, bell-shaped flowers that bloom in the summer. It prefers warmer climates and does best in USDA zones 4-9.
The bush flourishes when it soaks up at least 6 hours of sun a day. When kept indoors, place it near a west-facing window. It grows anywhere between 2-3 feet tall, is drought tolerant, and attracts butterflies.
Dwarf Globe Blue Spruce (Picea pungens): A Winter Hardy Conifer with Colorful Appeal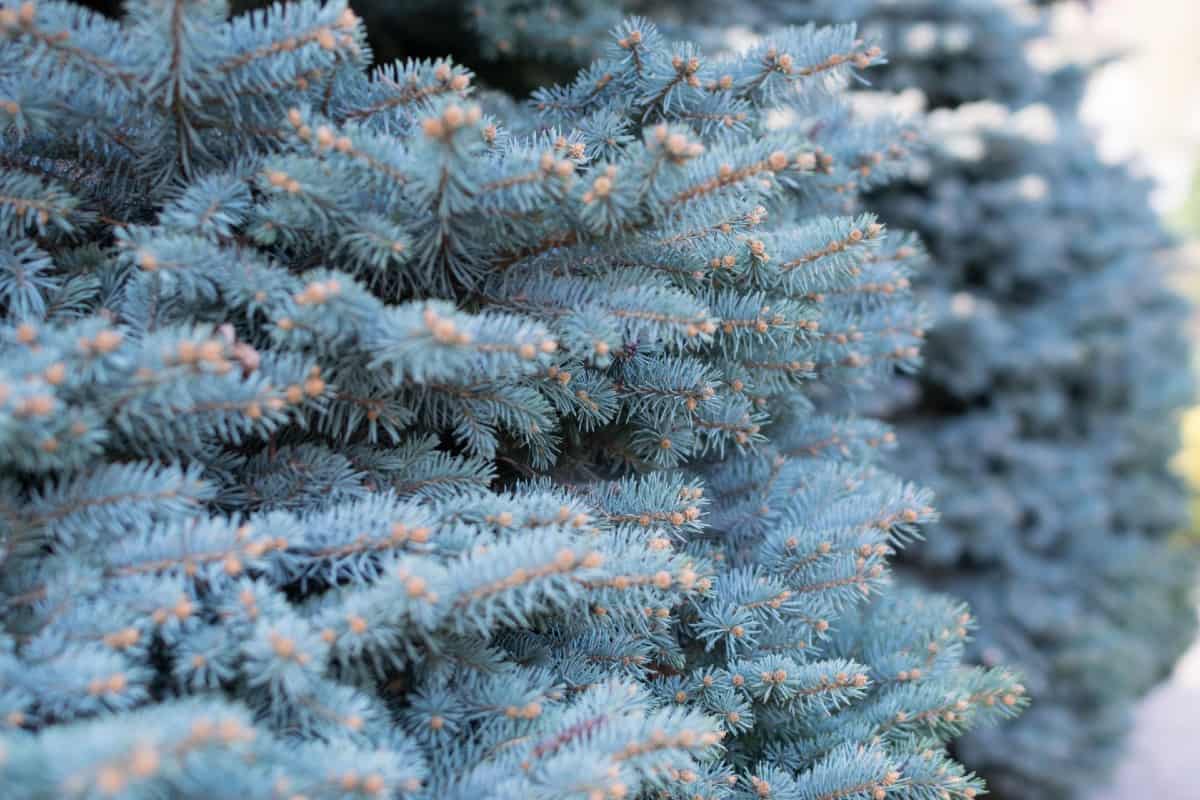 The Dwarf Globe Blue Spruce is an evergreen conifer with beautiful, bright blue needles that make it perfect for winter gardens. Getting its name from its globe-shaped growth habit, it spreads about 4-6 feet wide and only 3-5 feet tall. Its compact size makes it ideal for container gardens and privacy screens.
This spruce must have 6 hours of sunlight and regular waterings. It is winter hardy up to -40℉ and is suitable in zones 2-8 for best growth. It also works well in almost any soil type as long as it is well-drained.
Yew (Taxus baccata)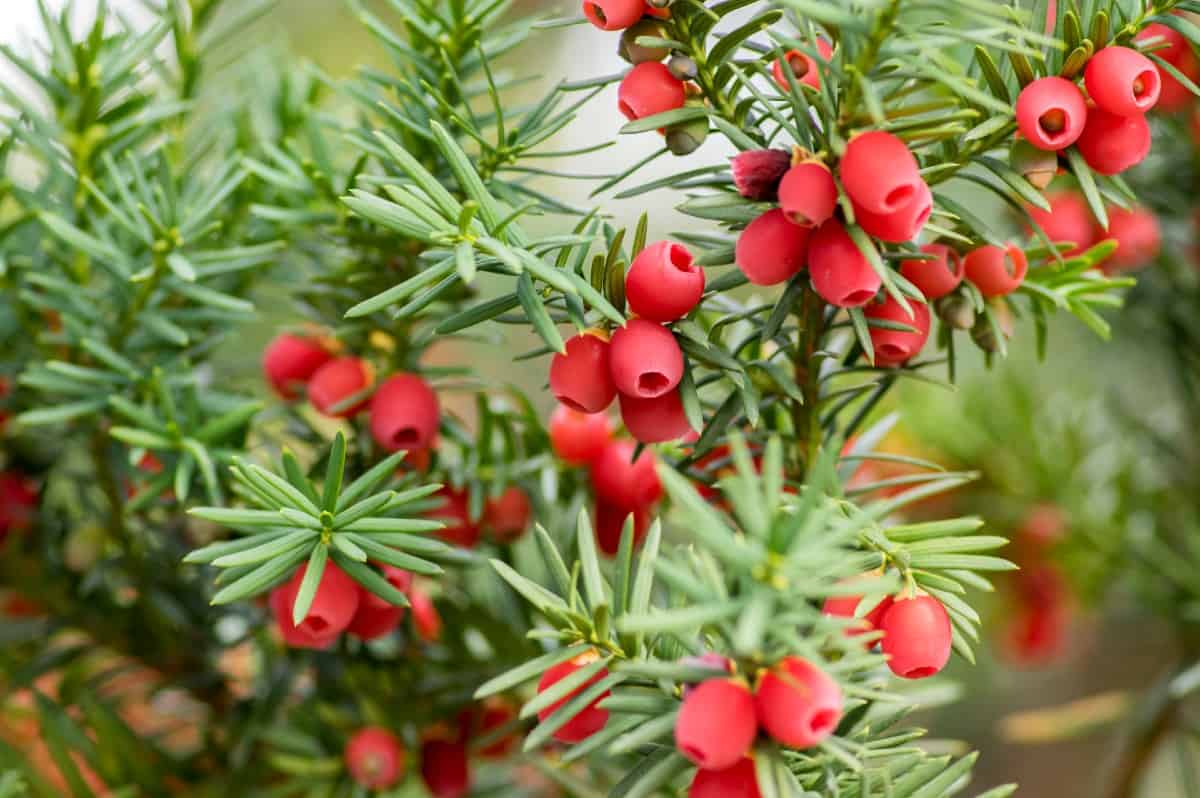 A great candidate for any garden, yew is often lauded for its use in privacy hedges. While it grows slower than other species, this makes it easier to maintain.
It's not necessary to wait for the leaves to grow in when you get a more mature specimen, and the slow growth rate keeps you from having to prune it regularly. Yew loves loamy or sandy soil that is well-drained and a neutral pH level.
Whenever necessary, fertilize in early spring to prepare plants for growth later on in the season. Keep soil moist but not too soggy to prevent root rot.
Weeping Blue Atlas Cedar (Cedrus atlantica 'Glauca Pendula')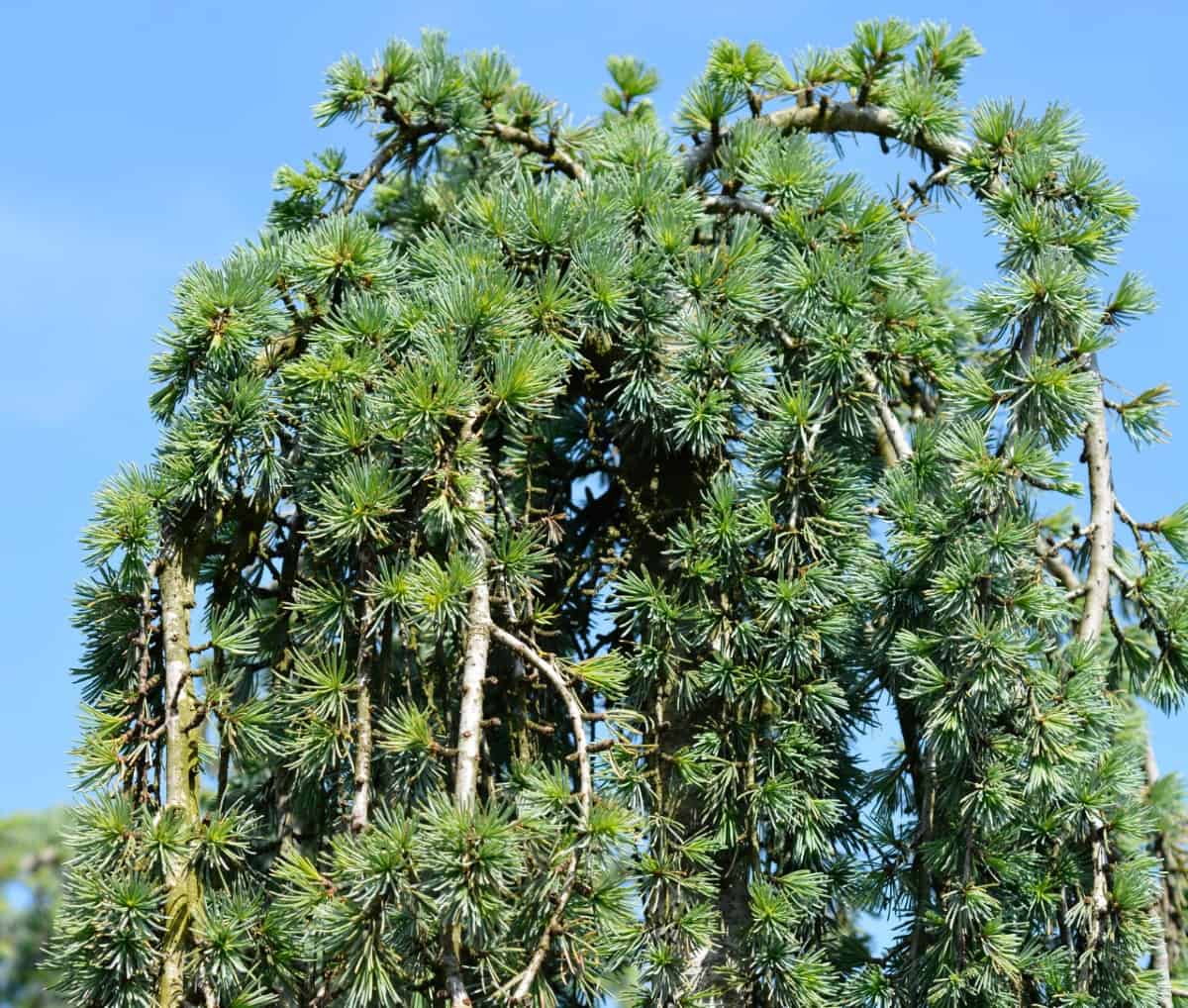 An equally lovely addition for gardens is the Weeping Blue Atlas Cedar. The plant possesses long silvery-blue needles that tumble down in a dramatic waterfall effect. These cascading branches stretch anywhere from 15-20 wide, so ensure there is plenty of room for them to grow, wherever you plant them.
Weeping Blue Atlas Cedar needs at least 6-8 hours of sunlight each day and is highly tolerant of heat and drought. Easy to manage, it does well in all types of soil and pH levels with just a little water each week.
Mountain Laurel (Kalmia latifolia): Evergreen Shrubs for Sun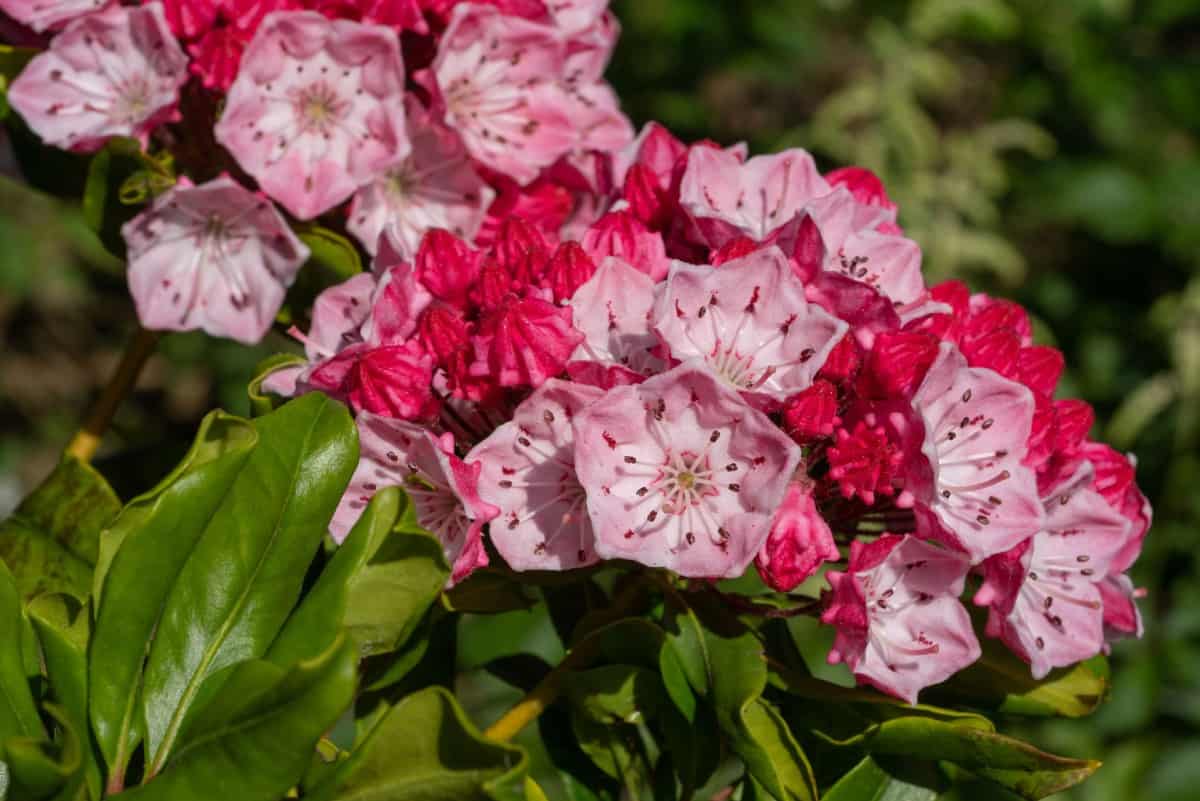 Mountain Laurel is another evergreen shrub that thrives in full sun. Noted by pink or white blossoms with purple markings, the plant is also well-recognized by its dark green foliage. Flowers bloom in late spring.
Laurel does well in full sun but two hours of indirect light or morning sun allows it to truly flourish. Placing it in an area that receives part shade in the afternoon hours is the best for its development.
Crape Myrtle (Lagerstroemia indica)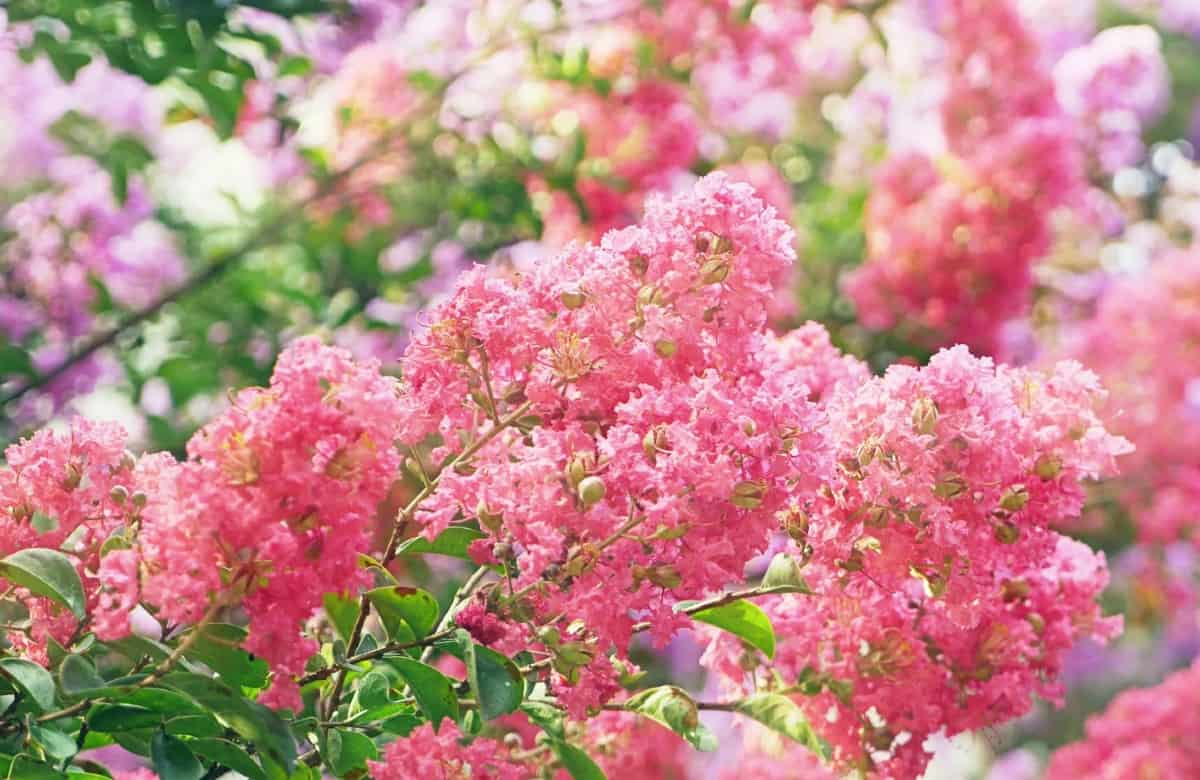 The final specimen you should consider for your yard is Crape Myrtle. Flowers bloom in mid to late summer, displaying colorful pops of color. When planting them for the first time, do so in fall or early spring to ensure their greatest development.
Crape Myrtle is not very particular about the type of soil it settles into, though it prefers neutral pH levels or slightly acidic over alkaline. These white, pink or purple evergreen shrubs grow about 2-5 feet high, where other dwarf varieties reach heights of 6-18 feet.
Make sure they get plenty of sunlight, at least 6 hours or more. Without it, blooms develop less full and duller.
Having limited shade or living in a sunny part of the country does not have to put a damper on your selection of plants. This lovely collection of evergreen shrubs for sun add color, grace, and beauty to any landscape, without them withering from too much exposure to heat and light.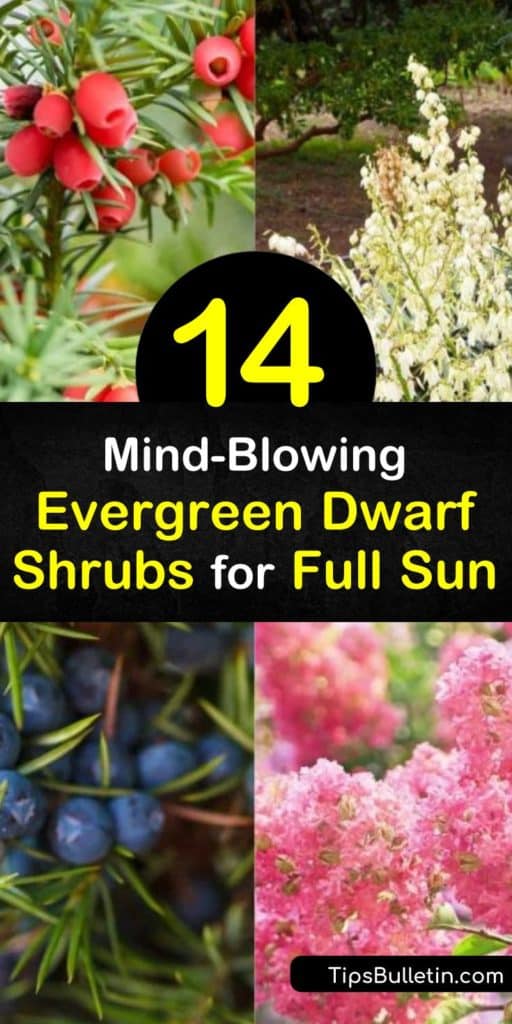 If this article helped you uncover a few new sun-loving plants to add your yard, then please don't forget to share some of your favorite dwarf evergreen shrubs for full sun with friends and family on Facebook and Pinterest.