If you've never grown a vegetable garden because you think it is difficult to maintain, think again. There are many veggie types that are so simple to grow that they almost take care of themselves. We compiled some of the easiest vegetables to grow in your garden, and we explain what they want to grow healthy and produce a good crop at the end of the growing season.
The best thing about gardening is that a large yard is not necessary. Many vegetable plants are happy growing in everything from raised beds and hanging baskets to large containers like a five-gallon bucket.
Some of them even regrow from leftover scraps you normally discard in the trash or compost pile while preparing a meal. All you need is the right amount of sunshine and water, a little plant food, and some proper soil.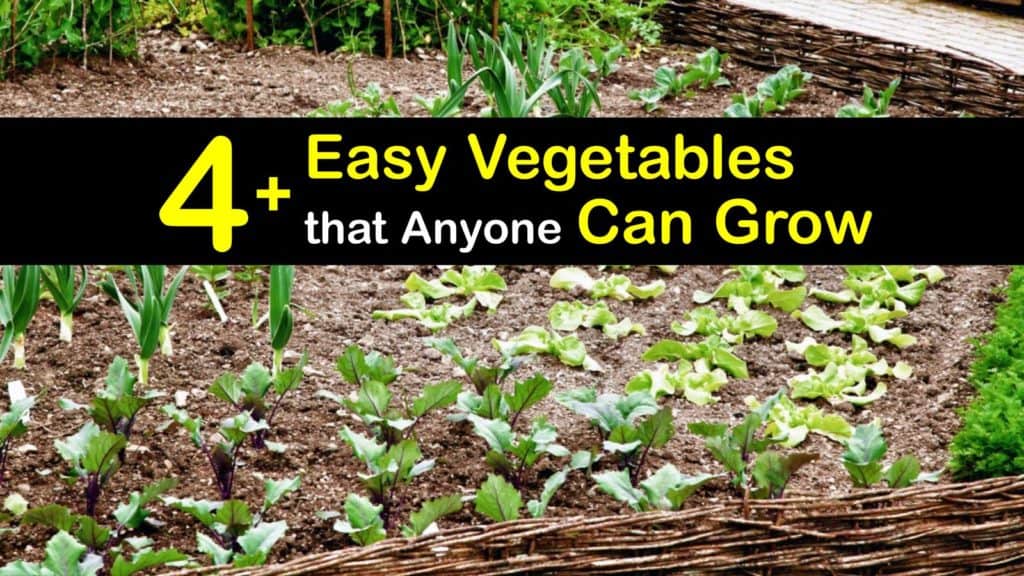 Starting a Garden with Easy-Growing Vegetables
Producing your own food at home is a superb way to keep your pantry and fridge fully stocked with fresh veggies, and planting a garden means that you get to enjoy organic vegetables for better health.
While some vegetables like the different eggplant varieties require some extra TLC to flourish, many types are perfect for beginning gardeners, even if you have a brown thumb.
Learn which veggies are the easiest to grow, from leafy greens and alliums to root vegetables, and tips for maintaining them as they grow.
What Vegetables are Easy to Grow – Greens
What vegetables are easy to grow if you like salad greens? Fortunately, planting leafy green veggies and romaine lettuce growing are so easy, and you don't need a garden bed to plant them.
They are fast-growers, going from seed to dinner plate in no time at all, and there is a wide range to choose from according to your tastes.
Most greens are shallow-rooted, making them perfect for growing in a raised bed or patio containers. Spinach and loose-leaf lettuce are options for container garden vegetables, but they get stressed and bolt during hot weather. Therefore, these types are best for planting in the early spring.
Other good choices are kale, collard greens, arugula, and Romaine lettuce, which are more tolerant of heat. Swiss chard is biennial grown as an annual and another suitable option.
To grow leafy greens and plant collards, sow seeds indoors four to six weeks before the last spring frost or directly outside once the spring temps warm up. Planting arugula seeds and those of other leaf veggies is easy and rewarding.
Easy Garden Vegetables for Flavor
Alliums, such as onions and garlic, are easy garden vegetables to grow at home if you enjoy your food with flavor. Not only are they delicious, but they are also simple to regrow from leftover scraps you throw away, so nursery seeds are not required.
One of our favorite vegetables to grow at home is green onion or chives. These are the easiest vegetables to grow, and all that's required is the bottom section of a green onion from the grocery store.
They are fast growers, and they offer a nearly continuous supply of flavorful greens for recipes. Other ideal alliums to grow are garlic, chives, and yellow, red, or white onions.
Grow garlic in pots, as well as other alliums, if you don't have the garden space. They are just as prolific.
Are Root Vegetables Easy to Grow?
If you love potatoes, you're in luck because root veggies are very manageable in a garden setting or five-gallon bucket. All you need is a full sun location and rich garden soil, and leftover kitchen scraps or seeds to get started.
Potatoes are a top choice for a beginning gardener and great for a late summer harvest. There are so many potato types to pick from, including russet, gold, and red potatoes.
They grow quite well in a large bucket, and it's possible to regrow several new potato plants from one old potato. If potatoes aren't your thing, radishes and carrots are also excellent options for uncomplicated gardening.
Easiest Vegetables to Grow in Your Garden
What vegetables are easy to grow if you want variety? While leafy greens, onions, and potatoes are great, growing a combination of vegetables ensures that you get as much out of your gardening experience as possible. Many other types grow with ease in garden beds and small spaces.
There are many easy garden vegetables, and tomatoes are one of the most popular. There are numerous tomato types, from large beefsteak to small cherry tomatoes, and they are all suitable for patio or garden planting.
The key to growing tomato plants is proper spacing, using a tomato cage for support, and spreading mulch to prevent weeds. You may even want to plant tomatillo seeds for something a little different.
Pepper plants, like bell peppers and hot peppers, are easy vegetables to start if you prefer to plant seeds.
Yellow summer squash, zucchini, and cucumber are also top on our list. Snap peas and other bush varieties and pole beans, such as green bean plants, grow well as long as you provide them with a trellis.
Using Easy Garden Veggies to Make Homemade Vegetable Soup
Fresh food only lasts so long, and it's vital to store your crop properly to keep it from spoiling. Now that you know the best veggies to grow as a beginner, it's time to put all those vegetables in a dish. What better way to use veggies than to make a large batch of homemade soup?
Pour olive oil in a large pot and cook the carrots and onions for four minutes before adding the garlic and cooking 30-seconds longer. Pour in the broth, season with salt and pepper to taste, add the potatoes, tomatoes, bay leaves, parsley, and thyme and bring to a boil.
Add the green beans and reduce the heat to medium-low. Simmer the veggie soup for 20 to 30 minutes until the potatoes are tender, then add the corn and peas for five more minutes of cooking time.
Growing your own vegetable garden seems daunting, but many veggies are easy to grow if you're a DIY kind of person, whether you enjoy leafy greens and tomatoes for a fresh salad or prefer hot peppers for adding a kick to your favorite recipes.
Provide your plants with some sunshine and water, and they reward you with a bountiful harvest at the end of the season.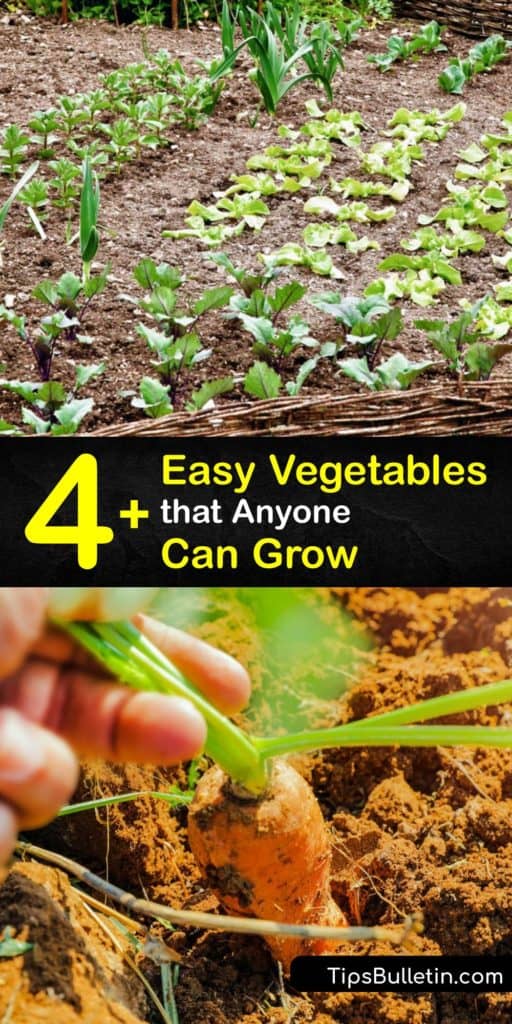 Spinach, onions, potatoes, and bush beans are some of the easiest vegetables to grow in your garden, and knowing which ones to grow keeps your garden overflowing, so why not share our easy veggie growing guide with your social circle on Facebook and Pinterest?