Let's be honest here; not everybody was born with a green thumb. With that being said, some of us tend to kill houseplants easier than others, but that doesn't mean we don't want to enjoy everything the numerous benefits that plants provide. If you are like others out there and have a habit of killing plants, you need to look into some easy plants to grow.
Opting for easy plants to grow inside and outside means you can say goodbye to artificial plants without a second thought. Finding out about the easiest plants to grow is vital for those with a limited schedule. Easy to grow plants require very little care, and most of those low maintenance plants do better when left to their own devices.
When searching for the easiest plants to grow, you don't have to focus on indoor or outdoor plants, as there are hard to kill plants for all environments. Although not all plants grown indoors will also survive outdoors, so do select the right plant for your desired location.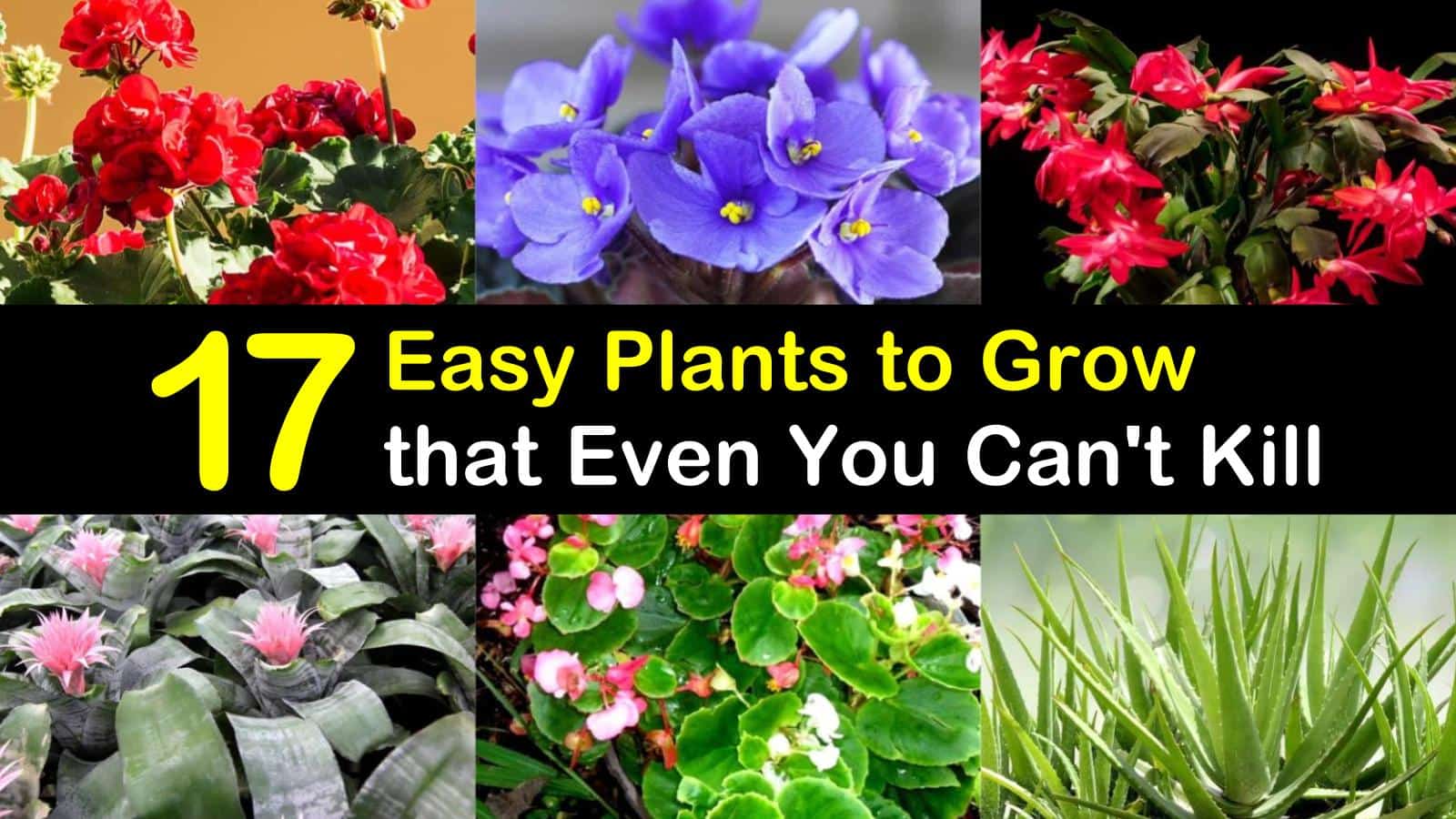 Tips for Shopping for Easy to Grow Plants
One of the biggest downfalls of shopping for plants is people often pick one without knowing anything about it. People choose a plant because they like the name of it or they like how it looks. If you struggle to keep plants alive, this is the worst way to shop for plants, as some require a lot more comprehensive care than others.
If you are new to growing plants or happen to have a horrible track record in taking care of them, don't pick out whatever suits your fancy. Go into a local plant store, also called a nursery, where they have experts ready to help you. Talking to an expert will ensure you end up with a plant that you can care for rather than just what you like.
When walking into a local nursery, don't go in with your mind made up as to what plant you want. Take the time to talk with the employees to find out what plant will work best for you. These experts should ask the right questions to lead you to a plant that will work with your level of experience, plus how much time you have to tend to the plant.
You can have an idea on style, but don't focus on a specific plant. When looking for a new plant, it is helpful to know the answers to a few specific questions.
You want to know exactly where you will be putting it, whether it is going indoors or outdoors, how much space you have for the plant, and what kind of lighting the plant will receive. By choosing a plant that works with your care style, you improve the odds of keeping the plant alive.
Check Out Some of the Easiest Plants to Grow
Keep in mind that when choosing plants either for outdoors or inside, you can also consider whether you will plant them in containers, in the ground, or if you want easy to maintain hanging plants. Select a few of each for some variety and to add a little interest to your home or garden beds. When you plant watermelon seeds, note that it takes a while to produce fruit.
Snake Plant (Sansevieria trifasciata) – Easy to Grow Plants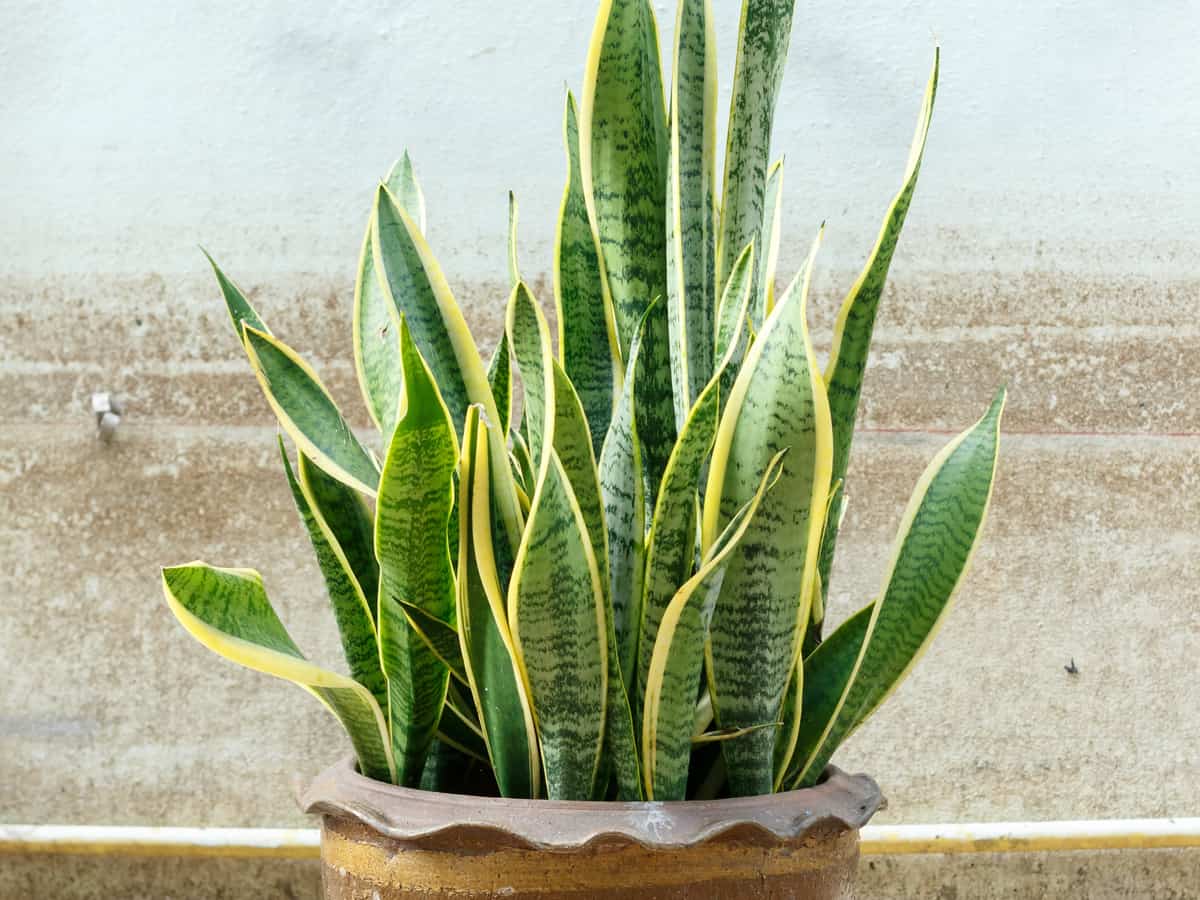 Also known as Mother-in-law's Tongue, the Snake Plant features long, pointed leaves. The plant is easy to care for; the biggest problem is making sure you don't overwater it as that will increase the odds of rot. The long-lived Snake Plant only needs watering twice during the winter, how much water though will depend on humidity levels.
The stiff leaves grow upright and can reach heights of up to eight feet tall, depending on the variety. This plant comes recommended by NASA for air purification as it has been shown to remove several toxins from the air. Snake Plant thrives in a variety of lighting conditions from low levels of indirect light to full sun.
These plants that are impossible to kill prefer steady indirect light but can adapt if necessary to other types of lighting conditions. If the plant does bloom, it will happen in the spring with greenish-white flowers against the green banded leaves. Hardy in Zones 9-11, the Snake Plant is an evergreen perennial that needs sandy soil that is fast draining.
Peace Lily (Spathiphyllum)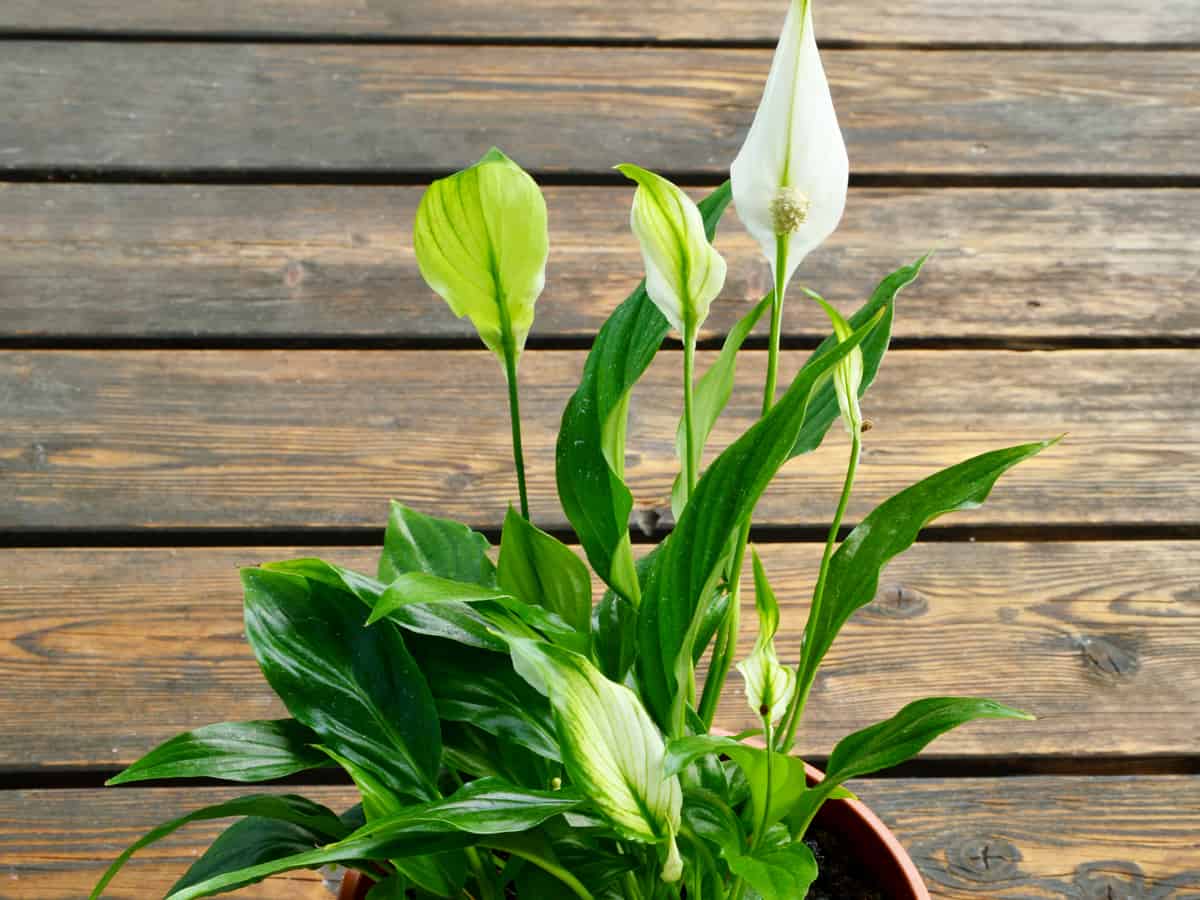 If you want a flowering houseplant that is nearly impossible to kill, consider the Peace Lily. The striking plant offers white or yellow blooms during the spring that are set against oval green, glossy leaves. The plant comes in several sizes, with the smaller varieties making an excellent choice for tabletops and the bigger ones in pots along the floor.
During summer, these plants need frequent watering and misting as they thrive in high humidity, Reduce watering in winter but never let the soil dry. Peace Lilies will only grow outdoors in tropical climates, but as potted plants, you can place them outside during the hotter summer months.
Move indoors when the nights are cold, as the plant doesn't do well in temperatures below 40°F. Peace Lilies also do not do well in direct sunlight but require a lot of bright filtered light. Although not prone to pests, it is helpful to keep DIY gnat spray around as sometimes cleaning the leaves is not enough to keep pests away.
Easy Plants to Grow Inside – Spider Plant (Chlorophytum homo sum)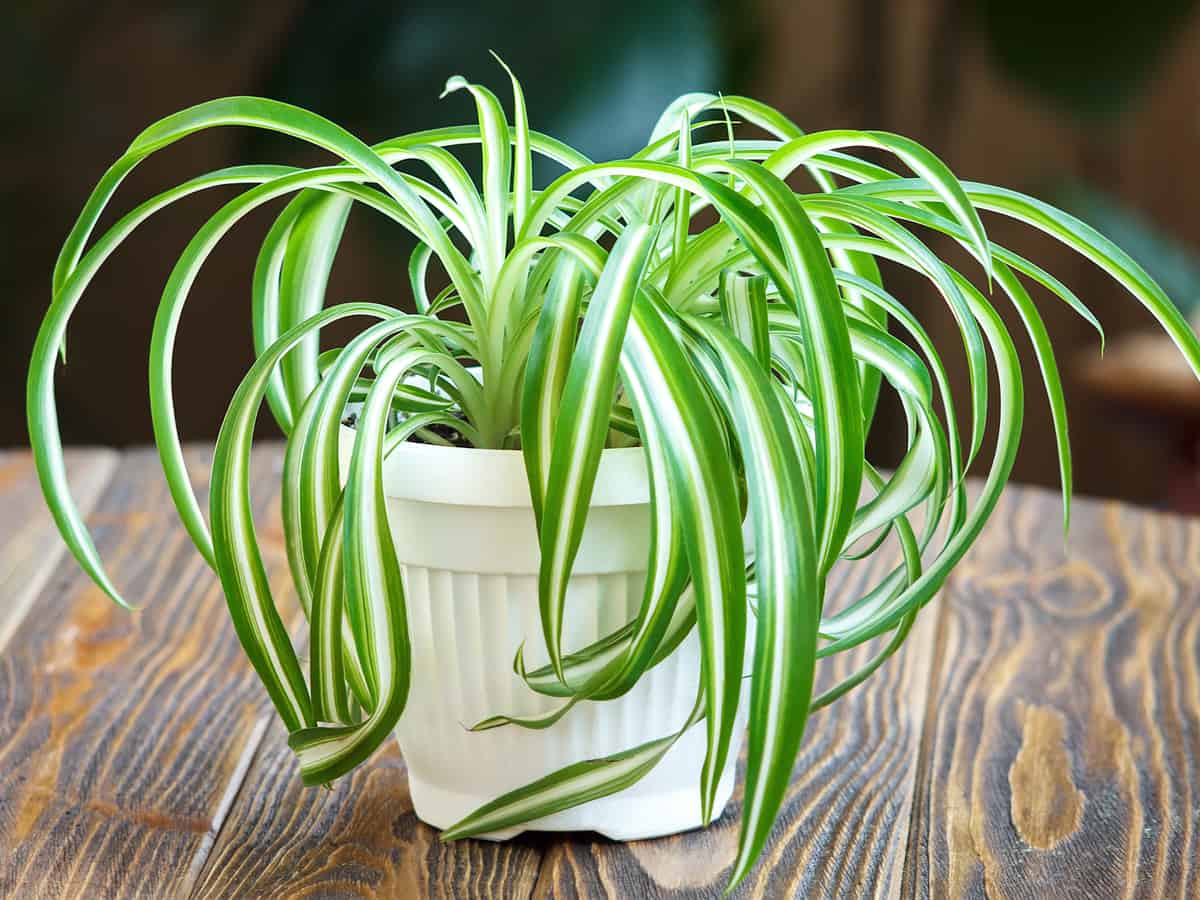 The Spider Plant is a popular hanging plant. One reason they are so popular is that they will survive a variety of conditions, but when kept in ideal circumstances, the plant will look amazing. The trailing arching leaves of the Spider Plant form in the shape of rosettes on long stems that can reach three feet long.
The plant offers a pure green variety but is most commonly found in a green and white striped plant that produces white flowers when mature. Spider Plants prefer a lot of light; they will do great in hot, direct sunlight but can also grow in partially shaded areas and partial direct sun.
Water and mist well in the summer, but cut back during the winter. Never expose the plant to temperatures lower than 50°F or any cold drafts. Learn what kills spider mites as these pests may become a problem, along with whiteflies, mealybugs, and aphids.
English Ivy (Hedera helix)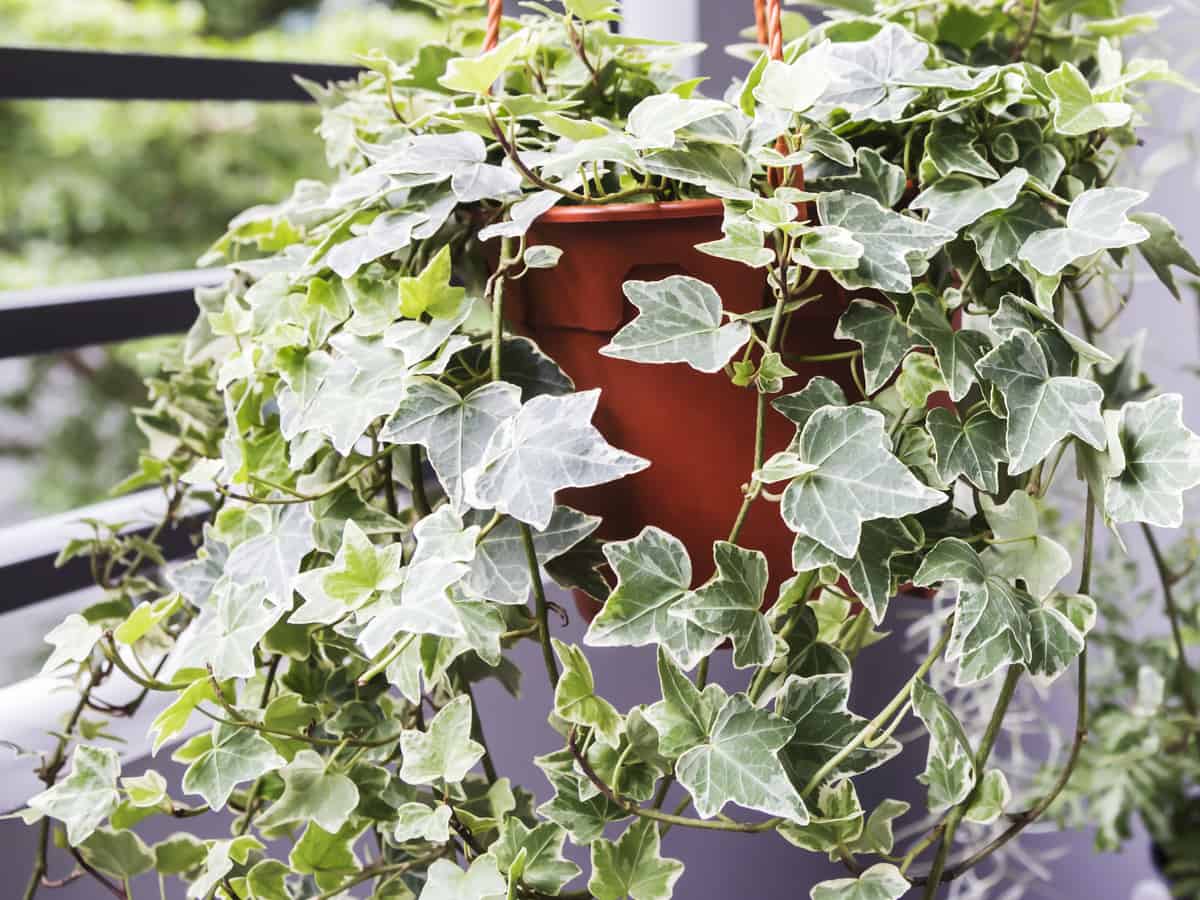 If you are looking for something for outdoors that is nearly impossible to kill, consider planting the woody vine English Ivy. These easy to grow vine plants make an excellent ground cover as they quickly spread horizontally and grow about eight inches tall.
The plant is also a climber and can easily climb more than 50 feet. It loves climbing brick and stone walls but can eat away at the mortar so monitor it carefully. A trellis is better for climbing. If you don't want the plant to take over, prune it regularly.
This plant is known for its evergreen leaves but may bloom with greenish-white or greenish-yellow flowers. Hardy to zones 4-9, English Ivy can live both indoors and outside; the easy ground cover flowers thrive in the ground and hanging baskets. The plant does need protection from the hot summer temperatures and harsh winter winds, however.
English Ivy requires well-draining soil but can otherwise grow in the poorest soil conditions. Plant in areas that receive full to part shade and keep watering to a minimum as the plant prefers to stay a bit on the dry side. Consider keeping a natural poison ivy killer on hand in case some gets mixed in with your English Ivy.
Summer Squash (Cucurbita pepo) – Easiest Plants to Grow in Your Garden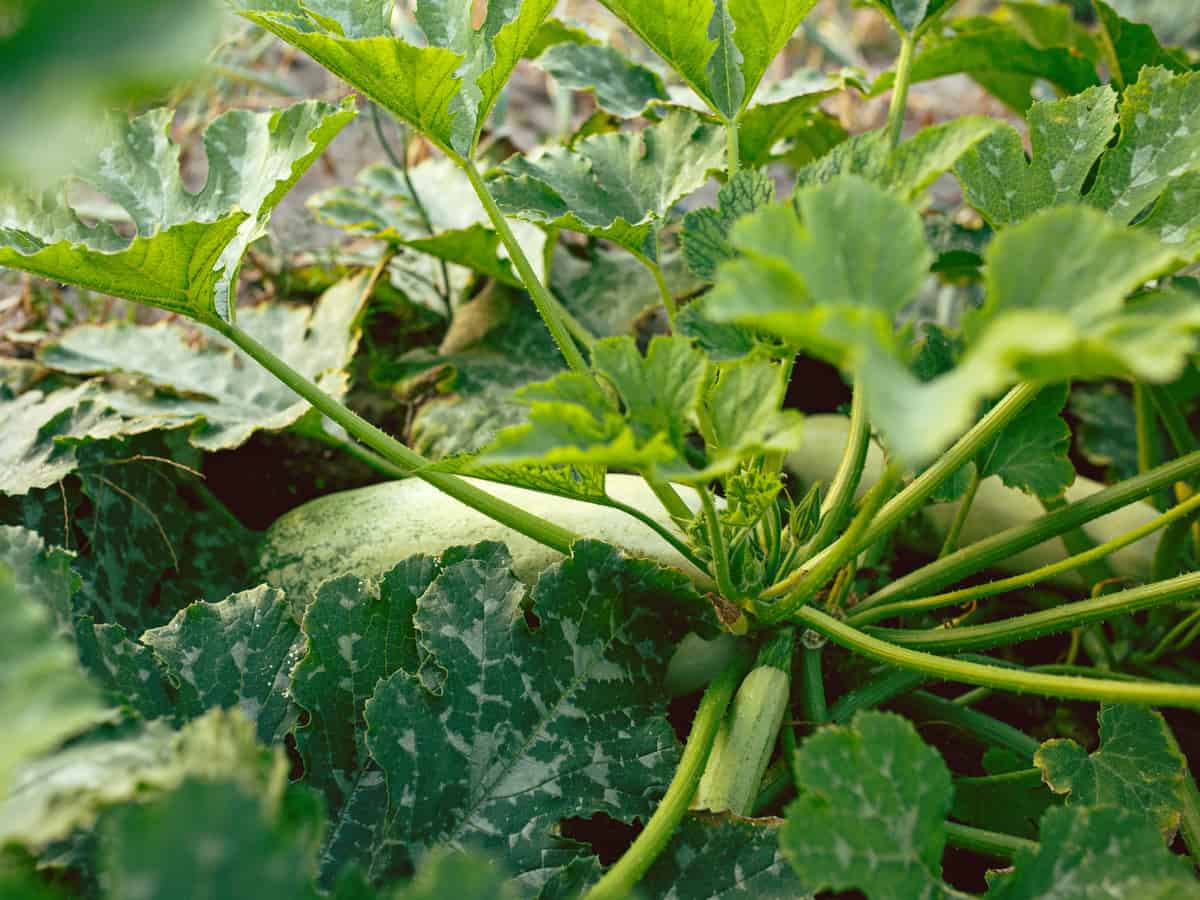 If you want fresh vegetables during the growing season, but are not sure where to start, look into a variety of summer squash. Perhaps the most popular choice is Zucchini and Crookneck Squash, although several different types are just as easy to grow no matter how experienced you are. Summer squash is one of the easy plants to grow in a variety of conditions.
When planting, you want them in well-draining soil that has been enriched with compost. Summer squash requires full sun to thrive but needs to be spaced to where leaves are barely touching, so about two feet apart from all other plants.
Summer squash will not tolerate frost; the first frost will cause the plant to die off quickly. Summer squash is prone to squash vine borers and squash bugs, but you can prevent them by covering rows of young plants until the fruit begins to develop.
Green Beans (Phaseolus vulgaris)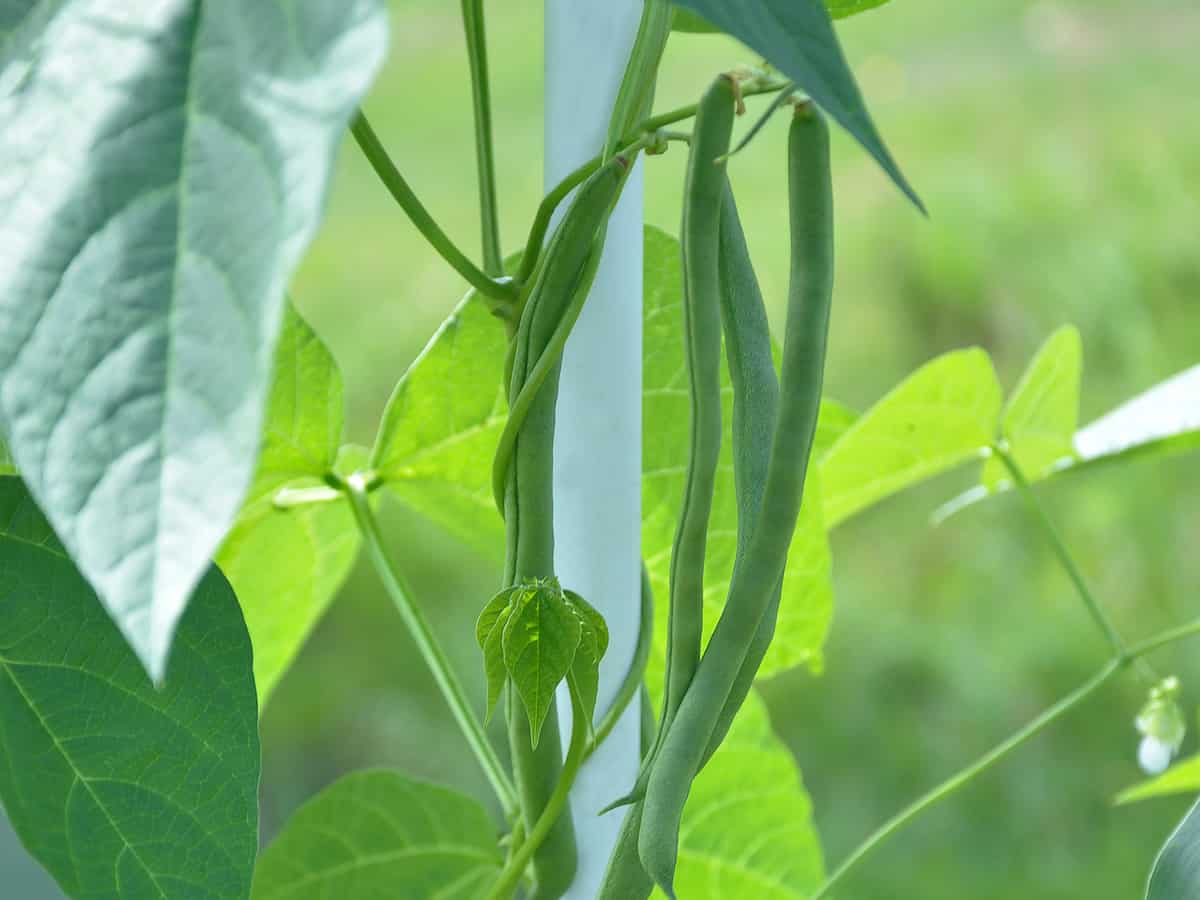 Green beans are another garden plant that is easy to grow and easy to keep alive if you know when to plant bush beans. To begin, you must first select between a bush type plant or a pole bean. The bush bean grows low to the ground and only reaches about two feet high, but you can only harvest them once during the growing season.
Bush beans are the easier of the two types to grow and require minimal tending. Pole beans need support as they grow up a trellis, but they mature faster than bush beans and provide a more abundant harvest. Bush and pole beans require full sun.
These plants do not do well in moist soil, so do not expose them to any shade. Add compost until you achieve a loamy texture; you want the soil dark in color and crumbly to the touch. Green beans are an excellent choice for indoor gardening, as they can grow quite well in a large enough pot, but they will require more water inside the container than in the ground.
Good Plants to Grow in your Garden – Cherry Tomatoes (Solanum lycopersicum var. cerasiforme)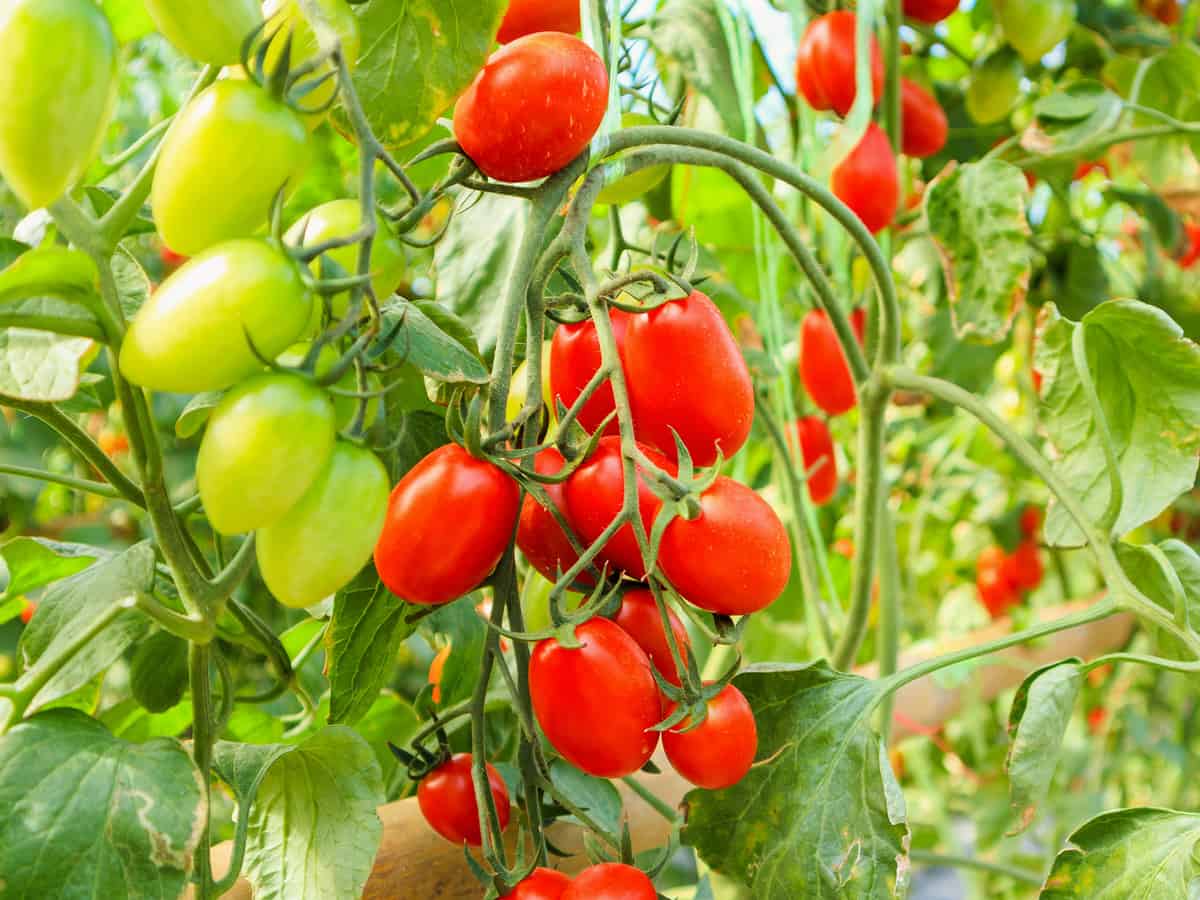 Cherry tomatoes are easy potted plants grow from seed or seedlings directly in the garden, as long as you are meeting their basic needs. Not only are Cherry tomatoes easy to grow, but they are also good to eat. The fruit grows quickly and ripens earlier than other plants you may have in your garden.
If you plant cherry tomatoes in a pot, ensure the pot will hold up to six gallons and invest in a quality cage to support the plant. These plants require a lot of sun, so choose your location accordingly. You want the plant to receive a minimum of eight hours of direct sunlight a day to yield small but delicious fruits.
To grow cherry tomatoes in containers, do not allow the plant to be shaded by others, as the plant will begin to wither and not produce as much fruit. Ensure the cherry tomato plant has good drainage, water it every two to three days, and keep the soil evenly moist.
The most work will be pruning the plant as it grows larger. Cut back any sprouts or branches that are dead or look dry.
Prayer Plant (Maranta leuconeura)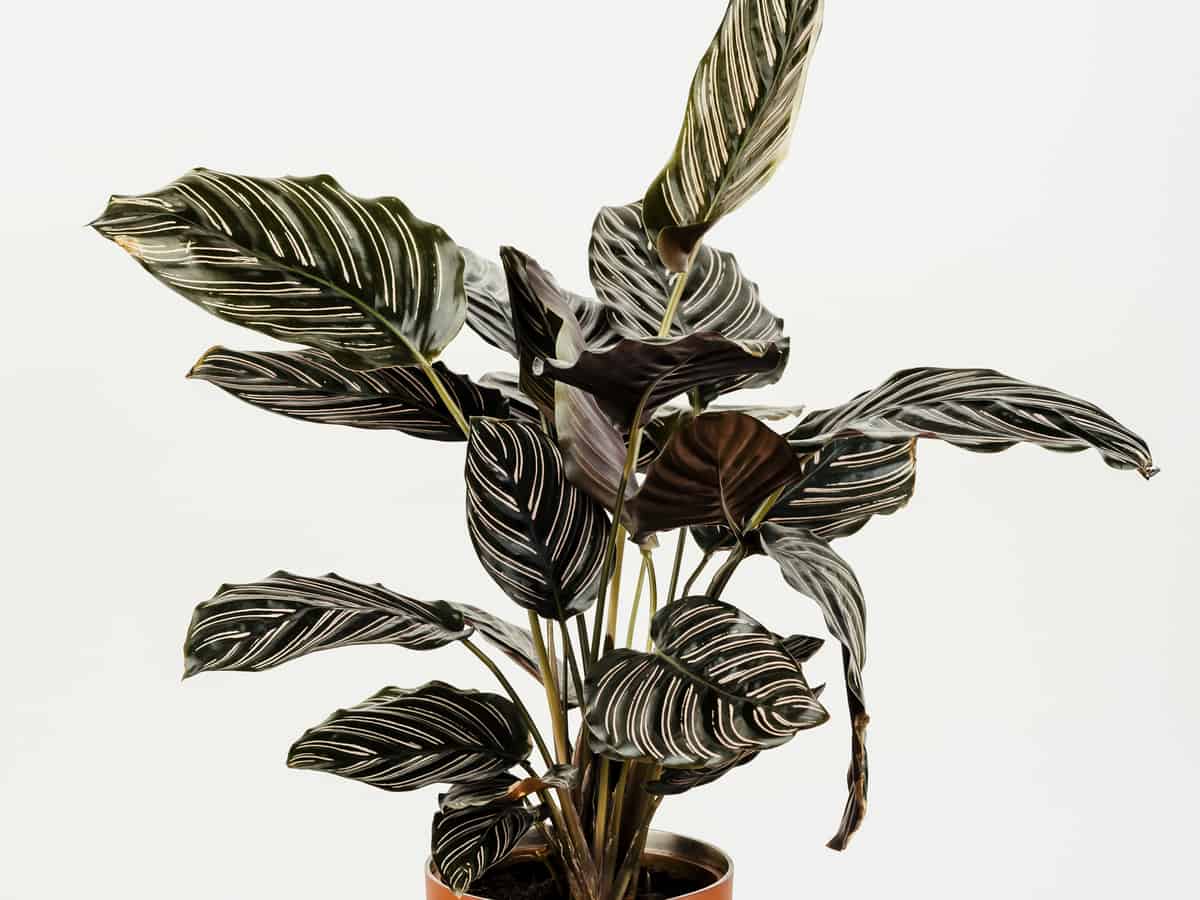 The Prayer Plant is named for its leaves that lie flat during the day and then fold up at night to look like praying hands. Aside from how easy it is to care for, what makes the Prayer Plant such a popular choice is its beautiful velvety leaves. These deep green leaves feature arching red veins and yellow splotches to create quite the look.
The leaves are six inches long, and the plant can grow to heights of 12 inches. As an evergreen perennial, plant the Prayer Plant in fertile, well-draining soil. They like warm, moist areas with excellent airflow.
Kept in too dry or cold conditions, the plant becomes susceptible to fungal infections. Place your Prayer Plant in a window where it will receive plenty of indirect sunlight. Never place in direct light as that will burn the leaves or fade the leaves' color.
Dumb Cane (Dieffenbachia) – Easy to Grow Indoor Plants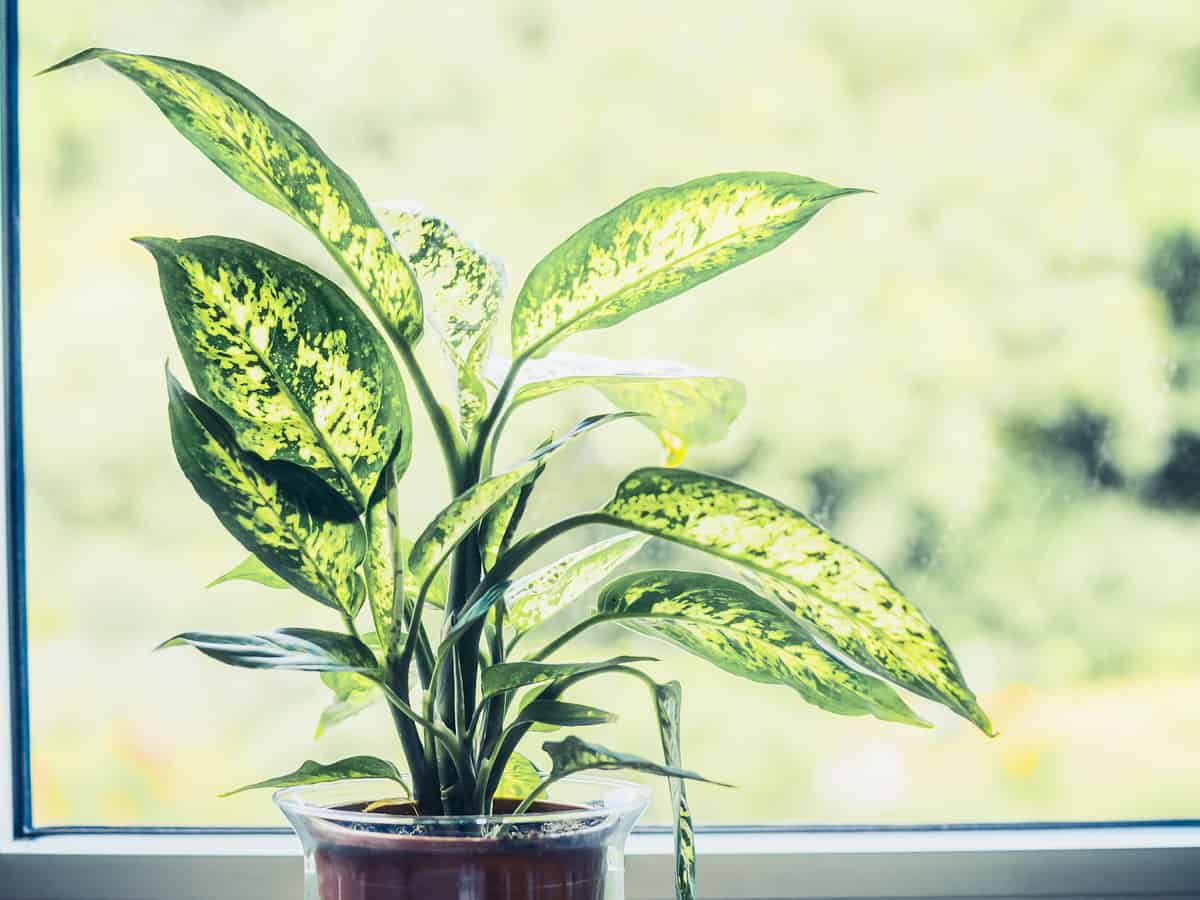 If you want new plants that don't require a lot of work, consider growing the Dumb Cane, also known as the Dieffenbachia. This plant offers broad leaves with a pointy shape that comes in a variety of greens and whites.
Dumb Cane can grow up to five feet tall with leaves that measure a foot or longer but it rarely reaches this size when grown indoors. The milky sap produced by this tropical ornamental plant is a mild irritant and may cause a temporary loss of speech with a lot of exposure to the sap but this is an infrequent problem.
During the winter months, Dumb Cane requires bright light. During its active growing season, these easy indoor plants for low light prefer sun-dappled shade or indirect sunlight.
Do not let the plant dry out during the growing season, so water it about twice a week. However, it is necessary to drastically reduce watering during the colder months. Dumb Cane requires fast-draining soil to prevent damage to the roots. Lower leaves will fall off if exposed to cold drafts or temperatures below 60°F.
Christmas Cactus (Zygocactus)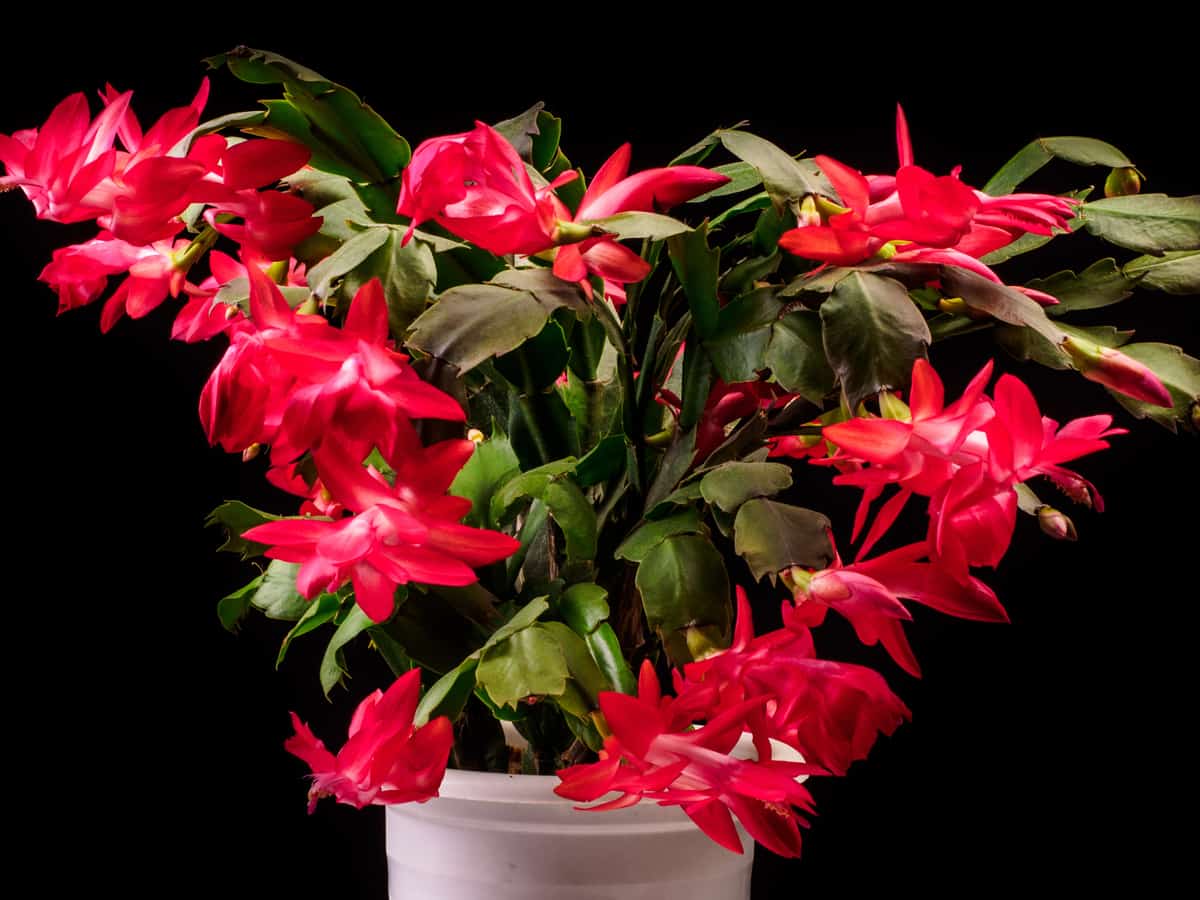 If you are looking for the best low-maintenance indoor plants, look no further than the Christmas Cactus. It seems with these plants, the less attention they receive, the better they do. Christmas Cactus are long-living plants that are easy to grow from cuttings.
These plants prefer dry soil conditions, so always let the soil dry out between watering. Christmas Cactus offers red or deep pink blooms in early winter.
The only time you need to worry about the temperature is if you do not see your plant bloom. To set buds the plant requires temperatures between 55° and 65°F, while other times of the year it prefers warmer temperatures.
Avoid sudden drafts, as it will cause buds or flowers to drop off suddenly. Christmas Cactus does well in low light conditions, but for the best blooms, expose to bright light.
Easy to Grow and Care for – Aloe Vera (Aloe barbadensis)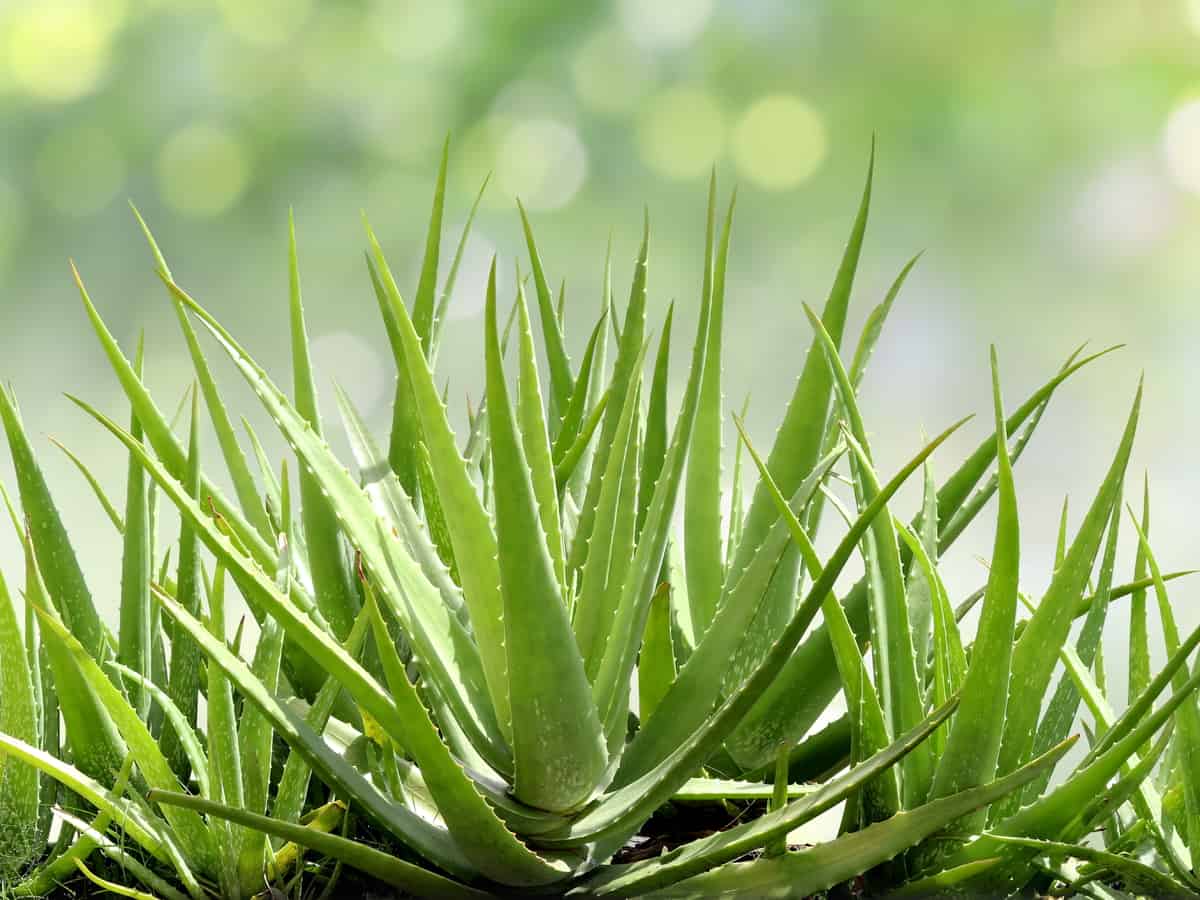 If you are after a super easy plant to grow indoors that requires very little care, you need to purchase the Aloe. The aloe plant purifies the air around you, in addition to producing a gel used to heal the skin. The succulent type plant may look like a cactus, but it does not belong to the cactus family.
Aloe Vera is often found in hot and dry climates, so it is an excellent choice for desert landscapes. When grown outdoors, the plant can grow three feet tall and may even produce orange or yellow floors on top of tall stalks.
The leaves are gray-green and grow in the shape of a rosette with a saw-tooth edge. When grown indoors, Aloe will stay on the shorter side and will not often bloom. Aloe Vera requires excellent drainage and very little water.
African Violets (Saintpaulia)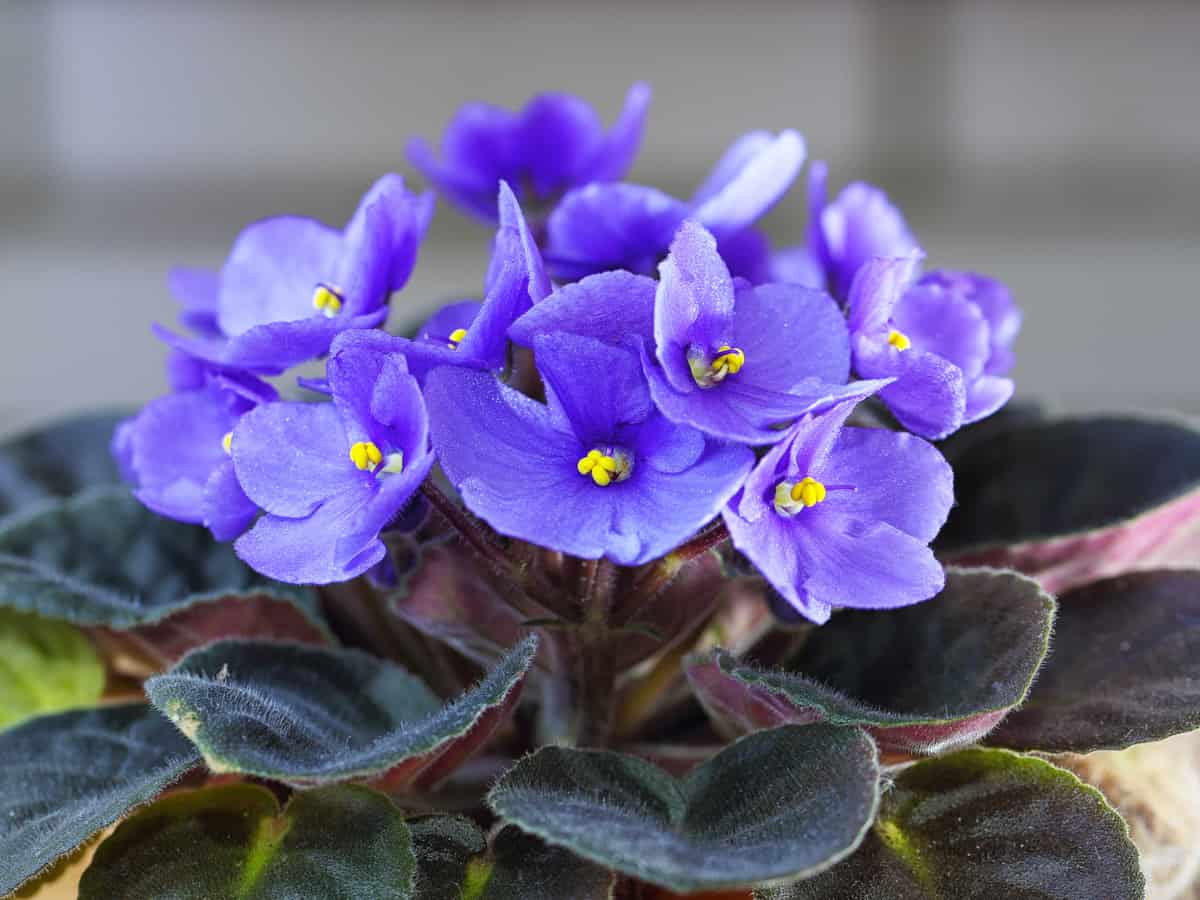 A popular houseplant, the African Violet offers clusters of flowers in various colors against dark green fuzzy leaves. Flower colors include purple, blue, red, pink, and white. The plant will bloom in lower light conditions, but for the best and most prolific blooms expose the plant to bright indirect light.
If leaves appear thin or the stems are leggy they are not getting enough light; light green leaves indicate too much light. These plants prefer well-draining, slightly moist soil. African Violets require a unique potting mix for optimal growth, which is available for purchase at your local garden centers.
You may repot African Violets as they grow, but keeping them root-bound encourages blooming year-round. If you decide to repot African Violets, do it only after some leaves have begun wilting.
Bromeliad (Bromeliaceae) – Easy to Grow Plants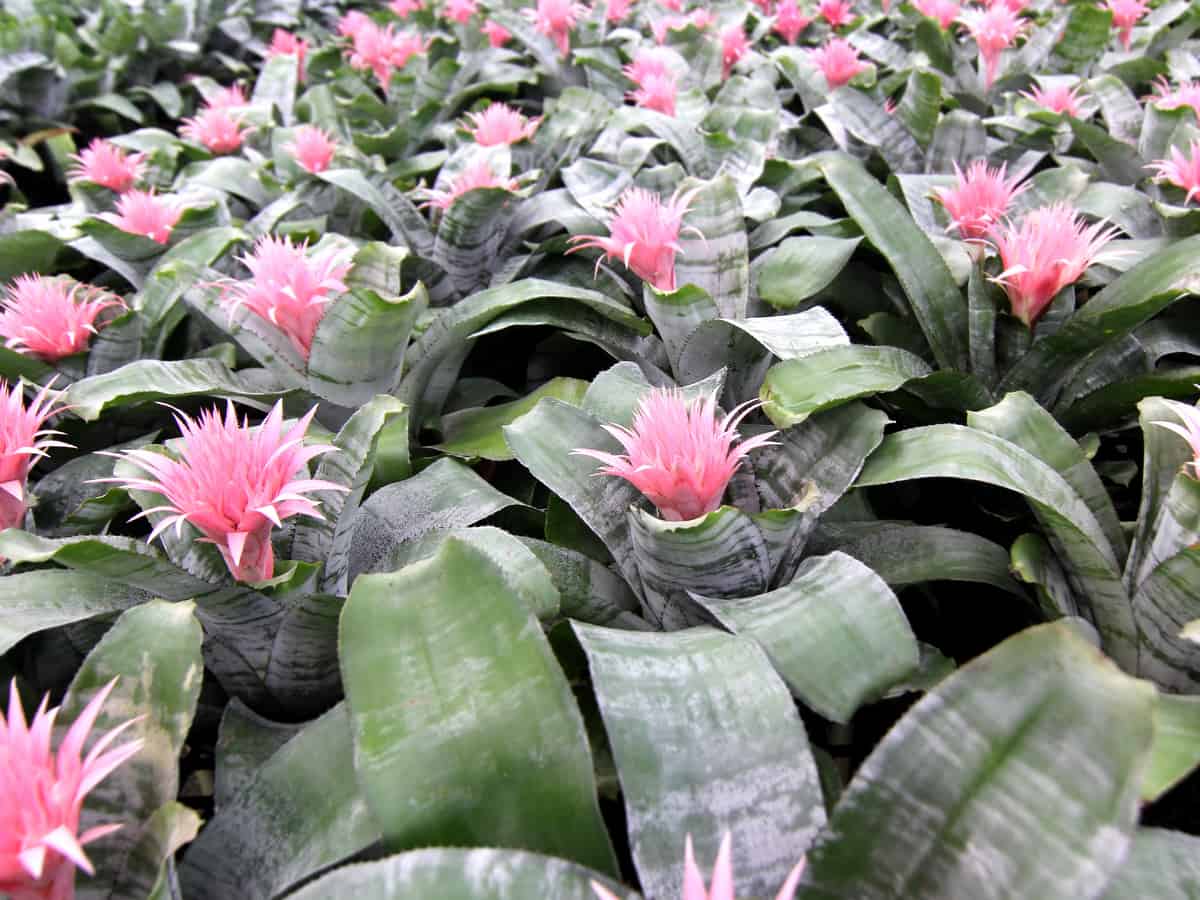 Bromeliad was once thought to be hard to care for; they have now been proven to be quite easy to maintain as they have adapted to being grown indoors. The plant offers a large variety of textures and colors, so there is something out there for all first-time plant owners.
The Bromeliad offers showy foliage and an even showier flower. Leaves on this plant come in a variety of colors, including green, red, yellow, orange, spots, stripes, banded, and many other combinations. Bromeliads require bright, indirect light and water weekly.
These beautiful plants only bloom once, and bloom time varies depending on a variety of conditions. If you want a specific bloom time, such as early spring or late summer, place flowers inside a plastic bag with a ripe apple for ten days.
English Lavender (Lavandula angustifolia)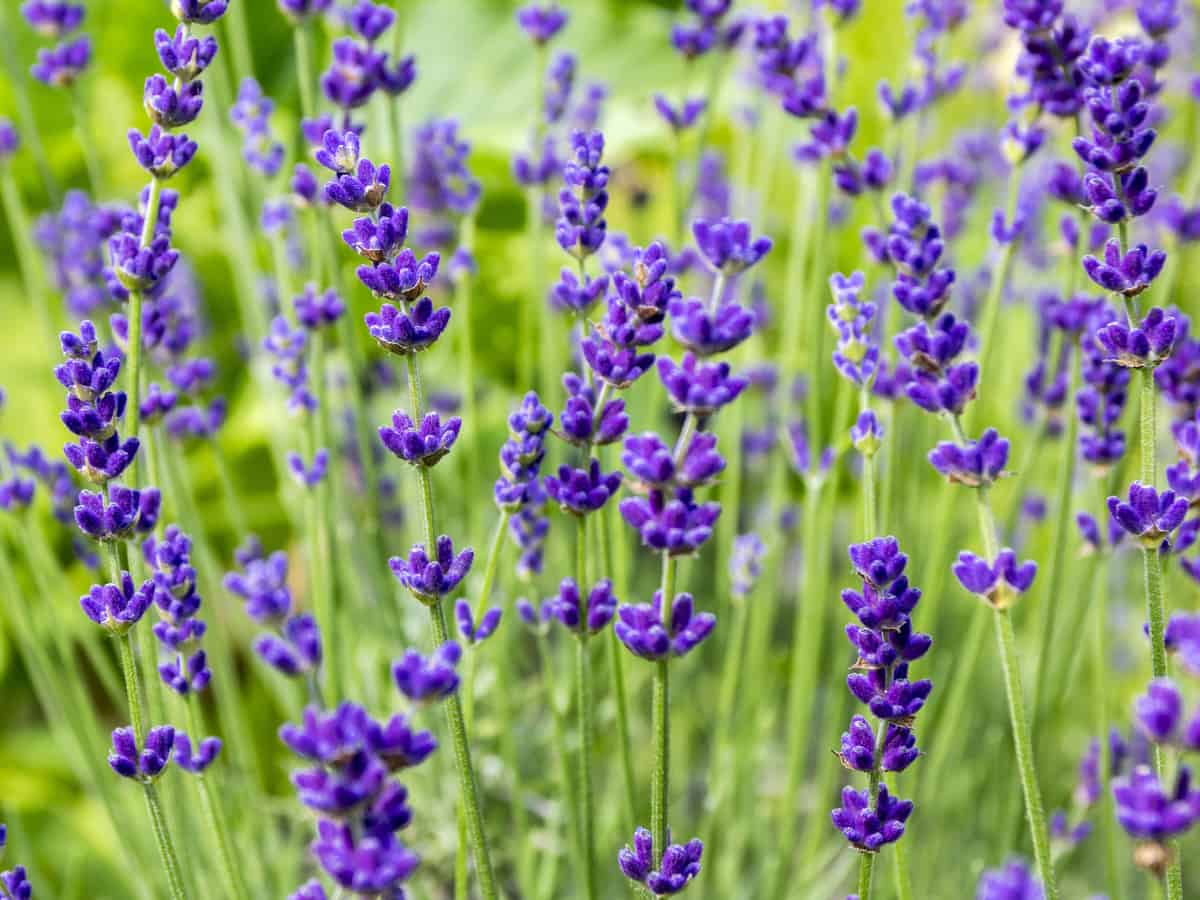 Not only is this herb easy to grow, but it is also an excellent way to help keep flies out of your yard. English Lavender does well in colder locations, but there are other varieties you can choose from that do better in hotter climates. The tiny, purple flowers that sit on top of long, thin stalks amid gray-green foliage add to the attractiveness of this plant.
If lavender is kept in ideal conditions, it will live for several years. English lavender requires a minimum of eight hours of sunlight a day, so plant it in a sunny spot. The plant will grow as both an annual and a perennial depending on the climate you live in.
When planting these flowering shrubs, use fertile soil that offers excellent drainage. Once fully established, this drought-tolerant plant only requires occasional watering. Always water deeply and infrequently to ensure proper root growth.
Baby's Tear (Helxine soleirolii)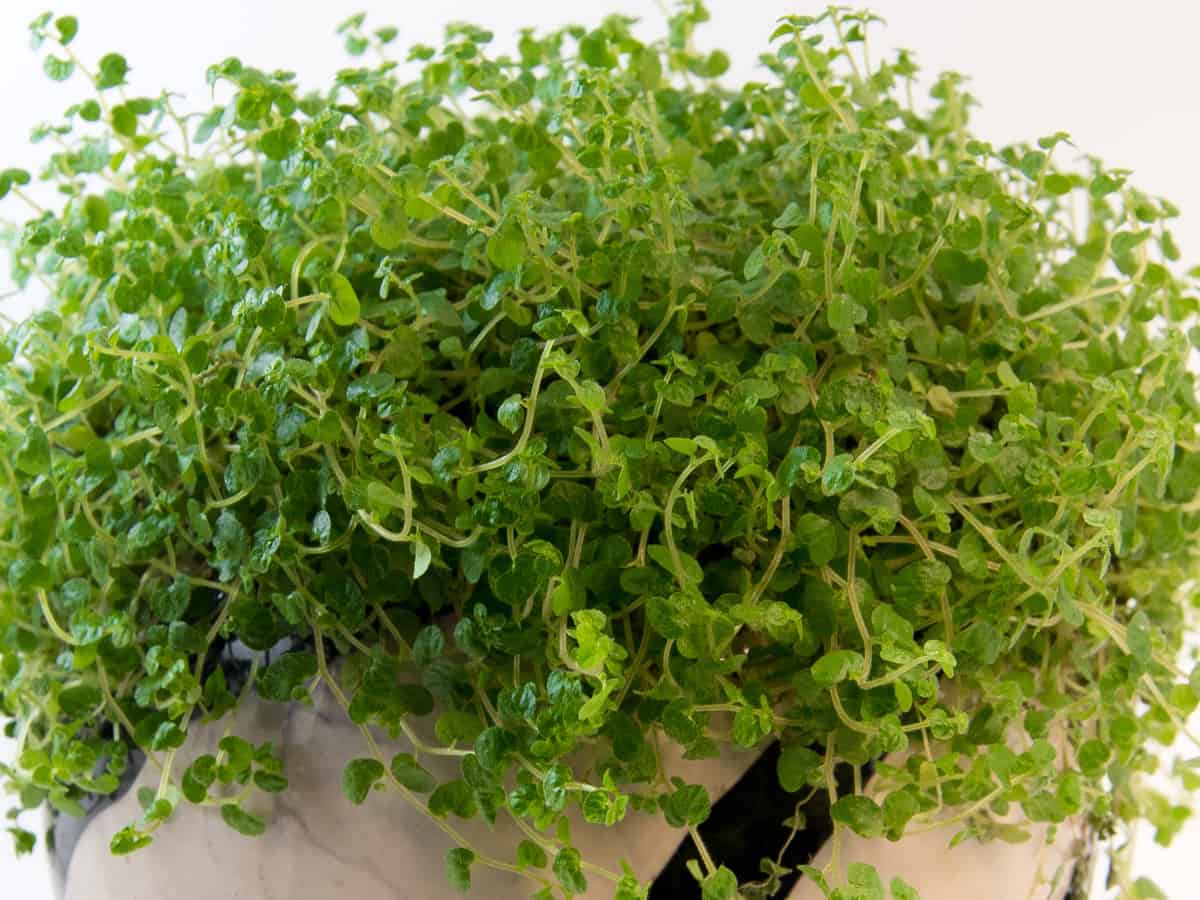 This low-growing plant is frequently found in bottle gardens or terrariums, but can also be found draped over the sides of containers. Baby's Tear looks similar to moss but features fleshy stems with round, green leaves. The low-growing plant reaches six inches tall by six inches wide but does not offer a noticeable bloom.
It does flower, but the flowers are not very noticeable. This plant thrives in higher humidity and prefers moist soil. In terms of light, you want to expose the plant to some daylight.
Propagating this plant is just as easy as maintaining it; take and press a shoot or attached stem into moist soil. As soon as new roots have formed, you may cut the new plant from the main plant.
Geranium (Pelargonium) – Easiest Plant to Grow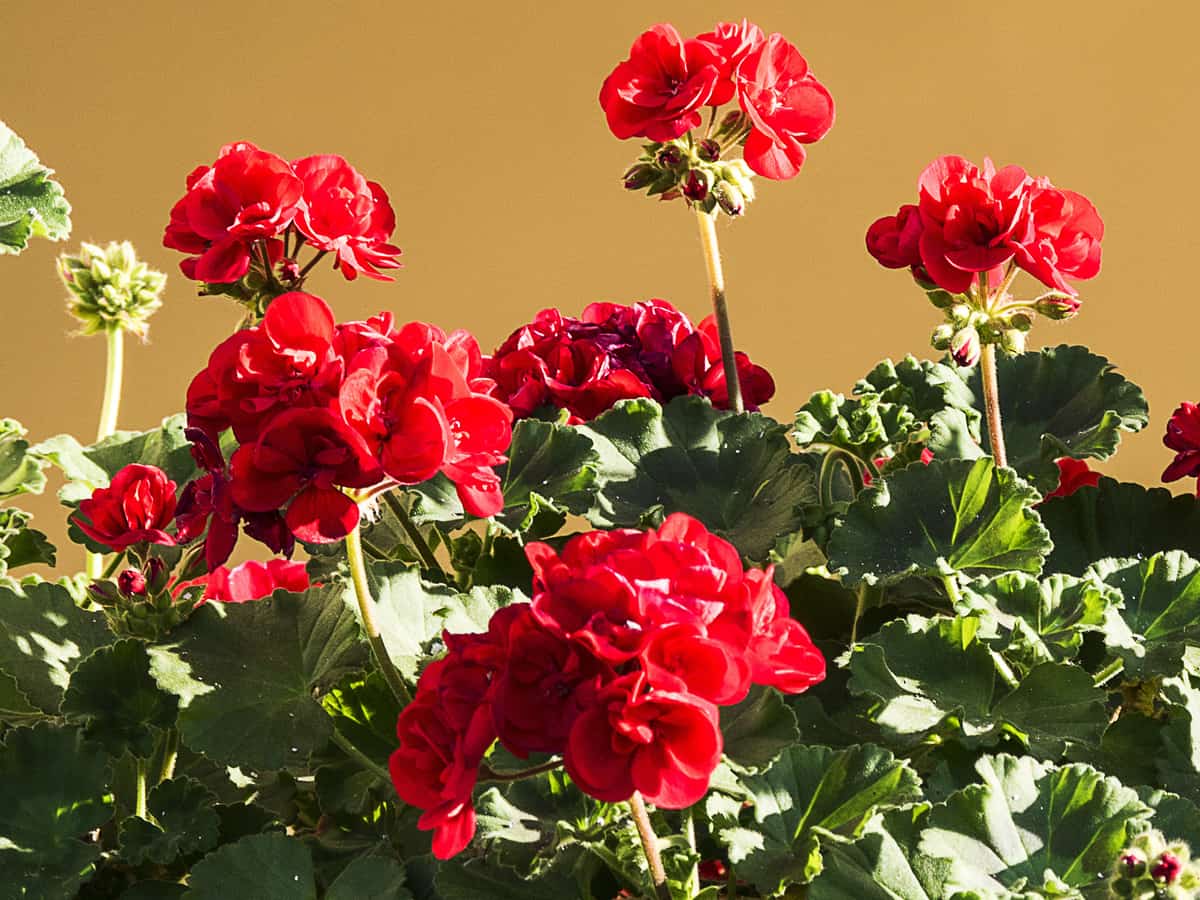 If you are after something easy to grow that will provide you with plenty of colors in your landscape, consider the favorite of many experienced gardeners – the Geraniums. In some locations, you will need to overwinter the plant indoors. Given enough light during the year, the plant will thrive and bloom quite profusely indoors.
If growing indoors, consider brushing up on home remedies to get rid of gnats just in case. Plants require well-draining soil to prevent root rot, so containers need drainage holes — place Geraniums in a location that receives up to six hours of sunlight each day.
Always allow the soil to thoroughly dry in between each watering and reduce watering during the winter. Deadheading spent flowers will encourage more blooms to form. Cut off the old leaves as soon as new growth starts appearing.
Begonias (Begoniaceae)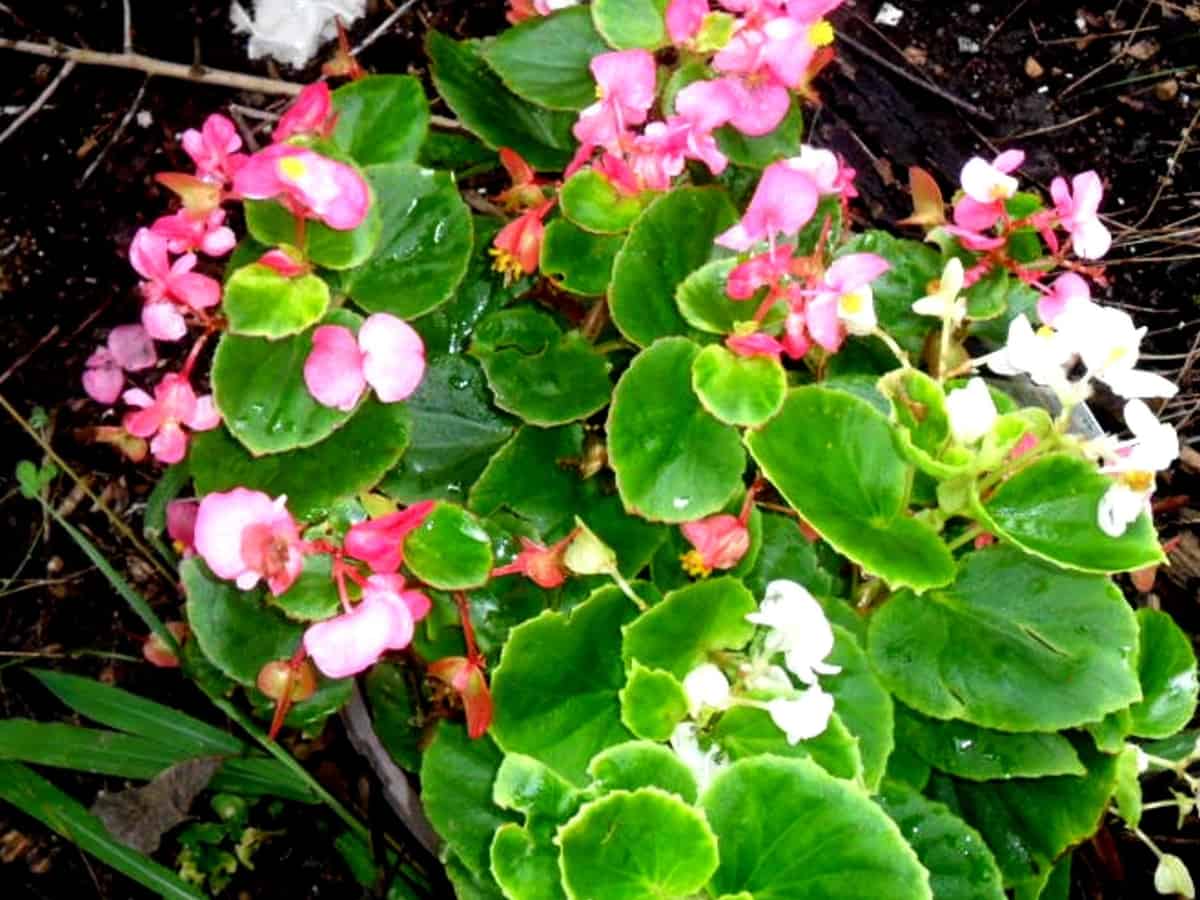 What makes Begonias a popular choice is how easy they are to grow, and many different varieties there are; currently, there are over 6,000.
Begonias do not tolerate frost at all, so as soon as the temperatures begin to turn cold, bring them inside. As an indoor or outdoor plant, they do well in hanging baskets and containers, as well as in flower beds.
Lighting requirements for this plant are pretty flexible, as the plant does well in full sun, but can also tolerate full shade and everything in between. Soil requirements for Begonias include fertile, well-draining soil.
Always allow the soil to dry before the next watering. Pruning is required but consists of cutting off dead leaves, stems, and flowers, and any trimming you desire to help it keep its shape.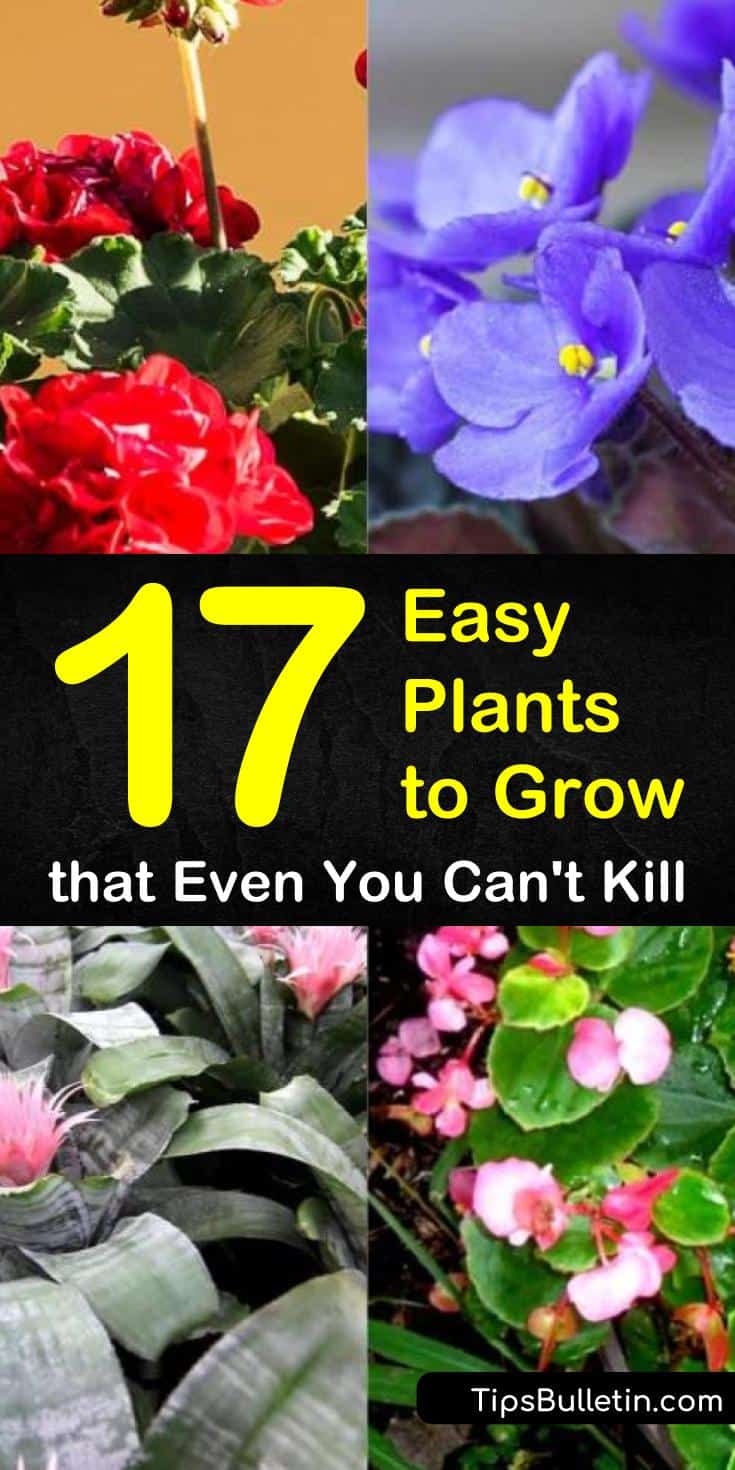 Thank you for reading about our ideas for the easiest to care for plants. If you think that any of these are excellent plants to grow, please take a minute to share these ideas on easy plants to grow with others on Facebook and Pinterest.