When you think about backyard flowers, you may not always consider bushes, but landscaping with shrubs is a great way to bring colors to the yard. Many easy to grow bushes flower in the spring and summer that not only give your yard privacy but add a vibrant display of blooms that attract pollinators.
Browse through your local garden center, and you'll discover that there is a vast selection of bushes, flowers, ground cover, and plants that come in a variety of styles, sizes, and ornamentation.
Enjoy evergreen and deciduous shrubs for both privacy and ornamental purposes. They offer such a wide range of perks such as flowers, berries, and colorful fall foliage that it's hard to choose which one is best for you.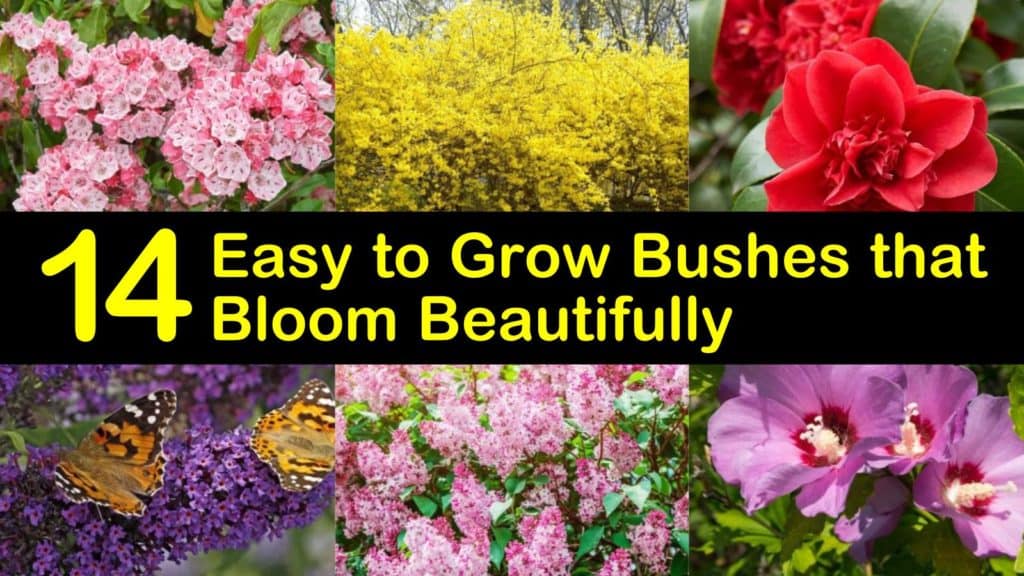 Flowering Shrubs for Spring and Summer Interest
Landscape bushes don't have to be boring. Many are quite enticing with their spring and summer blooms that attract butterflies and pollinators to the garden. Some of these even produce bird-loving berries followed by beautiful fall foliage in autumn.
Which ones are best for your yard? We'll answer a few of your questions and help you choose the perfect flowering shrub for your home. If you have pets or small children you may want to stay away from a bush with long thorns. However, these types of shrubs are great for added security for your home and property.
What is the Difference Between an Evergreen Shrub and a Deciduous Shrub?
Evergreen and deciduous bushes are the opposite of each other. An evergreen shrub is precisely what the name implies. It remains green throughout the entire year.
Evergreens do not lose their foliage in the cooler months and provide year-round protection from wind, noise, and nosy neighbors. They do shed their leaves, but evergreen foliage regrows as it's lost and goes unnoticed.
However, deciduous bushes go dormant at the end of each growing season and lose their foliage. This shedding helps them prepare for winter conditions, ensuring water conservation and survival until the next year.
Which Bushes are the Easiest to Grow?
Many different bush varieties are easy to grow, and it all comes down to the area you live in and what you expect from your bushes.
While browsing your local nursery, check the shrub's care label for critical terms such as hardy, low maintenance, disease-resistant, drought-tolerant, and deer resistant. Easy to grow shrubs fit most, if not all, of these requirements.
Some examples of low-maintenance shrubs are boxwood, spirea, and weigela. Not only are these bushes natural growers, but they fill the yard with an exotic appeal. Lilac, azalea, euonymus, and forsythia are also good choices. Bright leaves and colorful flowers add interest to any area of the yard.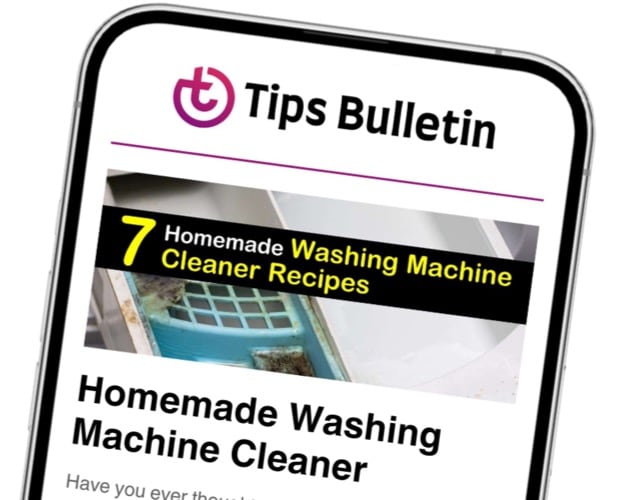 Finally, an email that Transforms Your Home.
Get the latest home and garden tips from our experts, delivered straight to your inbox.
Check care and information labels on plants to learn which ones are bushes that grow fast or those that mature more slowly to plan your planting location carefully.
Where Can I Plant Low-Maintenance Bushes?
The first thing to check for in a low maintenance shrub is the USDA hardiness zone. Make sure that the zone you live in falls within the zone range of the plant. Otherwise, your flowering bush does not survive throughout the entire year.
The second important factor is whether the shrub is a full sun or shade plant. Full sun shrubs thrive in direct sunlight for at least six hours every day and do not grow well in the shade, whereas a shade-loving plant only needs filtered or indirect sunlight to survive.
Are Flowering Shrubs Hard to Maintain?
While some shrub varieties require pruning to maintain healthy growth, most do just fine on their own and are easily maintained. The key to promoting healthy growth in a new bush is to provide it with plenty of water after you plant it to encourage root growth.
It's also essential that you make sure the soil type is appropriate for your flowering shrub. If necessary, prune the bush to encourage new blooms and remove dead branches.
Hydrangea (Hydrangea macrophylla)
Hydrangea is a shrub that is available in many different varieties, from the common mophead hydrangea with large rounded clusters of blue, white, and pink flowers to the panicles hydrangea that grows cone-shaped blooms. Both produce flowers from spring to fall.
The mophead variety is affected by soil pH, and the color changes depending on acidity. These shrubs enjoy part shade to full sun and grow best in zones 3 through 9. They are low maintenance and reach a height of 3 to 20 feet, depending on the variety.
Mountain Laurel (Kalmia latifolia) – Easy Growing Bush with Showy Blooms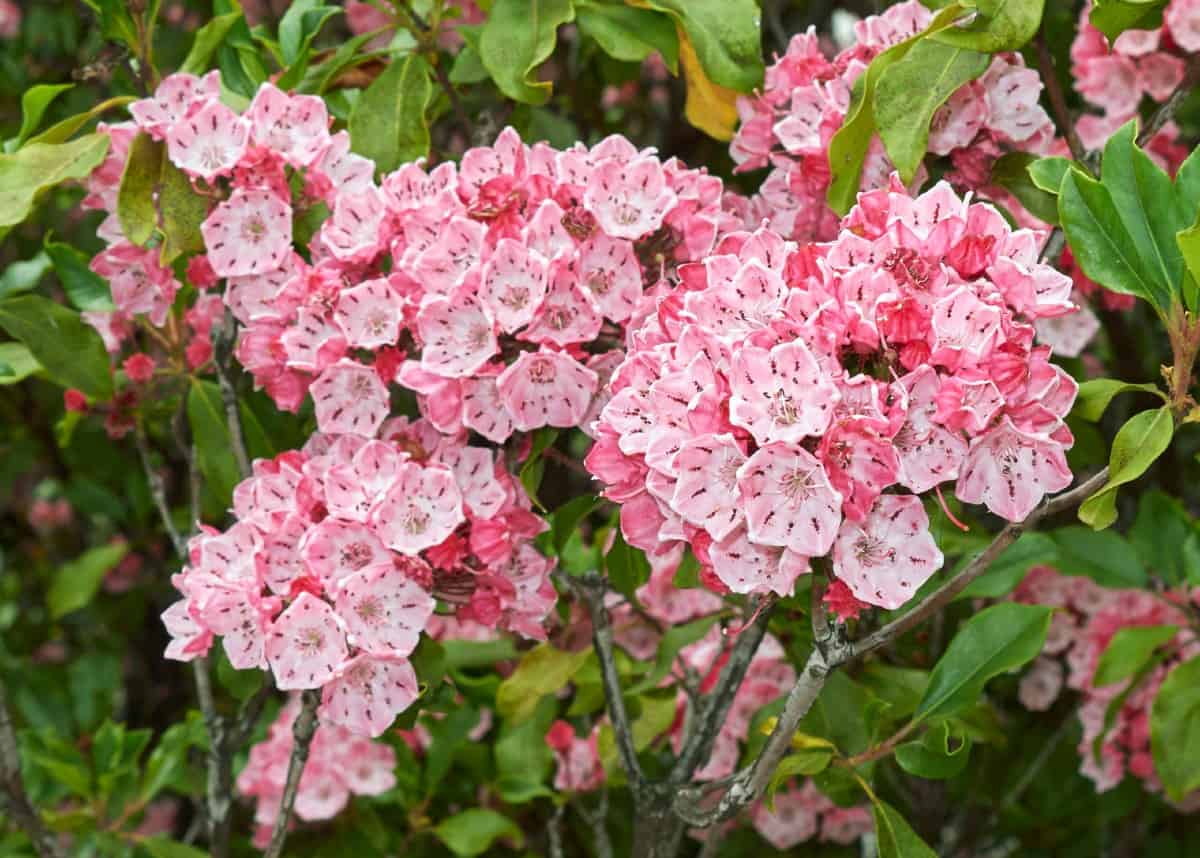 Mountain laurel grows in round mounds of glossy green leaves that remain on the plant all year round. It produces vibrant clusters of white, pink, and red blooms in late spring.
This evergreen shrub is closely related to the azalea and rhododendron and requires acidic soil for optimal growth. It has a mature size of 5 to 15 feet in height and width and has a well-formed shape. Mountain laurel thrives in zones 4 through 9 and prefers partial sunny areas.
Weigela (Weigela florida)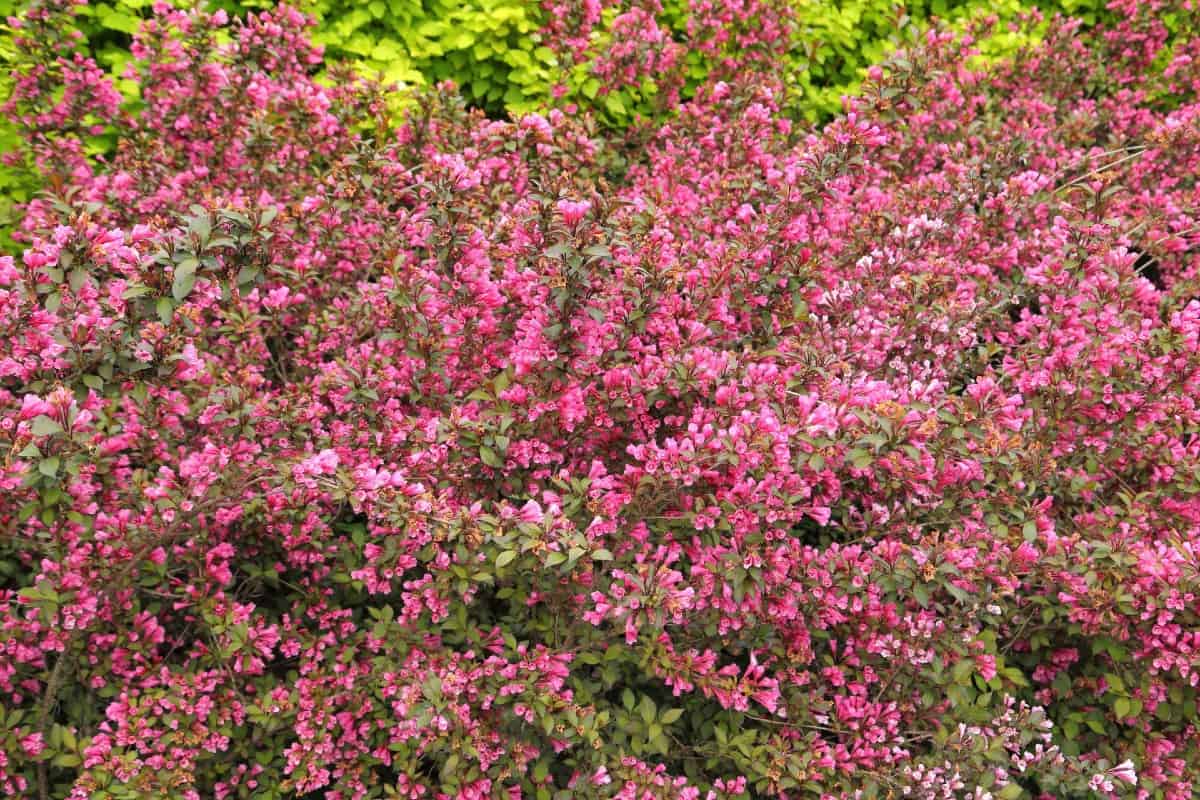 This favorite old-time shrub is available in many shapes and sizes and produces colorful blooms of red, white, yellow, and pink flowers from spring through summer. The trumpet-shaped blossoms grow on arching stems of variegated foliage and attract hummingbirds to the garden.
Weigela grows to a height of 3 to 8 feet and a width of up to 6 feet. This flowering shrub grows best in zones 4 through 9 and prefers partial to full sun locations. These low maintenance shrubs are drought resistant and are a favorite among wildlife enthusiasts.
Lilac (Syringa) – Low Maintenance Bush with a Heavenly Fragrance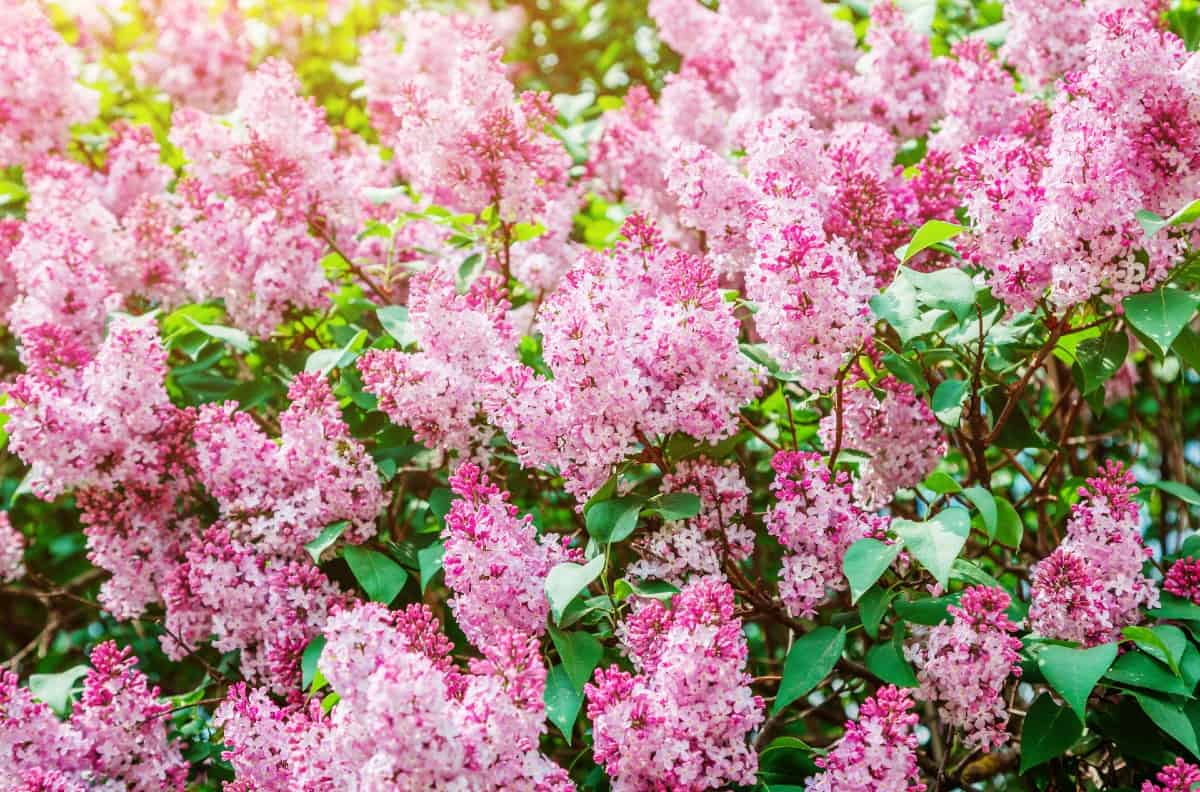 A blooming lilac bush is a true sign that spring has arrived, with its heart-shaped leaves and sweet-scented blooms. The flowers of a lilac range anywhere from white and pink to purple and blue, and are a big attraction to butterflies and other pollinators.
This low maintenance shrub is drought tolerant and a great way to add privacy to your yard. Lilacs grow best in part to full sun and thrive in zones 3 through 7. Lilacs reach a height and width of up to 20 feet and are an excellent cut flower for the home.
Spirea (Spiraea)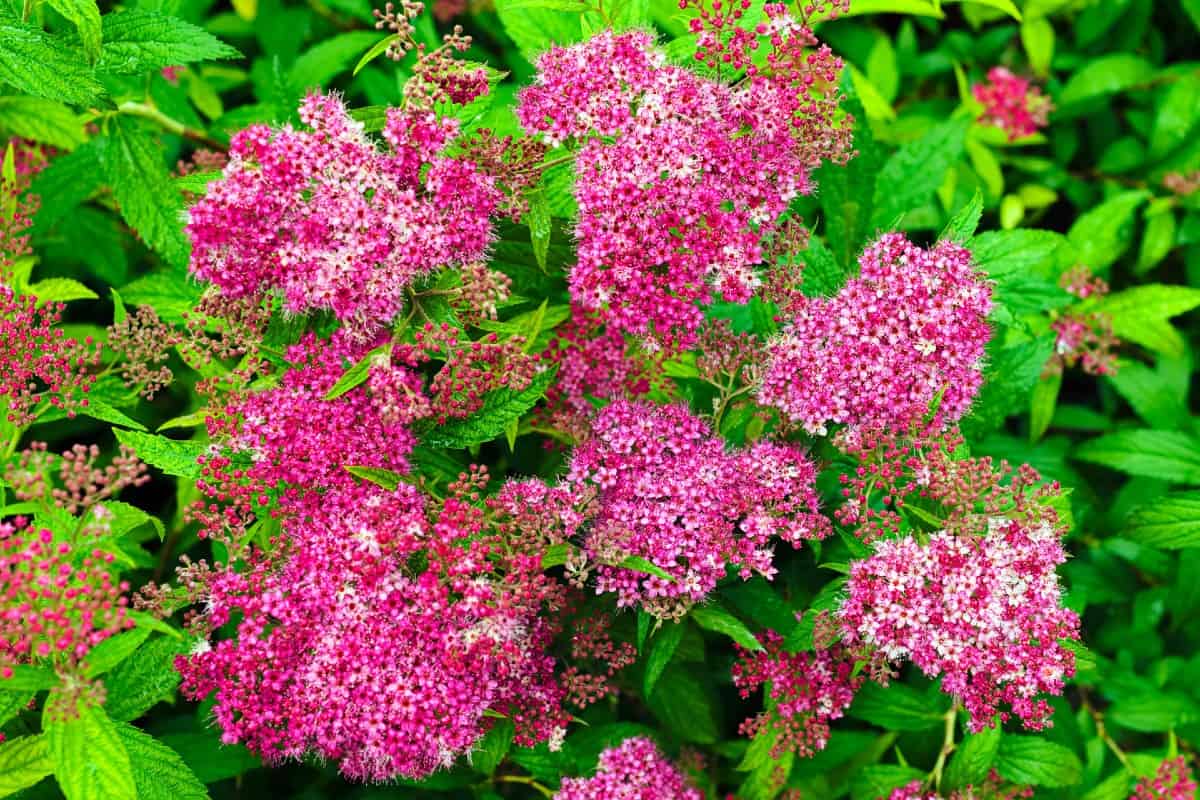 Spirea is another garden favorite because of its diversity and hardiness. This easy-to-grow shrub produces delicate white and pink flowers in spring through summer.
Depending on the variety, this shrub adds color to the yard even when it's not in bloom with its blue/green or chartreuse/gold foliage. This flowering shrub thrives in zones 5 through 9 and prefers sunny areas of the yard.
Spirea are short shrubs with a height of up to 8 feet and a width up to 6 feet, making it an excellent choice for privacy. Add one or two specimens in front of your home to deter potential invaders.
Forsythia (Forsythia × intermedia) – Easy to Grow Bushes with a Vibrant Display of Golden Blooms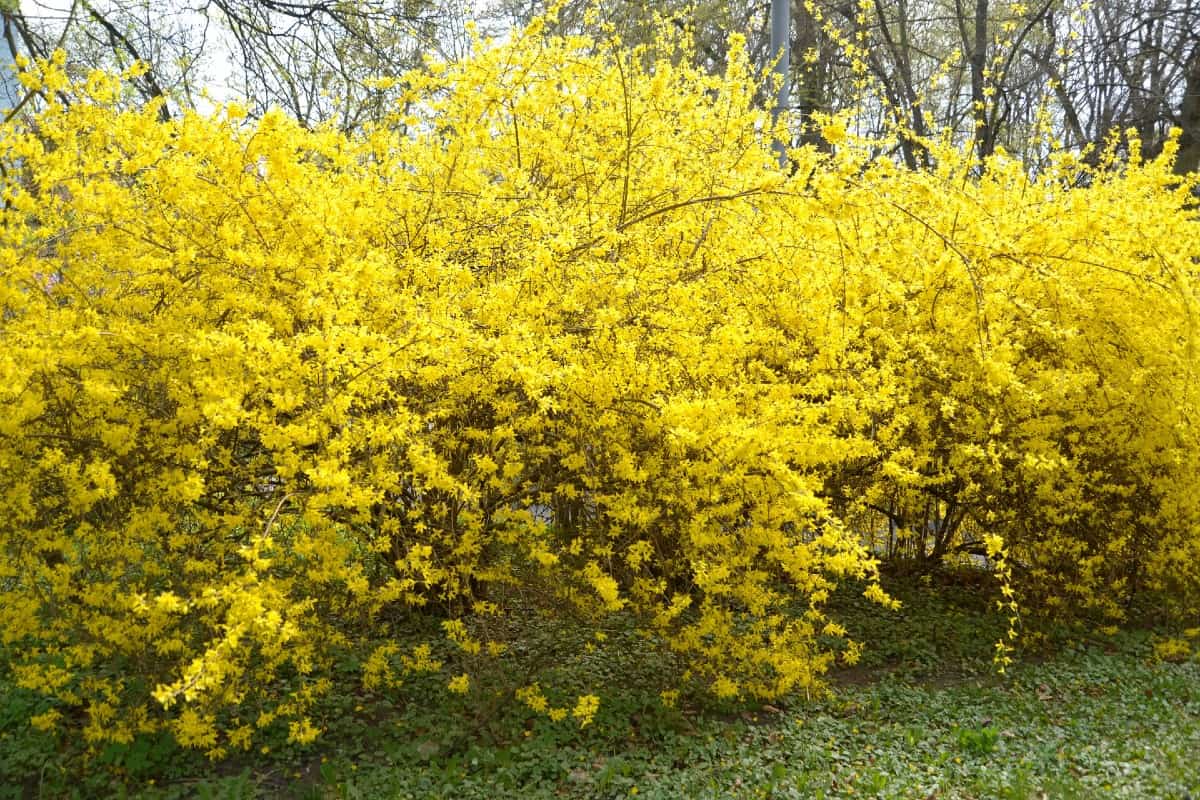 The forsythia shrub produces clusters of bright yellow blooms from top to bottom in early spring before the foliage makes an appearance. Its brilliant display of color is a welcome sight in the yard after a late winter of drab landscape colors.
This low maintenance bush is deer resistant and provides the yard with color and privacy. It thrives in part to full sun in zones 4 through 9 and reaches an average height and width of 8 feet.
Japanese Camellia (Camellia japonica)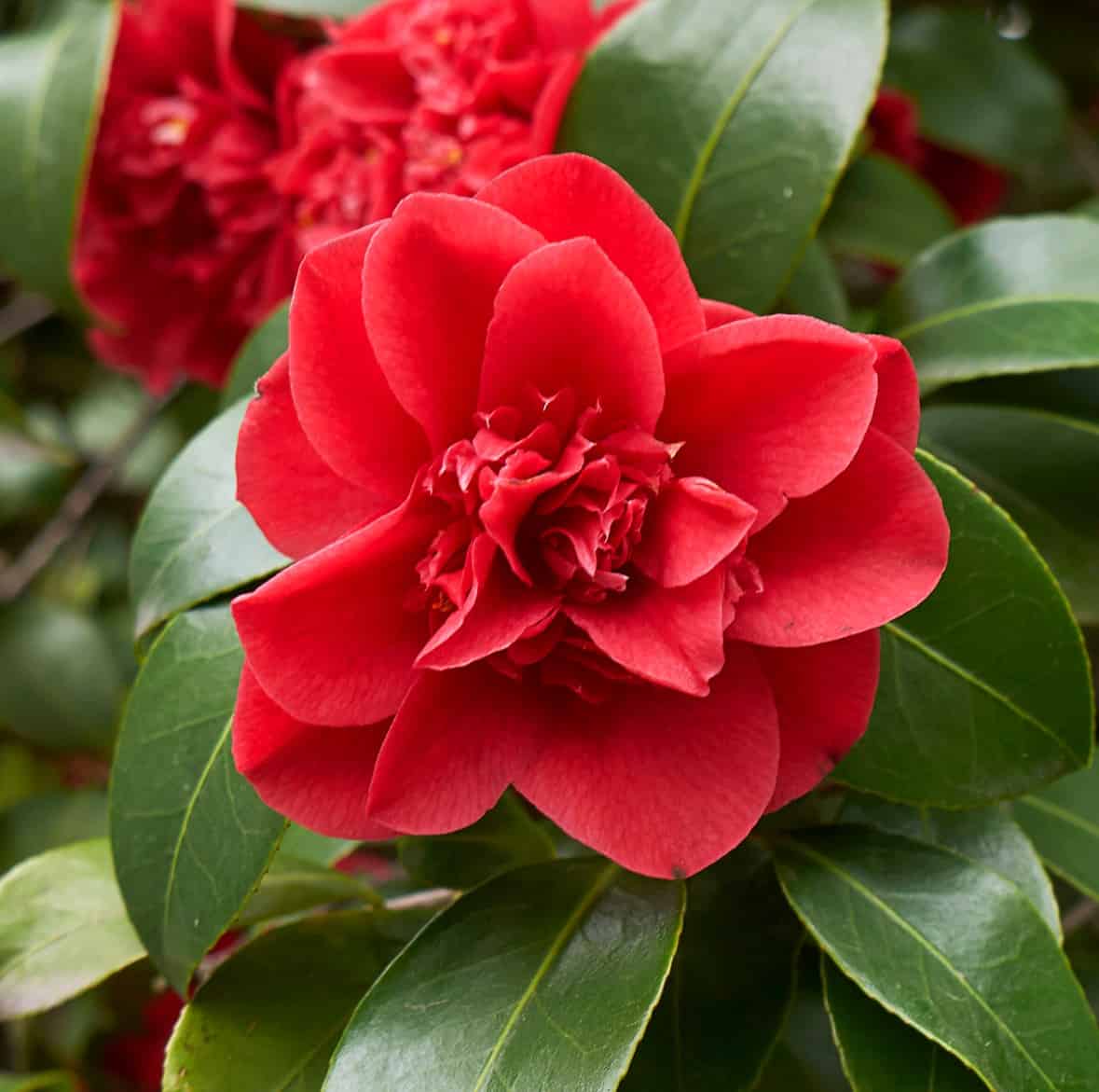 This broadleaf evergreen shrub comes in a wide range of colors and sizes and produces stunningly formal blooms of red, white, and pink with a backdrop of shiny, dark green foliage.
The spring and fall blossoms make perfect cut flowers for enjoying inside the home. As flowering evergreen bushes, camellia shrubs grow best in zones 6 through 10 and thrive in both shade and sun. Expect a height of 8 to 20 feet and a width up to 20 feet, depending on the variety.
This shrub is an excellent addition to the formal yard or as a privacy fence. As some of the best hedge plants, they give your living fence color year-round with added interest when the flowers bloom. Trim your camellia as needed or to keep its shape in a rounded form.
Rose of Sharon (Hibiscus syriacus) – Late Blooming Shrub that is Easily Maintained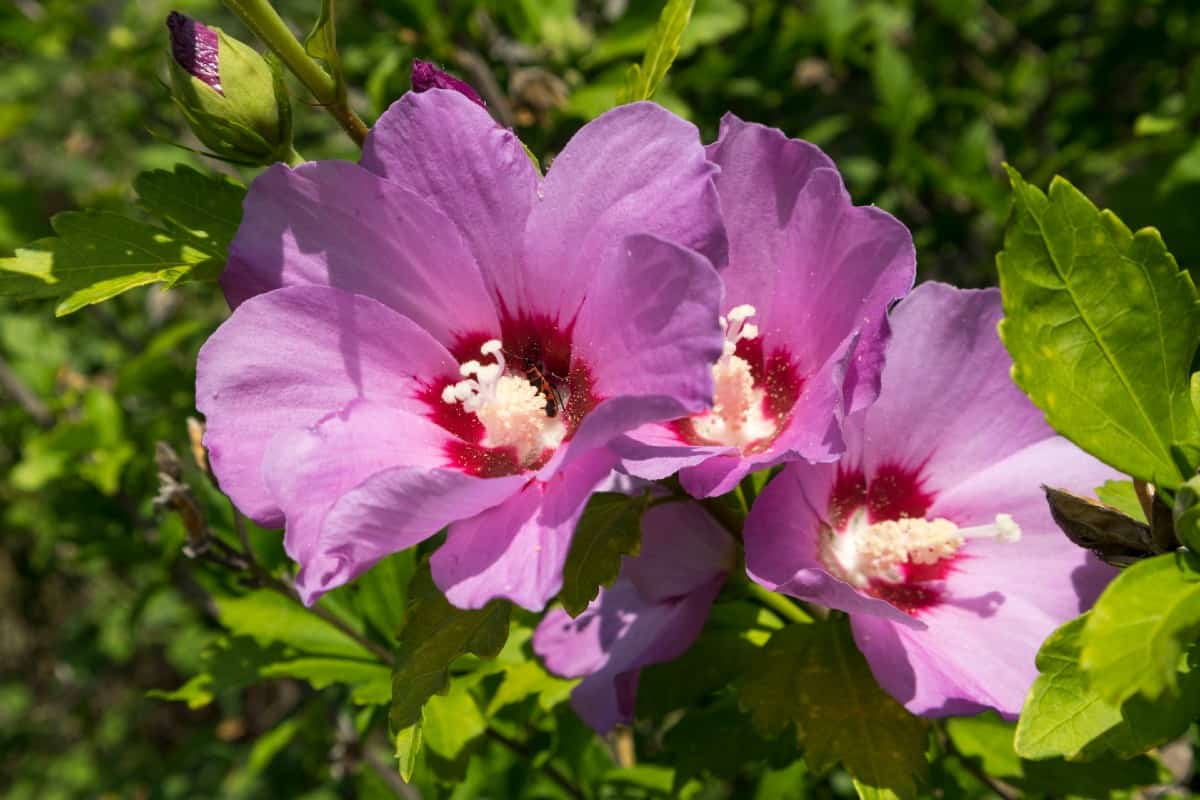 Rose of Sharon is a hardy hibiscus variety that attracts all types of pollinators to the yard. It's well known for its large, tropical blooms of stunning color that range from blue, pink, and lavender to purple, white, and red. Unlike other varieties, this late bloomer produces its flowers at the end of summer.
Rose of Sharon grows up to a height of 8 to 10 feet with a width of about 5 feet. This shrub prefers partial shade to sun and thrives in zones 5 through 9. It is easily maintained, drought tolerant and deer resistant.
Abelia (Abelia x Grandiflora)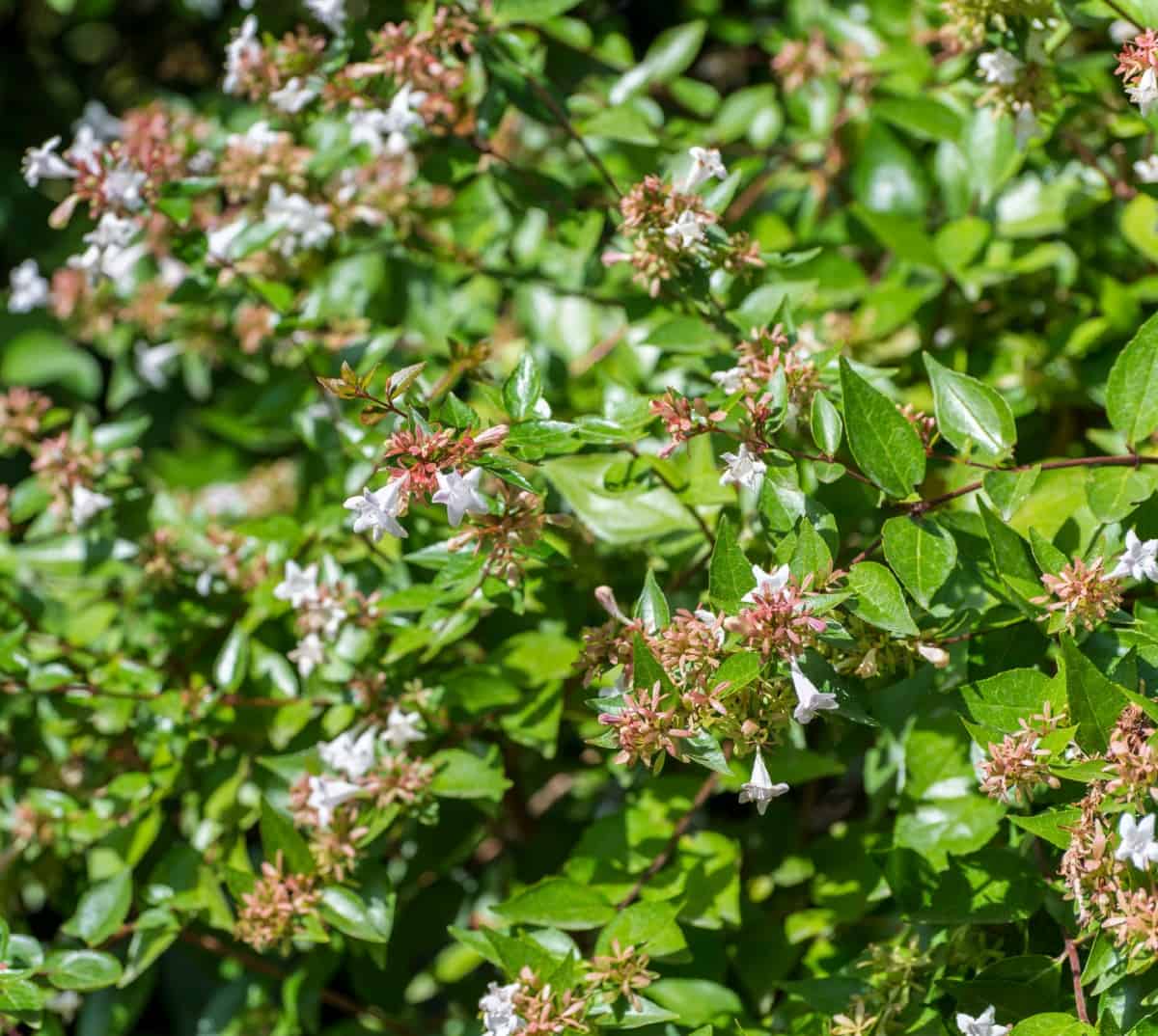 Abelia is a glossy leaf bush that grows as either a deciduous or evergreen shrub depending on your location. It has an elegant, arching form that produces dainty pink flowers in the early summer and colorful foliage in the fall.
This flowering shrub has a mature size of 3 to 6 feet tall and wide and thrives best in zones 6 through 9. While it grows well in partial sun, it produces more flowers when planted in full sun.
Potentilla (Dasiphora fruticosa) – Long Blooming, Hardy Shrub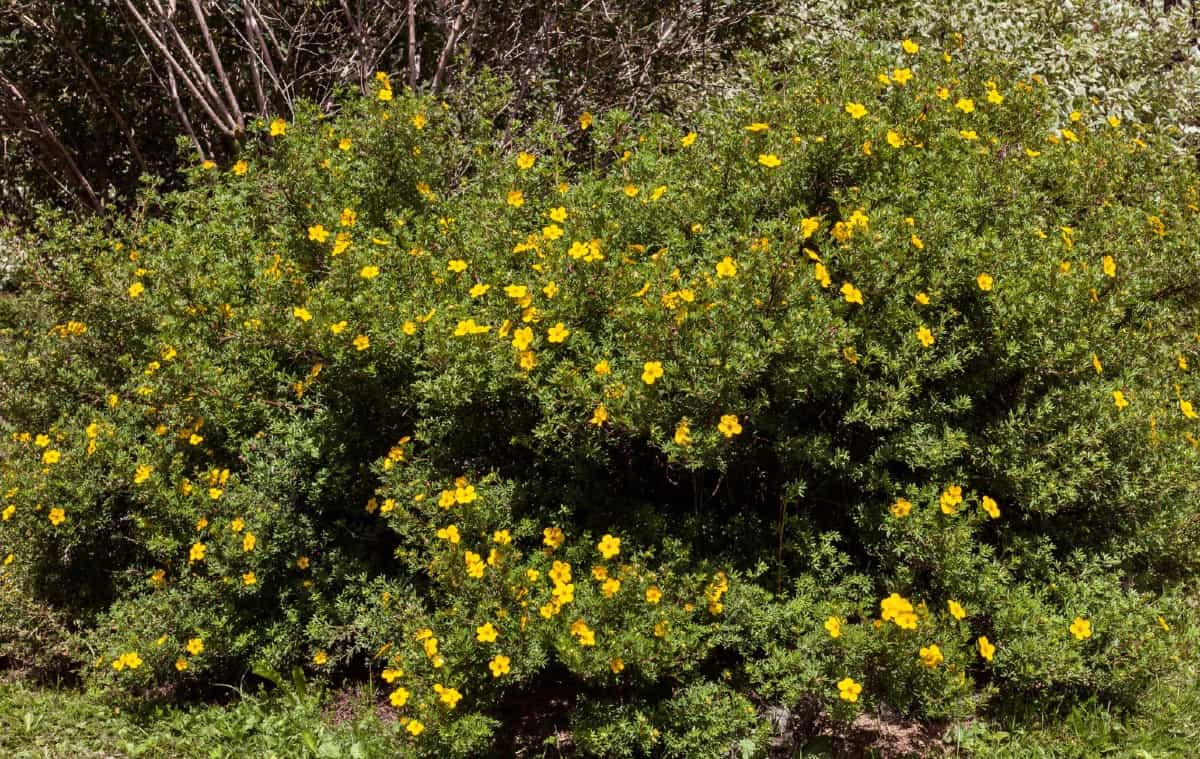 Potentilla is a crisp and neat shrub that produces charming blooms in a range of colors from orange and pink to red and white flowers. It has chartreuse/gold or blue/green foliage and blossoms from late spring through fall.
These long blooming shrubs also provide winter interest with their reddish colored bark that is more easily seen when the plant is mostly bare.
Potentilla is a drought tolerant and easily maintained shrub that enjoys sunny locations. It grows best in zones 2 through 7 and reaches a mature height and width of 3 feet.
Rhododendron (Rhododendron ferrugineum)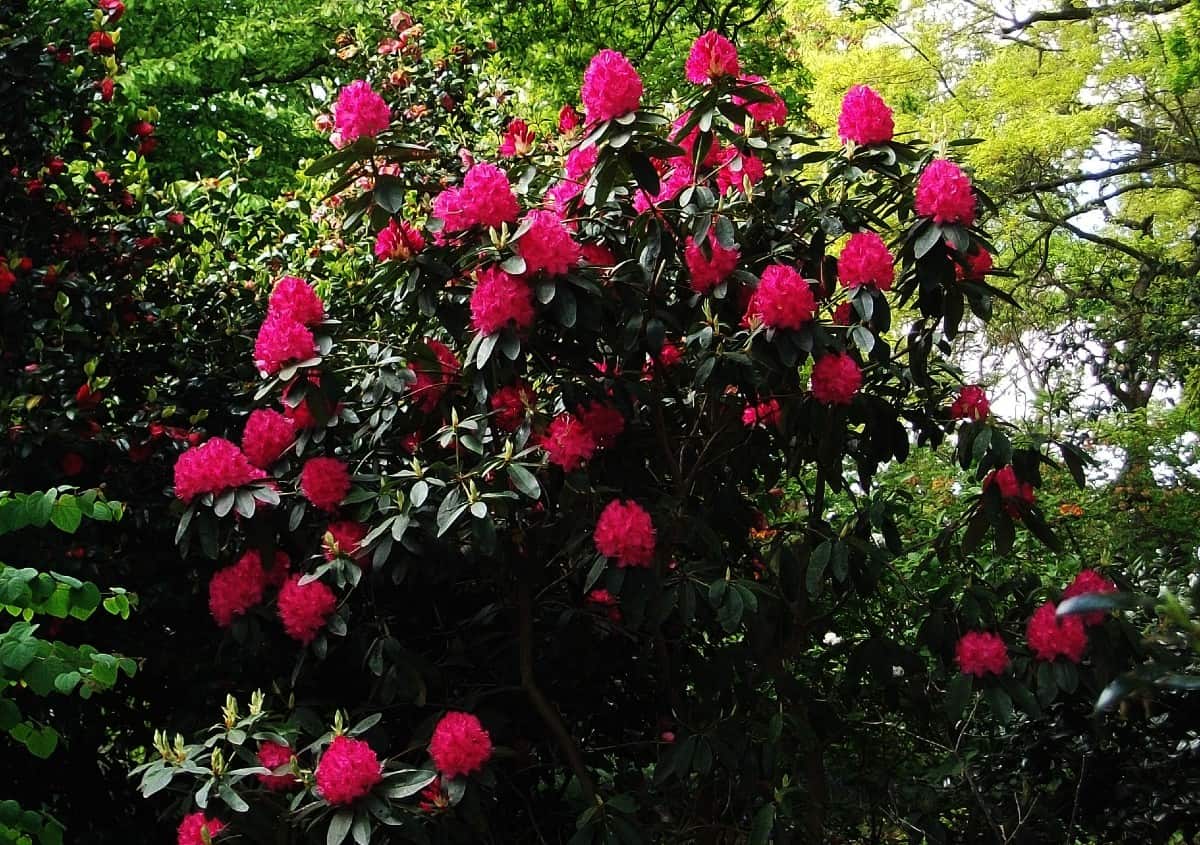 Rhododendrons are well known for their shiny, broad leaves and large clusters of showy blooms. The fragrant flowers of this shrub vary in color, depending on the type, including red, orange, white, yellow, and pink, and bloom from spring through fall. You may even find purple shrubs.
This shrub makes for great privacy in the yard and enjoys part sun to shade. It grows best in zones 3 through 9, is deer resistant, and reaches a height of 3 to 20 feet and a width of up to 25 feet, depending on the type.
Viburnum (Viburnum opulus) – Easy to Grow Bush with Four-Season Appeal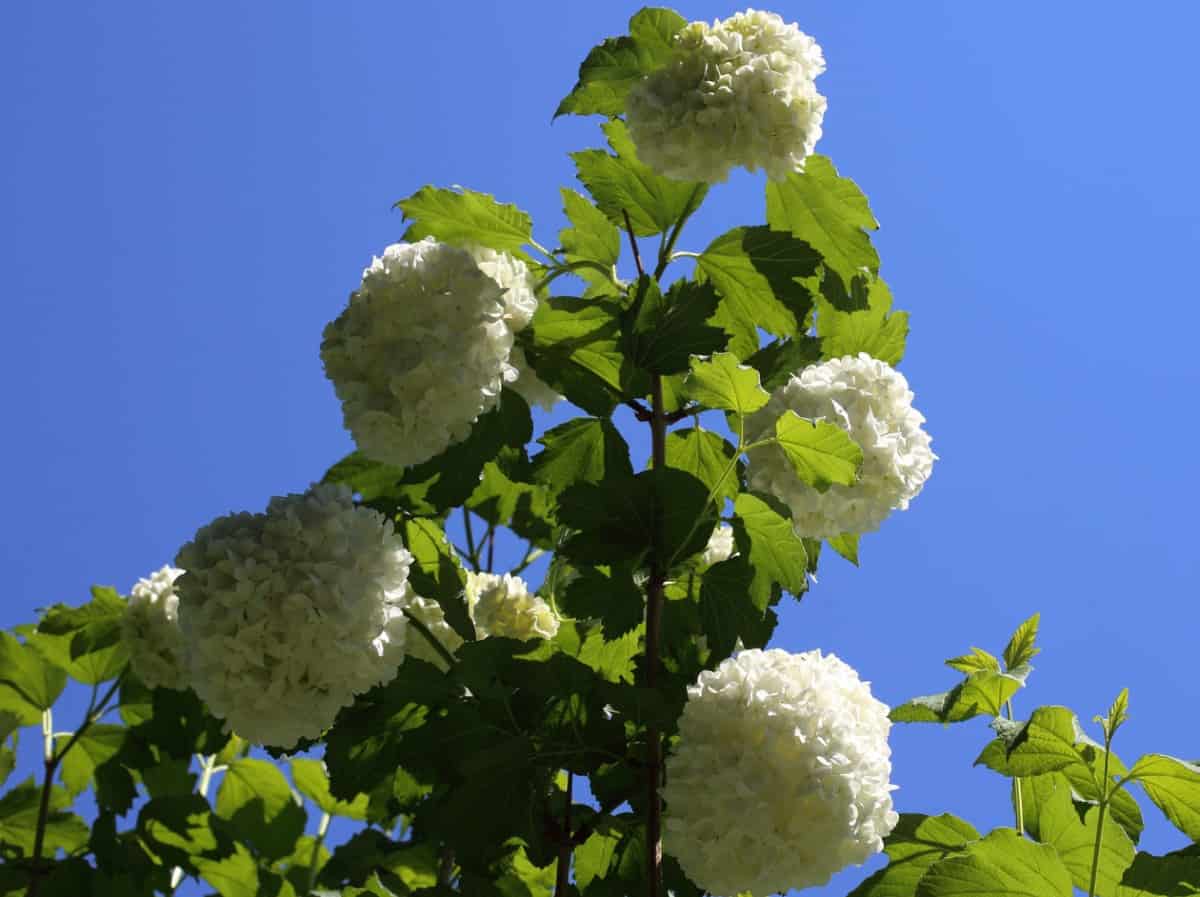 Viburnum offers something for everyone, from its large white or pink blooms to its colorful fall foliage and winter berries. The showy flowers bloom in the spring-time, are highly fragrant, and attract birds to the garden.
This low maintenance bush grows to a height of 3 to 20 feet and a width of 3 to 12 feet, depending on the type. It grows best in zones 2 through 9 and enjoys partial to full sun locations. Viburnum makes a great natural fence and is deer resistant and drought tolerant.
Grandiflora Rose (Portulaca grandiflora)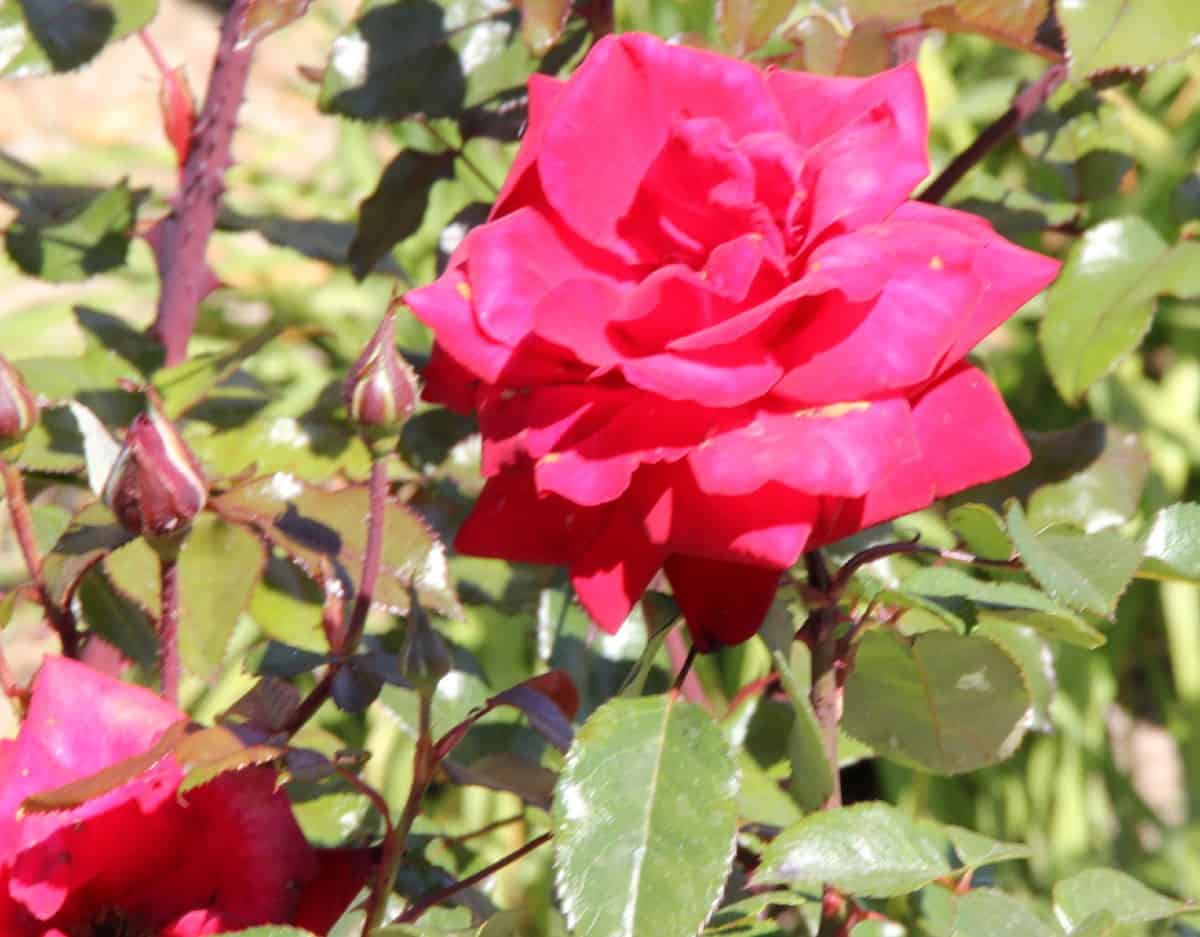 These rose bushes are well known for their high-centered, showy blooms and tall plant height. The fragrant flowers of this shrub range from red, purple, and orange, to yellow, pink, and white, with stems that produce several blooms at once. Enjoy roses in your garden from spring through late summer.
The Grandiflora rose grows in zones 4 through 9 and prefers sunny locations. It reaches a height of up to 8 feet tall and a width of 3 feet wide. Rose cut flowers are perfect for flower arrangements.
Butterfly Bush (Buddleja) – Low Maintenance Flowering Bush that Attracts Hummingbirds and Butterflies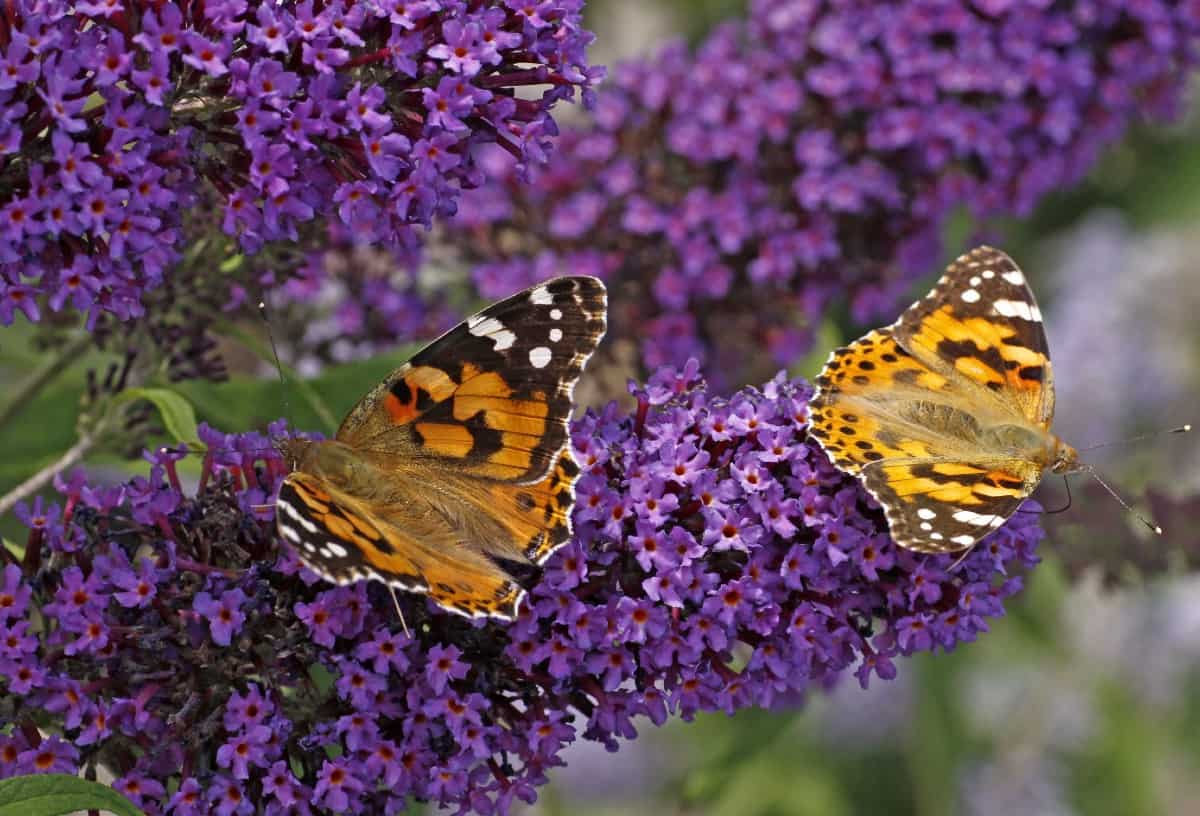 This is a gorgeous bush with chartreuse/gold and gray/silver foliage that produces tall spikes of flowering blooms that attract butterflies and hummingbirds to the yard all summer long. The arching habit of the flowers creates an elegant display of blue, red, white, and pink blooms that are highly fragrant.
The butterfly bush is low maintenance, drought-tolerant, and deer resistant, growing to a height of 3 to 20 feet with a width nearly 8 feet, depending on the variety. The bush thrives in zones 5 through 10 and enjoys sunny areas of the yard.
Creating a stunning display of bushes around your yard that bloom with colorful shades of white, pink, yellow, and red is an easy task to accomplish using low maintenance flowering shrubs.
Not only are these bushes beautiful, but many of them are deer resistant, drought-tolerant, and require very little pruning. This means that you spend more time enjoying their many benefits rather than performing yard work.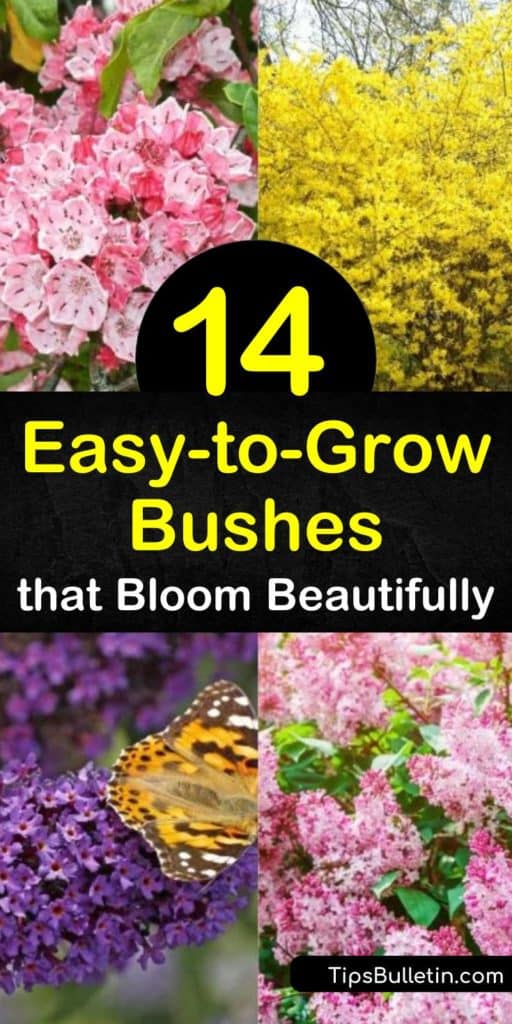 We hope you enjoyed learning how to fill your yard with easy to grow bushes that bloom in the spring and summer, and we'd love it if you'd share our gardening tips and list of blooming shrubs with your family and friends on Facebook and Pinterest.