Growing climbing plants is a fantastic way to enhance the beauty of my garden effortlessly.
Here's how I ensure my climbing plants thrive with ease:
I select varieties suited to my hardiness zone for the best growth potential.
I choose a location with an appropriate support structure like a trellis or fence.
I provide them with the right amount of sunlight depending on the plant's needs.
I water the plants regularly, especially during dry spells, to keep them hydrated.
I perform simple maintenance such as pruning to encourage healthy growth.
To make sure climbing plants flourish in my garden, I follow these easy steps. First, I identify the best climbers for my area – those that match my hardiness zone and local weather patterns. I always go for low-maintenance varieties to save time. Then, I pick a spot with the right support structure and enough sunlight, as plants have different light requirements.
I keep their soil moist, especially in high heat. Lastly, I prune them regularly to remove any dead or damaged growth, which helps the plants focus their energy on producing lush foliage and vibrant blooms. It's simple and cost-effective, and the results are stunning every time!
Climbing vines add a unique touch to the home and garden and quickly fill areas with lush foliage and flowers. Not only do they provide your yard with fragrant blooms of color, but they also act as a natural form of privacy and easily hide unsightly areas of the yard. While you may be inclined to think that vines are hard to grow, there are many easy to grow climbing plants that require very little maintenance.
If you've dreamed of having plants climbing a trellis or arbor with delicate tendrils, twining vines, and cascades of heavenly-scented flowers but always thought they were too difficult to grow, we are happy to inform you that you are wrong.
There are quite a few climbing plants that are not only natural growers but attract beneficial pollinators to the yard, such as butterflies and hummingbirds.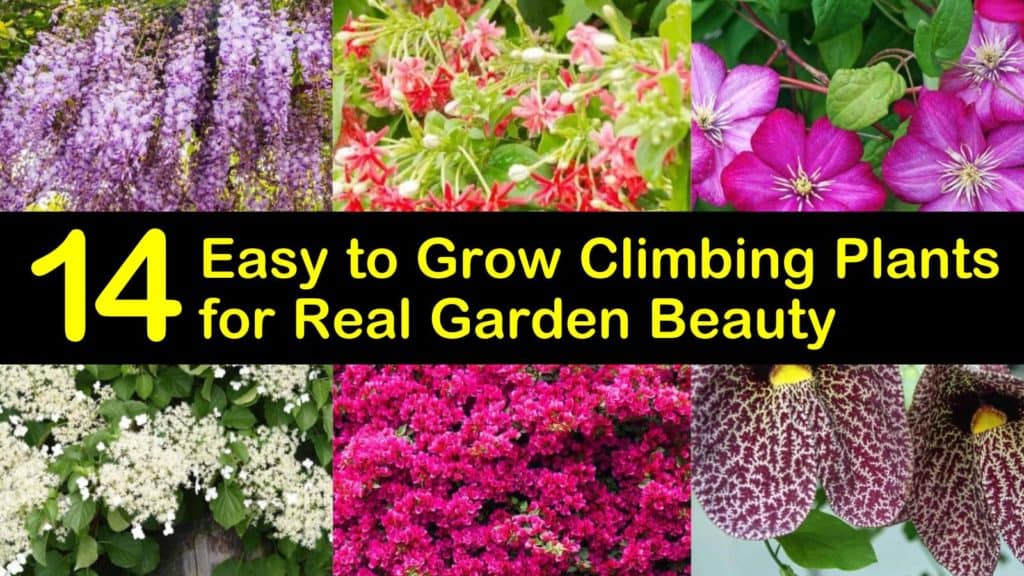 Climbing Plants that are Easy to Grow
While all types of plants require some form of maintenance each year, some are easier to grow than others. Choosing plants for your hardiness zone that are drought tolerant and low maintenance is the secret to growing healthy, easy-to-grow plants.
Whether you choose easy plants to grow outside or put some of them in containers for the patio or your living room, we have ideas you are certain to enjoy.
Should I Plant Annual or Perennial Climbing Plants?
The answer depends on the amount of space you have and how long you desire your plants to grow. Annuals die off at the end of the growing season and do not come back the following year. These types are ideal for smaller yards.
On the other hand, perennial climbing plants grow back each year and tend to fill larger areas with new growth each season. These varieties are ideal if you are a homeowner with permanent structures designed for sturdy vine growth.
Where Can I Plant Easy Growing Climbing Plants?
Consider placing climbing plants and vines beside a pergola, arbor, obelisk trellis, or fence to give the plant a sturdy structure to grow through and fill. These plants also make a great backdrop to existing gardens.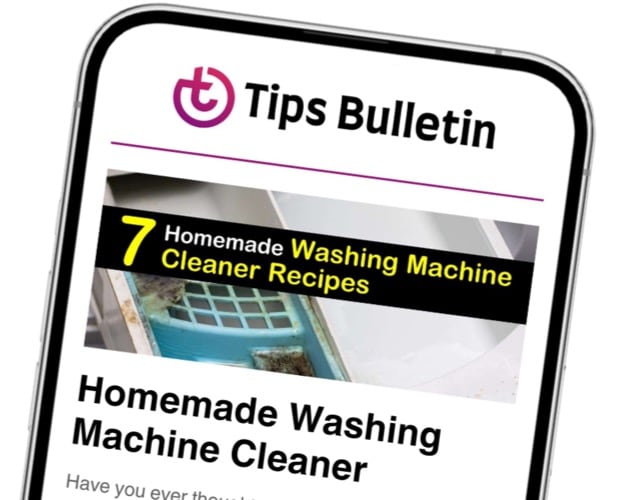 Finally, an email that Transforms Your Home.
Get the latest home and garden tips from our experts, delivered straight to your inbox.
Place them behind a garden filled with black-eyed Susan, star jasmine, and nasturtium to create colorful, eye-catching appeal.
How Long Do Climbing Plants Take to Grow?
Annual climbing plants fill a trellis in one growing season, while perennials take a little longer to reach their full potential. It also depends on the type of plant. Follow our guide for the best plants to cover the garden quickly and fill up your yard with beautiful flowers.
A fast-growing evergreen climber such as clematis armandii fills the area in no time at all while wisteria takes a couple of years of steady growth before it blooms. The best way to determine the length of time for maturity is to read the plant care guide that comes with your plant.
Are Climbing Vines Easy to Maintain?
Many climbing plants such as passion flower (passiflora), Boston ivy, or morning glory are easy to maintain by following a few simple gardening rules. It's important to prune away dead or damaged growth to ensure a healthy plant.
There are also times when it requires directing or limiting if the vines start growing away from the support. Performing these routine forms of maintenance is essential to prevent unruly climbing plants from going off on their own.
Clematis (Clematis x jackmanii)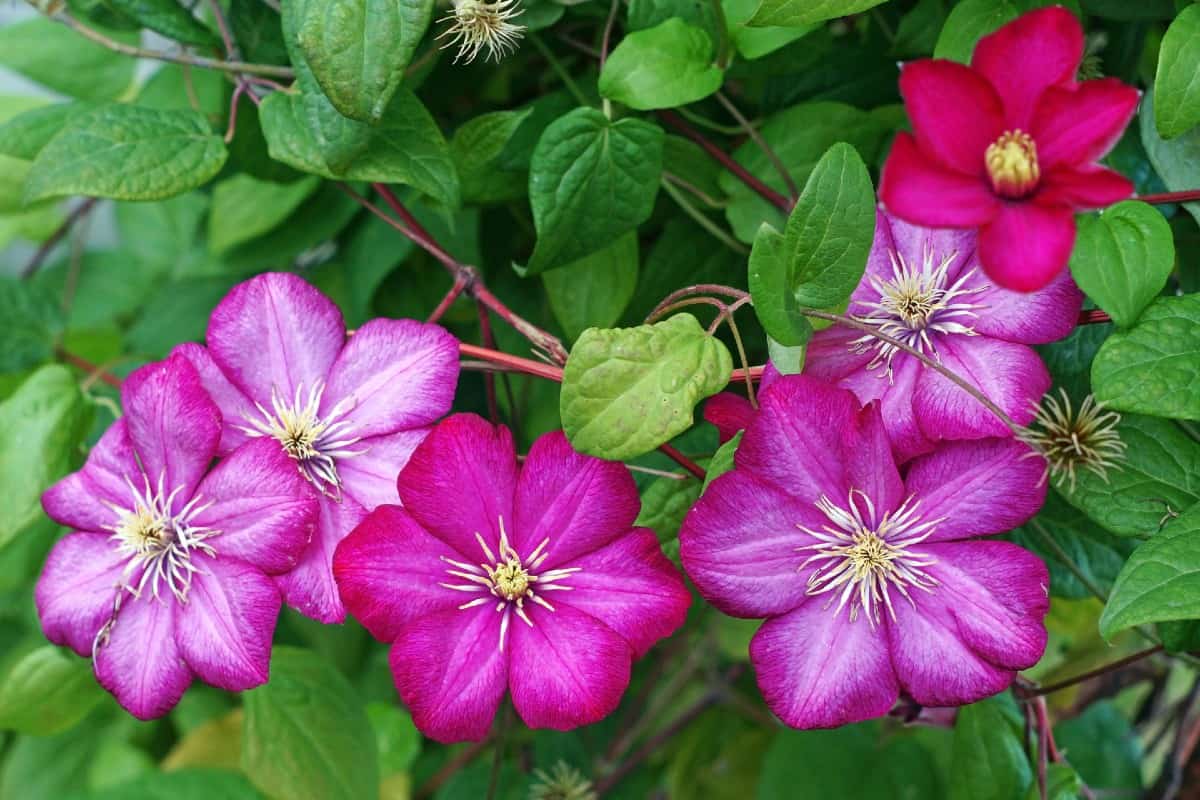 Clematis is a showy vine that produces blooms from late spring to fall, depending on the variety. It comes in a variety of shapes, sizes, and colors, including purple, blue, red, white, pink, and yellow. The blue/green foliage twines its way through a trellis with ease.
This perennial vine reaches heights up to 20 feet or more, depending on the type and thrive in full to partial sun. It is low maintenance and attracts birds with its fragrant blooms. For best results, grow this vine in zones 4 through 9.
Honeysuckle (Lonicera) – Easy Growing Climbing Plant that Attracts Hummingbirds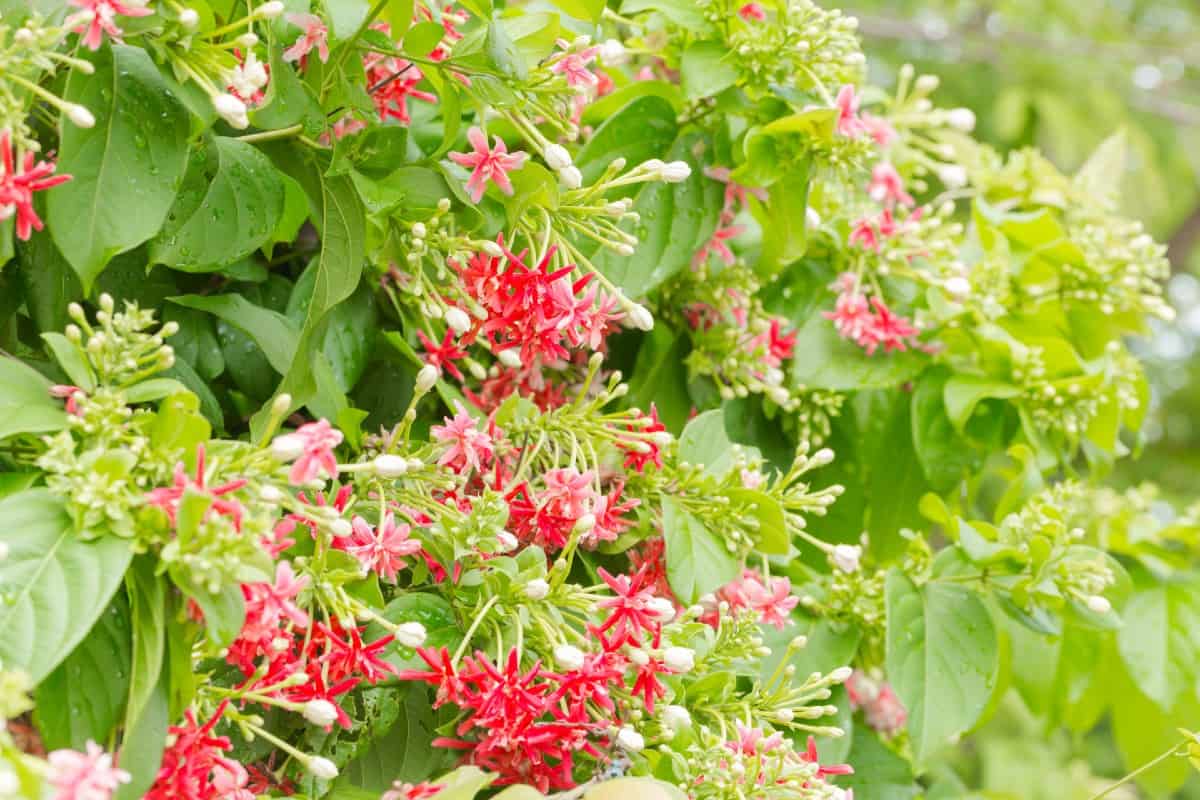 These easy-care climbers produce clusters of tube-shaped flowers that attract hummingbirds. They are also plants that attract butterflies of several varieties and bees. The blossoms come in various colors, including red, white, and pink, with chartreuse/gold foliage. These vines are favorites in country style gardens.
Honeysuckle vines reach heights up to 20 feet or more and fill trellises with ease. These perennial vines grow in zones 4 through 9, and are fragrant, low maintenance, and attract birds with its summer and fall blooms.
Climbing Roses (Rosa setigera)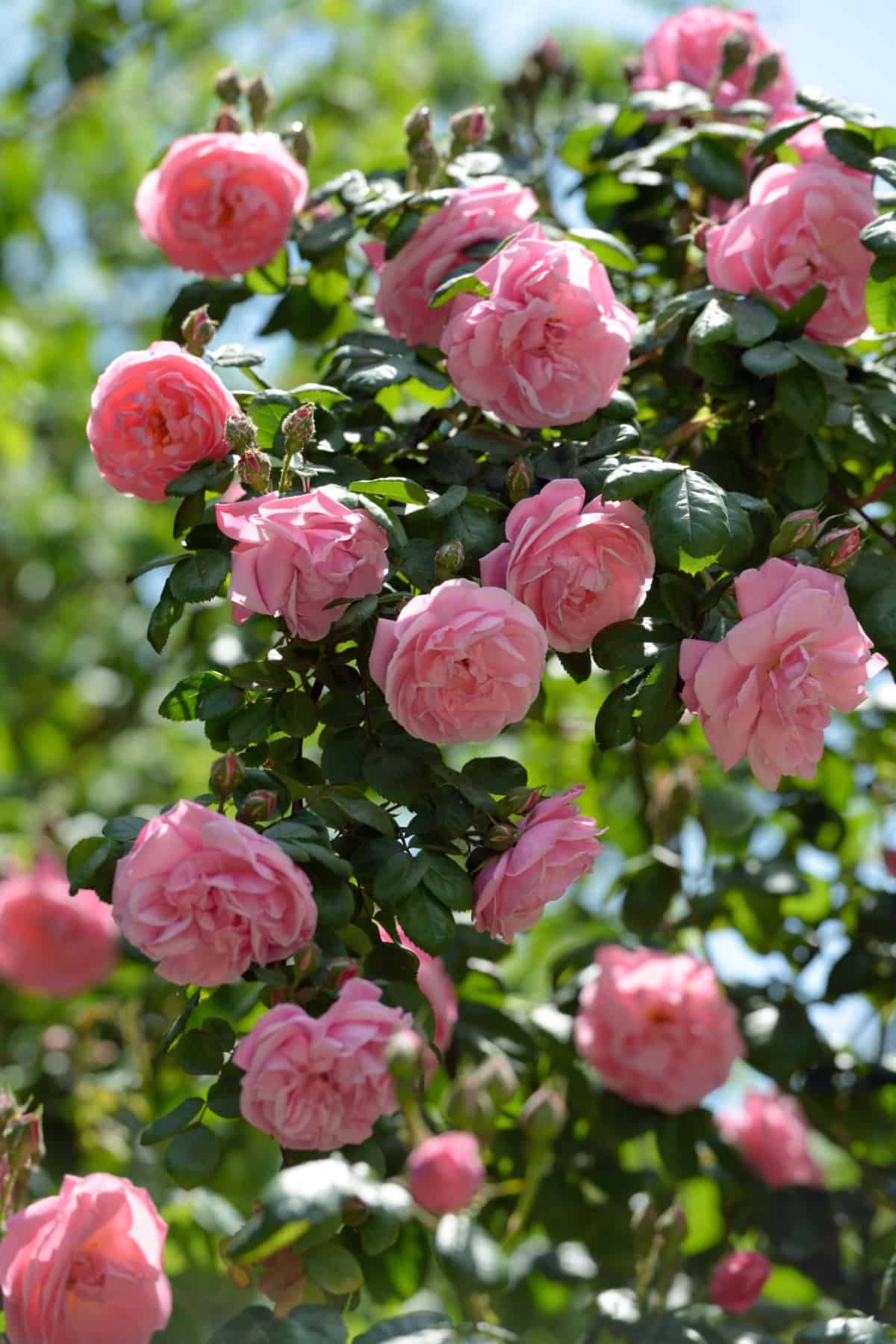 There is nothing better than a rose with many petals of fragrant blossoms in shades of white, pink, yellow, orange, blue, and red, and climbing roses are no different.
These fast growing rose bushes are well adapted to climb on just about anything from an arbor to a fence or trellis, and they flower continuously from early summer through fall. Climbing roses are a perennial vine in zones 4 through 11.
They reach heights up to 20 feet with a width up to 6 feet, making them bushy climbing roses, depending on the variety. These fragrant vines are deer resistant and attract birds to the garden as well as adding brilliant color to the yard.
Trumpet Vine (Campsis radicans) – Fast Growing Climbing Plant that is Easy to Grow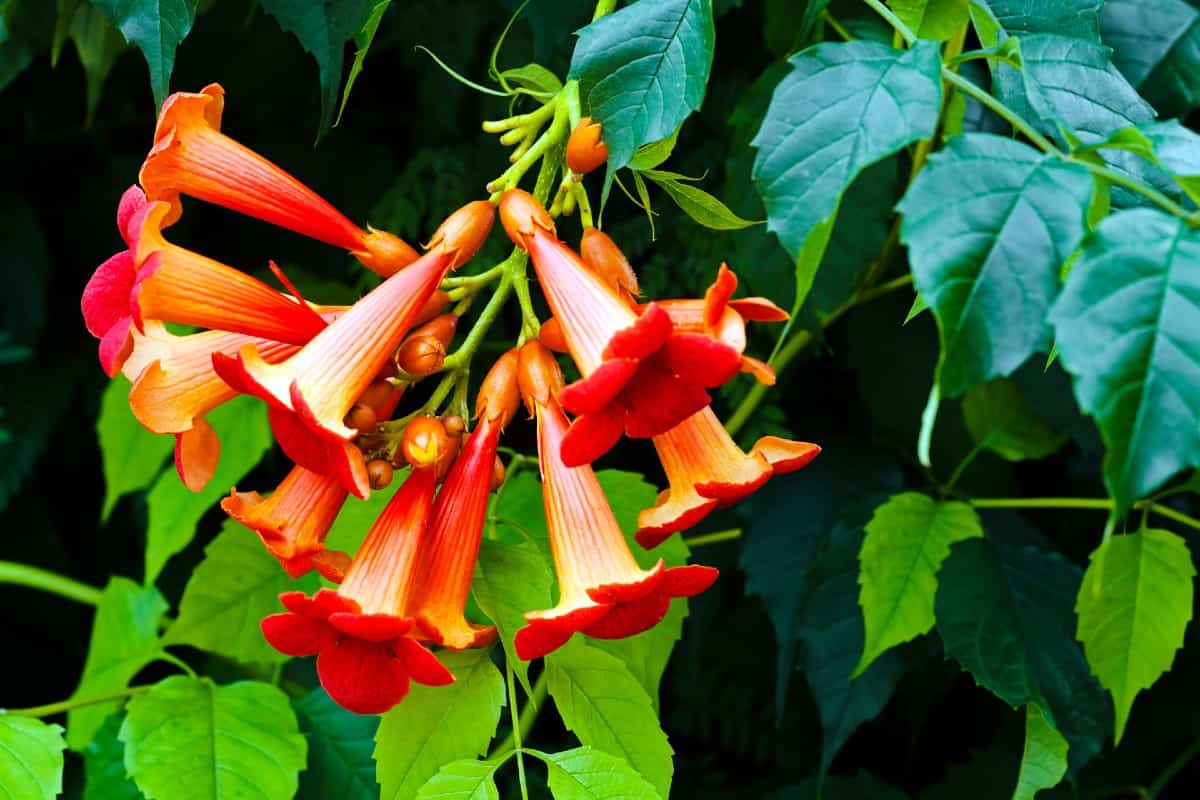 The Trumpet vine is a fast-growing climbing plant that produces loads of brightly colored, trumpet-shaped blooms from summer through fall. These orange, red, and yellow blossoms fill the vine with ease and complement its deep green leaflets.
With a height of up to 20 feet or more, the trumpet vine quickly fills empty spaces in the yard. It grows best in zones 5 to 8 and is drought tolerant. This perennial vine attracts birds with its colorful display of flower blooms.
Boston Ivy (Parthenocissus tricuspidata)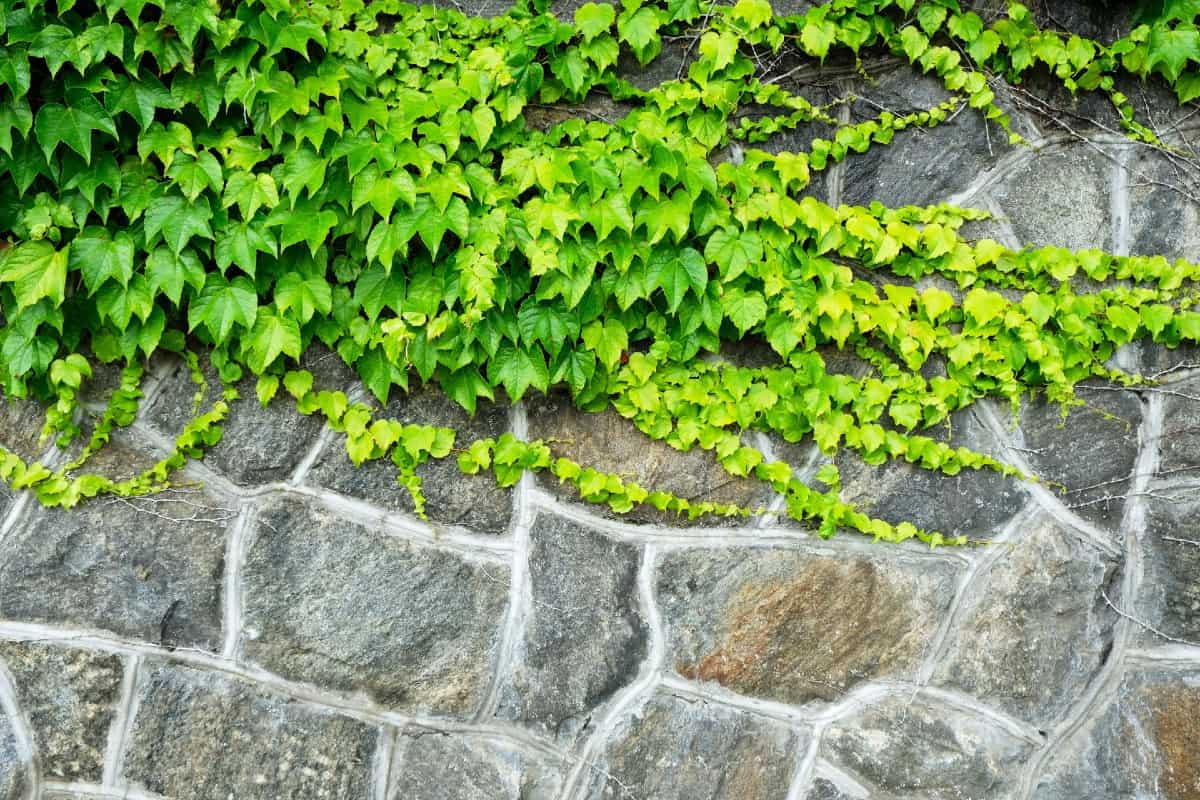 Boston ivy is a vigorous vine that proliferates over rock walls, brick, and structures such as arbors and fences. You can also find this ivy in easy to care for hanging plants nestled among colorful flowers and casually draping over the side.
Commonly found growing on sides of buildings, this vine has lustrous green foliage that turns to shades of yellow, red, and orange during the fall months.
During the autumn, birds migrate to the vine to eat its purple-black berries. With a height that reaches well over 20 feet, this vine is an excellent choice for covering unsightly structures. This perennial grows best in zones 3 to 9 and is deer resistant and low maintenance.
Bougainvillea (Bougainvillea glabra) – Low Maintenance Tropical Climbing Plant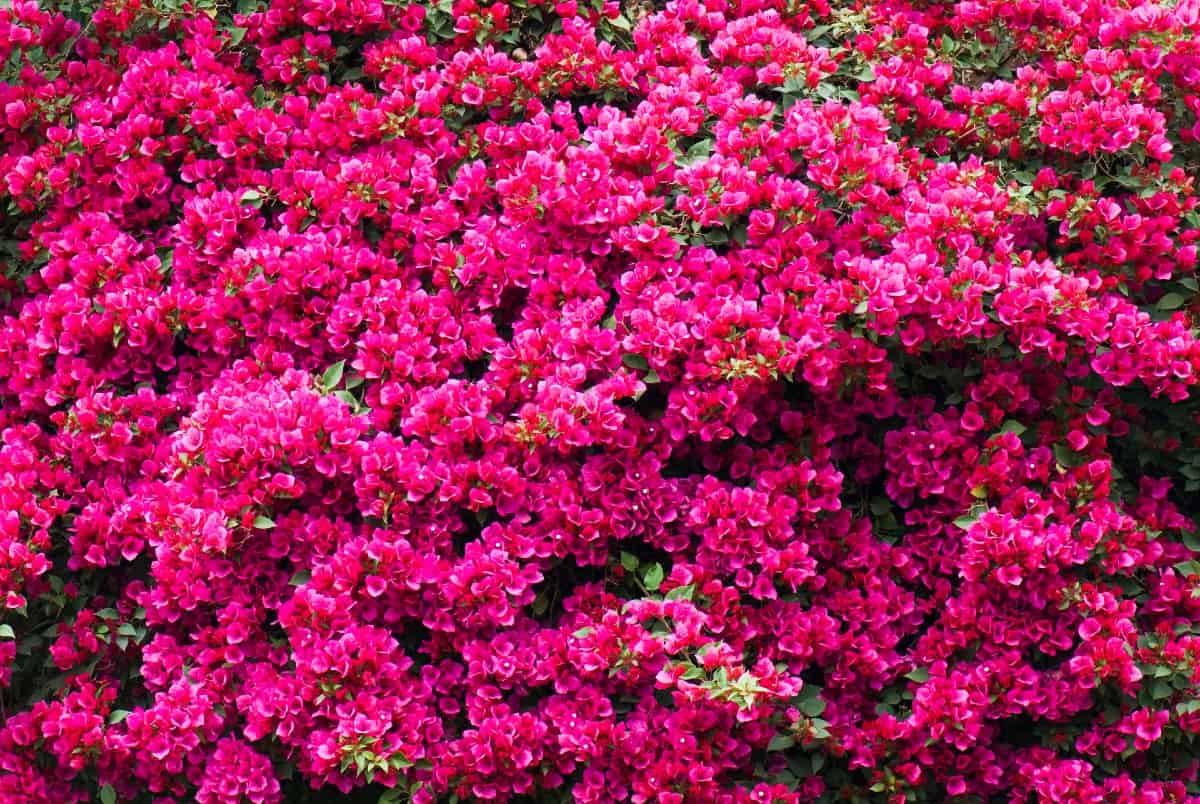 This tropical vine bursts with stunning color in the spring with shades of red, white, pink, purple, orange, and yellow, and continues blooming through the season. Bougainvillea is hardy and attracts birds to the yard; just be careful of the nail-like thorns.
This perennial vine is drought tolerant and grows best in zones 9 through 11. It's low maintenance and drought tolerant and grows well in sunny locations. Bougainvillea grows well along walls, trellises, or a fence to fill the area with season-long blooms.
Sweet Peas (Lathyrus odoratus)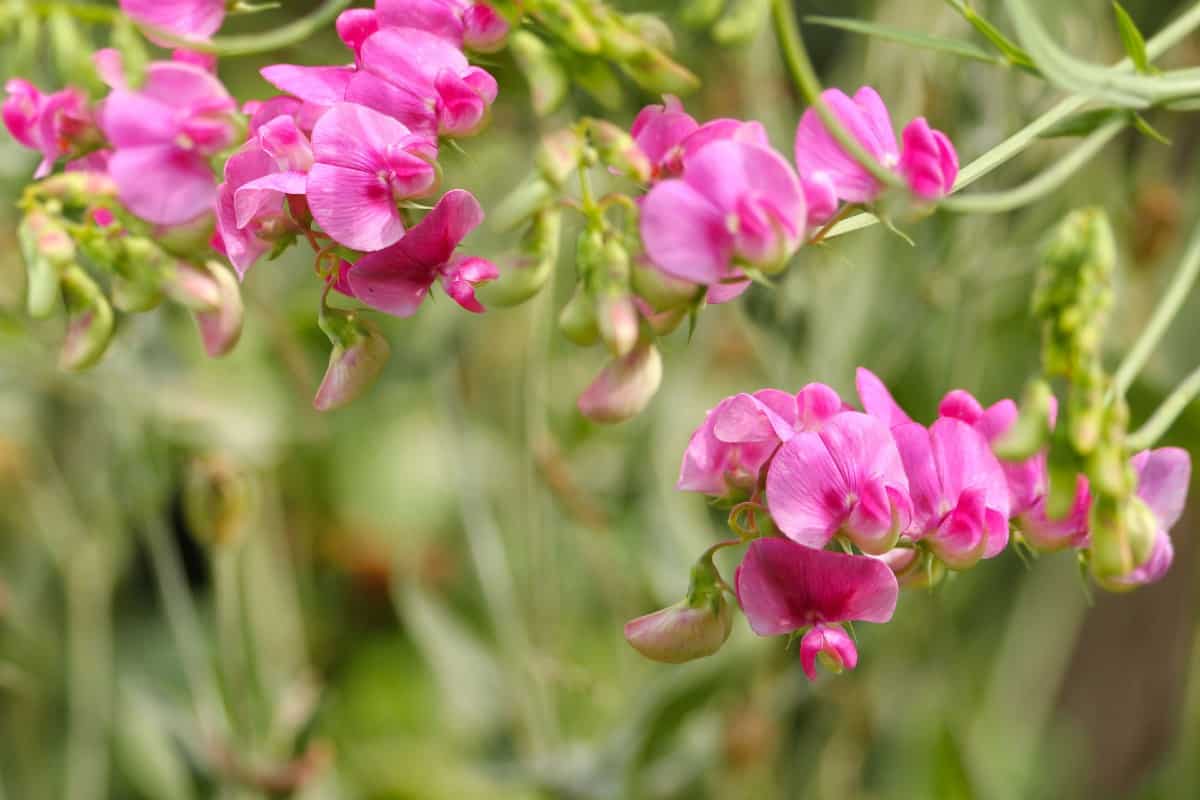 During the spring, these annual vines grow fragrant blossoms during a short growing season. Their sweet and spicy scent carries on the breeze during cooler months of the season, and their blooms range in color from blue and white to pink and red.
Sweet peas are known for their fragrance and are not only a vine but a cut flower as well. It grows best in zones 6 to 9 and climbs a height of 8 to 20 feet. Place this annual in full sun and enjoy spring-time blooms.
Moonflower (Ipomoea alba) – Fast Growing Evening Flowering Garden Vine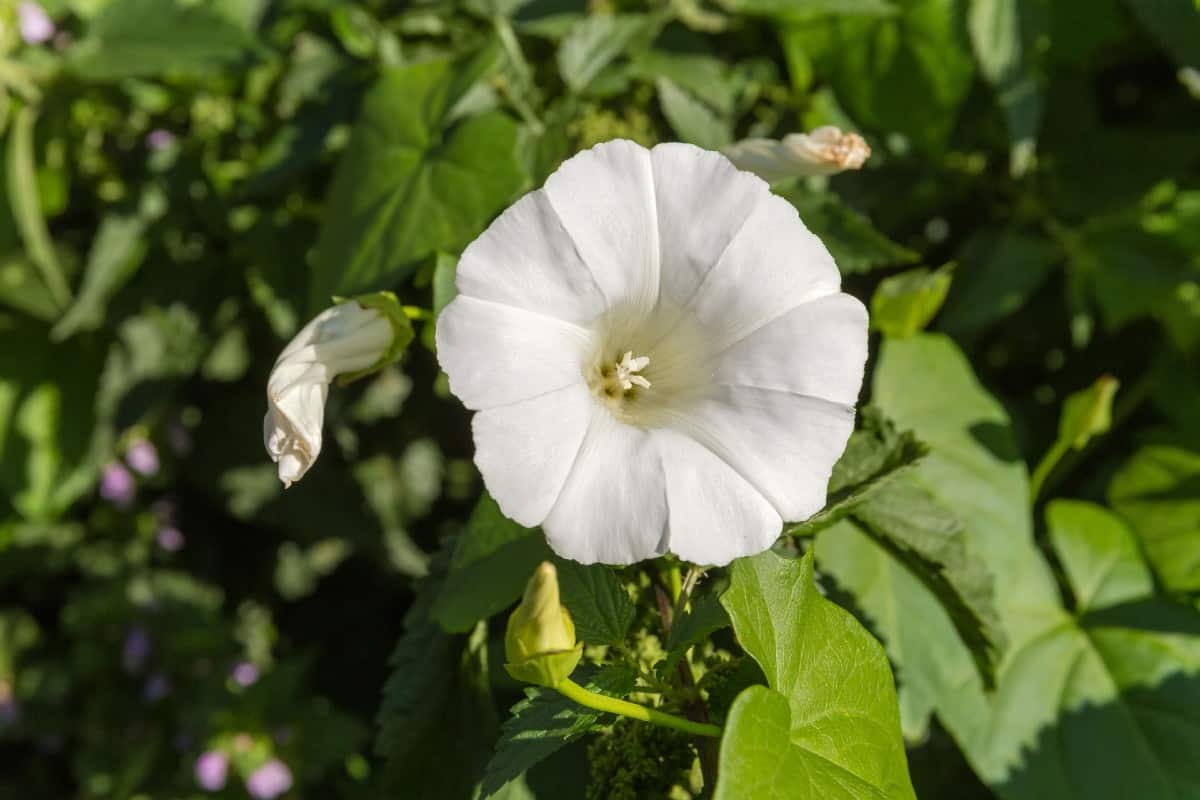 Moonflowers are best known for their large white flowers that blossom in the evenings. The six-inch flowers have a strong, fragrant scent that draws in nocturnal moths for pollination.
While the moonflower is an annual in most areas, it is a perennial in zones 10 and 11. This deer resistant, low maintenance vine grows up to a height of 20 feet. Place the moonflower vine along a fence or in a container in a sunny location.
Climbing Hydrangea (Hydrangea petiolaris)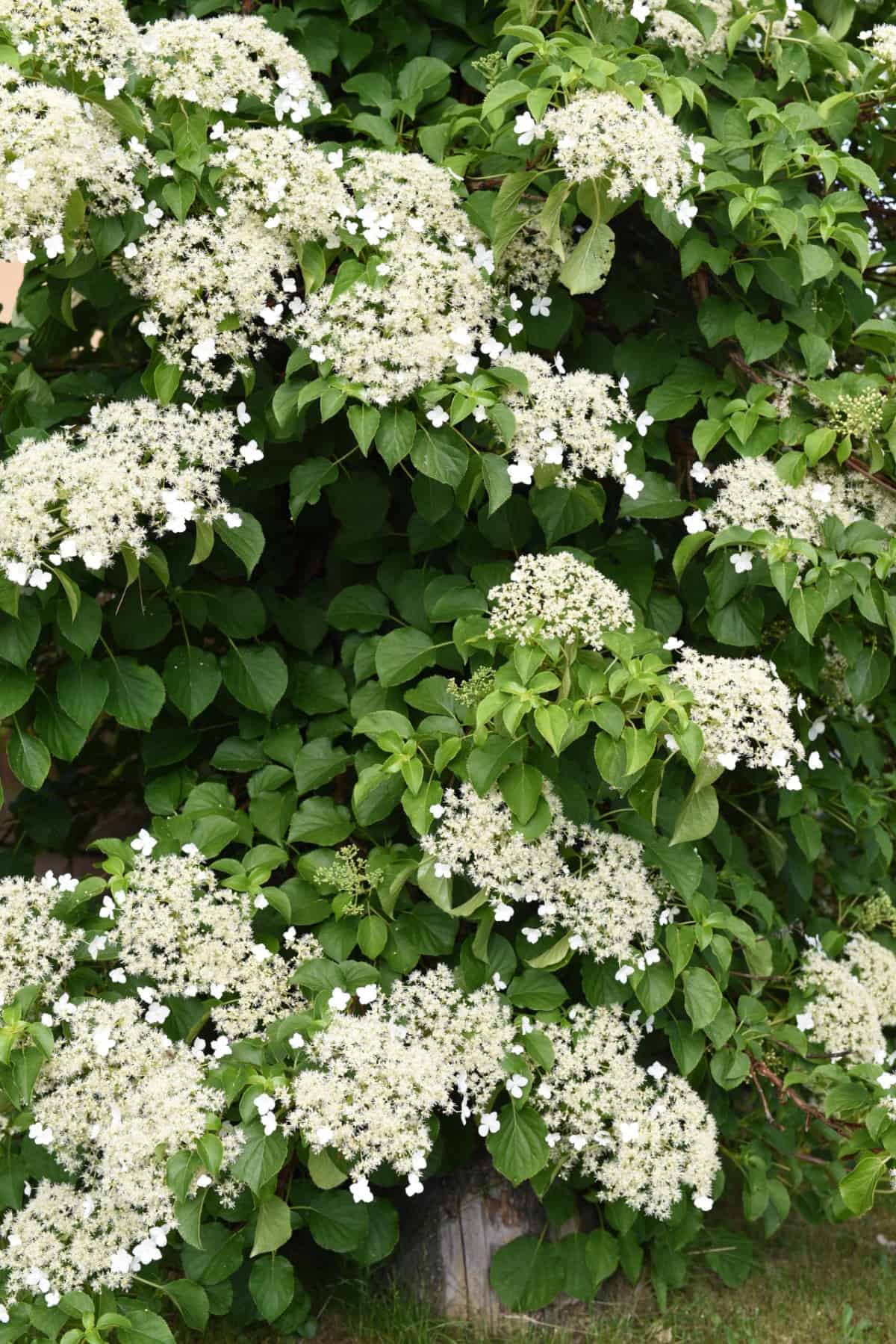 Climbing hydrangea produces robust clusters of white flowers in contrast to its rich, green foliage. It has aerial roots that grow into any structure it is planted beside, whether it is a tree or a fence.
Use this hydrangea as quick growing privacy plants to separate you from your neighbors while beautifying your yard at the same time.
This perennial vine grows best in zones 4 through 9 and thrives in shady areas. It is a low maintenance plant that reaches a height of up to 20 feet or more. Its summer blooms make excellent cut flowers.
Wisteria (Wisteria Sinensis) – Whimsical and Fragrant Flowering Vine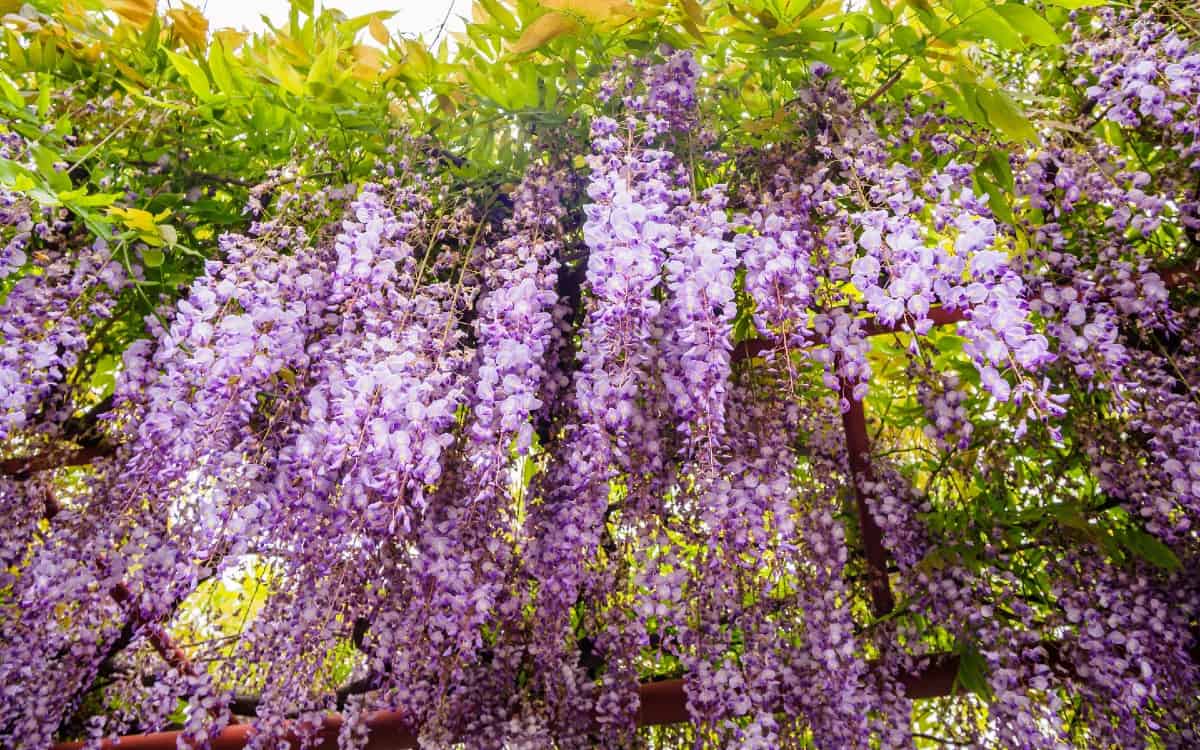 Walking beneath a wisteria plant in full bloom is a dreamy, almost fairytale-like experience. Thick, woody vines drip with highly fragrant clusters of flower blooms in colors of blue, white, and pink. Enjoy spring and late summer blooms and colorful fall foliage with this plant.
This perennial vine grows well in zones 4 through 9 as long as it gets proper care and full sun. There are many varieties of wisteria, and this deer-resistant vine climbs to a height of 20 feet or more.
Virginia Creeper (Parthenocissus quinquefolia)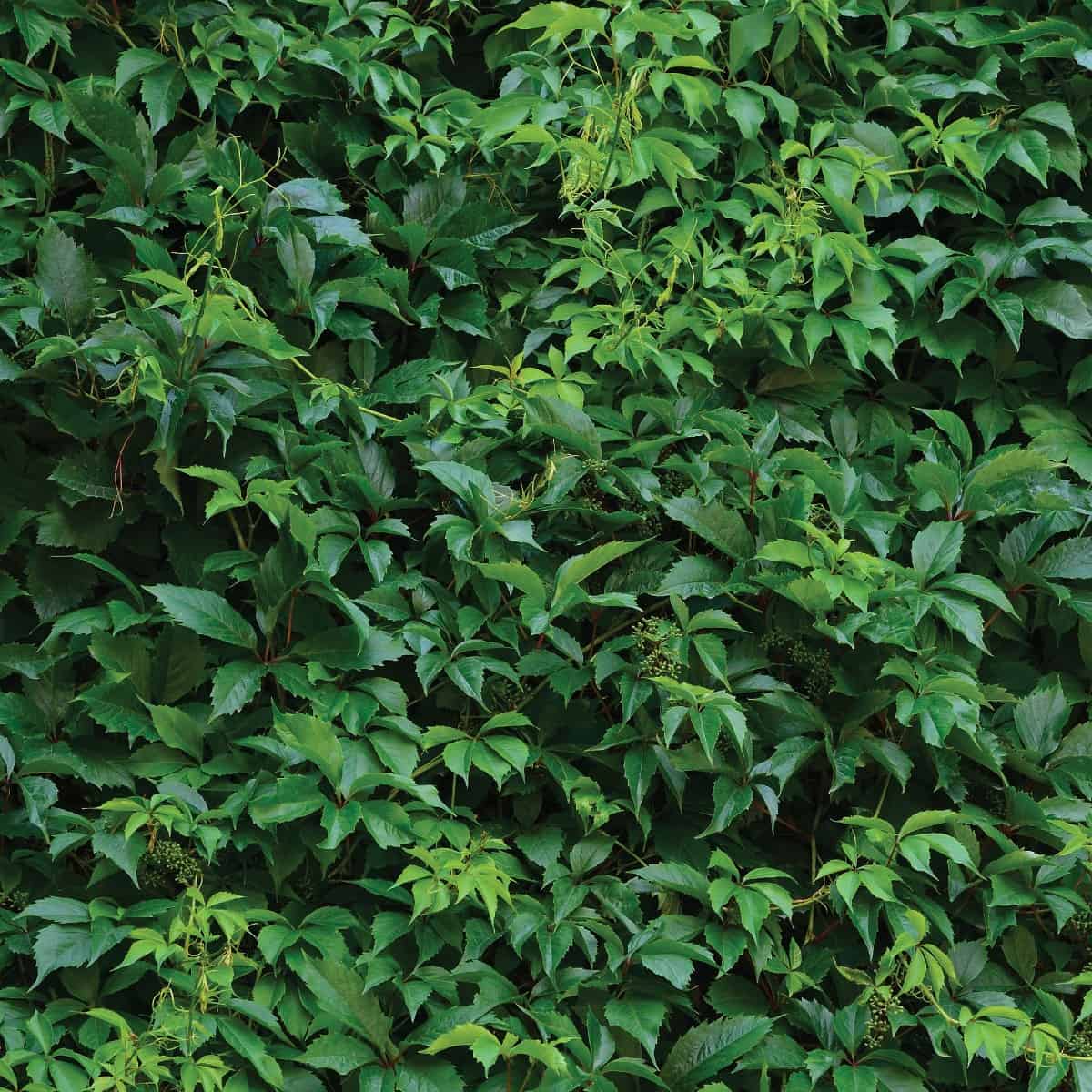 Virginia creeper is primarily grown for its foliage and berries. Its summer-time green leaves change to a bright display of purple and reddish colors in the fall, and it grows well against masonry and stone.
This perennial vine has a mature height of up to 50 feet with a spread up to 10 feet. It's not finicky when it comes to sunshine and tolerates both full sun and full shade. This deciduous vine grows well in zones 4 through 9, is deer resistant, and enjoys well-drained soil.
Morning Glory (Ipomoea purpurea ) – Fast Growing Vines with Morning Blossoms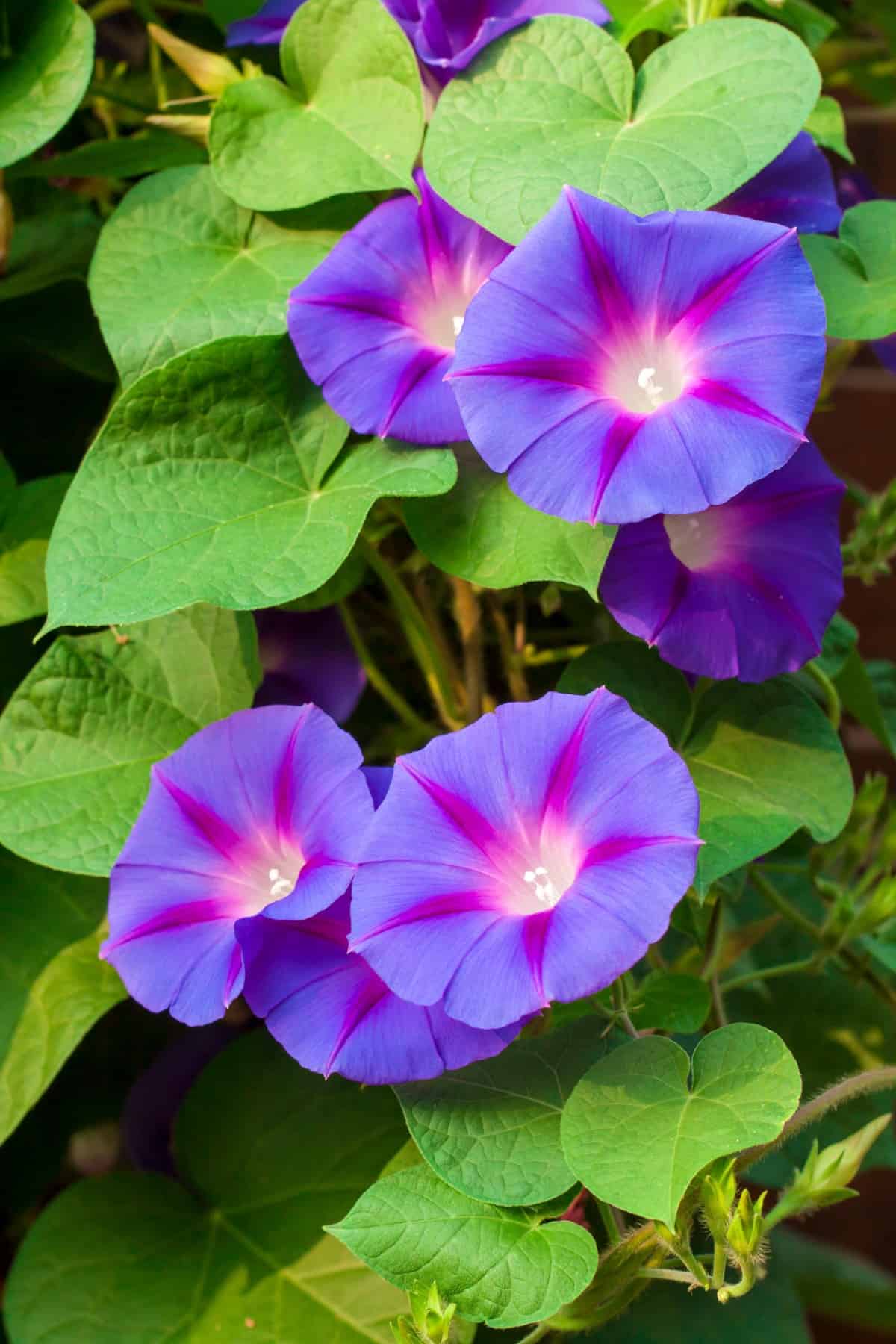 Morning glory flowers are gorgeous vines of trumpet-shaped blossoms that produce blooms all summer long. As the name suggests, morning glory flowers open their blooms in the morning and die by the end of the day. The flower colors range from purple, red, and blue to orange, white, and pink.
Morning glories reach a height of up to 8 to 20 feet, depending on the type, and grow best in sunny locations. These vines are grown annually except in zones 10 and 11. They are low maintenance and attract birds to the yard.
Dutchman's Pipe (Aristolochia)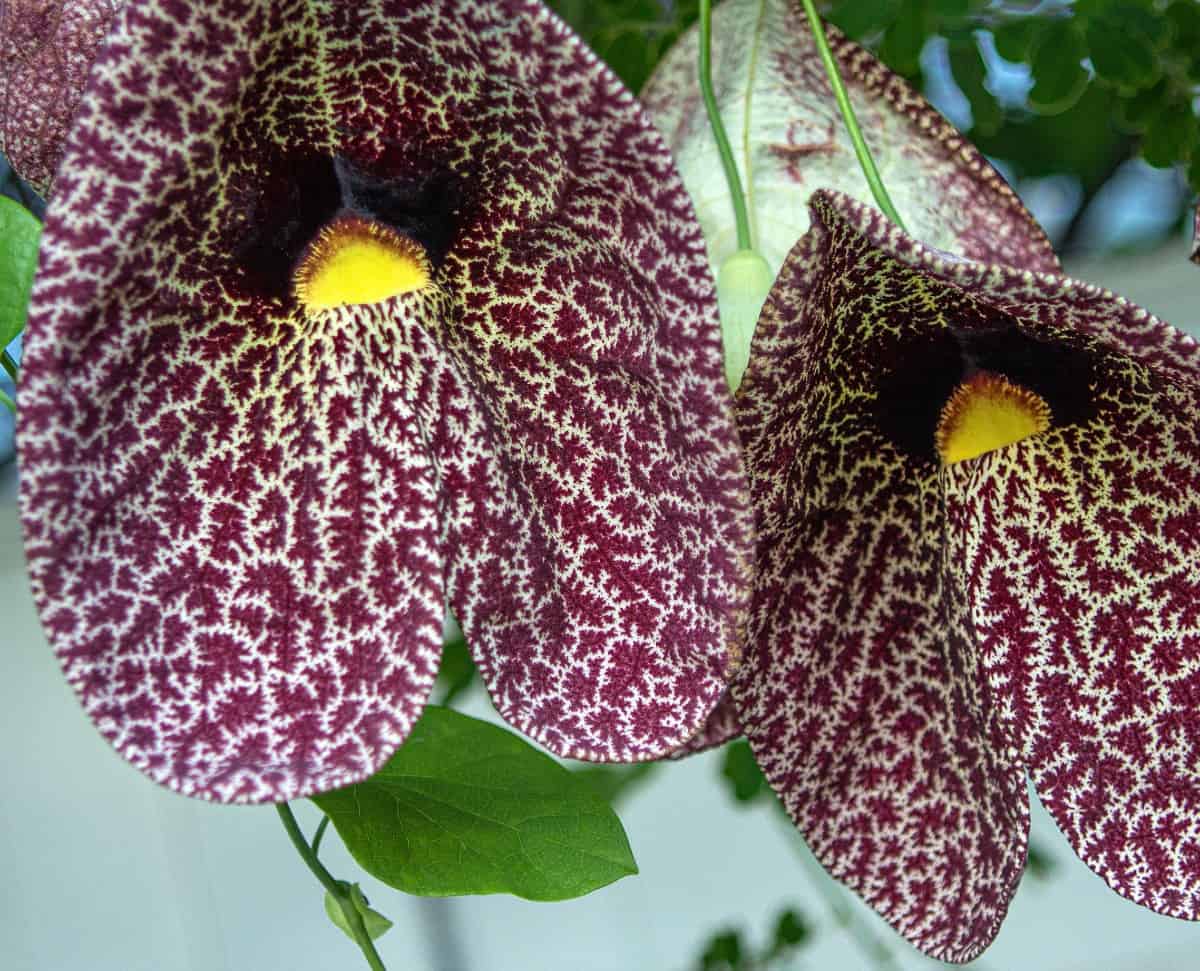 If you are into the extraordinary, the Dutchman's pipe is the vine for you with its large, heart-shaped leaves and exotic summer-time blooms. The fragrant flowers resemble a Dutchman's pipe, hence the name.
This low maintenance plant thrives in partial to full sun, grows in zones 4 through 8, and reaches a height of 20 feet or more. This vigorous, twining vine is an attraction for the pipevine swallowtail butterfly and many bird species.
Chocolate Vine (Akebia quinata) – Unique Fragrance Climbing Plant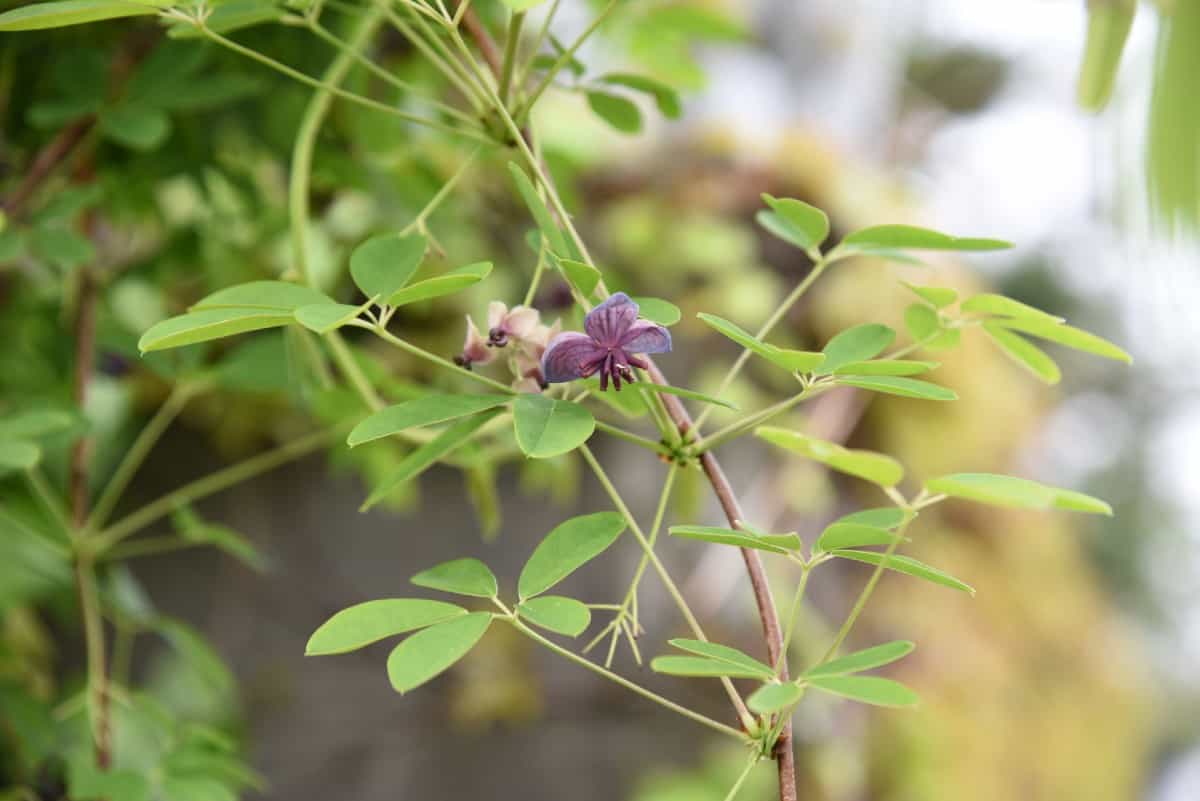 This deciduous vine produces chocolate-scented, delicate white and purple flowers in the early spring but is best known for its lush foliage. The green/blue leaves are divided into leaflets, giving the vine a soft-textured appearance.
This perennial vine grows to a height and width of 20 to 40 feet and requires sturdy support. The chocolate vine is a great candidate for a living fence or privacy screen, is low maintenance and grows best in zones 5 through 8.
Climbing plants not only add beauty to the yard, but they provide natural screening and areas of lush, green height that low growing plants cannot match. They're also a great way to hide unsightly structures while creating a sense of solitude to the garden. While these types of plants may seem challenging to grow, they are quite easy once you know which plants to choose for your area.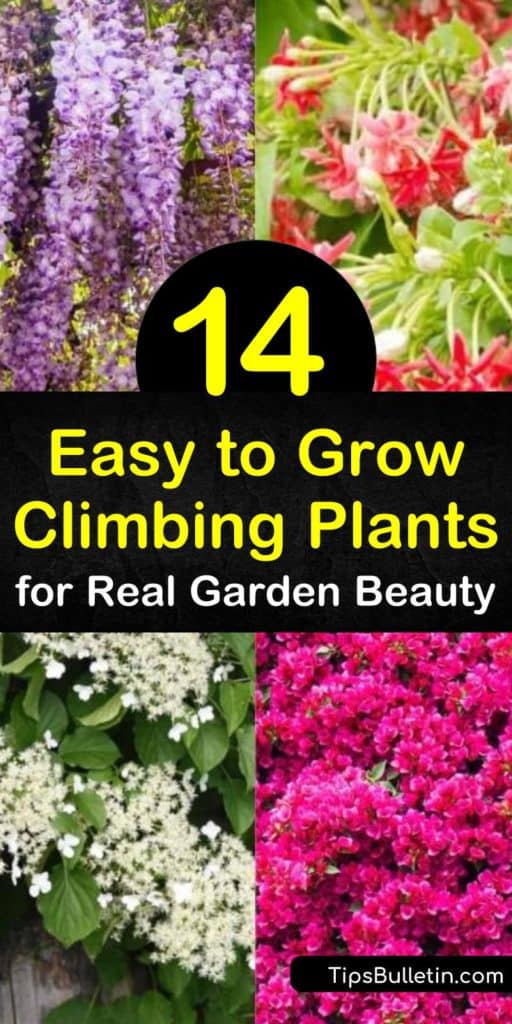 Filling blank or boring areas of the yard with easy to grow climbing plants makes you look like a gardening pro, so why not share our easy growing climbing plants with your family and friends on Facebook and Pinterest?