Not everybody who wants to grow their own food is able to because of having limited yard space. Raised beds outside are one solution, but they don't work for everybody. If you have limited gardening space, we can help with a list of easy to grow edible plants for the indoors.
All of these plants thrive inside under the right growing conditions, but they aren't limited to the indoors as they do even better outdoors. When considering the best easy to grow edible plants, always consider your hardiness zone, as well as lighting requirements for the plant.
All of the information about growing edible plants comes with the plant. Seed packets contain the information needed on the back of the package. Starter plants often come with a small plastic tag identifying the plant, as well as its ideal growing conditions. If all else fails, talk with an expert at your local nursery, as they are a great source of knowledge for your specific area.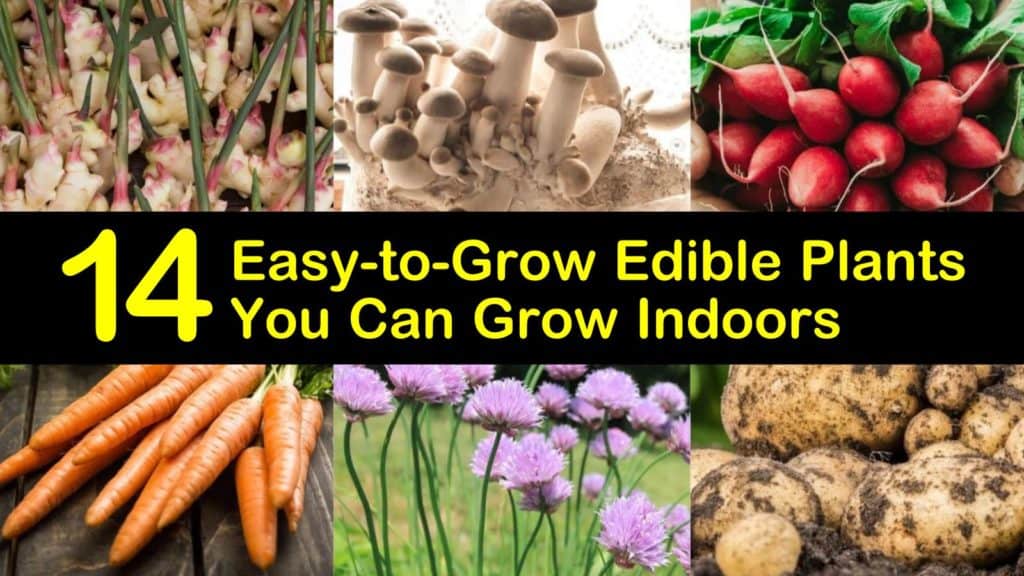 Best Edible Plants to Grow Inside
When planting an indoor vegetable garden, not only do you want easy to grow edible plants, you want healthy and tasty ones. When looking for easy to grow edible plants, consider your growing zone, as well as lighting and soil requirements.
It's easy to learn how to grow jalapenos from seeds, just as it is a variety of veggies and herbs.
Keep in mind that you're not restricted to smaller plants. It's also easy to grow fruit. Some of the best indoor fruit trees include lemon (as long as it gets enough sun) and olive (yes, it's considered a fruit).
Note that not all of your favorite foods do best indoors. The best way to grow cranberries is usually outside. Planting cranberries in a garden bed encourages them to thrive and give you a larger crop.
Useful Growing Tips for Edible Plants
Everybody enjoys fresh produce. Sure, you can grab some at your local grocery store or farmers market, but nothing compares to growing your own at home. Growing veggies indoors or outside is done in a variety of ways, from planting outside in raised beds, directly in the ground, or in pots you keep on a windowsill. Growing food at home also includes using sunny windows with the correct sized pots.
All edible plants require well-draining soil, as waterlogged soil encourages root rot. There are two ways to promote soil drainage. The first option is to use a pot with holes in the bottom. If using this option, use a saucer or plate to catch any dripping water.
Your other choice is to place rocks along the bottom of the pot before adding soil. This option allows excess water to drain down into the stones rather than sit in the ground.
In general, most edible plants do fine in a sunny location, such as a south-facing window. If you lack windows or want to plant more than what your windows hold, invest in some grow lights. Grow lights are excellent for indoor growing as they provide the optimal temperature and lighting requirements for the plants.
You can also move the plants outdoors during the day to soak up the sun and move them back indoors at night. Sunlight, soil, and water are the three most essential elements in growing plants indoors, but they are not the only things to consider.
New gardeners often overlook container size. To ensure you select containers big enough for your vegetables, do some basic research. Knowing the full breadth of the mature plant helps ensure you choose a large enough container from the start.
The hardest choice you will have is finding what vegetables to plant in winter, as well as herbs and fruit. Growing them indoors increases the amount of time you can harvest certain ones and you can enjoy them all year.
Chives (Allium schoenoprasum) – Easy to Grow Edible Plants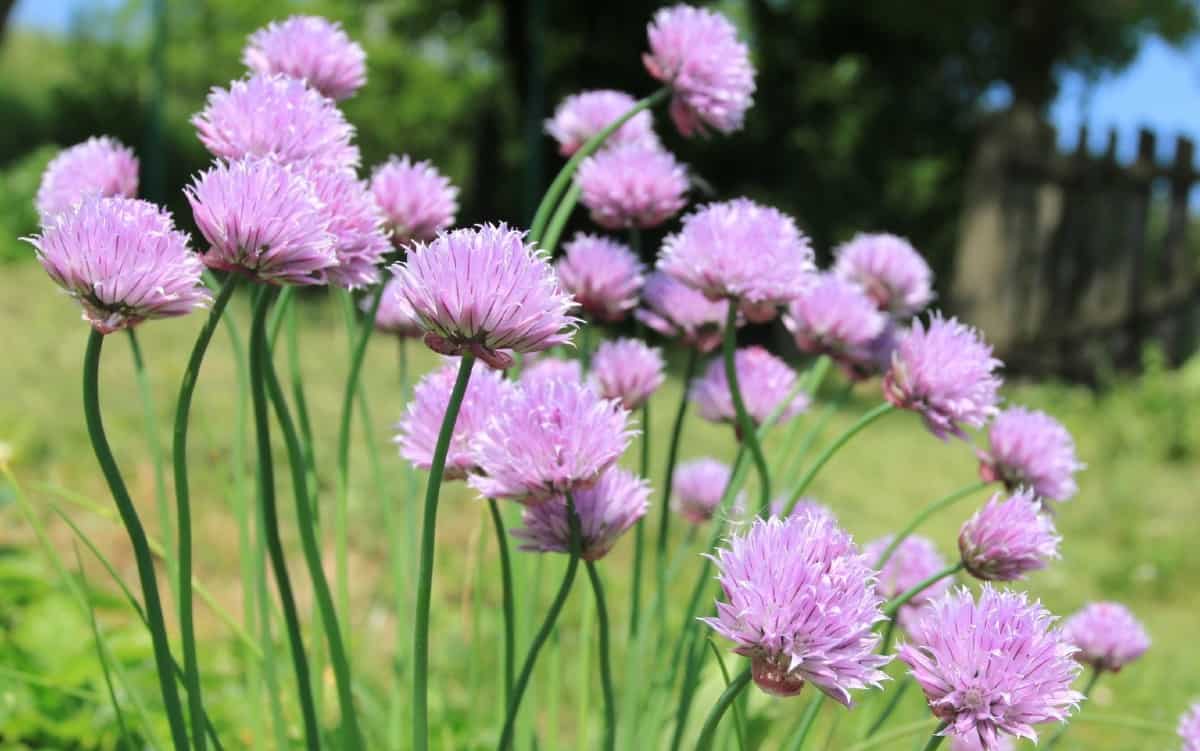 Chives belong to the onion family and produce beautiful purple, pink, white, or red edible flowers. Chives are invasive, so if left to their own devices, they will take over your edible garden. Common chives feature tubular blue-green leaves.
Garlic chives are similar to common chives, but have a distinct garlicky flavor and only produce white flowers. They do well in partial shade but thrive in full sun. Use fertile, well-draining soil and keep it moist.
Plant the seeds two inches apart, and once seedlings appear, thin down so plants are only 6 inches apart. Harvest the herb 60 days after planting and cut leaves down to the base.
In addition to chives, you can also grow onions at home, whether in a container inside or out, or in the garden.
Cilantro (Coriandrum sativum)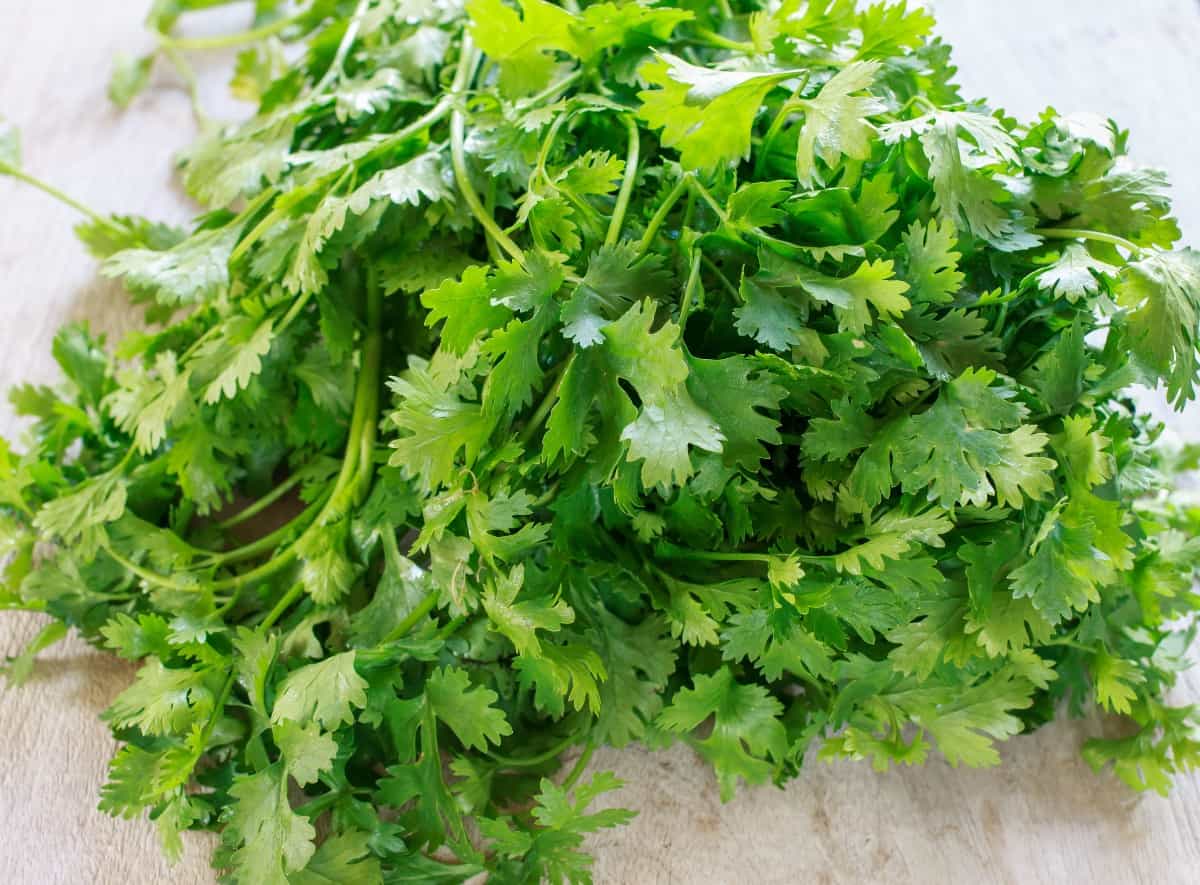 The entire Cilantro plant is edible, but most of us only eat the seeds and leaves. It's interesting to note that Cilantro and Coriander come from the same plant, but they are different parts. Cilantro is the leaves of the plant that are used as an herb. Coriander refers to the seeds which are used as a spice.
Plant your Cilantro in an herb garden with well-draining soil and space seeds two inches apart. For a continuous harvest, plant new seeds every three weeks. Cilantro requires a sunny location, but to prevent the plant from bolting, protect it from extreme heat.
Growing cilantro indoors is just as simple. A bright windowsill makes an excellent place for your pots.
Arugula (Eruca sativa)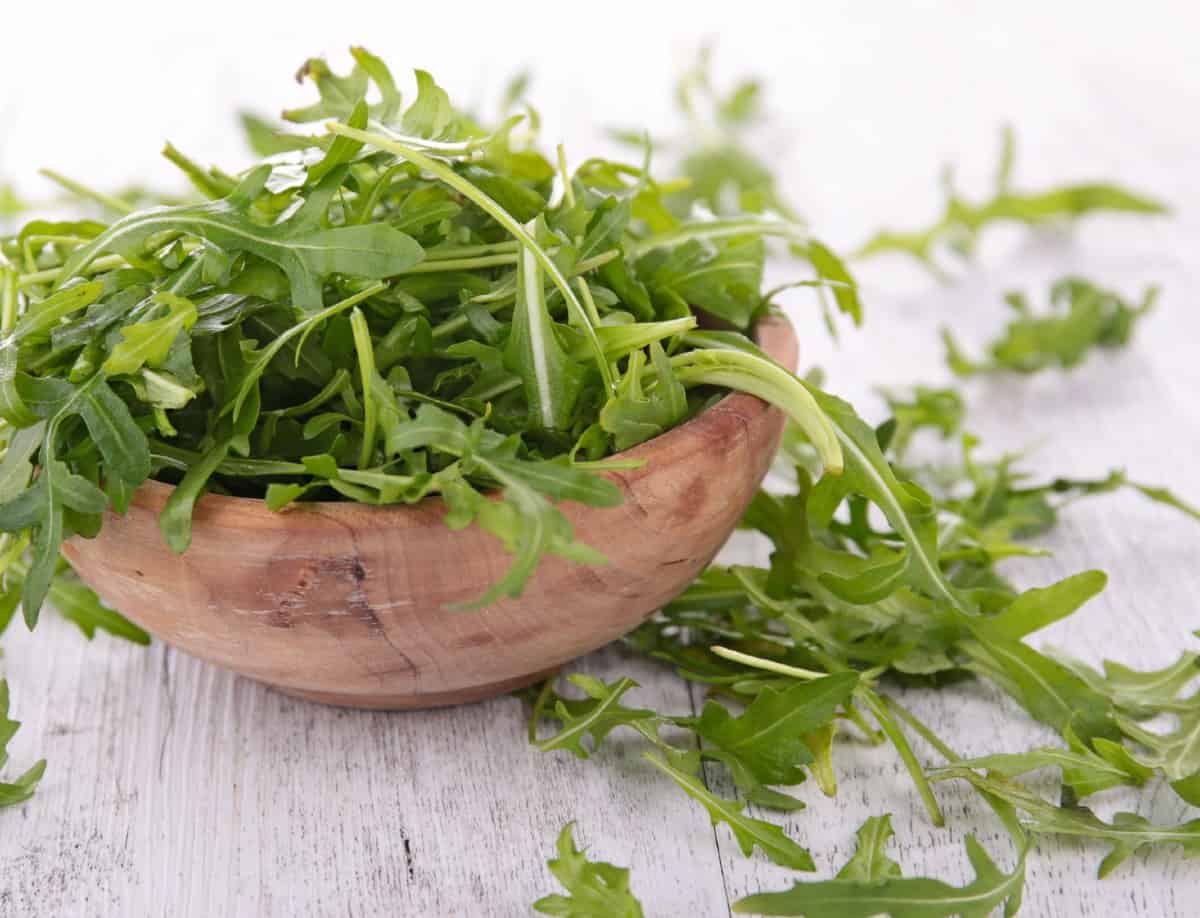 If you want to add a mustardy, tangy flavor to salads, try growing Arugula. Like the way to grow lettuce, this leafy salad green is easy to grow, and you can harvest it quickly in the right conditions. Opt for a hummus-rich, well-draining soil, but Arugula tolerates a variety of soil conditions.
For a continuous harvest for these quick growing vegetables, sow new seeds every two weeks. Germination occurs within a few days; harvesting occurs once leaves are two inches long — pick leaves by cutting one or two blades at a time or uprooting the entire plant. Keep the soil evenly moist and place in full sun for the best results.
You can even grow Arugula indoors in a pot – just ensure it gets enough sun and water.
Easy to Grow Edible Plant – Eggplant (Solanum melongena)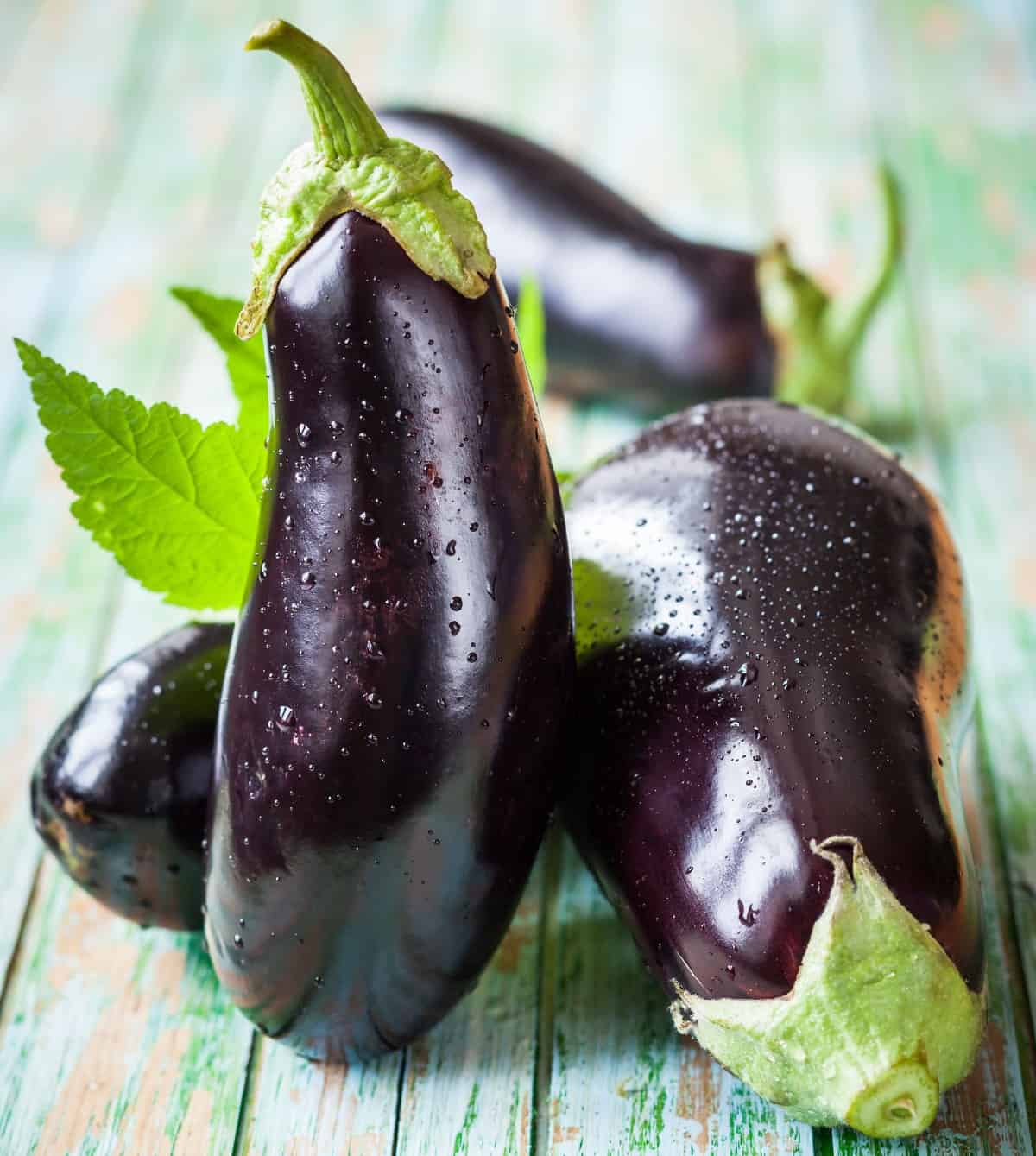 Growing eggplant types inside is tricky due to their heat and light requirements but growing eggplant in pots outside is possible, too. The seeds only germinate in temperatures of 70°F or higher. Either use a heat mat or turn up the heat in your home to get sprouts to emerge. Southern windows don't provide enough light, so set up grow lights to give eggplant a minimum of eight hours of full sun.
Self-pollinating indoor plants require hand pollination, so shake plants up to spread pollen or use a cotton swab to scrub each flower gently. Never allow temperatures to exceed 95°F as fruiting halts at high temperatures. Keep soil evenly moist with humidity ranging from 65 to 75%.
Radishes (Raphanus sativus)
With the small size and how quickly they sprout, growing radishes in pots in south-facing windowsills is easy. Although radishes require full sun, they tolerate partial shade. In hotter climates, the way to grow radishes includes some afternoon shade to protect from the heat of the afternoon sun.
Water the radishes well, once or twice a week, depending on the temperatures. Thin the seedlings after germination, so plants are one inch apart. Once radishes reach their full size, harvest them. Failure to collect immediately gives them a spicy and woody taste.
Microgreens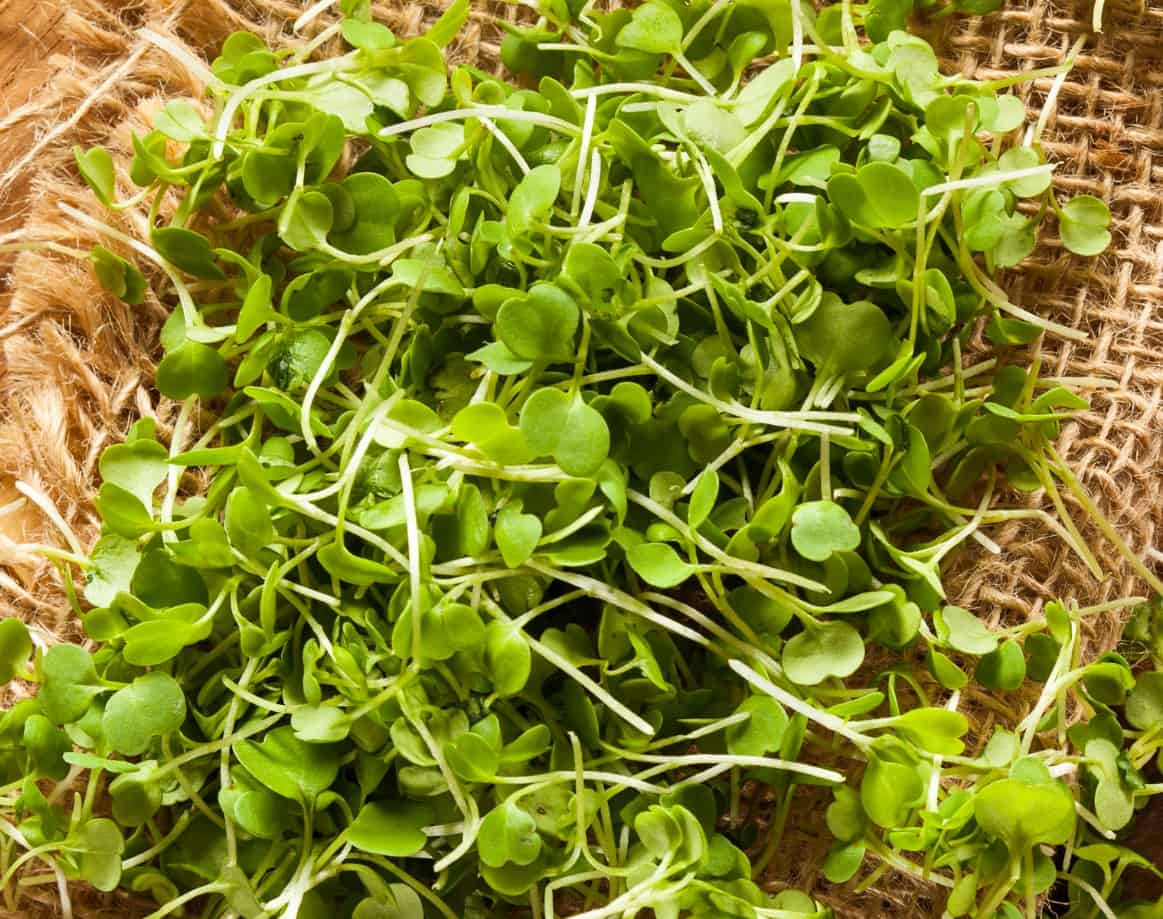 Grow these tiny but flavorful microgreens in a sunny windowsill in just a few weeks. For those unfamiliar with microgreens, they are ordinary veggies. Grow turnips, herbs, and radishes and harvest between five to 25 days after sowing. Harvest microgreens as soon as you see adult leaves.
When grown indoors, use grow lights with some seed flats. Opt for an all-purpose potting soil mix and add some coconut coir using a 3:1 ratio. Once seeds germinate, leave the grow lights on for up to 16 hours a day. Mist with water as needed, but don't soak the soil.
Kale (Brassica oleracea acephala) – Edible Plants that are Easy to Grow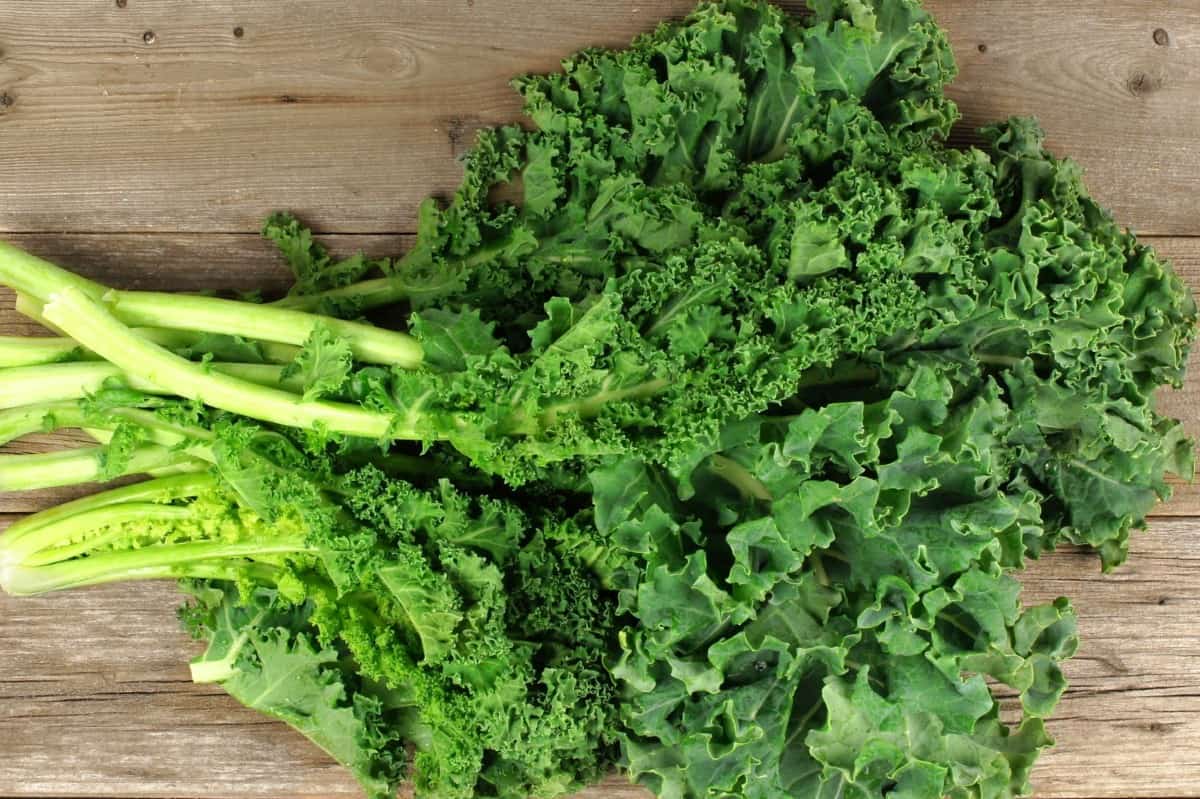 A great cold-hardy vegetable, kale does well outside in early spring and early fall, as well as indoors. Cooler weather is ideal for growing as it brings out the nutty, sweet flavor of these greens. When growing inside, plant seeds a bit further apart to give the plant room to grow.
Use a south-facing window, as kale requires full sun. Light, well-draining soil should fill your container. Thin out seedlings in two weeks, so they sit about 12 inches apart. Kale requires regular watering; water up to one and a half inches each week.
How long does kale take to grow? Seeds take up to ten weeks; transplants a little less. When to pick kale depends on whether you want baby kale leaves or mature ones.
Zucchini (Cucurbita pepo)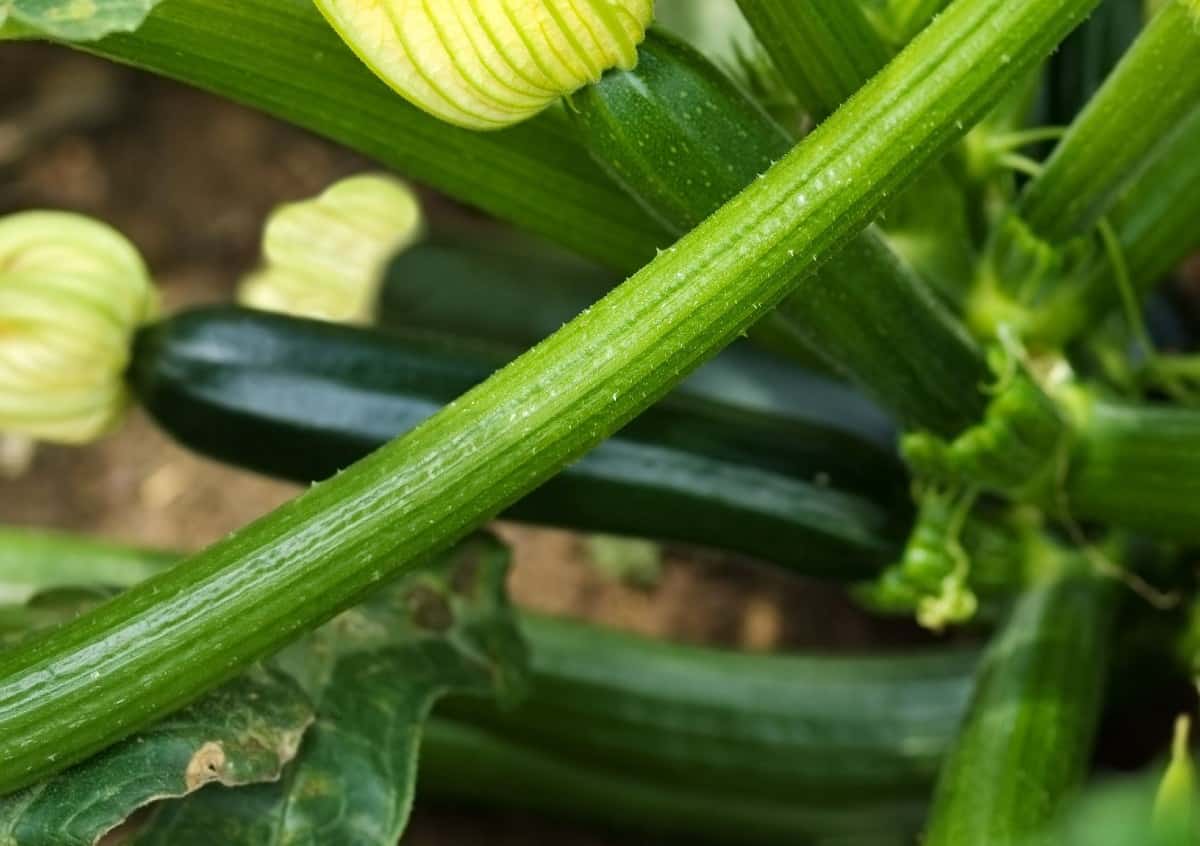 If growing Zucchini inside during the winter, place the pot in a south-facing window. South-facing windows get the best sunlight during the shorter winter days. When germinating seeds indoors, use a two-inch pot and soilless seed mix and only place one seed inside the container.
Four weeks after the seed germinates, seedlings are ready to transplant into a larger container. Use a five-gallon bucket or container for each plant. Use a soil-less potting mixture sold at local garden supply stores formulated for indoor gardening — water only when the top layer feels dry.
Salad Greens (Valerianella locusta)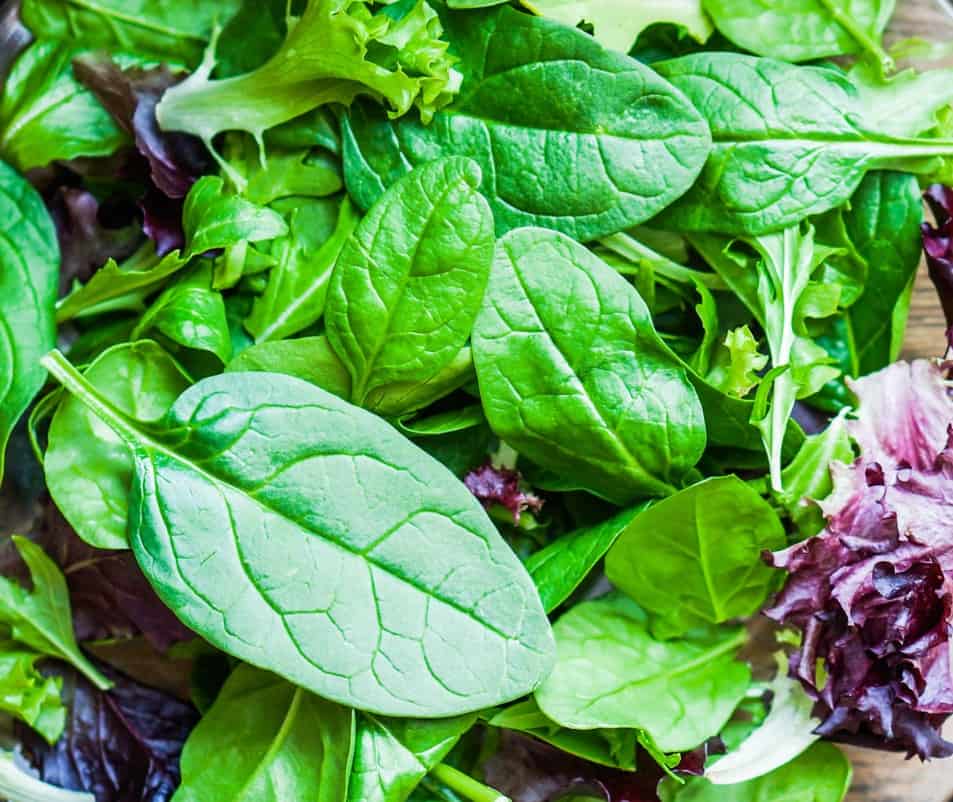 From the time you plant the seed to harvesting with any variety of salad greens is about one month. To grow a full, healthy crop when growing spinach from seed or another leafy green, choose a south-facing window, or opt for grow lights as this ensures the greens receive the light required for growth.
To maintain a constant supply of salad greens, sow seeds every week. Use a rich and loamy soil for planting seeds and amend it with organic mulch. Adding a soaker hose or drip line ensures the ground is always moist.
Low Maintenance Edible Plants – Carrots (Daucus carota subsp. Sativus)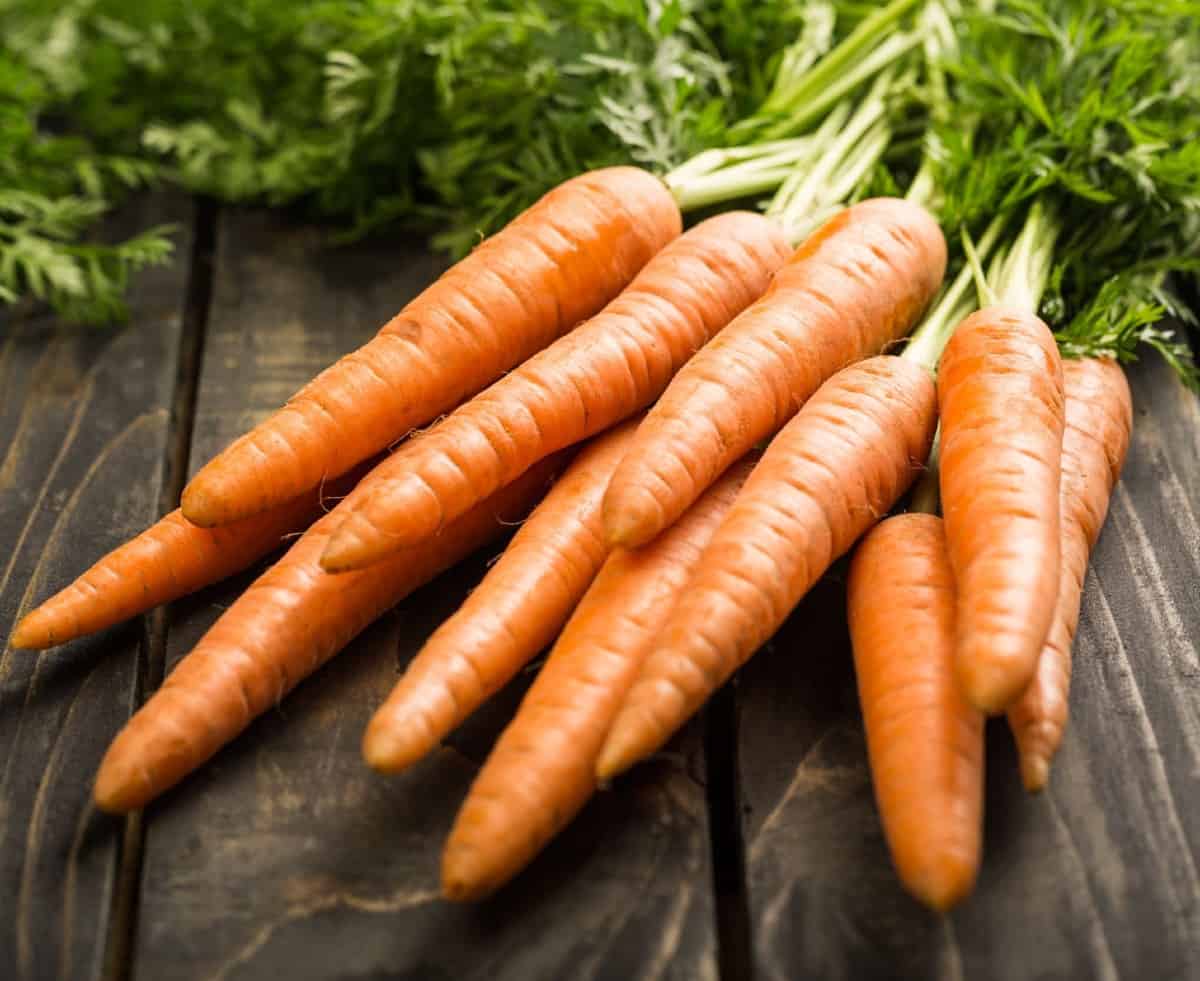 Carrots are popular root vegetables that are easy to grow in a variety of climates, as well as inside. The way to grow carrots is to use a 12-inch pot with drainage holes. Fill the pot with loose and sandy soil and place it in a sunny windowsill. Carrots take up to four months to mature. Failure to provide the correct soil leads to stunted or misshapen carrots.
After planting seeds, thin the crops as they begin sprouting, so plants are at least four inches apart. Carrots prefer moist soil, so water frequently. Do not let the top layer of soil dry to form a hard crust. Begin harvesting when they are about ½ an inch in diameter.
Of course, you can also plant carrot seedlings instead of seeds. The growth process will be a bit shorter.
Potatoes (Solanum tuberosum)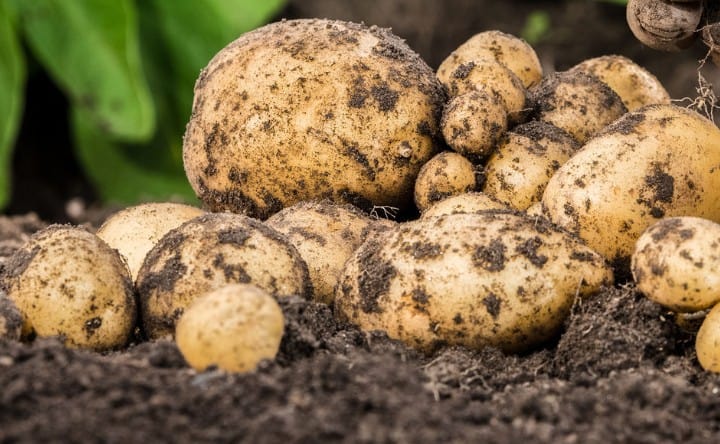 Potatoes are just as easy to grow indoors as they are outside, and they prefer cooler weather. If planting outside in the North, don't place them in the ground until mid-April; in southern areas, grow during the winter months. Use loose soil with excellent drainage; keep soil temperatures between 45° to 55°F.
Opt for a container large enough to house as many potatoes as you wish to grow. Grow a potato plant from a potato or seed potato 12 inches apart in an eight-inch deep trench. Cover the pieces with four inches of soil. After sprouts appear, add another three inches of soil but leave a few inches of the plant visible.
One benefit to growing potatoes inside is that you don't have to worry about pests eating the tubers. And, you can have potatoes virtually year-round!
Mushrooms (Agaricus bisporus)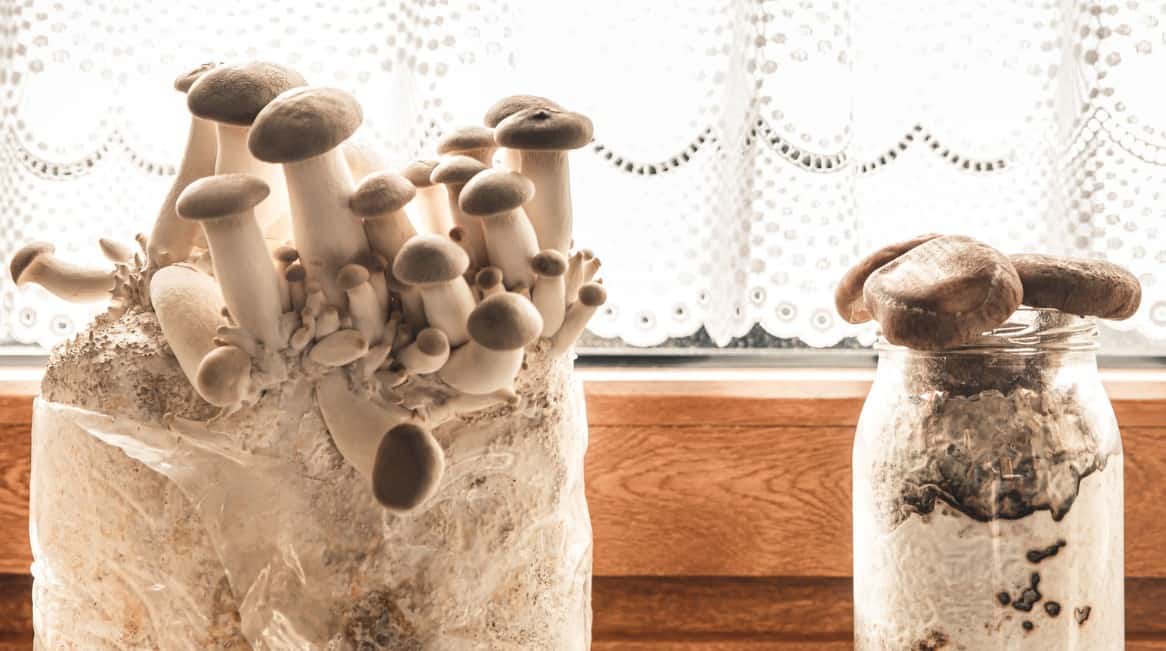 Growing mushrooms indoors is simple; they don't require any soil and do best in a dark and moist location. The most common fungus is the white button type, which, when left to grow longer, turns into a Crimini and a Portobello. Use composted manure to grow mushrooms at home, while others require different substrates.
For first-timers, purchase a mushroom growing kit as it comes complete with everything required to grow them. To grow mushrooms, open up the bag, mist daily, and in one week mushrooms appear. Fully mature mushrooms appear in two to three weeks. Kits prevent the headache of dealing with mold or contamination.
Tomatoes (Solanum lycopersicum) – Easy to Grow Edible Plants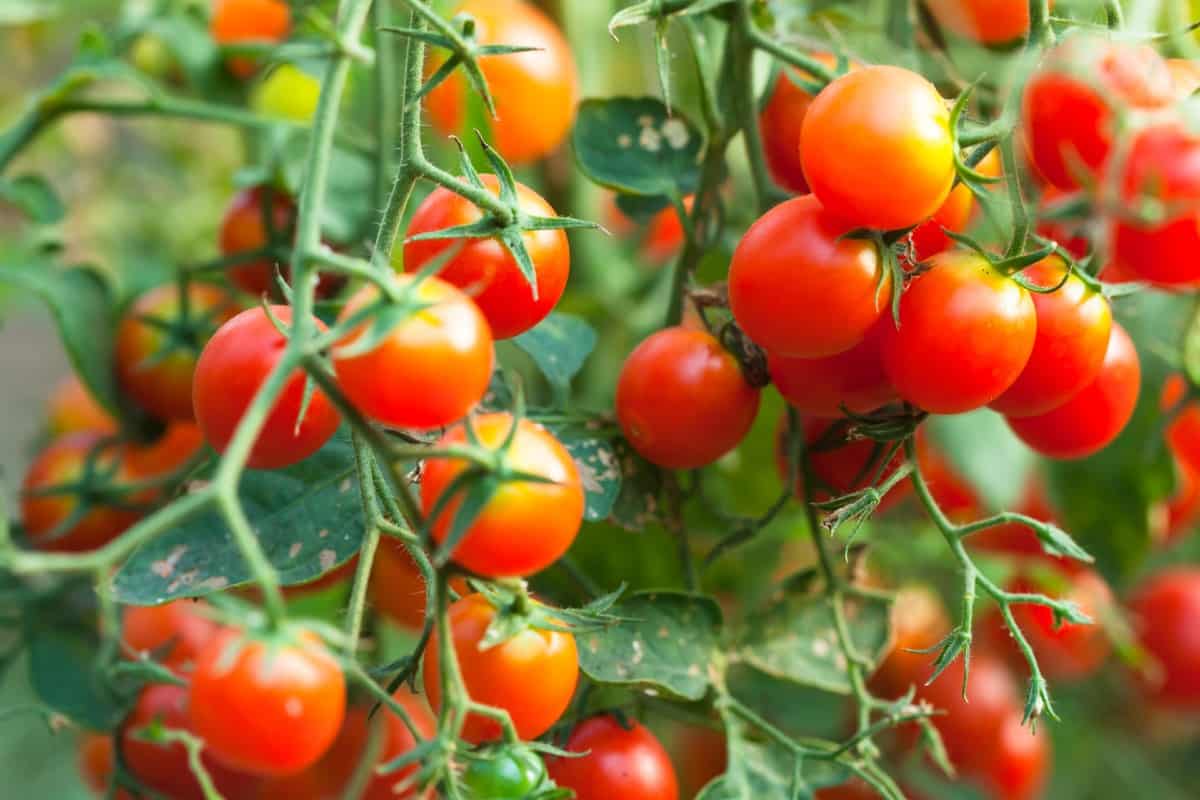 When growing tomatoes indoors, use a 6-inch pot with fertile, well-draining soil. Place the container in a windowsill or another bright and sunny spot. A grow light works well if you don't have enough sun.
Tomatoes require full sun; in northern areas, they require six hours of sunlight. In southern regions, they need afternoon shade to protect from the midday sun.
Harvesting time depends on the variety but expect anywhere from 60 to 80 days. Most types of tomatoes are prone to disease and pests, so keep plants off the ground to prevent rotting. To support the indoor plants, use a trellis, cage, or stake.
Ginger Root (Zingiber officinate)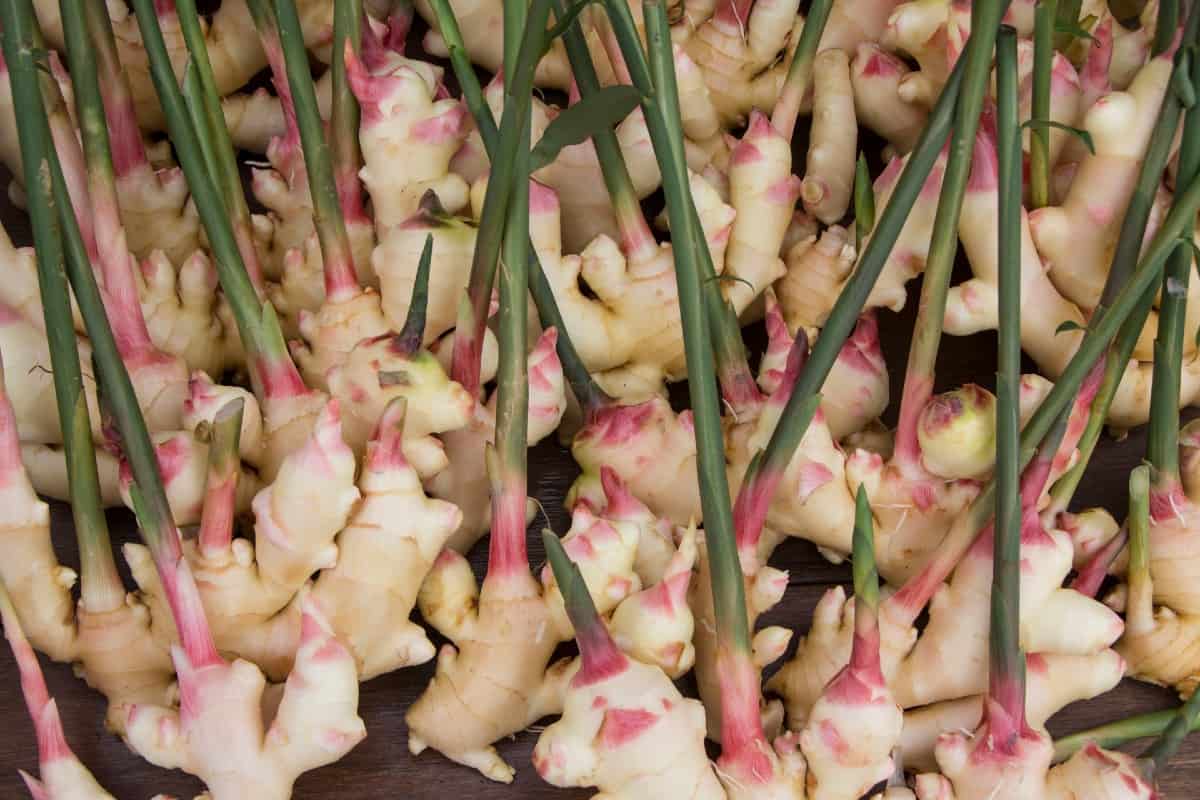 It's relatively easy to grow a ginger root, as the plant thrives on neglect. When planting the rhizomes, opt for moist and fertile soil. Select a location with plenty of filtered sunlight, as ginger doesn't do well in direct sun. Avoid areas prone to frost and strong winds.
Can you grow ginger indoors? Sure, grow it inside or out. Choose fresh ginger rhizomes with several growth buds. The growth buds look similar to little horns.
After soaking the ginger overnight, plant in a pot with drainage holes to avoid waterlogging the roots. A 14-inch pot handles up to three ginger rhizomes. Harvest in eight months when fully mature.
For a completely edible garden, intersperse the easiest perennial herbs to grow at home among your veggies. You'll have everything you need for your favorite meals.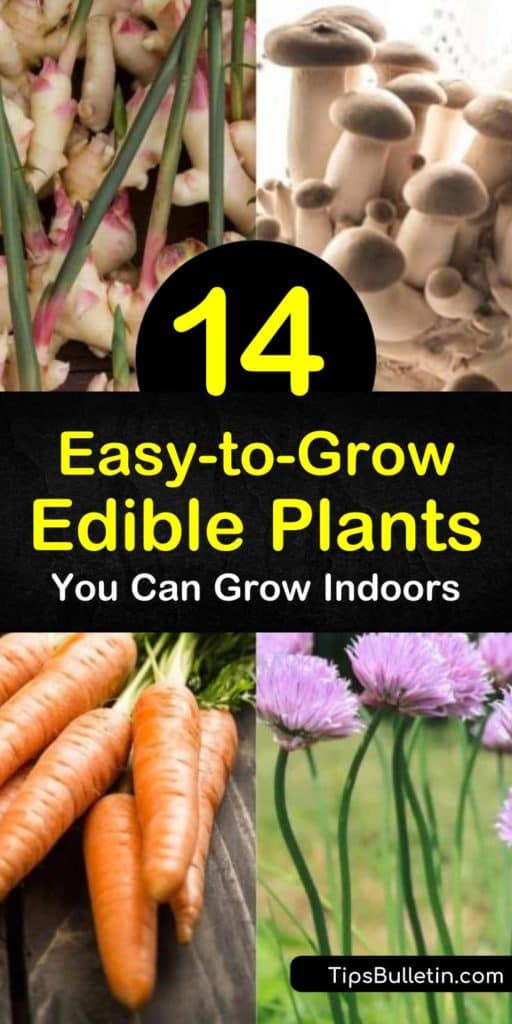 Thank you for reading about our ideas on the best edible plants to grow inside. If you found any of our views on the best plants to grow, please share our easy to grow edible plants with others on Facebook and Pinterest.