A yard with rows of bushes overflowing with bright and fragrant blooms always looks so charming and inviting. If you think you do not have the patience to grow a beautiful garden, think again. There are many easy to grow flowering bushes that require minimal effort from you to flourish.
Encountering difficulties while creating a beautiful landscape is not necessarily a lack of skills but often a lack of time. A busy lifestyle doesn't mean you can't benefit from nature's rewards.
While some plants are fussy and need constant attention, others are happy growing on their own as long as they receive proper growing conditions.
If you're the type of person who enjoys spending their time relaxing outdoors among fragrant flowers and lush foliage plants without the hassle of tending to them, no-fuss shrubs are a perfect choice. These hardy and resilient plants are content to grow without much intervention.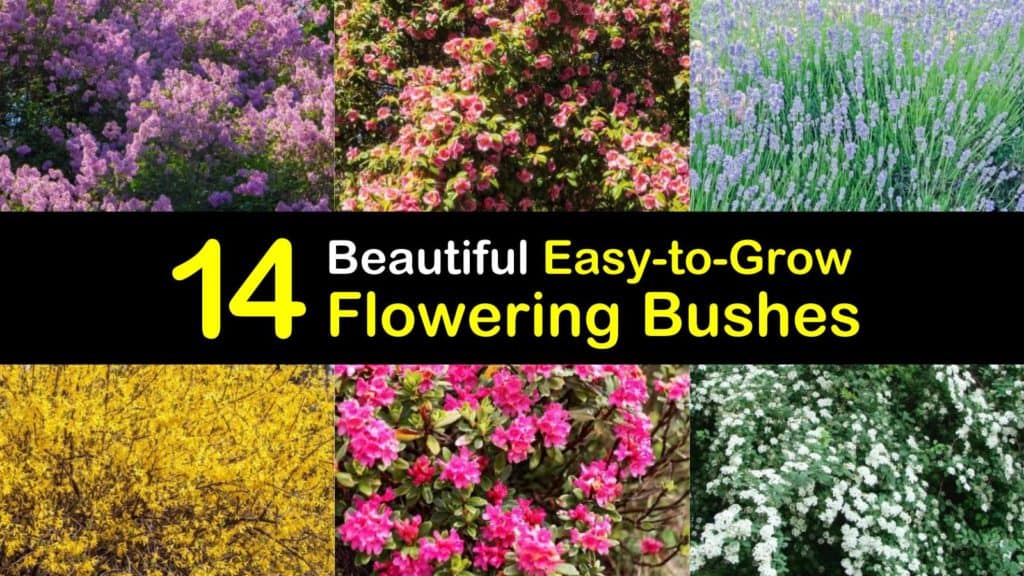 Flowering Shrubs for Easy Maintenance Landscaping
There are some considerations when choosing shrubs for your garden, whether you choose some of the easiest roses to grow or prefer other types of bushes.
Start by determining your USDA hardiness zone. Locate the perfect place to grow your plants and choose hardy shrubs. These steps are vital in creating a low-maintenance landscape.
Which Shrubs are the Easiest to Grow?
There are a few essential things to look for when choosing shrubs at your local nursery. Read the plant label and check for keywords such as hardy, drought and heat tolerant, low maintenance, and disease resistant.
These plants are the easiest to grow and handle a variety of growing conditions without problems. Depending on the space you need to fill, you may want to look for dwarf or miniature bushes of your chosen variety.
What are the Benefits of Growing Flowering Bushes?
Like many other plants, shrubs have an array of benefits that go beyond beauty. Many of them produce flowers that attract hummingbirds, pollinators, and beneficial insects.
Their flower tones brighten the space while filling the air with a sweet fragrance. If you're looking for privacy, consider growing evergreens.
An evergreen shrub keeps its leaves all year round, providing your yard with the benefit of greenery through the seasons. These bushes also act as a windscreen and provide a natural habitat for critters.
Where is the Best Place to Plant Shrubs?
The first step in choosing a place to plant shrubs is to select the right one for your hardiness zone. Next, determine how much sunshine your shrub requires to grow and compare it to areas of your yard.
Finally, consider what you desire in your landscape. Are you looking to create a natural screen of privacy, or are you making a seating area in a garden setting? The answers to these questions help you determine location.
Are Easy to Grow Flowering Shrubs Hard to Maintain?
Easy to grow flowering shrubs are the most straightforward plants to maintain. These tough bushes tolerate many conditions, including heat, cold, and drought, and are resistant to everything from disease to deer.
Many of them do not even need regular pruning to thrive. However, prune dead or diseased leaves and branches to encourage healthier growth.
Hydrangea (Hydrangea macrophylla)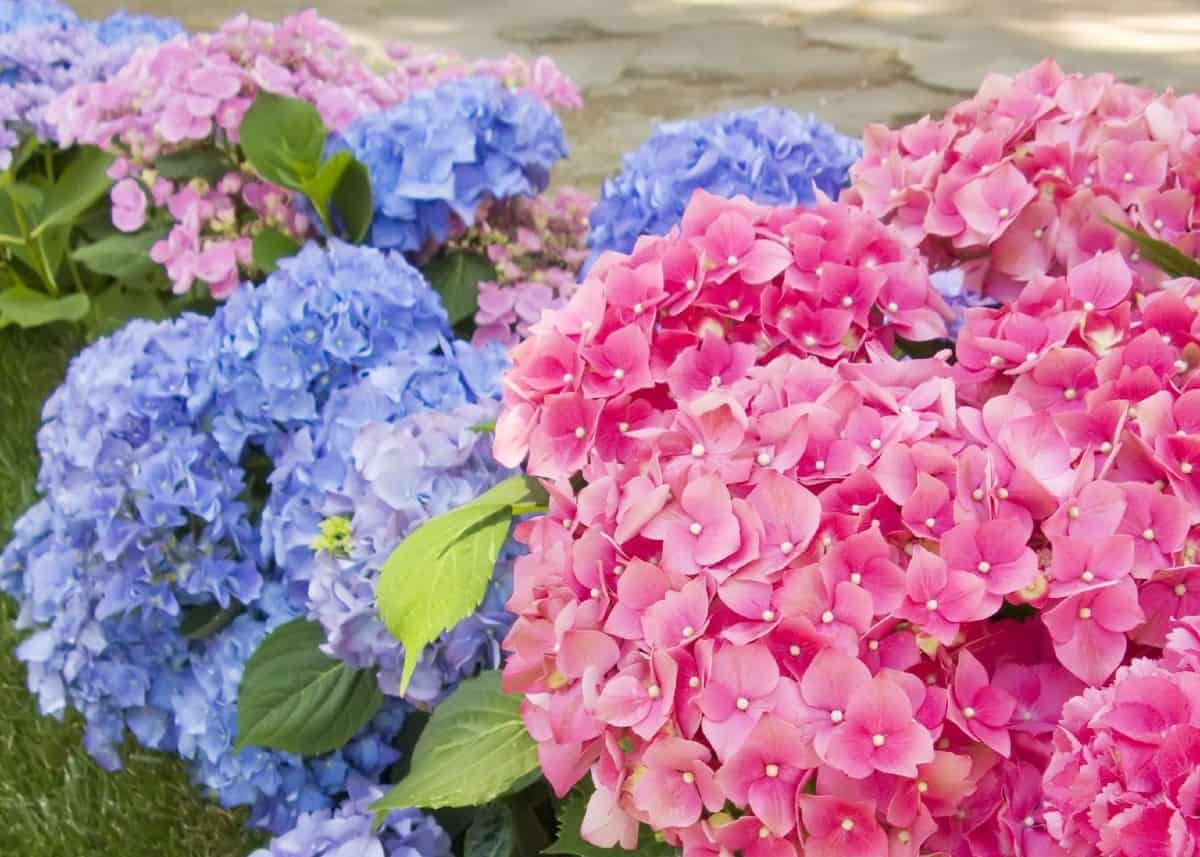 There are many kinds of hydrangea, some with lace-cap flowers and others with mop heads, some like to climb and behave like a groundcover plant, and others grow as a shrub.
Their flower color ranges from purple, blue, and pink to white, or green at different times of the season. Hydrangeas are low maintenance shrubs that grow well in shade and sun.
They are suitable for landscaping and are even some of the best shrubs for containers. They grow anywhere from 3 to 20 feet in height and spread 2 to 12 feet. These shrubs that make stunning cut flowers are hardy in zones 3 through 9.
Bridal-Wreath Spirea (Spiraea prunifolia) – Elegant and Easy to Grow Flowering Bushes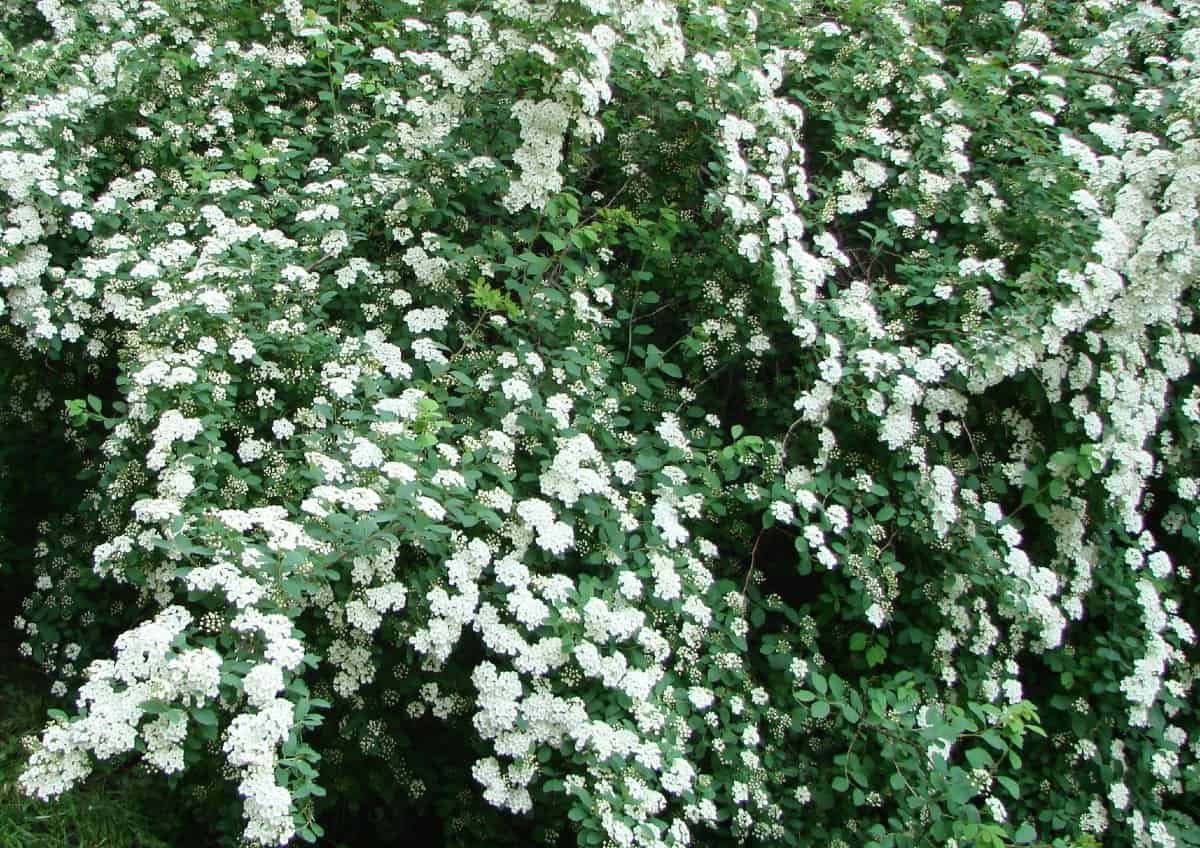 These deciduous spring flowering shrubs are medium-sized with an arching growth habit. It has sprays of elegant looking white flowers and is a striking focal point in a garden setting. The clusters grow along the entire length of the branches, giving it a waterfall appearance.
The bridal wreath spirea enjoys full sun in hardiness zones 5 through 9 and grows 4 to 8 feet tall and wide. This spirea thrives in many soil types and is a good option for soil and erosion control and privacy.
Japanese Azalea (Tsutsusi)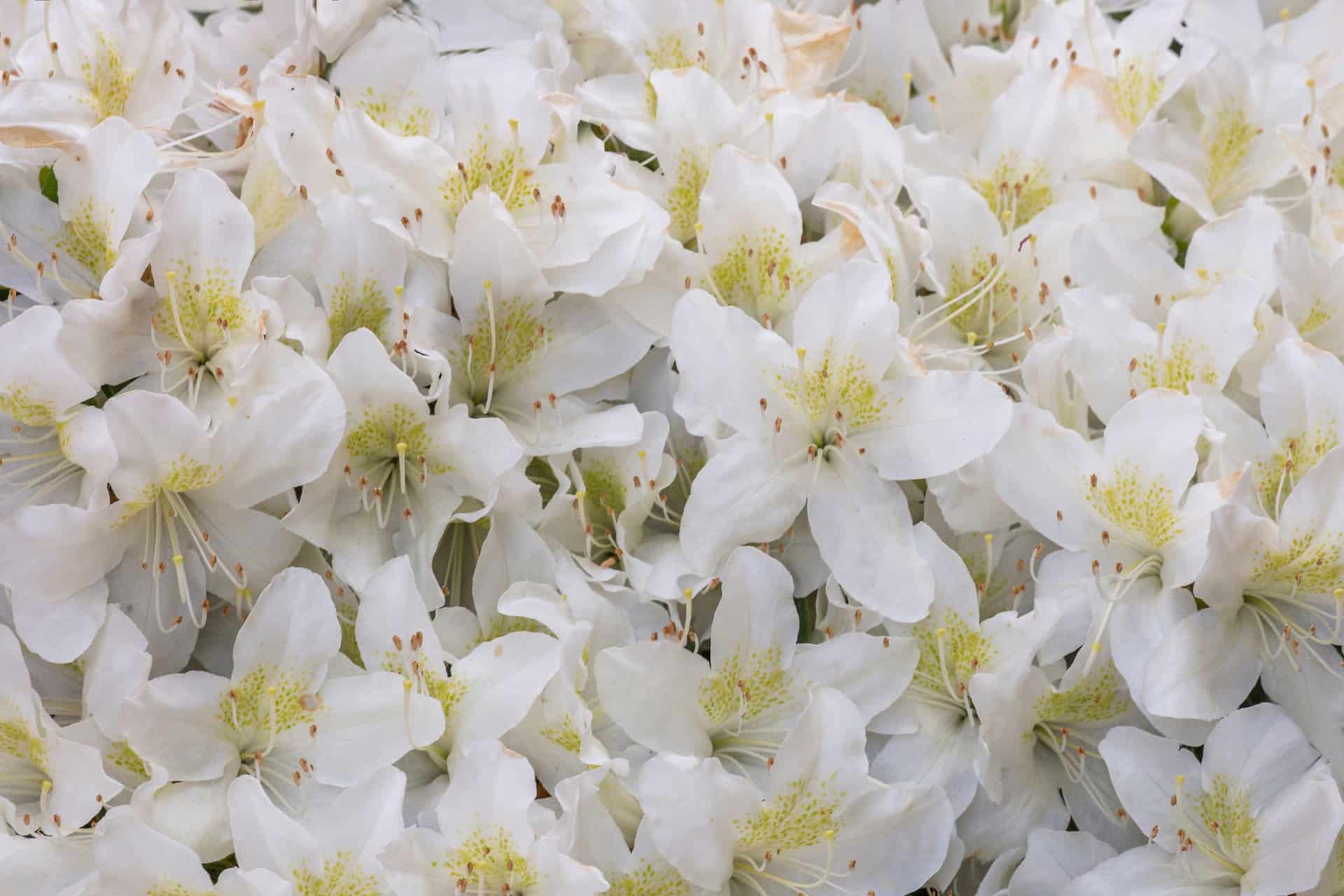 This evergreen shrub has a bushy appearance and masses of showy white, red, purple, or pink flowers in early spring. It has small, oval-elongated leaves, forming a rounded crown of dense branches.
The Japanese azalea is happy growing in part sun or shade and has a mature size of 3 to 6 feet tall. These easy bushes are uncomplicated to grow, and it's not necessary to prune them for optimal growth. This azalea is hardy in zones 5 through 9.
Hibiscus (Hibiscus rosa-Sinensis) – Low Maintenance Shrub with Tropical Flowers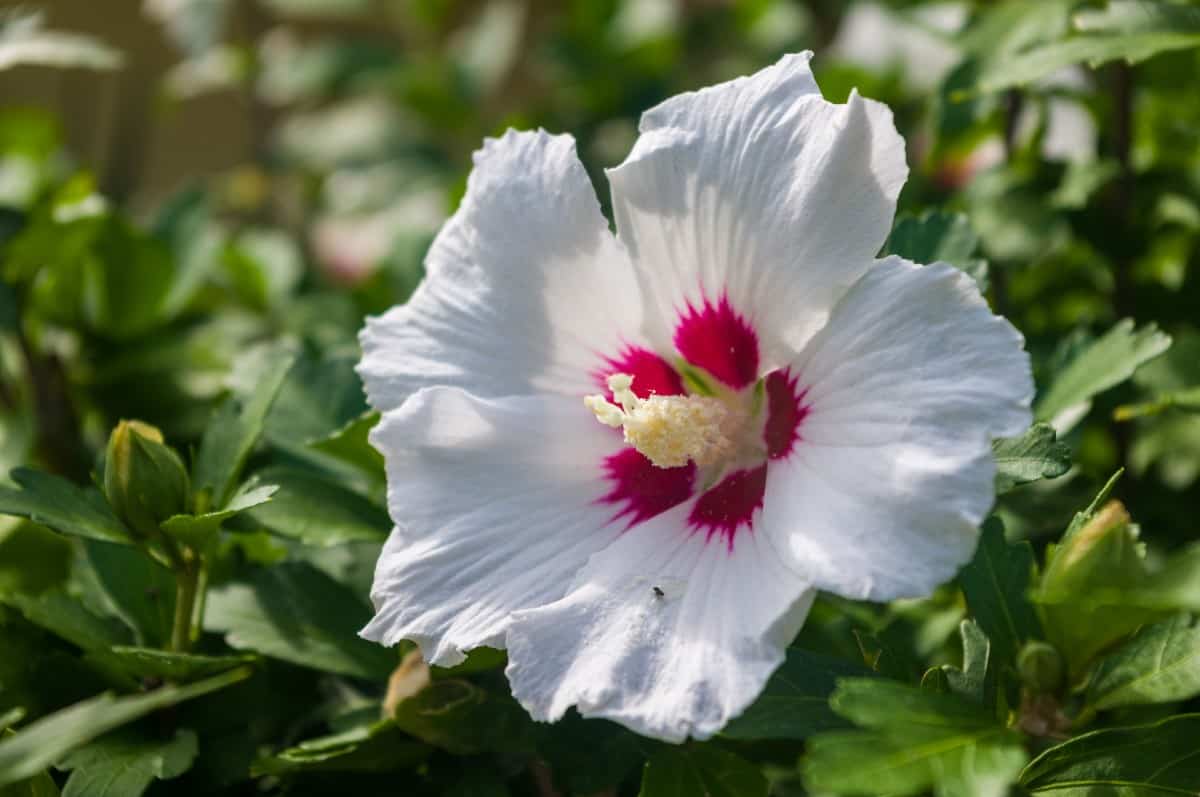 Hibiscus is a handsome shrub with vibrant and tropical-looking flowers in shades of red, white, pink, orange, yellow, peach, and purple. They are trumpet-shaped with dramatic stamens, 3 to 8 inches in size, and a favorite among hummingbirds.
It flowers consistently from summer through fall and enjoys growing in either shade or sun. Hibiscus is mature at 3 to 8 feet tall and wide and is hardy in zones 4 through 9. These plants are colorful low maintenance shrubs that are tolerant of many conditions.
Lilac (Syringa)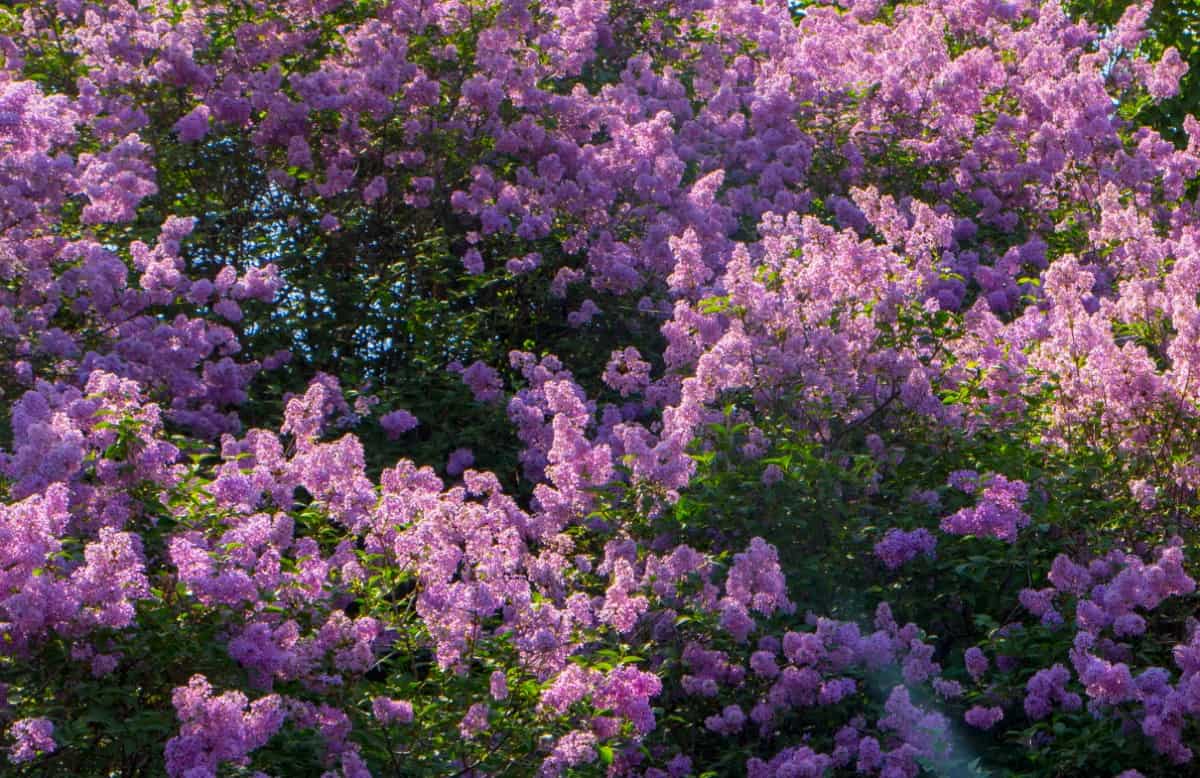 If you love highly scented flowers and lush foliage, then this deciduous shrub is ideal for you. It produces large purple, white, and lavender-blue blossoms in late spring and early summer and attracts all pollinators.
There are many different lilacs, and they all prefer full sun. They are suited for hardiness zones 3 through 7 and grow to 16 feet tall and up to 12 feet wide, depending on the type.
Viburnum (Viburnum opulus) – Drought Tolerant Shrub with Springtime Flowers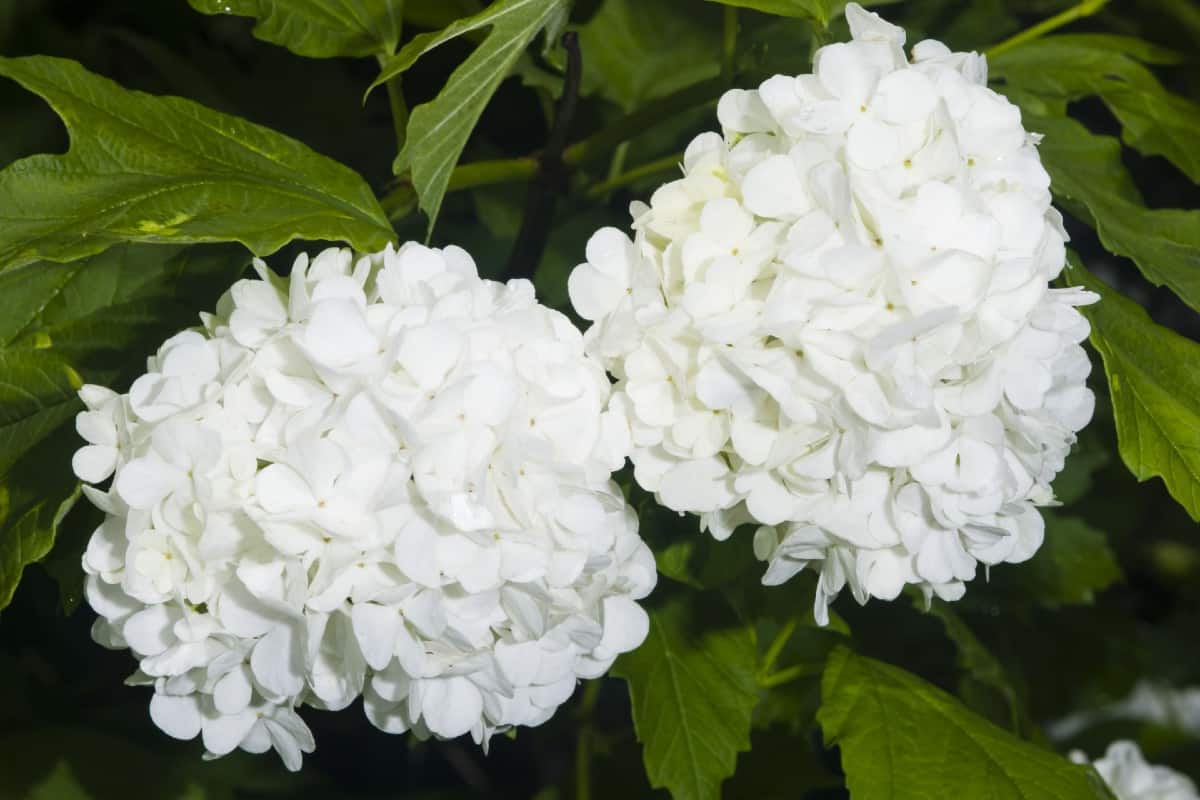 This popular landscaping shrub is one of the simplest to grow. There are many different species, from evergreen to deciduous, and they have showy white or pinkish flowers ranging from flat floret clusters to rounded, snowball forms.
Most viburnum shrubs are pest and deer resistant, low maintenance, and drought tolerant. Their flowers are followed by brilliant foliage and bright berries that attract birds. They thrive in part to full sun in hardiness zones 2 through 9.
Butterfly Bush (Buddleja)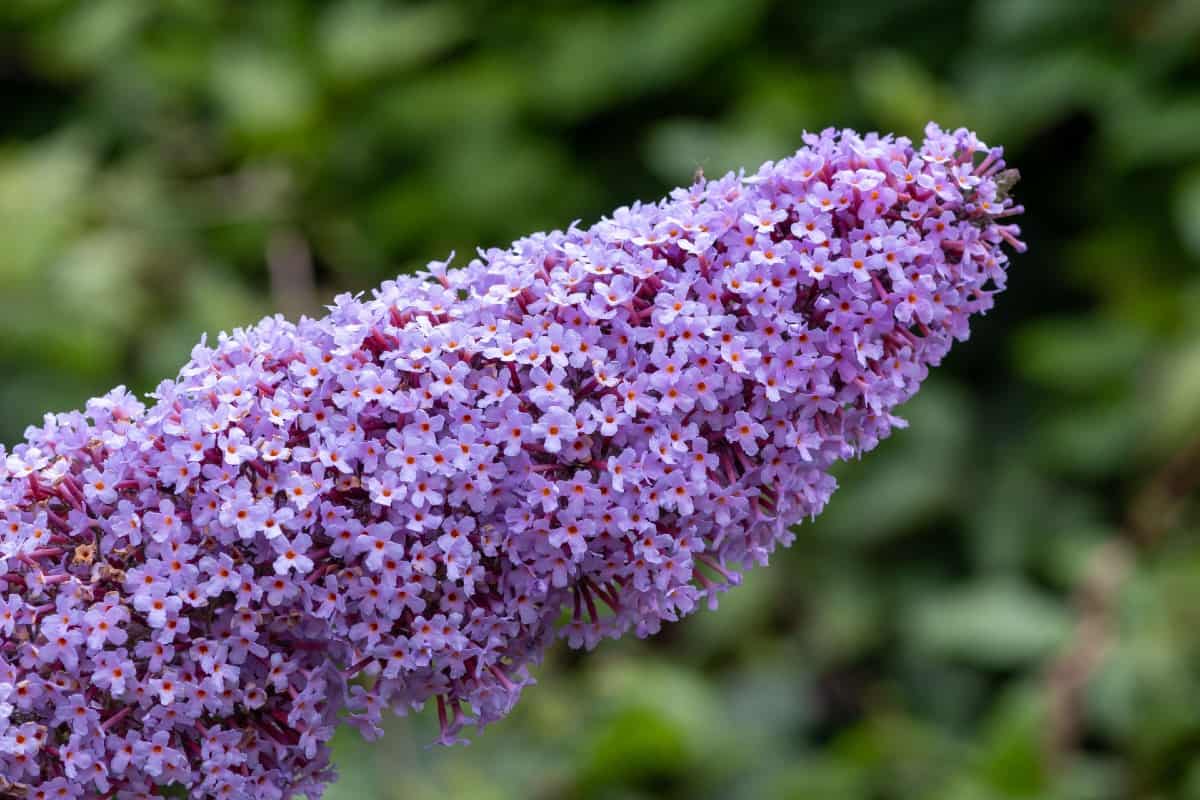 The clustered flowers of the butterfly bush develop on a floppy panicle in white, purple, red, or pink, and deadheading encourages growth throughout the summer.
The lance-shaped leaves are grayish-green on the undersides and grow on arching branches. The butterfly bush is a fast-grower with a mature size of 6 to 12 feet tall and 4 to 15 feet wide.
This low-maintenance plant is hardy in zones 5 through 10 and prefers sunny areas. It is drought tolerant, deer resistant, and the flowers' fruity scent is a joy for bouquets.
Rose of Sharon (Hibiscus syriacus) – Highly Tolerant Flowering Bush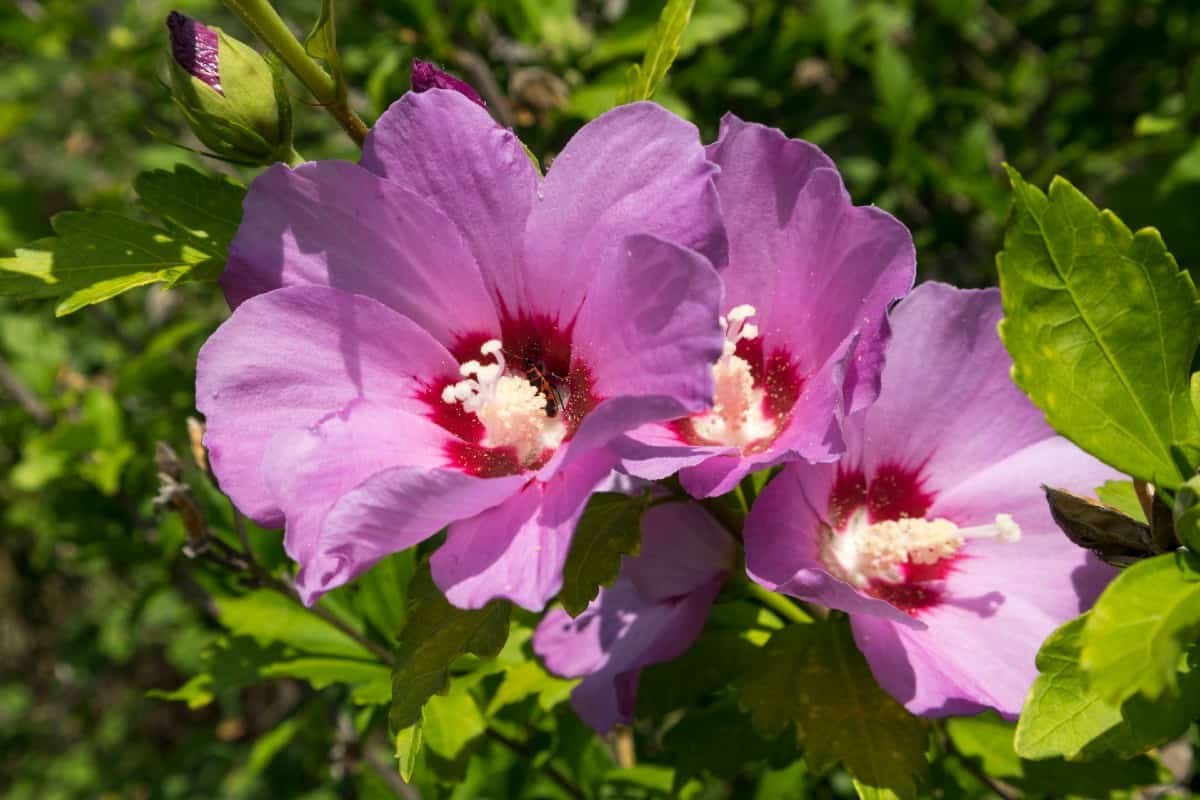 This hibiscus species has red, white, blue, and lavender flowers with a striking stamen that attracts pollinators. These late bloomers fill the landscape with intensity in late summer and early fall and delight when other flowers fade.
This deciduous plant grows up to 10 feet tall and half the width. It grows best in full sun to partial shade and is tolerant of heat, pollution, drought, humidity, and poor soil. Rose of Sharon grows ideally in hardiness zones 5 through 9.
Golden Bell Forsythia (Forsythia suspensa)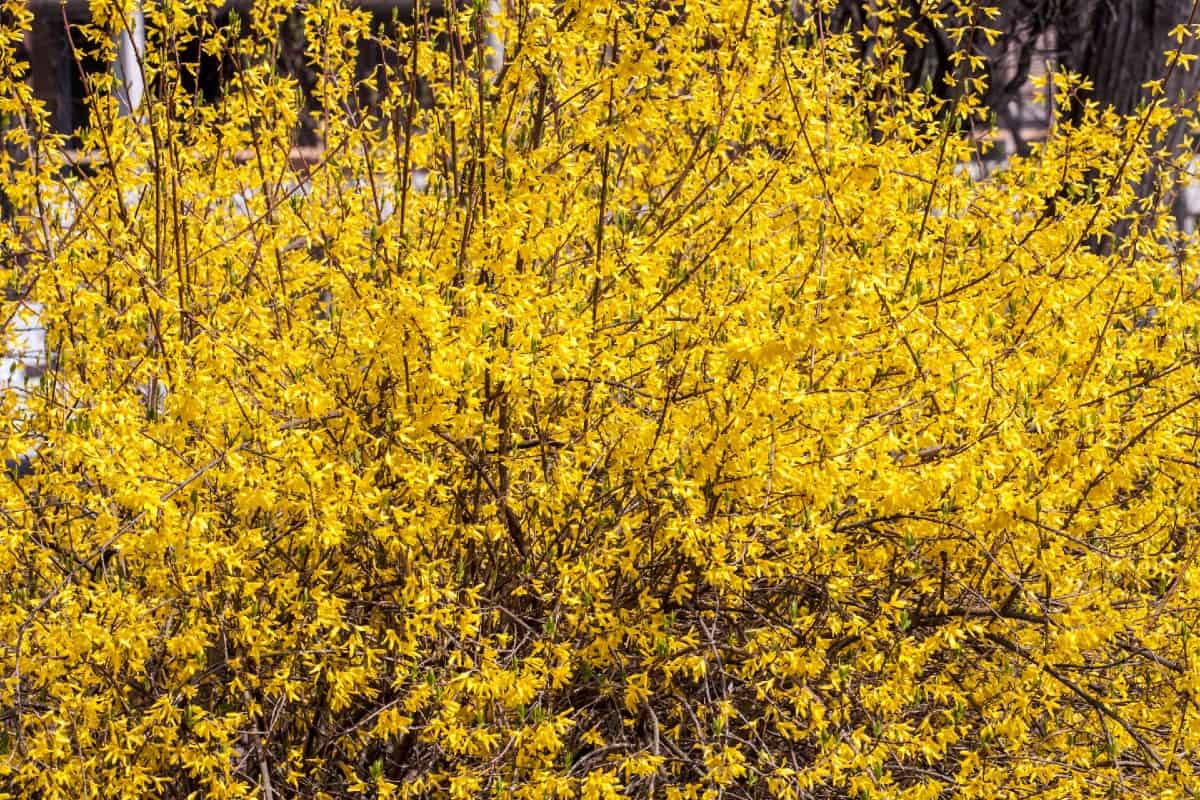 This deciduous shrub has a magnificent display of bright and cheery flowers in early spring before its foliage or any other plants emerge. Its upright and arching form creates a beautiful sight in a landscape, and birds and butterflies flock to them.
Golden bell forsythia ranges from 2 to 10 feet tall and grows well in full sun or part shade. These fast-growing shrubs are low maintenance and deer resistant and hardy in zones 4 through 9.
Bluebeard Caryopteris (Caryopteris clandonensis) – Deer Resistant Shrub with Mid-Summer Flowers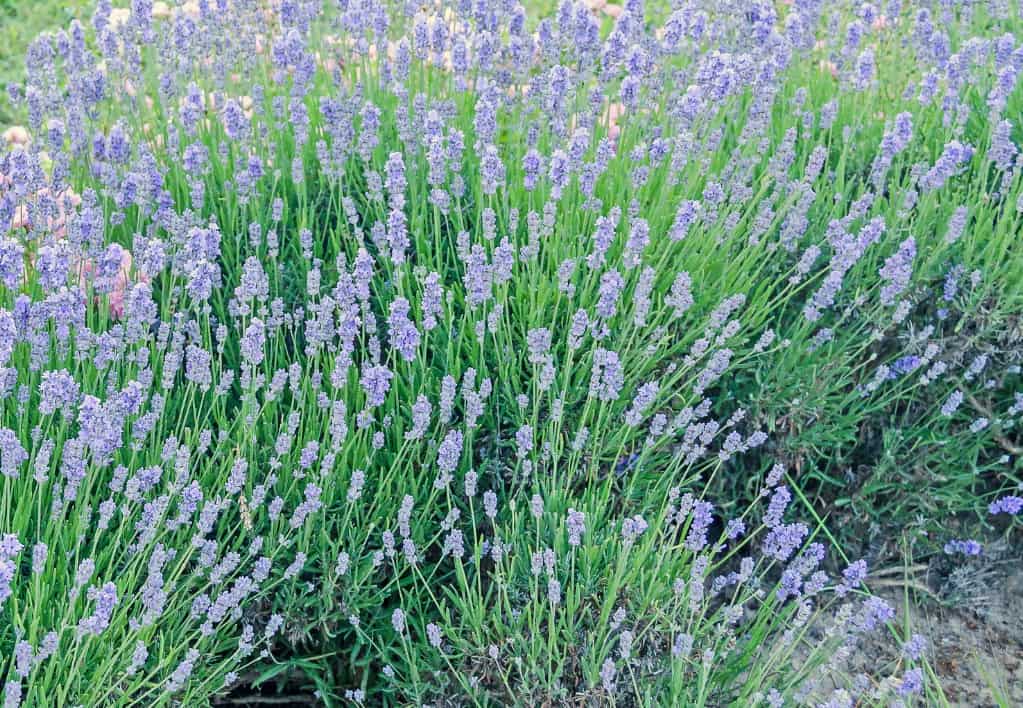 While many shrubs have early spring color, this plant produces delightful blue blossoms in mid to late-summer. It has graceful stems of small leaves with flowers staggered at each leaf section.
Bluebeard caryopteris attracts birds to the garden with its light fragrance. It desires full sun and grows in hardiness zones 4 through 9. This flowering shrub is deer resistant and drought tolerant, growing 1 to 8 feet tall and 2 to 4 feet wide.
While bluebeard plants are not the easiest flowers to grow from seed, it is possible. The shrub often reseeds itself. Sometimes cuttings work a little better.
Camellia (Camellia japonica)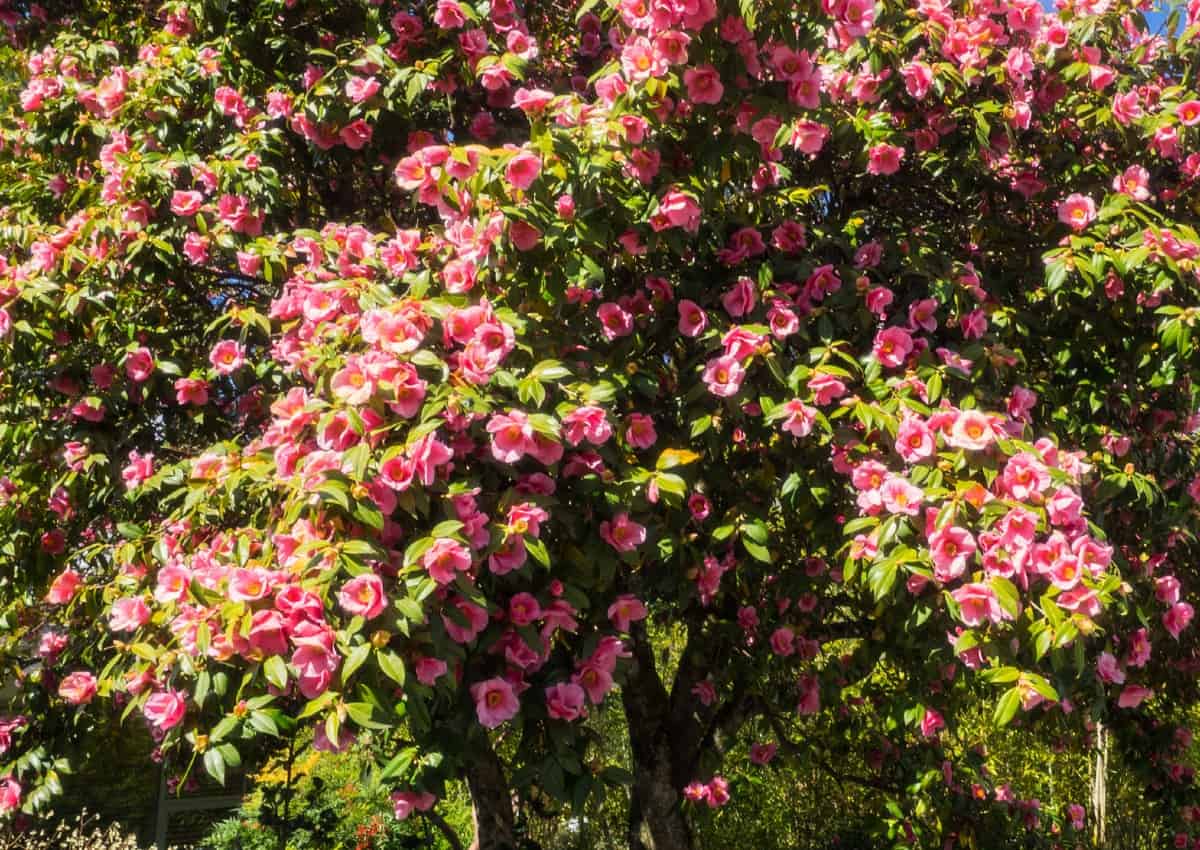 This southern ornamental shrub grows in a wide range of species, each with dark, glossy leaves and their own distinct flower from spring through fall. Some have delicate or vibrant pink shades, while others are creamy white.
Camellia japonica grows 8 to 20 feet in height and is hardy in zones 6 through 10. This evergreen is good for natural privacy or growing as a patio shrub and thrives in both shade and sun.
Rhododendron (Rhododendron ferrugineum) – Captivating Shrubs with Bright, Showy Flowers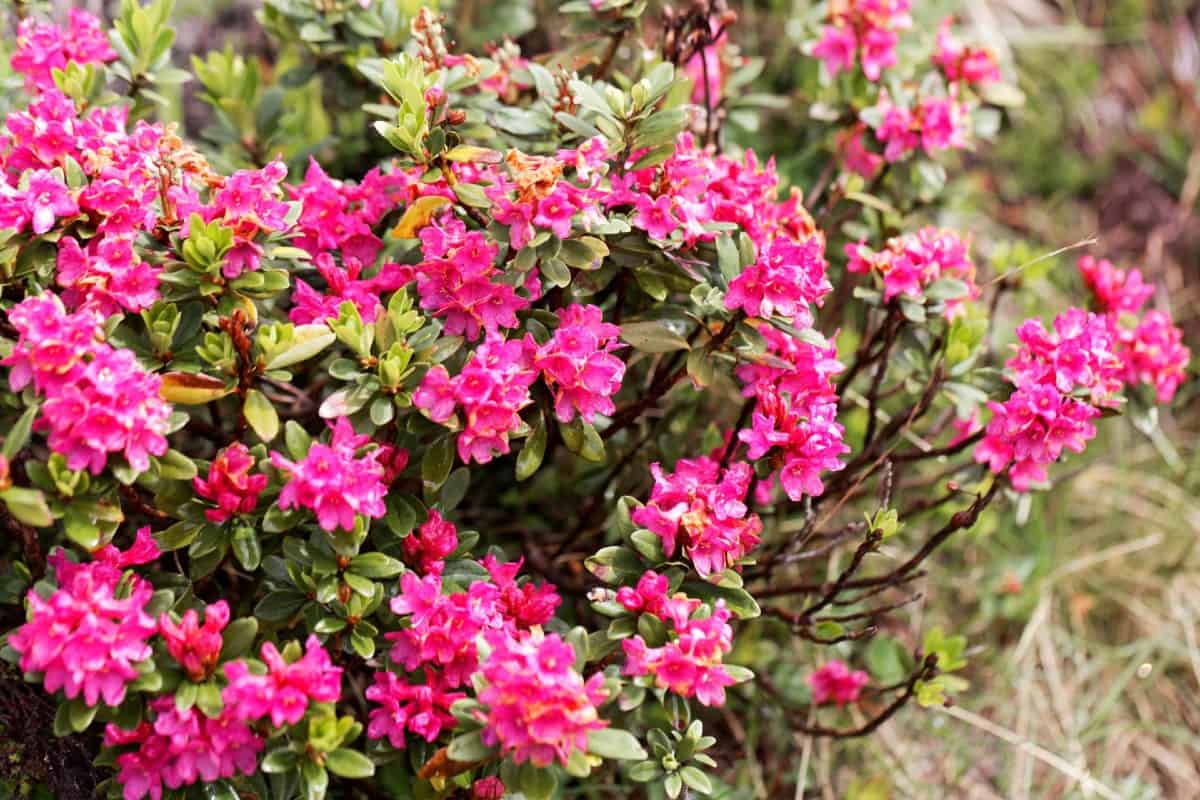 The bright purple, pink, orange, red, yellow, and white flowers of the rhododendron are a striking presence in any setting. The delicately ruffled clusters make an appearance in spring, summer, and fall, depending on the variety.
Rhododendrons prefer living in hardiness zones 5 through 8, where it's not too hot or cold. Many of them are broadleaf evergreens and range in size from 3 feet to 20 feet tall. They are deer resistant and carefree growers under the right conditions.
Summersweet (Clethra alnifolia)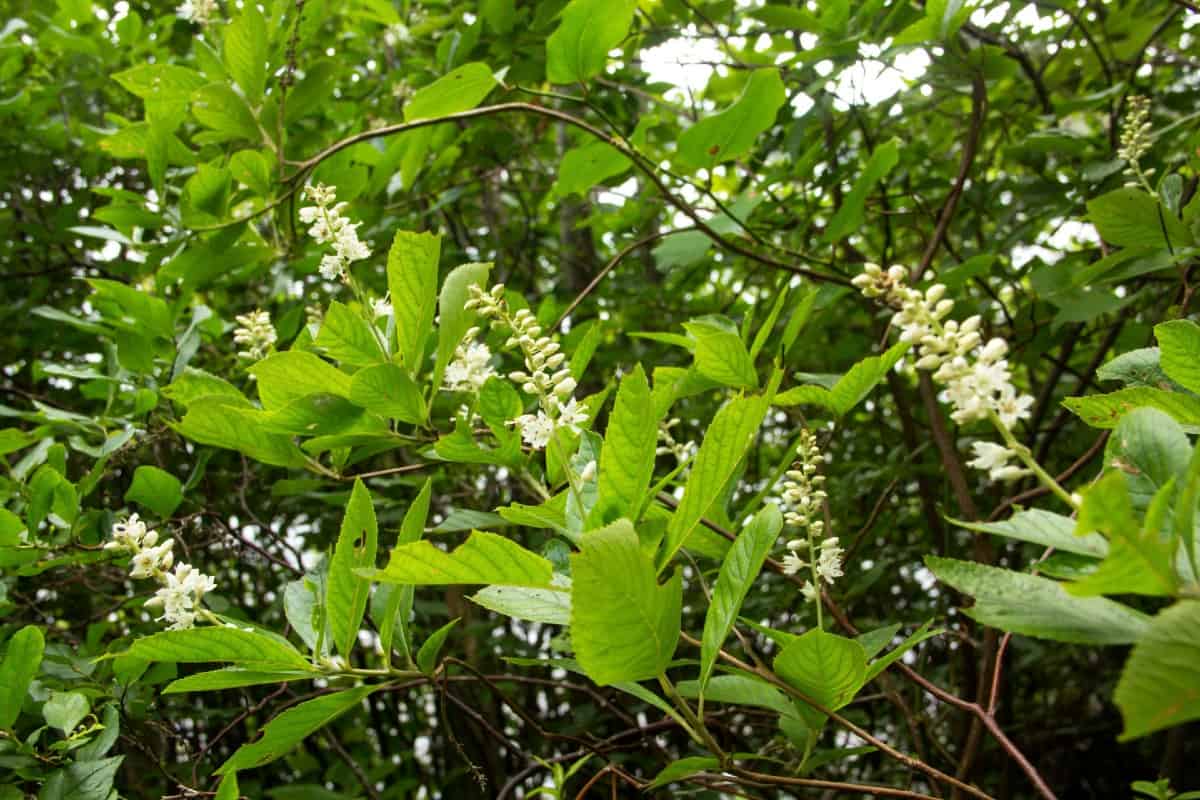 Summersweet or sweet pepperbush is deciduous and has fragrant white and pink flowers, notable for their size. It blooms in August, drawing in butterflies and hummingbirds, and its dark glossy foliage has brilliant fall color.
This medium-sized shrub grows in hardiness zones 3 through 9 and reaches maturity at 3 to 8 feet. This versatile plant grows in a rounded shape and tolerates both shade and sun. Summersweet is low maintenance, salt tolerant, and loves water.
Weigela (Weigela florida) – Pink Flowering Bush with Interesting Foliage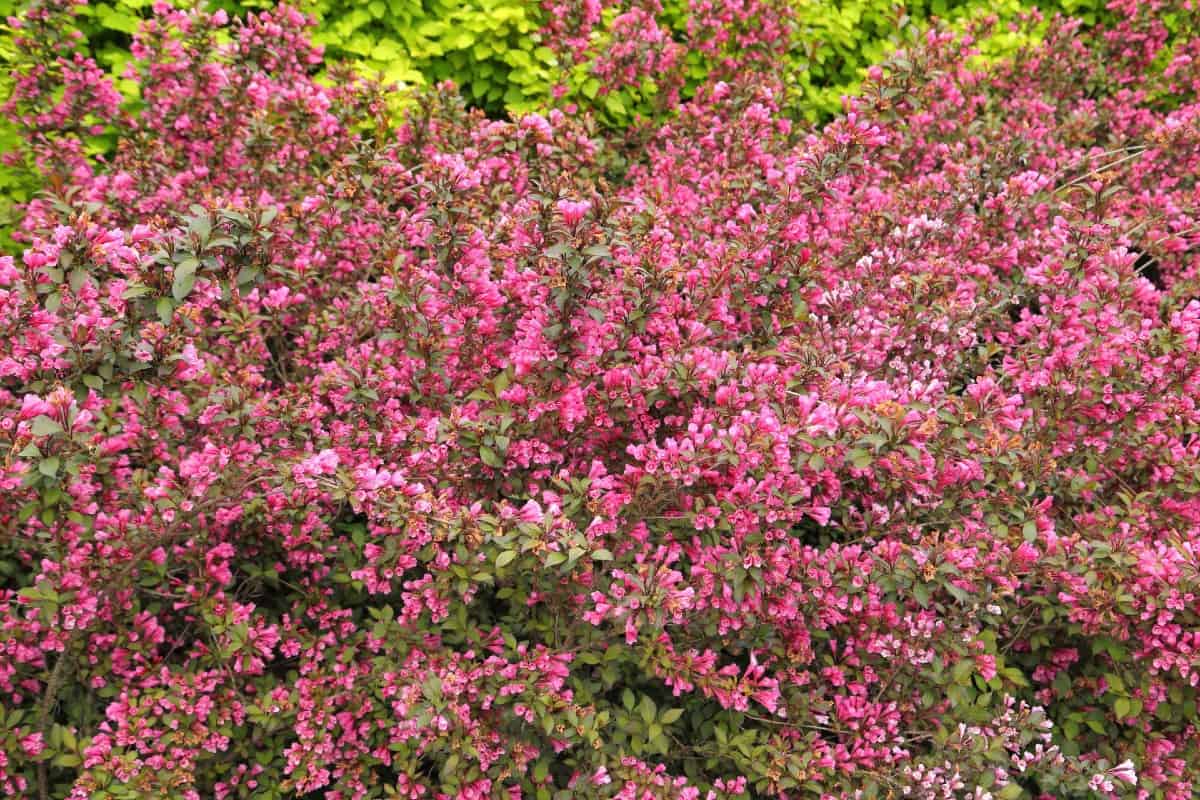 Weigela has arching branches of interesting foliage and light pink, trumpet-shaped flowers. It has a spring and summer blooming time, and some types have variegated, lime, or burgundy leaves for all-season interest.
These plants grow up to 8 feet tall and 6 feet wide and are content growing in part to full sun. They are low maintenance and hardy in zones 4 through 9. Weigela is a drought tolerant shrub that is not picky about location.
Growing bushes with flowers is a simple task, even if you have a busy schedule and a brown thumb. There are a wide variety of hardy shrubs that grow with little effort and are perfect for foundation plantings, a natural fence, or a lush and fragrant garden.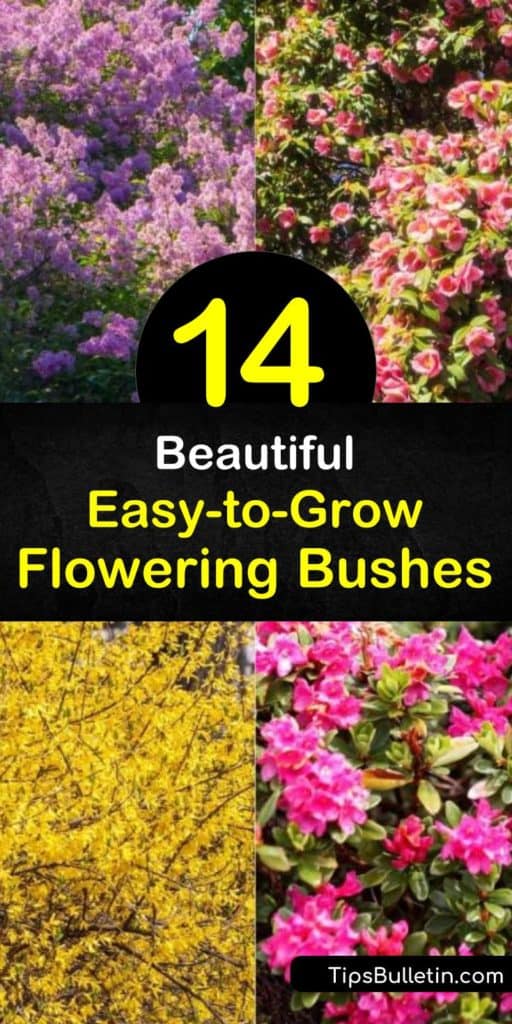 We hope you fill your yard with easy to grow flowering bushes where you spend more time relaxing than working, and we'd love it if you'd share our easy-growing shrub guide with your friends on Pinterest and Facebook.