As a home gardener, one struggle you face is figuring out what flower seeds to plant to create a beautifully landscaped garden. When choosing, most gardeners opt for easy to grow flowers from seeds to ensure they are successful. The seeds we opt to grow to depend on the type of landscape we are looking to create.
Do we want to change up the colors and design every year? Are we after something that we plant once and are done? The answers are vital to selecting the best seed packets for your project.
When we select easy to grow plants from seeds, we must choose between annuals and perennials. Perennials provide color in your flower garden all year long, while annuals bloom for a specific length of time. Most successful flower beds use a mix of annuals and perennials to provide a burst of color throughout the year.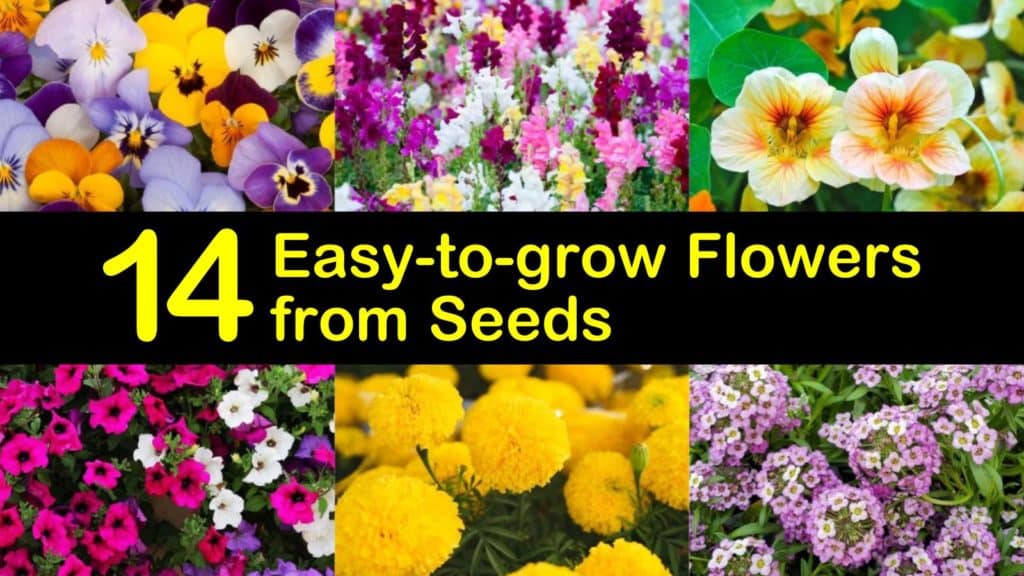 Easy to Grow Plants from Seeds for Your Home Garden
For gardeners with limited time, perennials are the best choice; no replanting is required, just general yearly maintenance. Annuals offer plenty of colors but require replanting each year. These flowers provide limited bloom times, so plan and plant accordingly for maximum intensity.
Before you decide to branch out to more exotic annuals or perennials, spend a year or two with these easy to grow plants from seeds. By mastering the easy to grow varieties, you ensure success for the ones requiring specialized care.
To keep cats from pooping in your flower bed, intersperse plants that cats don't like, such as lavender and lemon balm, or use a motion detection sprinkler as a deterrent.
Top Things to Know when Starting Flowers from Seeds
One of the reasons we start our flowers from seed packets is cost. If you are looking to line your walkways or create an elaborate garden landscape, the cost to purchase a large number of plants vastly exceeds the value of buying seed packets. Saving money on the flowers allows you to buy additional garden equipment or decorations.
Another essential reason to grow your flowers from seeds is availability. Not all local nurseries carry the plants you are after; purchasing the seeds, whether at the nursery or online, ensures you can plant all of your favorites.
Annuals are relatively easy for seed starting; the hardest part is knowing when and where to sow the seeds. Despite what you think, seed packets are not very informative as they fail to mention whether seeds require sowing indoors or out, light or dark for germination, and whether they are frost hardy.
It's always smart to plan your garden in advance. Determine where your seeds will grow best so that they will thrive. Plant a few in front of the small bushes in the front yard, others in an eye-catching display, and still more interspersed in a raised bed. The choices are endless!
Our goal is to ensure you create a beautifully landscaped garden. To get you on your way, we provide you with a list of easy to grow flowers from seeds, but we also provide you with a few essential things to keep in mind before you start planting.
Seed Size
Very few of us pay attention to the seed size, but it makes a difference when sowing seeds. To directly sow your seeds in individual peat pots or the garden, they must be at least 1/8 of an inch or larger.
Generally speaking, look for seeds that are large enough for you to handle. Smaller seeds, like snapdragons or petunias, are not recommended for direct sowing as they may get lost in the dirt and sprout in random places.
Requirements for Germination
The majority of seeds require darkness for germination, but a select few varieties do require special lighting. Others, like sweet peas and morning glories, feature a thick coating that requires soaking or nicking for successful germination. The majority of seeds germinate within seven days, but some varieties take up to four weeks.
How Fast will They Grow?
Growth varies based on the genetics of the plants, but growing conditions play a role in how fast seedlings grow. Many seedlings grow faster inside a greenhouse kept at 80°F; these same ones see slower growth under grow lights. Learn about the different growth rates, so you know whether to plant them directly in your garden or transplant them at a later time.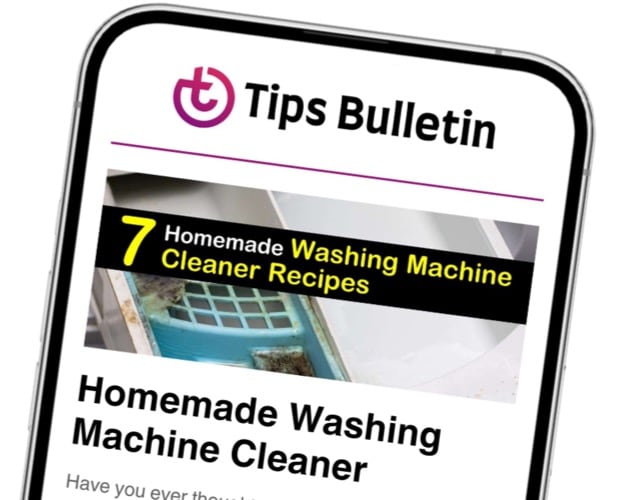 Finally, an email that Transforms Your Home.
Get the latest home and garden tips from our experts, delivered straight to your inbox.
For example, zinnias grow at a fast pace, so waiting eight weeks to transplant them leads to root-bound plants that are incredibly tall. Impatiens grow slower, so after eight weeks in the greenhouse, they are ready for transplanting.
How Long until My Flowers Bloom?
To find out when your flowers bloom after germination, consult your seed packet. The information labeled "days to bloom" explains when to expect flowers on your plants after successful germination.
For flowers with long bloom time, such as a 90 day bloom time, to see flowers before the first frost start them indoors rather than directly sowing them into the soil. Annual flowers to start from seeds in your garden feature a bloom time of about 50 days, allowing you time to enjoy the colors before they die off.
It's sometimes hard to wait for your flowers to bloom but once they do, there is an explosion of color and scent. You may be hard-pressed to choose which flowers smell the best or which ones are the prettiest. Planting a variety gives you many options.
Are My Choices Cold-Hardy?
Your hardier annuals feature the ability to plant early in the spring as soon as the soil is workable. These annuals tolerate light frost and low temperatures once successful germination occurs. Half-hardy annuals require an indoor start up to eight weeks before transplantation or direct planting after the soil warms up.
These seedlings need protection from a sudden drop in temperatures but handle a light frost easily. Tender annuals require an indoor start six weeks before the last frost date in the spring.
Only transplant these seedlings when nighttime temperatures remain above 40°F. Direct sowing is possible, but only after the danger of frost passes.
Marigolds (Tagetes) – Easy to Grow Plants from Seeds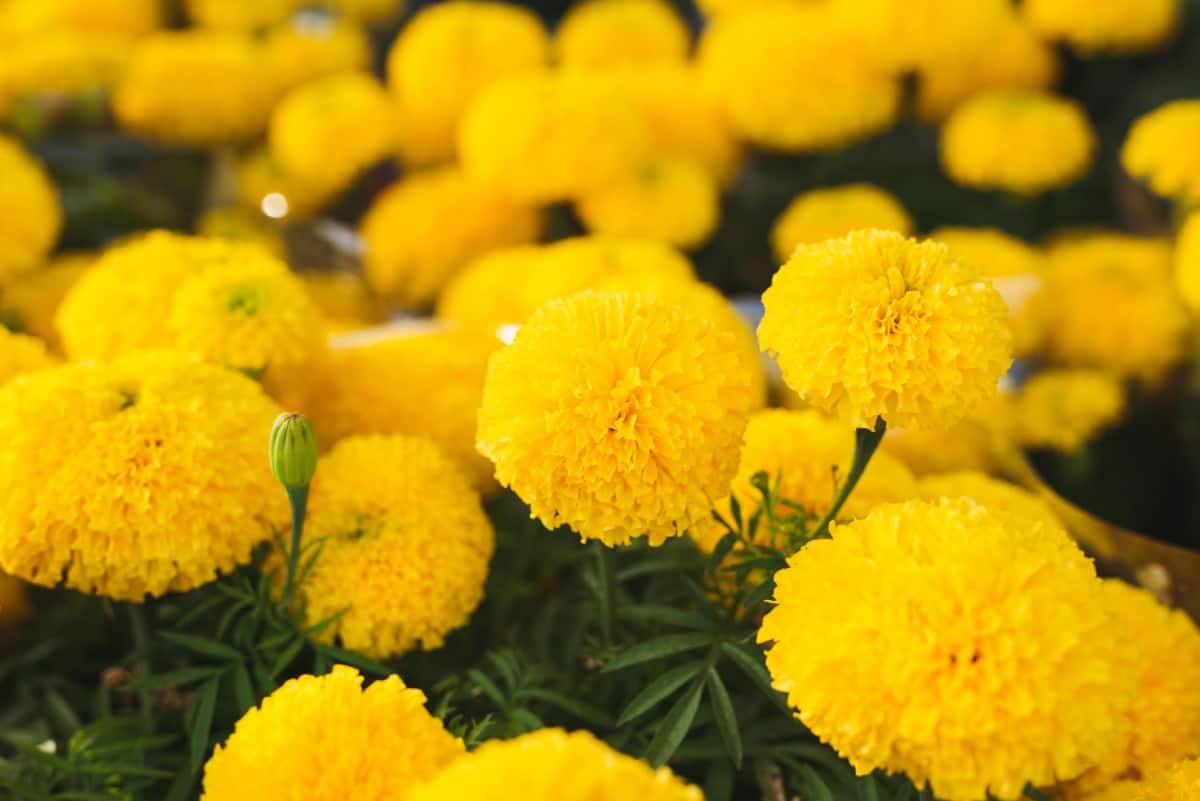 One of the great things with Marigolds is how quickly you see results after planting. These plants come in several varieties; use taller ones for borders, and the shorter ones for flower beds or container gardens. These easy to grow flowers bloom in the late summer to early fall months and are available in gold, copper, and brass tones.
To encourage blooming all summer, deadhead the plant. Be sure to save seeds at the end of the growing season for replanting next year. Plant the seeds in the spring and up until the middle of summer in a sunny spot.
Avoid shady areas as it causes sporadic blooming and makes the plant highly susceptible to powdery mildew. They will grow successfully in various soil types but prefer fertile and well-draining soil. When planted among tomatoes, the French variety works to repel pests, like greenfly and blackfly.
Morning Glory (Ipomoea)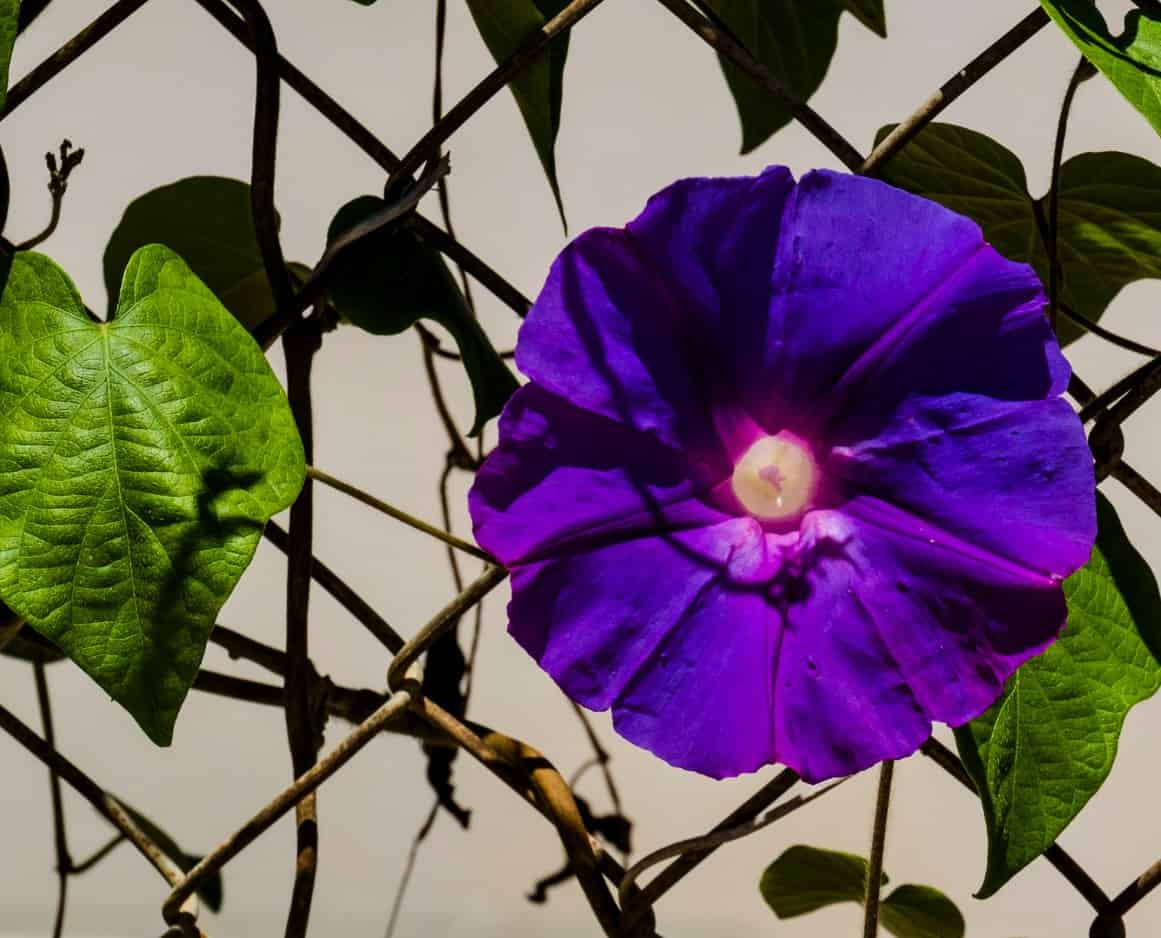 As an annual climber, Morning Glories make an excellent addition to diverse landscapes. These easy to grow climbers offer heart-shaped leaves along slender stems with trumpet-shaped flowers. Blooms come in a variety of colors based on the type purchased, including magenta, white, pink, and purple-blue.
The trumpet-shaped flowers open fully in direct sun and work well as a ground cover or as arches and around pergolas. As drought tolerant plants, they bloom from early summer until the first frost appears.
Known for attracting hummingbirds and butterflies, they require planting in a sunny location with fertile and well-draining soil. Directly sow seeds into your gardens once the ground reaches 64°F. File seeds down just enough to break the thick coating and soak for 24 hours before sowing.
Sweet Peas (Lathyrus odoratus)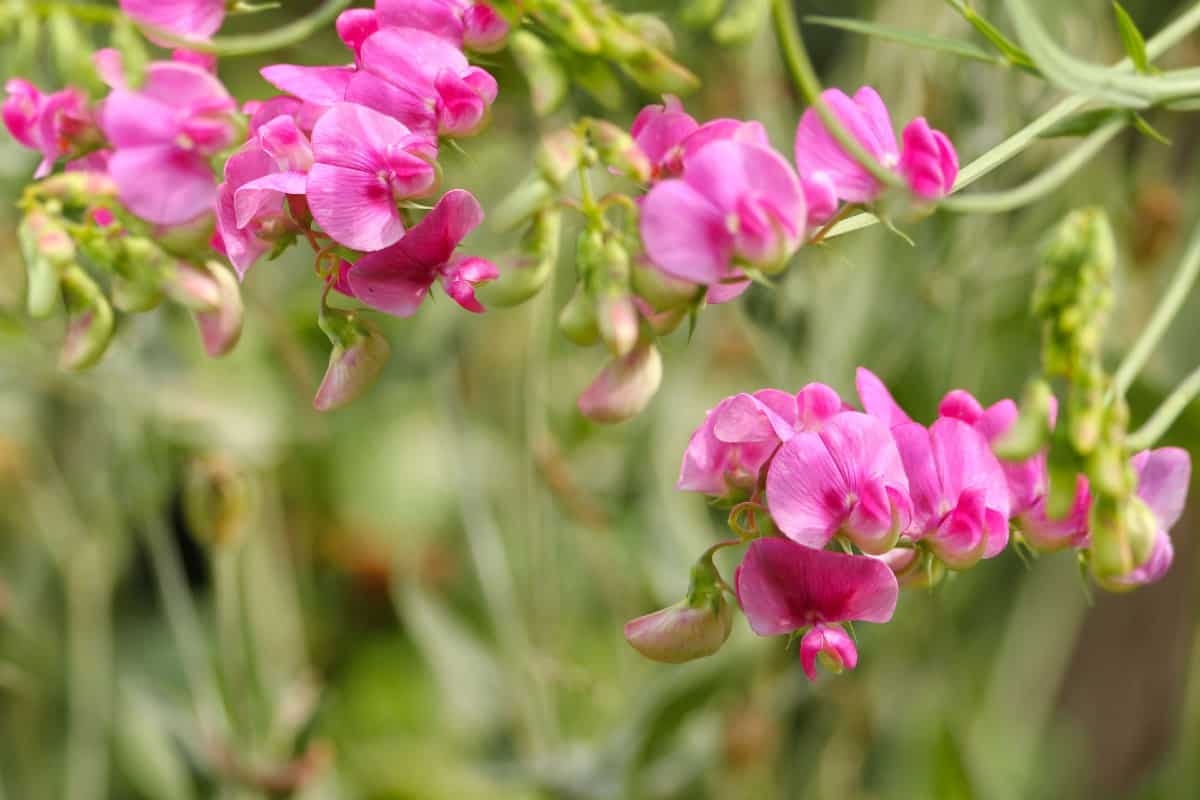 As a versatile annual, the flowers from Sweet Peas work well in bouquets and make a lovely addition to any garden. For landscaping plants, these fragrant flowers along borders or at the bases of trellises and arches. The biggest secret to successfully planting and growing them is to sow them into the soil early on, as they are not a fan of the heat.
Soak seeds for 24 hours and then nick the coating. In Zone 7 or colder areas, plant as soon as the soil is dry enough to work with; do not make the mistake of waiting until the last frost. In Zones 8, 9, or 10 plants them in the late fall for late winter and early spring bloom time.
The roots prefer cool and moist soil, while the heads love sunlight, so try planting among low-growing annuals to help shade the roots. Opt for well-draining, loamy soil for optimal growth.
Easy to Grow Flowers from Seeds – Pansies (Viola x wittrockiana)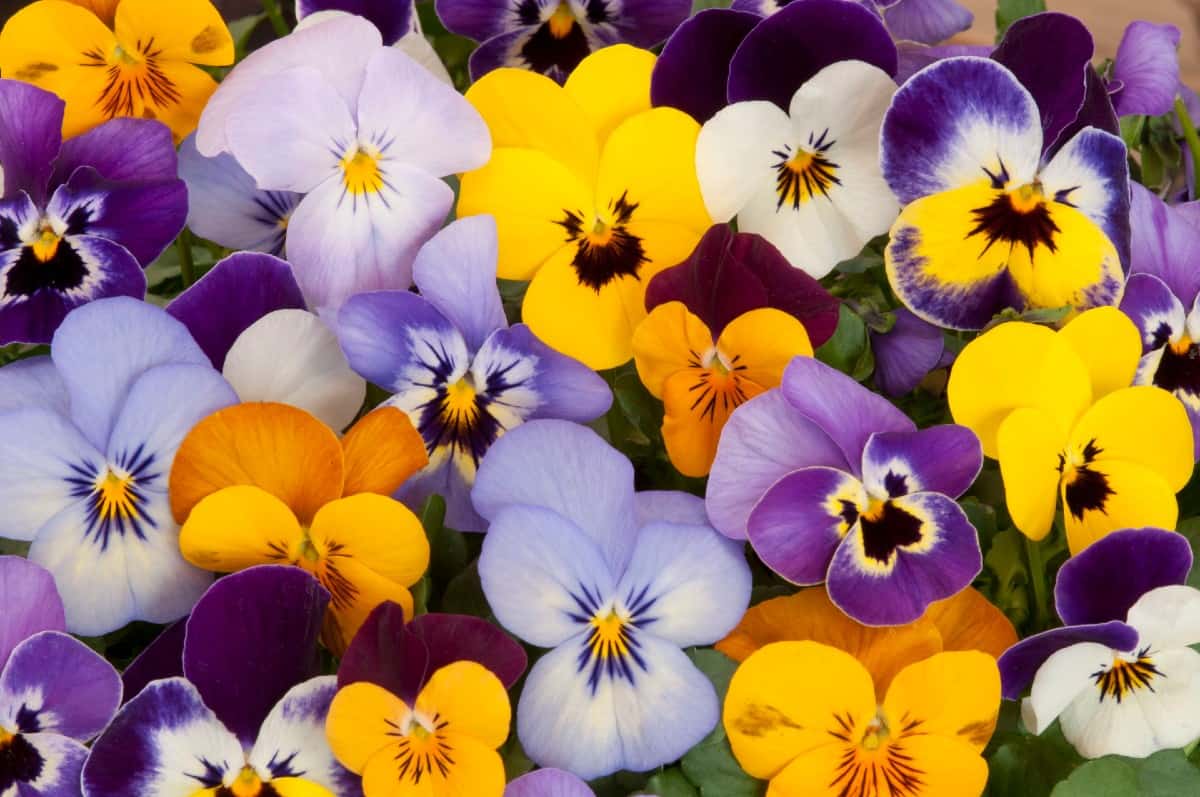 Many gardeners love these easy to grow plants, as their blooms appear to have faces. Pansies are a cool-weather option and add a burst of color to spring and fall landscapes. Pansies are a favorite among home gardeners as they come to a range of bright colors and patterns and feature overlapping, heart-shaped petals.
These plants work well as borders along walkways and flower beds, they also work well in containers and as a colorful ground cover. Pansies are not heat friendly and often appear leggy during the hottest parts of summer. They are cold-hardy though and often survive single-digit temperatures.
Seeds are often slow to germinate; they take up to three weeks to emerge depending on soil temperatures. Seeds are best started indoors eight weeks before the last frost of spring. They transplant best when soil temperature ranges from 45°F to 65°F.
Opt for well-draining soil in a partially sunny location, as they require cooler temperatures to survive. The morning sun is preferred, as the afternoon sun provides too much heat.
Petunias (Petunia)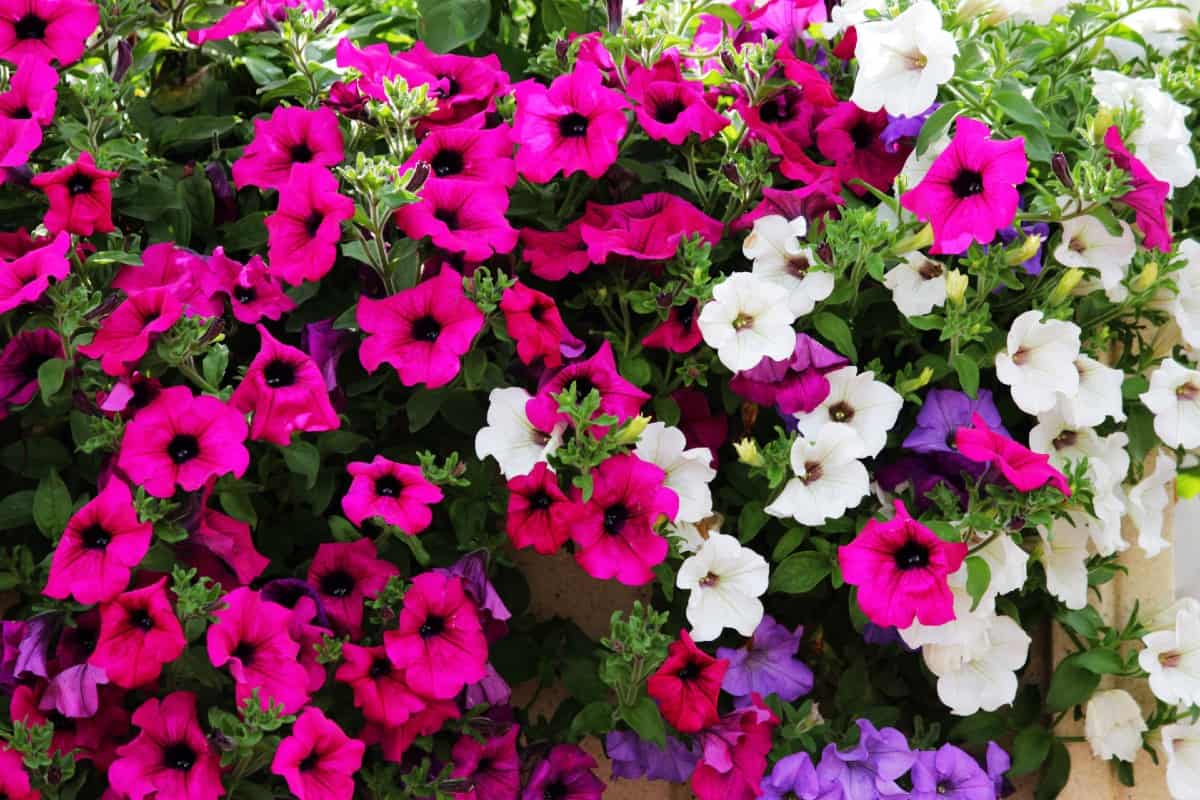 As easy and quick flowers to grow from seeds, Petunias are one of the most popular choices for home gardeners. In Zones 9 through 11, they are considered tender perennials; in other zones, they are treated as annuals. Grandiflora petunias offer large flowers and are ideal for baskets and containers.
Multiflora petunias feature smaller flowers that are more abundant and work well as a mixed border as they tolerate wet weather. To grow from seeds, start indoors 10 to 12 weeks before you wish to transplant them. These seeds require plenty of light for germination and regular watering.
Transplant outdoors once three leaves appear and plant them in well-draining soil in a location that receives full sunlight. Don't transplant until the danger of frost passes.
Full sun is best for blooming, as partial shade results in fewer flowers. Provide shelter from winds to prevent damage to the fragile flowers.
Zinnias (Zinnia elegant)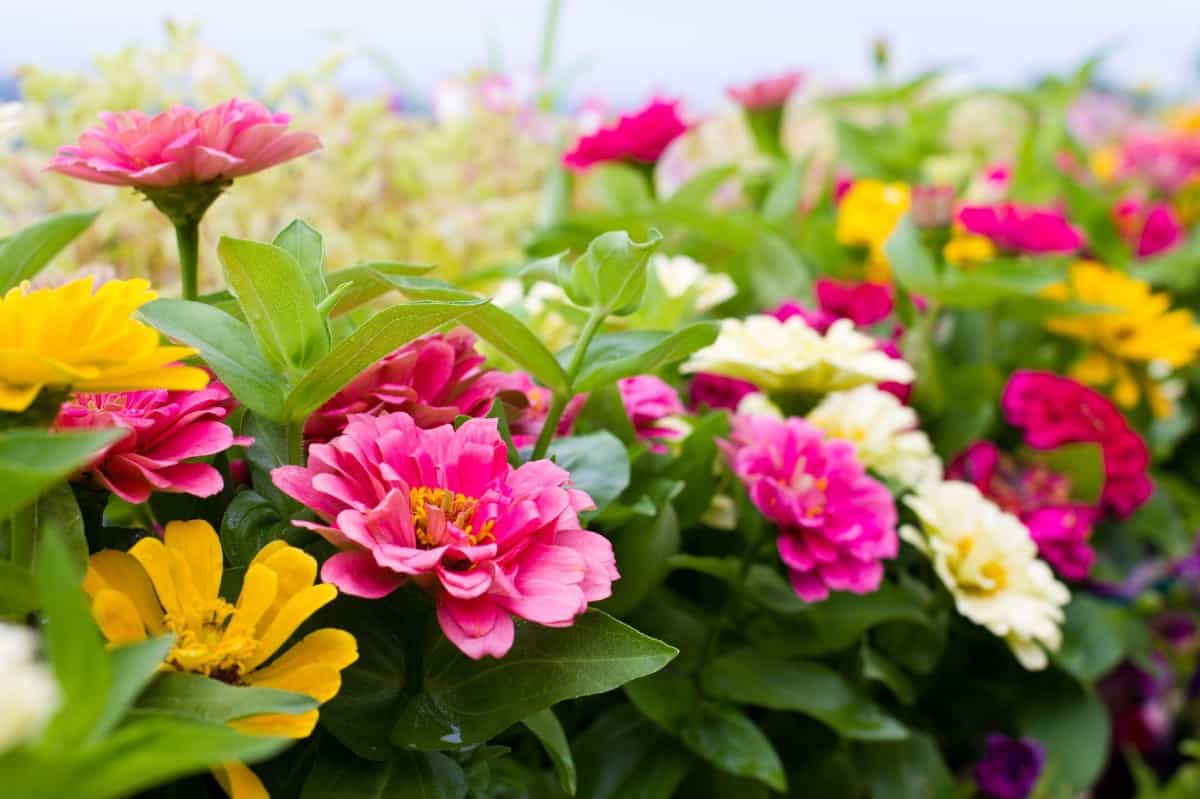 As annuals, Zinnias are an easy to grow flower that creates a bright burst of color in any garden. They do produce their seeds but are not considered self-seeders as the plant does not grow back each year unless you plant new seeds. The flowers are similar to daisies, are bright in color, and appear on a single stem.
Their single flower works well for cut flowers or food for several pollinators. Zinnias are available in three main kinds and come in a variety of shapes, making it easy to find the perfect addition for your landscape.
These do best when planted directly inside your garden bed as seeds. Transplanting often fails to thrive, so do so sparingly. Under the right conditions, these seeds grow quickly. Frost harms these seeds, so don't plant until the last frost passes.
Zinnias flourish best when temperatures are between 74 to 84°F but can tolerate temperatures as low as 60°F. To extend the blooming period, sow rows of seeds every week or two in full sun and well-draining soil.
Snapdragons (antirrhinum majus) – Easily Grow these Flowers from Seeds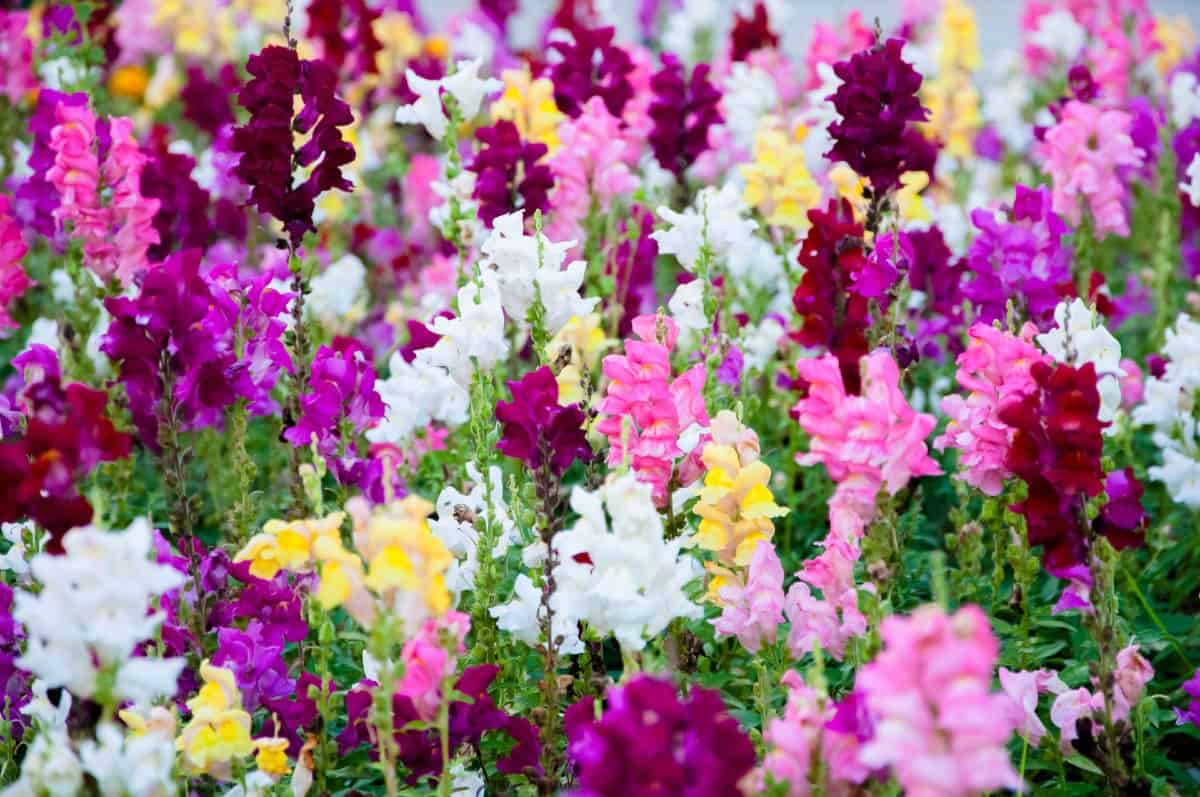 Snapdragons stand out among other flowers as they look similar to a calf's nose with leaves spiraling up the stem. When pressed from the sides, the flowers look like a mouth opening. Considered a tender perennial in certain areas, they are often grown as an annual.
They require planting in full sun but do well in partial shade as long as they are in fertile, well-draining soil. An undemanding plant, their flowers come in a variety of colors, including pink, red, white, violet, peach, purple, and yellow. These plants reach varying heights and grow best in colder temperatures.
The downfall to these flowers is they are highly susceptible to many diseases and pests, so monitor them closely. To ensure they survive the heat of summer, plant in partial shade as blooming often stops as the temperatures heat up.
Dianthus (Caryophyllaceae)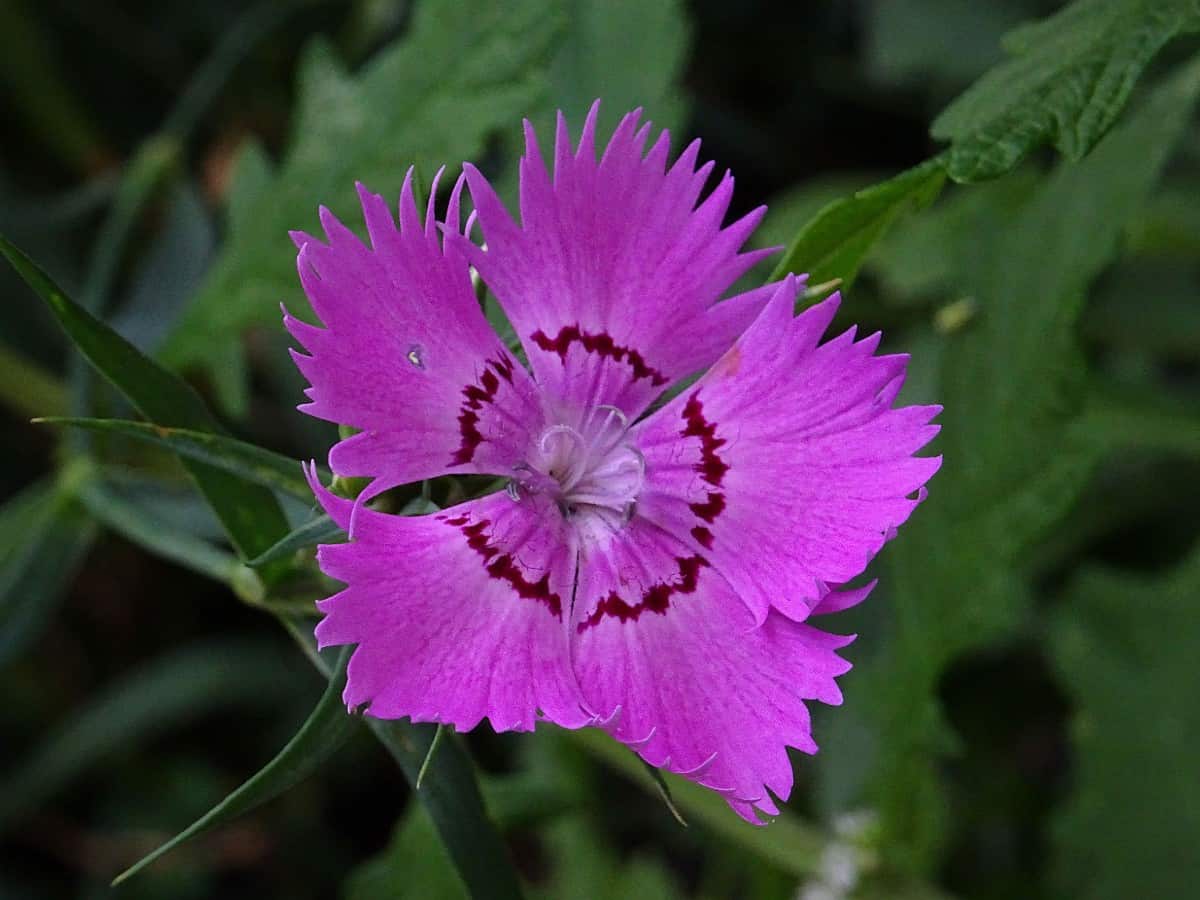 Although easy to grow from seeds, many gardeners are confused by these plants as some varieties of Dianthus behave differently. Some work as a biennial, while others act like a perennial, and others as annuals. With its bluish-grey foliage, Dianthus, no matter the array, works wonderfully in every garden.
Types include erect or trailing habits, along with mound shapes based on the model purchased. Blooms are most substantial during the spring with reblooming possible during the fall. Offering a clove-like fragrance, plant your Dianthus flowers along borders or at the front of your beds.
As they prefer quick-draining soil, these plants do well in rock gardens and alpine landscapes. Their nectar serves as an attractant to butterflies and hummingbirds. They are deer-resistant, but rabbits find them tasty.
Dianthus requires full sun, so plant in locations with a minimum of six hours of sunlight. Plant in early spring to ensure they are fully established before the heat of summer.
Nasturtium (Tropaeolum)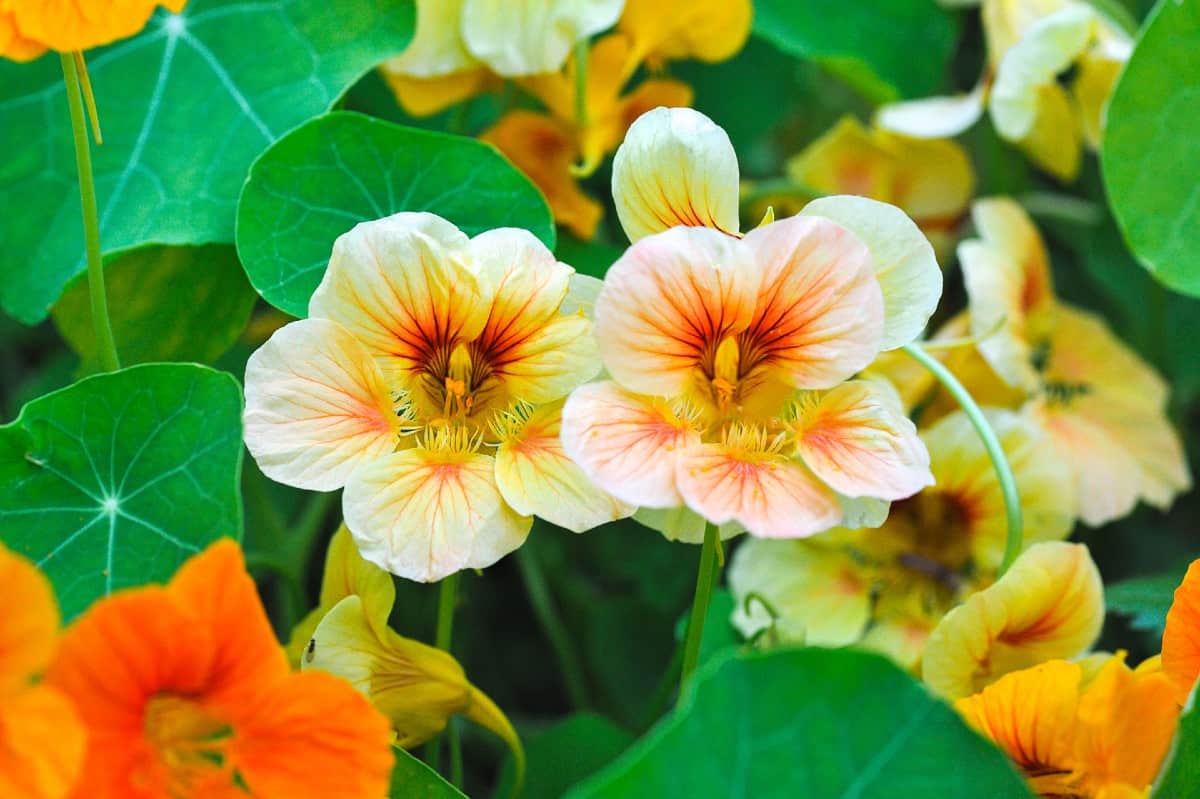 If you are after a low maintenance plant that thrives on neglect, consider the quick and easy to grow Nasturtium. Some people grow them to add to their salads, as both the leaves and flowers are edible. Others enjoy the cut flowers as they offer a pleasant fragrance and come in various shades of yellow, red, and orange.
Plant these beauties as ground cover in flower beds or pots and along walkways to fill the air with a sweet and pleasant scent. Nasturtiums require planting in the early spring and do best in poor soil and sunny conditions.
Fertile soil that includes fertilizer decreases the number of blooms the plant produces. These annual plants require well-draining soil and regular watering, be careful not to overwater. Deadhead any spent flowers you find to prolong blooming.
Grow these Plants from Seeds – Pot Marigold (Calendula Officinalis)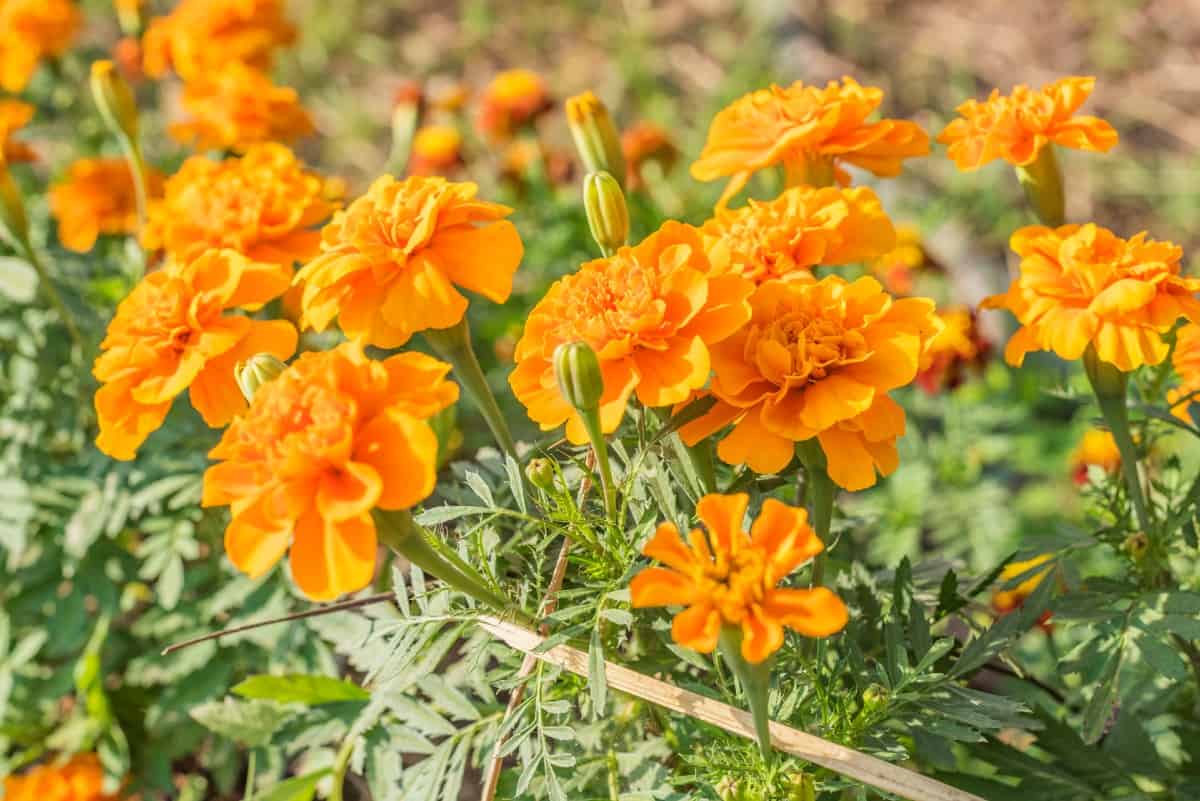 Also known as the Common Marigold or Scotch marigold, the Pot Marigold is treated as an annual despite it being classified as a perennial. The reason is in colder regions, the winter temperatures kill the plant off, while at the same time, extreme heat in the summer also affects its growth.
As flowers that bloom all summer, pot marigolds do well in most locations since they tolerate a variety of soil conditions. Sow seeds in sunny to partially sunny locations in rich and well-draining soil.
Expect to see bright orange, gold, and yellow blooms within two months of planting. Leaves spiral around the stem and are long and a bit fuzzy. To ensure year-long blossoms in ideal conditions, deadhead spent flowers.
Sweet Alyssum (Lobularia maritime)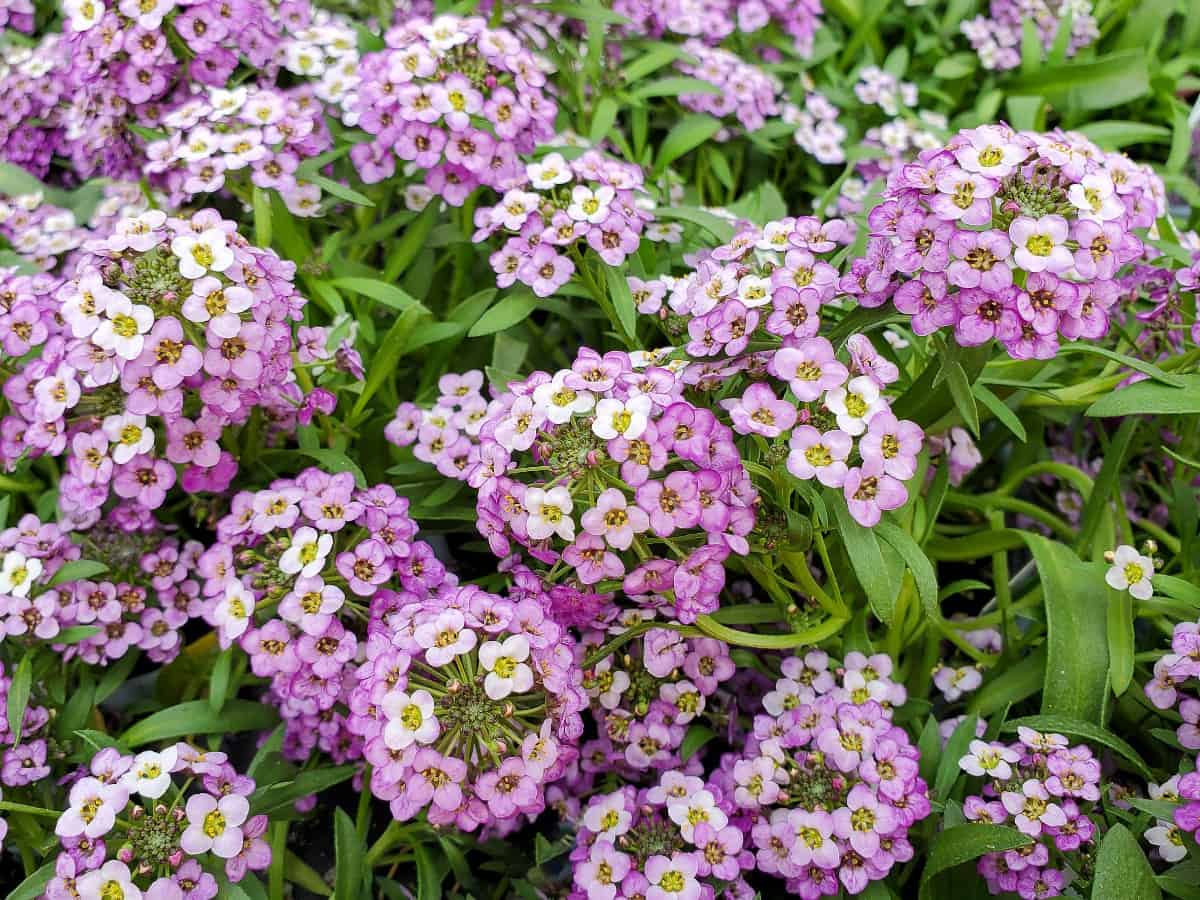 Sweet Alyssum offers tiny flowers covering much of the low-growing foliage through its entire growing season. The small, beautiful flowers provide a sweet yet subtle scent, so they are never overpowering. The cool-season plants do best when sown into the soil during early spring.
In areas with no danger of frost, gardeners find success growing them during the fall and winter. All varieties fade during the heat but start blooming again once temperatures begin to cool down. These plants typically reach heights of up to six inches with a width of about nine inches.
Plant seeds in partial shade or full sun, but they do best when they are in shade during the hottest temperatures. Select a loamy soil with a neutral pH and bear in mind they require lots of water during extreme heat. The plant doesn't tolerate prolonged dry conditions.
Love-in-a-Mist (Nigella damascene)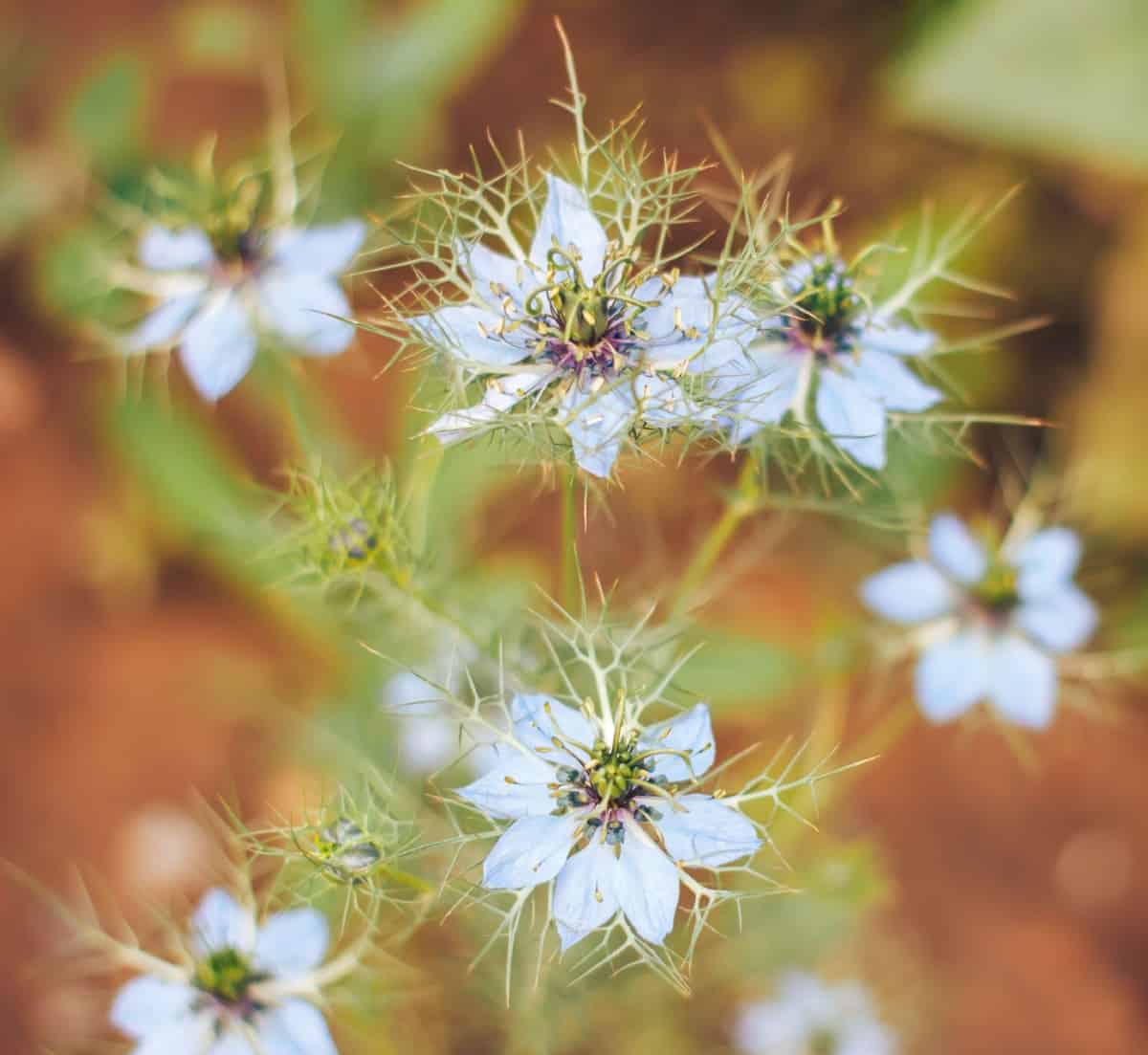 This reliable annual flower ranks high on the list of easy to grow flowers from seed. Love-in-a-Mist flowers appear shrouded in a misty web, making the plant itself a beautiful addition to your garden beds, but they also make excellent cut flowers for inside the home.
Native to southern Europe and North Africa, these seeds do best when directly sown into the soil during the spring with flowers appearing shortly after. Not harvesting them rewards you with new seed pods when summer heats up. Love-in-a-Mist grows upright, reaching up to two feet tall with flowers in white, purple, pink, and blue.
They make great additions to flower beds when planted over spring bulbs, as when the bulbs no longer bloom, they are replaced with foliage to add contrast and texture. Plant seeds 1/8 inch deep in the soil in areas that receive full to partial sun.
This low-maintenance plant does its best when it's left alone and self-seeds. Deadheading prolongs flowering but prevents seed pods from developing.
Easy Enough for Kids to Grow – Sunflowers (Helianthus)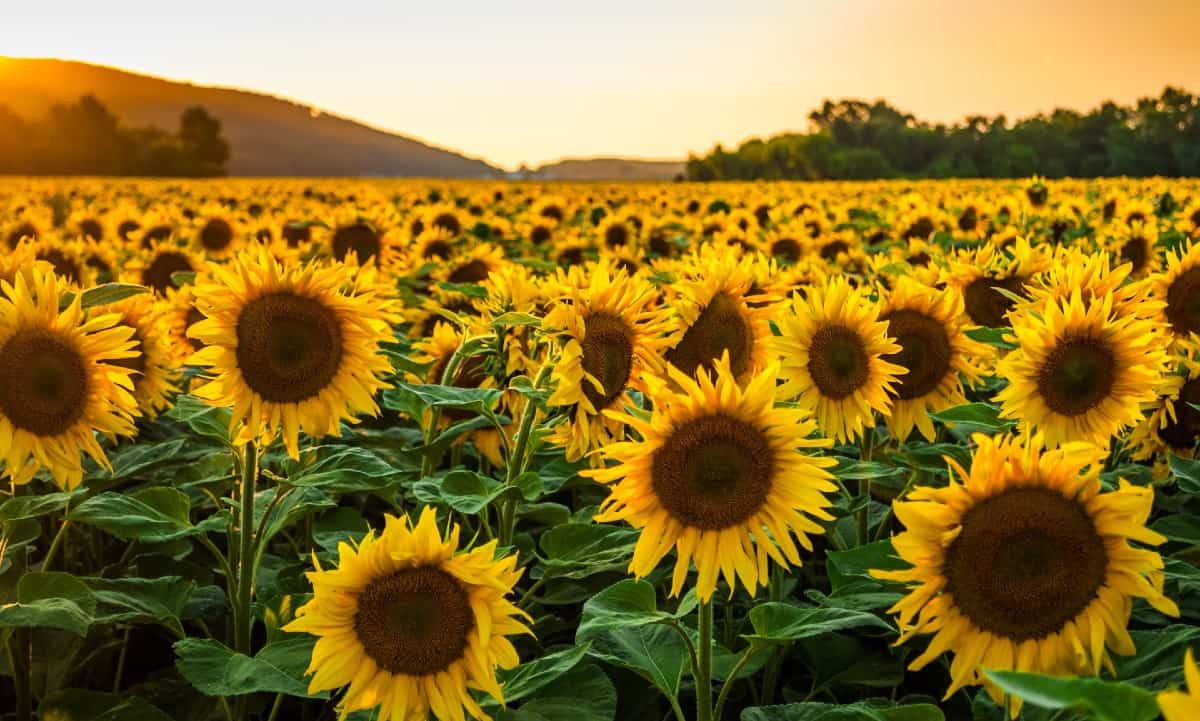 Sunflowers scream "summer" when you see them. These well-known plants are heat and pest resistant, plus who doesn't love their edible seeds. Sunflowers are heliotropic; they follow the sun's movement as it travels across the sky. The flowers turn as the sun moves throughout the day.
These sturdy plants are easy to grow, as long as you don't plant them in waterlogged soil. Sunflowers are a tall plant, with some reaching up to 16 feet tall. They feature huge flowers that look similar to daisies.
The yellow and sometimes red petals encircle a brown center that becomes heavy and full of seeds as it ripens. The tall plants offer large bristly leaves and require direct sunlight to thrive. Their taproots need room to stretch out, so plant accordingly in nutrient-rich soil.
Four O'clock (Mirabilis jalapa)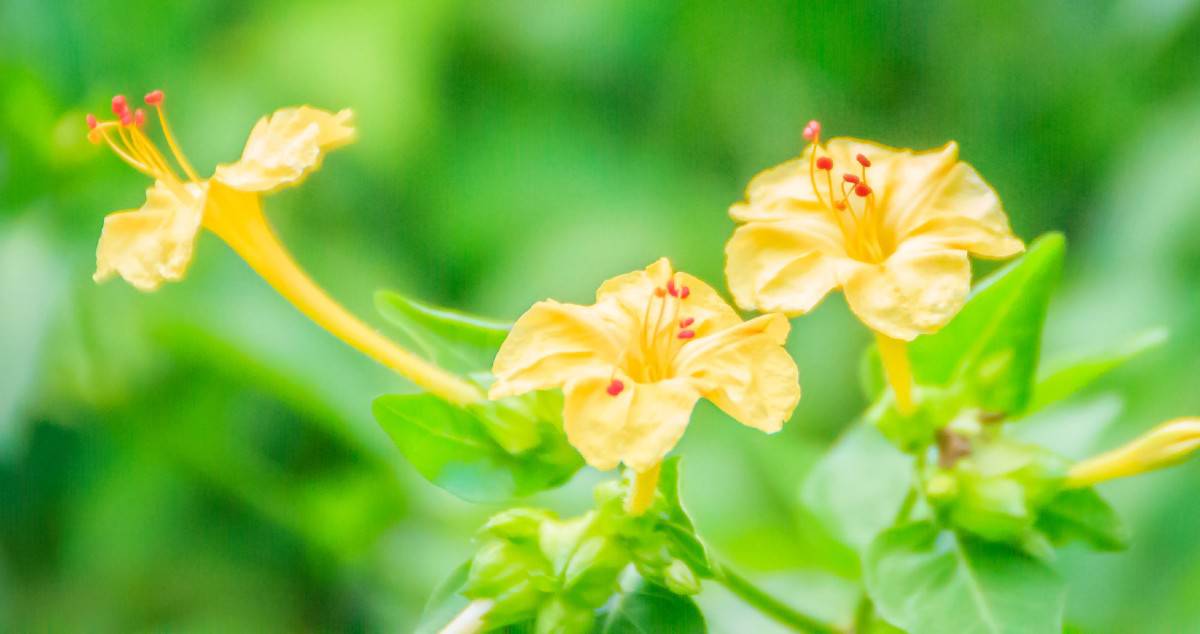 Outside of the hardiness range of zones 9 through 11, Four O'clocks grow as annuals rather than perennials, but in all areas, they are a garden favorite. These very easy to grow perennials offer multi-branching stems lined with pointy, oval leaves. What makes it a favorite is the same plant offering a variety of different colored blooms.
Individual flowers also provide a mix of colors in some types. The herbaceous perennial tolerates a variety of soil conditions but requires full sun to partial shade for ideal growing conditions and the most variety and proliferation of blooms.
These plants prefer neutral to slightly acidic soil and bloom from early summer until the first frost appears. Four O'clock reaches up to three feet in height with a similar width. As heavy feeders, they require fertile soil or regular feeding.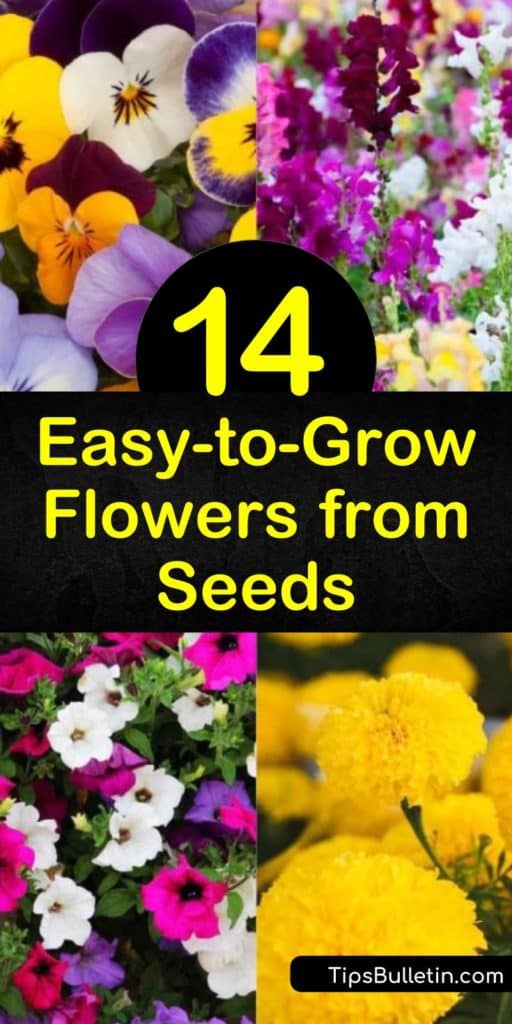 Thank you for reading our ideas on easy to grow plants from seeds. If you found any of our flower seed ideas useful, please take a minute to share our views on easy to grow flowers from seeds on Facebook and Pinterest with others so they can plant a beautiful flower garden at home, too.