Do you want to try your hand at growing flowers, but fear that you don't have what it takes to grow them? The truth is, you don't need to have a green thumb to grow beautiful flowers. There are many varieties of easy to grow flowers to get you started on the path to a lovely flower garden.
Some of the easiest flowers to grow are annual flowers. They require little care and have continuous blooms from early spring to late summer. The only downfall is that, unlike perennial plants, annuals die off after one growing season.
That said, perennial varieties are also easy to grow in the garden bed. Not only that, but they grow back each year with little effort. The key to simple gardening is to plant low maintenance flowers that are capable of growing in your area, whether they are annuals or perennials.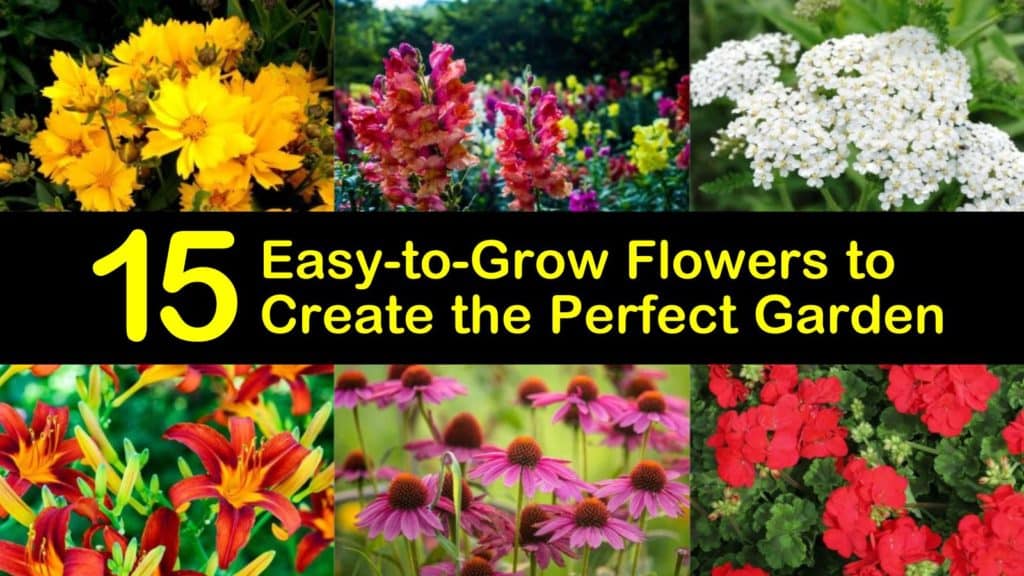 Flowers that are Easy to Grow to Brighten the Yard and Home
There are so many plant and flower varieties that it's hard to know where to start, especially if you are a beginning gardener. What types of flowers are easy to grow?
Should I plant them in the sun or shade? How often should I water them? We have the answers to these questions and more.
What are the Benefits of Growing Flowering Plants?
Blooms in flower beds or hanging baskets add a colorful display to your home and yard. Relaxing in a garden of flowers on a lazy afternoon calms the mind and helps us stay in tune with nature. But, there is more to growing flowering plants than just their visual appeal.
Many pollinators depend on flowers for their survival. Everything from honeybees and bumblebees to hummingbirds and butterflies receive pollen and nectar each time they visit colorful blooms in your garden. In return, these pollinators help the production of seeds, which helps your garden thrive.
Is It Easy to Grow Flowering Plants Even if I Don't Have a Green Thumb?
Easy to grow perennial flowers can be planted once you understand their basic needs, even if you have a brown thumb. Think of it this way. Plants and flowers have been growing on their own since the beginning of time.
The only difference now is that you are picking your favorites and choosing their location. The key to a healthy flower garden is to work with plants that grow well in your soil type, sun or shade conditions, and climate.
Once you establish that, growing flowers is as easy as sticking their feet (or roots) in the ground, giving them a drink of water when they need it, and letting them do what they do naturally.
Can Flowering Plants be Grown Anywhere?
The answer depends on the type of flower. For the most part, annuals grow easily in just about any climate because they die off at the end of the growing season.
On the other hand, perennials are more finicky, and different varieties require specific climate conditions. It's essential to know your growing zone when planting new flowers.
Another thing to consider when planting flowers is whether they grow best in shady or sunny locations. Planting a shade-loving plant in a sunny area causes the flowers to wilt and die. Planting a sun-loving plant in the shade may not kill it, but it does not flourish and thrive.
Some perennial flower varieties can also become indoor floral plants. Ensure that they get enough light and water and you can grow your favorites in the living room or kitchen with ease.
What Can I Do with Easy to Grow Flowers?
Create a garden filled with flowers that attract butterflies, hummingbirds, and other pollinators. This practice is beneficial to the environment and creates a beautiful and relaxing area to enjoy nature.
Another great way to enjoy easy-to-grow flowering plants is to create a cut flower garden. Cut flowers are generally long-stemmed flowers that continue to thrive for several days after you cut them. A cut flower garden allows you to fill your home with vases of colorfully scented blooms.
Marigold (Calendula officinalis) – Easy to Grow and Deer-Resistant Flower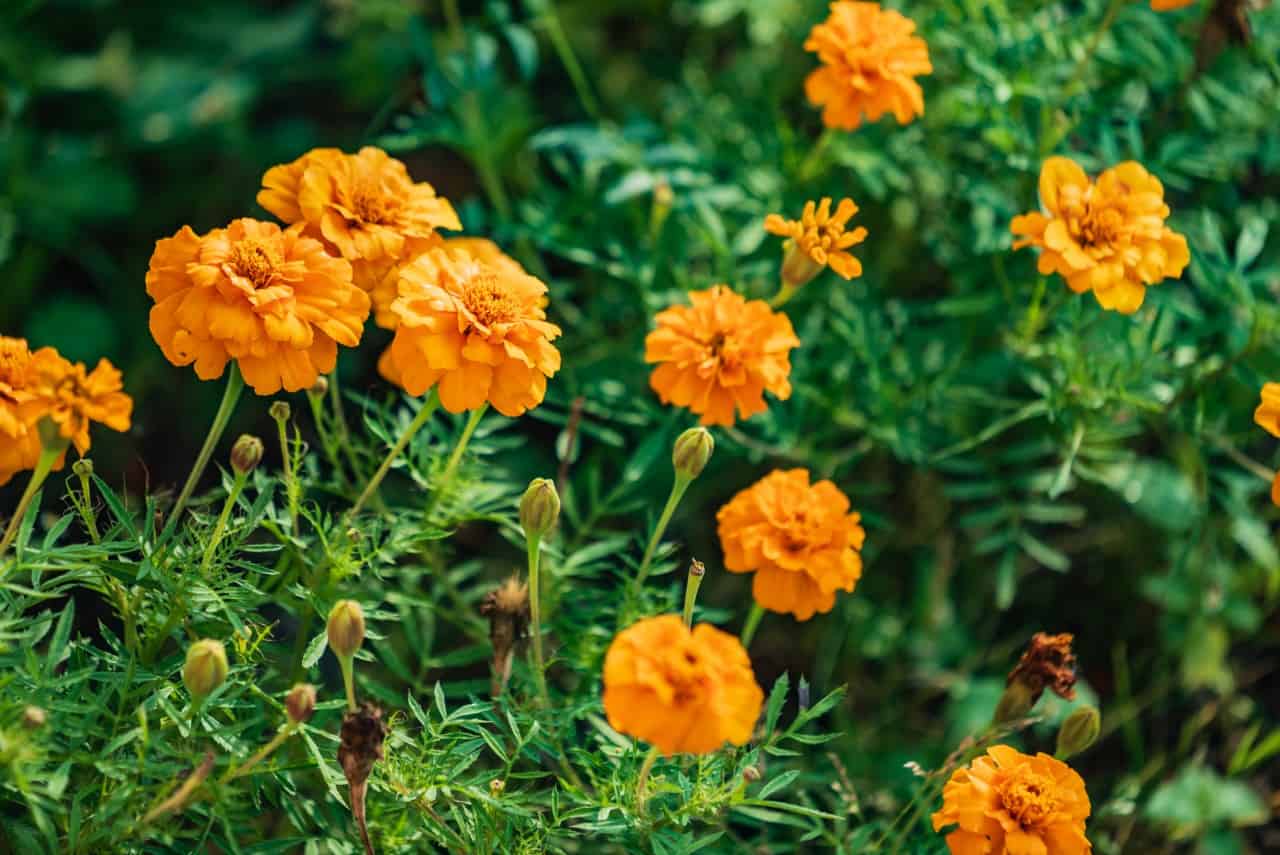 Marigolds are an annual flower that blooms in vibrant shades of gold, yellow, red, and mixed colors. These bright blooms are easy to grow flowers from seeds and reach heights that range from 6 to 36 inches depending on the variety. These flowers do well in borders and around gardens but tend to overcrowd when placed in containers.
Plant this no-fuss flower in sunny areas of your yard and watch as the butterflies and ladybugs flock to your garden. If you have sandy or dry areas, this is an ideal flower for you since it loves well-drained soil.
Deer love munching away on your favorite plants and flowers, but the good news is, they tend to ignore marigolds as they have a scent that can be unpleasant to them.
Not only that, but these flowers repel mosquitoes, ticks, aphids, and other well-known garden pests. Marigolds are also one of the best squirrel deterrent plants, as well.
Daylily (Hemerocallis lilioasphodelus)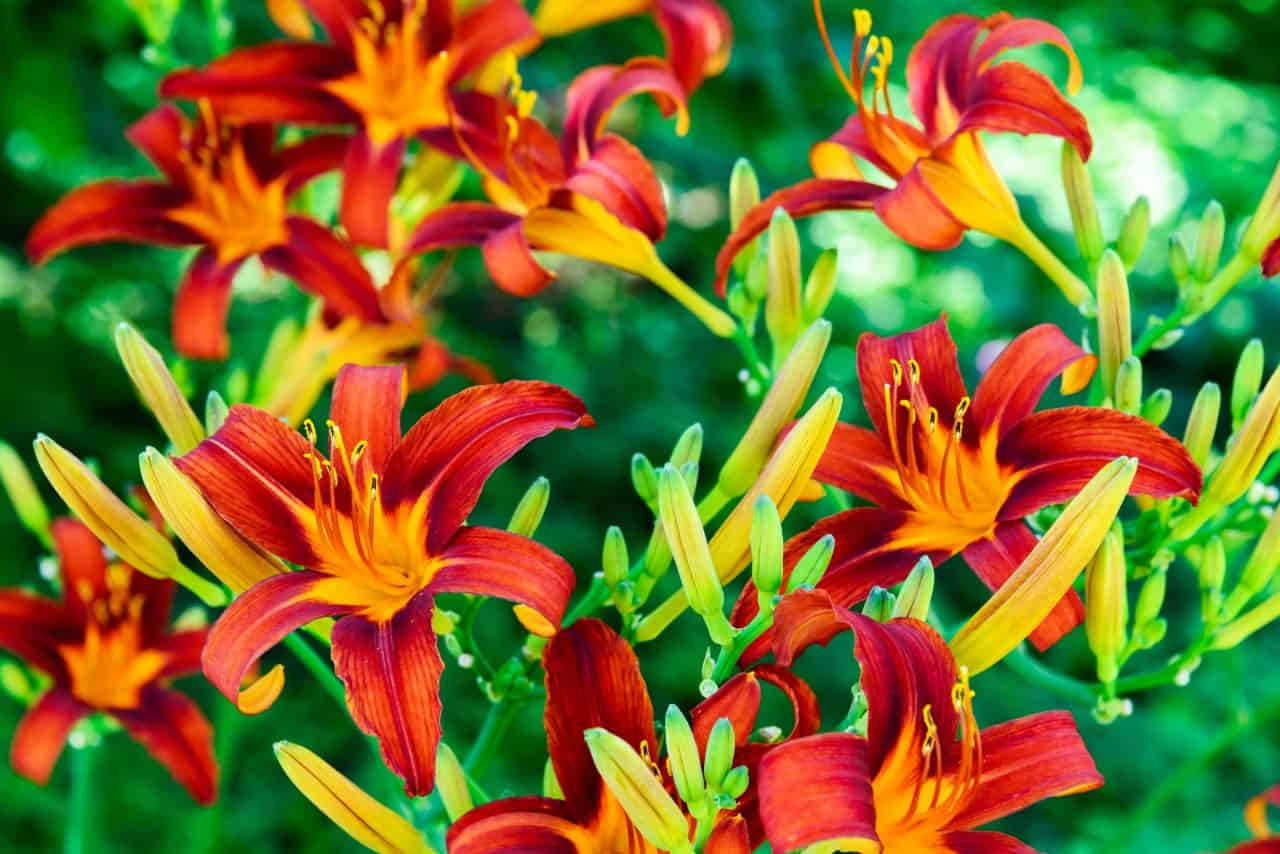 Daylilies bloom in a splash of many different colors that range from yellow and red to pink and purple. These perennial flowers that bloom all season grow from 12 to 48 inches and blossom best in bright, sunny locations. The daylily grows ideally in zones 3 to 10.
Daylily flowers love the sun and are tolerant of heat and humidity. Their rainbow of colors is striking when planted in large groups. You can also use them as a statement flower and plant only a few in a single location. While they are tolerant of poor soil, they require consistent watering and good soil drainage.
There is a reason this flower is called a daylily. Each vibrant bloom only lasts one day. It blossoms in the morning and wilts by the following evening. However, planting daylilies in clusters provide continuous blooms over a long period.
Geranium (Geranium Dissectum) – Vibrant Flowers that are Easy to Grow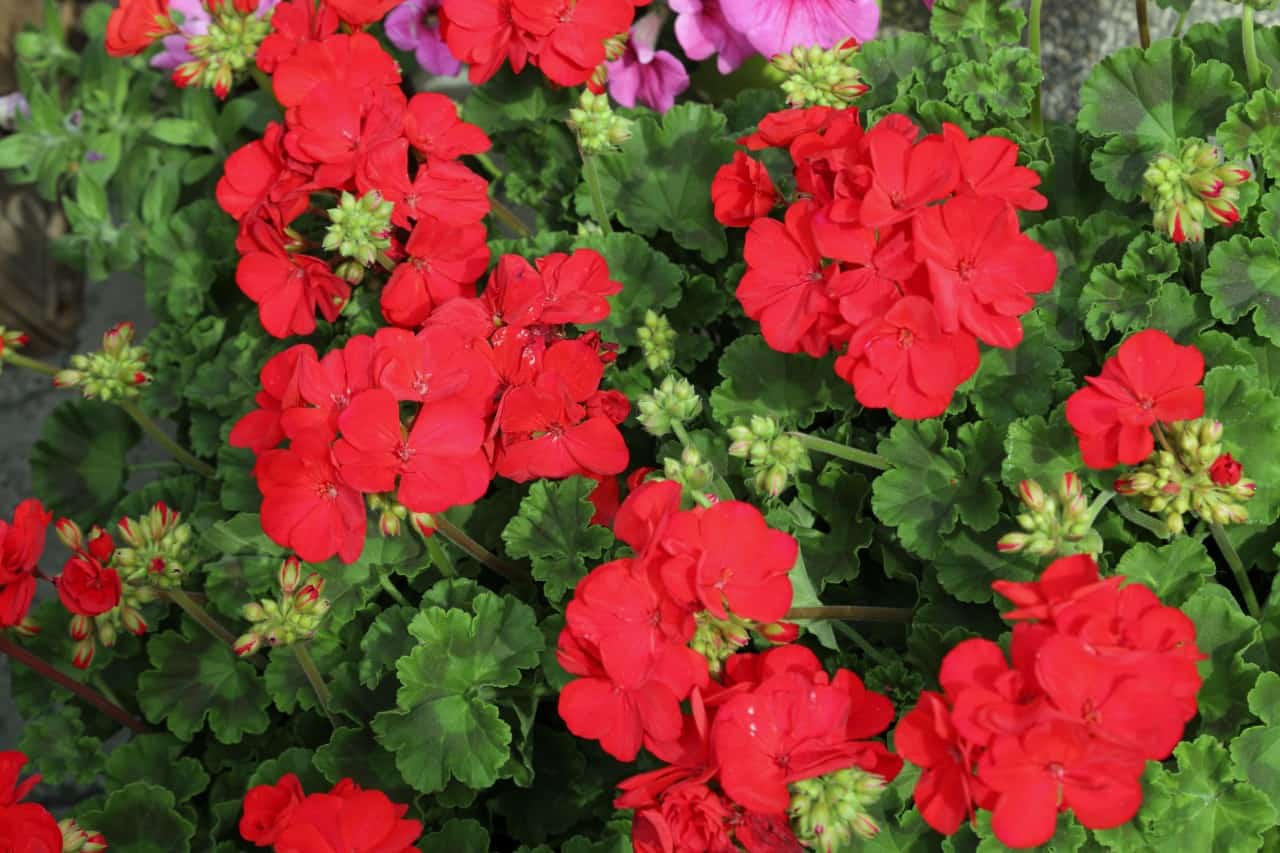 Geraniums are most common in bright red colors but are also available in pink, purple, and white shades. These flowers are easy to grow in zones 10 and 11 and considered a perennial but are annual in all other locations. Their height ranges from 3 to 24 inches.
These easy to grow outdoor flowers require fertile and well-drained soil and grow best in baskets, window boxes, and flower beds. They prefer full sun, but if you live in a hot climate, they need some afternoon shade to prevent withering.
These abundant bloomers attract birds, but unfortunately, geraniums are toxic to cats and dogs. They have a long blooming season that begins in early spring and extends to fall and may even bloom indoors under the right growing conditions.
Zinnia (Zinnia elegant)
Zinnias bloom in shades of yellow, orange, red, pink, and white, and reach heights up to 24 inches. Plant these easy to grow flowering plants in well-drained soil, in a sunny location of your yard, and watch them bloom throughout the summer.
Plant zinnias in flower beds or containers in sunny areas and water them regularly for optimal growth. They are deer resistant and most other creatures don't like them either, so there are no worries of losing your flowers to evening munching.
These plants that grow fast and are reliable growers produce blooms of bright colors with different shaped petals that quickly attract butterflies and hummingbirds to the garden. These flowers are non-toxic to pets, so everyone in the family can enjoy them.
Dahlia (Dahlia pinnata) – Easy Growing Tuberous Flowering Plant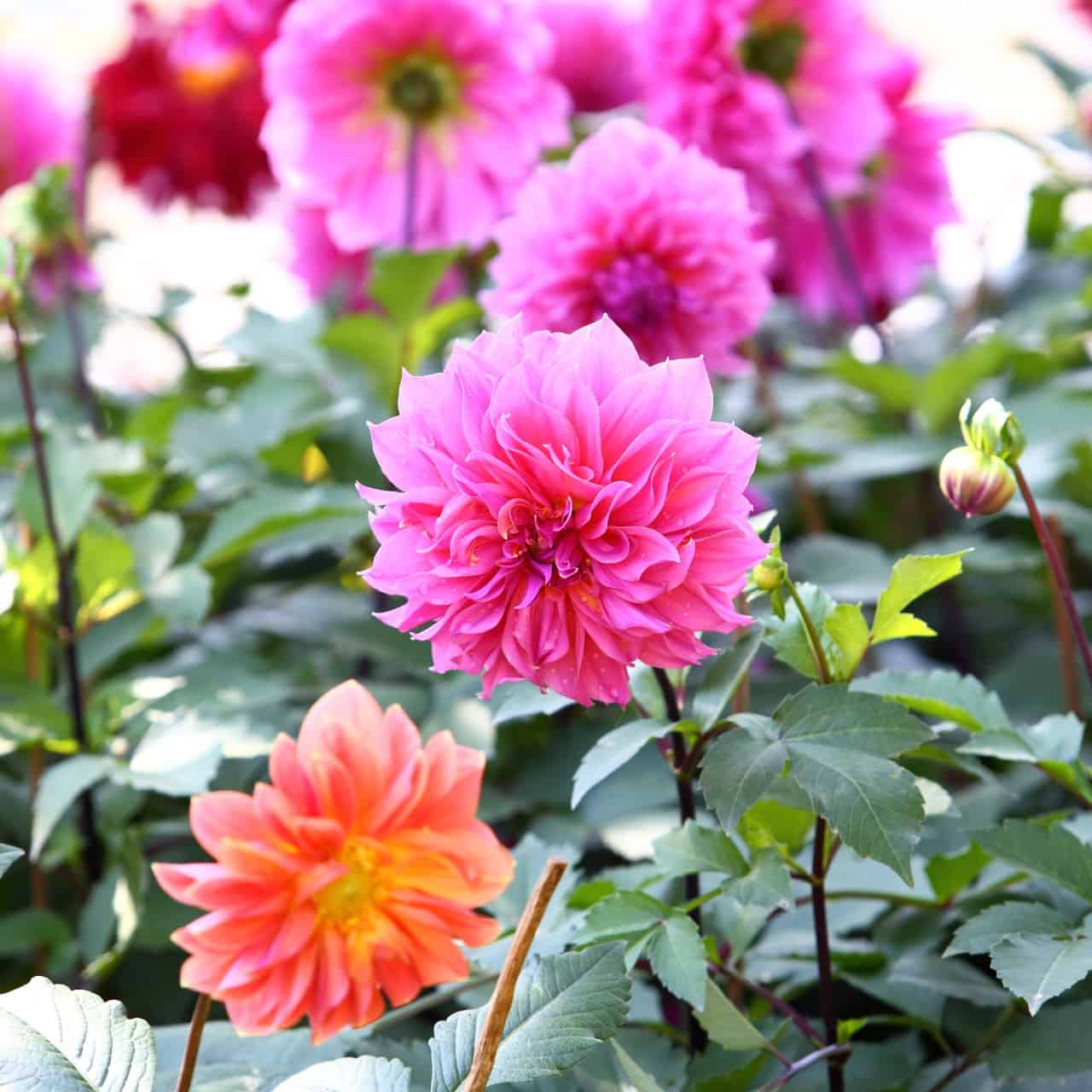 The dahlia's flower bloom has a unique appearance with it's thick and waxy petals. Their blooms are intense in varying colors, with over 42 different species. Since they are tuberous, they are dug up and stored during the winter months, unless you live in zones 7 to 10.
Dahlias need full sun and rich, well-drained soil and reach heights of 1 to 6 feet tall. They bloom from July to September with red, purple, pink, orange, yellow, and white blossoms.
The best time to plant dahlia tubers is in May. Place growing cages (tomato cages work great) in the ground to support the dahlias during growth and plant dwarf-dahlias in containers.
Echinacea (Echinacea purpurea 'Maxima')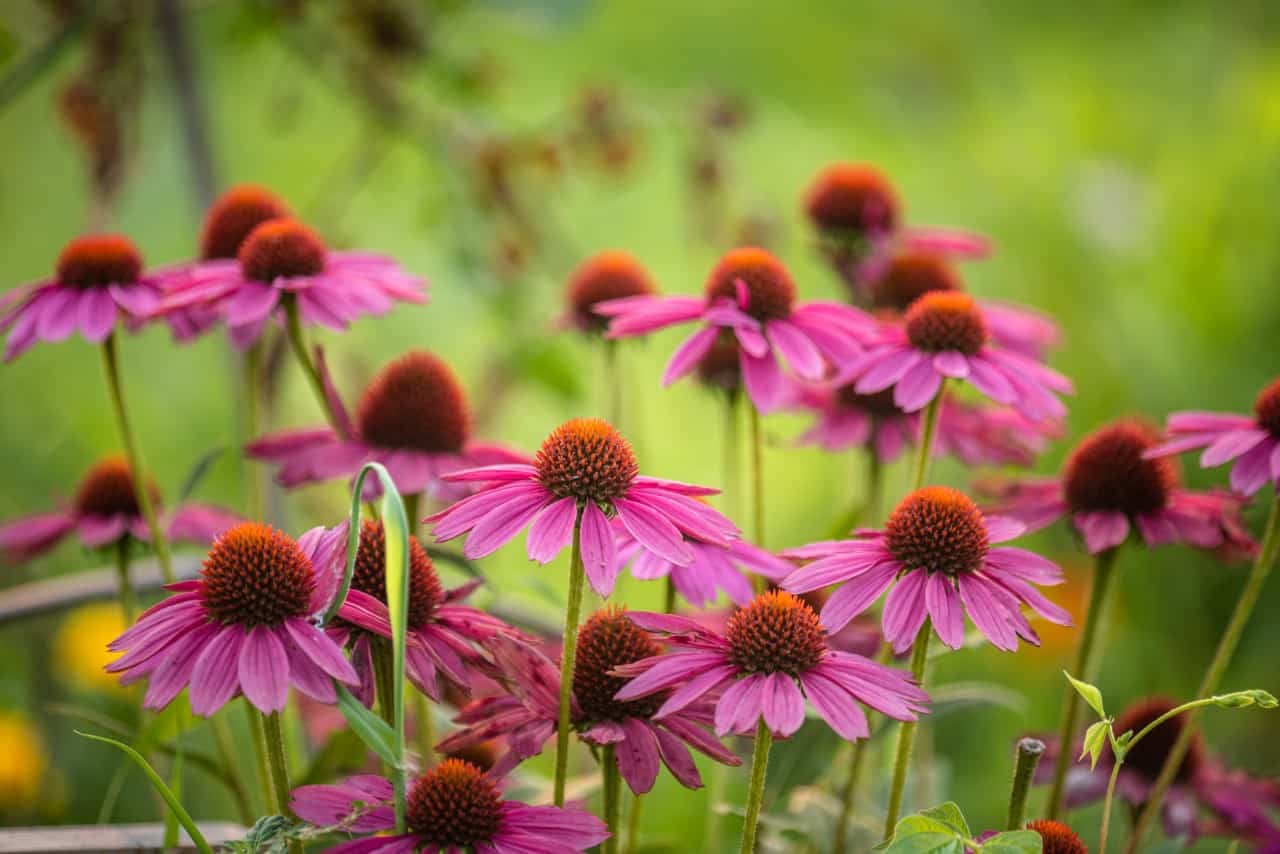 Echinacea, also known as coneflowers, reach heights of 2 to 5 feet tall. This drought-resistant, easy to grow flower blooms in shades of orange, yellow, pink, red, purple, and chartreuse. They are well known for their cone-shaped center and petals that droop from it.
As one of the fastest growing flower seeds, these hardy flowers are sun lovers but love a bit of afternoon shade if you live in a hot climate. It is a perennial flower, thrives best in zones 3 to 9 and prefers average, well-drained soil.
Echinacea blooms from June through August and attracts all sorts of beneficial creatures to the garden, including songbirds, butterflies, honey bees, and hummingbirds. These are some of the best flowers for honey bees and they make a great addition to a nature lover's garden.
Yarrow (Achillea millefolium) – Medicinal Flower that is Easy to Grow
Yarrow is a versatile and hardy perennial with showy flower heads made up of tiny clusters of tightly packed flowers. It has fern-like foliage with red, pink, and yellow flowers that reach heights of 2 to 4 feet.
This care-free flowering plant is ideal for ground cover and borders. It becomes leggy if planted in areas with partial shade, so full sun is needed. They grow best in well-drained soil in hardiness zones 3 to 9.
This aromatic herb is a resilient flower that is not only pest and drought tolerant but attracts butterflies as well. Yarrow is known for many health benefits, including wound treatment, fever reduction, and lowering blood pressure.
Pansy (Viola tricolor var. hortensis)
Pansies are delicate, colorful flowers that are generally grown as an annual but are also perennial/biennial in zones 6 to 10. There are many different varieties of pansy flowers, with an array of colorful and striking blooms that only reach heights of 6 to 9 inches.
Pansies prefer rich, well-drained soil with regular watering. They grow well in full sun to partial- shade with temperatures that range from 45 to 75°F. Remove the faded flowers to prolong the blooming season.
The soft and fragile petals of the pansy have a friendly face-like appearance with heart-shaped, overlapping petals. These quirky little flowers attract butterflies and have a showy display whether you plant them in containers or as ground cover.
Sweet Pea (Lathyrus odoratus) – Fragrant Flowers that Anyone Can Grow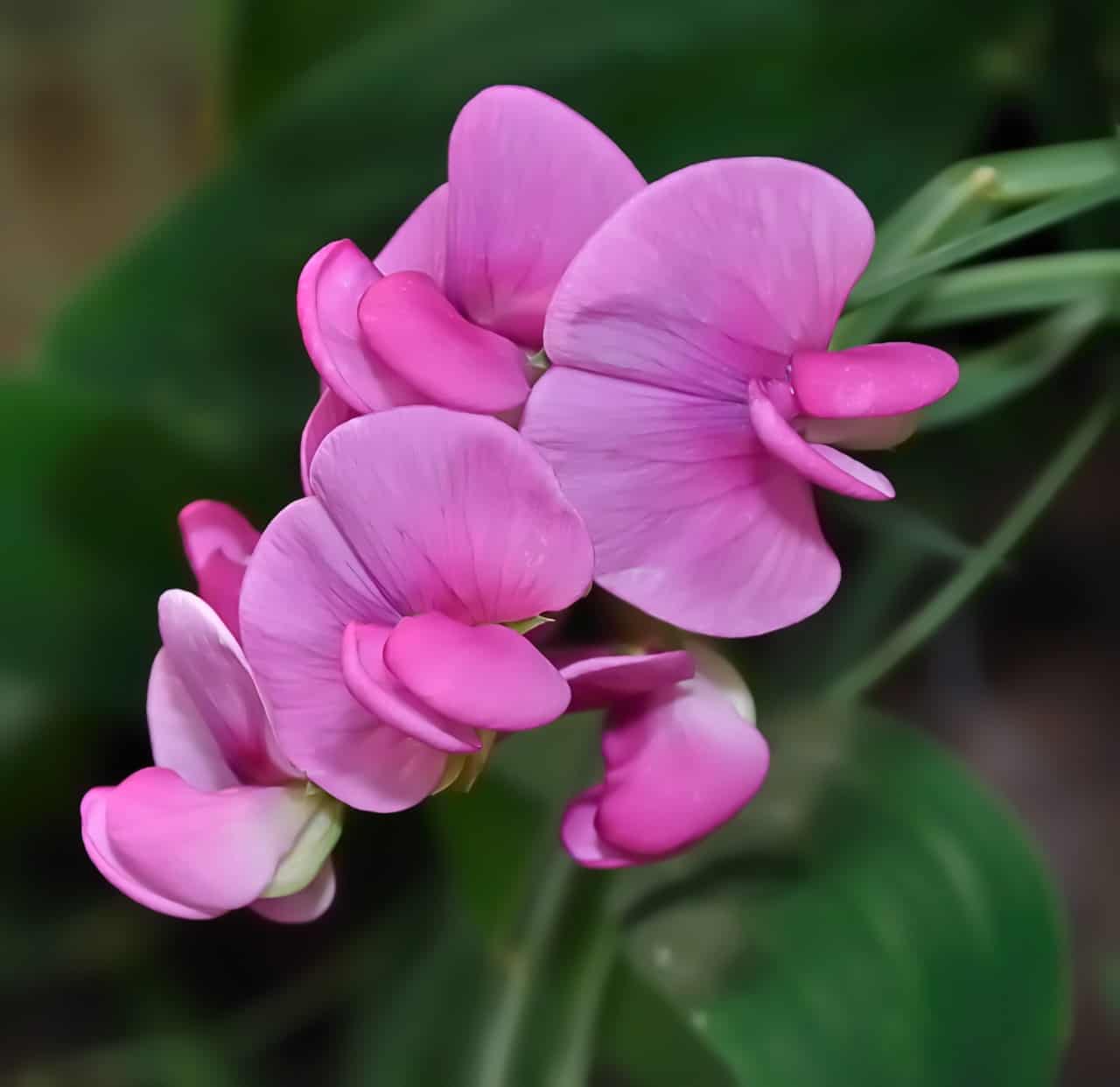 If you are looking for a fragrant, easy-to-grow flower, then sweet peas are the ones for you. They flower exotic looking, scented blooms from spring to early summer and reach heights of 3 to 8 feet.
The pink, purple, blue, red, and white flowers of the sweet pea grow best in full sun with moist, well-drained soil. Due to its height, this annual flower needs support from a fence or trellis to keep it upright. While the seeds of the flower resemble a sweet pea (hence its name), they are not edible and are toxic if eaten.
Coreopsis (Coreopsis gigantea)
Coreopsis, otherwise known as tickseed, is a profuse bloomer with dainty daisy-like flowers that range in color from orange and yellow to pink and red. This perennial flower reaches heights up to 18 inches tall and blooms throughout the summer.
The coreopsis is a drought-resistant, low maintenance flower that grows well in zones 4 to 9. These flowers are easy to plant at any time during the growing season and produce flowers in upright clumps when grown in full sun.
They are wildflower perennials that are native to prairies and prefer warm and dry climates. This particular flower tends to self-seed, and many birds, especially goldfinches, love eating the flower seeds during the early fall and winter months.
Sunflower (Helianthus annuus) – Easy to Grow Flowering Plant with Edible Seeds
While the typical sunflower is generally yellow, they also come in brown and mixed colors. These sturdy large flowers grow from 3 to 16 feet in height, making them a majestic presence in the yard.
The annual sunflower is heat and drought tolerant and grows well in any soil as long as it is not waterlogged. The flower may require support as it develops due to its weight and height. While the sunflower is considered an annual, there are times when it self-sows from dropped seeds.
Not only do some of the sunflower varieties produce edible seeds, but they also attract birds, butterflies, and bees. If you don't plan on eating the sunflower seeds yourself, consider drying and laying them out for the birds during the winter months.
Snapdragon (Antirrhinum majus)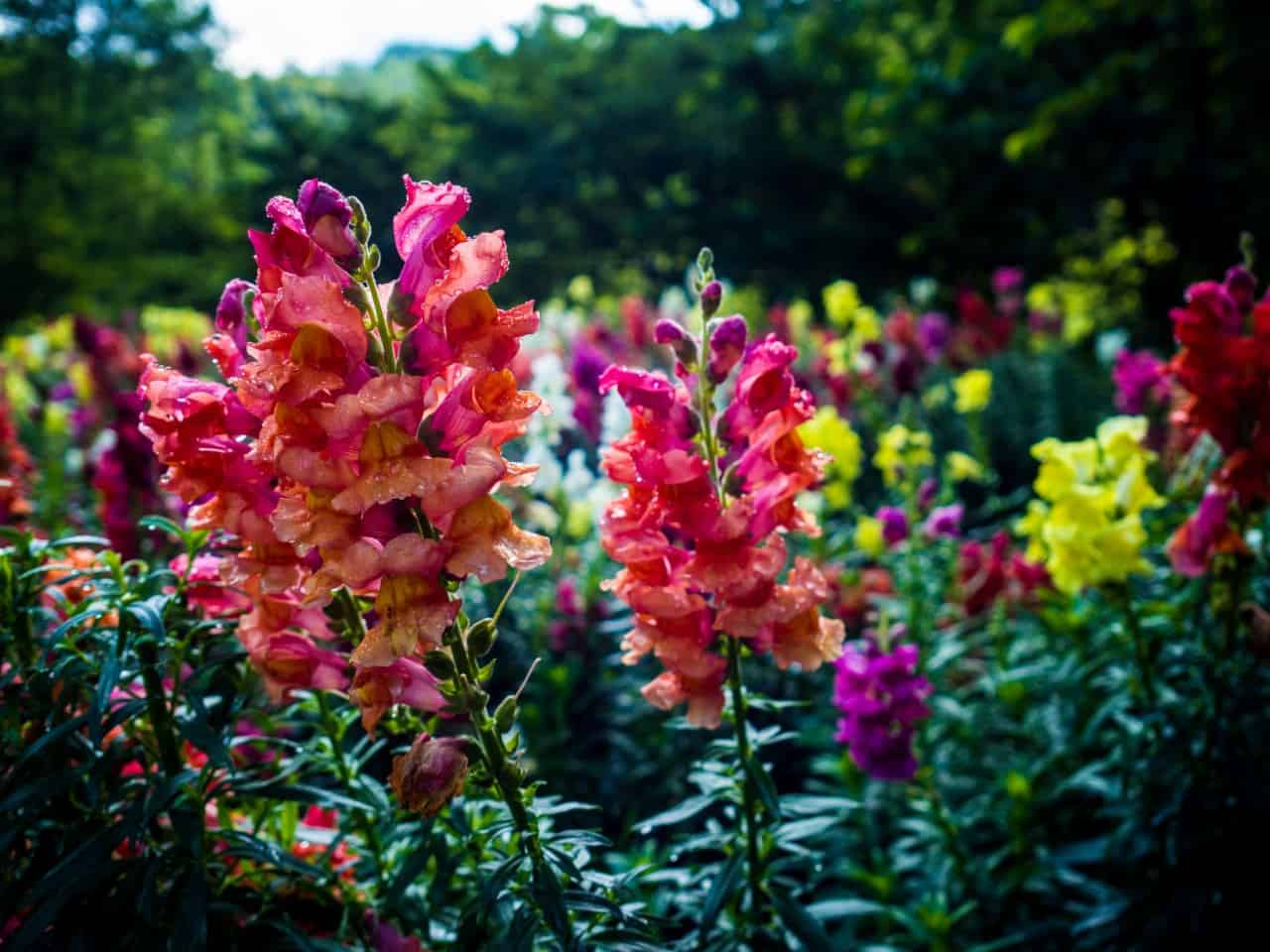 These annual flowers produce stems layered with colorful flowers that reach up to 15 inches in length. They range from white, pink, and purple to peach, yellow, and red in color and bloom from spring to fall. Grown as an annual, they are also a perennial in zones 5 to 10.
Snapdragons perform best in sunny locations of the yard and prefer well-drained soil. When strategically planted, they make an ideal flower for edging due to their uniform growth.
Snapdragons are a popular flower for use in cottage styled gardens due to their size and quaint, colorful array of flowers. They also attract many pollinators, such as butterflies and honeybees.
Wax Begonia (Begonia obliqua) – Flower that is Easy to Grow in the Shade
The begonia is a unique flowering plant that produces waxy flowers in pink, orange, white, and yellow shades. There are different varieties of begonia, with some that produce single, smooth petals, and others that produce double blooms with ruffled petals.
The wax begonia is an annual that grows as a perennial in zones 10 and 11. It produces blooms throughout the summer and fall and is an excellent candidate for hanging baskets. This easy to grow flower requires moderate watering in a shady location.
Impatiens (Impatiens scapiflora)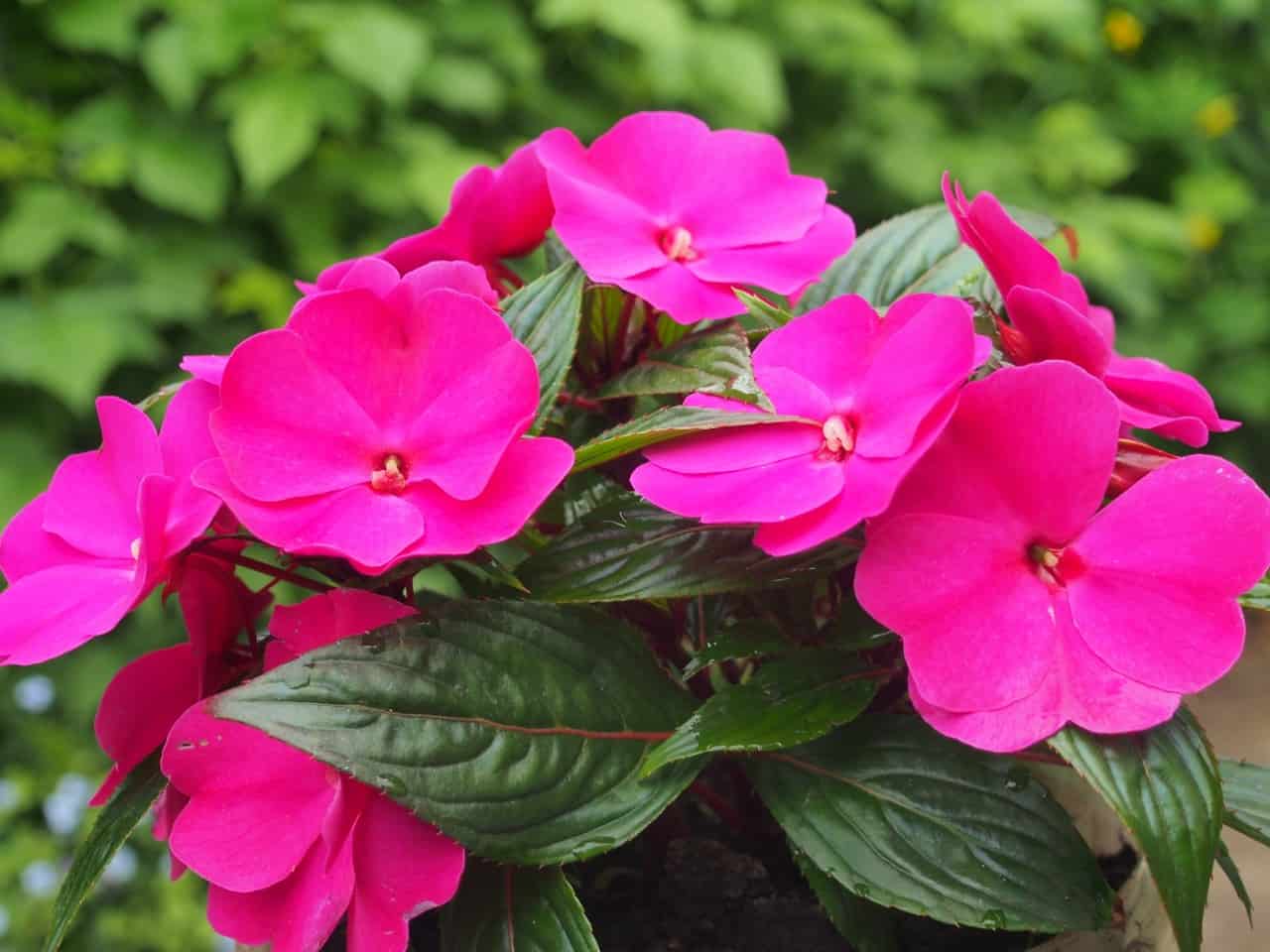 These low growing plants produce delicate flowers in a variety of eye-popping colors, often with variegated leaves. They are commonly grown as an annual but are a perennial in zones 10 and 11.
Impatiens grow best in loamy soil that is kept moist but not saturated. They are a shade loving flower that wilts if its hit directly by too much sun for long periods. The plants burst with colorful blooms from late spring until the first frost.
Birds are attracted to these flowers and make a great addition to areas around bird feeders, along a pathway, or as ground cover. The closer together you plant your impatiens, the taller they grow.
Nasturtium (Tropaeolum) – Easy to Grow Edible Flower
This fast-growing flower reaches heights of 8 to 10 feet with colorful blooms of red, orange, yellow and cream, and lush, round leaves. This annual blooms from May through September and creates a spectacular backdrop to any flower garden. Nasturtiums require full sun and well-drained soil for optimal growth, and it needs regular watering without over-watering.
Remove dead flowers to prolong blooming. Both the leaves and flower petals are edible and have a mild peppery flavor with a mustard-like scent. Not only can you eat this flower, but it's packed full of nutrients and vitamin C.
While growing beautiful flowers around your home and or in the garden seems intimidating if you've never grown outdoor plants before, it's not difficult once you understand the basics. The first step is to find easy-to-grow flowers that suit your location. Once you have that figured out, all that's left to do is follow a few gardening tips, let the plants do what they do naturally, and enjoy your new flower garden.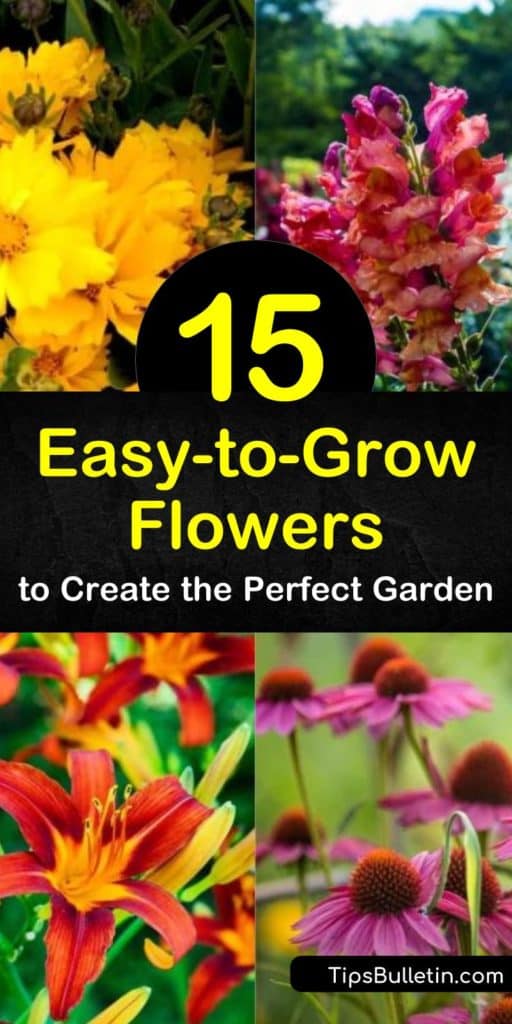 Filling your garden with easy to grow flowers provides you with beautifully scented flower blooms from spring to fall, so why not share our easy to grow flower list with your family and friends on Facebook and Pinterest?