Do you have a friend or family member that has a home full of beautiful green plants full of lush foliage? It seems as if they have a sort of magical talent that allows them to grow everything with ease. It's easy to envy those with a green thumb, but there are a lot of easy to grow indoor plants that literally anyone can plant.
Plants come in a variety of styles and sizes, and it's easy to choose ones that are best left to expert growers. This mistake is common among newbies in the plant world. You see a tall and lush plant, filled with variegated foliage and tropical flowers, and decide that's the plant for you, only to have it die within weeks of bringing it home.
Don't let this experience jade you into thinking that you have a brown thumb. Chances are the plant required special care that your home simply could not provide. It's essential to choose a plant, based on its needs, rather than its striking appearance.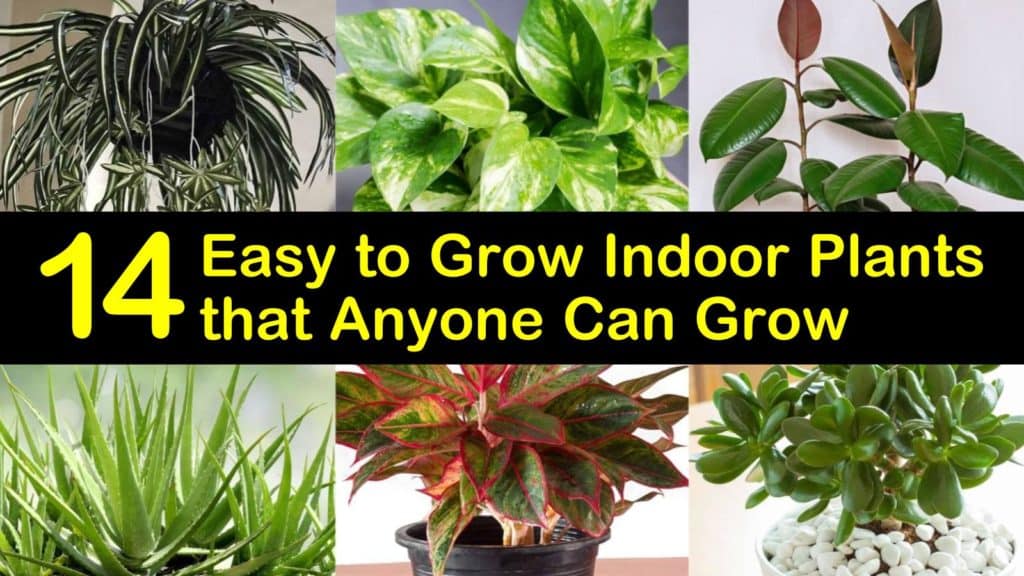 Growing Low Maintenance Houseplants
Low maintenance houseplants are the easiest to grow and generally require very little care. They are also suitable for both low light and sunny areas of your home. It's also possible to grow carrots inside, other vegetables, and some fruit trees. The possibilities are almost endless.
Believe it or not, but the only problem that arises when growing these types of plants is what to do with all of the baby plants they create. You may even want to choose plants that clean the air in your home of potentially harmful toxins that linger in furniture and carpeting.
Of course, you are not limited to houseplants. You can choose some of the easiest herbs to grow, vegetables, fruit trees, and more for inside your home. When growing herbs indoors, you have a ready supply for cooking. Following the instructions on the care tag gives you everything you need to know.
Why Should I Grow Plants that are Easy to Grow Indoors?
Other than the fact that they are beautiful, plants provide the home with many other positive aspects. Houseplants refresh the air in your home and remove many toxins while absorbing carbon dioxide and releasing oxygen. They also release moisture vapor, increasing the humidity of your home.
Another benefit of growing houseplants is the positive health qualities they provide. Studies have shown that plants not only help lower heart rate and blood pressure, but they sharpen focus and attention.
Which Types of Houseplants are Easiest to Grow?
Walking into a plant nursery is overwhelming if you do not know what to look for. There are so many different varieties of houseplants that it's hard to choose the right ones. The main thing to look for when choosing a plant is the keyword "low maintenance." These types of plants require minimal care and are the easiest to grow in the home.
A few of the best indoor plants for beginners are the cast-iron plant, spider plant, and philodendron, which are almost impossible to kill. Plants such as Schefflera, or the umbrella plant, and Sansevieria are also excellent choices if you do not have a green thumb.
How Do I Know Which Plants are Best for My Home?
To answer this question, observe the positioning of your windows. Which direction do they face? North facing windows never receive direct sunlight and are a great place to hang low light plants.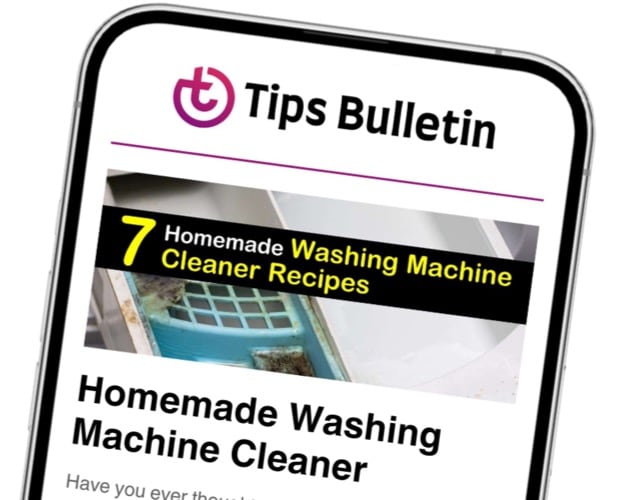 Finally, an email that Transforms Your Home.
Get the latest home and garden tips from our experts, delivered straight to your inbox.
South-facing windows receive light throughout the entire day, where plants that love sunshine thrive, while east and west-facing windows get direct light in the morning or evening. Choose plants based on the amount of sun your home receives during the day.
If you have cats or dogs, be sure to use trees indoors that are pet safe. Many plants can be enticing for cats and dogs to chew on, so you must avoid anything poisonous to your fluffy friends.
How Do I Care for These Indoor Plants?
Easy-to-grow plants do not require much effort on your part. Once you find the perfect place to set your plant, all that it needs from you is regular or occasional watering, depending on the type. Some plants produce offspring that allow you to grow more plants, while others are happy just to drink a bit of water.
Fertilization is important depending on the plants you have. Try coffee grounds for indoor plants or use some Epsom salts for a boost of nutrients.
Snake Plant (Dracaena trifasciata)
Otherwise known as the mother-in-law plant or mother-in-law's tongue, the snake plant is a houseplant that tolerates most indoor light conditions. Its upright foliage has an artificial appearance that adds architectural interest to the room.
It has variegated leaves in colors of green, yellow, and silver and reaches a height of 3 to 8 feet depending on the size of the pot. This low maintenance floor plant thrives in nearly any area of the home but grows best in direct light conditions.
Spider Plant (Chlorophytum comosum) – Easy to Grow Indoor Plants that Reproduce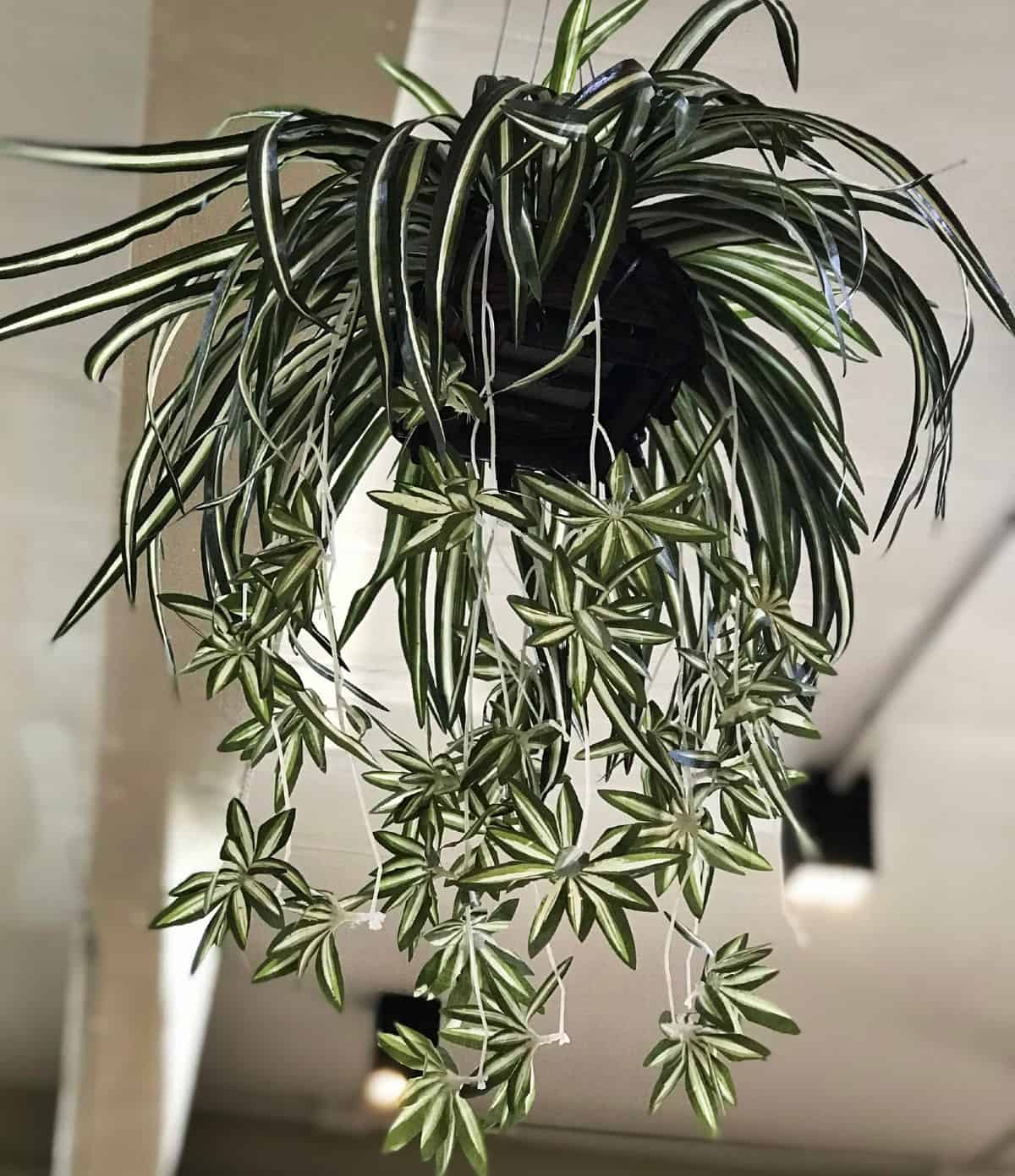 The spider plant is well known for its ability to be nearly indestructible and it is one of the best easy to care for trailing plants around. It has solid green or variegated leaves that arch from its center, depending on the variety, and produces wiry stems of plantlets.
This plant is one of the simplest to grow in the home and thrives well in all levels of light. The plantlets that appear on the ends of the vines are easy to remove from the mother plant to form new plants. Spider plants reach a height of up to 12 inches with a width of up to 24 inches.
Jade Plant (Crassula ovata)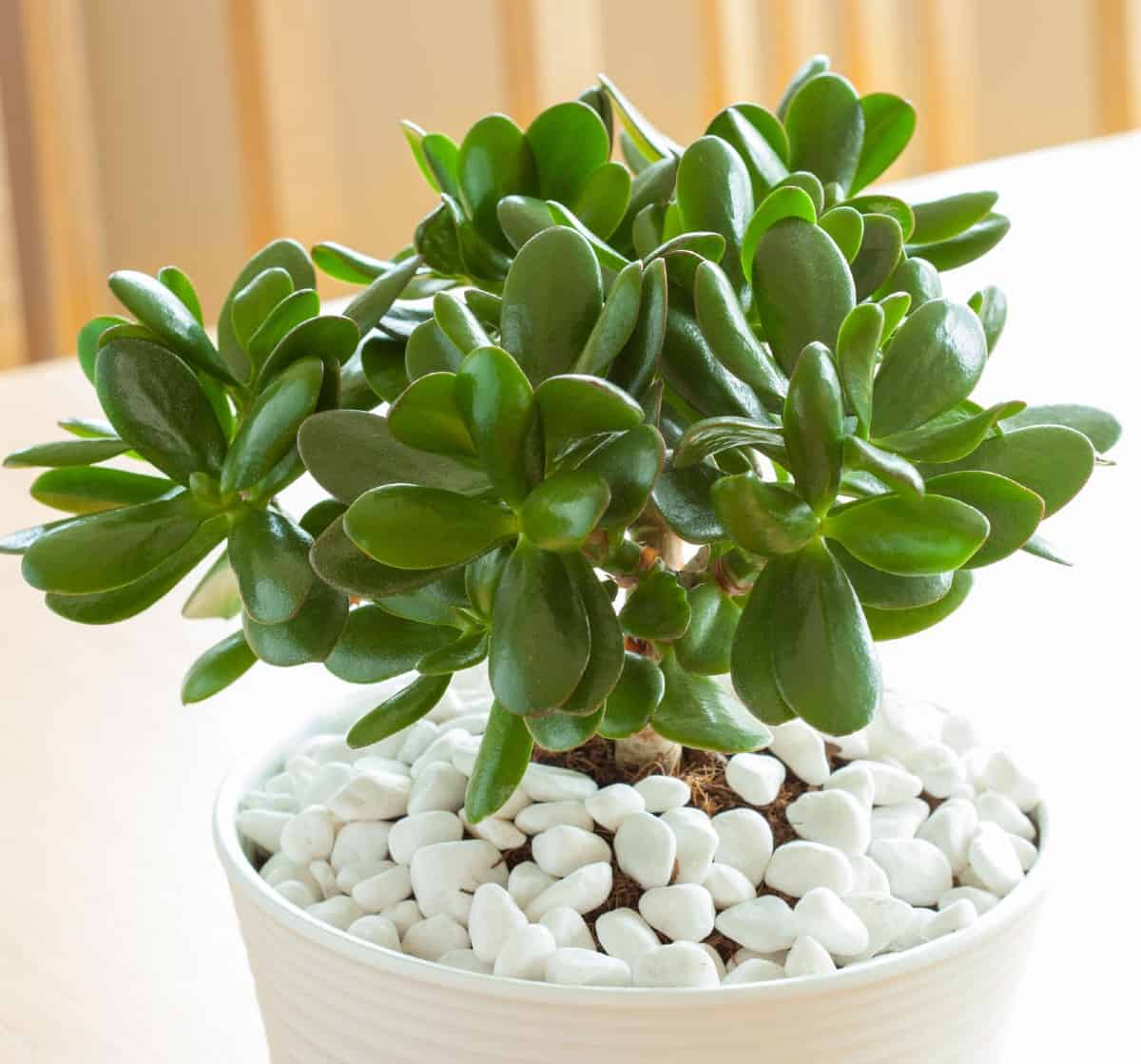 This succulent shrub is a common houseplant plant with thick, woody stems that produce two-inch fleshy, oblong leaves. As this long-living plant ages, it has the appearance of a miniature tree and adds an attractive focal point to any room.
The jade plant grows between 3 to 8 feet tall and 2 to 3 feet wide, depending on the pot size. It is easy to propagate by planting the leaves, stem side down, into potting soil. Set this low maintenance plant in a sunny location and watch it thrive.
Aloe Vera (Aloe barbadensis miller) – Easy Growing Plant with Healing Properties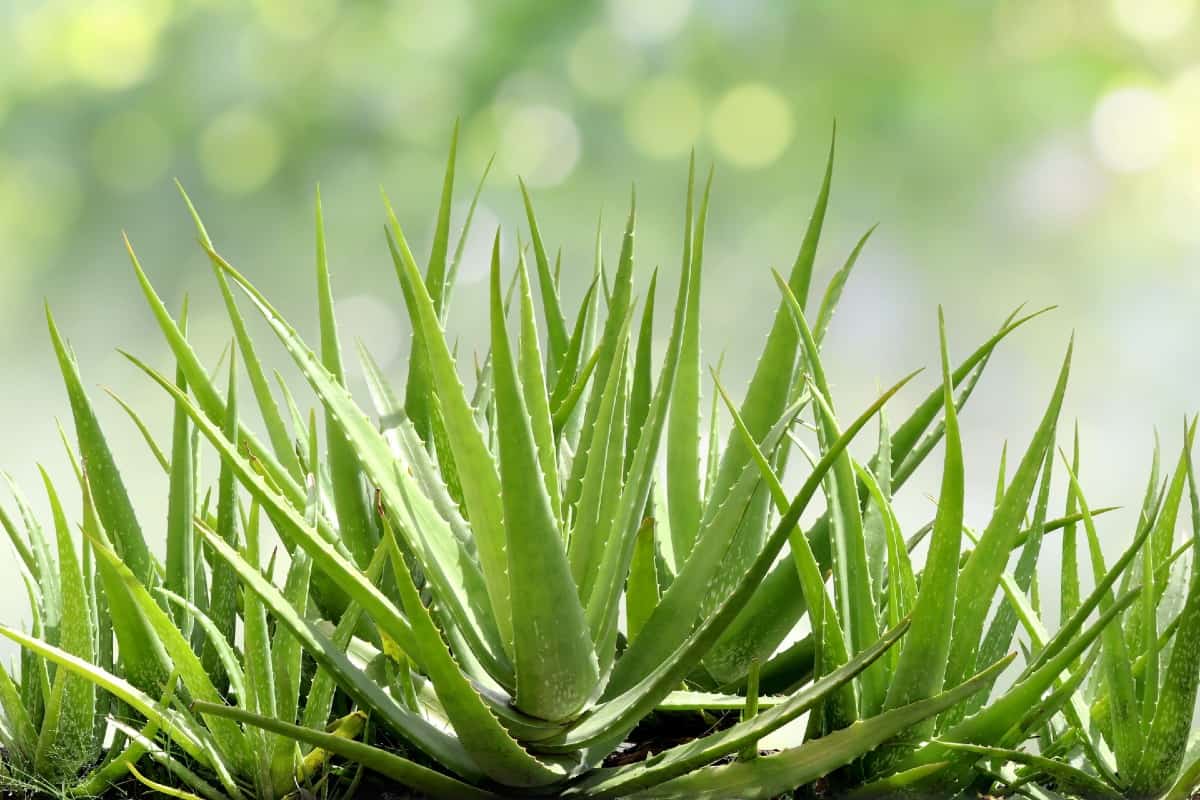 The aloe vera is an eye-catching plant with long, lance-shaped succulent leaves that produce gel-like sap. The sap is a common remedy for burns and other injuries and is also a skin moisturizer. Growing aloe vera indoors is easy and it helps purify the air.
The green leaves have white spots with small, whitish teeth along the edges. These healing indoor succulents reach a height of 1 to 3 feet and a width up to 12 inches and thrive in a south-facing window.
It is low maintenance and requires little watering to survive. Use well-drained soil when planting, and avoid direct sunlight to prevent foliage burning. In some areas of the U.S., it can be grown outdoors, as well.
ZZ Plant (Zamioculcas)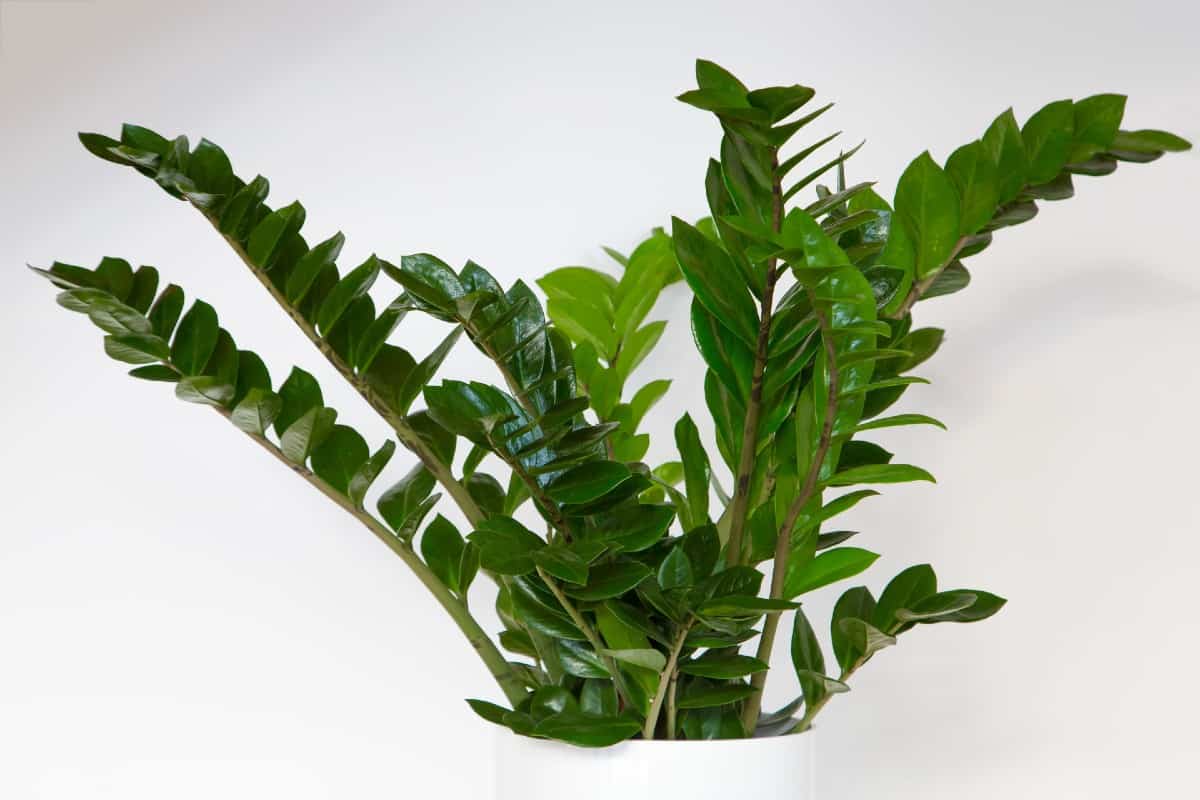 The ZZ plant has many names, including eternity plant and cardboard palm, and has polished leaves with a magnificent green luster. Its appearance adds a statement to the home, whether placed on a table or the corner of the room.
This shimmering plant is low maintenance and an ideal plant for beginners. It grows 1 to 3 feet tall and wide and is one of the best indoor low light plants you can find. Place it in a north-facing window and it is happy.
Peace Lily (Spathiphyllum) – Indoor Tropical-Looking Plant with Flowers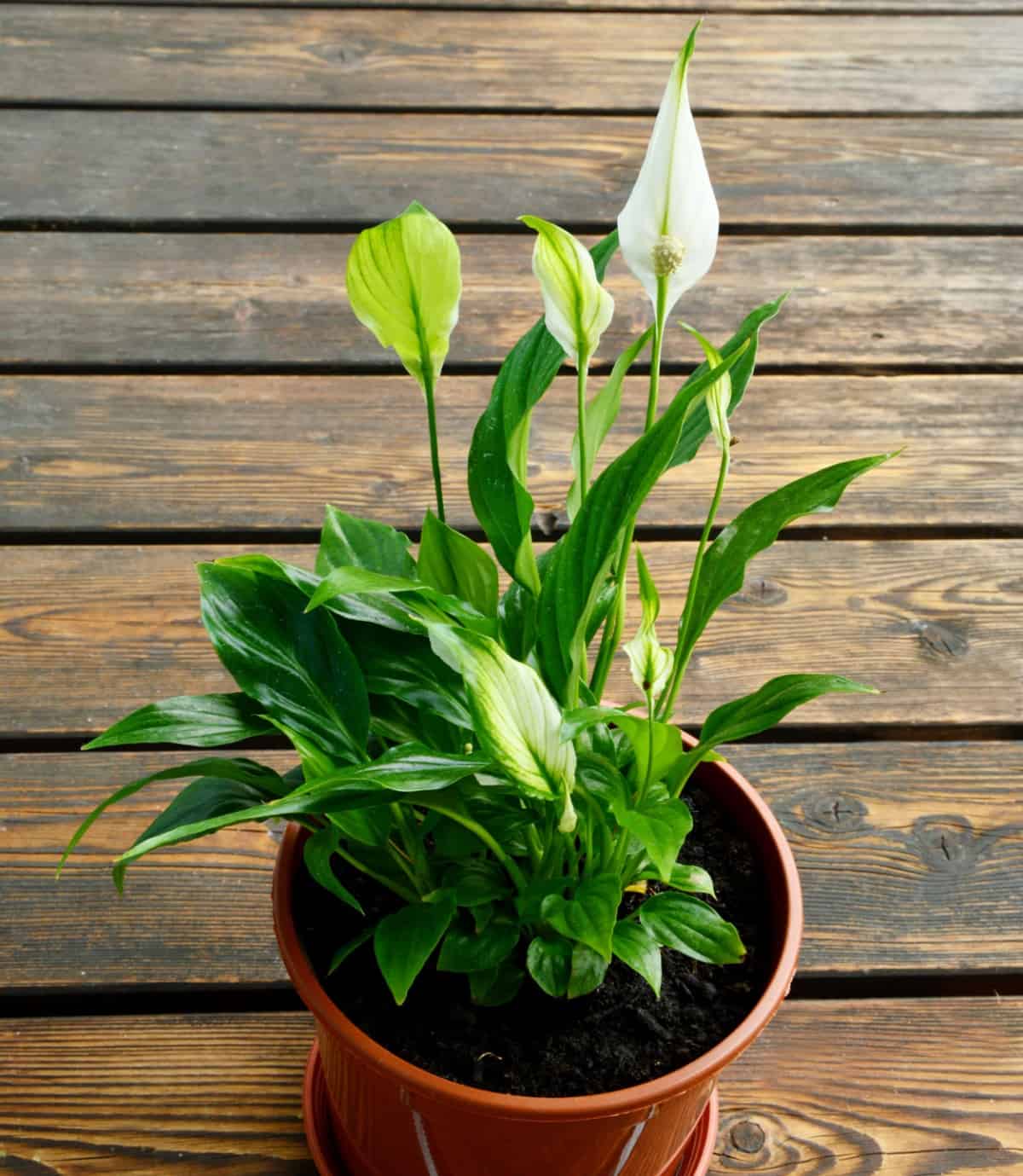 This classic houseplant has been around for ages and is one of the many plants that are easy to grow indoors. It has glossy, bright green leaves and produces tropical-looking white flowers on long stems throughout the year.
Peace lilies are flowers for inside areas that grow to a height of 3 to 8 feet with a width of up to 6 feet, depending on the pot size. This low maintenance plant looks great perched on a tabletop or resting in the corner of the room.
Fiddle Leaf Fig (Ficus lyrata)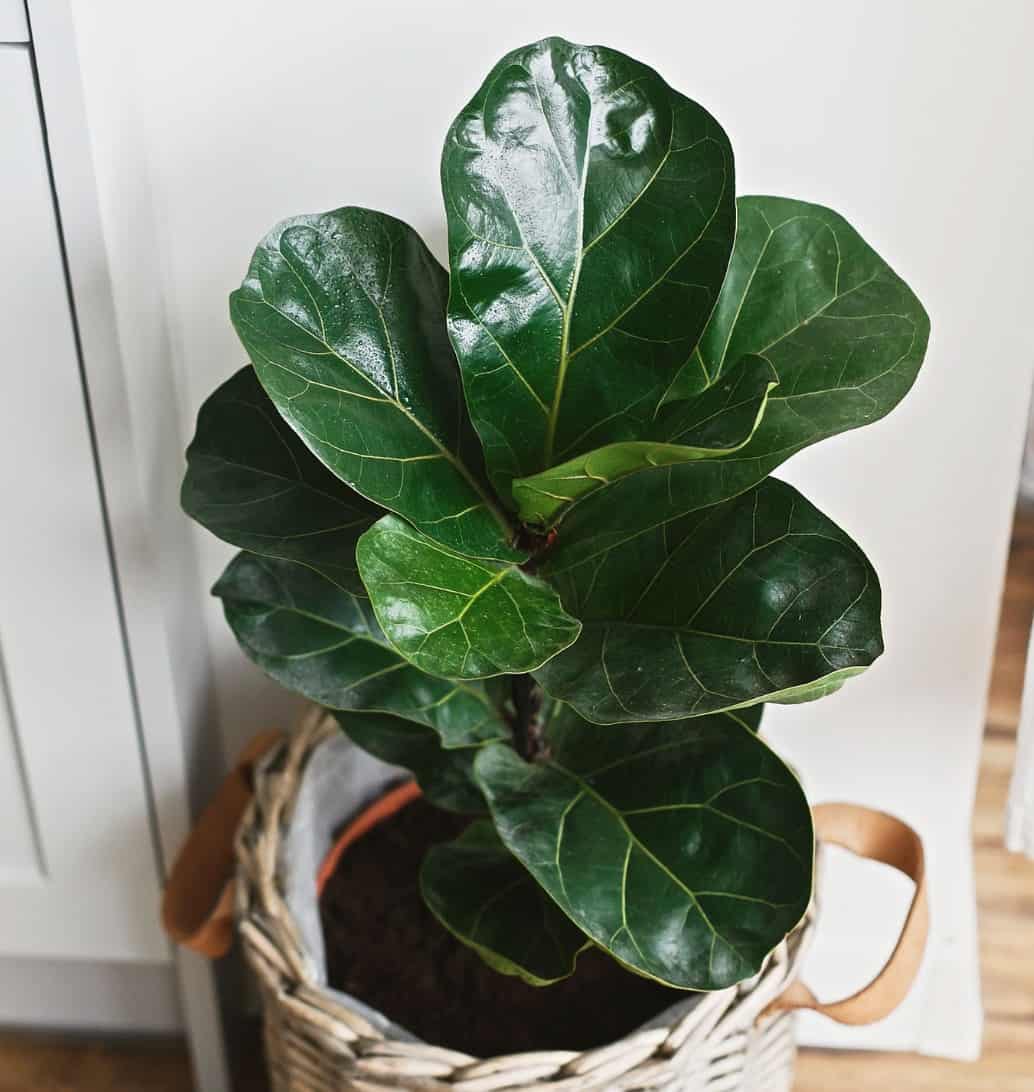 If you enjoy plants with a bit of dramatic flair, then the fiddle leaf fig plant is perfect for you. It is a large-leafed tropical tree that grows to fill an empty corner of the room under the right conditions.
While this plant is easy-to-grow, it does require specific conditions for the best growth. Place it in an area without drafts and in a sunny spot of the home for best results. It grows to a height up to 6 feet tall, depending on its pot size.
Chinese Evergreen (Aglaonema) – Hardy Houseplant with Colorful Foliage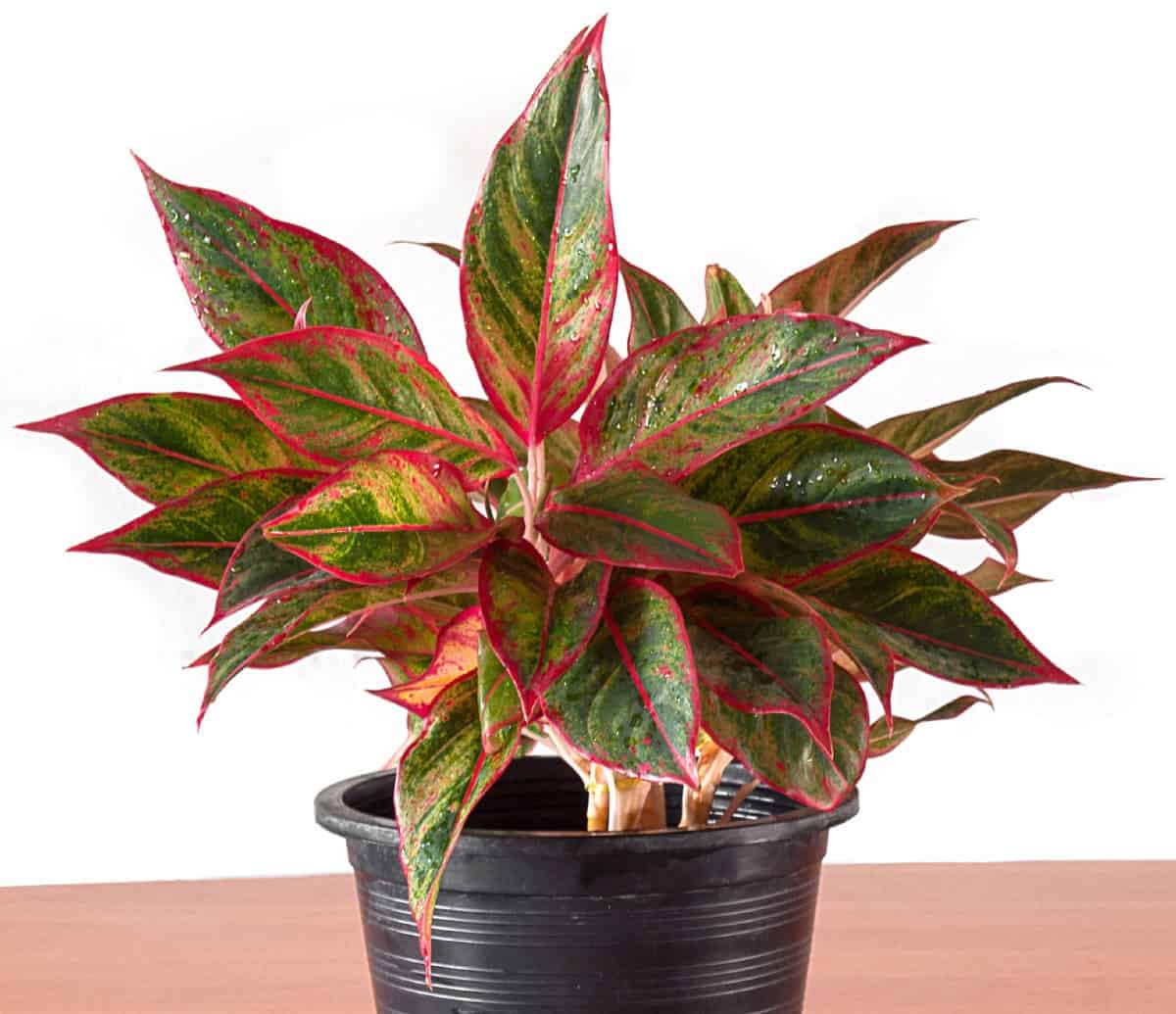 The Chinese Evergreen is a robust plant that handles many growing conditions with ease. It has verdant green leaves, variegated with splashes of silver, white, pink, or red, making it a showy plant for the home.
This slow-growing plant reaches a height and width up to 3 feet and grows well in indirect light, as well as low to moderate lighting. It enjoys regular watering without a soggy soil and is easy to maintain.
Philodendron (Philodendron)
It doesn't get much easier than growing a philodendron plant. These plants adapt to just about any type of condition and are available in both trailing and climbing varieties.
Philodendrons enjoy part shade to full sun and have leaves that range in color from green/blue to purple/burgundy. It is low maintenance and grows easily from cuttings. Depending on the variety, it reaches a length of 3 to 20 feet with a width of up to 6 feet.
Rubber Tree (Ficus elastica) – Indoor Tree with Great Height and Beautiful Leaves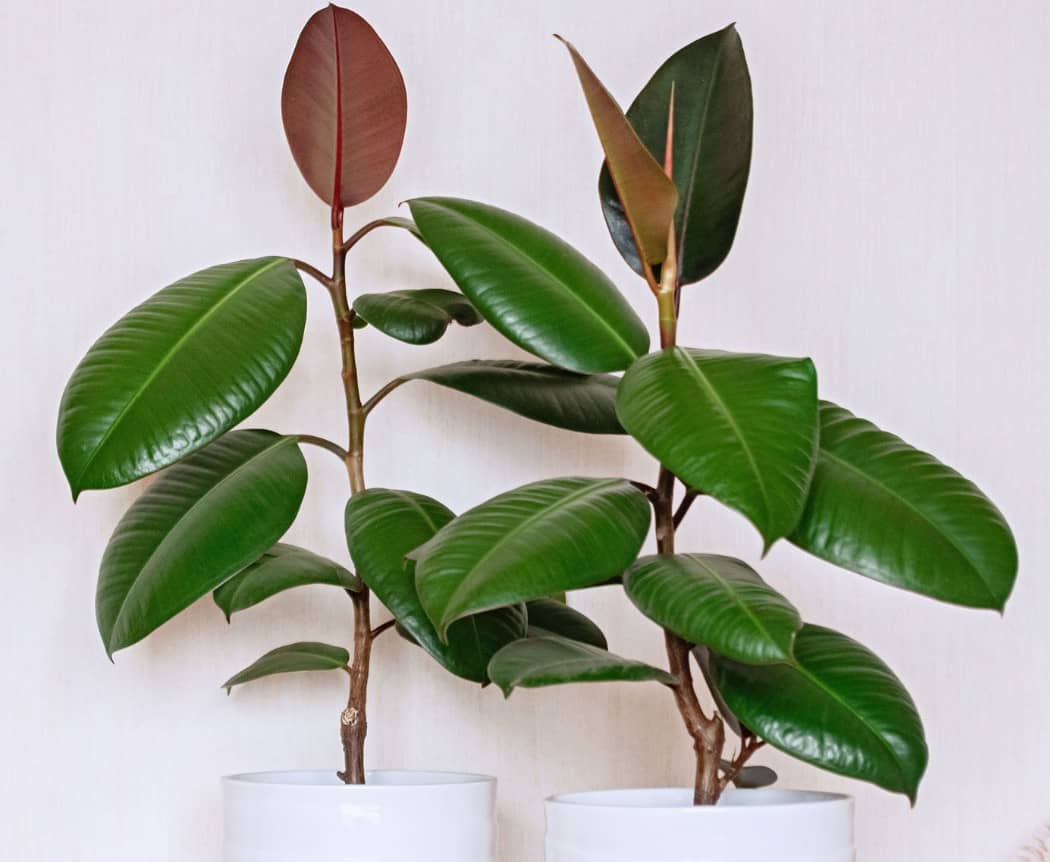 The rubber tree is well known for its ability to produce rubber-making sap in the wild, yet it also makes an excellent houseplant. These easy to grow household trees have leaves that are shiny with a waxy appearance and range in color depending on the variety, from green to burgundy.
These low-maintenance indoor trees prefer bright, indirect sunlight and moist soil without overwatering. Too much water may lead to a spider mite infestation that no one wants to deal with. Make up a DIY spray to keep on hand if you need it to take care of plant pests.
Providing this plant with the right amount of light and water rewards you with a tall and majestic house tree, reaching 6 to 10 feet tall.
English Ivy (Hedera helix)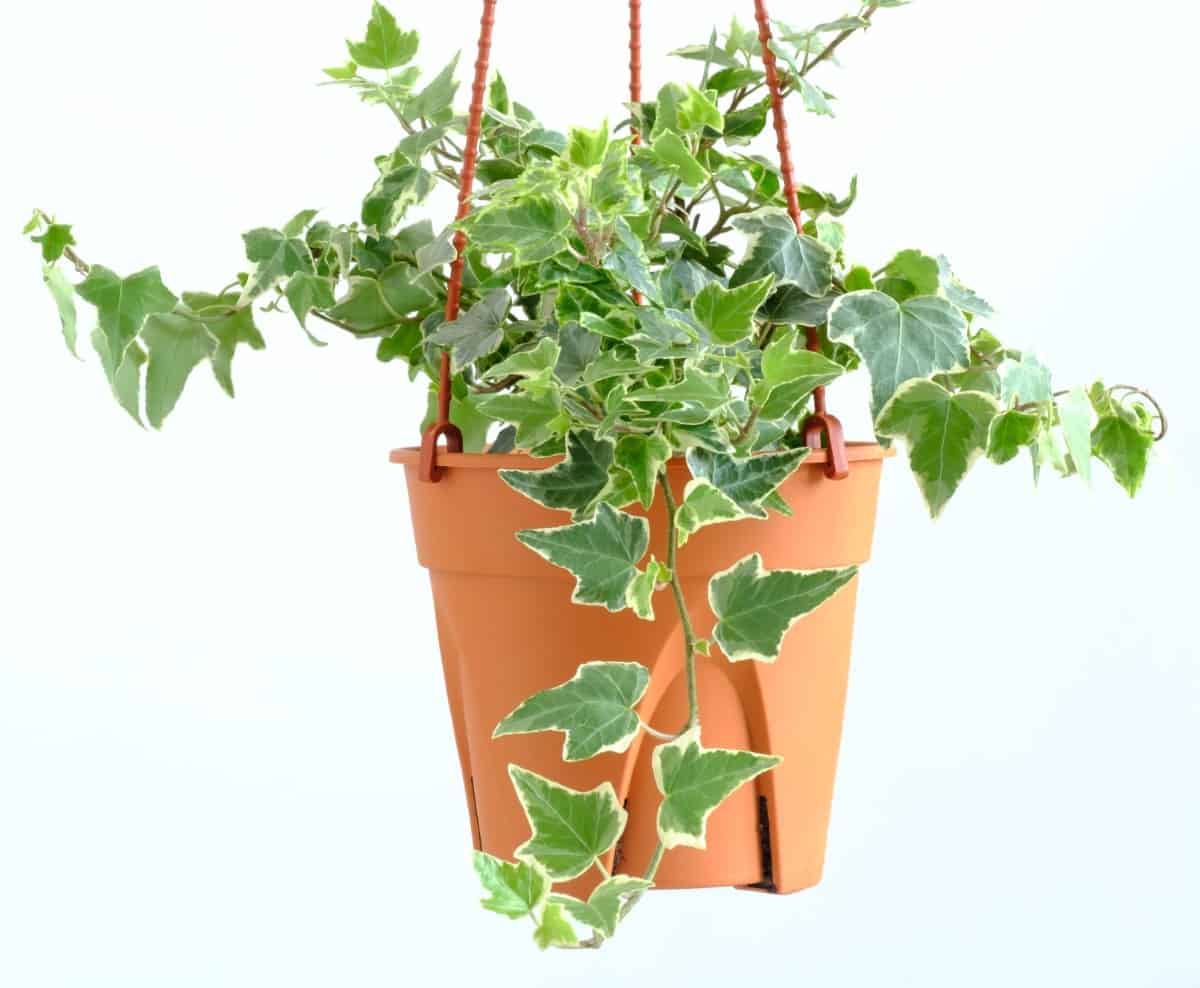 English ivy has an easy-care nature that makes it an ideal choice for beginners. Its variegated, unique shaped foliage grows on long vines and purifies the air in your home, removing toxins and mold spores.
This hanging plant enjoys medium light areas of the home and reaches a height up to 8 feet while climbing up to 5 feet. It requires a medium amount of watering and does not tolerate drafty areas.
Since these plants are best suited for hanging baskets, it's easy to incorporate them into houseplants for apartments, as they don't take up much room.
Cast Iron Plant (Aspidistra elatior) – Nearly Indestructible Houseplant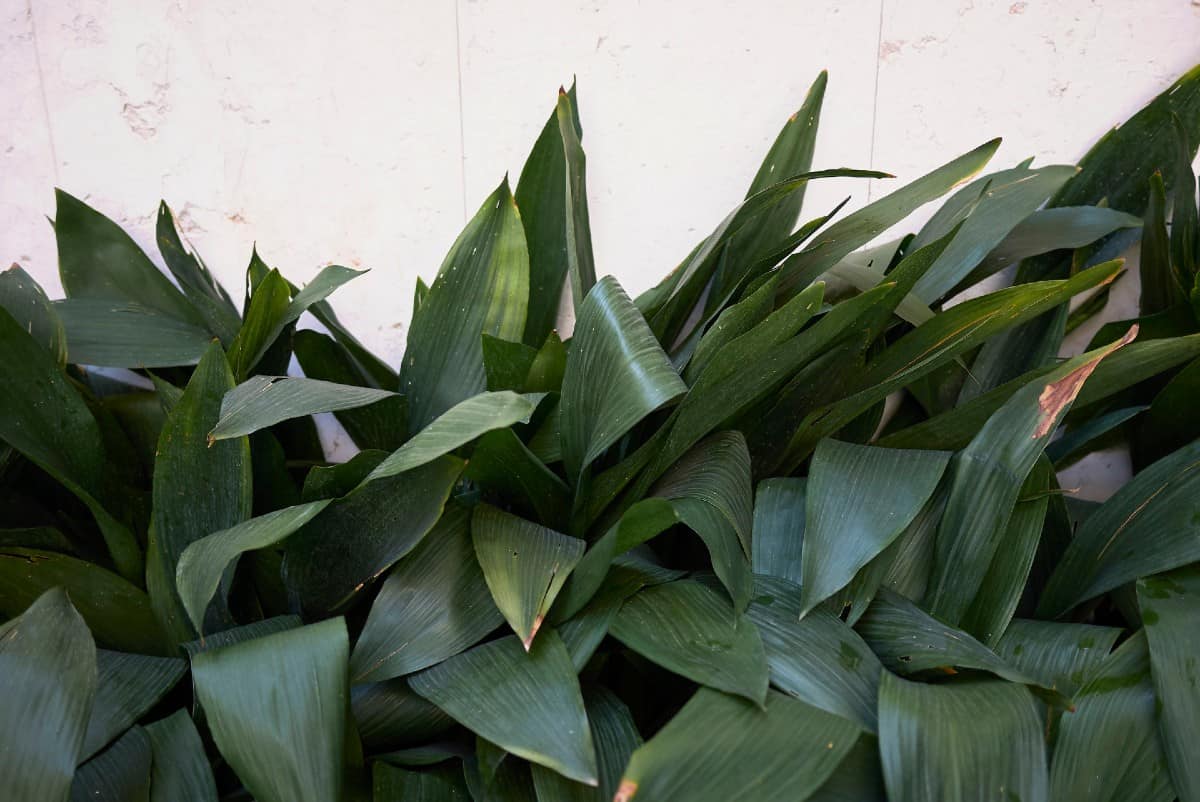 Also known as a bar room plant, the cast iron plant has been a favorite among beginners for many years. It is nearly indestructible and grows quickly just about anywhere. It has shiny foliage in deep shades of green and grows easily both indoors and outdoors.
The cast iron plant thrives in part sun and shady areas of the home and is hardy and low maintenance. It reaches an average height and width of 2 feet. It requires minimal water but does not tolerate bright light for long periods.
Pothos (Epipremnum aureum)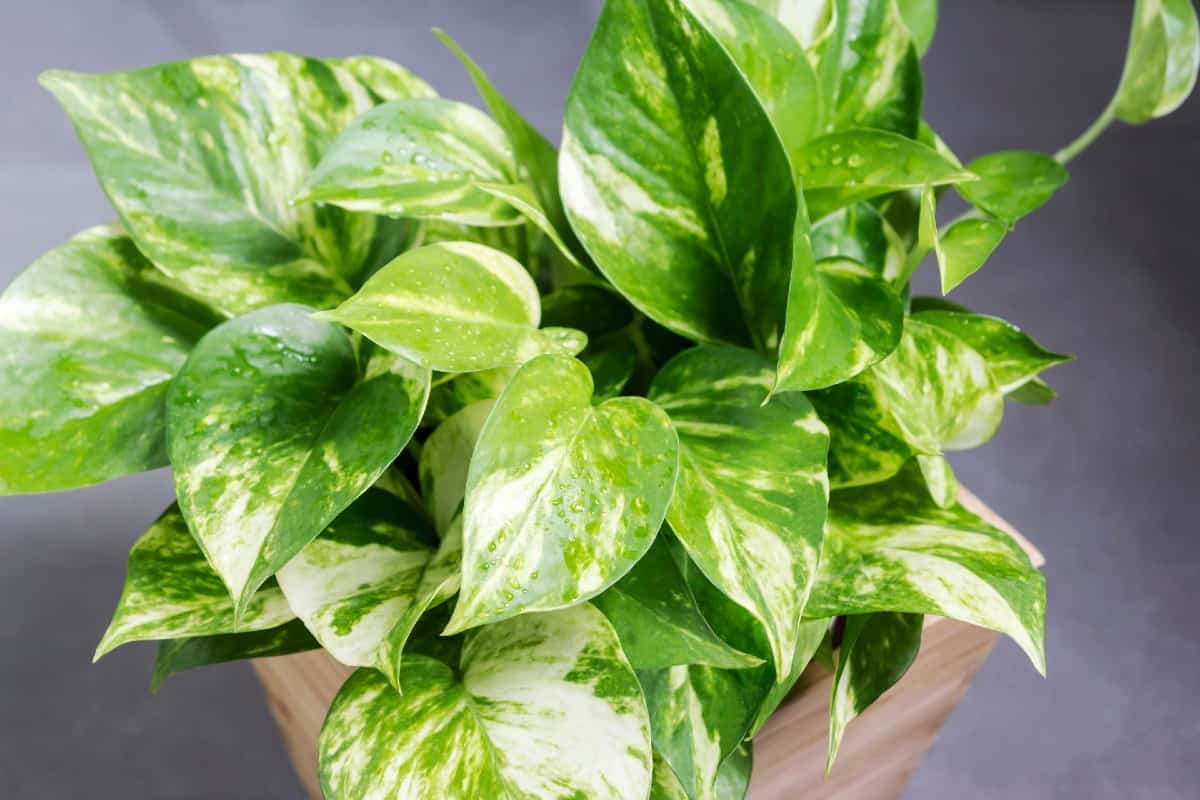 This tough, vining plant grows well in most conditions and fills a room easily with its green trailing leaves. Not only does pothos make an excellent houseplant, but it is also good at filtering air toxins from your home.
This low maintenance plant enjoys areas of the house where there is part sun or shade. It grows to a length of up to 20 feet with a width of up to 6 feet. Its leaves are blue/green and chartreuse/gold, depending on the variety.
Dumb Canes (Dieffenbachia) – Stunning Houseplant with Showy Foliage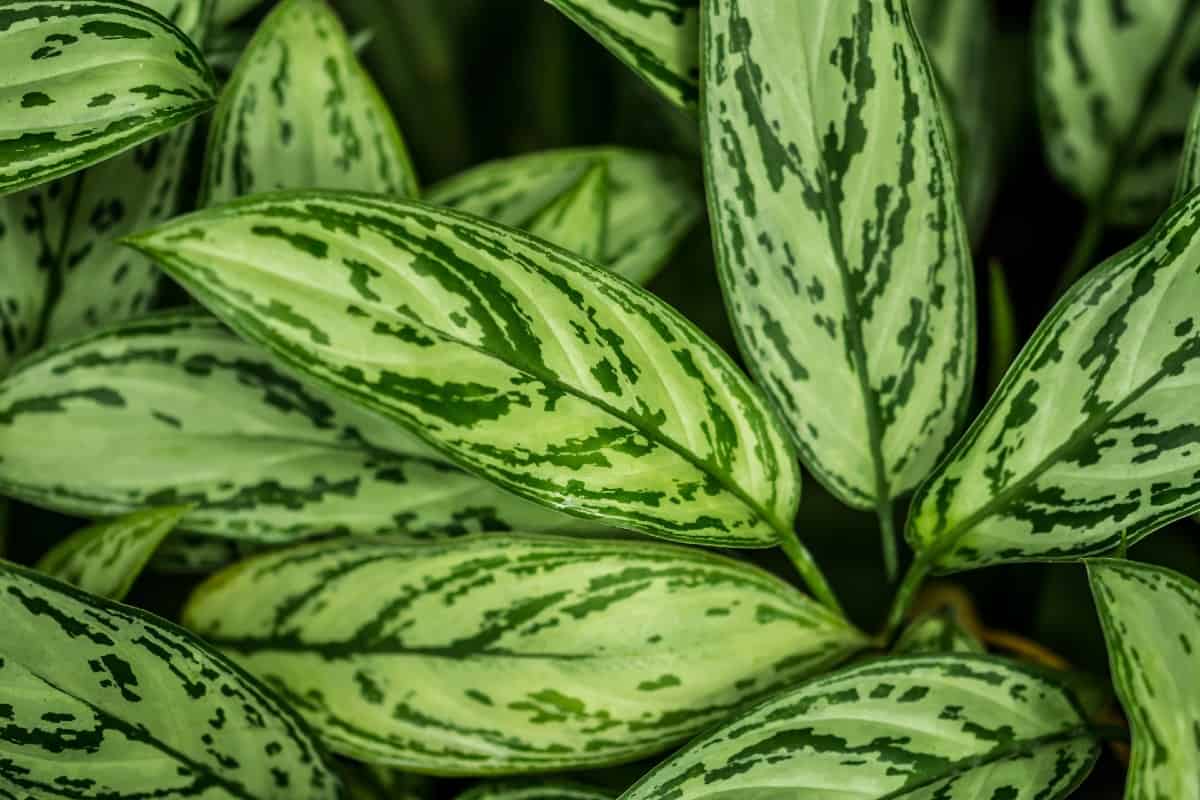 This houseplant is well known for its showy foliage that is dark green with splashes of creamy white and sometimes yellow. It is a space-friendly plant that is capable of growing to a large size if desired.
Dumb canes thrive in low or indirect light and reach an average height of 8 feet and a width of 3 feet, depending on the pot size. Over time the lower leaves drop, making the plant's cane visible.
If you add too much water to your plants, keep a DIY bug spray for indoor plants to deal with gnats or spider mites that may congregate in the moist soil. Whether you need a DIY fungus gnat killer or one for another type of annoying pest, being ready ahead of time ensures that you can take care of the problem quickly and effectively.
You don't need to limit yourself to these traditional houseplants. You can grow strawberries indoors, fruit trees, your favorite veggies, and more as long as you give them what they need to grow. Growing radishes indoors is just as easy as basil or lemons.
It's easy to bring nature indoors for year-round enjoyment once you understand which types of plants grow best for your home. Fill a sunny bay windowsill with aloe vera, snake plant, and jade plant, and indoor hanging plants like ivy, pothos, and philodendron in front of low light windows and enjoy a green oasis of calm beauty.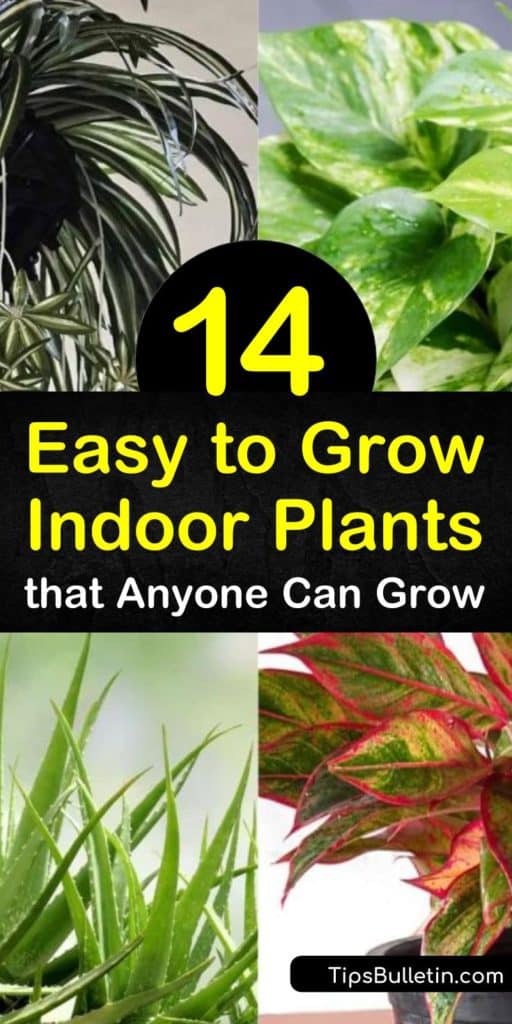 There are many benefits to filling your home with easy to grow indoor plants, so why not share our list of houseplants that anyone can grow with your family and friends on Facebook and Pinterest?