Welcoming a tree inside your home makes a bold statement compared to other houseplants. These easy to grow indoor trees have some of the most uncomplicated needs while being the most beautiful.
Not only do they make homes feel cozier, but they also literally give us all a breath of fresh air. Many household plants improve our living space's air quality.
They filter out dangerous compounds in the air and restore it with fresh, clean air for us to breathe. Adding some trees around the inside of your house not only looks chic but improves our physical health.
If you've considered taking care of small household trees, this article provides you with some of the easiest plants to care for and all their living necessities.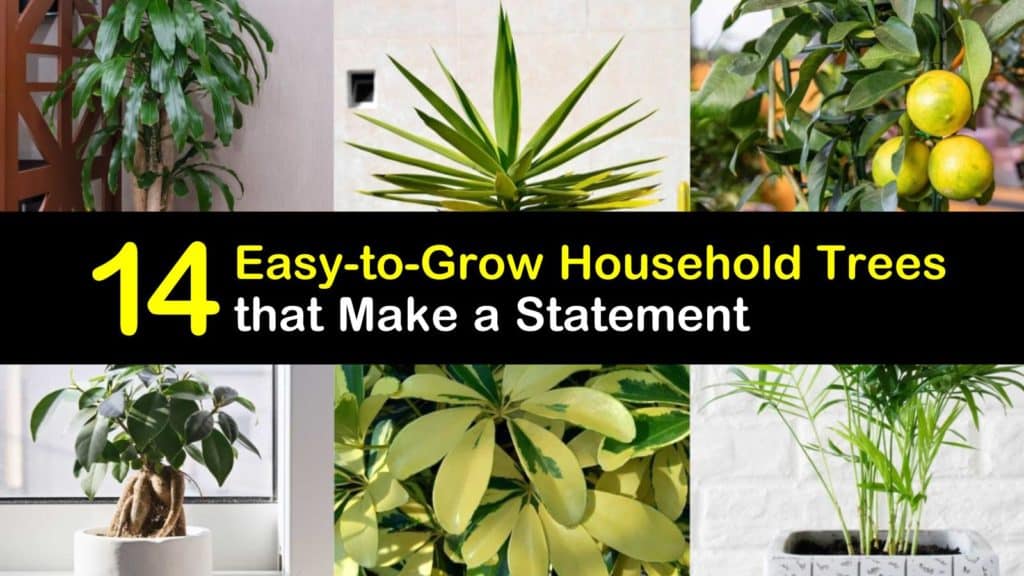 Caring for Indoor Trees
Indoor plants are not overly challenging to manage. One of the most important things to know when you have indoor trees is that they have four basic requirements.
Always make sure to give them the appropriate amount of sunlight and water. With too little or too much, your plants won't be too happy. Soil type makes a big difference in their health—research what type of soil is best for your plant's well-being.
Most people also overlook the type of pot they put their trees in. Some pot materials are more absorbent than others and make a difference in their lifespan. Size also matters when bringing these easy to grow indoor trees to your home.
Depending on their mature size and root pattern, some of these non toxic indoor trees may require bigger pots than others. Always look to see if there are specific pot suggestions for each type of plant.
Weeping Fig (Ficus benjamina) – Easy to Grow Indoor Trees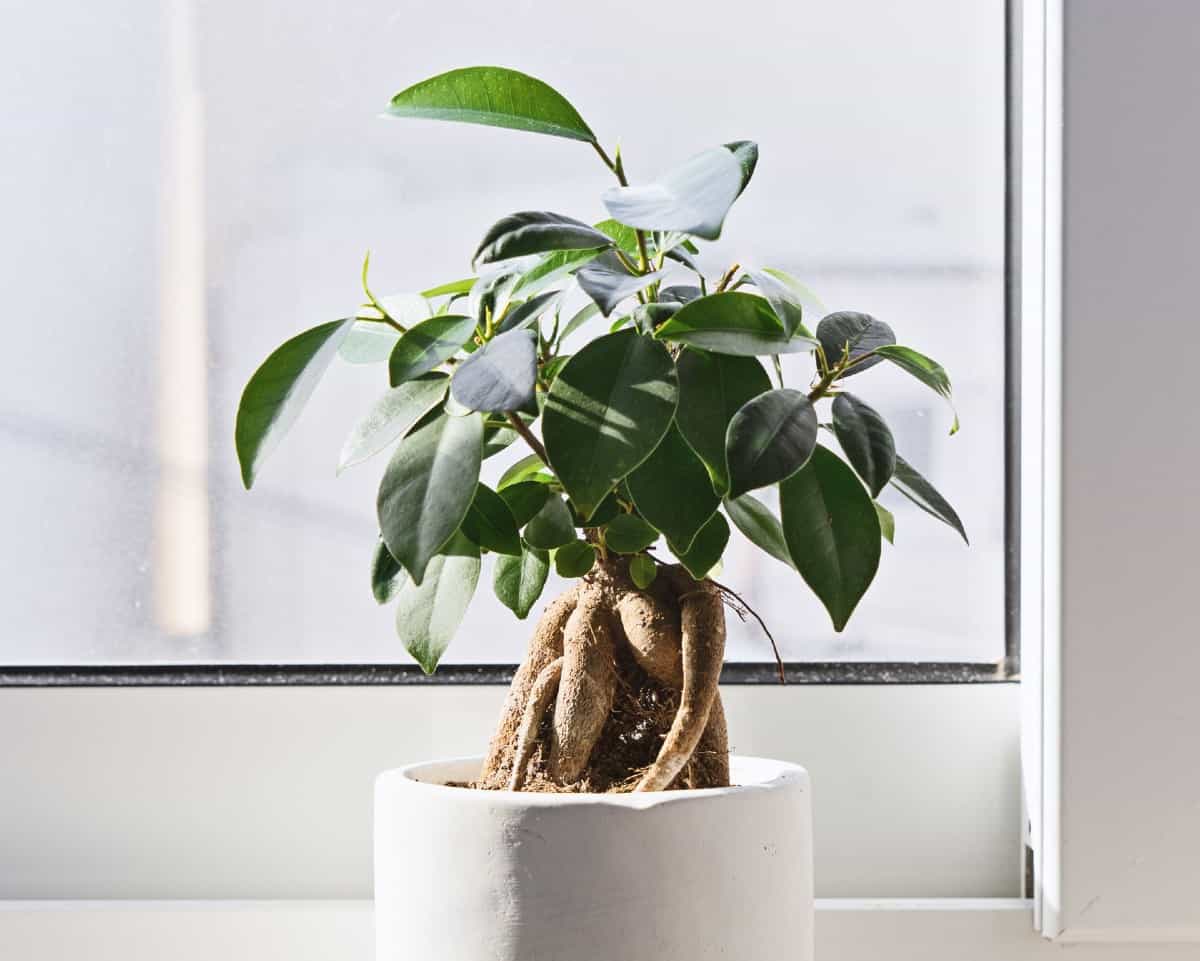 Weeping figs are one of the easiest to grow indoor trees. These houseplants are popular in interior commercial landscaping, offices, and houses because of their ability to tolerate low light areas.
This elegant tree has slender, arching branches, a light gray trunk, and dark green leaves. Weeping figs require pruning indoors to keep their height in the desired range.
These house plants for shade shed their leaves under stress, so make sure they have the right living conditions, including slightly acidic soil and lots of indirect sunlight. Ideally, weeping figs like direct morning light.
Joshua Tree (Yucca aloifolia)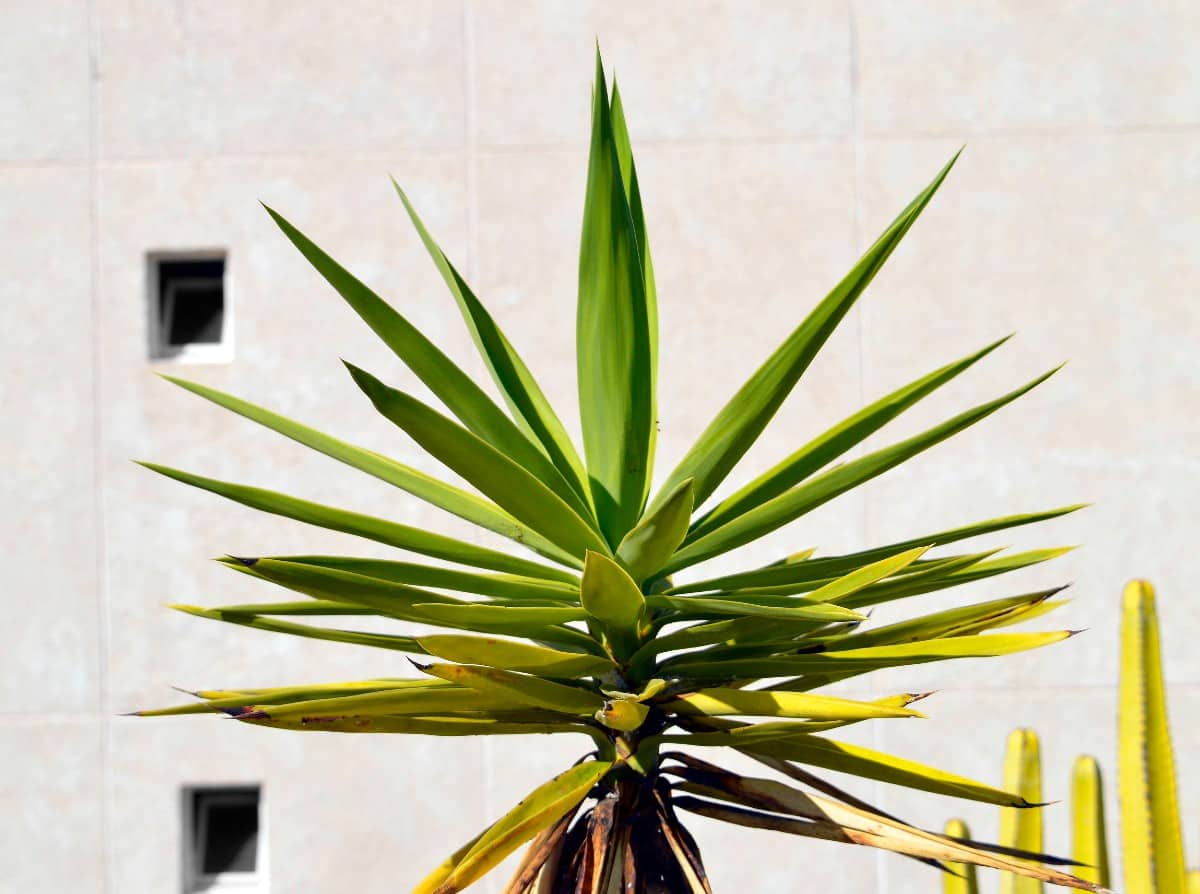 One of the best indoor trees is the Joshua tree. These are architectural plants found in southwest America. A Joshua tree is also one of the top indoor plants that clean the air.
These trees have thick, upright trunks with brown and white markings. On top of the trunk are dozens of spiky, green leaves that adapt to hot conditions.
Joshua trees require bright light when indoors. They efficiently handle dry soils and don't enjoy a lot of water. Although they do live in low light, make sure they get a few hours of sunlight throughout the week.
Madagascar Dragon Tree (Dracaena marginata)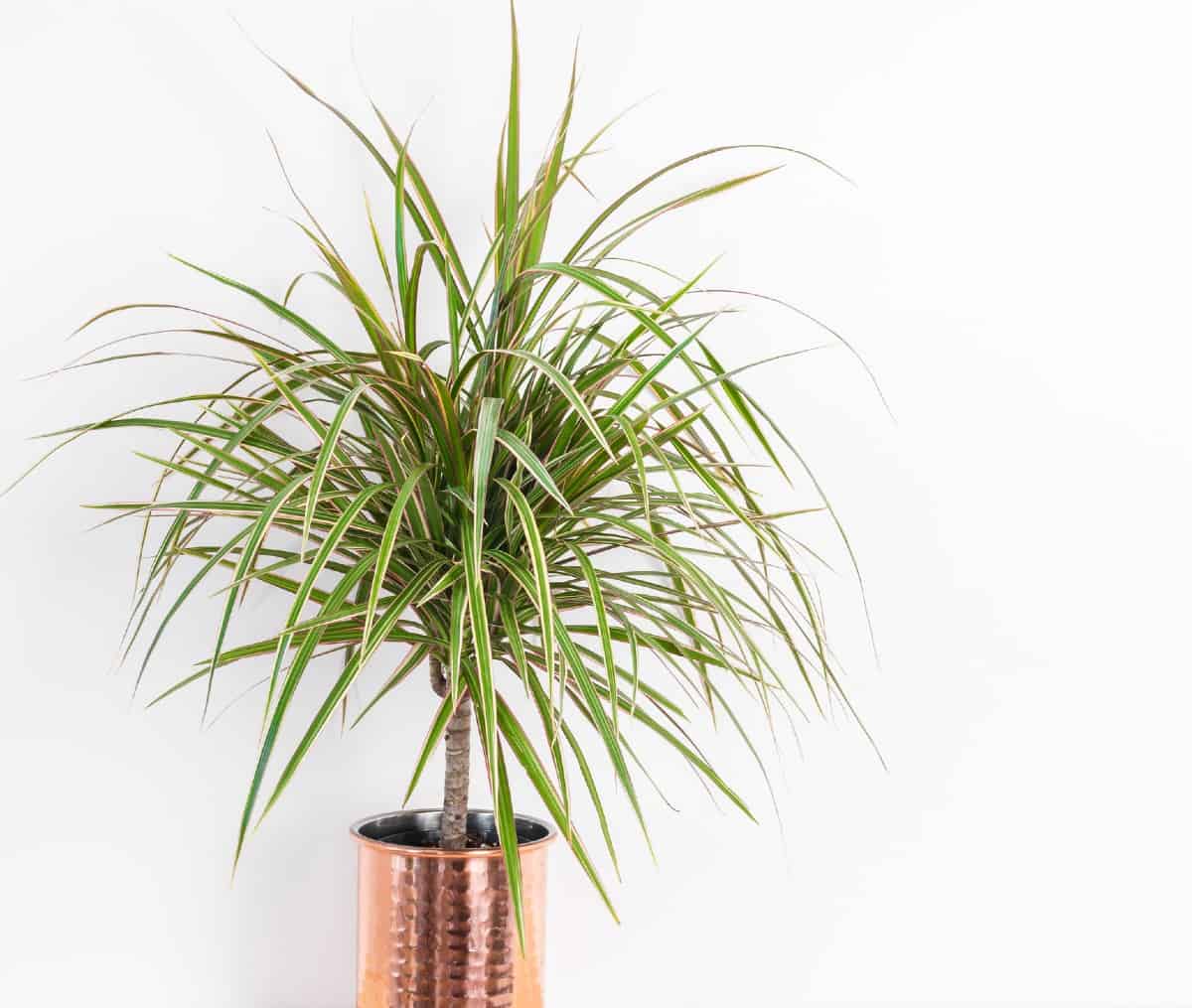 When it comes to houseplants, Madagascar dragon trees are super easy to care for and absorb toxins in the air. A dragon tree has narrow, dark green leaves with a red outer edge. The stems are grayish brown and covered in bark.
They reach about six feet tall when grown indoors and like the temperature to be between 70°F and 80°F. Madagascar dragon trees do well in part shade or moderate, indirect light.
Allow the soil to dry thoroughly between each watering and prune the top to keep the height low. These trees are resistant to most pests but are poisonous to dogs and cats.
Pine Trees for Indoors: Norfolk Island Pine (Araucaria heterophylla)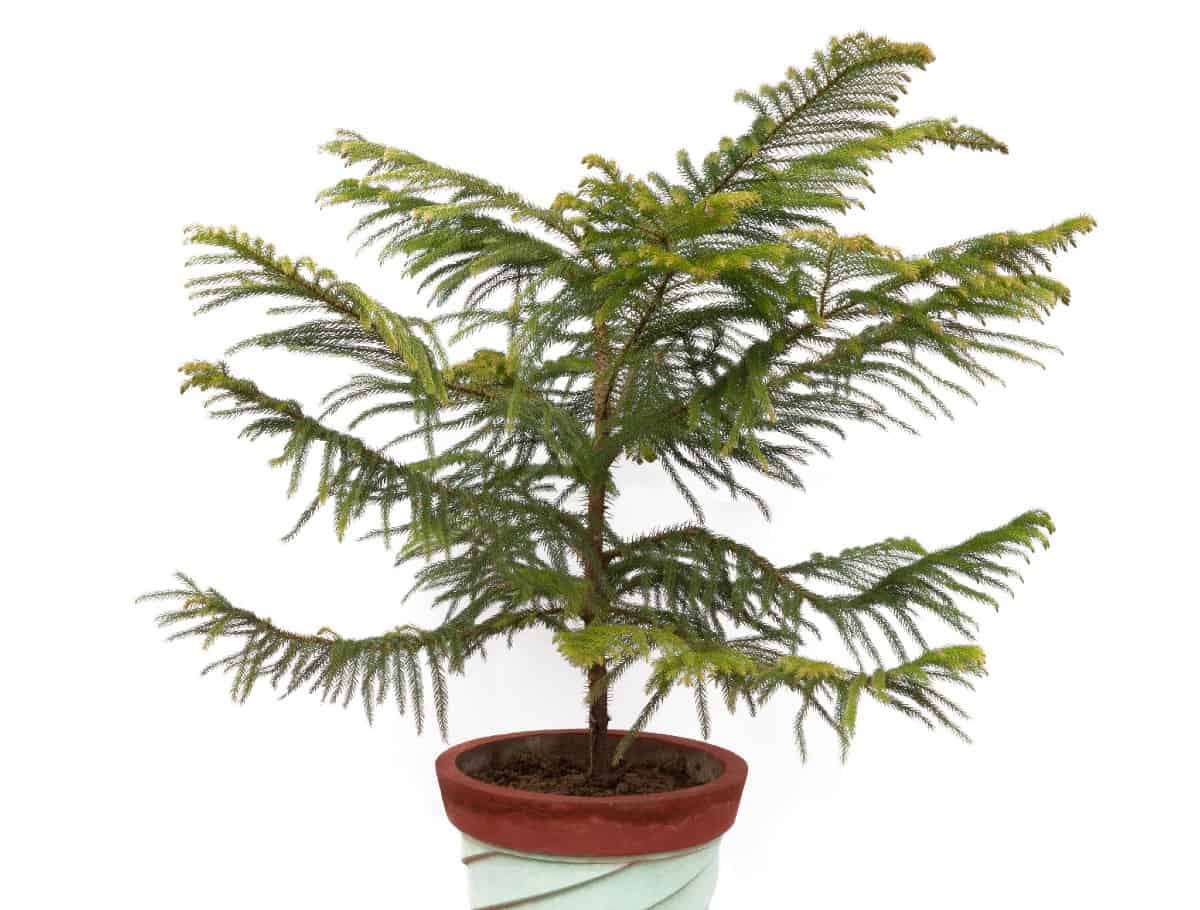 These evergreen indoor trees come from an island in the Pacific Ocean and have become one of the best indoor trees for homeowners. Their dark green, soft needles add a warm feeling to a living room and are low maintenance.
Norfolk Island pine trees are salt tolerant and low-light tolerant. They do, however, thrive in bright and indirect light.
Water these plants once every week or two and never let them become soggy for extended periods. Keep the temperature between 65°F and 85°F and add humidity if possible.
Parlor Palm Tree (Chamaedorea elegans)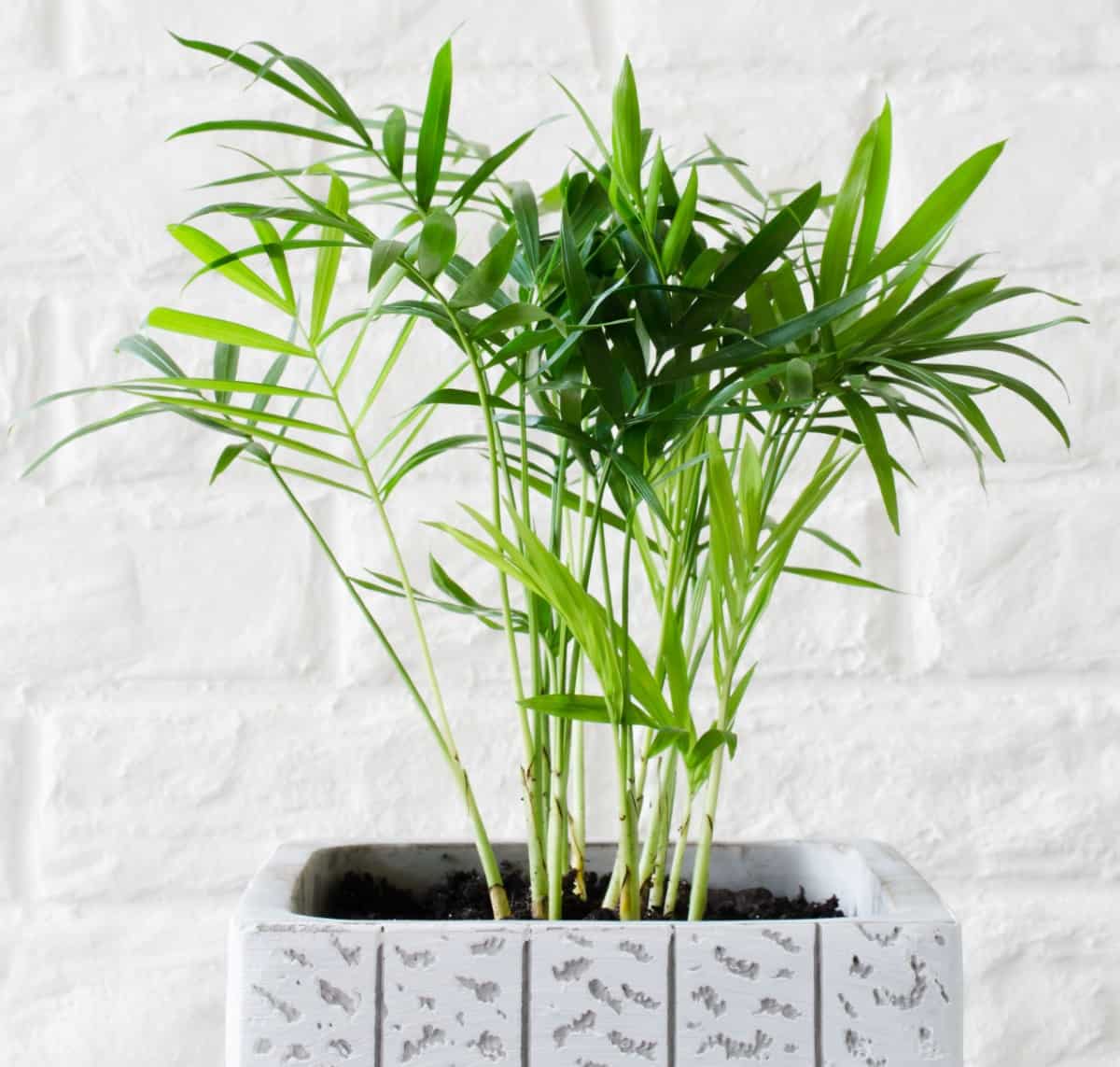 Parlor palm trees are known for their use as a household plant. These plants are native to Central America and are popular because of their willingness to handle low light and temperatures while bringing a tropical feeling to a home.
They have bright green leaves and stems and grow in clumps. These palms reach two to six feet tall as houseplants and spread two to three feet wide.
Place parlor palms in indirect, bright light. Plant them in a peaty potting mix that is slightly acidic or neutral. Water them once the top inch of soil feels dry and avoid overwatering.
Dwarf Umbrella Tree (Schefflera arboricola)
Umbrella plants are a trendy choice for homeowners. They are low-maintenance and easy to grow indoor trees. They have vibrant greenery covered in leaflets and are aggressive growers that top out around eight feet indoors.
Plant umbrella trees in temperatures between 55°F and 75°F. They like direct light and average humidity. Too low humidity levels make them more prone to getting scale or spider mites. The soil should have lots of drainage and a peat-moss potting mix.
Rubber Fig (Ficus elastica) – Popular Household Trees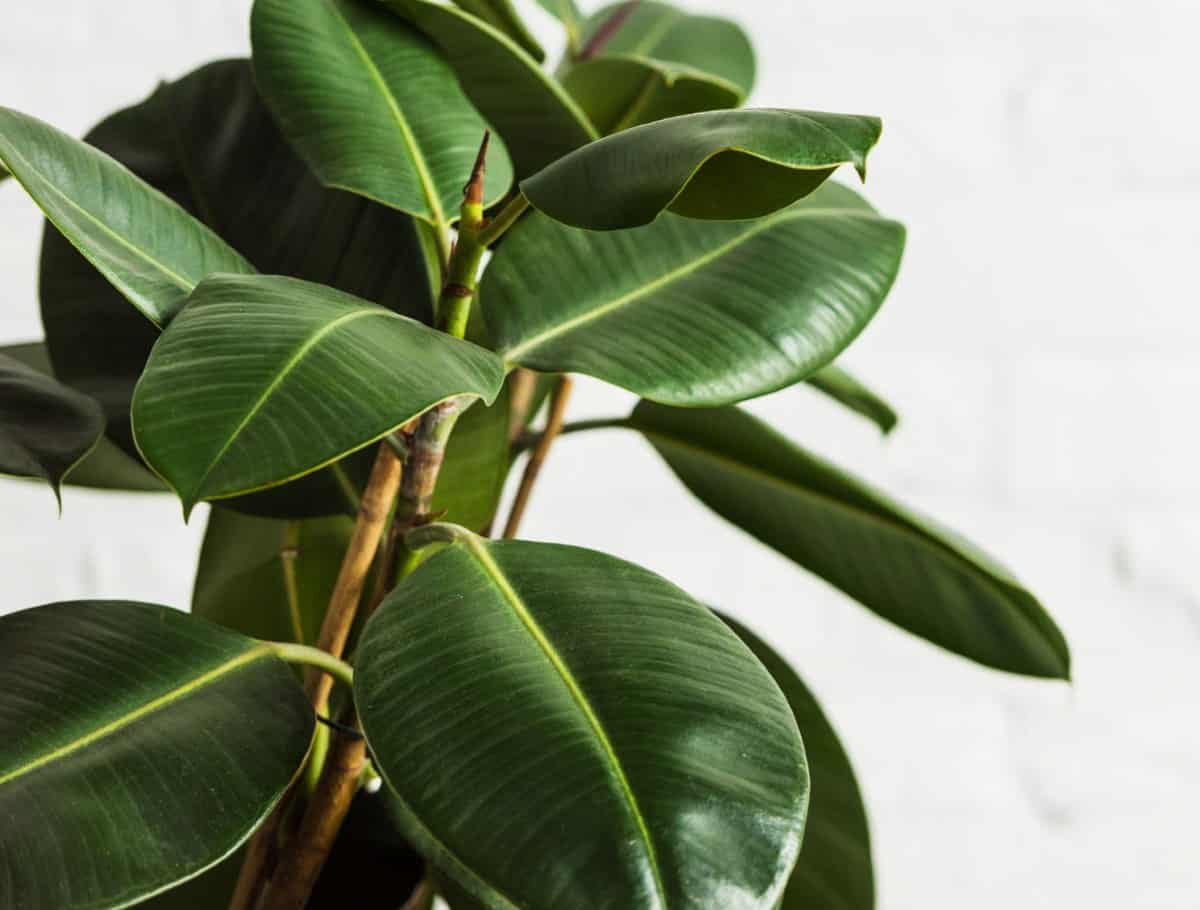 The rubber tree, or rubber fig tree, is native to Asia and used to make rubber from its sap. These broadleaf evergreens grow up to 100 feet tall in the wild but reach a maximum of ten feet tall when indoors.
They have large, dark green, and glossy leaves that grow from a thin trunk. Rubber fig trees thrive in bright and indirect light. Too much direct sunlight scorches the leaves.
Variegated varieties require additional sun for more brilliant colors and do better near an east or west facing window. These easy to grow indoor trees like their soil moist but not soggy. Keep the house temperature between 60°F and 75°F for optimal growth.
Fiddle Leaf Fig (Ficus lyrata)
We think the fiddle leaf fig is one of the most attractive household plants. These tropical trees come from Africa and grow naturally in hot, humid weather.
These are large trees, and they have big leaves with scalloped edges. Outdoor varieties need lots of sunlight for producing food but won't create fruits indoors.
Fiddle leaf figs enjoy soaking in the sunshine. Keep the plants within five feet of a window where they receive full exposure to the sun.
Add water to the pot once the soil dries, or about every five to ten days. Handle the leaves carefully since these trees are susceptible to fungus and leaf spots.
Money Tree (Pachira aquatica)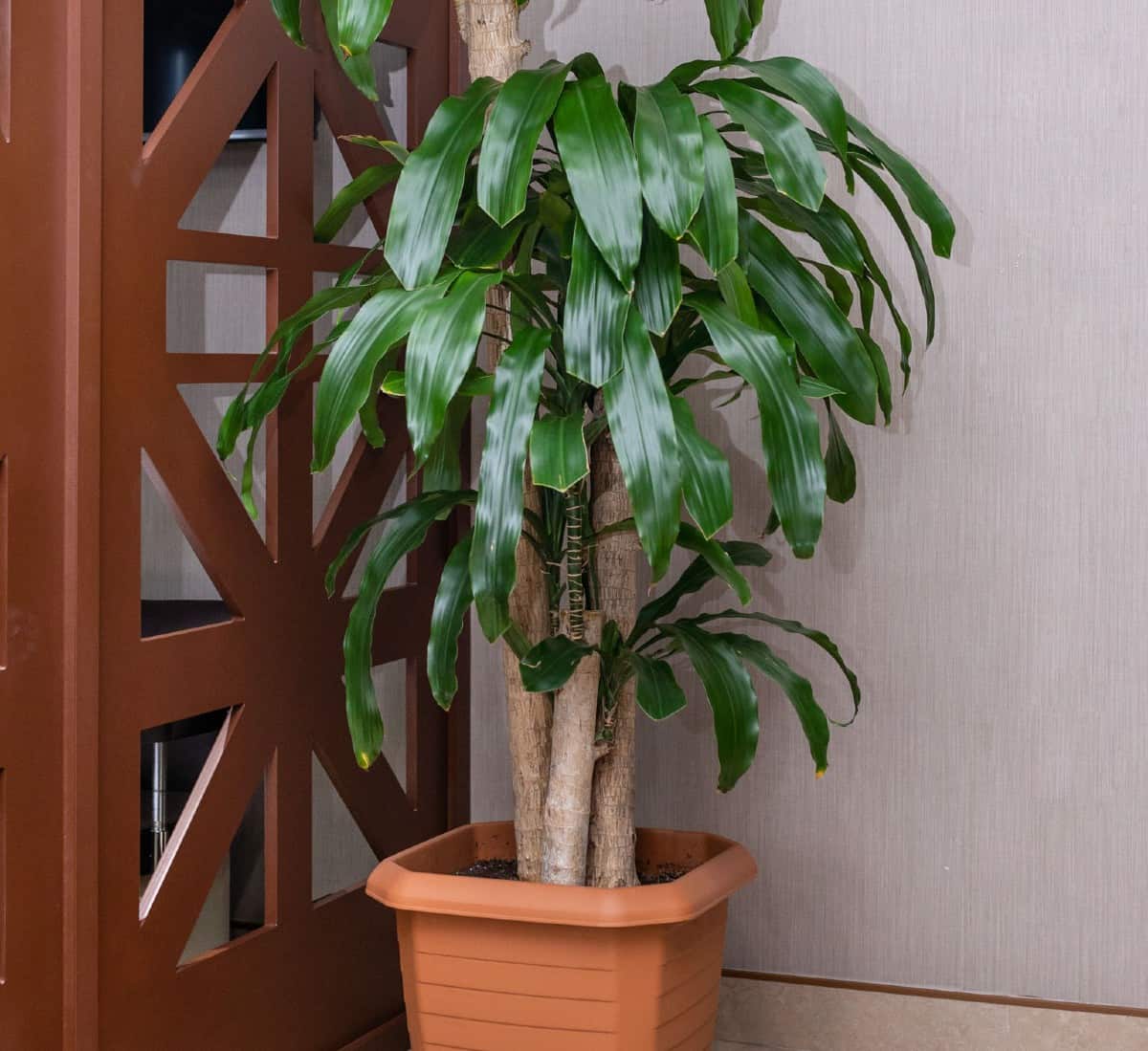 The money tree is also frequently called the Guiana chestnut tree. These trees are native to tropical regions and usually grow around swamps and wetlands. These trees are kill-proof because they're so hard to over water.
The money tree has nine leaflets that form the shape of a hand. The base of the trunk is thick and thins out as you move upward. Money trees are water-loving plants, but that doesn't mean it's okay to let them sit in soaking wet soil.
Water these trees once or twice a week until it starts leaking out of the drain holes in its pot. Place these plants in indirect lighting and fertilize them a few times each year.
Household Plants with Variegated Foliage – Corn Plant (Dracaena fragrans)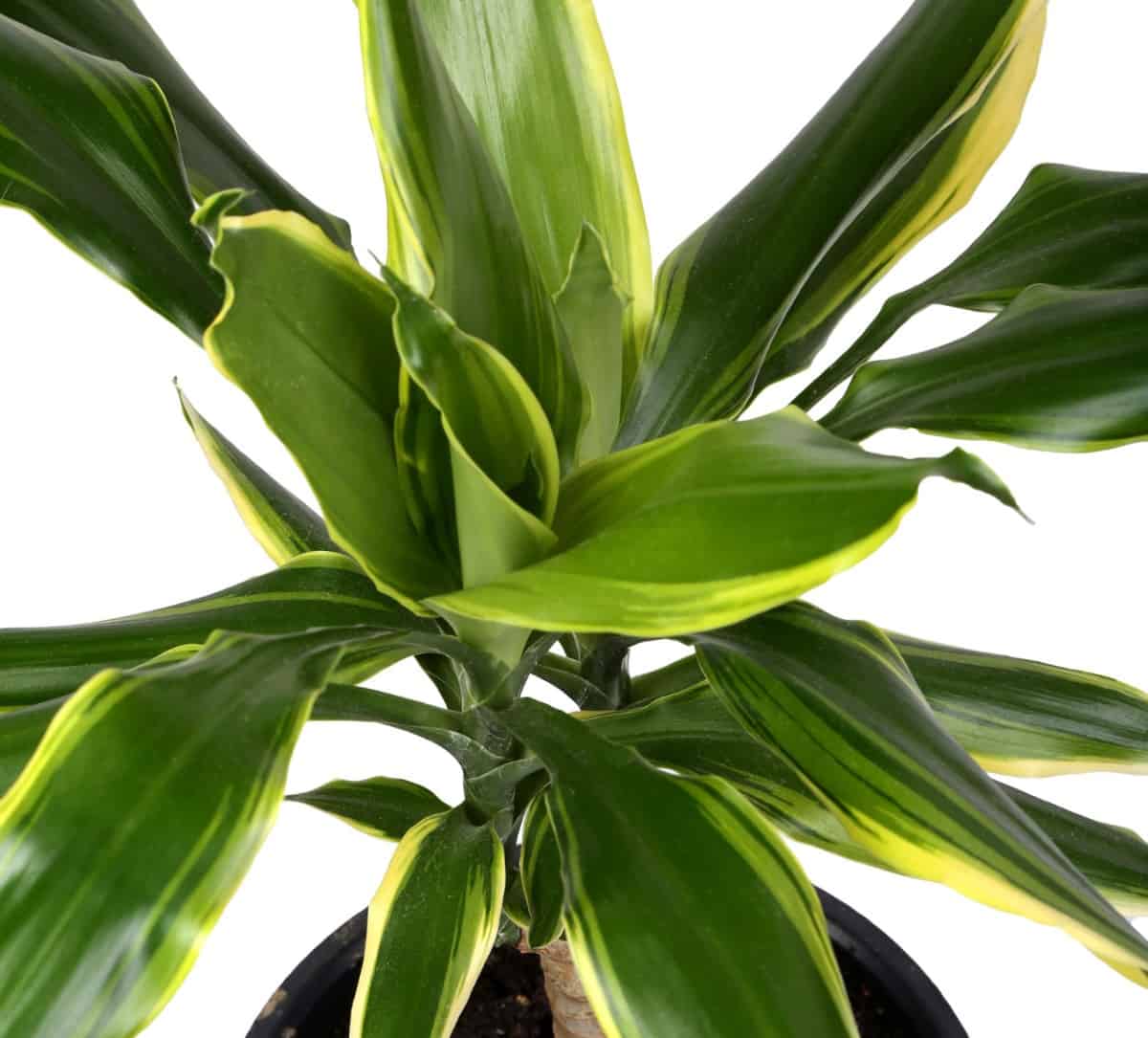 The corn plant is another great plant to have in your home. These beauties originate from Madagascar and have the nickname Dragon Blood from the stems' red resin. These plants withstand some neglect and still purify the air in our homes.
These small trees have narrow, pointed foliage that is light and dark green. Corn plants like filtered light and work well where there are sheer curtains in front of the windows.
Keep them away from direct sunlight, or their leaves scorch. Keep the soil dry compared to other household plants by merely misting the leaves and dirt with a spray bottle.
Fishtail Palm Tree (Caryota mitis)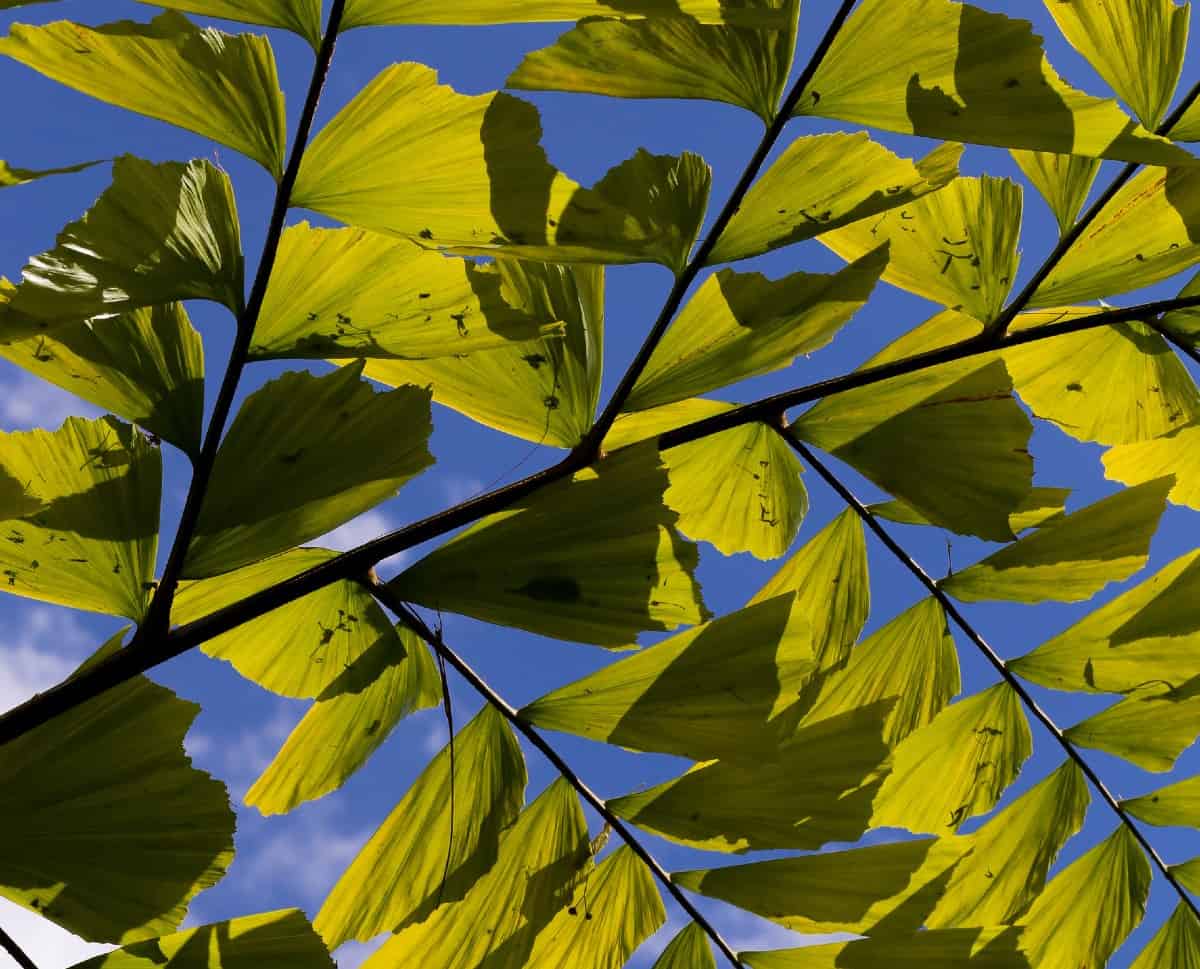 The fishtail palm tree is the most unique-looking on the list. It has large foliage. Each leaf is fan-shaped and has ragged edges. These plants typically grow in clumps and are easy to grow in indoor environments.
They reach about eight feet tall when grown inside and are drought-tolerant for those who forget to water them. Grow fishtail palm trees in a large pot to accommodate their growing size.
Add a general-purpose potting mix to the container and make sure it has lots of drainage holes. To make it even better, add organic material to the mix. They like having bright, direct light, so place them close to a window when possible.
Ponytail Palm Tree (Beaucarnea recurvata)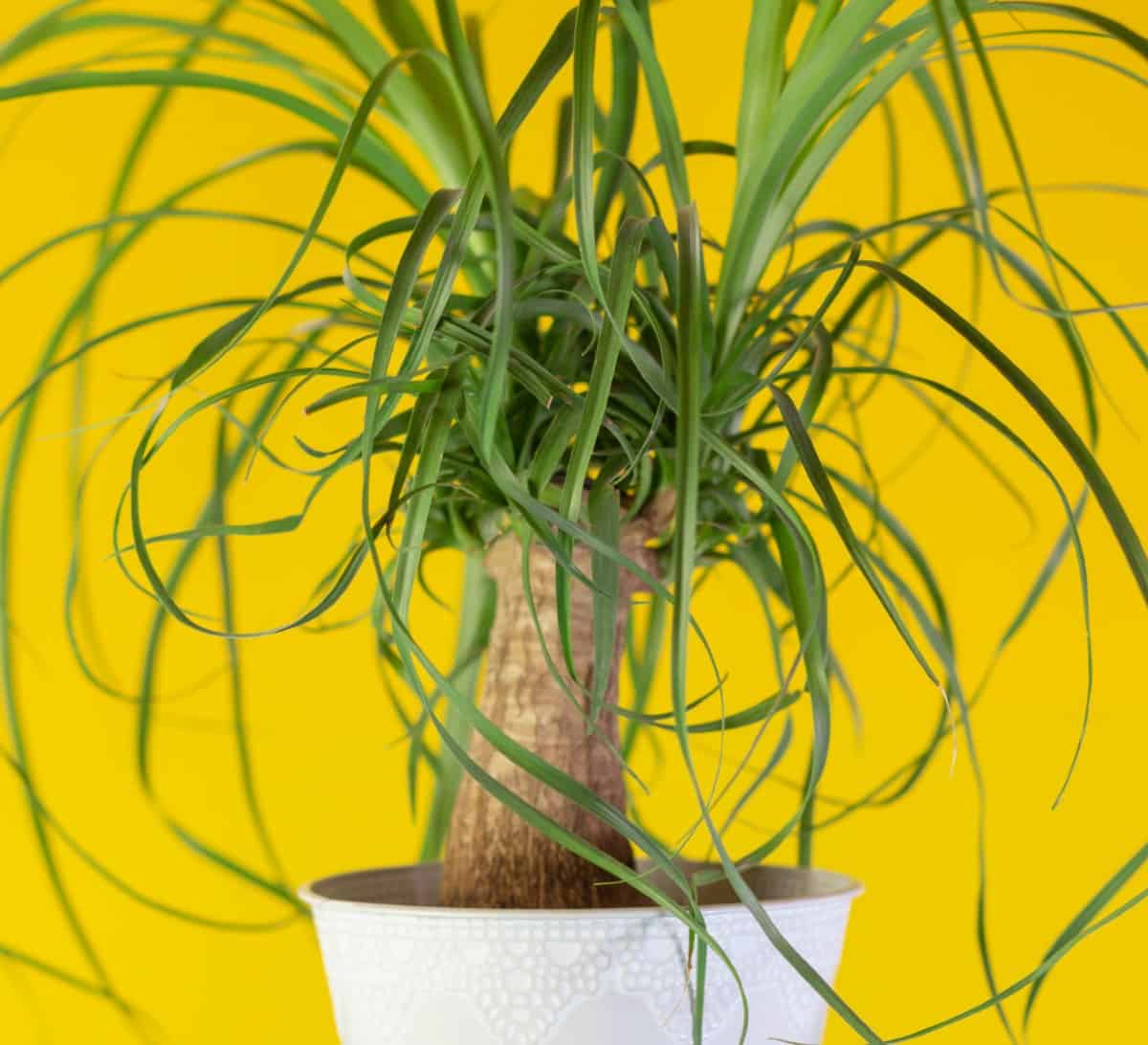 As long as you don't overwater them, ponytail palm trees are some of the easiest to grow. Despite their name, these trees are not true palm trees. They are closely related to Joshua trees and agave plants.
They have a dome-shaped stump with a stem that shoots up from the middle. The fronds are long and leathery and look like hair cascading from a ponytail. Most indoor varieties reach four to ten feet tall.
Ponytail palms require lots of drainage and succulent potting mix. Mixing equal parts potting soil, sand, and perlite is a simple way to make your own.
Clay pots are ideal because they absorb excess moisture. Give them as much light as possible, and these trees are sure to bring texture and greenery inside your home.
Majesty Palm Tree (Ravenea rivularis) – Elegant Trees for Inside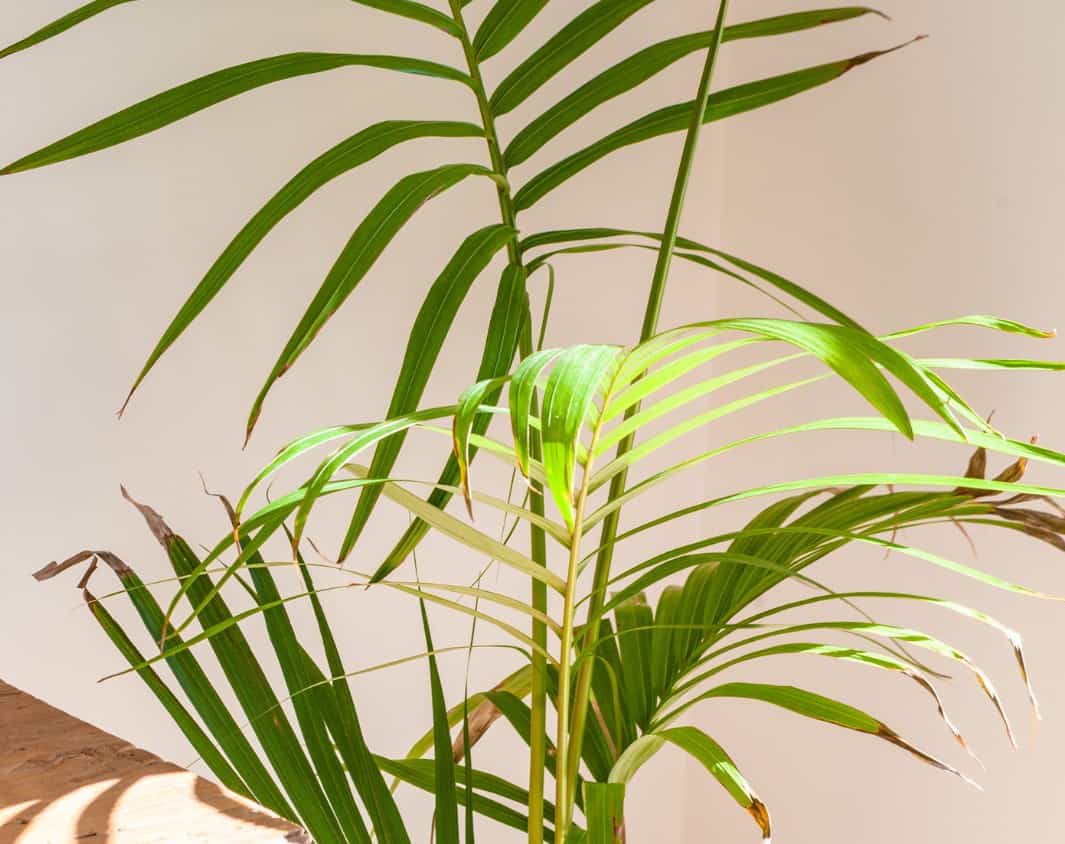 The majesty palm is elegant with its feathery fronds and thin stems. These low-maintenance plants come from Madagascar and are new to the indoor houseplant world.
Majesty palms make a great addition to any home and are great for beginner plant lovers. Majesty palms avoid direct sunlight to help prevent scorched leaves.
They thrive in bright but indirect light. Water them once or twice every week and always allow the top inch of soil to become completely dry. Your home's temperature should be kept around 65°F to 75°F at all times.
Dwarf Lemon Tree (Citrus sinensis)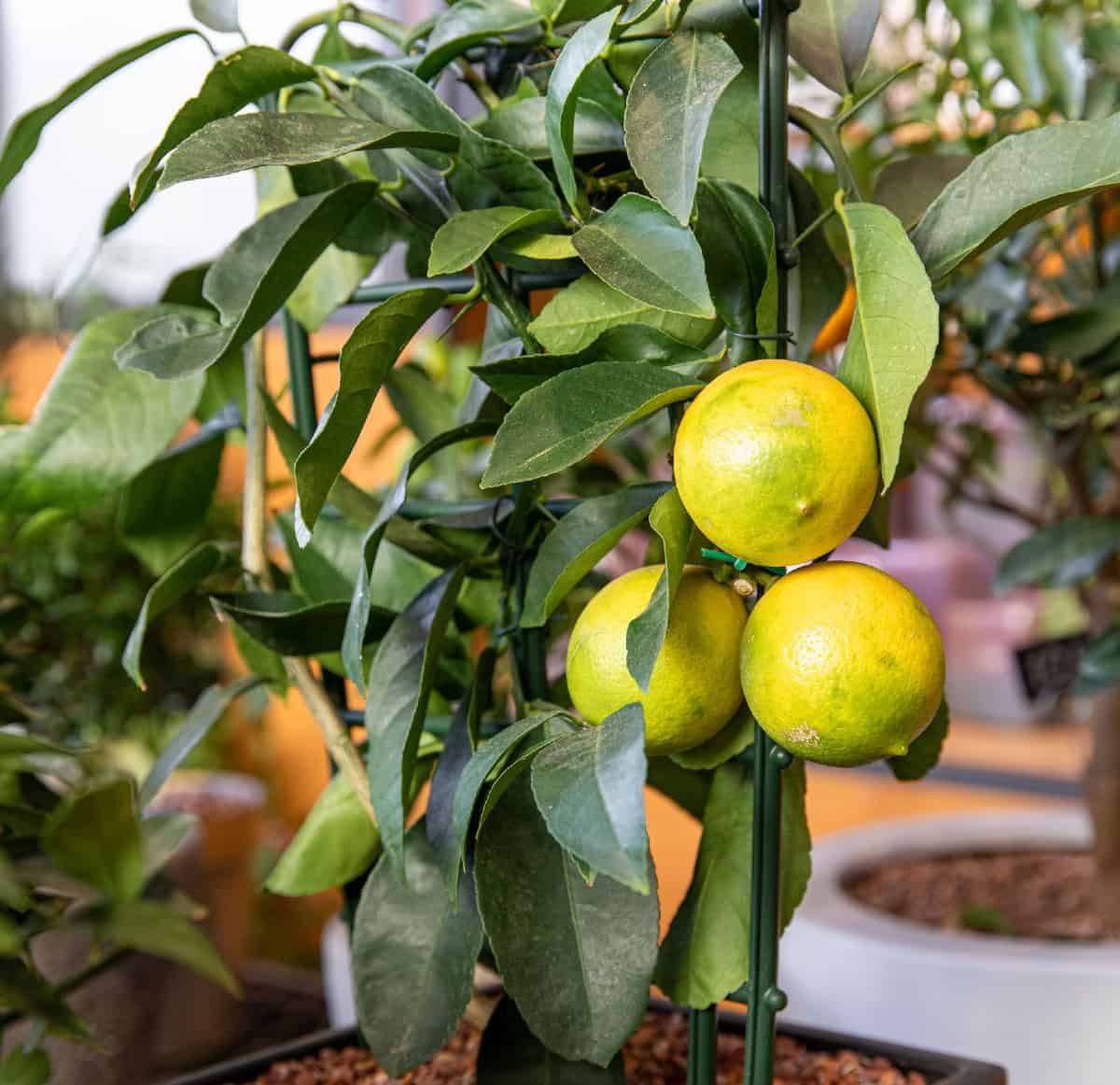 You can't get much better than fruit trees you can grow indoors. Like most lemon trees, these plants do well in hot and humid conditions. Growing them indoors helps fruit lovers pick fresh lemons in their homes when the outdoors doesn't allow it.
These easy to grow citrus trees have shiny green foliage and colorful fruits. These smaller varieties reach about eight feet tall and make a statement. Like most indoor plants, the dwarf lemon tree has simple needs.
Make sure they have lots of sunlight and are positioned next to a window with as much sun as possible. Grow them in containers filled with lightweight, perlite potting mix and give them lots of drainage.
Add organic matter to keep the soil to keep it from becoming too compact and add a layer of mulch around it to retain moisture.
There are dozens of easy to grow indoor trees that are perfect for you and your home. Before picking plants, make sure you are able to give them an appropriate environment that doesn't ask too much of you either.
When handling your plants with love and care, they tend to pay you back in full with unforgettable beauty and a cleaner home.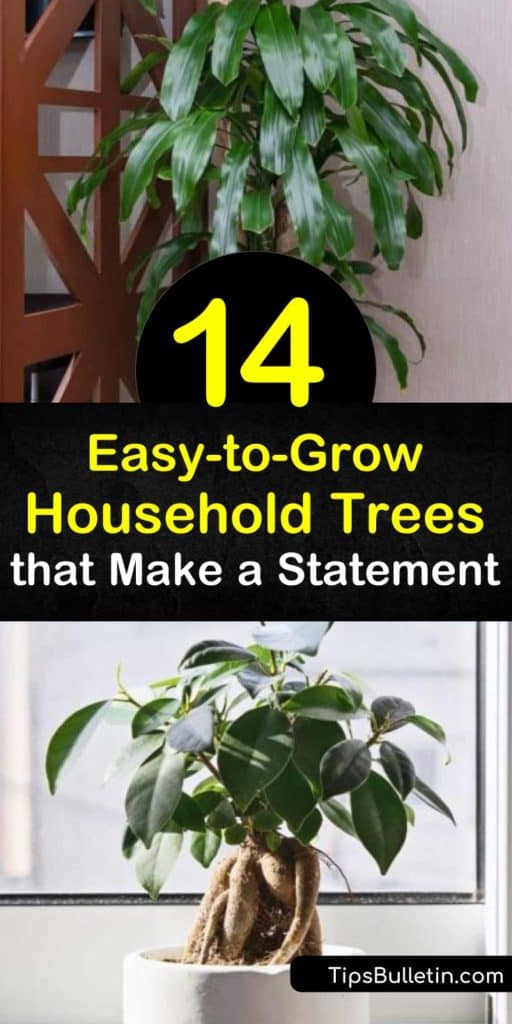 If these easy to grow indoor trees helped make a statement in your home, share these household trees on Facebook and Pinterest.