With spring quickly approaching, many homeowners are already planning out the perfect arrangement of flowers and shrubs for their gardens. If you're new to planting, however, the most prominent question you may be asking yourself is, where do you even start? While aesthetics are always at the top of your list, knowing a few easy to grow outdoor flowers also saves you a headache in the long run.
There is nothing more exhausting than spending countless hours planting and caring for a set of flowers, only to have them all die within a week. There are numerous factors to consider when it comes to ensuring the success of your flowers, which is why starting with a low-maintenance species is ideal.
The best part about these plants is that they come in a variety of colors, shapes, and functions. Where some plants fare better in sunnier, warmer climates, other options are perfect for partial shade and groundcover plants. No matter which selection of awe-inspiring beauty you choose for your garden, this list points you in the right direction.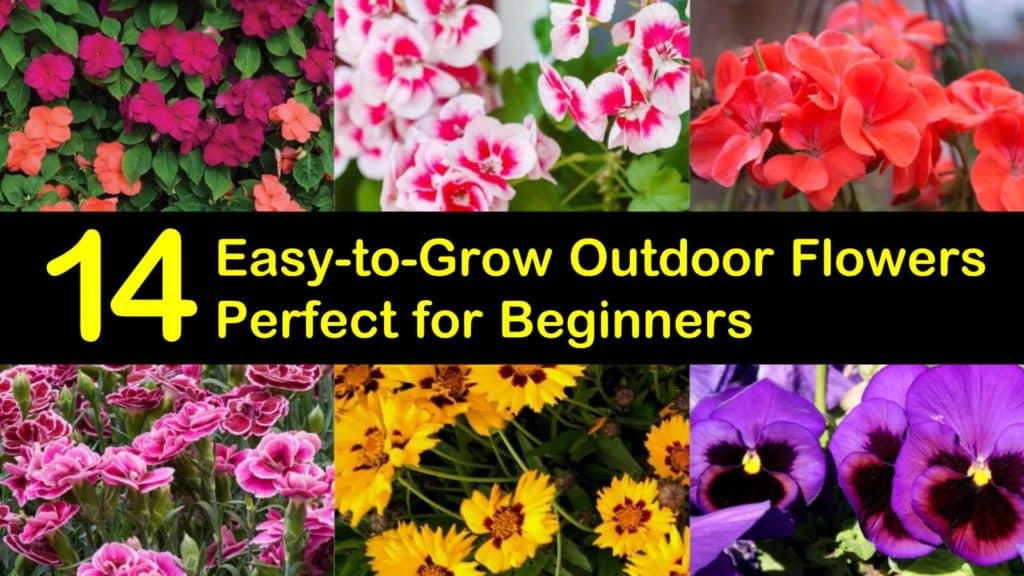 Quick Tips for Beginning Gardeners
If it's your first time in the garden, your number one instinct is to fill it with as many unusual plants as possible. Your next thought is, "Where do I begin?" We know exactly where you need to start and help you with some simple advice.
What do I need to begin gardening?
The first step in any successful gardening endeavor is to bring along the proper supplies. While you won't always require every one of these items, it's essential to keep them around for basic maintenance practices throughout the year.
The critical item to start with, in this case, is a thick pair of gloves. Not only do these prevent dirt from collecting beneath your nails, but it also keeps your hands safe from prickly thorns and branches.
Gorgeous Outdoor Flowers that are Simple to Grow
One of the critical things to keep in mind when selecting the best plants for your garden is climate. Areas like Florida and California require plants that tolerate high humidity or heat levels to ensure their success. Other areas of the country have different requirements. After that is determined, move onto the decorative aspects of the remaining plants.
Whether you want one of the fastest growing ground cover plants, need to add a little excitement to the garden, or want a perennial that will last all summer, we have some great ideas.
Wax Begonias (Begoniaceae)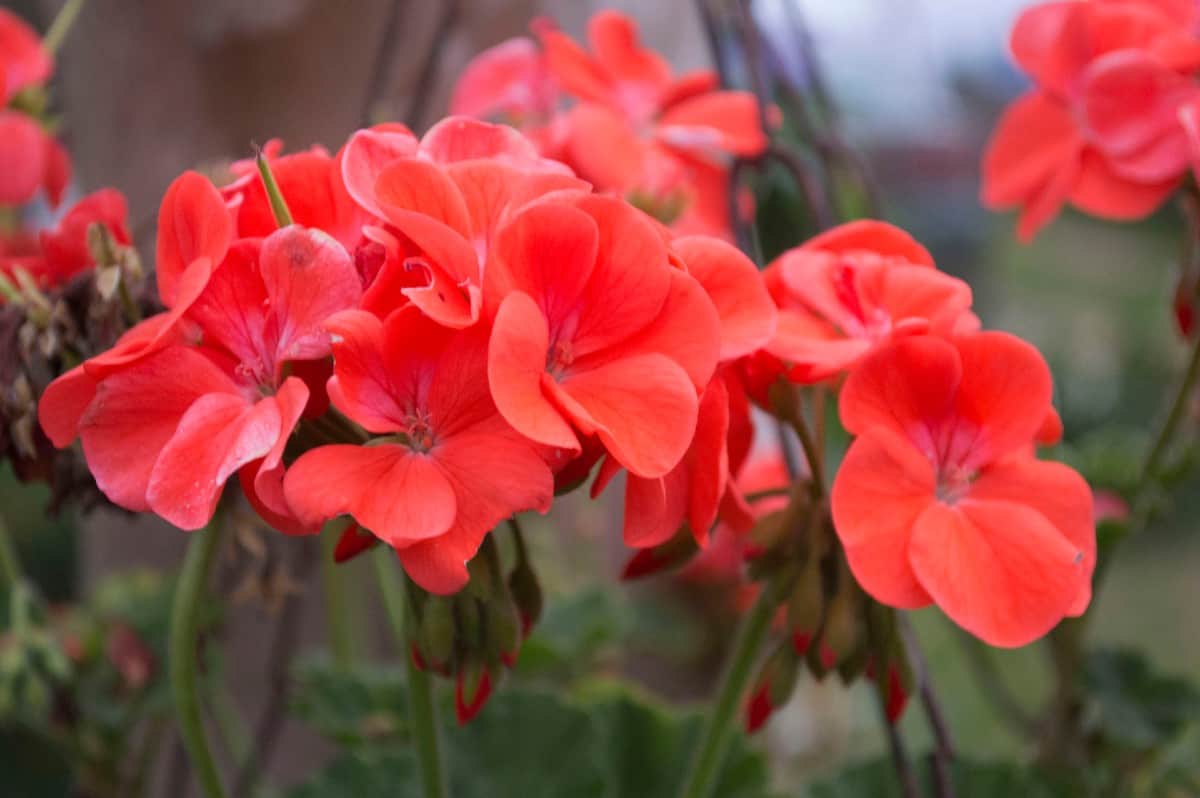 Begonias are ideal for covering broad bedding since they produce large clusters of flowers that bloom for an extended time. Their infusion of color to any garden is equally welcome, making them an excellent addition in terms of beauty and efficiency.
For best results, opt for a seed variety of begonia, rather than the tuberous kind. These flowers prefer some shade with a little bit of morning sun to thrive.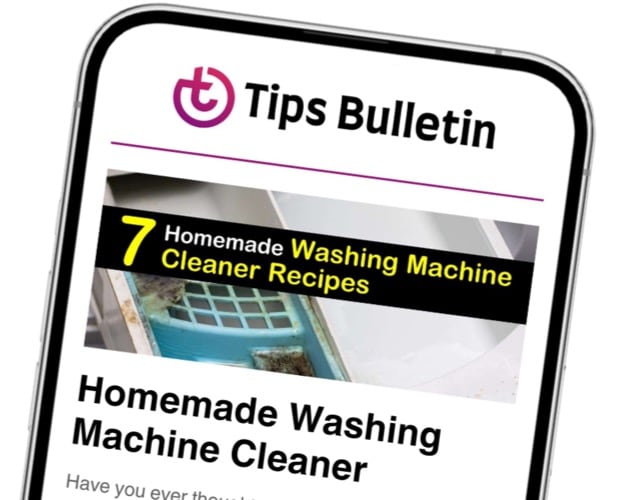 Finally, an email that Transforms Your Home.
Get the latest home and garden tips from our experts, delivered straight to your inbox.
They do well in humid climates but prefer their soil to dry out in between waterings. Make sure the soil drains well and add a fertilizer that is a 10-10-10 blend of nitrogen, potassium, and phosphorous.
Marigold (Tagetes erecta): Beautiful Pops of Color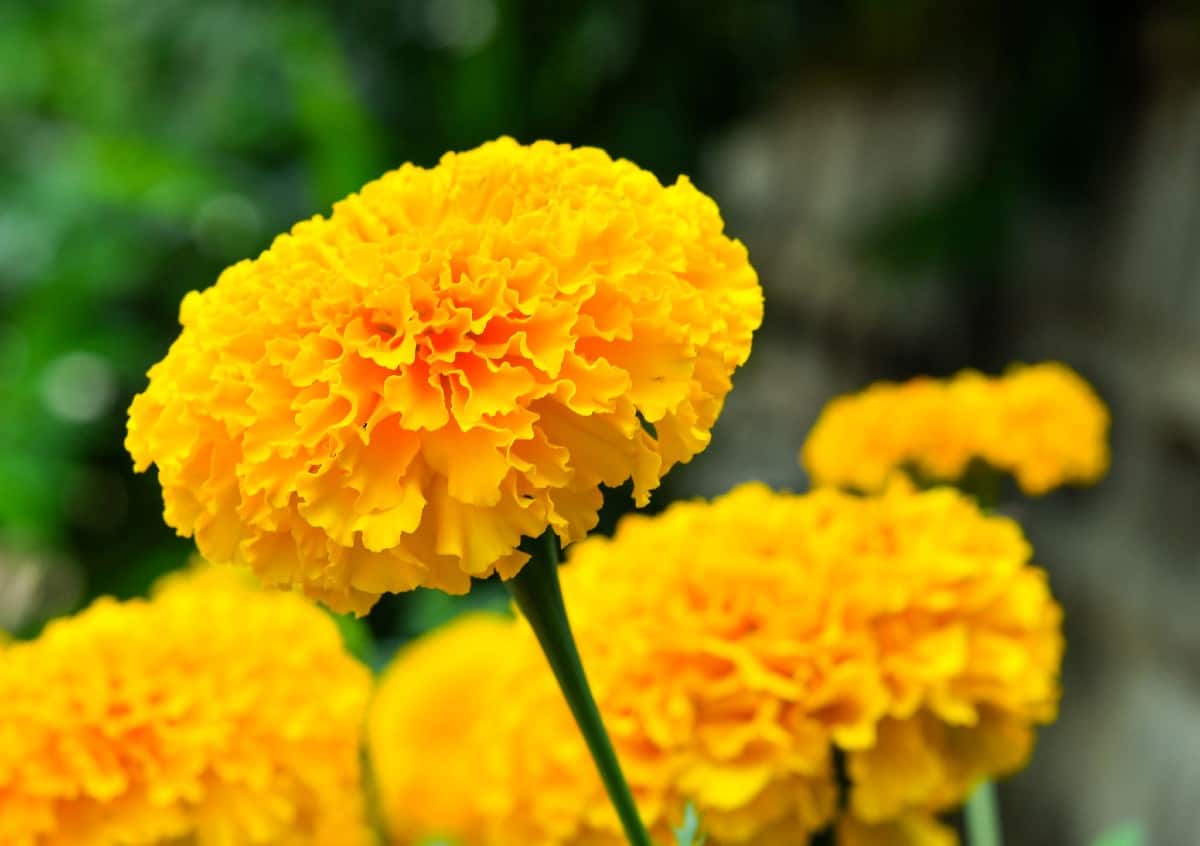 One of the hardiest flowers to add to any garden is the marigold. These annuals come in a vast array of colors, most commonly yellow. Others may possess a hue as vibrant and rich as orange rust.
Extremely low-maintenance and easy to care for, these spectacular flowers adapt to many different soil structures and weather conditions. They prefer well-drained soil that remains moist in between waterings.
Marigolds are plants that repel flies and mosquito pests, as well as aphids and other annoying insects, making them the perfect addition to a vegetable garden.
As an added bonus, planting marigolds around the perimeter of your garden and interspersed in the middle will keep squirrels away from plants that they enjoy. Deer, rabbits, and squirrels dislike the scent of marigolds.
Pansies (Viola tricolor var. hortensis)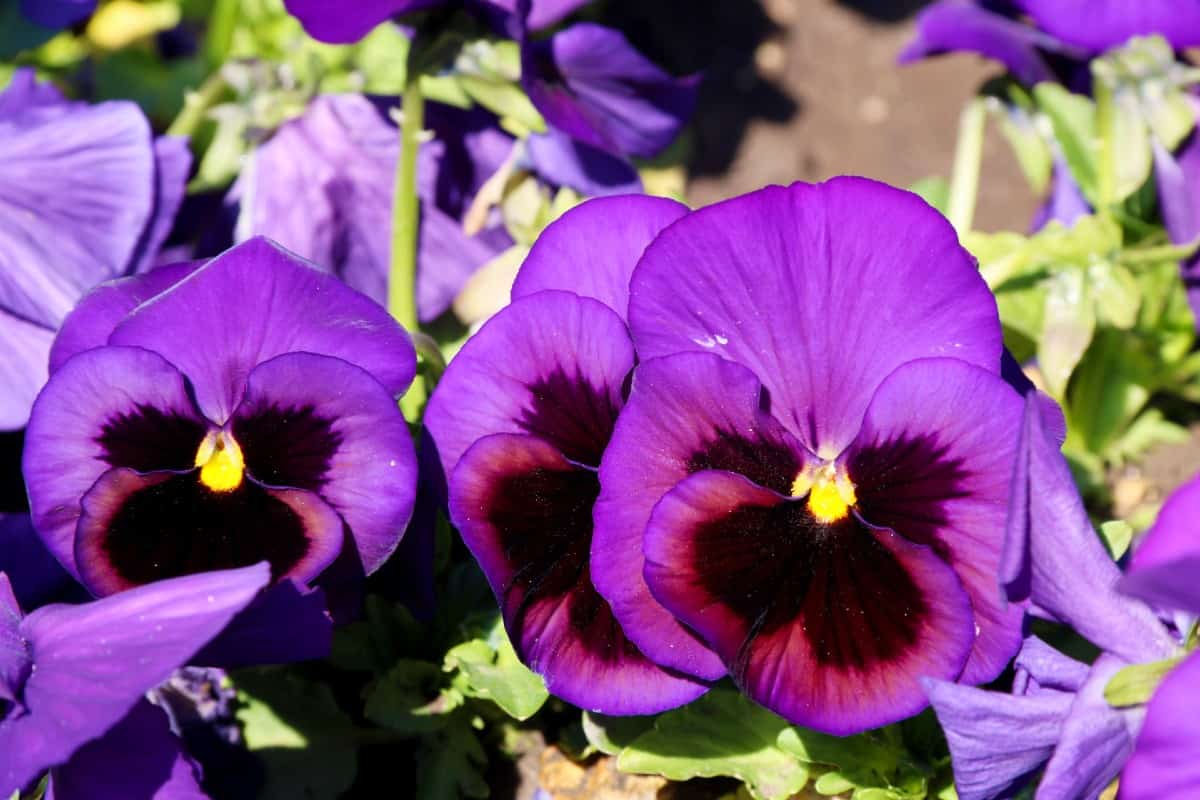 Pansies are easy-care plants grown as both perennial and annual flowers depending on the location and climate. They do exceptionally well in cooler weather, so hot and humid locales require the plant to be grown indoors. When planting outside, ensure the flowers receive plenty of morning sunlight and stay under the shade during the harsh rays of the afternoon.
One step that is unavoidable when it comes to keeping your pansies healthy is giving them plenty of water. If the flowers start to wilt, increase the amount of regular watering. Mix in fertilizer with hummus for the best results.
Impatiens (Impatiens walleriana)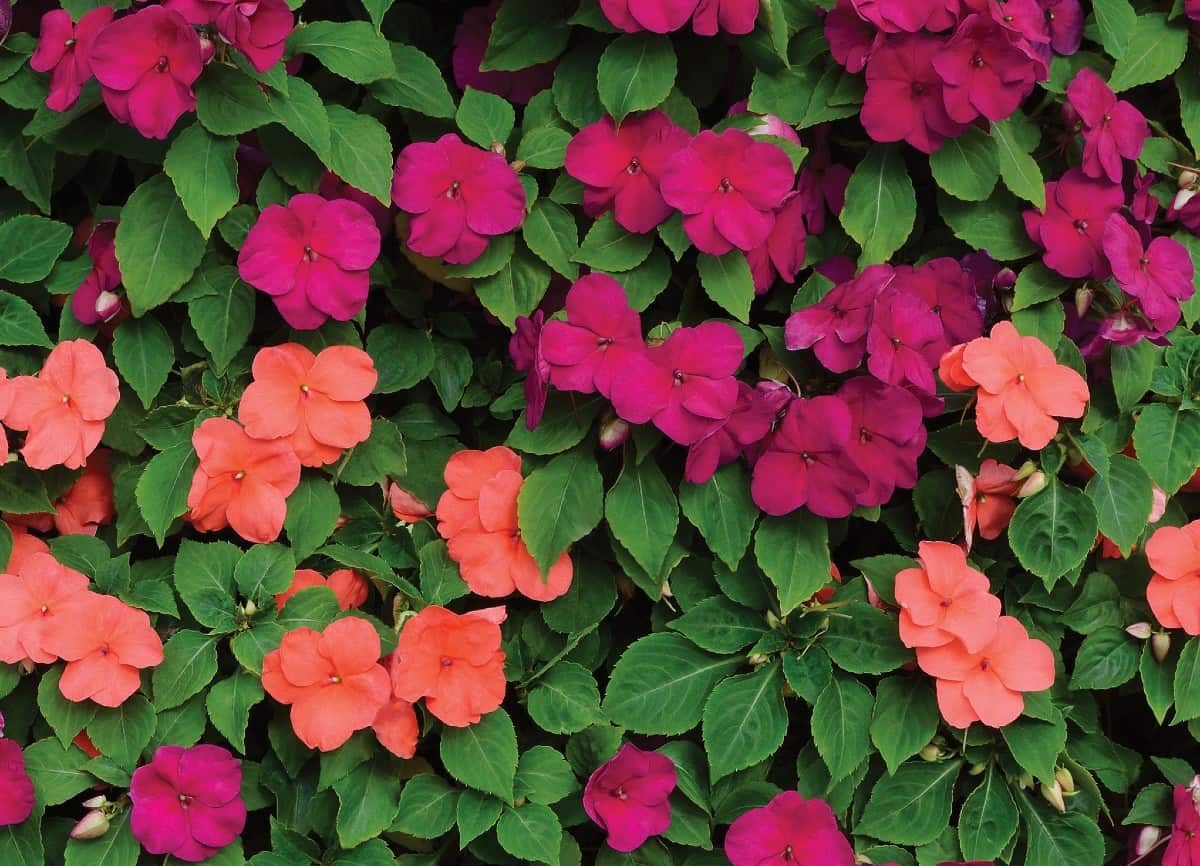 A stunning resident for any yard, impatiens are one of the most commonly incorporated plants. After blooming in late spring, these flowers offer long-lasting splatters of color until the first frost of winter. Their slightly tubular interior also attracts pollinators like hummingbirds to your garden.
The essential maintenance routine to keep in mind when it comes to impatiens is how much water they receive. Two inches a week is sufficient during normal weather conditions, though when temperatures spike over 85℉, this number increases to four. If the plants begin to look dry, it's safe to give them a little extra water.
Hosta (Hosta lancifolia): Impressive Foliage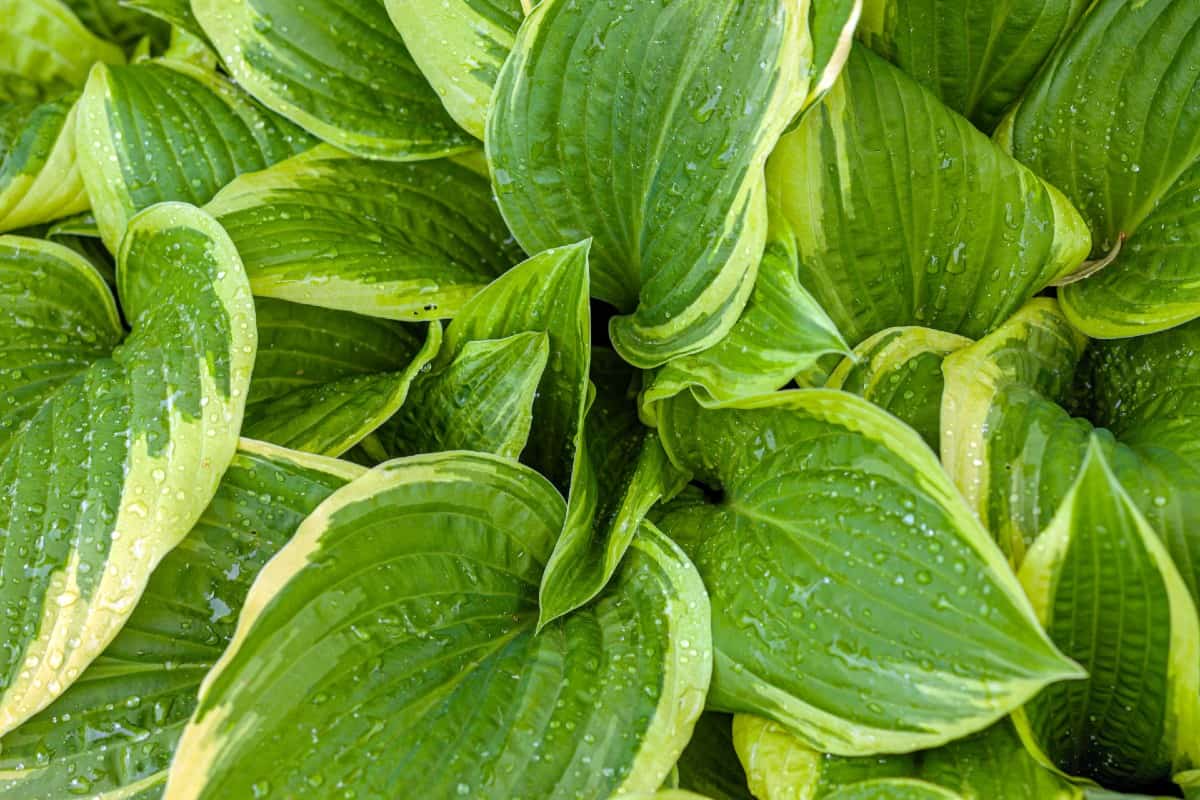 A beautiful plant with impressive foliage is the hosta. Noted most for their variegated or multicolored leaves, hostas also bloom in late summer and produce pink or white flowers that last through the fall.
These plants prefer full sun when grown in gold and blue varieties, while the deep green species prefer moderate shade. Native to Asia, they love moist, wet soil and often cling to river banks and along the edges of streams.
Geraniums (Pelargonium)
Another excellent flower to grow outdoors as a beginner is a geranium. These attractive purple, pink, or blue flowers are relatively low-maintenance and thrive even in hotter climates. They prefer full sun, though some varieties lean more toward partial shade. When it is especially hot, it's best to provide the plant with a little bit of protection from the sun.
It is equally vital to prune spent flowers to ensure new growth flourishes afterward. Leave approximately 6-24 inches of space between each shrub when planting to allow them plenty of space to grow. Let the soil partially dry in between waterings, but not enough to dry out the roots.
Daylilies (Hemerocallis): Easy to Grow Outdoor Flowers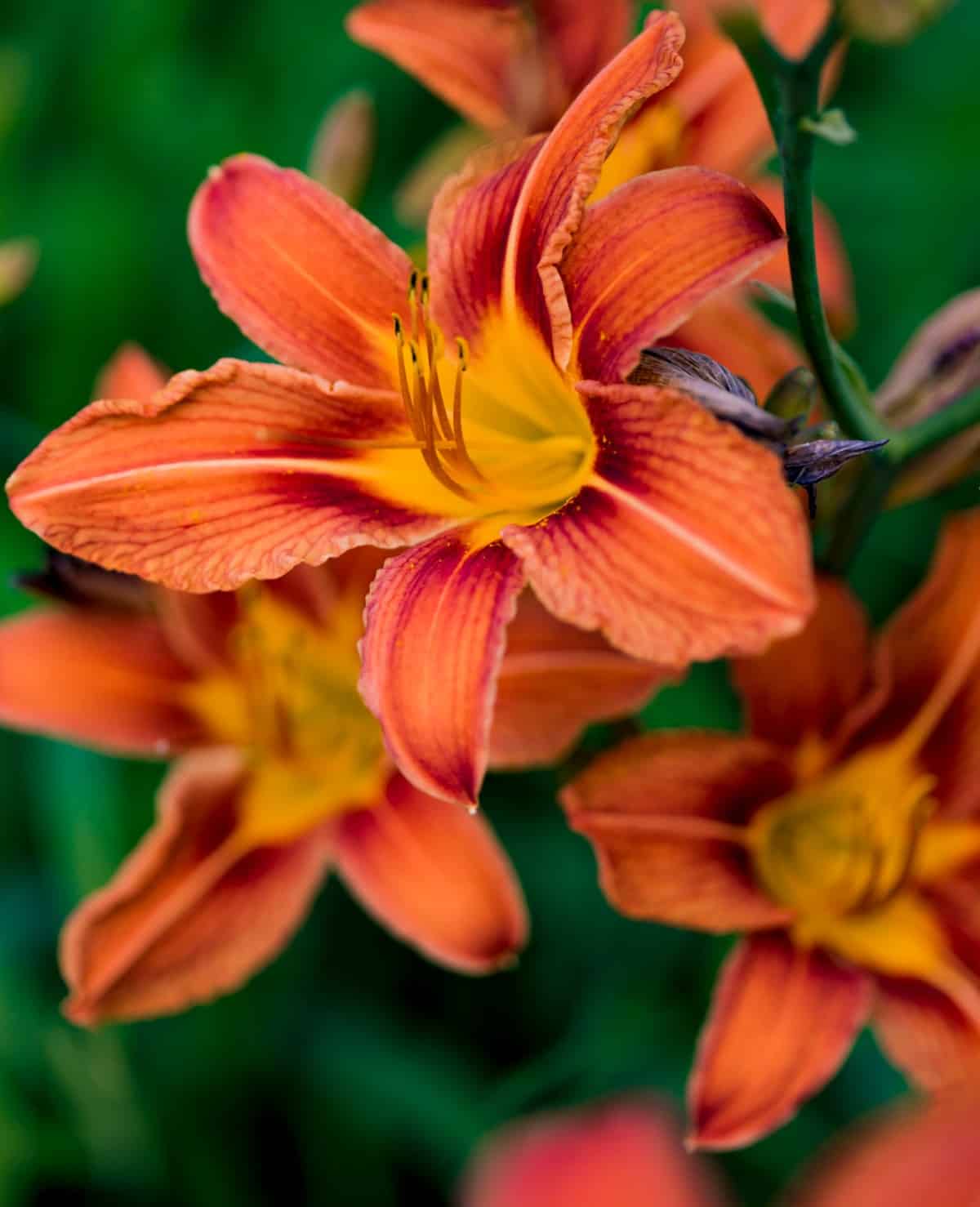 If you're searching for a hardy, low-maintenance plant, then your search is over. Daylilies are one of the sturdiest plants out there and grow throughout most of the United States, including the hot and humid states like Florida, as well as colder climates seen in states like Michigan.
Once they start blooming, these easy to grow outdoor flowers and plants produce a flower in the morning and it dies by the next day. Because there are so many blooms on each individual plant, it often seems like you have reblooming daylilies. However, there are cultivars bred precisely for this purpose.
Not only are these easy to maintain perennials resistant to most diseases and pests, but they are also drought-tolerant. This easy-going flower doesn't mind getting a little wet occasionally, either, making it perfect for planting alongside riverbanks.
Though daylilies do just fine in shady areas, they prefer a nice sunny spot to grow and prosper. Most of the time all you need to do is plant your bulbs, and enjoy the mounding plants and flowers when they appear.
Coneflower (Echinacea purpura)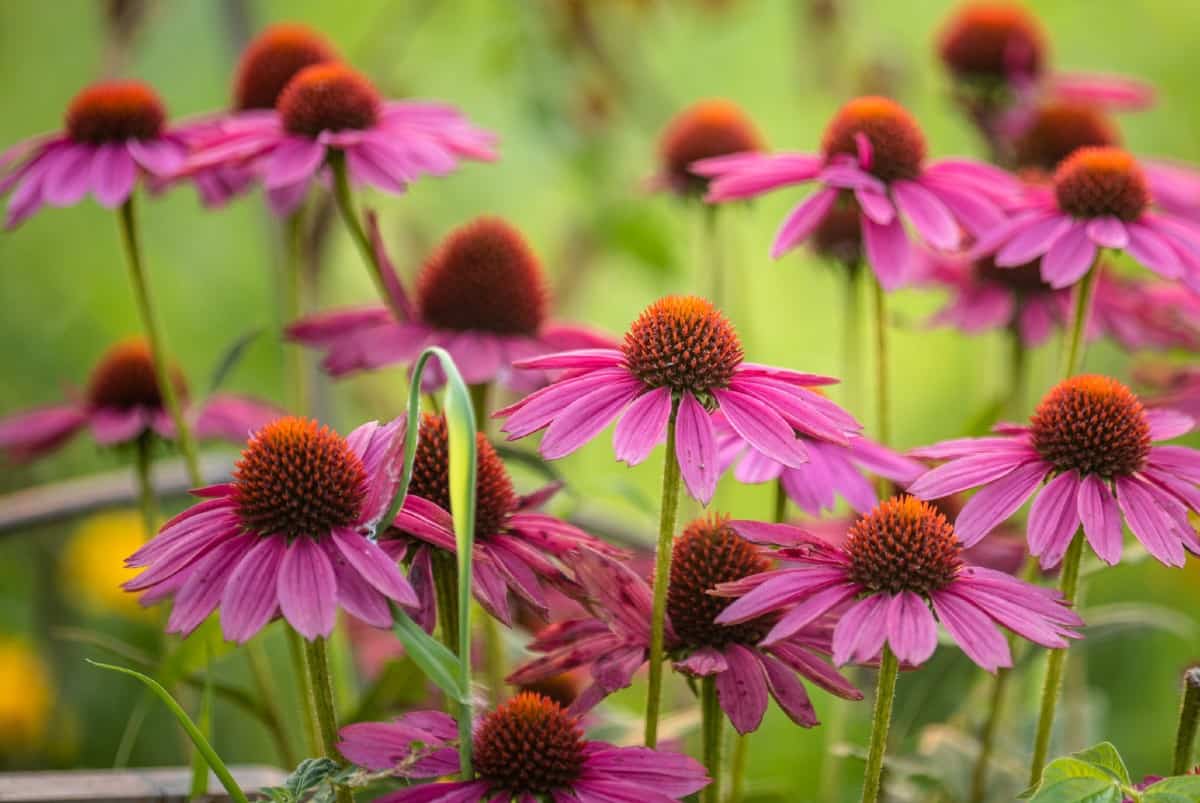 For a flower that is hardy throughout most of the states, coneflower does exceptionally well in varying temperatures. A close member of the daisy family, the coneflower produces bright flowers from early summer to mid-fall.
These plants enjoy full sun and loamy soil. If growing them from seeds, plant them indoors first, generally in early spring. While they take up to two years to sprout from tiny seeds, they self-seed and do not require cutting back to flourish.
Carnation (Dianthus): A Symbol of Love and Gratitude
A symbol of love and gratitude, the carnation is often given to loved ones on holidays like Valentine's Day and Mother's Day. The long-stemmed, large flowering versions of this plant usually comprise these offerings, though there are technically three different types of carnations. The dwarf and spray varieties typically grow better in the gardens.
Carnations need at least four to six hours of sunlight to prosper, with anywhere from two to three waterings a week. If the leaves start to with or yellow, however, it's a sign they're overwatered, so cut back.
Black-Eyed Susan (Rudbeckia hirta)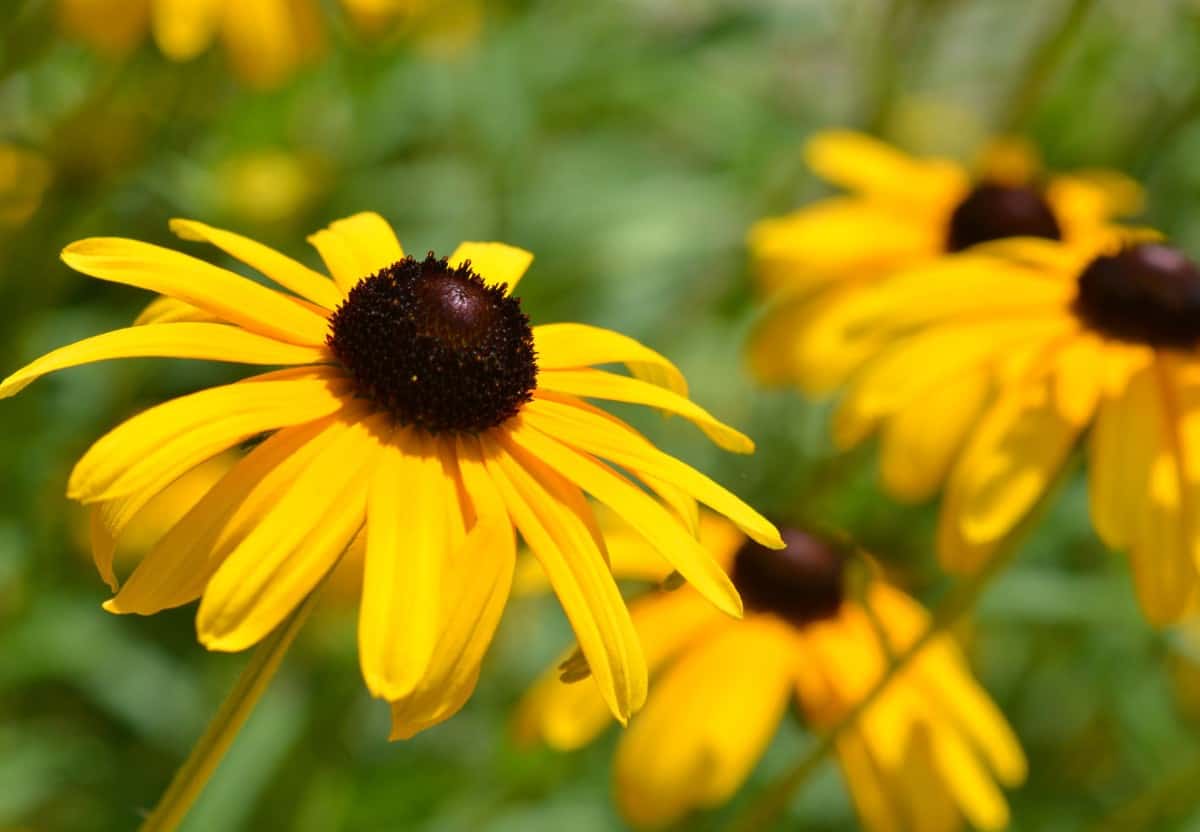 A low-maintenance wildflower found throughout most of the country is the Black-Eyed Susan. These brilliant yellow flowers bloom in the summer through the early fall and receive their namesake from their dark, black center.
Black-Eyed Susans easily attract pollinators for continuous growth and also make fantastic cut flowers. Cutting away dead blossoms is especially helpful to their keeping them healthy and allowing new blossoms to appear. Keep their soil moist and provide them with plenty of direct sunlight.
Tickseed (Coreopsis)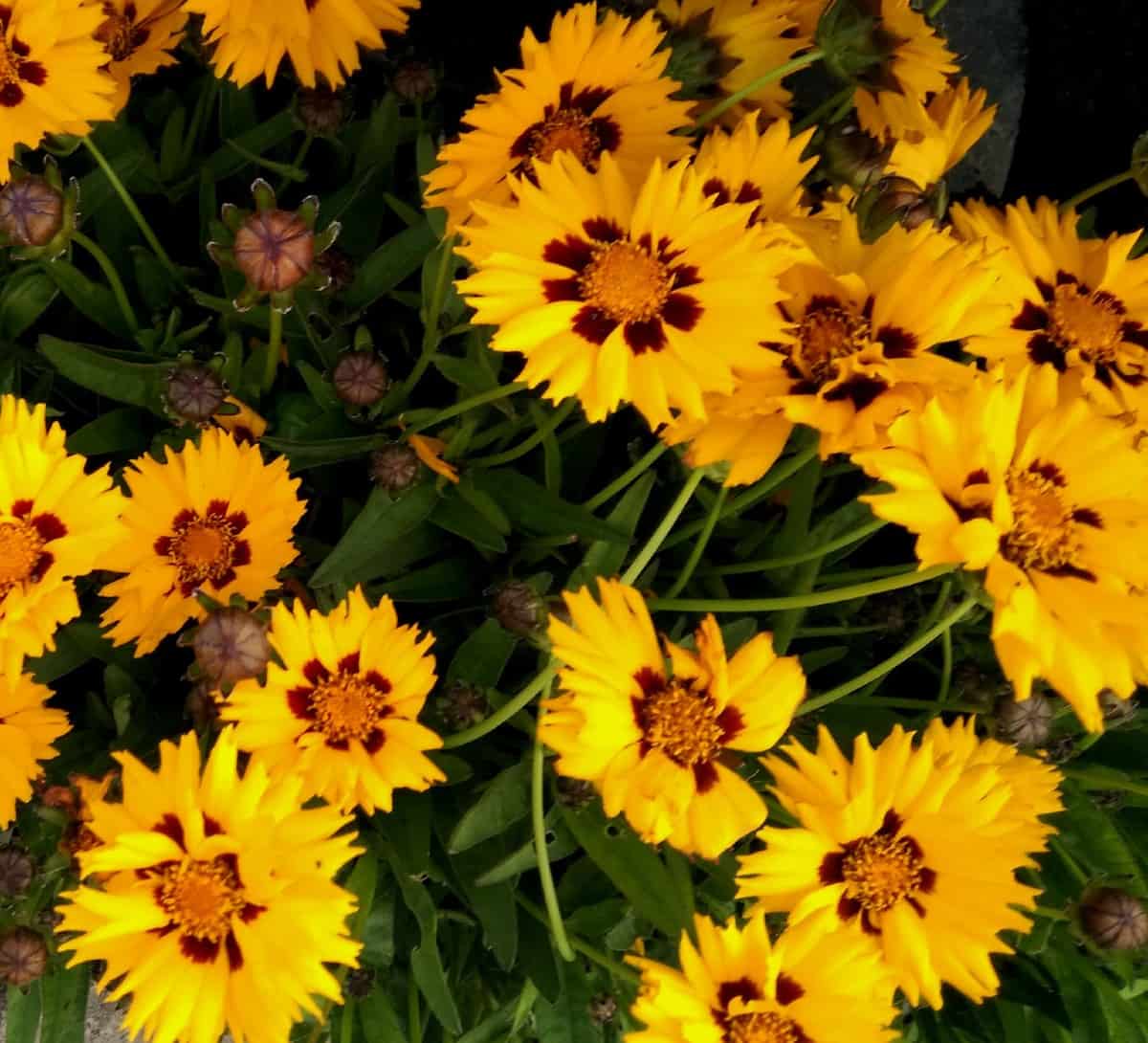 A plant species that varies as much in appearance as it does to the conditions it tolerates is tickseed. This flowering shrub is drought-tolerant as well as deer-resistant and is one of the best plants to grow as a beginner.
In terms of easy-going plants, tickseed fits the bill nicely with its ability to deal with both full sun and full shade circumstances. Well-draining soil is the most desirable solution for this flower, though it may fair well enough in moderately dry soils at times.
Dahlia (Dahlia pinnata): Perfect as Cut Flowers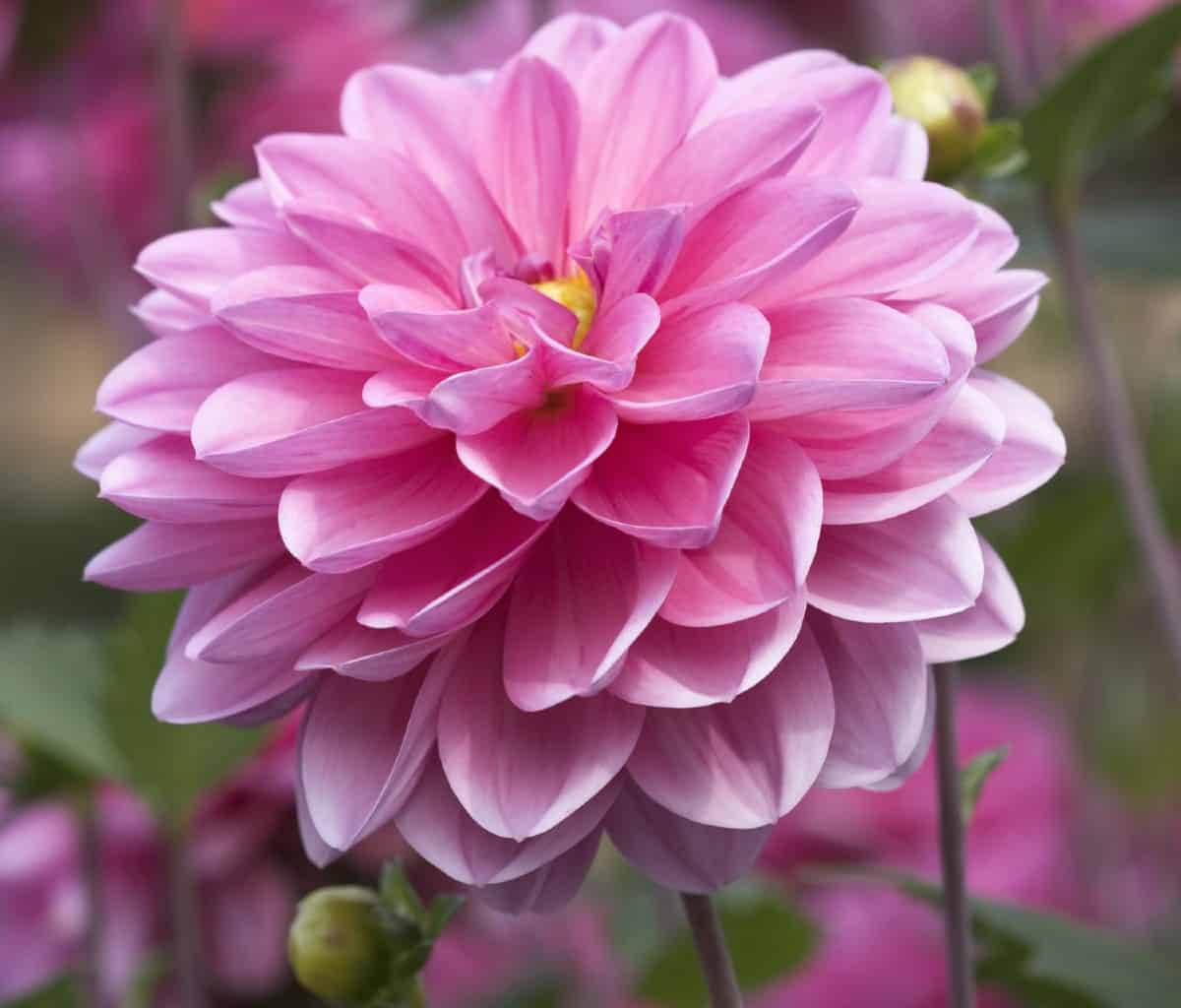 One of the best specimens for cut flowers is the Dahlia. These beautiful bloomers make stunning bouquets as well as act as a statement piece in any garden. Cutting the flowers encourages their growth, with deadheading them regularly a necessity.
In addition to their visual appeal, they are relatively easy to care for as long as they receive a steady stream of water. Once a week when hand watering is ideal.
Sedum (Sedum oblanceolatum)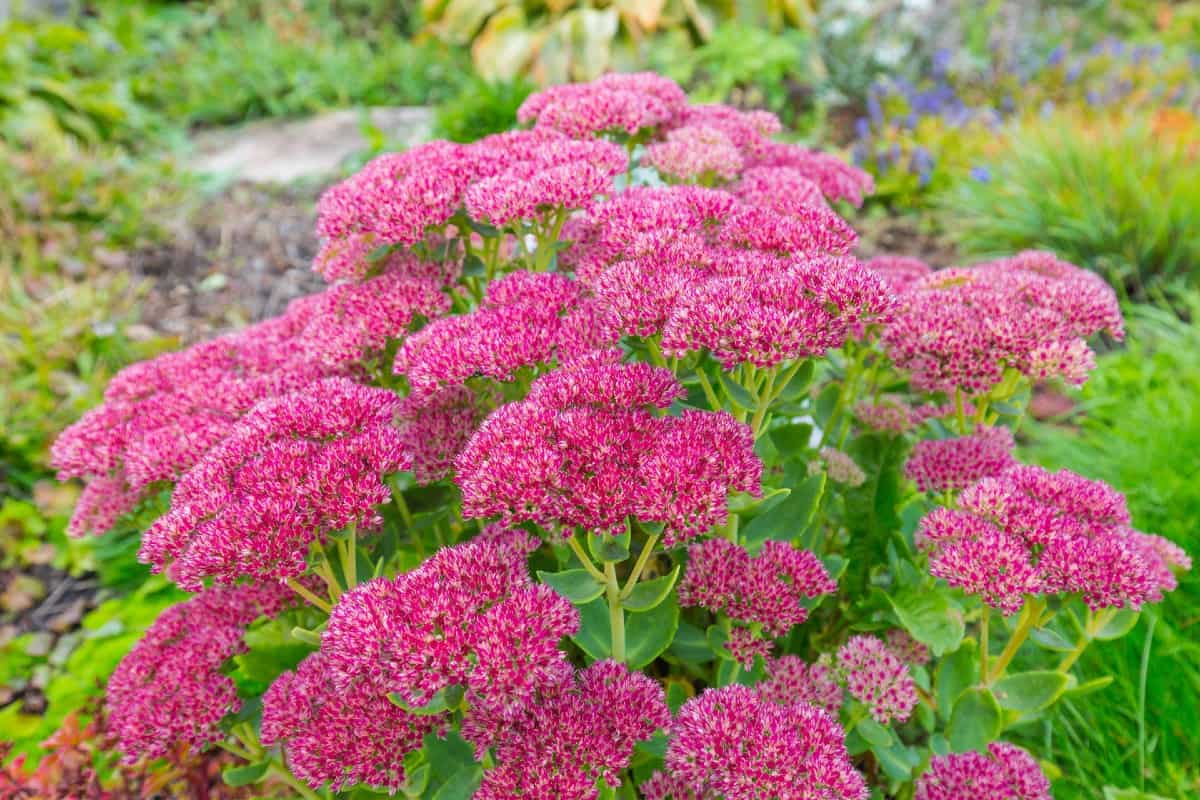 Sedum plants are perennials that flower all summer and blooms in clusters of tiny, star-shaped flowers. These plants come in a variety of yellows, pinks, and reds, all of which attract pollinators like birds and butterflies. Plants seed in the early spring and they will proliferate in fertile soil.
Whether you plan on using them in gardens or placing them in hanging baskets on porches, full shade is preferable to guarantee their success. Some varieties tolerate partial shade, but only after they become established.
Zinnias (Zinnia elegans): Best Flowers for Variety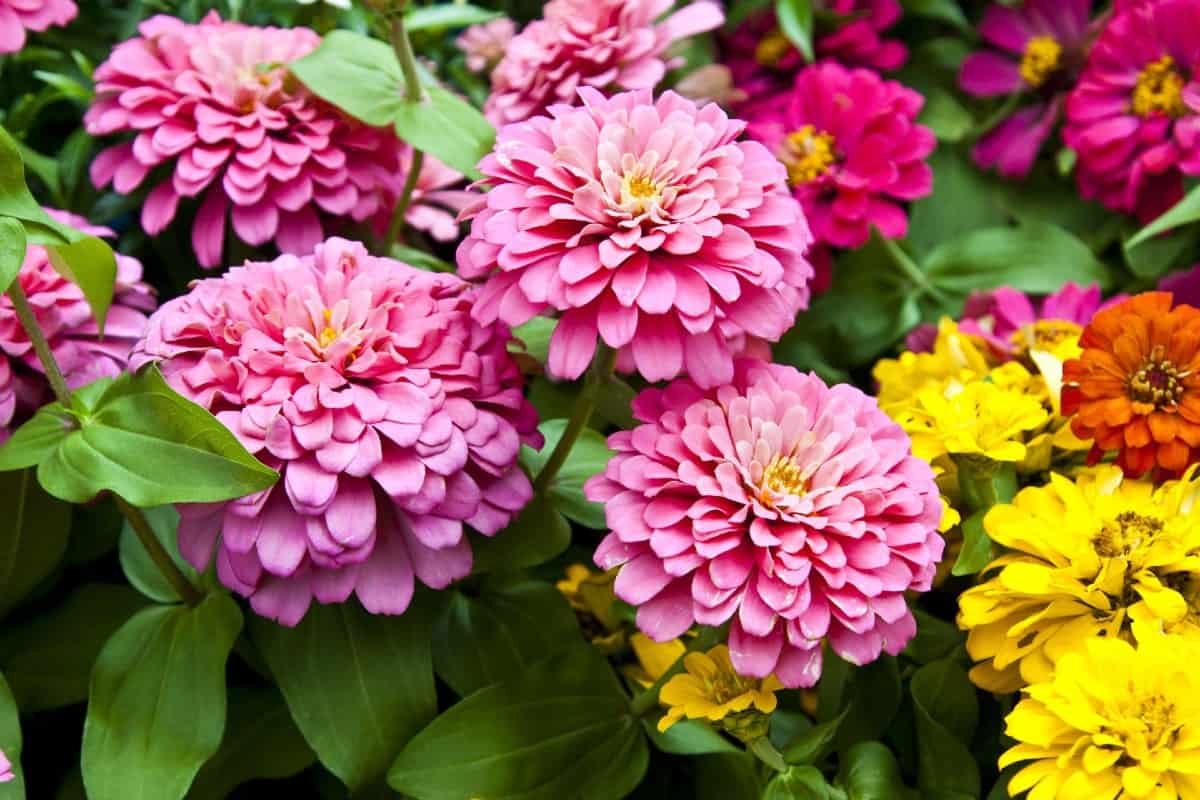 For a flower that grows in a variety of styles, the zinnia is your best choice. These plants provide lovely blossoms that might look like dahlias, daisies, or even little pom-poms. Their deer-resistant characteristics also make them the perfect candidate for growing outdoors.
Zinnias bloom in late spring and early summer, depending on the location, and do well throughout all regions of the country. Pruning them is crucial, especially if you plan on growing them for cut flowers. Deadheading is the preferred practice to ensure new growth after blooms die out.
You should now have a few ideas for which flowers to use in the garden. With so many different variations and colors to choose from, finding the perfect plant for your yard is easier than ever.
It also helps to know these flowers are much simpler to grow than others. With just a few basictips and a little care, these plants flourish.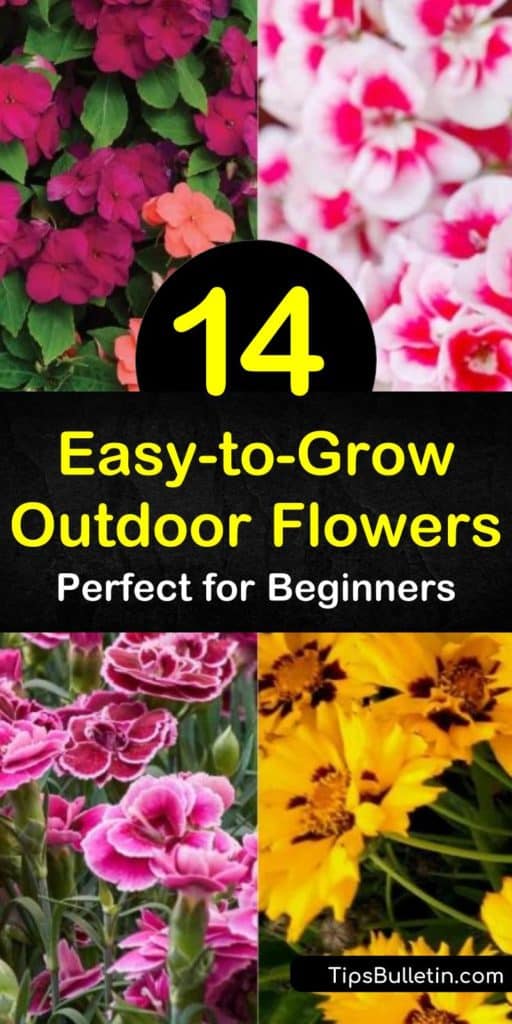 If you found this selection of plants perfect for beginners, then please share our easy to grow outdoor flowers with friends and family on Facebook and Pinterest.