There's nothing better than hanging baskets and window boxes overflowing with colorful blooms, tall, upright, fragrant flowers in the garden, and variegated foliage nestled beneath trees. With so many choices, it's hard to know where to start. While some plants require extra care, there are many easy to grow outdoor plants that are great for beginning gardeners.
There is more to gain from gardening besides beautifying your yard. Depending on the plant type, it provides pollen and nectar for insects and birds, cut flowers for a vase in your home, herbs for adding to tea, vegetables, and fruits for a healthy diet.
Working in the garden is also therapeutic. With so many benefits, it's no wonder you've decided to roll up your sleeves and get your hands dirty.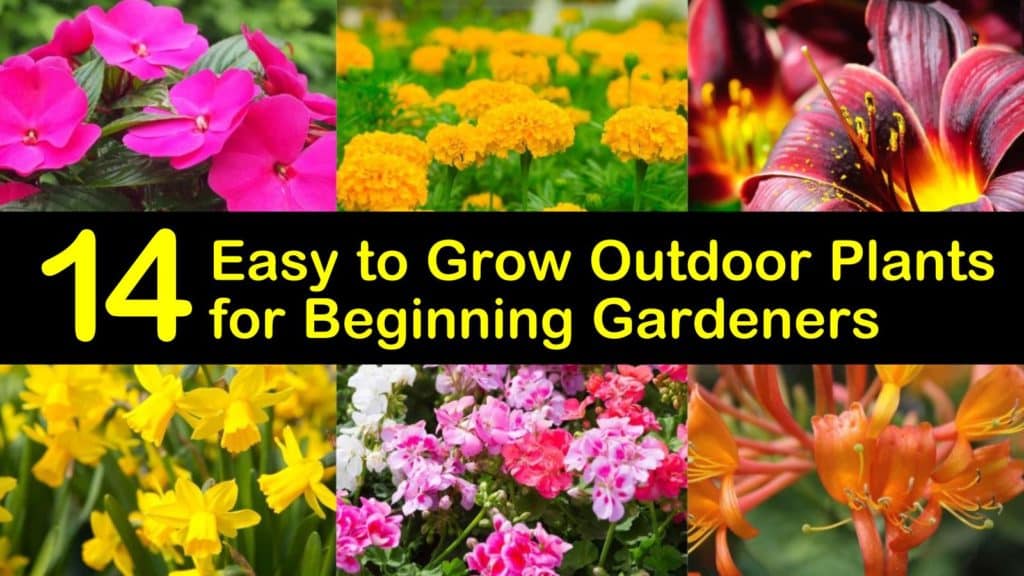 Outdoor Plants that are Easy to Grow
Having once been beginning gardeners ourselves, we understand the overwhelming feeling you get while trying to decide which plants to start with, and you probably have a few questions. We've got answers to common questions and a list of easy-care plants.
What's the Difference between Annuals and Perennials?
Annuals are an excellent choice for beginning gardeners. They only grow for one season and require little care. They put all of their energy into blooming throughout the entire growing season and die off after the first frost.
Perennials put their energy into their roots and future growth, and generally only bloom once. However, some varieties bloom continually throughout the growing season. These types of plants grow back every year, usually with more growth than the year before.
How Do I Choose the Right Plants?
The first thing to think about when choosing outdoor plants is to decide whether you want annuals, perennials, or both. If you are renting your home or have limited space, annuals might be the best choice.
If you have plenty of yard space and want your plants to grow back every year, then choose perennials.
There are a few things to look for when browsing your local nursery. Read the plant label for specific growing instructions for light, soil, and watering requirements.
Check the USDA hardiness zone and make sure that your zone area falls within the guidelines. Finally, check the plant for healthy foliage and proper growth.
Plan a variety of growing things to add color and texture to your yard. If deer are a problem, consider some deer-resistant flowering vines like clematis or annuals like marigolds. While nothing is completely deer-proof, the four-legged creatures are less likely to munch on these types of plants.
What Types of Plants Grow Outdoors?
Outdoor plants vary depending on where you live. Many outdoor plants are grown for ornamental purposes, like rose bushes and flowering tobacco.
Perennial and annual flowering plants provide fragrant blooms of color and attract pollinators, while foliage plants and succulents provide groundcover and points of interest in shadier areas of the yard or garden.
On the other hand, some outdoor plants serve a different purpose, such as herbs and vegetable plants. Many plants grown indoors are grown outdoors as well, and vice versa, as long as they receive the same growing conditions.
What Do I Have to Do to Maintain My Plants?
Low maintenance plants require very little care besides regular watering. Some flowering plants perform better and grow more blooms with regular deadheading to remove dead flower blossoms. Place mulch in layers around the base of your flowers to prevent weed growth.
Certain varieties of perennial plants and shrubs require trimming to encourage future growth. It's easy to prune them in the fall or early spring, and the result is well worth your time.
Daylily (Hemerocallis)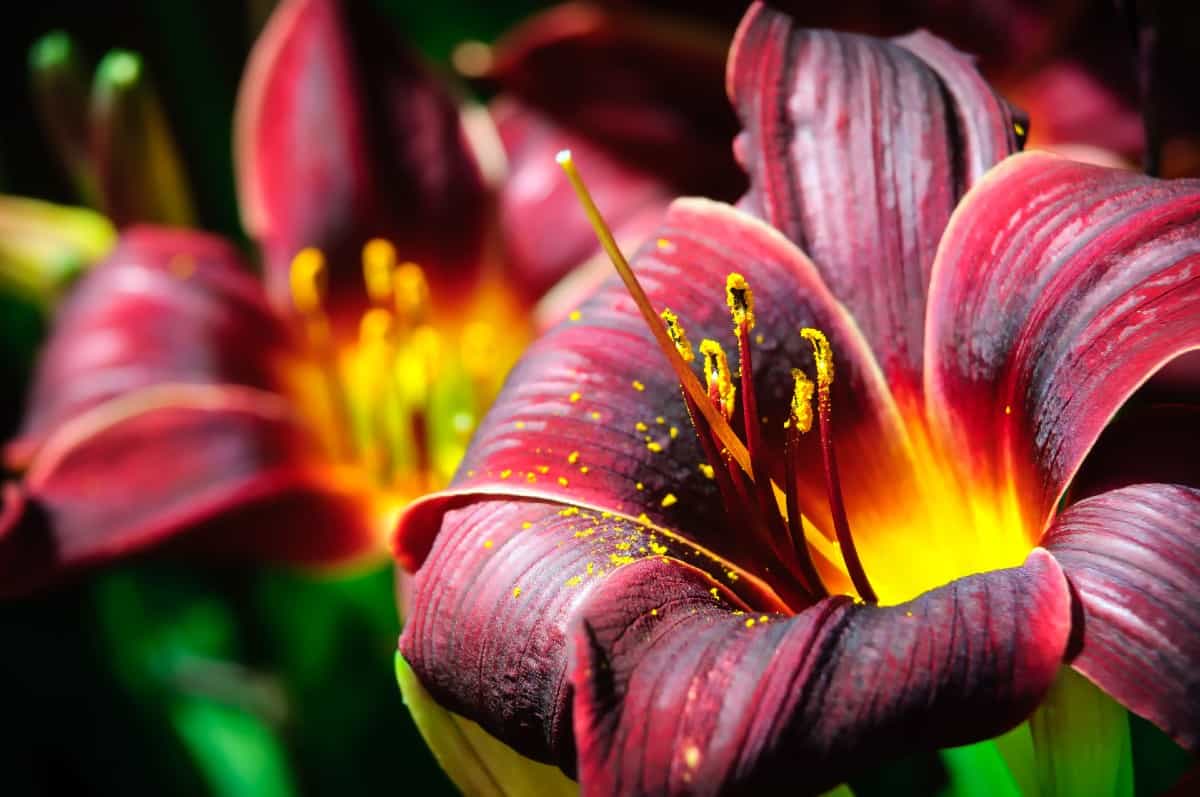 Daylilies are perennials and are one of the easiest flowers to grow. With countless new hybrids, they come in a vast selection of colors, sizes, and shapes. As the name suggests, most types bloom for one day but have long-term blossoms when planted in clusters.
They burst in colors that range from white, pink, and yellow to purple, red, and orange and enjoy full to partial sun. Enjoy summer and fall blooms in zones 3 to 10, as they reach an average height and width of up to 3 feet. These low maintenance perennials are drought tolerant.
Marigold (Tagetes) – Easy to Grow Deer Resistant Annuals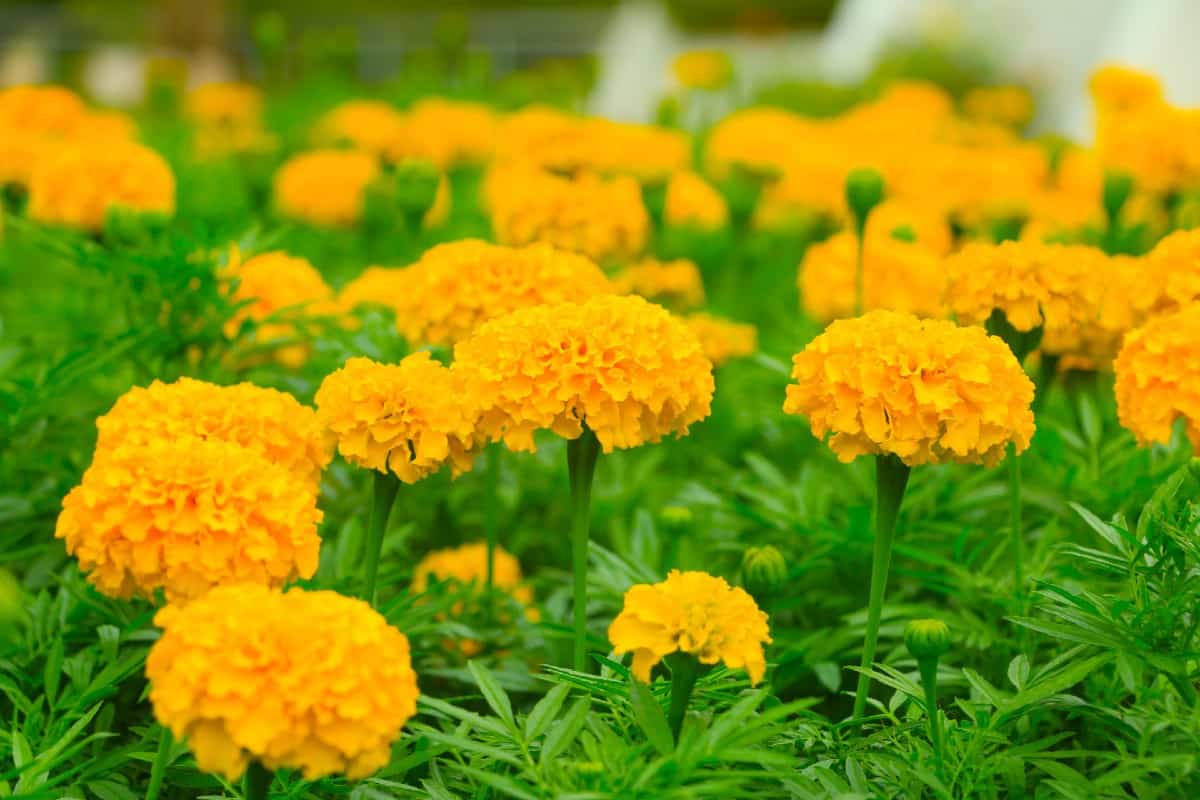 Marigolds are an annual flower that produces fragrant blooms of red, orange, and yellow from late spring to fall. These low growing flowers reach a height of up to 12 inches, making them an ideal filler for any garden or container.
Growing flowers from seed is easy with marigolds if you have a little patience. Not only are these flowers low maintenance, but they are deer-resistant and drought-tolerant. Place marigolds in a sunny location, remove faded and dead blooms as needed, and watch them flourish.
Geranium (Pelargonium)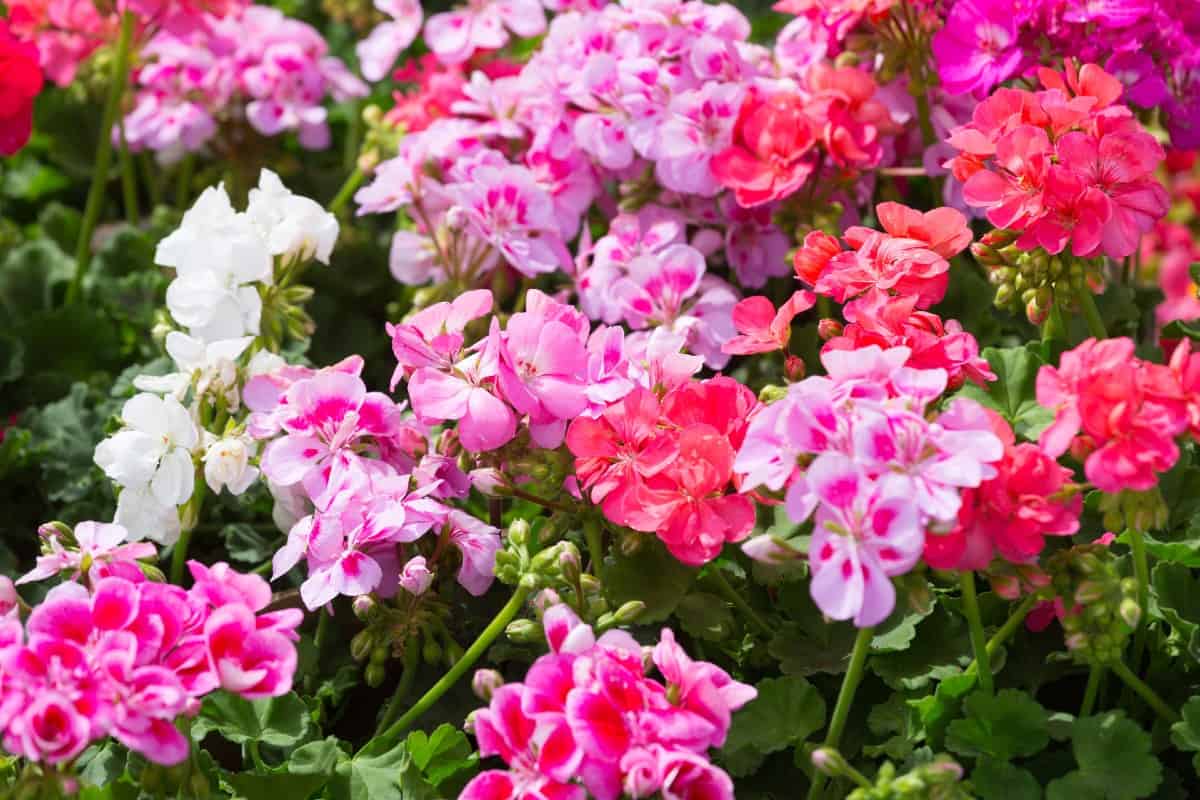 Geraniums are an all-time time favorite among gardeners due to their constant blooming and easy-care. Expect to enjoy bright and colorful blooms from early spring to late summer in colors of red, purple, orange, white, and pink. They continue blooming if brought indoors before the first frost.
These annuals reach an average height up to 2 feet and thrive in sunny locations. Do they need a lot of water? Are geraniums drought tolerant plants? Yes, these beauties are low-maintenance, deer resistant, and drought tolerant, making them an ideal flower for beginning gardeners.
Impatiens (Impatiens walleriana) – Shade Flowers that are Easy to Grow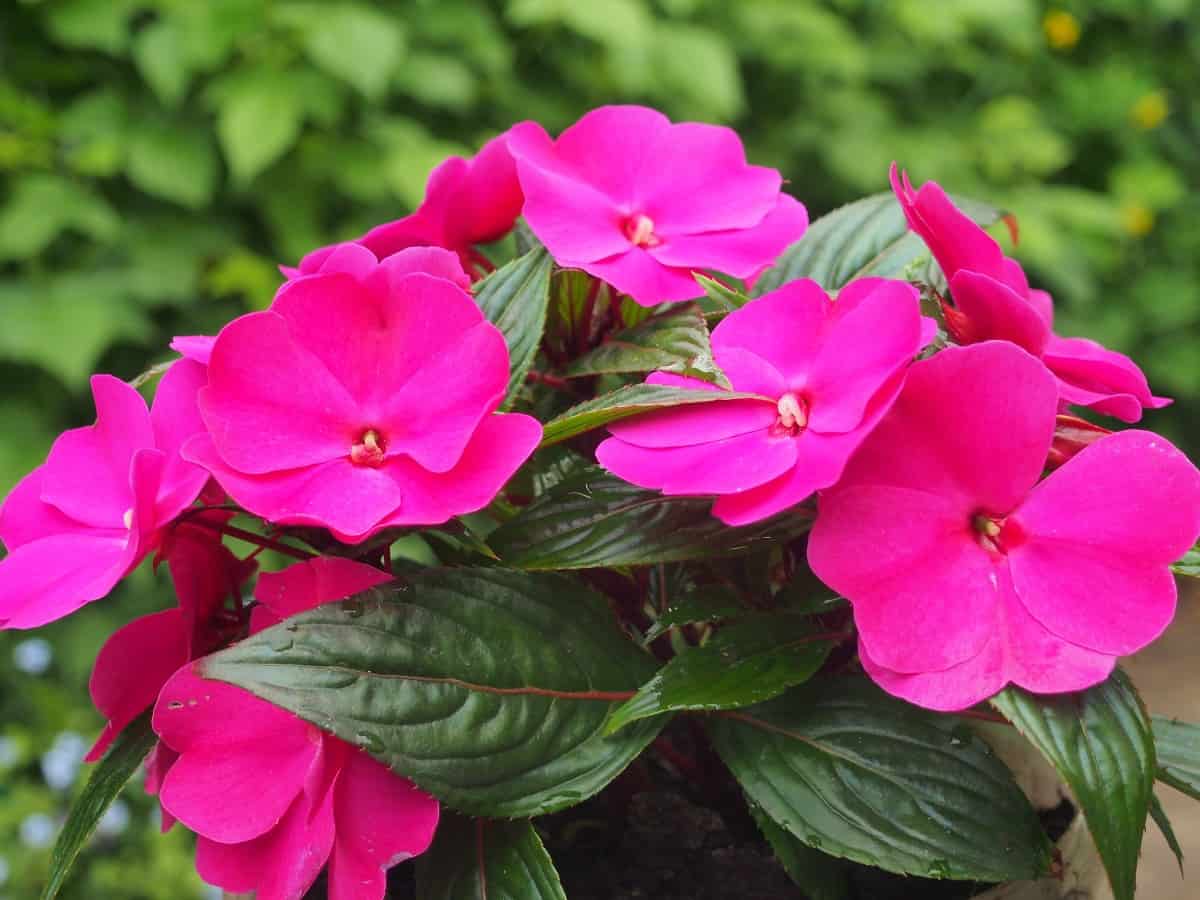 These annual shade flowers pop with color with their dark and shiny foliage and delicate and bright blossoms. With color choices that include purple, blue, red, orange, pink, yellow, and white, you'll undoubtedly find your favorite.
While impatiens love the shade, they do tolerate part sun. It's one of the easiest flowering annuals to grow and doesn't require deadheading. Place these flowers at the base of taller plants and watch them fill the area with color from spring to fall.
Begonia (Begonia x semperflorens-cultorum)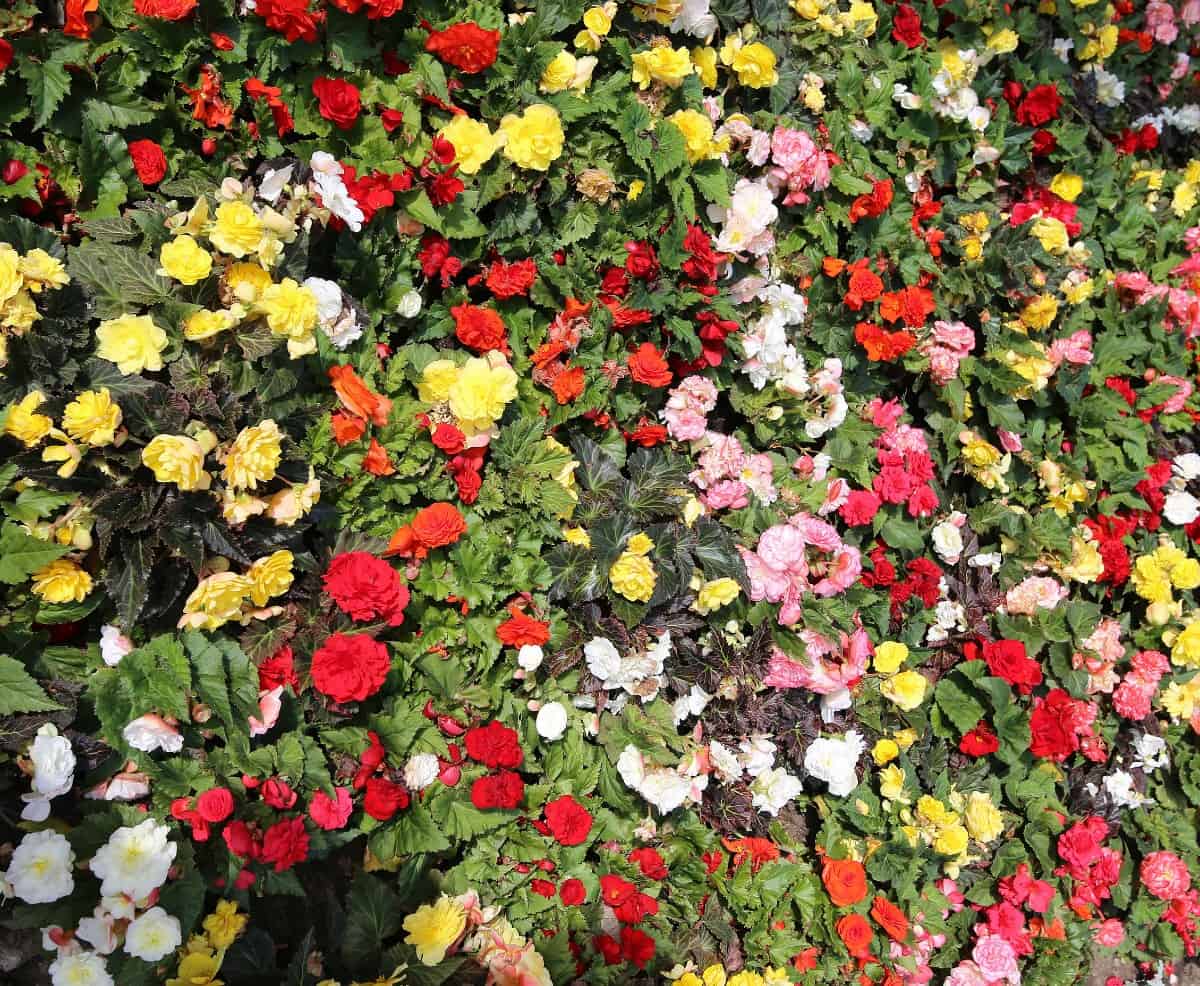 Begonias are plants that are easy to grow that fill a shady garden with stunning flowers and foliage. All these annuals in northern areas require is rich, well-drained soil and fertilizer to thrive. These low growing flowers bloom in pink, yellow, orange, and white, surrounded by colorful foliage.
As a perennial, begonias grow in zones 7 through 11 and bloom from spring to fall. This plant is low maintenance and grows well in both containers and garden settings.
Petunia (Petunia × atkinsiana) – Easy to Grow Outdoor Plants to Attract Hummingbirds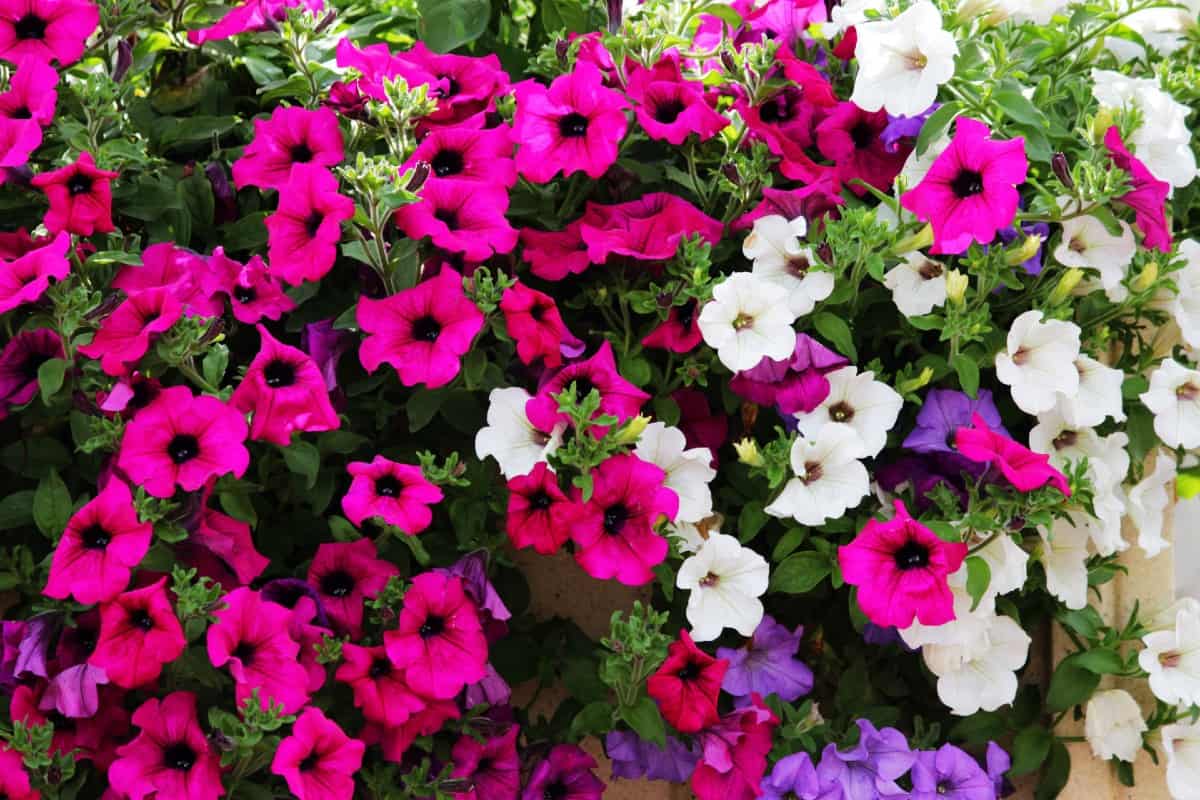 Imagine delicately colored blossoms fluttering on a breeze, releasing a fragrant floral scent, and you imagine the petunia. These low growing flowers come in a full color range from blue, purple, and pink to red, white, and yellow, and hummingbirds can't resist their nectar.
Enjoy sunny blooms from spring through fall with these flowers, whether you plant them in containers or the garden. While these delicate-looking annuals don't look it, they are hardy, low maintenance, and deer resistant.
Miscanthus (Miscanthus Sinensis)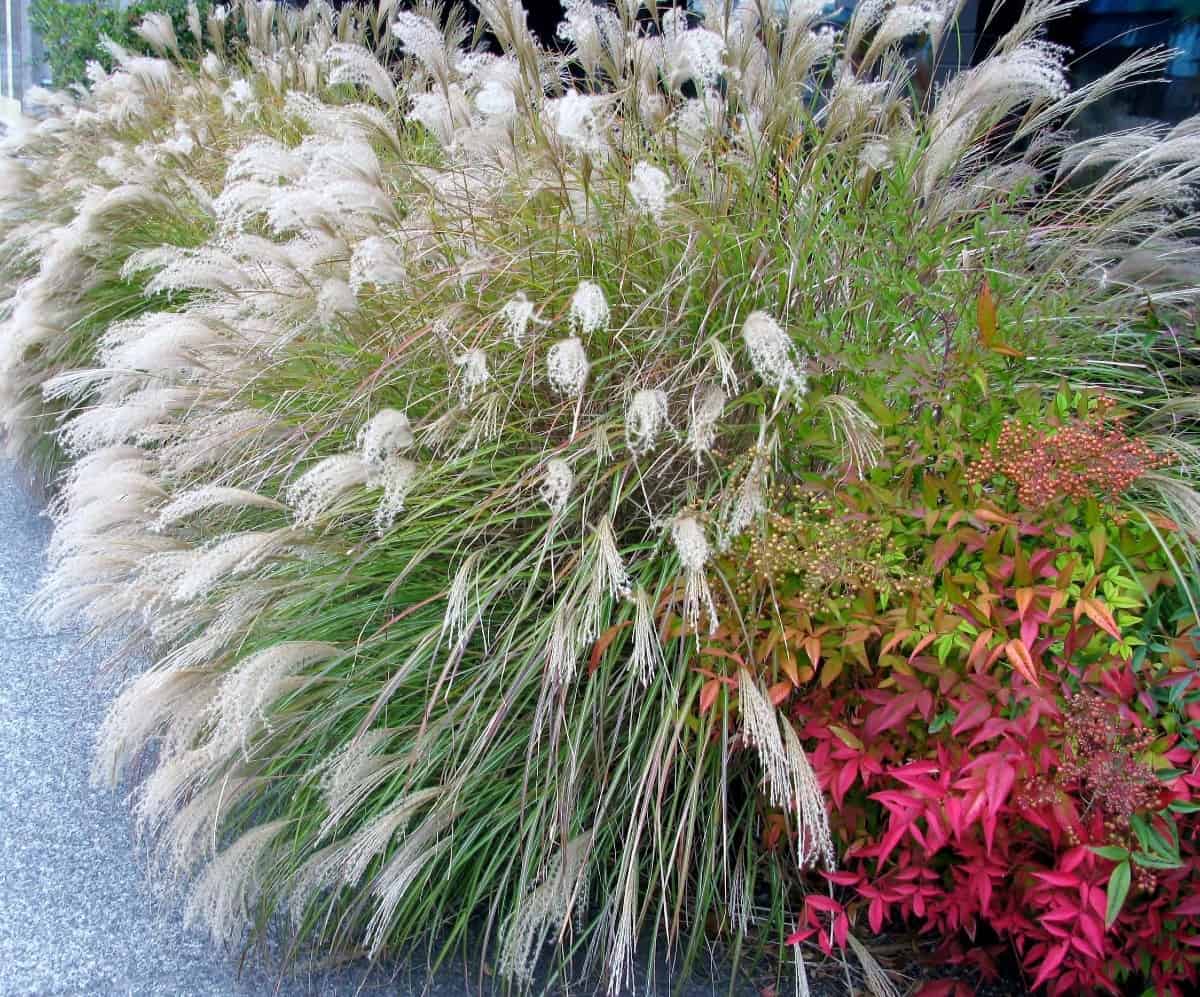 Miscanthus is an ornamental grass that adds variety and interest to the garden. Its graceful, white, and pink seed heads have a feathery appearance when in full bloom and dance gently in the breeze.
With an average height of 8 feet, this perennial plant gets rather large, but there are also dwarf sizes for smaller gardens. This ornamental grass grows well in full or part sun in zones 4 to 9. It's deer resistant, drought-tolerant, and an excellent plant for new gardeners.
Hosta (Hosta) – Easy Growing Outdoor Plant for Foliage Appeal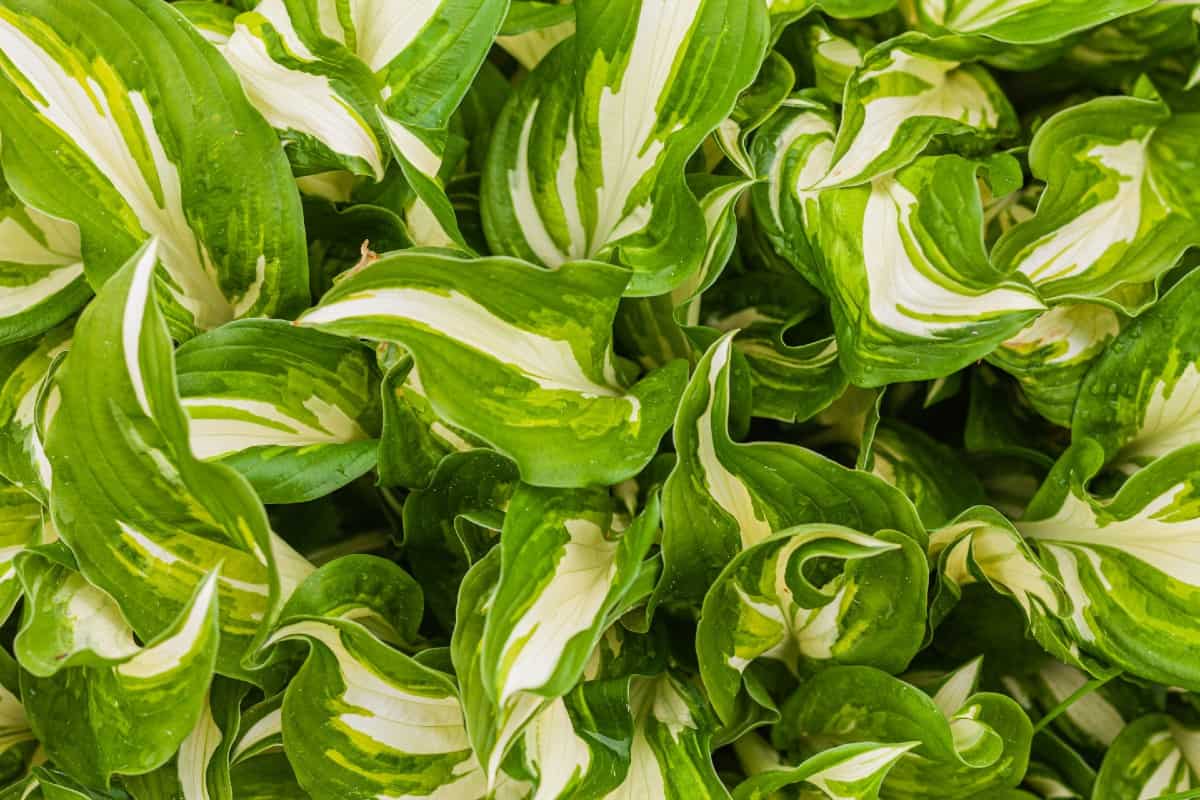 Hostas are well known for their shiny, green or variegated leaves. Many varieties provide a foliage range of colors, shapes, and sizes. While they have a summer bloom of white and pink flowers, they are well known for their ability to fill garden gaps and borders.
These shade-loving perennials grow from 1 to 3 feet in height and spread up to 8 feet. They grow best in zones 3 through 9 and are both low maintenance and drought tolerant.
Angelina Sedum (Sedum rupestre)
This fast-growing sedum is the perfect easy-to-grow plant for ground cover. It produces clusters of star-shaped blooms on tall spikes from early to mid-summer and has needle-like foliage that is golden or chartreuse depending on the amount of sun it receives.
This creeping variety of sedum is a perennial that grows best in zones 3 to 10 and prefers partial to full sun. This low maintenance plant is drought resistant and attracts birds to the garden.
Daffodil (Narcissus) – Flowering Bulbs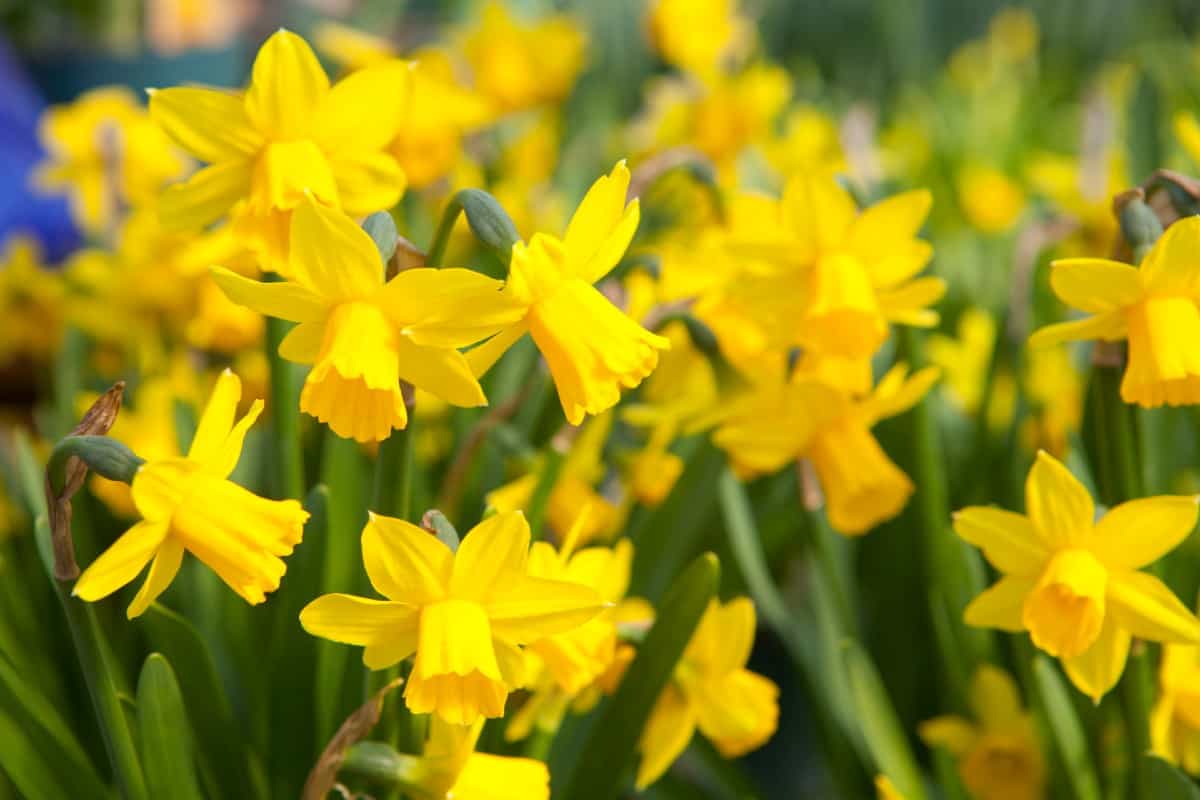 These cheerful yellow, orange, and white flowers bring joy to the garden during early spring or they do just as well as potted plants that you can move where you like. These prolific bloomers have a trumpet-shaped cup, and each stem produces one to five flowers. These fragrant flowers come back every year and multiply rapidly.
Daffodils are a perennial bulb that thrives in zones 3 through 9. They enjoy part to full sun, make excellent cut flowers, and grow well in containers or the garden. They are easy to maintain, deer resistant, and drought tolerant.
Hydrangea (Hydrangea macrophylla)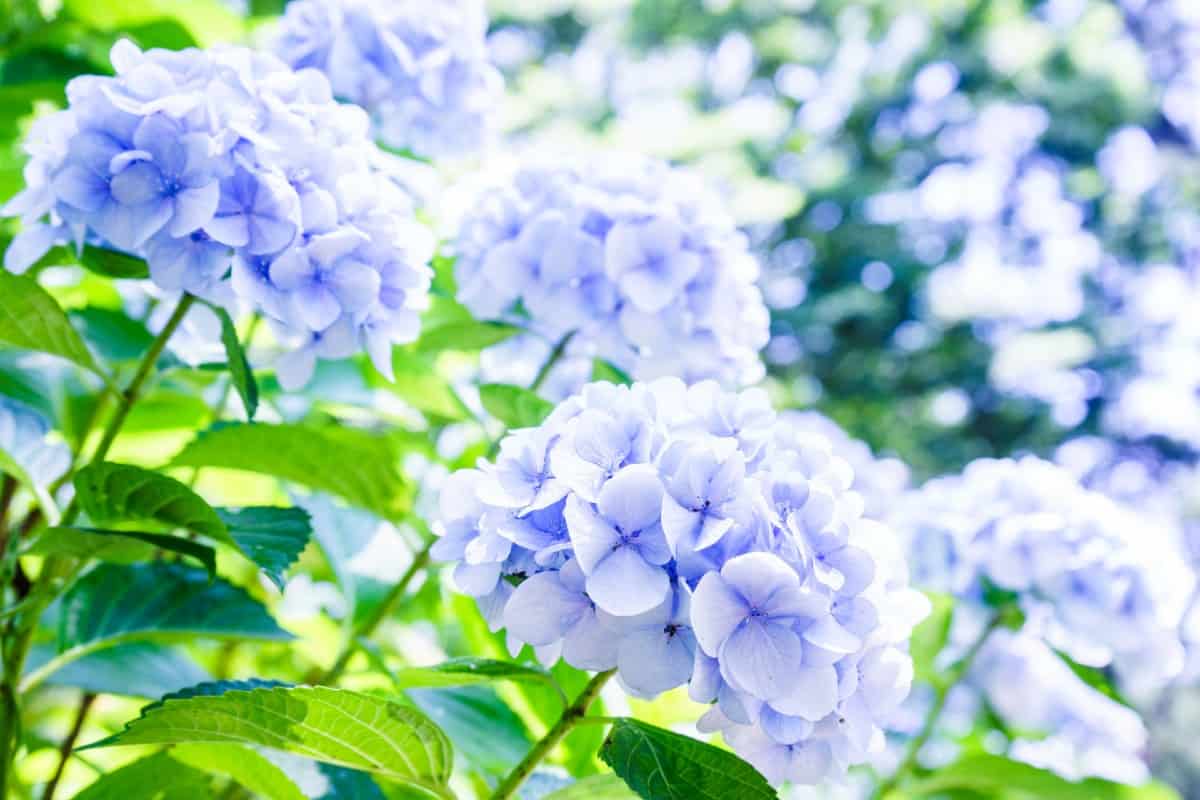 There are many different varieties of hydrangea, and each has a different size, color, and shape. These easy to grow shrubs produce huge bouquets in shades of blue, pink, white, red, green, and purple from summer to fall, and are great for use as a cut flower. In some varieties, you can even change the color of the blooms by altering the soil pH.
These low maintenance perennial shrubs grow best in zones 3 through 9 and enjoy both partial shade and sun. Hydrangeas grow well in a container or garden, and reach heights of 8 to 20 feet, depending on the variety.
Lamb's Ears (Stachys byzantina) – Easy to Grow Outdoor Plant for a Sensory Garden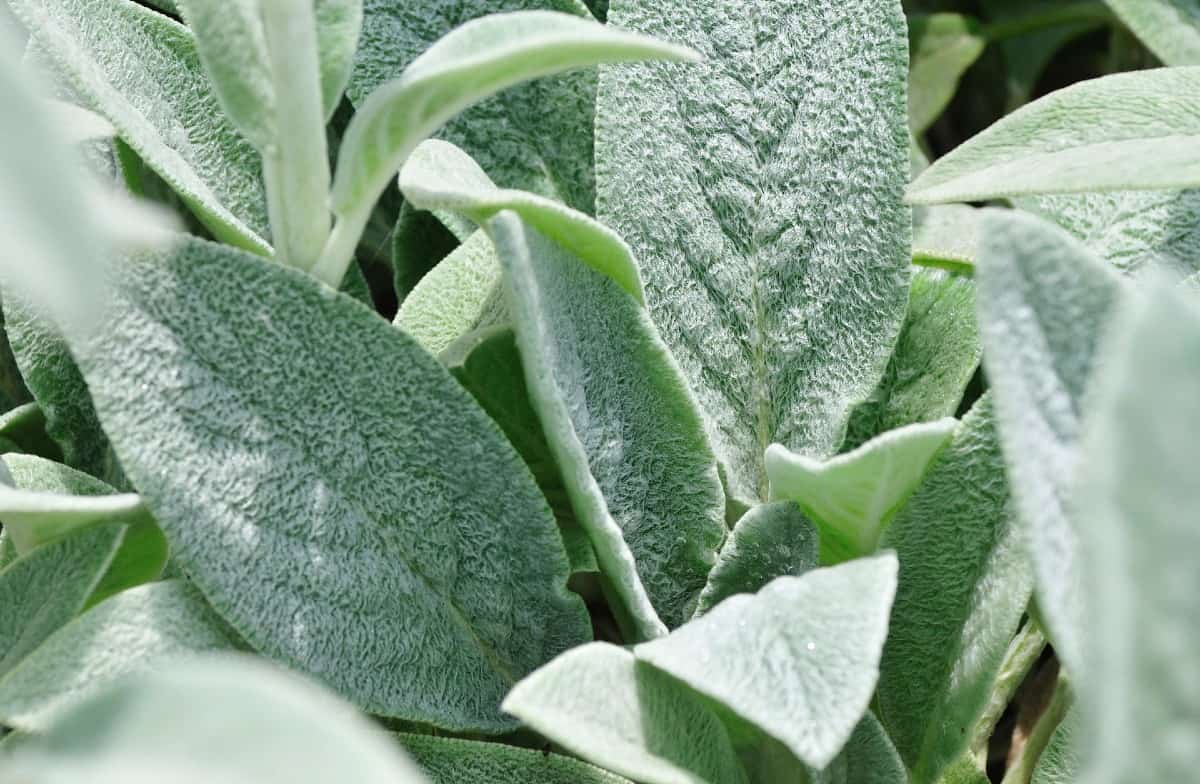 The fuzzy leaves of this plant are reminiscent of lamb's ears and provide lush display in the garden. Each leaf has a fine layer of tiny white hairs that give it a soft and silky feel when touched. It also produces purple, red, pink, and flower blooms throughout the season.
This low maintenance plant is great for beginning gardeners and grows as a perennial in zones 4 through 9. It enjoys part to full sun, is deer resistant and drought tolerant, and attracts birds.
Honeysuckle (Lonicera)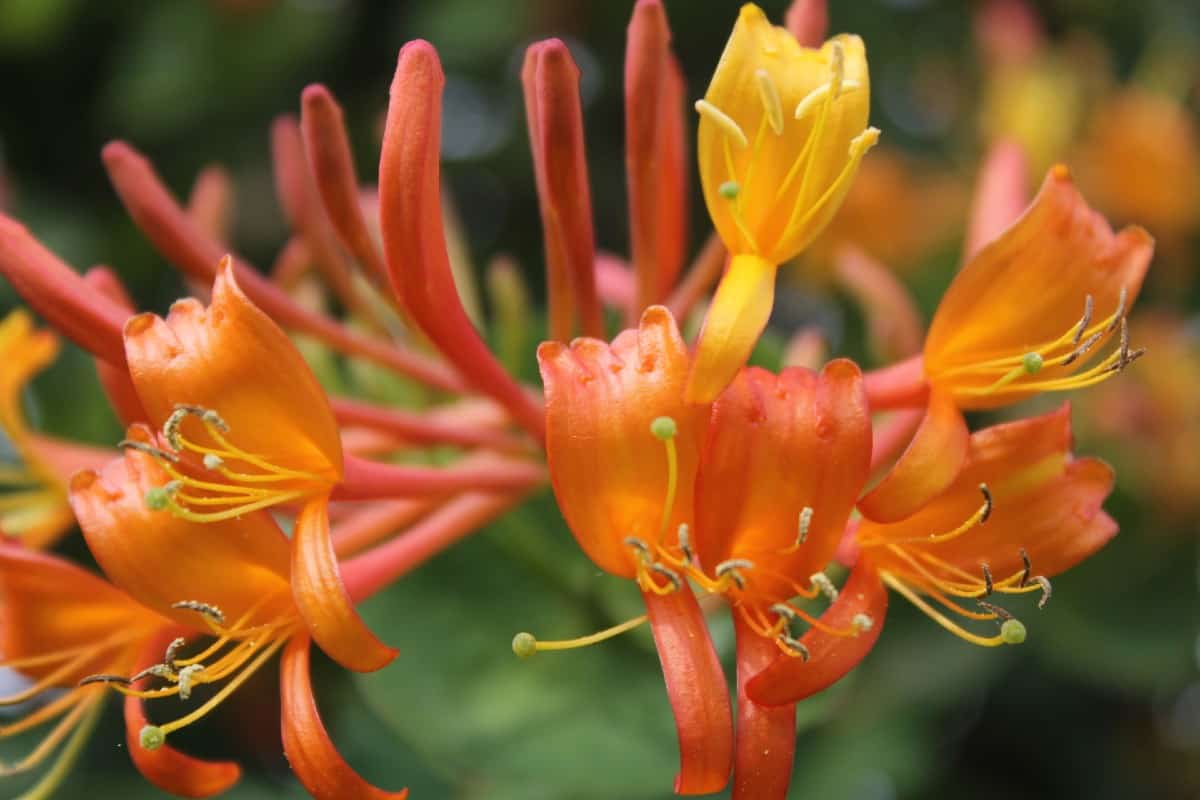 Honeysuckle is one of the prettiest climbing plants and the perfect plant if you want to draw hummingbirds, butterflies, and other pollinators to your yard. This easy-care climbing plant produces fragrant blooms of red, peach, white, and pink from summer to fall, and grows well along a fence or trellis.
These low maintenance, easy vine plants thrive in the right circumstances. Honeysuckles are easy to grow full sun perennials in zones 4 through 9. With the right conditions, expect this plant to grow to a height of up to 20 feet or more.
Butterfly Bush (Buddleja) – Attract Butterflies and Hummingbirds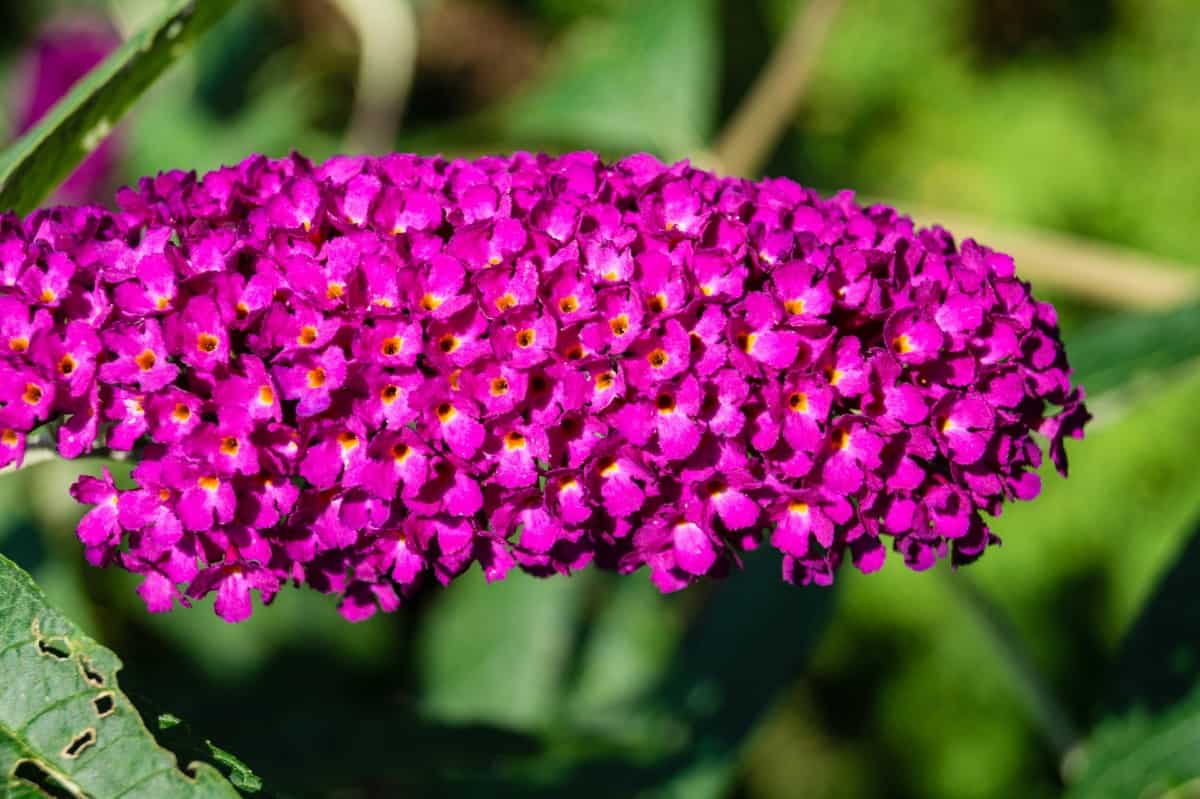 Lure butterflies and hummingbirds to your yard throughout the growing season with the fruit-scented blossoms of the butterfly bush. The flowers of these butterfly nectar plants spike out of the bush in vibrant colors of red, white, purple, pink, and blue and make an excellent cut flower for the home.
These perennial shrubs grow best in zones 5 through 10, are both drought tolerant and deer resistant, and are easy to maintain. They reach an average height and width of 8 feet but can grow taller, depending on the variety.
Growing low-maintenance outdoor plants is just as easy as growing a houseplant once you know what the plant needs to thrive. Start by choosing plants that match your hardiness zone area. Once you do that, the only thing left to do is get your hands dirty and watch your flowers and plants flourish in their new home.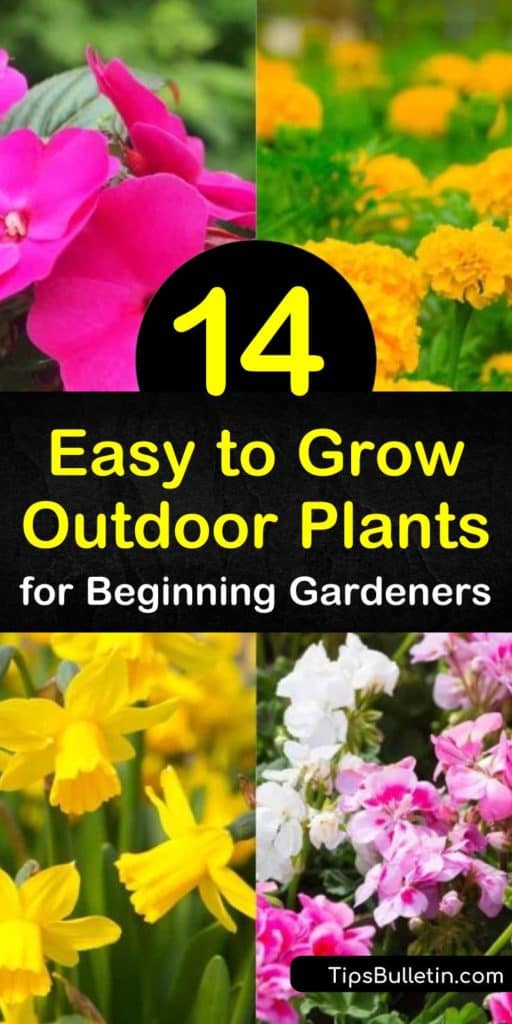 Filling a garden with easy to grow outdoor plants not only brings beauty to your yard but is therapeutic, so why not share our list of easy to grow plants with your friends and family on Facebook and Pinterest?