Planting perennials in your garden comes with a cornucopia of benefits, mainly regarding soil structure and maintenance. The deep root systems of perennial flowers provide better aeration, draw nutrients and moisture up from the lower parts of the soil up to the top, and encourage better growth. Adding some easy to grow perennial flowers to your garden not only creates a lovely display but generates a better balance in flower beds.
Knowing where to start first when it comes to selecting the right plants is a tricky task all on its own. Adding in issues like challenging plant species or those that fair poorly unless placed in the ideal conditions makes for an equally frustrating experience.
Whether you are a beginner planting your first garden or an intermediate gardener who wishes to complete a few last-minute touches around your home, these incredible perennial flowers are easy enough for anyone to grow.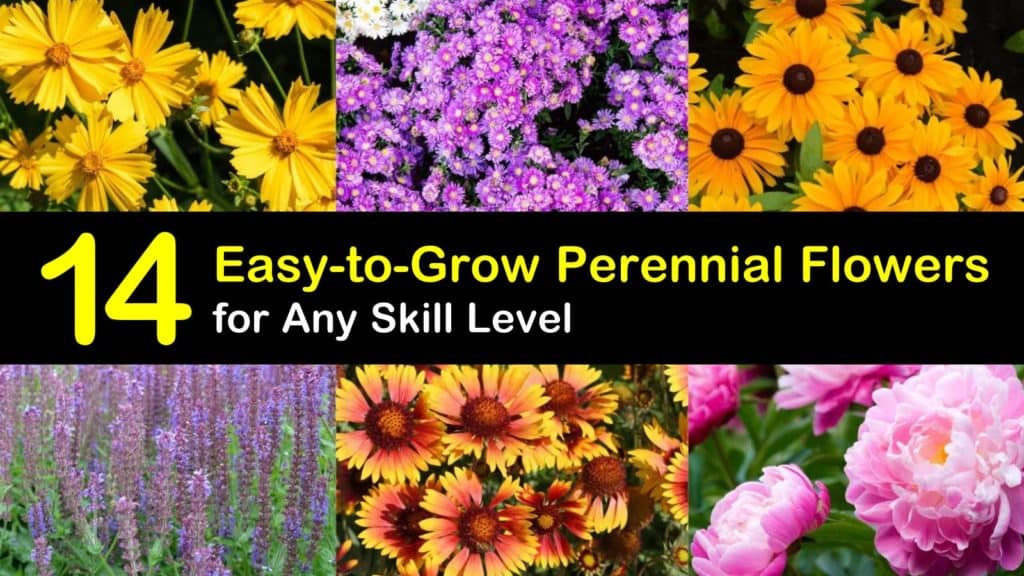 Easy Growing Perennials
All plants thrive with three essential elements: water, sunlight, and climate. In some cases, proper fertilization and nutrients also aid in the plant's development, though most low-maintenance plants do well with the basics alone.
While water and sunlight are controlled variables, to some extent, the true testament to whether your plant survives or not depends on where in the country you reside. Knowing this saves you an immeasurable amount of time and frustration when starting your garden.
Phlox (Phlox paniculata)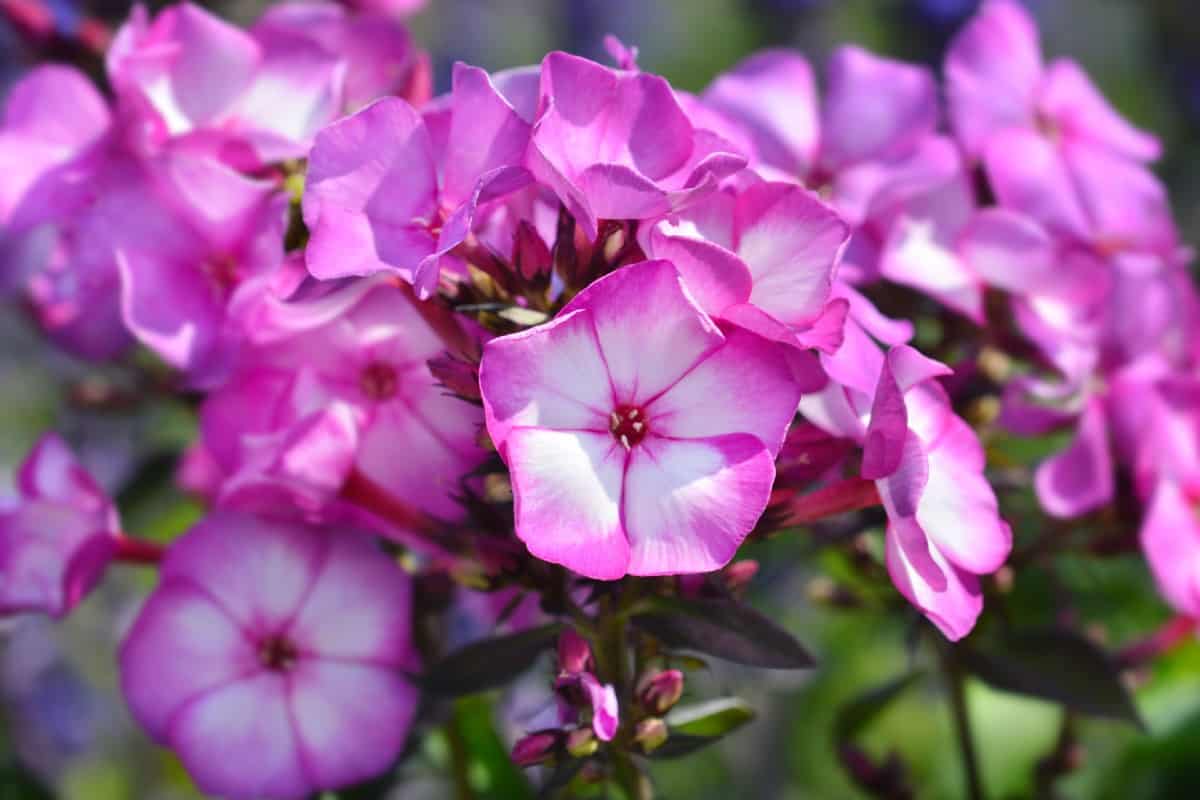 A common perennial flower found in many gardens is the little star-shaped flowers known as phlox. These delicate blooms come in a variety of colors, typically white, though some sport pink, purple, and blue flowers.
The beautiful shapes and colors attract pollinators like birds and butterflies. Phlox is hardy throughout most of the states, spanning across zones 2-9 for USDA hardiness levels.
Low growing varieties of these easy-care perennials make excellent groundcover, while taller forms also fill in gaps nicely. It loves full sun to full shade, making it one of the most effortless plants to cultivate.
American Asters (Symphyotrichum)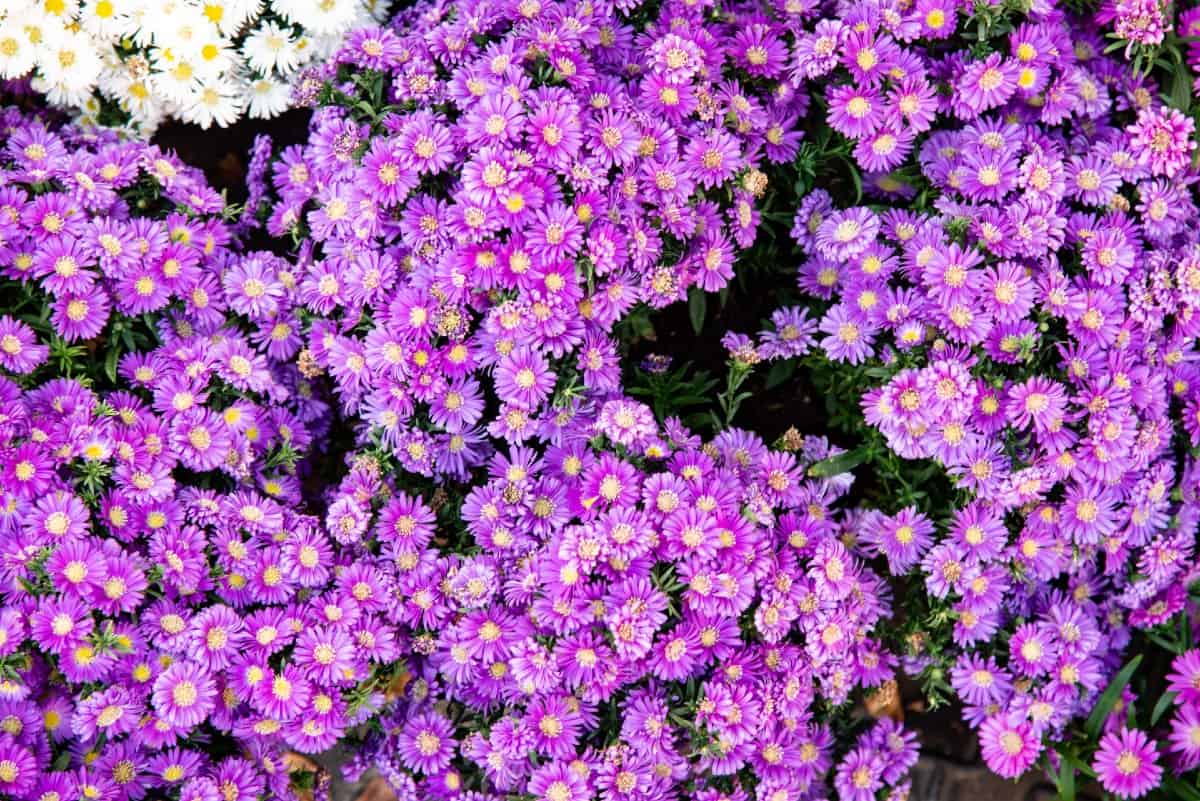 Some of the best perennials for attracting butterflies are American Asters. Asters bloom in late summer and continue sporting their daisy-like flowers on into the fall. They prefer to soak up plenty of sunlight but do just as well in partial sun as they do full sun. These flowers bloom after many others have finished for the season.
When planting American Asters, space them out about 1-3 feet apart and press them into the ground one inch deep. They prefer moist, loamy soil. Spreading mulch over the top also helps keep the soil cool and improves growing conditions.
Geranium (Pelargonium): Perfect for Container Gardens and Indoors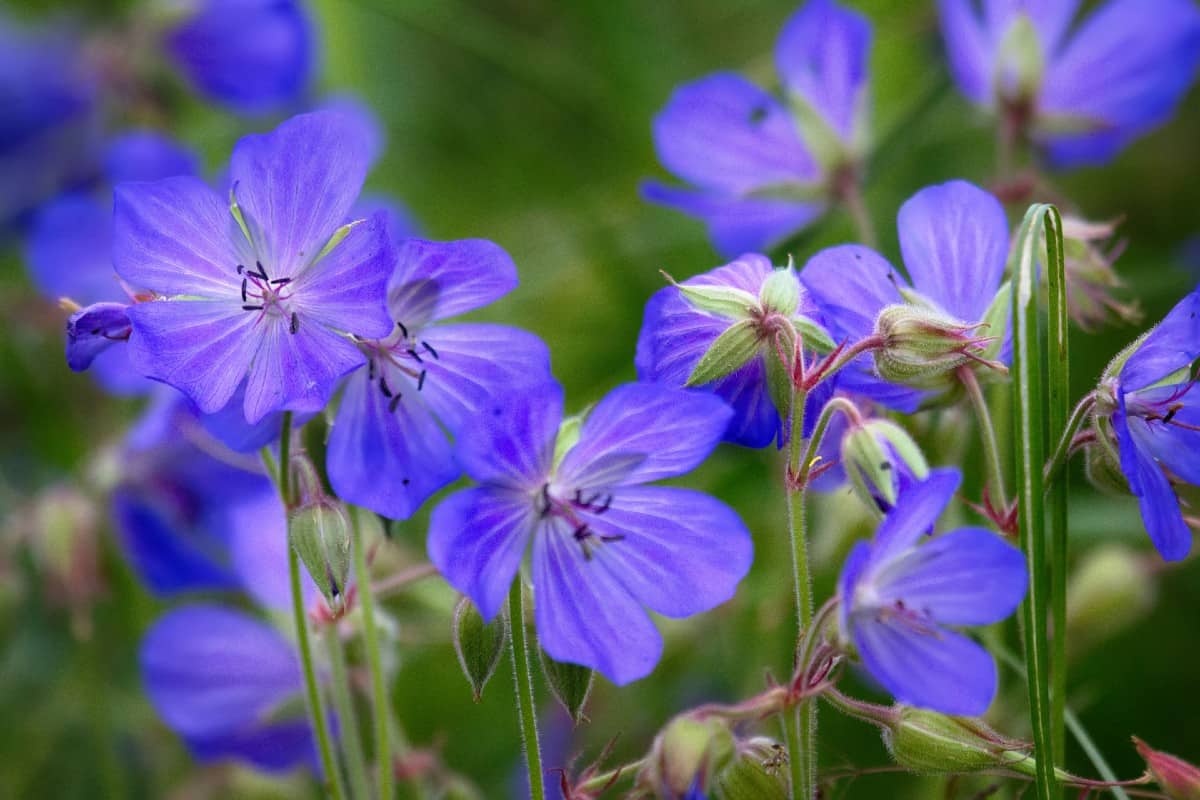 Geraniums are easy-care flowers that grow well in any number of situations. Though they are perfect for an outdoor perennial garden, they also make excellent container plants indoors. When grown in containers, provide them with loose, well-drained soil.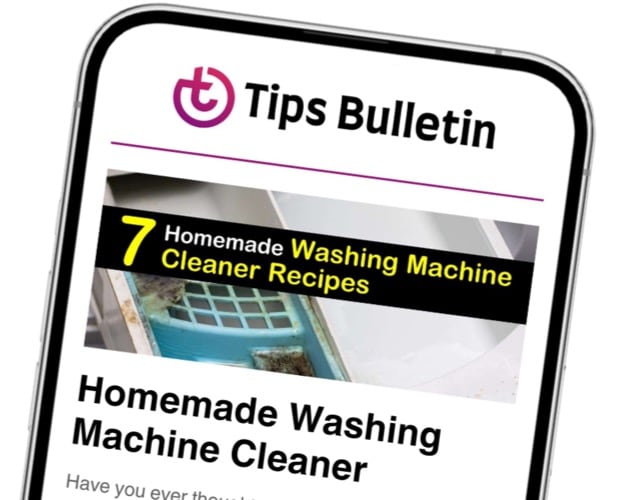 Finally, an email that Transforms Your Home.
Get the latest home and garden tips from our experts, delivered straight to your inbox.
Routine maintenance of the flowers includes deadheading spent flowers to allow new buds to grow in, as well as applying fertilizer every two weeks while the plants establish themselves.
Provide them with 4-6 hours of sunlight and some sandy soil for the best results. Keep an eye on any yellowing, as this indicates a lack of watering or not enough light.
Yarrow (Achillea millefolium)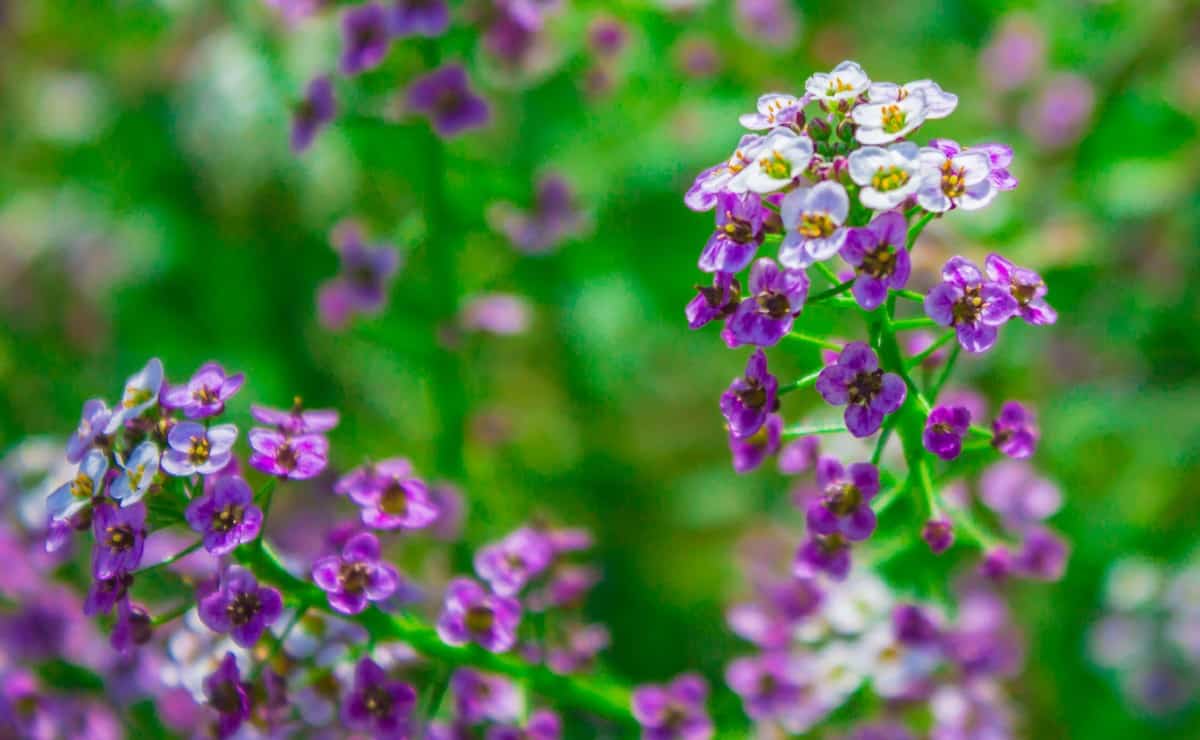 Another low maintenance perennial perfect for most gardens is Yarrow. Known for its healing properties against small cuts and scrapes, Yarrow produces tiny flowers that are usually yellow.
However, these flowers also come in many different shades and colors and attract butterflies and hummingbirds. At the same time, yarrow is one of the perennial plants that repel mosquitoes and flies so it makes sense to grow them near your patio or porch.
In addition to being hardy throughout most of the states, the plant is also highly pest-resistant and drought-tolerant.
Plant the flowers in spring or early summer around 1-2 feet apart. The plants grow approximately 2-4 feet tall, so this gives them plenty of room to grow without leaving a wide gap. Cut them in midsummer when the flowers start to fade to stimulate better growth.
Tickseed (Coreopsis lanceolata): Easy to Grow Perennial Flowers
For an equally low-maintenance plant, Tickseed requires minimal effort to maintain and is not too particular about its growing conditions. Tickseed grows wonderfully in most types of soil structure and pH levels, producing yellow flowers in early summer.
Fertilizer is not necessary and prevents proper development due to favoring lush foliage over blooms. Tickseed prefers full sun to part shade and grows up to 2 feet high. Watering the plant in the early morning brings the best results.
In damp seasons, they are prone to slugs, snails, and even fungal diseases. Providing them with plenty of sunlight and air circulation in these times prevents these issues in the first place.
Blanket Flower (Gaillardia)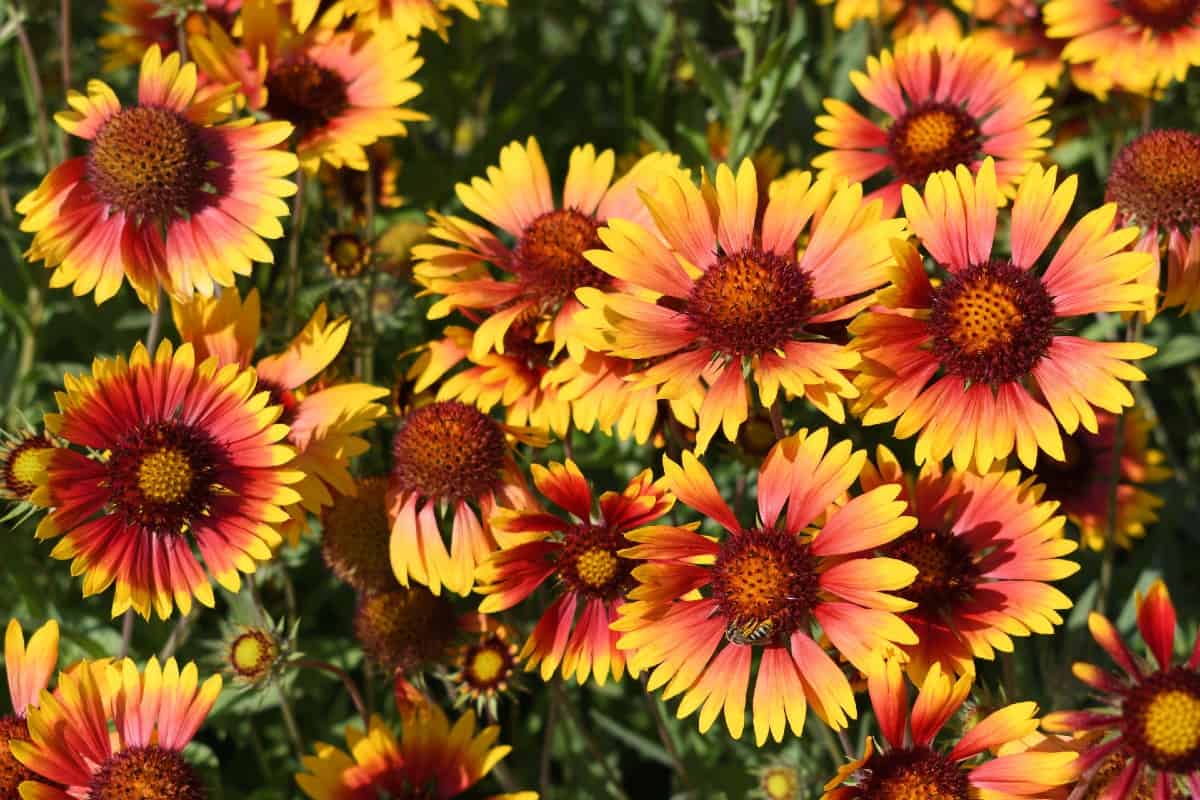 Blanket Flowers are among some of the most beautiful perennial plants for gardens. Not only do these multicolored flowers add gorgeous sweeping colors to any yard, but they also get their name from the blanket effect that their large clusters of blooms create when planted together.
They come in many different fiery hues, including red, yellow, orange, and peach. These late bloomers spring up in the summer and last until the early fall.
Since most species are native to the United States, they do well throughout most of the country, including states with hot summers like Florida and colder states like Minnesota. To ensure that you maintain these perennials for color all summer, they need well-drained soil, so water it once or twice a week to keep it healthy.
Peonies (L. Paeonia officinalis)
One of the easiest to grow perennials is the peony. These lovely pink blooms make excellent cut flowers and come in multiple fragrances ranging from citrusy to floral scents.
There are six different types of peonies to suit any garden style, with lower varieties making ideal border plants. Peonies love neutral, loamy soil that is well-drained.
Keeping them away from larger plants is also essential to their growth since it creates competition for food and reduces the number of nutrients they receive. Plant the peonies in the fall, typically around late September or October.
Daylily (Hemerocallis): Gorgeous Flowers Perfect for Complementing Ornamental Grass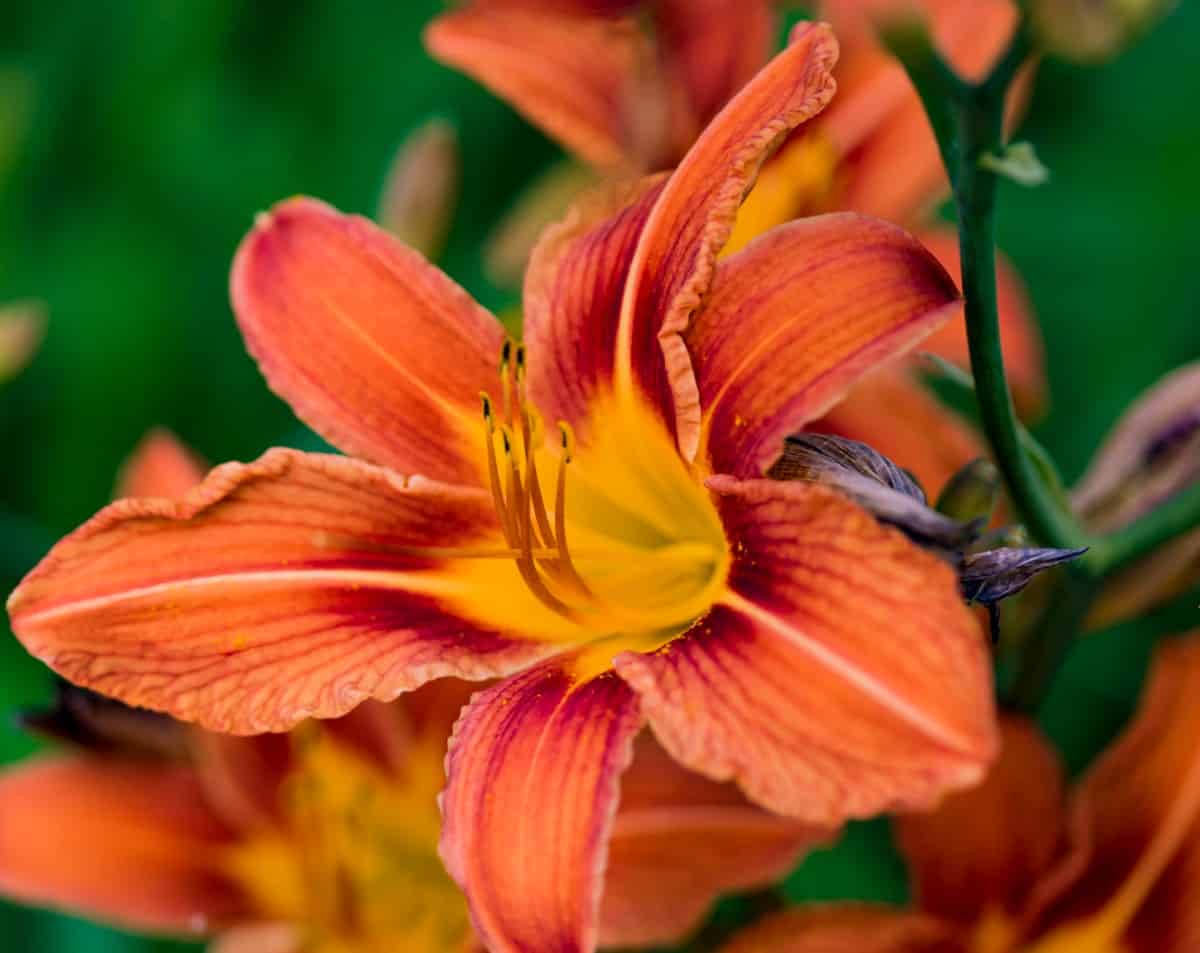 Daylilies are stunningly vibrant candidates that pair perfectly with ornamental grasses. Some varieties are evergreen and offer lovely foliage all year long. They do particularly well in zones 3-9 and need 6 hours of full sun.
When planting daylilies, do so in spring so that they are established by the time winter arrives. Space them out by about a foot and a half apart. Add mulch in late fall to keep them warm and grounded throughout the winter.
Hosta (Funkia)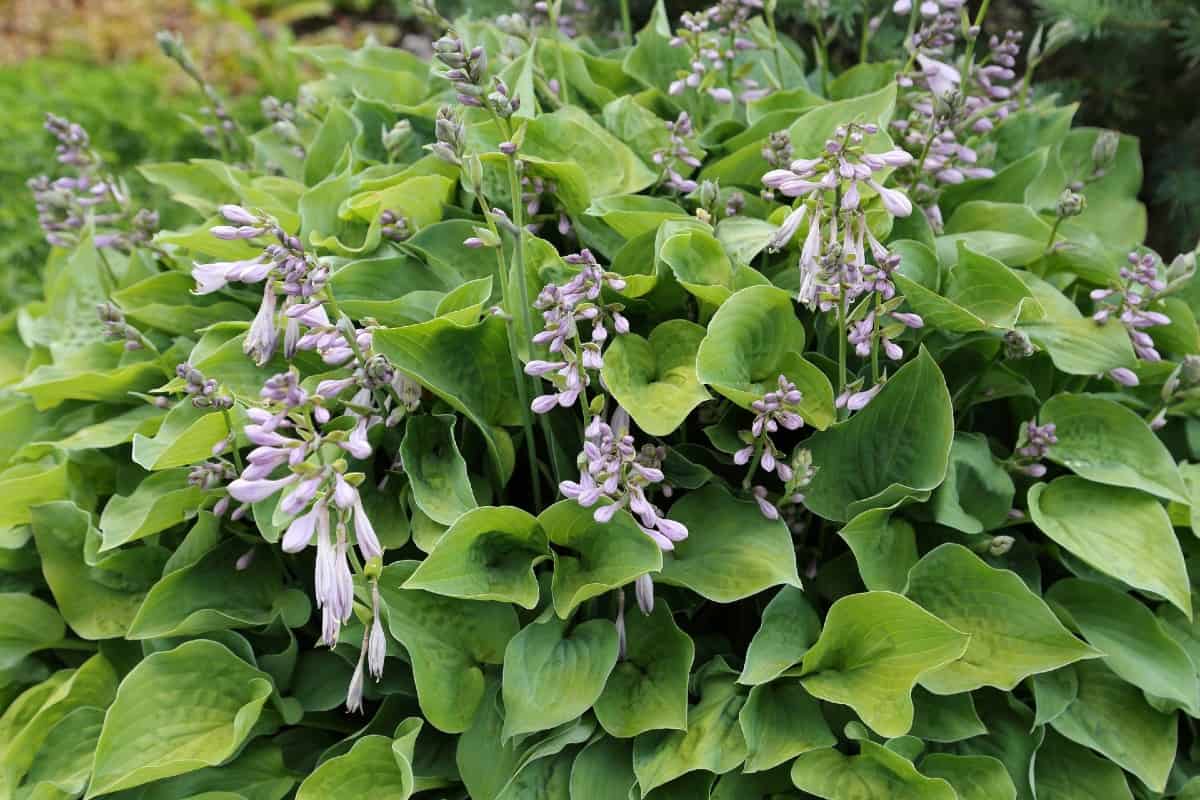 Other plants that are generally easy to maintain are hostas. These plants prefer shade, but different varieties call for varying levels of sunlight. The leaves also come in many different colors, including blue and lime green.
When planting, place them a foot deep into the ground to give the roots a good foothold. Ensure that the soil is slightly acidic and well-drained to support healthy growth.
Common problems that may arise are slugs, which cause punctures in the leaves. Combat this issue by sprinkling sand around the plant.
Black-Eyed Susan (Rudbeckia hirta): Wildflowers that Add a Touch of Sunshine
If native perennial wildflowers are more your speed, one option is to plant Black-Eyed Susans. These golden-yellow flowers with a dark center bloom in summer and fall, typically spanning between June and October.
They make lovely cut flowers and thrive in temperatures above 70℉. Black-Eyed Susans love the sun and do best when planted in moist soil with plenty of water drainage and air circulation.
When adding them to your garden, do so starting in early spring and no later than May. They spread to about 18 inches, so control growth by planting them closer together or create a border by spreading them further apart.
Purple Coneflower (Echinacea)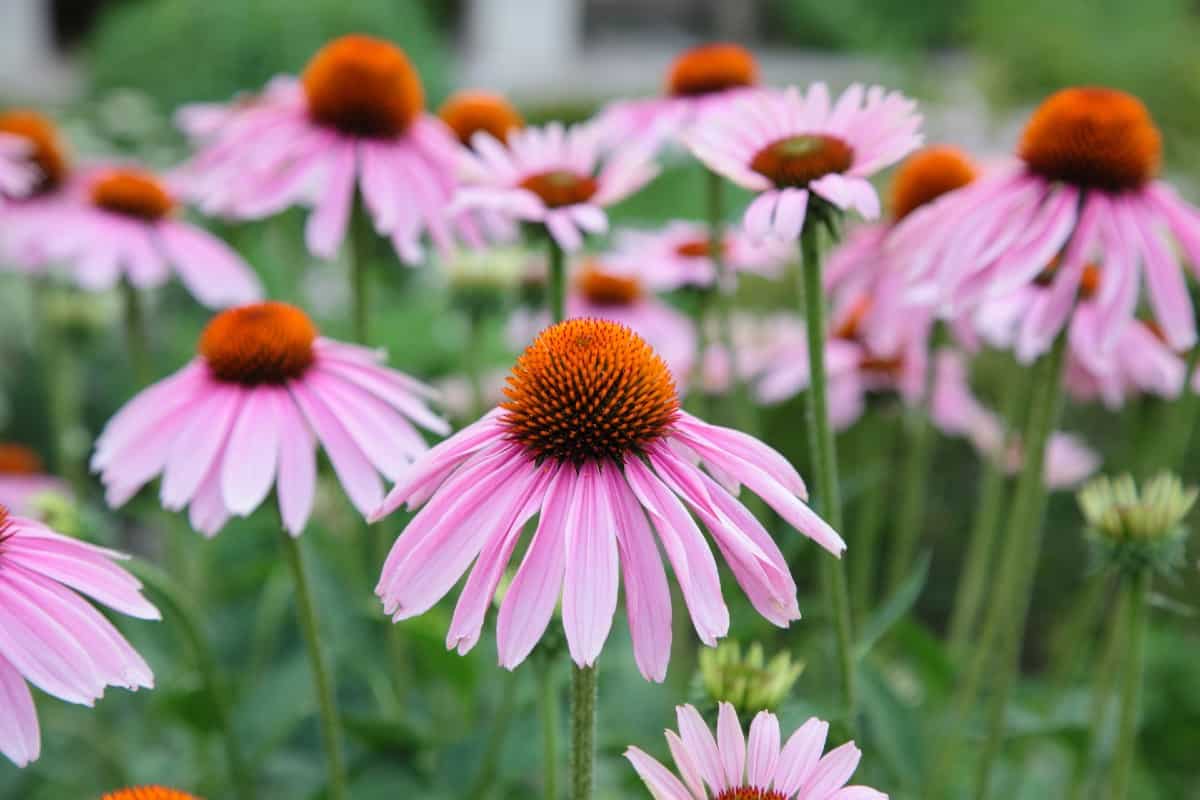 The coneflower is another fantastic perennial flower that is easy enough for most beginning gardeners to tame. These tall, daisy-like flowers produce lovely purple petals that attract bees and butterflies alike.
They grow up to 5 feet in height and prefer poor or lean soil. Adding too much fertilizer and nutrients to the soil cause the foliage to develop even fuller than usual. This overgrowth, in turn, reduces the size of the blossoms.
Place the plant in an area that receives six hours of morning sunlight. Temperatures that are too high, especially in the late afternoon, may cause scorching of the flower petals, so some partial shade also helps.
Shasta Daisy (Leucanthemum × superbum)
Some other common perennials ideal for gardening are Shasta Daisies. Traditionally, these delicate white flowers symbolize innocence and hope, making them a lovely staple in any landscape. They prefer warm weather and are relatively low maintenance.
Watering the plants is the most crucial task behind keeping these plants thriving. An inch a week is ideal, though more may be necessary for warmer weather. Every spring, apply a little compost and mulching to the surrounding soil to enhance growth.
While the plant is easy to maintain, some pest control issues with aphids, slugs, and earwigs are also common. However, this problem quickly resolves itself with a fantastic aphid spray.
Spearleaf Stonecrop (Sedum lanceolatum): Wind-Resistant Plant Perfect for Rock Gardens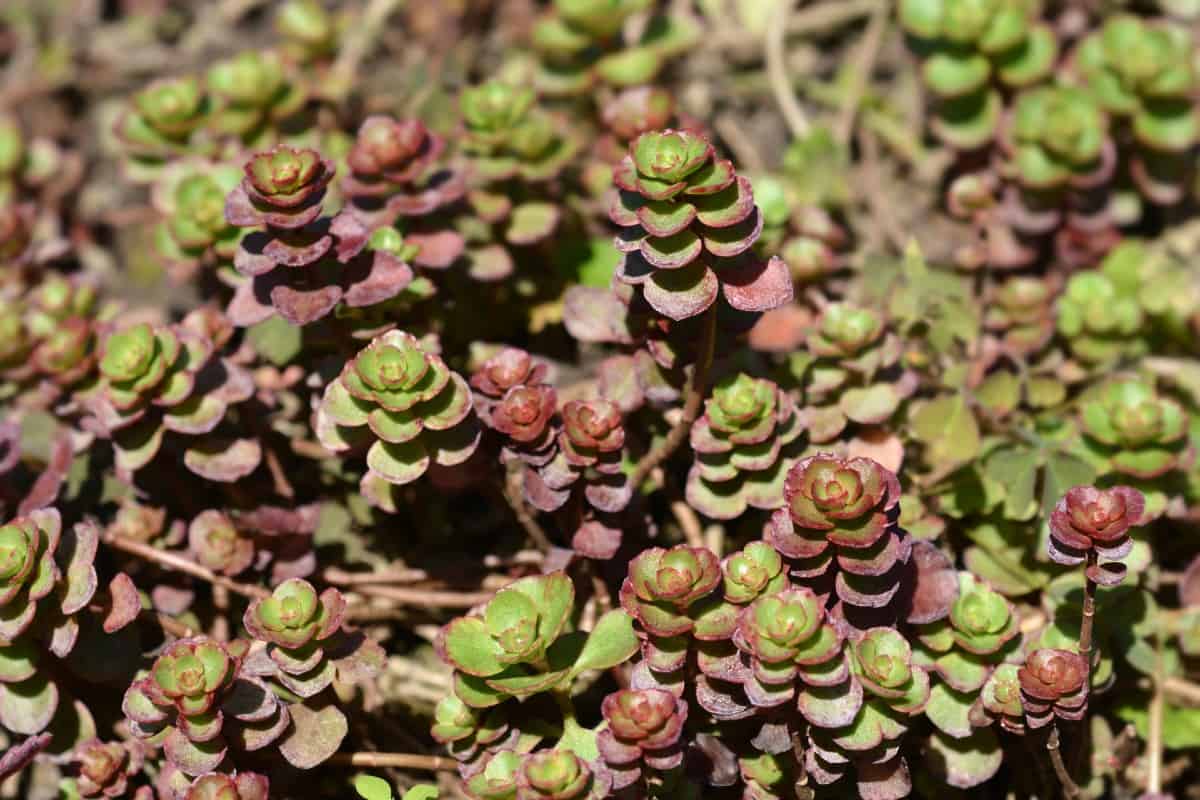 Spearleaf Stonecrop belongs to the genus Sedum, which comes in a vast array of varieties, including some evergreen options. They flower in July through August and are exceptional when it comes to selecting a drought-tolerant plant.
In addition to standing up well to dry conditions, they are also wind-resistant, though not in a beach environment. Spearleaf Stonecrop prefers dry soil with adequate drainage.
However, it is adept at handling all types of conditions in the earth, such as sandy, loamy, or clay soil. The stonecrop is a type of succulent and looks terrific in rock gardens. These easiest perennials add beauty wherever you put them – even in a container.
Russian Sage (Salvia yangii)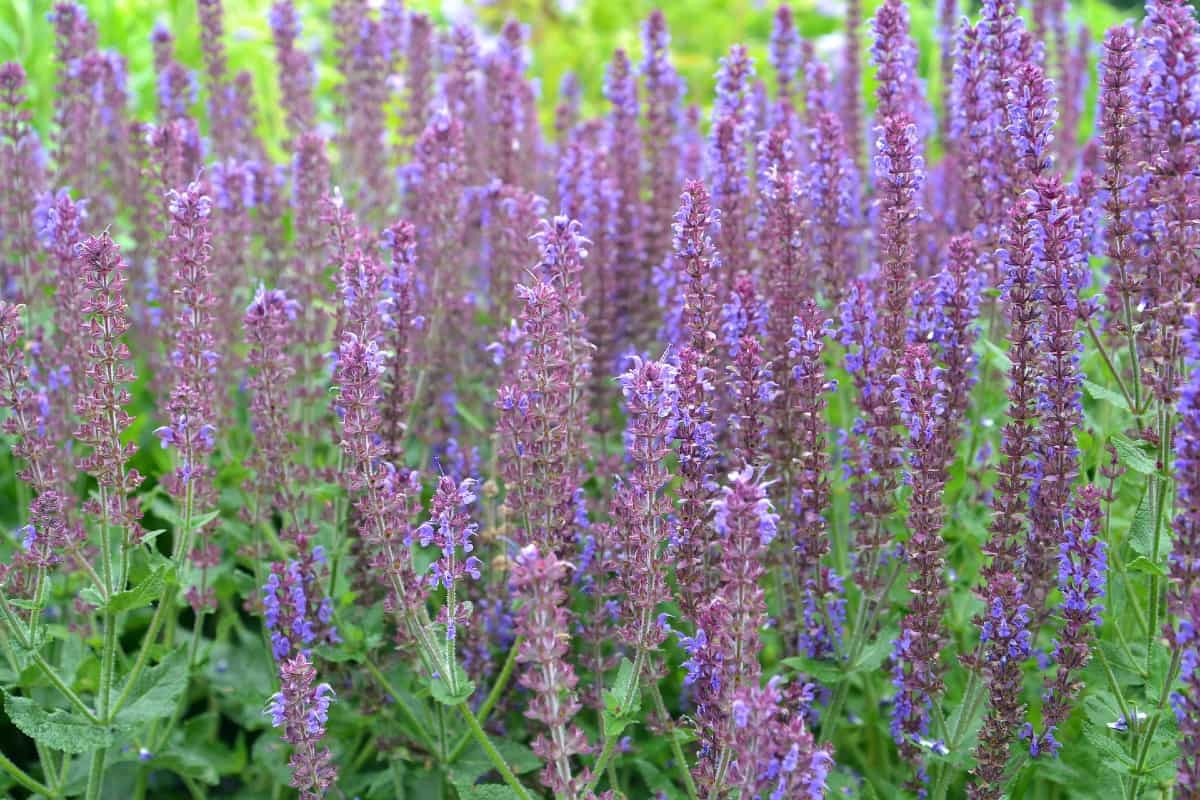 One final candidate to consider for your garden is Russian Sage. This fragrant plant displays silvery-grey leaves and delicate purple flowers. It's one of the perennial plants that flower all summer and the pollinators love it.
The spiky flowers of Russian Sage grow to about four feet tall and up to three feet wide, so planting them anywhere between 2-3 feet apart is ideal. Pruning is the key to sage's success, especially when done in late spring and summer to trim back overgrowth. Since sage plants have deer resistant flowers, trimming is even more important.
Start by cutting back old stems and remove the top half if development prevents summer blooming. Minimal watering is required to maintain the plant, which prefers dry soil, especially once established.
In colder climates, sage benefits from placing a layer of pine needles over the surrounding area to keep it warm in winter.
Whether this is your first time planting flowers or you are merely searching for a quick and easy way to brighten up the yard, these lovely perennial flowers are the perfect addition to any home.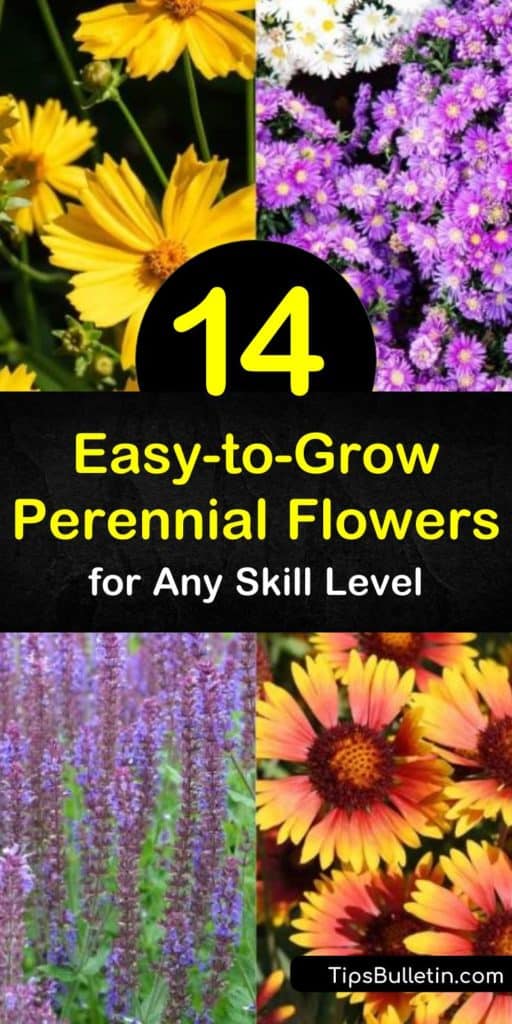 If you found these planting tips for beginners to be as helpful as the flowers are beautiful, then please feel free to share your favorite easy to grow perennial flowers with everyone you know on Facebook and Pinterest.