Do you hope to add color to your home using plants, but think you might not be able to keep them alive? You don't need to have green thumbs to grow plants at home. There are so many easy to grow plants perfect for beginners.
Forget them for a while, and they still thrive. Many plants that are easy to grow don't require much more than making sure you provide the right sunlight and a little water once in a while. The plants don't require much pruning, and they're not likely to suffer from disease or pest issues.
Some plants can even survive for many weeks or even months without water. They adapt quickly to their surroundings, so you have less to worry about when the seasons or temperatures change unexpectedly.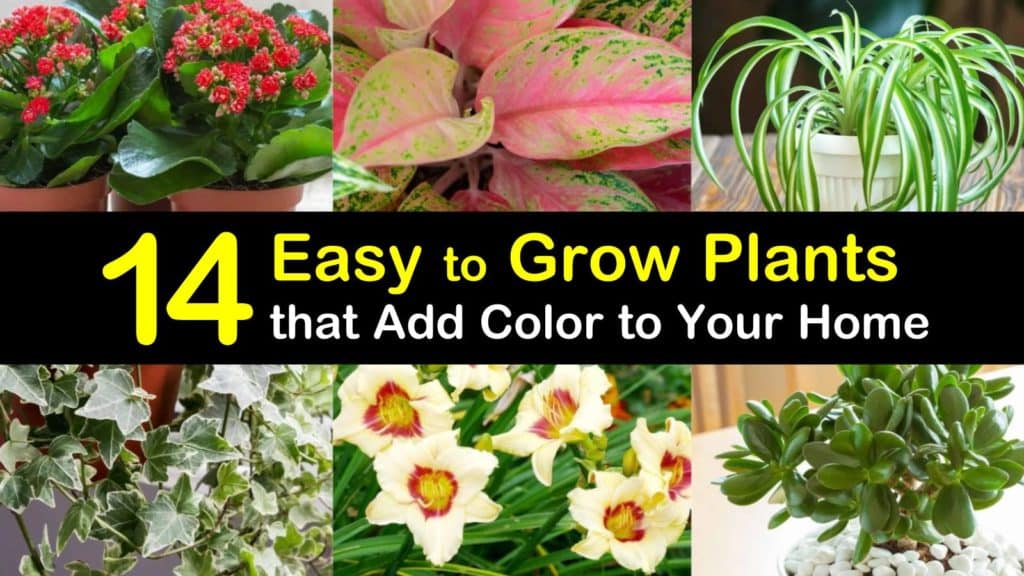 How to Care for Easy to Grow Plants
In this article, we'll show you how to care for these low-maintenance plants and list the best options for your home. Pick the plants you enjoy the most and make sure they're right for your planting zone before bringing them home.
Some people think that easy to grow houseplants require no care. However, every plant comes with regular watering and sunlight requirements. Low-maintenance plants simply take less of your time and typically don't need you to prune them.
Sometimes you may have a pest problem with your indoor plants. Quickly addressing aphids on house plants or mites keeps them from spreading to your other plants and harming your indoor greenery.
Plant Containers
Most indoor houseplants thrive in the right container for their needs. Nearly all plants require proper drainage holes in the bottom of the pot. Soggy soil leads to rot issues.
However, different types of plants do well in different containers too. Succulents, for example, thrive in ceramic or terra cotta. The same pots could cause a full sun plant to become too hot throughout the afternoon, though.
Plastic planters are standard potting options for all indoor plants because they drain well, are breathable, and cost next to nothing.
Choose the Right Soil
Choose a high-quality potting mix for your houseplants. These blends tend to exhibit more long-lasting nutrients to keep the plants healthy for long periods. Cacti and succulents require specific soil, though. Succulent soil drains more quickly.
Let the Sun Shine
All plants differ in the amount of sun they require. Our list includes options for low light and those that enjoy bright, full sun.
No matter how little light a plant desires each day, none of them do well with zero sunlight either. Find a sunny spot with indirect light, and most plants thrive.
Plants that are Easy to Grow
A green thumb isn't necessary for plants that are easy to grow. Many of the plants don't demand much from you outside of occasional watering. Some of them even have the added benefit of being plants that clean the air indoors of harmful toxins. Here are our favorite easy to grow plants that add color to your home.
Peperomia (Peperomia spp.)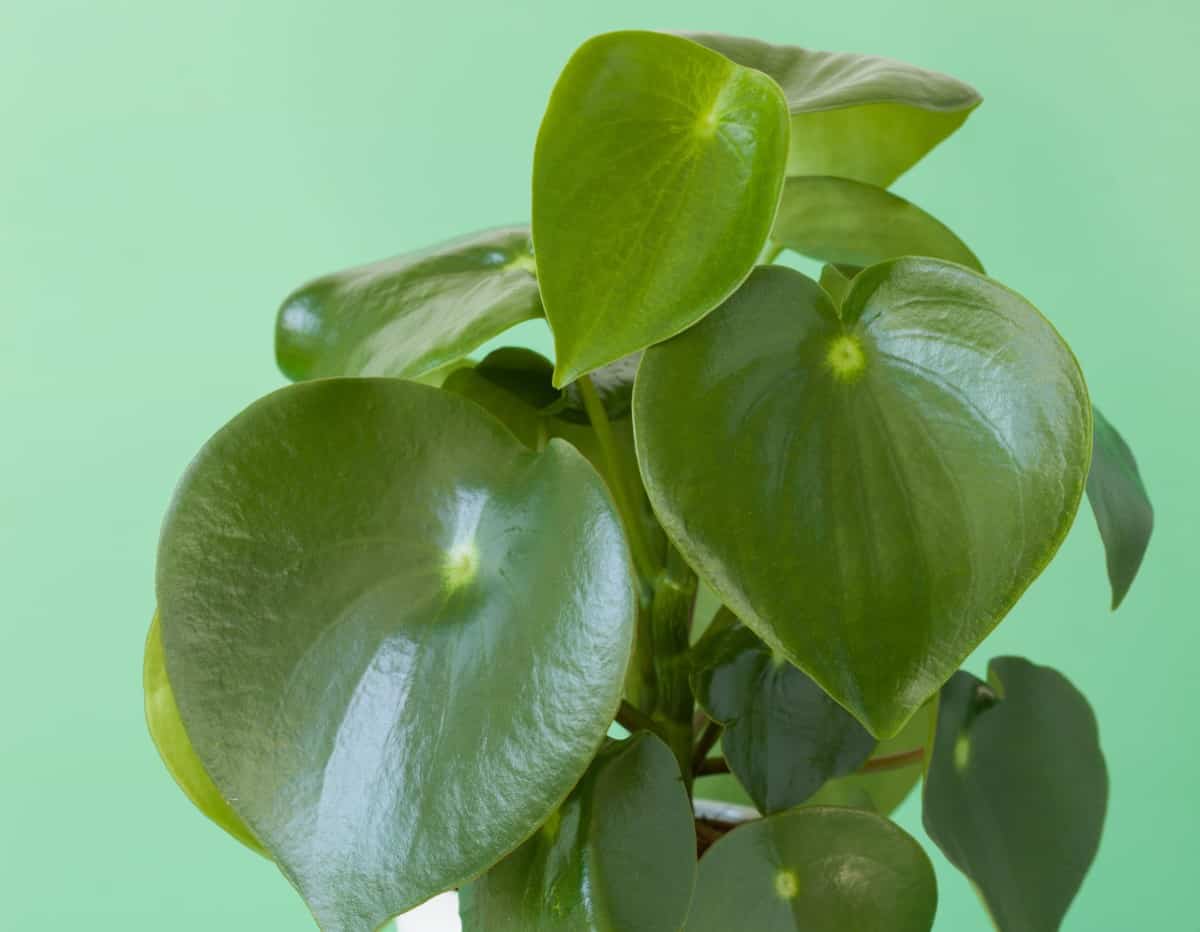 Peperomias are tiny easy-care houseplants. They come in multiple types, all of which have waxy and textured foliage. Group them for a stunning arrangement or plant them in separate pots around the house for a splash of color.
Keep them out of your pet and children's reach, though. The leaves are poisonous. In a low or medium sunlight location, expect your peperomias to grow to a foot tall and equally as wide. They require little water.
Allow the soil to dry before rewatering. The top two inches of soil will feel dry to the touch. Maintain temperatures between 60 and 75°F for the best results.
Kalanchoe (Kalanchoe) – Best Flowers for Early Spring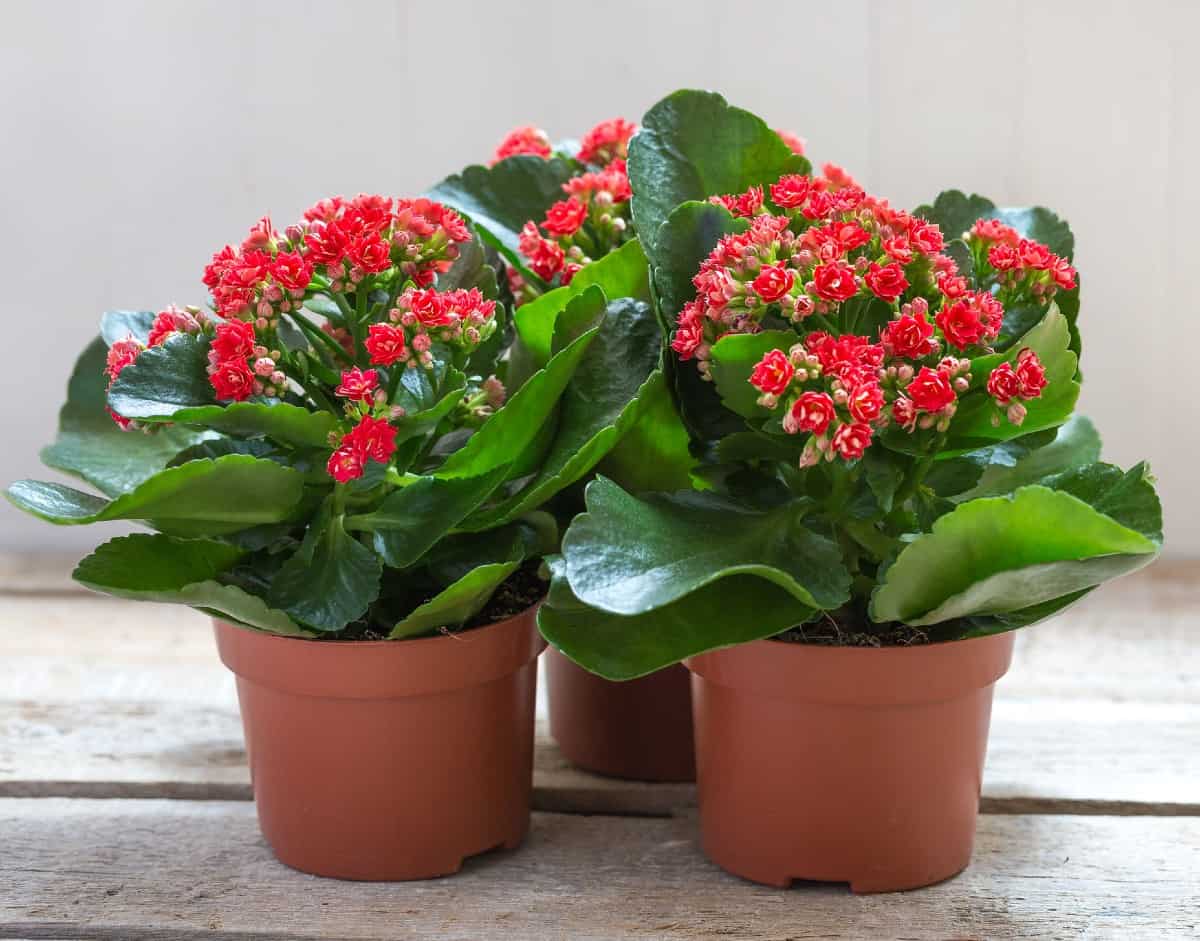 Succulents have beautiful leaves and patterns, but this type outshines the foliage with bright flowers that pop out in the early spring and again in the winter.
Kalanchoe comes in shades of pink, orange, red, and yellow. The colorful blooms last nearly year-round, and the show is better than most other types of houseplants.
Like other succulents, kalanchoe is easy to grow in bright, indirect sun. A brightly lit area is mandatory. Warm temperatures are ideal, but not necessary with enough sun. Otherwise, the plants only require occasional watering. For low maintenance potted plants, add a kalanchoe to your indoor space.
Chinese Evergreen (Aglaonema commutatum)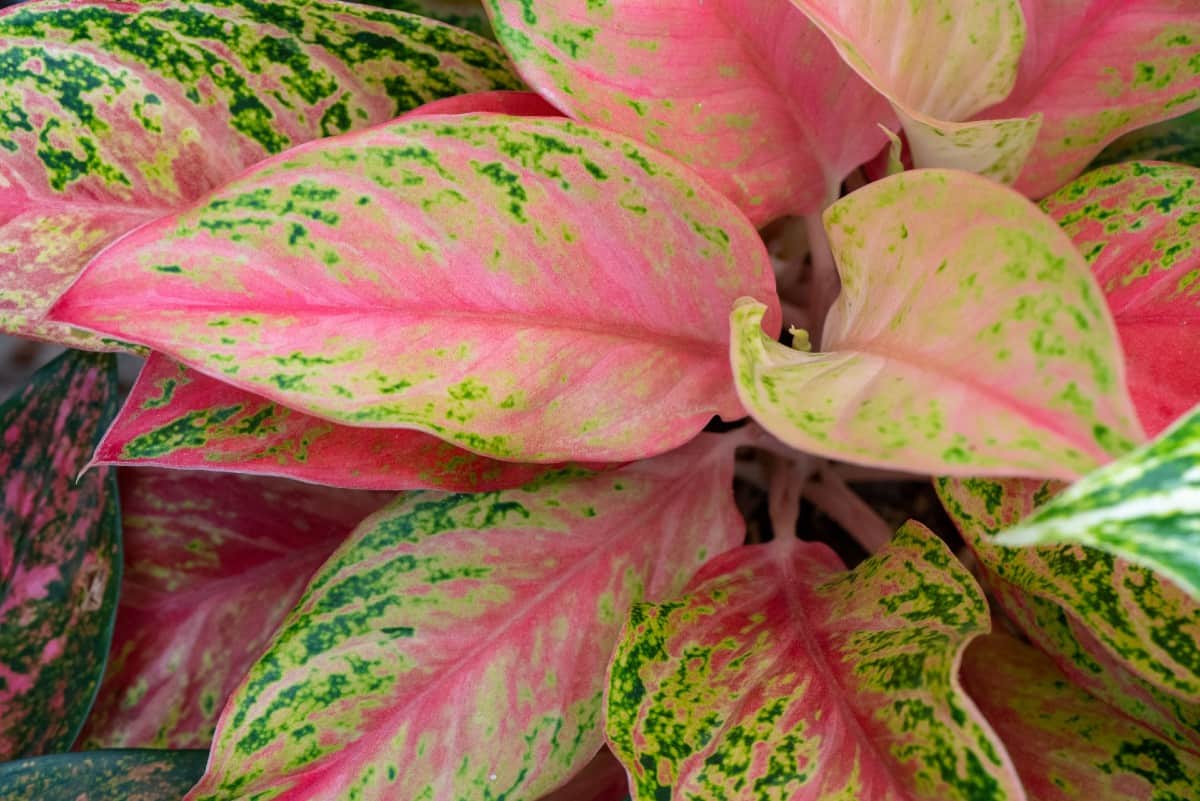 The Chinese evergreen is an attractive houseplant for low-light rooms. The leaves come in varying shades, including green, silver, and gray. You may see them for sale in airports or shopping malls because they're highly durable.
To produce attractive foliage, a Chinese evergreen calls for moist soil. Maintain temperatures between 60 and 75°F, but the light conditions vary from low to medium.
With proper care, these colorful indoor plants grow up to three-feet-tall. Make sure to keep children and pets away from the plant, though. All parts are poisonous. Severe reactions take place if it's eaten.
Spider Plant (Chloropytum comosum 'Vittatum') – Easy to Grow for Years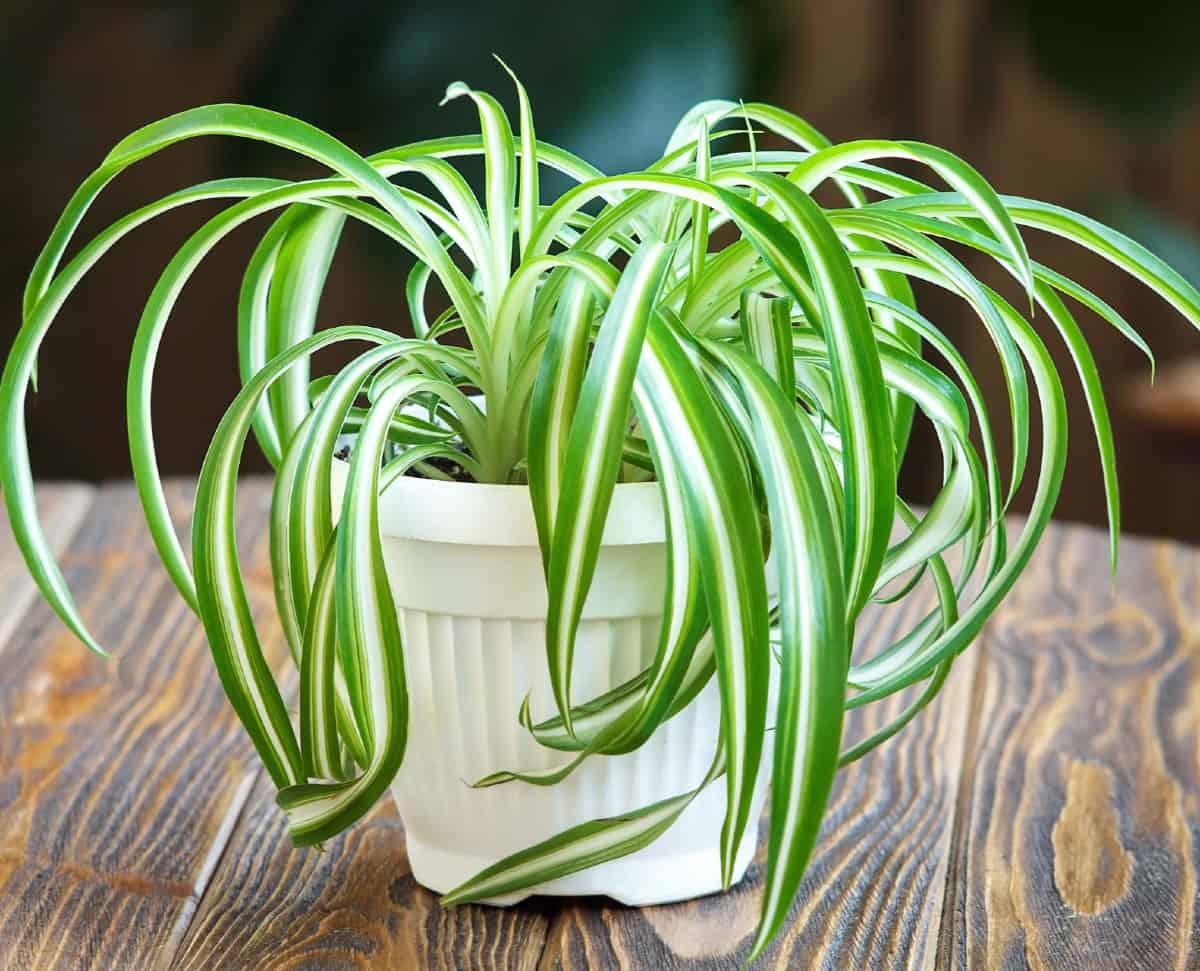 The spider plant is a popular houseplant in many planting zones and is one of the indoor plants for air purification. The beautiful plant is undemanding and easy to grow anywhere with medium to bright light.
Arching leaves give the plant a spidery appearance, and when it's big enough, the plant produces babies. Replant the baby plants for new houseplants, or allow it to continue growing.
A rare variety of spider plants displays solid green leaves, which require brighter sunlight. The variations with white or cream strips down the center do well in medium light. Maintain evenly moist soil and temperatures between 60 and 75°F.
Philodendron (Philodendron hederaceum oxycardium)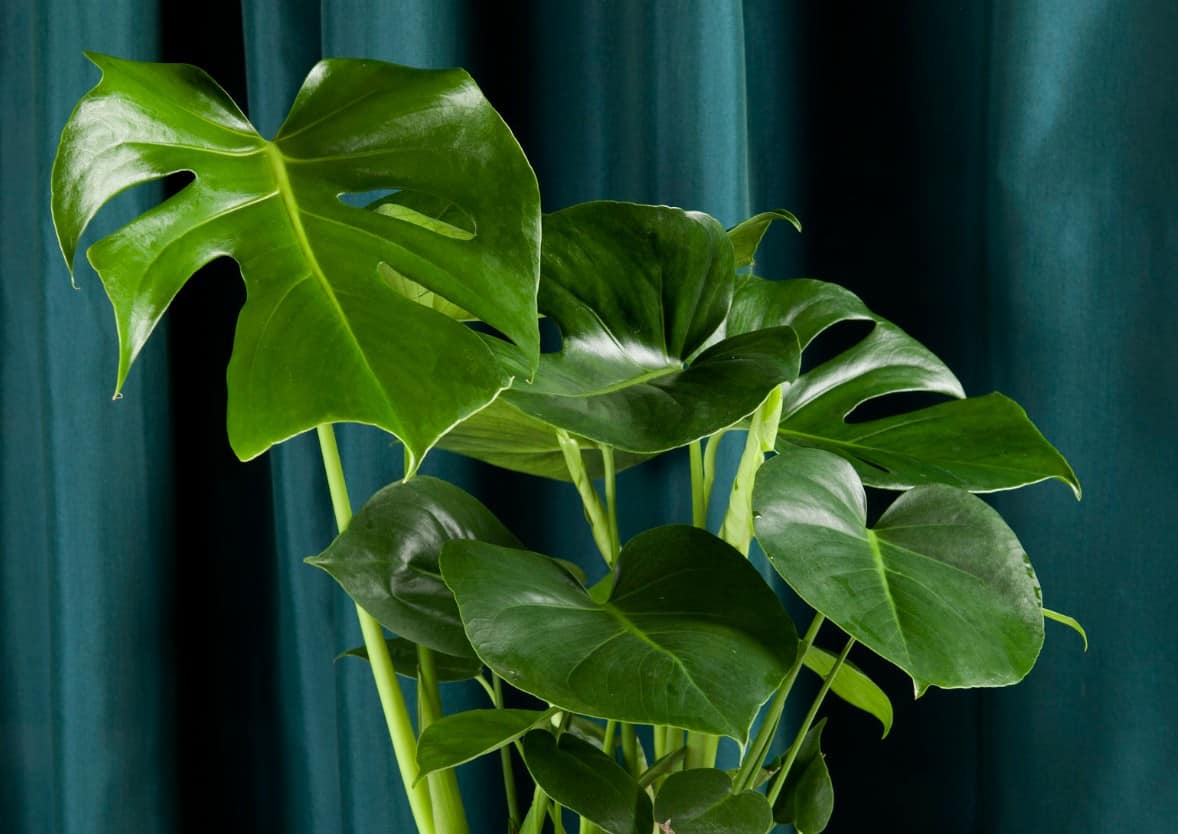 Heart-shaped philodendron is adorable. The foliage is glossy, and the vines drape through your home with ease. Expect the trails to climb up to eight-feet-long.
It thrives in nearly any type of sunny spot, from low to bright sunlight conditions. The temperature must remain around 60 to 75°F.
Regular watering is nearly the only thing to do to care for this plant. Make sure the soil surface dries between waterings completely. Keep it away from children and pets, however. All parts of the plant are poisonous.
Aloe Vera (Aloe) – A Succulent with Medicinal Properties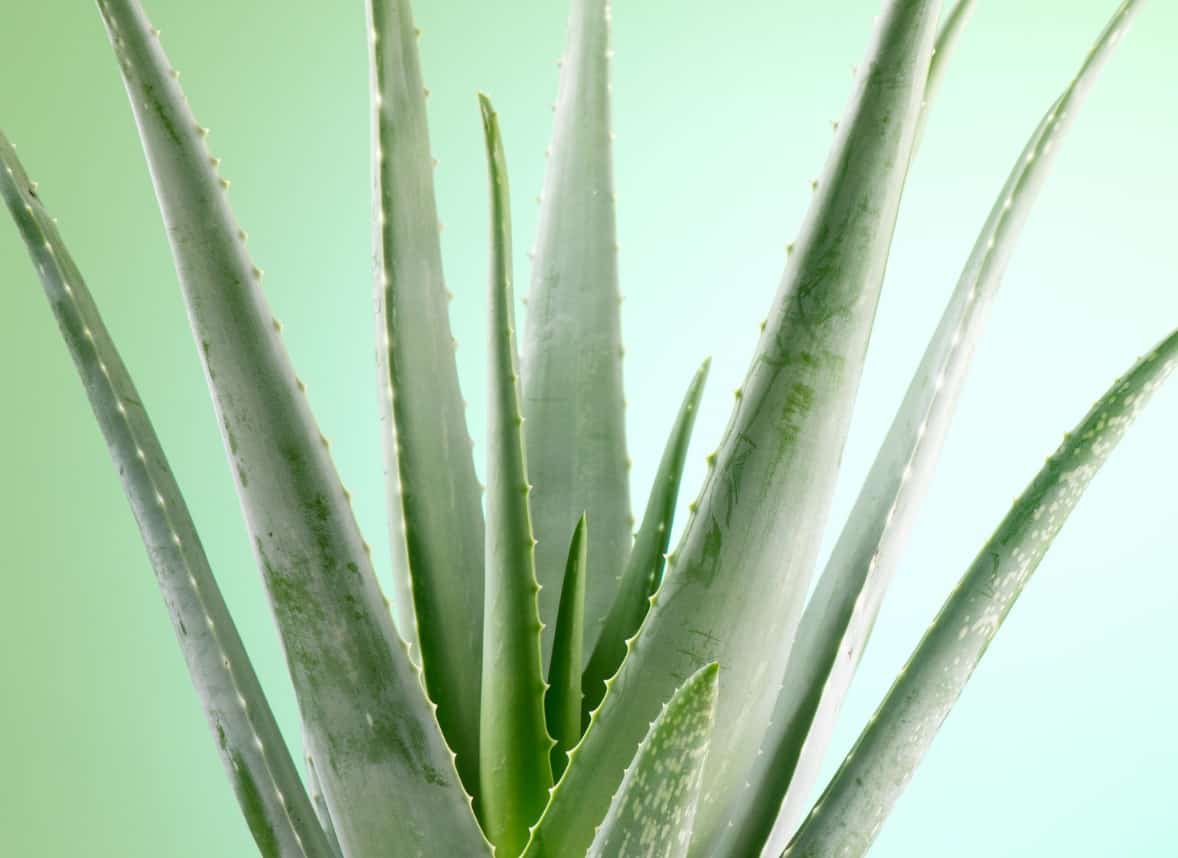 As one of the best indoor plants and one that is quite easy to care for, the aloe vera plant is well-loved because it's highly useful. It cures many health issues, such as rough skin, burns, bug bites, and painful cuts.
Break off a leaf and use the gel inside to take advantage of the medicinal properties. The plant even produces flowers.
Planting aloe vera in a succulent potting mix is ideal and only provide water if the soil is bone dry. Many people keep it in a sunny spot in the bathroom.
Although this plant does well in low light, most aloe plants enjoy bright summer days outside on the patio. Bring the plant in at night to avoid cold dips in temperature.
Jade Plant (Crassula ovata)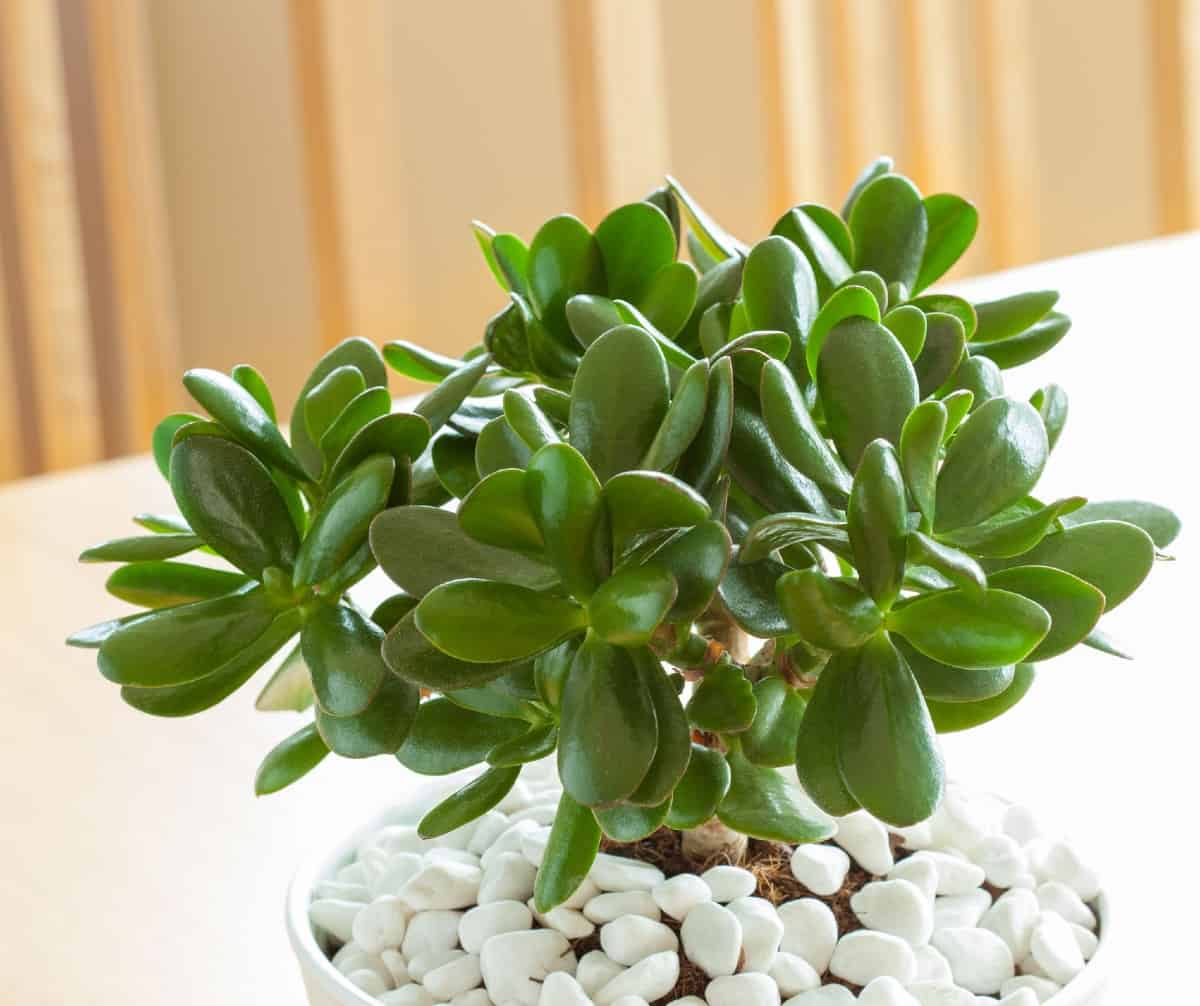 Beginners who struggle with remembering to water adore jade plants. They're drought-tolerant enough to survive up to a few months without water. Jade plants store water in the fleshy stems and thick leaves.
If you can keep cacti alive, growing this plant will work for you. Jade plants require a sunny spot with bright sunlight. Temperatures should remain between 65 and 75°F, and never drop below 55°F in the winter.
Maintain dry conditions where possible, keeping the plant relatively dry. These restrictions make it suitable for growing alongside succulents.
Radishes (Raphanus raphanistrum subsp. sativus) – Easy-to-Grow Veggies
Radishes are the easiest veggies to grow indoors and are perfect plants for children to grow. Like other root vegetables, they're hardy to cold temperatures.
Plant them outside in an early spring garden and leave them until fall, or grow radishes inside in large containers. They're ready to harvest in only three weeks if you plant from seed.
Put your radish containers in a sunny spot on your patio for the summer. Make sure to plant cultivars for your planting zone and use high-quality potting soil. Water your radishes before the soil dries out completely.
English Ivy (Hedera helix)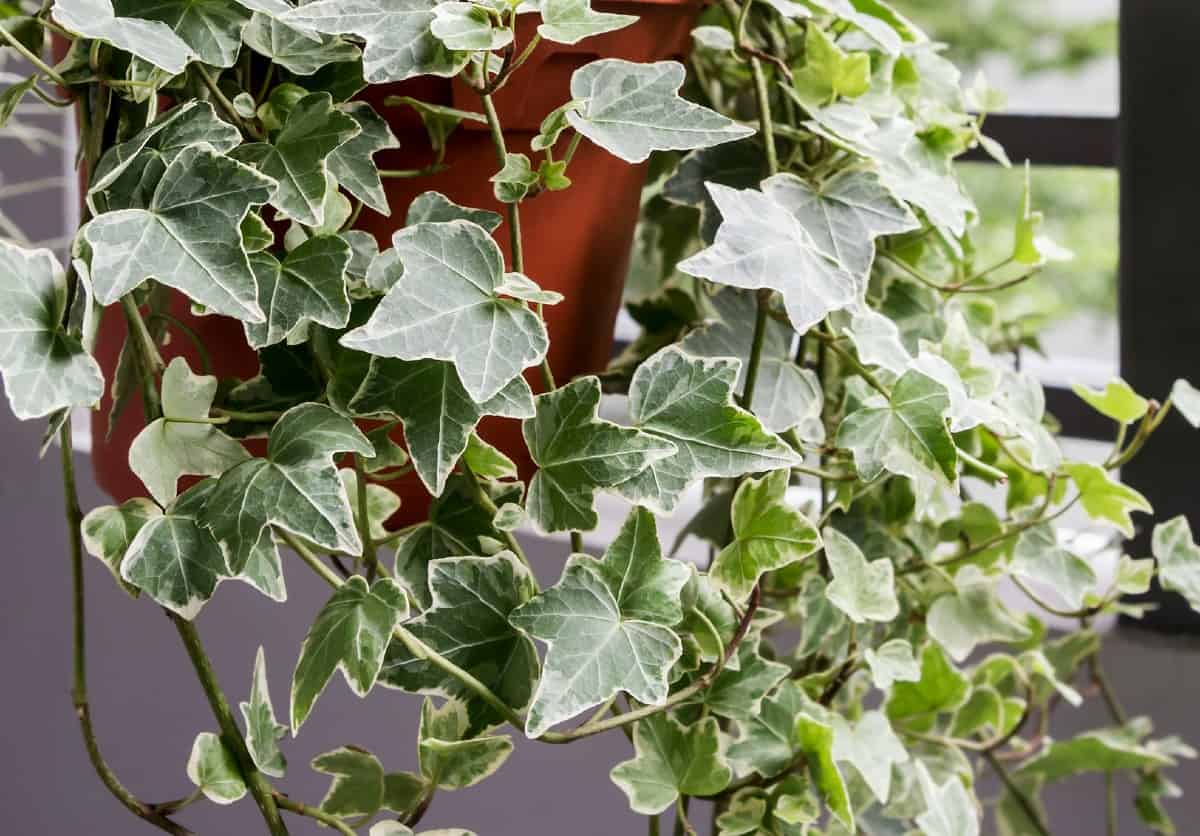 Another vining plant, English ivy plants are easy to grow climbing houseplants that do just as well outside as in. They have leather-feeling leaves that multiply.
The plant makes excellent ground cover in an outdoor garden or contained as an easy-care houseplant. However, some regions consider this plant invasive.
Varieties differ based on the pattern and shape of the leaves. Put the container in a bright area in your house. Anywhere with indirect bright light is ideal, but the ivy survives in low light too.
Temperatures must remain between 55 and 70°F. Keep the soil moist, and make sure all parts of the plant stay out of reach of children and pets. It's poisonous if chewed.
Grape Ivy (Cissus rhombifolia) – Ideal Foliage for Hanging Baskets
There are many species of grape ivy. The 'Ellen Danica' type, sometimes called oakleaf, offers green leaves cut in the shape of oak leaves.
Whichever kind of grape ivy you prefer, the tendrils drape from the plant. Use a trellis, stake, or hanging baskets to hold the vines and create texture in your home.
These indoor plants require medium sunlight and temperatures between 65 and 80°F. Maintain moist soil for the best results. Because the vines grow to reach up to six-feet-long, hanging baskets indoors look lush and tidy.
ZZ Plant (Zamioculcas zamiifolia)
Also called the eternity plant, the ZZ plant lives a long time. The thick leaves and stems feel sturdy like the plant is rubber. The stems arch back and produce deep green leaves that are smooth to the touch. However, the ZZ plant is poisonous.
The ZZ plant lives so long because it grows in low light and survives long periods without water. Bright sunlight is okay too, but temperatures between 60 and 75°F are ideal. Endure dry soil before rewatering the plant.
Snake Plant (Sansevieria trifasciata 'Laurentii') – The Indestructible Plant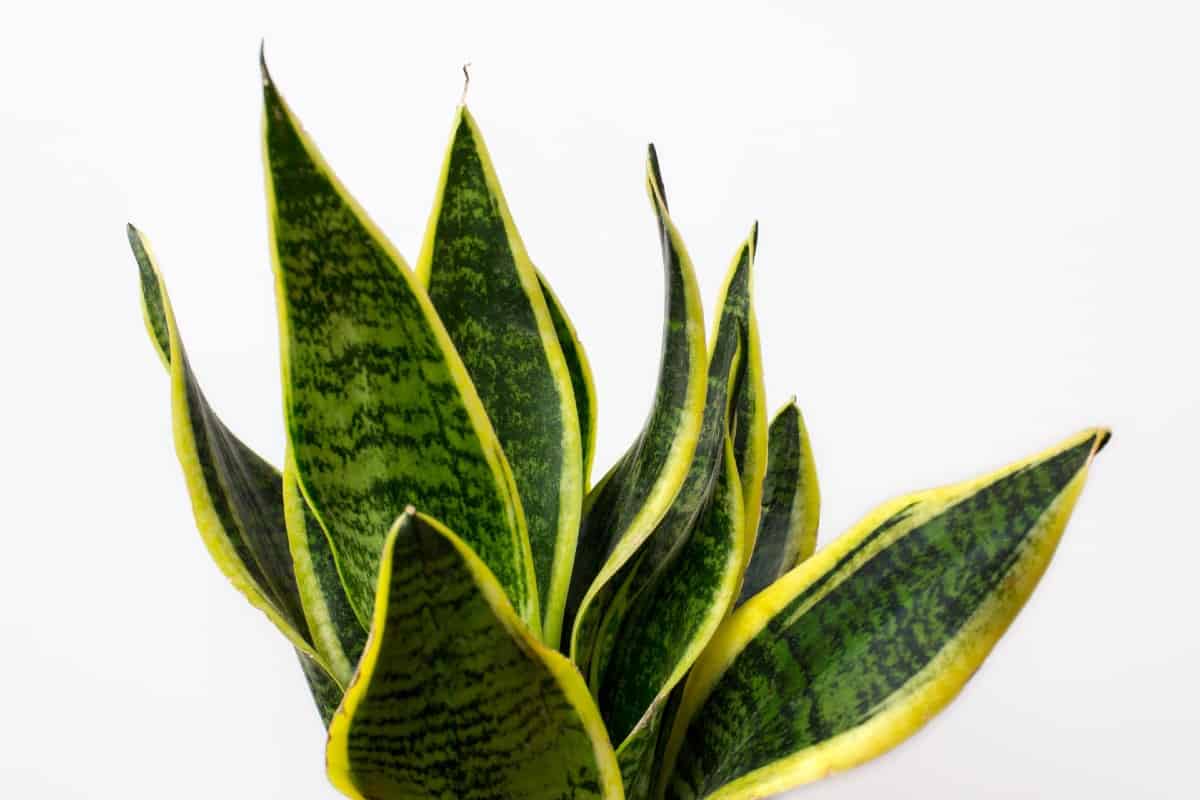 Hard to kill succulents are highly appropriate for beginners. The snake plant is a nearly indestructible houseplant. It survives through low light and requires minimal water. Plus, there are many species available.
Each type comes with varying patterns, shapes, and textures. Some can reach eight-feet-tall. However, most plants don't tower over four-feet.
Place a snake plant anywhere, from low to bright light. Temperatures between 60 and 85°F are best. Never water the plant before the surface of the soil feels dry to the touch, which sometimes takes up to two weeks depending on your region.
Pothos (Epipremnum aureum 'Marble Queen')
A popular low-maintenance plant, pothos is sometimes called the devil's ivy. There are some with solid green leaves. Others have white stripes. If you struggle to keep houseplants alive, try this plant.
It's a godsend because it's not too fussy about the amount of sunlight it receives. Pothos also rebounds well if you forget to water it. Plant pothos in a hanging basket, where the eight-foot-long vines trail down.
Another excellent way to display the plant is to allow it to climb a pole or trellis structure. Low to bright light is ideal, with temperatures above 60°F. Maintain moderately dry soil.
Daylilies (Hemerocallis spp.) – Gorgeous Easy-to-Grow Flowers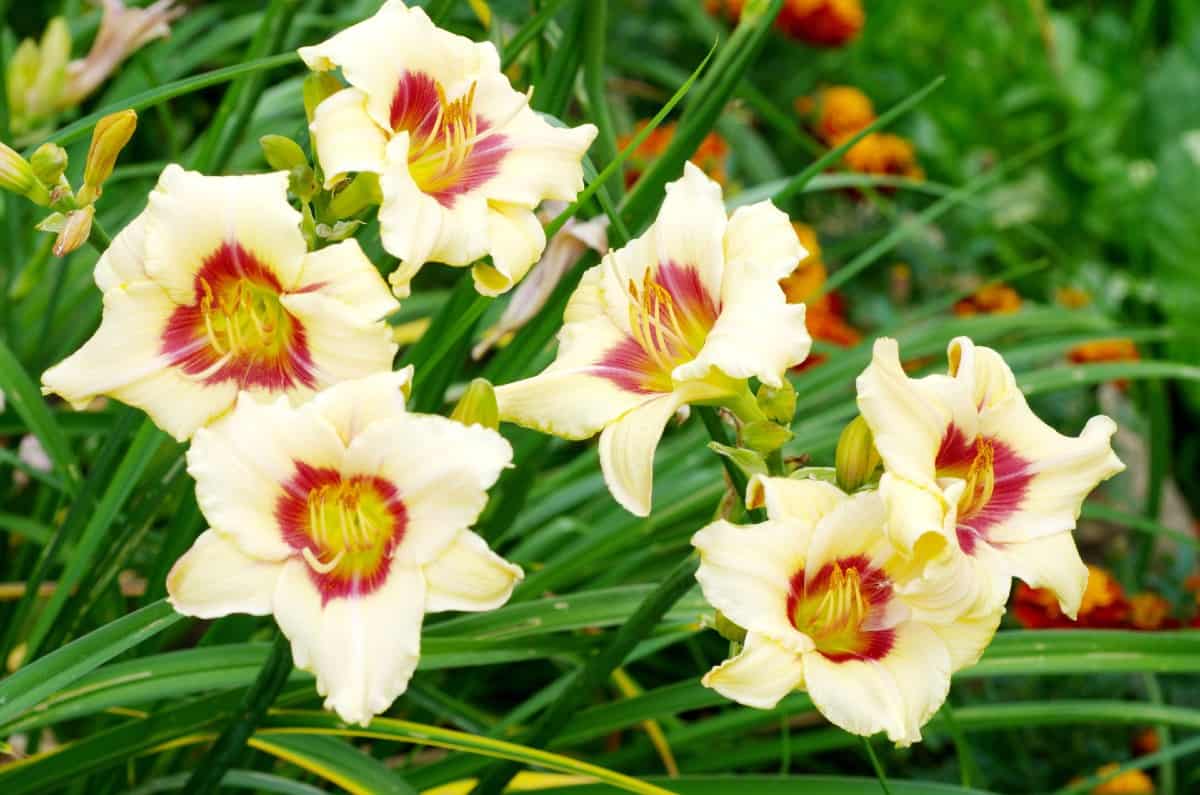 A gorgeous perennial for cut flowers is the daylily. Daylilies include many Hemerocallis varieties, which grow in zones three to nine. The blooms are bright and beautiful. The best part about caring for daylilies is that they are easy to divide thanks to tubers.
Arrange these easy-care flowers in a collection of shapes and colors. Split off the growth from the previous season for a few new blooms each season.
They don't suffer from many pests or diseases, so move the plants to your patio for the summer. Daylilies enjoy air circulation, moist soil, and at least six hours of full sun per day.
Forgiving houseplants are the best for new indoor gardeners or anyone who has trouble keeping plants alive. Don't purchase any plant you see.
Your local garden nursery is likely to offer the right choices for your climate. Associates at the store can also help answer any questions you may have about the plant's care requirements.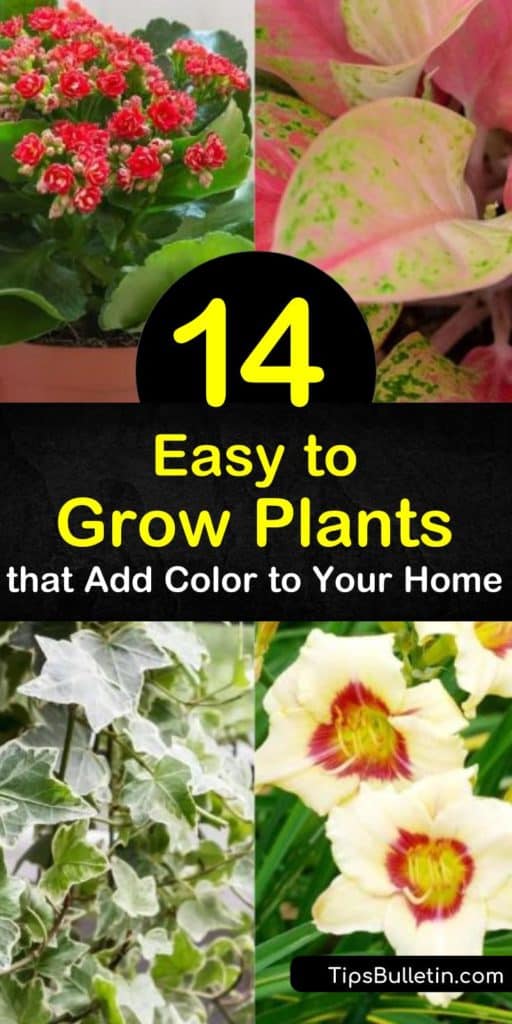 Are you a notorious plant murderer? Have you killed any of the plants on this list? If you found our list of easy to grow plants helpful, please share the low-maintenance houseplants with your friends on Pinterest and Facebook.