Have you dreamed of having a garden full of vibrant roses, but think they are too difficult to grow? Creating a rose garden is not as hard as you think. There are quite a few easy to grow rose bushes to plant in your yard to create a colorful and aromatic garden that blooms all summer long.
Landscape roses provide beautiful blooms to the yard from spring to fall, and while they do take some work to grow, the result is well worth your effort.
Not only do they fill the yard with colorful displays of blooms, but they fill the air with heavenly fragrances, attract pollinators to the garden, and make excellent cut flowers to fill vases with bouquets of roses in your home.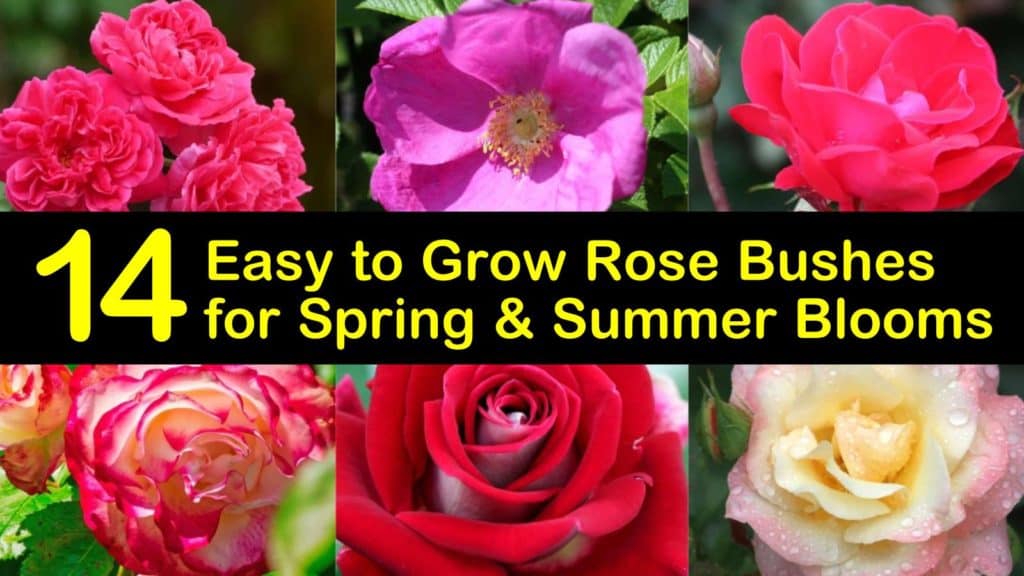 Growing Rose Bushes
Years ago, roses seemed as if they were easy to grow when, in fact, the varieties of the time were quite finicky. Many gardeners became frustrated and gave up on the idea of trying to develop a rose garden. Fortunately, there is a new generation of rose varieties that are easy for any gardener to grow.
How Many Rose Varieties are There?
There are so many different varieties of rose bushes that many beginners have a hard time deciding which ones are best for their yard. You can find everything from knock out roses, hybrid tea roses, and climbing roses to shrub roses and groundcover roses, and then there are bare-root roses and container roses. It makes you dizzy while trying to figure out the differences.
There are over 150 different rose species, with countless hybrids. They are available in a variety of shapes and sizes, and almost any color imaginable, including multi-colored and two-toned types. Not only do they come in many different visual forms, but they also have a variety of different fragrances, from floral to candy scents.
Which Types of Roses Should I Plant in My Yard?
If you are a beginning rose gardener, the key is to pick disease resistant varieties that are low-maintenance. These types are the easiest roses to grow and do not get fungal diseases and powdery mildew like many of the more delicate varieties.
Hardy species such as the climbing rose or shrub is the best type to start with if you are new to gardening. These roses are hard to kill, easy to care for and grow on their own root. Knock out bushes and home run roses are a great starting rose and grow well in most climate and soil conditions.
Where Should I Plant Roses?
Roses desire fertile, well-drained soil and require six to eight hours of sunlight every day. While they do enjoy the sunshine, they can't tolerate afternoon sun in, especially hot climates. If you live in a colder climate, plant your roses next to a west or south-facing fence or wall to protect them from freeze damage in the winter months.
How Do I Maintain My Rose Bushes?
Rose care is relatively simple when you get right down to it. Roses require consistent watering during the growing period. Water the roses at the base of the shrub to prevent wetting the leaves and prevent black spot and mildew growth. Place mulch around the base of the bush to prevent the soil from drying out and eliminate weeds.
Prune broken or damaged branches to keep the bush healthy and deadhead blooms to encourage more growth. Fertilize the roses regularly with organic methods or slow-release fertilizers.
Remove garden pests, such as aphids, as soon as you notice them. The best way to deal with aphids on rose bushes is to blast them with water from the hose or to pick them off by hand. If you find unwanted bugs other than aphids, make up a neem oil for roses solution to eliminate them without using harsh, expensive chemicals.
Add coffee grounds for the garden and your roses to lower the soil's pH levels and attract worms that keep the soil loose so the roots have room to spread. It's a great way to recycle those grounds that would otherwise end up in the trash.
Beach Rose (Rosa rugosa)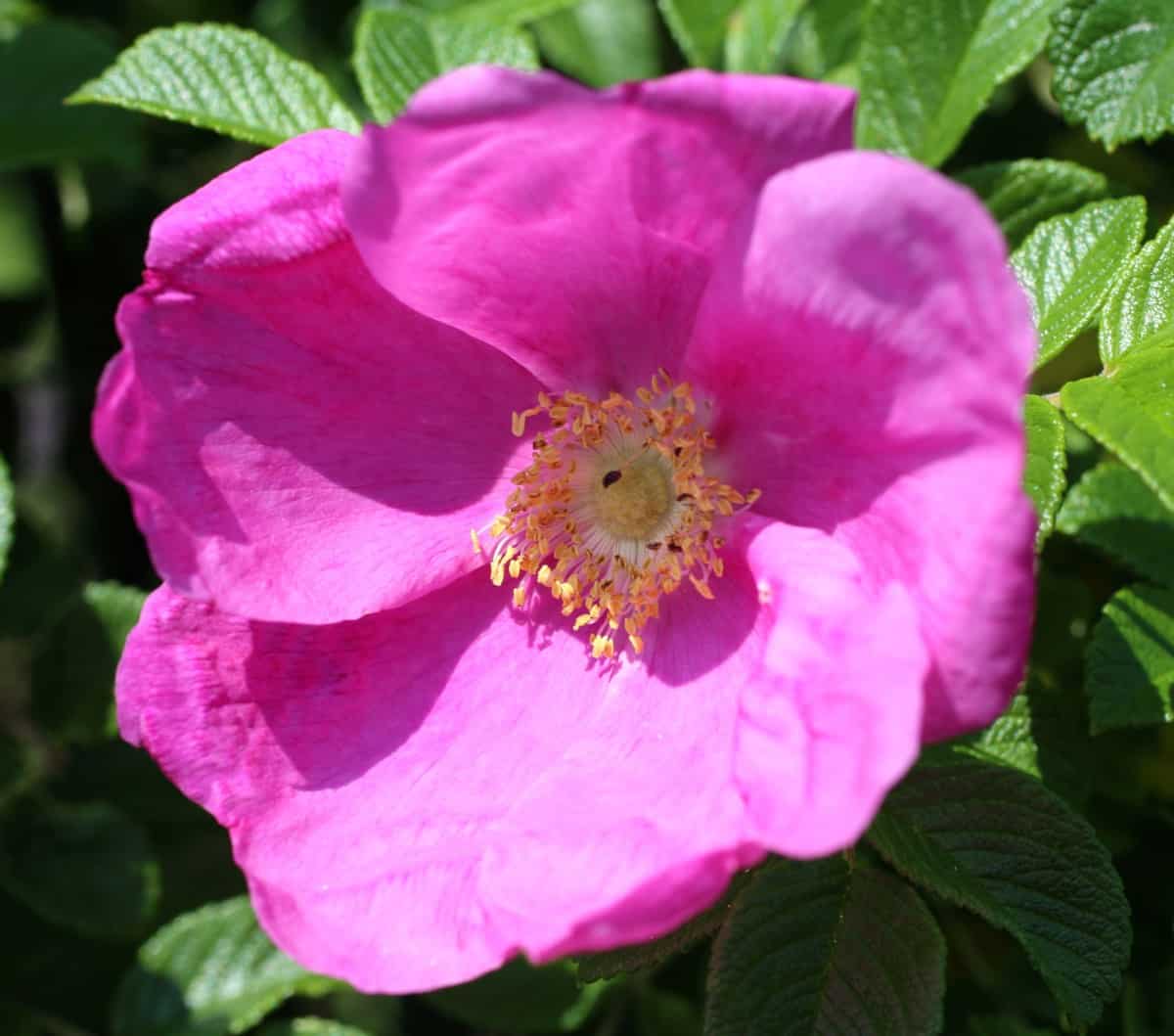 Also known as the Japanese rose and dog rose, the beach rose gets its name because it tolerates salt, poor soil, drought, and high winds. This hardy rose flowers in shades that range from bright rose colors to white and bluish-pink, and it blooms from spring through fall.
The beach rose has suckering roots that keep it anchored and helps in preventing soil erosion from wind and rain. This bush is extremely low maintenance and requires no fertilization or mulch and thrives in zones 2 through 9.
English Rose (rosa) – Rose Bush with Highly Fragrant Blooms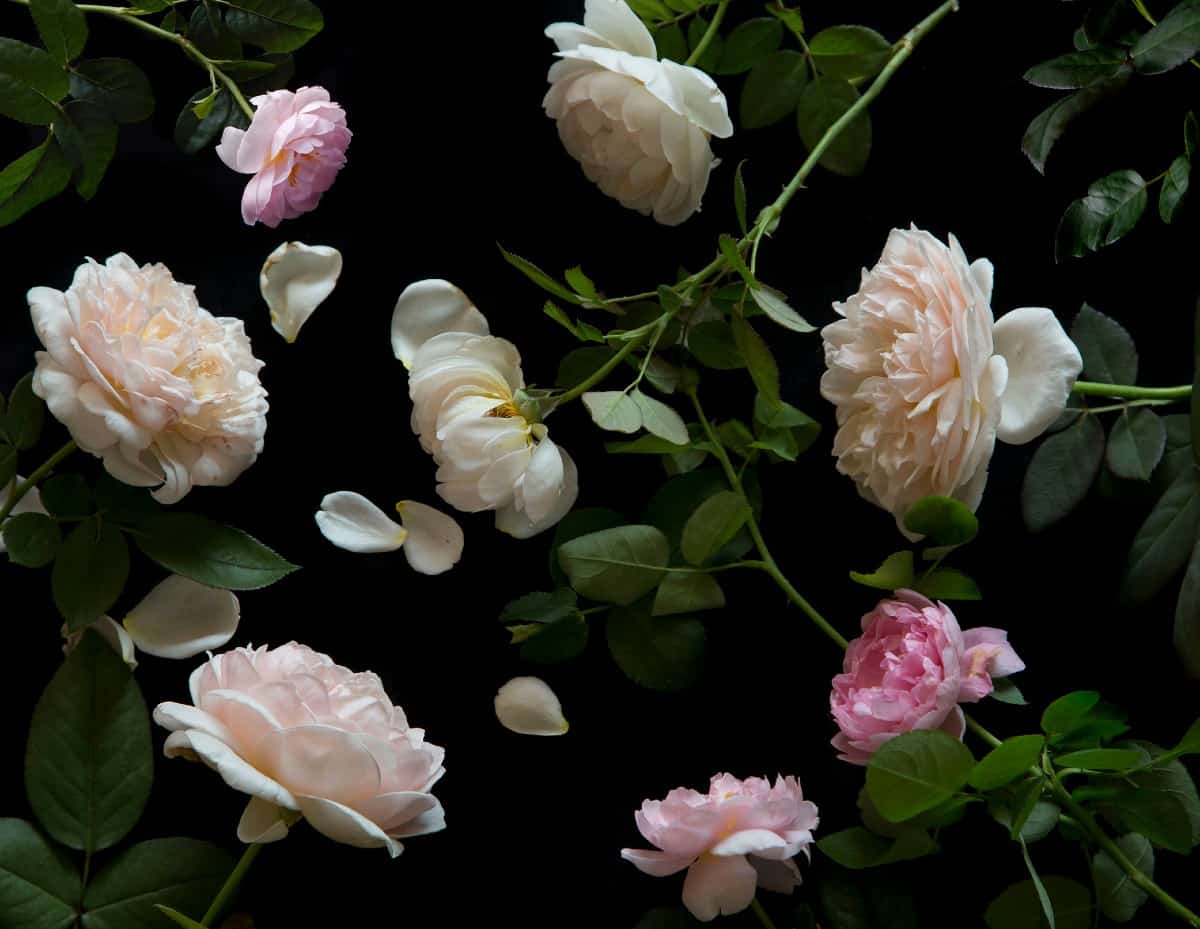 This rose plant is a cross between old-fashioned and modern roses with sweet fragrant blossoms. English roses flower in colors that range from purple, red, and orange to white, pink, and yellow, depending on the type, and they bloom from spring through fall.
This low maintenance bush reaches a mature height of 3 to 20 feet with a spread of 2 to 5 feet, depending on the variety. It thrives in zones 4 through 9 and prefers partial to full sun.
Damask Rose (Rosa × Damascena)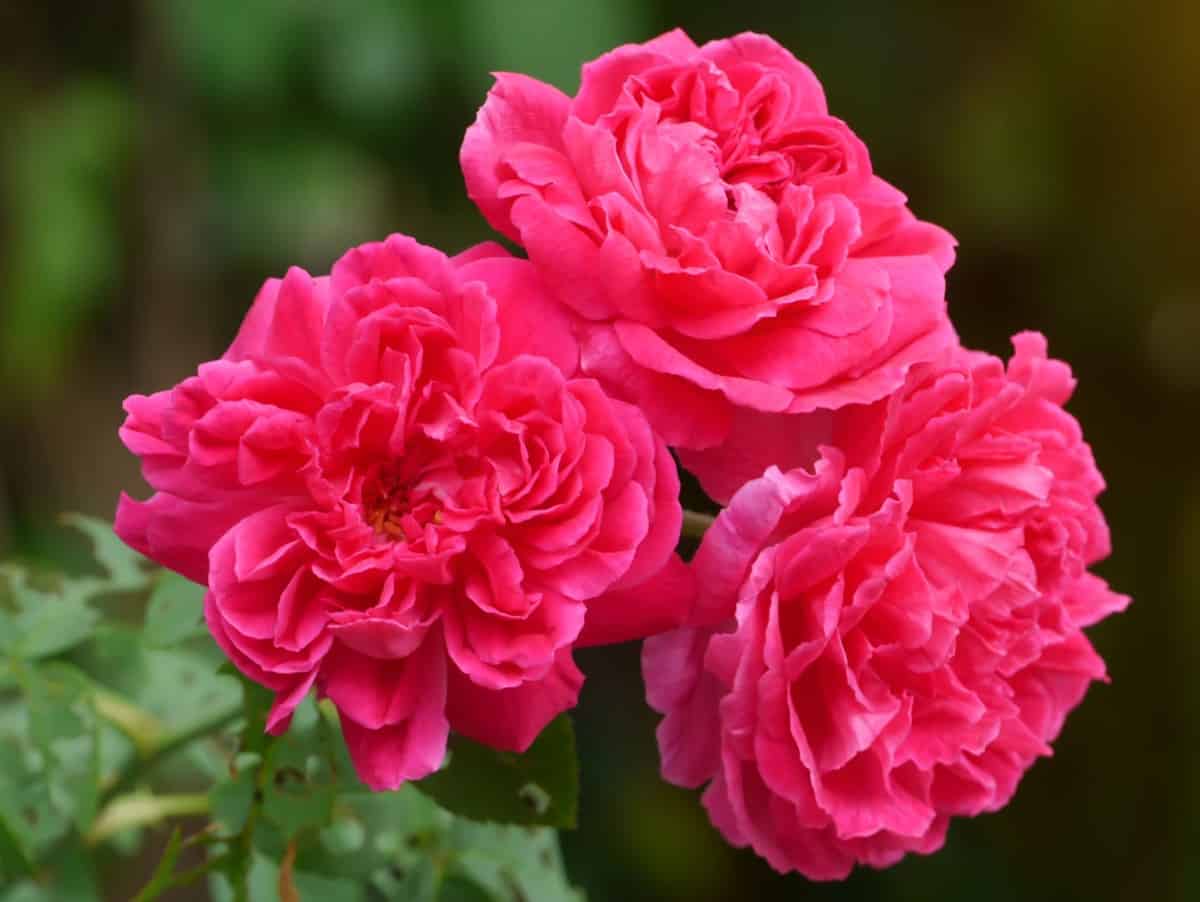 This particular rose variety only blooms once, except for a few types that rebloom in autumn. While it is a shrub, it does have creeping or climbing habits and produces fragrant blooms of light pink and red in many shapes and sizes.
The damask rose grows to a mature height of 7 feet tall with a spread of 4 feet wide. It thrives best in sunny locations in zones 4 through 9 and requires regular fertilizing to ensure optimal plant health.
Double Knock Out Rose (Rosa 'Double Knock Out') – Easy to Grow Rose Bushes that are Self-Cleaning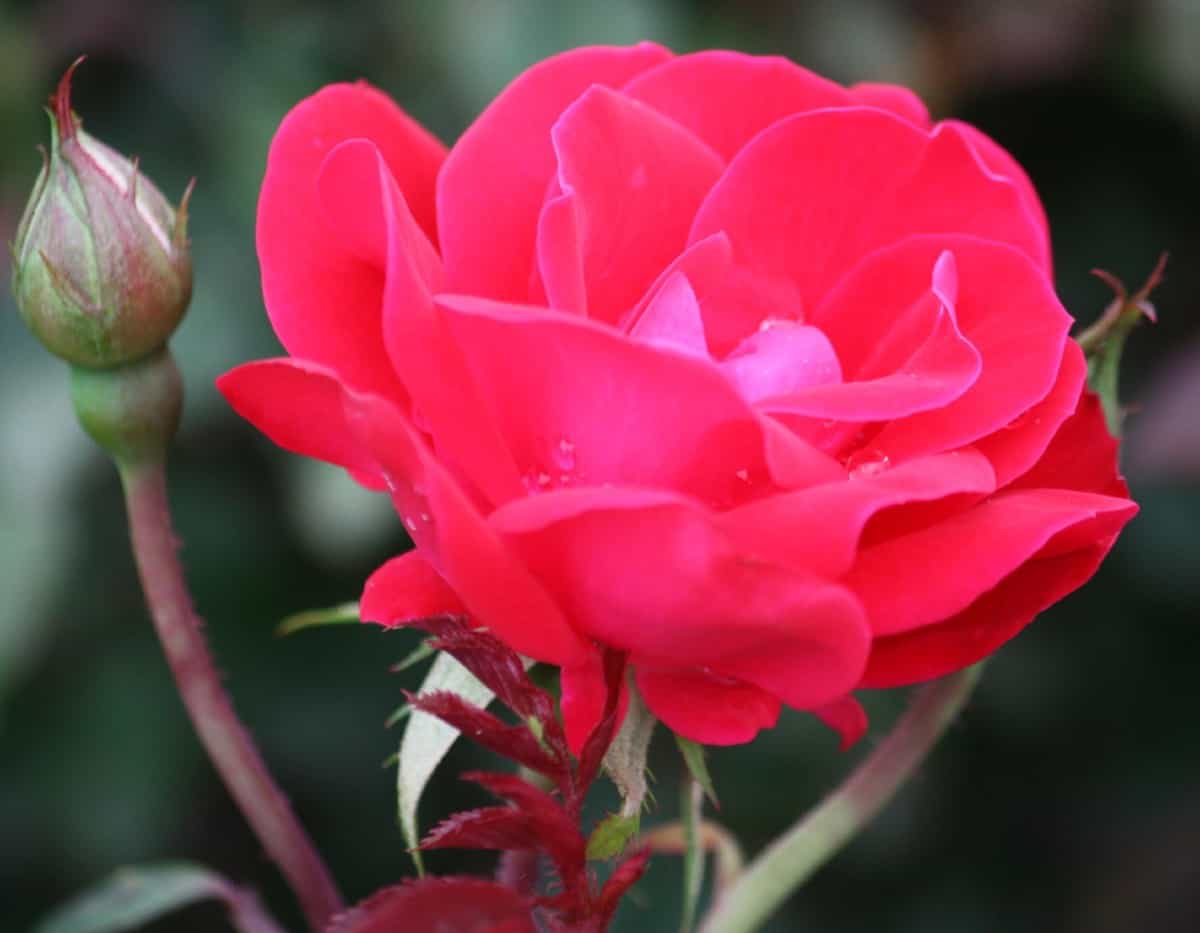 The double knock out rose bush produces cherry-red blossoms with one to five flowers per cluster. It blooms continuously from spring through fall, making it one of the best reblooming shrubs for summer interest. Prune annually to control growth and remove crossed branches.
Since they are self-cleaning, double knock out roses do not need deadheading, so there is less work for you. These shrubs enjoy full sun and thrive in zones 5 through 10. It has a mature height and spread of up to 5 feet and is not susceptible to insects and diseases.
Mister Lincoln Rose (Rosa 'Mister Lincoln')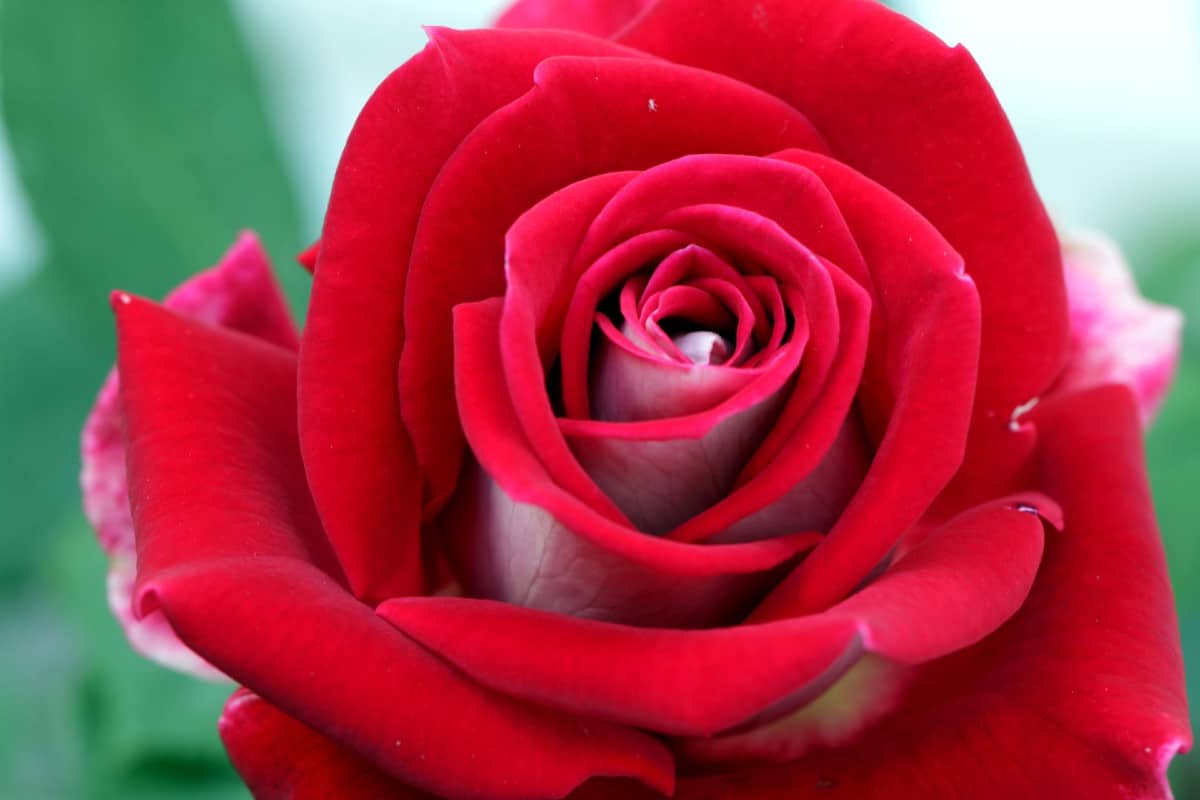 This hybrid tea rose has dark, red flowers that average five inches in diameter with 35 to 40 petals per bloom. It is a tall and proud looking rose with a strong damask scent, and its tall stems make it the perfect cut flower for the home.
The Mister Lincoln rose is a very hardy grower, but it is susceptible to blackspot. It thrives in zones 7 through 10 and requires a great deal of sunshine. Depending on the growing conditions and pruning, it reaches a height of 3 to 7 feet with a spread of up to 2 feet.
Eden Rose (Rosa 'eden') – Easy Growing Climbing Rose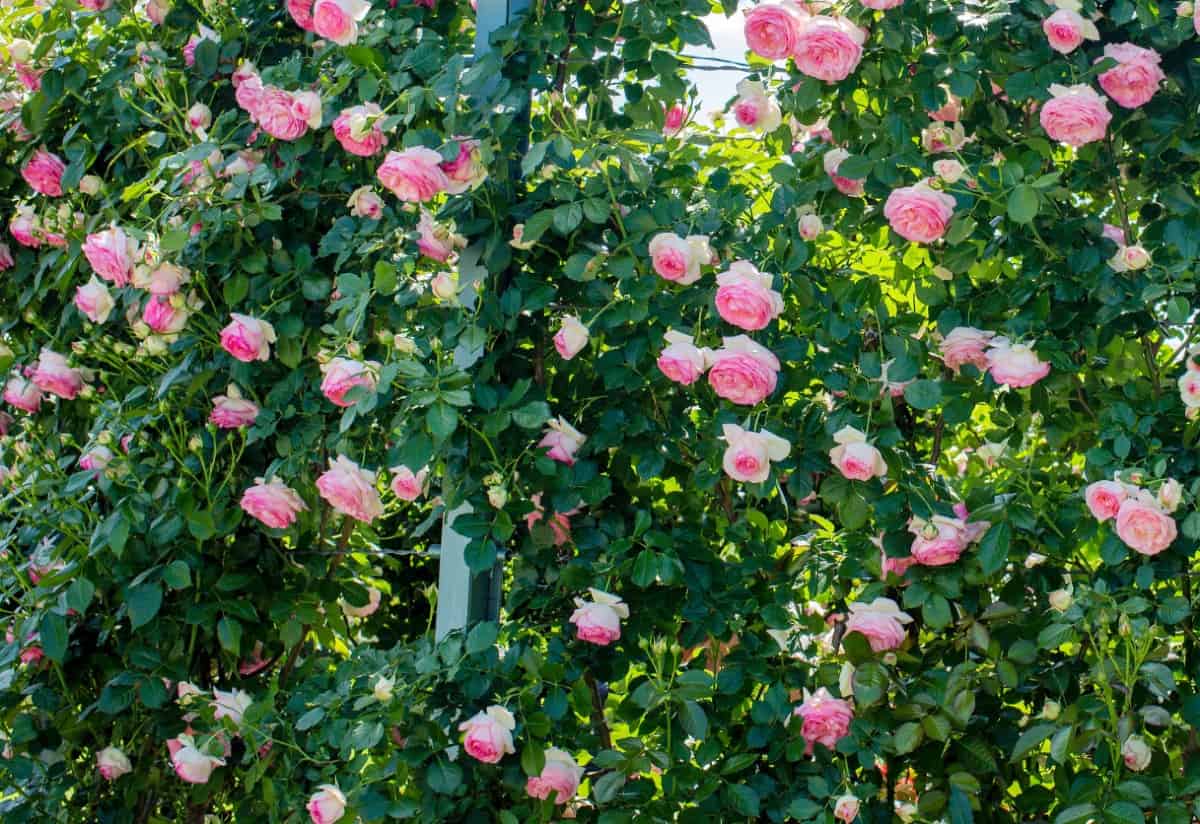 This elegant, old-fashioned bush produces double blooms with over 100 petals that are over four inches in diameter. The flowers range in pastel shades of cream, yellow, and pink with an abundance of foliage, making it a great choice as a vibrant privacy fence.
This hardy climbing rose is deer and disease resistant and grows best in zones 5 through 10. It is a restrained climber that is ideal for small yards and trains easily on fences and walls.
Queen Elizabeth Rose (Rosa 'Queen Elizabeth')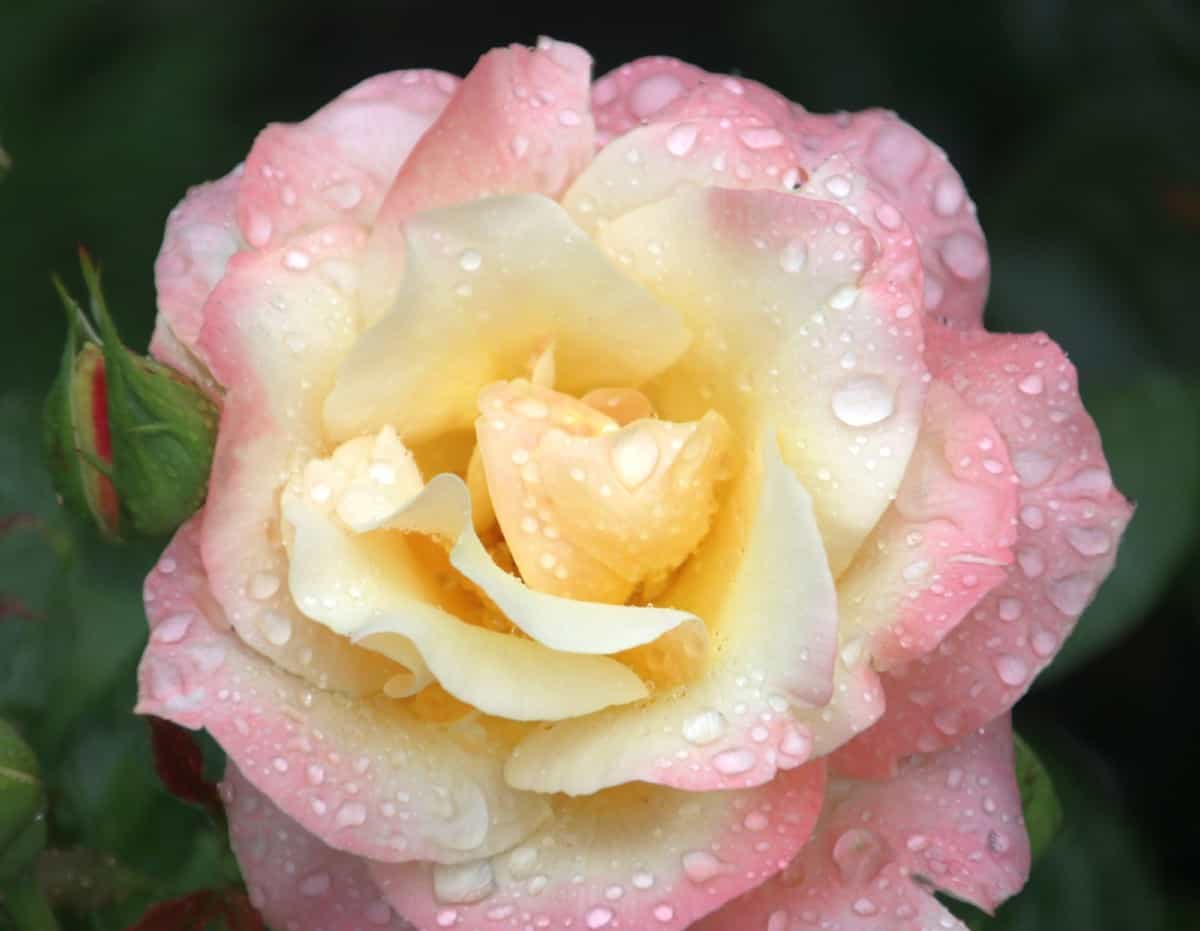 This hybrid tea rose blooms with four-inch flowers that have up to 40 petals each. The repeat blooms form in small clusters of pink flowers with a subtle fragrance.
The Queen Elizabeth rose is very resistant to disease and is a vigorous grower, reaching a height of 5 to 10 feet with a spread of 3 feet. It thrives in full sun, grows best in zones 5 through 9, and prefers well-drained soil.
Ghislaine de Feligonde (Rosa 'Ghislaine de Feligonde') – Constant Blooming Rambling Rose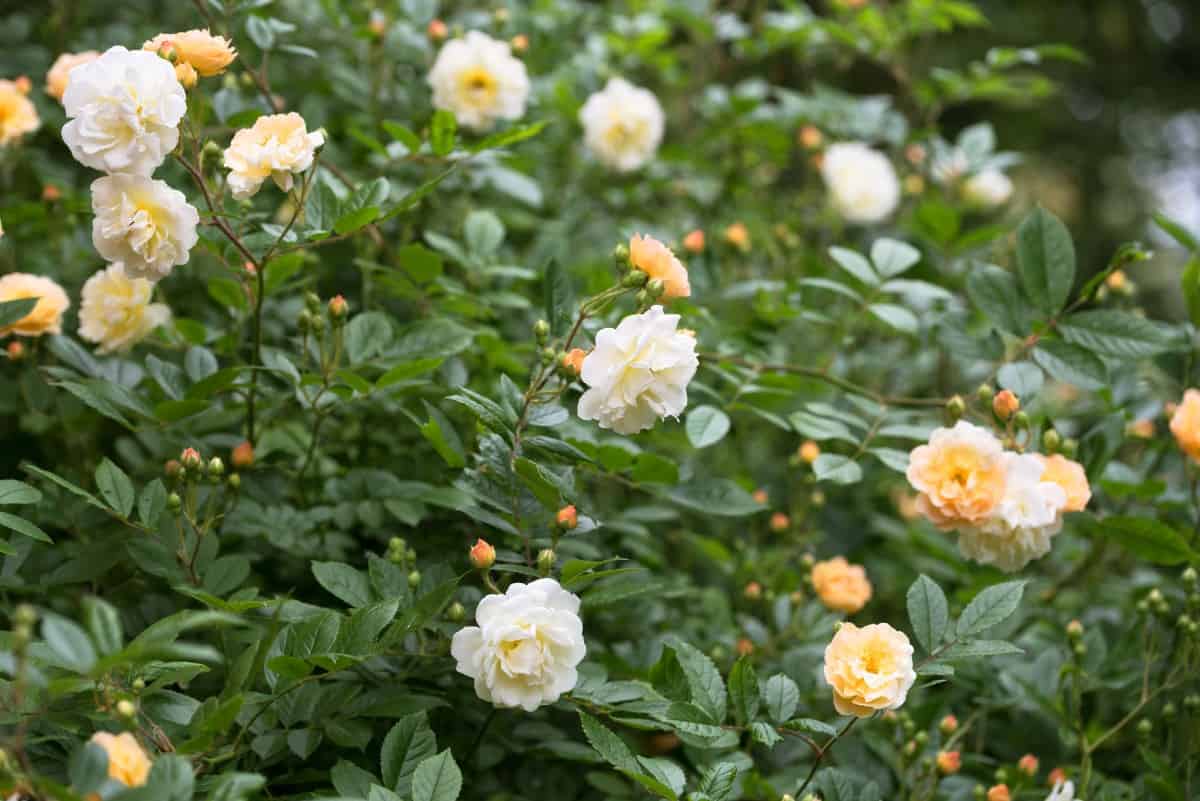 The Ghislaine de Feligonde rose is a popular David Austin rose that is an almost thornless rambler. It produces flowers that start with pale, apricot blooms with a yellow base that fade to pink and white. The flowers are repeat bloomers with a sweet, musky fragrance.
This disease-resistant plant reaches a height and width of 6 to 10 feet and thrives in rich, fertile soil. It grows best in zones 6 through 8 and requires fertilization in early spring or late winter.
Austrian Briar (Rosa foetida)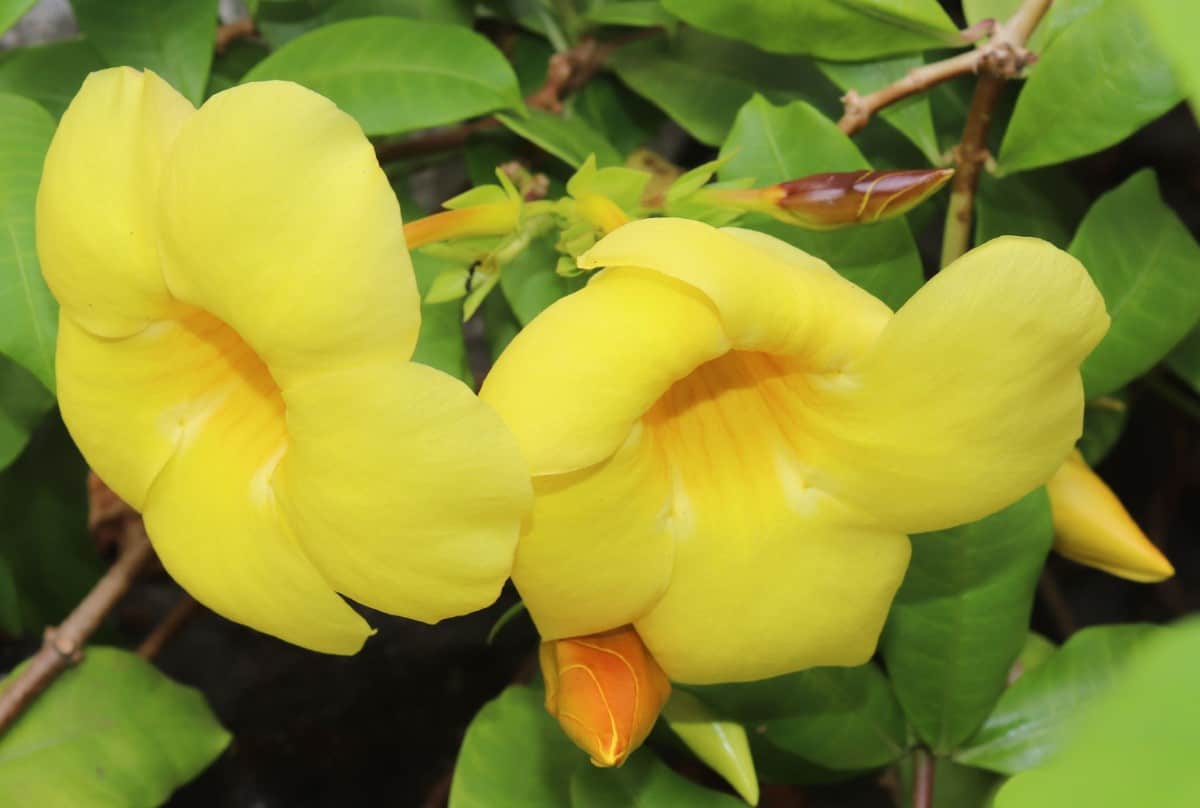 This upright rose shrub has arching stems of pale-green foliage that produces single, cupped orange and yellow flowers that are followed by round, red rose hips. The blooms are highly fragrant and long-lasting.
Austrian briar rose shrubs thrive in zones 3 through 9 and prefer sandy and clay loam soil. They grow to an average height and width of 2 to 5 feet and are deer resistant. This plant requires full sun to prevent leaf loss and a leggy appearance.
Gertrude Jekyll Rose (Rosa 'Gertrude Jekyll') – English Shrub Rose with a Rich Fragrance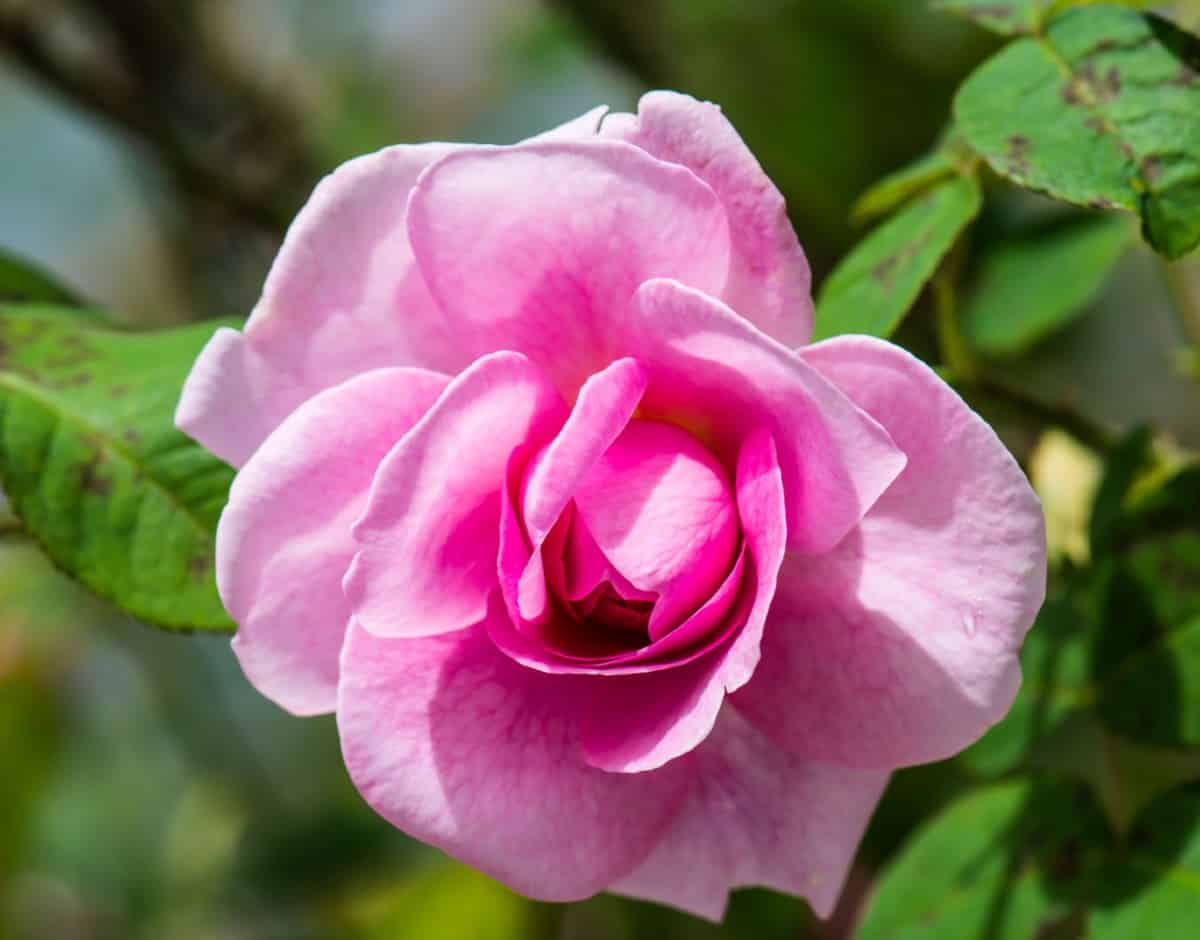 This English rose produces large double blooms of cupped, deep pink flowers with infolded petals. The scented blossoms vary in size from half an inch up to six inches and rise from grayish-green foliage.
This rose shrub thrives in sunny locations of zones 5 through 9 and blooms from mid-spring to mid-fall. The English rose grows to a height of 5 feet with a spread of 3 feet and is deer resistant. It prefers moist and well-drained soil and requires pruning for optimal health.
Cabbage Rose (Rosa × centifolia)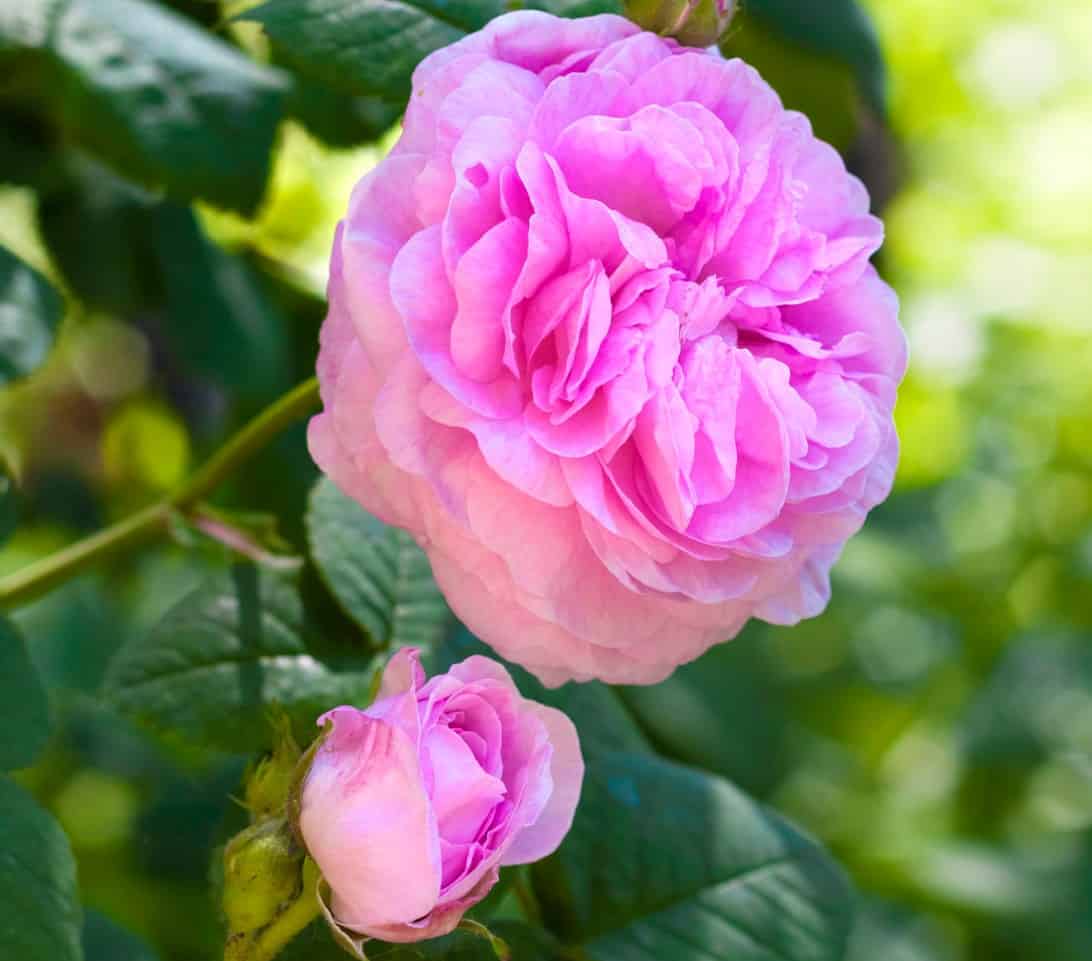 Cabbage roses produce large, full blooms with a wonderful fragrance and are an old-time favorite among gardeners, in spite of being a thorny shrub. The flowers are thick and multi-petaled and range in colors from dark pink to lavender. The stems have thick, heavy thorns, so beware while planting or working with these beautiful plants.
These roses are hardy in zones 5 through 11 and require well-drained soil with proper ventilation to prevent disease. Cabbage roses grow to a height and width of 4 feet and require pruning at the end of the growing season.
Hybrid Tea Rose (R. x hybrida) – Ideal Roses for Cut Flowers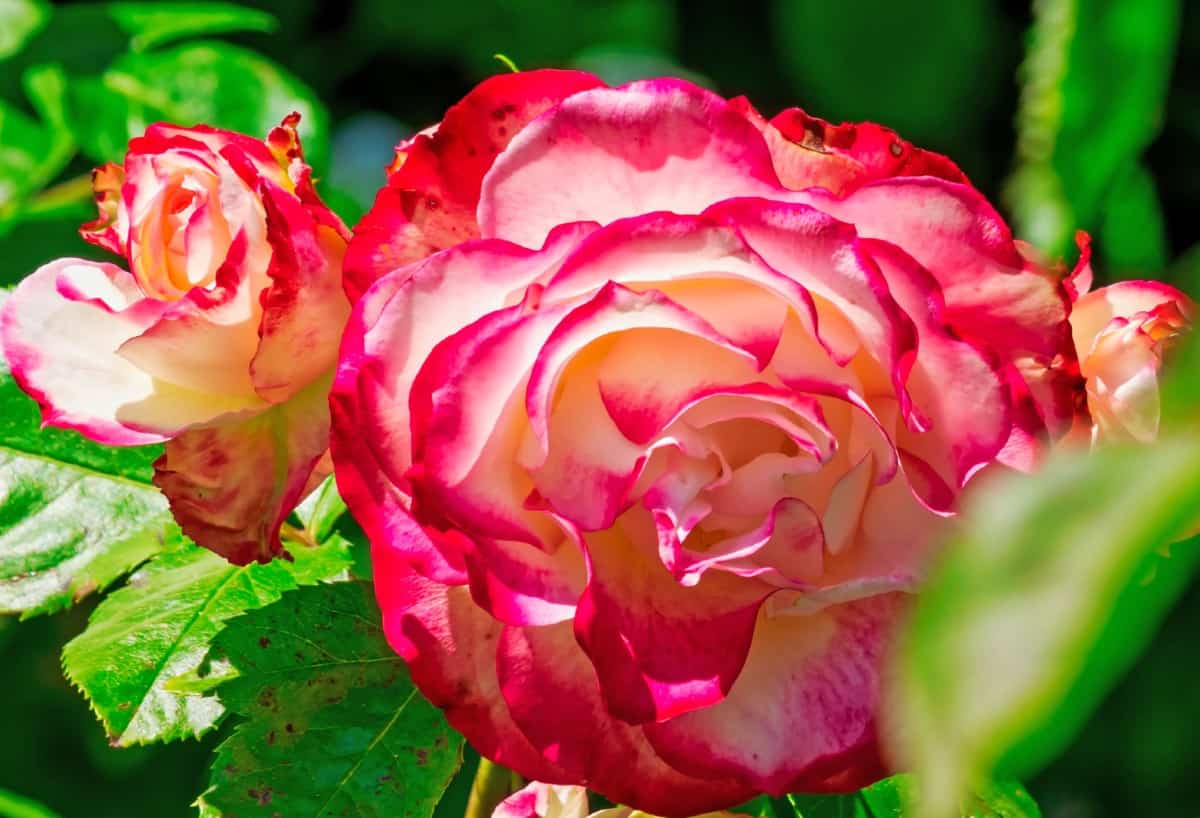 Hybrid tea roses have the iconic petaled blooms and bud shape and are standard for cut flowers. While they are a bit more finicky than many other rose types, they are easy to grow once you get the knack of it. They produce a wide range of fragrant, colorful blooms throughout the summer months.
The tea rose grows best in zones 5 through 9 and is low maintenance. They reach a height of 3 to 8 feet with a width of 2 to 3 feet and produce upright branches with one bud per stem.
Grandiflora Rose (Rosa)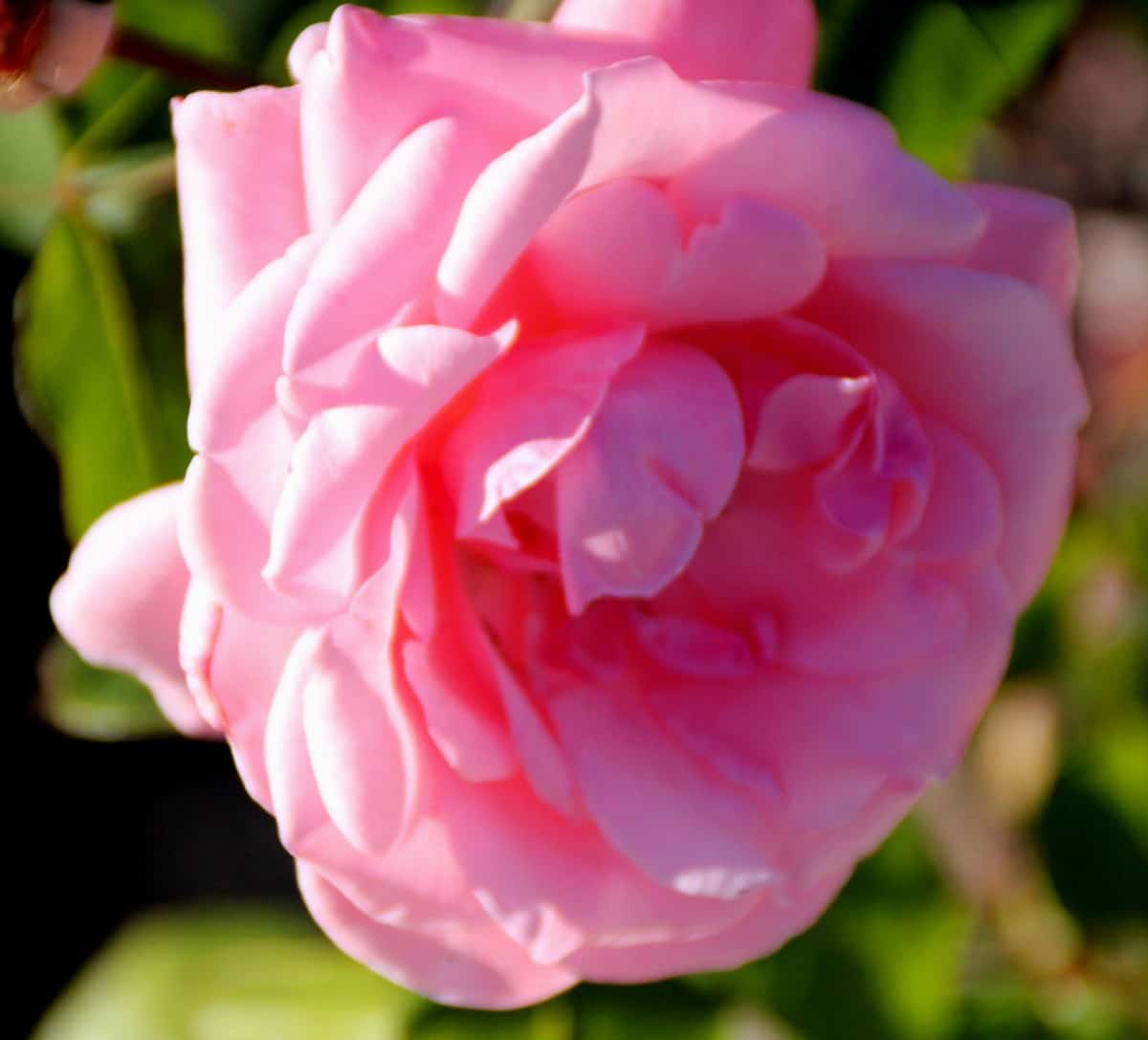 The Grandiflora rose is a cross between the hybrid tea and floribunda rose. It has high-centered, showy blooms that are similar to the hybrid tea yet sports multiple blooms per stem. The summer-time, fragrant flowers range from purple, red, orange, and white, to pink and yellow.
Grandiflora roses thrive in zones 4 through 9 and make a good choice for use as a cut flower. Depending on the variety, this rose reaches a height of 1 to 8 feet and a width of up to 3 feet.
Floribunda Rose (Rosa) – Bush that Produces Clusters of Fragrant Flowers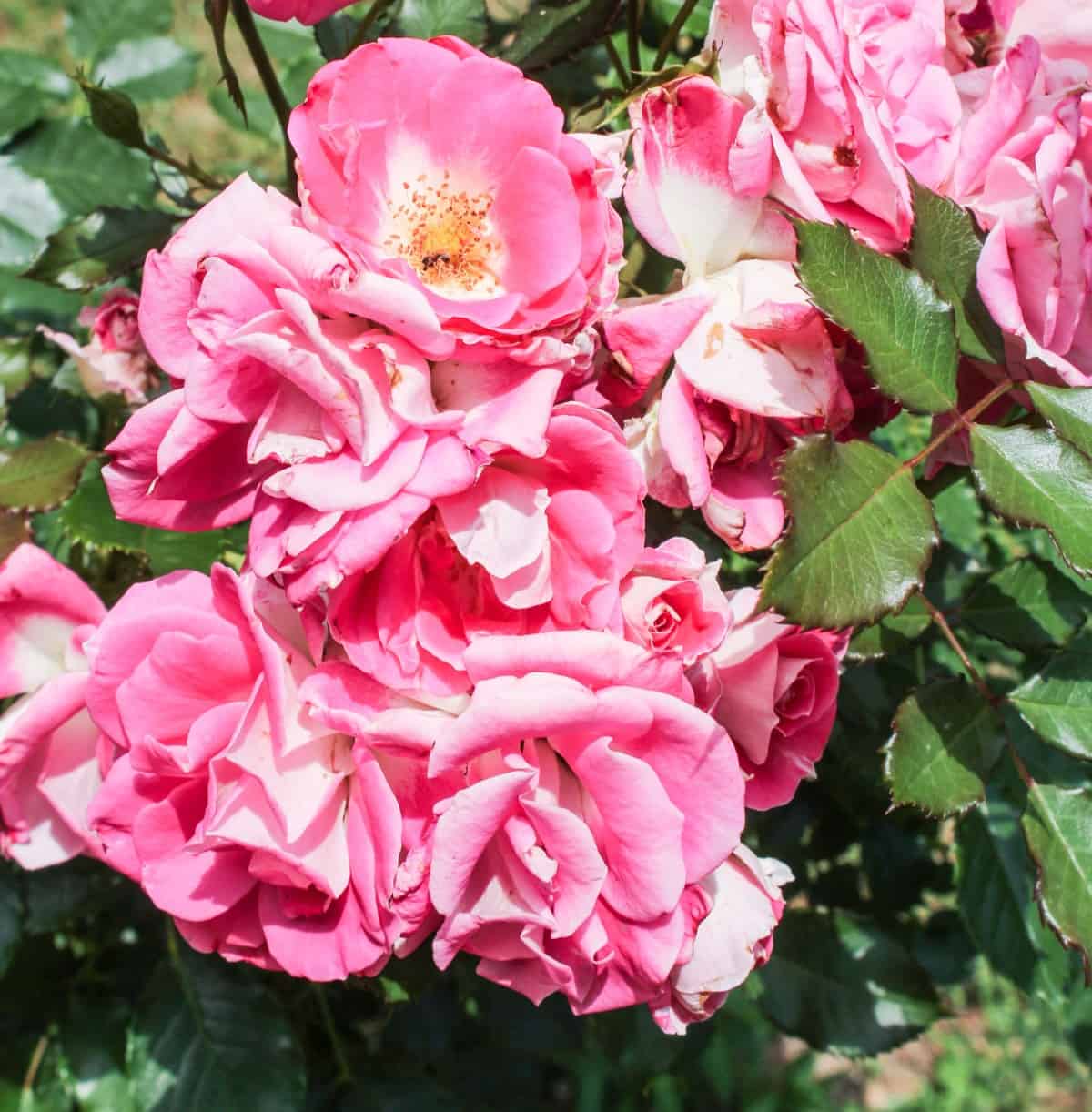 These rose bushes produce an abundance of blooms on every branch. It is a hardy shrub that free-flowers with fragrant roses in shades of blue, red, white, and pink. It is a good candidate for privacy, containers, and erosion control.
Floribunda roses require very little spring pruning and grow to a height of 1 to 8 feet, with a width of up to 6 feet, depending on the type. They thrive in hardiness zones 4 through 9 and are low maintenance.
Back in the day, having a yard filled with rose bushes was a task best left to expert gardeners, and the envy of the neighborhood. Nowadays, there are so many new roses that are not only disease-resistant and low maintenance, but also fill your garden with continuous blooms in a vast array of colors and fragrances.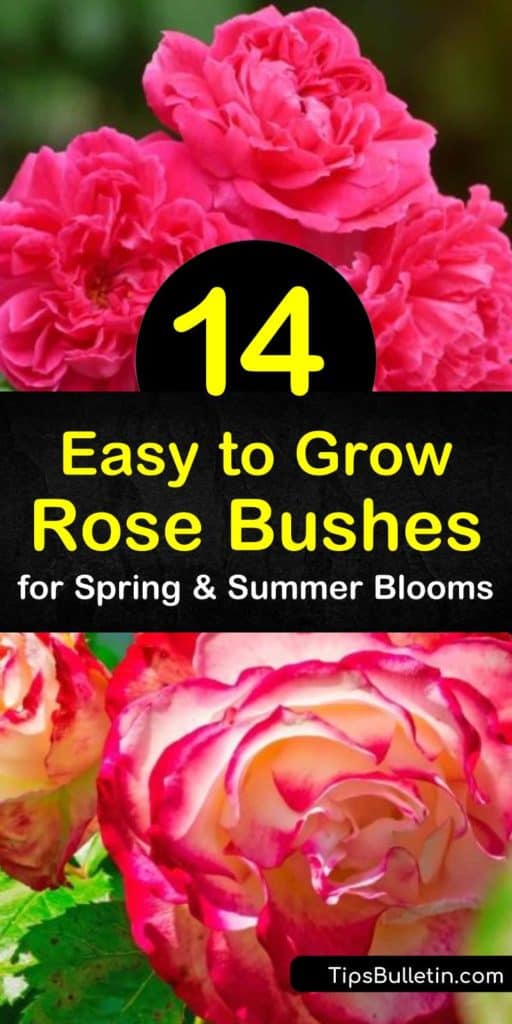 We hope you enjoyed discovering how to fill your garden with rose blooms by planting easy to grow rose bushes, and we'd love it if you'd share our rose growing tips and plants with your family on Pinterest and Facebook.