There is nothing more spectacular than a trellis or fence overflowing with lush foliage and vibrant flowers. It's easy to grow these types of plants in your yard, even if you are a novice gardener. Our list of easy to grow vine plants are not only great for a beginner, but they fill the yard with eye-catching beauty.
Climbing plants turn an otherwise dull area of your garden into a captivating backdrop. They are also a great way to hide unsightly areas of the yard while providing you with a natural privacy fence.
As an added benefit, these flowering vines also attract many pollinators to your yard, such as hummingbirds and butterflies.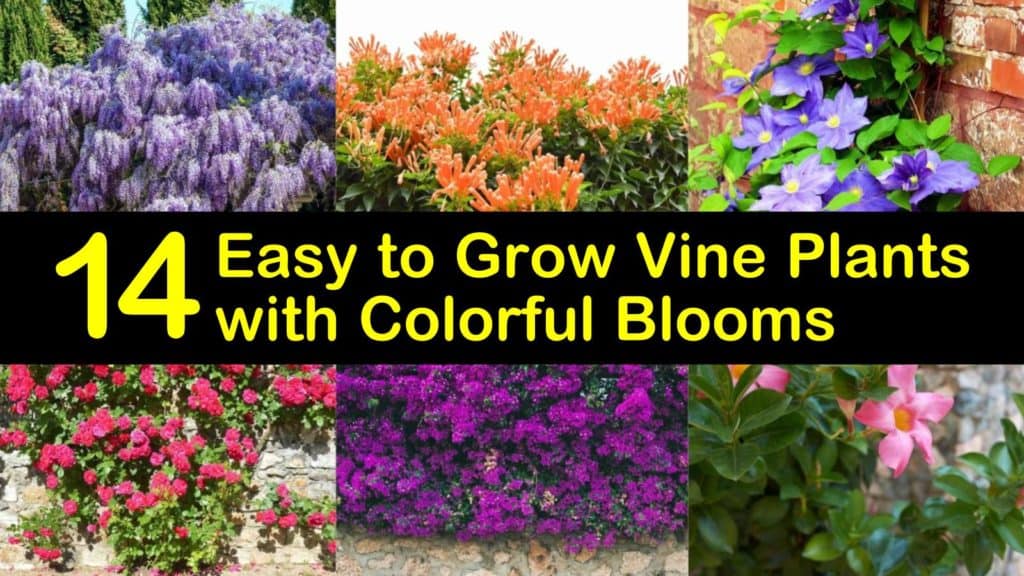 Growing Flowering Vines for Summer-Time Interest
Fast growing vines fill trellises in no time at all and are relatively easy to grow once you learn a few simple rules of the green thumb. The keys to growing plants in your yard are to understand the plant type, its requirements, and location.
Once you know these elements, it's all a matter of planting your flowers in their new home. As to what plant grows the fastest, check out our list to see which one or ones will work best for your garden or yard.
What are the Benefits of Growing Vines?
Other than the fact that vines are beautiful to look at, these climbing plants offer additional benefits. Planting them over an arbor adds a grand entrance to your garden. Vines grown along a wall is a great way to hide unsightly structures. Growing flowering vines through a fence or trellis is the perfect way to create natural privacy.
Another benefit of growing flowering climbing plants is that many varieties attract pollinators to your garden, whether you choose flowering vines for spring or summer or even both. Imagine relaxing on your patio while watching fluttering butterflies, buzzing bumblebees, and colorful hummingbirds.
What is the Difference between Annual and Perennial Vines?
This is an excellent question, and knowing the difference is an important step when planting vines in your yard. Annuals are a fast-growing plant that fills space quickly during the growing season.
The only downfall is that these types of flowers do not grow back each year. Annual vines are a great choice if you rent your home or desire fast growing vines for privacy on a fence.
Perennials are ideal if you own your home or plan on living there for many years. These plants take a little longer to grow than annuals, but they grow back on their own each season, with more growth than the year before.
Where Should I Grow Flowering Vines?
The first step in determining the location of your flowering vines is to look up your USDA hardiness zone and compare it to the plant care instructions at your garden center. The growing zones guide you in choosing plants that are capable of growing in your particular climate.
The second step in deciding plant placement is to determine how much sun or shade your favorite vines require. Full-sun plants need a minimum of six hours of direct sunlight each day, while a part-shade plant is happy resting in shady or filtered light.
Are Climbing Plants Hard to Grow?
While flowering vines do require a little TLC on your part, they are not difficult to grow. Once you have the right plants for your growing zone and place them in the perfect area of your yard, climbing vines have a few basic needs.
Regular watering is essential during the first growing season for your creeping phlox or for wisteria, along with the right plant food. Some vines need a little help when training them to grow and twine on a structure, trellis, or fence, while others are happy using their tendrils to climb. Prune vines routinely to prevent them from getting unruly.
If you have an unidentified vine growing on your property, take steps to find out what it is. It may be attractive and help with erosion control, but if you discover that you have kudzu, getting rid of kudzu can be quite challenging. These very invasive plants quickly take over an area and spread fast.
Clematis (Clematis x jackmanii)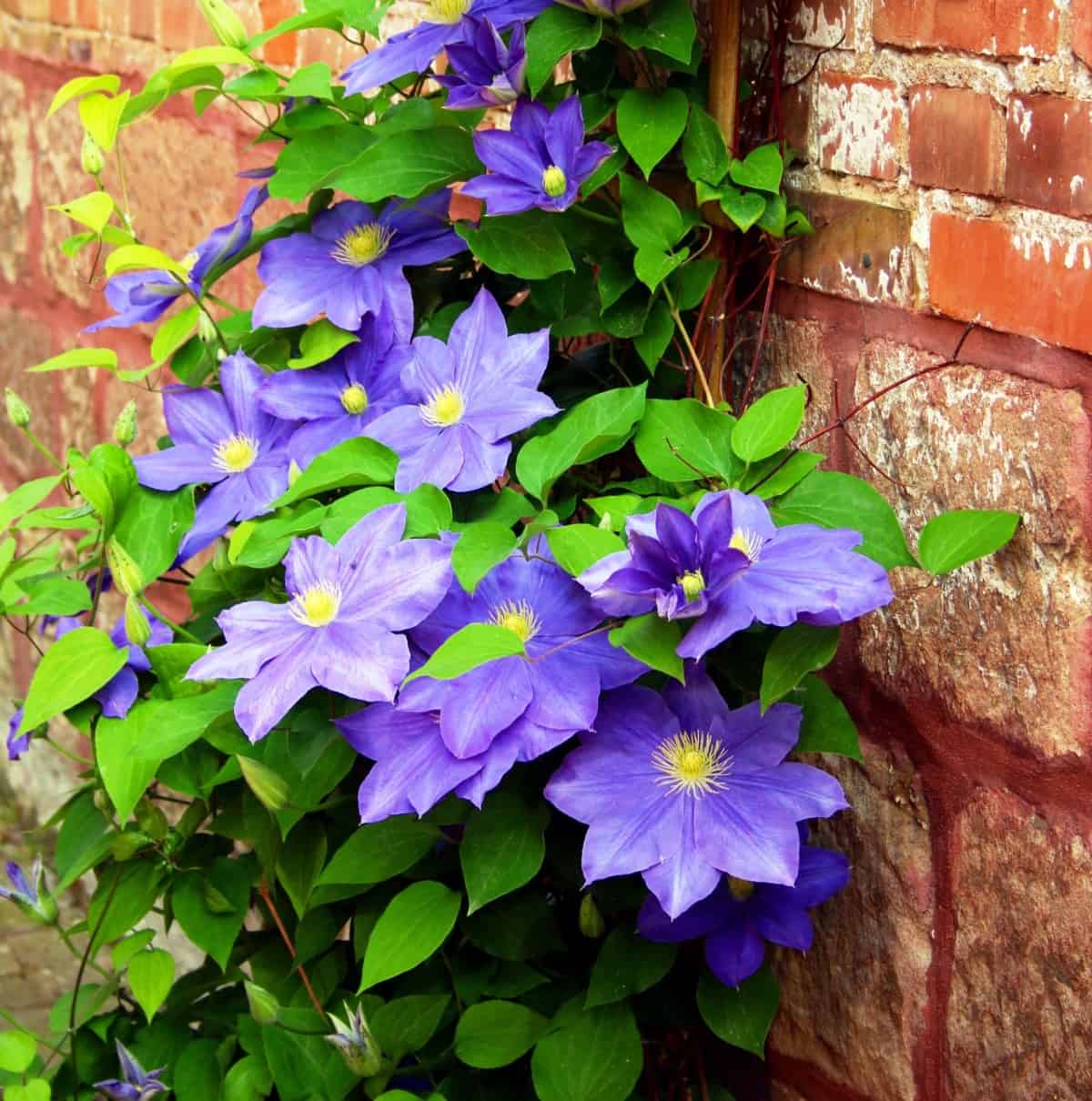 This showy vine comes in a wide variety of shapes and colors and is a stunning vine to grow up any type of structure. The flowers bloom from spring through fall in shades of blue, purple, red, white, yellow, or pink and are not only fragrant but attract birds to the garden.
Clematis grows anywhere from 3 to 20 feet or more, depending on the variety. It is a perennial vine that grows best in zones 4 through 9. However, some types are evergreen. It is low maintenance, thrives in part to full sun, and prefers well-drained, evenly moist soil.
Wisteria (Wisteria Sinensis) – Easy to Grow Vine Plants with Aromatic Blooms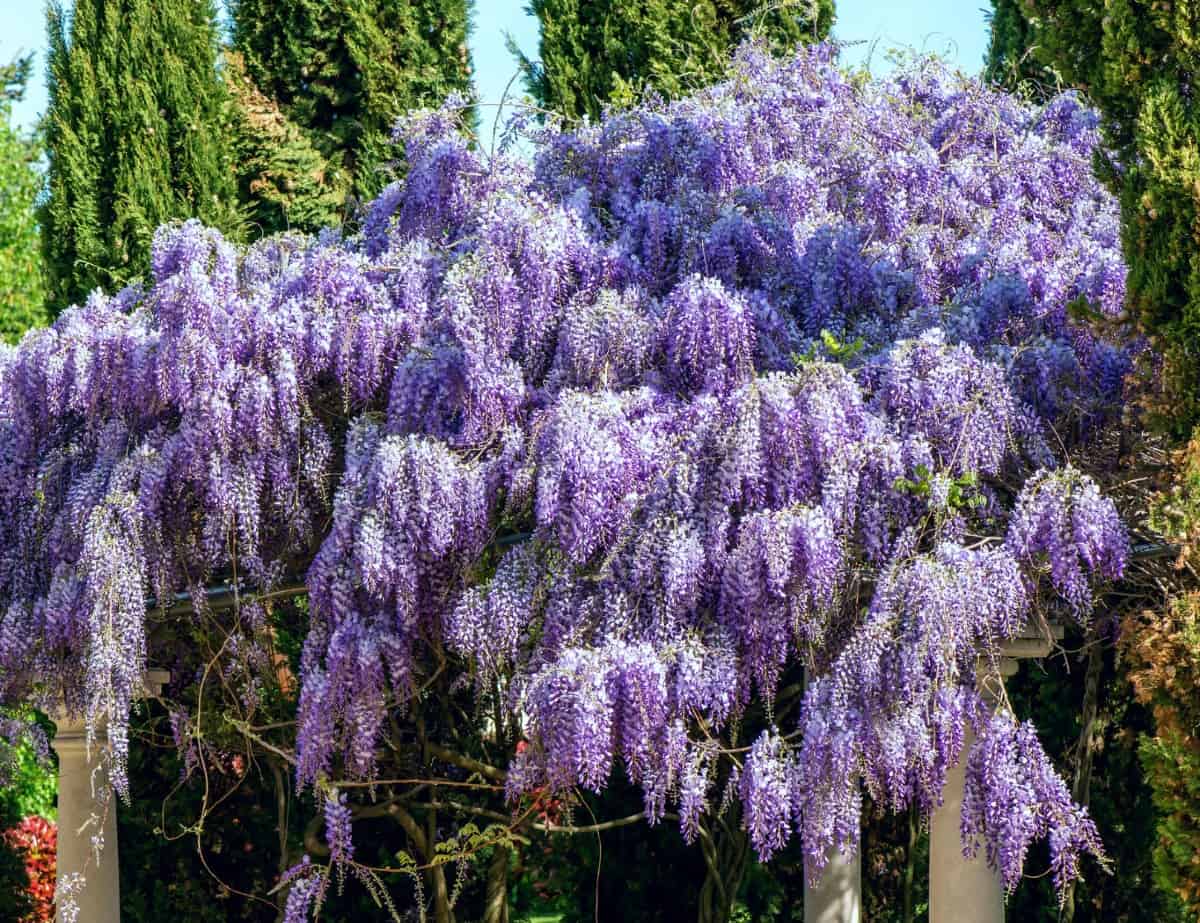 These easy growing climbers offer a beautiful opportunity to drape a pergola. The vine has a whimsical appearance with its dripping clusters of highly fragrant flowers.
Wisteria is a thick and woody vine that produces dreamy looking blooms in shades of blue, white, or pink during the spring and summer months.
This perennial vine grows best in zones 4 through 9 and prefers full sun locations. It is deer resistant and reaches a mature height of up to 20 feet or more. Not only do these vines for sun provide the yard with wonderfully scented flowers, but it has a stunning display of fall foliage.
Climbing Hydrangea (Hydrangea petiolaris)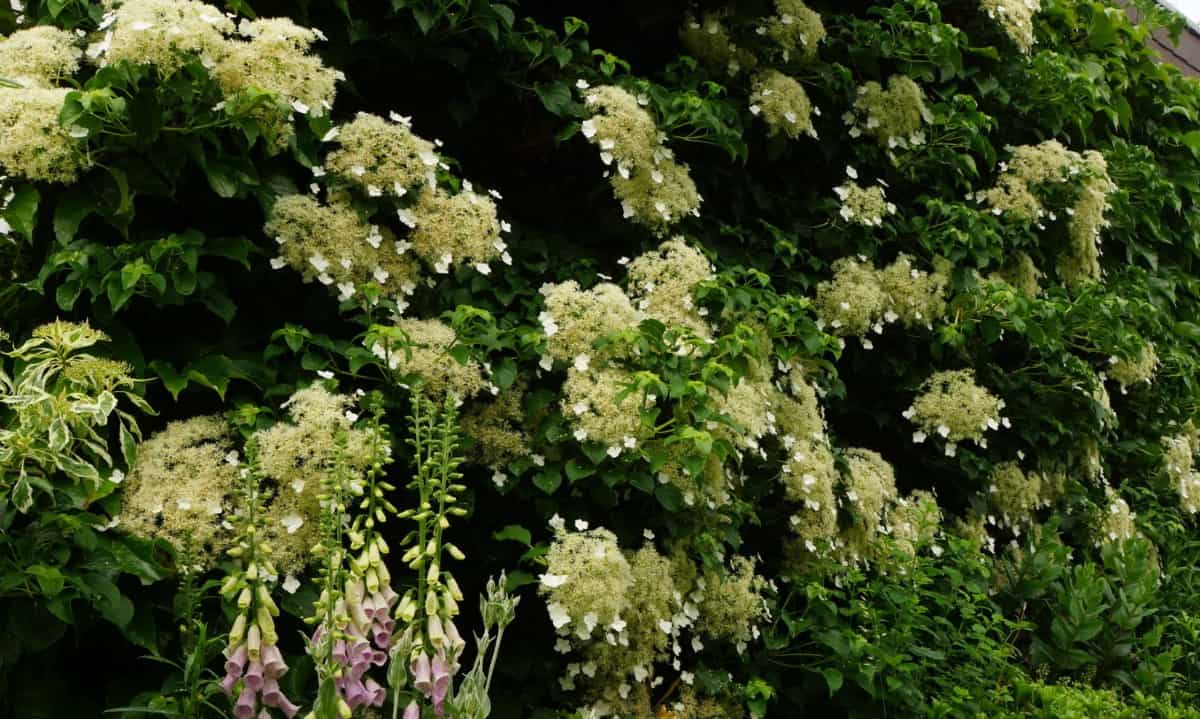 Climbing hydrangeas have a stunning array of large, flat-topped blooms in shades of white, blue, pink, and purple during spring and summer. The fragrant flowers make an excellent dried flower for arrangements.
This deciduous vine reaches a mature height of up to 50 feet, making it an ideal choice for a privacy fence or arbor. It thrives in zones 4 through 7 and enjoys partial shade. While this vine is easy to grow, it requires acidic soil for optimal growth.
Trumpet Vine (Campsis radicans) – Fast Growing Vine that Attracts Hummingbirds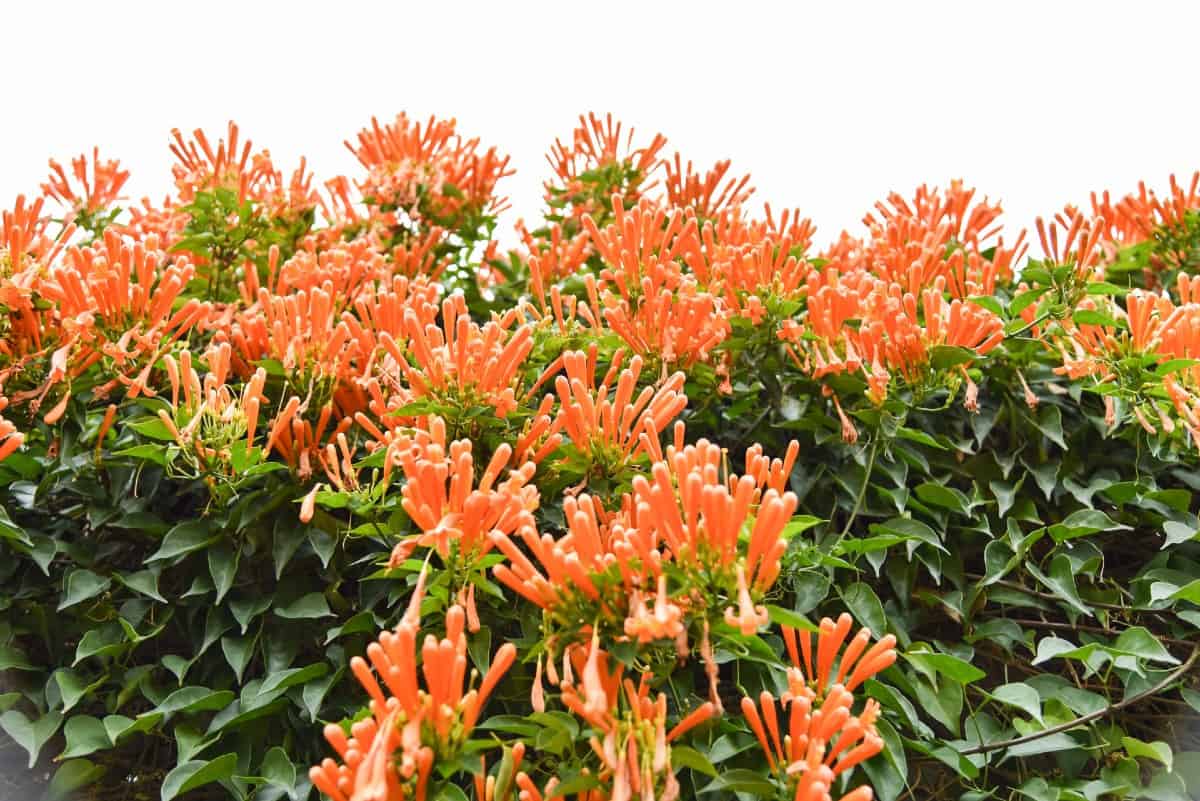 There are different varieties of trumpet vine, such as the Campsis grandiflora, or Chinese trumpet vine, and they all produce an abundance of trumpet-shaped flowers that are a favorite for attracting hummingbirds, butterflies, and bees. It grows by different means, including seed, runners, and suckers.
Trumpet vines thrive in zones 5 through 8, and they bloom from summer through fall. This drought tolerant vine prefers sunny locations and produces red, orange, and yellow flowers. It has a mature height of up to 20 feet and takes over a structure in no time at all.
Not only are these attractive flowers attractive to pollinators but many varieties have a pleasant scent that humans enjoy, too.
Climbing Rose (Rosa setigera)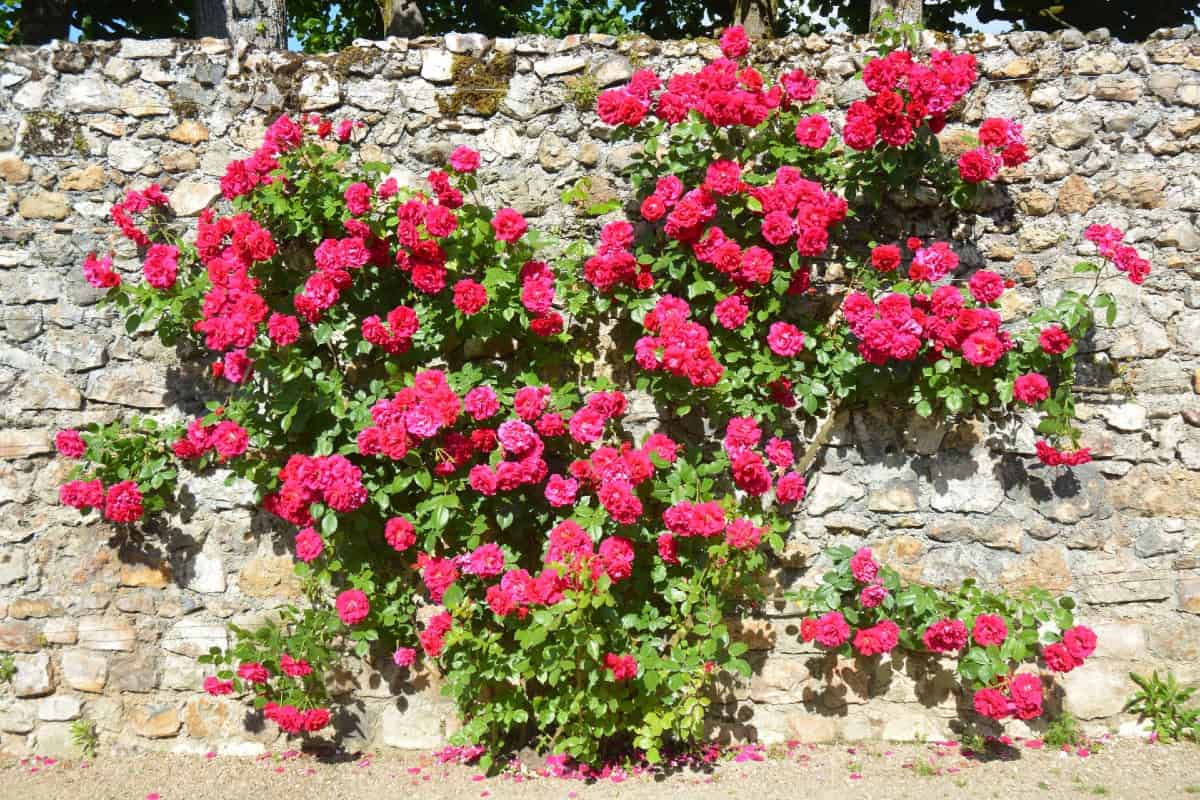 Climbing roses come in many colors and shapes and are easy to train up an arbor, gazebo, or fence. The fragrant blooms range in colors from red, blue, and orange, to pink, white, and yellow, with flowering that lasts from spring through fall.
This deer resistant climber attracts all types of birds to the garden. These fast climbing roses grow best in zones 4 through 11 and require full sun to thrive. Climbing roses have a mature height of 8 to 20 feet with a spread of up to 6 feet, depending on the variety.
Moonflower (Ipomoea alba) – Vine Plant for a Fragrant Moon Garden
This romantic flowering vine produces large and stunning trumpet-shaped white flowers that are not only captivating in appearance but have a strong lemon scent. They blossom in the evenings and stay open all night long while releasing their fragrance.
Moonflower vines are a low maintenance annual that thrives in sunny areas of the yard. They are drought tolerant and deer resistant, and reach heights up to 8 feet with a width of up to 4 feet, depending on the type.
Mandevilla (Mandevilla sanderi)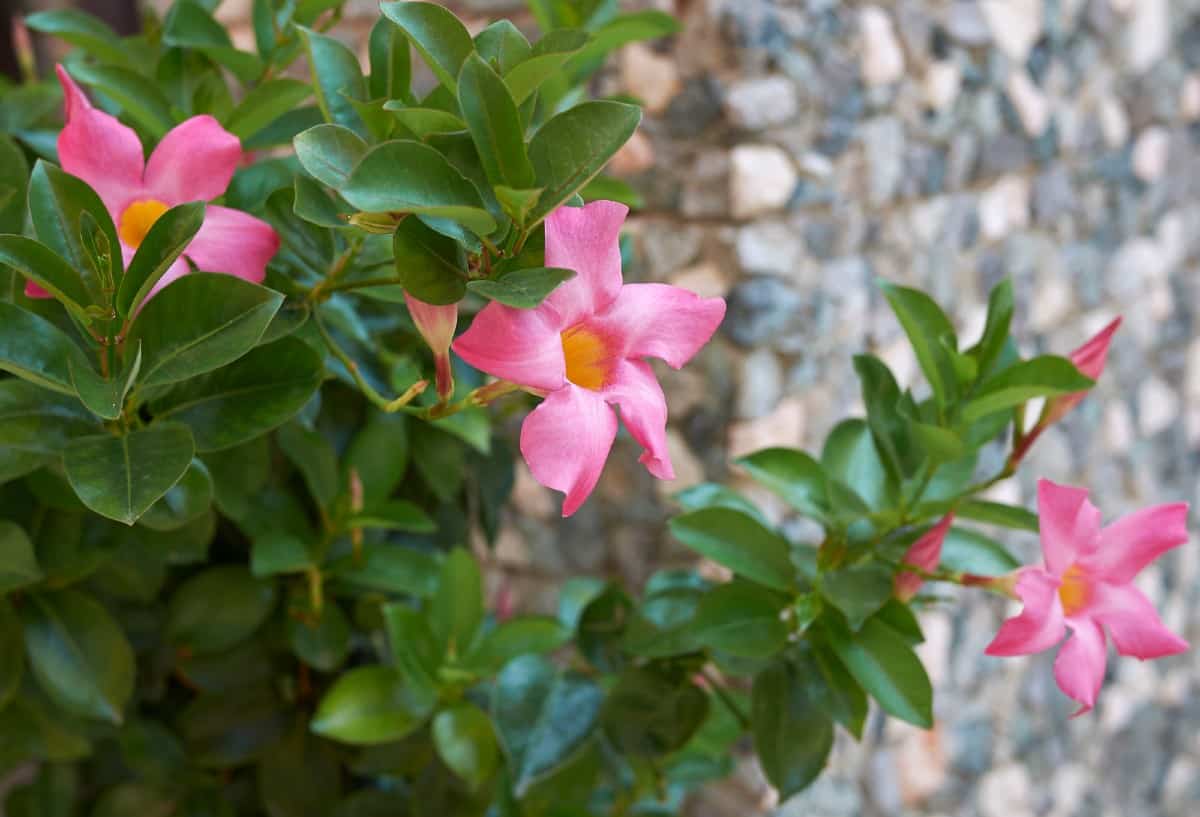 This tropical vine adds a splash of color to a trellis, fence, or other vertical space. It produces beautiful blooms in shades of pink, red, and white flowers from summer through fall. The trumpet-shaped flowers are reminiscent of hibiscus and fill a garden with exotic colors.
This low maintenance vine is deer resistant and thrives in sunny locations. It is an annual flower that grows as a perennial in zones 10 and 11, reaching a height of 8 to 20 feet or more, depending on the variety.
Honeysuckle (Lonicera) – Fragrant Flowering Vine that Attracts Hummingbirds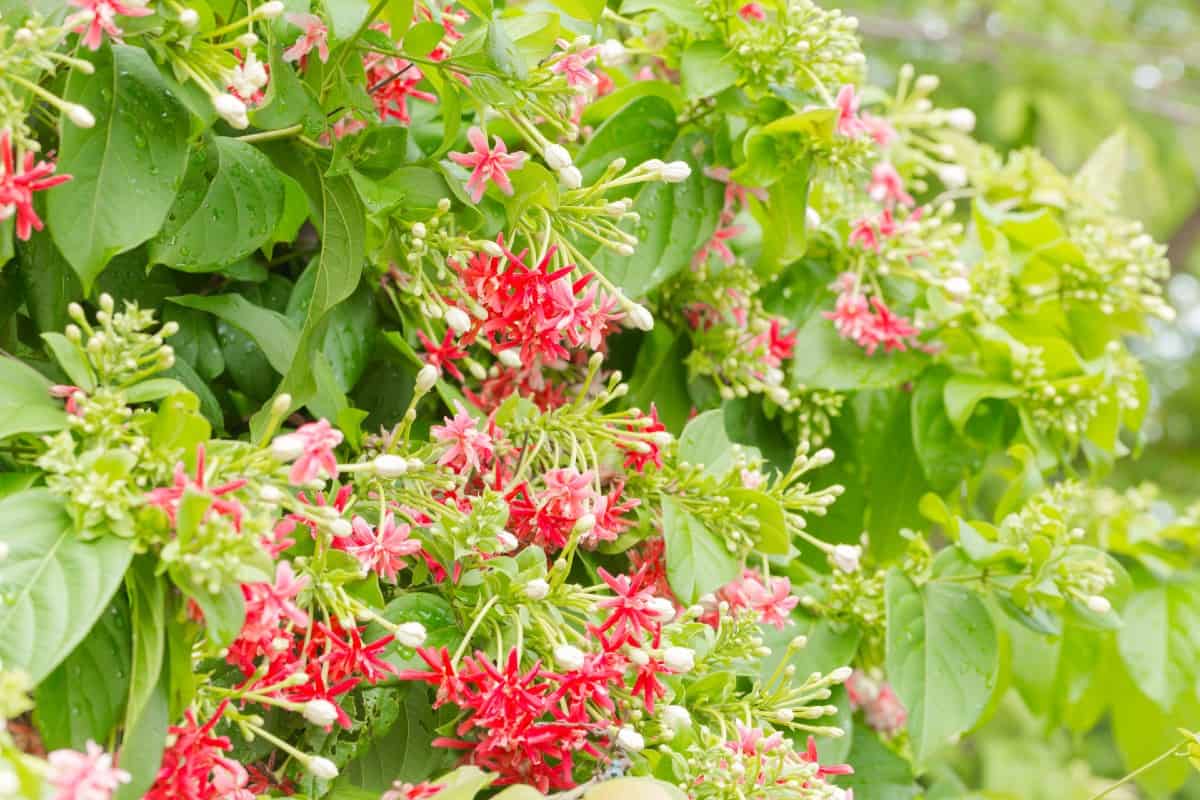 Honeysuckle is an easy-care climber that attracts hummingbirds to the garden with colorful and highly fragrant flowers. The tube-shaped blooms grow in colors of red, pink, and white with chartreuse/gold foliage.
This perennial vine thrives in sunny areas in zones 4 through 9. It is low maintenance and produces flowers from summer through fall. It reaches a mature height of 20 feet or more and climbs up to 25 feet, depending on the type.
Bougainvillea (Bougainvillea glabra)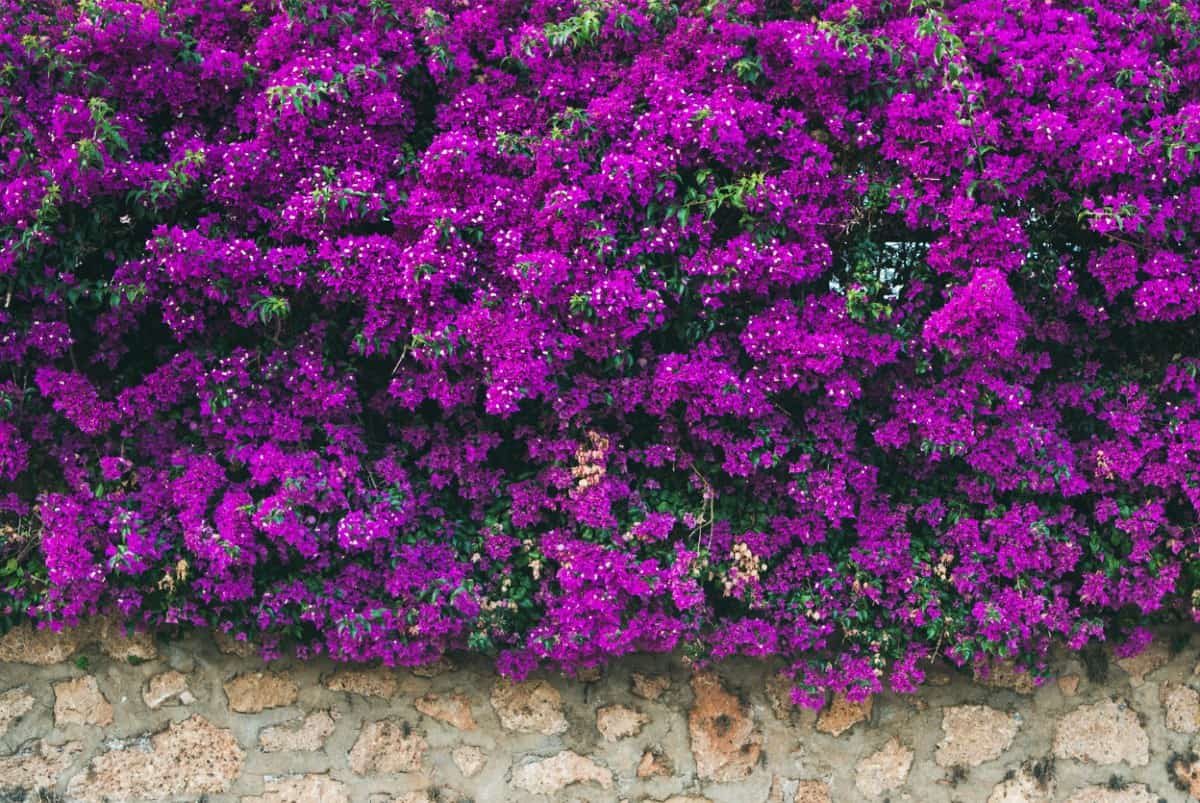 Bougainvillea is a hardy vine that produces a spectacular display of tropical flowers in the early spring, with reblooming through summer and fall. This low maintenance plant is drought resistant and attracts hummingbirds with its colorful blooms of white, pink, red, orange, yellow, and white flowers.
This flowering vine thrives in zones 9 through 11 and fills large spaces with ease, so make sure your yard has plenty of room to accommodate its growth. It has a mature height of 8 to 20 feet or more with a width up to 40 feet, depending on type.
Passionflower (Passiflora) – Exotic Flowering Vine
This exotic looking vine has the appearance of being a tropical plant but grows quickly almost anywhere. The flowers attract butterflies and pollinators with their colorful blooms of purple, blue, pink, white, and red flowers.
Passionflower is a perennial vine that grows best in zones 6 through 10 but grows as an annual in other regions. It is low maintenance, deer resistant, and highly fragrant. This flowering vine grows up to 20 feet tall and 30 feet wide, depending on location and type.
Sweet Pea (Lathyrus)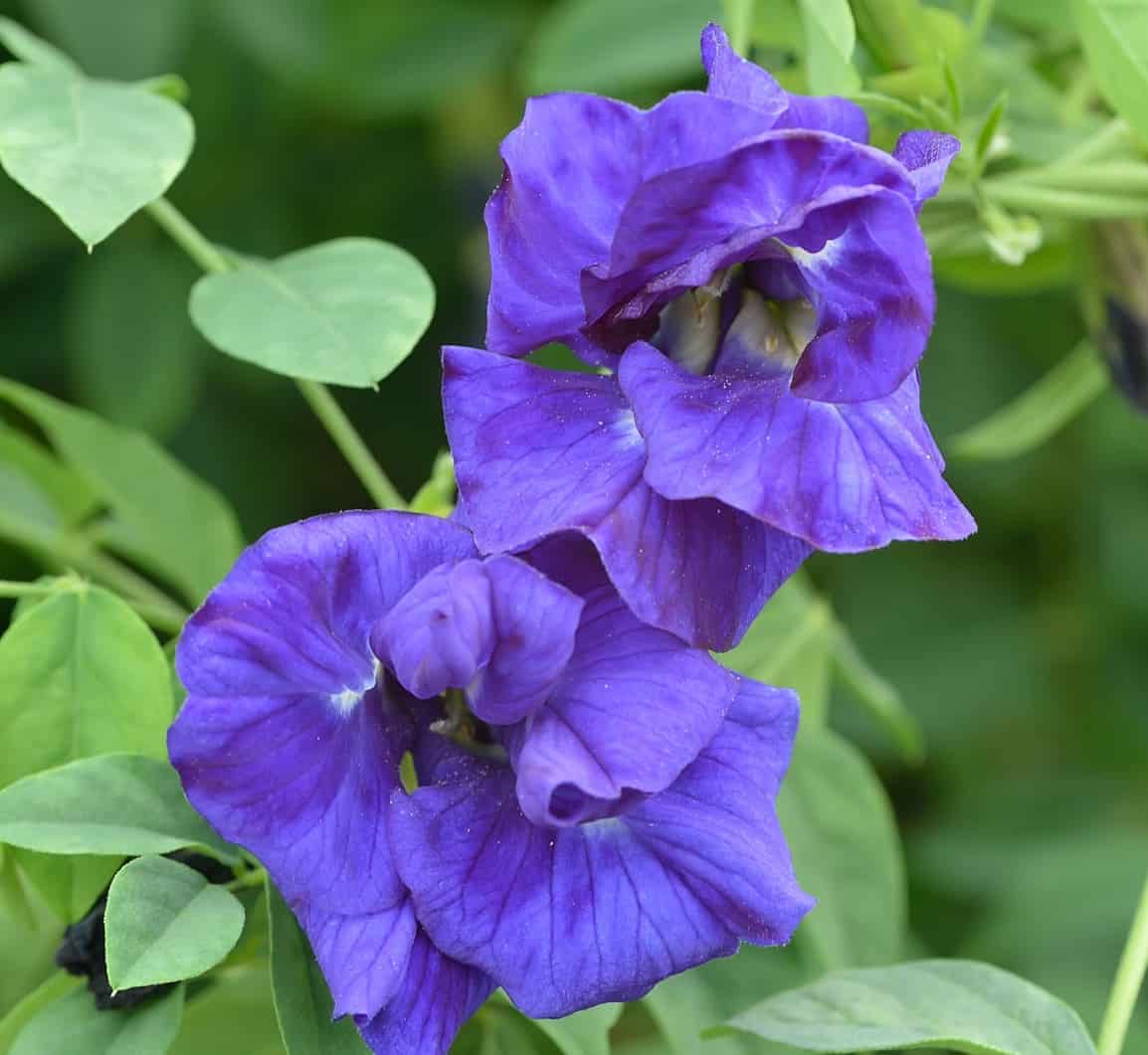 Sweet pea vines are an easy to grow cottage style flower that is not only colorful but fragrant with a sweet and spicy scent. The vines bear clusters of bright blooms in shades of red, white, blue, and pink.
This annual vine prefers sunny areas of the yard and fills a trellis or fence with spring-time blooms, and even grows as a groundcover. It uses tendrils to climb a height ranging from 3 to 20 feet, depending on the variety.
Morning Glory (Ipomoea purpurea) – Annual Vine with a Consistent Display of Flowers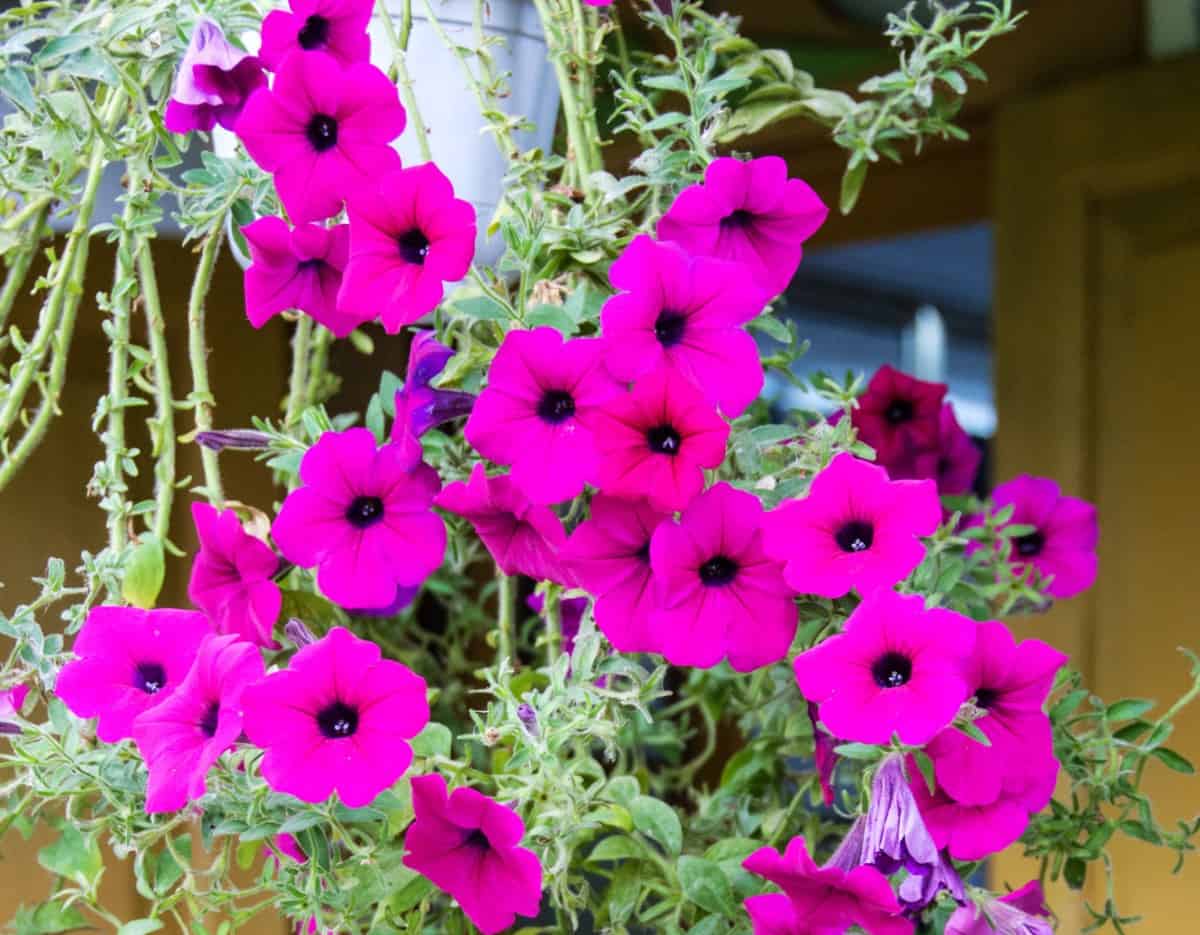 Morning glory fills a fence, arbor, or trellis with continuous display of flowers all summer long and into fall. There are many varieties of this vine with blooms ranging in color from purple, blue, and red to white, pink, and orange.
This annual twining vine grows best in full sun and attracts hummingbirds with its flowers. It is low maintenance and reaches a mature height of 3 to 20 feet, depending on the variety.
Dutchman's Pipe (Aristolochia)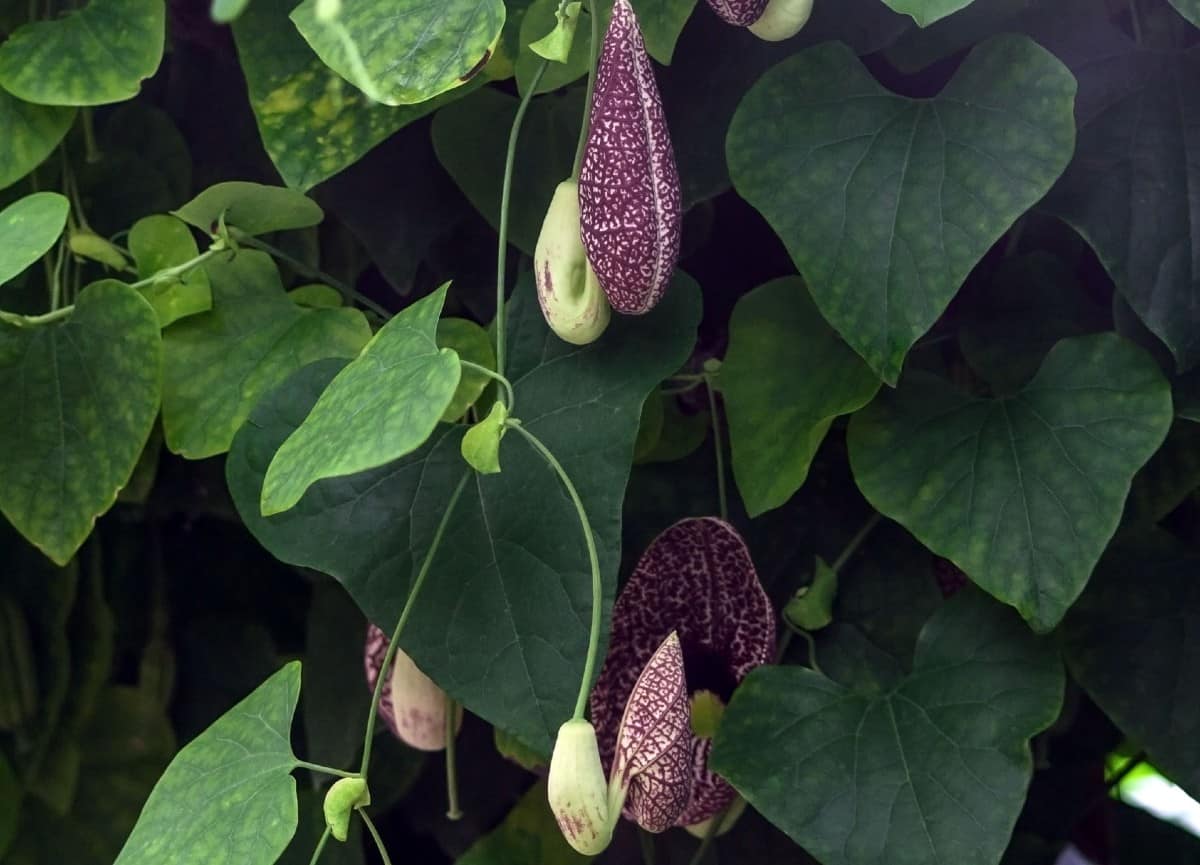 If you desire a unique and exotic flair in your garden, then the Dutchman's pipe is the vine for you. It is a woody and deciduous vine with heart-shaped green leaves that produce flowers shaped like a meerschaum pipe.
This low maintenance vine is a vigorous grower that attracts birds to the yard with fragrant summer-time blooms. It thrives in zones 4 through 8 and enjoys both shade and sun. It grows to a height of 8 to 20 feet, depending on the type.
Virginia Creeper (Parthenocissus quinquefolia) – Easy Growing Vine with Colorful Fall Foliage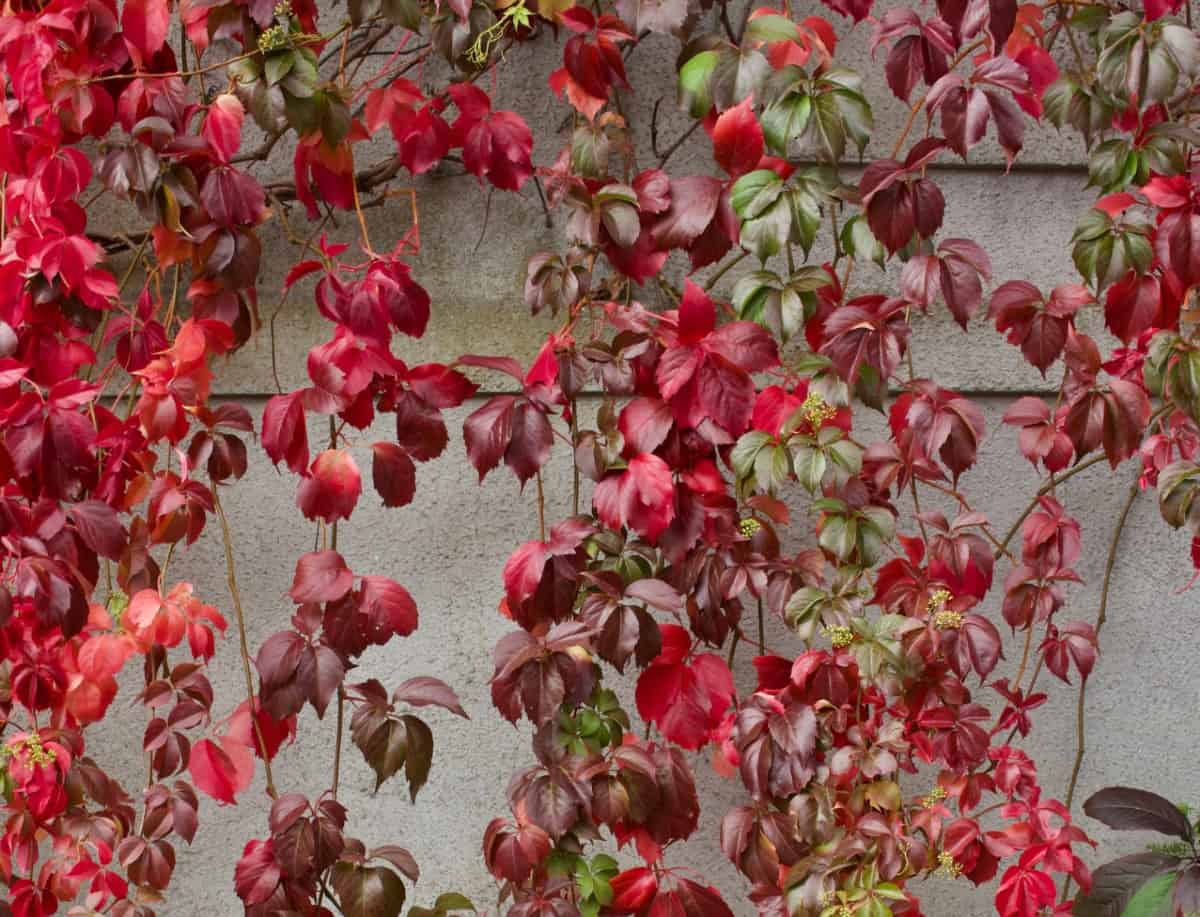 The Virginia creeper produces greenish-white flowers during the summer but is notable for its colorful fall foliage in burgundy and reddish-orange shades. It produces dark blue berries that birds enjoy eating without harm but are toxic to humans.
This deciduous perennial vine grows best in zones 4 through 9 and thrives in part shade to full sun. It requires a sturdy structure for growing and reaches a mature height of 30 to 50 feet, depending on the type.
Filling an ordinary fence, arbor, or wall with climbing plants is not only a great way to fill a dull space with thick foliage and colorful blooms, but these natural structures attract wildlife and pollinators to your outdoor living space. The only hard part about growing climbing plants around your yard is picking your favorites from the long list of natural beauties.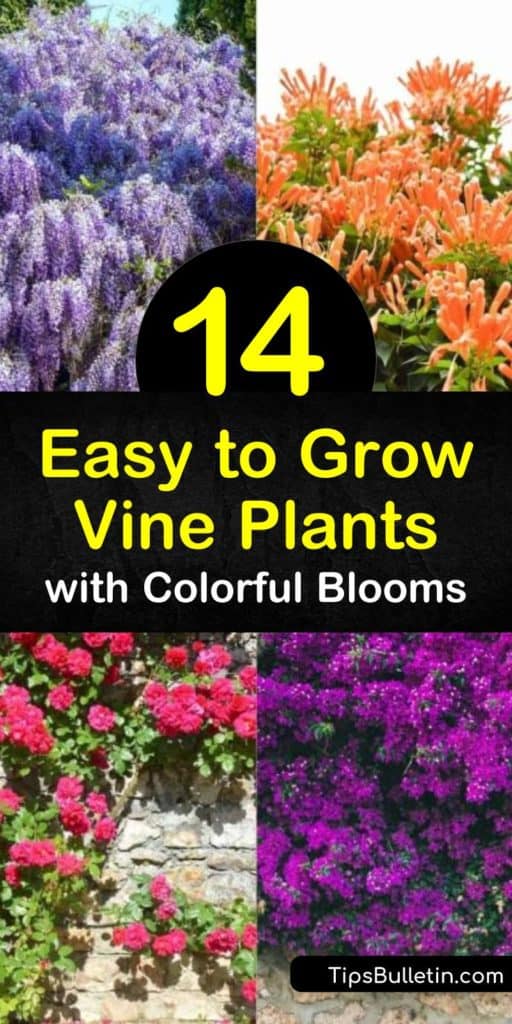 We hope that you find your favorite new flowers among our list of easy to grow vine plants, and we'd love it if you'd share our climbing plant tips with your family and friends on Pinterest and Facebook.