A houseplant has a way of brightening a room while creating a calming atmosphere with its lush greenery. However, plants want the right amount of water and food to flourish. Fortunately, using eggshells for houseplants is one of the simplest ways to feed your plants extra calcium while recycling a natural material.
It's easy to assume that veggies like the tomato plant and other garden plants require fertilization. However, indoor potted plants need fertilizer just as much as those growing outside. Plant food promotes healthy growth by providing potassium, nitrogen, and phosphorus to the plant's roots, stems, and leaves. A plant lacking in these nutrients often struggles to thrive.
You may not realize it, but many items in your kitchen and home are natural houseplant fertilizers, from banana peels to coffee grounds and egg shells. Epsom salt is good for houseplants, too. They enrich the potting soil, help prevent blossom end rot and other diseases, and ensure that your house plant grows strong and beautiful.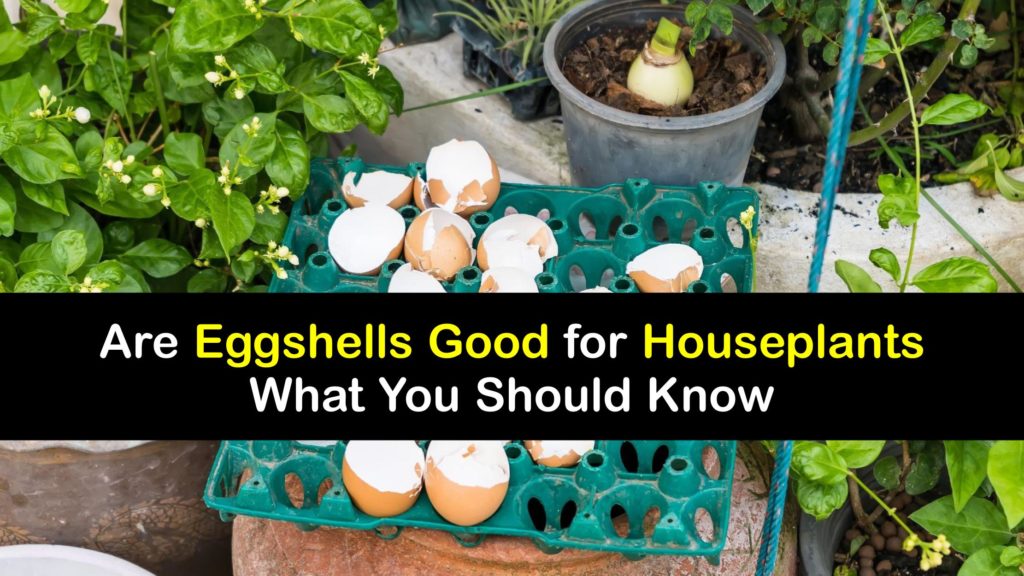 How to Use Eggshells for Houseplants
Are eggshells good for houseplants? If you're used to tossing leftover shells into the trash or compost pile, you may find the idea of turning them into eggshell fertilizer a bit odd. Along with rice water for plants and pasta water, an egg shell is precisely what many plants want to flourish.
Eggshells contain nutrients and over 90 percent calcium carbonate, and they are excellent for promoting healthy plant growth. Discover how eggshells are good for a vegetable garden and how to make a homemade eggshell fertilizer for indoor plants.
Note that eggshells won't work to kill aphids on houseplants. Either pluck them off by hand (with gloves) or use a neem oil spray to eliminate these pests. Tackle moldy plant soil with a neem oil or vinegar and baking soda soil drench.
Are Eggshells Good for Houseplants?
Eggshell powder and the crushed shells from eggs provide your plant's soil with calcium and other nutrients, and eggs are a natural and cheap way to feed your indoor plant.
Are eggshells good for houseplants? Egg shells contain high amounts of calcium, which is essential for building healthy cell walls on a plant. In addition, they enrich soil nutrition and moderate acidic soil. Using eggshells for indoor plants reduces the chance of diseases and blossom end rot, whether you feed plants that help clean the air or have some lovely flowers you want to last.
Ways to Use Eggshells for Houseplants
Feeding your plants eggshells is different from using a store-bought granular or liquid fertilizer. Using eggshells for potted indoor plants is easy and quite cost-effective. Find out how to use eggshells for indoor plants in a couple different ways.
The simplest way to use eggshells as fertilizer is to add crushed eggshells into the soil once or twice a year, but note that the shells take a long time to break down into the dirt and absorb into the plant's roots.
To feed your plants with this technique, rinse the raw egg shell with hot water, and lay the shells on a paper towel for a few days to dry. Grind the eggshells into small pieces or fine powder and add them to the soil.
To use a large crushed eggshell, break the shells into big enough pieces to cover the plant pot drainage holes. Place the shells in the bottom of the container, fill it with potting mix, and transplant your plant as usual.
Homemade Eggshell Fertilizer for Indoor Plants
One of our favorite ways to feed plants with shells is to make eggshell water for houseplants or eggshell tea. This homemade eggshell fertilizer for indoor plants is easy to prepare, and it's great for giving your plant a quick boost of nutrition while watering.
Clean and crush the eggshells and place them in a jar. Pour water into a medium pot, bring it to a boil, and pour the boiling water over the shells. Let them soak overnight and strain the shells the following day. Pour the egg tea directly into the plant soil to give them a kick of calcium.
After cooking your spaghetti, save the liquid to fertilize with pasta water. As long as there is no extra salt or other additives, plants love this simple fertilizer.
Make a Balanced Fertilizer with Eggshells
While eggs provide a decent amount of calcium to your plants, there are times when a houseplant requires well-balanced plant food for healthy roots, leaves, and flowers. Create a natural fertilizer using eggs and bananas.
Instead of throwing your banana peels and eggshells in the trash, save them for making a fertilizer rich in calcium, potassium, phosphorus, magnesium, and nitrogen.
Place the banana peels into a pot and add the crushed or powdered eggshell. Pour water over the top to submerge them, cover with a lid to keep fruit flies from infesting the room, and let it sit for about three days.
Remove the lid, pour the liquid through a strainer into a jar, and discard the peels and shell bits. Dilute the fertilizer by mixing a cup of the liquid with a cup of water and water your potted plant like you usually do.
Using an Eggshell as a Seed Starter for Houseplants
Another way to feed plants with eggshells is to use them as seed starters. Since the shells are biodegradable, they are ideal for transplanting a seedling straight into a pot when growing plants from seeds.
Break open the pointed side of the egg, remove the shell top, and pour out the raw egg. Wash the egg shell and use a needle to pierce a few small holes in the egg bottom for root growth.
Fill the empty egg with potting soil, add your plant seed, and water it lightly. Balance the egg in a shallow container and plant the entire egg in a pot of dirt after the seedling emerges.
With so many lawn and garden products on the market, we often forget that nature offers us much of what we need, including a natural fertilizer like eggshells. This organic source of nutrition restores calcium in the soil and gives your plants the boost they want.
We hope that using eggshells for houseplants helps your favorite plants flourish, and we'd love it if you'd share our houseplant eggshell fertilizers with your friends and family on Facebook and Pinterest.