If your rose bush is not growing as well as it once did, it may lack the nutrients necessary to thrive. Since many of these plants are prolific bloomers, they require routine fertilization throughout the growing season, and sometimes a basic rose fertilizer isn't enough. Learn how to use eggshells for roses to help your plants flourish and produce lovely flowers.
Fertilizer is essential for all plants, whether geraniums, roses, or a tomato plant, providing them with macro and micronutrients. Macronutrients, such as potassium, nitrogen, and phosphorus, are necessary for plant growth. However, a micronutrient like calcium is just as crucial for producing a healthy rose plant.
Fortunately, an eggshell contains calcium which helps rose plants produce healthy new roots, stems, leaves, and flower buds. Additionally, eggshells provide other minerals that help garden plants and potted plants grow, including phosphorus, potassium, and magnesium – they are the perfect organic fertilizer for your roses.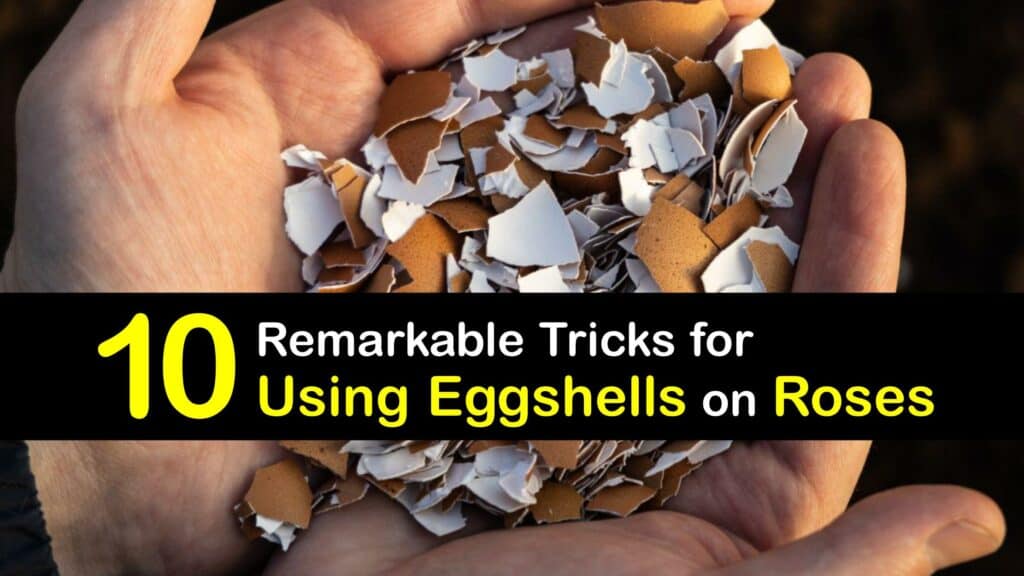 How to Use Eggshells to Fertilize Roses
Proper rose care is necessary to produce gorgeous flowers. While you should get rid of bugs on roses naturally, disease control is also necessary. The way to treat powdery mildew on roses is not the same as fertilization.
Fertilizing roses is essential to the planting and growing process to keep a well-balanced soil pH and ensure your plant has everything it needs for root, foliage, and flower production. There are several ways to use eggshells to feed your plants and other organic gardening tips.
How are Eggshells Good for Roses?
Are eggshells good for roses? Yes, the leftover shells you toss after breakfast are beneficial to rose plants, especially if you have acidic soil. Use eggshells for indoor plants, too. Find out how an egg shell helps your plant and improves the dirt.
Eggshells contain calcium carbonate, a mineral that increases the pH and fertility of the soil, enabling roses to take in phosphorus, nitrogen, and potassium. Additionally, slugs and snails hate crushed eggshells and stay away from plants where you spread them, and the calcium prevents blossom end rot.
Ways to Use Eggshells for Roses
Eggshells are great for feeding many plants, including rose bushes, and there are many ways to use them. Discover how to use eggshells for roses with different applications.
Use eggshell powder as a plant starter by amending the soil before planting, or apply crushed egg shells to the dirt of an existing rose shrub. Make an eggshell tea and water your plants with the solution to give them an instant kick of calcium.
Add eggshells to the compost pile with tea leaves and other organic matter, or combine the shells with natural ingredients like banana peels and coffee grounds.
Adding Eggshells before Planting Roses
Are eggshells good for roses, and when is the best time to apply them? Eggshells contain calcium, a micronutrient roses love; an ideal time to feed your rose is at planting time, whether you are treating hedge rose bushes or individual plants. Apply powdered eggshells to newly planted roses.
Save the shells each time you crack open a raw egg for cooking. Rinse the eggshells under warm running water while running your fingers around the inside to remove egg residue, and set them in a sunny area to dry.
Once you have five dry shells, place them into a food processor and blend them into a powder. Put the shell powder into the rose planting hole, set the plant inside, and pat the soil over the roots. Finish by watering your new rose plant to help the dirt and eggshell fertilizer settle.
How to Apply Eggshells to Mature Rose Plants
As roses age, they remove nutrition from the dirt, leaving the garden with poor soil. Fortunately, fertilizing your plants restores the necessary nutrients. Feed your mature roses to boost their calcium.
Always use clean eggshells when preparing plant fertilizer, and ensure they are dry for easy crushing. Set the shells on a cutting board and use a pestle or another hard object to crush each shell into tiny pieces.
Sprinkle the crushed shells over the soil around the base of your rose plant and give it a good watering. There is no need to cover the shells with soil since they leach nutrients into the dirt as they decompose.
Homemade Eggshell Fertilizer for Roses
Eggshells are a natural, slow-release fertilizer, breaking down over time. This homemade eggshell fertilizer for roses is simple to make, and your rose plants immediately benefit after application. Water-soluble plant food is the way to go if your rose plant requires a quick boost.
Crush the eggshells with your hands and grind the pieces into a fine powder in a coffee grinder by working in batches. Pour the eggshell powder into a storage container with a lid, and keep it in the fridge for several months.
When you're ready to feed your rose plants, scoop two tablespoons of shell powder into a bowl and add two tablespoons of white vinegar. Let it sit for an hour while the vinegar reacts to the calcium, and pour the mixture into a gallon of water. Pour the eggshell water for roses into the soil around your plants.
Combining Eggshells with Wood Ash to Feed Roses
If your potting soil is too acidic, consider combining eggshells with wood ash to lower the acidity. Wood ash is an excellent source of phosphorus, magnesium, and potassium, while eggshells have calcium carbonate, making them an ideal fertilizer for roses.
Place clean and dry eggshells in a blender and blend them until they are powder or in tiny pieces. Pour the crumbled eggs into a container and add an equal amount of wood ash.
Put the lid in place and shake the two dry ingredients. Pour the homemade eggshell fertilizer for roses over the top of the soil or work it into the dirt, and water your rose as usual.
Feeding Roses with Eggshells and Banana Skins
A great way to give your plant a balance of calcium, magnesium, and sulfur is to make a natural fertilizer with an eggshell and a banana peel. Use these two ingredients to help roses with photosynthesis and develop strong roots.
Place the leftover eggshells and banana peels into a pot and cover them with water. Set a lid on the pan to keep fruit flies away and let it sit for two to three days. Strain the liquid into a watering can and use the eggshell tea to water your roses.
Using Eggshells and Epsom Salt to Fertilize Rose Plants
If you have a bag of Epsom salt and some leftover eggshells in the house, you have excellent ingredients for whipping up a rose plant fertilizer. When you are fertilizing roses with Epsom salts, the mineral salt increases the soil's magnesium levels and turns yellow leaves green, while the shells provide calcium.
Place the crushed shells and Epsom salt in a pot and add the water. Boil, remove the pan from the heat, and let it sit for 24 hours. Finish by straining the liquid into a storage container and keeping it in a cool place. When you water your roses, pour the tea into a spray bottle or watering can.
Combine Eggshells and Coffee Grounds for a Rose Fertilizer
Coffee grounds contain nitrogen, a nutrient that helps the plant capture energy through photosynthesis, and combining them with a crushed eggshell creates the perfect organic material for rose plant growth.
Crush clean, dry eggshells in a bowl and scoop in leftover coffee grounds. Mix the two ingredients and sprinkle the organic fertilizer over the dirt around the rose plant's base.
How Often to Apply Eggshell Fertilizers to Rose Bushes
Some plants require fertilization only once when planting, while others want plant food every couple weeks. How often do roses want to be fed? Find out when and how often to fertilize your roses for optimal results.
Roses want regular feeding throughout the growing season. If you have a new rose, add eggshell fertilizer and compost to the hole at planting time. Spray or water your plants with eggshell tea or sprinkle eggshell fertilizer over the soil once a month after they are established.
Feed older plants in the spring once new growth reaches six inches tall, and give them a second feeding after the first bloom. Stop feeding your plants eight weeks before the last frost date.
A lack of calcium in the dirt leads to many problems, including blossom end rot and poor plant growth. Fortunately, eggshells are the perfect cure, and combining them with other natural ingredients gives your rose bushes the boost they want to flourish.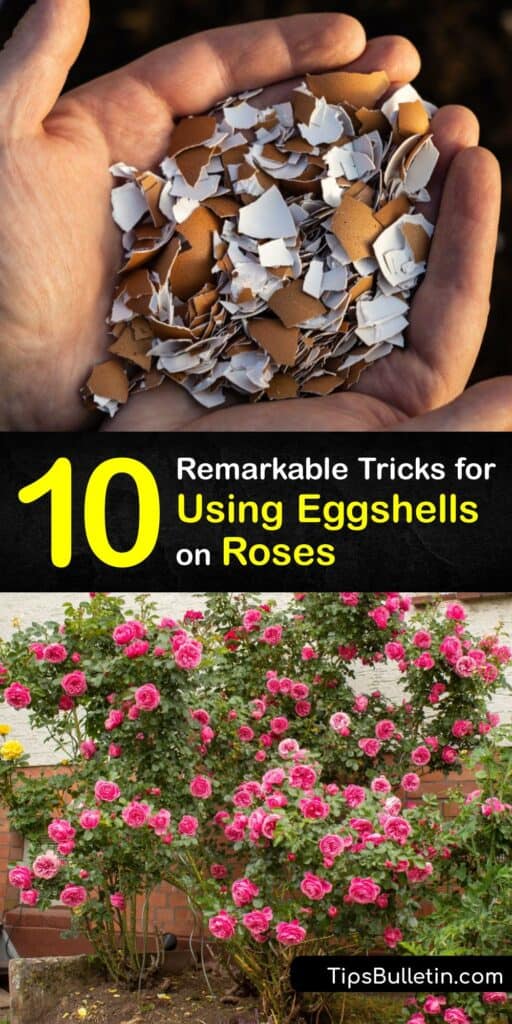 Now that you understand how using eggshells for roses benefits your plants, why not share our eggshell rose fertilizing guide with your friends and family to help them grow beautiful roses of their own?