Growing tomatoes at home can be a delightful and fruitful endeavor with the use of eggshells.
Eggshells provide a rich source of calcium, which is crucial for preventing blossom end rot in tomato plants.
You can add crushed eggshells directly to the soil or planting holes for a slow release of nutrients.
Making eggshell tea is a quick way to deliver calcium to your plants; just steep boiled eggshells in water overnight and apply to the soil.
Combine eggshells with vinegar for a pest-repelling fertilizer that also gives a calcium boost.
Eggshells mixed with coffee grounds create a nutrient-rich addition to your garden soil that benefits tomato plants.
To use these methods, start by saving your eggshells from kitchen waste. Rinse them to remove any leftover egg and let them dry. Once you have a sufficient amount, crush them into small pieces or grind them into powder. When planting tomatoes, you can sprinkle the crushed eggshells in the bottom of the hole or scatter them around the plant's base. Making eggshell tea involves boiling eggshells in water, allowing them to steep overnight, and then using the strained liquid to water your plants.
For the eggshell vinegar fertilizer, mix heated eggshells with vinegar, let the solution sit for a few weeks, and then use it as a spray after diluting properly. If you're using eggshells with coffee grounds, simply mix them together and add them to the soil for a potent fertilizer. These simple and cost-efficient steps help ensure your tomato plants receive the calcium they need for optimal growth and fruit production.
Growing tomato plants at home is rewarding, especially when you harvest organic beefsteak and cherry tomatoes from the garden. However, it's disappointing to discover your tomatoes are blemished with blossom end rot. Fortunately, it's easy to rectify this problem with eggshells for tomato plants and other home remedies.
Tomato plants are one of the easiest veggies to grow, and it's not long before a seedling turns into a large, sprawling plant full of yellow flowers, followed by red tomatoes. A tomato plant struggles to grow tomato leaves and produce fruit if it lacks nutrients in the soil.
Like all plants, tomatoes require the right amount of nitrogen, potassium, and phosphorus to flourish. In addition, they want calcium, potash, magnesium, and other trace minerals, and a tomato plant that lacks proper nutrition grows slowly with stunted growth and may suffer from blossom rot. While fertilizer is excellent for feeding your plants, sometimes it requires extra calcium, and leftover eggshells are perfect for the job.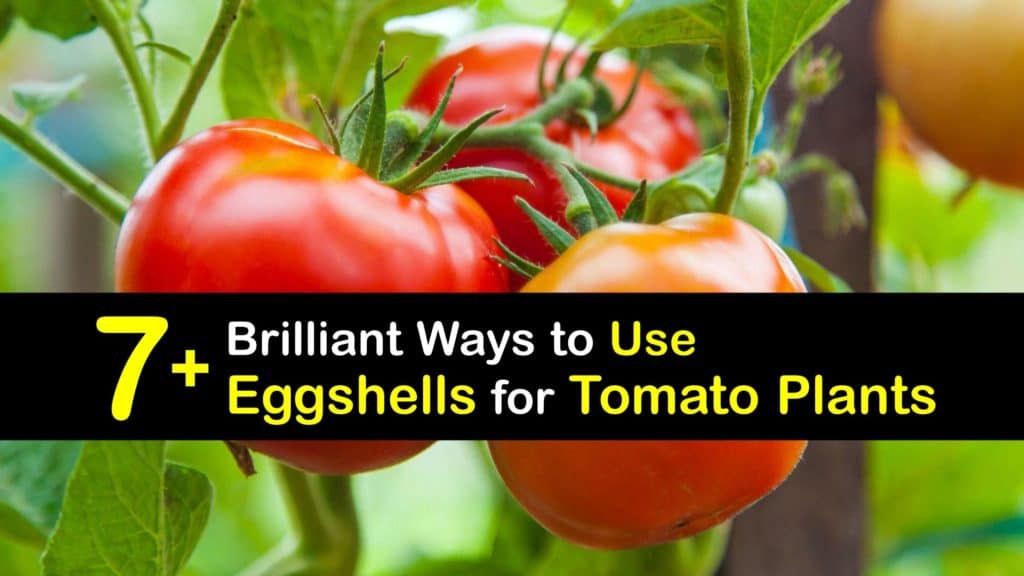 Using Eggshells for Tomato Plants
While using egg shells as plant food when growing tomatoes sounds like a garden myth, a ground eggshell contains calcium, which is beneficial for plant growth. Learn how to fertilize tomatoes with a leftover eggshell and ways to combine it with other natural ingredients.
Whether you have your tomatoes in a raised bed, a garden or you grow your tomatoes in DIY planters, eggshells can only benefit your plants.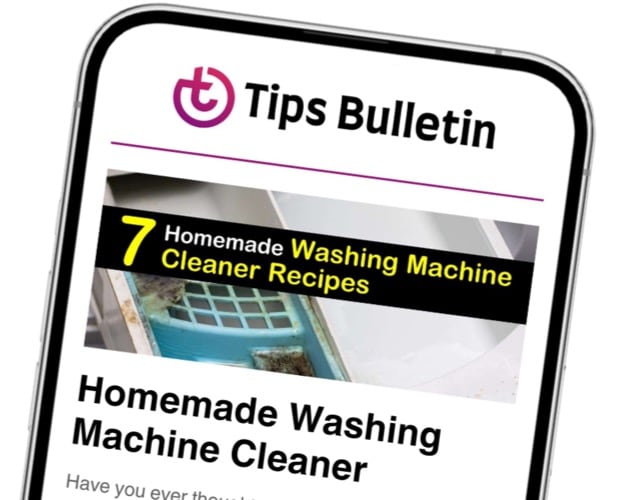 Finally, an email that Transforms Your Home.
Get the latest home and garden tips from our experts, delivered straight to your inbox.
Are Eggshells Good for Tomato Plants?
You've probably heard about using leftover shells to feed plants and thought it was an old wives tale. Are eggshells good for tomato plants? Discover how tomato plants benefit from crushed shells and what nutrients they add to the garden soil.
Eggshells contain protein and calcium, as well as small amounts of other minerals, and feeding them to your tomato plant enriches the soil and promotes vigorous root, stem, leaf, flower, and fruit growth. In addition, eggshells help prevent blossom end rot and is one way to keep bugs off tomato plants so you can enjoy delicious fruit at harvest time.
Ways to Use Eggshells for Tomato Plants
There is more than one way to use eggshells for tomatoes. Explore various ways to use shells when planting tomatoes to help you choose the ideal method for your garden or potted plants.
Are eggshells good for tomato plants? Yes, they are, and there are several ways to use them to promote a strong and healthy plant. Recycle eggshells in the compost pile with other kitchen scraps and add the organic material to the planting hole when you grow tomatoes, or use them as mulch to retain moisture and stop weed growth.
Amend the soil with crushed egg shell or eggshell powder, make an eggshell tea to give your plants a quick boost, or use a shell as a seed starter to grow new tomato plants.
Homemade Eggshell Fertilizer for Tomatoes
The easiest way to use a homemade eggshell fertilizer for tomatoes is to add it directly to the soil or compost pile. The shells break down naturally over time, slowly releasing nutrients to the plant's roots, and they are a good substitute for bone meal.
Eggshells are made of calcium carbonate crystals, and adding them to the dirt helps the plant build healthy cell walls. To start making your homemade fertilizer for tomatoes, wash the shells and allow them to dry.
Place crushed eggshells into the tomato planting hole before planting the seedling, work crumbled eggshell into the dirt at the base of the plant, or sprinkle crushed eggshell over the ground's surface around the plant's base. Water your plants as usual and apply the shells as needed.
Making Eggshell Tea to Feed Tomato Plants
Another way to use eggshells to feed plants is to make a liquid fertilizer. This homemade eggshell fertilizer for tomatoes is simple to prepare and provides nutrition to your plants quicker than a soil amendment.
Pour a gallon of water into a large pot and add the eggshells. Bring the mixture to a boil, remove it from the heat, and let it steep overnight. Pour the liquid into a strainer into a watering can and pour the eggshell tea directly into the tomato plant soil once a week for the best results.
Use this simple eggshell water for houseplants and other plants, too.
Using Eggshells and Vinegar to Repel Tomato Plant Pests
Blossom end rot is not the only problem plants deal with since pests are notorious for plant destruction. To give tomatoes calcium, this eggshell and vinegar plant treatment gives your plant a boost of calcium while keeping harmful insects at bay. Here is how to use eggshells for tomatoes by making a water-soluble fertilizer.
Crush the shells in a bowl, pour them into a skillet, and heat them on low until they turn light brown. Pour the browned shells into a container and cover them with white vinegar. Use nine parts vinegar for every one-part eggshells.
Cover the container with a lid, put it in a cool, dark area, let the mixture sit for about four weeks, and remove the cover daily to allow gas to escape. The vinegar extracts calcium and phosphorus from the shells to make a water-soluble fertilizer.
After the allotted time, strain the undissolved particles from the liquid and transfer the fertilizer to a new, clean container. To feed your plants, pour one quart of water into a sprayer, add two tablespoons of the fertilizer, and spray it directly onto the tomato plant.
Combining Eggshells with Coffee Grounds to Feed Tomatoes
Save the grounds the next time you make a morning cup of coffee to go with your hardboiled eggs. Coffee grounds add organic materials to soil, and combining them with shells creates an ideal plant food. Here is how to use crushed egg shells for tomato plants by combining them with coffee grounds.
Wash the eggshells thoroughly and lay them out to dry. Crush them in a large bowl, add the coffee ground to the crumbled eggshell, and mix the two. Add the dry fertilizer to the ground before planting, or work it into the top layer of the soil around the base of your plant and water it to help the nutrients make their way to the roots.
Make an All-Purpose Tomato Plant Fertilizer with Eggshells
Tomato plants need more than just calcium, and several items around your home work wonders for creating a balanced fertilizer. Use eggshells, banana peels, and Epsom salt to give your tomatoes a nutrient boost.
Clean the eggshells and set them aside to dry. Transfer the dried shells to a bowl and crush them into tiny pieces. Slice the banana peel into small bits, add them to the crushed shells, and cover them with a gallon of warm water.
Place a cover on the bowl, let the shells and peels steep overnight, and strain the liquid into a watering can. Add the Epsom salt, swirl the container to mix, and water your plants as usual.
The eggshells and banana peels provide calcium and magnesium, while the salt offers magnesium and sulfur. This combination promotes nutrient uptake, improves the fruit's flavor, prevents yellowing leaves, and helps the plant's overall growth. This easy remedy that costs only pennies prevents tomatoes with brown spots.
Using Eggshells as Seed Starters for Tomato Plants
One of our favorite planting hacks is to use an eggshell as a seed starter. The shell acts like a tiny pot for your tomato seed, and you plant it directly into the soil after the seedling emerges. Find out how to use eggshells for tomato plants to grow tomatoes from seed.
Remove the top, pointed section of the eggshell and wash each shell thoroughly. Next, use a needle to poke several holes through the shell's bottom and fill it almost to the top with seed-starting soil. These holes are vital for the root system's growth once you transplant them.
Plant two to three seeds per egg, water them gently and prop them on a tray. Keep the tray in a warm, sunny area of your home and thin the seedlings, leaving one strong plant in each egg.
When outdoor temperatures warm in the spring, transplant the eggshell tomatoes directly into raised beds, containers, or a vegetable patch. To make it easier for the roots to grow in their new setting, gently squeeze the bottom of each egg to loosen and crack the shell before placing it into the ground.
Commercial fertilizers are expensive, and sometimes local garden centers are low in stock. Fortunately, eggshells, coffee grounds, banana peels, and other natural ingredients are perfect substitutes to feed your tomato plants and promote plant growth and fruit production.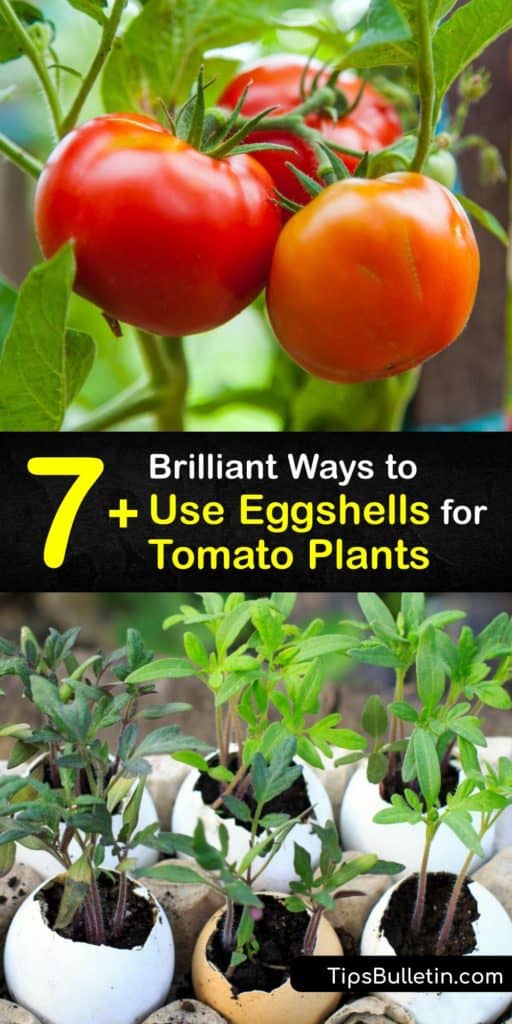 We hope that using eggshells for tomato plants provides you with a bountiful crop of healthy tomatoes at the end of the season, and we'd love it if you'd share our tomato plant eggshell fertilizing guide with your friends and family on Facebook and Pinterest.