As DIY and homemade fertilizer and pest control options rise in popularity, many people are interested in eggshells as fertilizer for cucumber plants or using Epsom salt for cucumbers. While some seek to eliminate the use of toxic chemicals in their garden, and others are interested in saving money by turning away from commercial fertilizers and bug sprays, Epsom salt for cucumber plants provides a wide range of solutions.
The same family as melons and squash includes cucumbers. Cucumbers are pretty simple to cultivate; homegrown cucumbers lack the waxy covering and are often sweeter and crunchier than store-bought types. The entire plant has a rugged, thorny appearance, though the veggies they produce are tender and delicious.
Cucumber leaves have sharp lobes and a slightly triangular form. If you think is Epsom salt good for cucumbers, it is. Rich in magnesium sulfate, Epsom salt is a cost-efficient and simple way to fertilize your plants, provide pest control, and boost the taste of the cucumbers they produce.
Brilliant Ideas for Using Epsom Salts for Cucumber Plants
Natural, organic remedies are always preferred for taking care of plant problems. You can use a baking soda mix for cucumbers and squash or take out the box of Epsom salt. Using Epsom salt for cucumbers has several benefits. Epsom salt is good for large variety of vegetables and other plants you may have in pots or a garden setting.
Readily available and affordable, Epsom salt for cucumber plants is the smart way to approach magnesium deficiency or a pest issue. Although many gardeners are unsure is Epsom salt good for cucumbers, thanks to its nutrient density, Epsom salt is good for cucumbers and many plants in the vegetable garden.
This nifty product is likely already under your kitchen sink and has much to give in the garden. Whether growing cucumbers or getting ready to start cucumber seeds or you want to use Epsom salt for growing healthy tomato plants, it's a great time to try it.
Are Epsom Salts Good for Cucumber Plants?
Is Epsom salt good for cucumber plants? Yes. Epsom salts contain high levels of magnesium sulfate, a nutrient essential in the vegetable garden throughout the growing season. Without sufficient magnesium, your cucumber plant, other vegetables, and potted plants fail to thrive.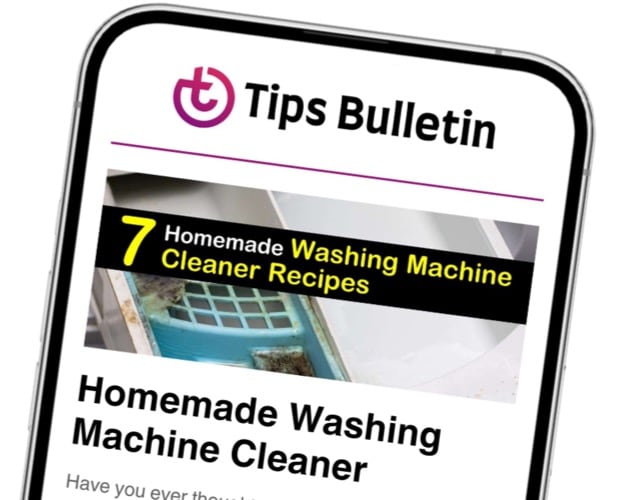 Finally, an email that Transforms Your Home.
Get the latest home and garden tips from our experts, delivered straight to your inbox.
In addition to raising magnesium levels, Epsom salts promote rich taste and flower production and aid in pest and disease control, making them a valuable tool for cucumber plants.
Epsom salts are ideal for treating magnesium deficiency. Whether you notice the signs – yellowing leaves, a yellow cucumber, and a reduced number of individual cucumbers or noted low magnesium on a soil test – adding Epsom salt to the soil is the ideal solution.
Epsom Salts for Cucumbers
Epsom salt fertilization boosts the height and general health of cucumber plants, and soaking the soil in Epsom salt increases nitrogen absorption. According to studies, plant cells take in more elements like nitrogen and phosphate when supplemented with magnesium sulfate.
Increased nutrients mean more growth and, eventually, more fruit production. To use Epsom salt to fertilize cucumber plants, treat twice a month with a liquid fertilizer in the form of an Epsom salt drench.
Add the ingredients to a bucket or watering can. To make your own vegetable fertilizer, shake well and use in place of watering. Treated plants grow fuller foliage and give a higher cucumber yield.
Boosting Flavor with Epsom Salts
The best fruits and vegetables, as well as the most colorful flowers, are produced by plants that are in perfect health. Epsom salt has a lot to offer to improve the yumminess of your cucumbers.
Epsom salts are a straightforward approach to enhance your cucumber plant's nutrition and give it all it needs, allowing it to grow the best, freshest cucumbers possible. For a phenomenal boost, prepare an Epsom salt solution.
Shake well and apply to the roots of your cucumber and other nut, fruit, and vegetable plants for a more vibrant and flavorful product.
Epsom Salts Foliar Spray
A mature yellowing leaf or multiple curling leaves signify a low magnesium level. Mineral deficiency impedes photosynthesis, which results in the leaves losing their green color and slows down the cucumber plant's ability to absorb nutrients. You may find you have cucumber stem problems, which only get worse without treatment.
Lack of nutrients reduces the overall health of your plant, putting it at increased risk for diseases and making it an easy target for pests. Apply foliar spray to the cucumber leaves; it works quickly to remedy the imbalance.
Spray this mixture onto the plant's leaves for each foot the plant is tall. When magnesium is applied to the leaves, the mineral is readily absorbed by your cucumber plant. Hydrated magnesium sulfate makes the nutrients accessible. Be careful when measuring out your salt-to-water ratio to avoid leaf scorch.
How to Use Epsom Salts for Cukes to Prevent Pests
If pests are destroying your cucumber crop, but you don't want to use harsh chemical sprays in your backyard garden, Epsom salt may be what you're searching for. Instead of toxic synthetic pesticides, use Epsom salt to eliminate pests, strengthen plant roots, and boost fruit output.
Use a garden sprayer to spritz a solution of one cup of ordinary Epsom salt and five gallons of cold water to the leaves for general pest management, or scatter dry Epsom salts over the ground around your cucumber plant bases.
Magnesium sulfate, a naturally occurring insecticide, shields your cucumber plants from unwanted insect pests and illnesses, including blossom end rot and powdery mildew.
Epsom Salts for Cucumber Seed Starting
Epsom salts are still helpful if you're just starting your cucumber journey. The salts are ideal for growing your cucumber plants from seed since they hasten germination by strengthening cell walls and boosting growth energy.
After sowing cucumber seeds, soak the earth with an Epsom salt soil drench to add magnesium sulfate since sulfur is quickly lost during germination. Either add a tablespoon of Epsom salt to the soil before putting your cucumber seeds in each hole or make a liquid.
Cover the entire top of the potting soil with the hydrated magnesium sulfate solution. Adding Epsom salt to your plant soil monthly throughout the growing season promotes growth and keeps cucumber plants healthy.
Your Tomato Plant Also Benefits from Epsom Salt
It's important to note that Epsom salt is also great for tomatoes and peppers. In addition to cucumber plants, tomatoes and any flowering plants or heavy feeding plants benefit from Epsom salt.
An Epsom salt solution is a perfect tomato fertilizer to increase plant growth, promote more acidic soil, and prevent a number of tomato diseases by enriching your garden soil.
If you've tried adding Epsom salt to your growing cucumbers, don't stop there; the salt makes a perfect tomato feed and ensures bigger, tastier tomatoes.
Like nitrogen, magnesium and sulfate are critical nutrients to ensure the growth and production of cucumbers. In addition to its many uses in the garden, Since Epsom salt is used for bathing or foot soaks, look for it with the personal care items in your nearest drug store.
Whether you're on a budget, trying to remove toxic chemicals from your garden routine, or like the idea of using everyday items to tend your garden, Epsom salt is one to add to the toolbox. Offering pest protection, additional nutrients, and better-tasting cucumbers means this salt has much to provide cucumber plants.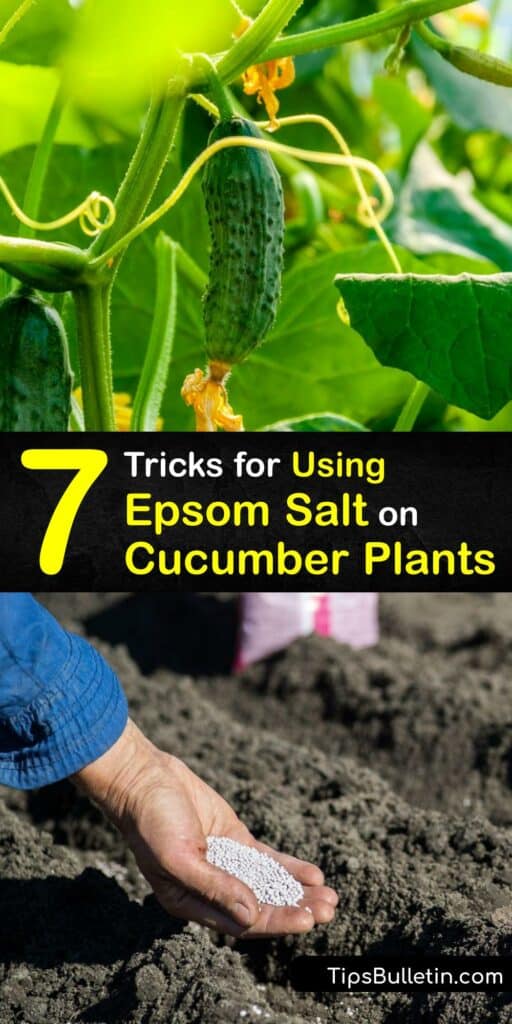 If you enjoyed this article on Epsom salt for cucumbers, please share this brilliant information on Epsom salt for cucumber plants with your friends and family on Pinterest and Facebook.