Using Epsom salt for peppers is an inexpensive option to add nutrients and discourage slugs and other pests from targeting your plants. Epsom salt is readily available online and at many places, and Epsom salt for pepper plants has various benefits.
Epsom salt, often known as magnesium sulfate, helps seed germination, boosts plant development, increases pepper production and chlorophyll synthesis, and deters pests such as slugs and snails. It provides necessary nutrients as an addition to your regular fertilizer.
If a plant is deficient in a specific nutrient, you may notice the leaves become yellow all over, or it could mean it needs more sulfate. If the veins between the veins of your houseplant's leaf turn yellow, it could be due to a magnesium deficit (not the veins themselves). Growers solve these problems by using Epsom salt on their pepper plants.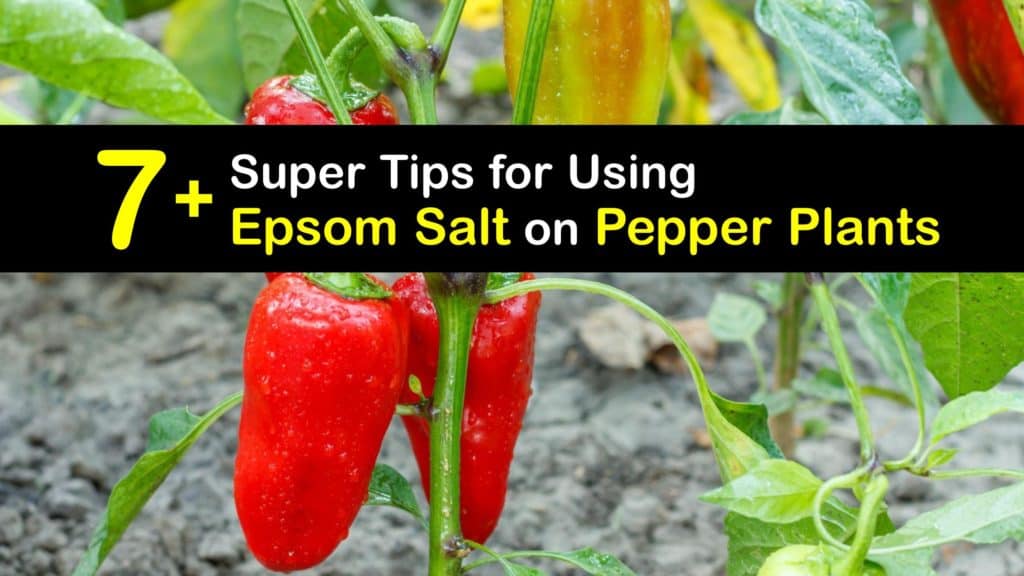 Using Epsom Salt for Pepper Plants
If you've ever questioned is Epsom salt good for peppers, the answer is yes, and learning how to utilize it in your garden is a brilliant idea. Epsom salt is also a fantastic weed and grass killer for areas where you want to eliminate unwanted vegetation.
Magnesium and sulfur are important building components for pepper plants, and using Epsom salt for peppers provides them. Despite magnesium and sulfur being naturally present in garden soil and potting soil, they may be depleted thanks to heavy agricultural use or over-farming.
Unlike other chemical fertilizers, Epsom salt for pepper plants doesn't accumulate in the environment over time, so you can't overuse it. Epsom salt feeds peppers, roses, tomatoes, pansies, impatiens, and other plants.
Epsom salt is promoted by gardeners and commercial growers all over the world who utilize it daily. According to experiments conducted by the National Gardening Association, peppers treated with Epsom salts grow fuller and produce more blossoms.
Pepper plants supplied with the nutrients found in Epsom salt grow faster than those nourished with commercial fertilizer alone. The answer to the question is Epsom salt good for peppers is yes.
Consider Epsom salt for your pepper plants and the rest of your garden as a straightforward way to provide extra nutrients and treat pests.
Is Epsom Salt Good for Peppers?
Many growers are eager to know is Epsom salt good for pepper plants. If your soil test results indicate a magnesium deficiency, using Epsom salts can help your pepper plants achieve their full potential in plant growth, lushness, and vegetable production.
The Epsom Salt Council suggests using an Epsom salt drench or dry salt and soaking it in to lower the pH of alkaline soil, raise the soil pH of acidic soil, and enhance nutrients present in potting soil.
Epsom salts have a pH of 7 and are non-toxic to plants, including pepper plants grown to produce food. Mix two tablespoons of any brand of Epsom salt with a gallon of water, and spray the solution on the pepper plant's leaves rather than its roots. The salts boost the plant's ability to absorb nutrients when you practice proper spacing for jalapeno plants or other pepper varieties.
Add Epsom salt to the soil at one tablespoon Epsom salt for every foot of plant height. Epsom salts should be given to your pepper plant once per month, and you'll observe an increase in leaf brightness and vegetable development.
Gaining Pest Control Using Epsom Salt for Peppers
Magnesium sulfate is a pesticide that occurs naturally and protects your pepper plants against unwelcome insect pests and diseases such as blossom end rot. Epsom salt is probably the answer you're looking for if you have a problem with pests damaging your pepper crop, but you don't want to bring harsh chemical insecticides into your home garden.
Apply Epsom salt to eradicate the pests, fortify your plant roots and increase fruit production rather than regular table salt, which dries up and kills snails and slugs.
For general pest control, blend one cup of plain Epsom salt with five gallons of cool water, apply the mixture to the foliage with a sprayer, or sprinkle dry Epsom salts over the earth at the base of your pepper plants.
Epsom Salt and Peppers – Foliar Feeding With Epsom Salt Spray
Mineral deficiency impedes photosynthesis, resulting in the leaves losing their green color and slowing the pepper plant's ability to absorb nutrients. A mature yellowing leaf or multiple curling leaves shows a low magnesium level.
As a foliar spray, use one tablespoon of Epsom salts blended with four cups of water to spray onto the plant's leaves for each foot the plant is tall. Combining water and Epson salt to fertilize peppers creates an Epsom salt solution or hydrated magnesium sulfate.
When magnesium is applied to the leaves, the mineral is readily absorbed by your pepper plant. Epsom salt is also good for potted plants, whether peppers or other plant.
How to Use Epsom Salt for Peppers – Seed Germination
Because they promote faster germination, adding Epsom salt is an excellent choice when growing a pepper plant from seed and reapplying during the bell pepper plant stages of growth. Magnesium helps seedlings germinate more successfully by fortifying their cell walls and enhancing their growing energy levels.
Because sulfur is lost rapidly during germination of the different varieties of peppers, it is critical to soak the garden soil with an Epsom salt drench after planting seeds to restore sulfur, an essential nutrient.
Pour hydrated magnesium sulfate is poured over the potting soil to cover the top surface. Alternately, before planting pepper seeds, include one tablespoon of dried Epsom salt into the ground at the bottom of each hole.
Your pepper plants will remain in good health if you give them a soil drench using Epsom salt once a month throughout the pepper growing season. Regular treatment assists in increasing the growth of your plants and upping their yield of peppers.
Increase Your Pepper Plant's Nutrient Intake
Those who have expertise in gardening are aware fertilizing pepper plants with Epsom salt increases the plant's height and overall health. Epson salt in soil soaks been shown to improve nutrient uptake. Studies have revealed magnesium sulfate increases the intake of minerals like nitrogen, phosphate, and sulfur by cells.
In a recent experiment, researchers from five states used a traditional drench of one tablespoon of Epsom salt in a gallon of cool water twice a month to treat pepper plants. Most of the plants treated exhibited denser foliage and a greater yield of peppers.
Enhance Taste With Epsom Salt
Epsom salt has a lot to offer to enhance the flavor of vegetables growing in your home or container garden.
To give your peppers or other vegetables or fruits an excellent flavor boost, make a solution of Epsom salt and water with one tablespoon of salt for every gallon of water. Spray the mixture on the roots of the plants to produce bright and flavorful peppers.
Epsom Salts as Tomato Fertilizer
In addition to being beneficial to your pepper plant and handy as bath salt, Epsom salt also supports the growth of your tomato plant. Epsom salt has excellent benefits for tomato plants' vitality, health, and taste, so many gardeners, suggest applying it to tomato plants.
Both magnesium and sulfur are essential minerals for tomato plant development and general well-being. These micronutrients are necessary for processes such as photosynthesis, the creation of proteins, and the formation of cell walls.
It makes sense that feeding tomato plants with Epsom salt results in the plants being in better health. When tomato plants exhibit symptoms of magnesium deficiency, such as yellowing and curling leaves, or when a soil test confirms that they have deficits in this area, Epsom salts are an appropriate treatment.
Epsom Salt Around the Garden
Epsom salts offer sad or worn lawns a new lease on life and bring color back, similar to how they nourish and boost the fullness and vibrancy of pepper plants. Epsom salt is an organic bell pepper plant fertilizer. It's a mineral-rich material that is excellent for lawns.
Spread Epsom salt with a spreader or spray over the grass after dissolving it in water to make a solution. Provide roughly a half-pound of Epsom salt per 100 square feet of grass.
Avoid fertilizing your lawn in the summer as it increases weed growth. Aside from lawn care, use Epsom salts for tree trunk removal and to enhance and fertilize several other plants, from food crops to ornamentals.
Whether dealing with slugs and pests on your pepper plants, yellowing leaves, or poor soil, an Epsom salt drench or foliar feeding provides the nutrition your plants require while deterring pests.
Epsom salt aids in the development of pepper and other vegetable plants, the nourishment and renewal of your lawn, and the elimination of difficult tree stumps. It is a valuable all-purpose item to have on hand for gardening, and it's inexpensive and widely available.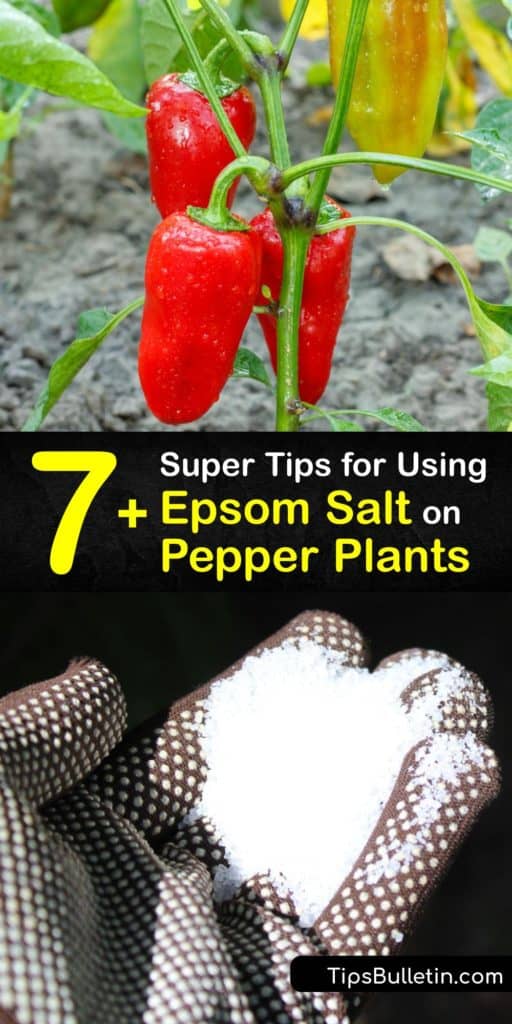 If you loved this article on Epsom salt for peppers, please share this brilliant information on Epsom salt for pepper plants with your friends and family on Pinterest and Facebook.