Magnesium sulfate, or Epsom salt, is a natural mineral salt made up of magnesium, sulfur, and oxygen. While we commonly use it for soaking aching muscles, there are many reasons to use it in the garden, especially if your soil has a magnesium deficiency. Learn the benefits of planting with this salt and how to use Epsom salt for sweet potatoes.
Sweet potatoes make an excellent cover crop; there's nothing better than potatoes roasted in coconut oil. However, like other plants, sweet potato plants require nitrogen and phosphorus to grow, and potassium plays a considerable role in producing a healthy sweet potato crop. This nutrient helps move water and carbohydrates through the plant tissue, enhancing tuber flavor, color, and texture.
Additionally, magnesium is a mineral necessary to grow sweet potato plants. Lack of magnesium in the soil causes poor and stunted plant height, and a severe deficiency reduces crop yields. Fortunately, Epsom salt cures this problem and is safe to use in the vegetable garden.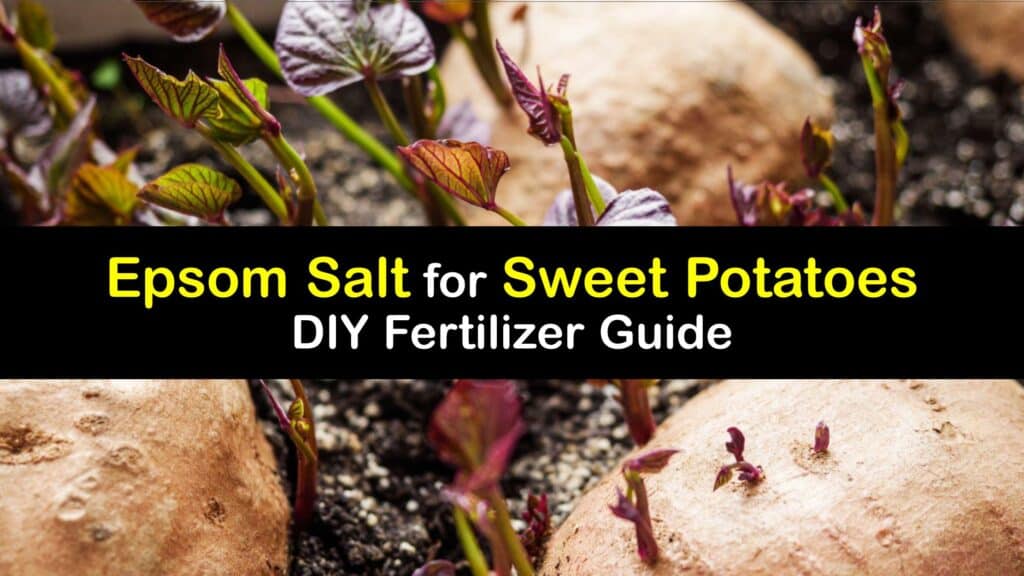 Using Epsom Salt for Sweet Potato Plants
Is Epsom salt good for sweet potatoes? According to the National Gardening Association, there are many benefits to using Epsom salt to feed potted plants, flowering plants, and vegetable plants, like a tomato plant or sweet potato vine.
Growing potatoes at home is easy as long as you give them the necessary nutrients. Find ways to use Epsom salt for sweet potato plants to boost magnesium. Discover how combining the salt with other natural ingredients can fertilize the soil that potatoes grow in to create a balanced fertilizer for your potato plant.
Epsom salt can also work as a natural weed killer in the garden. You can make your own Roundup with Epsom salts for an easy and sustainable option for weed control.
Is Epsom Salt Good for Sweet Potatoes?
If you've browsed gardening websites, you've probably encountered discussions about Epsom salt and sweet potatoes. Is Epsom salt good for sweet potatoes, and how does it help plant growth?
Is Epsom salt good for sweet potato plants? Yes, it is. This mineral increases chlorophyll production, encouraging the plant to develop healthier, greener plants. It also deters slugs, voles, and other common pests. It's always a good idea to perform a soil test before using a new fertilizer to determine if you have alkaline or acidic soil.
Epsom Salt for Sweet Potato Plants
Epsom salt is perfect for increasing magnesium in the sweet potato patch. Discover how to use Epsom salt for sweet potato plants by adding it to the soil and making a leaf spray.
To feed your sweet potato plant through the soil and encourage germination, work two tablespoons of Epsom salt into the dirt at planting time. If you prefer to spray the sweet potato leaves, mix two tablespoons of Epsom salt with a gallon of water, pour it into a spray bottle, and mist the foliage once a month.
Combine Epsom Salt for Sweet Potatoes With Kitchen Scraps
Next time you make coffee or scrambled eggs, save the scraps to feed your plants. Explore how to create a balanced homemade fertilizer for sweet potatoes by adding Epsom salt to other ingredients.
Steep leftover coffee grounds and clean crushed eggshells in water overnight, and strain the liquid into a watering can in the morning. Add two tablespoons of Epsom salt and stir the solution.
Water your sweet potato plants with this natural fertilizer once a month to promote root and potato growth. Consider mulching the seed potato with compost to retain soil temperature and prevent weeds throughout the growing season.
When planting young sweet potato plants in fertilized soil, you will need to place the sweet potato slips apart so that each plant can absorb the right amount of nutrients from the soil.
Sweet potato plants are one of the easiest tubers to grow, whether you grow them in a bed or grow bag. However, the garden soil loses nutrients over time, and it's essential to fertilize the plants for tuber production. Luckily, Epsom salt increases magnesium levels safely and naturally.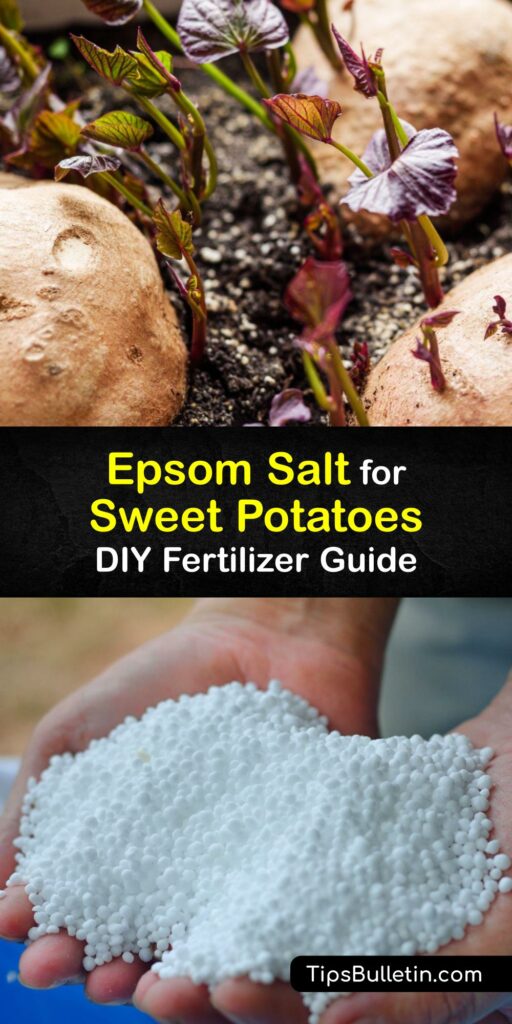 We hope that using Epsom salt for sweet potatoes helps your plants produce a healthy crop, and we'd love it if you'd share our tips for using Epsom salt for sweet potato plants with the veggie growers in your life on Pinterest and Facebook.