Epsom salt is a household staple used in bath routines to relax and soothe sore muscles. Besides therapeutic home remedies, Epsom salt has benefits in the garden as a fertilizer for various plants. Learn how to use Epsom salt for tomatoes in your garden.
Many gardeners debate Epsom salt's effectiveness in gardening because the nutrients that Epsom salt contains are naturally available in garden soil. Sulfur and magnesium are available in balanced soils. However, these nutrients leach from the soil across different growing seasons through regular watering. So, is Epsom salt good for tomato plants?
Testing your soil is the most accurate way to determine if your soil needs Epsom salt to help adjust minor deficiencies in your tomato plants. Without testing your garden soil, or the potting soil of indoor plants, spotting the signs of a magnesium deficiency is the only way to tell if your plant lacks nutrients for healthy tomato plant growth. Continue reading for tricks on how to use Epsom salt for tomatoes.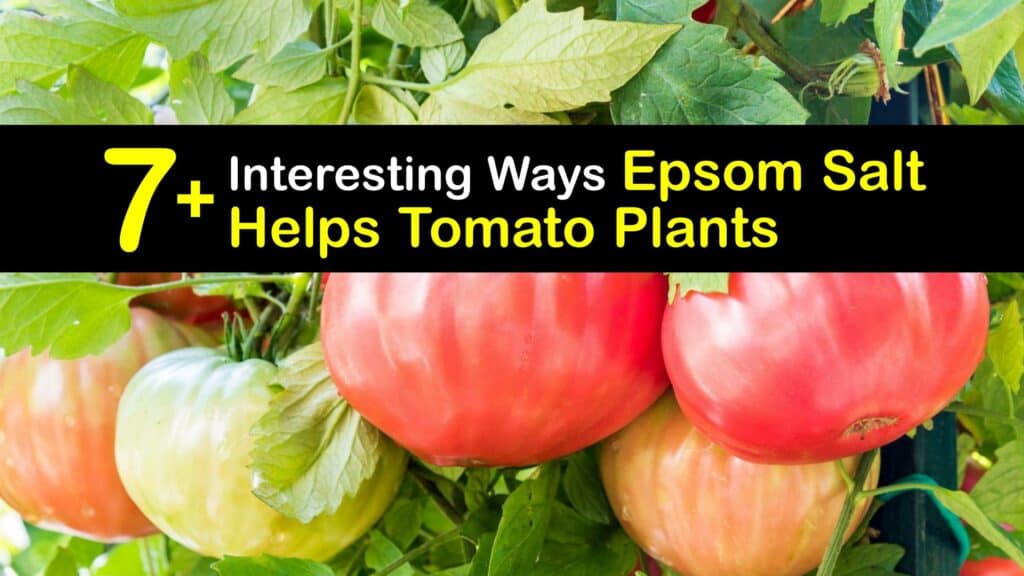 Is Epsom Salt Good for Tomatoes?
Also known as magnesium sulphate, Epson salt benefits tomato plants by helping with seed germination and flower production. Sprinkle baking soda around tomato plants for similar benefits.
Is Epsom salt food for tomato plants? Using an Epsom salt solution in the garden for growing tomatoes is safe because Epsom salt does not burn your plants. Epsom salt does not collect in garden soil like synthetic tomato fertilizers.
There are many kitchen items that are good for tomatoes. Fertilize with eggshells, coffee grounds, and banana peels, too. Old used coffee grounds make an excellent fertilizer for tomatoes and many other plants.
How Epsom Salt Helps Tomato Plants
The relationship between Epsom salt and tomatoes or for green beans comes from magnesium sulfate acting as a powerful gardening tool for gardeners. It strengthens cell walls to assist seeds with germination. Adding Epsom salt into your garden ahead of planting tomatoes helps give seeds a boost of energy for early seedling growth.
Using Epsom salt for tomato plants helps with nutrient uptake, allowing gardeners to grow tomatoes with lush foliage and juicy fruits. Epsom salt benefits plants like raspberries, pepper plants, beans, and potatoes, and many more.
Identifying Magnesium Deficiency in Tomato Plants
The most obvious sign of low magnesium levels in your garden soil is yellowing leaves with green vines. Although it's common to see a yellow leaf falling from trees in the fall, discolored tomato leaves during the growing season are a sign of trouble. This condition is known as interveinal chlorosis.
Magnesium is essential for growing tomatoes because it boosts chlorophyll production, and without adequate magnesium, plant leaves cannot remain green and healthy.
Magnesium deficiencies usually only affect older plant leaves; in severe cases, leaves may die. As plants struggle to take in enough sunlight and leaves die, your tomato plant may struggle with fruit production and fail to reach normal plant height.
How to Use Epsom Salt for Tomato Plants
Side dressing is a popular technique to provide consistent nutrients to your plants to help them absorb enough energy to reach maturity. Side dressing tomato plants is one of the most well-known methods of fertilizing plants.
The process of side dressing is highly effective because it allows gardeners to easily add nutrients to the soil by adding rows of fertilizer along the side of the growing plants. For large plants like tomatoes, create a ring of hydrated magnesium sulfate around the individual tomato plants in the garden.
This technique also works well for tomato plants grown in containers. Mix the Epsom salt into the soil with garden tools and reapply the salt every two to three weeks as your tomato plant begins to grow fruits.
Creating an Epsom Salt Soak for Tomatoes
Developing tomato plants benefit from fertilizer treatments every few weeks; some require more regular treatments. If your tomato plants show magnesium deficiencies, create an Epsom soak to allow your tomato plant's roots to absorb the nutrients.
Add Epsom salt and water into a bucket, stirring well until completely dissolved. Pour this soak around the base of your tomato plants twice a month to improve the magnesium level in your soil.
The Relationship between Garden Soil and Epsom Salt
While divisive across the gardening world, many rely on Epsom salt as a garden treatment to help deter pests while helping with flower production and creating lush bushes and plants. When used in soil and absorbed by plants, it strengthens the chlorophyll core in plant tissue.
Magnesium is found naturally in many minerals and is available for plant intake as these minerals break down over time. Magnesium isn't typically leached out of soil naturally, but plants that leach magnesium out of the soil include potatoes and corn.
Magnesium deficiencies are not common occurrences as long as the soil pH remains above 5.5. When growing plants like tomatoes that enjoy acidic soil, there is no danger of altering your garden's pH through Epsom salt.
Although elemental sulfur in the soil releases hydrogen ions that lower soil pH, Epsom salt does not release these ions and does not affect pH.
Treating Deficiencies through Tomato Leaves
If your tomato plants are magnesium deficient, directly applying Epsom salt is the best way to resolve the low magnesium levels in the soil. Adding Epsom salt to your plant's soil helps your plant absorb nutrients, but is Epsom salt good for tomatoes when directly applied to the leaves?
Despite not being an adequate replacement for nutrient-rich soil, using a foliar spray for plant leaves is an excellent way to help plants suffering from nutrient deficiencies. If you spot signs of chlorosis on your tomato plant leaves, create a spray using dissolved Epsom salt to help your plant recover.
Dissolve Epsom salt in a 16-ounce spray bottle filled with water. Spray the tops and bottoms of your tomato plant leaves with this spray once a month. Avoid plant leaves remaining wet for too long.
Does Epsom Salt Prevent Disease?
Epsom salt benefits plant growth by preventing magnesium deficiency in tomato plants. According to the National Gardening Association, Epsom salt isn't effective against severe deficiencies, however. Another common misconception about Epsom salt is that it helps cure or avoid blossom end rot.
Blossom end rot is a condition that forms at the blossom end of a fruit that becomes water-soaked. Over time this tissue breaks down and becomes discolored before completely rotting away. This condition affects the quality of the individual fruit and the yield of your tomato plant.
Blossom end rot is not a traditional plant disorder because an infection or a pest does not cause it. It is a physiological disease from a lack of calcium, from soil with low calcium levels or soil not watered properly. Too much Epsom salt around your tomato plants may create competition for nutrients and prevent calcium uptake in your tomato plants.
How to Use Epsom Salt for Tomatoes When Transplanting
If you start tomato seeds indoors to avoid inclement weather in your area, Epsom salt comes in handy when it's time to begin transplanting. Before preparing new holes in the garden for your tomato plants, perform a soil test to determine if your soil lacks magnesium from the previous growing season.
To give your new tomato seedlings a nutrient boost before they start to set fruit, spread one cup of Epsom salt across 100 square feet of space in your garden. Epsom salt in the planting holes allows your tomato plant's roots to develop strongly, and adding salt to your garden helps break up the soil, allowing better vegetable growth.
Misconceptions about Epsom Salt in the Tomato Garden
The benefits of Epsom salt are often debated, and every gardener's experience with this mineral varies. Because of its name, many believe Epsom salt is an effective pest killer; however, Epsom salt does not have any insecticide properties.
Some gardeners suggest mixing Epsom salt with vinegar and dish soap to create a weed killer for your garden. After mixing these ingredients and applying them to weeds, you may see weeds begin to wilt and dry out; this is only the part of the weed above the surface.
Weed roots run deep in the soil, and drying out the foliage is not enough to completely kill the weeds. Vinegar dries the plant, and dish soap helps the spray stick to the weeds, but the addition of Epsom salt, which promotes plant growth, makes it an ineffective weed killer.
Is Epsom salt good for tomatoes? Yes, and although Epsom salt is chiefly used to resolve magnesium deficiencies in tomato plants, there is more to using Epsom salt. Mixing Epsom salt with water creates a simple and inexpensive liquid fertilizer that helps tomato plants grow healthy and delicious fruits before harvest.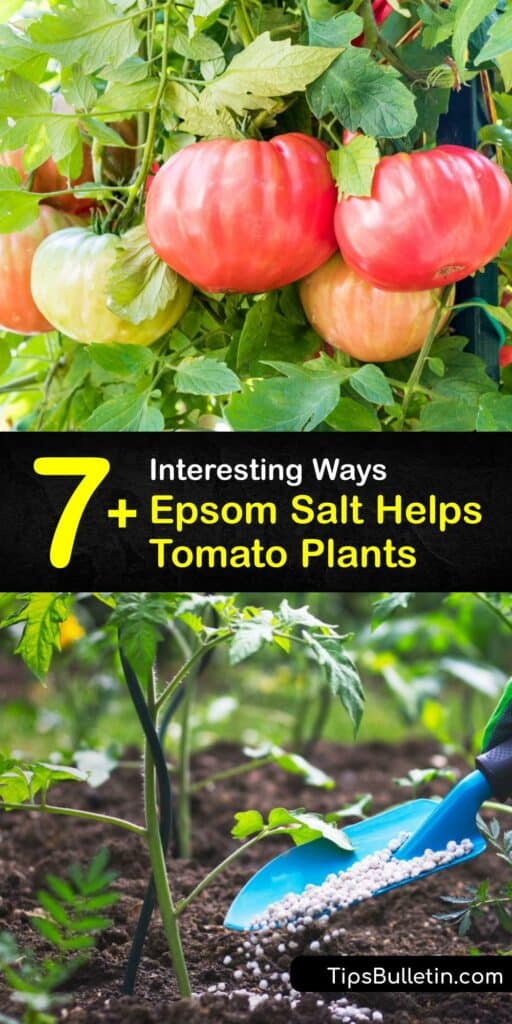 If you learned the benefits of using Epsom salt for tomatoes with help from our guide, please share our tips on using Epsom salt for tomato plants with your fellow gardeners on Facebook and Pinterest.