You're probably aware of the laxative benefits of Epsom salt or how the bath salt eases sore muscles, but did you know that it's healthy for plants? This product is a fertilizer for everything from roses to pepper plants and tomato plants. Discover ways to use Epsom salt for vegetables to promote healthy plant growth and fruit production.
Gardening is a perfect way to connect with nature and produce your own food, whether you grow vegetables in a bed or prefer potted plants. However, plants require organic matter and suitable garden soil to flourish. While your local nursery carries a range of fertilizer products, not all are useful for organic gardening.
According to the Epsom Salt Council, Epsom salt or magnesium sulfate is a naturally occurring mineral with dozens of uses. Tests from the National Gardening Association indicate that this salt encourages optimal plant height and reduces the amount of fertilizer a plant needs.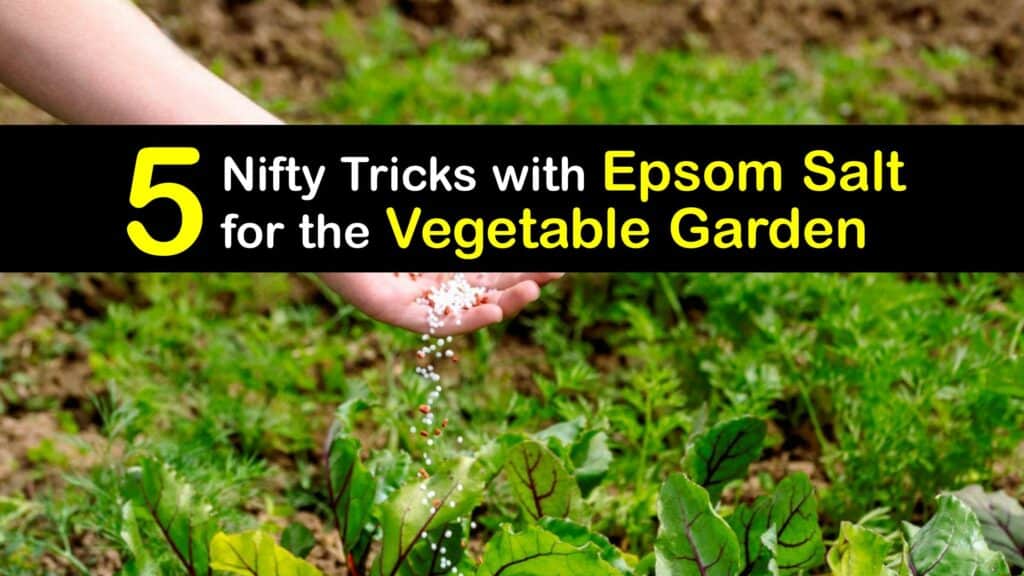 Using Epsom Salt in the Vegetable Garden
Learn how Epsom salt benefits vegetables, how to use it as a direct or liquid application in the garden, and ways to combine it with other ingredients to create a balanced fertilizer for your plants.
Is Epsom Salt Good for Vegetables?
This bath salt eases sore feet and aching muscles, but how is Epsom salt good for vegetables? Epsom salt is good for sweet potatoes and many other plants in the veggie garden because of magnesium sulfate and how it's necessary for plant development.
Unlike table salt made of sodium and chlorine, Epsom salt is derived from epsomite. Though it may not seem that Epsom salt and vegetables go together, the minerals from the salt contain magnesium and sulfate, essential for plant production.
Feeding your plants Epsom salt is a natural and economical form of gardening and a great way to fertilize beans and many other plants. It strengthens the plant's cell walls, aids photosynthesis, and helps it absorb other nutrients. Most soils are abundant in sulfur, but some lack magnesium, which causes them to show deficiency symptoms like stunted growth and curling leaves.
Direct Application of Epsom Salt for Vegetable Plants
Epson salt works best in acidic soil when plants cannot absorb magnesium easily. Explore how Epsom salt is good for onions by applying it directly to the ground.
Is Epsom salt good for vegetable plants? Yes, it's easy to add to the bed to encourage seed germination, promote veggie plant growth, and prevent blossom end rot. It's useful to perform a soil test first since most vegetables want a pH between 6.0 and 7.0. It helps with magnesium deficiency in pepper plants and other garden veggies.
To use Epsom salt in the vegetable garden, add a teaspoon of the salt to the hole before planting seeds or young plants. Plant the veggies as directed, fill in the dirt, and water well without soaking the ground.
Liquid Application of Epsom Salt for Vegetables
Tomatoes and peppers are two vegetables that often suffer from magnesium deficiency, resulting in reduced fruit production and yellowing of the plant leaf. Learn how to use Epsom salt for vegetables by making a foliar spray to give your plants a quick boost.
To make pepper or tomato fertilizer with diluted Epsom salt, combine a gallon of distilled water with a teaspoon of Epsom salt in a watering can and water your plants as usual.
Or, pour the Epsom salt solution into a spray bottle, and spritz plant leaves when it flowers and again when it begins to form fruit. Follow the same process for fertilizing bush beans, eggplant, squash, and other garden veggies.
Add Epsom salt to the planting hole before adding veggie plants. Use Epsom salt immediately when planting tomatoes in your garden for an extra boost of magnesium.
Combining Epsom Salt with Eggshells for Vegetables
Is Epsom salt good for vegetables? This mineral is helpful for feeding plants, and combining it with eggshells provides your tomato plant extra calcium to prevent blossom end rot.
Place clean, crushed eggshells in a container with a half gallon of hot water and let them steep overnight. Strain the shell liquid into a watering can or spray bottle, add the Epsom salt, and stir to dissolve the salt. Use the liquid plant food on your plants by watering the soil or spraying the plant directly. Epsom salt works well as potato fertilizer, too. Sprinkle this liquid over potato plants.
Using Epsom Salt to Make Balanced Vegetable Plant Fertilizer
Epsom salt is not the only thing in your home that is good for feeding the garden. Discover how to combine leftover kitchen scraps with Epsom salt for vegetable plants to create a balanced fertilizer.
Add finely chopped banana peels, spent coffee grounds, crushed eggshells, and Epsom salt to the soil when planting, or add it to the top layer of dirt around your vegetable plants.
To make liquid plant food, place clean, crushed eggshells, pieces of banana peels, and old coffee grounds into a jar of water and let it steep for a few days. You may want to cover the container with a lid to prevent fruit flies while it sits.
Strain the liquid from the jar into a watering can, add a gallon of water and a teaspoon of Epsom salt, and stir it well. Pour the plant food around the base of each plant to give them a boost of magnesium and calcium.
Additionally, coffee grounds contain the nitrogen nutrient and act as a repellent, keeping slugs, snails, and other pests away from your veggies.
A large amount of Epsom salt with vinegar is also part of a powerful homemade weed killer recipe. Use it carefully, as you will destroy any plants it touches.
There are many advantages to adding Epsom salt or hydrated magnesium sulfate to the vegetable patch. It's great for organic gardening, helpful in correcting the soil pH, ensures the dirt has a sufficient magnesium level for healthy plant development, and prevents blossom end rot.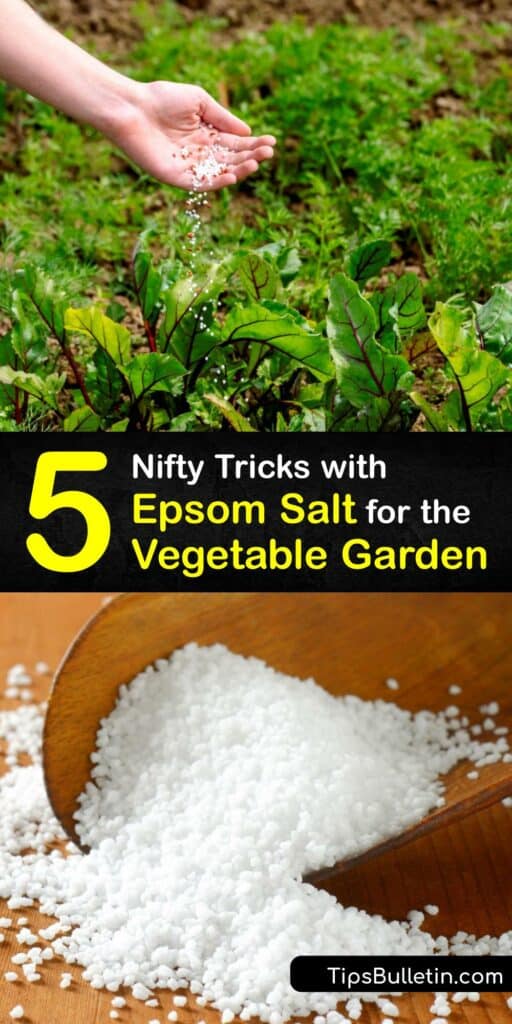 We hope that using Epsom salt for vegetables in your garden helps you grow a healthy veggie crop, and we'd love it if you'd share our Epsom salt veggie fertilizing guide with family and friend circle on Facebook and Pinterest.