Many home gardeners claim there are benefits behind integrating Epsom salt into your plant care routine, including improved disease resistance and sweeter watermelons at harvest. Learn about the benefits for yourself and decide if using Epsom salt for watermelons is suitable for your home garden.
The watermelon plant, or Citrullus lanatus, is a succulent, tropical-tasting fruit from the gourd family, along with cantaloupe and honeydew melon. Watermelons are native to tropical parts of Africa. They have an honored place in ancient agriculture and are pictured in early Egyptian art.
Watermelons are annuals that thrive in hot climates. Melon plants want consistent temperatures and a long growing season because the average watermelon takes 90 days from seed to harvest. Watermelon plants have both a male flower and a female flower, each producing either pollen or fruit. Once mature, healthy watermelon vines grow up to 15 fruit per vine.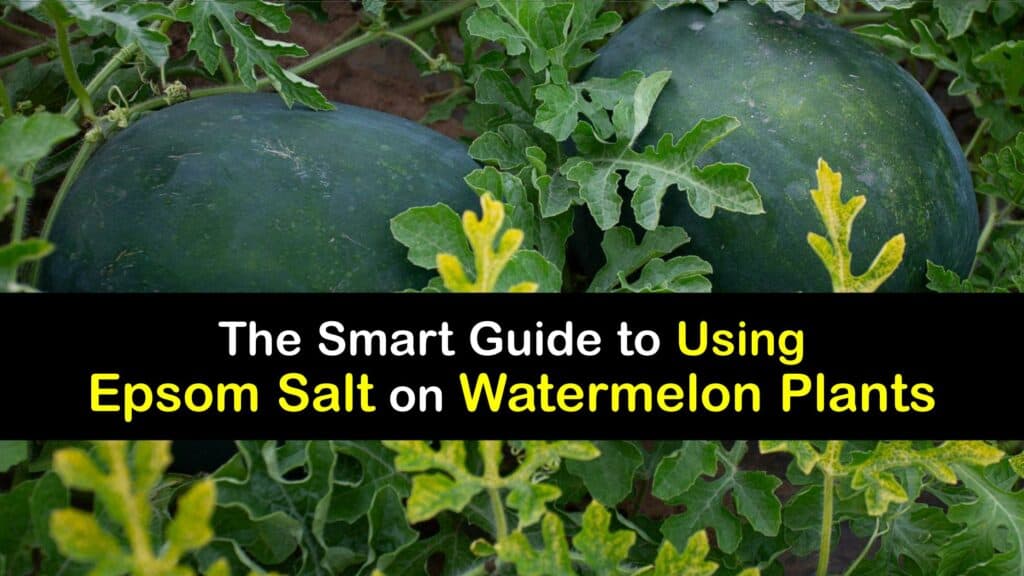 Is Epsom Salt Good for Watermelons?
Is Epsom salt good for watermelon plants, and will it benefit your garden? Discover the links between homemade fertilizer for melons made with Epsom salt and how to make it work for your plants.
Read on for some of the best ways to fertilize cantaloupes and watermelons. Incorporate a homemade Epsom salt foliar spray into your gardening routine while barely breaking a sweat. After all, growing a juicy, delicious watermelon is its own reward.
What Fertilizer Works Best for Watermelon?
Before we dive into the uses of Epsom salt for melons, explore the ideal growth conditions for watermelon. Start with soil health. Watermelons need slightly acidic soil, preferring a soil pH in the range of 6.0 to 7.5.
Keep the soil moist from the day you sow until the watermelon begins fruiting. Whether you grow cantaloupe or grow tomatoes, they need an inch or two of water per week to maintain vigorous growth. Juicy fruits have similar water requirements.
To grow watermelon successfully, use a nitrogen based fertilizer or anything that prioritizes nitrogen over potassium and phosphorus. A watermelon fertilizer schedule starts with using a food grade organic fertilizer for nutrient delivery to enjoy your watermelon fruit at harvest time.
Why Use Epsom Salt for Watermelon Plants?
Is Epsom salt good for watermelons? The National Gardening Association approves. Epsom salts are naturally occurring minerals composed of hydrated magnesium sulfate. Some claim that the magnesium from Epsom salts boosts seed germination and helps strengthen cell walls in watermelons, tomato plants, and pepper plants.
Certain plants benefit from high magnesium levels in the soil. Watermelons and strawberries need fertilizer to make the fruit sweeter and the plant more resistant to diseases like powdery mildew.
Contrary to popular myth, Epsom salt is not a suitable treatment for blossom end rot; a calcium deficiency causes this disease in the soil, not lack of magnesium.
Epsom Salt for Watermelons in a Handy Spray
If you're curious about how to use Epsom salt for watermelons, here's a super-easy tutorial to help you make a convenient foliar spray for your growing watermelon. All you need for this easy recipe are Epsom salts and clean water. To start using Epsom salt for watermelon plants, mix a foliar spray.
Get a clean bucket, fill it with a gallon of water, add two tablespoons of Epsom salts, and mix. Fill the spray bottle for ease of application, and head to the garden. Start with small doses to gauge your plant's reaction. Begin monthly application during the growing season.
Is Epsom salt good for watermelons? Epsom salts are a healthy addition to a balanced plant care routine. When watermelon is ready to be harvested, you will notice that they have larger fruit and healthier tissue. The National Gardening Association recommends using Epsom salts regularly to promote healthy magnesium levels in soil and encourage vigorous plant growth.
Use Epsom salt for watermelons as a convenient foliar spray, and start small initially. Observe your plants for signs of yellow leaves or saggy stems; some plants don't enjoy meddling and will let you know immediately. We can't guarantee you'll have no more tasteless melons, but we wish you the best this growing season.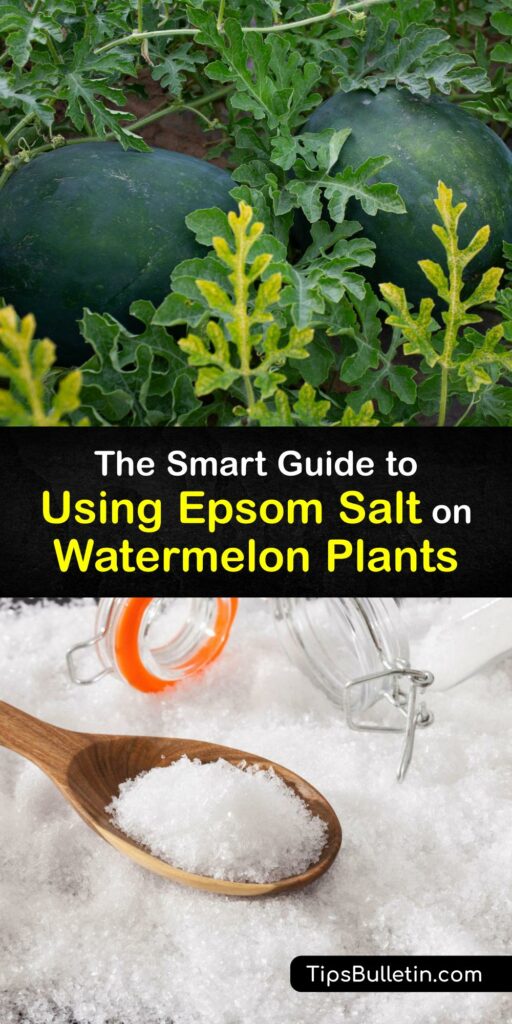 If you enjoyed learning how to use Epsom salt for watermelons, share these gardening tips with a friend on Pinterest or Facebook who wants a hearty melon harvest this season.