People detest nothing more than the cockroach, and a roach infestation is enough to send even the bravest running from the room. These nasty insects spread germs and bacteria wherever they go, multiplying by the thousands. Fortunately, there are many essential oils that repel roaches naturally to keep your home safe from a cockroach invasion.
Killing roaches is not easy since these insects are nocturnal and quickly scurry into hiding places as soon as you discover them. It's vital to repel cockroaches from your home before they take up residence, and you have to deal with a cockroach infestation.
If you'd rather not spray chemicals inside your house with a commercial roach repellent, we've got you covered. Many plants repel bugs, including cockroaches, and using the compounds extracted from plants in the form of essential oils and carrier oils keeps these insects out of your home.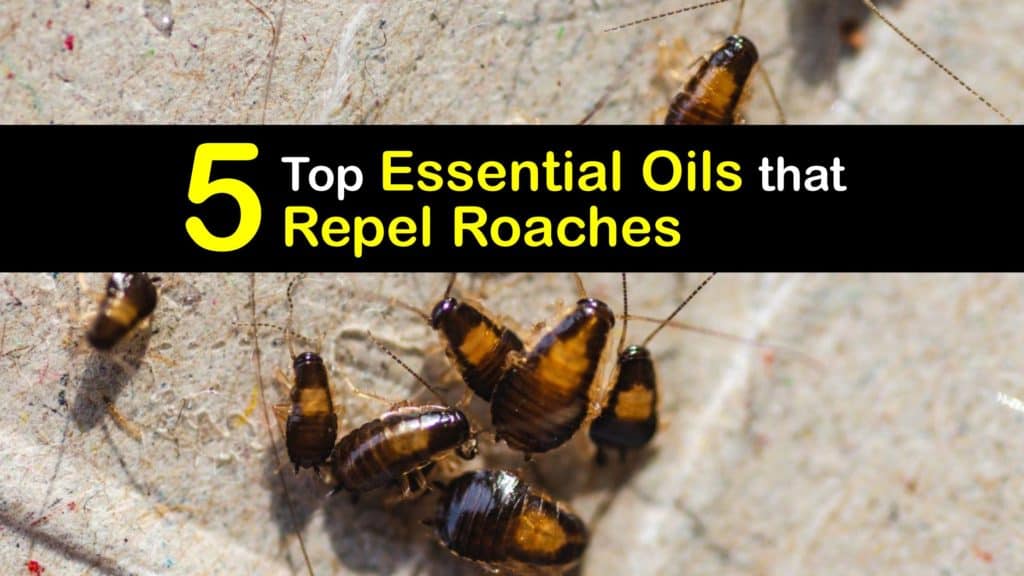 Repelling Cockroaches with Essential Oils
Who knew essential oils are your best bet for a natural cockroach repellent? These insects hate the scent of essential oils and avoid areas where you apply them, making them perfect for pest control. It's the best way to get rid of roaches without exterminator intervention and high expense.
Learn which essential oils repel roaches and how to use them to keep your home pest-free. Devising simple home remedies to kill roaches is easy, cost-effective, and lacks harmful chemicals.
Although they don't like them, and mothballs keep roaches away, they're not the best remedy for a roach problem. Steer clear of harsh chemicals and use natural solutions like essential oils.
What are Cockroaches?
Of all the different bugs in the insect world, the cockroach is one of the most disgusting. Examine these common pests, their life cycle, and why they find your home so inviting.
While there are over 4,500 species of cockroach throughout the world, there are only a few types, like the German cockroach, American cockroach, and Brown Banded cockroach, that make their way inside your home.
German cockroaches are the most common, and these types grow no larger than three-quarters of an inch in length. They are light brown and torpedo-shaped and one the most challenging bugs to eliminate.
All roaches go through three life stages, and they live anywhere from six to 15 months. They begin as eggs, hatch as nymphs, progress into adults, and the cycle repeats. Cockroaches are nocturnal, hide beneath furniture and appliances and eat everything from meats to sweets and starches.
Minty Essential Oils to Keep Roaches Away
While there are many essential oils to keep roaches away, those with a minty scent are some of the most effective. Here are several of these cockroach repelling oils and how to use them to make a roach spray.
Peppermint oil, eucalyptus oil, tea tree oil, and any other mint oil each has a strong minty or menthol scent that confuses cockroaches. What keeps roaches away with little to no effort? Studies show that lemon eucalyptus, tea tree, and peppermint are toxic to these insects, and they are ideal essential oils to keep roaches away.
To make a simple yet natural cockroach repellent spray, add a few drops to a glass bottle of water and spray it in cockroach hotspots to deter them from your home. To make the spray even more potent, add a small amount of white vinegar and shake the bottle well to mix before applying.
Floral Essential Oils to Deter Cockroaches
If you love the smell of flowers, some of the best essential oils to deter cockroaches are those with a floral scent. While you enjoy the fragrance, cockroaches stay away from the smell. Make a roach spray with lavender oil to keep your home free from this insect.
Fill a glass bottle sprayer with water and add several drops of lavender essential oil. Add a few drops of citronella oil to boost the roach-repelling abilities of the spray.
Shake the container well and spray it beneath appliances and furniture and in cracks and crevices as one of the remedies to repel cockroaches. To prevent the roach from even thinking about entering your home, apply the spray around the outside of the house.
If you'd rather, substitute the essential oil for one of your favorites. Since peppermint oil keeps roaches away, use it instead or choose another scent that roaches don't like.
Rustic Essential Oils that Repel Roaches
Lavender and peppermint are two popular oils for repelling roaches; however, others have a unique scent that drives bugs from the space. Learn about several rustic-smelling essential oil bed bug spray recipes and how to use them to repel any type of pest.
Many unique-smelling oils keep cockroaches at bay, including clove, bay leaf, rosemary, cedar, cypress, and oregano oil. Add several drops of any of these oils to a glass spray bottle filled with water, or combine several of your favorites, and spray the solution in areas where you notice roach activity to prevent cockroaches in the kitchen and elsewhere. These oils repel cockroaches and other insects, and rosemary is toxic to them.
Prevent Cockroaches from Getting Inside Your Home
The best way to deal with a roach infestation is to stop these insects from entering your house in the first place. To keep roaches out of your apartment or house, utilize some prevention tips to keep cockroaches from turning your living space into theirs.
Cockroach Prevention
Always wash your dishes, put them away right after cooking and eating, and wipe down counters and tables to remove spills and crumbs. Take out the garbage each night before going to bed, and mop the kitchen floor regularly to clean away food residue.
Keep all food in airtight containers and apply homemade essential oil sprays inside your home and around the outside perimeter to keep roaches away as needed.
While it's true that boric acid, roach control with Neem oil, petroleum jelly, and other home remedies kill cockroaches, it's better to take steps to keep these insects from entering your home at all. Fortunately, essential oils repel roaches from your living space, saving you the trouble of dealing with an infestation.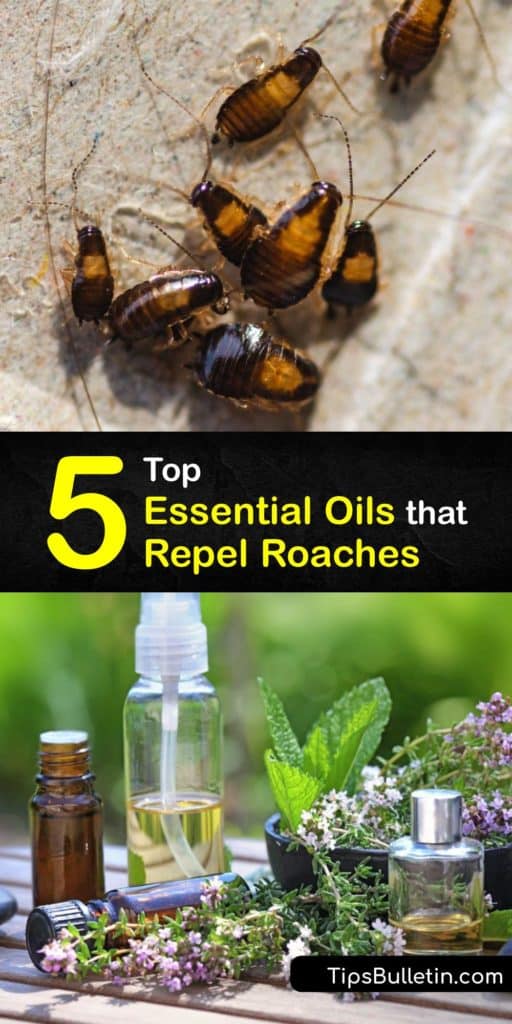 Now that you know how to make a natural bug repellent with essential oils that repel roaches, why not share our cockroach deterrent essential oil guide with your family and friends on Pinterest and Facebook?