Winter is a dreary time when its cold, white blanket turns our once vibrant landscapes into skeletons. Evergreen plants add lush greenery and a pop of color to your flower and garden beds year-round. Whether you live in the cold northern regions or southern regions with mild winters, here are some of the best evergreen flowering shrubs for full sun.
When many people hear "evergreen," they immediately think of pine trees. Evergreen plants come in a variety of shapes and sizes that fit in any space around your property.
Unlike deciduous plants that completely lose their foliage in the winter, evergreens lose their leaves much more gradually, usually slowly enough to remain green throughout the entire season. There are some other benefits to evergreen plants, though.
These plants also provide shelter for animals throughout the winter and lower electric costs by shielding your home from harsh winds or scorching sunlight. Planting evergreens around your home takes little work and pays you back for years to come.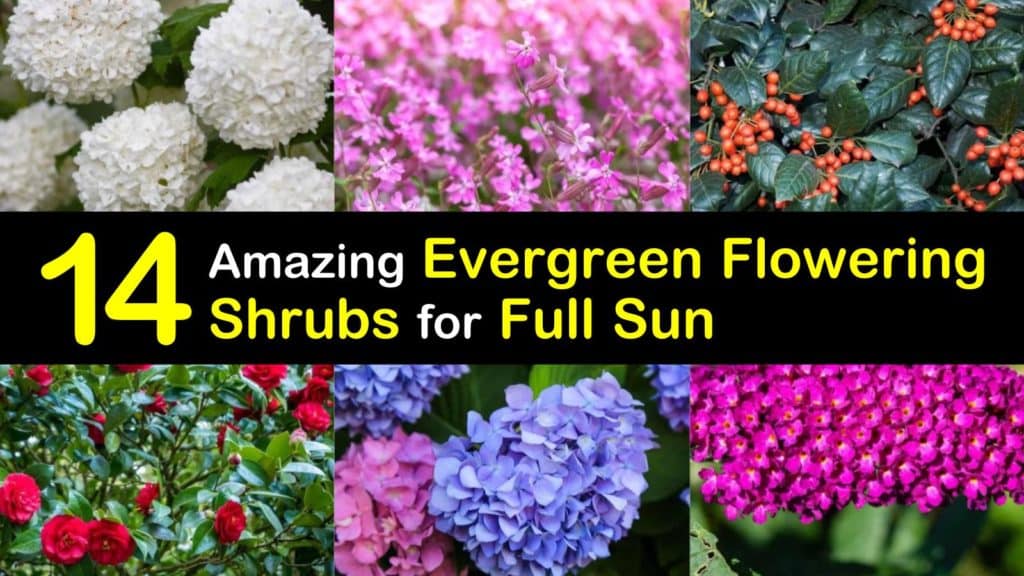 The Most Stunning Evergreen Flowering Shrubs for Full Sun
Flowering shrubs, as well as quick growing evergreen trees, provide privacy, display color for years, and attract beneficial pollinators. On top of that, there are hundreds of varieties for you to choose from.
When you're looking for full-sun shrubs that suit your home's aesthetic, make sure each species is equipped for the zone that you live in and that the growth habit is suitable for the bush.
In most cases, full sun means that the plant gets at least six hours of sun per day. If the plant you've chosen is a little more shade-tolerant, it should receive at least three hours of sun per day.
Most evergreens can be planted at any time, but the absolute prime time to plant them is in the early spring, right after the soil has thawed and the frost is gone. Thoroughly water the plants each week to encourage root development.
A newly planted evergreen shrub may drop its needles or leaves in transplant shock. This shedding is normal, so don't worry about this for the first month or two. As always, do as much research on your own before planting a new shrub. After a few months, you'll fall in love with your evergreen flowering shrubs for full sun.
A Homeowner's Favorite Evergreen: Rhododendron (Rhododendron ferrugineum)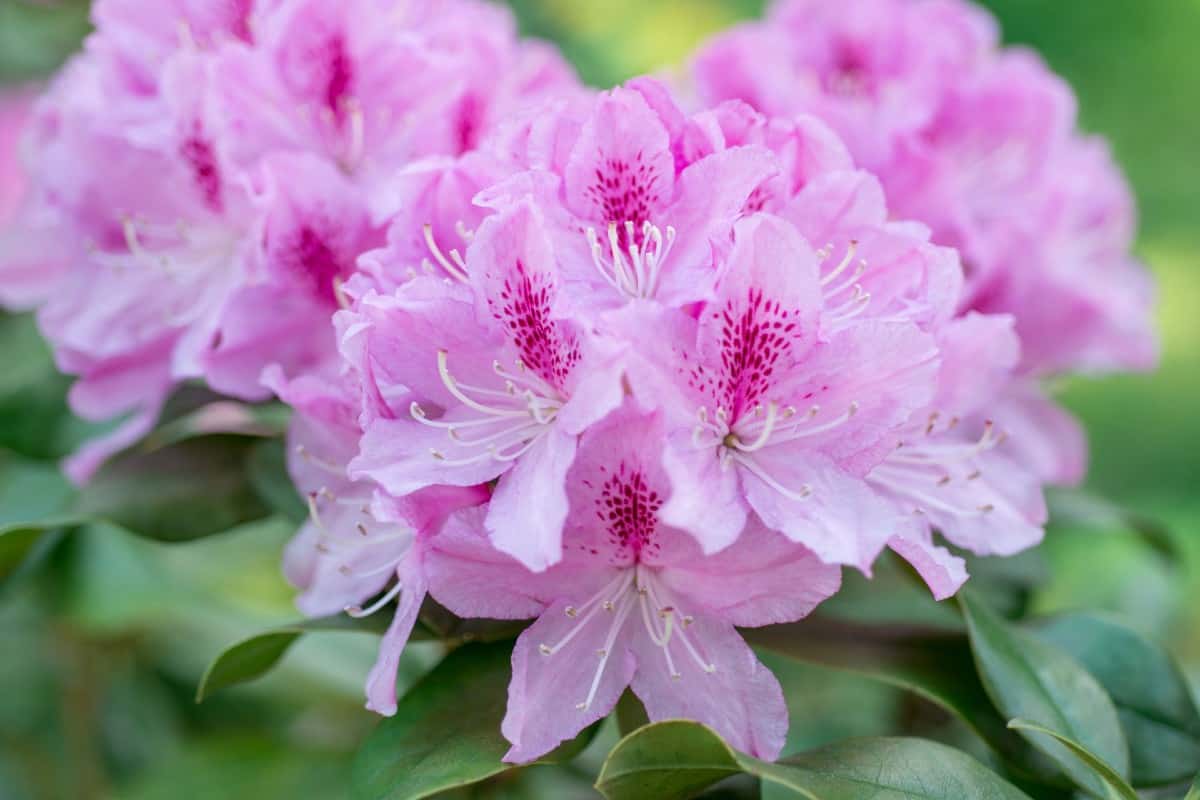 Rhododendrons are color shrubs that are a long-time favorite for landscapers due to their clusters of fragrant, delicate flowers that are purple, pink, red, orange, white, or yellow. Azaleas are also from the genus Rhododendron and are nearly identical.
Azalea leaves are smaller, more pointed and narrower, while rhododendron leaves are larger and more leathery. These shrubs prefer lots of rainfall and humid summers but are found from the tropics of Florida up to the forests of Canada.
If planting in zones three through six, plant them in full sun to increase flower production and avoid mildew. In planting in zones seven or higher, place them in an area that receives afternoon shade.
Hydrangea (Hydrangea macrophylla)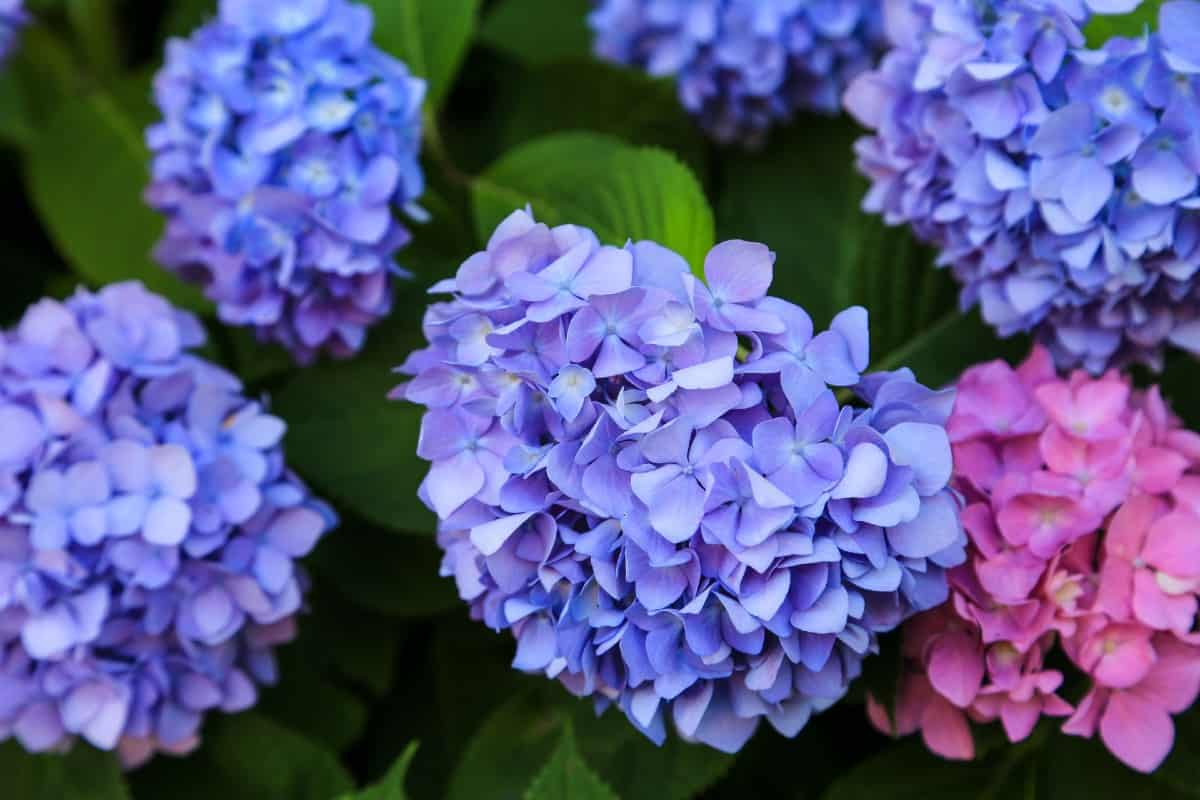 Hydrangeas are another evergreen favorite. They offer large, colorful flower heads, tolerate nearly all soil types, and are easy to cultivate. The ball-shaped flowers bloom from mid-spring to early fall and are blue, hot pink, white, or lavender.
Plant hydrangeas in the spring after the frost, or in the fall before the frost. They thrive in well-drained soil, but adding compost further enriches it. Many species are shrubs for sun, while others prefer it in the morning with afternoon shade.
Make sure they have plenty of water for the first two years. Prune them in the summer after flowering. Did you know that you can change the color of some hydrangea species? All you need to do is change the acidity of your soil.
Pink and red flowers grow in alkaline soil, while blue flowers grow best in acidic soil. The color change won't be immediate but happens after only a few months.
Buxus (Buxus sempervirens)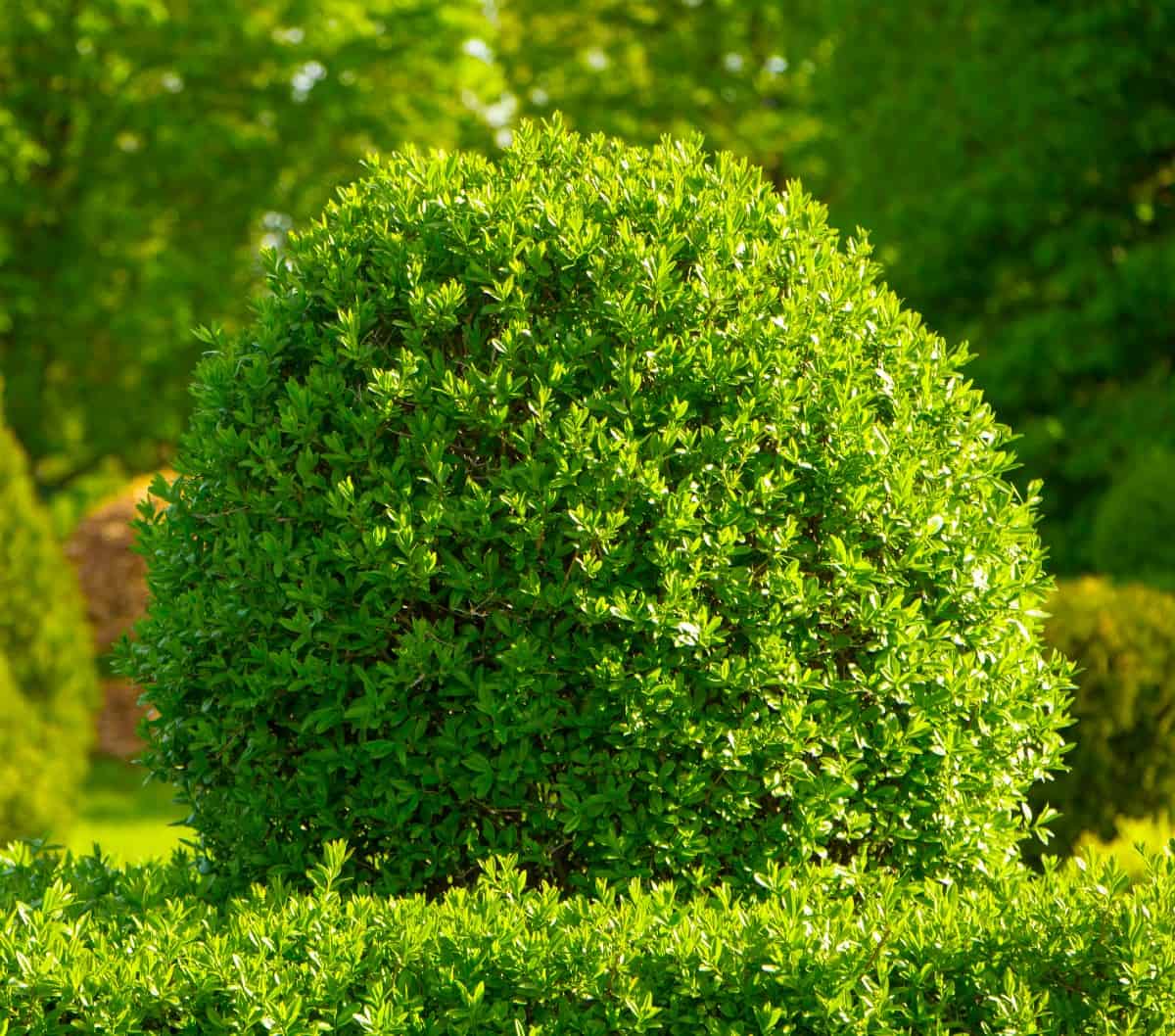 Buxus, often referred to as box plants or boxwood, is a hardy plant that showcases dense, variegated greenery with small, yellow flowers in the spring. This evergreen shrub is our favorite because of its sleek look and many benefits.
Add buxus randomly throughout your landscaping or in a row to create a small privacy hedge. They also look fantastic incorporated into rock gardens for a pop of color. They survive in full sun, part shade, or full shade.
Water regularly if planted in full sun to avoid the soil drying out. Growing boxwood entails low maintenance once the plants establish. Keep them as small bushes by pruning or let them grow for a larger specimen. The most work required involves watering if the soil is dry and mulching around the roots during the fall.
Buxus are most prone to leaf miner pests that yellow the foliage but are easily treated with insecticidal spray. They are also deer resistant.
Spirea Bush (Spiraea) – A Hardy Flowering Shrub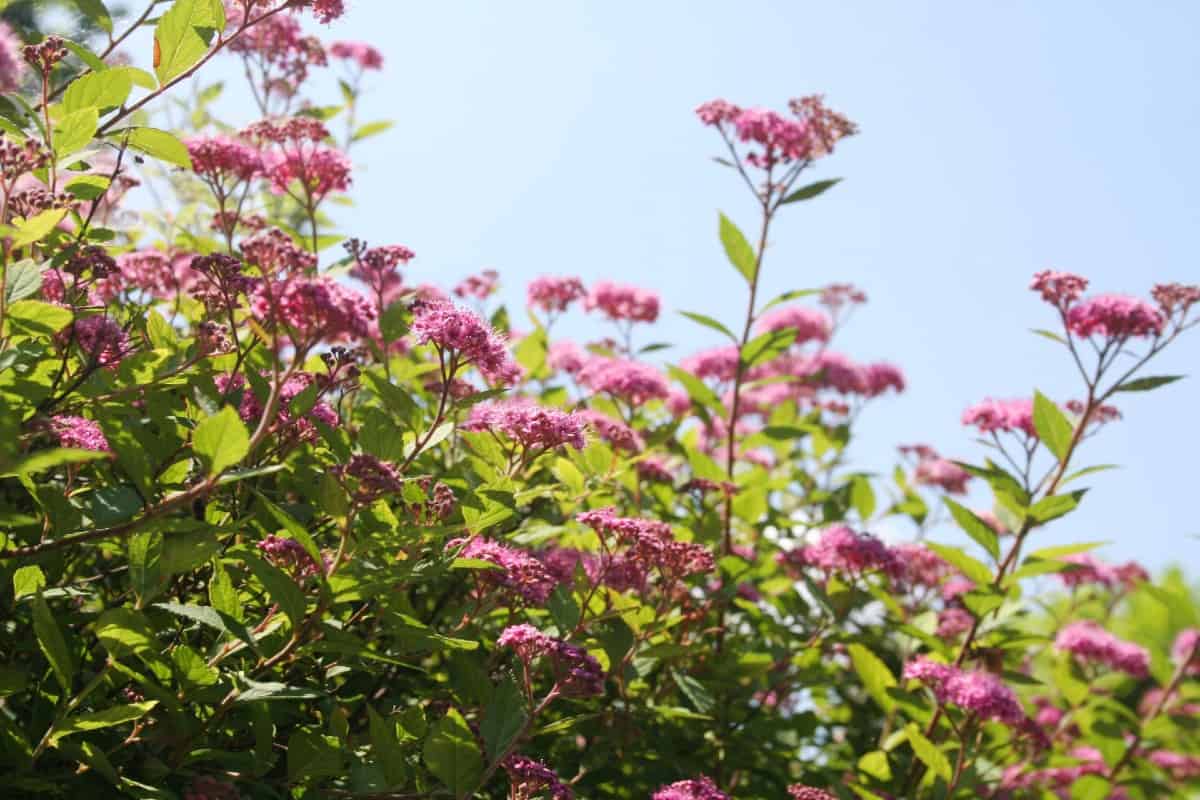 People love spirea bushes because of their hardiness, fast growth, and eye-catching beauty of cascading white or pink flowers. These evergreen shrubs grow anywhere from two to six feet tall, so make sure to plant them in an area that accommodates their size.
Once you plant a spirea bush, they require minimal work. Make sure they have well-drained soil and mulch around them to retain moisture.
Water them regularly to promote flower blooming and growth. Aphids may become a problem but rarely enough to require treatment.
Ilex (Ilex aquifolium)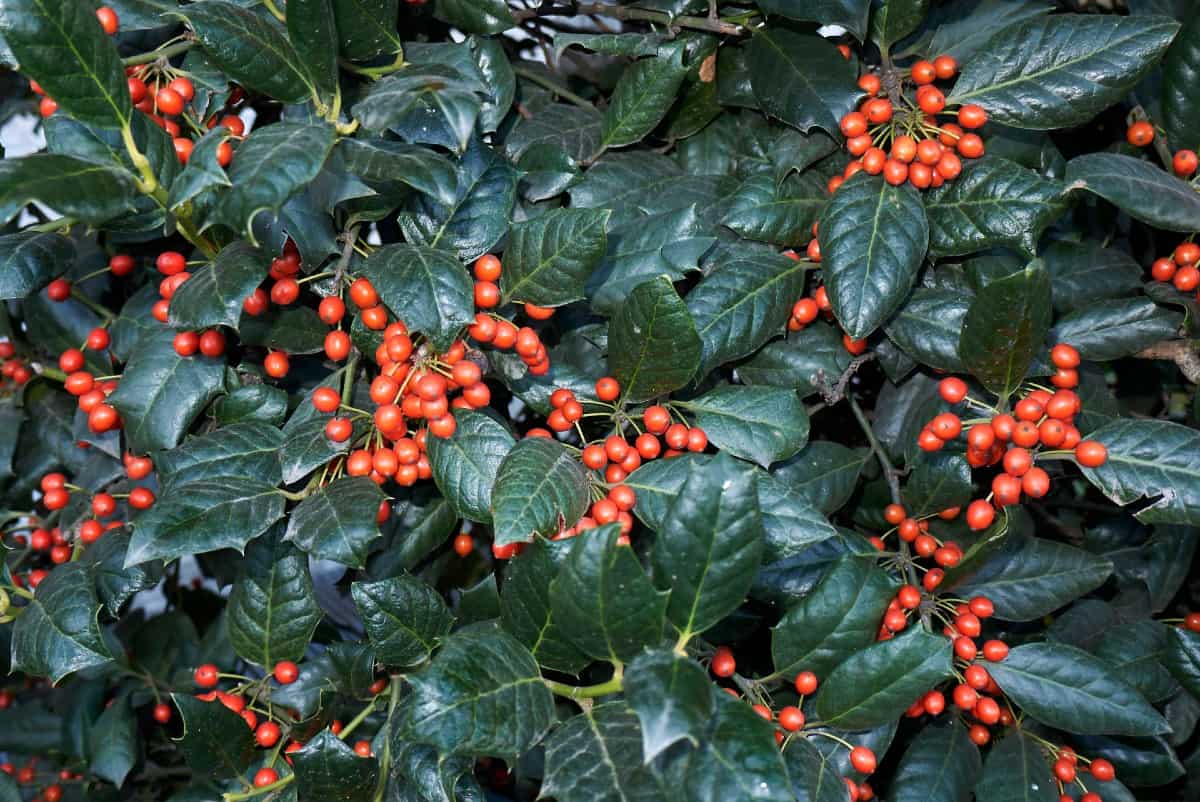 Ilex is most commonly known as holly and is famous for its bright red berries. Keep in mind that only the female shrubs produce these berries and may require that you plant a male holly plant nearby.
However, some female varieties don't demand a male, although they may be harder to find at a nursery. Water holly bushes daily for the first week after planting and twice a week for one month after that.
Fertilize your ilex once a year with a balanced fertilizer. Once the bush is established, they don't require much watering unless experiencing a drought.
If this is the case, water them so that they receive two inches of water per week. If you discover that your ilex was damaged from winter winds, wrap them in burlap to protect them.
For an extra pop of color, grow some creeping ground cover plants with bright colors at the base of your holly bushes.
Lilac (Syringa vulgaris)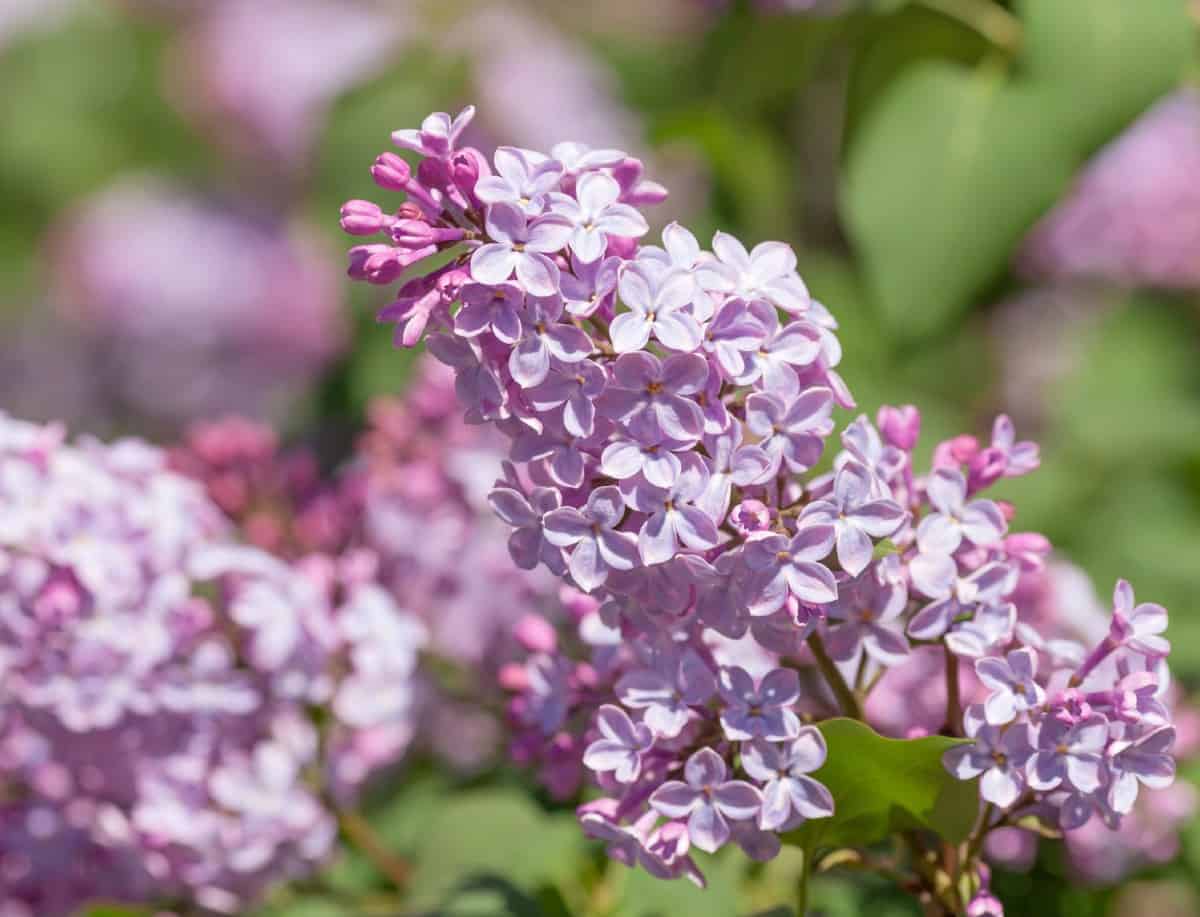 We love lilacs for their bright, purple clusters of flowers and their signature, sweet fragrance. Different varieties allow the plant to bloom in either early spring, mid-season, or late-season.
Depending on the type, lilacs grow anywhere up to 15 feet and a great for attracting butterflies. Lilacs grow best in fertile soil with neutral alkalinity. For the best flowering, they require a minimum of six hours of sun every day.
Transplant lilacs in the fall for the best results, although they are okay to transplant in the spring as well. Prune lilacs in the spring right after they bloom. If you're unsure if your lilac requires pruning, a good sign is that your flower clusters are shrinking.
A Unique Flowering Shrub for Landscaping: Camellia (Camellia japonica)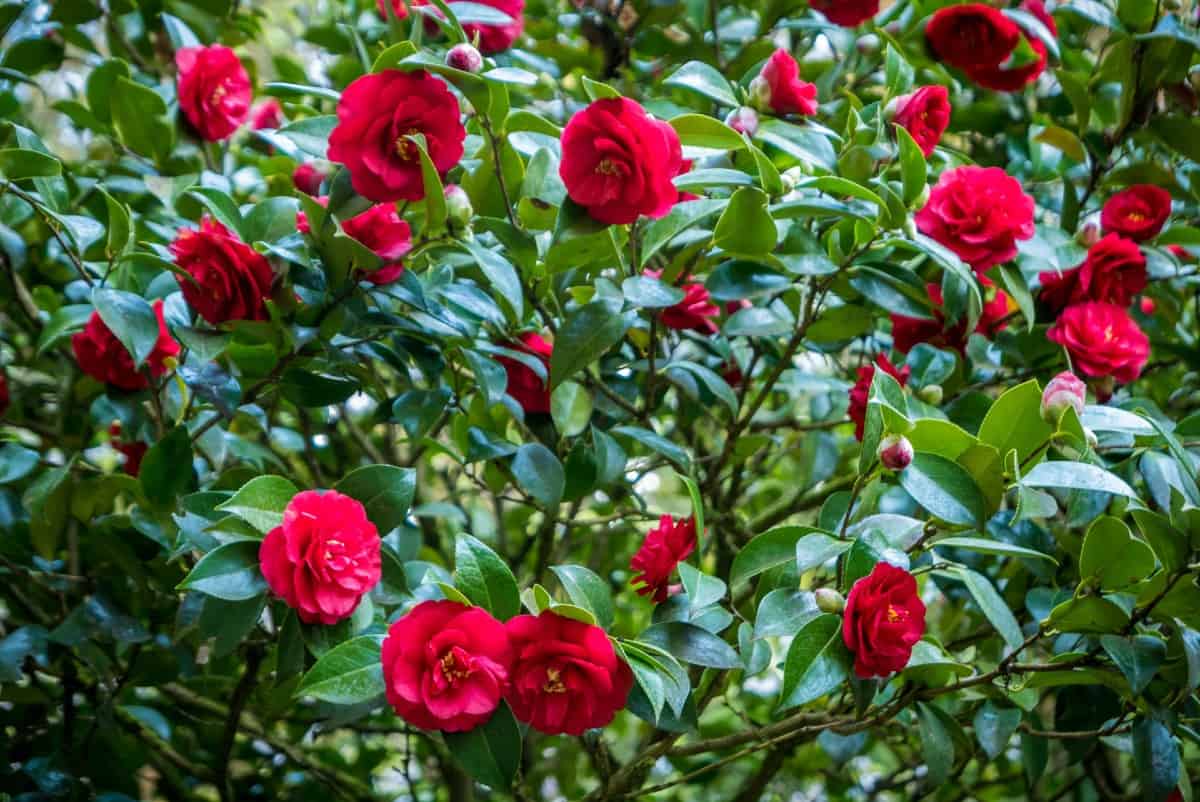 Camellias are attracting old fashioned shrubs that feature dark green leaves year-round and stunning blooms of pink flowers in the late summer. As they mature, their foliage provides shade to their roots that help them thrive in full sun. Do not plant them too deep and give them ample moisture.
Prune to shape your camellias as often as necessary, but don't remove more than one-third of the plant each time. These flowering shrubs are susceptible to scale, which is preventable by treating them with yearly insecticide.
Butterfly Bush (Buddleja davidii)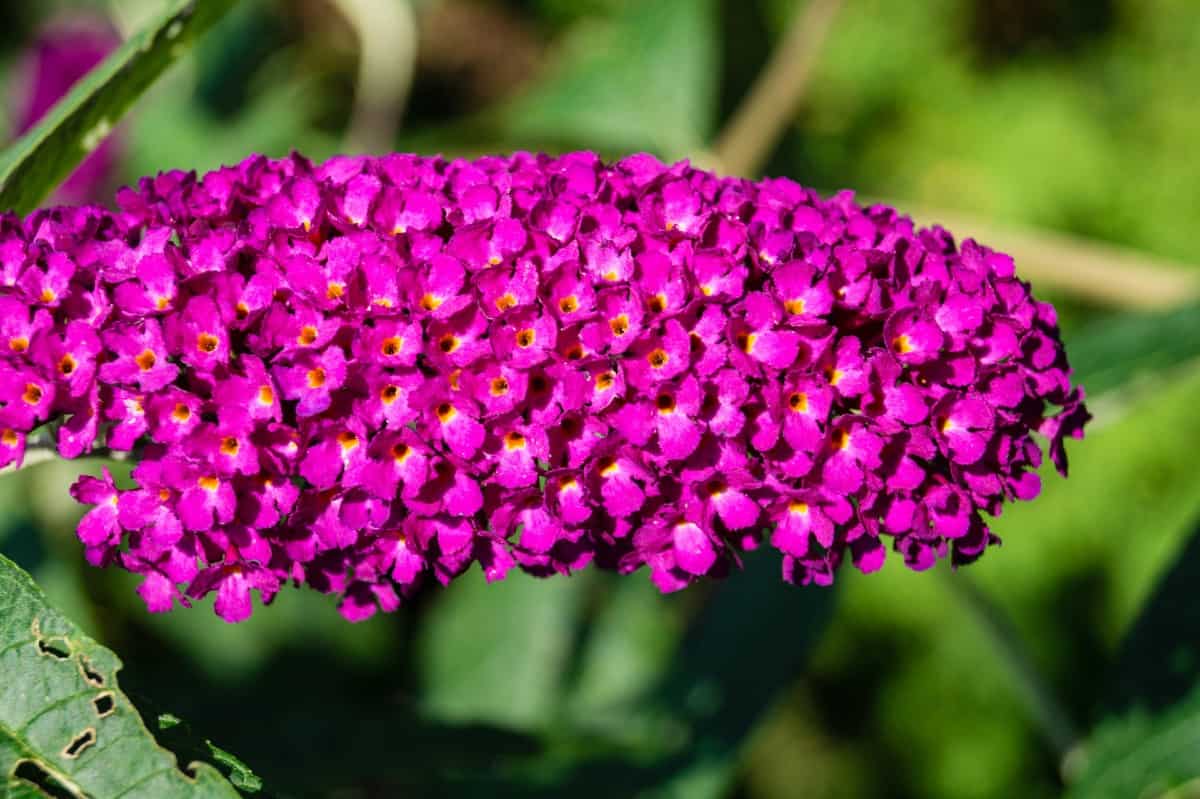 The name says it all. Butterfly bushes come in a multitude of colors that attract butterflies and other pollinators to your home and garden. These hardy plants survive regions up to zone eight and only require deadheading and annual pruning in the late winter.
Spring or fall is the best time to plant butterfly bushes. Give them five to ten feet of space between each plant with one inch of water per week.
Deadhead flowers as soon as they start to wither to prevent spreading because they are considered an invasive species. Cut them down to the ground every spring to stimulate blooming and growth.
Japanese Snowball (Viburnum plicatum)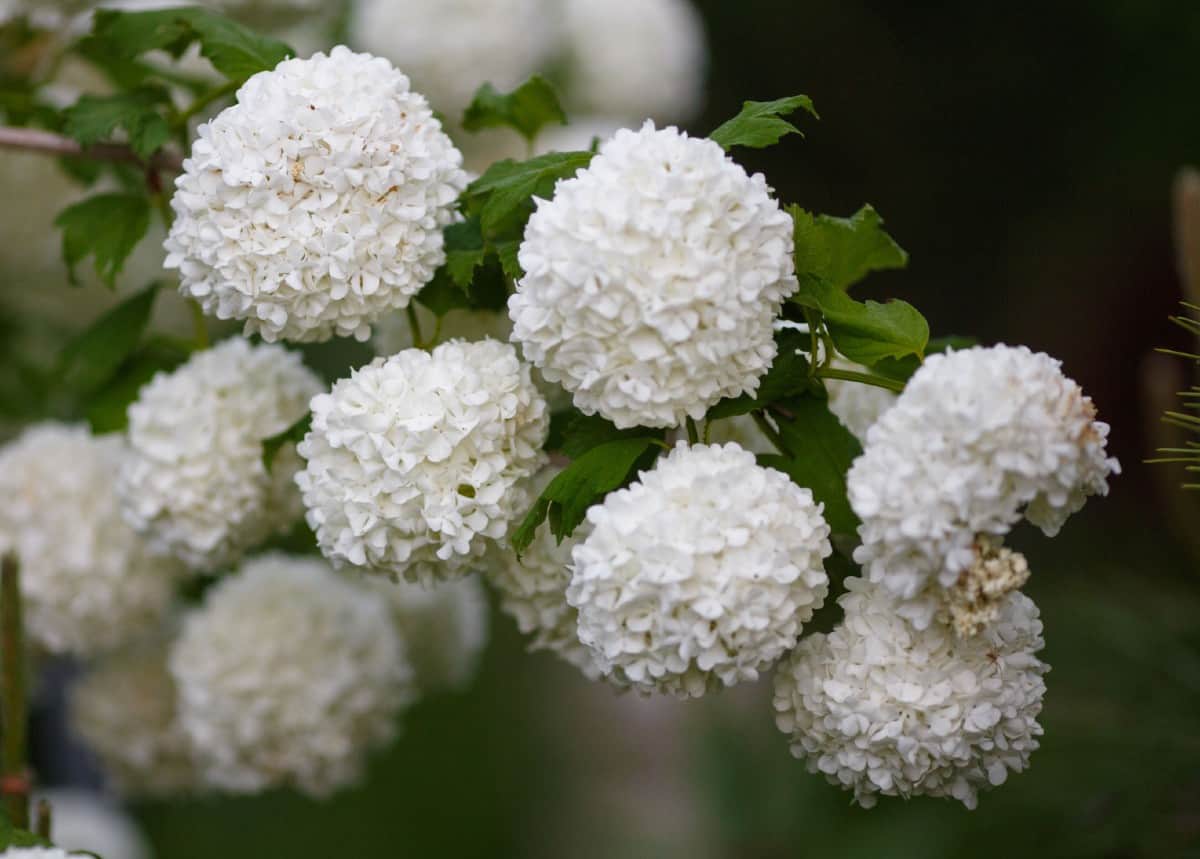 There are many species of viburnum, but one of our favorites is the Japanese snowball. Their large globes of white flowers and green foliage offer year-round beauty with little maintenance. The small, oval fruits also provide an excellent food source for wild birds.
A mature Japanese snowball grows anywhere from eight to 15 feet. They thrive best in zones five through eight and tolerate many different soil types.
One thing gardeners love about these shrubs is that they have no dangerous pests or diseases that have to be taken care of.
Hibiscus (Hibiscus rosa-sinensis) – Shrubs with a Tropical Appearance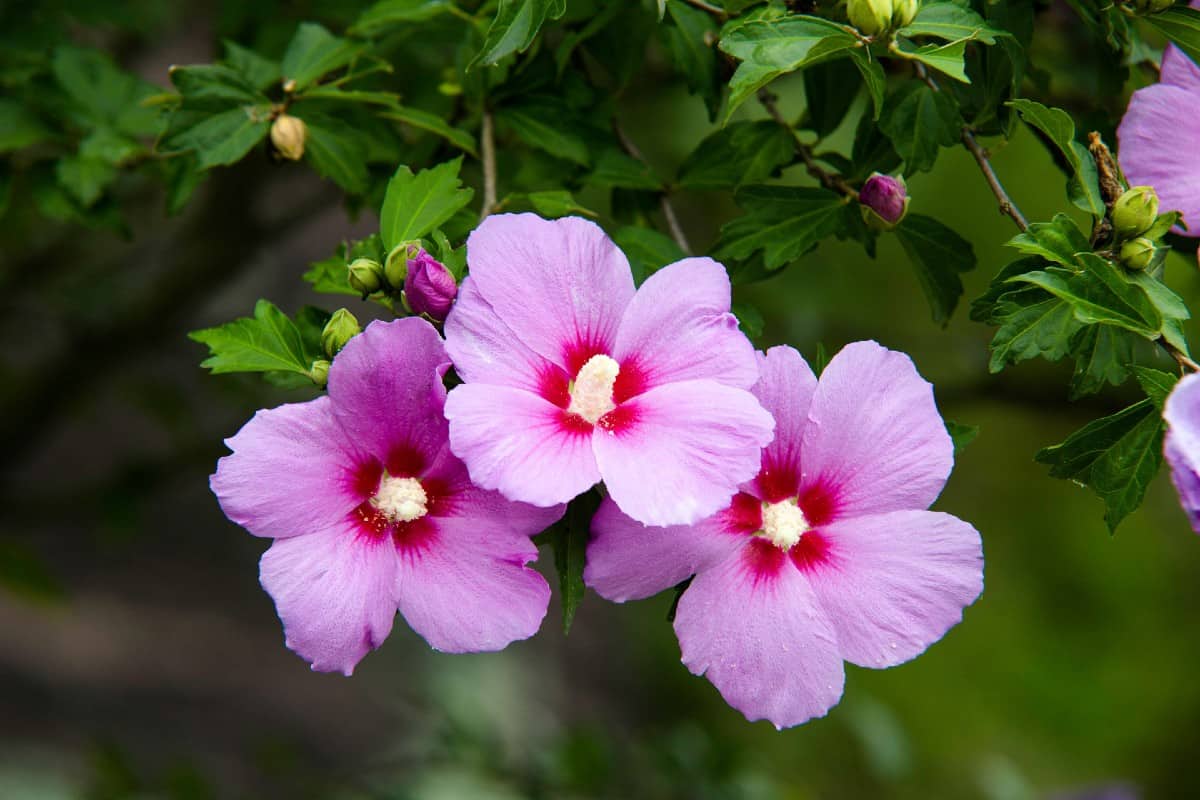 The hibiscus plant is a perennial that is referred to as the rose of Sharon or swamp rose. When flowering, the disc-shaped flowers bloom up to twelve inches across. Although these annual tropical shrubs seem delicate, the plants can withstand much colder climates.
Plant the hibiscus so that it isn't exposed to strong winds and place them two to three feet apart. Remove dead stems in the early spring and apply a balanced fertilizer. Water the plants thoroughly.
Mountain Laurel (Kalmia latifolia)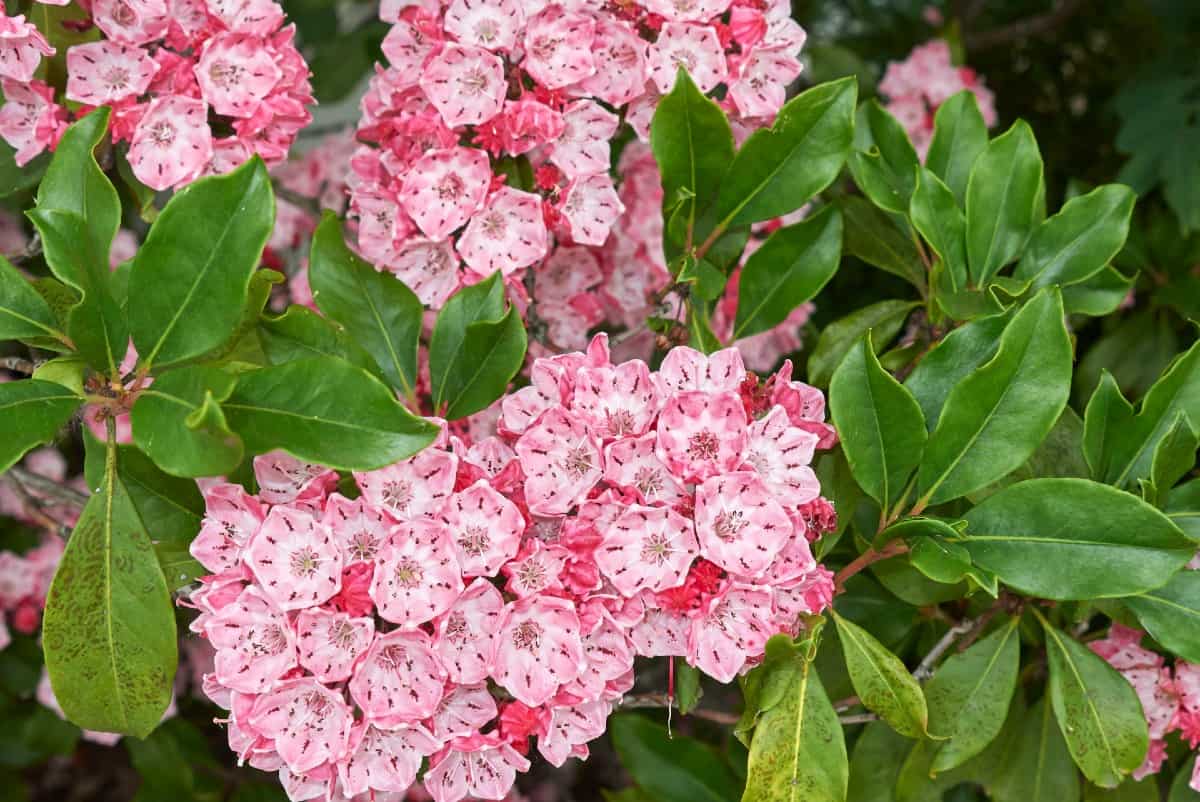 Mountain laurel is a colorful shrub that looks good as a border or as foundation plantings. They look stunning in mass plantings. The cluster of small pink and white flowers have dark, maroon markings that supply your yard with a one-of-a-kind appearance.
Mountain laurel's root system is shallow and demands frequent watering. They don't require a ton of fertilizer – too much may cause it to bloom poorly. Once flowers fade, cut them off to stimulate growth.
Creeping Phlox (Phlox subulata)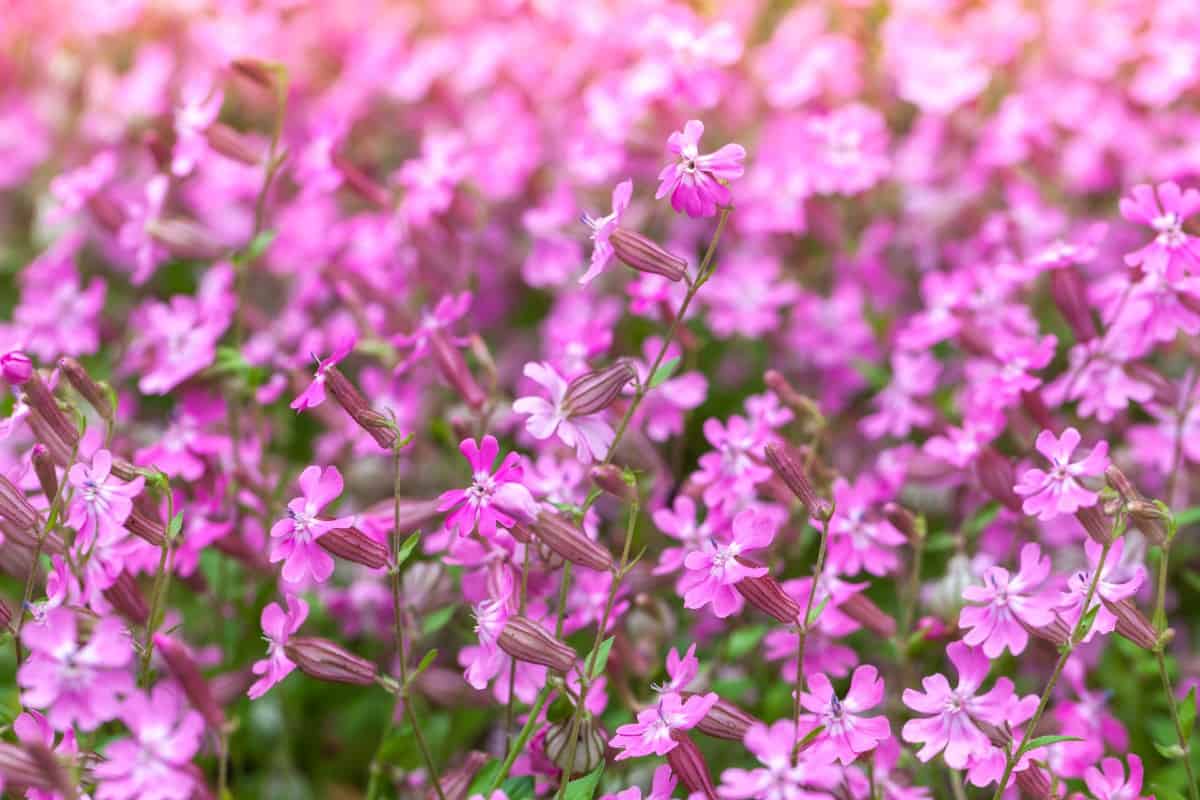 Creeping phlox varieties provide groundcover in the early spring or taller blooming in late summer. They have star-shaped white and pink flowers and are successful in nearly all gardens. On top of that, they have a pleasant fragrance and are low maintenance.
Plant creeping phlox in early to late spring in moist, well-drained soil. Less than one inch of water per week is required to make this plant happy. Remove dead or faded flowers and divide the plant every few years to ensure disease-free plants.
A Shrub Worth the Effort: Gardenia (Gardenia jasminoides)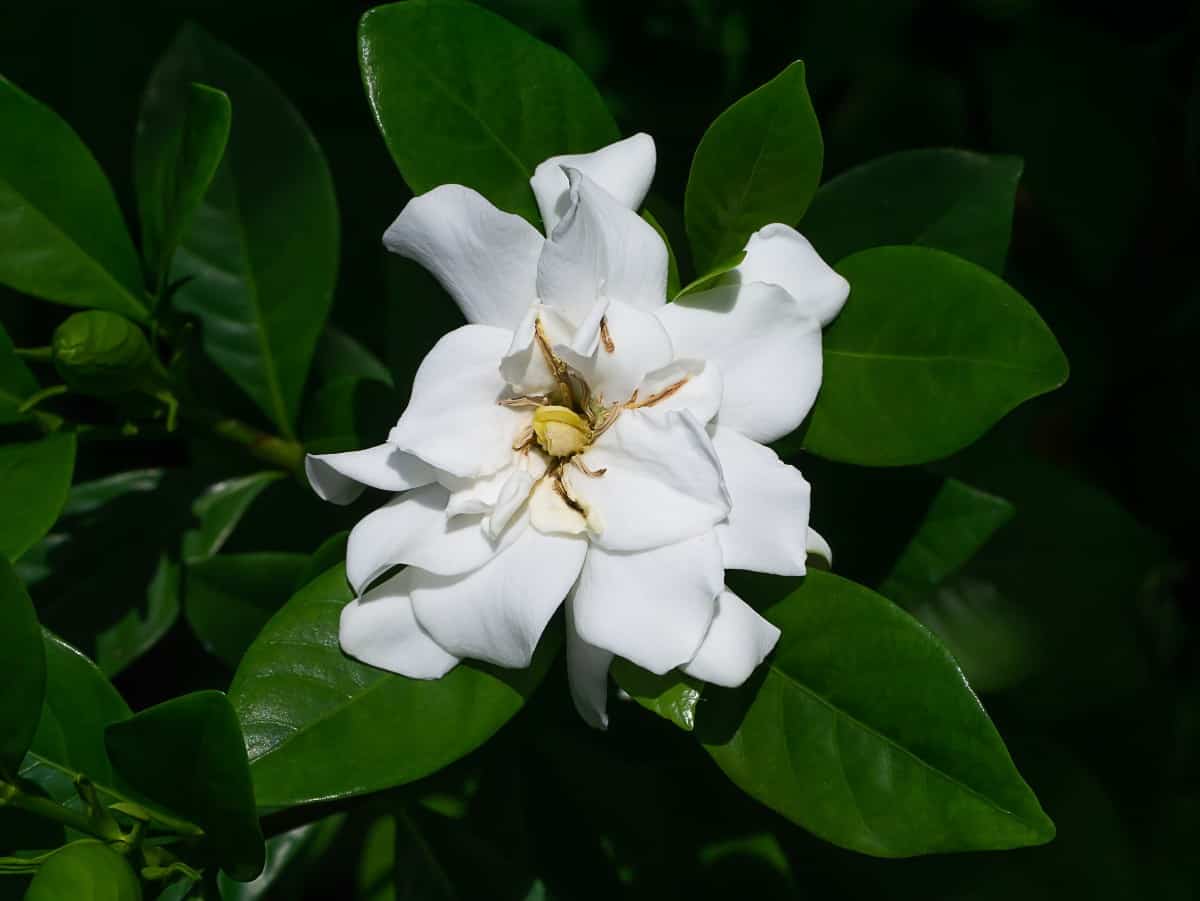 Although gardenia shrubs offer beauty loved by many homeowners, this shrub is a bit finicky. They are more cold-sensitive than the other evergreen shrubs listed here and prefer areas with more mild winters or to be grown in pots and moved indoors for the winter.
If you don't mind putting in a little extra care, fertilize gardenias monthly from April to November with high-acid soil.
Don't let the extra work turn you off from this evergreen flowering shrub. Their fragrance, creamy-white flowers, and dark green leaves offer a beauty that's well worth the effort.
Candytuft (Iberis sempervirens)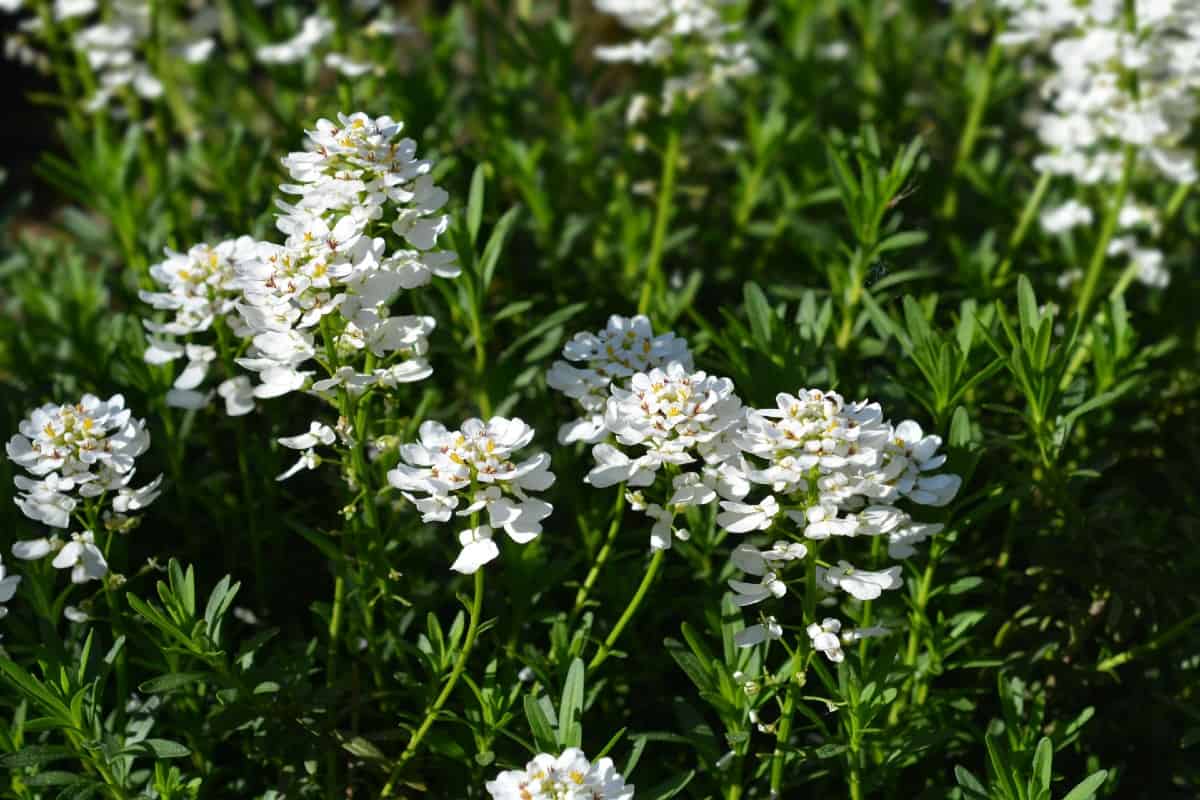 Candytuft is a native plant to Europe but has adapted well to nearly all zones. Plant this 12-18 inch tall plant in well-drained, alkaline soil in full sun. The flowers are typically white, but some have lilac and pink flowers as well.
Spread mulch or grass clippings around the plant to promote moisture retention. Prune up to half of the growth in late spring or early summer. Feed the shrubs at least twice each season with a low-nitrogen fertilizer.
Adding evergreen flowering shrubs for full sun to your garden or landscape often requires little work for year-round beauty. Every home benefits from incorporating these types of plants around your yard.
The green foliage in the dead of winter makes your home stand out among your neighbors and inspires them to incorporate evergreen shrubs into their landscaping.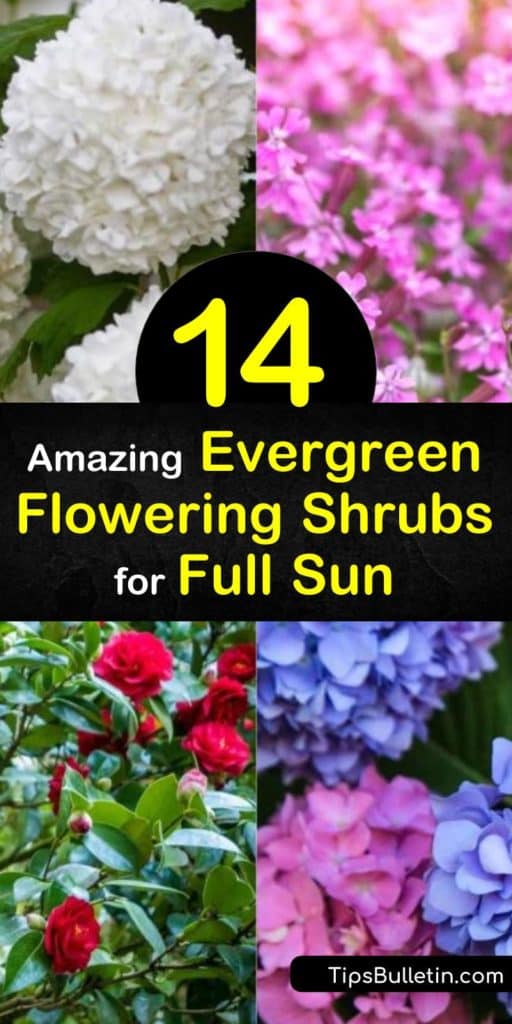 We hope this article provided you with plenty of incentive to update your landscape this summer. If you found some new evergreen flowering shrubs for full sun to add around your home, share this list of evergreen plants on Facebook and Pinterest.