Evergreen perennials are a fantastic choice for adding year-round color and vibrancy to your garden.
Research hardiness zones to find suitable evergreen perennials for your area.
Select a variety of evergreen perennials for continuous bloom throughout the year.
Plant in well-drained soil and in appropriate sunlight based on specific plant needs.
Mulch around the plants to retain moisture and suppress weeds.
Prune and deadhead as needed to encourage new growth and blooms.
Selecting the right evergreen perennials starts with understanding your local climate and the hardiness zone of your garden. Look for plants that will flourish in your area to ensure year-round greenery and blooms. Choose a mix of evergreen perennials that have different blooming times to ensure your garden stays colorful throughout all seasons.
When you plant these perennials, make sure they are in well-drained soil and positioned so that they receive the right amount of sunlight, which varies from plant to plant. Some need full sun, while others thrive in partial shade. Proper sunlight encourages healthy growth and vibrant blooms.
Adding a layer of mulch around your evergreen perennials not only makes the garden look tidier but also helps the soil retain moisture and deters weed growth, which means less maintenance work for you.
Finally, regular pruning and deadheading of your evergreen perennials encourage fresh growth and more flowers. This will help keep your garden looking its best and can often be done quickly and easily. Remember that consistent care results in a more robust and more vivid garden, so these steps are well worth the minimal effort.
As a nature lover, you probably look forward to spring every year when the trees come to life and the air flows with the scent of dainty blooms. It's at this time of the year that you shake off the winter blues with the coming of summer. However, did you know that planting evergreen perennial flowers gives your yard splashes of color all year round?
We often associate flowering plants with annuals, such as impatiens, begonias, marigolds, and pansies. They are some of the most common nursery flowers, after all.
These flowers are easy to grow and fill your garden with bright and cheerful hues all summer long, but they fade away in the fall. If you're tired of saying goodbye to lush greenery and beautiful bloomers at the end of the season, it's time to give evergreens a try.
Flowering perennials with evergreen foliage have much to offer, grow in various sizes, shapes, and tones, and are easier to grow than you probably think.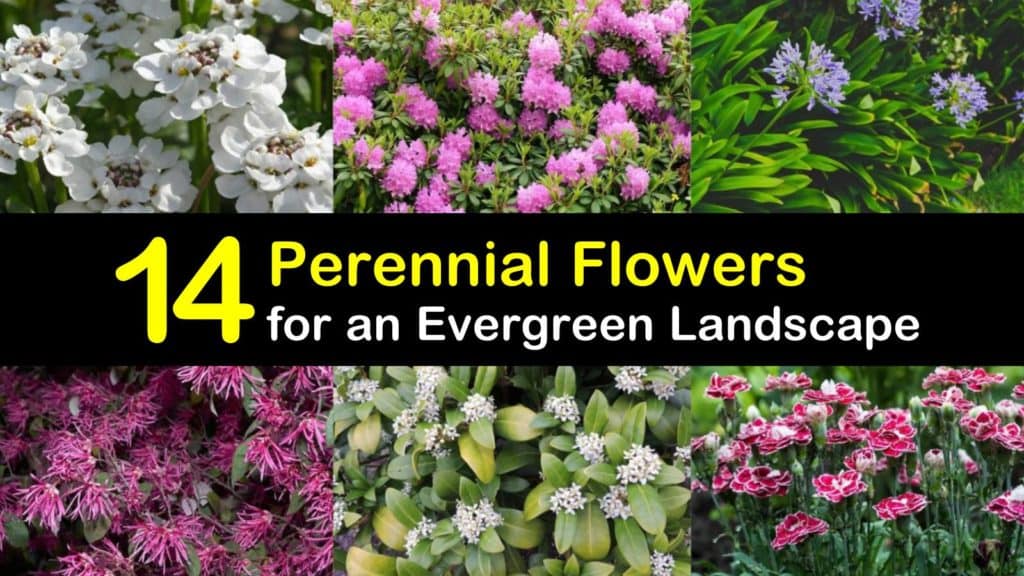 Landscaping with Perennial Evergreens that Flower
There are so many different types of evergreens. Some of them have broad leaves, while others have needle-like foliage.
Some grow flowers, while others do not. Therefore, it's essential to understand the differences before you rush to your local nursery to choose your next favorite plant.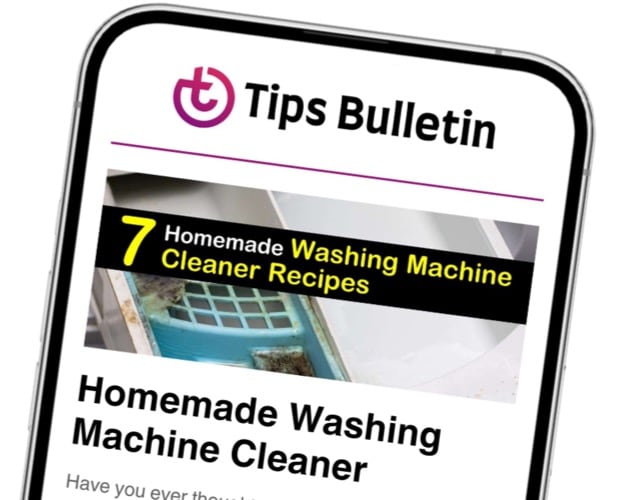 Finally, an email that Transforms Your Home.
Get the latest home and garden tips from our experts, delivered straight to your inbox.
If you have a problem with insects in your yard, you may want to consider flowers that repel mosquitoes and other bugs.
What are Evergreen Perennials?
Evergreens, such as some sedums, are a plant that maintains their leaves throughout the entire year. While they lose their leaves periodically, their foliage quickly replenishes, and the change of leaves often goes unnoticed.
Perennials, like Heucherella, differ from annuals because annual plants only grow one time a year and die off in late summer or early fall, while perennial plants are a more permanent structure in the yard, growing back year after year.
Do Evergreen Flowers Grow Anywhere?
Not all evergreens grow well in every location. Some are suited for warm, southern climates, and others prefer growing in cooler regions.
Understanding the plant's hardiness zone and ensuring that your area falls within its range is key to developing a strong and healthy plant.
Plan your garden with different types of plants, from tall and short ones to varying colors, to a variety of textures, like ferns that tolerate sun or add some to shady areas.
What are the Benefits of Growing Evergreens?
The benefits of growing flowering evergreen perennials are almost countless. These plants provide the space with greenery, and their vibrant flowers add color while attracting all kinds of butterflies, hummingbirds, and pollinators.
Not only that, but their year-round growth gives birds and wildlife refuge.
Are Flowering Evergreens Hard to Maintain?
The best thing about evergreen perennials is they only need planting once. Evergreen plants apply most of their energy into growing strong and healthy roots, making them an ideal choice for a low-maintenance garden.
However, some plants do require special care to thrive. Consistently pruning away dead or diseased growth, deadheading spent flowers, and placing a layer of mulch around the base of your plants are good practices when gardening. Always check the plant care tag for growing instructions.
Lenten Rose (Helleborus orientalis)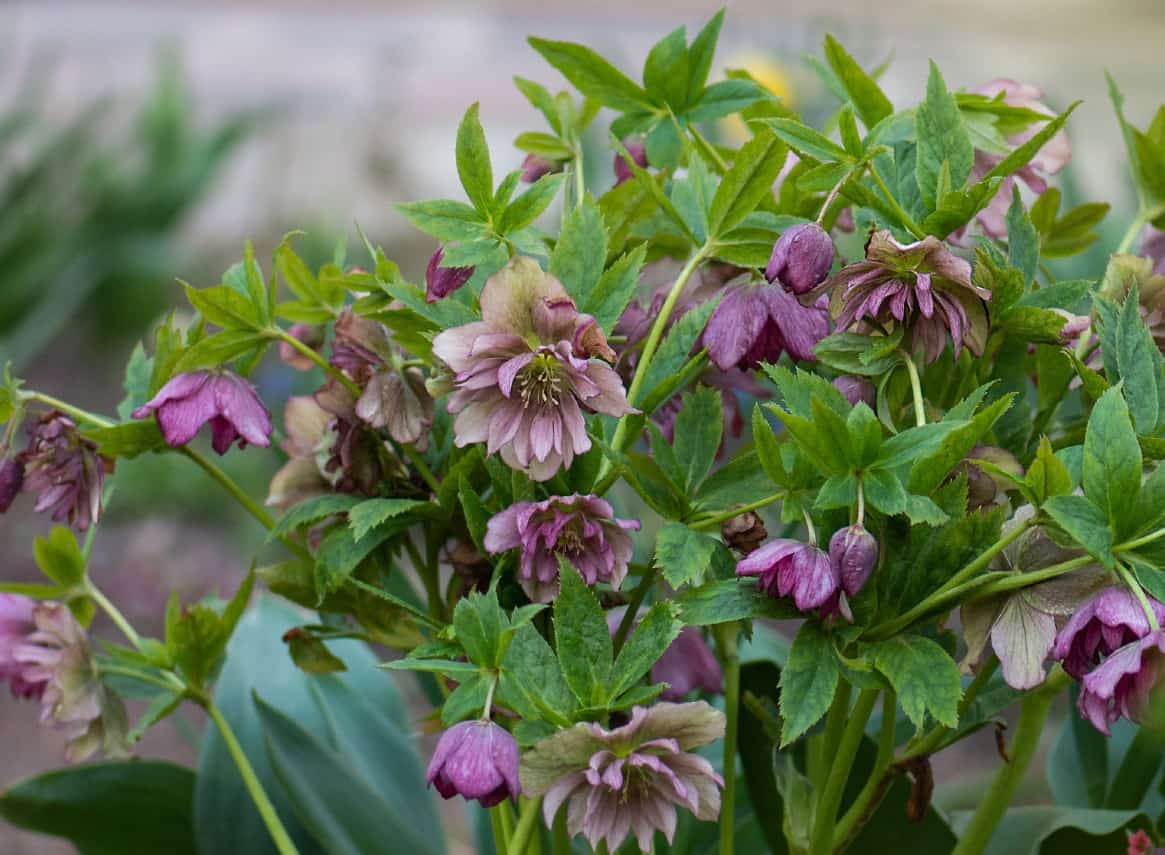 This flower belongs to the buttercup family group and is not actually a rose. It has leathery foliage, and its flower buds are rose-shaped early in the season with shades of pink, purple, blue, yellow, green, and red.
The lenten rose grows 18 to 24 inches in height and is an excellent ground cover plant for rock gardens. It spreads up to 18 inches and enjoys growing in part shade in hardiness zones 4 through 9.
Bush Lily (Clivia miniata) – Evergreen Perennial Flowers with Winter Blooms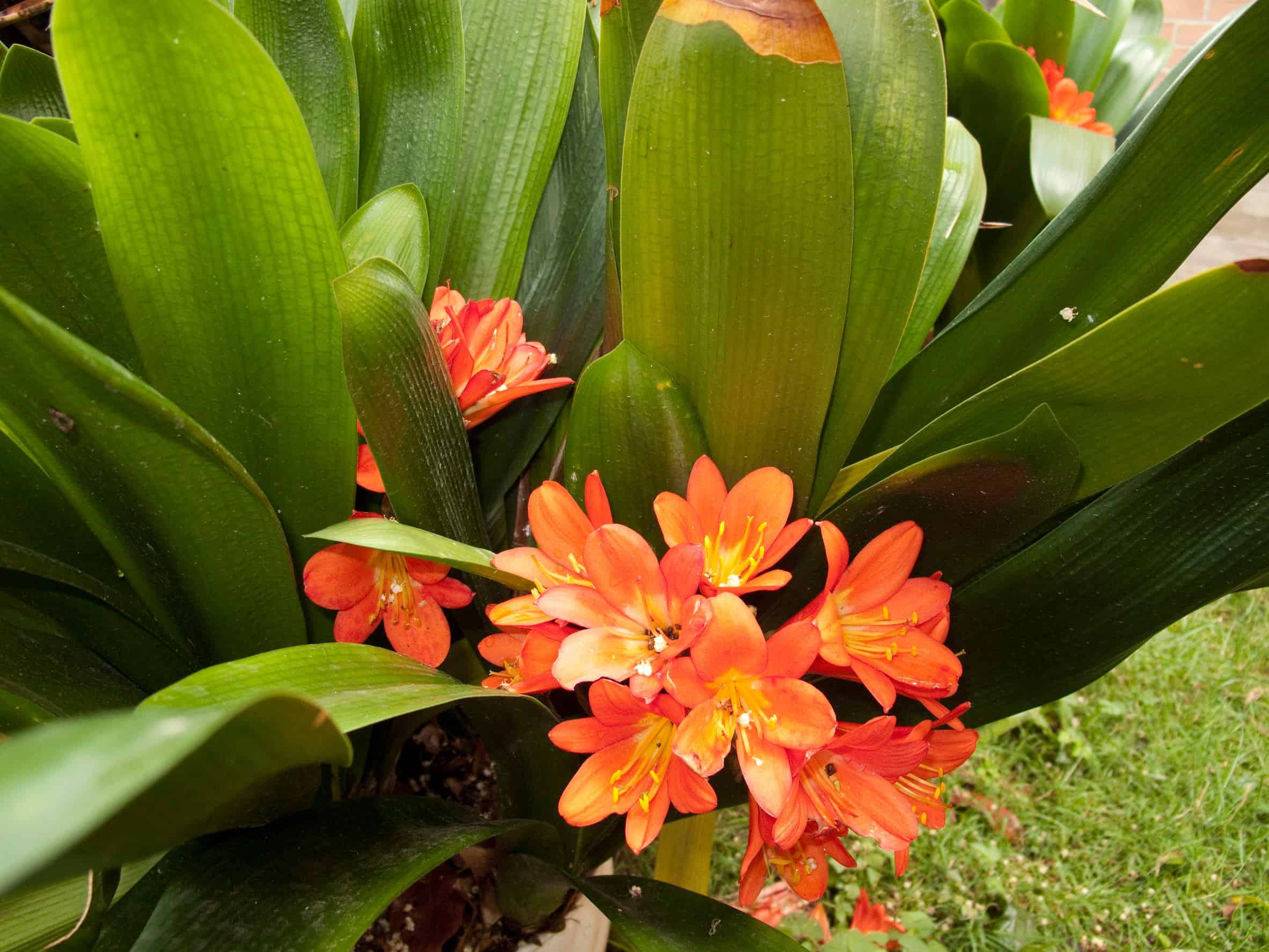 The bush lily has large clusters of bright orange, funnel-shaped flowers from early winter to mid-spring. Its dense foliage grows in a clump of dark green strappy leaves, and red berries follow the long-lasting blossoms.
These attractive plants grow up to 2 feet tall and 3 feet wide. They are virtually disease-free and flourish in bright filtered light with afternoon shade. Bush lily plants are hardy in zones 9 through 11 and are excellent cut flowers for the home.
Foamy Bells (Heuchera)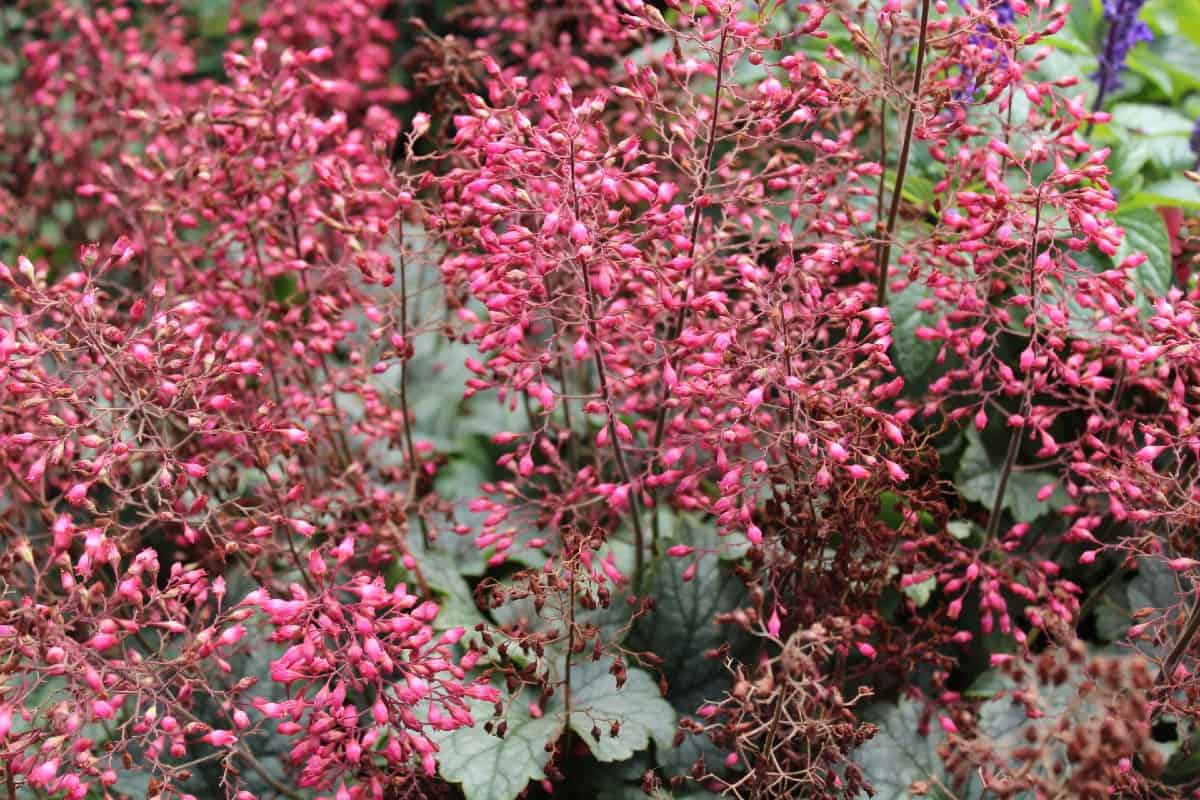 Foamy bells, or coral bells, grow in nice and tidy mounds of attractive foliage in purple and green hues. They produce bell-shaped white, red, or pink flowers on tall stems in late spring and early summer that attract hummingbirds and butterflies.
These flowering plants grow up to 3 feet tall and 12 to 18 inches wide and are suited for hardiness zones 4 through 8. Foamy bells grow well in part shade or full sun and make great edging plants for a garden.
Lily of the Nile (Agapanthus) – Evergreen Flowers that Attract Pollinators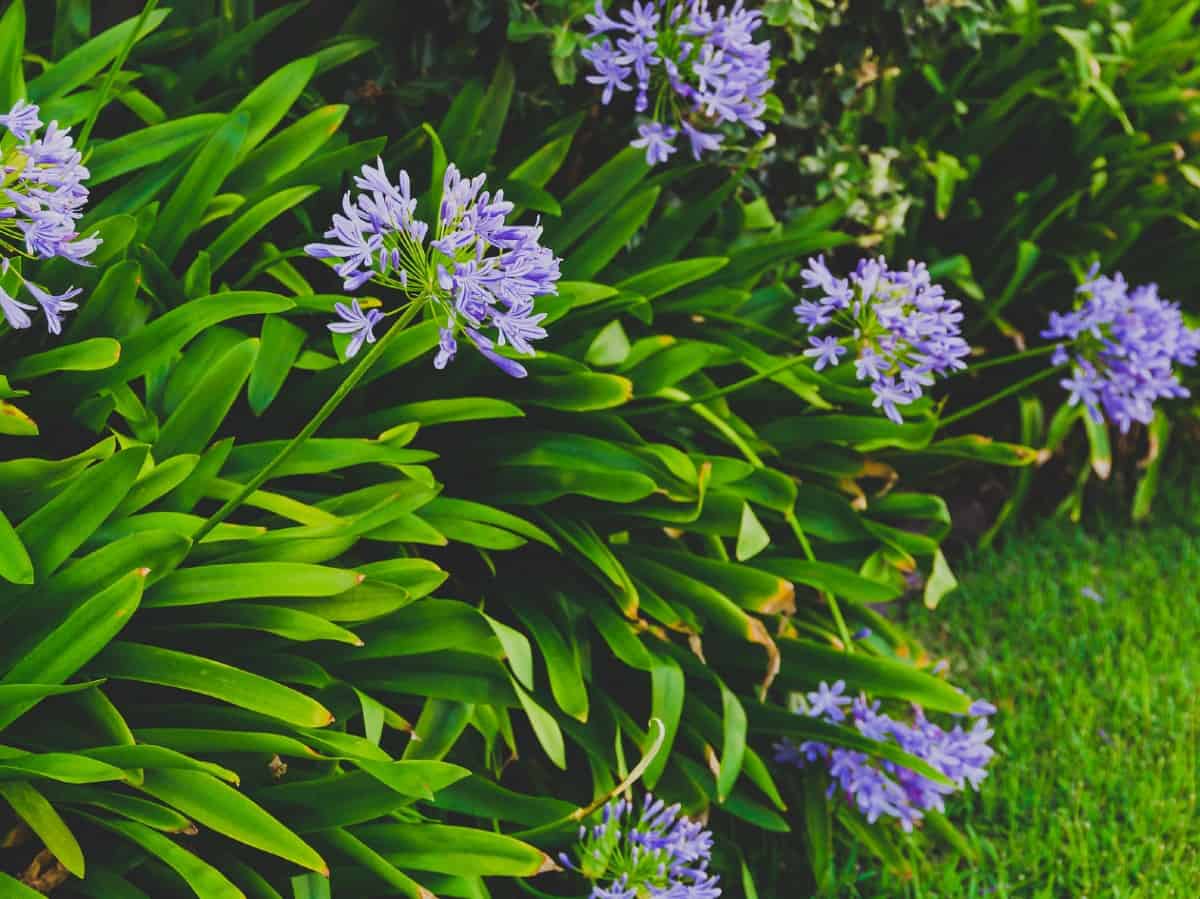 Lily of the Nile, otherwise known as the African lily, is an exotic looking plant with rounded clusters of bright purple, white, or blue flowers on sturdy, upright stalks, surrounded by tender long and shiny leaves.
These flowers are deer, rabbit, drought, and salt tolerant and attract pollinators. Lily of the Nile plants prefer growing in part to full sun, are hardy in zones 7 through 11, and have a mature size of 1 to 4 feet tall.
Boat Lily (Tradescantia spathacea)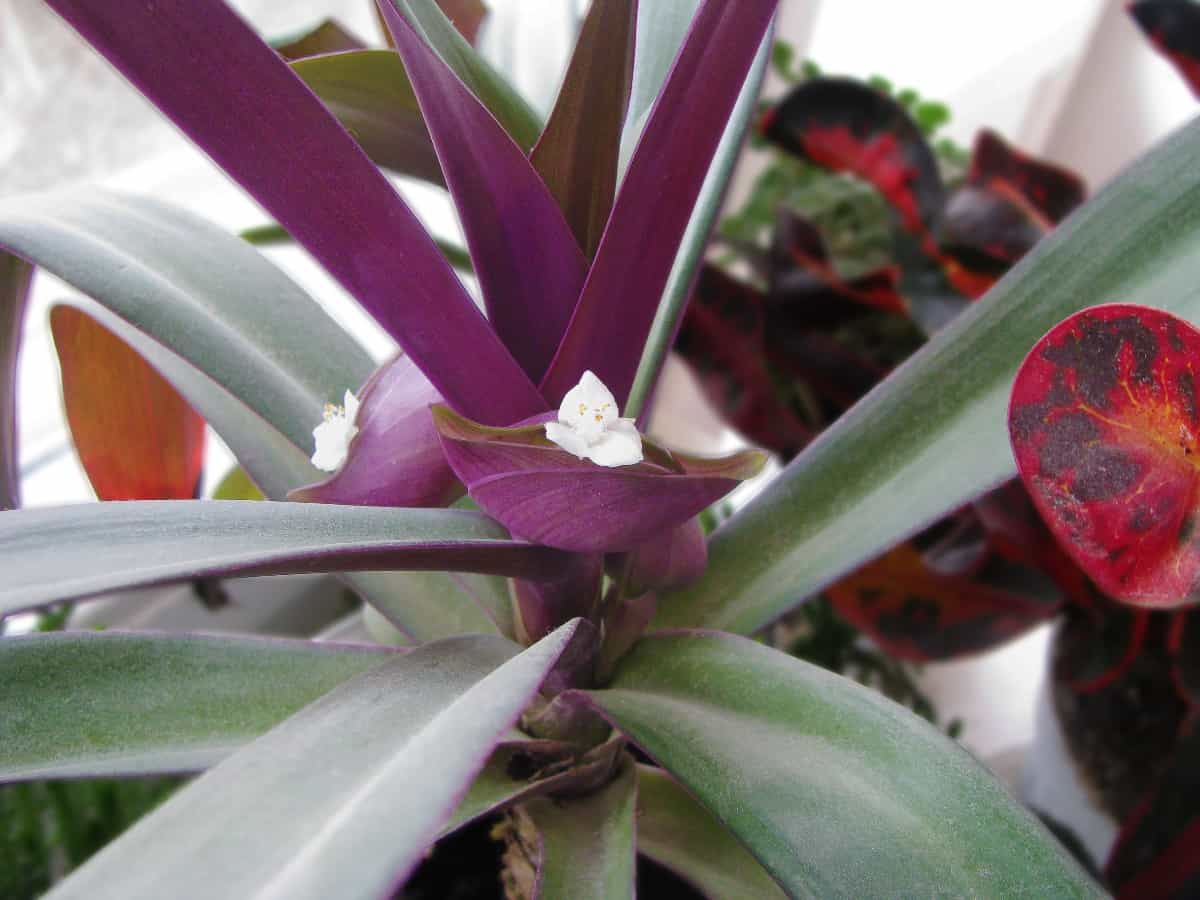 Boat lily plants are clump-forming grow with rosettes of lance-shaped, dark green and purple leaves. They have small, three-petaled flowers that erupt from a cradle of leaves in the center of the plant.
This ornamental plant tolerates both drought and humid conditions. It craves full sun and is hardy in zones 9 through 11. The boat lily is a low growing plant with a mature size of 6 to 12 inches tall.
Azaleas (Rhododendron) – Ornamental Evergreen Shrub with Flowers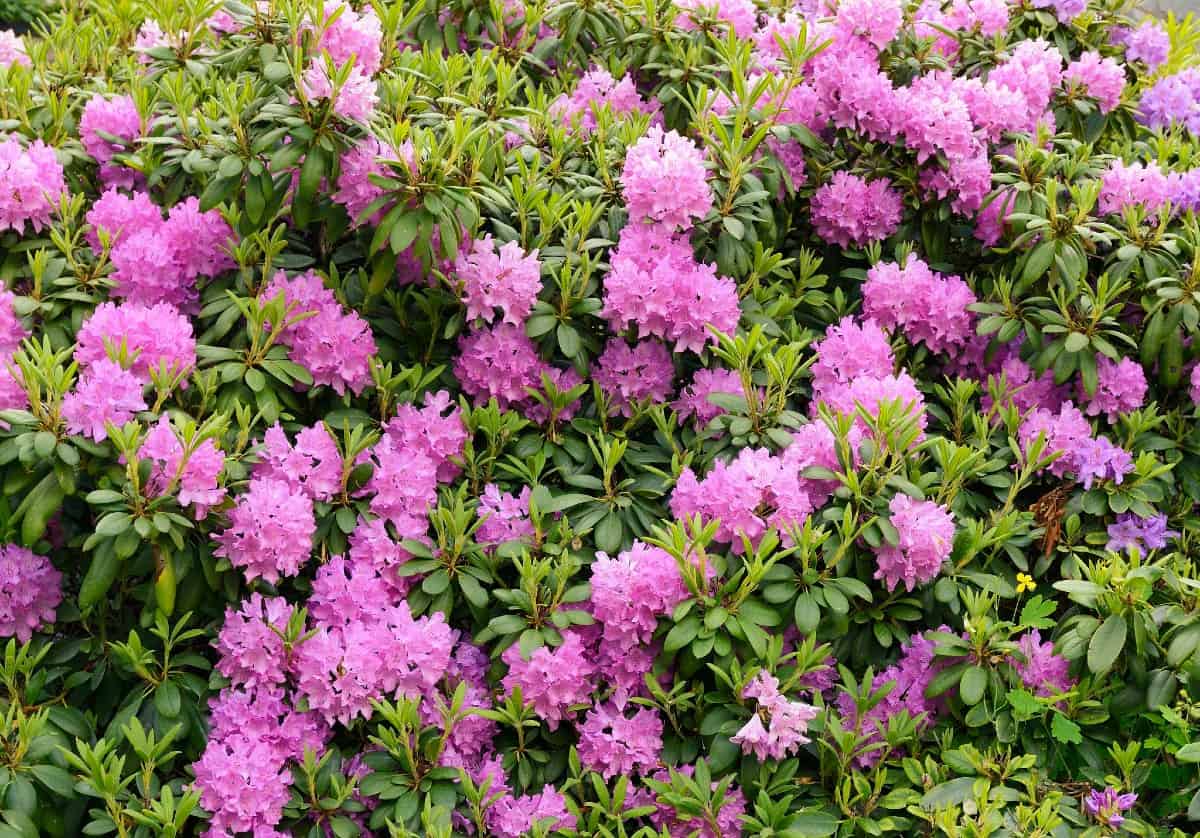 These highly ornamental shrubs are a delight in a year-round garden. They grow in many shapes and sizes and are a flower that smells good. Azaleas produce showy pink, purple, yellow, orange, or white flowers amid lush green leaves in the early spring and early summer.
Azaleas have a mature size of 2 to 6 feet tall and wide and are hardy in zones 3 through 11, depending on the kind. They are a favorite among butterflies and hummingbirds but are also natural cat repellent plants. They prefer part to full sun.
Mountain Laurel (Kalmia latifolia)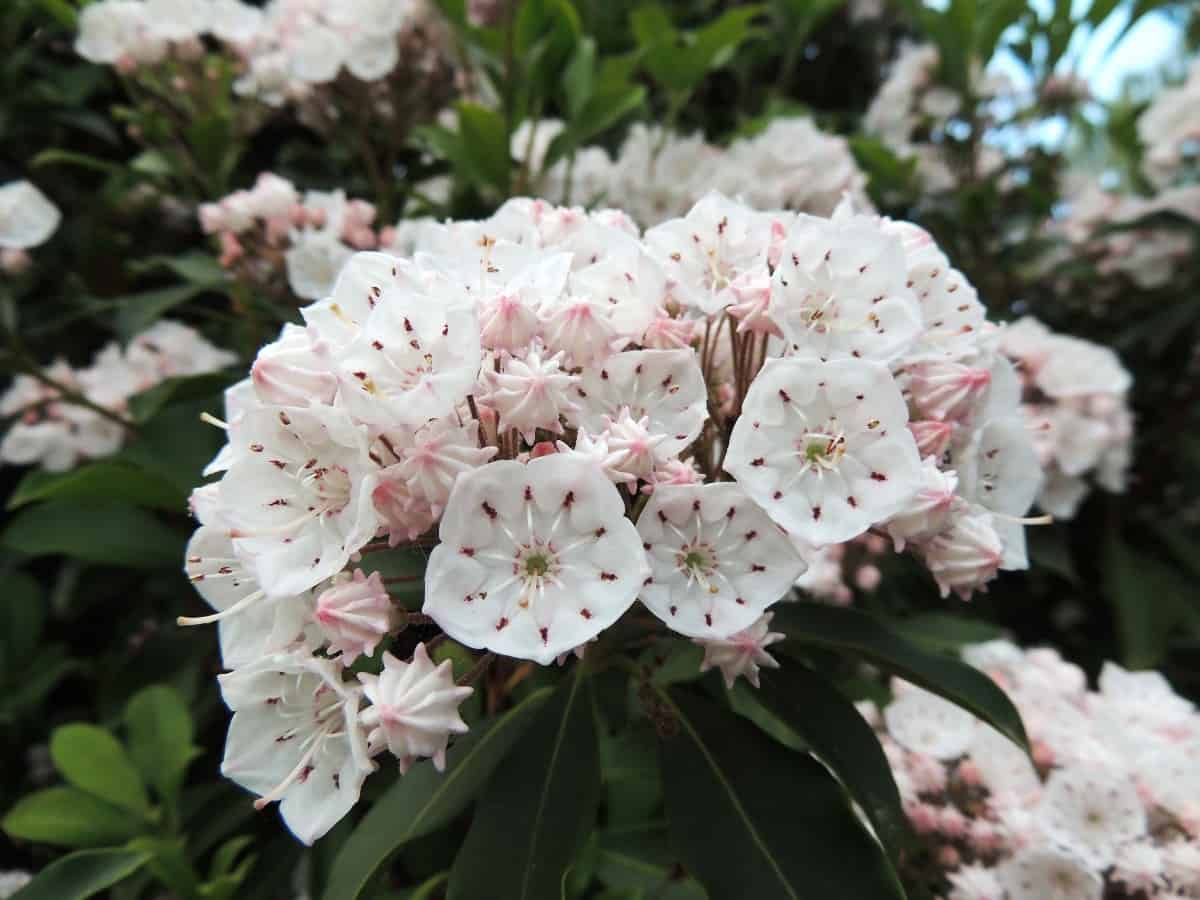 This broadleaf shrub grows abundant clusters of pale pink flowers that open from deep pink buds from late spring to early summer. The oval, glossy leaves of this bush change from green to purple throughout the year.
Mountain laurel shrubs are attractive summer flowering perennials that are dense and rounded, growing 5 to 15 feet tall and wide. They love partial shade, are deer and rabbit resistant, and hardy in zones 4 through 9.
Chinese Fringe Flower (Loropetalum chinense)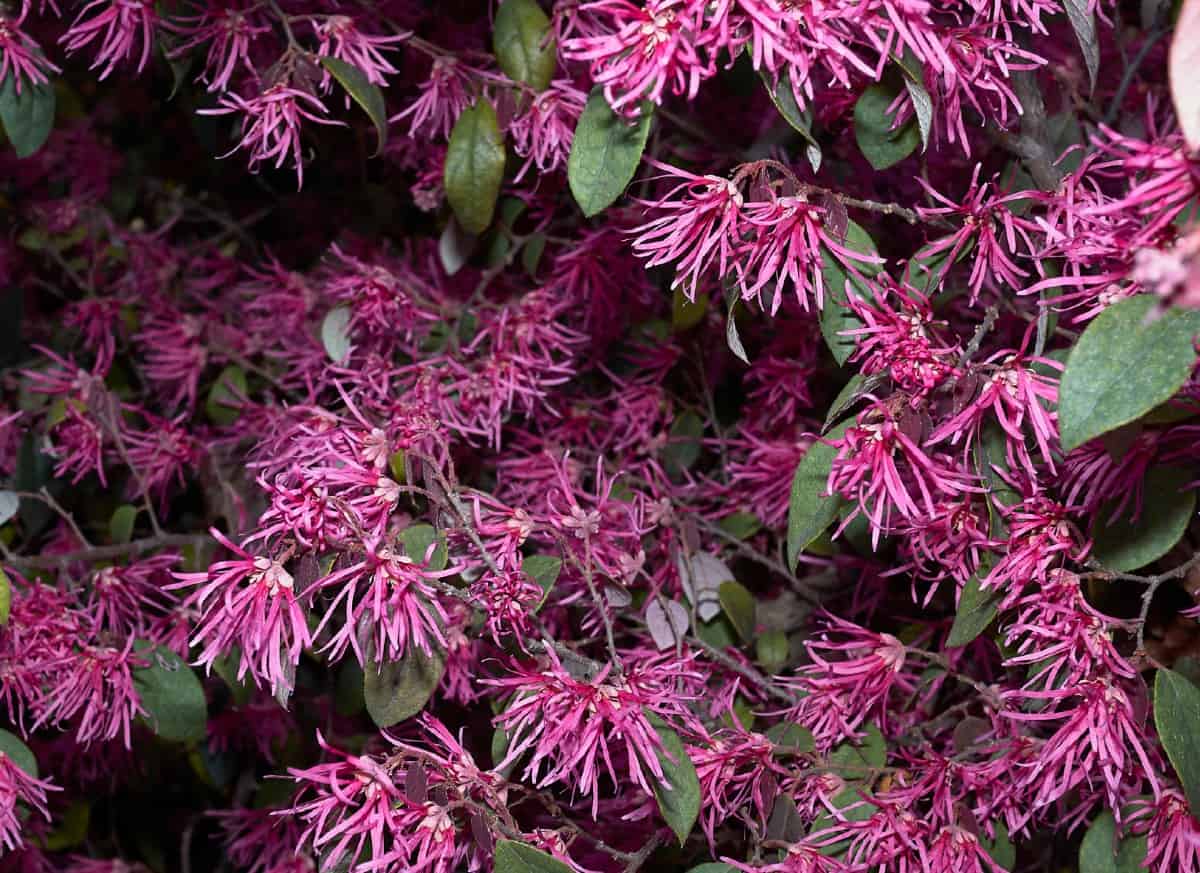 There are many kinds of the Chinese fringe flower, and their burgundy toned foliage and bright fringes of pink, purple, or white flowers are a delight during the spring. They look charming as a hedge or specimen plant.
This plant grows with a bushy form and reaches anywhere from 5 to 15 feet tall, depending on the species. The Chinese fringe flower is hardy in zones 7 through 9 and is tolerant of both full sun and part shade.
Candytuft (Iberis) – Evergreen Perennial with Blossoms of the Purest White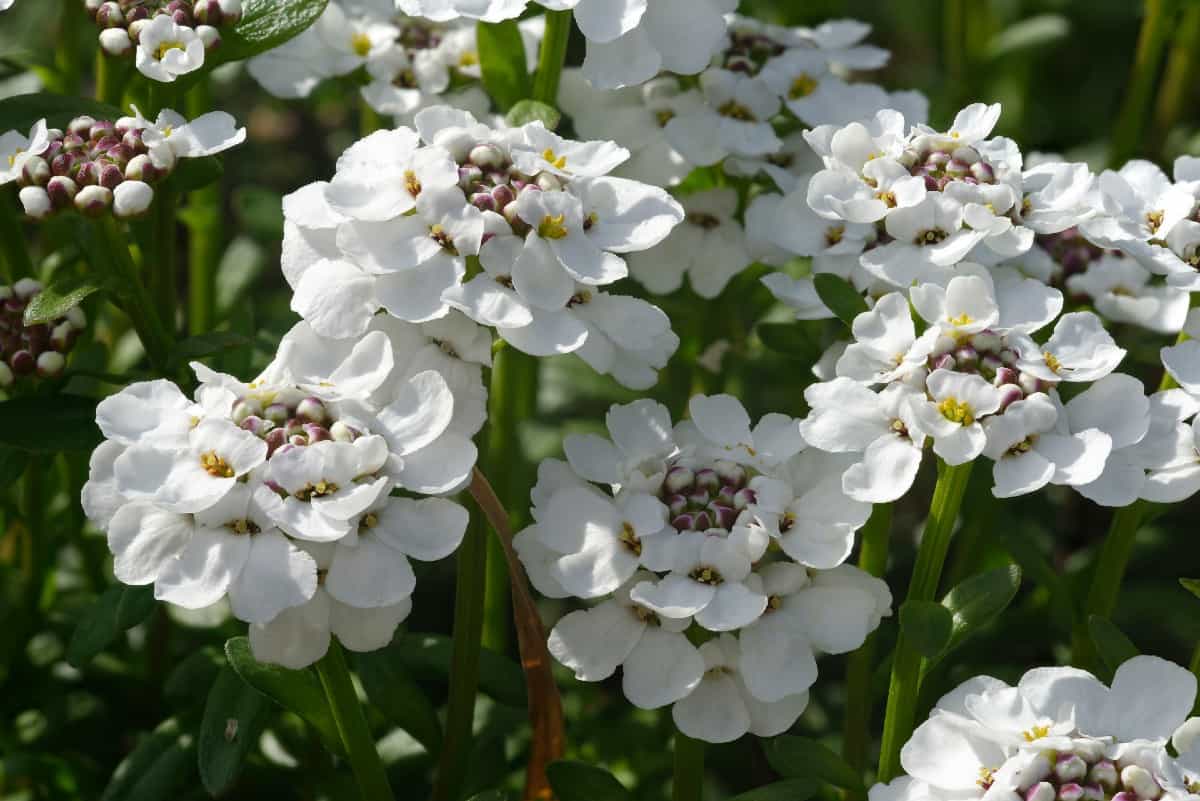 Candytuft has dark green leathery foliage that is striking against the four-petaled pure white flowers. It grows in low, bushy mounds and looks at home nestled in a rock garden or along a pathway.
These flowers prefer full sun and only reach a height of 6 to 12 inches tall with a spread of 18 inches. They are deer, rabbit, and drought resistant and thrive in hardiness zones 3 through 9.
Andromeda (Pieris japonica)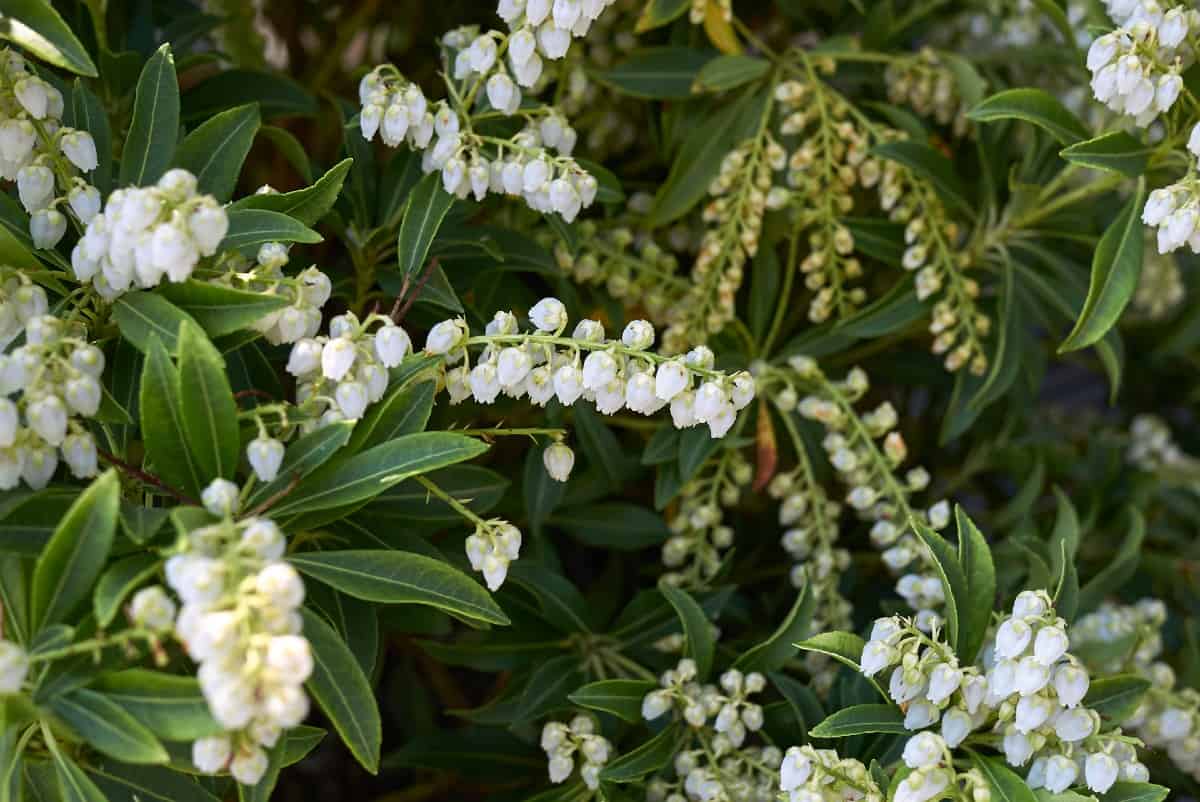 This bushy rounded shrub is eye-catching with its abundance of perfumed, urn-shaped creamy white and pink early spring blooms and dark green glossy foliage. The flowers resemble the lily of the valley, and they contrast beautifully with the leaves.
Andromeda shrubs grow 6 to 8 feet tall and wide and are hardy in zones 5 through 8. They are deer resistant and generally pest-free and prefer growing in the sun or part shade.
Daphne (Daphne odora) – Dense Flowering Evergreen Shrub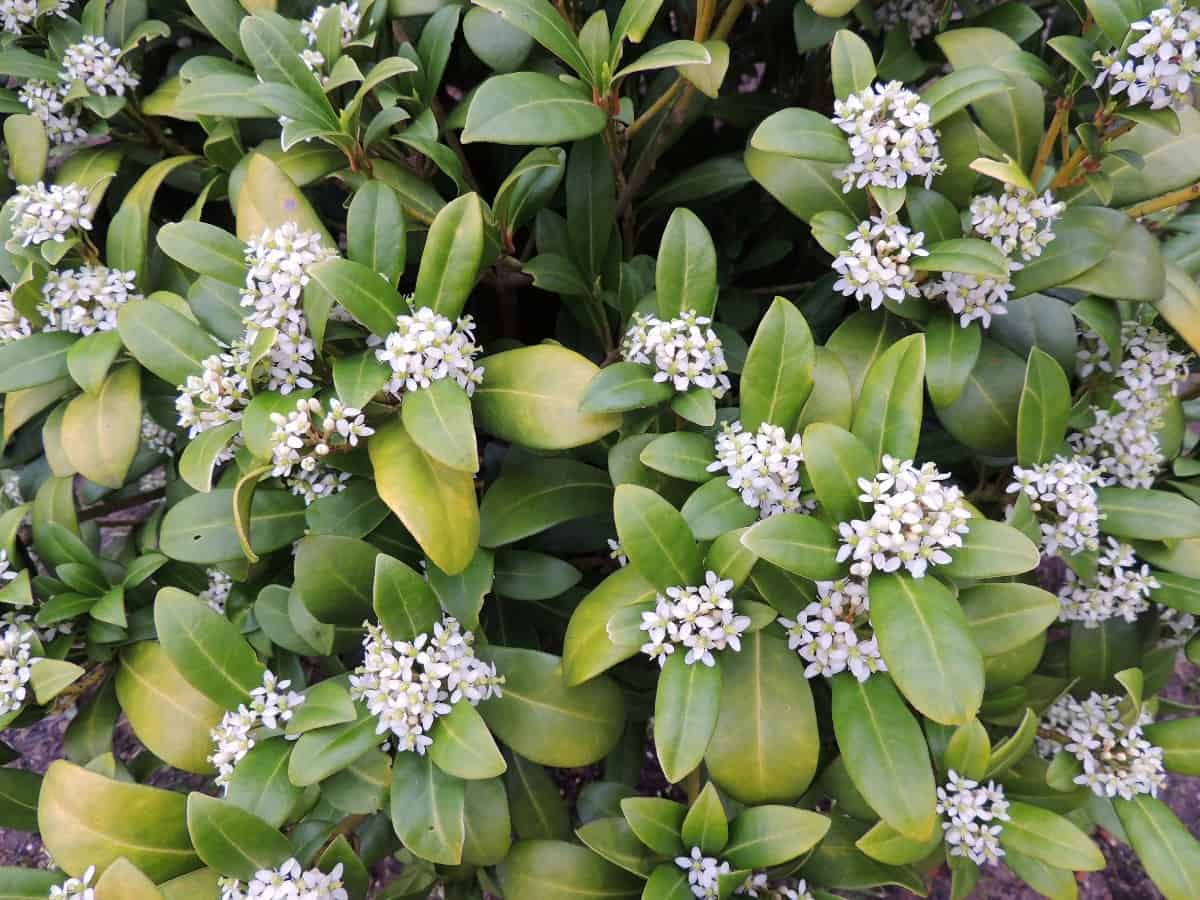 This densely branched shrub has shiny dark green leaves and fragrant rose-purple or white flowers in mid to late winter. While it's a beauty in the yard, it is highly toxic, so caution is necessary if you have children and pets.
The Daphne bush has a mature size of over 6 feet tall. It is relatively pest and disease free, prefers sun to light shade, and is hardy in zones 7 through 9. It does not tolerate drought and requires good drainage.
Winter Heath (Erica carnea)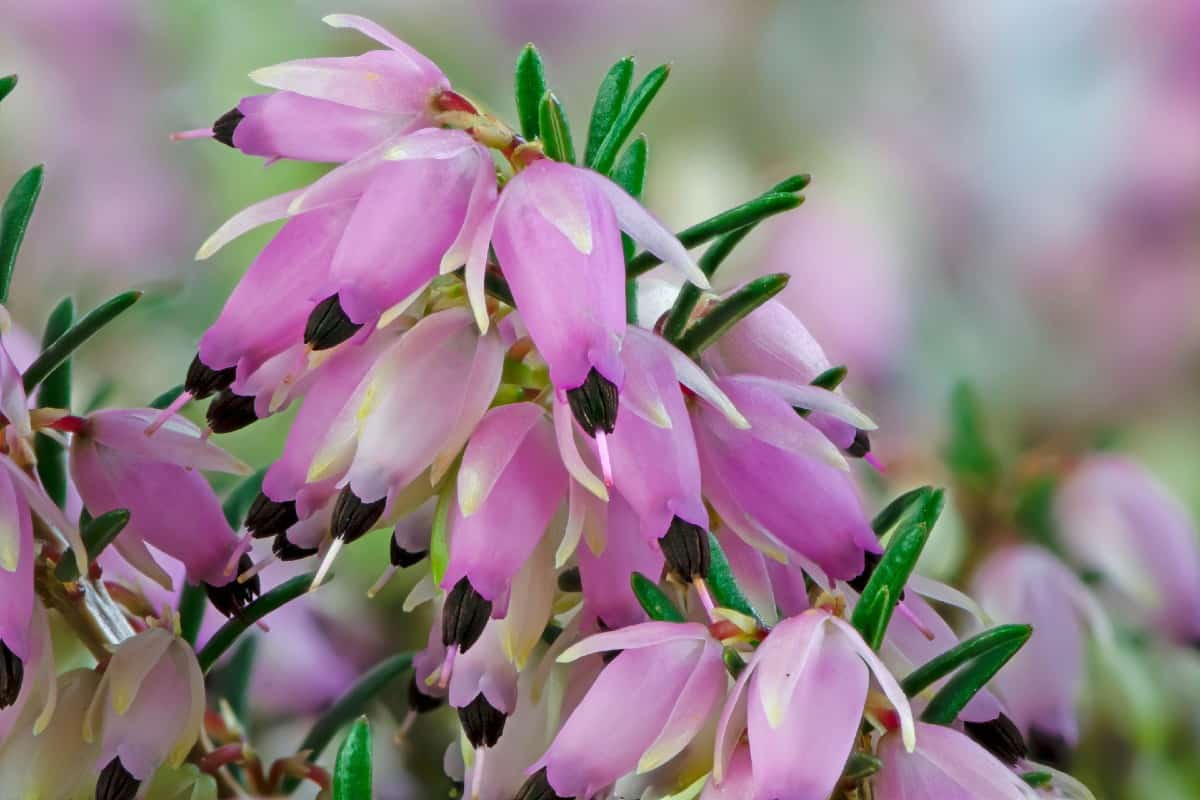 Winter heath is a shrub with rounded and dense growth. It has tiny needle-like leaves and bell-shaped pink, yellow, or gold flowers that appear to take over the plant in the late fall and winter.
This small shrub grows in hardiness zones 5 through 9, depending on the species, and it grows low, only reaching a mature size of 1 to 2 feet tall. These wildflowers are hardy plants that need very little attention.
Creeping Phlox (Phlox stolonifera) – Ground Cover Perennial Evergreen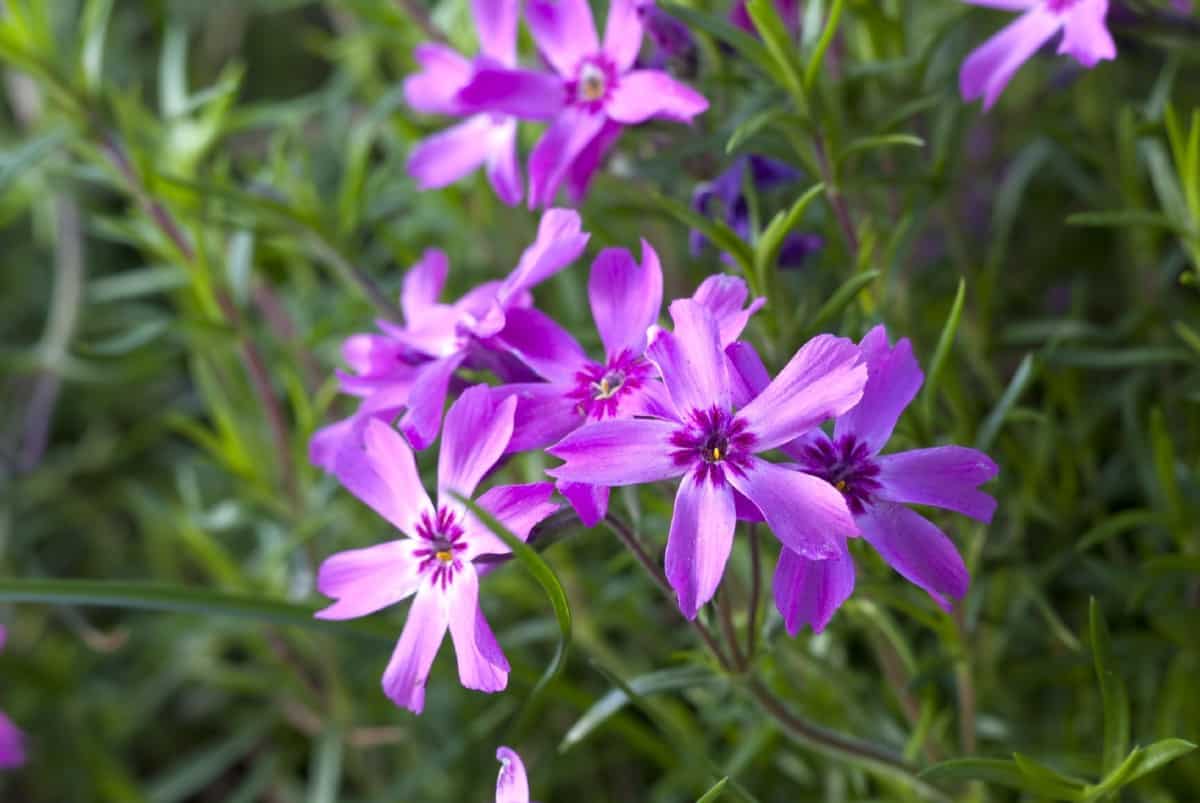 These fast growing evergreen ground cover plants blanket the landscape with their lush white, pink, red, blue, or purple flowers during the spring. The tiny leaves remain green after the floral display fades, and this simple plant adds character to stone walls and pathways.
Creeping phlox grows 4 to 6 inches tall, spreads up to 24 inches, and is hardy in zones 3 through 9. The creeping plant prefers slightly acidic or alkaline soil and desires full sun.
Carnations (Dianthus caryophyllus)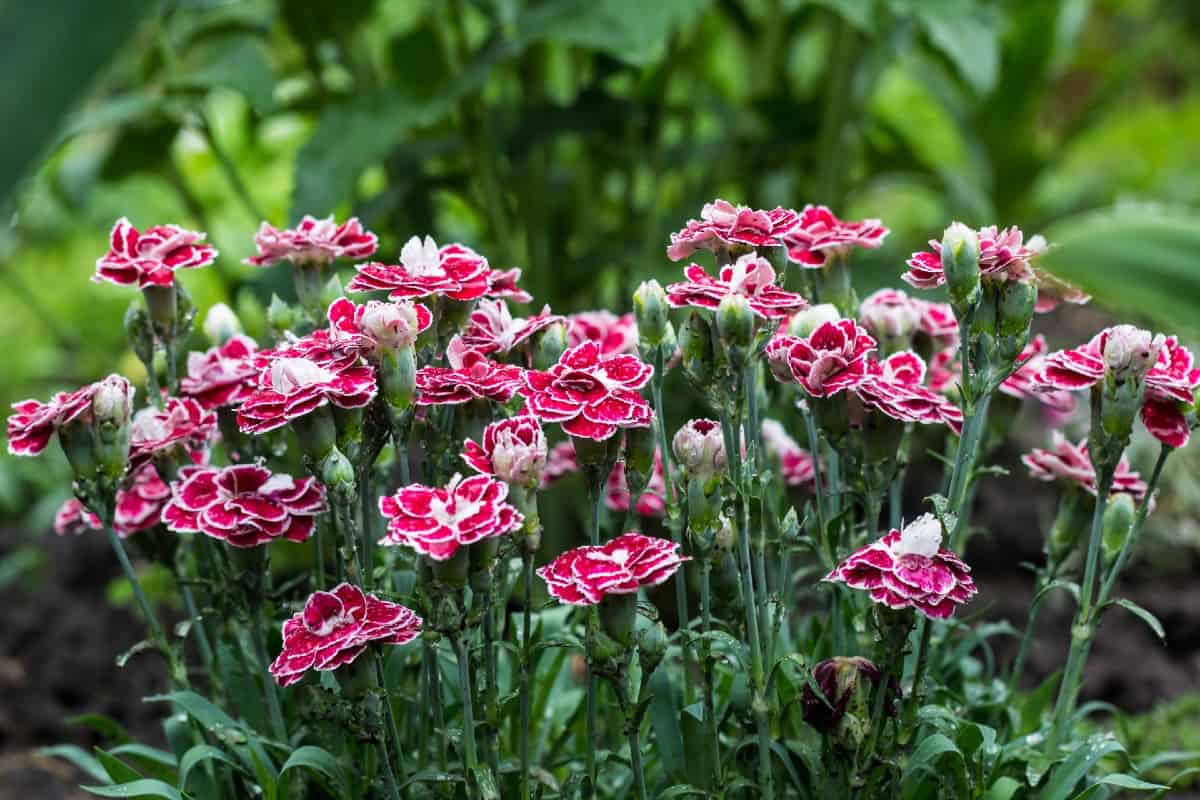 We often consider carnations as a florist flower, but they are also a great plant for growing in the yard. There are many different types of these flowers, ranging from red and pink to white, and they all have a spicy clove aroma.
Carnations grow up to 24 inches tall and 12 inches wide and are generally hardy in zones 5 through 10. They perform ideally in full sun and well-drained soil, and their gray-green leaves and ruffled blossoms make them the perfect cut flower for bouquets.
With all of the advantages that evergreen perennials have to offer, what's not to love?
They maintain their foliage throughout the year, produce pretty, fragrant flowers, and attract various pollinators to the yard. They are easy to care for, and many of them basically take care of themselves.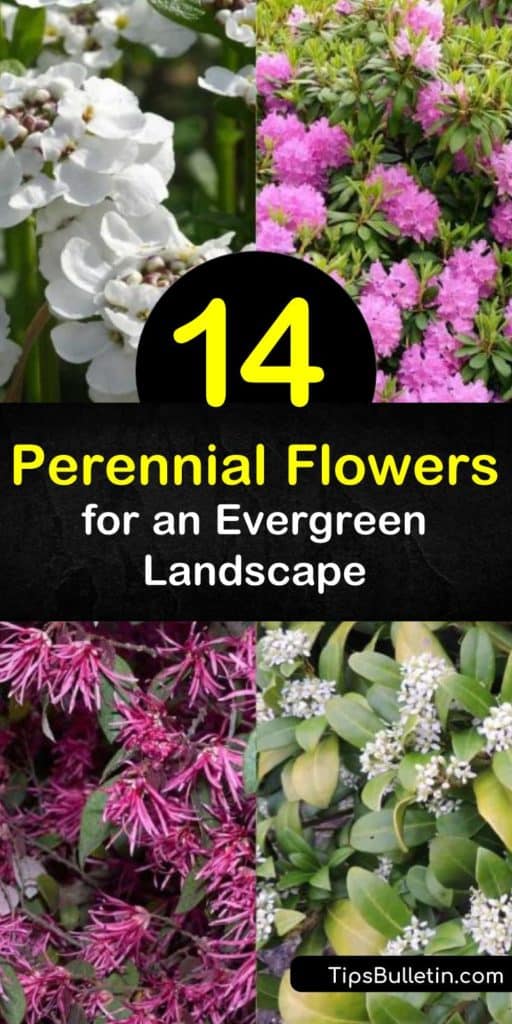 One of the best ways to enjoy the color of nature all four seasons is with evergreen perennial flowers, so why not share our flowering evergreen perennial guide with your circle of family and friends on Pinterest and Facebook?