The winter months seem to drag on forever, and seeing a backyard that is stark and lifeless doesn't help. The cure to these winter-time blues is to plant evergreens. There are many evergreen plants for pots that not only grow well in containers but provide your yard with a boost of winter color.
Commonly thought of as a privacy fence or tree line, evergreens also make excellent plants for container gardening. Not only are container plants easy to grow, but they bring winter color closer to your home and provide a stunning focal point to the yard.
When you think of evergreens, you probably picture Christmas tree style plants, but not all evergreen shrubs and plants have pine needle branches. There are many varieties of potted evergreens that fill the patio or porch with other types of green foliage.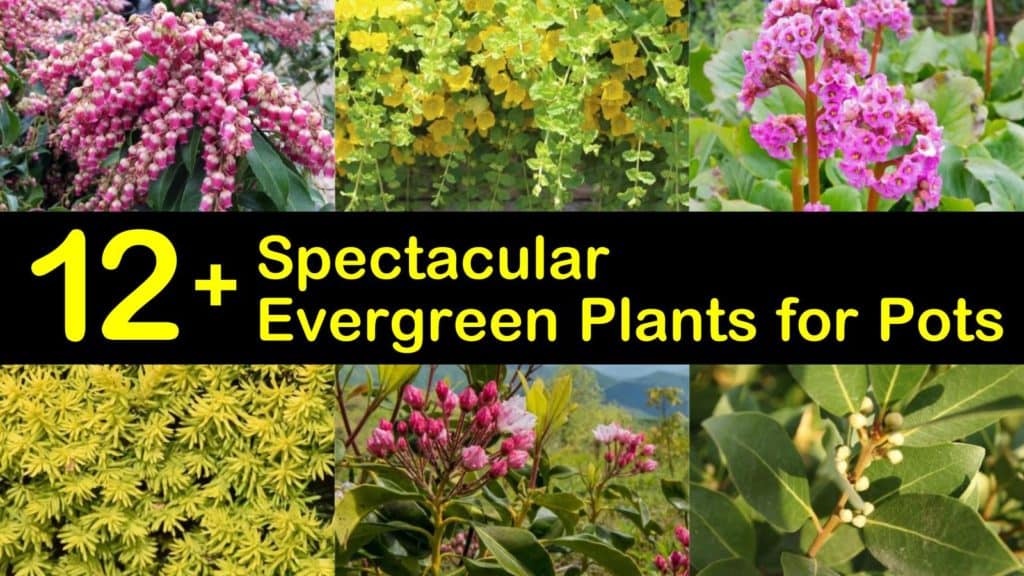 Growing Winter-Friendly Potted Plants
While growing plants in pots is relatively straightforward, there are a few things to know before purchasing your evergreens and containers. What's the difference between evergreen and deciduous plants?
Which types of plants grow best in the yard? Should you place your potted plant in the sun or shade? We'll help you answer these questions and more, as well as provide you with a list of our favorite potted plants.
You can grow almost any plant in a pot. There are flowers and vegetables you can grow in pots, as well as trees and shrubs. Plant a mixture for variety.
What are Evergreen Plants?
Evergreen plants keep their green foliage throughout the entire year. Some evergreens have pine needles that they shed as they mature.
However, the needles are replaced with new ones so quickly that it's hard to notice. There are also broadleaf evergreens such as viburnum and rhododendron that have lush green leaves and produce seasonal flowers.
Why Should I Grow Evergreens in Pots?
Growing evergreen plants in containers is an ideal way of providing your outdoor space with bright green color throughout the entire year. Unlike deciduous plants, evergreens keep their foliage year after year.
Growing them in pots keeps their size in check and provides you a way to decorate a patio or porch during the winter months. Plant them in simple terra cotta pots or brighten the area with large, colorful containers.
Which Plants Grow Best in Containers?
While smaller plant varieties are the best choice for container planting, it doesn't limit your options. Planting an evergreen with a sizable mature height is possible since the pot size determines the plant size.
Some of the best plant choices for pots are the variegated red-twig dogwood, boxwood, conifer plant, and viburnum. If you have large pots, consider mixing several evergreens in the same pot to create a space of interest.
Did you know that there is also a way to grow roses in pots, depending on the variety? Your choices for potted plants are only limited by your budget and your planting zone.
Is It Hard to Grow Potted Evergreens?
The only difference between planting annual potted plants and evergreen plants is that evergreens require special attention during the winter.
If you live in a cold region, overwinter potted evergreens by protecting them during the winter months, stop feeding the plants about one month before the first frost, and do not water them once the dirt freezes. Some plants require root-pruning to remove part of the root ball to control growth.
Be choosy about whether you want evergreen dwarf shrubs or those that reach tall heights. You may need to make adjustments for the plant's growth as it matures and re-pot into larger containers.
Boxwood (Buxus)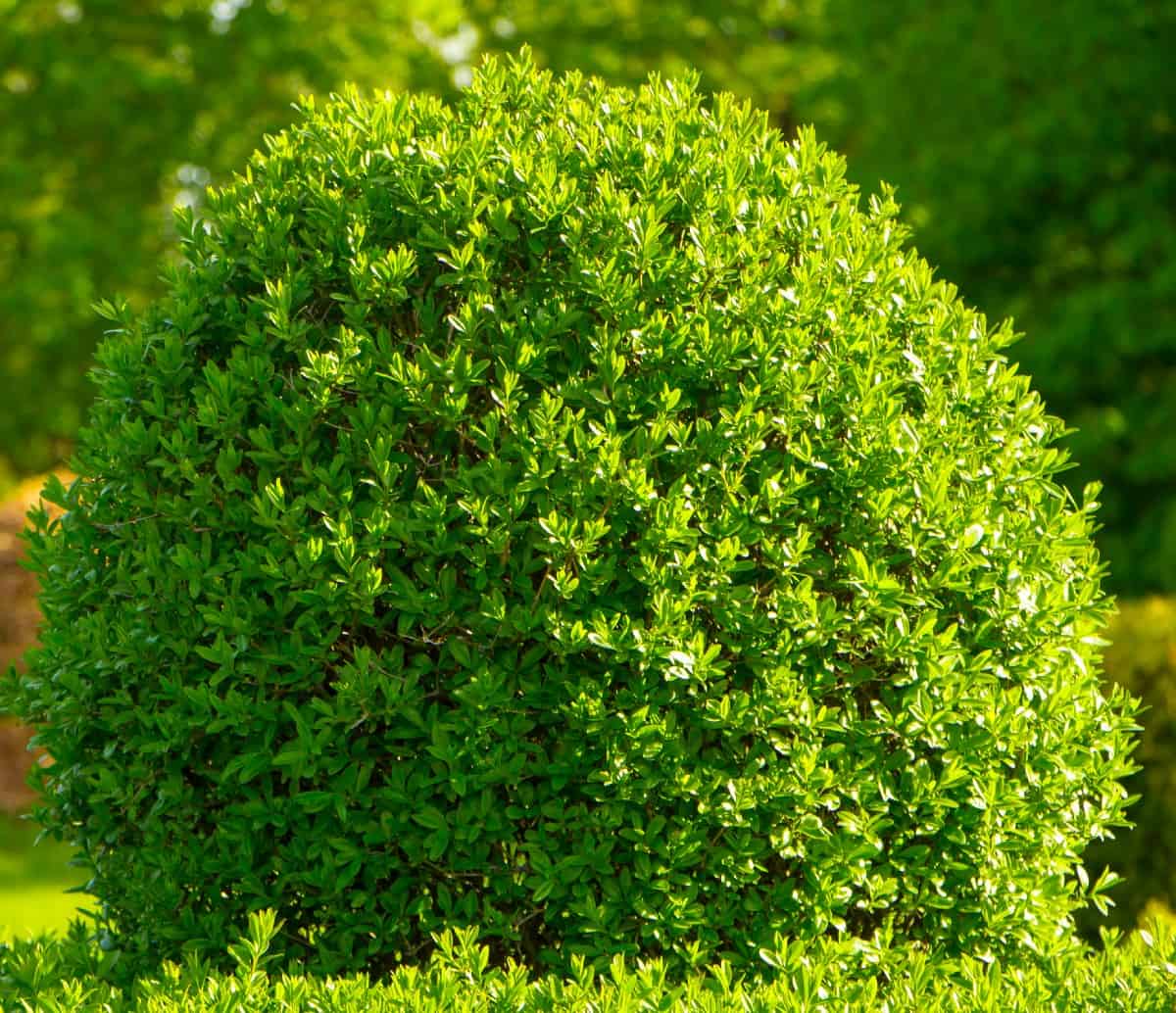 Boxwood has glossy, green leaves, and it's easy to manipulate into different shapes and heights by pruning. Create a formal container garden of lush green beauty in varying sizes with this evergreen.
This deer resistant plant grows to an average height of 3 feet with a width of 2 feet. Boxwood grows best in USDA zones 4 through 8 in partial shade to full sun. Choose a large pot that is fast draining and is as wide as the plant is tall.
Japanese Pieris (Pieris japonica) – Evergreen Plants for Pots with Captivating Flowers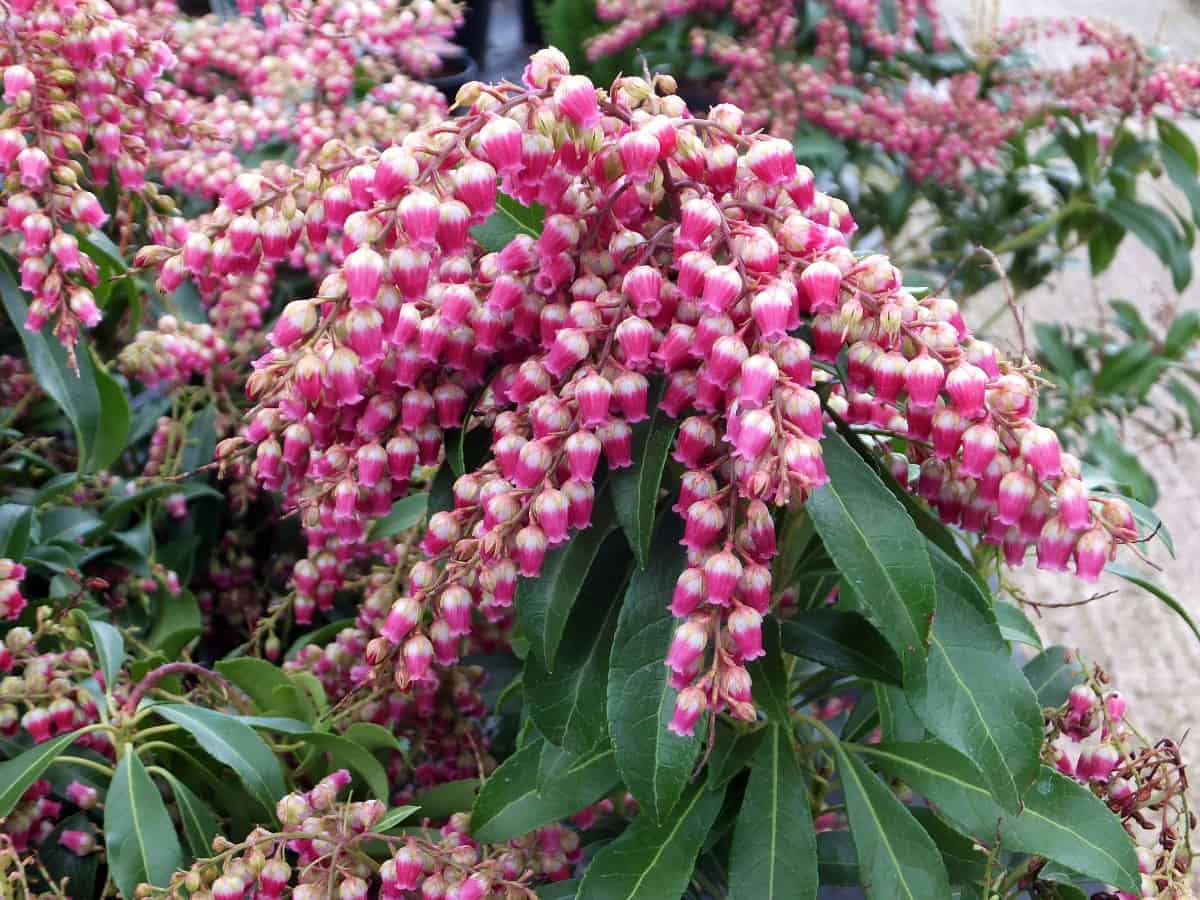 This evergreen shrub provides interest to the yard all year-round. It has attractive buds during the late winter months and early spring flowers in clusters of upside-down blooms. Enjoy new growth that is deep red that matures to dark green.
The Japanese Pieris requires acidic potting soil and cannot tolerate full sun. It prefers full to part shade and grows according to the pot size, but reaches a height up to 10 feet tall under other growing conditions.
Emerald Arborvitae (Thuja occidentalis)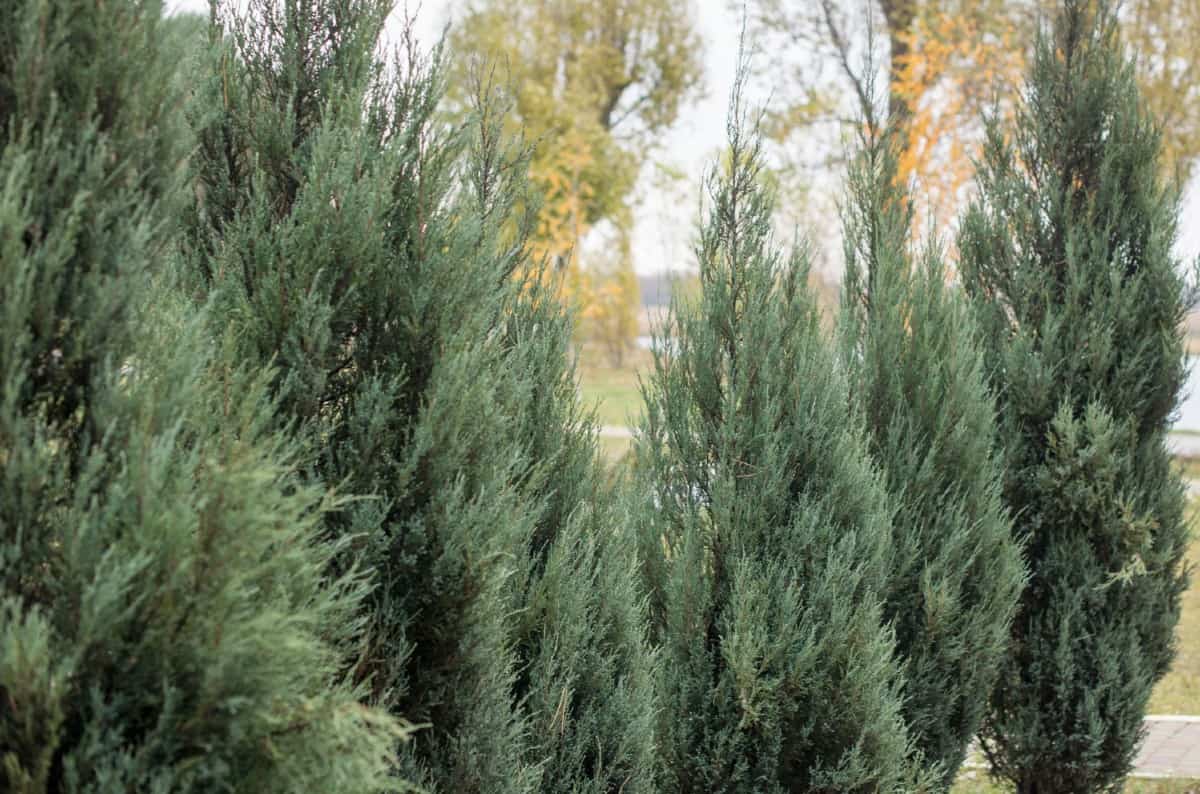 Emerald green arborvitae trees are slow-growing evergreen trees that fill an outdoor container with dense green foliage no matter what the season or temperature. Plant these conifers in several pots to create a natural fence on the patio, or trim them into a topiary for extra appeal.
This low maintenance plant requires partial to full sun and thrives in zones 2 through 7. Plant the arborvitae in a large pot that holds 20 gallons of high-quality potting soil for best results. Re-potting may be required after several years of growth.
Coral Bells (Heuchera) – Potted Plant with Stunning Heart-Shaped Foliage and Dainty Flowers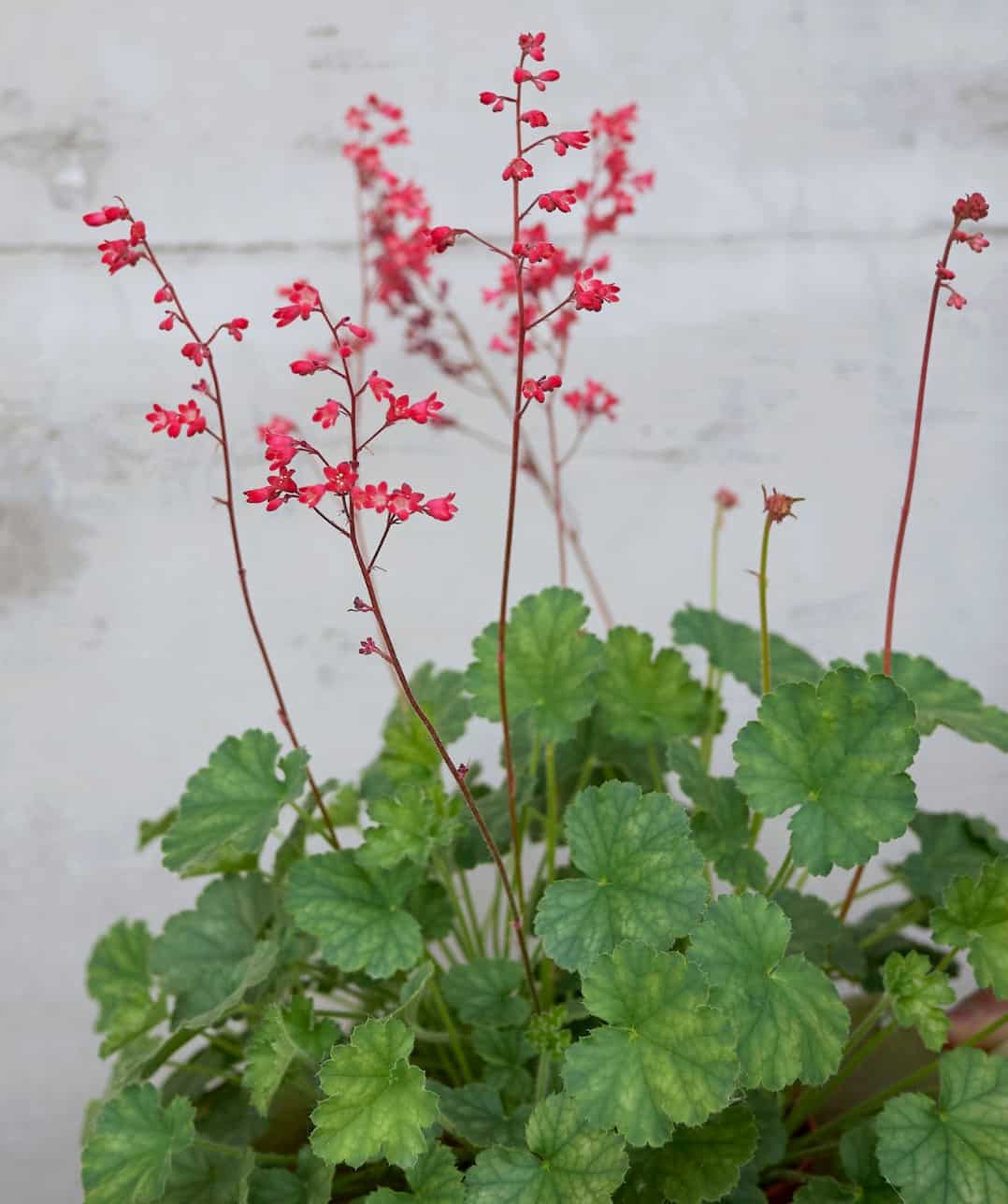 This plant is best known for its stunning foliage that ranges in color from dark green to salmon and deep purple. It produces bell-shaped flower clusters in late spring in shades of pink, red, and white and attracts hummingbirds to the area.
Coral bells are both evergreen and semi-evergreen depending on the area and thrive best in zones 4 through 9. They grow to a height of 1 to 3 feet tall with a spread of 12 to 18 inches and enjoy part shady locations.
When planted close together, coral bells is the best evergreen ground cover. The attractive foliage is visible all year and the tiny flowers produced in summer add a little visual interest, too.
Japanese Yew (Taxus cuspidata)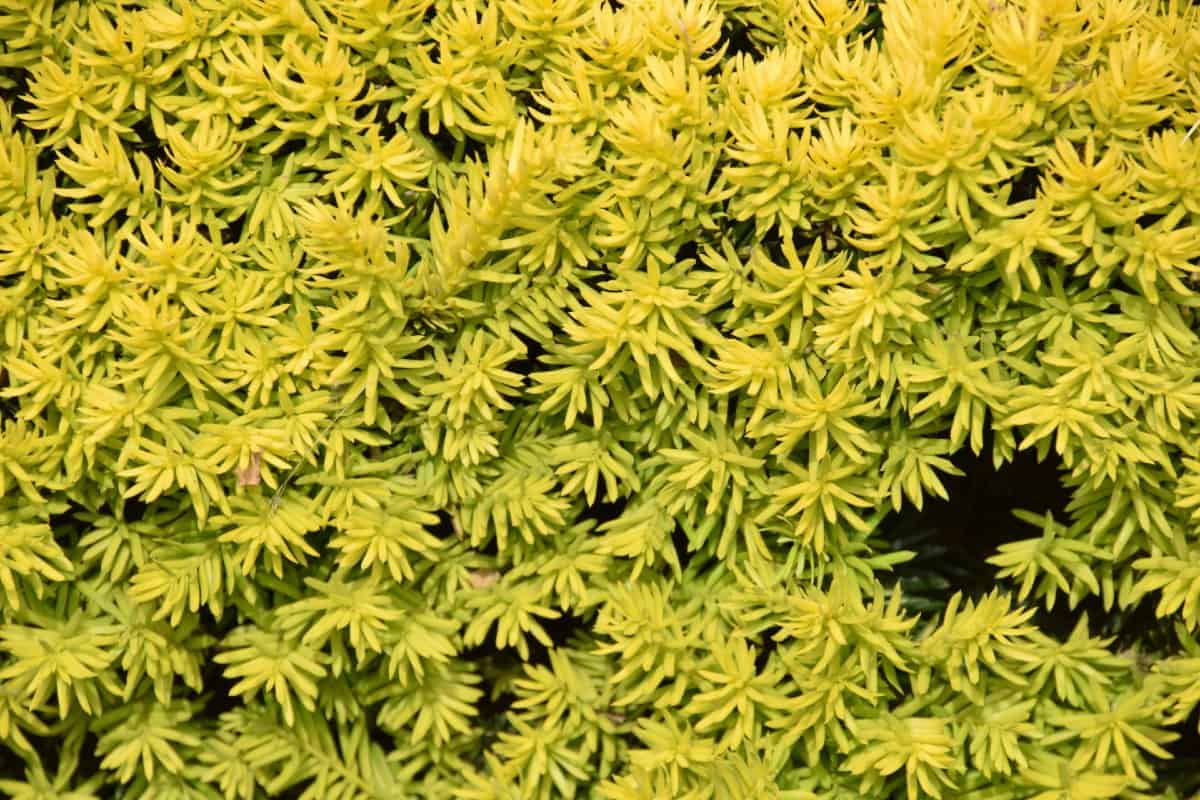 The Japanese yew has soft-needled foliage in a vibrant, green shade and is a low maintenance shrub. This fragrant plant attracts birds to the yard and makes an excellent privacy fence or border when planted in several containers in a row.
These shrubs with color grow best in zones 4 through 7 and thrive in partial shade areas in hot climates and full sun in cooler regions. The Japanese yew requires a container with drainage holes and well-drained, damp potting soil for optimal growth.
Bay Laurel (Laurus nobilis) – Aromatic Evergreen Plant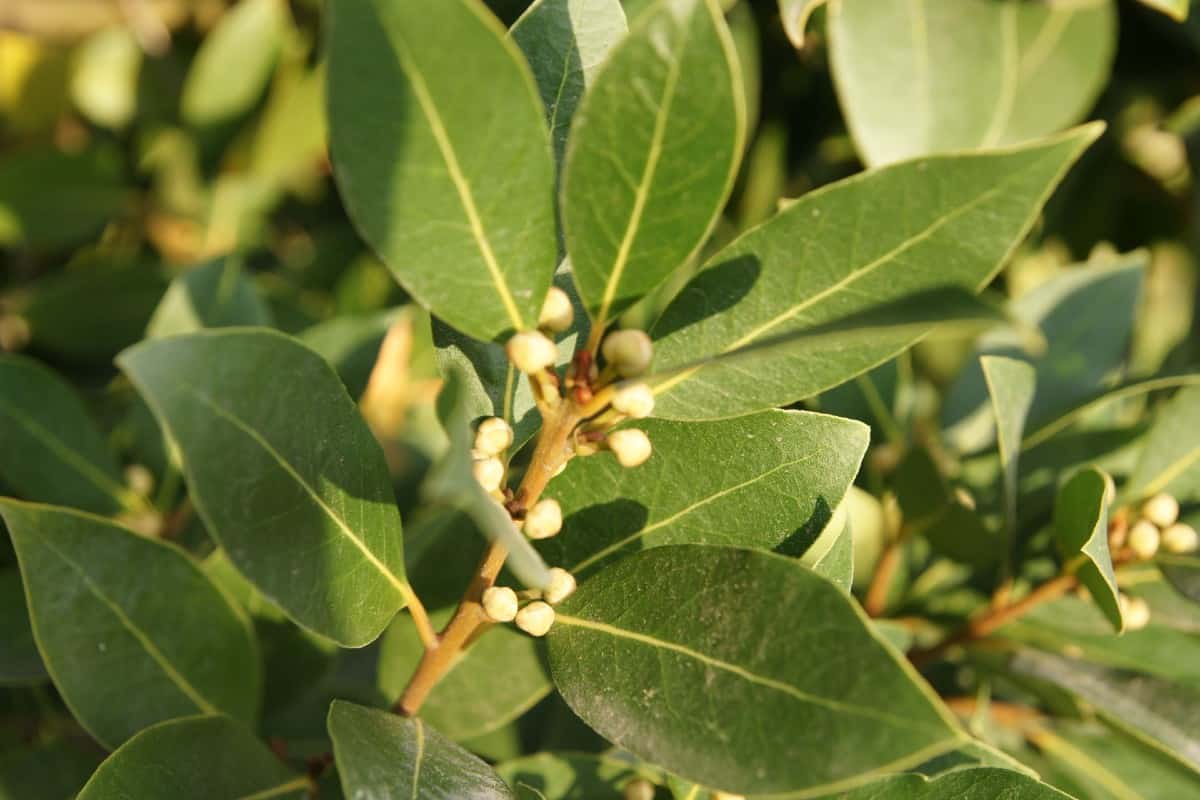 Bay laurel grows very dense with an attractive shape. Its aromatic leaves are a favorite in the kitchen for use in soups and stews. It has shiny, green leaves and produces yellow flowers that turn into dark berries in the fall.
While this plant is technically a tree, it grows quite well as a potted plant, reaching a height of up to 6 feet. The bay laurel thrives in full sun in fertile potting soil and grows best in zones 7 through 10.
Holly (Ilex)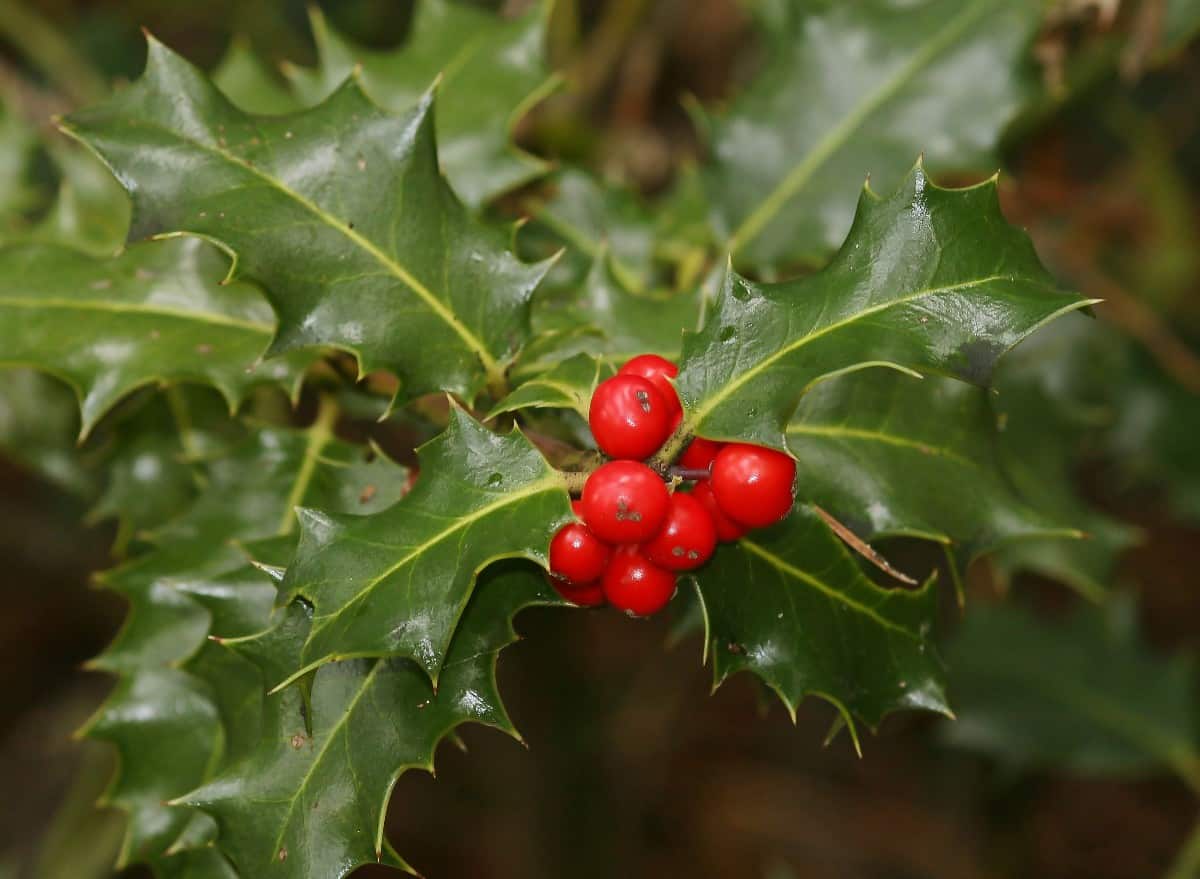 Holly has uniquely shaped foliage with shiny, green leaves and produces bright winter berries in shades ranging from red and pink to orange and yellow. This deer resistant plant adds both summer and winter interest to the yard.
Most varieties tolerate part shade or full sun and thrive in zones 3 through 10. Potted holly enjoys moist and well-drained potting soil with a container large enough to accommodate growth for up to three years.
Bergenia (Bergenia crassifolia) – Potted Plant with Year-Round Interest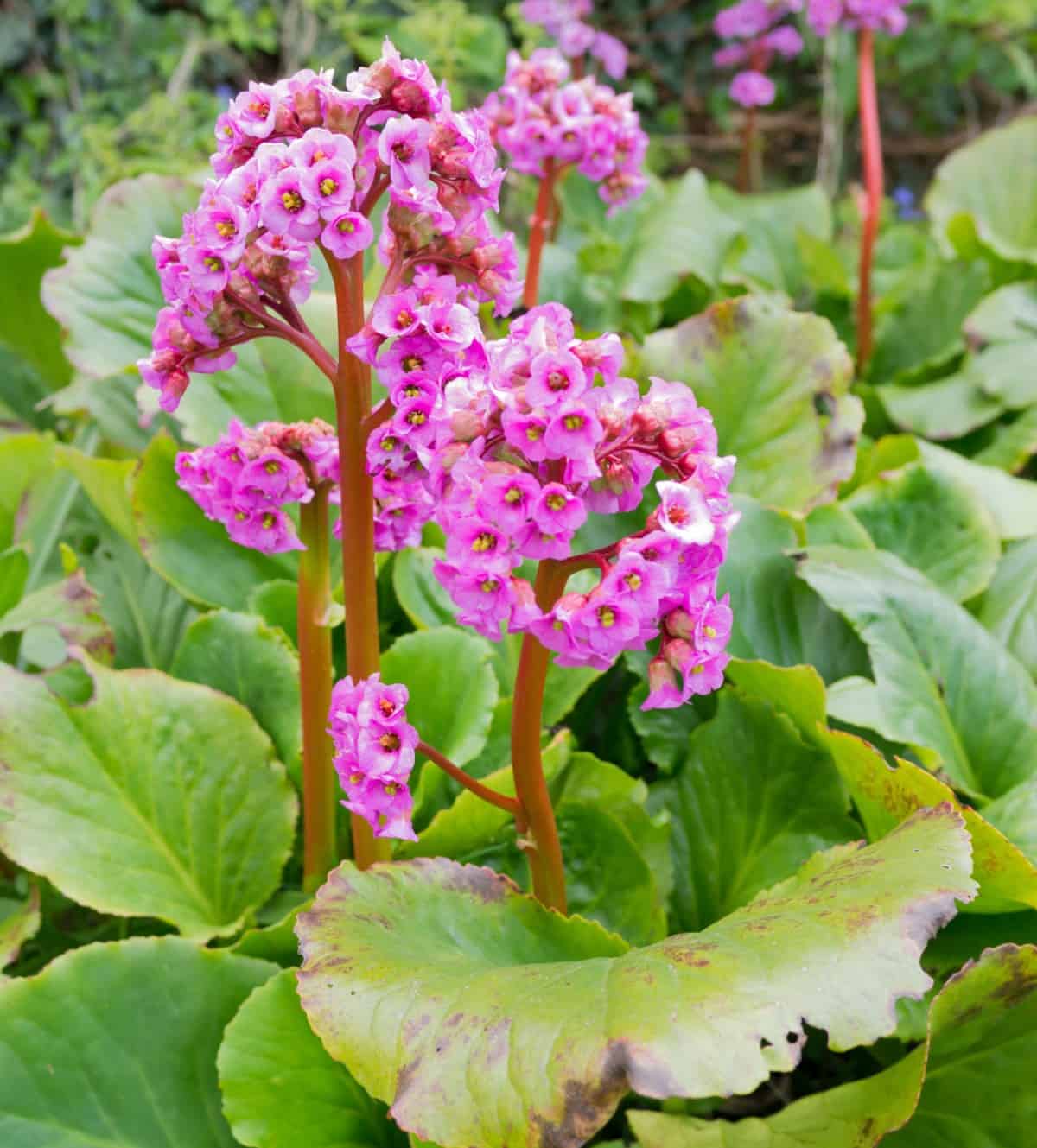 This easy-to-grow plant is a low grower that fills a pot with clumps of large foliage that are heart-shaped, glossy, and leathery. It produces red, white, and pink flowers in the spring, followed by colorful fall foliage.
This low maintenance plant is deer resistant and thrives in part sun to shade. Bergenia grows best in zones 3 through 8 and enjoys relatively moist soil. It reaches a height of up to 1 to 3 feet with a width of 12 to 18 inches.
Golden Creeping Jenny (Lysimachia nummularia)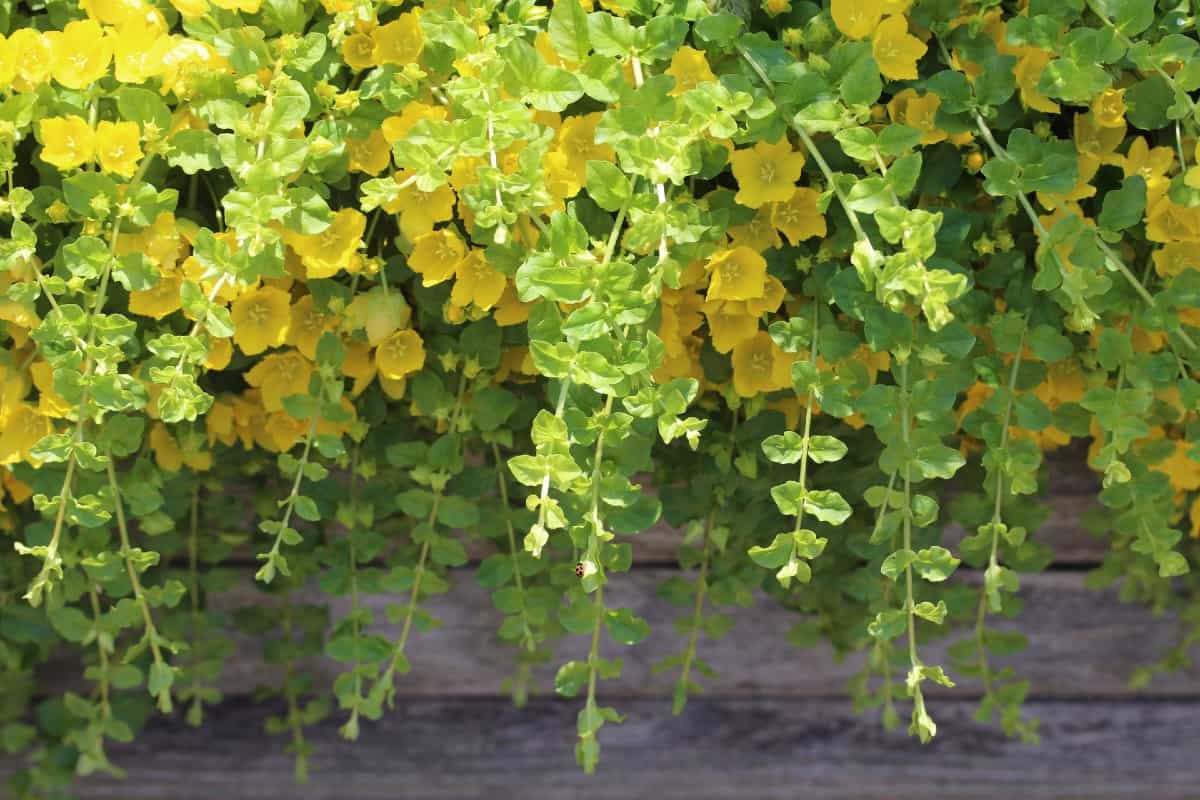 This ornamental plant has small, waxy leaves that grow along a long stem, making it ideal for draping over the sides of a garden pot. As the name suggests, the creeping Jenny creeps along and fills spaces with ease, and produces yellow flowers.
This trailing plant thrives in zones 3 through 9 and enjoys partial shade to full sun. The foliage color changes depending on how much sun it receives. It grows well in any basic potting soil and is low maintenance.
Yucca (Yucca filamentosa) – Uniquely Shaped Container Plant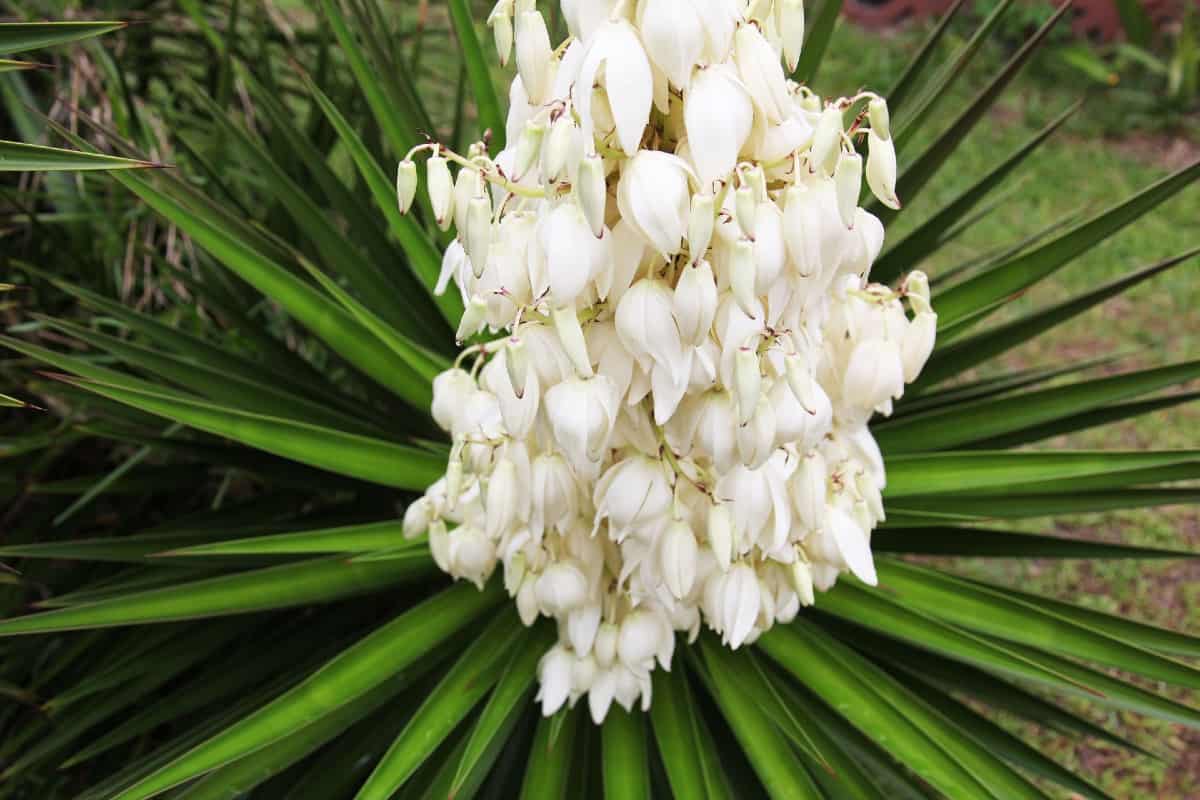 Yucca is a tough plant with long spikes of foliage that add architectural character to any garden. It produces tall candelabra-like blossoms from its center in a grand display during the summer and fall months.
This low maintenance plant attracts birds to the yard with its fragrant blooms, and it thrives in full sun. Yucca is very drought tolerant and deer resistant and grows best in zones 4 through 11.
Privet (Ligustrum)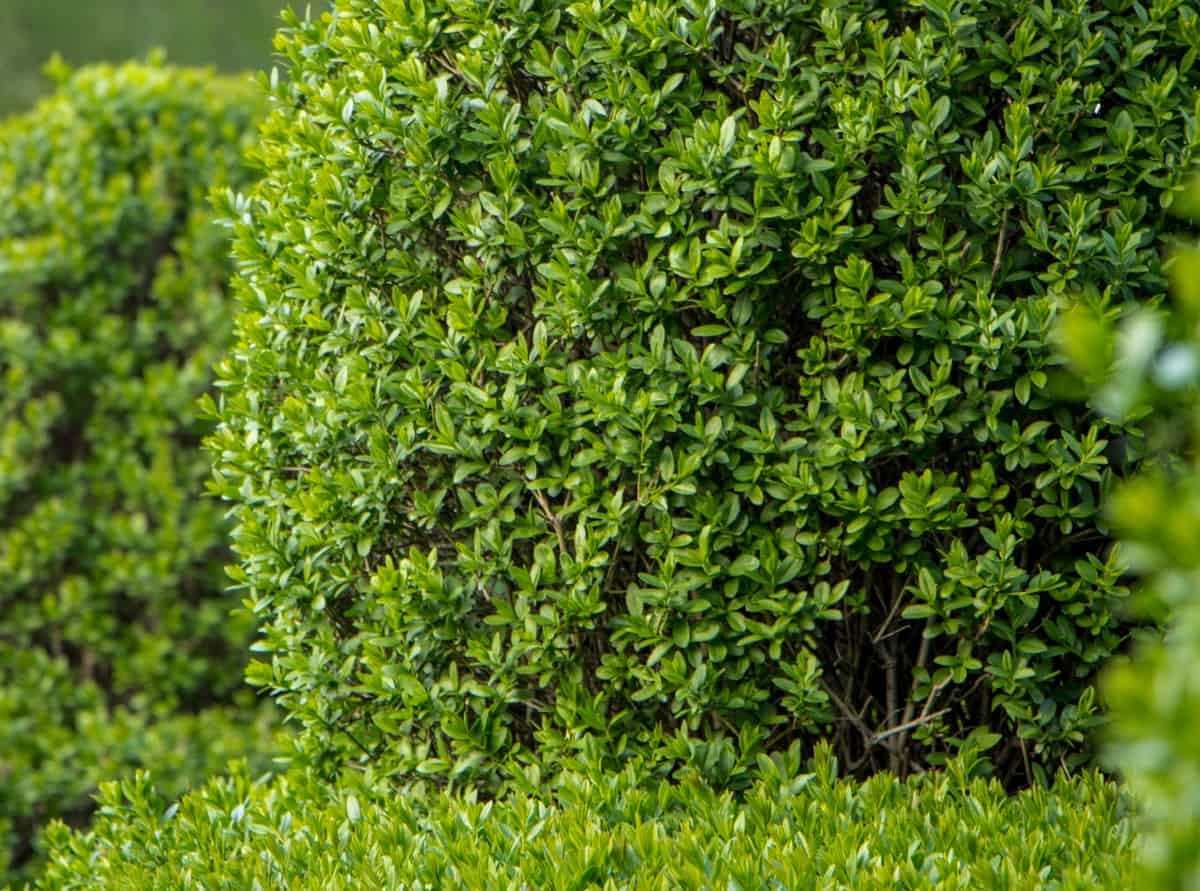 Privet is generally a large hedge grown at the edge of a lawn, but it also grows quite well in containers. It has dense, lush foliage that is easy to shape by pruning. It grows three feet per year, but the container controls it from becoming too tall.
This plant enjoys part shade to full sun and thrives in zones 4 through 8. Privet grows best in moist, but well-drained soil and requires a container with drainage holes at the bottom.
Italian Cypress (Cupressus sempervirens) – Tall and Upright Potted Tree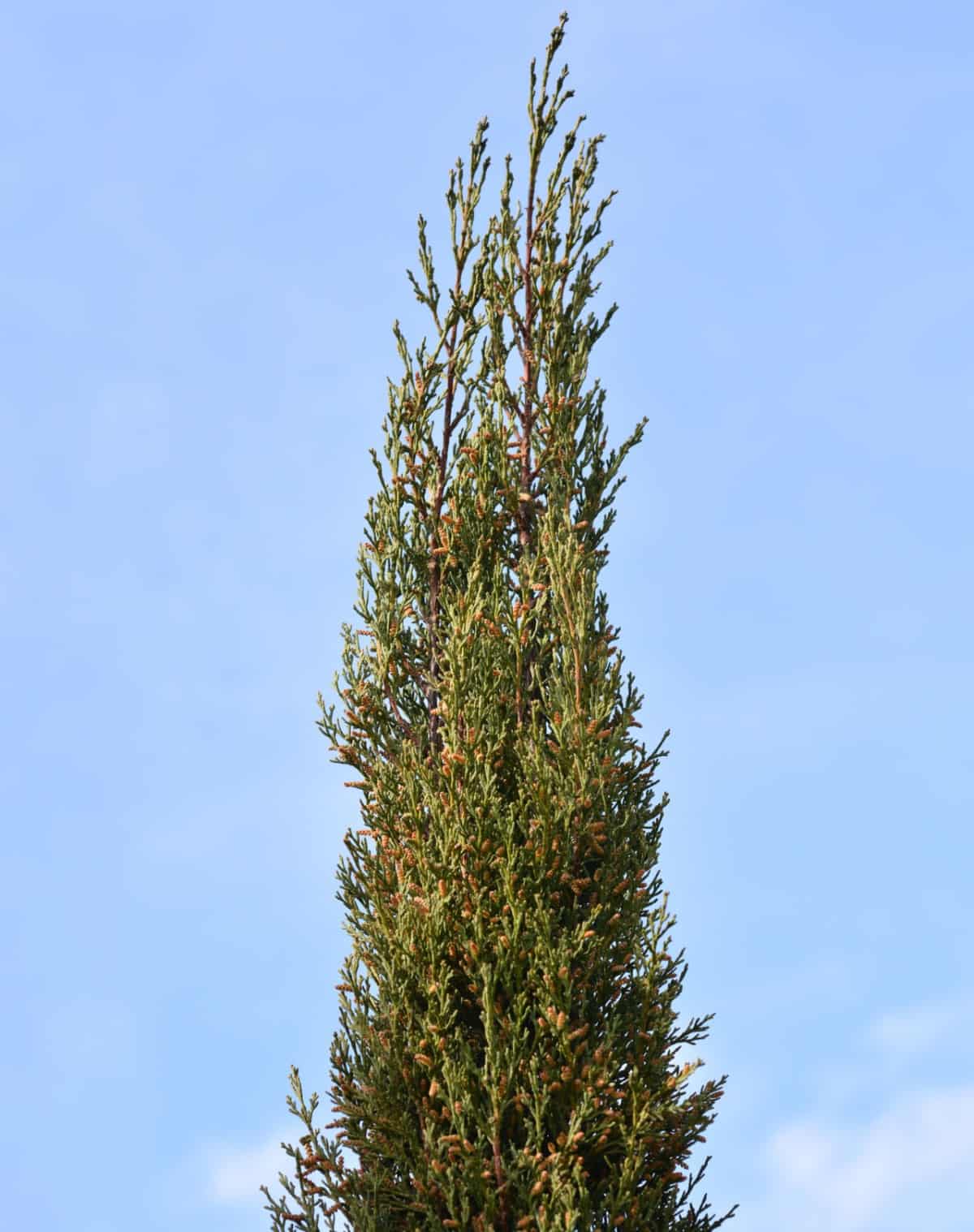 The Italian cypress is not a plant generally thought of when container gardening, but it grows quite well in a pot and brings a bold statement to the yard. This tall evergreen keeps its slender shape as it grows and has deep green foliage.
This drought tolerant tree thrives in zones 7 through 11 and enjoys full sun. When choosing a pot, pick one that is roughly two inches larger in diameter than the existing pot.
Mountain Laurel (Kalmia latifolia)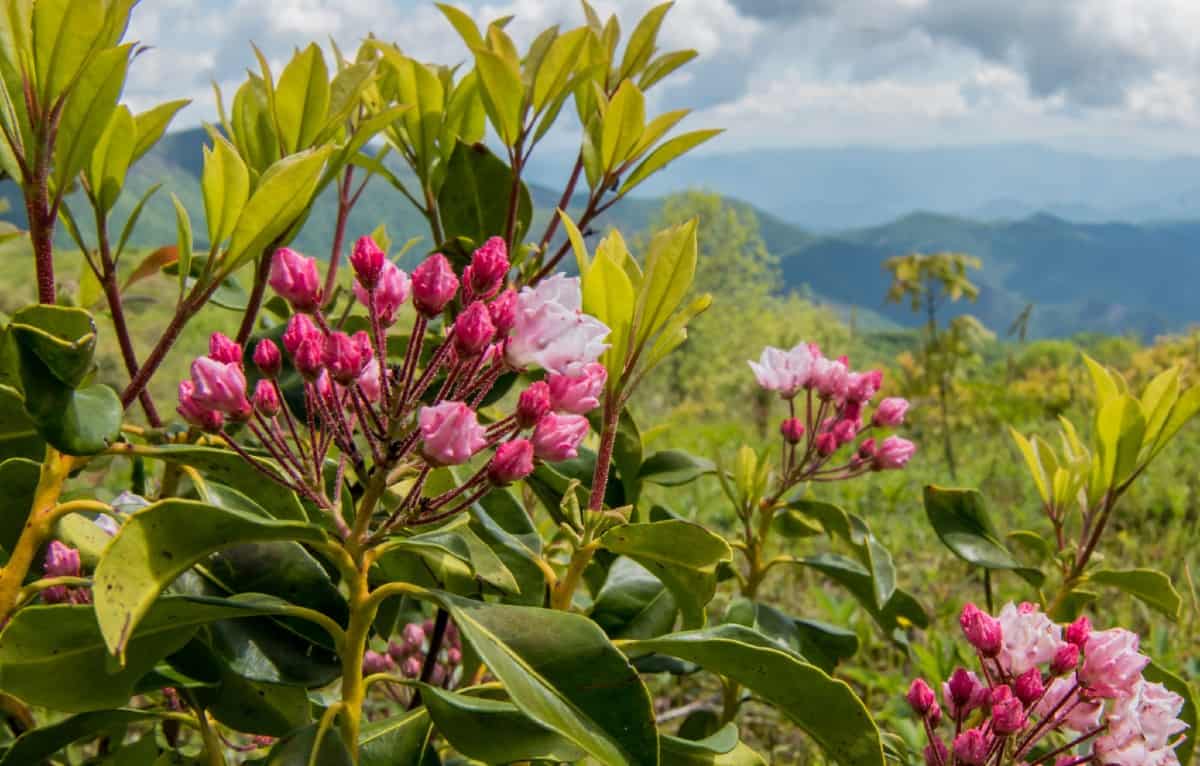 This showy shrub is closely related to azaleas and rhododendrons.Flower clusters in shades of white, pink, and red bloom in late spring. Mountain laurel grows in a rounded mound with dark, green foliage.
This deer resistant plant grows best in zones 5 through 9 and thrives in part to full sun. Mountain laurel requires a potting soil with an acidic pH and typically grows to a height of up to 20 feet but varies depending on the size of the pot.
Rhododendron (Rhododendron ferrugineum) – Container Shrub with Profuse Blooms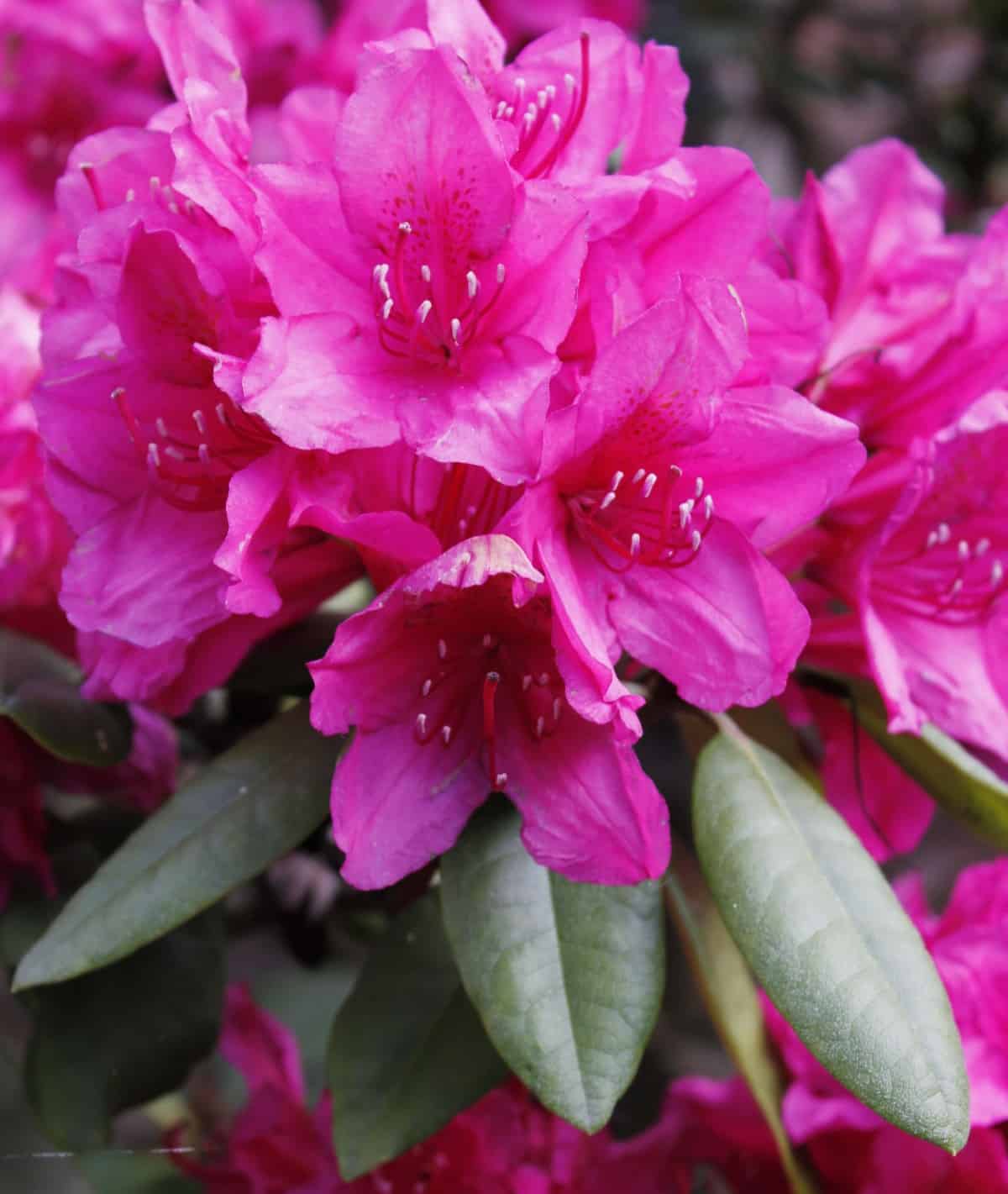 Rhododendrons produce stunning and vibrant clusters of blooms in shades of purple, pink, white, red, orange, and yellow from spring through fall. This shrub has shiny blue/green foliage and a rounded shape that looks at home in a large pot.
This broadleaf evergreen thrives in zones 3 through 9 and enjoys partial sun to full shade. It has fragrant flowers and is deer resistant. Rhododendrons can grow quite large, depending on the pot size.
Just because summer-time is over and the deciduous leaves have fallen from their trees, it doesn't mean that you have to endure several months of a bleak and colorless backyard. Planting the right types of evergreen plants for your area and space is easy and provides you with green and lush foliage the entire year.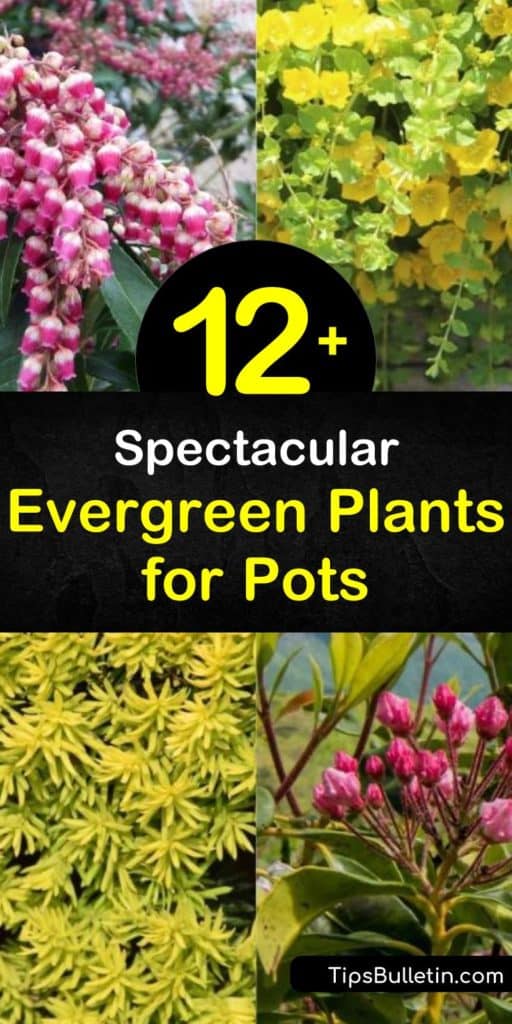 We're happy we could help you in creating a container garden with evergreen plants for pots to bring color to your yard during the long winter months, and we'd love it if you'd share our container plant list with your family and friends on Pinterest and Facebook.