A beautiful garden and yard lifts our spirits and adds to our home's curb appeal. Summertime flowers and shrubs are lovely, but we need evergreen plants to keep our landscapes looking beautiful all year long. Evergreen landscaping plants add grace and style to any garden, and they provide consistent color and vibrant life, even in the coldest and darkest months.
When you work with evergreen plants that flower, you get eternal rewards across all seasons. We developed this guide to help you select the perfect evergreen plants for hedges and other borders as well as the best evergreen plant for containers.
The article covers which plants do best in bright sun, and we also show you the top evergreen plants for shady spots. You'll also get the lowdown on evergreens that need a little TLC to thrive as well as some low-maintenance varieties that require little more than planting and occasional weeding. Your garden and family will thank you!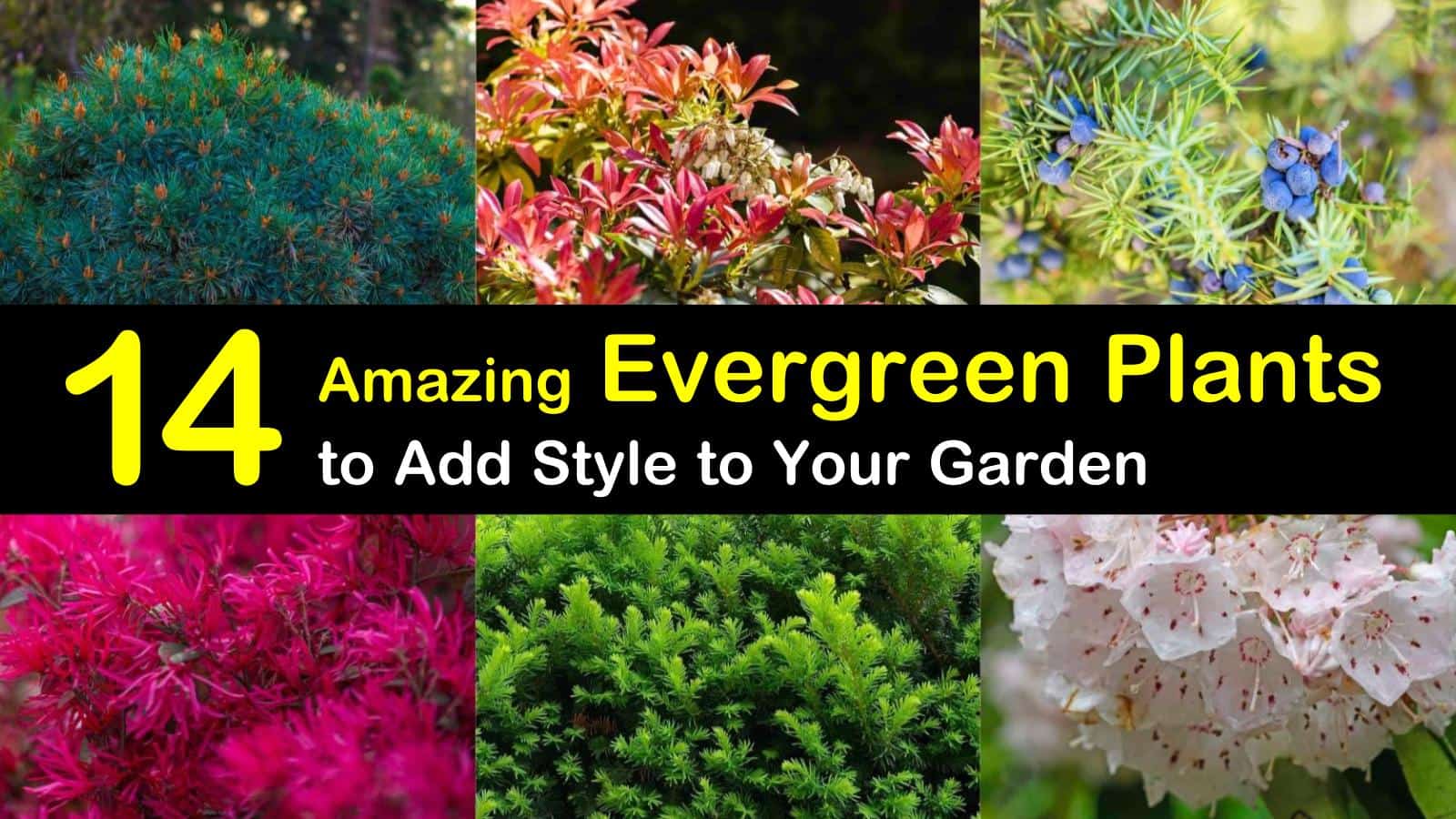 Evergreen Plant Care Tips
Planting your evergreen plants before the growing season gives them maximum nutritional and environmental benefits and boosts their growth. If you opt to keep your evergreen flowers and privacy plants in containers, you have a bit more flexibility in your cultivation.
When Should I Plant Evergreen Plants?
If you're planting in the ground, plant evergreen plants and bushes at any point in the year when the ground isn't frozen, however, to give your plants their best chance to thrive, try to plant during the early part of the year, just after the final frost.
Keep your plants inside until the outside weather is friendly for growth, and give them the right light conditions and nutrients to thrive while they wait for final planting. Some evergreens prefer colder and darker conditions, so always check your plants for proper care instructions.
How Do I Plant Evergreen Plants for Hedges?
Always take good care of your plants when you plant them. The more careful you are with your plants when they go into the ground, the better their response and subsequent growth later on. Plan out your planting ahead of time to give yourself the best shot at success, too.
You don't want to get partway through planting evergreen groundcover bushes and plants and discover that you're missing a crucial tool or piece of information. Your local agriculture office can be a big help to aspiring gardeners. Always reach out to them before you plant to get custom-tailored advice for your plants and circumstances.
You should also stage your plants in containers outside before planting to make sure that they'll do well in their future homes. When you do plant your evergreens, dig a hole as deep as the pot from which the plant came, and make the hole twice as wide.
How Do I Care for Evergreen Plants that Flower?
To get the most out of flowering shrubs and other evergreens, you'll need to keep them happy. Provide sufficient light and nutrients to every plant. Your privacy plant might require different amounts than your border hedge plant does, so make sure to adjust for each one.
If you need to add nutrients or fertilizer, check the care instructions to find the correct types for your plants.Use a moisture gauge to determine your soil conditions, and adjust your watering to meet each plant's individual needs.
You will occasionally encounter garden pests that can impede your plants' growth. Many different natural pest control methods are great for discouraging aphids or keeping soil gnats away.
Stylish Evergreen Plants for the Garden
Whether you plan to grow evergreen plants for pots or for a border or accent piece, choose one or more of these excellent specimens. Your yard will have color all year.
Dwarf Mugo Pine (Pinus mugo pumilio) – Gorgeous Evergreen Plant for Hedges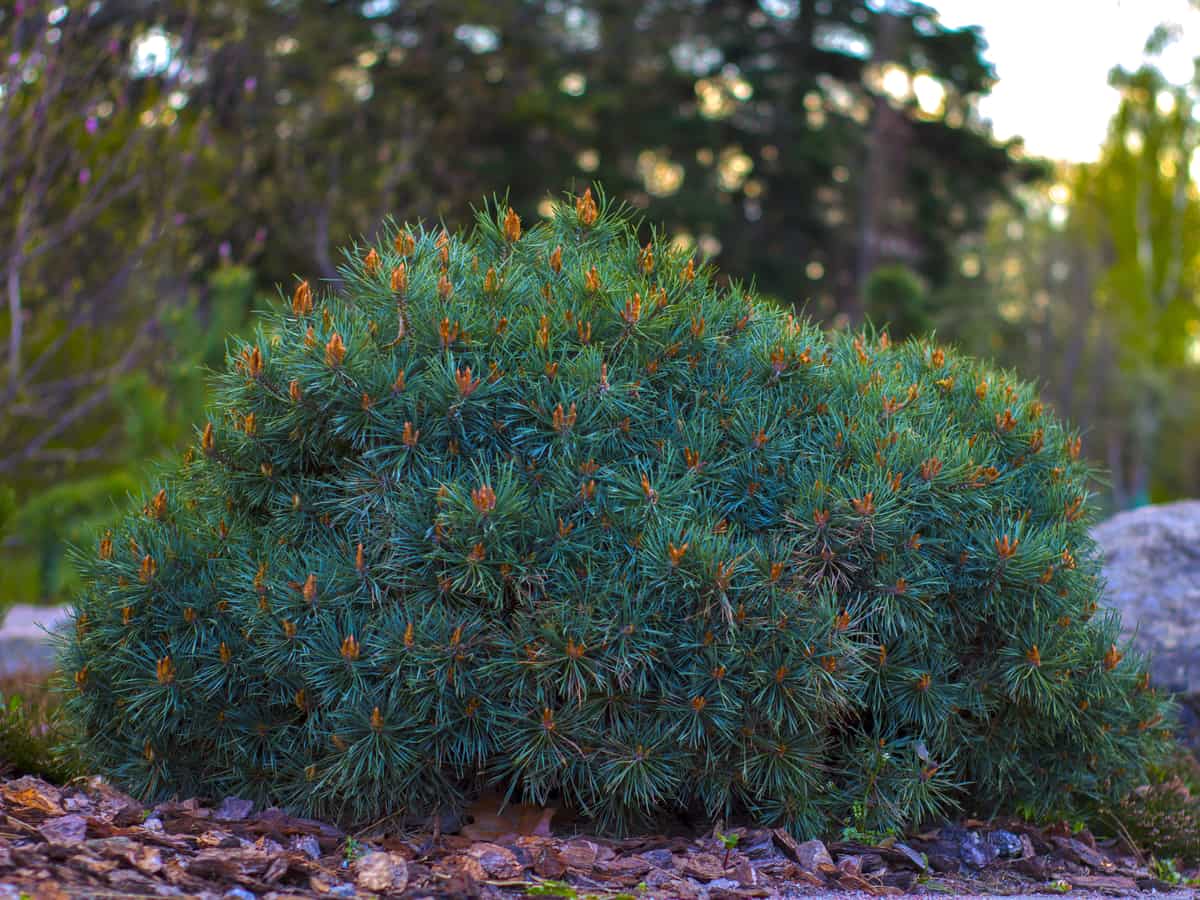 If you're looking for a quick-growing evergreen that you can trim and shape as you wish, you'll love the Dwarf Mugo Pine. The Dwarf Mugo is a versatile evergreen shrub that produces vibrant green branches all year long. When you plant a Dwarf Mugo, you get the same pleasant pine scent that the more prominent trees produce in a small, easy-to-manage package.
These shrubs are perfect for privacy and borders and are the ideal dwarf evergreen bushes for front of the house in a unique landscape design scheme. Dwarf Mugo pines are perfect for arid conditions and can withstand severe droughts without damage.
They're so hardy that you won't need to water them at all. Be sure to plant this variety in full sunlight, and give the young plant enough growing space to spread out a bit.
Green Mountain Boxwood (Buxus 'Green Mountain')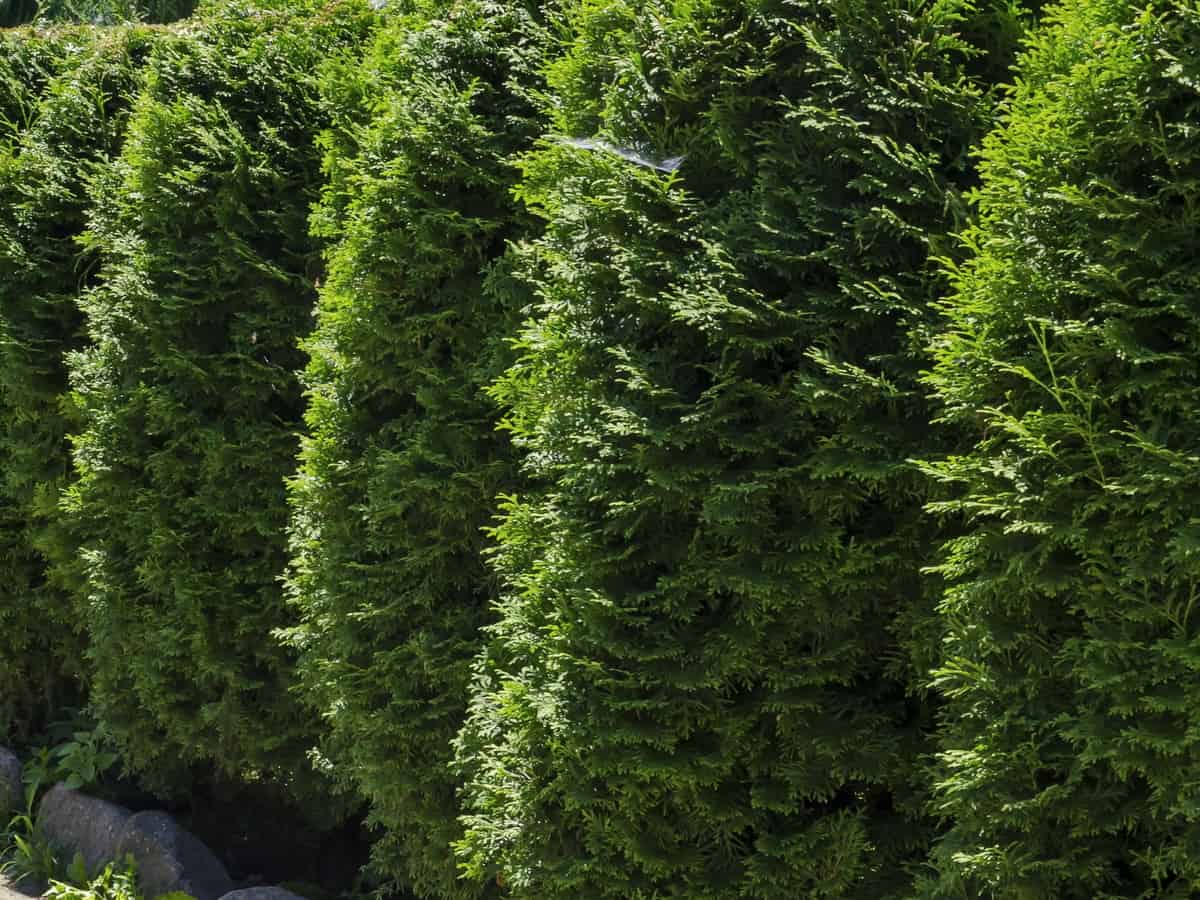 Do you enjoy the neat green topiary figures found in many English gardens? If so, the Green Mountain Boxwood is the right evergreen plant for you. Gardeners all over the world love boxwoods for their easy care and maintenance.
You'll appreciate the way you can trim and shape them as you see fit. If you don't want to trim your boxwood, they make ideal tall hedges for privacy on the edges of your property.
Green Mountain Boxwoods prefer moderate conditions, so those who live in warmer areas need to compensate with extra shade and lots of water. Check your soil nutrients periodically, and fertilize no more than once a year if required at all. Make sure to protect your boxwood from winter winds to avoid damaging them, too.
Emerald Gaiety (Euonymus fortunei) – Amazing Evergreen Plants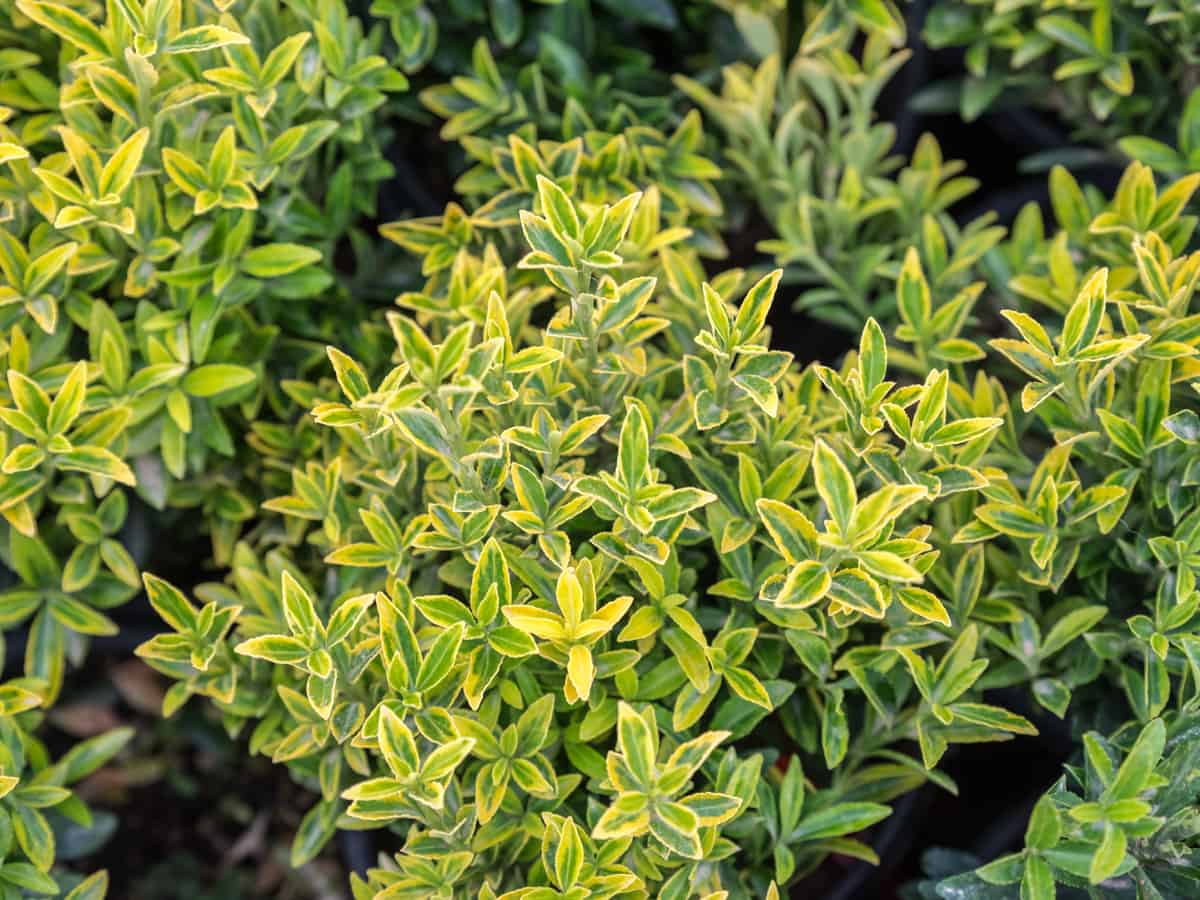 The Emerald Gaiety is a fantastic plant for folks who want a bit of year-round color mixed with the bright and dark greens. These creeping vines have a steady growth habit and spread and climb across any area. The emerald-colored leaves have gorgeous rims of pink and white and will fill your garden with light and beauty throughout the year.
Trim and train your Emerald Gaiety to get it to climb and spread the way you wish. The plant prefers part to full sunlight, and you'll need to keep an eye on the heat. If you live in a hotter climate, increase your watering schedule to keep the plant healthy.
Thuja Green Giant (Thuja x 'Green Giant')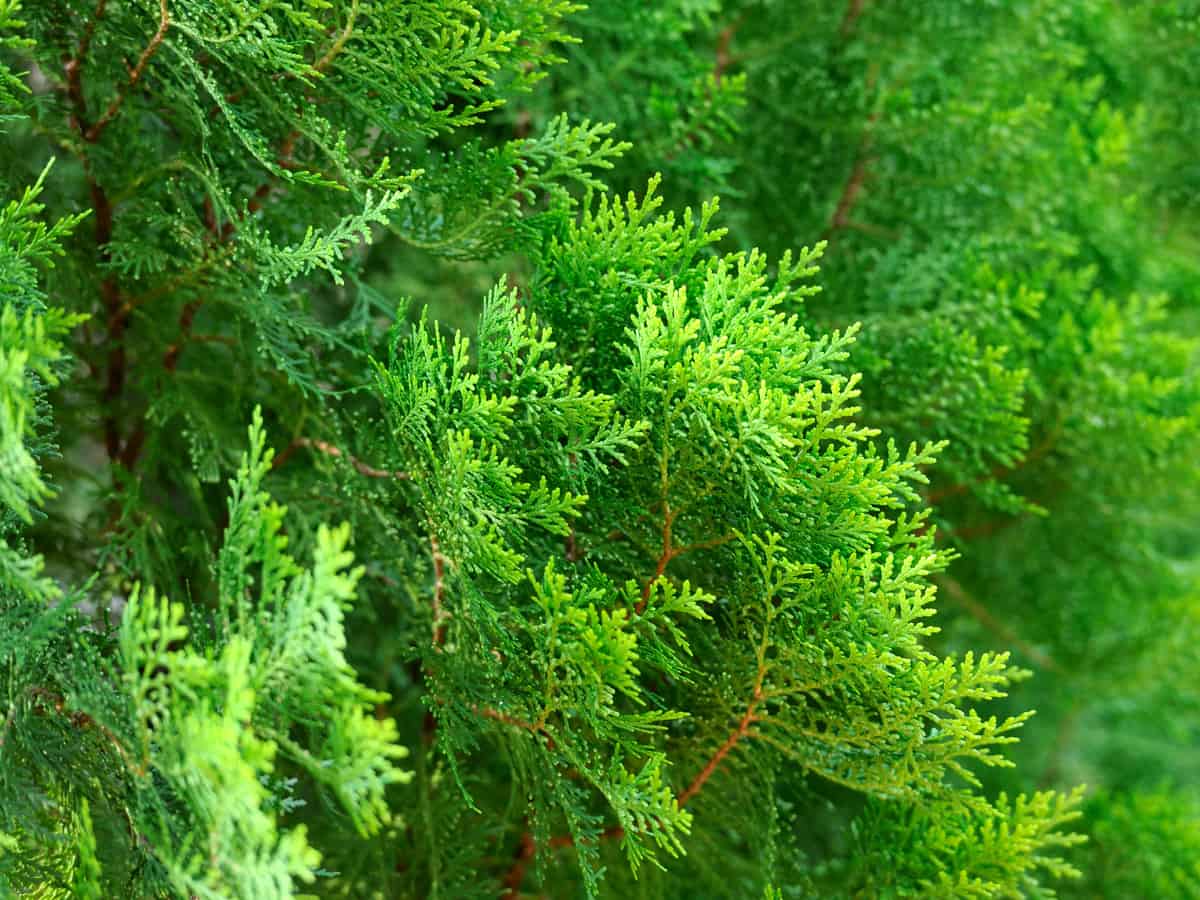 Maybe you want a more traditional evergreen tree that will lend vibrant green color and incredible height to your yard. The Thuja Green Giant is just the sort of plant you're looking to find. This tree is remarkably easy to plant and is fast growing.
In a few years, it'll tower over your house and cast a long shadow across your yard. It's the right choice for a privacy screen. The Thuja Green Giant prefers USDA plant hardiness zones five through eight.
Plant this tree in many types of soil, including sand and clay, but they do best in deep loam. Keep the Thuja well watered as it grows.
Mountain Laurel (Kalmia latifolia) – Beautiful Evergreen Plants that Flower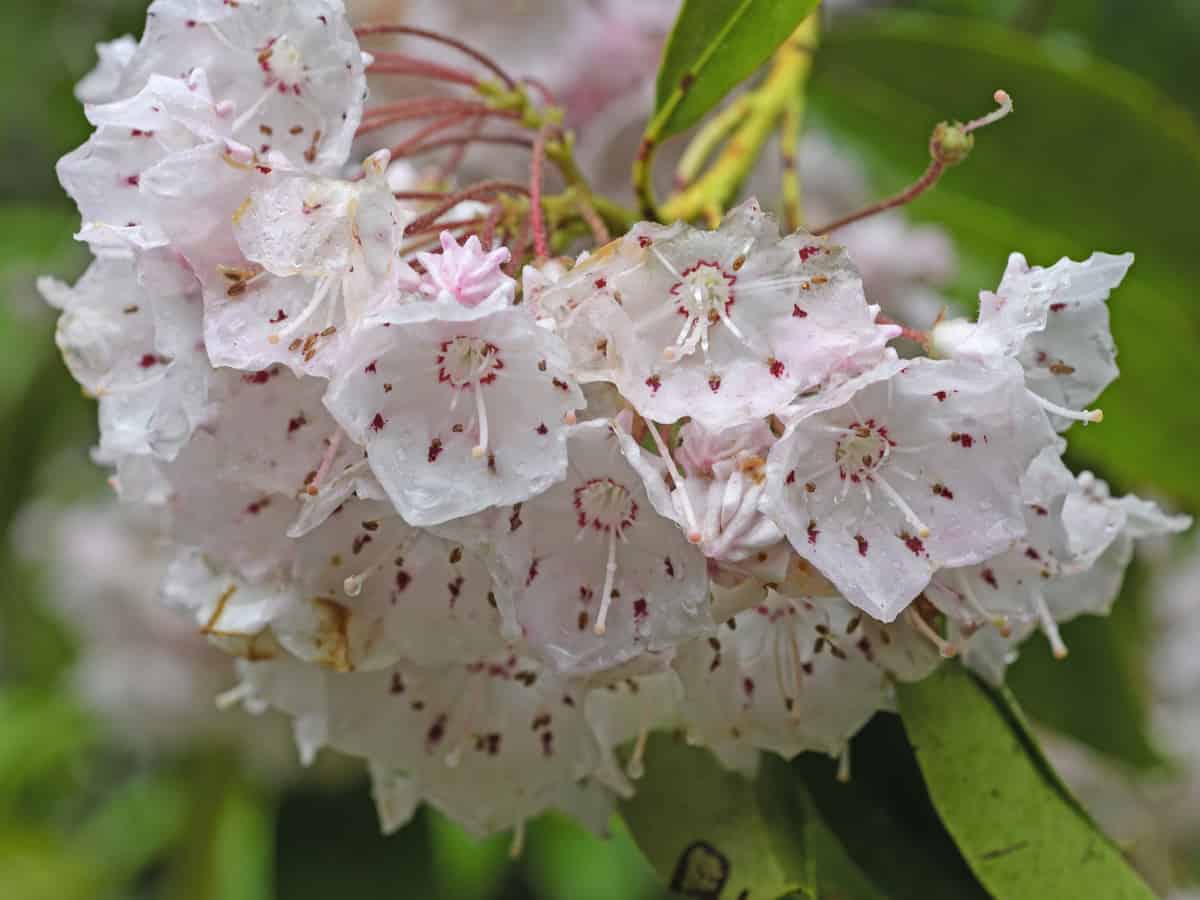 The Mountain Laurel is among the most attractive blooming evergreen shrubs around. You'll find this plant growing wild across the Southern United States, with its colorful blossoms poking through the undergrowth in fields and hilltops.
This handsome broadleaf evergreen produces an abundance of pink flowers or white flowers, depending on conditions and the variety.
The Mountain Laurel prefers filtered sunlight or light shade, but you can plant them in part shade or full sunlight. Keep new plantings well-watered, and apply an organic mulch to provide a water-retention medium for the plants.
Japanese Andromeda (Pieris japonica)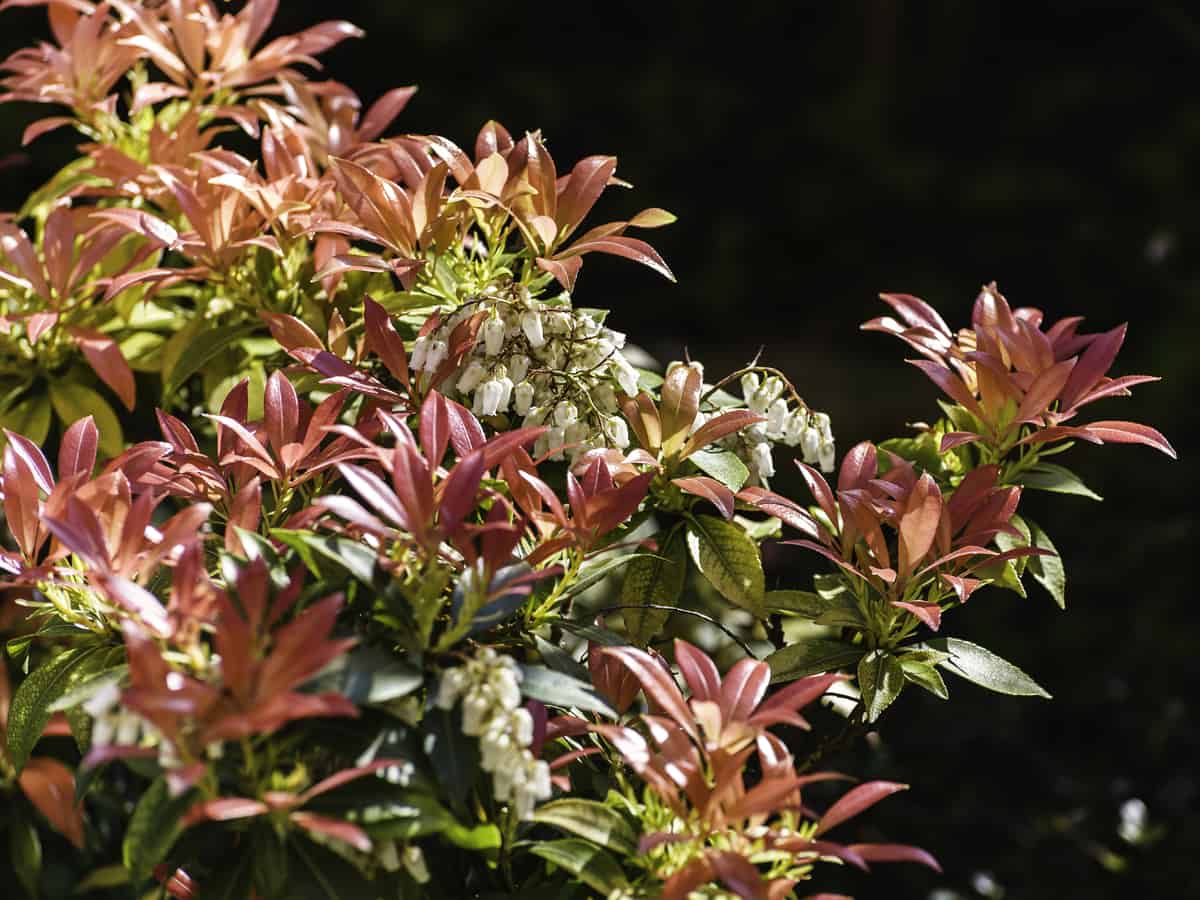 Whether you know them as Lily-of-the-Valley, Japanese Pieris, or Japanese Andromeda, you'll love this attractive evergreen shrub that is one of the best shrubs for the front of your house. Use the Japanese Andromeda for foundation planting, or it works equally well as a centerpiece no matter where you put it.
It produces gorgeous foliage all year, and each spring, you'll get a profusion of white blossoms in your garden. You can plant the Japanese Andromeda in USDA zones five through nine and expect it to do well all year.
Try to plant the Andromeda in acidic soil, and give it part to full shade for best results. You'll want to plant this shrub in either the fall or spring, and you might need to add fertilizer to your soil to convince the plant to thrive. With a little time and attention, your Japanese Pieris will provide an excellent focal point for you and your visitors to enjoy.
Dwarf Globe Blue Spruce (Picea pungens)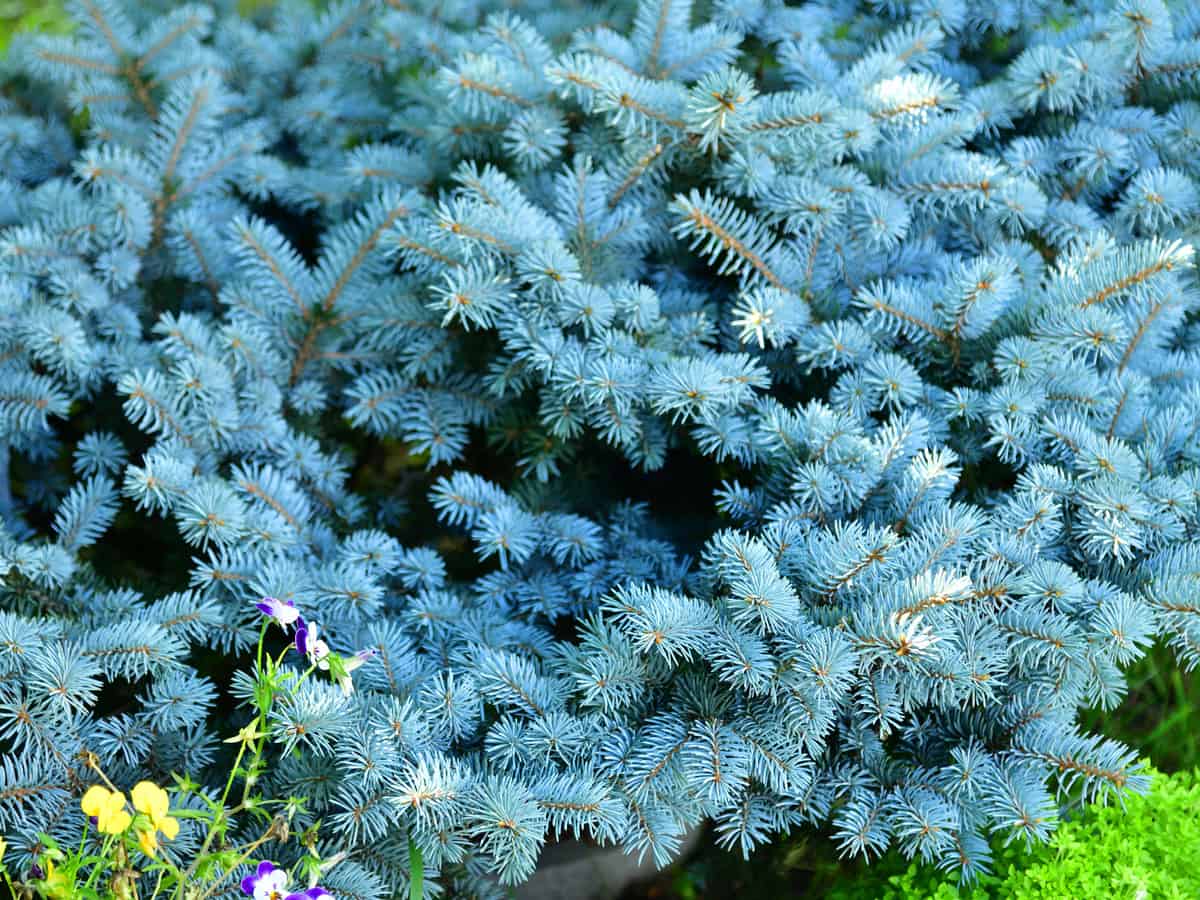 Maybe you prefer cold hardy evergreen trees that have a typical shape and appearance. It can difficult to find those sorts of trees that fit into small yards, though. That's where the Dwarf Globe Blue Spruce comes in.
These handsome trees bring all of the benefits of giant spruce trees without taking over your entire yard. Plant the Dwarf Globe Blue Spruce in full sunlight for best results.
Be patient with this variety; it grows slowly. The tree's bright red berries are attractive against the soft blue-green needles, but be sure to pick them up from time to time to keep your yard looking tidy.
Taunton Yew (Taxus x media 'Tauntonii') – Easy-Care Evergreen Plants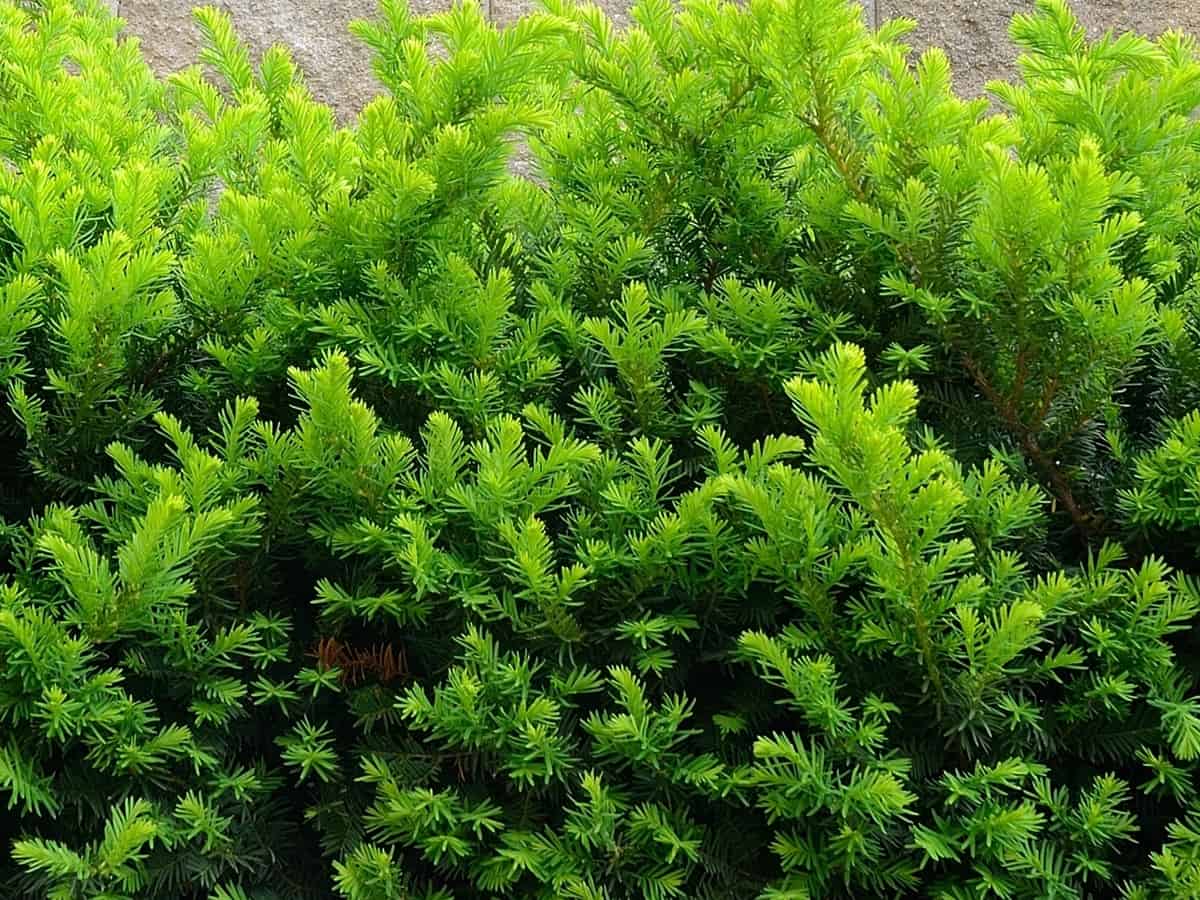 Like the Dwarf Globe Blue Spruce, the Taunton Yew is perfect for folks with small yards and not a lot of free space. These good-looking and low-profile evergreen shrubs produce dark green needles that stay vibrant through the worst conditions that the late summer and late winter can throw at them.
Taunton Yew shrubs top out at four to five feet tall, which is ideal for smaller yards. Taunton Yews are quite hardy and can tolerate USDA zones three through seven when you take care of them.
This shrub is happy in both sunlight and shade, so plant them where you wish. Police your lawn every once in a while; collect stray black berries that might have dropped from the tree. They prefer sandy loam and do best with well-drained soil.
Winter Heath (Erica carnea)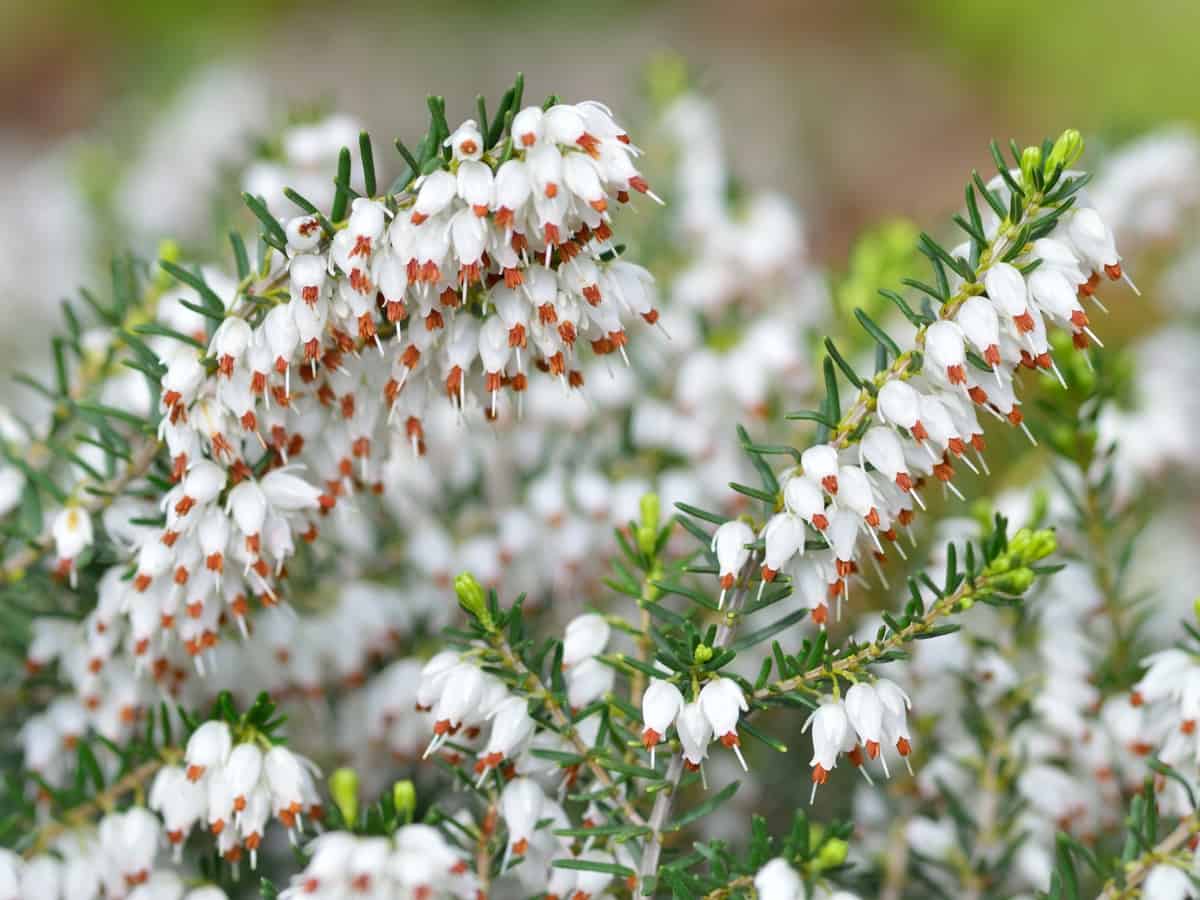 If you want evergreen plants that flower into spectacular blooms each year, you should take a gander at the Winter Heath. Like many heaths and heathers, the Winter Heath combines year-round good looks with amazing and beautiful flowers.
You'll get blossoms of white, pink, and scarlet when you plant the Winter Heath. Plant your Winter Heath in acidic soil with a pH of 4.5 to 5.5. Peat moss can help with soil acidity.
When you plant Winter Heath, break up the root ball by making several deep cuts across the bottom. Keep the plant well watered while it establishes, and make sure to add mulch after you plant.
These evergreen flowering shrubs for full sun are an attractive addition to the front or backyard. Use one as a focal point or plant several as a foundation plant.
Chinese Fringe Flower (Loropetalum chinense)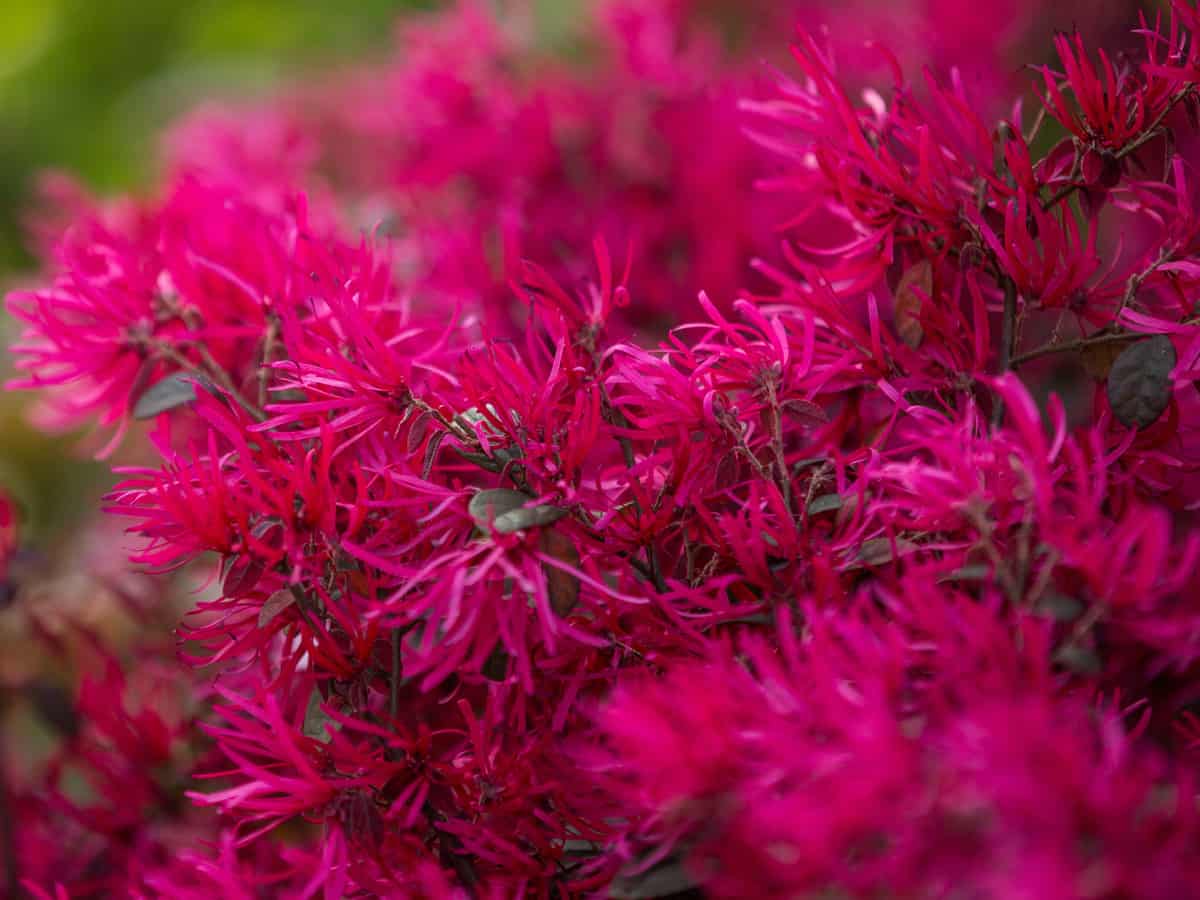 The Chinese Fringe Flower is the ideal evergreen plant for folks who like both sights and scents. When you plant a Chinese Fringe Flower, you get a plant that produces year-round glossy green leaves and a lovely fragrance. And, every spring, you'll also get a few weeks of amazing floral displays of white and purple flowers.
It's also the perfect evergreen plant for containers. Plant the Chinese Fringe Flower in part to full sun. This plant prefers soil with lots of nutrients, but they will do fine in more deficient soils such as clay.
Prune the plants once a year as needed. Water the plants until they establish themselves; after they mature, they can survive drought conditions without issue.
Juniper (Juniperus) – Ideal Evergreen Plant for Hedges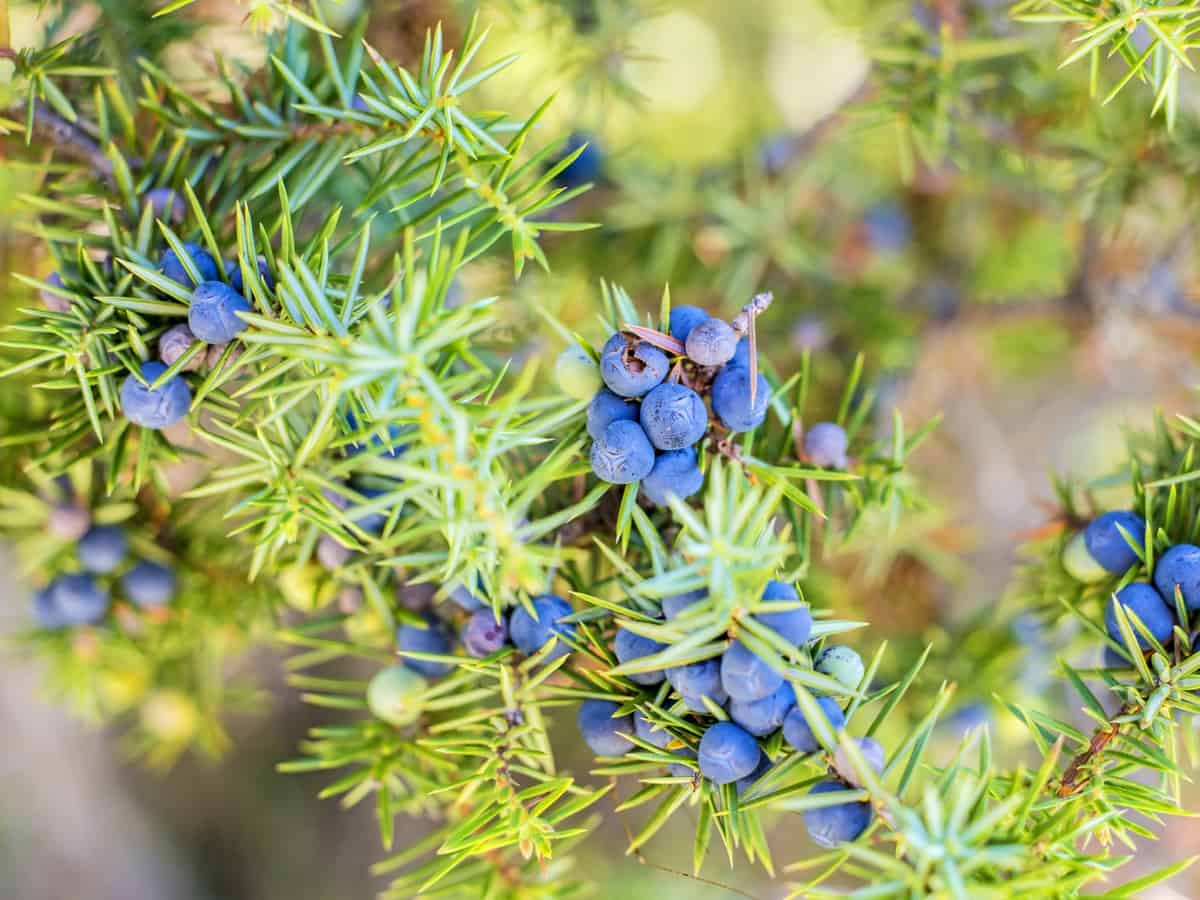 The Juniper is a wonder. This tree is not only simple to grow and trim, but it also has a delightful fragrance and appearance. Junipers are perfect shrubs for folks who want a little more wildlife in their yards, too.
While Juniper is one of the deer resistant evergreen shrubs, is a one-stop-shop for birds and other friendly critters, and provides them with food and shelter, too. Plant your Juniper in a spot with lots of sunlight, as too much shade can cause structural damage.
Plant Junipers any time of year, but try to get your shrubs in the ground in the fall so they can take root before cold weather sets in. You'll need to keep young Junipers well watered until established.
Periwinkle (Vinca minor)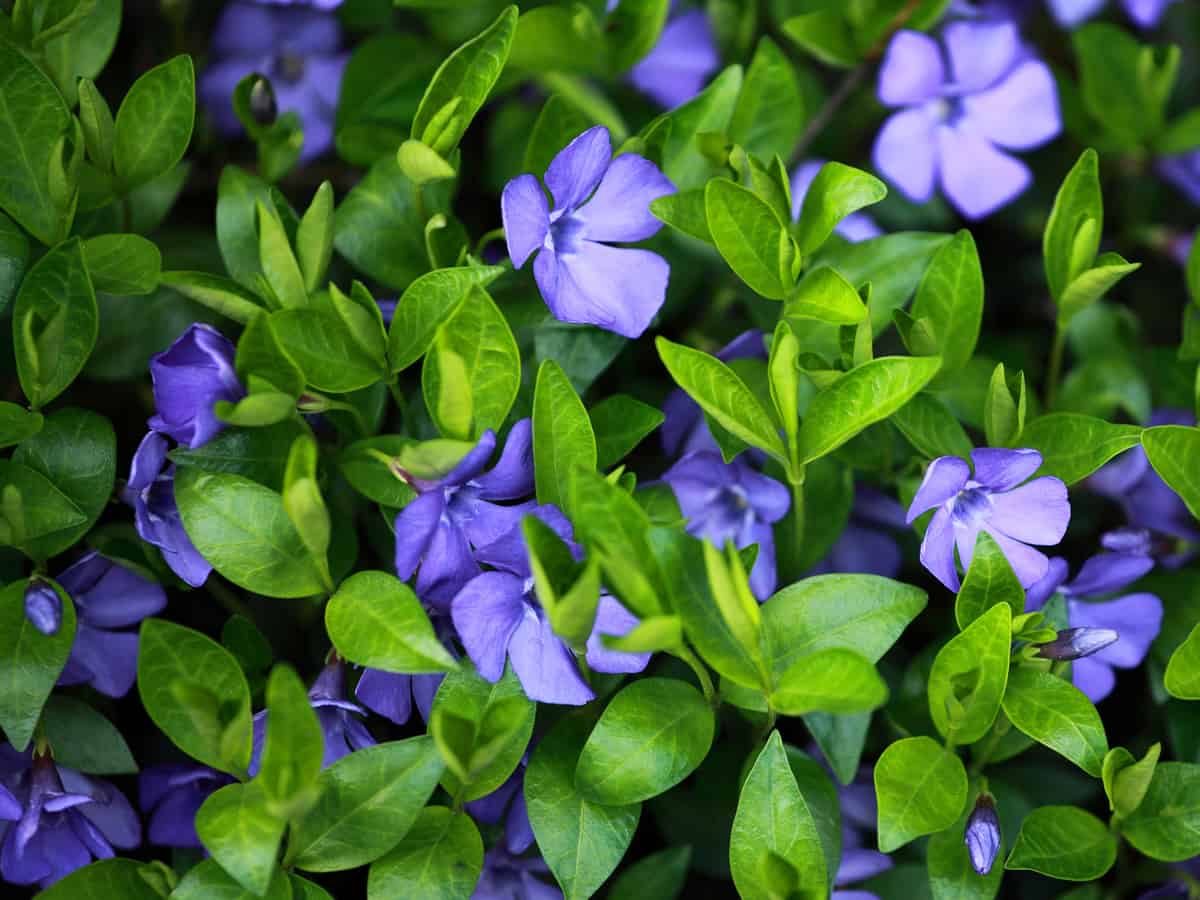 Looking for evergreen plants that flower and spread across any area in which you've planted them? Check out the Periwinkle. This easy-to-plant evergreen is an excellent erosion control specimen and does a great job as ground cover.
Most of the year, the Periwinkle is a blanket of dark green leaves that covers the ground, but in the early spring, it bursts into brilliant blossoms.
Try to plant your Periwinkle in acidic soil and partial shade. It will do fine in more adverse conditions, too. Give each Periwinkle plant plenty of room to grow, as they can spread across your lawn in no time.
Lenten Rose (Helleborus orientalis)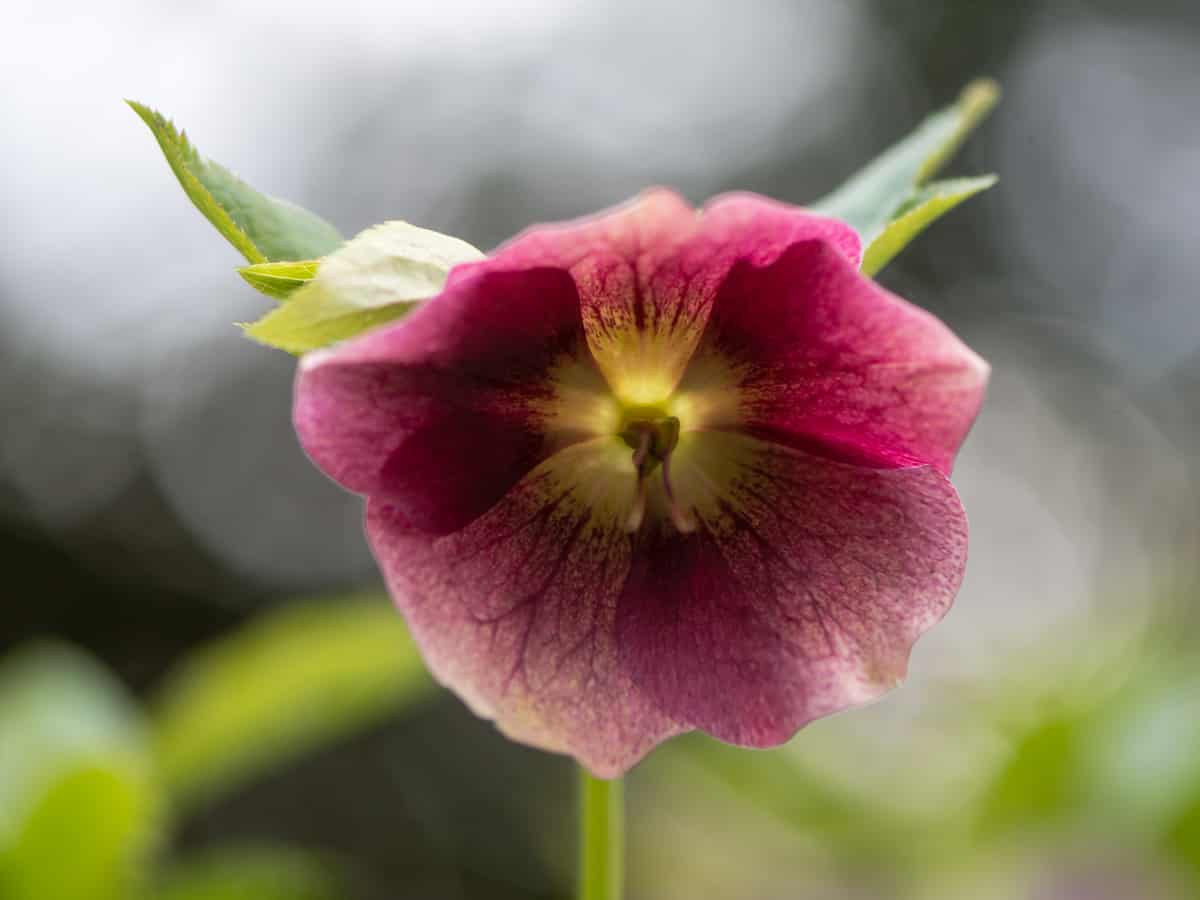 The Lenten Rose isn't really in the rose family. It's an evergreen plant that produces beautiful, delicate pink flowers that closely resemble rose blossoms. The plants grow in low-slung clumps and do well as path borders or bright spots in otherwise dark garden areas.
Plant them anywhere that needs a splash of color. Plant your Lenten Rose in well-drained soil with lots of nutrients. Keep the plants moist while they get their first growth.
After they've established themselves, the Lenten Rose doesn't require much care and is insect resistant and drought tolerant. Do not prune or divide Lenten Rose plants.
Creeping Phlox (Phlox subulata) – Low-Growing Evergreen Plants that Flower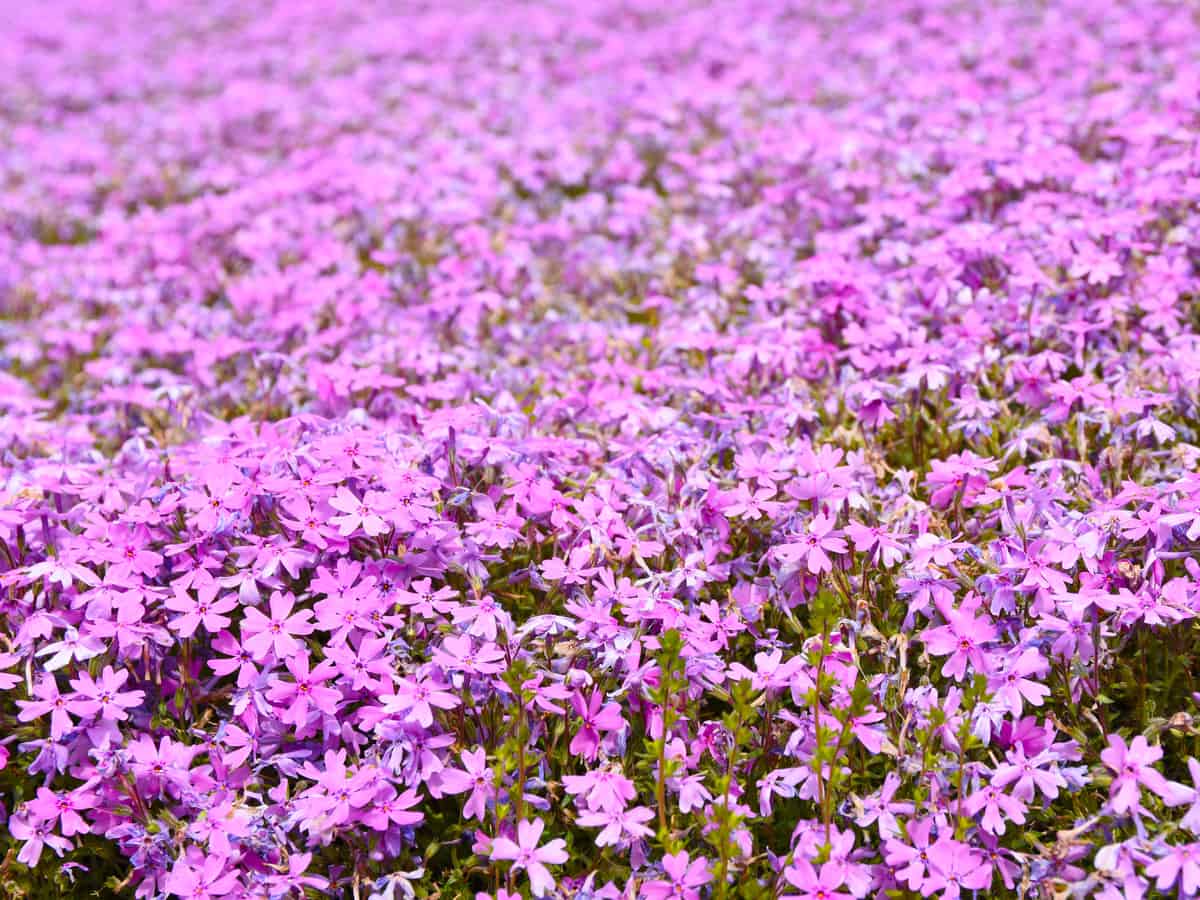 Perhaps you prefer your evergreen foliage to stay low to the ground. If so, you won't want to miss Creeping Phlox. This evergreen plant is perfect for rock gardens and other areas that don't have lots of growing space. Creeping Phlox is ideal for elaborate displays, and you can also use it as a border plant.
Creeping Phlox has a vigorous growth habit, so you shouldn't have much trouble getting your new plants established. You can plant them in most soil types and environments, too. Make sure your plants get part to full sunlight and feed them a little fertilizer until they mature.
We hope you've had a blast with our guide to evergreens for your garden. Keeping our landscapes looking good all year is essential, which is why adding evergreen plants to our gardens is such a good idea. Our guide helps you find the best evergreen shrubs and trees for your situation and gets your garden off on the right foot.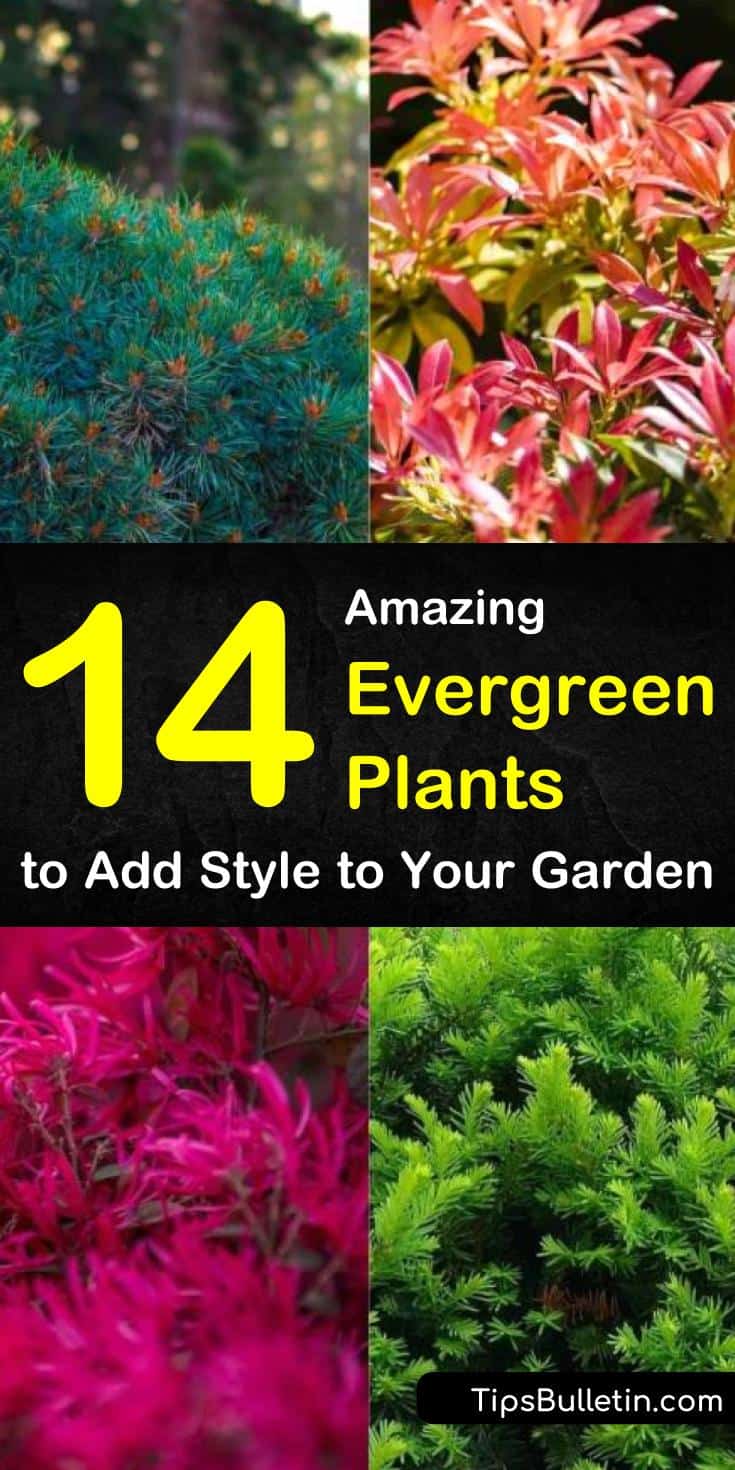 Thanks for checking out our evergreen guide. If our evergreen plants guide was useful to you, please help us out by sharing these evergreen planting tips with your friends and family on Pinterest and Facebook.