We've long admired those yards lined with neatly trimmed hedges, rounded shrubs of flowers, and perfectly edged privacy plants. They give the landscape a look of structure and beauty while creating natural borders. The best way to accomplish this style is with evergreen shrubs for hedges, and there are many examples to choose from.
A hedge is a living wall of shrubbery, and while they have many primary functions, their appearance varies. Some hedges are decorative with their blooms and variegated leaves, while others are more structural with their clean lines and shape. Some are deciduous with seasonal growth, and others are evergreen for year-round interest. Evergreens are an excellent choice for hedges and make perfect living screens.
They range in size, shape, color, and texture and offer privacy with their natural form. Some bushes are fast-growing shrubs and quickly create borders, while others take their time. Find help here for choosing small shrubs for landscaping and border your property with beautiful colors.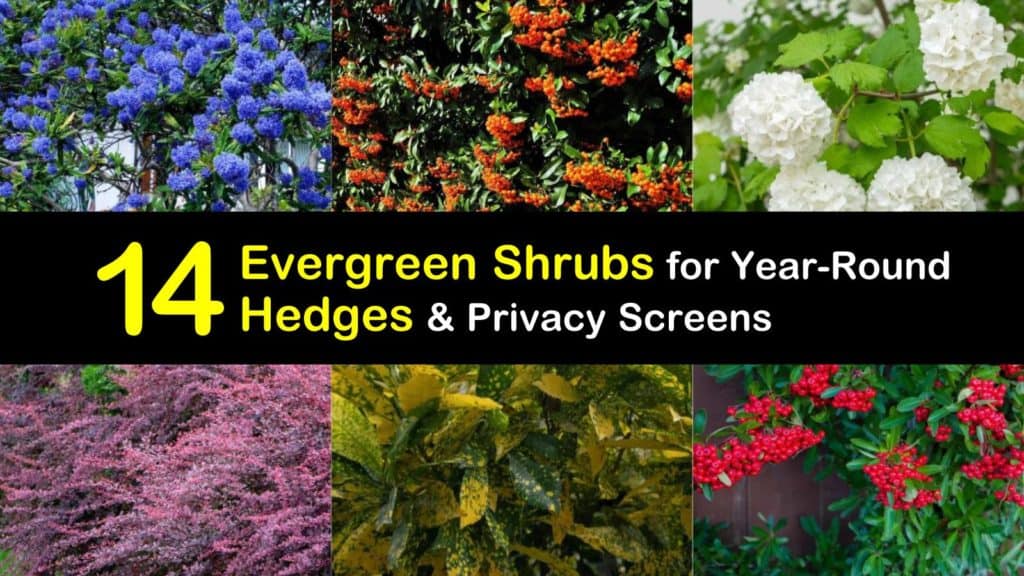 Hedging with Evergreen Shrubs for Borders and Privacy
It's common to plant pine trees for privacy, along with many other types of trees but why not use shrubs instead? With so many evergreen options, it's hard to know which ones are ideal for your landscaping plan.
Are you looking to create a low border beside a walkway, or do you desire a tall and majestic privacy screen? We'll help you choose the right hedges for your home, no matter your preference.
Why Choose Evergreens for Planting Hedges?
Shrubs such as the rose of Sharon are deciduous and drop their leaves at the end of the season.
However, evergreens, such as Thuja occidentalis, keep their foliage all year round and are a better alternative for hedging if you desire consistent privacy, windbreak, and natural beauty through all four seasons.
Which Shrubs are Best for My Yard?
The types of shrubs you choose are basically about preference, but there are a few things to consider when browsing your local nursery. The first step is to compare the bush's hardiness zone to your area.
This makes it easier to narrow down your search. If you plan on edging a walkway or driveway with a hedge, look for low-growing shrubs.
For creating a dense wall of privacy, pick shrubs with a mature height that suits your needs. Try to plant various bushes rather than just one type to prevent pests and diseases from killing off an entire planting.
What are the Benefits of Planting Hedges?
There are many purposes for growing hedges. They're great for creating a border around a garden or the base of your home.
Tall hedge plants act as a buffer from wind and street noise and are also perfect for screening your yard from prying eyes. Hedging shrubs create wildlife habitats, hide unsightly areas, and add curb appeal.
How do I Maintain my Hedges?
Upkeep all depends on the hedge. Most are low-maintenance and require little to no effort to grow. However, certain low profile shrubs and bigger ones need regular pruning to help them maintain a manicured appearance.
Hand prune the hedges before trimming them back with shears. Clip them in the winter to avoid removing new growth and keep them wider at the base so that the lower branches get sunlight.
Consider planting the hedges in a zig-zag formation to give the space appeal while allowing the shrubs to get air circulation and sun.
Boxwood (Buxus)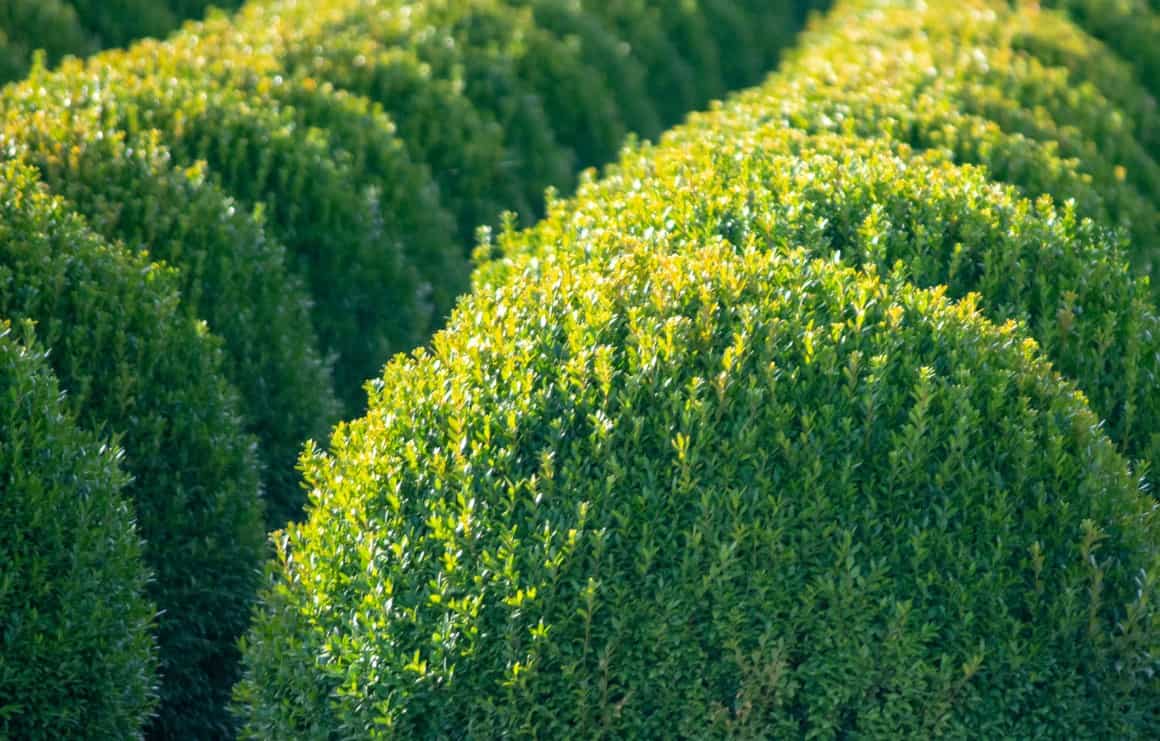 This shrub has tiny green leaves that hold their shape with clipping. It is a favorite for creating topiaries and is suitable for tidy, well-formed hedges. There are many kinds of boxwood, and some are hardier than others.
These evergreens grow ideally in dappled light or part sun and are hardy in zones 6 through 8. Boxwoods are slow growers and vary in height, from 1 to 8 feet tall. They are deer resistant and add formal elegance to borders.
Arborvitae Green Giant (Thuja plicata) – Large Evergreen Shrubs for Hedges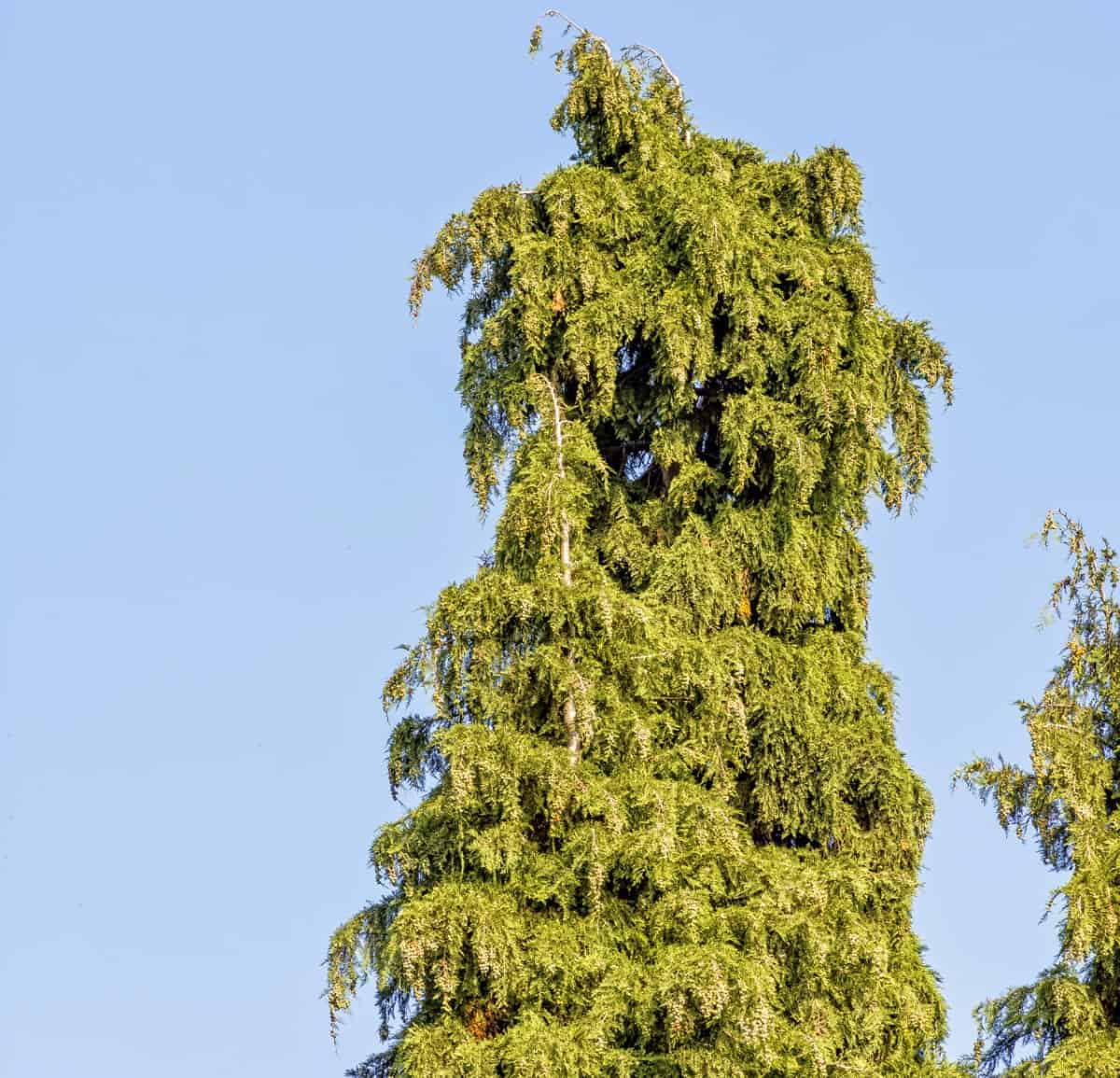 The arborvitae green giant is a fast-growing shrub with a pyramidal shape. It needs no pruning, and its large size makes it most suitable as a privacy screen and wind barrier.
It has dense, soft green foliage and thrives in part to full sun areas of hardiness zones 2 through 7. This shrub is tolerant of most soils, is pest and deer resistant, drought tolerant, and low maintenance.
Arborvitae green giants have a mature height that reaches up to 60 feet tall and a spread of up to 20 feet.
Yew (Taxus baccata)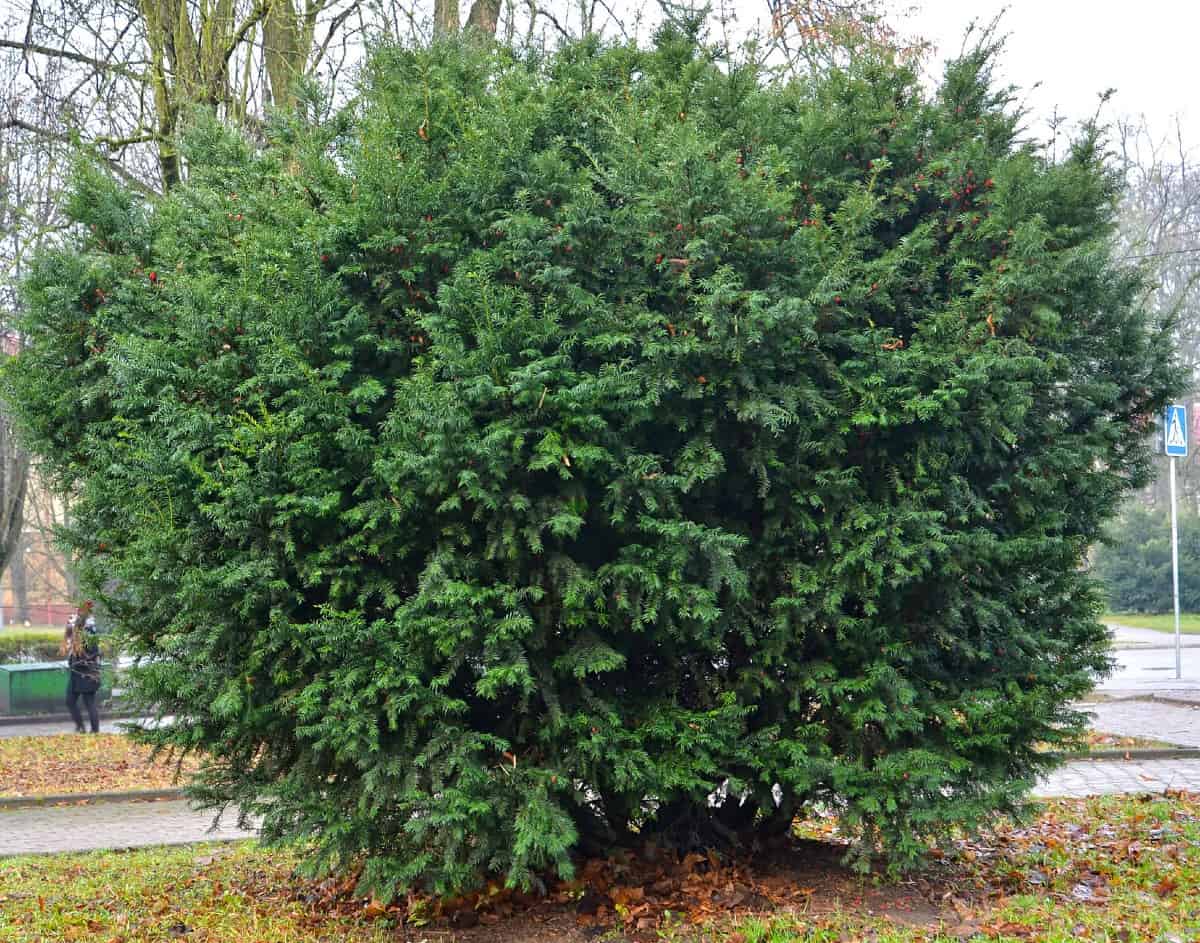 Yew has a uniform shape and grows as a dense hedge. It has dark green needles with red berries and is classified as one of the conifers. It looks stunning surrounding a garden or along a pathway.
This hedge is drought resistant and easy to care for. It is highly adaptable and hardy in zones 2 through 10. Yews grow quickly in shade or sun and vary significantly in size, depending on the type. Some grow 2 to 4 feet high while others reach 30 feet in height.
Barberry (Berberis) – Tough Hedge Plants with Vibrant Foliage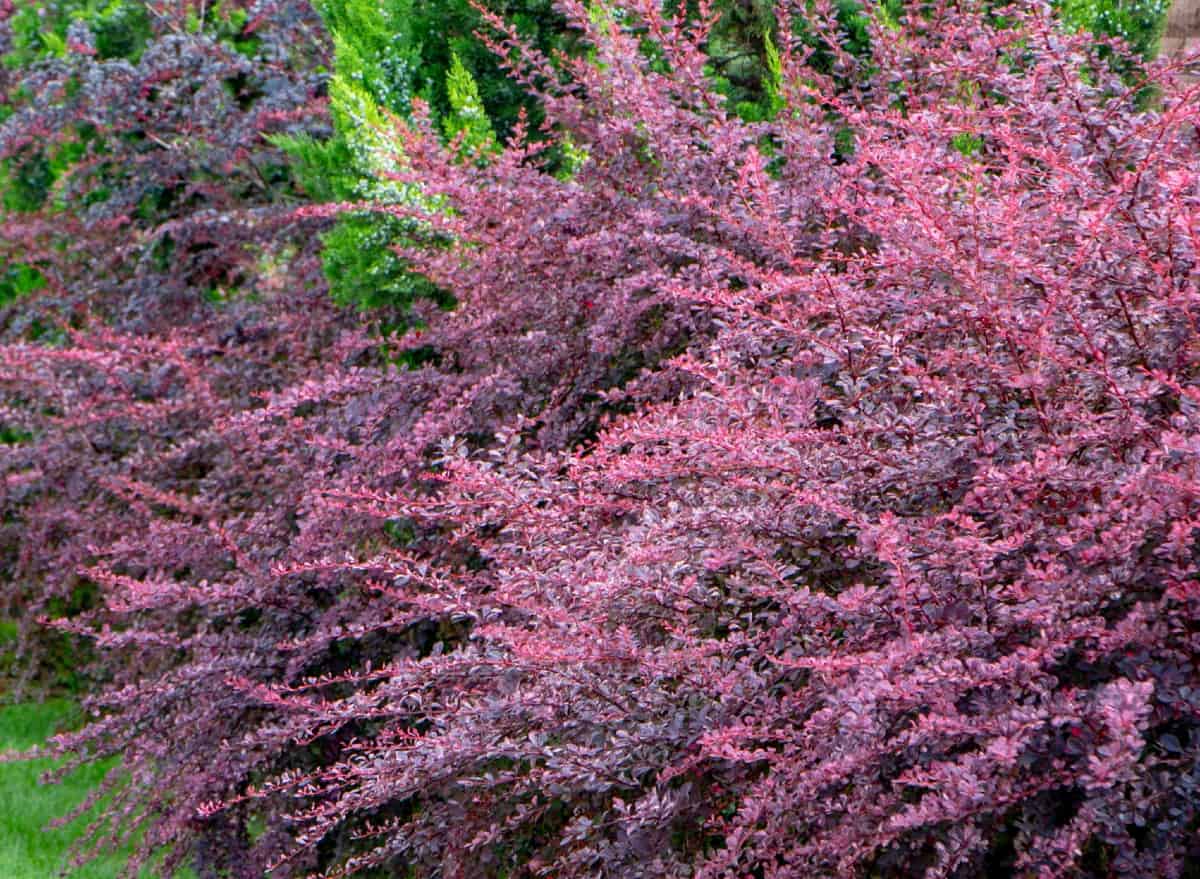 Barberry shrubs have foliage that ranges in color from rich burgundy to green and yellow. They have four-season interest with yellow blooms in early spring, consistent leaves during the summer, and vibrant fall and winter foliage.
These tough hedge plants grow 3 to 8 feet tall and thrive in hardiness zones 3 through 9. These evergreen shrubs for winter love part and full sun, are low maintenance, deer resistant, and drought tolerant.
Holly (Ilex)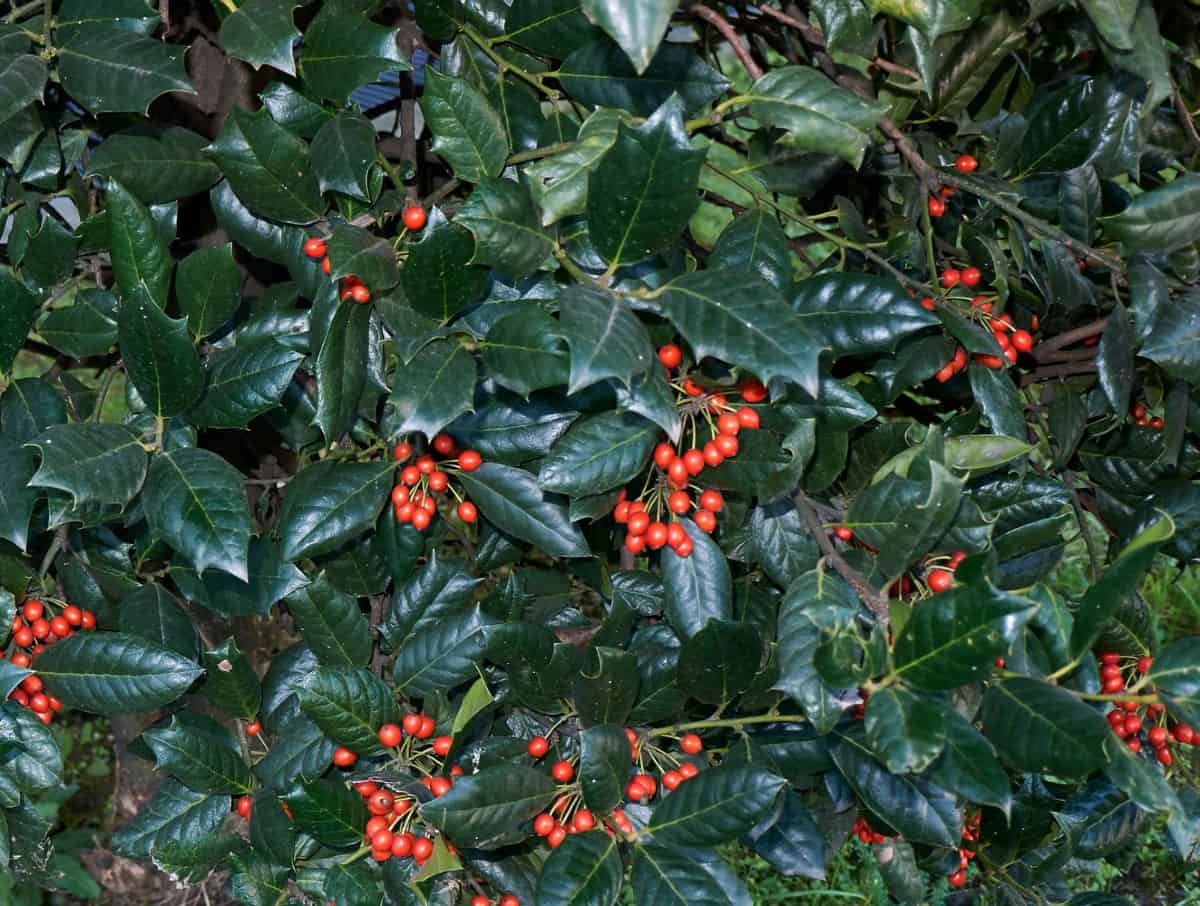 There are many types of holly, and most of them are ideal for hedging. Some are pyramidal, and others are round. They have glossy green foliage and produce fruit several months of the year. Prune them regularly to create the perfect hedge.
Holly grows in hardiness zones 3 through 10 and grows 6 to 20 feet tall or more, depending on the species. These shrubs enjoy part shade or full sun and are deer resistant and low maintenance.
Chinese Quinine (Dichroa febrifuga) – Flowering Evergreen Shrub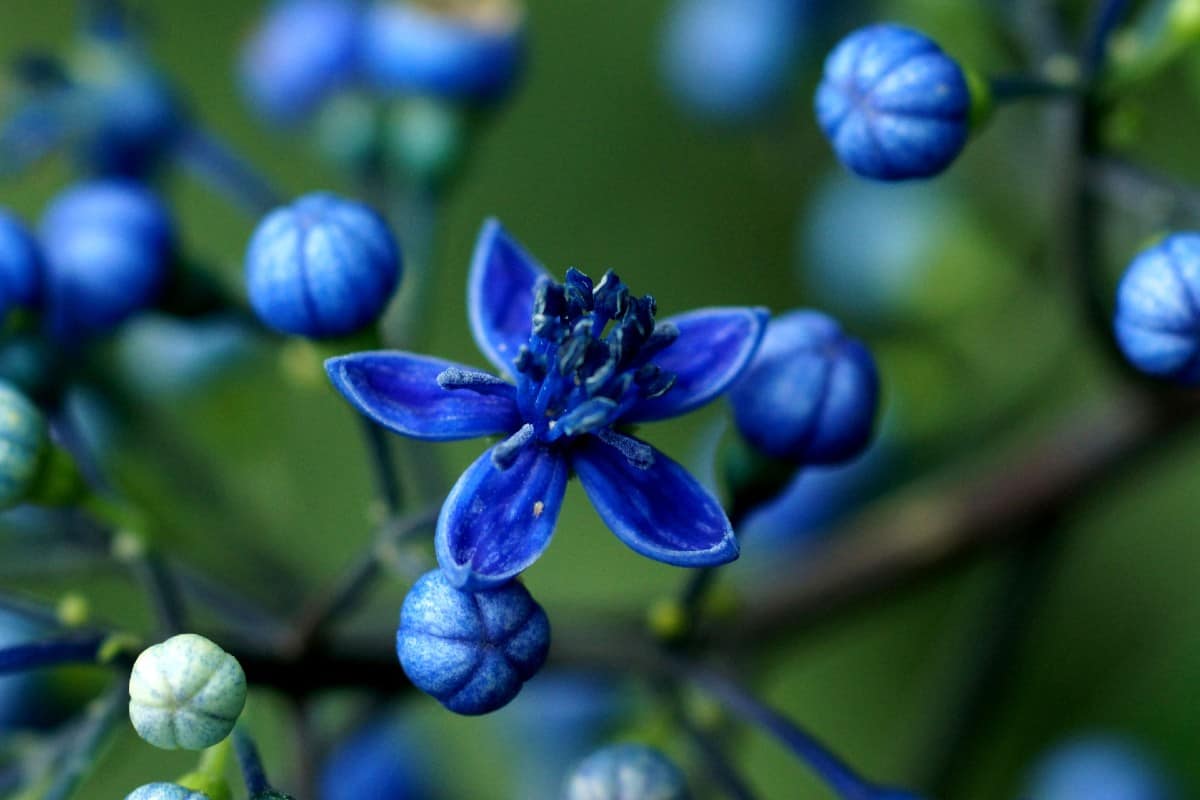 This shrub is a hydrangea family member and has clusters of blue, pink, or white flowers during the summer, followed by blue berries. Chinese quinine is evergreen and subtropical, making it an excellent selection for year-round borders.
The long, oval leaves of this hedge grow on reddish tan stems and crave little pruning to look beautiful. Chinese quinine grows 4 to 6 feet tall and wide and prefers part sun to thrive. This hedge is hardy in zones 8 through 10.
Cotoneaster (Cotoneaster dammeri)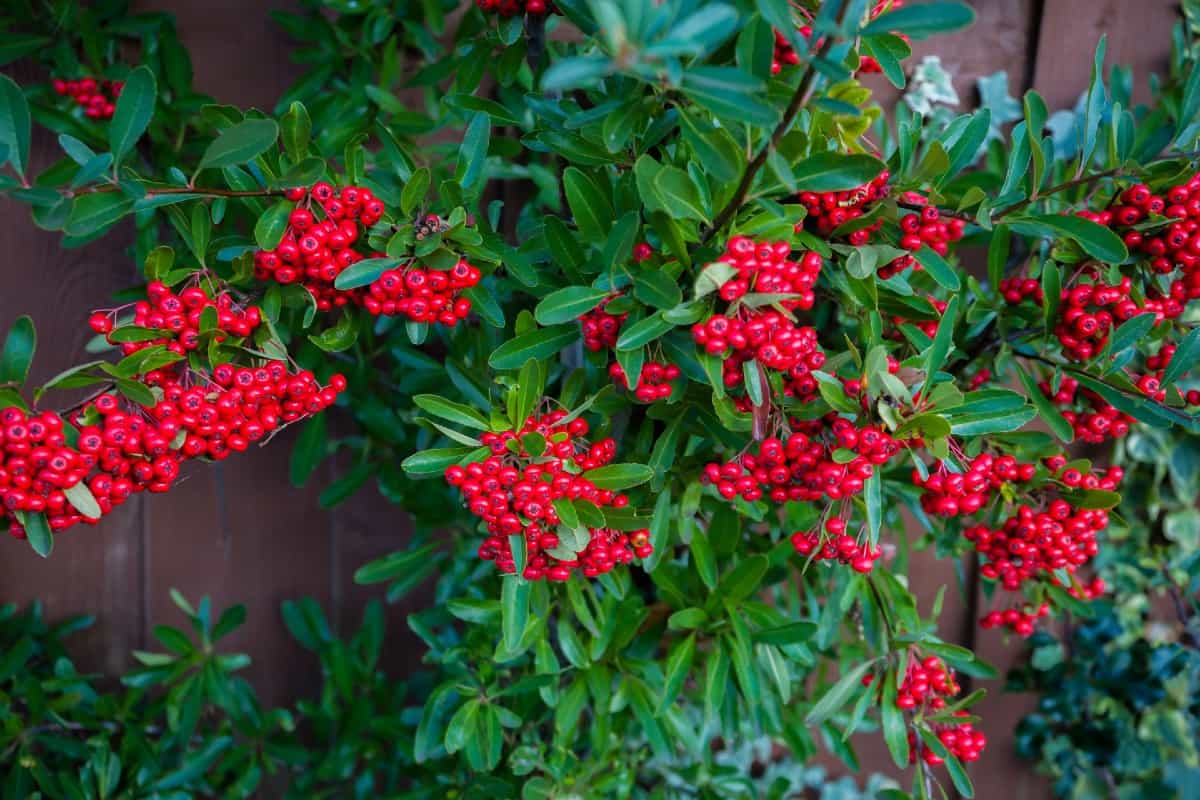 While some cotoneaster shrubs have a low-growing and sprawling habit, others grow uprightly, making them preferable for hedges.
They have emerald green foliage, red, pink, and white flowers during early spring and summer, and red or golden yellow berries.
Cotoneaster has an average height of 3 to 8 feet tall and is hardy in zones 4 through 7. This low-maintenance shrub is both deer resistant and drought tolerant and is an optimal hedge for slope and erosion control.
Privet (Ligustrum ovalifolium) – Classic Privacy Hedge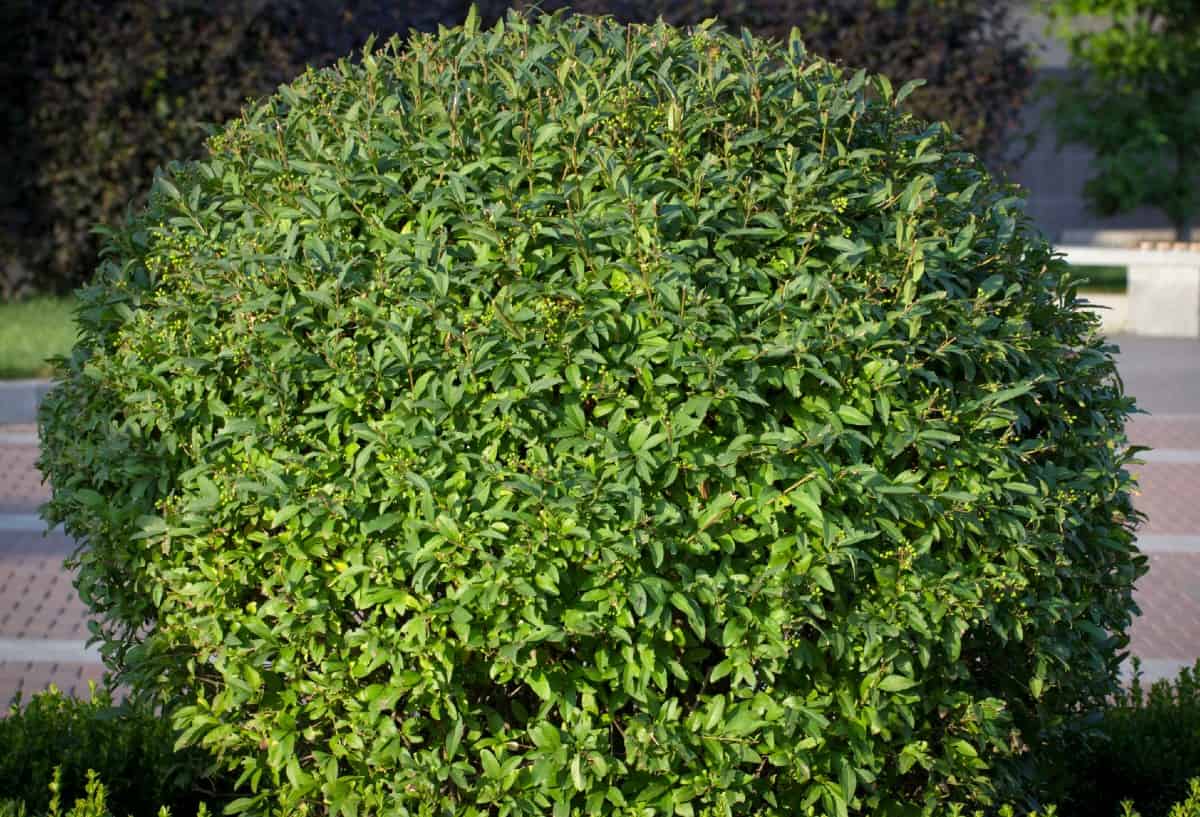 Privets are one of the most popular plants for hedging and privacy. These shrubs have a classic, clean look with deep green leaves that bloom with white blossoms in spring or early summer, followed by black berries that birds enjoy eating.
These shrubs are easy to grow, reaching 4 to 15 feet tall and 4 to 8 feet wide, depending on the type. Privets grow in hardiness zones 5 through 9 and tolerate part or full sun. They are low maintenance, drought tolerant, and simple to shape with pruning.
Viburnum (Viburnum opulus)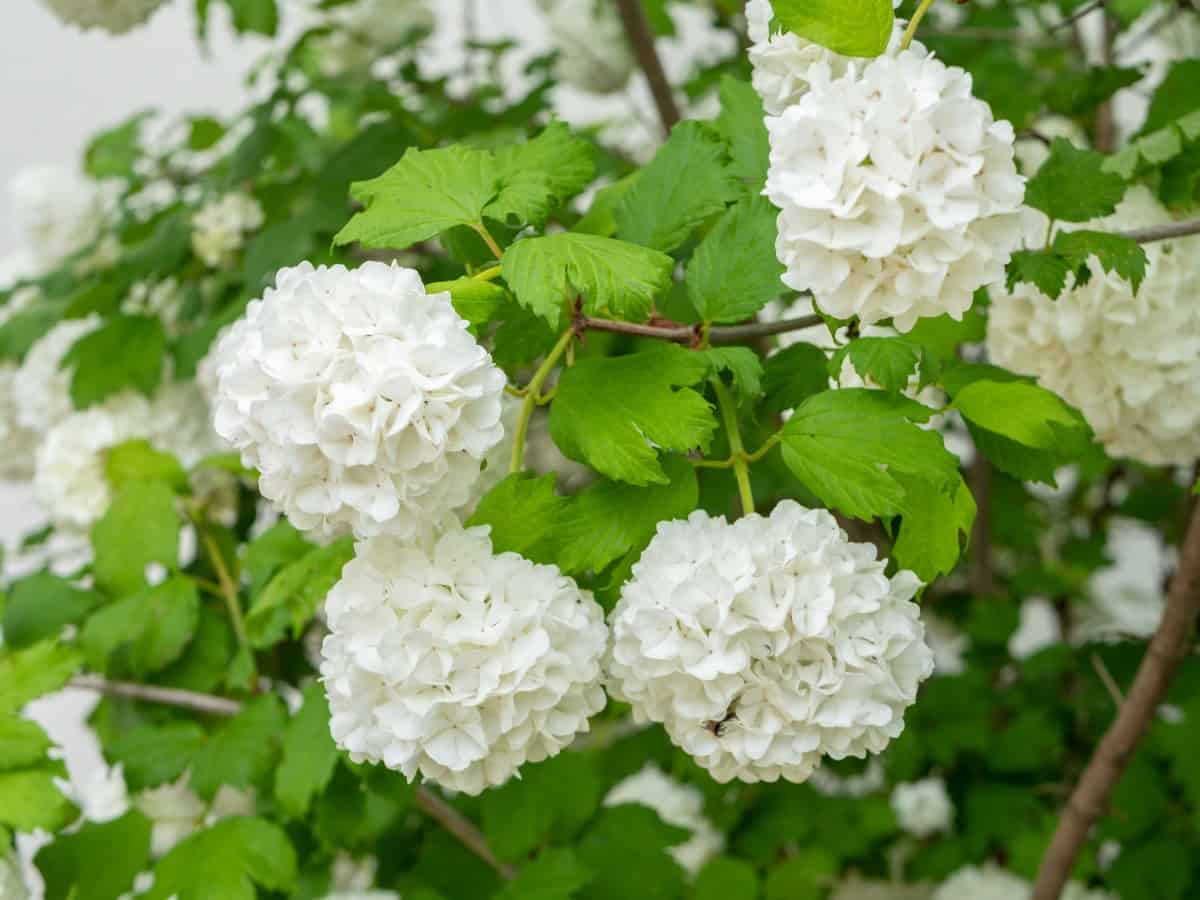 Also called a snowball bush, this plant is a popular flowering landscape shrub. There are many different species – some are evergreen, while others are deciduous.
Their leaves vary from rounded or lance-shaped to toothed or smooth, and they all produce white or pinkish blossoms. This well-behaved plant is low maintenance and an excellent candidate for a privacy hedge and erosion control.
Viburnum has an average size of 8 feet tall and is hardy in zones 2 through 9. It is deer resistant, drought tolerant, and performs well in part or full sun.
Golden Bell (Forsythia suspensa) – Cheerful Shrub with Early Spring Flowers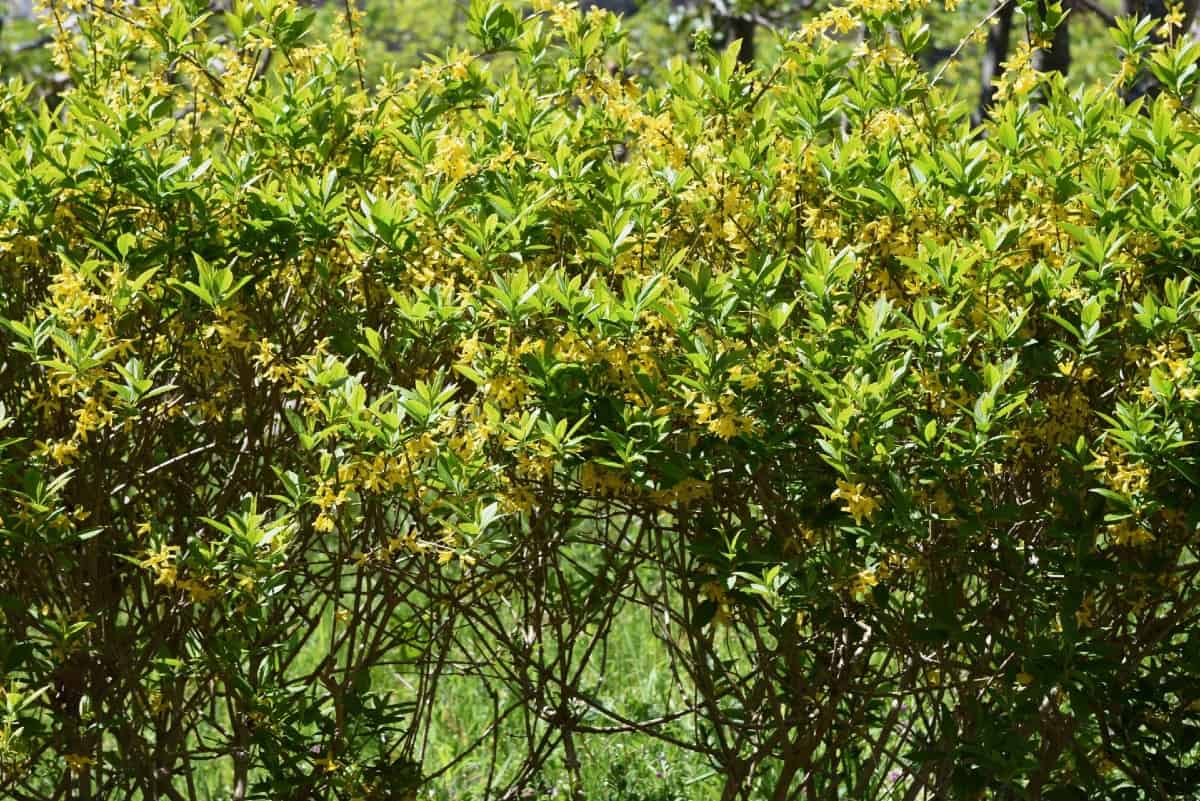 These shrubs belong to the olive family. Forsythias grow in an upright, arching form with long, leafless branches of bright yellow flowers in early spring.
The blossoms give way to blue/green foliage, and the natural growth habit of this plant requires little to no pruning.
There are different species of these plants, and they all require at least six hours of sunshine daily to flourish. Golden bell forsythia grows in zones 4 through 9 and has a mature size up to 10 feet tall and 5-10 feet wide.
Leyland Cypress (Cupressus × leylandii)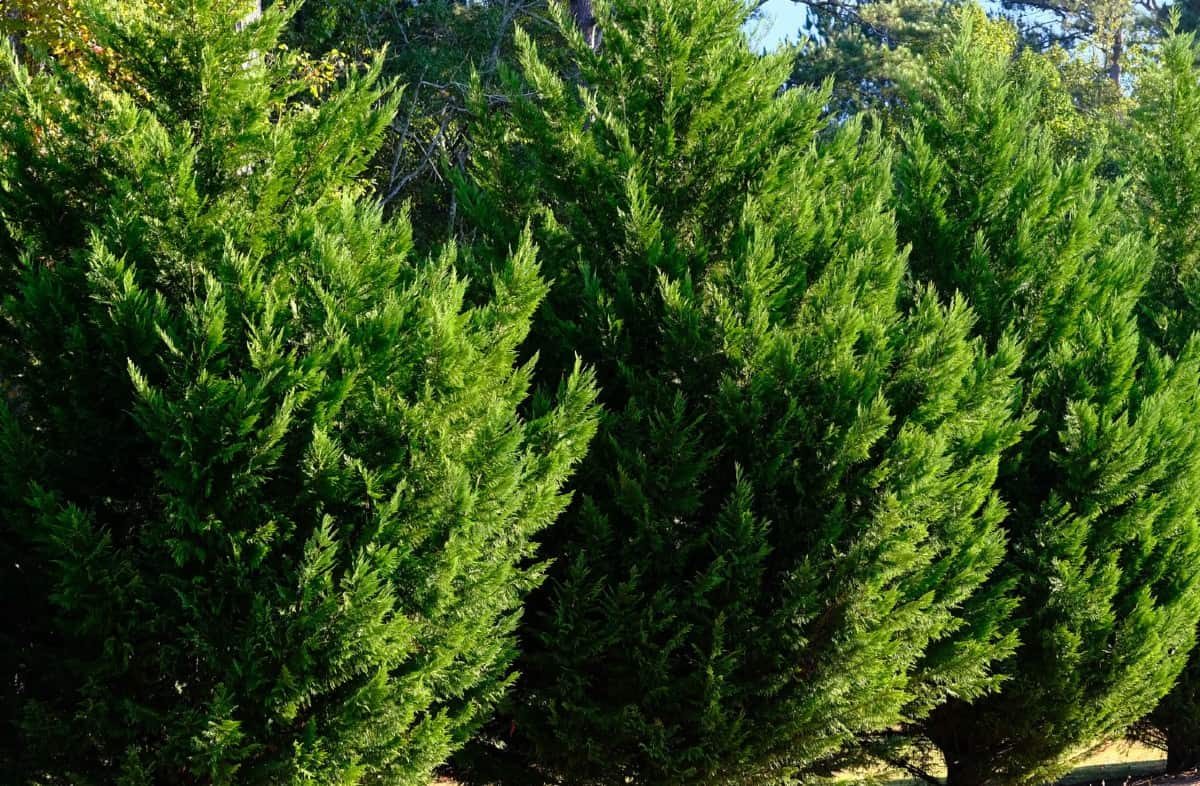 Leyland cypress is a fast-growing evergreen conifer with a dense growth habit. It has a narrow pyramidal to broad columnar shape and typically grows as a short tree, but is manageable as a hedge of small evergreen bushes.
The flattened sprays of its gray/green foliage and dark brown cones add character to a space.
These evergreens grow 2 to 3 feet per year and are the perfect choice if you're looking for quick privacy. Leyland Cypress shrubs are hardy in zones 6 through 10 and are suited for full sun or part shade.
Firethorn (Pyracantha coccinea) – Evergreen Shrub with Fierce Thorns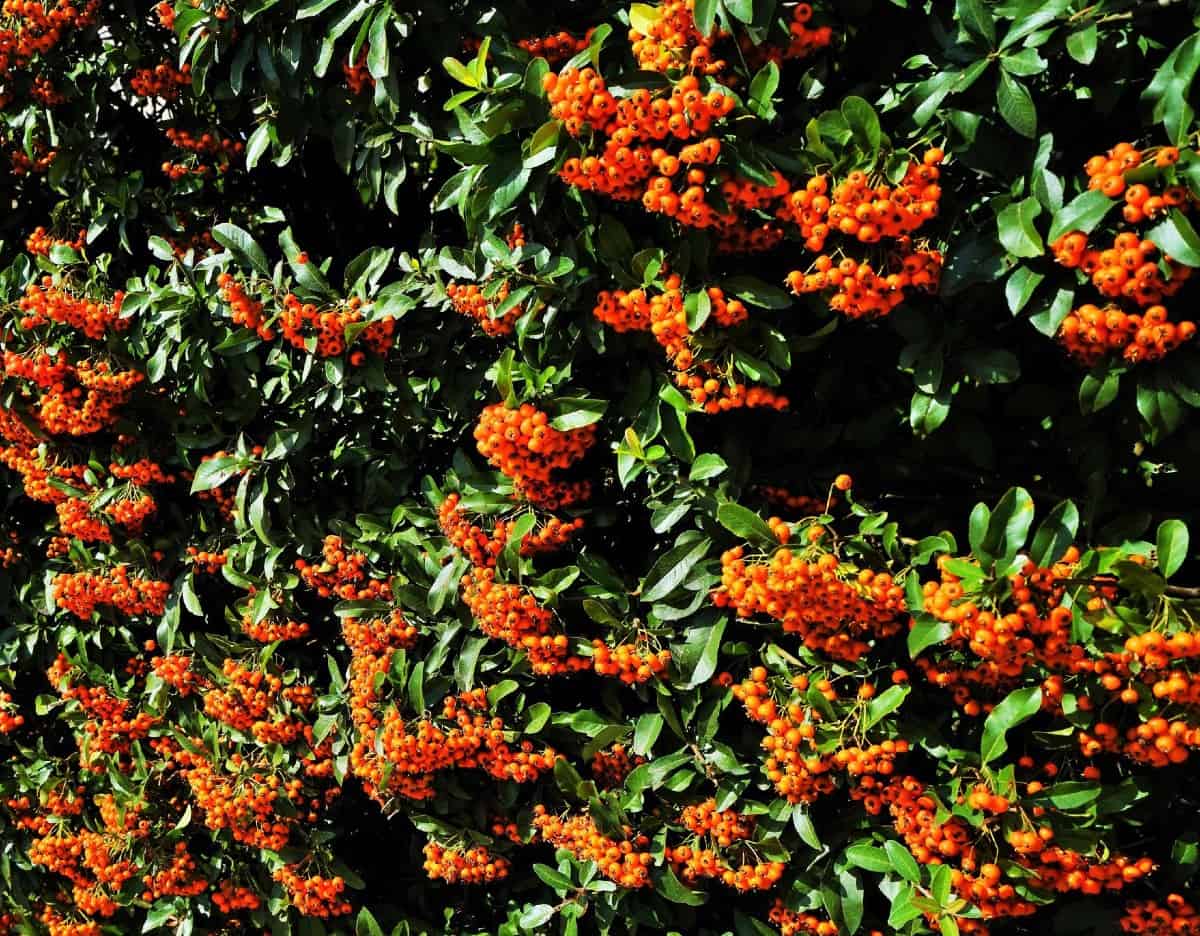 Firethorn has a rounded or oval shape with dark green leaves, white spring flowers, and reddish-orange fruit for fall and winter interest. It has vicious thorns, making it a good option for hedge planting to keep unwanted visitors from your yard.
This plant grows 6 to 18 feet tall and wide and is hardy in zones 6 through 9. Firethorn enjoys optimal growth in sunny locations. It is low maintenance, drought tolerant, and ranks among the best deer proof shrubs.
Variegated Japanese Laurel (Aucuba japonica)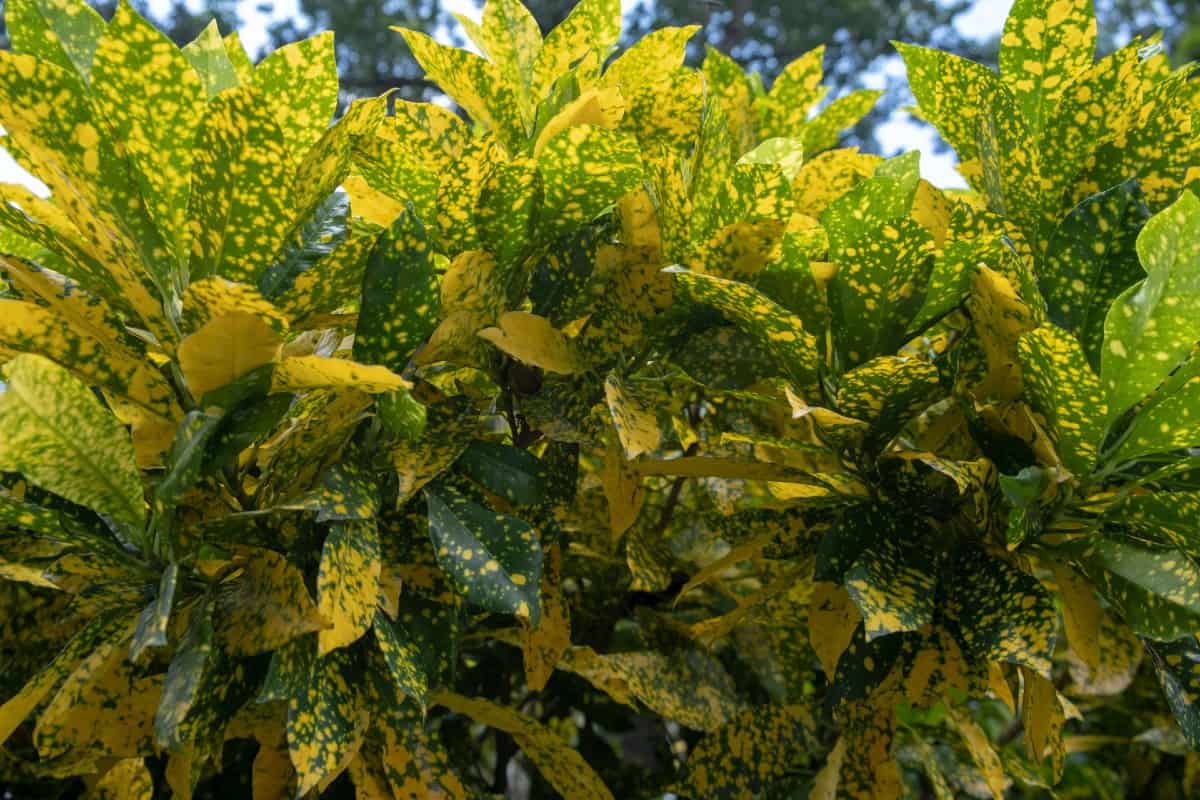 This dense, upright, and rounded shrub has lush foliage of glossy green leaves with golden yellow speckles. Small purple flowers and creamy white anthers erupt in early to mid-spring, followed by bright red berries in the fall.
These shrubs are a good option for shady areas and are tolerant of most types of soil. They are low maintenance and nearly disease and pest free. Variegated Japanese laurel grows 6 to 10 feet tall and 5 to 9 feet wide and is hardy in zones 6 through 10.
California Lilac (Ceanothus) – Versatile and Free-Flowering Shrub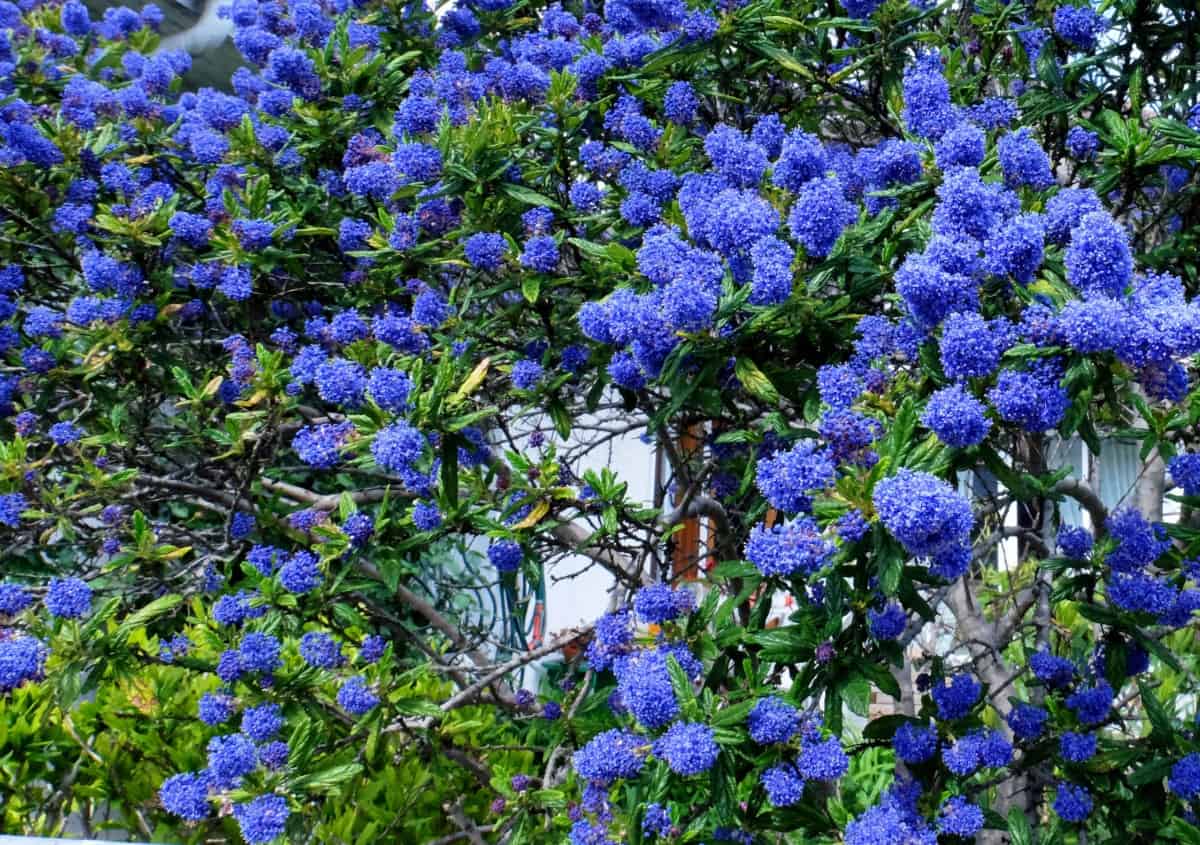 If you're looking for a hedge that has everything, the California lilac is the one. This shrub has sweetly fragrant blue/purple flowers and dark, glossy foliage. It is incredibly versatile and easy to grow in many conditions.
California lilacs are trouble-free, fast-growing plants that tolerate drought, heat, salt, and most soil types. They blossom from mid-spring to the beginning of winter and prefer part to full sun in hardiness zones 8 through 10.
A privacy hedge is a great way to landscape around your home, and evergreen shrubs are the best choice for year-round displays of greenery.
Whether you decide to go with flowering shrubs or prefer well-trimmed bushes with clean edges, there is an evergreen for you.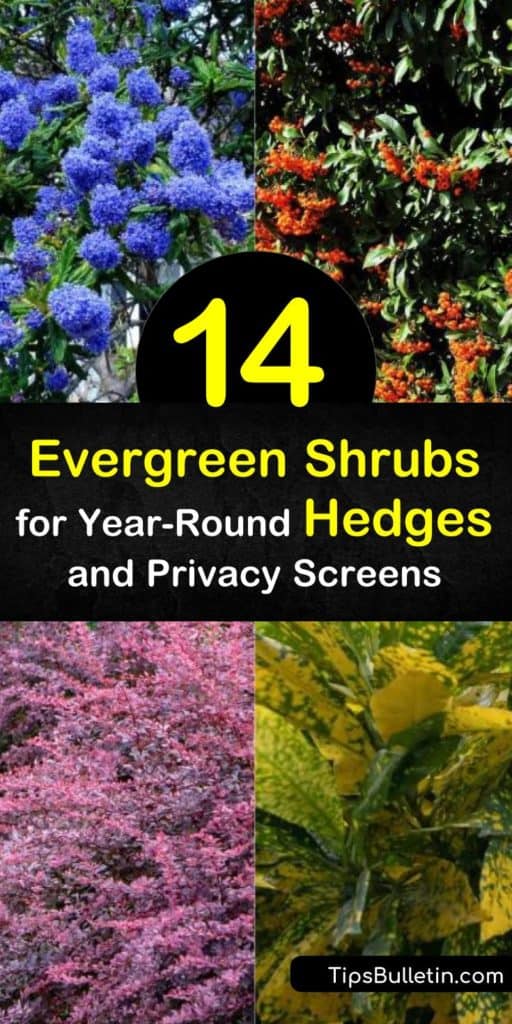 There are so many evergreen shrubs for hedges that create natural borders while giving the space privacy throughout the year, so why not share our evergreen hedge guide with your friends and family on Facebook and Pinterest?