Privacy often feels like a thing of the past in the digital age of social media. Primarily since most communities consist of houses so tightly pressed against one another, it's easy to feel like your home is also your neighbor's. One way to reclaim your personal space is to use fast growing evergreen shrubs for privacy.
These plants block your porches and yards from view, while also providing a distinct and elegant barrier. Common hedge species like North Privet and the various arborvitae plants are some of the best shrubs to use. Many of these specimens are low-maintenance evergreens that also add visual interest to any landscape.
Even flower bushes like hydrangea and lilac employ their wide-stretching branches to keep out onlookers, while simultaneously lending their natural charm and beauty to the scenery. Find the best method to plant evergreen shrubs around your pool area by taking a look at this list of our favorite candidates.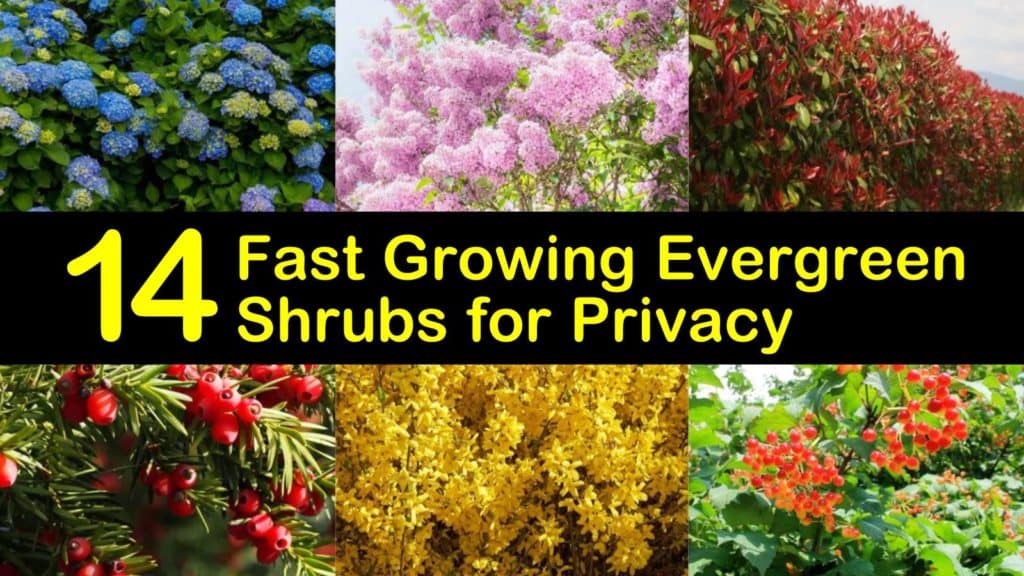 Setting Up Privacy Hedges
Some factors you may wish to consider when creating barriers out of any plant are how wide they are and how fast they grow. You also want to pay attention to height, since some privacy hedges grow to near-astronomical proportions if left untrimmed.
You can also plant hedges to protect the land around your home. Read on to discover the best shrubs for controlling erosion on slopes and maintaining the lines of your property.
How fast do most privacy hedges grow?
Saving time is critical when it comes to planting evergreen trees around your house for privacy. Most homeowners lean toward faster-growing species since they achieve the desired screening effect in a reasonable amount of time. Plus, the last thing anyone wants is to wait several years for their hedges to reach maturity, only to discover they are too far apart.
Though all hedges grow at a different pace, Leylandii is among the fastest, growing approximately three feet each year. Of course, this also means regular pruning is required on faster-growing plants. Take how fast and often you tend to your plants into account when making your selection.
How far apart should I space them?
The space between each plant changes depending on the species, since some grow unusually wide, while others stretch in taller, leaner forms. Boxwood shrubs require only about two feet of space between plants, where other shrubs like hydrangeas call for approximately seven feet of distance.
What's most important when it comes to determining the spacing of plants is the stage of life your tree is at currently. As essential as closing the gaps between plants is to create a privacy screen, you also should refrain from overcrowding them. Accounting for the plant's growth and size when it reaches its mature height offers enough space between plants without leaving unwanted gaps.
Fantastic Evergreen Shrubs and Bushes for Privacy
The best part about using evergreens for hedging is the year-round interest. Even without flowers, find the best trees to plant for privacy around your house with this selection of stunning green trees and bushes still look beautiful during the winter months.
Emerald Green Arborvitae (Thuja occidentalis)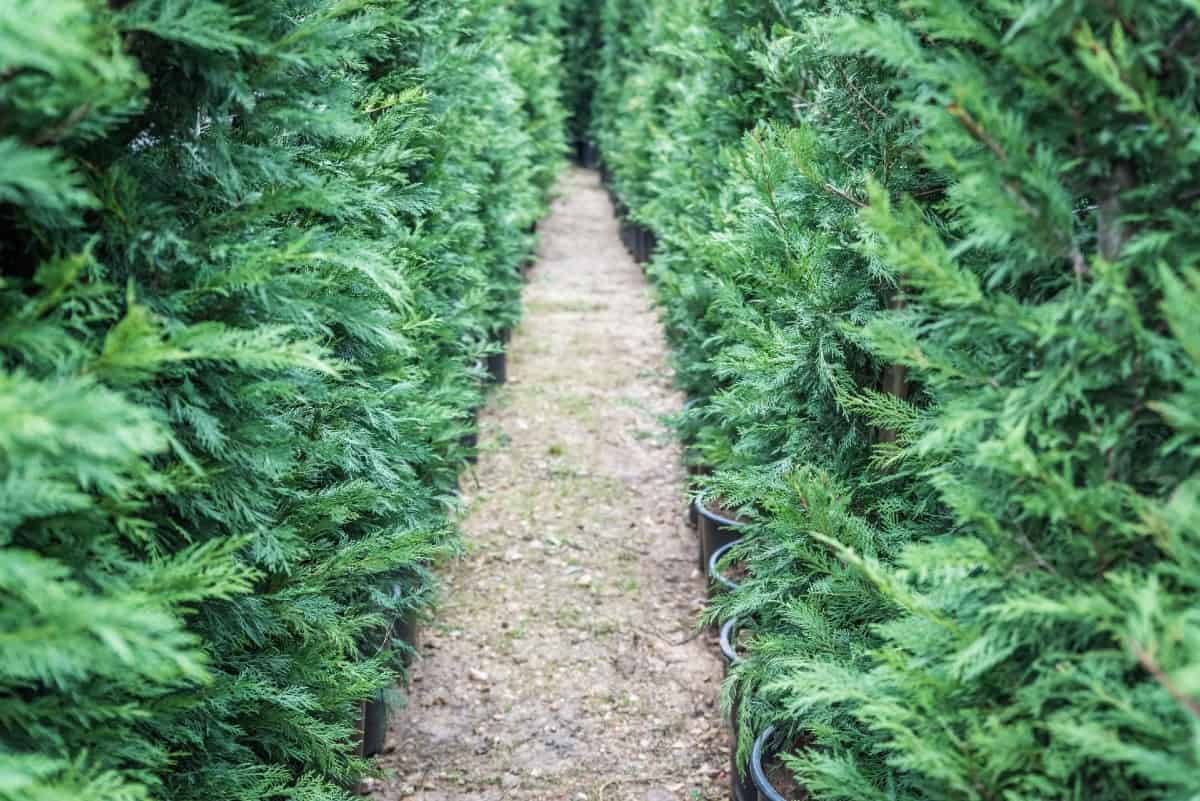 One of the first trees landscapers imagine when planning a privacy hedge is the Emerald Green Arborvitae. True to their namesake, these beautiful trees retain their lovely emerald green foliage year-round, offering incredible appeal even in the winter.
These tall fast growing trees start maturing at around 10-15 feet tall and they are also significantly more manageable than their larger arborvitae cousins, who reach proportions of up to 60 feet high. Emerald Arborvitae forms an attractive pyramid-like shape and expands to only about 4 feet wide.
For these privacy bushes that grow fast, placing them about 2 feet apart is ideal to give them room to spread into a hedge. Though it grows at about one foot per year, their size and width are easy to cultivate into a dense hedge.
North Privet (Ligustrum x ibolium): Fast Growing Evergreen Shrubs for Privacy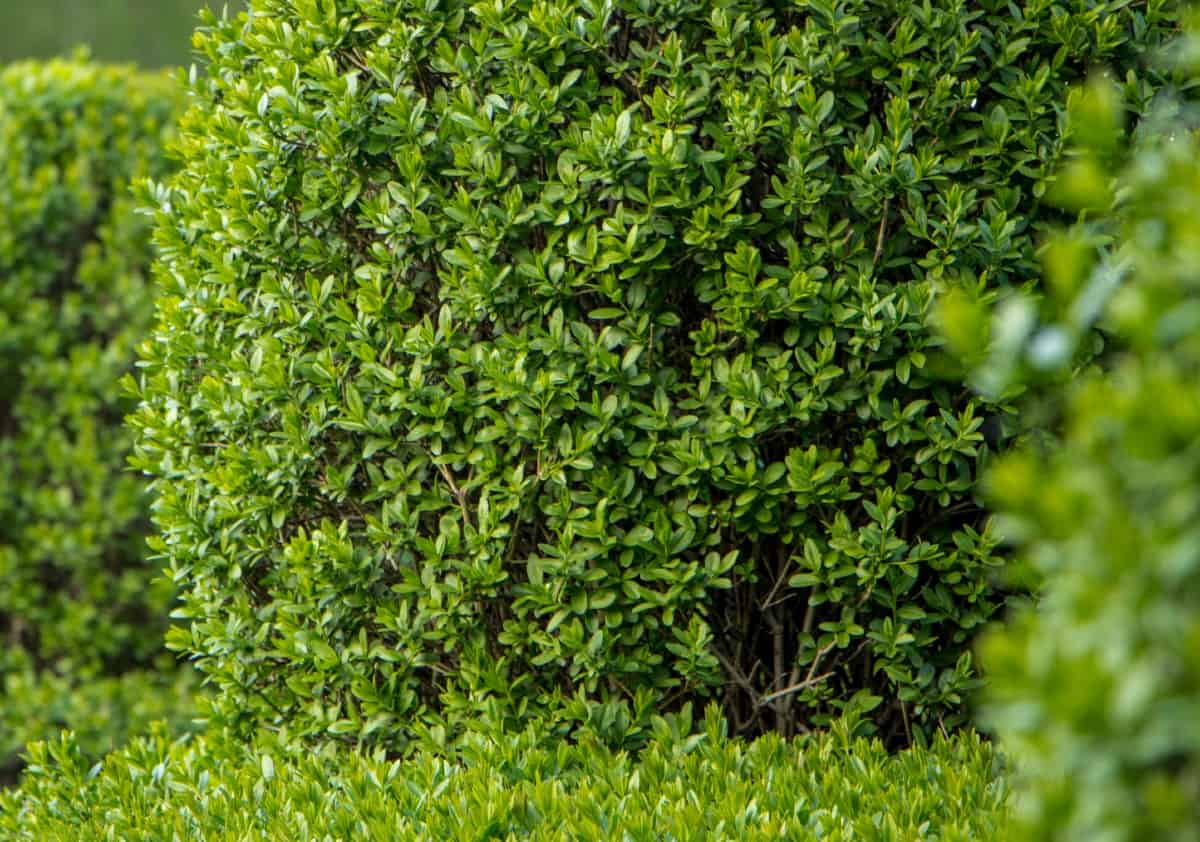 Another common variety of shrubs used for privacy hedges is the privet. These plants generally grow from 4-15 tall and about 4 to 8 feet wide.
When planting, leave about one to two feet of distance between the plants to give them room to spread out. They do just as well in partial shade as they do in full sun and withstand a variety of soil types.
In summer, these hedges that grow fast bloom with dainty white flowers. They are also drought-tolerant, making them a relatively easy plant to maintain.
Red Robin (Photinia × fraseri)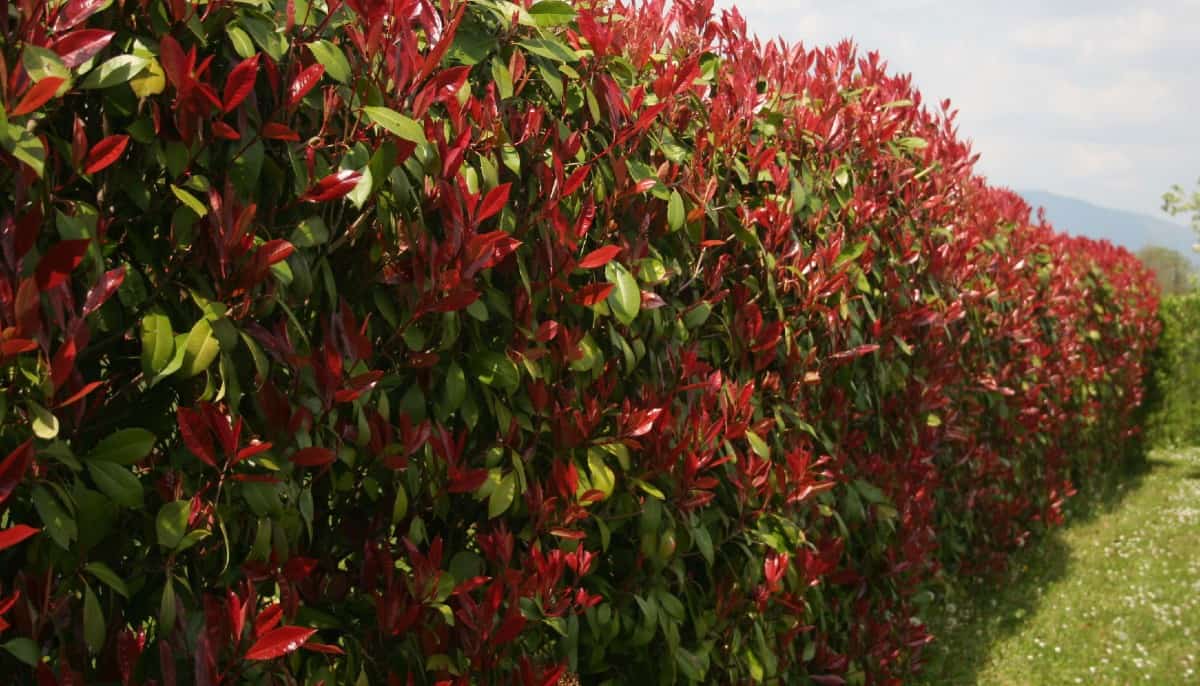 Another common shrub for borders is the Fraser photinia, also called Red Robin. This plant develops into a height of 9-12 feet with a spread of the same. In April, these shrubs produce lovely white blooms that remain for a month or two.
The most beautiful part about this plant, however, is the vibrant fall color of new plant growth. While the plant remains green throughout the winter months when fresh leaves begin to form, they are a beautiful shade of red. This color eventually shifts to green as the leaves mature.
Green Giant Arborvitae (Thuja plicata)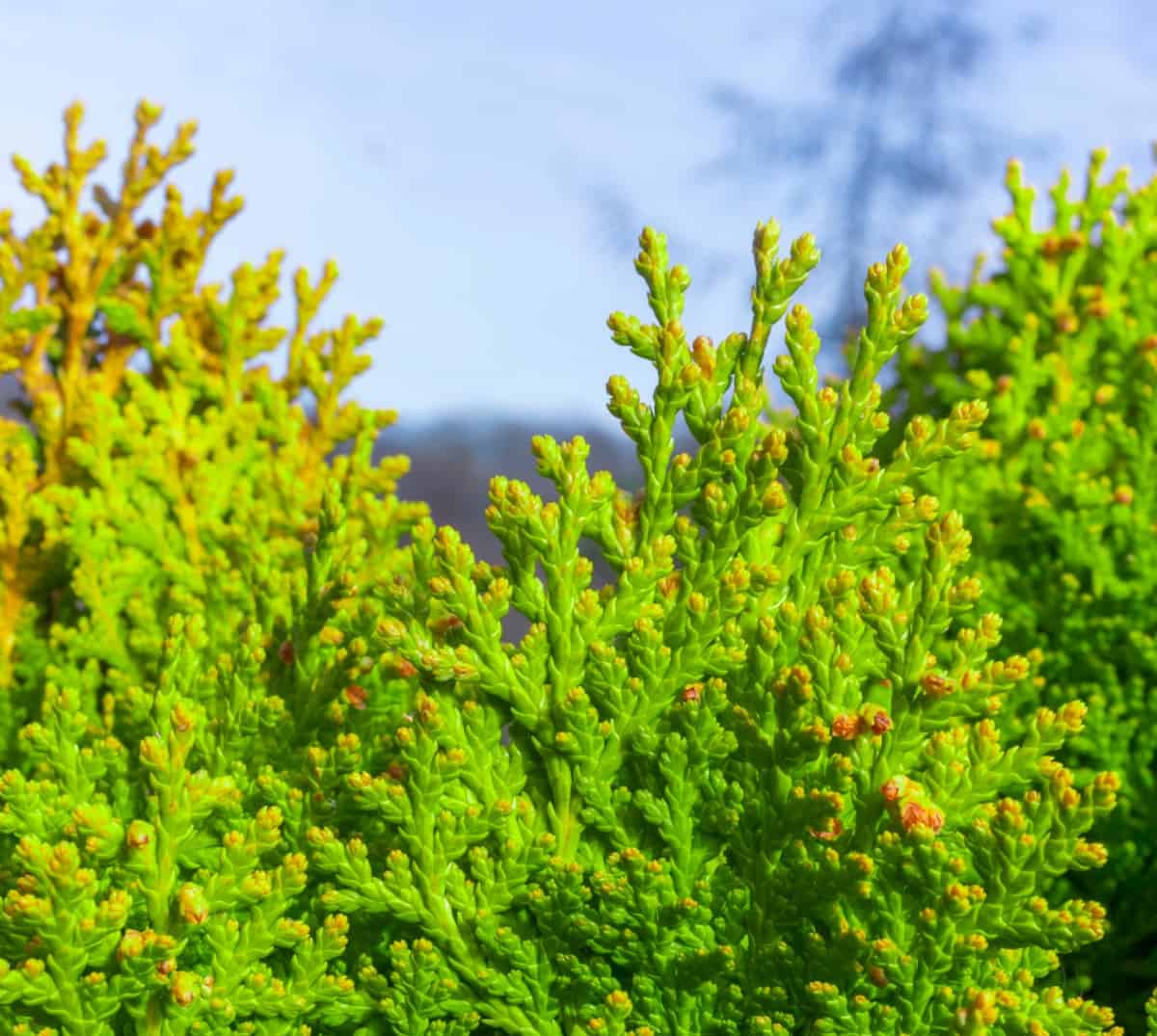 Another species from the Thuja genus is the Green Giant Arborvitae. A much faster grower than its emerald cousin, these shrubs for privacy grow around 2.5′ every year. While it reaches heights of up to 60 feet, simply prune down the branches to maintain the desired reach.
Since these plants stretch anywhere between 12-20 feet in width, these fast growing evergreen shrubs for shade make the perfect privacy hedge. Experts suggest planting them about 8 to 12 feet apart to provide maximum screening.
Hydrangea (Hydrangea macrophylla): Beautiful Floral Decorations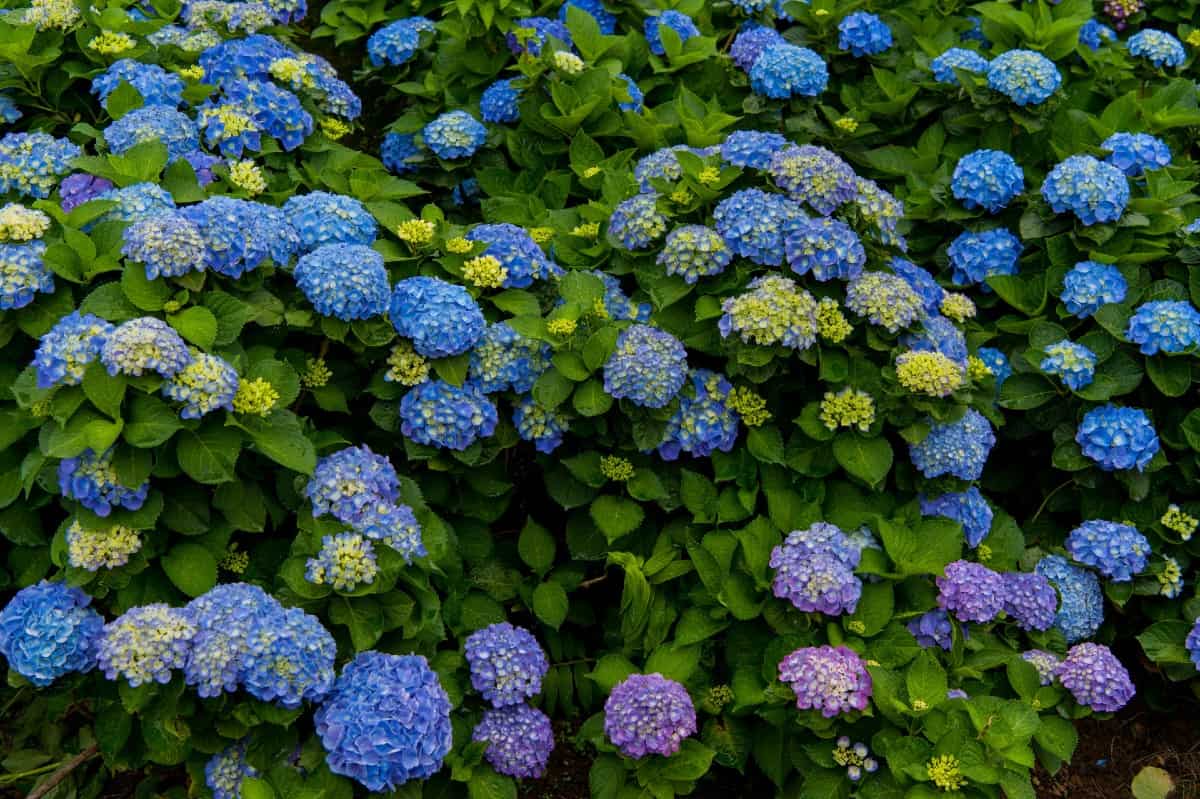 Another group of privacy shrubs that add just as much beauty as peace of mind is the hydrangea. While the most common version of these plants is deciduous, there are a few evergreen varieties, too. In the summer and spring, these shrubs develop large clusters of flowers that range from white to purple to blue.
On average, hydrangeas grow about ten feet in both height and width. They also grow just over two feet a year. Pruning in the spring is an excellent way to trim back fast-growing portions, though it's not necessary.
Columnar Norway Spruce (Picea abies 'Cupressina')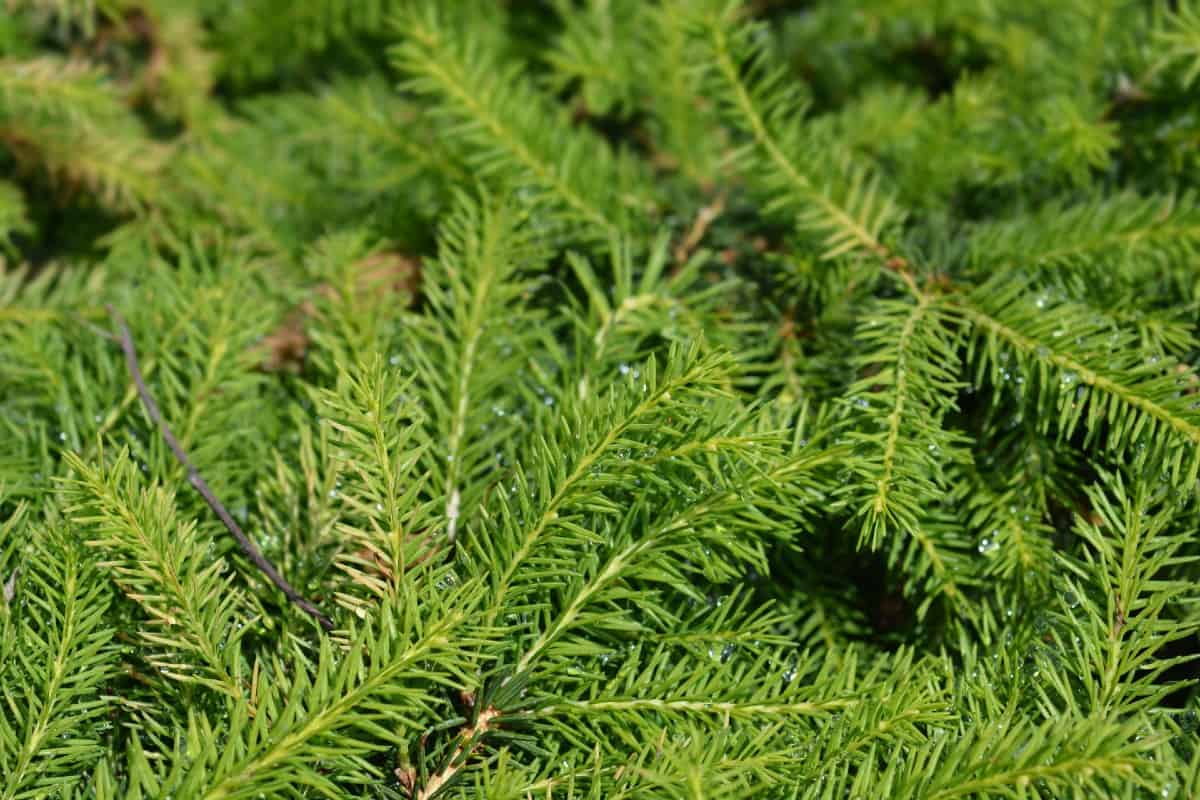 A low-maintenance evergreen, the Columnar Norway Spruce works wonderfully as a series of privacy trees. This tree adapts well to cold climates and is one of the best year round shrubs with appealing green textured needles. Once mature, the spruce grows up to 30 feet with a ten-foot spread.
A speedy grower, the plant achieves up to two feet a year during its initial development stages. For best results for privacy reasons, place them approximately 5 feet apart when planting.
Juniper (Juniperus)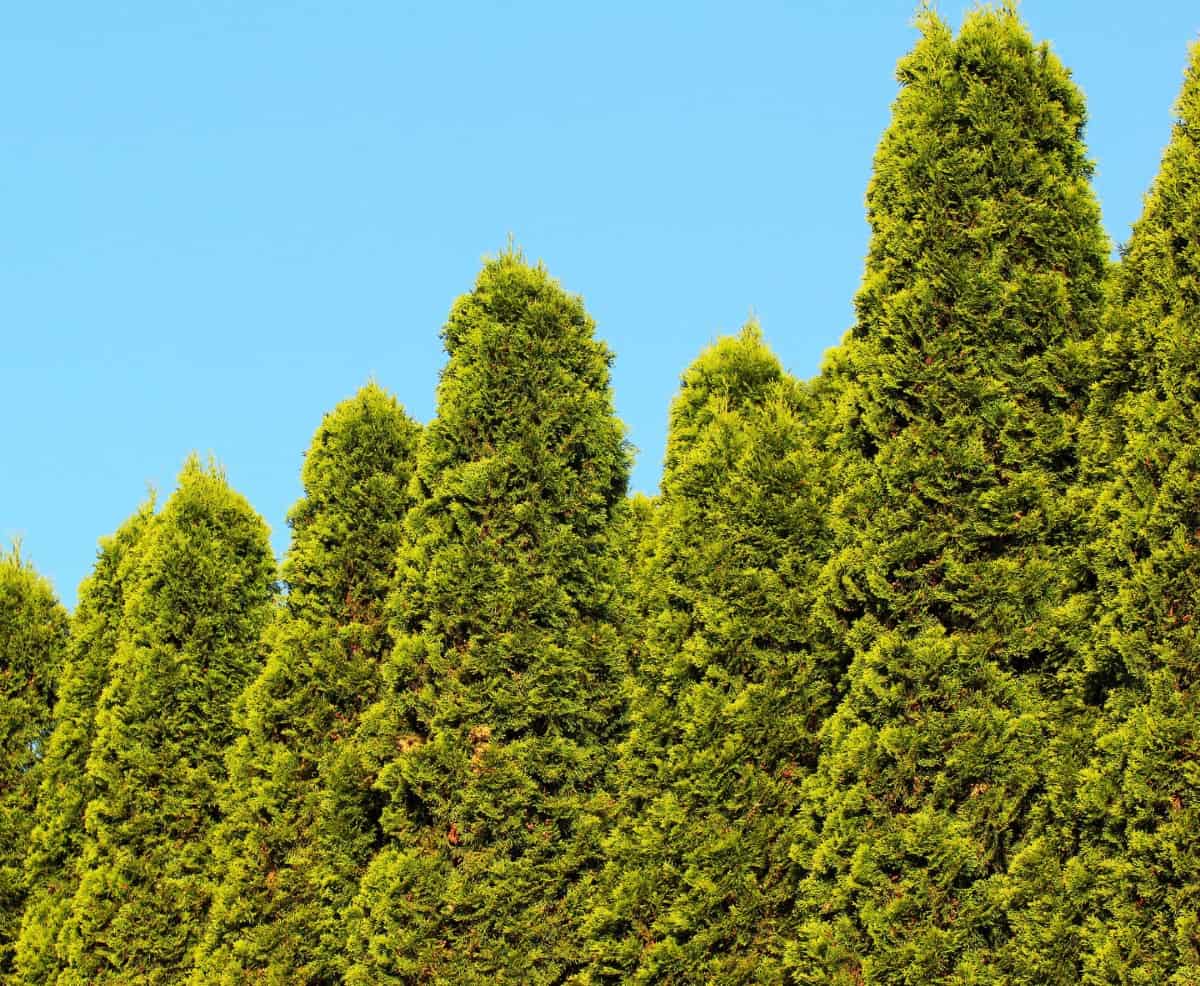 Junipers come in many different shapes and sizes and grow as both evergreen shrubs and taller trees. The typical height for most juniper species when hedging is about 5 feet tall. While not as fast as plants like Leyland Cypress or Green Giants, they still grow around 18 inches a year.
Junipers are fast growing evergreen trees for privacy that prefer alkaline soil and full sun to thrive. Some varieties include little bluish-silver berries that appear in the fall. The plant also contains highly flammable resin, so it is not suggested for homes close to areas with potential fire dangers.
Forsythia (Forsythia x intermedia)
An incredibly fast-growing plant, Forsythia grows anywhere between 2-4 feet a year. It also achieves a spread and height of 10 feet, so spacing them about 4-6 feet apart is ideal.
Most recommend pruning to manage the plant's quick growth and ensure blooms in the spring. With a hardiness level that spans across cooler regions in zone 4 down to warmer climates in zone 9, it's the perfect addition to any landscape.
Forsythia is one of the evergreen full sun flowering shrubs that is the earliest blooming in the spring. The bright yellow flowers are cheerful after a long winter.
California Lilac (Ceanothus): Incredible Flowers as Privacy Hedges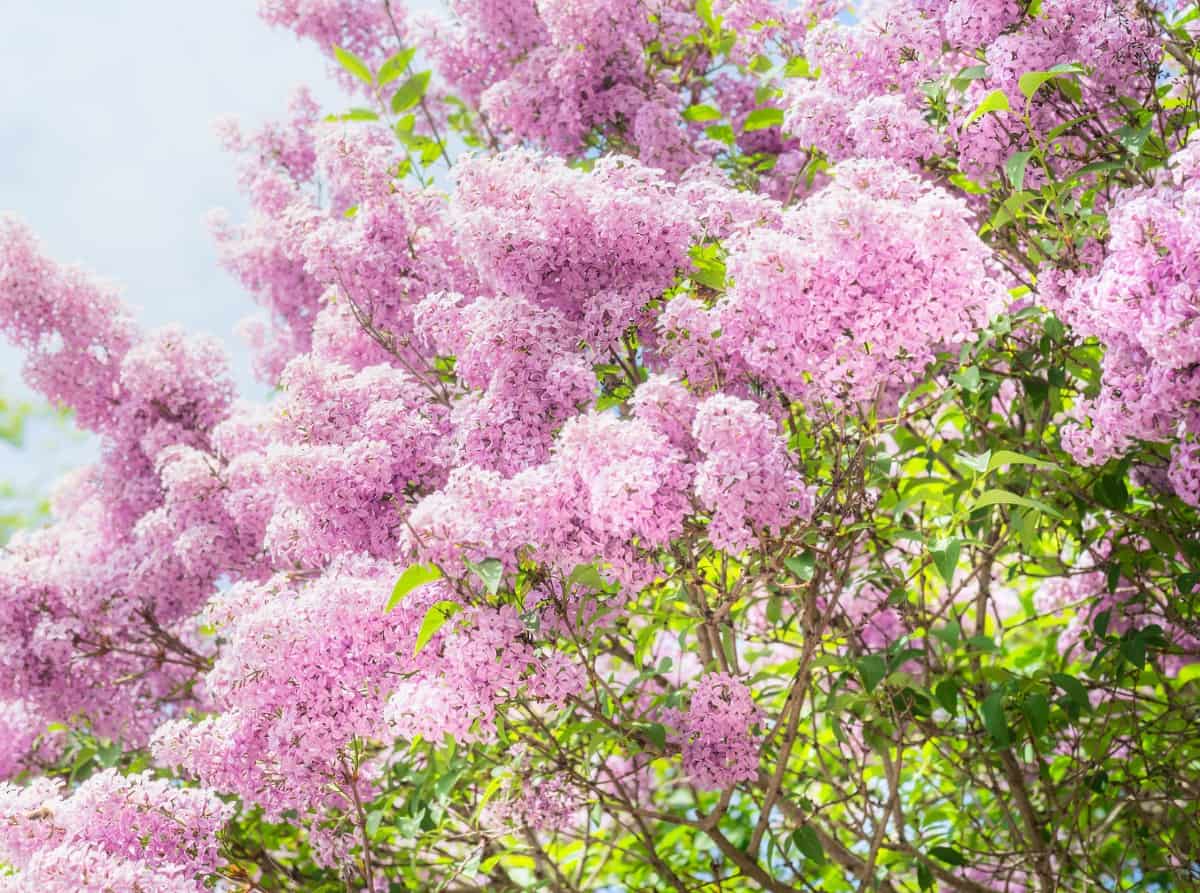 Another fantastic choice for hedges is lilac. While most of us automatically imagine the deciduous lilac from the Syringa genus, the evergreen variant belongs to the Ceanothus family. Despite the dainty appearance of its flowers, they make amazing windbreakers.
California Lilacs are fast-growing shrubs, reaching their full height of 6 feet in just under three years. Setting them at 2-4 feet apart creates an elegant and effective privacy hedge that both you and your neighbors will love.
Yew (Taxus baccata)
Yew is an evergreen shrub that flowers in late winter and yields red berries in the fall. These berries are quite sweet and edible, though the seed at its center is poisonous. On average, these shrubs grow about 5 feet tall and 10 feet wide, so allow plenty of space between other plants.
Planting this shrub generally takes place either in early fall or spring. A partially grown specimen between 1½ to 2 feet tall is ideal for ensuring a successful growth.
Leyland Cypress (Leylandii): Fast Growing Shrubs for Privacy
One of the fastest growing evergreen trees is the Leyland Cypress. This conifer attains three feet each year and acts as a phenomenal windbreak.
In addition to being speedy little growers, they're also among some of the most inexpensive members of the privacy hedge group. As one of the fastest growing privacy shrubs, these plants also come in a wide variety of heights, with some dwarf varieties as small as 4 feet tall and standard ones as tall as 100 feet.
Many homeowners keep these hedges shorter, however, with anywhere between 15 to 40 feet in height. Also a wide-spreading tree, place enough space between each plant, generally 5 to 7 feet for small shrubs of the species and 15-20 feet for standard ones to allow them enough room to spread adequately for your living fence.
Viburnum (Viburnum cinnamomifolium)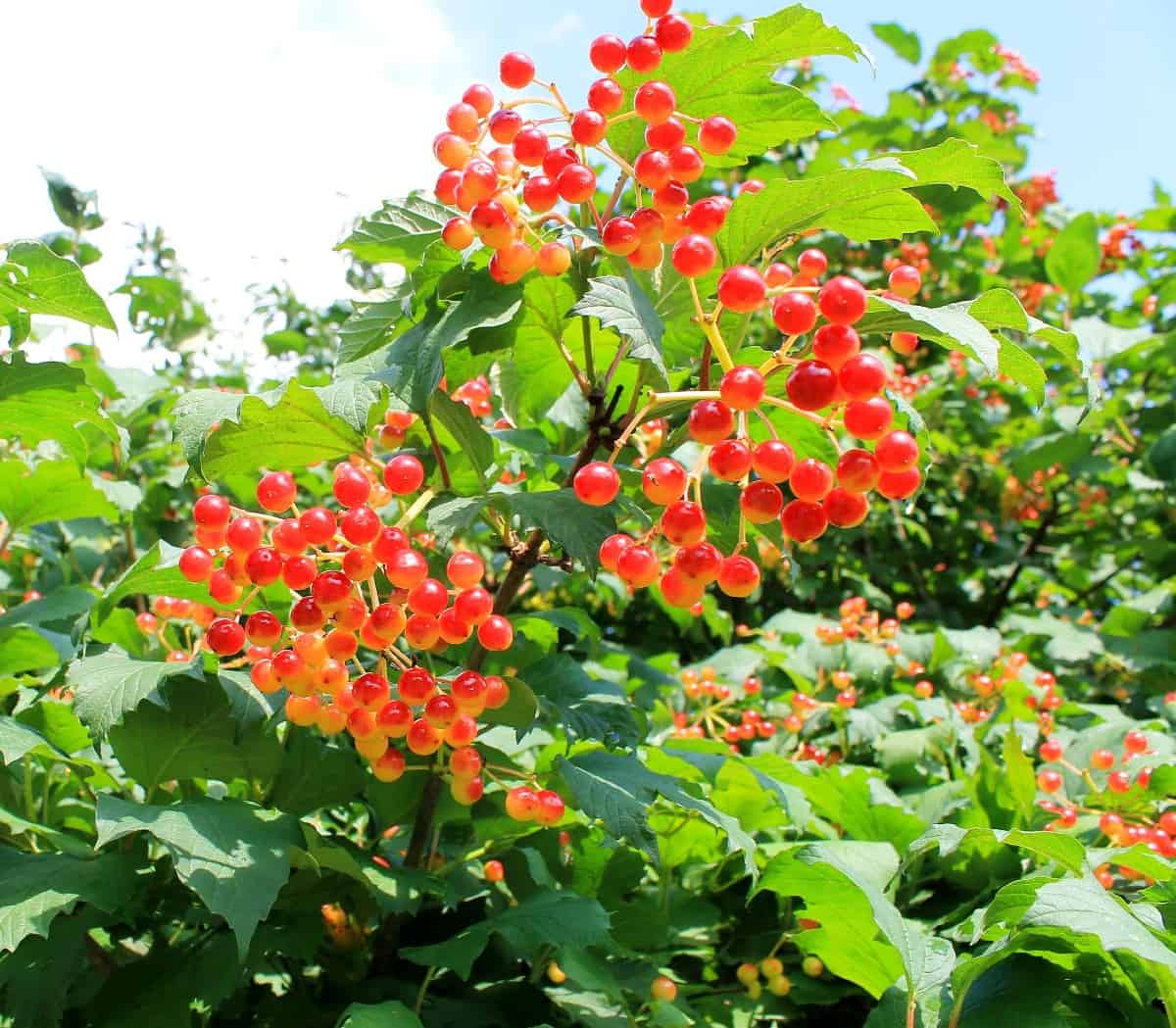 Viburnum trees are one of the few plants that grow both as evergreen and deciduous varieties, depending on where they grow and which species you're planting. Both Viburnum cinnamomifolium and Viburnum davidii are evergreen viburnum that thrive in warmer climates in the USDA hardiness zones 7-9.
Even though both retain similar characteristics, their rate of growth and height are significantly different. Viburnum cinnamomifolium grows anywhere from one to two feet a year and achieves heights of approximately 10-20 feet high.
Viburnum davidii develops a little slower, with only about a foot gained each year. This difference is much more understandable, however, considering the plant grows up to 7 feet tall.
Wintercreeper (Euonymus fortunei)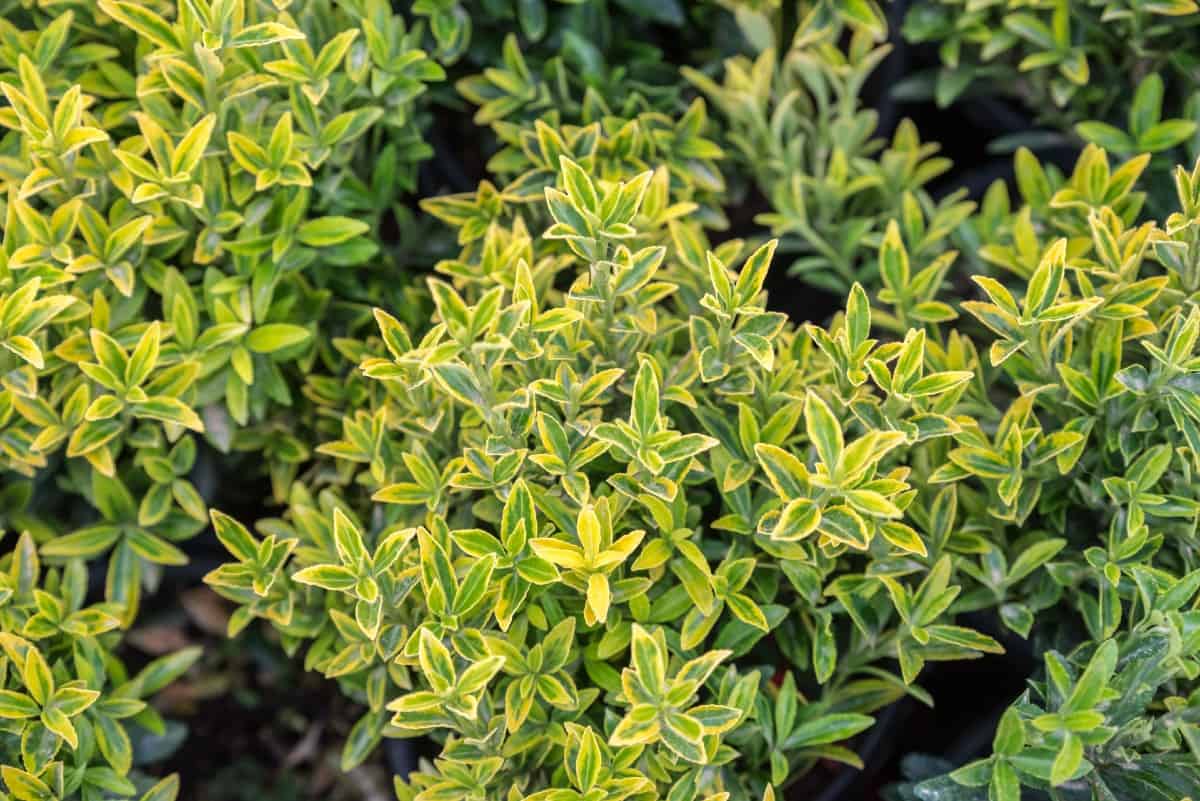 Euonymous plants form a family of shrubs, vines, and groundcover plants. While the shrubs grow only about 4 feet tall, the fast growing vines extend to heights of 5-15 feet. Most plants within the family display variegated green leaves that remain bright and beautiful all year long.
Wintercreeper grows throughout most of the states and is hardy within zones 5 through 9. They prefer full sun in cooler climates and partial shade in warmer ones, with a well-drained soil that is slightly alkaline in pH levels.
Highlander Boxwood (L. Buxus sempervirens)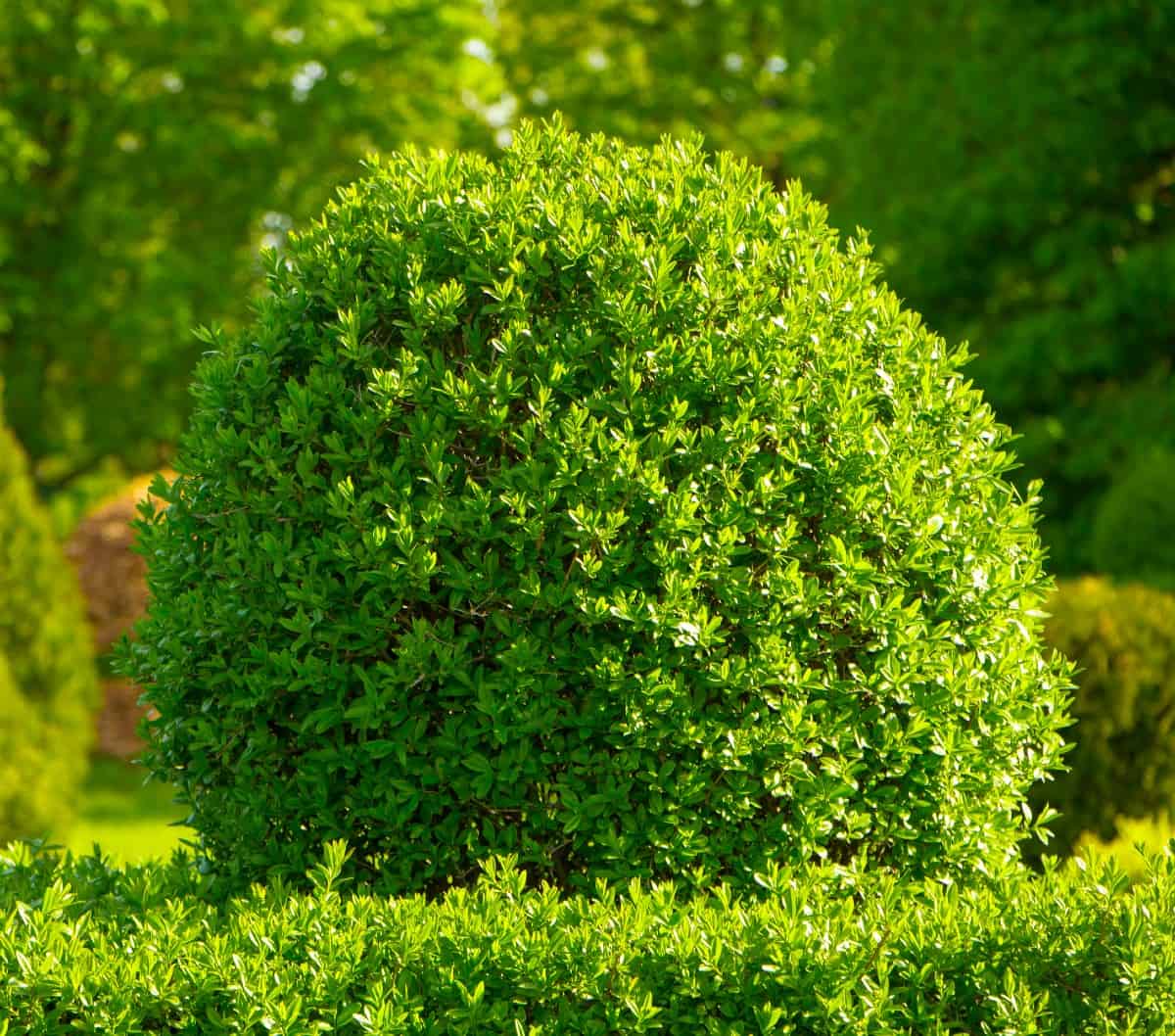 Boxwood is another candidate that comes in a wide variety of species, styles, and sizes. Though many boxwood plants develop slowly, the Highlander variety grows at a rate of two feet per year. On average, these boxwoods grow about 6 feet tall with a spread of around three feet.
In spring, they produce small white flowers that are not as impressive as their dark green foliage. When maintaining these plants, use a nitrogen-rich fertilizer.
With so many different incredible options to choose from, the inspiration for your privacy fence of evergreen plants is not far behind. Whether you prefer the classic look of green foliage or wish to add a little extra pop of color with bright flowers, we found the perfect plants to accomplish the task.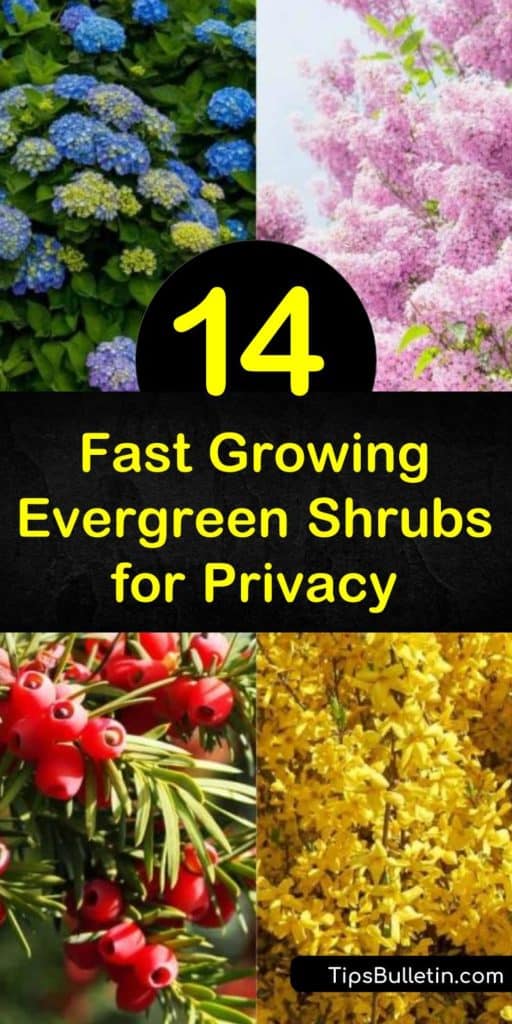 If you found these privacy gardening tips useful, then please remember to share your favorite fast growing evergreen shrubs for privacy with friends and family on Facebook and Pinterest.