It's often challenging to figure out what to plant in the shade. However, there are more options than you might think. Fast growing evergreen shrubs for shade allow you to experience green foliage year-round.
A deciduous shrub, like forsythia, is lovely, but it lacks winter appeal. If you plant one of the species listed below, you'll soon enjoy evergreen shrubs' benefits as specimen plants and hedges.
These shade tolerant plants flourish in dark spots where other species suffer. Watch out since several evergreen shrubs are poisonous. Though the toxicity level varies, it's best to be cautious and pick a different plant if there are young children or pets around.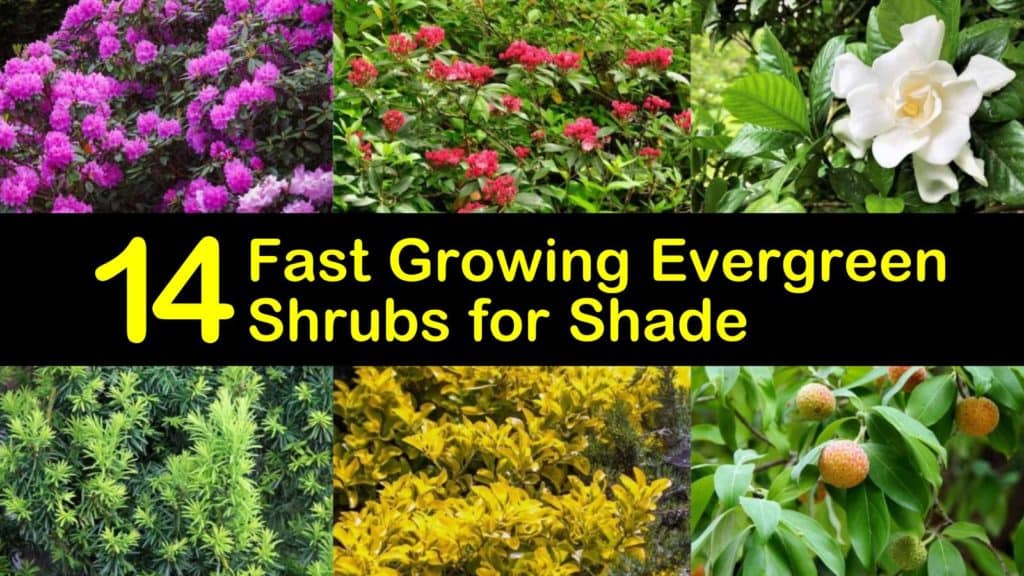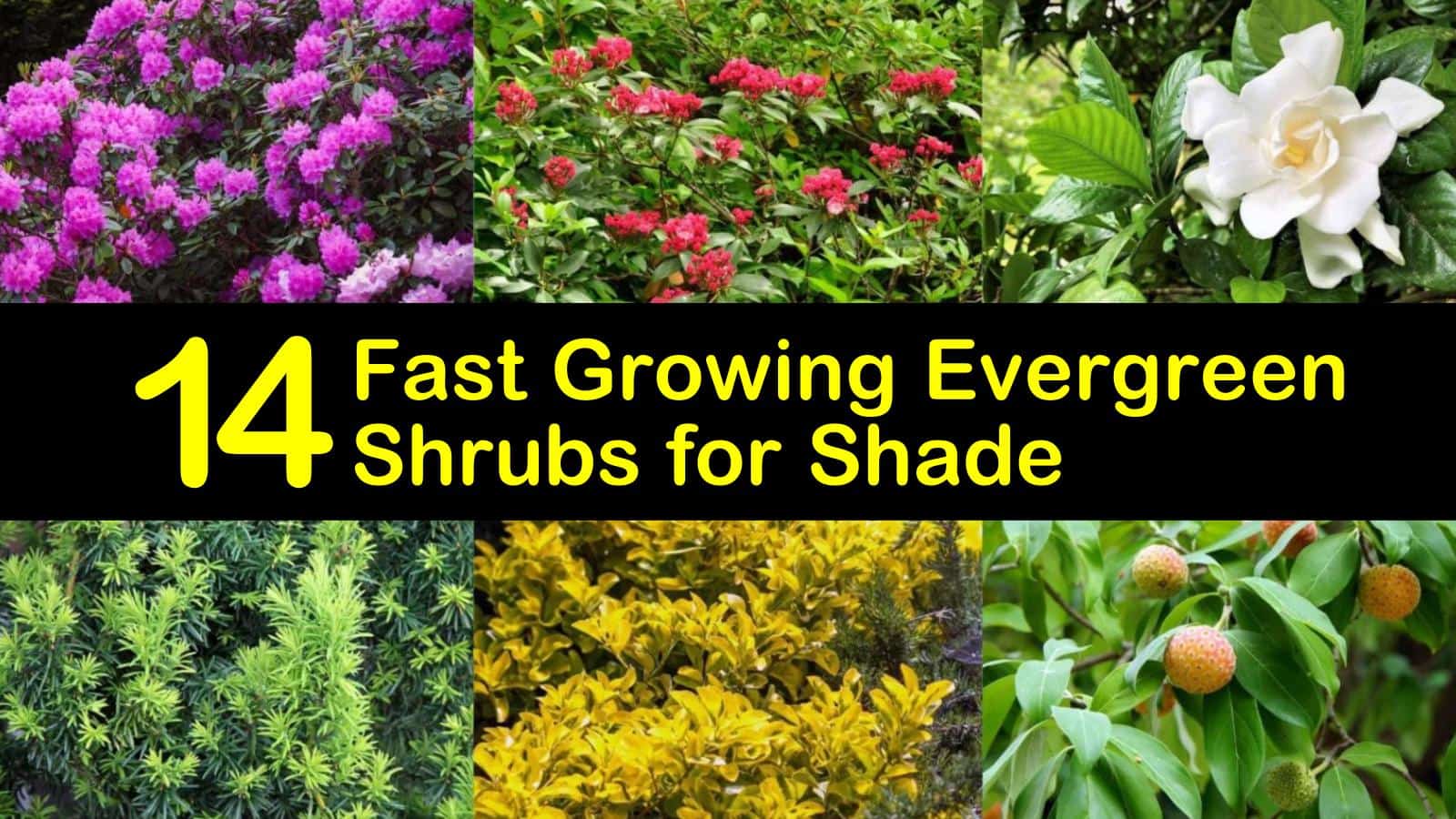 Shade Tolerant Evergreen Shrubs with a Fast Growth Rate
When choosing fast growing evergreen trees for shade – or shrubs or other plants – consider factors like its USDA hardiness zones, mature size, and growing requirements. It's important that the plant match your needs and its growing conditions.
Once you select a species, it's time to get planting so you can enjoy the benefits sooner.
How to Plant Shrubs
Make a hole just as deep as the shrub's root ball that's three to five times wider. Remove the shrub from its container or burlap, trimming any circling roots.
Place the plant in the hole with its root flare—where the roots meet the trunk—slightly above ground level. Return the removed soil to the hole, packing it down gently. Water your shrub well, and spread mulch.
When to Plant Fast Growing Evergreen Shrubs for Shade
In general, fall is the best time to start shrubs. The branches and leaves are slowing down their growth while the roots continue to develop. Well-established roots are better able to support new growth the following spring.
However, if you live in a region with cold winters, fall is not a good planting season. To avoid frost damage, install your shrub in early spring after the ground has thawed.
Evergreen Dogwood (Cornus capitata)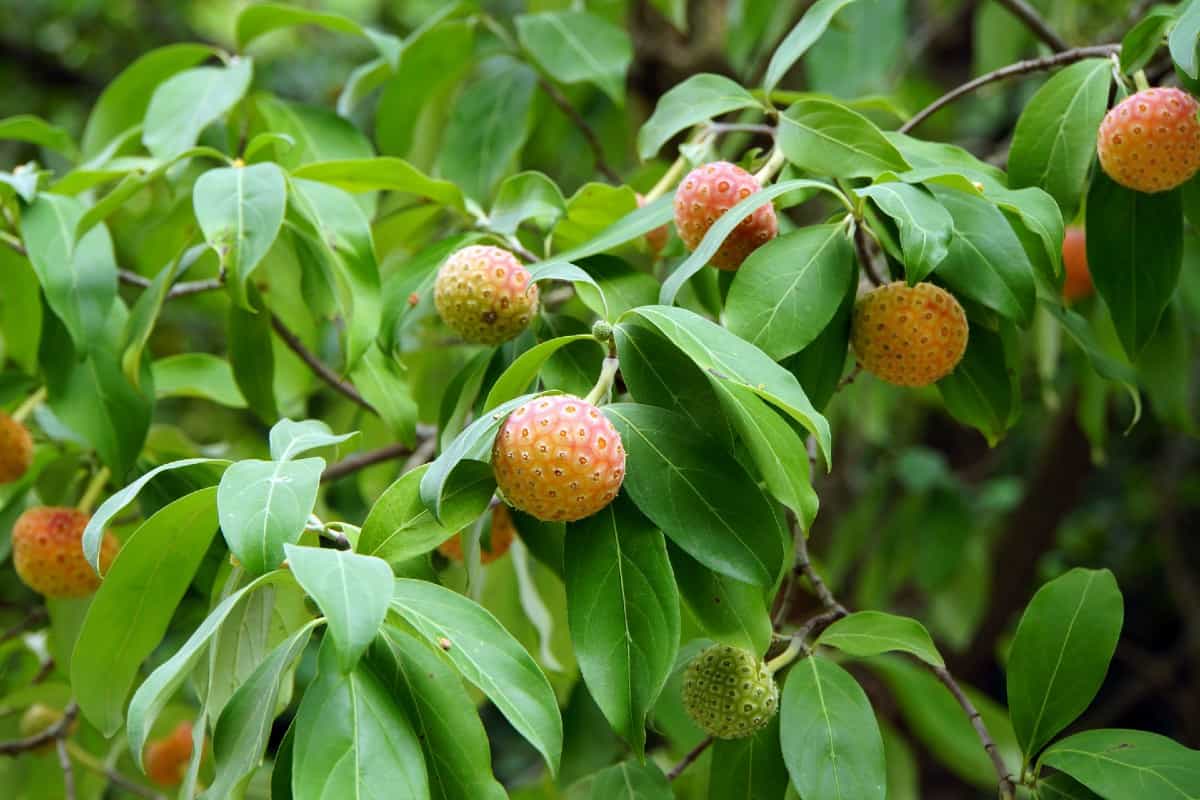 This shrub's leaves occasionally turn red or purple and drop off in the fall. In the summer, it bears small, fragrant flowers surrounded by white, yellow, or pink bracts.
Afterward, it produces sweet red or pink fruits composed of dozens of tiny fused fruits. This self-pollinating dogwood grows quickly from cuttings and does best in moist, slightly acidic clay or loam. Full sun and shade are both acceptable.
Give your shrub plenty of water. Feed established plants granulated fertilizer in February or March and again three months later.
Catawba Rhododendron (Rhododendron catawbiense)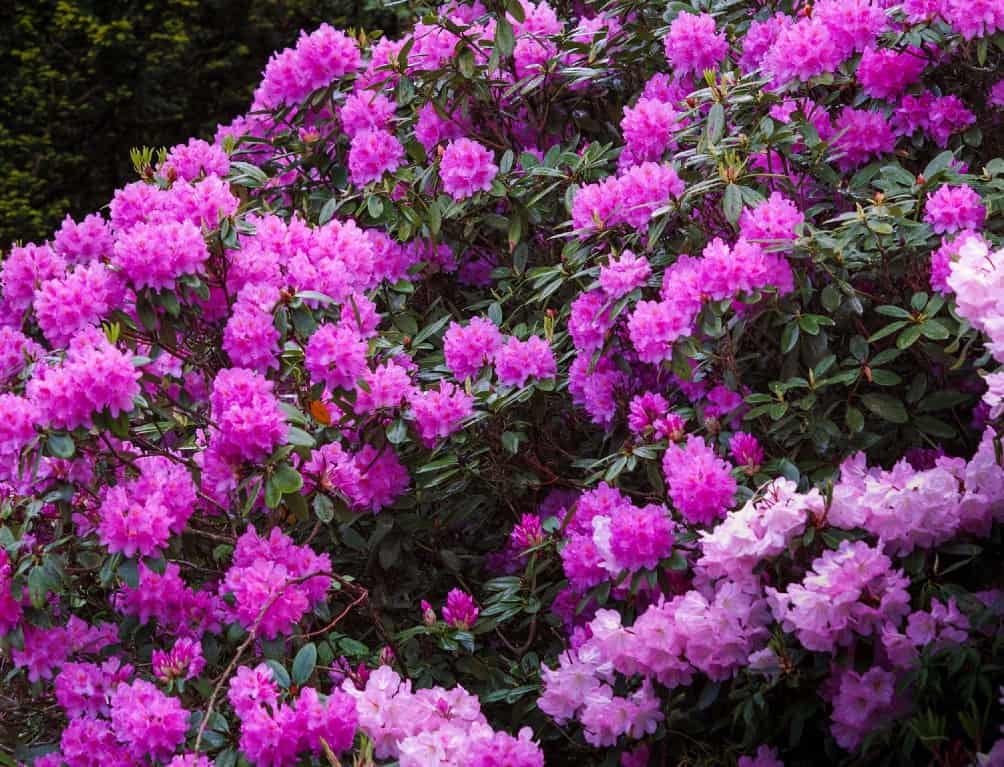 This beauty has large leaves and clusters of pink flowers from April to June. Unlike the azalea, most rhododendrons are evergreen.
Note that the whole Catawba rhododendron plant is poisonous. Use it as a specimen plant or privacy screen or in a woodland garden. It prefers partial to full shade with a little morning sun in northern areas.
Insert this rhododendron in the spring in fertile, well-drained, acidic soil. Add compost and a thick mulch layer, and keep the soil moist but not soggy.
Japanese Yew (Taxus cuspidata) – A Fruiting Evergreen Shrub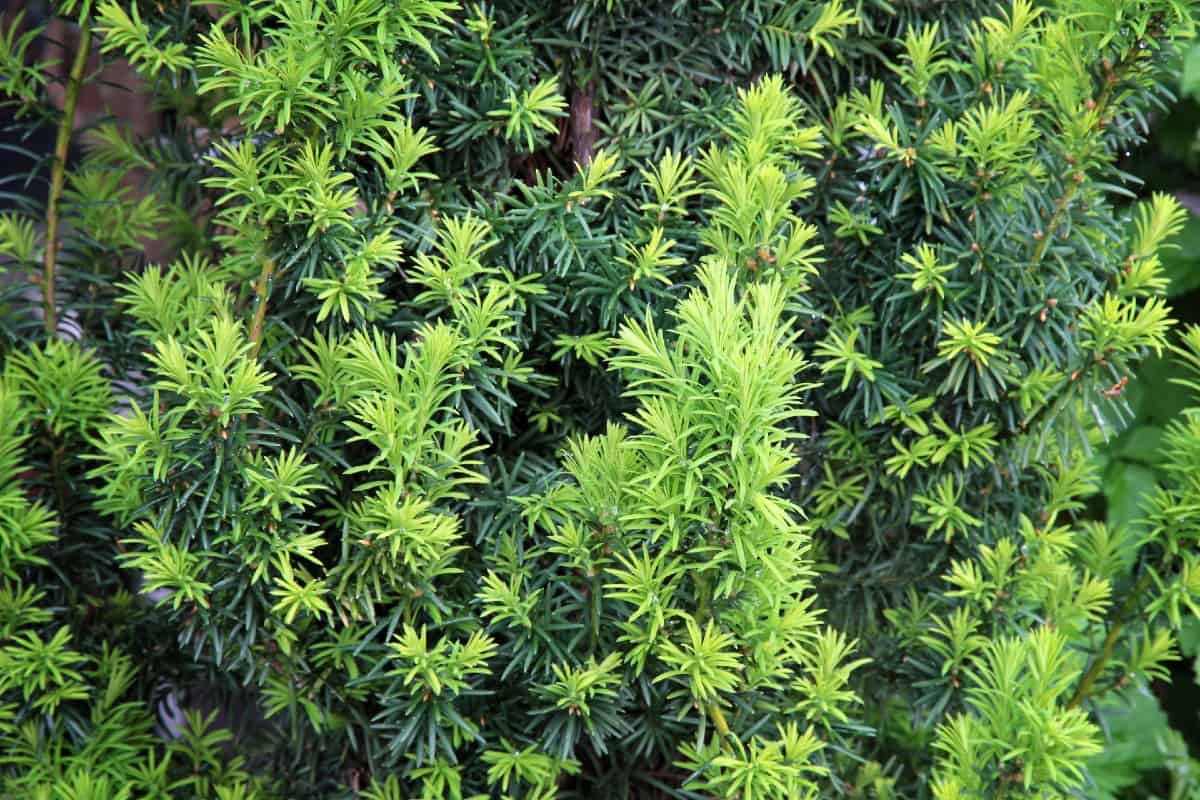 This dense-needled evergreen comes in various sizes, from dwarf to large. Unfortunately, nearly the whole plant is poisonous to dogs, cats, horses, and humans. Female plants have edible but rather bland red berries that contain a toxic seed.
Set up the Japanese yew as a hedge or foundation plant. Leave these shrubs that stay green all year in their natural shape or prune severely. Install nursery yews in the spring.
This species flourishes in full sun or part shade and loose, well-draining, slightly acidic, sandy soil. Water your yew weekly, particularly in its first year. Add organic matter and 10-10-10 fertilizer in early spring.
Japanese Aucuba (Aucuba japonica)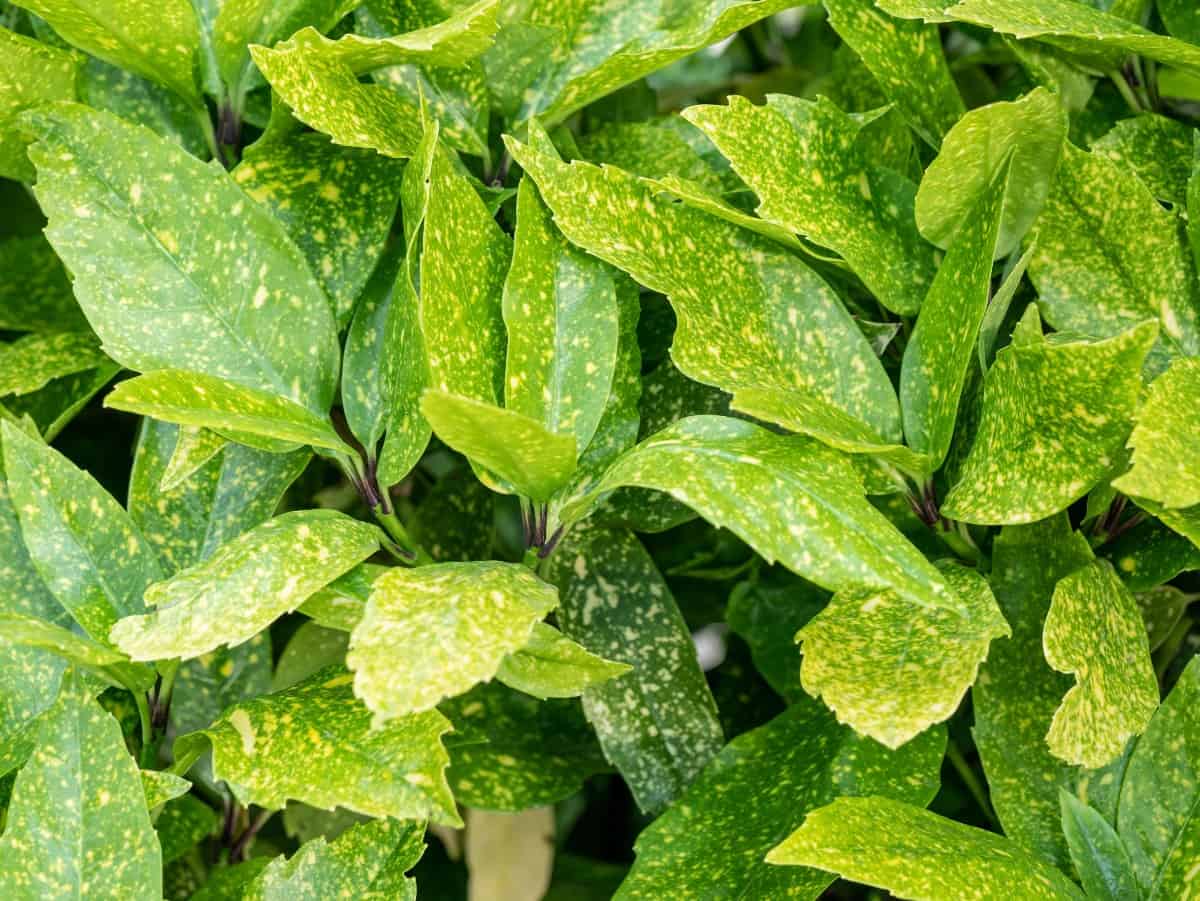 Deep shade stimulates this shrub's bright green and yellow leaves. The bush bears unremarkable red or purple flowers in spring or summer. Plant both a female and a male aucuba for bright red berries.
This plant is toxic if eaten, but the Japanese aucuba excels as a ground cover or hedge. Insert it in late spring or early summer in fast-draining soil that's moist and rich with organic matter.
Distribute mulch and water often with cold water. In late winter or early spring, add organic plant food or slow-release shrub and tree fertilizer containing iron or sulfur. You may repeat in mid- to late summer.
Chinese Quinine (Dichroa febrifuga)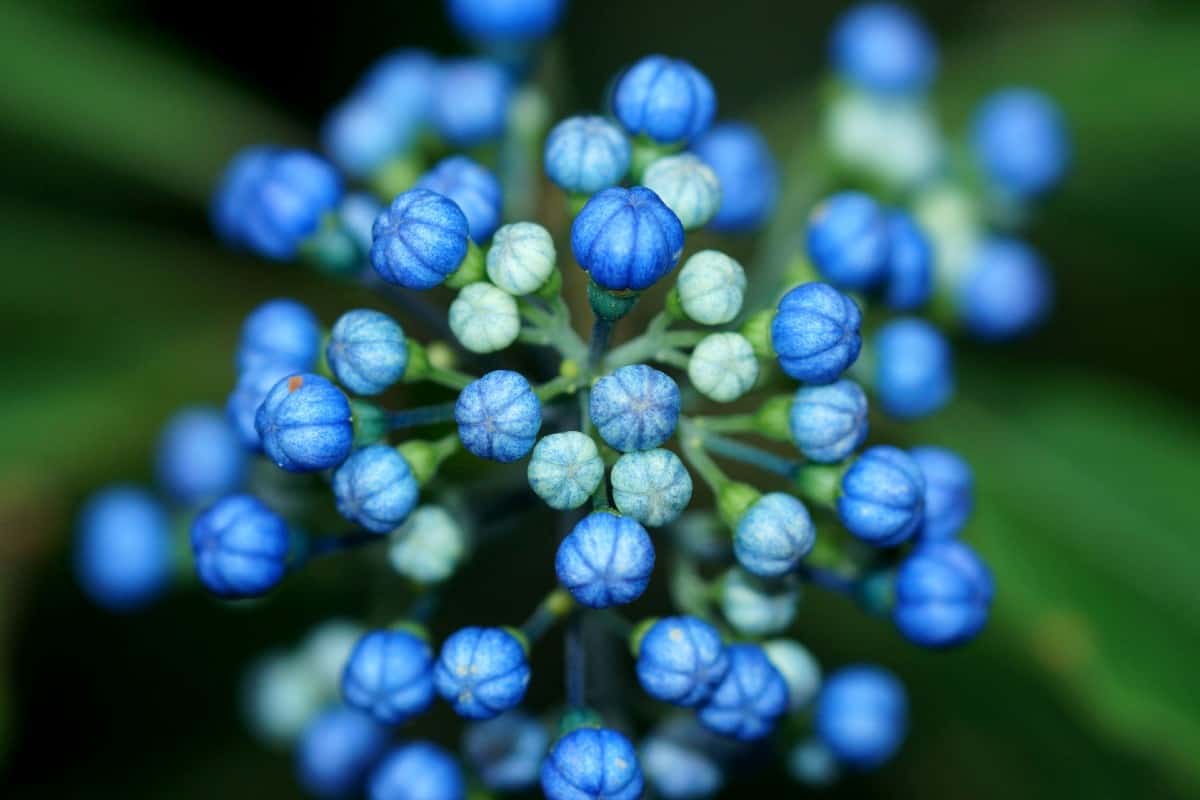 This shrub has plump flower buds, blue fruits, and springtime blooms that change color depending on the soil's pH, like with the hydrangea. Use Chinese quinine as a specimen or container plant or in a flower or shrub border.
Propagate it with seeds or cuttings. It excels in partial or full shade and moist, fertile soil that drains well.
Keep the soil consistently moist, but not wet. In the spring, feed superphosphate, potassium sulfide, and urea. Give superphosphate and potassium sulfide again in July, and organic fertilizer in September.
David Viburnum (Viburnum davidii) – A Flowering Evergreen Shrub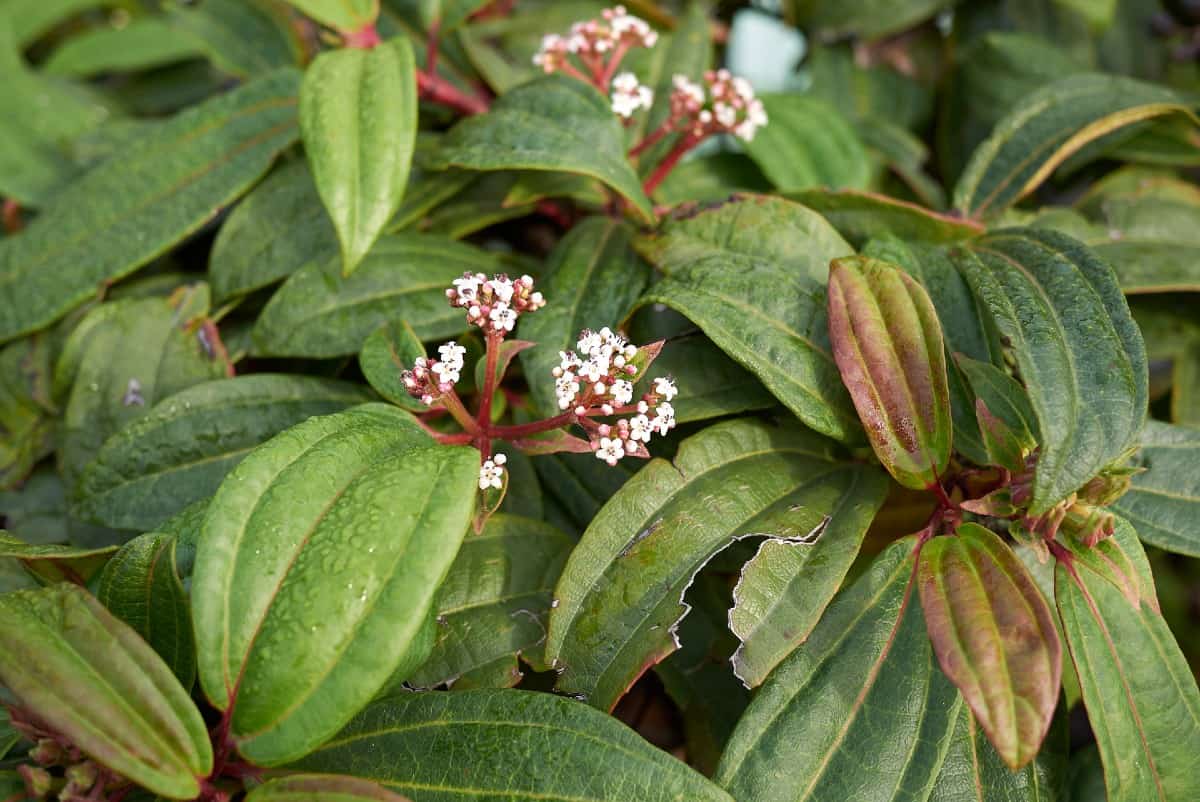 This low maintenance shrub has glossy leaves and clusters of small white flowers in the spring. It may be deciduous in the northern end of its range. Plant both a female and a male viburnum to get metallic-blue berries that are, unfortunately, mildly toxic.
Sow seeds in the fall or take summertime cuttings. This viburnum thrives in full sun or part shade and average-quality, well-drained soil with mulch.
Water young plants regularly, then only during hot, dry spells. Apply fertilizer for acid-loving plants after blooming.
Boxwood (Buxus)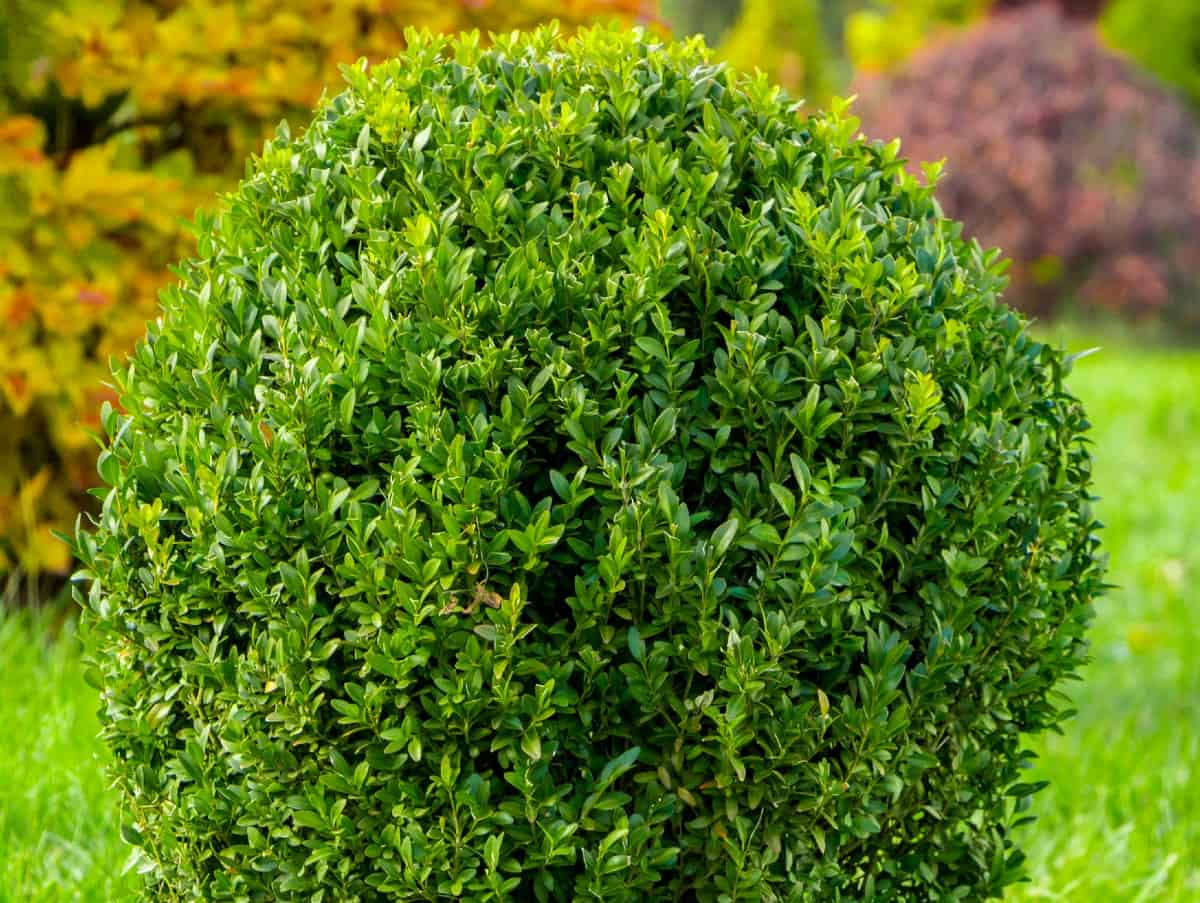 This shrub or small tree has green leaves and insignificant green or creamy-yellow flowers from April to May. Use it as a specimen or foundation plant, or prune it into a hedge or screen.
Note that the whole plant is toxic, and contact can cause minor skin irritation. Take stem cuttings in midsummer, inserting them outdoors the following spring.
The boxwood favors full sun to partial shade and medium-moist, loamy, well-draining soil. Spread organic mulch thickly. Water your plant deeply—weekly for the first two years, then every two to four weeks. Apply all-purpose fertilizer in the spring.
Golden Euonymus (Euonymus japonicus 'Aureo-marginatus')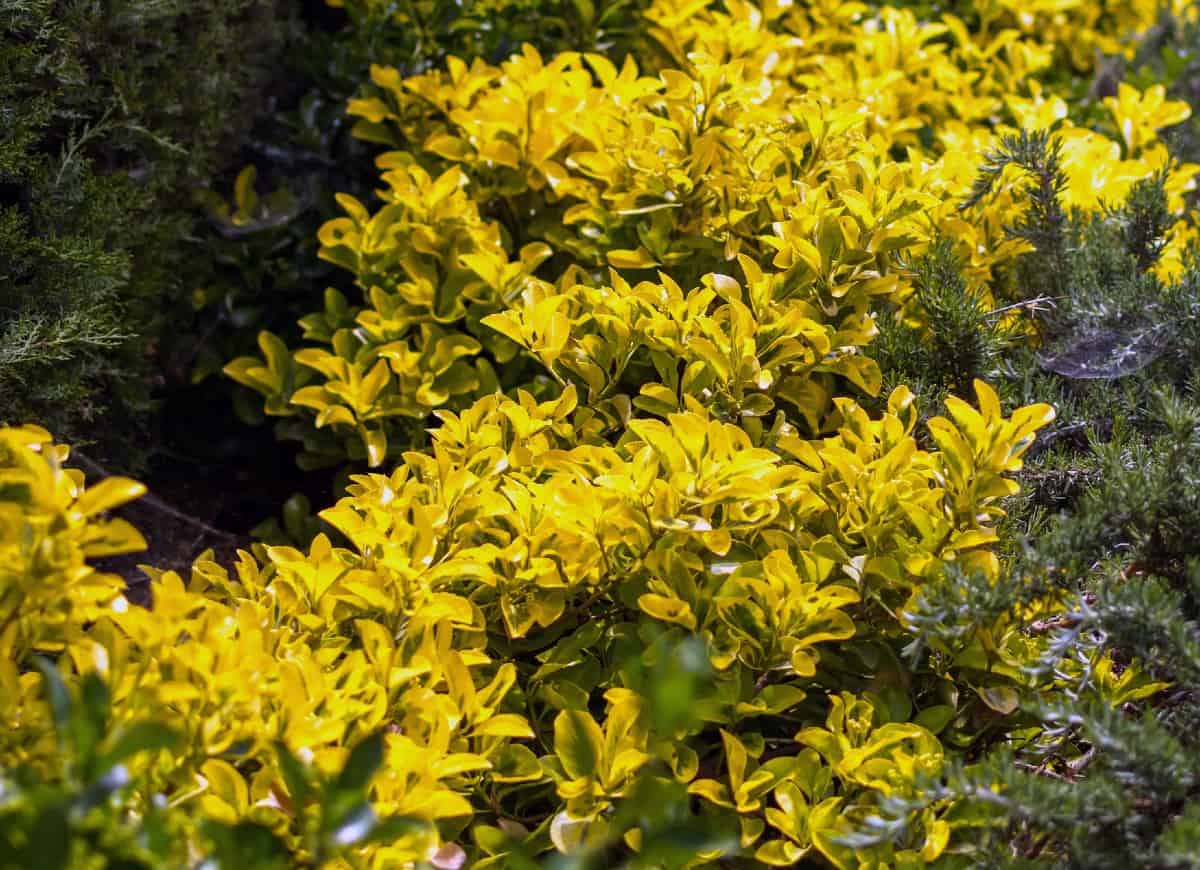 These colorful evergreens have yellow-splashed emerald-green leaves and inconspicuous greenish-white springtime flowers. Use it as a privacy hedge or specimen plant.
Propagate golden euonymus by taking semi-ripe cuttings in late summer or early fall. It survives in full sun through to full shade and prefers moist, fertile soil that drains well.
Water your euonymus plant once or twice a week until it's mature, then only weekly. Feed balanced fertilizer in early spring with slightly less than the recommended dose. You may give a second dose in mid-fall.
Mountain Laurel (Kalmia latifolia) – A Gorgeous Evergreen Shrub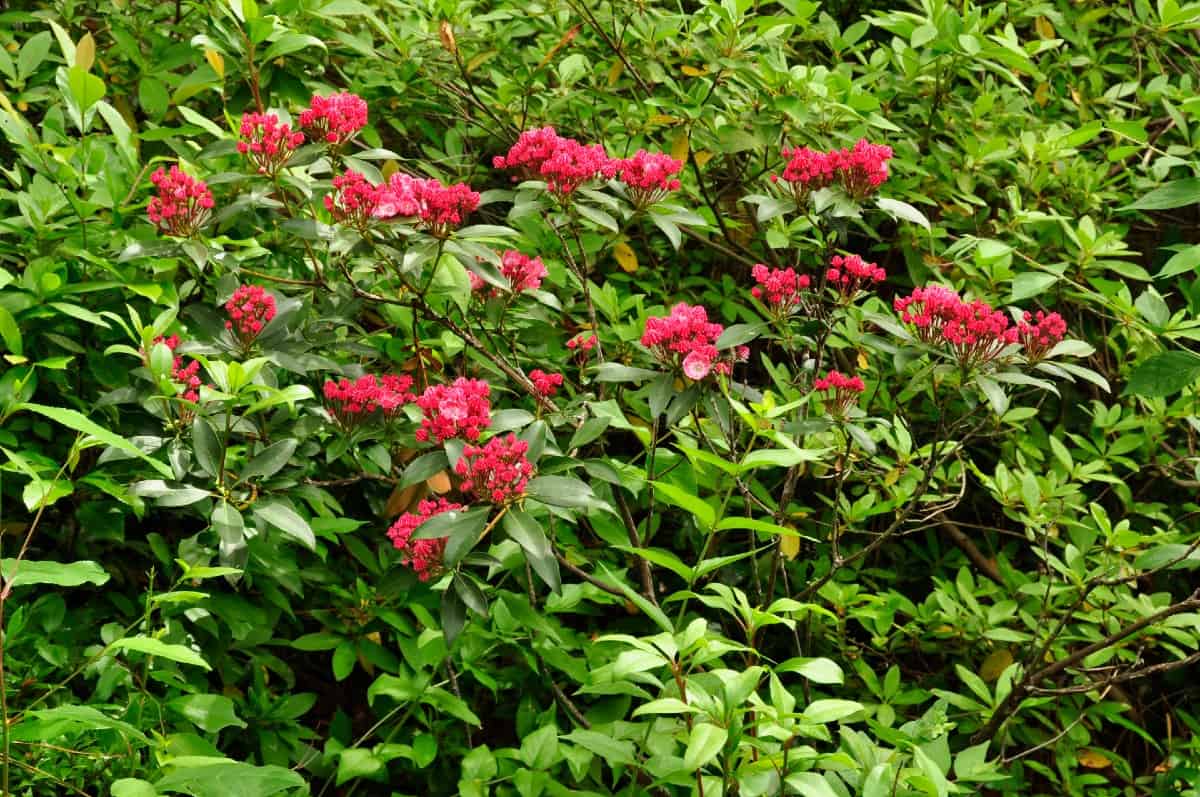 This shrub has elliptical, deep-green leaves and clusters of pink or white flowers in late spring. Without deadheading, it produces unremarkable brown fruits.
Note that the mountain laurel is poisonous for dogs and grazing animals. Do not use its leaves in cooking. However, it looks stunning in a shrub border, woodland garden, or foundation planting.
Plant this shrub in the spring or summer. Part shade is ideal. Find cool, fertile, acidic, moist, well-drained soil that's not clay.
Spread wood chips or evergreen bark mulch. Water young shrubs well, but mature plants are relatively drought tolerant. In the spring, apply plant food for acid-loving shrubs.
Katsura Japanese Pieris (Pieris japonica 'Katsura')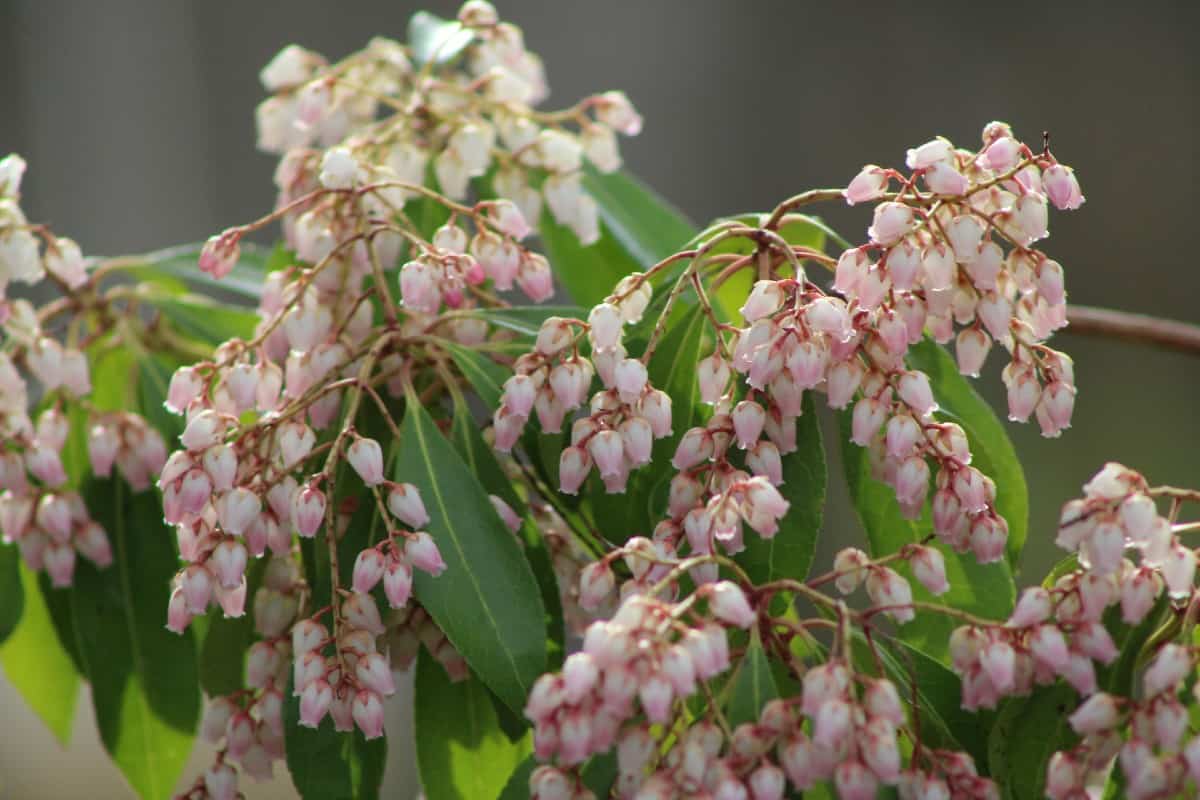 This shrub's leaves start scarlet in the spring, darken to burgundy, then turn dark-green. In early spring, it boasts small, pink, bell-shaped flowers. Its fruit is unremarkable.
Parts of the Japanese pieris may be toxic for humans and other animals. Plant it in the spring or fall as an accent plant or mass planting in a sheltered location with good air circulation. The site should have full sun or partial shade and moist, acidic, fertile soil.
Distribute a thick layer of pine needle mulch and water deeply when the soil feels dry. Strew 10-10-10 granulated fertilizer or cottonseed meal in late winter and again in early spring after blooming.
Cape Jasmine (Gardenia jasminoides)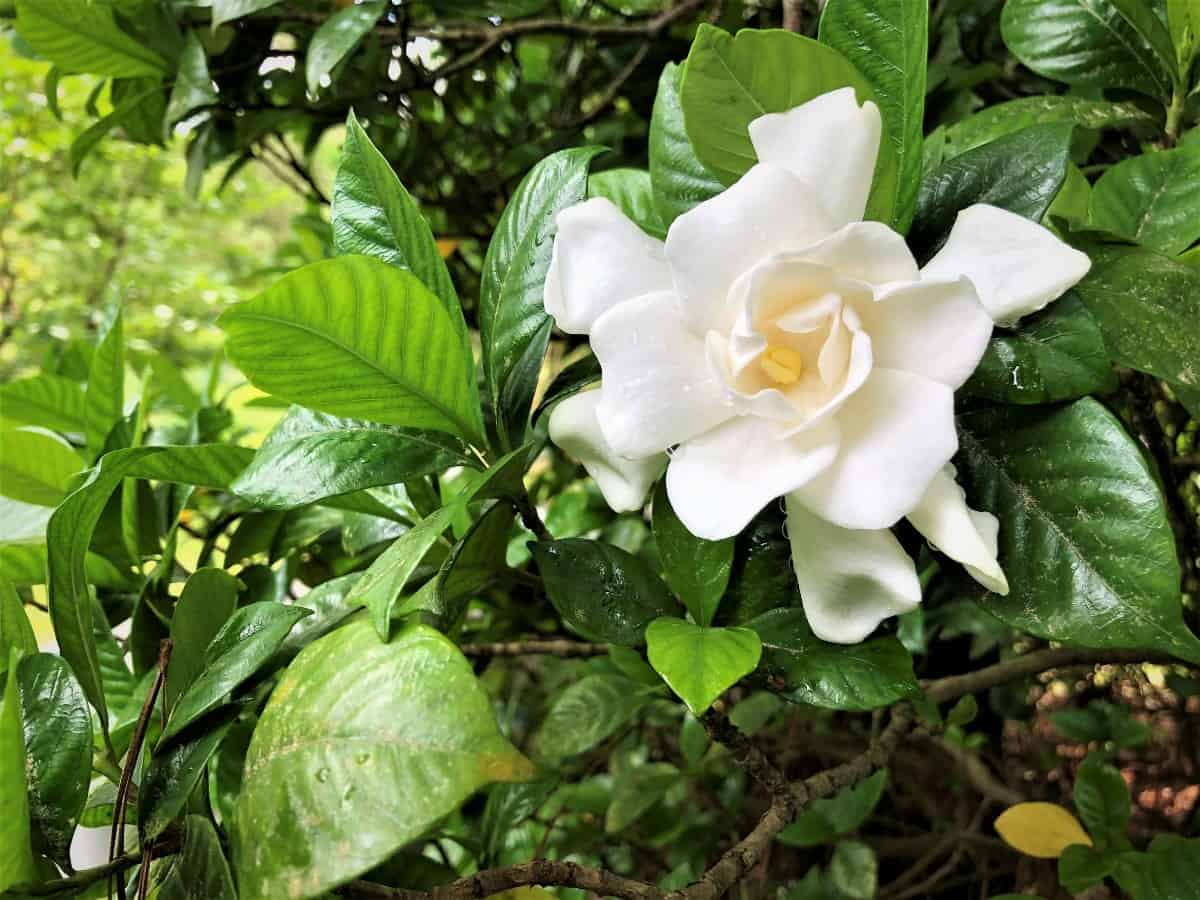 This delicate shrub has lance-shaped, dark green leaves and white, fragrant flowers. It does best in warm climates, even blooming year-round. Try using cape jasmine as a specimen or container plant or hedge, and enjoy its blooms as cut flowers.
Propagate it with seeds or greenwood or semi-hardwood cuttings. It shines in full sun to light shade. This gardenia favors moist, acidic soil that drains well and is rich in organic matter.
Water when the upper soil is dry. Apply fertilizer for acid-loving plants monthly between April and November, deadhead to encourage blooming, and prune when your gardenia is dormant.
Japanese Privet (Ligustrum japonicum) – A Vigorous Evergreen Shrub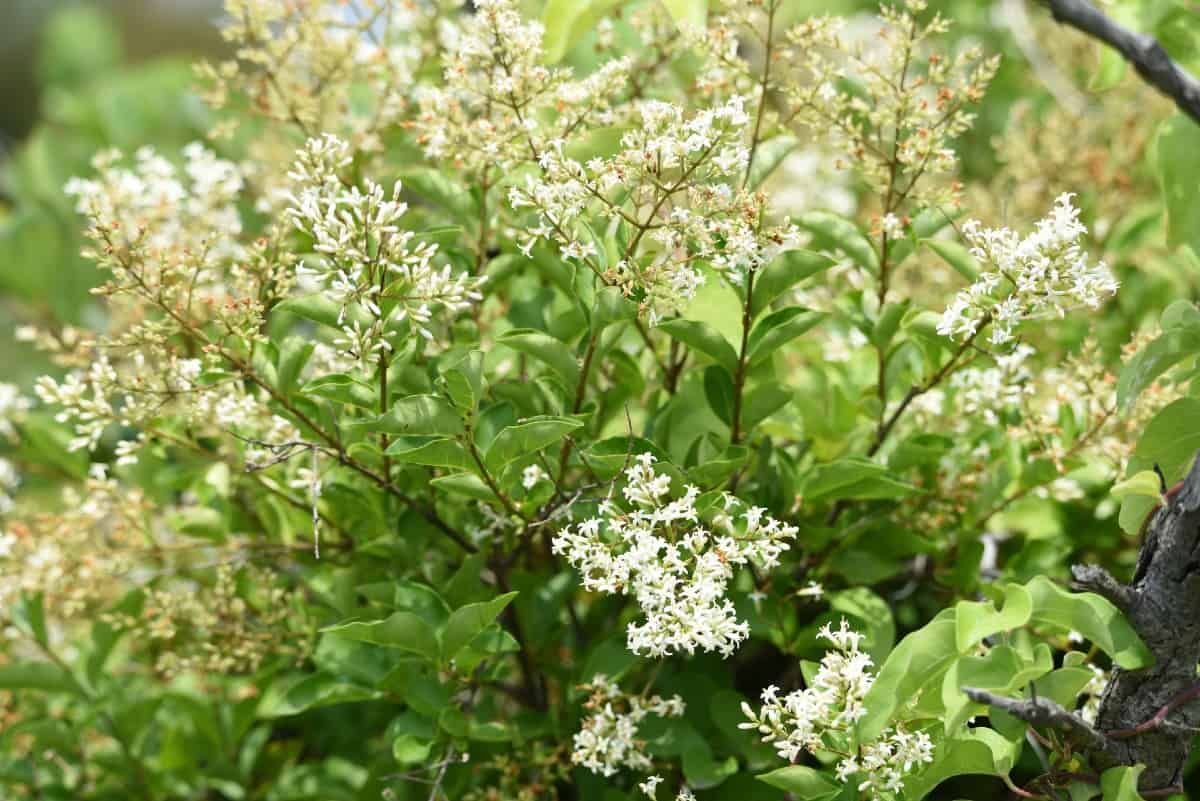 These fast growing bushes for privacy have glossy dark green leaves, creamy-white panicles from late spring to early summer, and purplish berries. The flowers smell unpleasant, and the whole plant may cause discomfort if consumed.
The Japanese privet also crowds out native plants. It flourishes in average-quality, well-draining, dry to medium-moist soil with a mulch layer and full sun or part shade. Consider using it as a hedge or screen.
Propagate this privet with seeds or semi-hardwood or hardwood cuttings. Keep the soil moist, but not wet. You may feed 15-5-10 all-purpose fertilizer in the spring.
Kohuhu (Pittosporum tenuifolium 'Variegatum')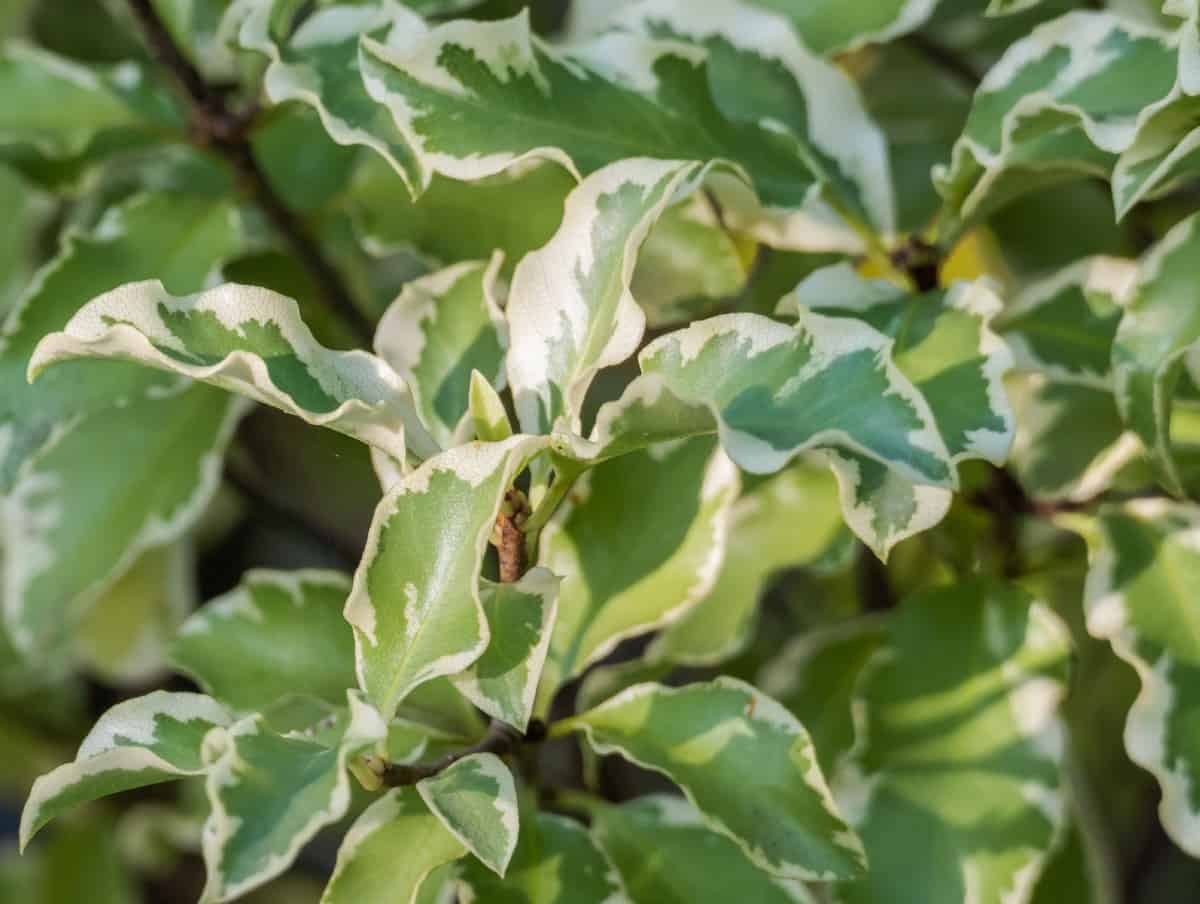 This shrub or small tree has small, wavy-edged, variegated leaves and tiny, dark-purple, honey-scented flowers from late spring to early summer. Use Kohuhu in a mixed planting or as a privacy screen or hedge.
Propagate it with semi-hardwood summertime cuttings. This plant thrives in fertile, moist, fast-draining soil and full sun or part shade. It has average water needs.
Mulch with composted leaves or other organic matter in the spring. That same season, give slow-release balanced fertilizer at the lowest recommended dose.
These plants make ideal small hedges for borders of your property.
Oregon Grape (Mahonia aquifolium)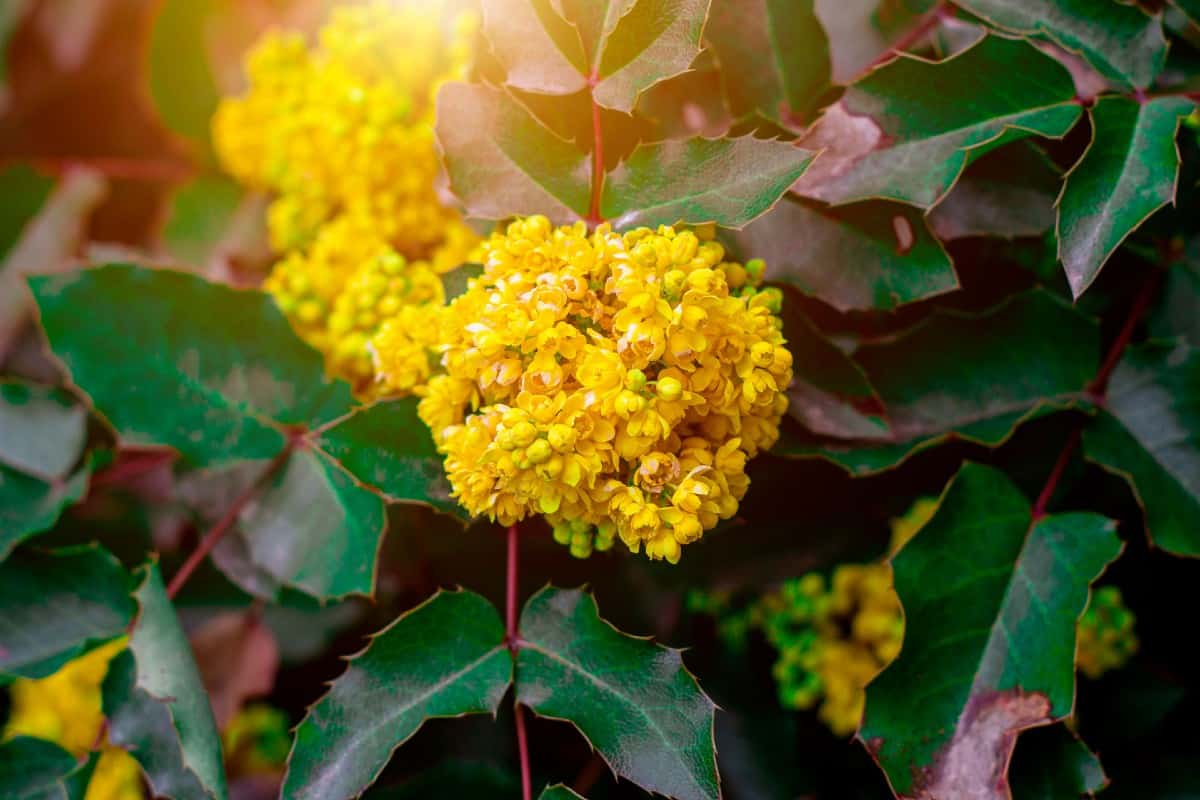 This shrub's leathery, holly-like leaves start bronze-red in the spring before turning dark green, then burgundy. In the spring, it bears clusters of lightly fragrant yellow flowers. In late summer, it yields dark blue-purple, edible berries.
Try the Oregon grape plant in a border, foundation planting, or woodland garden. Propagate it with seeds, stem cuttings, or division. This plant prefers partial to full shade, as well as fast-draining, moist, acidic soil that's rich in organic matter.
Distribute mulch. Water your mahonia deeply in its first year, and give slow-release balanced fertilizer every March.
If you picture an evergreen shrub, chances are it's a plain-looking, green leafy plant. Although there are plenty of bushes like that—perfect for filling in gaps or screening off a yard—evergreens can also hold their own.
Showy flowering shrubs may have fragrant flowers or colorful clusters of blooms. For other species, the leaves themselves are the attraction, whether they're large and glossy or display variegation or fall color.
Whichever one you choose, fast growing evergreen shrubs for shade are sure to give your garden a boost.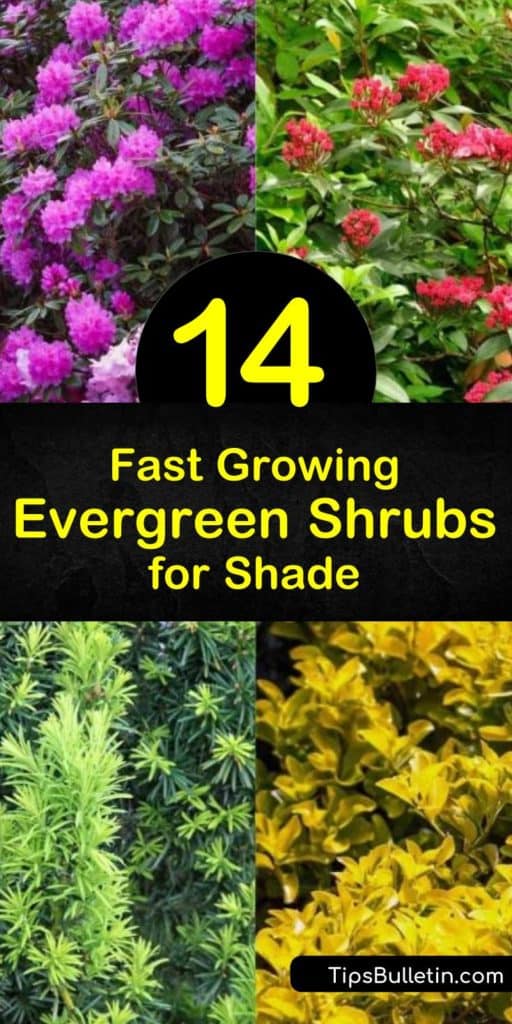 If you found these shrub suggestions helpful, please share these shade garden tips with your friends on Facebook and Pinterest.