Have you ever driven by a house and stared in awe at the yard? There are rows of breathtaking shrubs, some uniquely shaped, others adorned with flower blossoms, and some that have foliage so bright it appears to be on fire. These fast-growing shrubs for full sun are like eye candy in the yard and are a must-have for any gardener.
Many shrubs and bushes take years to show off their natural beauty, but there are some that display pizzazz almost immediately.
While you may have some patience to wait for a complete yard, it doesn't hurt to throw in a few fast-growing shrubs here and there to brighten the area with color and appeal.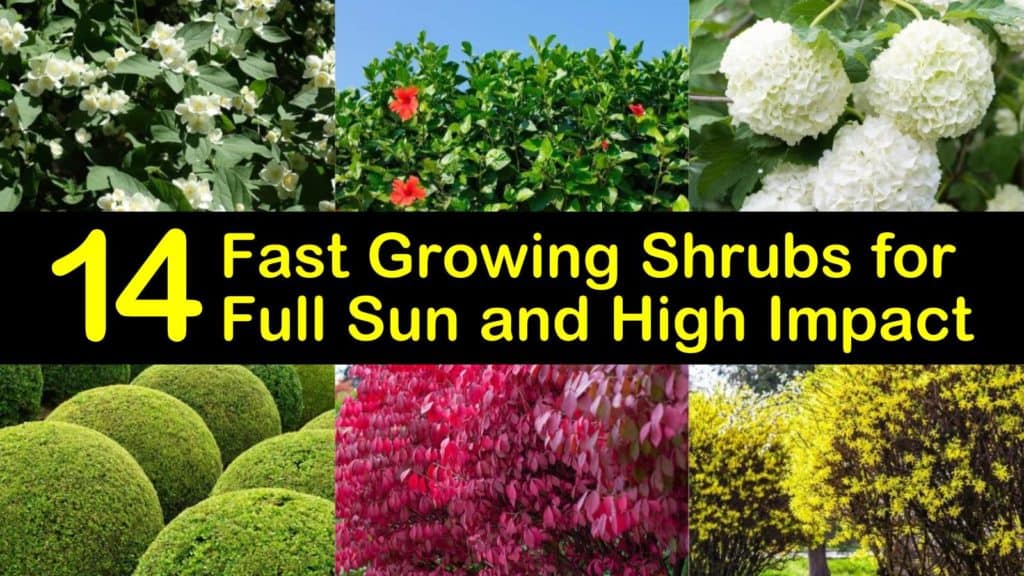 Shrubs that Grow Fast and Love the Sun
It's easy to get ahead of yourself while shopping for colorful landscaping plants, so it's essential to sort them all out and make sure you pick the right ones for your yard. We've laid out a list of fast-growing shrubs for your yard that not only act as a privacy screen but give it that high impact you're looking for in a plant.
When you consider evergreen shrubs, don't forget about the fastest growing evergreen trees to add to your landscape, too. A combination of shrubs and trees make an attractive yard.
What Exactly is a High Impact Shrub?
High impact landscaping is a way to create a 'wow' factor in your yard. Just like the inside of your home has specific areas that act as a centerpiece, so can the outside. It's easy to create the same centerpiece effect in your yard.
High impact shrubs are focal points of interest and provide garden bling. These include majestic or bright flowering shrubs such as Panicles hydrangea, or even shrubs that have variegated or colorful foliage such as the burning bush.
Plants that stand out above the rest turn a dull, green yard into something to be admired. You can even use these shrubs to make a fast growing privacy hedge to separate you from your neighbors.
How Do I Know Which Shrub is Best for My Yard?
This is probably one of the most important questions because planting the wrong shrub in your yard only leads to disappointment when it fails to grow. The first step to take when hunting for a fast-growing shrub is to check the USDA hardiness zone for your plant and compare it to your area.
These hardiness zones are critical because they give you an idea of how well the plant grows in particular locations. Another factor to consider when choosing a shrub is its mature size. Buying a shrub that grows to a height of 10 feet and placing it in an area that has a maximum limit of 3 feet does not go over well.
You may want a fruiting shrub. What about elderberry bushes? Investigate the numerous possibilities when planning your landscape. Use and beauty are both important.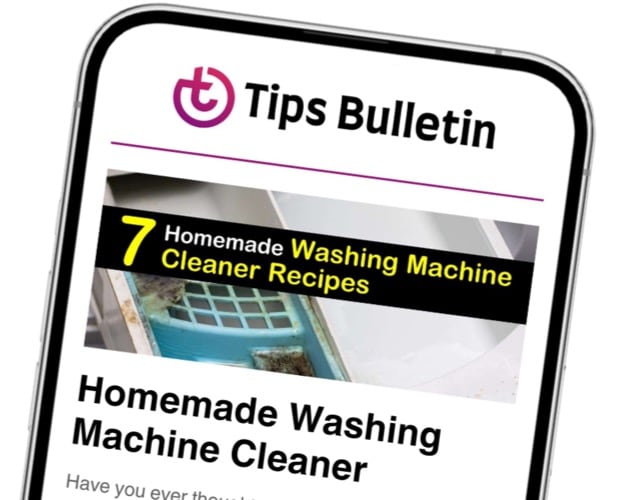 Finally, an email that Transforms Your Home.
Get the latest home and garden tips from our experts, delivered straight to your inbox.
Where Can I Plant Fast Growing Shrubs?
The answer to this depends on your yard. Before purchasing a fast-growing shrub, walk around your property and check for critical elements. How much sun does each area get? Do certain parts of your yard get more moisture than others?
Are there open spaces for large bushes? Once you determine the conditions of your yard, compare them to your favorite fast-growing shrubs. Sun-loving bushes prefer the south side of your home for optimal sunlight, and shady plants prefer the north side or beneath trees.
If the shrub enjoys rich, moist soil, plant it near a water source. Planting your shrub in the best location ensures that it gives you the best performance.
What Type of Maintenance Do Fast Growing Shrubs for Full Sun Require?
The type of maintenance your shrub needs depends on the type. Some bushes require trimming to encourage new growth.
Over time, bushes get tall and leggy and require pruning. If you do not have a green thumb or do not want to do that much work in the yard, choose the best low maintenance bushes for your garden and find drought-tolerant shrubs that are easy to grow and maintain.
Hydrangea (Hydrangea macrophylla)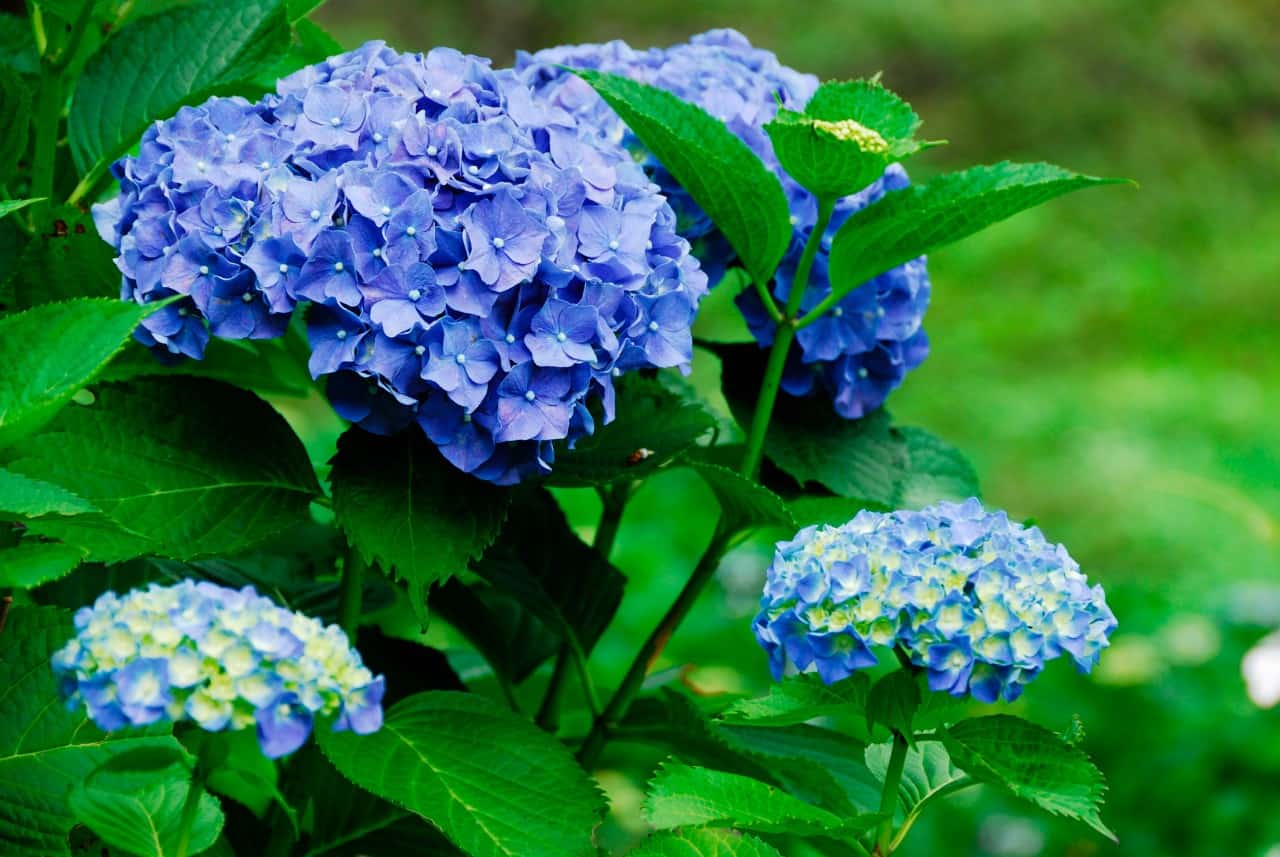 The hydrangea creates enormous bouquets in colors of purple, blue, green, white, and pink. These showy blooms make their appearance from summer to fall and also provide colorful fall foliage.
These shrubs grow in zones 3 to 9. They reach heights of 3 to 20 feet with a width of up to 12 feet, depending on the variety. They are low maintenance and make excellent cut flowers. Adjusting the soil pH not only creates more blooms but changes the color of new blooms in certain varieties.
Privet (Ligustrum) – Living Fence Shrub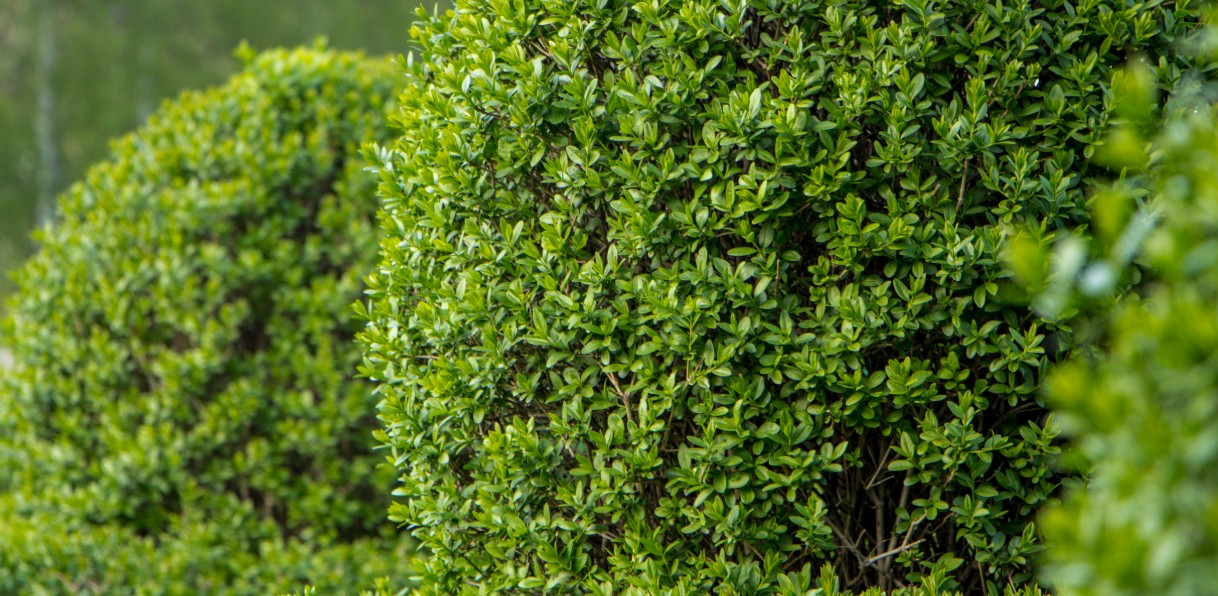 The lustrous green foliage of the privet makes it a show-stopper in the yard, especially when used as a privacy fence. Enjoy honey-scented white blooms in late spring to early summer and bird-loving berries in the fall. This is one of the most popular fast growing privacy plants around.
Privet shrubs are easy to grow, and certain species reach a height of 15 feet with a width of 8 feet. Privet is grown in zones 5 to 9 and is a fragrant, drought tolerant, low maintenance shrub that attracts birds.
Dogwood (Cornus)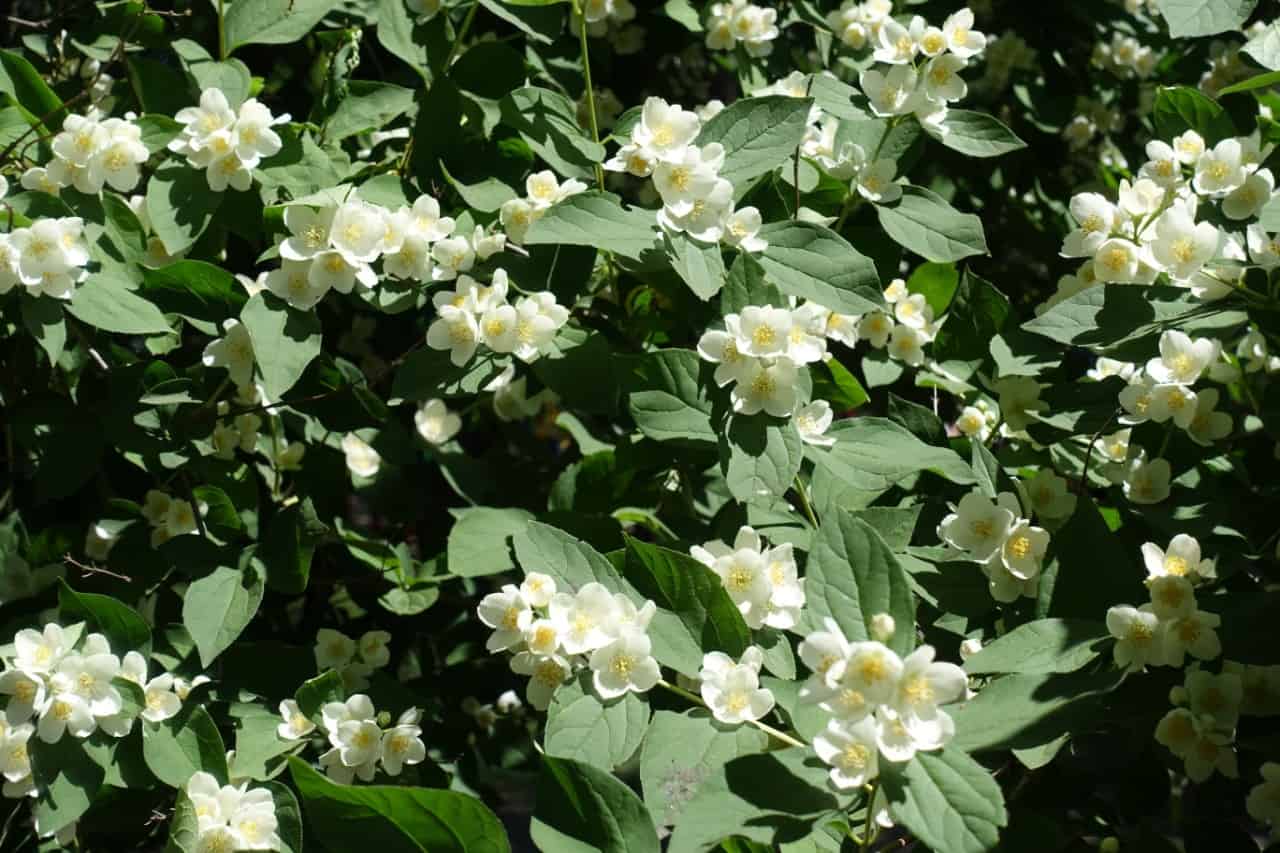 Dogwood grows as a small tree and a shrub, and there are many varieties of dogwood, including red twig dogwood, silky dogwood, and Tatarian dogwood, all of which have unique characteristics. Some are known for their striking spring flowers and others for their distinctive branches and fall color.
These shrubs grow in zones 3 to 8 and attract birds with their spring and summer blooms. Depending on the type, dogwood reaches heights up to 20 feet or more and equally wide. With its blue/green foliage and white flowers, this shrub makes a brilliant addition to the yard.
Barberry (Berberis) – Fast Growing Shrub with Showy Blooms and Foliage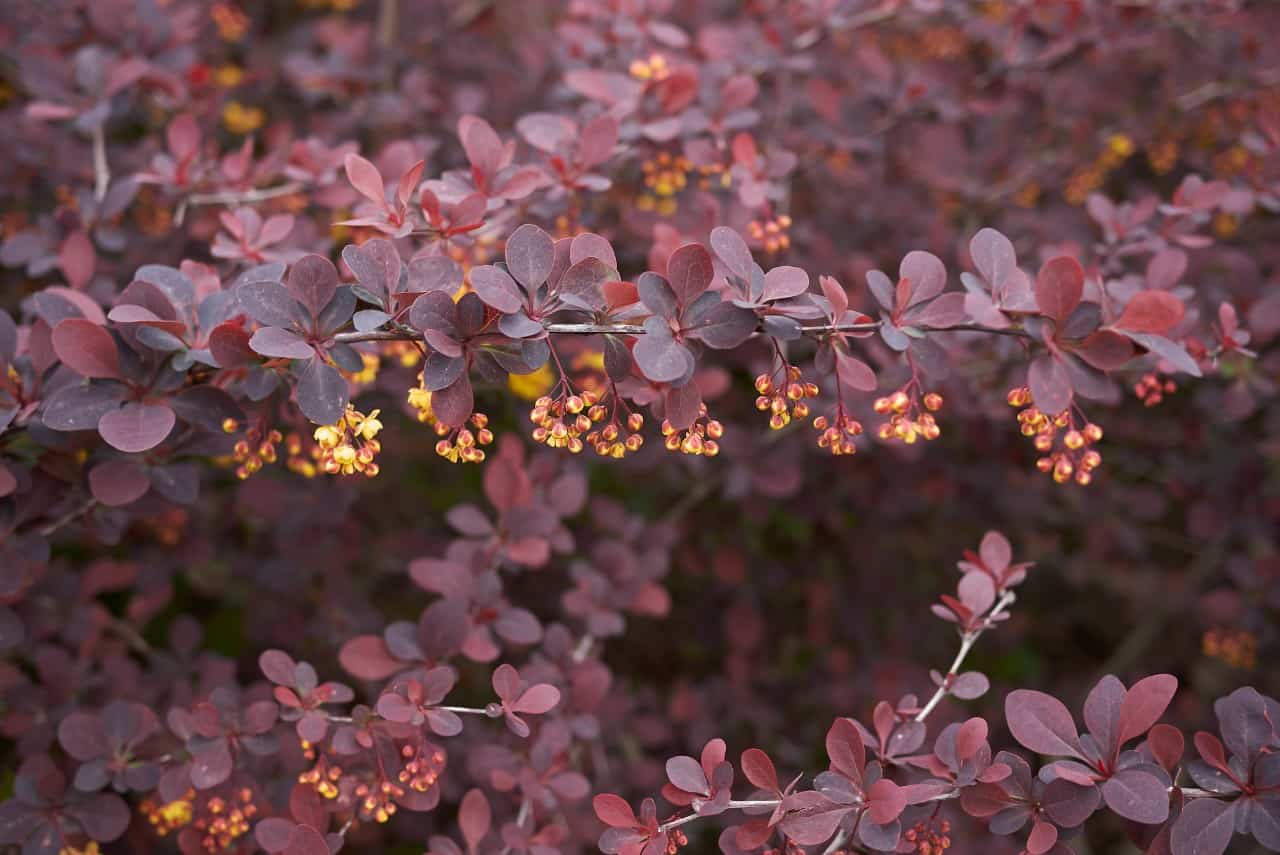 Barberry has such vibrant foliage that even during the lazy days of summer this shrub shows off its vibrant green, yellow, and burgundy colors. Well-known for its foliage, this hardy plant also gets showy yellow blooms in the spring.
With a height up to 8 feet and a width up to 7 feet, barberry makes a great addition to your landscape. This drought-tolerant, deer-resistant bush grows well in zones 3 to 9 and is a big attraction for birds.
Some barberry plants are excellent thorn bushes for security if grown in a hedge or below windows on the first floor. Offering both beauty and safety is an added bonus.
Forsythia (Forsythia × intermedia)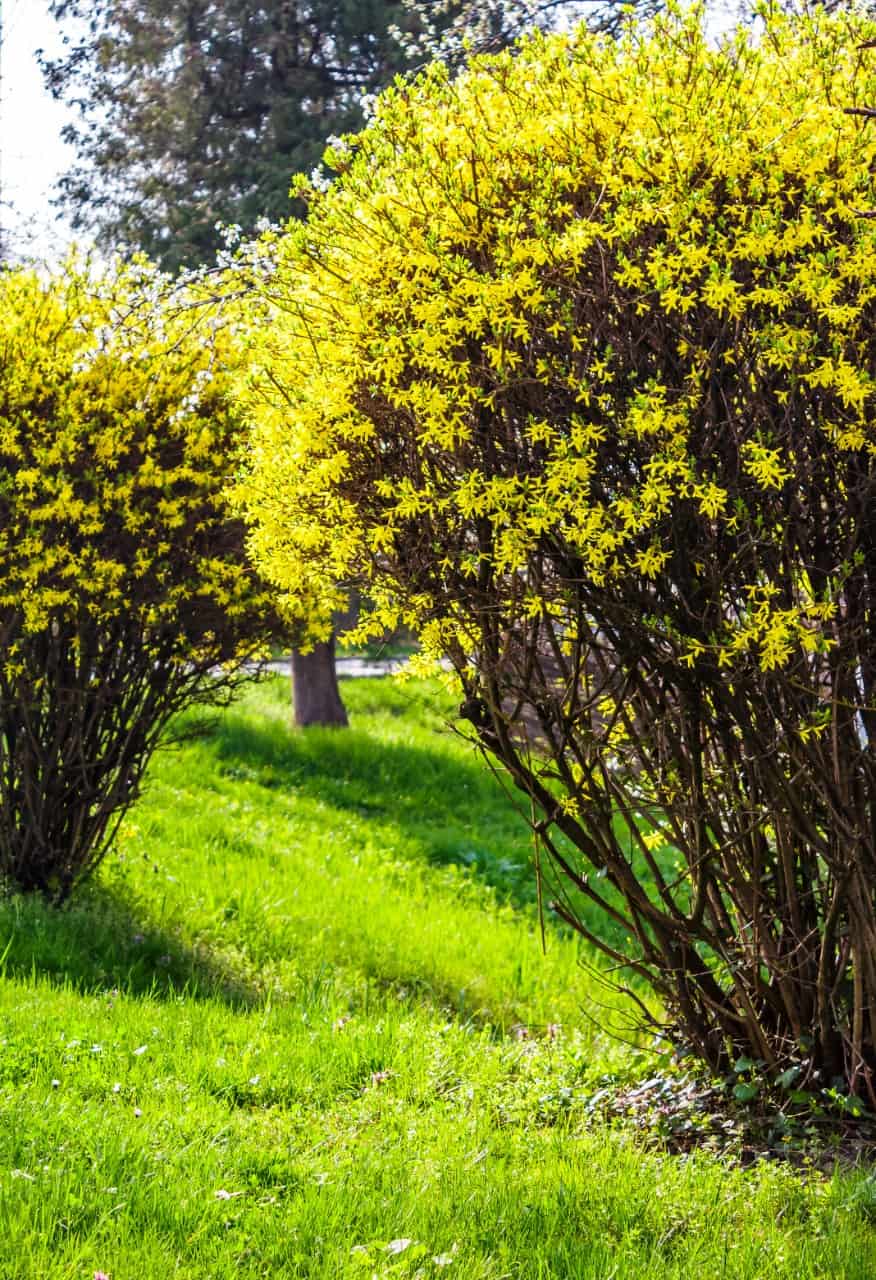 Forsythia is the harbinger of spring with its stunning golden display of blooms even before foliage appears. Imagine vibrant gold mounds of flowers throughout the yard in early spring before any other plants consider coming back to life, and that is the forsythia.
This shrub grows easily in zones 4 through 9 and reaches up to 20 feet in height and 12 feet in width, depending on the type. It has beautiful summer blooms and colorful fall foliage. The forsythia is one of the shrubs that are deer resistant and low maintenance, providing beautiful color after a dreary winter.
Butterfly Bush (Buddleja) – Attract Butterflies and Hummingbirds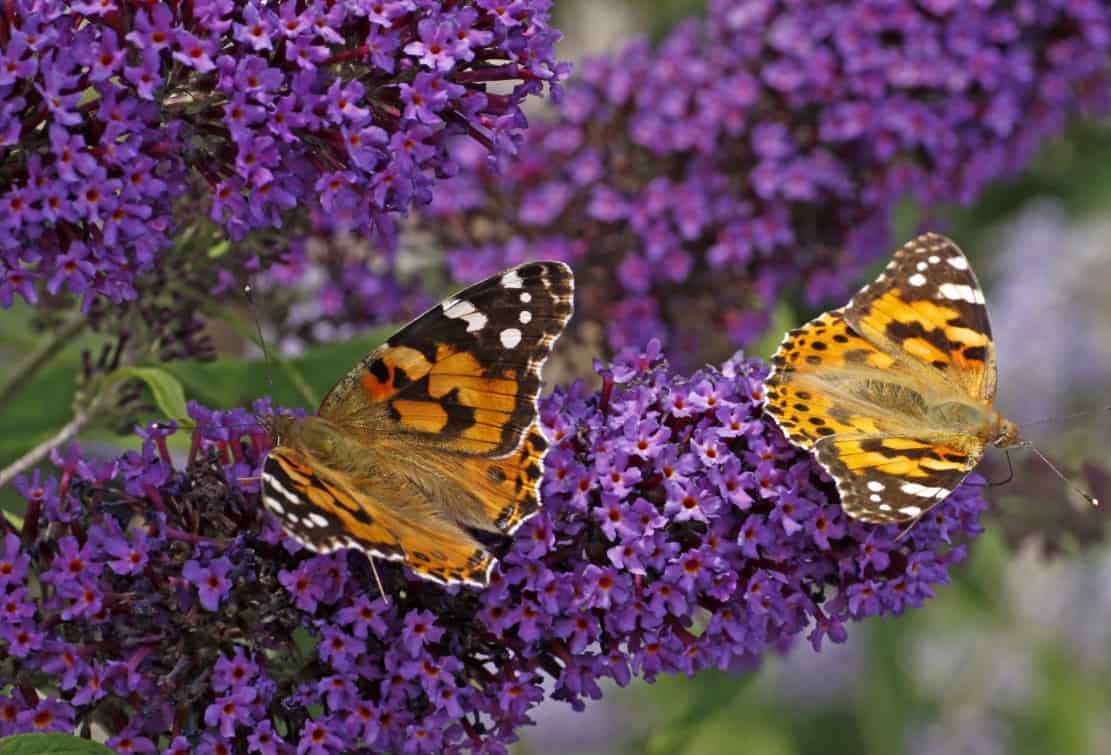 The butterfly bush is one of the best trees and shrubs that attract hummingbirds and a variety of other pollinators. It offers a colorful display of fragrant flowers cascading from a large bush. It doesn't get much better than that. This shrub and its stunning display of red, white, pink, and blue flowers during the summer makes it a centerpiece worth placing.
Choose a planting location to get the most flowers for full sun. You will be rewarded with blooms all summer and enjoy watching the wildlife flock to this popular shrub.
This low maintenance, drought-tolerant, and deer resistant shrub grows best in zones 5 through 10. Smaller varieties reach a height up to 8 feet, while more significant types reach up to 20 feet. Not only do you enjoy the flowers in the yard, but this shrub produces excellent cut flowers for inside the home.
The butterfly bush is considered invasive in some areas. Keep an eye on its growth rate and prune it regularly to keep it under control.
Spirea (L. Spiraea)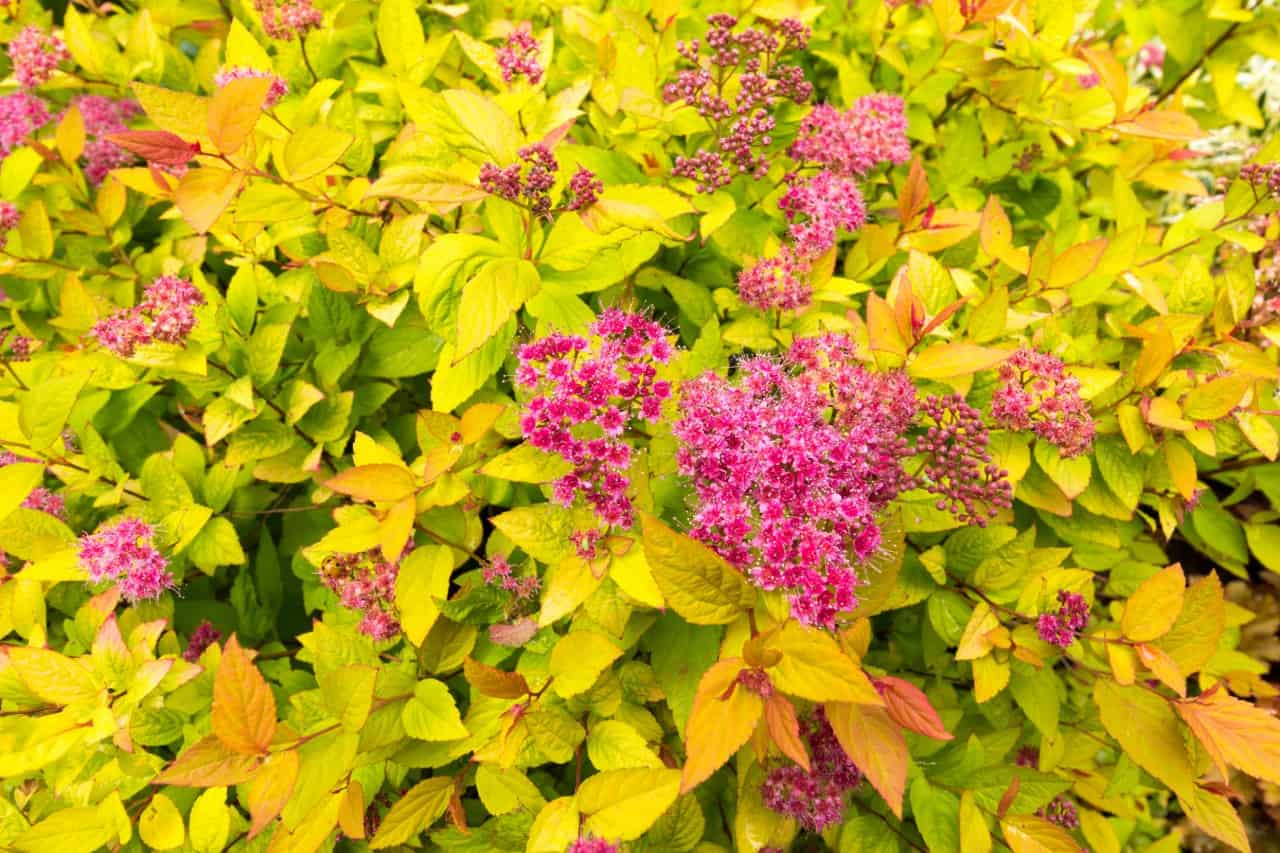 This diverse group of flowering shrubs is available in many different sizes, colors, and shapes. One of the most popular is the old fashioned type with its elegant, cascading branches and frothy, white blooms. The shrub is just as stunning when not in bloom with its blue/green or chartreuse/gold foliage.
Spirea thrives best in zones 5 through 9, grows up to 8 feet in height and 6 feet wide, depending on the variety. Not only is this shrub a stunning addition to the yard, but it's also useful for privacy. As one of the shrubs that bloom all year in some areas, you can enjoy the lovely color no matter what the weather brings.
Lilac (Syringa) – Fast Growing Fragrant Shrub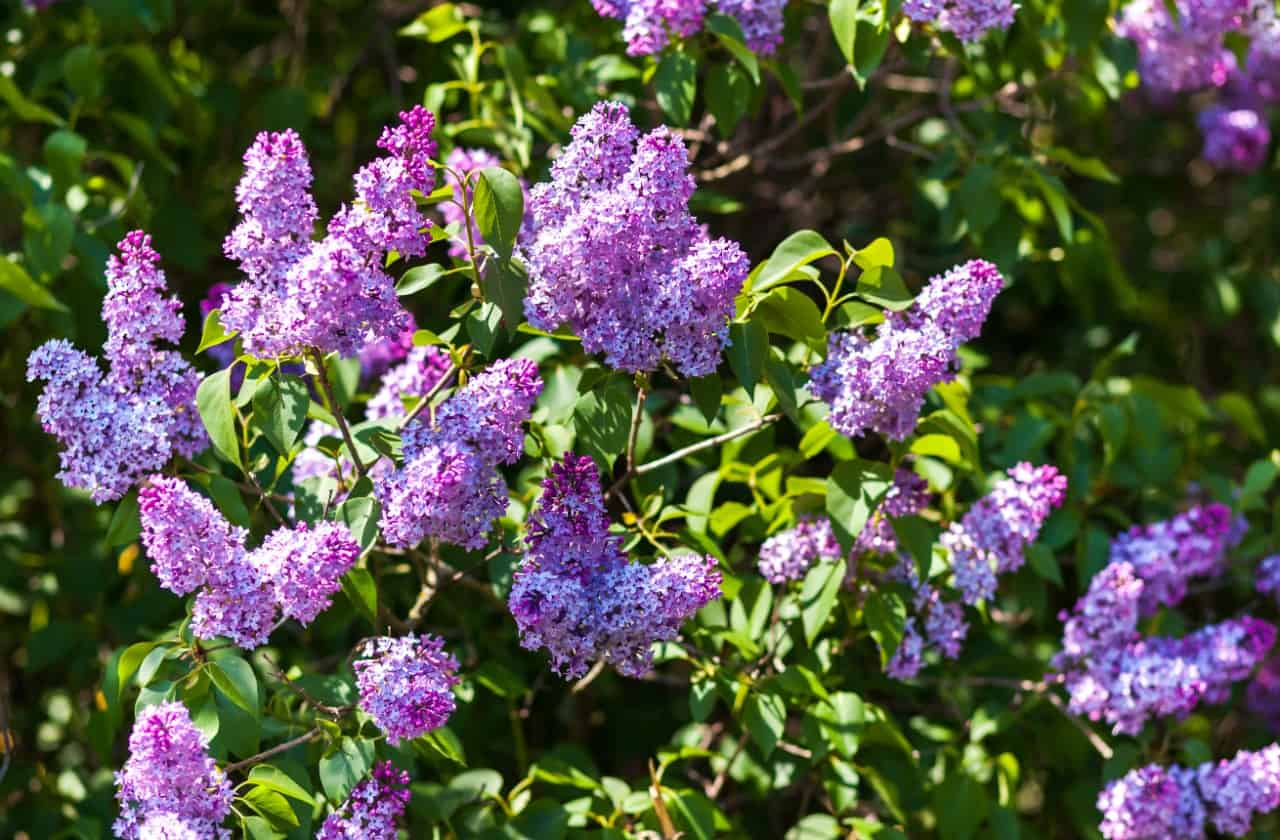 If you're looking for a shrub that grows fast, has a stunning array of flower blooms, a heavenly scent, and attracts pollinators, then the lilac bush is for you. This plant has captivated gardeners for years with its heart-shaped leaves and pastel blossoms in white, pink, blue, and purple flowers.
Lilac grows best in zones 3 to 7 and reaches astounding heights and widths of 20 feet. This low maintenance shrub is drought tolerant, good for privacy, and is a superb cut flower with its sweet, floral scent and colorful blossoms.
Hibiscus bush (Hibiscus rosa-Sinensis)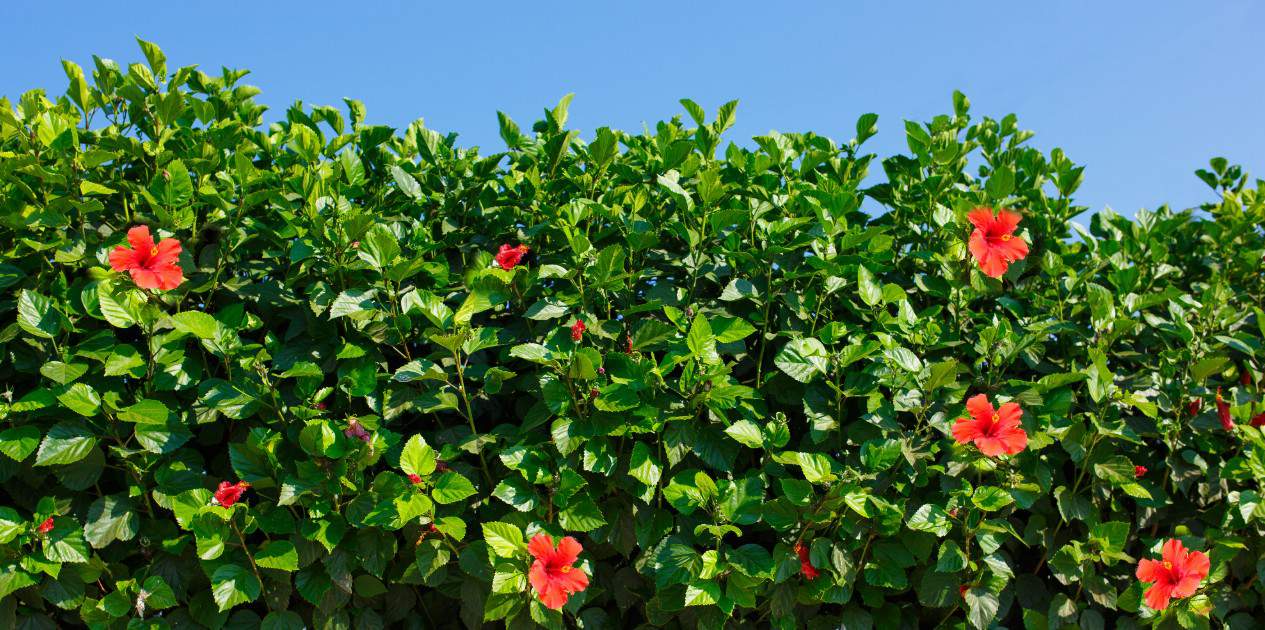 With its exotic, showy flowers, hibiscus makes a grand and colorful statement in the yard. There are several varieties of this shrub, and the colors range from purple, red, and orange to white, pink, and yellow flowers. The tropical version of hibiscus blooms quickly throughout the entire growing season.
Hibiscus grows anywhere from 8 to 20 feet high and 8 feet wide, depending on which one you grow. This shrub grows best in zones 5 to 9 and is easy to maintain. Not only is this shrub both deer and drought resistant, but it attracts birds and pollinators as well.
Viburnum (Viburnum opulus) – Diverse Group of Fast Growing Shrubs for Full Sun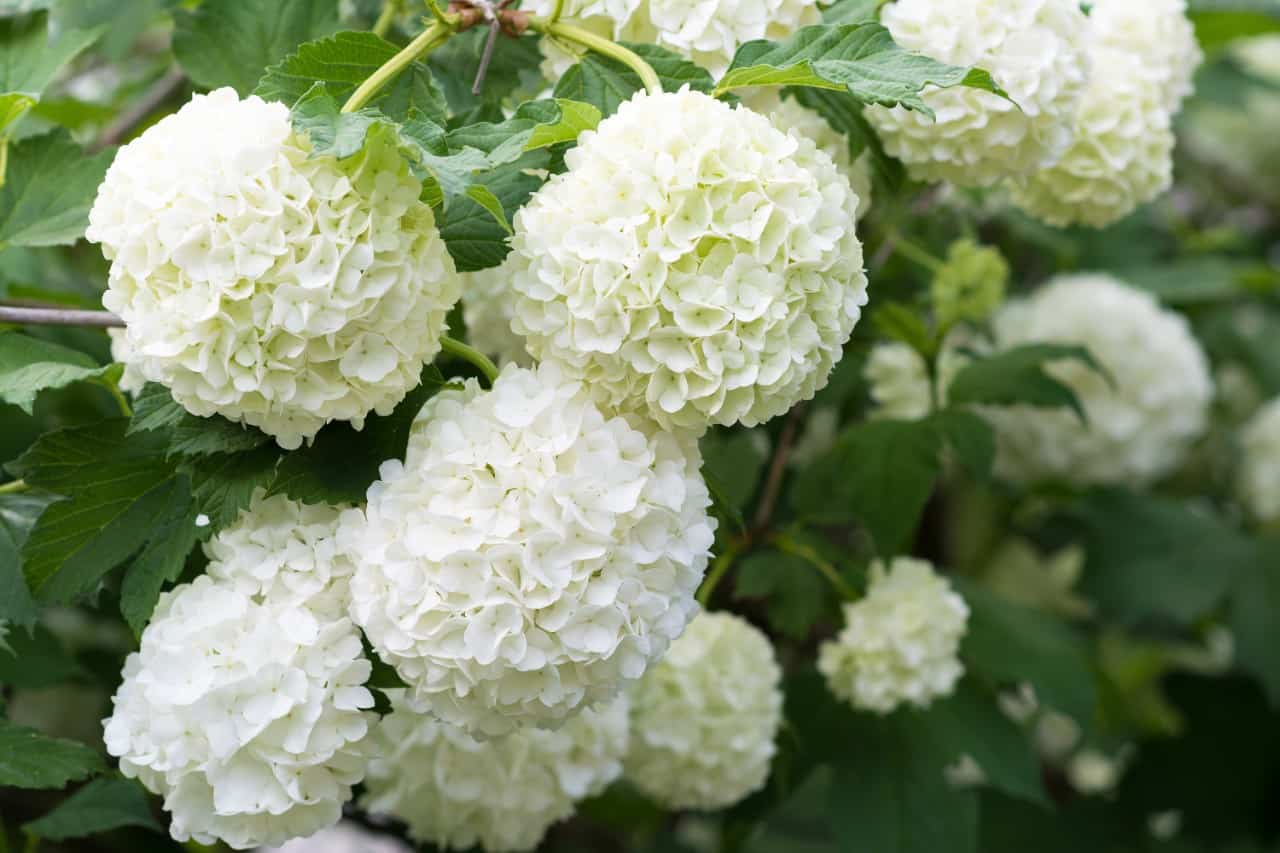 This shrub offers an endless supply of options for the gardener with many tastes. Viburnum brings joy to the yard in many forms, from large showy white and pink blossoms, brilliant foliage to colorful berries, and captivating fragrance.
The size of the viburnum varies depending on the variety. Some species are shrubs that stay small and others get a bit larger. It ranges from 3 to 20 feet in height and 3 to 12 feet in width.
Grown in zones 2 through 9, this drought tolerant and deer resistant shrub is also a good privacy fence, and attracts birds all year-round. This shrub enjoys both full sun and partial shade.
Arborvitae (Thuja)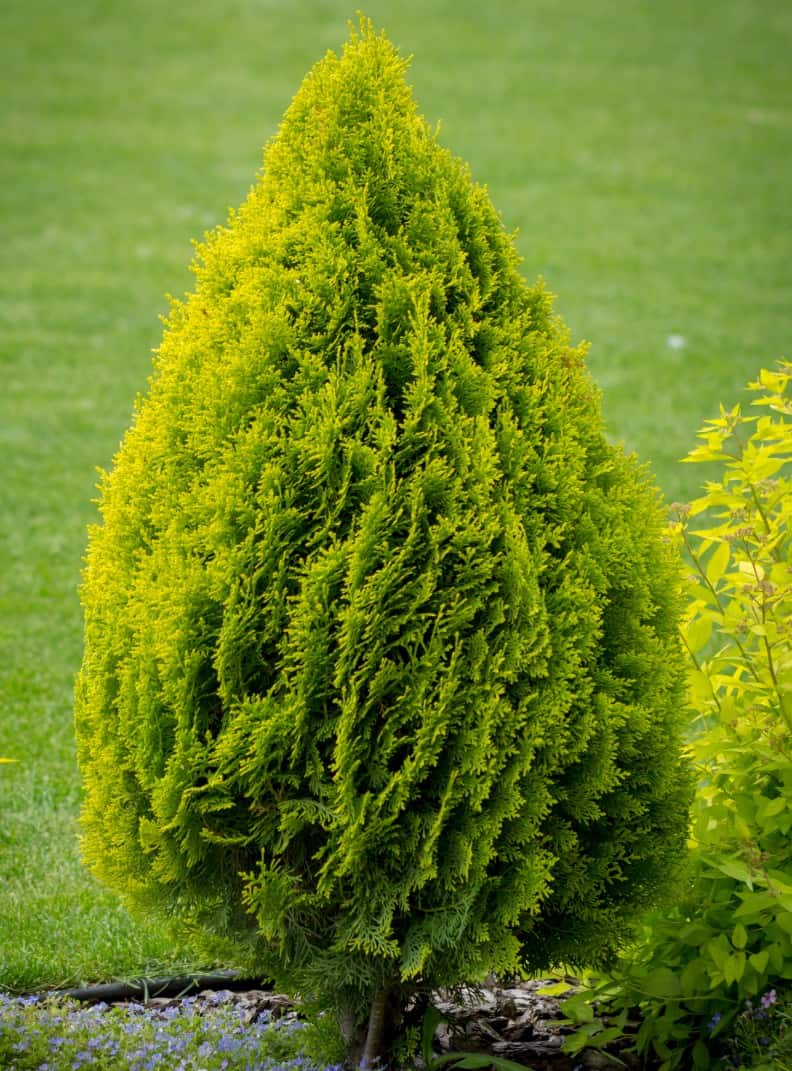 This dense, evergreen shrub makes a bold statement in the yard when pruned into interesting shapes and living structures. Create a whimsical topiary of living art or use it as a natural wall. Some varieties get bronze-colored fall and winter foliage as an added benefit.
Green giant arborvitae grows as high as 20 feet or more depending on the variety and amount of maintenance it receives. Anyone living in zones 2 through 7 enjoys growing this shrub with its blue/green evergreen foliage.
Boxwood (Buxus) – Fast Growing Easy to Shape Shrub for Full Sun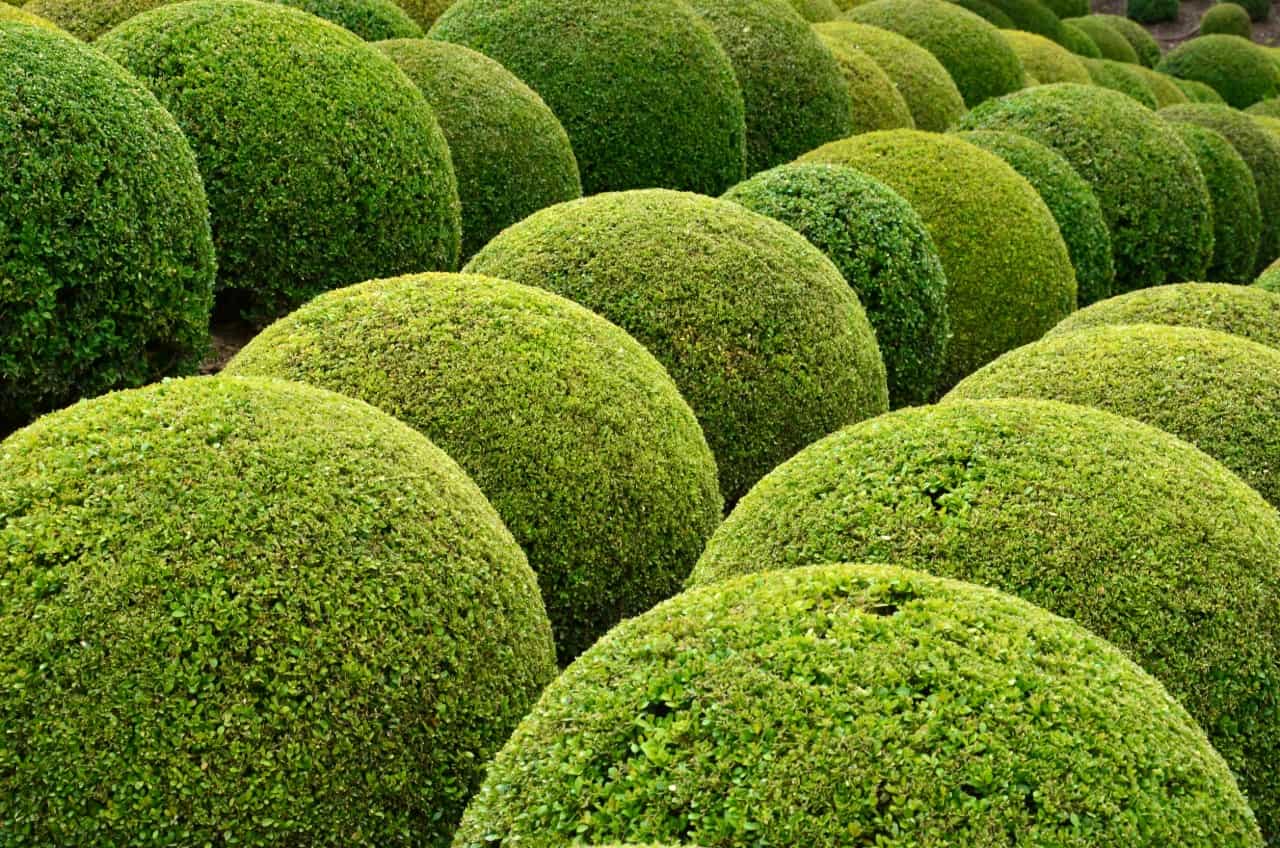 Boxwood is a timeless shrub that is a favorite among gardeners with a flair for creating natural art. Its glossy, green leaves are easy to prune to form just about any shape you desire, and the shrub holds the shape better than most other bushes.
The shrub version of boxwood has a growing height and width up to 8 feet and grows well in zones 4 through 8. This deer-resistant shrub provides winter interest in the yard and also makes a great privacy fence.
Firethorn (Pyracantha coccinea)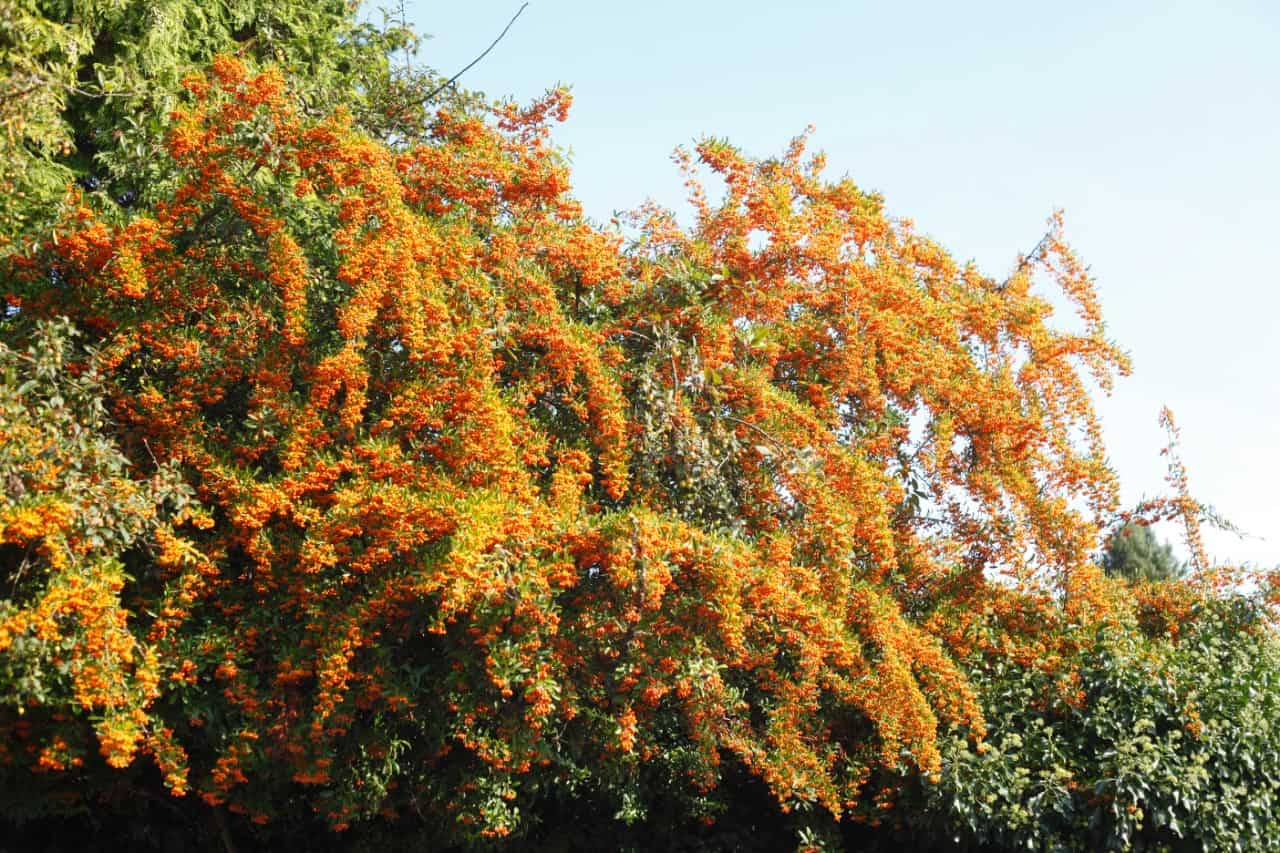 If you're looking for some extra color during the winter months to spruce up your yard, then the firethorn is the shrub to get. This small to large shrub offers color to the yard from spring through winter with its white spring flowers, colorful fall foliage, and clusters of bright orange and red berries in the winter.
The shrub grows about 3 to 8 feet in height and width and grows best in zones 6 through 9. The firethorn is a low maintenance shrub that is also deer resistant and an attraction for the birds.
Burning Bush (Euonymus alatus) – Vibrant Foliage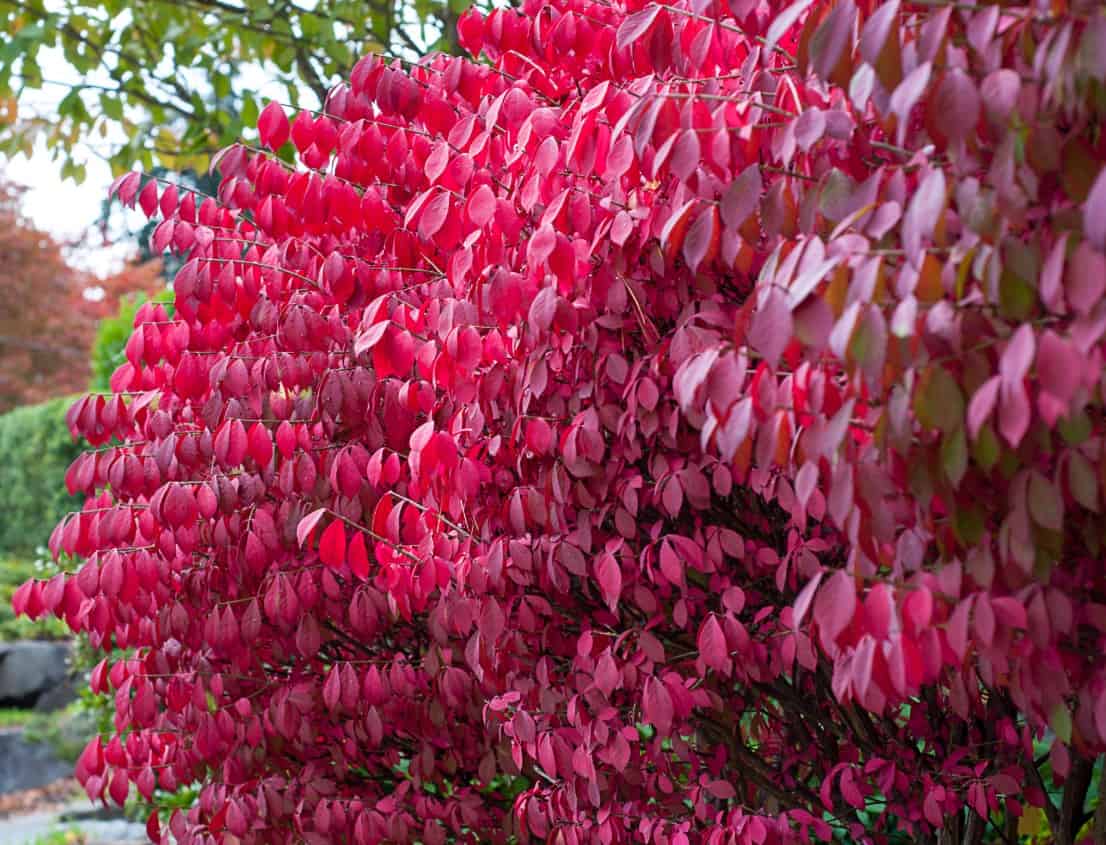 The burning bush earns its name with its bright and stunning fall color. This low growing shrub has blue/green leaves during the summer months that quickly turn fiery red as the season draws to an end.
Grown in zones 4 through 8, burning bush is a low maintenance and deer resistant plant. This fast-growing shrub reaches up to 15 feet in height and width. The plant bears reddish/orange berries in the fall that birds love to eat. While it enjoys full sun, it also tolerates part shade.
Planting unique shrubs around your yard provides you with colorful blooms in the spring and summer and fantastic shades of fall color. These shrubs are not only fast-growing but are easy to maintain and give your yard a stunning visual experience that only nature provides. Go ahead and make your yard the envy of anyone who gets the pleasure to view it.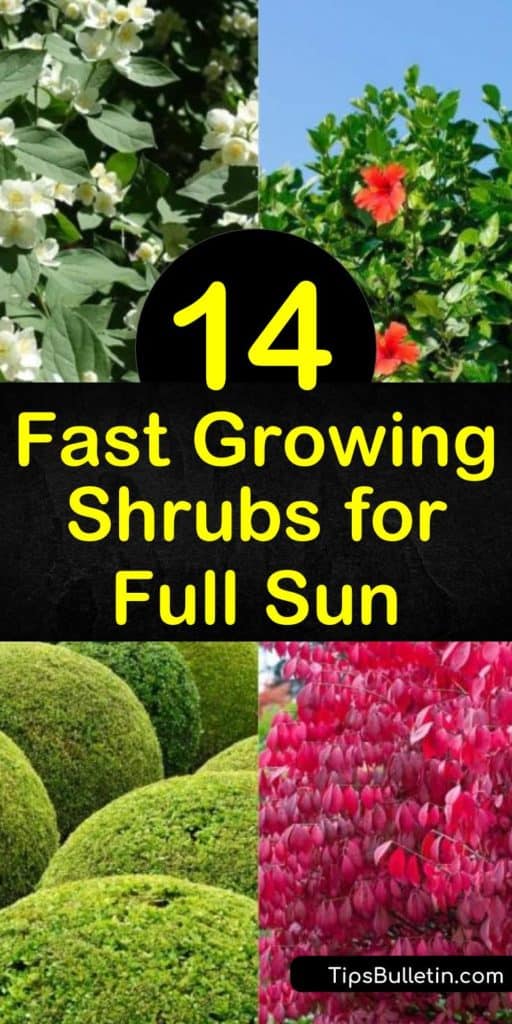 It's easy to create a stunning yard with fast growing shrubs for full sun by planting a few high impact bushes, so why not share our list of sun-loving, fast-growing shrubs with family and friends on Pinterest and Facebook?