Creating a natural screen between your yard and undesirable sights and sounds is a situation that many homeowners find themselves in. Planting a privacy screen is a simple way to put a barrier between you and annoyances like light, sound, wind, and visuals. There are plenty of fast growing shrubs for screening to choose from, and each has its own benefits that fit each individual's desires.
Screen plants often get chosen for their growth habit or foliage that helps block something that makes a person's yard less desirable.
Whether you want thick foliage, perfectly pruned shapes, pleasant smells, or picture-perfect flowers, there are dozens of options that may seem like they're meant for your property. No matter what type you choose, make sure you know the proper way to plant a privacy screen so that your plants get utilized to the best of their ability.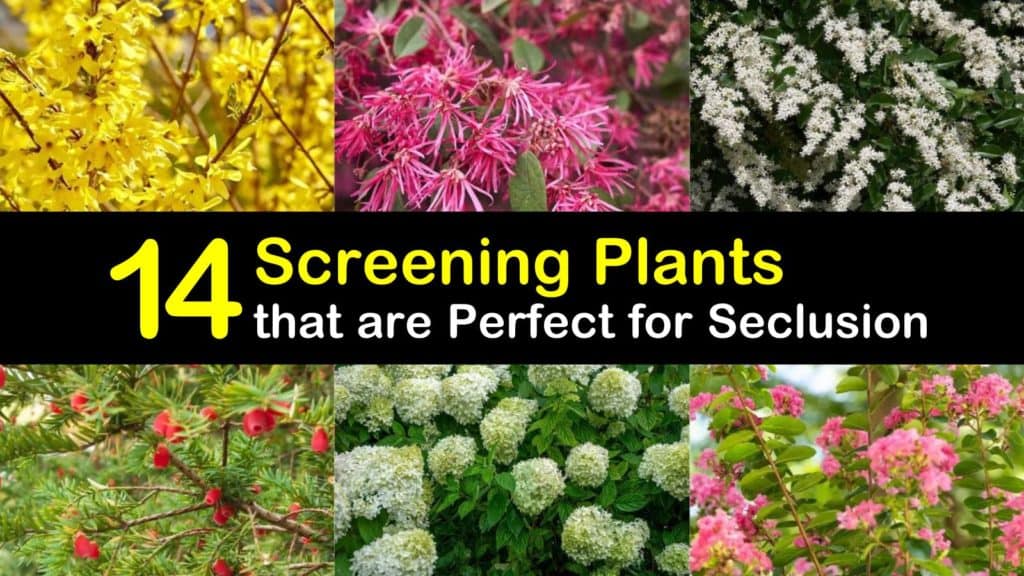 How to Plant Privacy Screens
Before you start planting, make sure you choose a perfect type of plant for your chosen location's conditions. Giving plants the proper light, soil, and spacing requirements will determine if your screen is successful or not.
Determine whether you want the fastest growing evergreen pine tree or bushes, or a combination of plants for your location.
Once you find a plant that survives in those conditions, estimate the number of shrubs you'll have to purchase by calculating their spacing.
Take into account how tall and wide each plant gets so that they are close enough to create a fence without being so tight that they don't have room to grow.
When your spacing is mapped out, you're ready to purchase your fast growing shrubs for screening and start planting.
If you have a fence bordering your property, think about adding the best privacy vines to grow up it. They add a little something extra and it's easy to control their growth if you keep up with pruning.
Flowering Privacy Shrubs: Crape Myrtle (Lagerstroemia indica)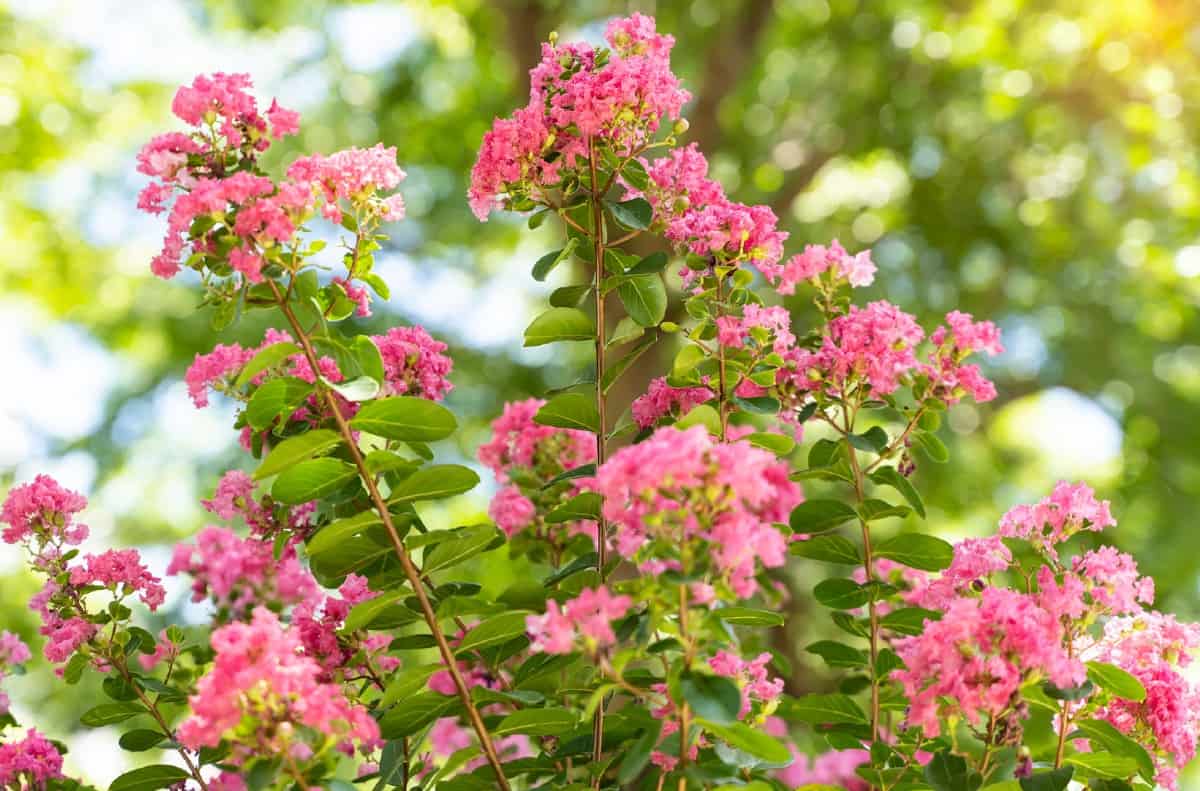 If you're looking for some fast growing shrubs for screening, crape myrtle trees are one of your prettiest options. These plants offer a variety of sizes and colors. Dwarf varieties range from six to 15 feet, while larger kinds grow as tall as 30 feet.
The blooms come in shades of white, red, pink, and purple and last from July to September. They are hardy in USDA hardiness zones six through ten.
Crape myrtles are quick growers and require a minimum of six hours of sunlight every day. Plant crape myrtles in the early spring or fall to allow their roots to establish themselves before harsh temperatures make an appearance.
English Yew (Taxus baccata)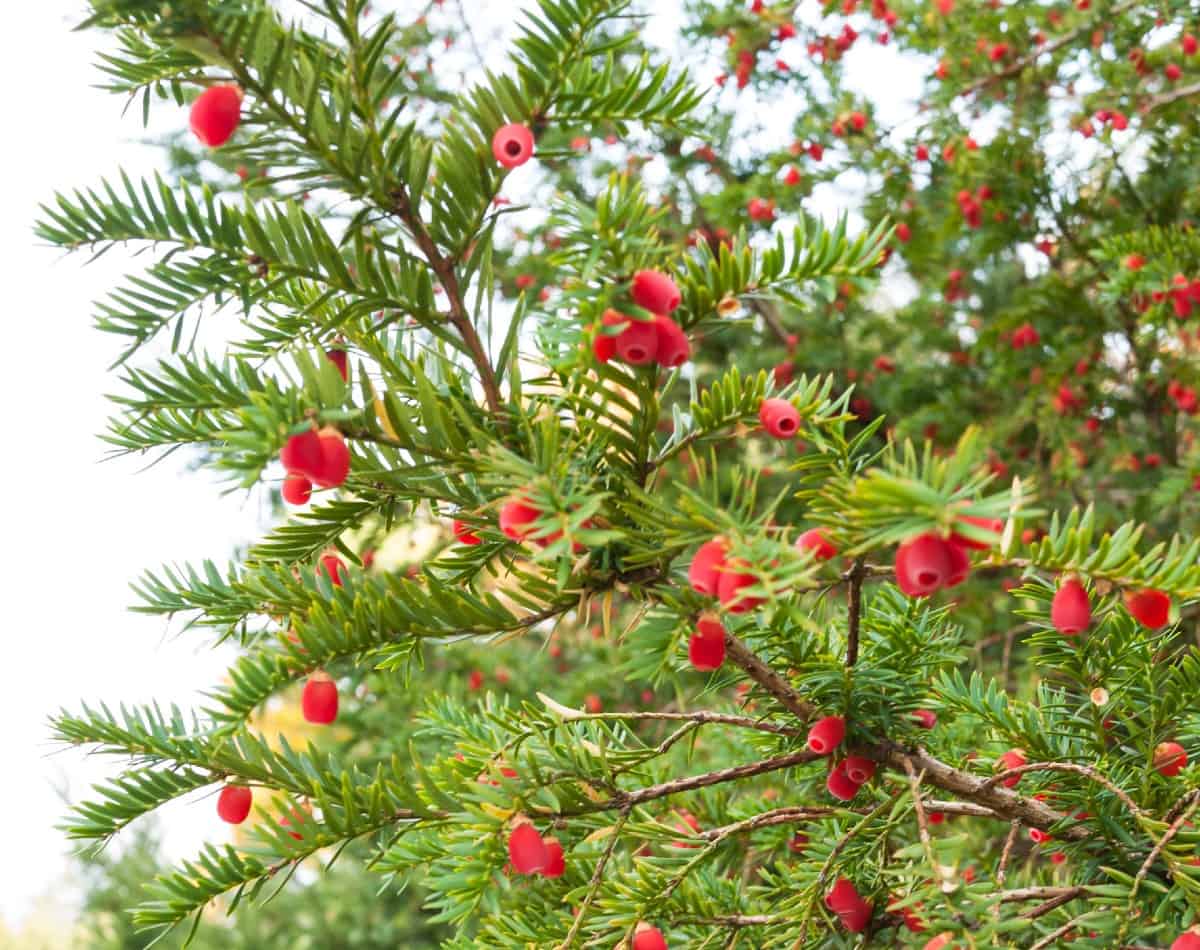 English yew is a popular choice when planting a privacy hedge. This evergreen shrub is highly adaptable and has red berries that stand out against emerald green foliage.
Better yet, cutting a few twigs off makes for stunning Christmas décor and lasts throughout the winter. These shrubs range from four to 20 feet high and are hardy in zones two through ten.
Yew is the perfect choice for creating privacy because it lasts throughout the entire year and grows in light conditions from full shade to full sun. It also tolerates most soil types as long as they are well-draining.
Privet (Ligustrum ovalifolium)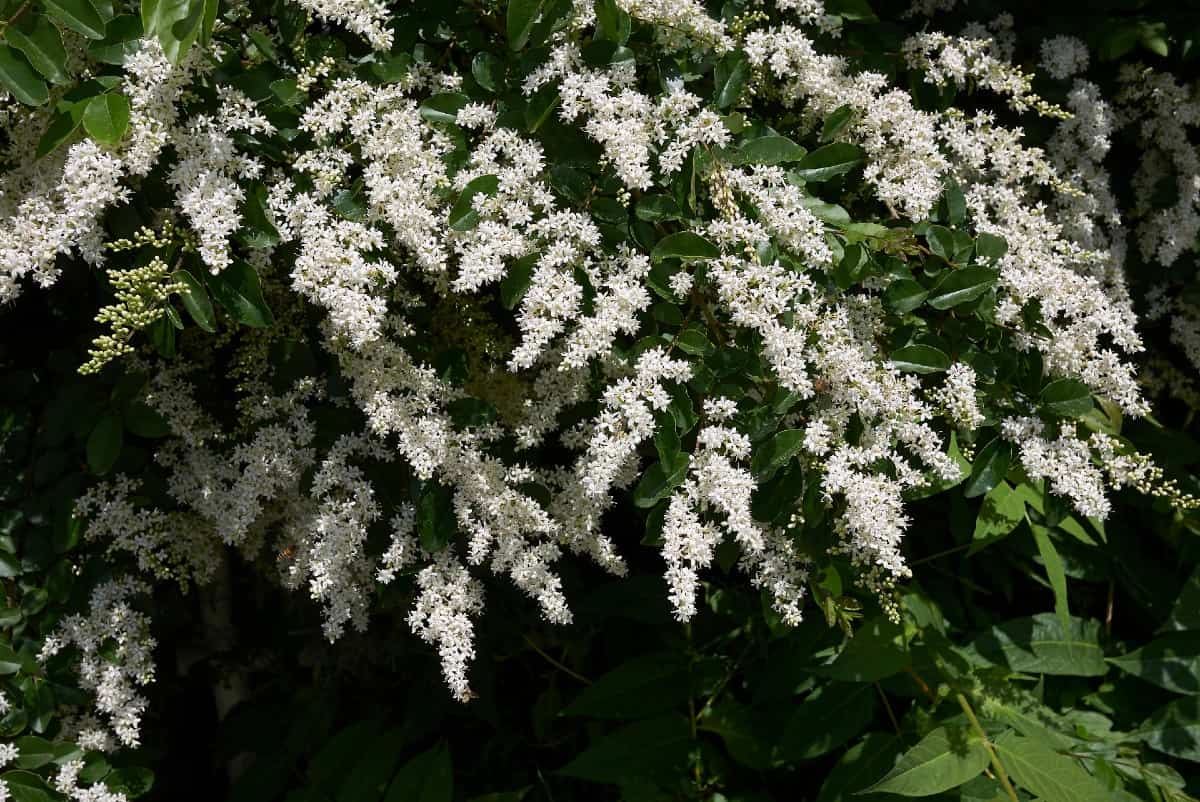 Creating a privacy screen is extremely easy when you use privet, as it is a shrub that is customizable to you and all your landscaping desires. The heights range from four to 15 feet tall, and they reach four to eight feet wide.
These plants can be pruned into various shapes and have thick foliage to form an ideal screen. Privet does best when placed in either full or part sun. The more sun you give them, the brighter colors they provide.
As long as you have well-draining soil, privet thrives in nearly all types. Water these plants once per week, with increased watering during the peak of summer.
Popular Fast Growing Shrubs for Screening – American Arborvitae (Thuja occidentalis)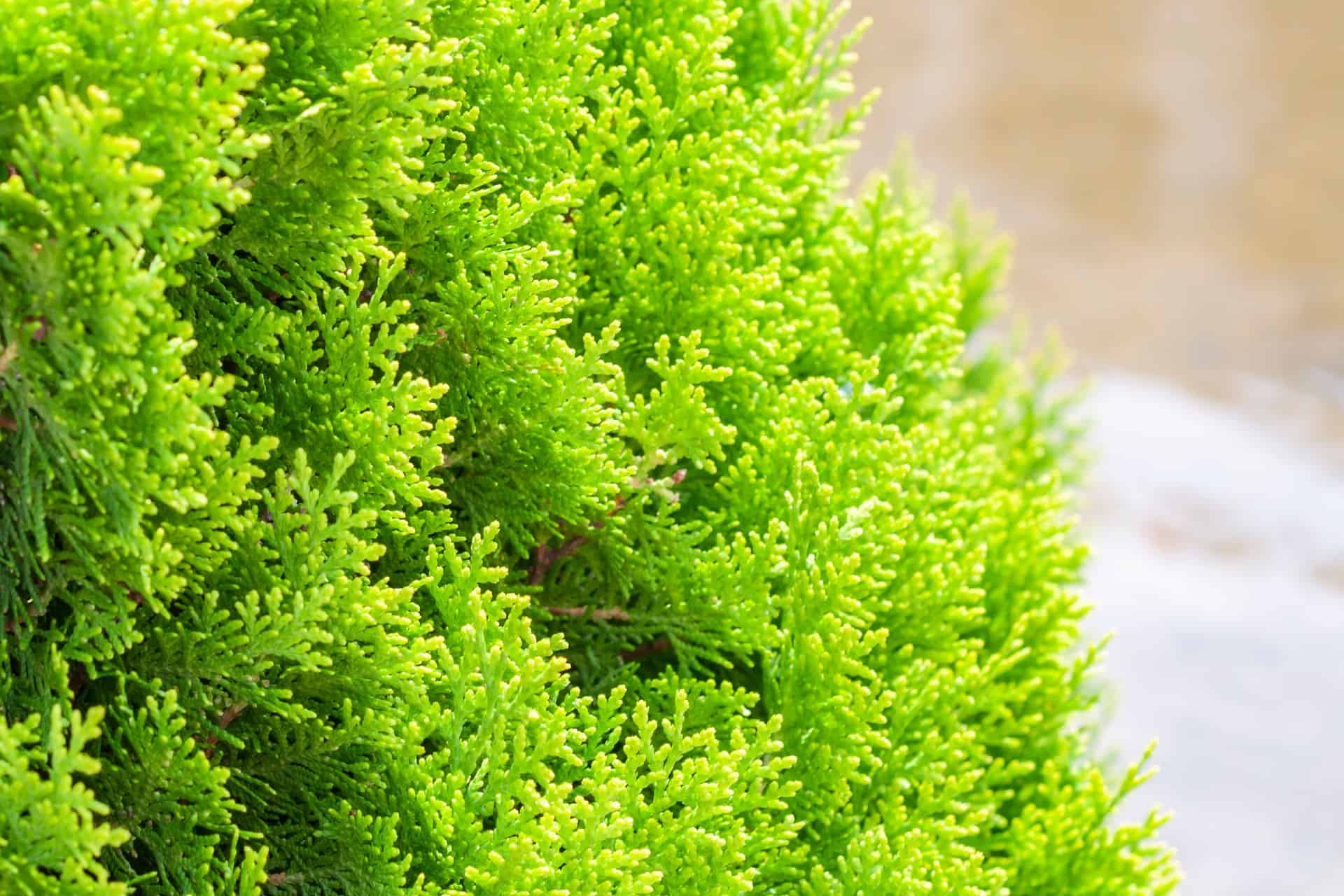 The American arborvitaes are green giant, evergreen trees that are a leading choice when searching for fast growing shrubs for screening. These trees are an excellent choice because they grow quickly, have year-round color, and are low-maintenance plants.
They grow into a narrow pyramid shape and reach around 30 feet tall. Plant arborvitae trees in full sun or part shade. They do well in moist and loamy soil, and American arborvitaes are hardy in zones two through seven.
Water them twice a week during their first few months in their new home, then lower the amount so that they get about an inch of water every week for the remainder of the year.
Hydrangea (Hydrangea paniculata)
Hydrangeas are a staple in a majority of people's garden beds. These fast growing shrubs for screening have large snowballs of red, pink, blue, and white flowers that bloom from early summer to fall.
They also have gorgeous fall color bursting with shades of red on their oval-shaped leaves. Hydrangeas love part sun or full sun.
They do best when placed in rich, moist soil that has lots of drainage. These plants make some of the prettiest flowering hedges and only require one pruning per year in the early spring or fall.
Viburnum (Viburnum odoratissmum)
Planting viburnum as a privacy screen is beneficial for those who love to surround their homes with floral fragrances. Viburnum has large, spring blossoms that range in color and are prevalent in warm, coastal regions of the United States.
Some of these shrubs qualify as small trees because they grow 20 feet tall, making them perfect for turning your yard into a secluded retreat.
Viburnum is one of the few plants that enjoy clay and sand-type soils. Give these colorful privacy bushes a location with full to partial sun, and make sure to prune them regularly to control the size.
Evergreen Shrubs for Hedges – Boxwood (Buxus sempervirens)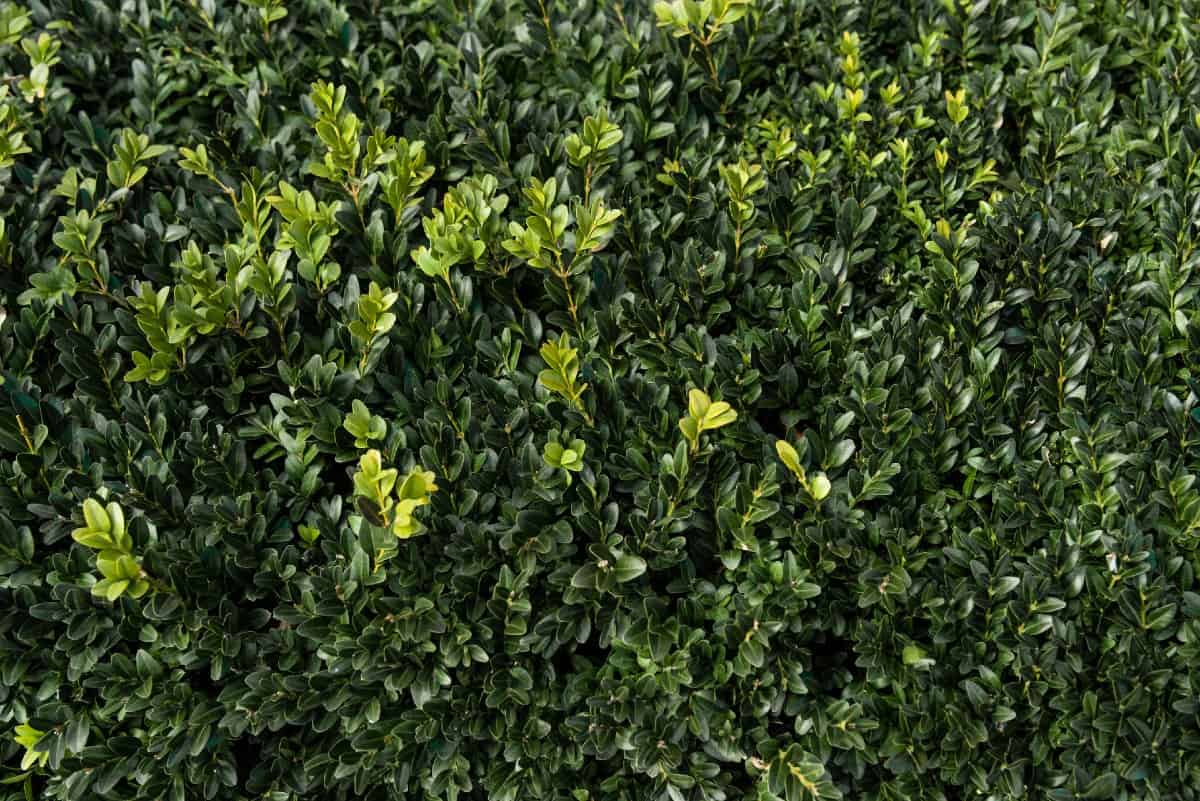 Boxwood is a go-to plant for many people who are trying to create some privacy. Boxwoods are thick, evergreen shrubs that last throughout the entire year. Some varieties have tiny yellow flowers, but it's their rich green foliage that makes it stand out.
Prune boxwood into any shape of your liking – it is one of the most low-maintenance plants for homeowners.
Boxwoods have shallow roots, so spreading several inches of mulch around the ground is the best way to keep them protected. Give boxwood full or part sun, and it becomes one of the easiest privacy hedges you've ever dealt with.
Forsythia (Forsythia europaea)
Forsythia is a plant for those who love to add a dramatic touch to their yards. These shrubs are fast growers but are best known for their vibrant, golden flowers that light up flower beds every spring.
These spring-flowering plants are easy to care for and become drought tolerant once established. They don't provide many fall colors, but their vivid blooms are too beautiful to pass up.
Forsythias produce an abundance of flowers when they have full sun for at least six hours during the day. Overly wet soil is the worst thing you could give them, so make sure the locations you place them in is well-draining and rich in organic matter.
For extra health, give them a well-balanced fertilizer once or twice every year throughout the growing season.
Lilac (Syringa vulgaris)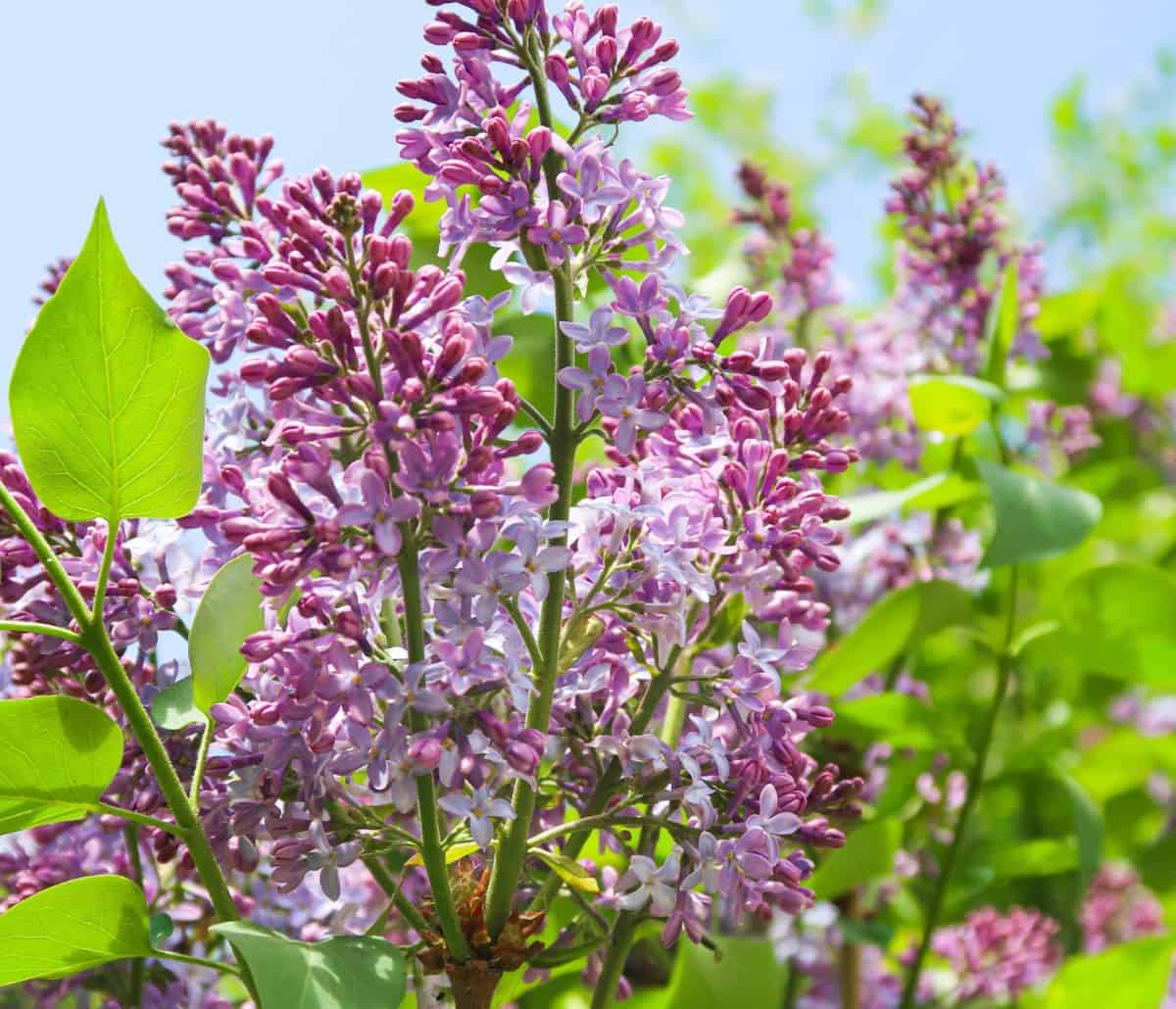 One of the hardiest shrubs for northern regions is the lilac. These large shrubs are known for their clusters of purple flowers with a strong floral smell. Some of the small shrubs reach heights of six feet, while others spike as high as 15 feet.
Lilacs thrive in hardiness zones three through eight and are an excellent choice for attracting hummingbirds and butterflies to your yard.
Lilacs prefer to have at least six hours of daily sunshine to create the most beautiful blooms possible. Plant them in well-draining soil, and be careful not to over fertilize or overwater them. Prune lilacs only after they finish flowering.
Photinia (Photinia fraseri) – Colorful Privacy Shrubs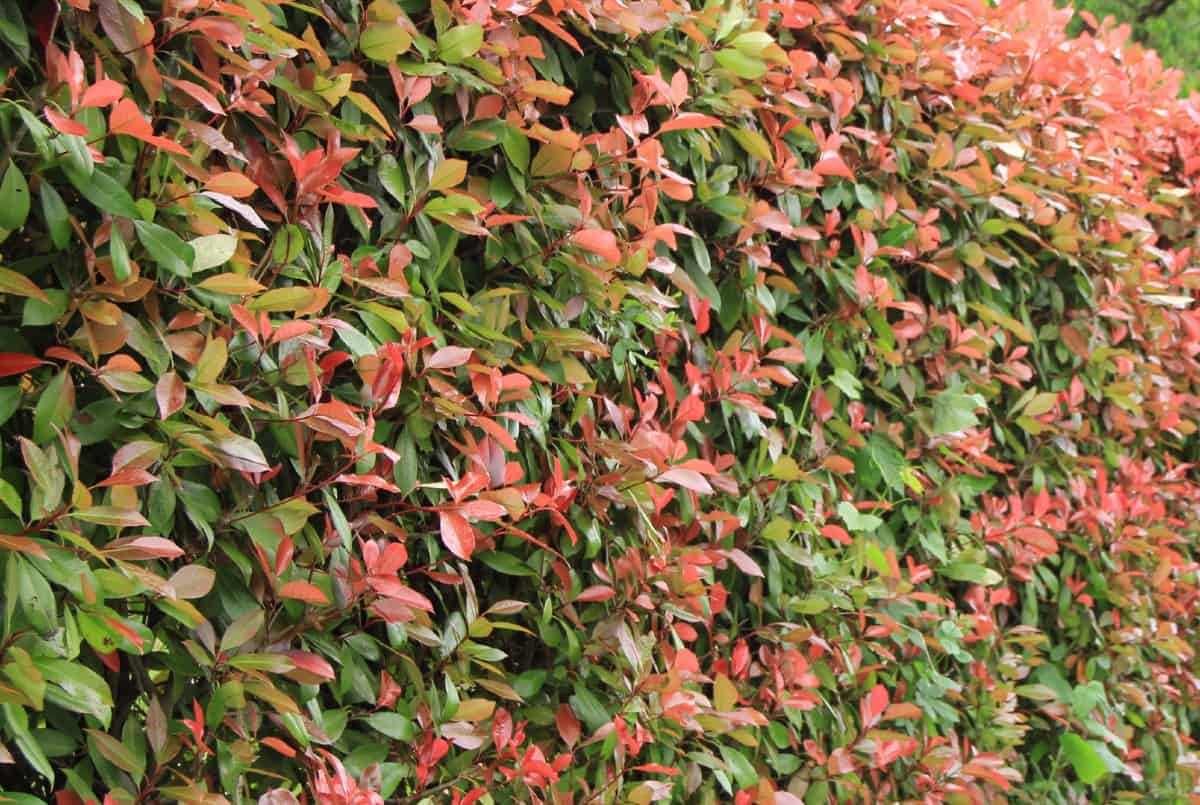 Photinias are popular, fast growing shrubs for screening because of their unforgettable mixed red and green colors. They have small, white flowers during the spring that eventually produce red fruits that last until early winter.
Photinia plants must have well-draining soil that doesn't get too wet. These quick growing hedges for privacy survive in either full sun or part shade and can be pruned into the shape of your choice.
Before planting, make sure you're committed to pruning these shrubs, or they may develop disease from the lack of air circulation around their dense branches and leaves.
Beauty Bush (Linnaea amabilis)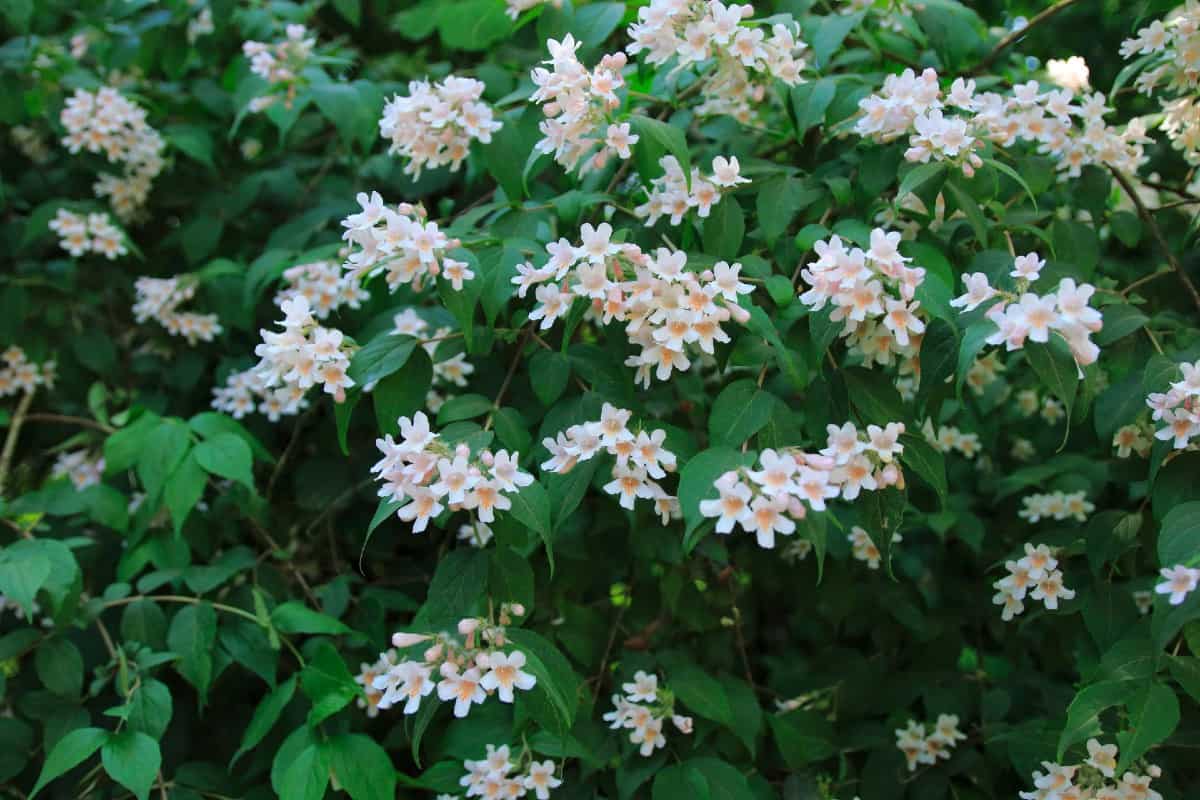 Beauty bushes get their name for a reason. These shrubs have one-of-a-kind, arching branches that fill with pink, bell-shaped flowers every spring and summer.
These characteristics make them the perfect plants for creating windbreak, and they also have the added benefit of yellow foliage in the fall. These shrubs are hardy in zones four through eight and are quick growers for those who are in a time crunch.
Beauty bushes thrive when the soil is moist and well-draining. With full sun, they reach heights of ten feet high. They have no serious pests or diseases and are drought tolerant once mature.
Elderberry (Sambucus nigra)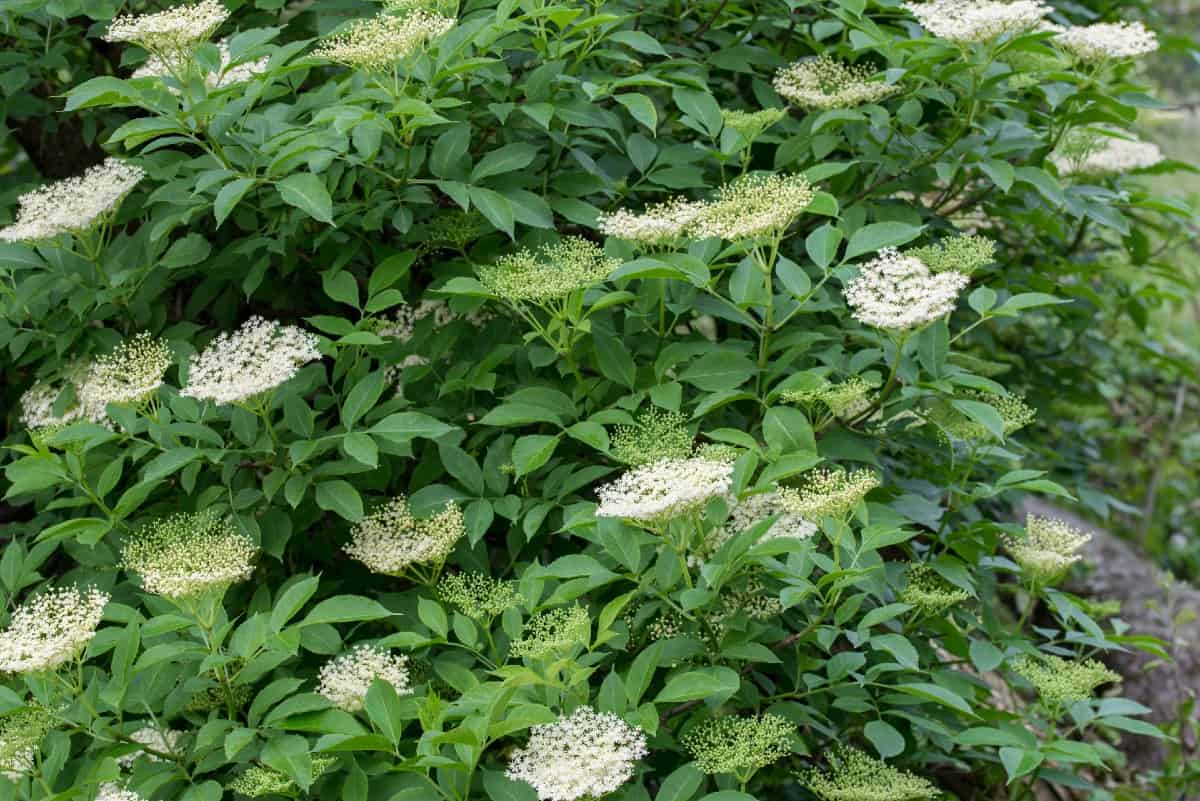 Elderberry shrubs are native to both Europe and the United States. People love snacking on their dark, blue berries that often get turned into wine, jellies, and jams.
Elderberry bushes have several trunks, their foliage is bright green, and clusters of tiny white and yellow flowers pop up in the early spring. Elderberry shrubs tolerate various conditions, including both poor and overly wet soil. How long do elderberries take to grow? This fast growing shrub may produce berries the first year but subsequent years have larger crops.
Their one weakness is periods of drought so make sure they get regular water. Plant elderberries in loamy soil, and mulching around the bottom helps prevent weeds from growing.
One of the problems with elderberry bushes that you may find is aphids. Pick them off by hand or spray them off with a strong stream of water from the hose.
Privacy Shrubs with Berries: Scarlet Firethorn (Pyracantha coccinea)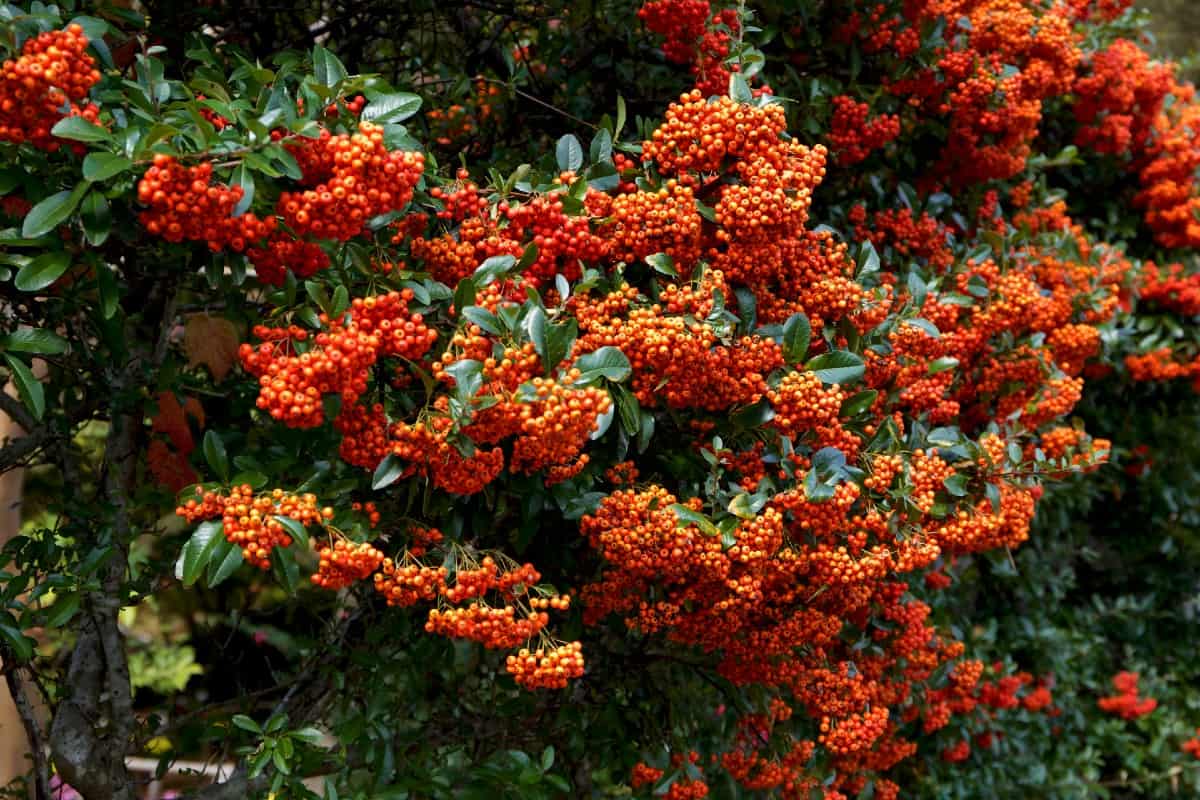 If you prefer to create a privacy fence from evergreens, the scarlet firethorn is a safe choice. Firethorn shrubs are hardy in USDA zones six through nine and are so easy to grow that a novice will be successful in keeping them alive.
Their sizes vary from six to 16 feet tall. They have shiny foliage and small white flowers in the early summer that turn into red and orange berries in the early fall and winter.
Firethorn shrubs like placement in either sunny or shady locations. They thrive in moist environments that are extremely rich in organic matter.
Loropetalum (Loropetalum chinense)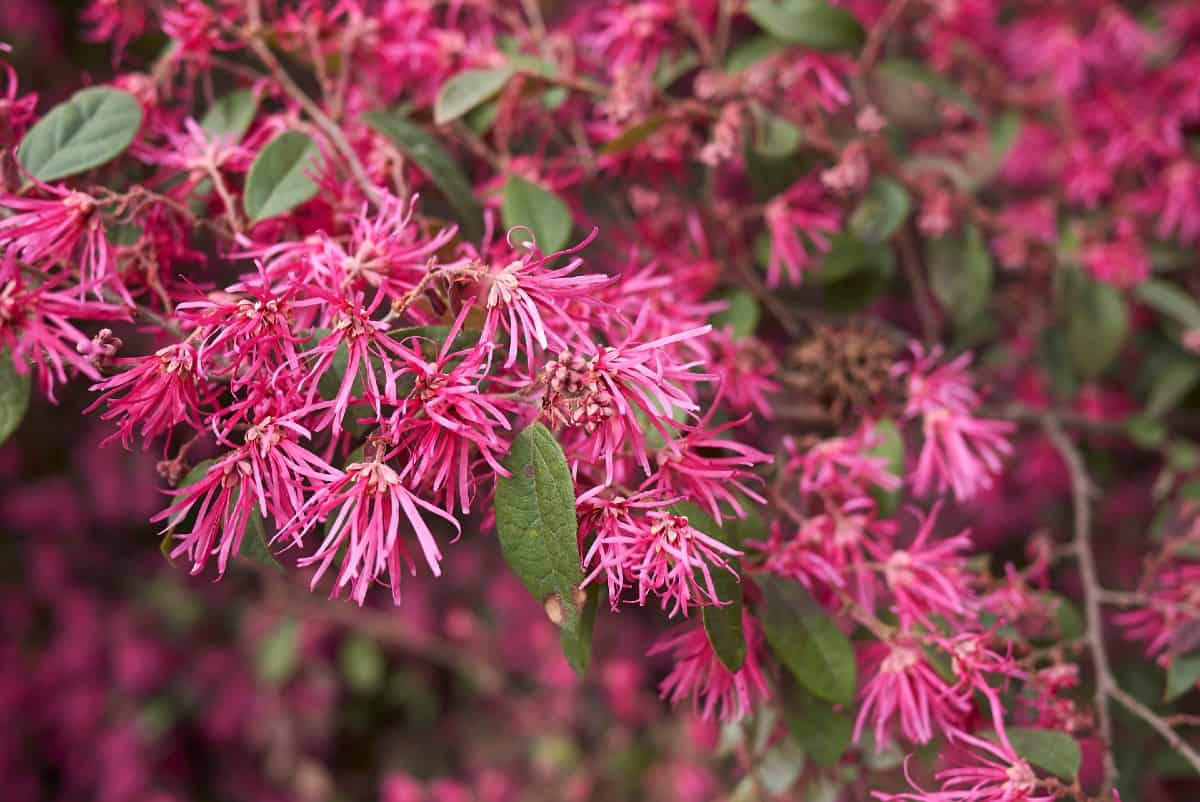 Loropetalum, or Chinese fringe shrubs, have unique flowers and an intoxicating scent. They are strong in USDA zones seven through ten, and people living in those regions get to create a stand-out hedge with their fringe-like, pink blossoms.
These fringe plants are native to China, Japan, and the Himalayas. They grow ten feet tall and have glossy, oval-shaped leaves. Loropetalum shrubs aren't too fussy, and their sun requirements range from part to full sun.
These plants prefer having rich soil and a thick layer of mulch to conserve moisture, stop weeds from growing, and to protect their roots.
Screening has the potential to transform your yard and turn it into an oasis that is free from eyesores and unwelcome sounds.
Hedges don't have to be made from stereotypical plants. There are dozens of shrubs to choose from, each more attractive than the last.
If these fast growing shrubs for screening helped you to create the yard of your dreams, share these shrubs for privacy on Facebook and Pinterest.