Waking up to find bug bites on your skin from bed bugs or fleas is alarming. The thought that tiny bugs are crawling around on your bed while you sleep is enough to make anyone squeamish. While a flea infestation in a mattress is an unpleasant experience, there are ways to kill adult fleas and eggs and restore your bedding for safe sleeping.
A bug infestation is the last thing anyone wants to deal with, especially when it's in the sanctuary of your bedroom. It's critical to take pest control measures to eliminate a dust mite, bed bug, or flea problem to prevent itchy bites that result from an allergic reaction.
Flea and bed bug infestations can occur anywhere, from your living room furniture and pets bed to your box spring, bed frame, and mattress. One bug quickly turns into hundreds if you don't stop them in their tracks. Fortunately, it's possible to prevent an infestation using a few simple home remedies.
Ways to Kill Fleas in a Mattress
There are many natural flea control tips to help eliminate fleas on your pets and in your home, but some work better than others. Find out how to treat your mattress and bedding to kill fleas and prevent a flea infestation. Like when you are infested by bed bugs, prompt treatment is necessary to stem the problem.
Ways to Tell if You Have Fleas in a Mattress
If you wake up in the morning with a flea bite, there is a good chance that your bed has fleas. However, there are other things to check to determine if you have a flea infestation. Check out these common signs that you have a flea problem in your bedding.
Like the obvious signs you have bed bugs, the most glaring sign that your bed has fleas is flea bites. Unlike a mosquito bite, this bug bite appears as itchy red dots on the skin, similar to bed bug bites, and those with allergic reactions experience hives, swelling, rashes, and extreme itching. While you can make a DIY flea repellent for humans, treating the source of the problem is the best solution.
Flea residue on your sheets is another indication of fleas; they look like tiny black specks. The specks are flea feces or flea dirt leftover after feasting on the host's blood. This is another way to check for bed bugs, too. Some of the same treatments work for both bugs.
Get Rid of Fleas in a Mattress by Vacuuming
The first step to get rid of fleas in a mattress is to vacuum to remove flea feces, eggs, larvae, and adult fleas. Eliminate these bugs from all areas of your bed by vacuuming.
Remove all bedding from your bed and place it in the laundry room. Remove the mattress from the box spring and use the vacuum cleaner hose attachment to clean all sections of both parts of the bed.
Clean the creases and crevices, and flip the mattress over to clean the other side. Go over the bed several times, and vacuum the carpeting under and around the bed frame. Empty the contents of the vacuum into a trash bag and discard it in the outside garbage can.
Kill Fleas in the Bed Mattress by Steaming
Another way to kill fleas in the bed mattress is with steam. Fleas cannot tolerate high temperatures, and using a steam cleaner to clean the mattress and box spring is an excellent form of flea and bed bug control. Clean and sanitize your mattress at the same time.
Bed Steaming
Take all the bedding off your bed and put it in the laundry room for cleaning. Follow the instructions for your steam cleaning machine and steam clean all mattress and box spring areas on the hottest setting.
Wash the headboard, bed frame, and bedroom carpeting and let all surfaces dry thoroughly before making the bed with clean sheets.
Eliminating a Flea Infestation in a Mattress with Vinegar
White vinegar works well as a homemade flea spray for furniture and carpet if you don't have access to a steam cleaner. While it takes a little more effort, the acidic liquid eliminates flea larvae, flea eggs, and the adult flea while refreshing the bed.
Strip the sheets and blankets off your bed and prepare them for laundering. Combine two parts water and one part white vinegar in a plastic spray bottle and shake the container well to mix.
Spray the flea treatment on all sides of the mattress and box spring, paying particular attention to creases and seams. Apply the spray beneath and around the bed to kill fleas on the carpet. Let the surfaces dry, and vacuum the mattress and floor to remove dead fleas and eggs.
Using Essential Oils to Kill Mattress Fleas
If you hate the smell of vinegar, essential oils are a great alternative to kill fleas in the bed mattress. Many insects, including fleas, hate the scent of essential oils, and some oils contain insecticidal properties that kill pests naturally.
Pour alcohol into a glass spray bottle and add the peppermint essential oil. Citrus essential oil is a good substitute if you do not have peppermint oil. Shake the container and spray it directly onto the mattress and box spring. Apply it to all bed areas and nearby carpeting, and let it dry thoroughly before vacuuming bug debris.
Killing Fleas in a Mattress with Baking Soda
If you have a box of baking soda in the kitchen, you have a natural and safe alternative to commercial flea products. This alkaline powder is a dehydrating agent that dries out and kills adult fleas, eggs, and larvae.
Combine the baking soda and salt in a container and sprinkle it over the bare mattress and box spring. Let the powder mixture sit for as long as possible to allow the insects to travel over the surface. Employ a vacuum cleaner to suck up the debris.
Using Flea Powder to Kill Mattress Fleas
If you don't have the time to use a home remedy to kill fleas, there are many flea elimination products online and in stores. Some flea powders are natural, and others contain flea-killing chemicals; they are both helpful in getting rid of fleas from a couch, mattress, or anywhere in the house.
Remove the bedding for cleaning and follow the directions for your flea powder brand. Sprinkle the powder over the mattress and box spring surface and let it sit for a couple of hours as the insecticide kills the fleas and eggs. Vacuum up the powder and flea debris and empty the vacuum canister in the outside trash.
Eliminating Fleas around Your Bed with Diatomaceous Earth
Diatomaceous earth, or DE, is a popular, naturally occurring powder that kills almost any insect. Treat your mattress with DE to get rid of a flea infestation or use food grade DE powder for bed bugs if you find them in your home.
Remove the bedding, put on a face mask to prevent inhaling the powder, and sprinkle the DE over the mattress, box spring, and carpeting surfaces.
Let the powder rest for a few hours. The powder penetrates the flea's exoskeleton as it walks through it, leading to dehydration and death. Finish by vacuuming the entire bed and floor and replacing the mattress with fresh bedding.
Treating the Bedding to Kill Fleas
Once you get rid of fleas in a mattress, it's time to treat your mattress pad, sheets, and blankets to prevent reinfesting the bed. Learn how to clean your bedding to kill fleas and eggs.
Place the bedding in the washing machine with your favorite laundry detergent and use the hottest wash cycle to clean the sheets and blankets. Transfer them to the dryer and dry them on a regular cycle.
For items that are not machine-washable, place them in a large plastic bag and set them in the freezer overnight to kill the fleas and eggs.
Ways to Prevent a Mattress Flea Infestation
A flea infestation in the home is one of the worst bug problems to deal with, and the simplest way to avoid it is to take flea prevention steps. Follow some tips to help keep your home flea-free – they are also helpful for tick control.
The best way to prevent fleas at home is to treat your pet regularly for fleas. Use a flea shampoo, flea spray, flea powder, and flea comb to remove and kill these pests on dogs and cats.
Another way to avoid a flea infestation is to treat the yard. Apply an outdoor flea treatment, trim overgrown shrubs, and reduce moisture around the home. Finally, wash your bedding and your pet's bed, and vacuum the entire house regularly to catch stray fleas right away.
While household pests are common, dealing with bugs in the bed is still disgusting, whether it's a bed bug infestation or flea infestation.
They leave feces on the bed sheet, bite marks on your skin, and lay eggs in the bedding, eventually leading to an infestation. Fortunately, there are ways to kill and prevent bedbugs and fleas so you can get a good night's sleep.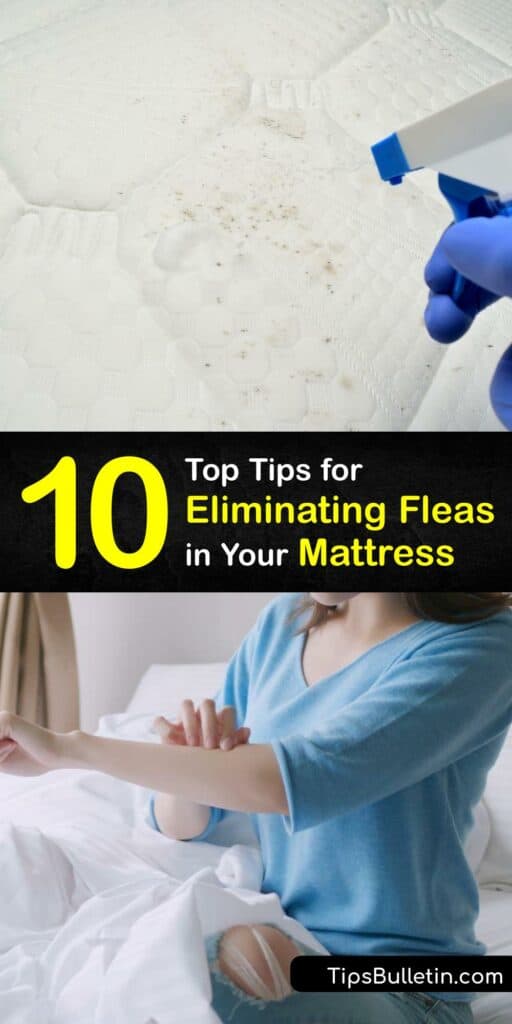 We hope that knowing how to eliminate and prevent a flea infestation in a mattress keeps your bedroom flea-free, and we'd love it if you'd share our mattress flea treatments with your family and friends on Pinterest and Facebook.