Springtime is probably the most awaited season for many garden lovers and homeowners. It is the season that marks the end of winter with bare trees that hibernated through the snowy and cold weather. You might be wondering what kind of low maintenance outdoor plants can you use to beautify and give life to your garden.
In this article, we will discover the best flowering trees that you can grow and discuss some information such as their characteristics, maintenance, and where to appropriately plant them. There are many kinds of trees and plants. Also, you do not have to worry about various plant care techniques even if it is your first time to garden.
Here, we have listed easy to maintain outdoor plants, including no maintenance plants, as well as essential caring tips, and other general details. So, if you are looking for something to grow in your yard, why not grow some spectacular flowering trees to bring life and color to your garden?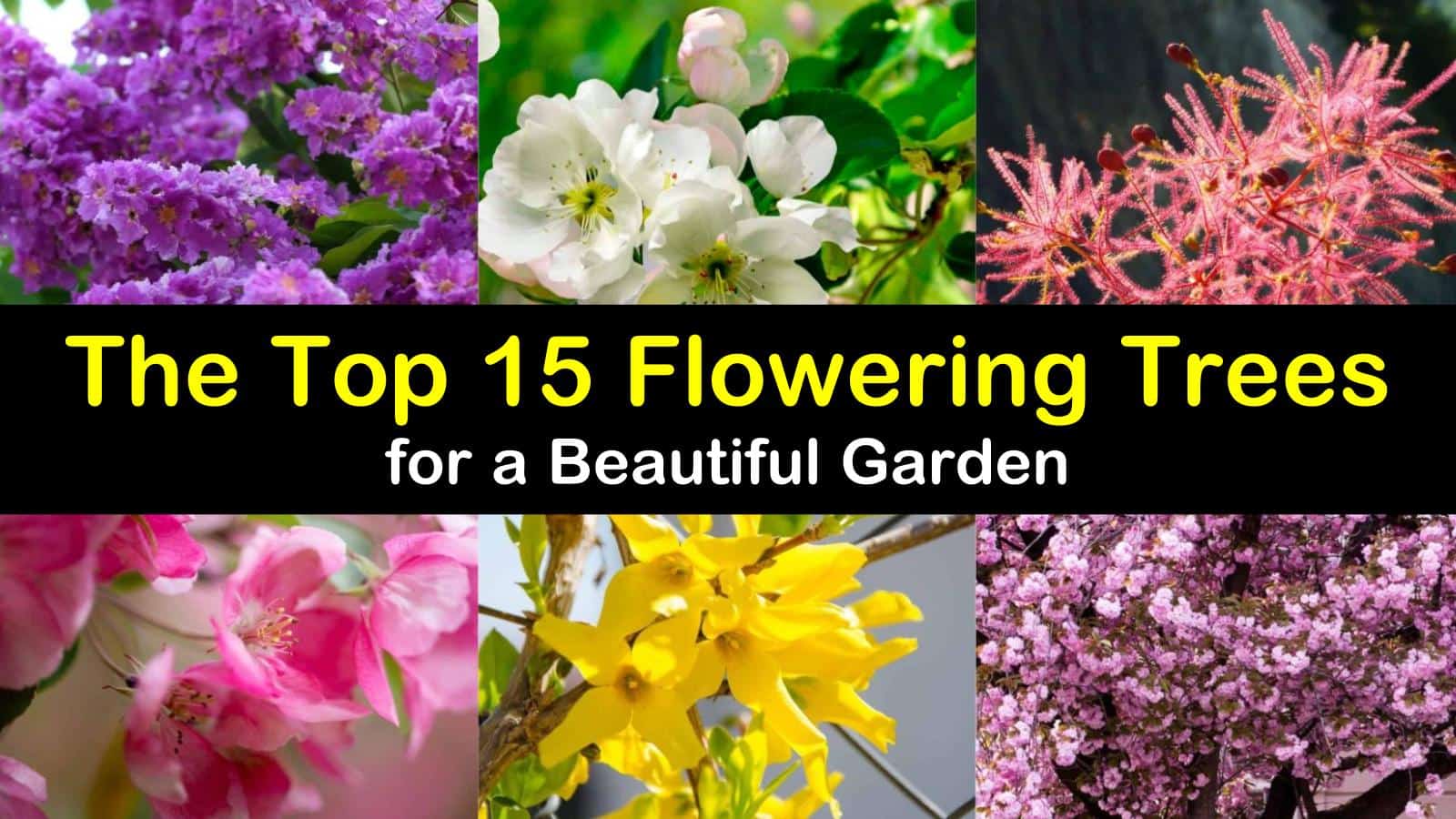 How to Choose the Best Flowering Trees for a Yard
Deciding to plant a flowering tree requires careful planning and assessment. Many factors affect tree growth. If you want to grow flowering trees in your yard, you should examine your soil and know its nutrient level. Follow our guide below for finding trees with strong smelling white flowers to keep your yard looking beautiful.
Ask yourself, is it too sandy or more clay? Does it drain well or not? Is it acidic? Once you know the characteristics of your soil, choose which trees grow best in that type. Also, you should assess the growing environment.
For instance, will it be too windy on your yard? Do you have old tree stumps lounging on the ground which might require a stump killer? Is your yard in between buildings causing less sunlight coming through the garden?
After answering these questions, calculate the space and imagine the design you want. Finally, check the hardiness zone of your area and pick the best flowering tree for your region.
What are hardiness zones?
Hardiness zones specify what flowering trees can grow in certain regions. It serves as a map to help identify which plant or tree can grow in an area. Each zone indicates the range of climatic conditions that are associated with planting growth or survival.
The USDA released a Plant Hardiness Zone Map in 2012 based on average temperature and climate. Each zone is classified by numbers starting from one through thirteen.
Zone one means that the regions in the group have the coldest weather, up to −60°F, and zone thirteen has the warmest at 55°F. In planting, this information is critical because it determines if a tree can grow well in a specific territory (..).
How to Pick a Healthy Specimen for a Flowering Tree
Choosing the perfect plant starts with buying from a reputable garden center or tree nursery. If you can talk to knowledgeable staff, please do so. If not, look for vibrant young trees of your choice.
Pick a specimen with a healthy looking trunk and branches. There should be no differences nor gaping spaces. Any breakage can lead to tree diseases or pest infestation. Check the leaves to ensure they are not wilting and not damaged.
If you discover aphids on trees, it's still okay to purchase them but the pests must be controlled quickly. Do woolly aphids bite? No, they are not harmful to humans but an infestation can quickly destroy a tree or other plant. Take steps to eliminate them as soon as possible.
The colors of the foliage should be season-appropriate. Make sure that the roots are not pot-bound if they are in containers. There should be no evidence of any insects or diseases.
How to Care for Flowering Trees
Flowering trees need year-round garden care. Even if they only bloom in certain months, it does not mean that you should stop checking them. For new and young trees, mulching is an excellent idea to help keep the soil moist.
When watering new trees, be consistent, especially during the growing season. Otherwise, they will dry out and die. Some young trees may need staking to ensure stability, so see if the specimen that you choose needs one or not.
Once the flowering trees are fully-established, know when to trim or prune dead tree branches. Pruning helps maintain the structural integrity of a tree and make it strong enough for any season.
Best Flowering Trees to Give Your Garden a Beauty to Behold
Kwanzan Cherry Blossom Tree (Prunus serrulata) – Trees with Pink Flowers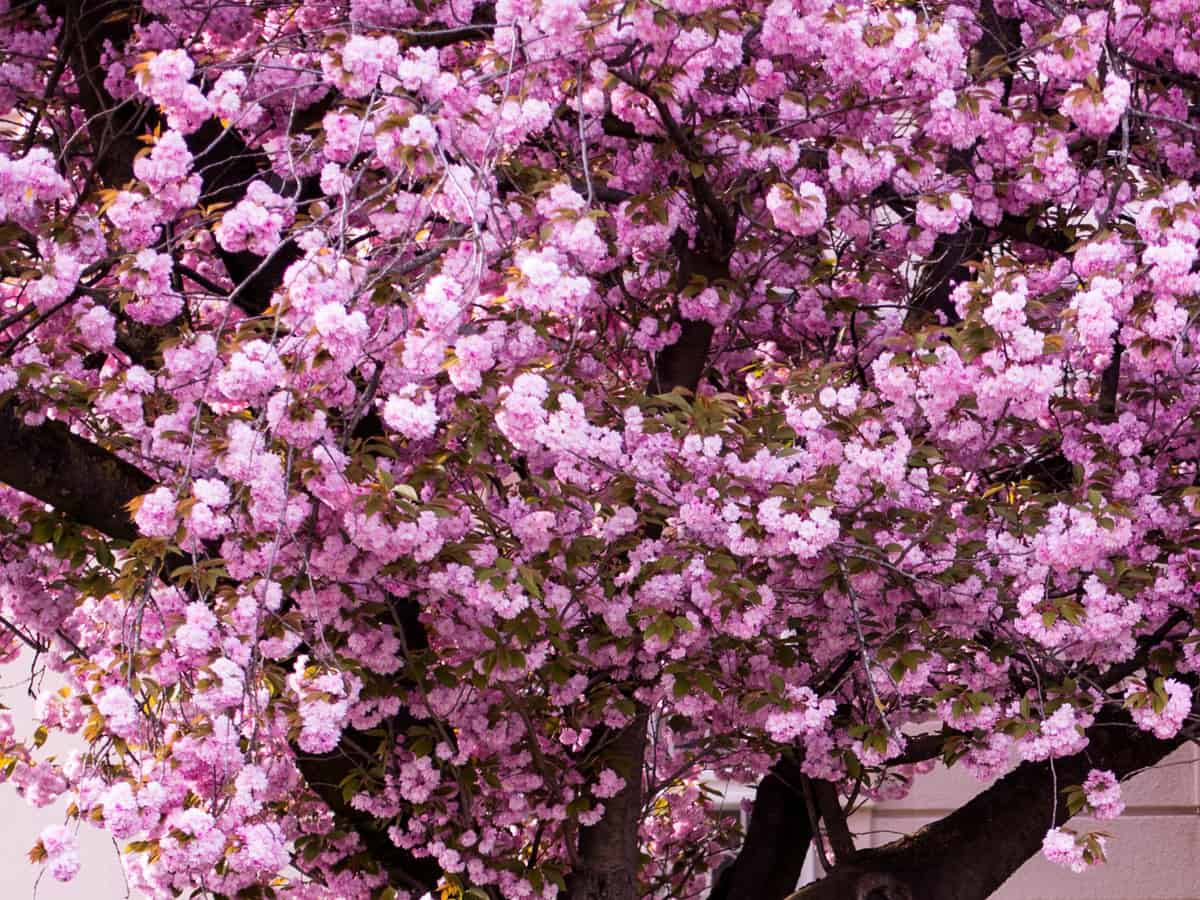 The Kwanzan Cherry Blossom Tree is regarded as one of the most beautiful flowering cherry trees. It has been labeled as the queen of a spring garden with beautiful pink flowers hanging in a cluster in full bloom. After a delightful parade of deep pink flowers, bronzy red foliage emerges that turns deep green in summer.
The tree grows up to 25 feet high and almost as much horizontally. Widely admired during Washington Cherry Festival, this flowering tree is fast growing and tolerant of various soil types. It grows right across most states in America as well as in cold areas where other types of cherry trees won't survive.
Kwanzan is the only cherry tree that can live in zones five to nine. If you live anywhere in these zones and would like to have trees with pink flowers, this is what you should plant.
Trees with Yellow Flowers – Lynwood Gold Forsythia (Forsythia x intermedia)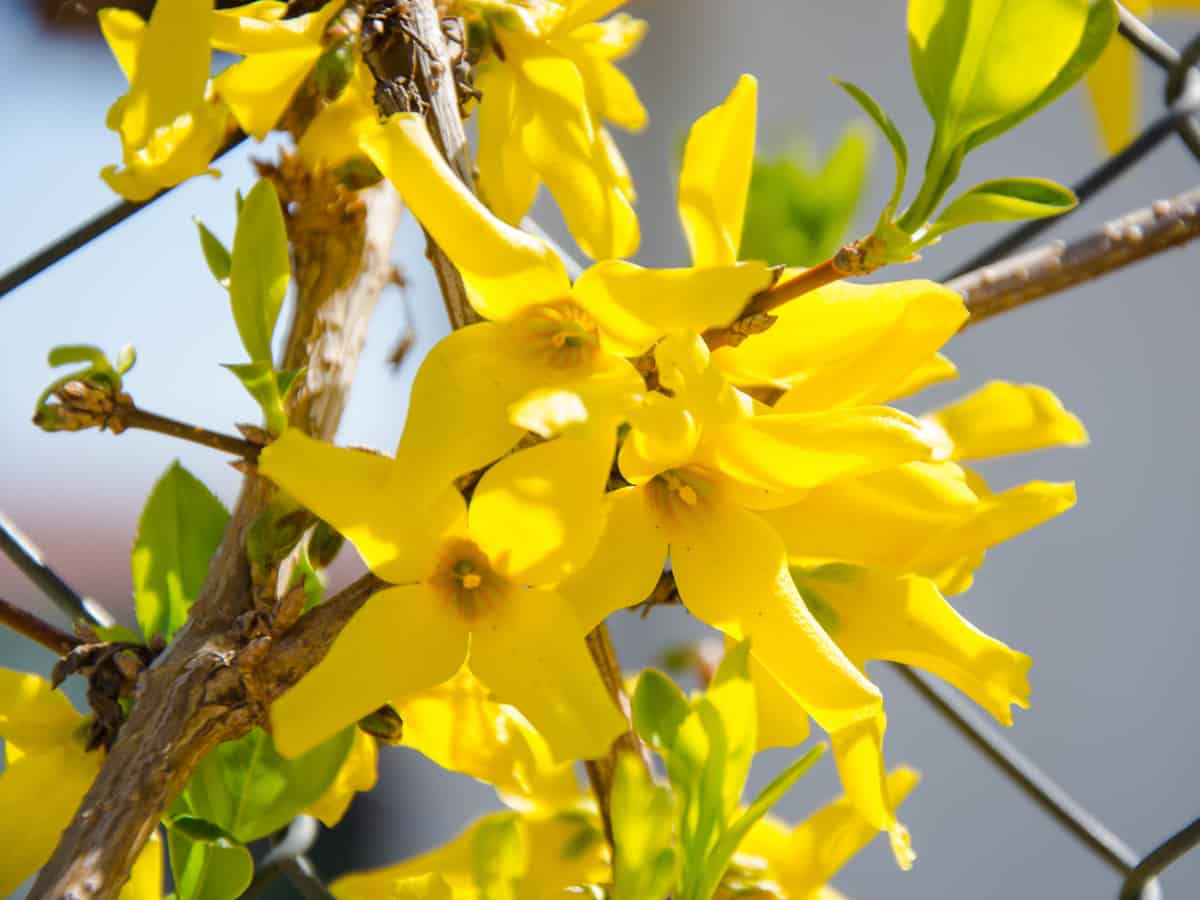 Lynwood Gold Forsythia is one of the very first small trees to bloom in late winter or early spring. It showcases a glorious yellow bloom display even when snow patches are still present in the yard.
Flowers cover this small tree from top to bottom. It grows six to nine feet; it is sometimes called a shrub and is perfect for use as medium-sized hedges. Forsythias are easy to grow and do not need any special soil preparation.
You can line them up in your garden as close as three feet apart if you want them short and narrow. It can grow in partial shade or full sun and will tolerate urban pollution and various city conditions. They are the ideal trees for small backyards.
Royal Star Magnolia Tree (Magnolia stellata) – Spring Trees with White Flowers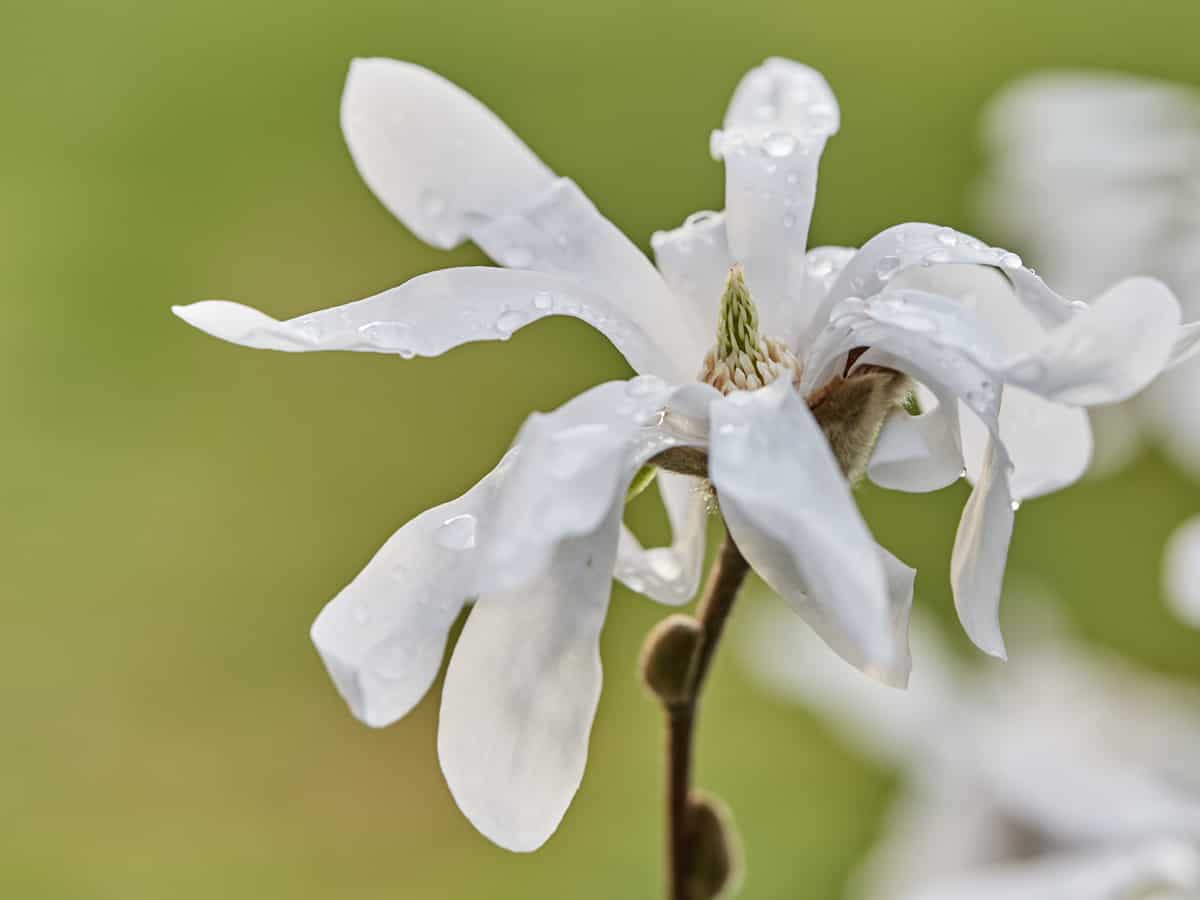 Spring flowering trees are not complete without the Magnolia tree family. This group includes Southern Magnolia, Hybrid Magnolia, and the Royal Star Magnolia — the fairest of them all.
The Royal Star stands out among the magnolias and other spring-blooming trees due to its large cup-shaped white blooms that smother branches in early spring.
This early blooming tree grows in average garden conditions, even before other trees start to bud. It is pest and disease proof and continues to form green foliage for the rest of the year. To plant Royal Star, you should have well-drained moist soil. It is so versatile that you can plant it as a garden centerpiece or around the corners.
Purple Flowering Tree – Crape Myrtle (Lagerstroemia indica)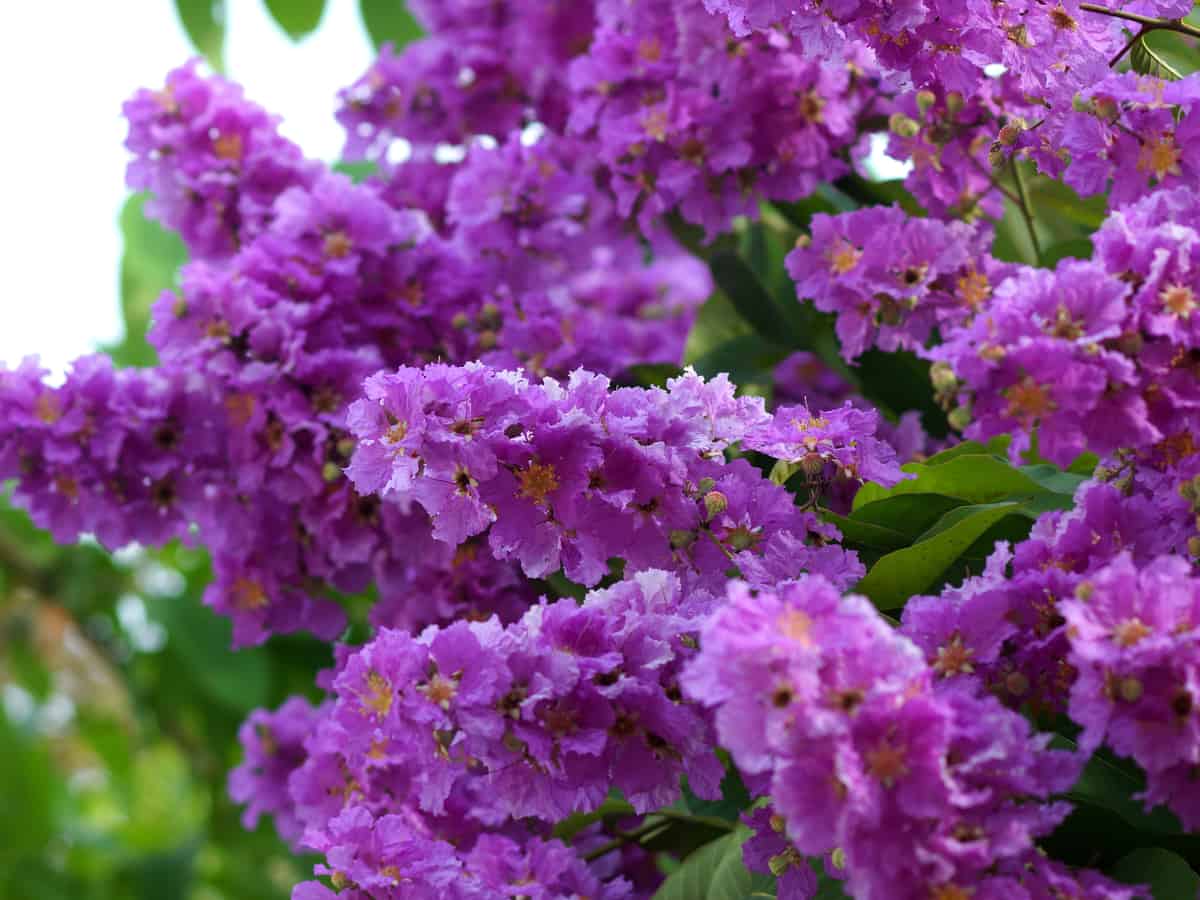 Crape Myrtles, also spelled crepe myrtles, are small trees or shrubs that are drought tolerant and are widely grown in warmer regions. They are straightforward to grow, and some can increase in height for up to five feet a year.
Most Crepes have bright colors, except for one species called Natchez crape myrtle. The most common variety is a small purple flowering tree that blooms in early summer to mid-fall. These trees for butterflies and other pollinators have flowers that stand out against the deciduous fall foliage, bringing an attractive look to any garden.
To plant crape myrtle, select an area with full sun. Water it immediately after planting and then once a week for the first year.
Mimosa Tree (Albizia julibrissin Durazz)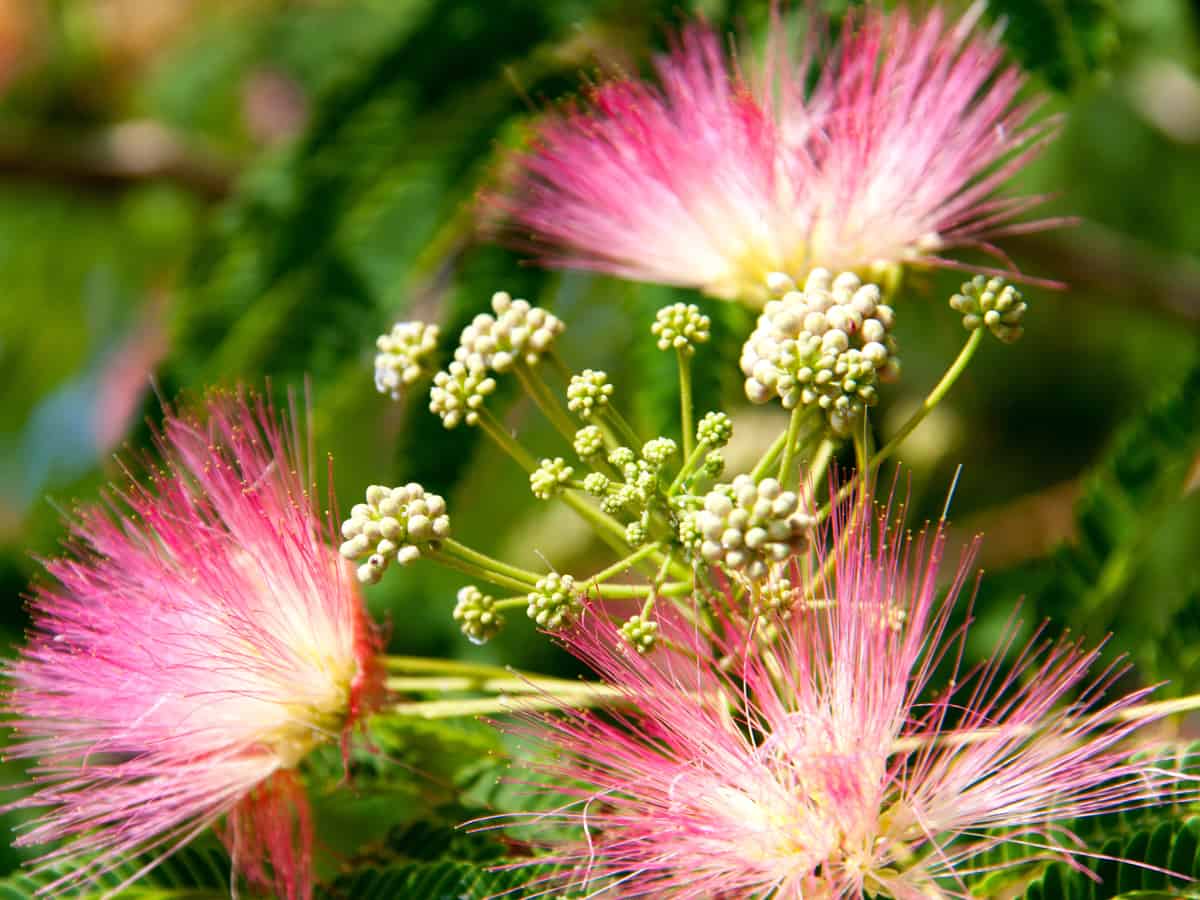 The Mimosa tree is a fast-growing medium-sized tree that gives pure delight to any savvy gardener. It displays pink flowers that look like soft needles with yellow tips.
This tree provides a striking display of texture and detail with its fern-looking or palm-like leaflets. Although it does not branch very much in the early years of development, it quickly provides color to any garden.
It grows two to five feet a year and blooms from mid to late summer, offering tropical ambiance and an eye-catching look. Although it is drought tolerant, it is not immune to diseases such as webworms and mimosa wilt. If you are worried about pesky insects destroying your tree, keep handy sprays such as hydrogen peroxide in the garden. It is cheap and safe for your yard and family.
Lignum vitae (Guaiacum officinale) – Trees with Blue Flowers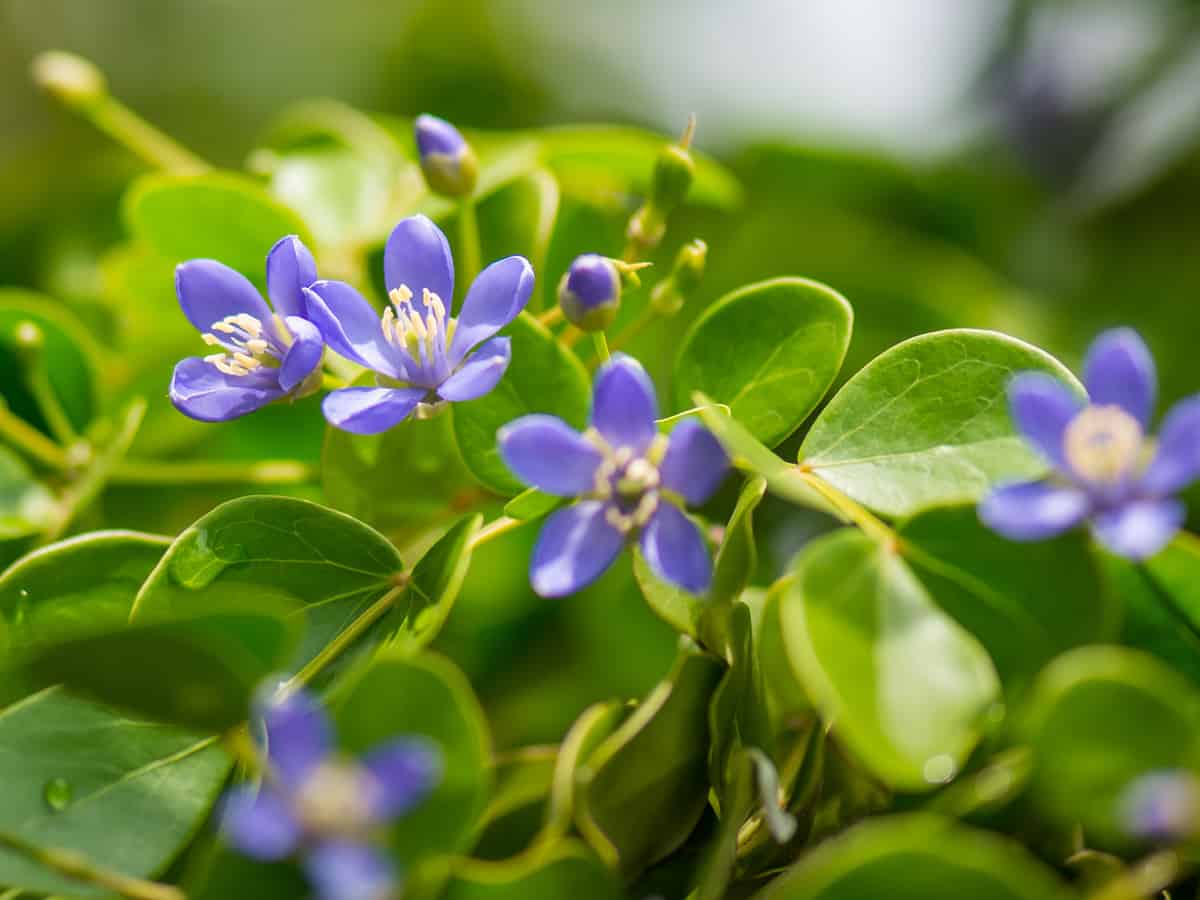 Lignum Vitae, a native from Florida, is a beautiful evergreen tree which peaks up to thirty or forty feet in height. This tree produces large clusters of deep blue flowers along with heart-shaped berries throughout the year.
These berries are favored by birds, which makes this tree the right choice if you want to see them flying in your garden. Lignum vitae has exceptionally dense wood parts that are famous for use in the production of bowling balls.
It is also salt-tolerant, which means that you can plant them near roads and along pathways. If you want trees with blue flowers that bloom from February through May, this is the perfect option. Once mature, lignum vitae become shade trees, looking like an umbrella-shaped canopy.
Emerald Blueberry Bush (Vaccinium hybrid) – Fruit-Bearing Trees with Flowers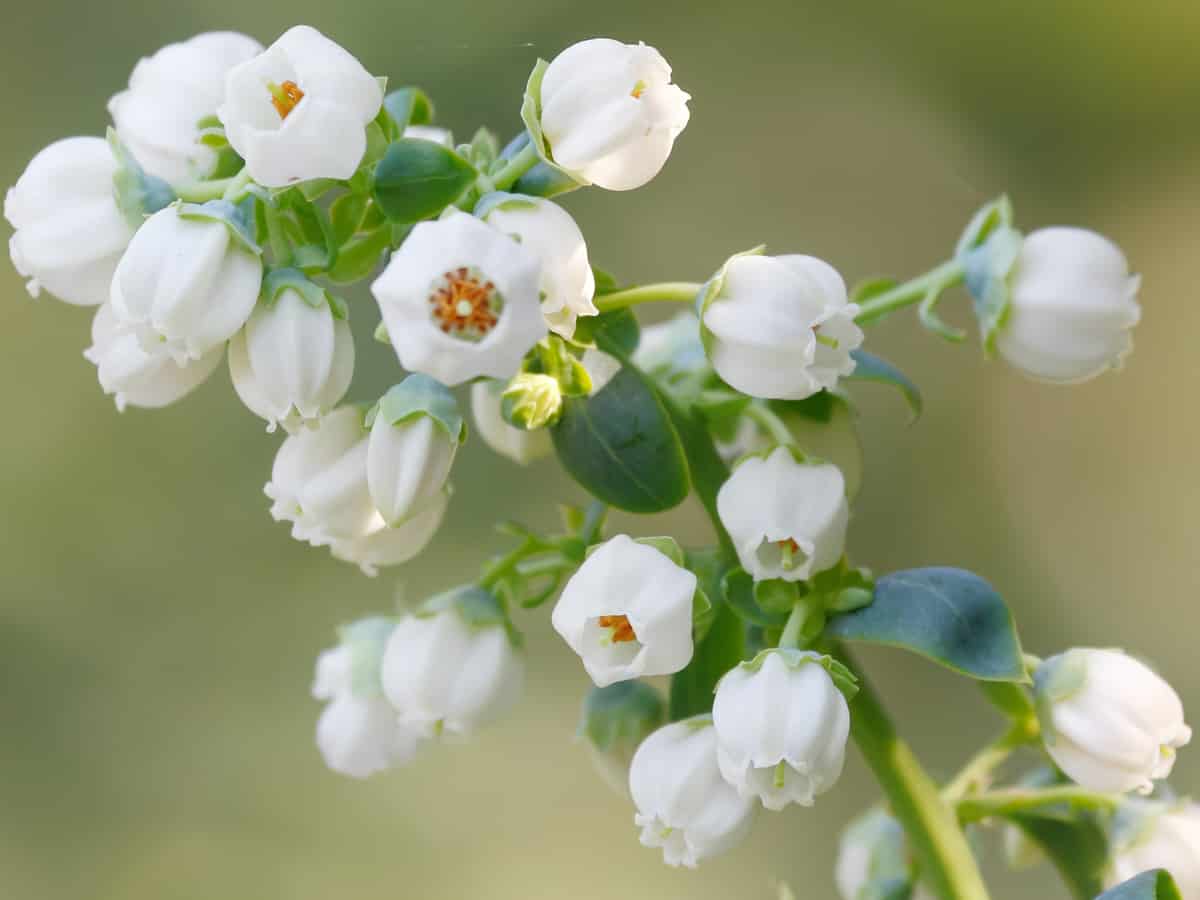 The Emerald Blueberry is a form of the southern highbush blueberry, modified to grow well in warm areas like southern California and Florida. It survives in hardiness zones eight, nine, and ten.
Emerald blueberries are the first berries and are ready as early as mid-April. These small trees grow to just six feet tall and fit well in smaller spaces or large planters.
To grow these bushes, make sure to have an acidic soil of pH levels below 6.0. If you do not have this type of soil in your area, you can grow them amongst acid-loving plants. They need moisture and should be well-drained.
White Kousa Dogwood (Cornus kousa) – White Flowering Shrubs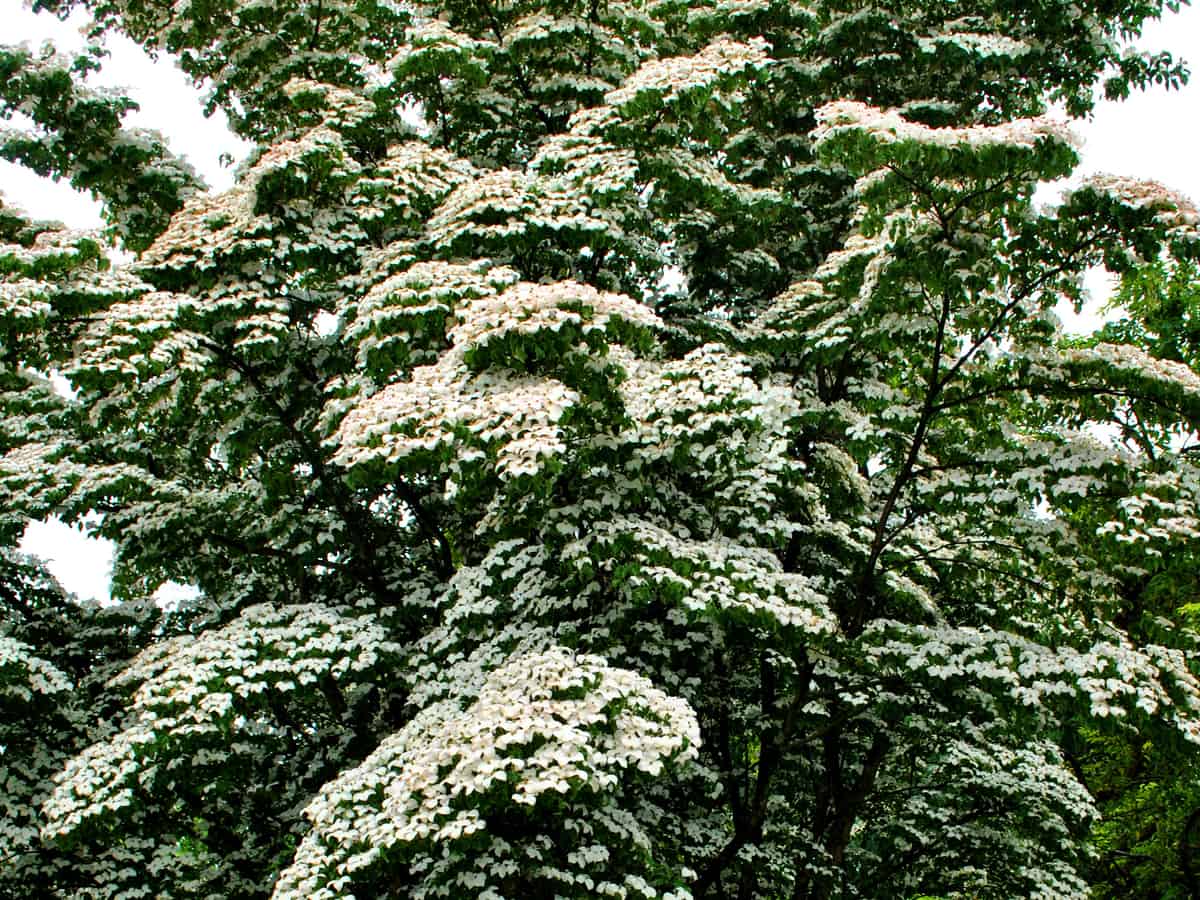 Another attractive native American tree, Kousa Dogwood, is a form of a wild tree that has large flowers and high cold tolerance. Not only are its white flowers splendid, but it also provides colorful red berries and leaves that turn vibrant red in fall.
This flowering dogwood tree is perfect for yards with other tall trees since it can thrive in partial shade. It is deer resistant and will fit into small gardens. It can peak from 15 to 30 feet tall.
To plant this tree, choose a location away from roads or salt-spray areas. Also, use plenty of rich organic material such as rotten leaves or garden compost for best planting results.
Crab Apple Trees – Flowering Trees for Cold Climates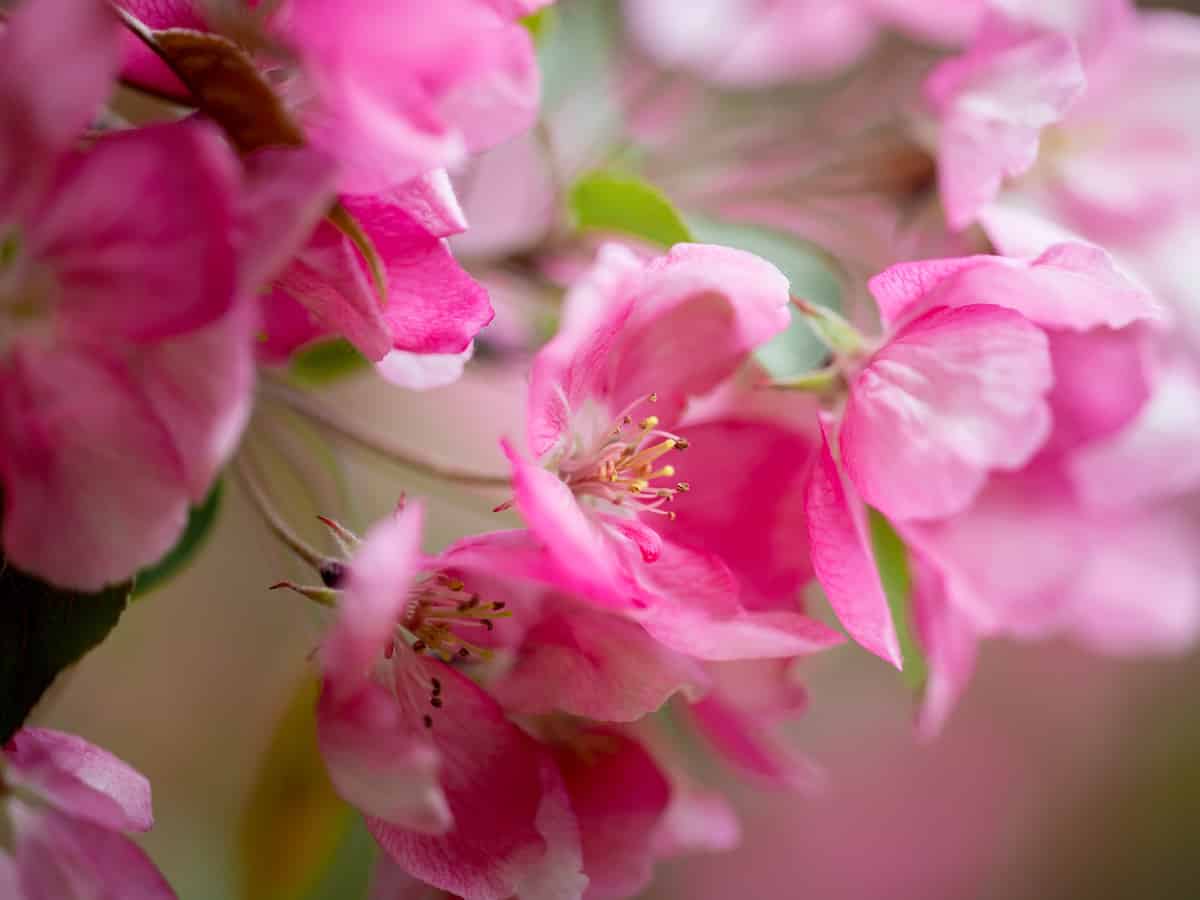 Another notable flowering tree species is the crab apple tree. In some ways, these trees look like cherry trees, not for the bright-colored flowers, but for the bonus of the fruits they bear. Also, crab apples color well during the fall, ranging from white to bright red, with various shades of pink or purple.
These trees are easy to grow and only need minimal aftercare. To plant crab apple trees, pick a spot in your garden with at least six hours or more of direct sunlight. Well-drained soil that is light or sandy with organic material will work. If you have a large driveway, you can plant several varieties in pairs to make a colorful path to your home.
Pink Flowering Dogwood Trees (Cornus florida var. rubra)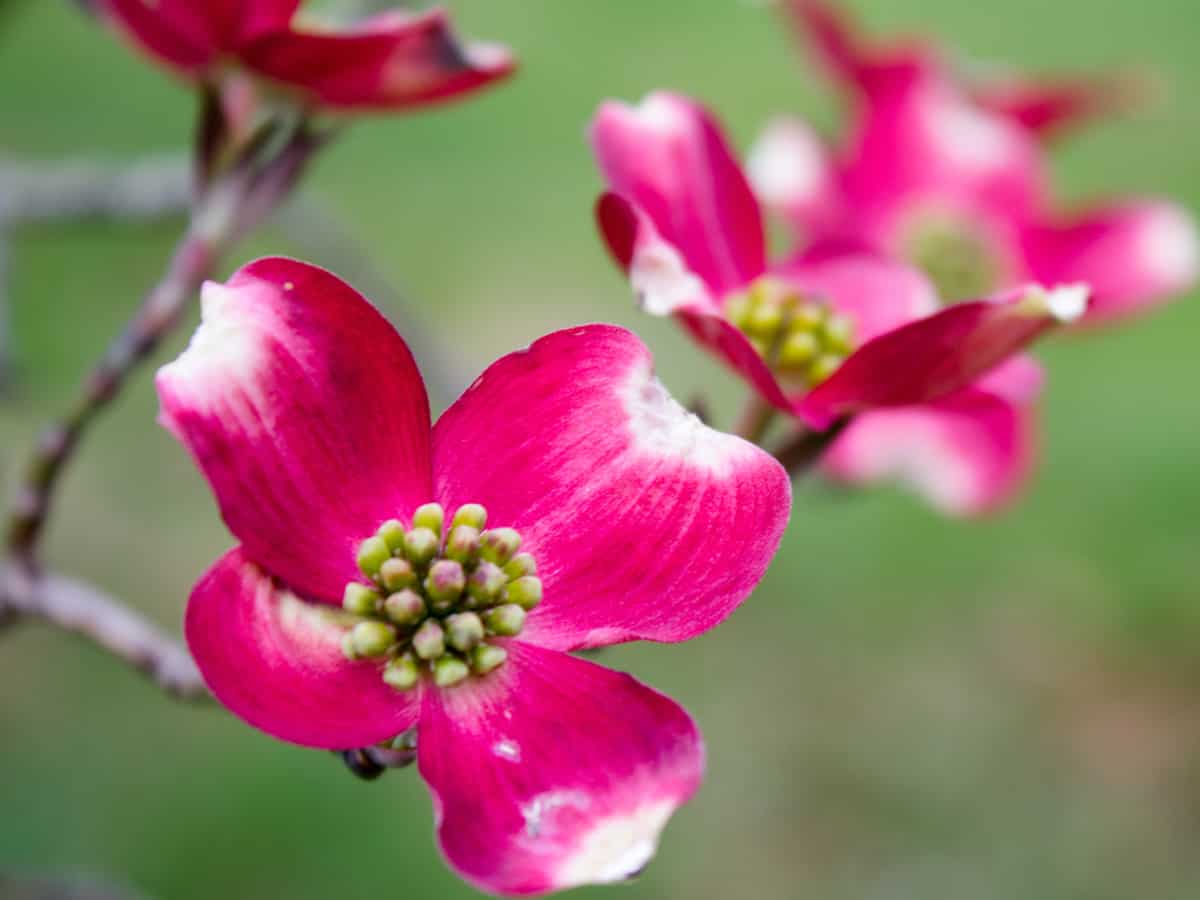 If you are looking for pink flowering shrubs or small trees, this might be the best pick for your garden. The spectacular color display starts in spring when vibrant deep-red shoots appear.
These shoots turn into large pink flowers (called bracts) in late spring and look like petals even though they are leaves. There usually are four to five petals in one bract but depending on variety, may be as many as ten.
To plant these trees, select an area with more sunlight if you are living in cold regions. If you live in a sunny location, choose an area of the garden with more shade. They grow best in moist, well-drained soil. Pink dogwoods are fast growing and are free from pests and diseases.
Smoke Tree (Cotinus coggygria)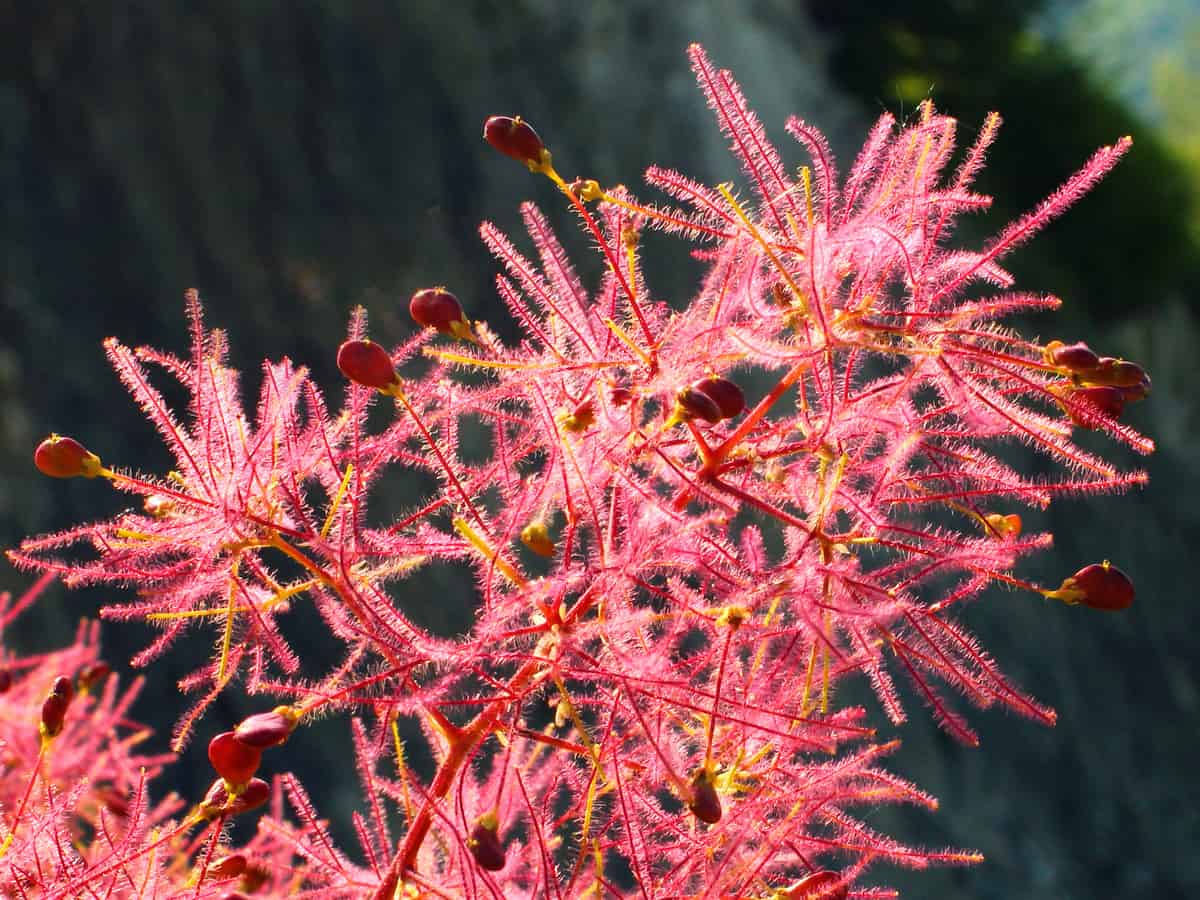 A smoke tree is a perfect choice to bring vibrant colors to any garden without much trouble or maintenance. This tree grows in most types of soil, even in dry and rocky areas. The foliage emerges as a rounded bush with red to purplish-red color all summer and into fall.
During summer, a remarkable cloud of smoky-pink, fine hairs surround the developing tree seeds. When planting smoke trees, choose an area that is sunny with soil that is not always wet.
They can survive in rocky and drought-resistant soil. Smoke trees may be pruned if you want them smaller. If not, they can grow up to ten feet tall. It is the best choice for a colorful backyard without having extra work.
Cleveland Flowering Pear Tree (Pyrus calleryana)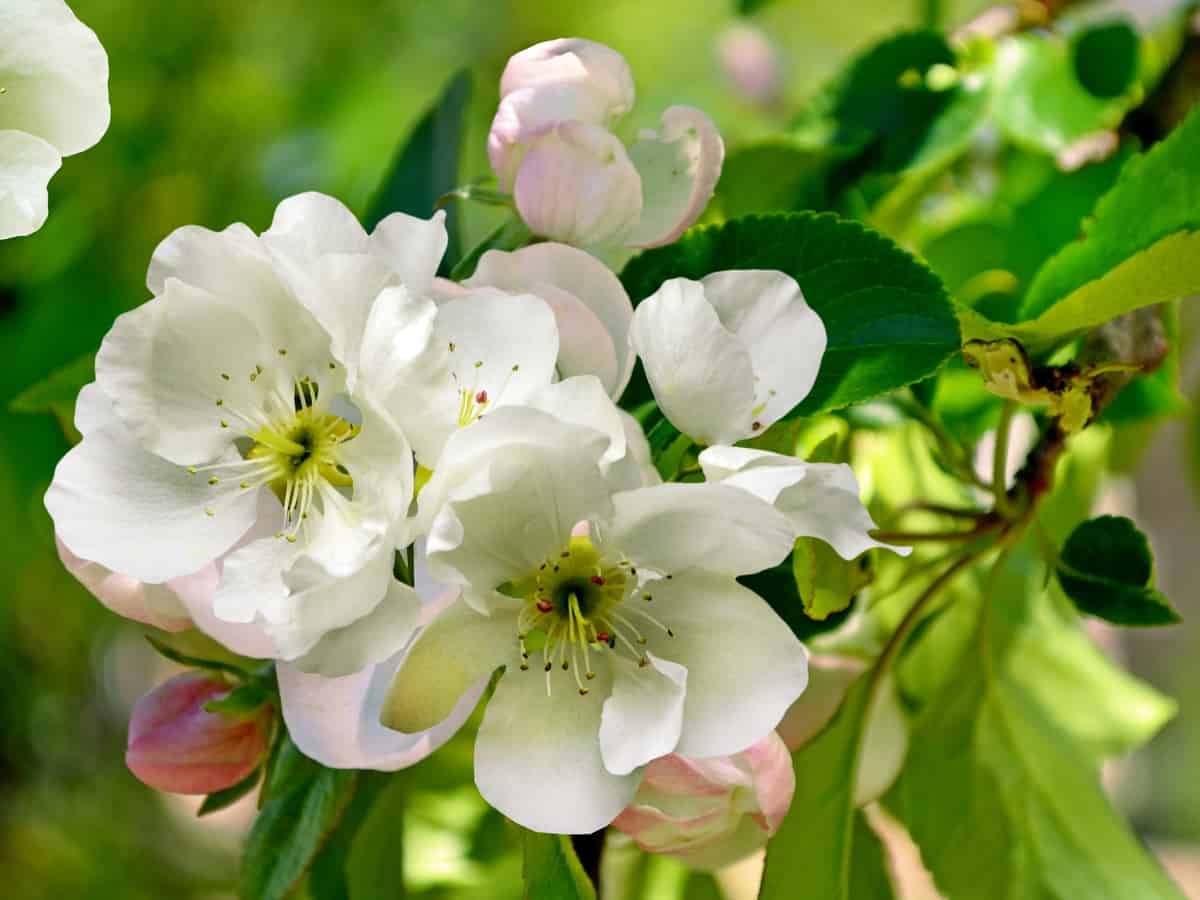 The Cleveland flowering pear tree is ideal for small spaces. Not only will this tree survive in almost any soil, but it is drought tolerant, too. It grows tall but stays narrow and neat. This pear tree gets covered with spring flowers of brilliant white and leaves that turn gold, red or purple in fall.
Cleveland pear trees are fast-growing, averaging about four feet per year and peaking at up to thirty-five to forty feet in around ten years. It may be not affected by pests or insects but is not deer resistant.
To grow this tree, choose a sunny area. It rarely needs pruning to be consistently beautiful.
Fringe Tree (Chionanthus virginicus) – White Blossoming Trees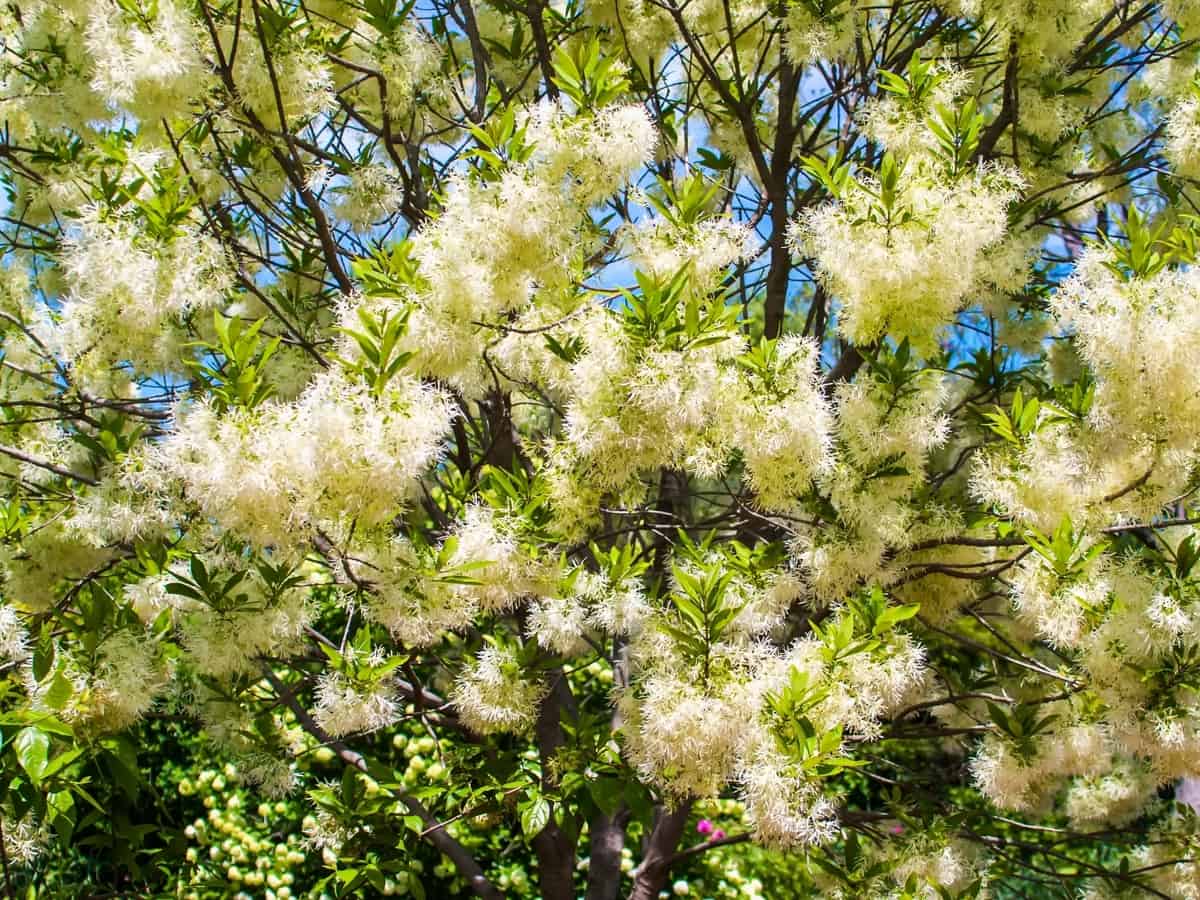 The Fringe Tree is a flowering tree that is a beautiful small tree for either an urban garden or a larger yard. It is resistant to city conditions and is moderately drought tolerant. In late spring or early summer, it presents lovely, feather-like white flowers that fill the air with a lilac-like smelling perfume.
As if that is not enough, this tree not only shows off its great beauty during summer but brings out delightful yellow fall colors. To grow fringe trees, choose rich, moist soil.
Although it may also mature in most kinds of soil, it shouldn't be left completely dry for long periods. This tree can be a spectacular sight and have your neighbors saying how beautiful it is.
Pink Weeping Cherry Tree (Prunus subhirtella var. pendula)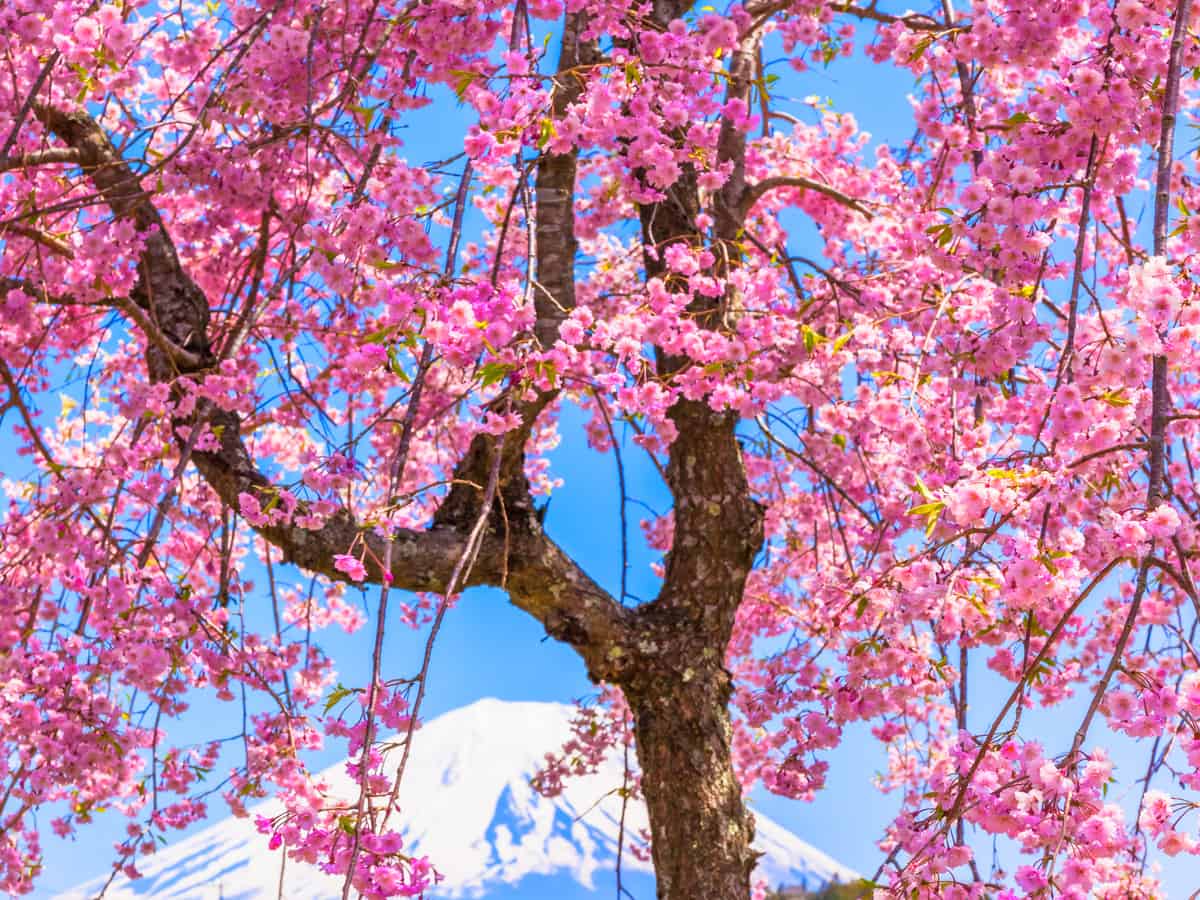 If you can't get enough of Japanese trees with pink flowers and trees with long life, this might suit you. The pink weeping cherry tree is a fast growing tree that features branches gracefully cascading down in a water fountain-like fashion, with some flowers on the ground. Even if you have small spaces, it will fit right in.
It can be just as impressive as a center tree on vast landscapes. Peaking at heights of thirty feet tall with a width of the same size, it is a pleasant sight to see.
The weeping cherry is easy to care for, and flowers blossom during spring until late summer. As temperatures drop by winter, the graceful weeping branches still add beauty even in the snow.
Pink Flowering Trees – Eastern Redbud (Cercis canadensis)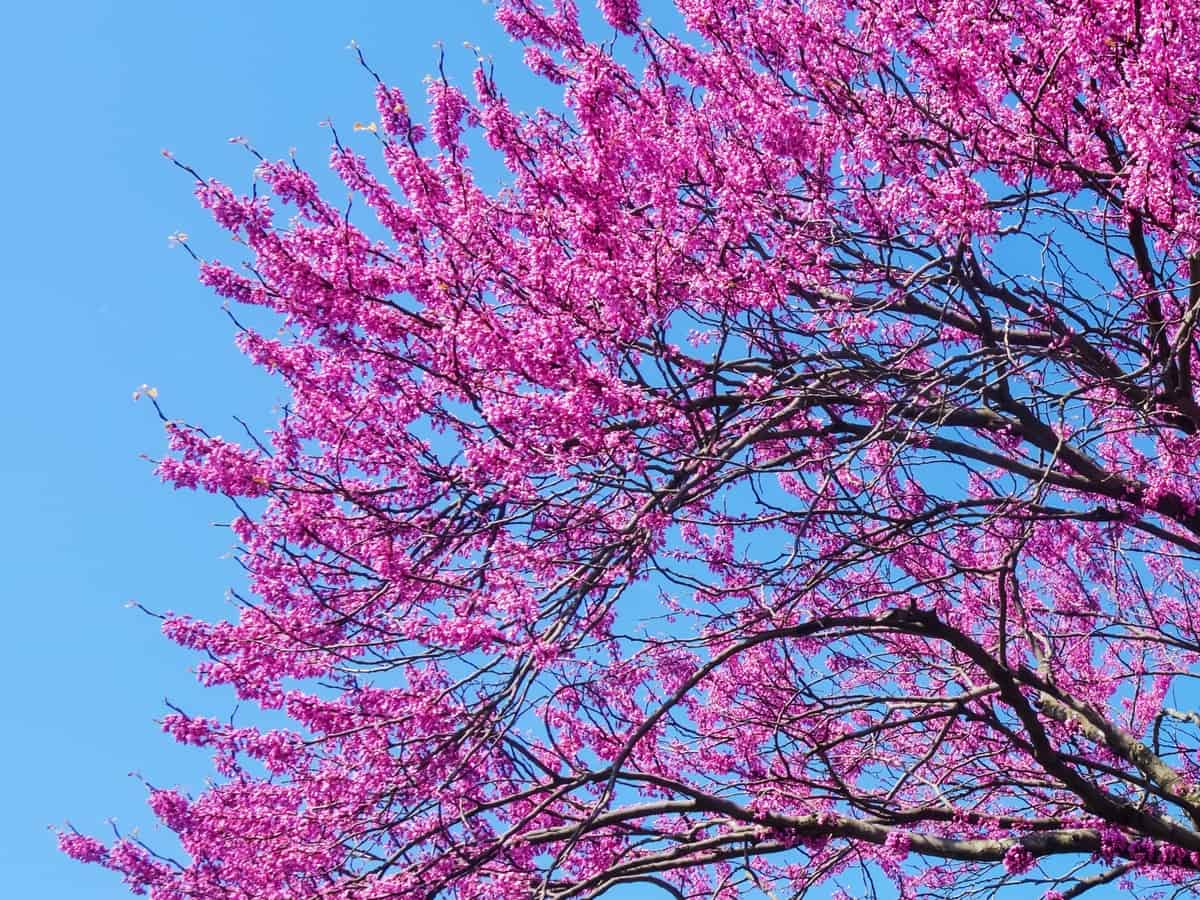 Beautiful pink flowers in large clusters emerge each spring on the incredible Eastern Redbud Tree. Soon after a show of petite flowers, dark green leaves form a scenic backdrop — making the rosy-pink flower stand out even more.
Ideal for colder regions or in hardiness zones four to nine, this tree is a must-have in every beautiful yard. In addition to the spectacular pink-purplish bloom, its lovely foliage gives a golden shade in fall. This tree grows up to twenty to thirty feet tall in any soil. Once this tree is well-established, it can survive storms, wind, and ice damage.
Flowering trees make excellent accents to yards, gardens, and other land spaces. Sometimes you need to grow them to liven up monotonous and dull areas around the house. These flowering trees, whether all-season blooming trees or not, add value to any property.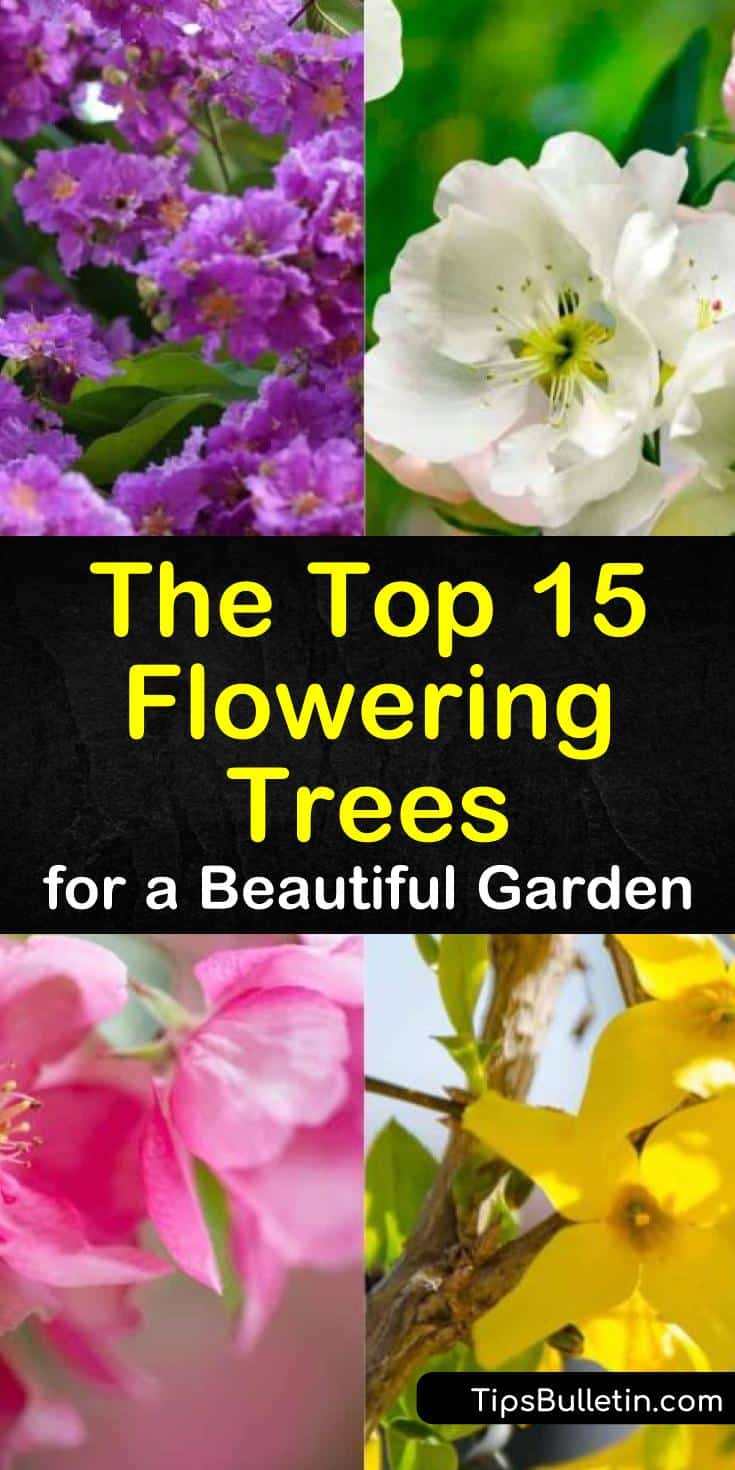 We hope you learned from the information we discussed about flowering trees. If you enjoyed reading about these different trees with flowers, please feel free to share them with friends and family on Pinterest and Facebook.