Are you trying to create a beautiful landscape with a tight budget? Looking for ways to add decorative plants to your flower beds without breaking the bank? Choosing easy flowers to grow from seed helps you save money while creating the garden of your dreams.
When opting for flowers to grow from seed packets, the choices are endless. From annuals to perennials, there are many more possibilities in seed catalogs than what you find in your local nursery. Many home gardeners choose plants rather than growing flowers from seeds because they provide instant results. Even with the easiest flowers to grow from seed packets, gardeners may not see results during the first growing season, as it takes time for them to grow and bloom.
Luckily, patience is only required with perennials during their first growing season; annuals often provide quick results. Annuals not only bloom as they complete their growing season, many often self-seed, so there are new plants the following year.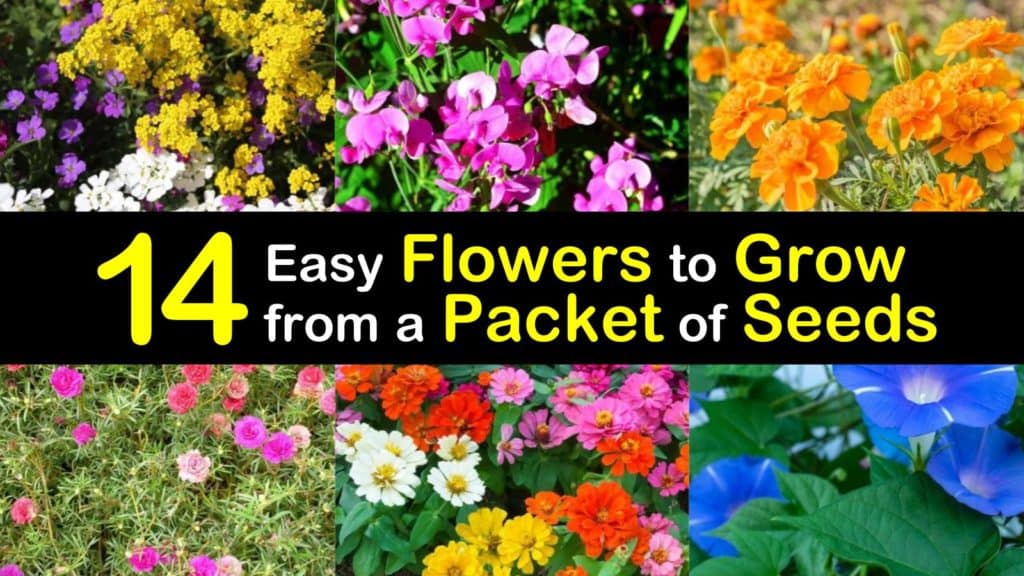 Best Places to Get Seed Packets for Your Garden
One way to get the best flowers to grow from seed is to buy seed packets from catalogs or online. Did you know though there is a way to get seed packets for free?
Some seed catalogs mail out free seeds when you place an order, while other companies mail them upon request. While those methods work to obtain free seeds, they are not the only way.
The best way to obtain free ones is by saving your own from the flowers you are currently growing. Keeping them doesn't involve harvesting and placing them inside a bag inside your basement, though there are specific steps to take when saving your seeds.
Before saving yours, look into free seed saving resources online that walk you through the process. Using a seed exchange is another popular way to obtain some for free. With a seed exchange, you trade seeds you don't want for the ones you do.
Exchanges work in one of two ways. You find local people looking to exchange seeds, join a website, and exchange them by mail. Many online seed exchange websites allow you to search for local seed exchanges.
Social media sites like Facebook let you to search for groups near you. Seed libraries are also a great way to obtain free seeds. Seed libraries work by allowing you to borrow the ones you want.
Once the plant grows, you return the same number of seeds you borrowed. These libraries are very similar to seed exchanges, except for not providing the seeds upfront. These places are easily found online or through social media.
Easiest Flowers to Grow from Seed Packets
No matter how you plan to obtain your flowers to grow from seed, there is a broader variety to choose from than what you find in your local nursery. When storing seeds to use for the following year, whether you harvested them yourself or bought them from somebody else, make sure you store them correctly.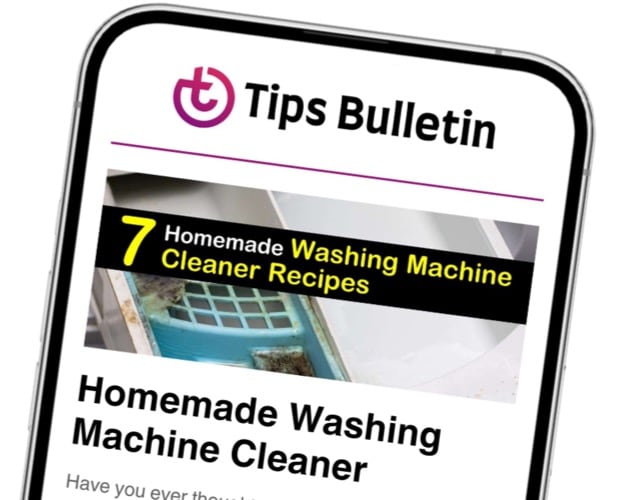 Finally, an email that Transforms Your Home.
Get the latest home and garden tips from our experts, delivered straight to your inbox.
Best Flowers to Grow from Seed – Moss Rose (Portulaca grandiflora)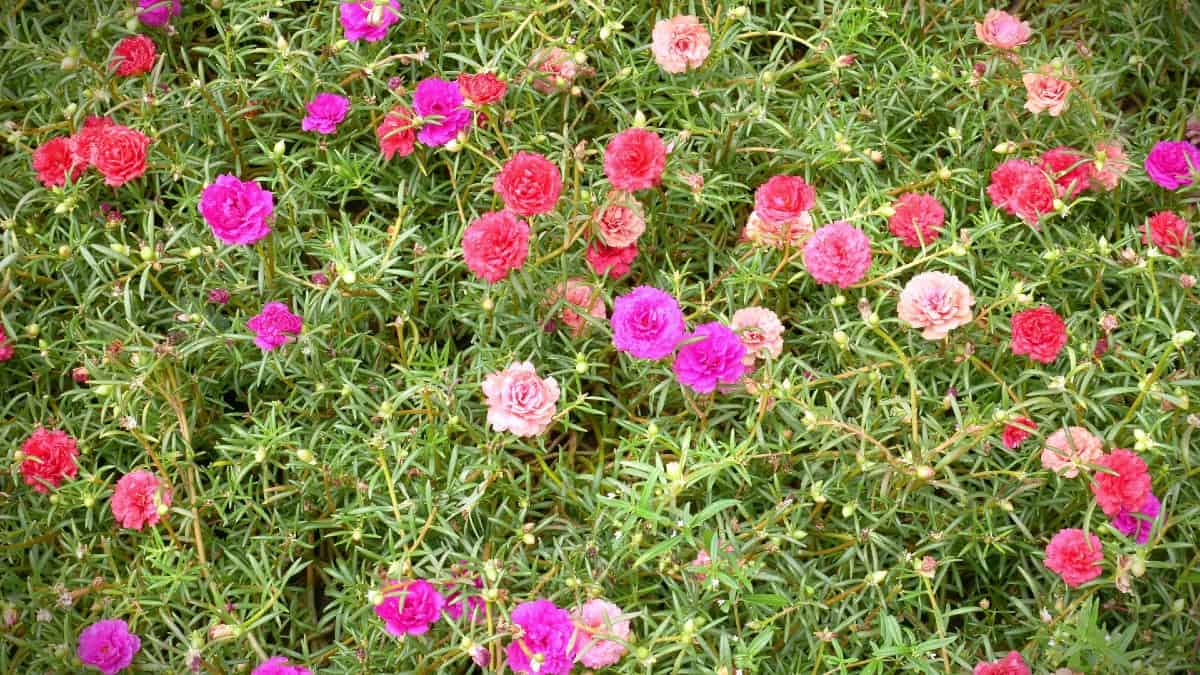 Moss Rose is an excellent choice to use as ground cover in the sunniest locations. As easy to grow annuals from seed, this plant requires very little maintenance, and it is drought-tolerant.
Moss Rose grows as an annual in zones two through eleven and is available in various colors. Blooms from Moss Rose start appearing during the early summer and last through the fall until the first frost hits.
When planting Moss Rose seeds, look for locations that provide a lot of direct sunlight with well-draining soil. Plant the seeds directly outdoors after the last frost or start them indoors six weeks before the last frost date.
Zinnias (Zinnia)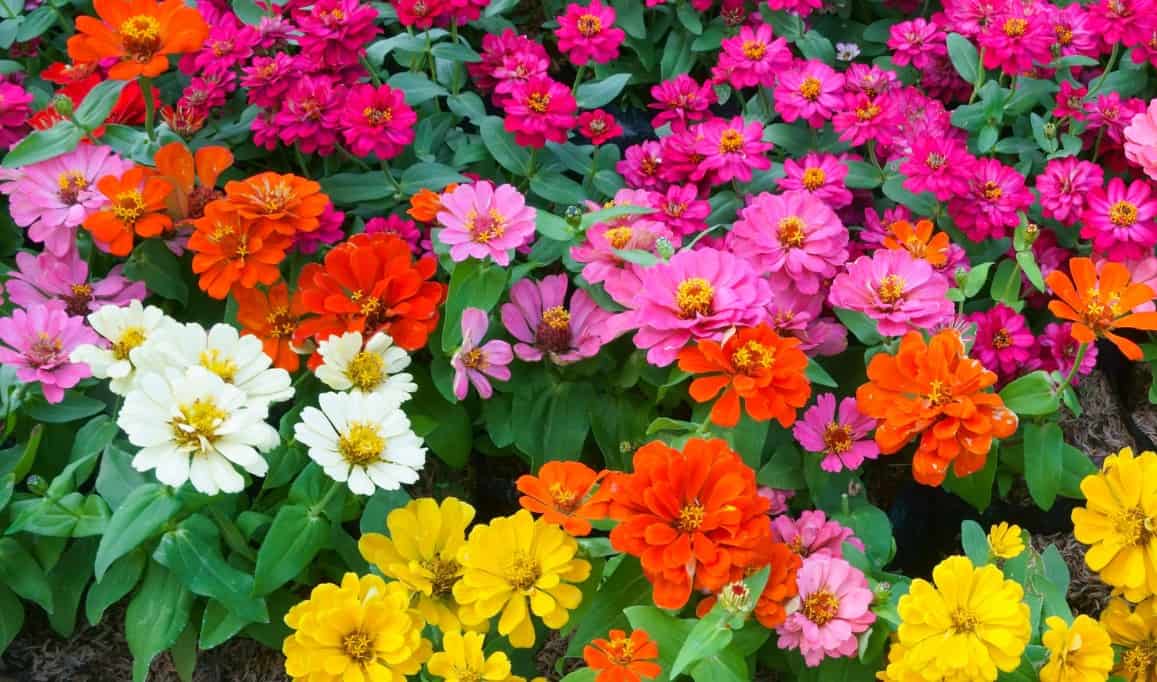 Beautiful Zinnias provide your flower garden with a burst of color and do well in hot climates. Most gardeners discover the plants come to life during the hottest part of the summer. Their colorful blooms sometimes begin as early as June and last until the first frost arrives.
To plant these seeds, sow them after the last frost. To keep a steady supply of colorful blooms, plant new seeds every few weeks until the end of June. For earlier blooms, start the seeds indoors and then transplant after the last frost.
Sweet Alyssum (Lobularia maritime)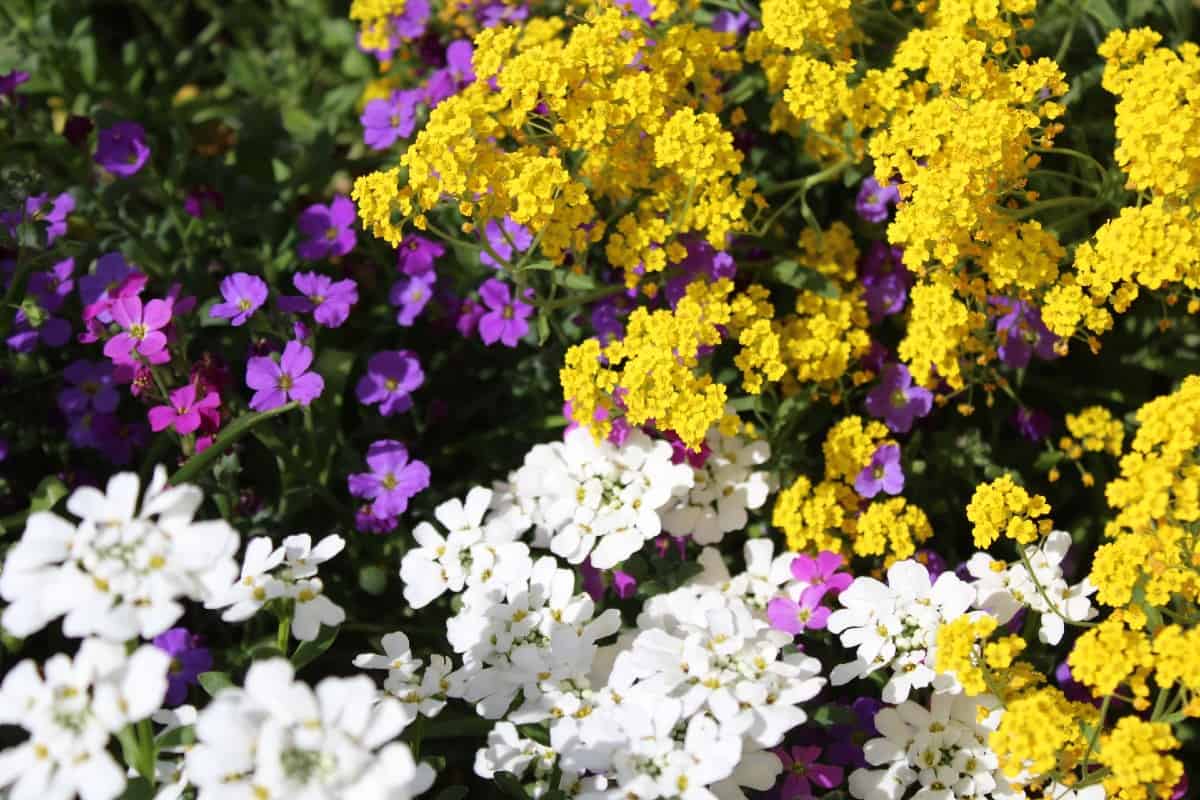 Sweet Alyssum blooms from early April to the end of June. These flowers with great smell appeal to almost every homeowner and visitor. However, the beauties don't do well in the heat of the summer.
Prune back the plant by half after the initial blooming period is over. With these seeds, either plant them indoors six weeks before the last frost date in your zone or plant them directly in the soil about three weeks before the final frost of the year.
Opt for planting locations that provide well draining-soil and part shade to full sun. For fall blooms, plant seeds in August.
Nasturtiums (Tropaeolum) – Flowers to Grow from Seed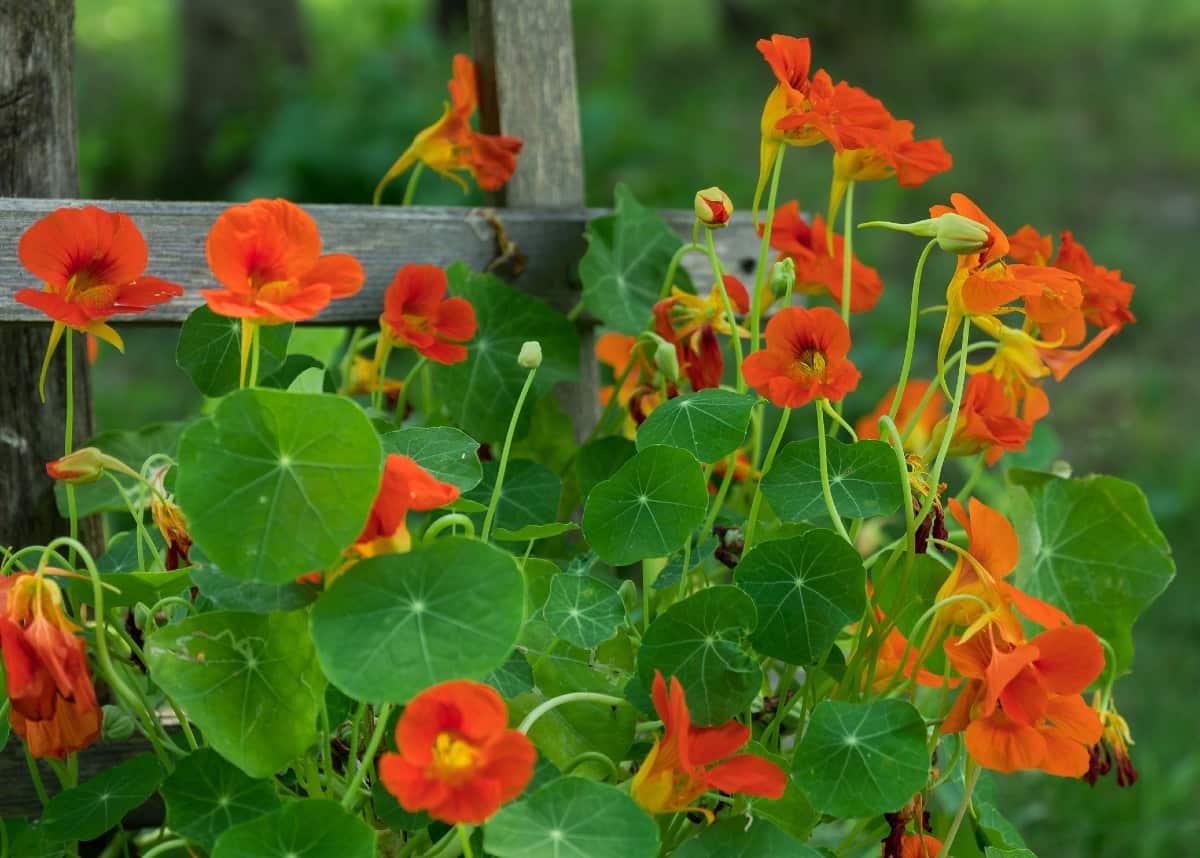 Nasturtiums are easy to grow from seeds but also require very little care. These beauties thrive on neglect, so the less attention you give them, the better they do. These flowers provide appeal to your flower bed, but the flowers and leaves are also edible.
Many home gardeners enjoy these flowers when cut and brought into the home for their pleasant scent and breathtaking colors. In hotter climates, plant them in areas with afternoon shade. Nasturtiums prefer well-draining soil but tolerate a variety of soil conditions.
Morning Glories (Ipomoea purpurea)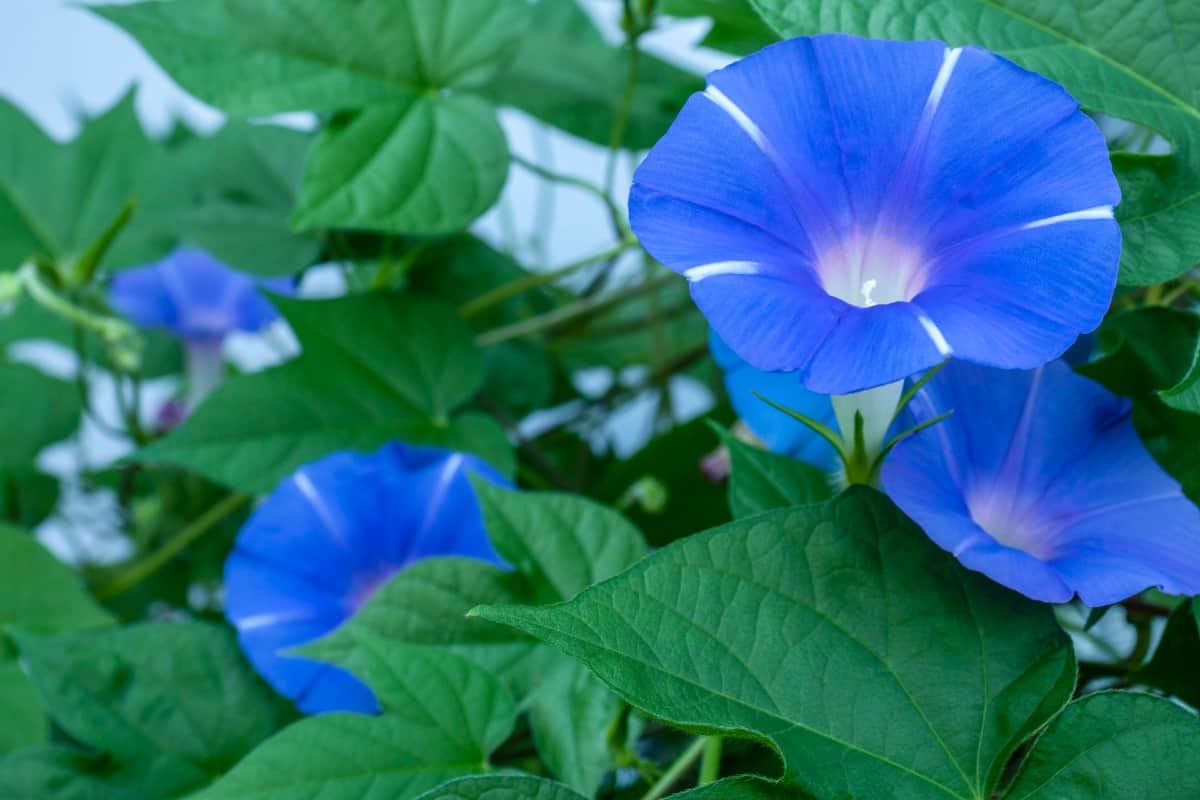 Before planting Morning Glories, purchase a trellis or arbor, as these are vine plants. Morning Glories are annuals, but if you start from seed, blooms take until late summer to appear. For best results, begin seeds inside six weeks before the last frost.
Even though it's an annual, there is no reason to replant it each year. Morning Glories are self-sowing once established in your garden beds. Grow in full sun and apply a low-nitrogen fertilizer once a month for optimal growth.
Easy Flowers to Grow from Seed – Four O'Clocks (Mirabilis jalapa)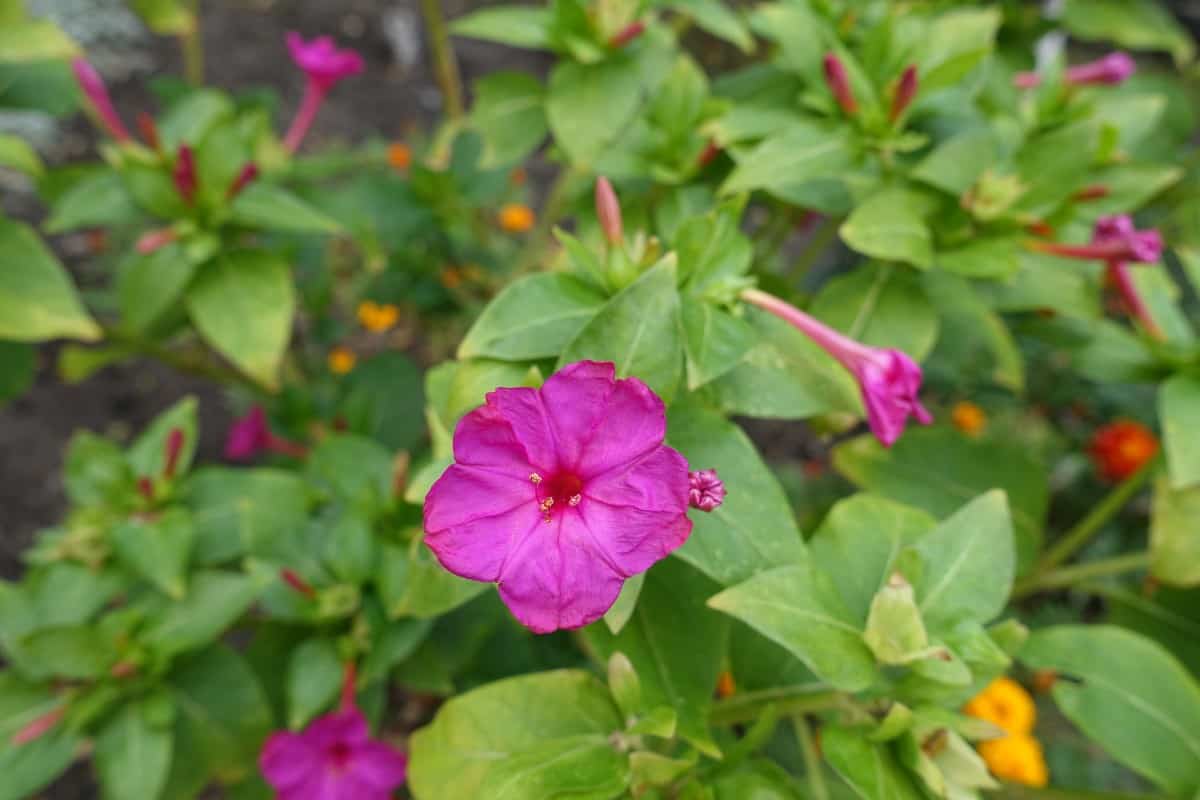 These plants are perfect for growing in zones nine through eleven. In these warmer climates, Four O'Clocks are grown as perennial flowers, but some gardeners grow them as annuals in colder areas.
The blooms offer a pleasant scent and open in the late afternoon, hence their name. Start the seeds indoors or directly outdoors once the danger of frost passes.
Blooms begin to appear in the middle of summer and last until the fall. The only care Four O'Clocks require is moist soil, so make sure you water regularly, especially in hot, dry weather.
Sunflowers (Helianthus annuus)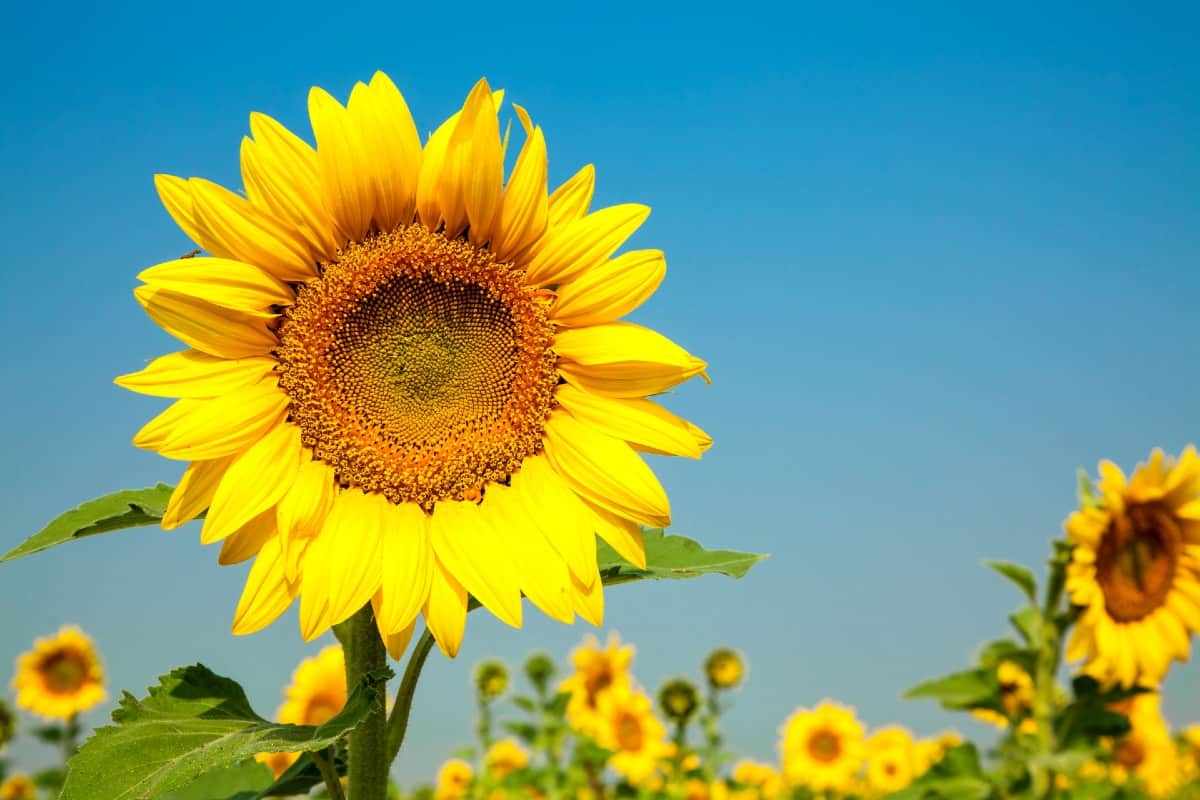 Although sunflowers are easy to grow from seeds, they do require patience as blooms don't appear until July and August. Sunflowers are grown as an annual in USDA growing zones two through eleven.
Flowers are typically yellow, but there are red and brown varieties. When choosing a planting location for your seeds, select one that provides full sun and protection from wind.
There is no advantage for growing seeds indoors, so plant directly in the ground after the last frost. To protect seeds from foraging birds, cover the heads with a netting.
Marigolds (Tagetes)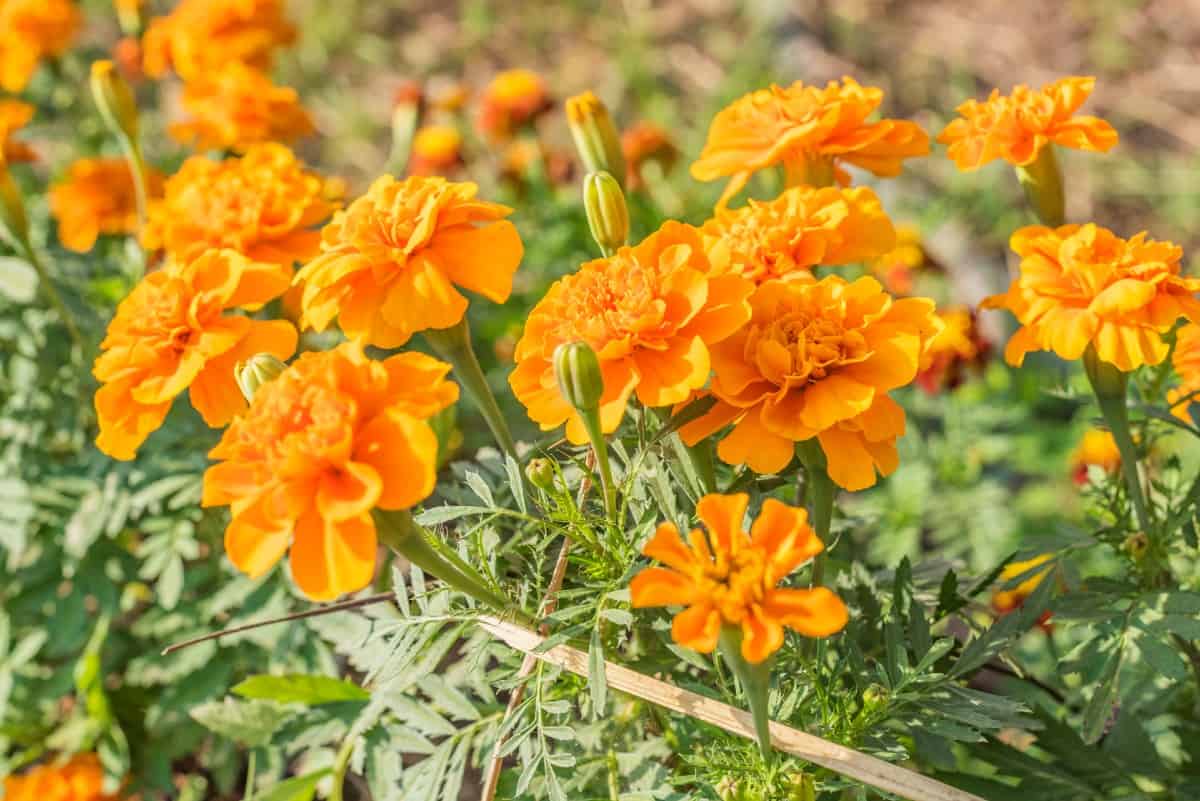 As an annual, seeds for Marigolds require replanting every year. The upside is they produce blooms all summer long with a little deadheading. Rather than purchasing new seeds each year, harvest some seeds at the end of the growing season next year.
Marigolds grow well in zones two through eleven. They prefer planting locations with full sun and well-draining soil, but in hotter regions, select a site with afternoon shade. Blooms reduce during the hotter part of summer but pick back up again once temperatures cool down.
As a bonus, marigolds deter wildlife and domestic animals that may like your flowers. Keep cats from pooping in flower beds and deer from munching on your favorite plants by growing marigolds around the perimeter and sporadically throughout the garden.
Bachelor's Button (Centaurea cyanus) – Fantastic Flowers to Grow from Seed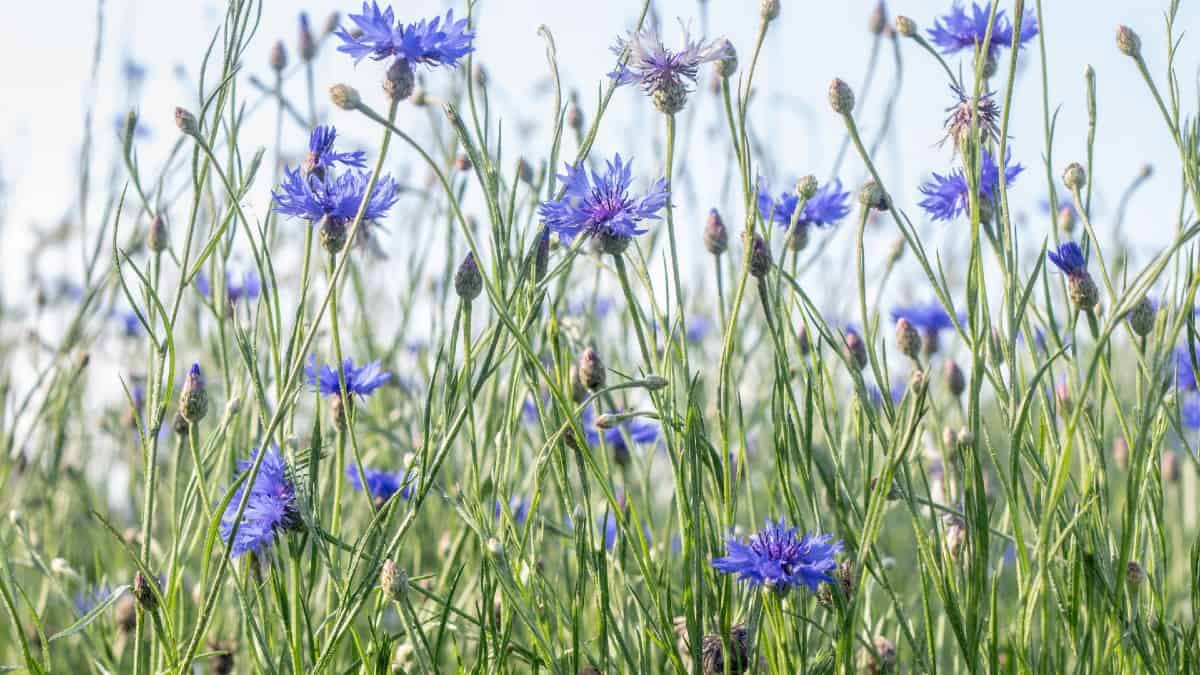 If you enjoy carnations, you will love Bachelor's Button as these blue flowers strongly resemble carnations, but in a miniature form. If you start seeds indoors, do so eight weeks before the last frost and transplant outdoors as soon as the weather warms up.
If growing flowers from seeds outside, do so after the last frost. Bachelor's Button grows quickly in zones two through eleven as an annual.
When looking for a planting location, find one that gives plenty of direct sunlight and well-draining soil, you can keep moist. After the growing season, be sure to collect the seed pods for planting the following year.
Columbine (Aquilegia)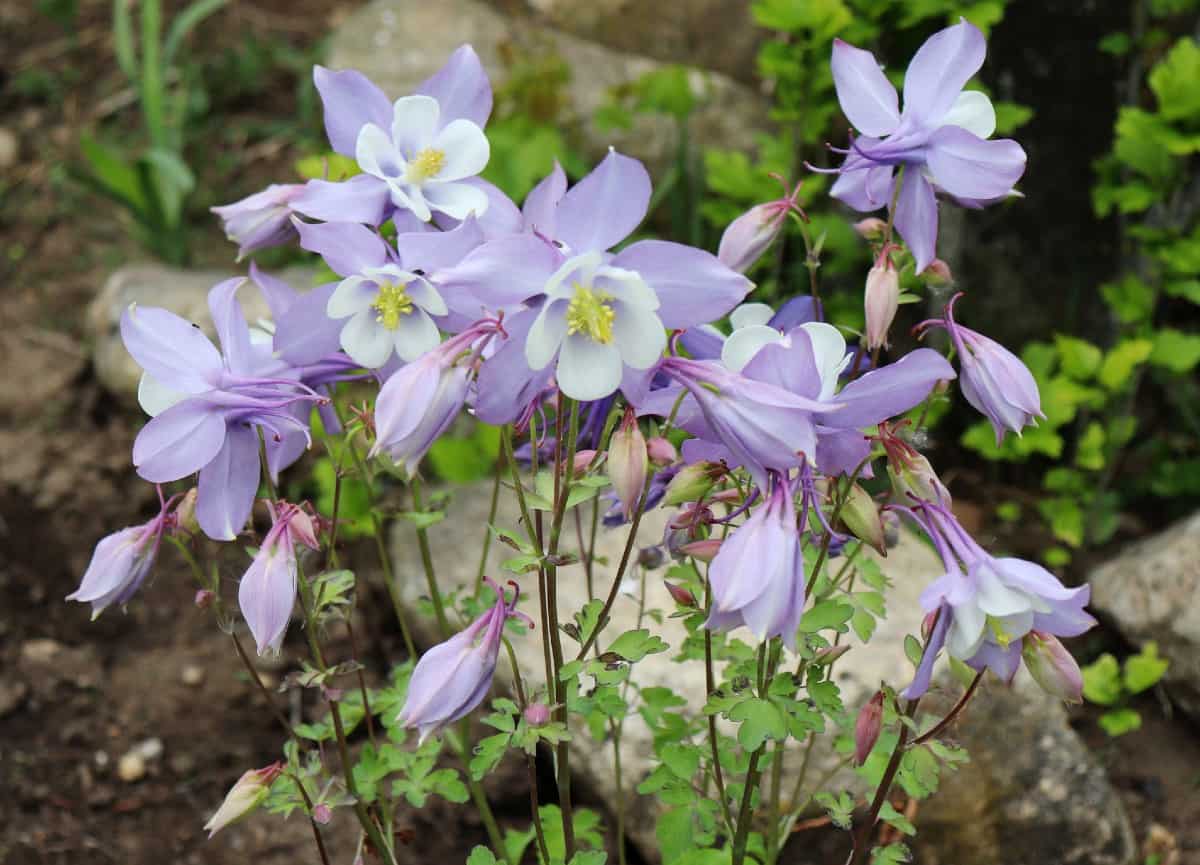 Gardeners love Columbine for its showy flowers in a variety of colors, including white, red, pink, yellow, blue, and purple. Blooms from this perennial begin appearing in the spring and stay until the early summer.
As self sowing annuals, Columbines come back each year with minimal work on your part. Columbine thrives in zones three through eight and does well in a variety of growing conditions.
When looking for the perfect location, select one that offers full sun to partial shade with average, well-draining soil. Overly wet soil is problematic for these beauties.
To encourage longer blooming periods, remove stems after flowers die so that you have these gorgeous perennials blooming all summer long.
Sweet Peas (Lathyrus odoratus)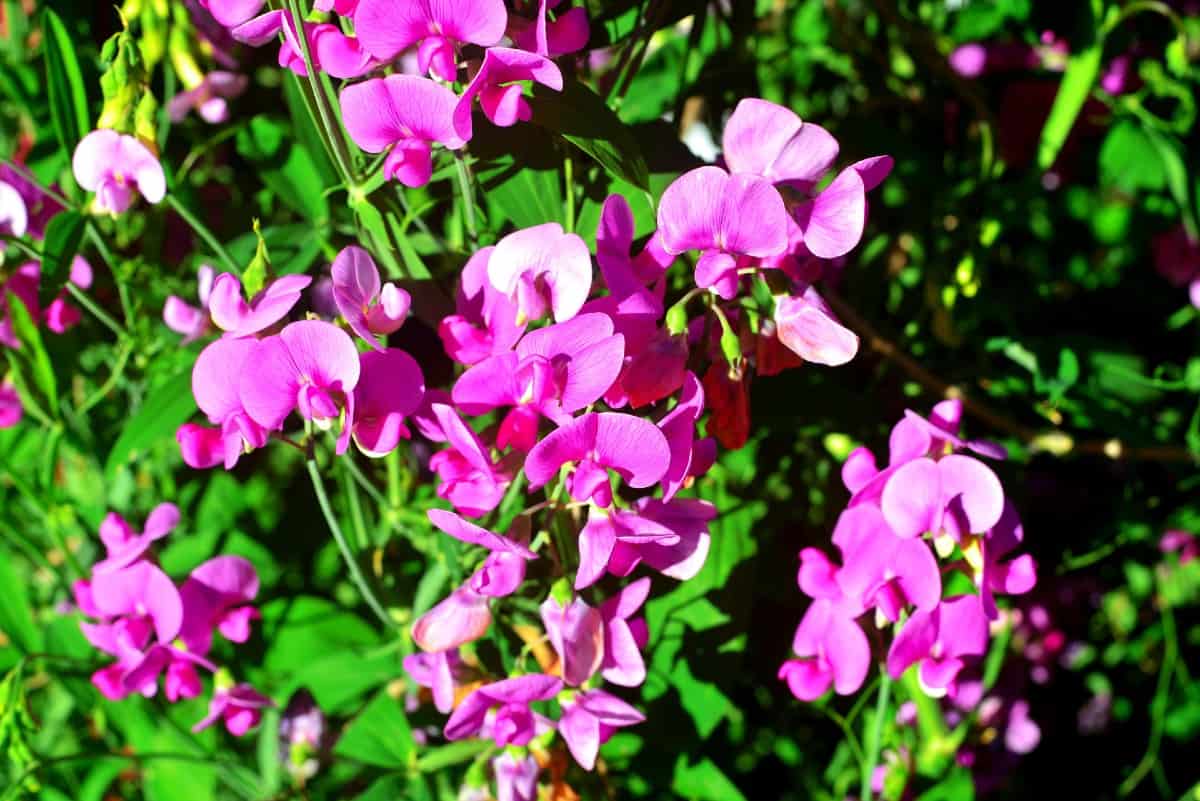 Sweet Peas are excellent climbers, but they also serve as a beautiful addition to any flower arrangement. These beauties thrive in USDA growing zones two through eleven as annuals.
They prefer full sun but don't fare well in extreme heat, so provide some afternoon shade in hotter climates. For maximum blossoms, start these seeds indoors about six weeks before the last frost date in your growing zone.
When transplanting outside, choose a location with fertile and well-draining soil. To enrich the soil, add compost before transplanting, and add fertilizer throughout the growing season.
Amazing Flowers to Grow from Seed – Shasta Daisies (Leucanthemum x superbum)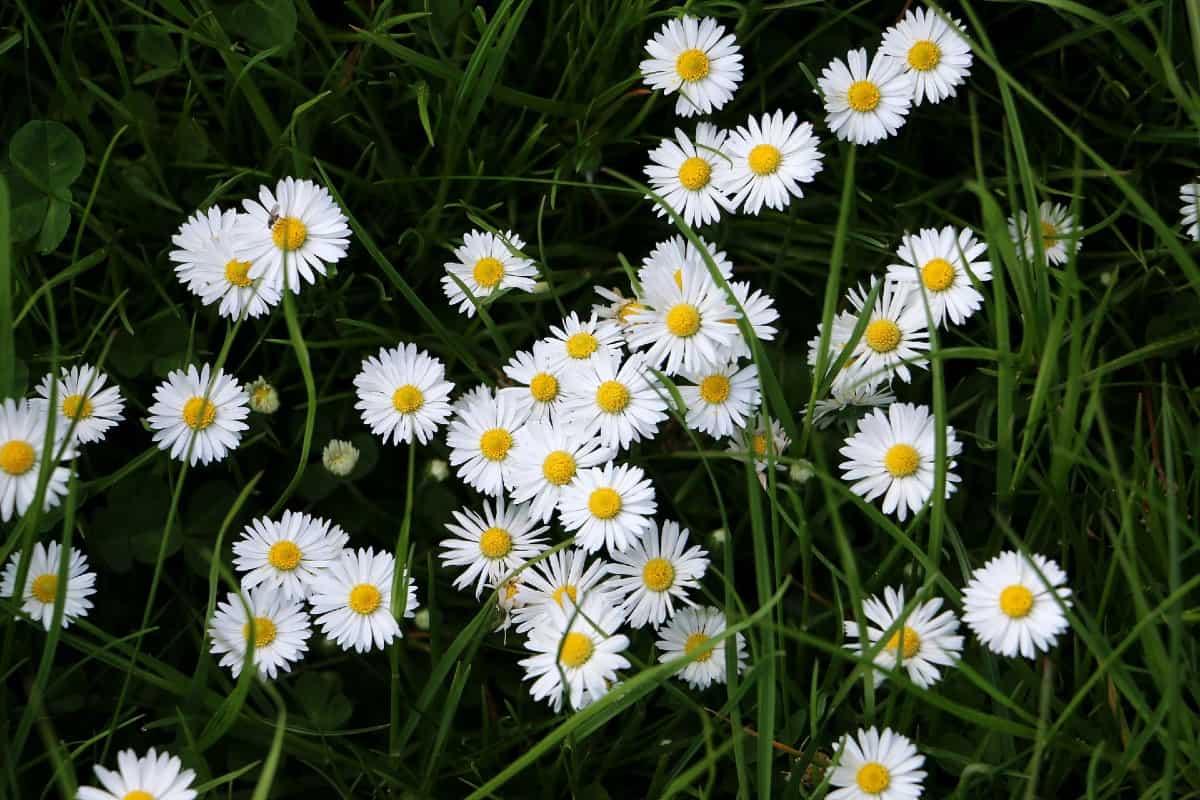 Use Shasta Daisies to provide your flower beds with blooms from July until September. These beauties grow as perennials in some climates but are annuals in others.
Use for borders along flower beds or cut flowers to bring some color into your home. Easy flowers to grow from seed, Shasta Daisies also spread quickly, allowing you to use a minimal amount of seeds to create a fully established bed.
Ensure your flower beds offer well-draining soil, as overly wet soil creates fatal conditions. To encourage more blooms, cut off dead flower heads.
Calendula (Calendula officinalis)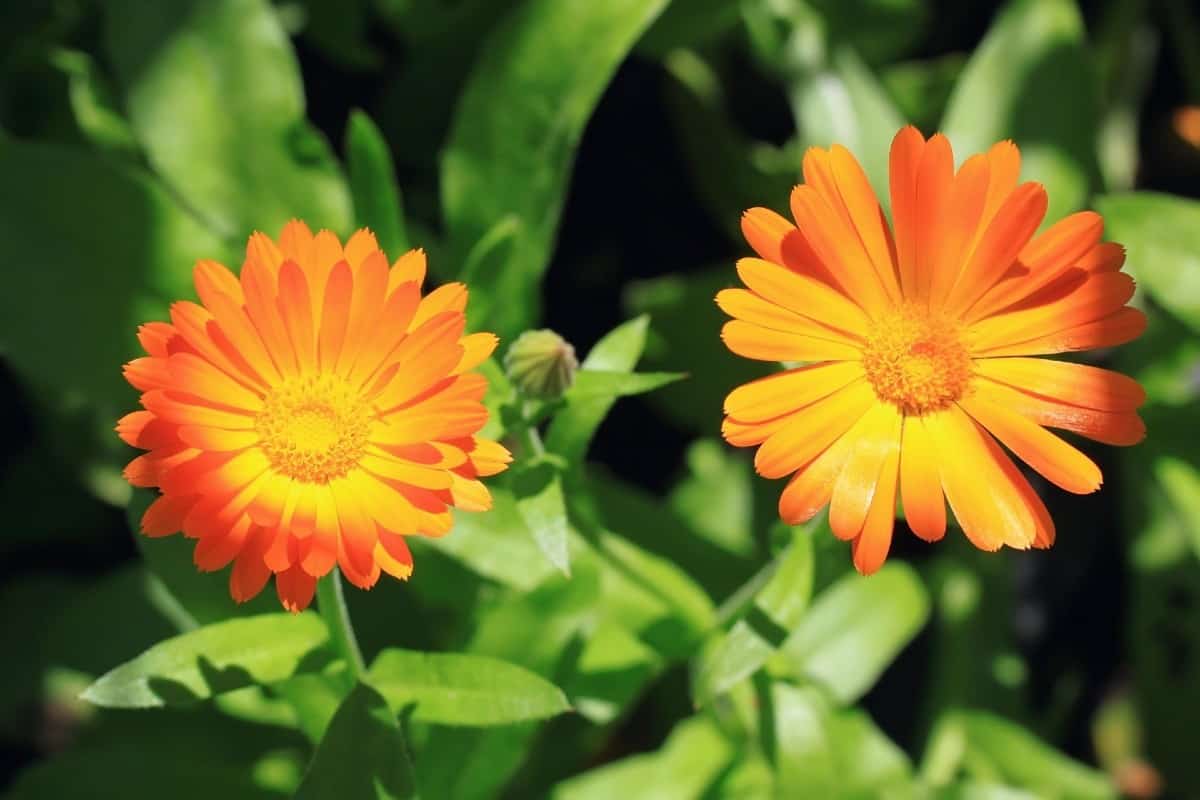 Calendula works well in containers or along the edges of gardens, where others can enjoy the beauty of their deep orange to bright yellow blossoms.
If starting the seeds indoors, do so eight weeks before the last frost date, otherwise plant them directly outside after there is no danger of frost. As a self-seeding plant, Calendula grows back each season.
When selecting the ideal planting location, opt for a sunny spot as they thrive in full sun. If you live in a sweltering climate, opt for an area with afternoon shade to provide some protection. Always keep the well-draining soil on the moist side.
Cosmos (Cosmos)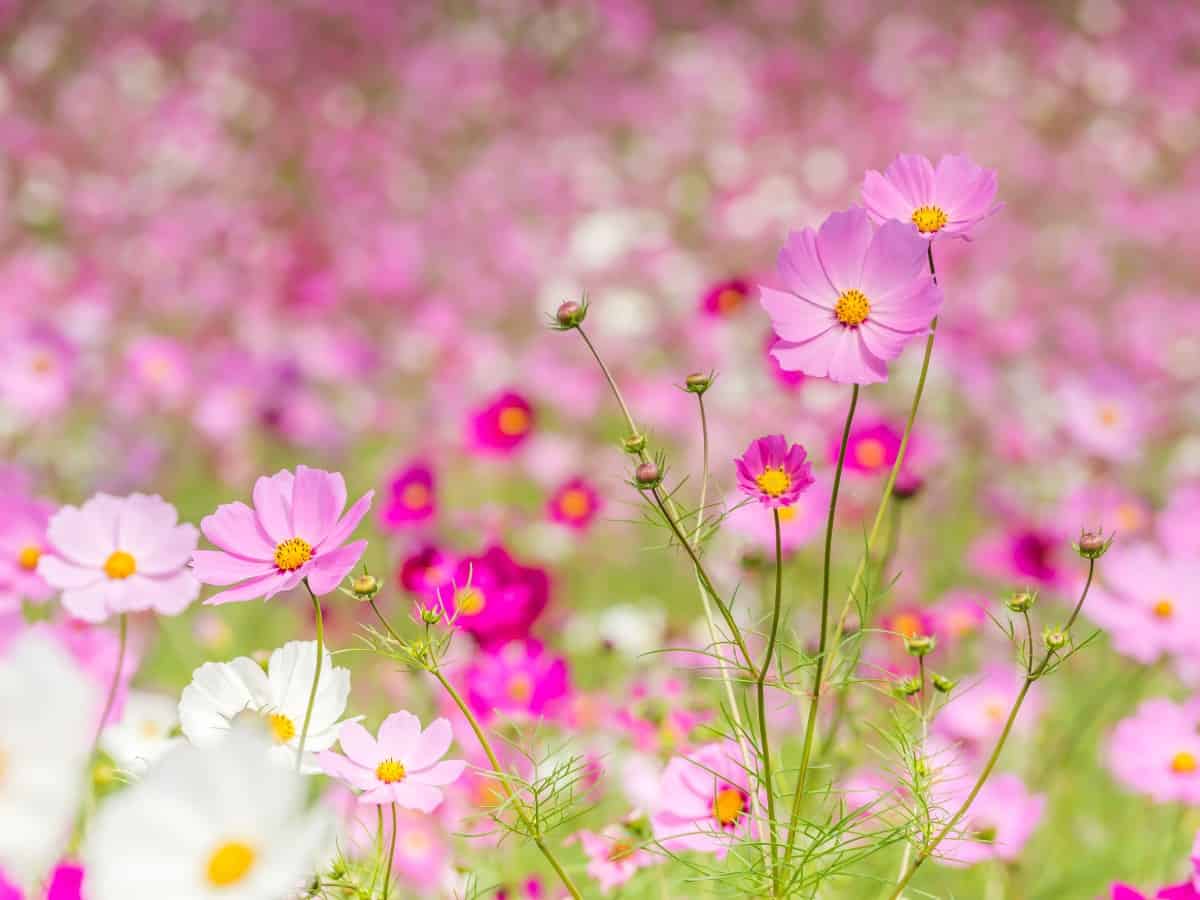 A self-seeding annual, Cosmos make excellent cut flowers for bouquets, plus they bloom all summer. Cosmos are easy to grow and care for, plus they adapt to the poorest soil conditions, making them an excellent choice for beginners.
Plant seeds inside eight weeks before the last frost or plant them in the soil directly after all frost danger passes. When picking a planting location, choose one that presents full sun and protection from harsh winds.
To encourage a longer blooming period, trim off dead flower heads but leave some for seeds to self-sow the following spring.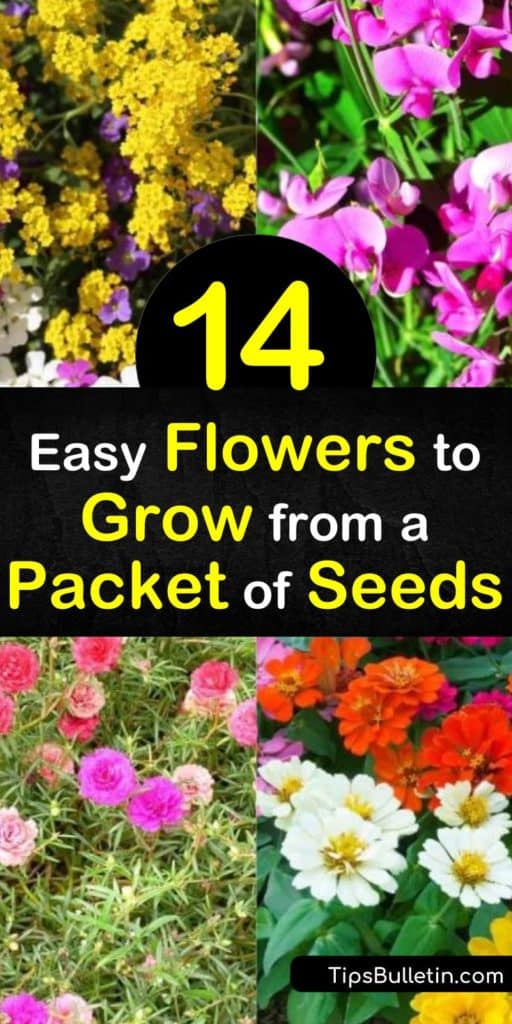 Thank you for taking this opportunity to read our opinions on the best flowers you can grow from seeds. If you found our thoughts about growing flowers helpful, please share our views on the best flowers to grow from seed with others on Facebook and Pinterest.